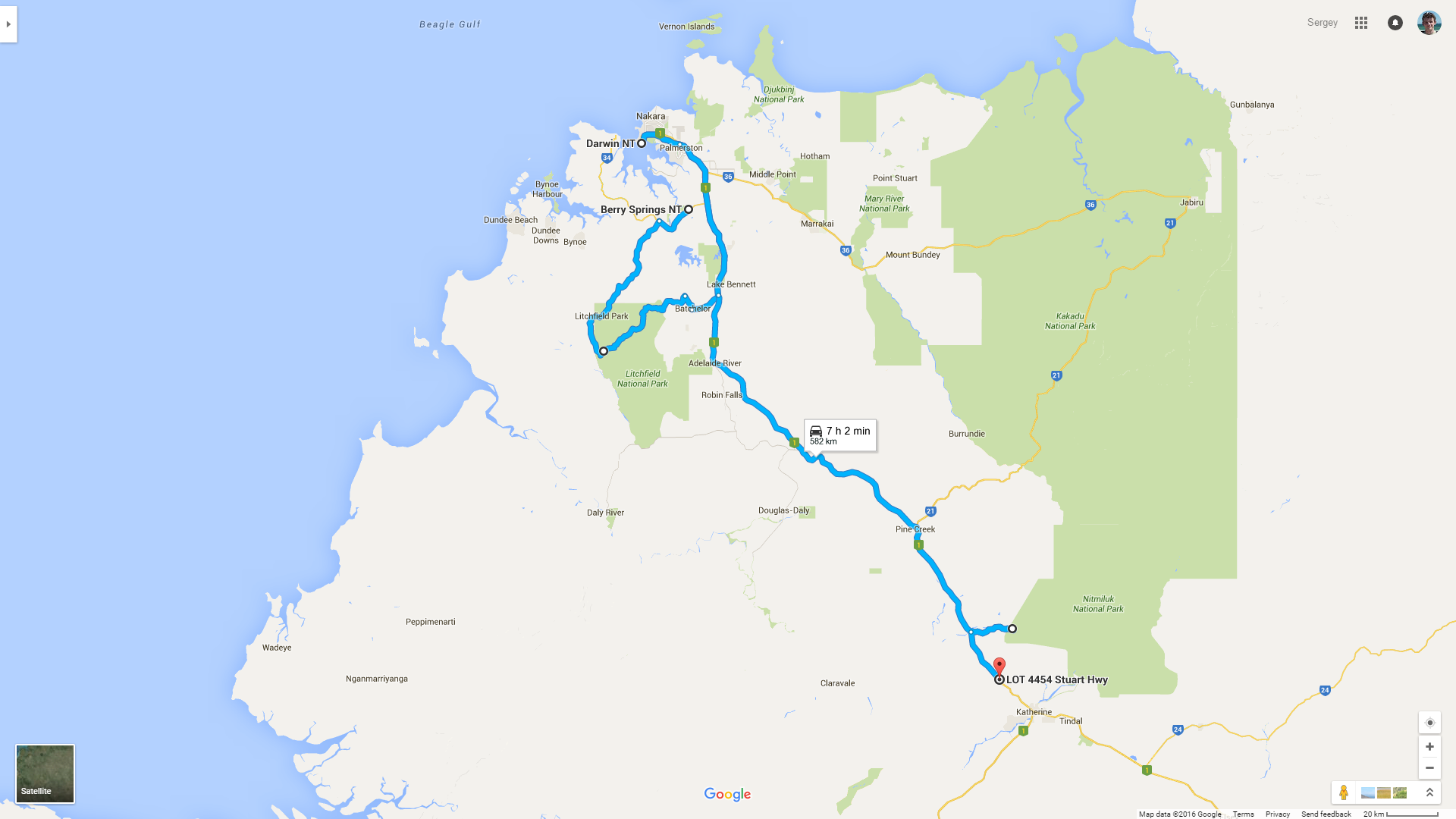 Road covered today.
Too humid for a good sleep, so I don't get much. After a quick shower, where I wash off the morning sweat (it instantly reappears), we pack up and move on to the Litchfield National Park. From the north it can be reached via dirt track (which we're using right now), or via proper sealed road from the east (which we'll use later). Either way, the park and its rainforest are all around us.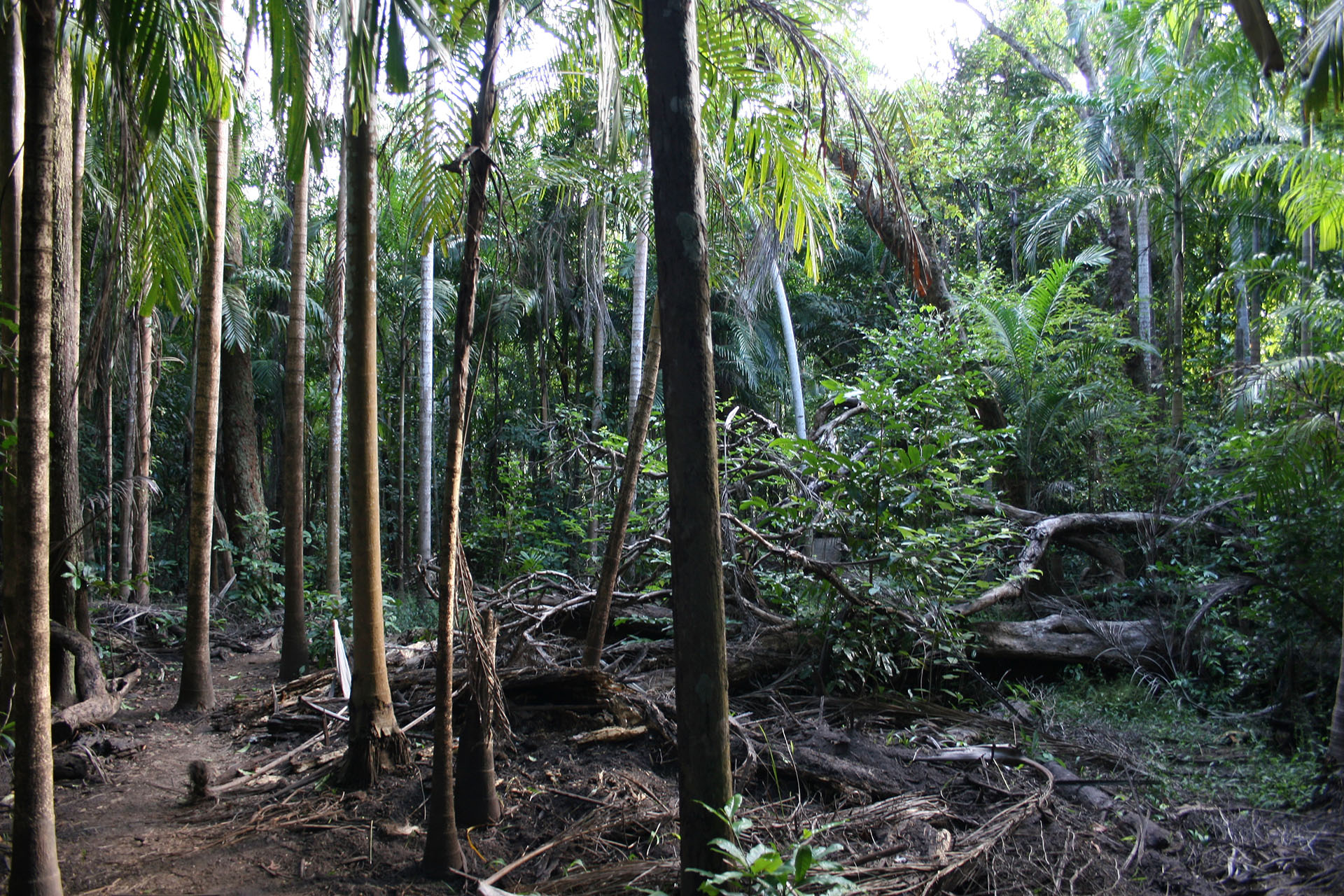 The local jungle.
The dirt road looks great, being either repaired or sealed: trucks and heaps or gravel are often seen here and there. Suddenly we meet another flooded patch, but Tucson, to its credit, wades it beautifully. It's great to have a four-wheel drive when you need it. This is the only surprise that the road gives us before we reach the bitumen, which leads us to our first destination: Wangi Falls.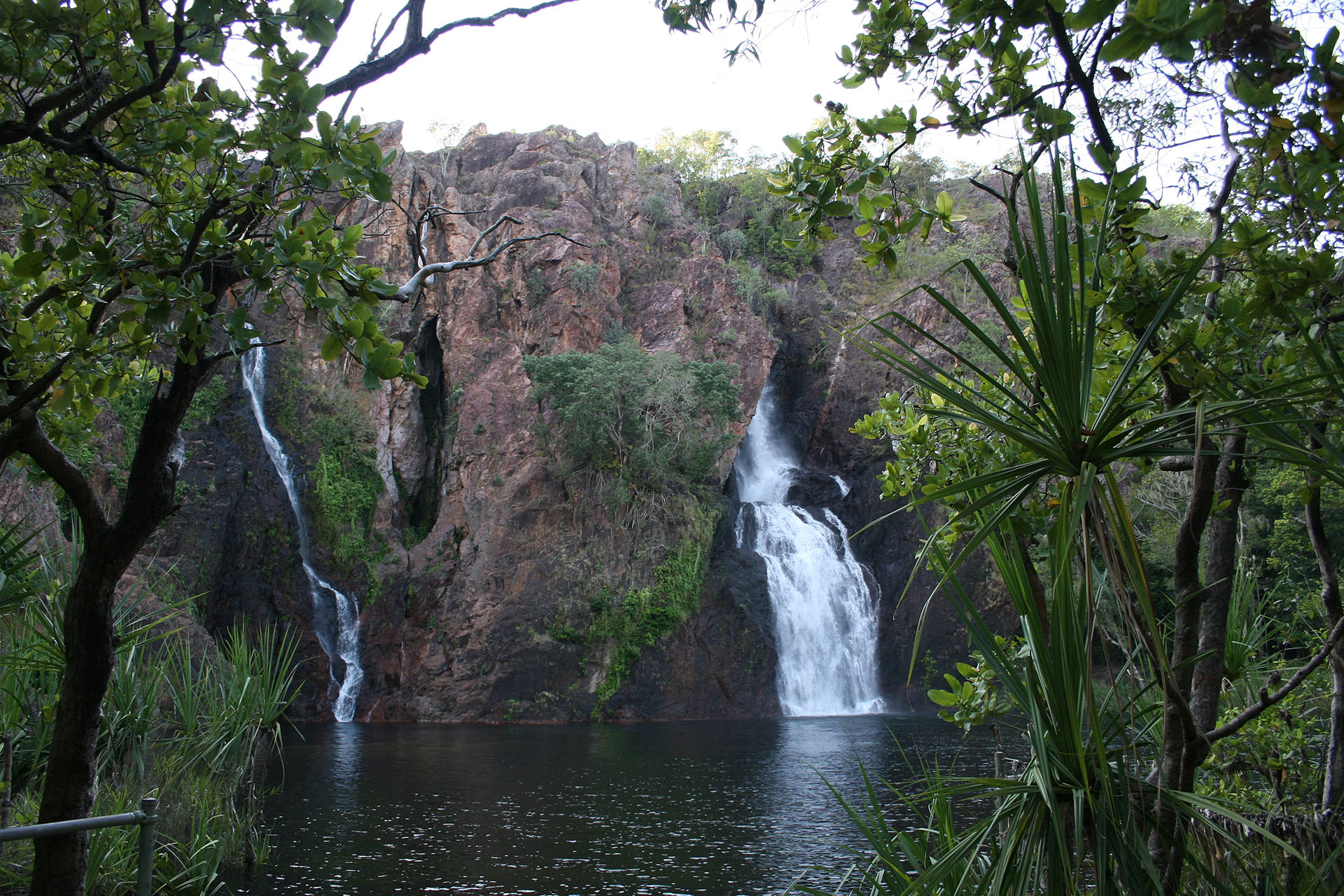 Wangi Falls.
After admiring the beauty of the waterfall for a while, we step onto the track that leads us into the jungle. Humidity is insane: it's almost like you're walking underwater, and more water pours down your body as sweat. An abundance of smells surrounds us. A sharp cry of an unseen bird is heard every so often in the stiff, damp air. Some birds, however, are quiet and look at us scornfully.
The local owls.
We start climbing up. The track is very steep in places, which makes me recall the
Bluff Knoll
. Brooks and rivulets trickle everywhere, making the air feel even more humid than it is. When we finally reach the top, we look at the park from above for a few minutes, then continue our walk, getting back down to the waterfall from the other side.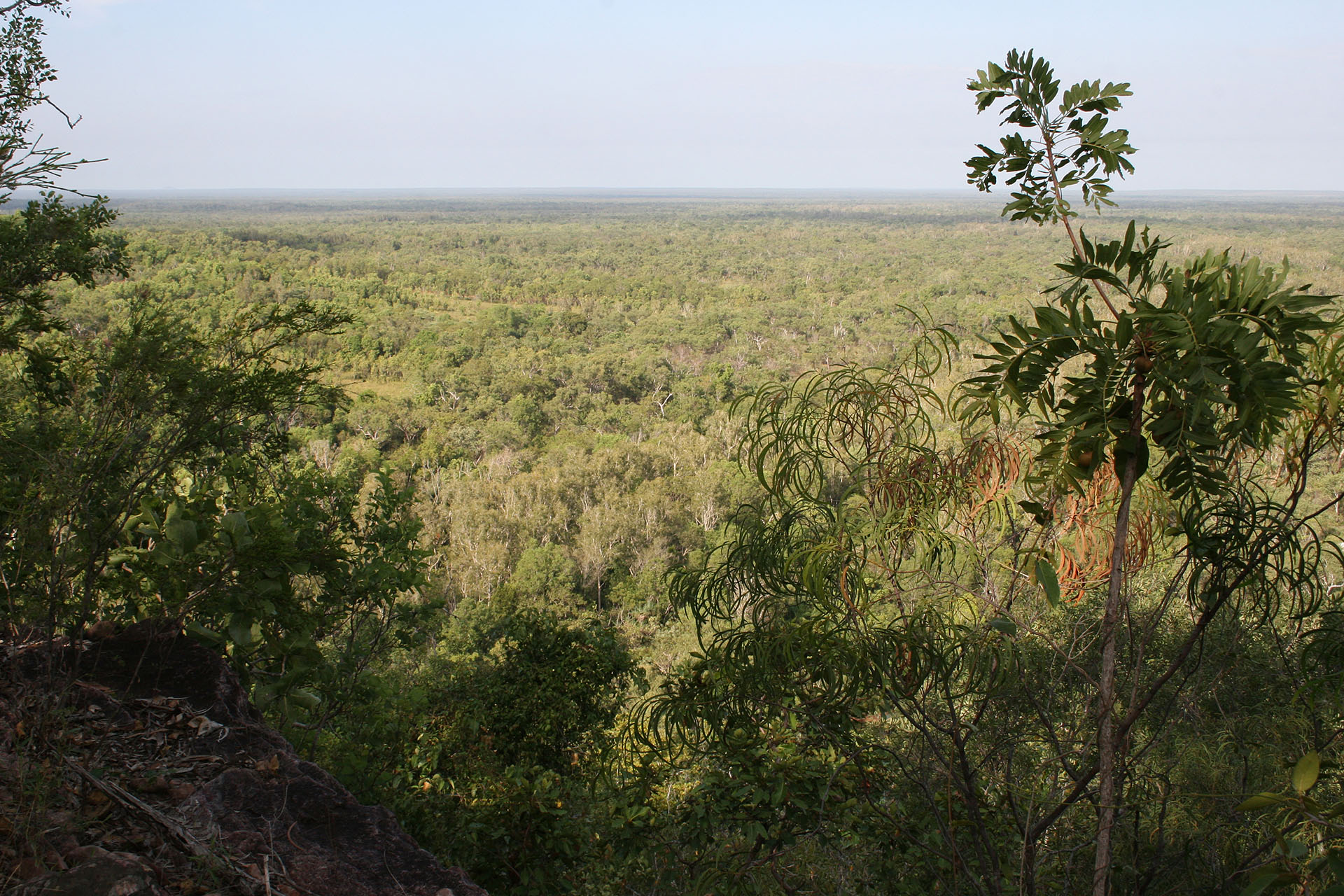 A bird's eye view on the morning park.
Along the way we see groups of large, oddly coloured ants: orange from the front, green from behind. It turns out that they don't build any anthills here, but live right on the trees.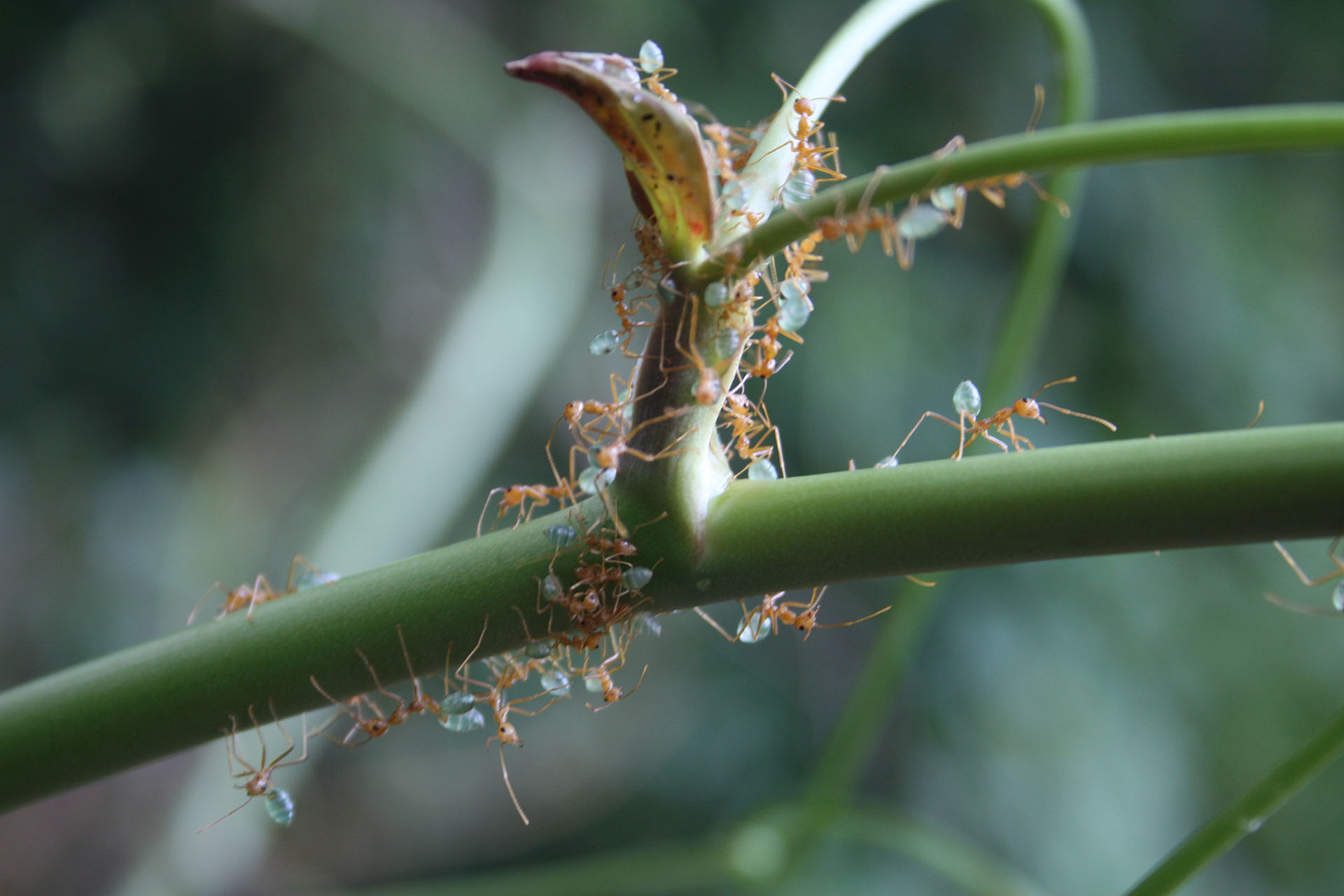 Green ants of Litchfield.
Some insects, however, look a lot more menacing. Across the path an enormous spider, half a finger long, weaved its web; the creature is so huge that it could probably tackle down a tourist like myself, it it wanted to. Speaking of tourists: we see surprisingly few of them around here. Either it's too early in the day, or it's not a tourist season, or they are already eaten by evil-looking spiders like this one.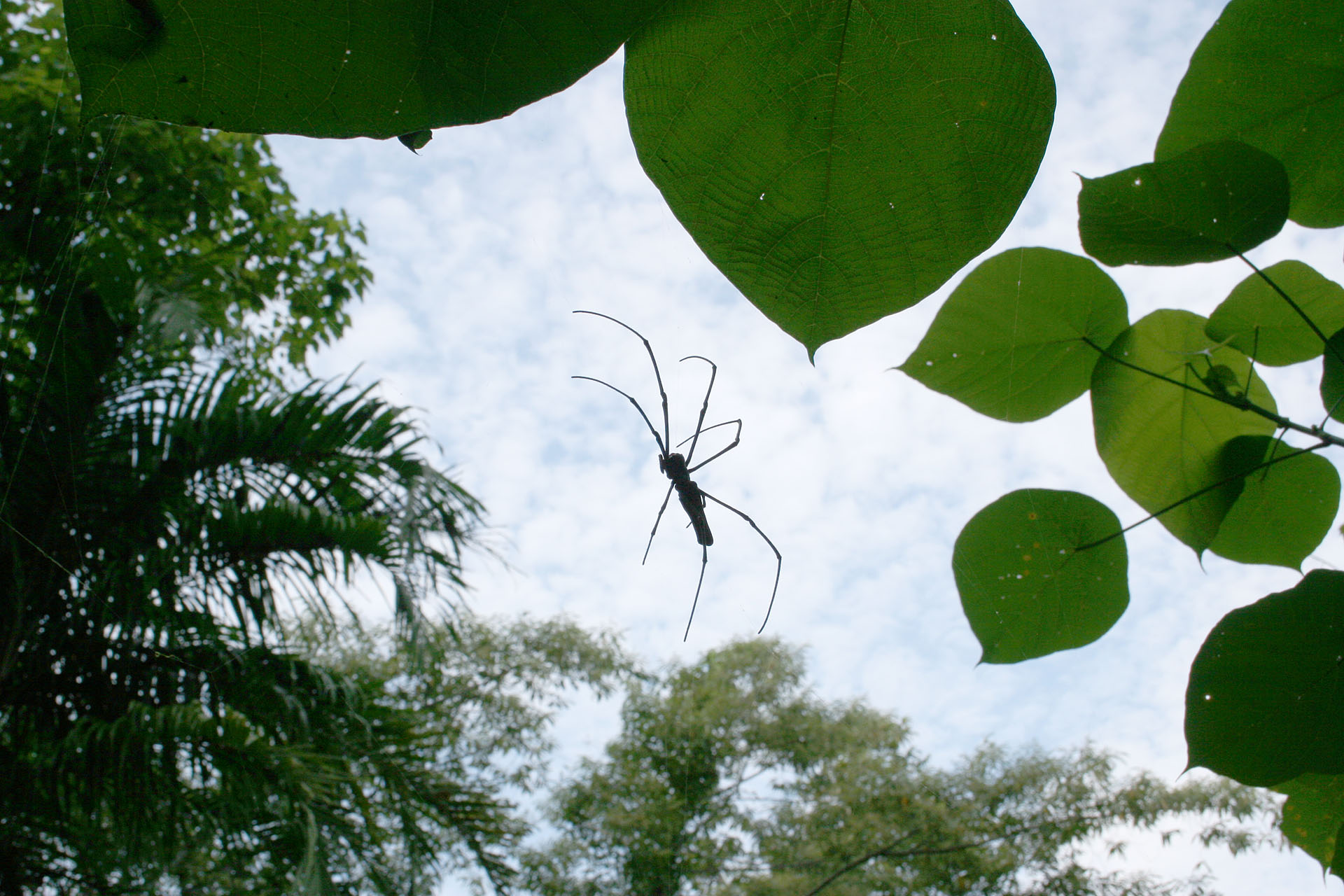 The local spider.
Finally we reach the end of the track, jump back into the car and enjoy its air-conditioned coolness along with some nice, cool water. Then we drive towards another waterfall: they have a lot of those around. This one is called Florence Falls, and it's very close to the parking lot, and it's very beautiful as well. We can climb further down to see it closer, but make a unanimous decision that one sweaty trip across the jungle is enough for today.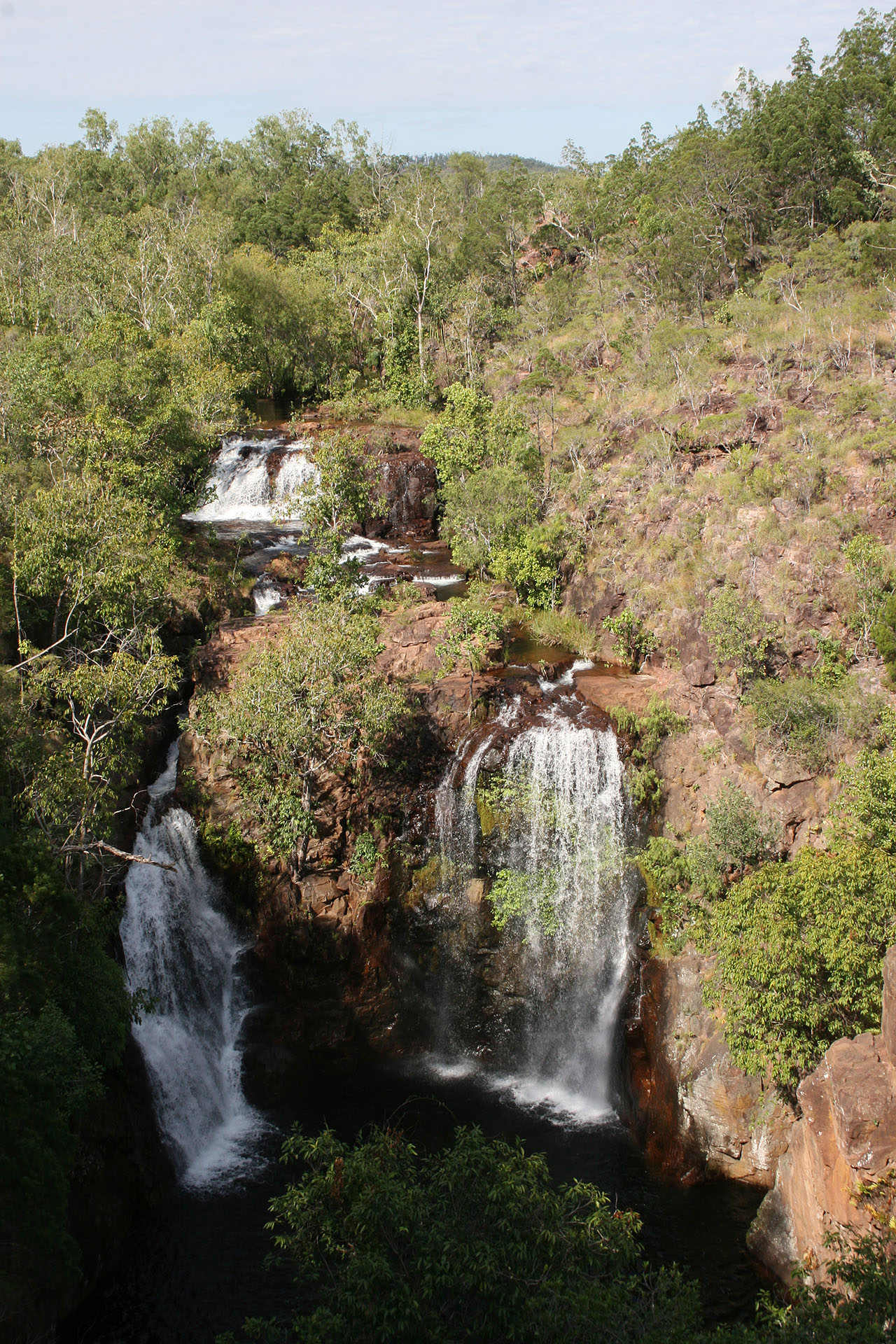 Florence Falls.
The next place to see is called Magnetic Termite Mounds. Not because metal objects stick to them, but because they're oriented precisely from north to south: clever termites save themselves like this from both the heat and the floods. And from fires, too: the grass all around them is freshly burned.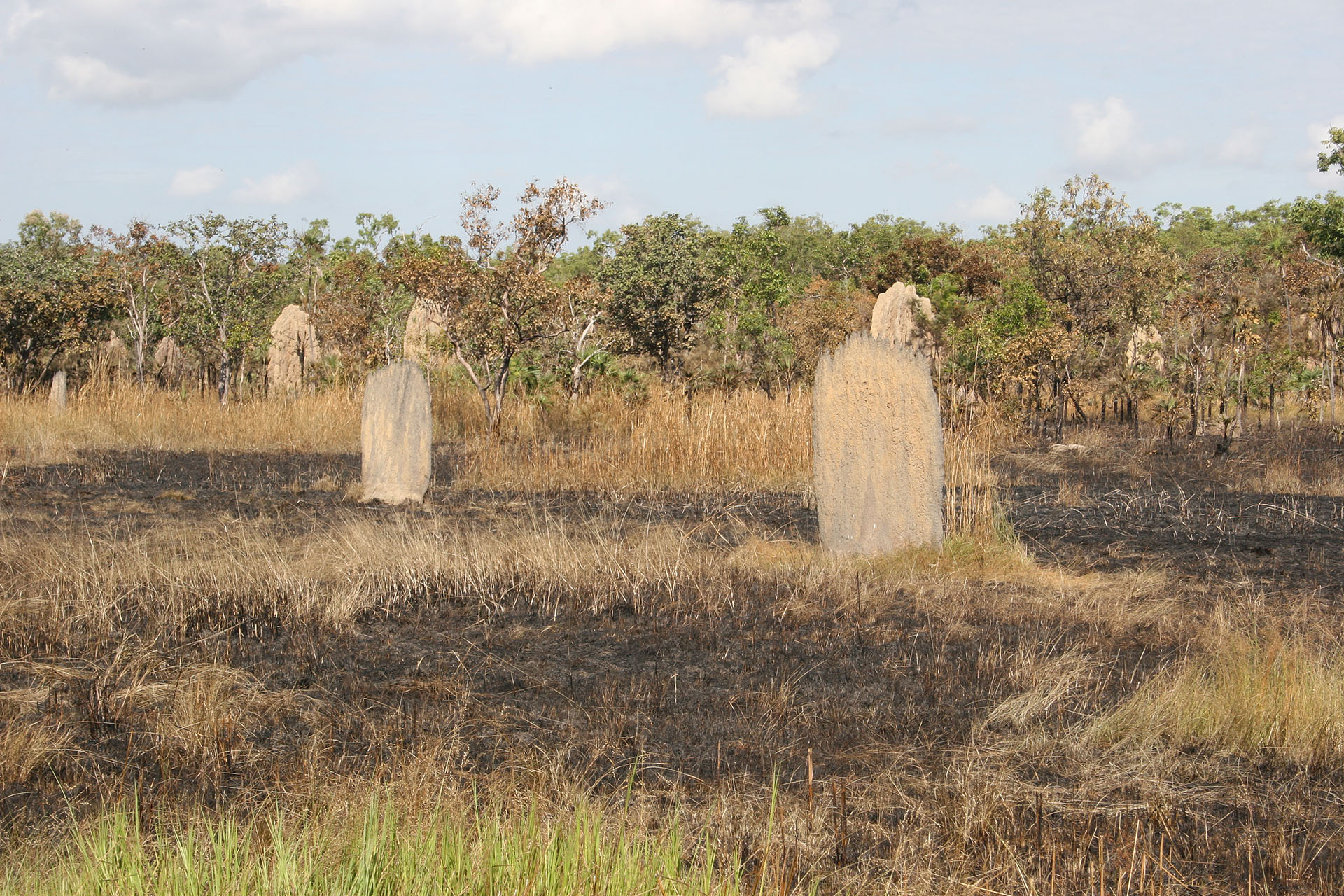 Magnetic Mounds.
This concludes our visit to the Litchfield National Park, and we return to the highway to resume our journey north. We know for sure now that Alen will leave me in Darwin, but until then we're going to familiarise ourselves a little with our northernmost capital city.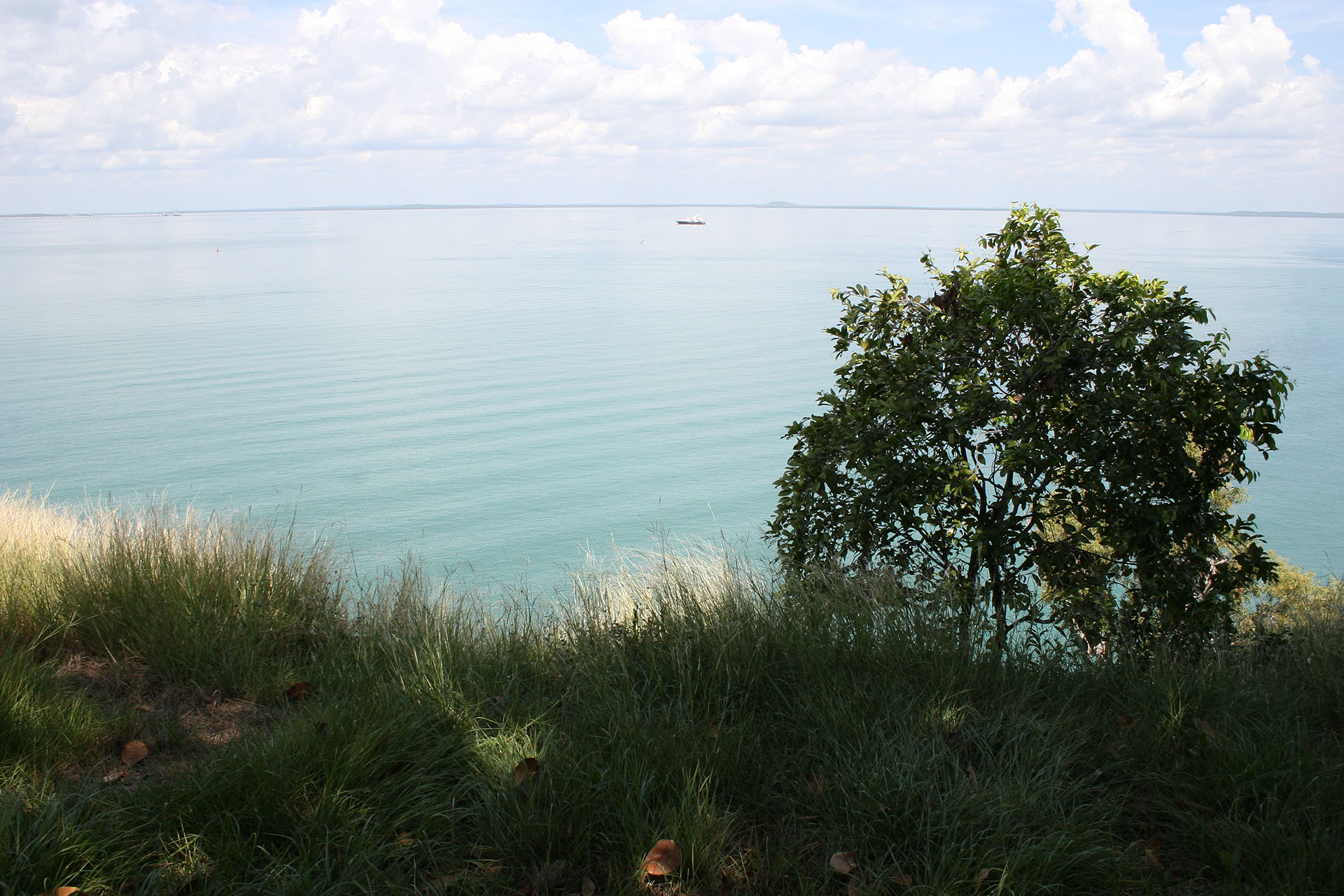 Timor Sea in Darwin.
The population of Darwin is about 140,000, and the city is known for being razed to the ground twice: during Japanese air raids in World War II, and during Cyclone Tracy in 1974. It has this relaxed, tropical resort vibe which reminds us of
Broome
, but at the same time it has some "capital" gravitas as well. Its central shopping precinct, Mitchell Street, reminds me a lot of Rundle Mall in Adelaide. The humidity is about 60-70%, but add 30° of heat here, and the experience becomes far from comfortable.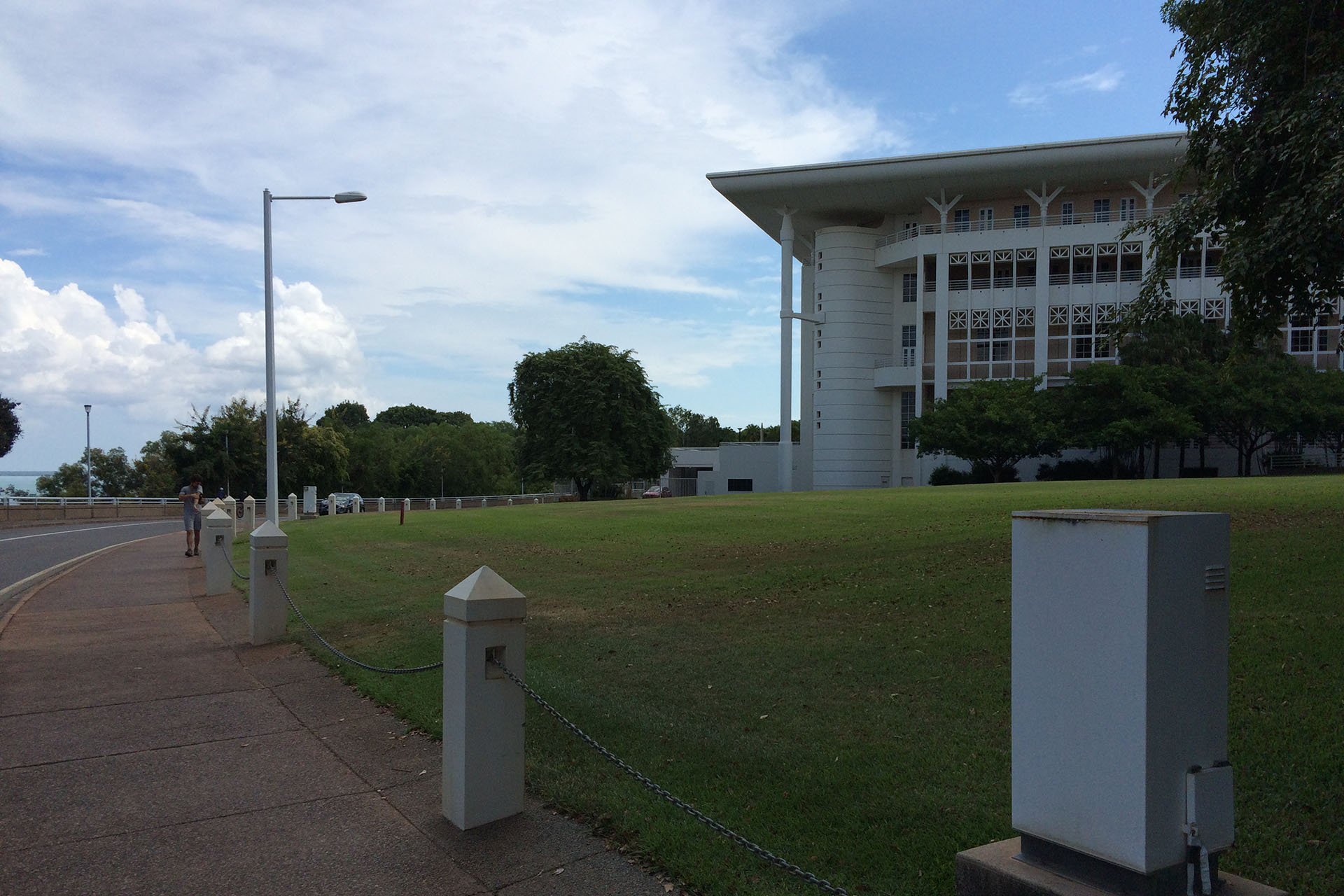 Parliament House of Darwin.
Once our Darwin walk is over, we head towards the local airport where I bid farewell to Alen and wish him all the best. From here on, as I did before, I'll be driving on my own. The only company I'll keep will be the bag of Alen's clothes which I'll give him back when I reach
Sydney
.
On the outskirts of Darwin, however, something bad happens: the engine check light goes on. Uh-oh. To make things worse, it's Saturday afternoon, and all mechanics are already closed. No other choice but to call road assistance, because the prospect of driving across half the country with some unknown bug in the engine doesn't sit well with me. The lady on the phone says that all their mechanics are too busy, so there's nothing they can do for at least two hours. Well, two hours is better than two days, so I park my vehicle near some shopping centre and sit beside to wait.
The mechanic, however, arrives sooner than expected: only 20 or 30 minutes later. After a quick glance he says that I'm almost out of oil and engine coolant, and suggests me to stay in Darwin until Tuesday (!) to do a more thorough inspection. I decline respectfully. In the end we decide that I can just drive to the next service station, buy some oil and coolant and refill on my own – to fix this somewhere else later, hopefully. I do all that, and after a while, to my enormous relief, the amber light goes off.
I then decide to travel further south as fast as possible: the beautiful speed limit of 130 km/h is to help me with that. On my way back to
Katherine
, I plan to spend the night in the Nitmiluk National Park: there's a campground there somewhere, near the Edith Falls. Day begins to decline when I finally turn off the highway. The road is sealed, which is great, but the campground, to my chagrin, is fully packed with youngsters and a rock band which plays live. Too many people. Too much noise. Muttering curses, I hurry back towards the highway and drive further south.
Finally, an unnamed rest stop marked in WikiCamps grabs my attention. I stop to make a quick survey. Plenty of room, and there's only one other visitor: some elderly Aboriginal guy with his tent. Sounds okay to me. I quickly put up my own tent and glance nervously at the sky: the forecast promises rain in Katherine, which is quite close. Just in case, I put almost everything away, gobble on the cold KFC chicken and go to sleep. It's been a busy day. I feel tired and panicky again, and I'm eager to go back home as soon as possible.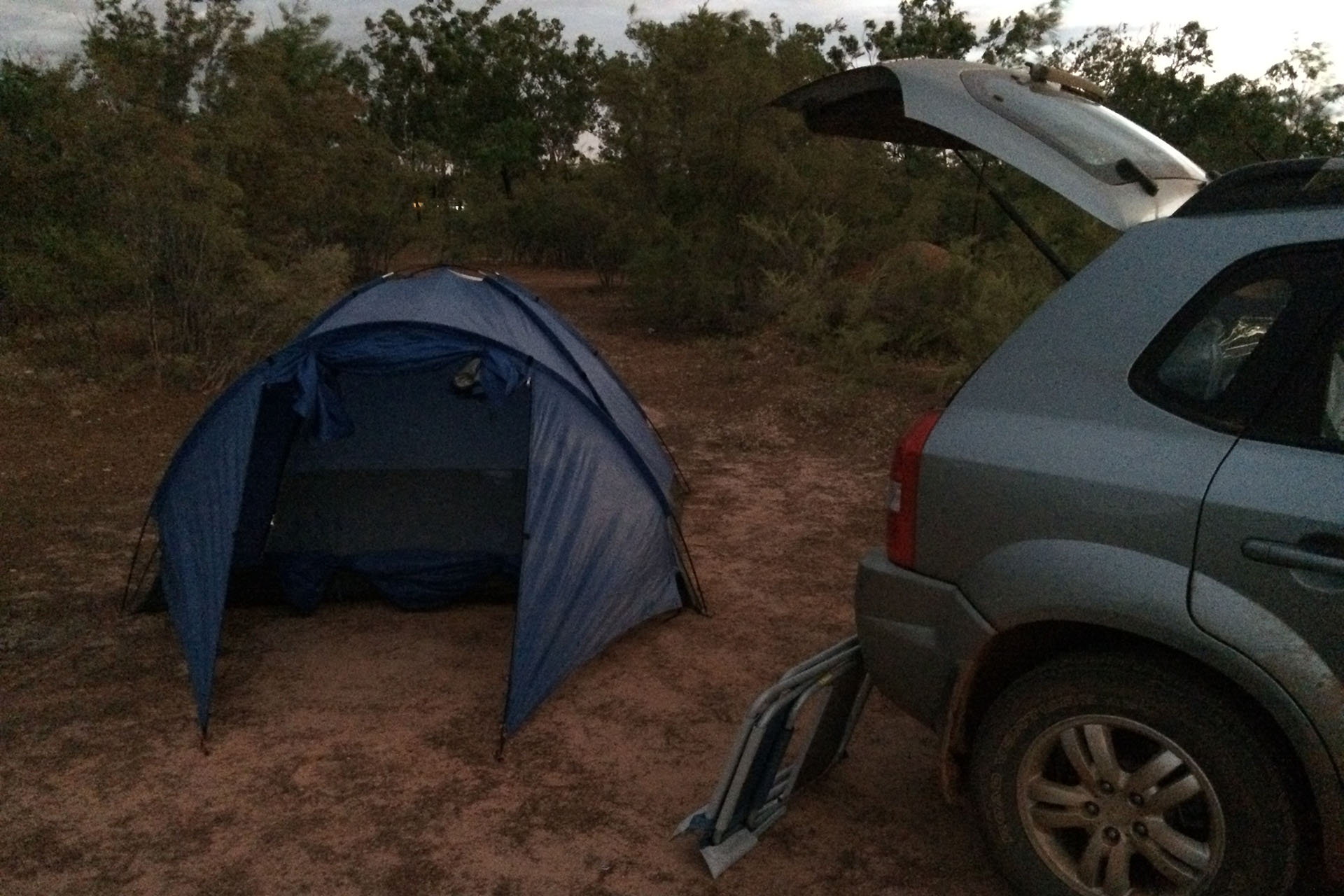 Today's camp.
Distance

621.1 km

Fuel

$53.13

(Darwin)

Food

$35.91

(Darwin)

$25.00

(Darwin)

Miscellaneous

$35.90

(oil)

$34.95

(coolant)