The night was quiet, starry and quite cool. However, at the first rays of sun the temperature rises quickly; and, wasting no time, I head out for a quick walk towards the Yanginga Falls, enjoying the morning scenery around me.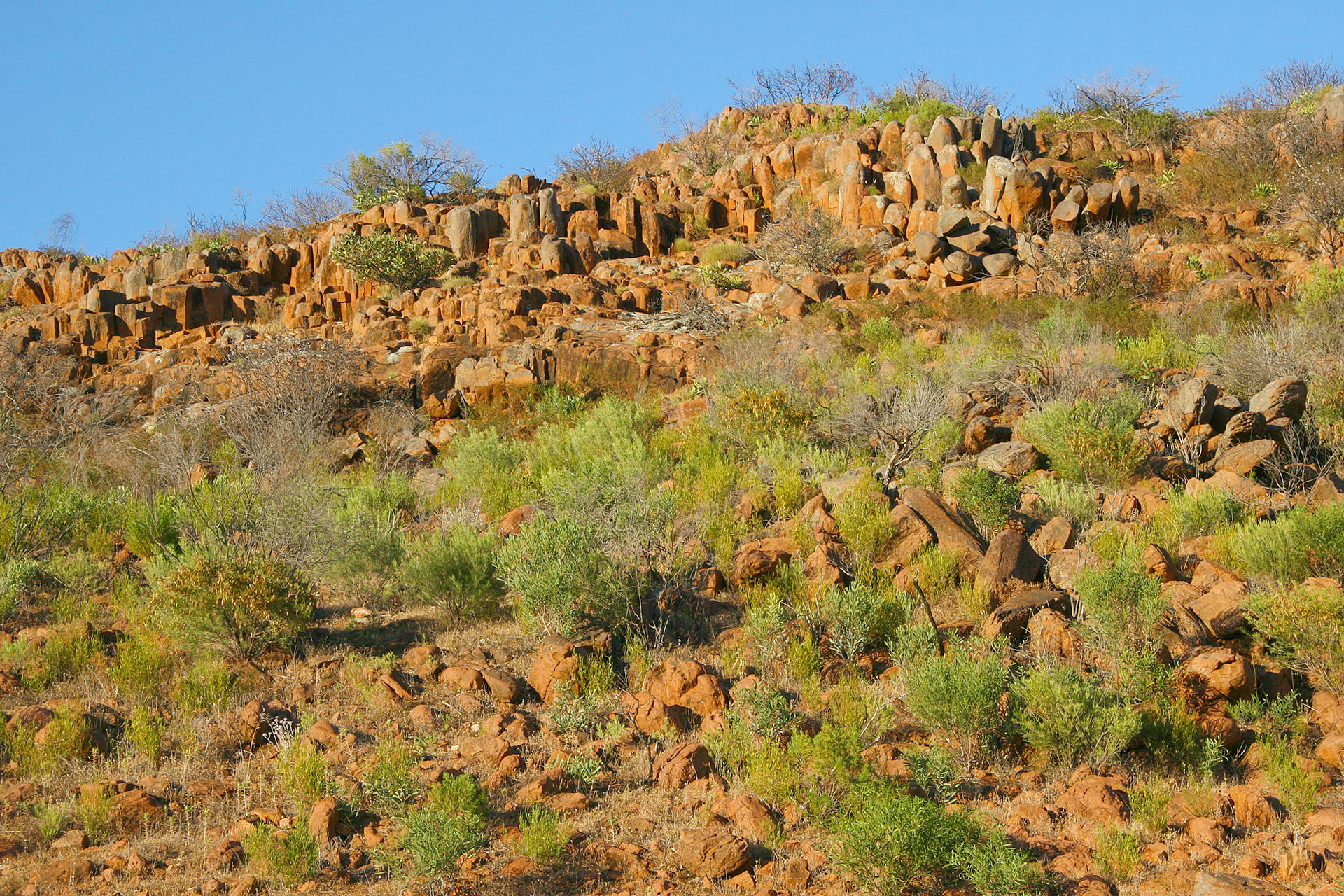 They do have some of that here.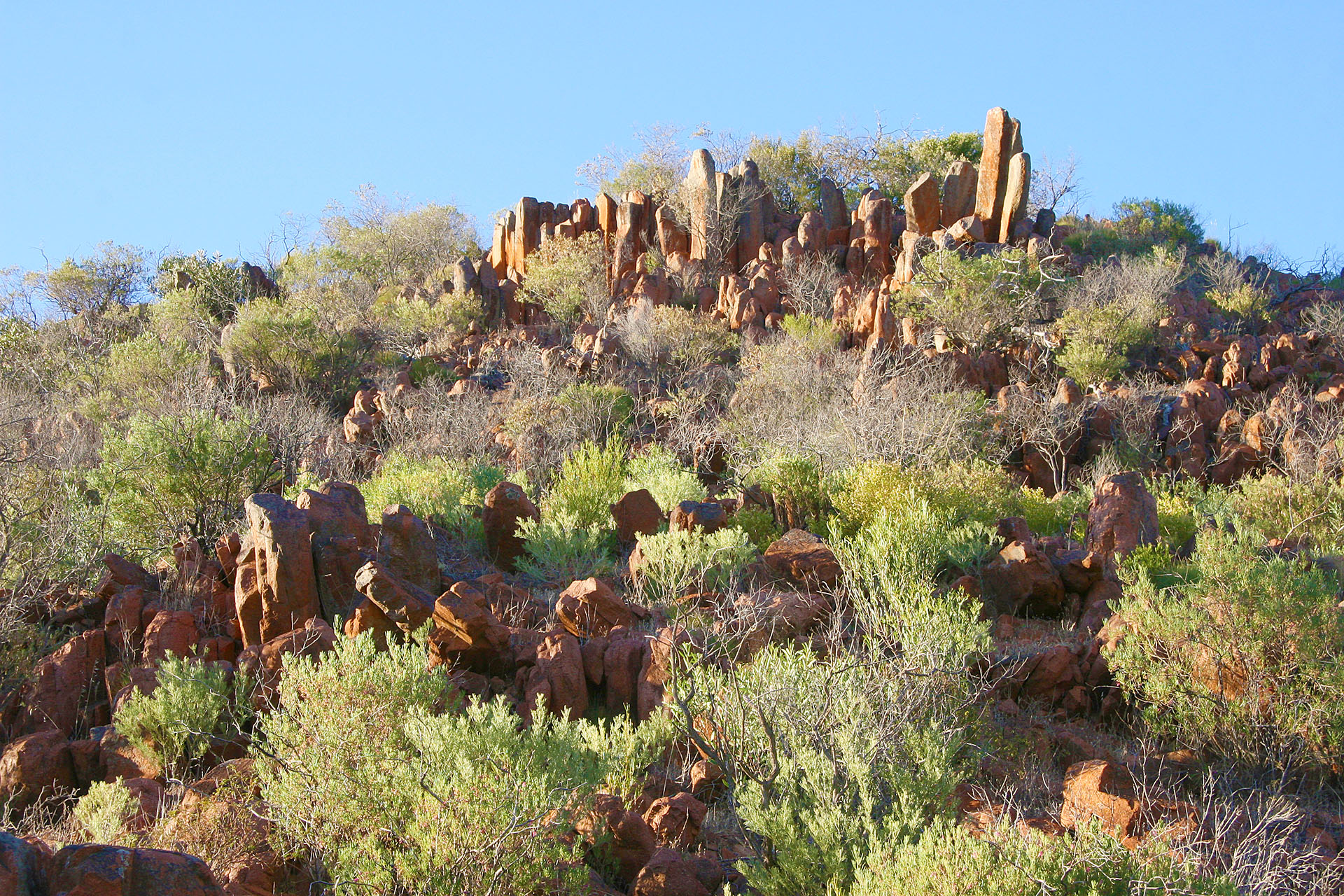 Especially in this light.
Roos are also awake, jumping back and forth on the hillsides and searching for breakfast.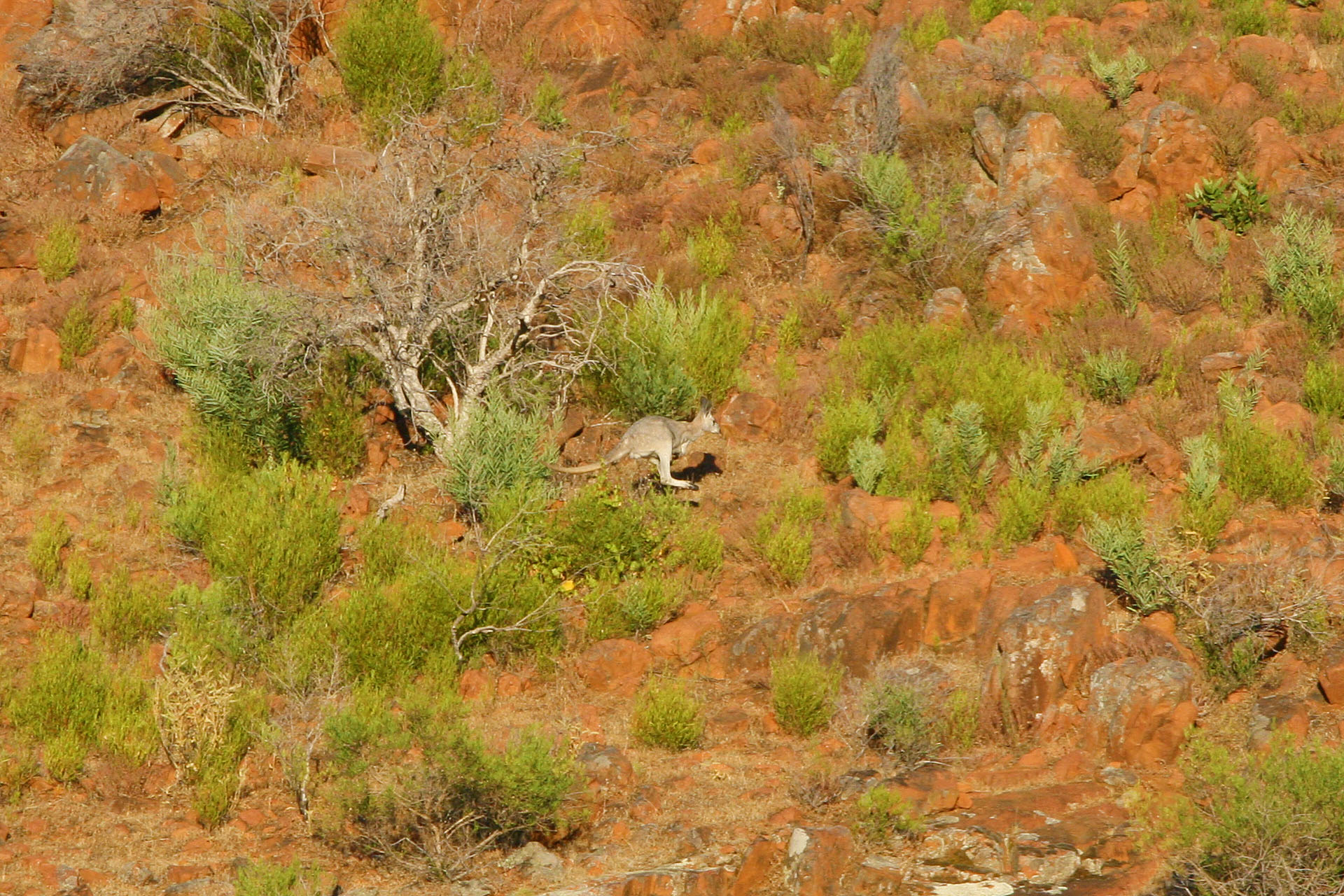 An impatient one.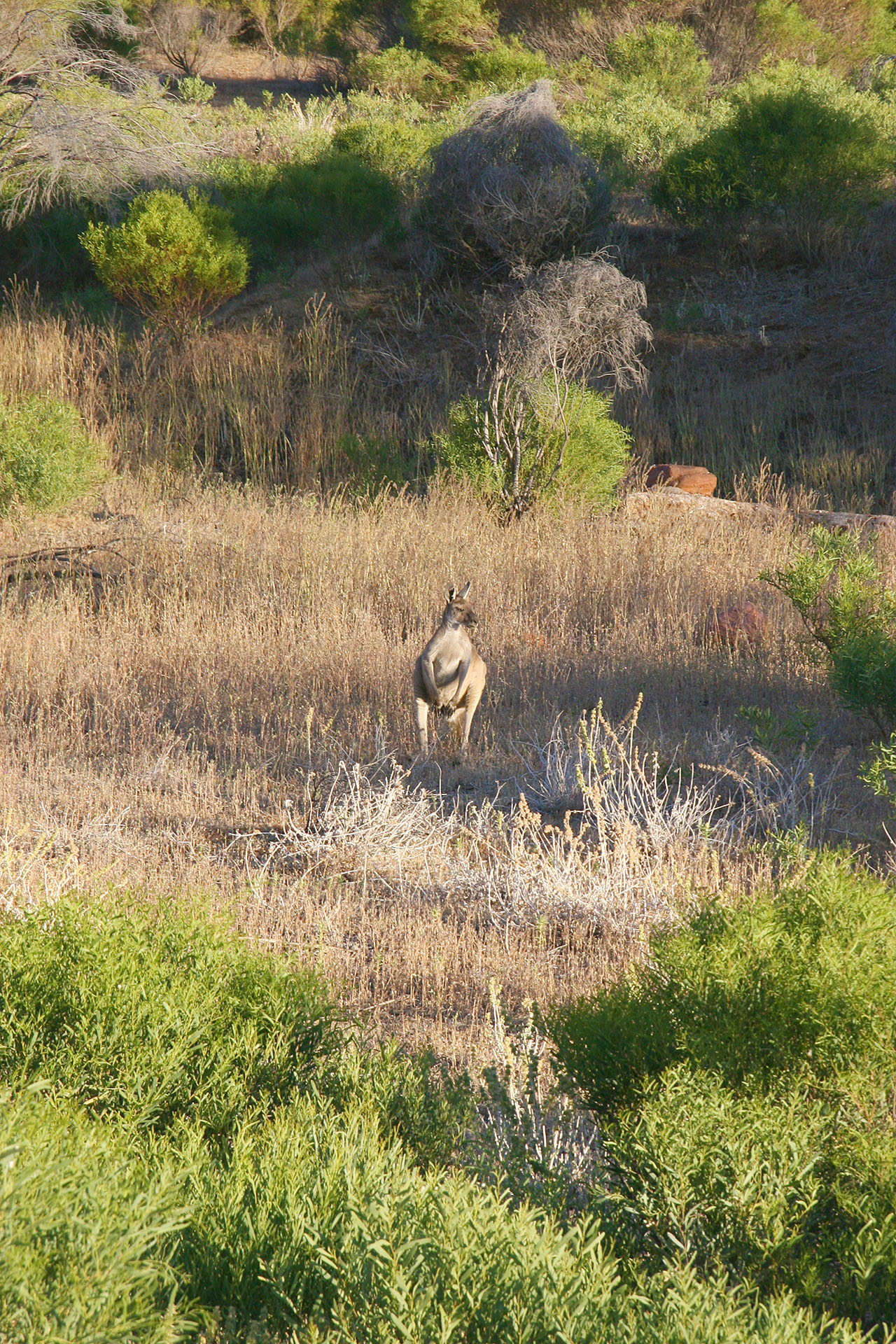 Where's my brekkie?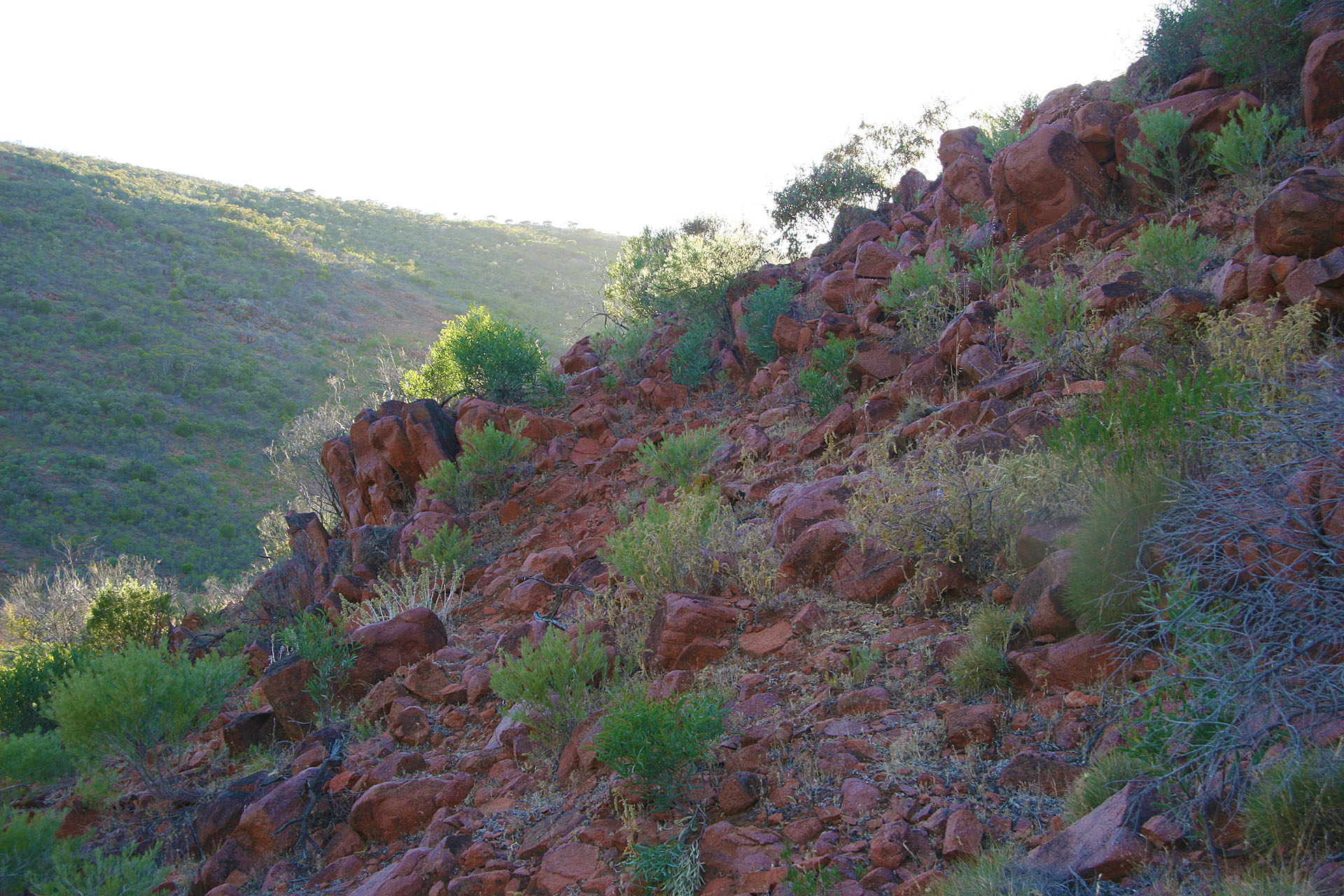 Serene morning.
As the name of the place suggests, there should be a waterfall somewhere around. However, it's not the best time of the year for waterfalls though, and the bed of this one is bone dry. I shrug and return to my car to drive further. Time to explore the park properly.
It's very quiet around, and not too hot either. The dirt roads are okay, albeit corrugated somewhat. However, deflating the tyres helps, and I can easily go 60 km/h on top of the corrugations. Paradoxically, it's a lot less bumpy this way.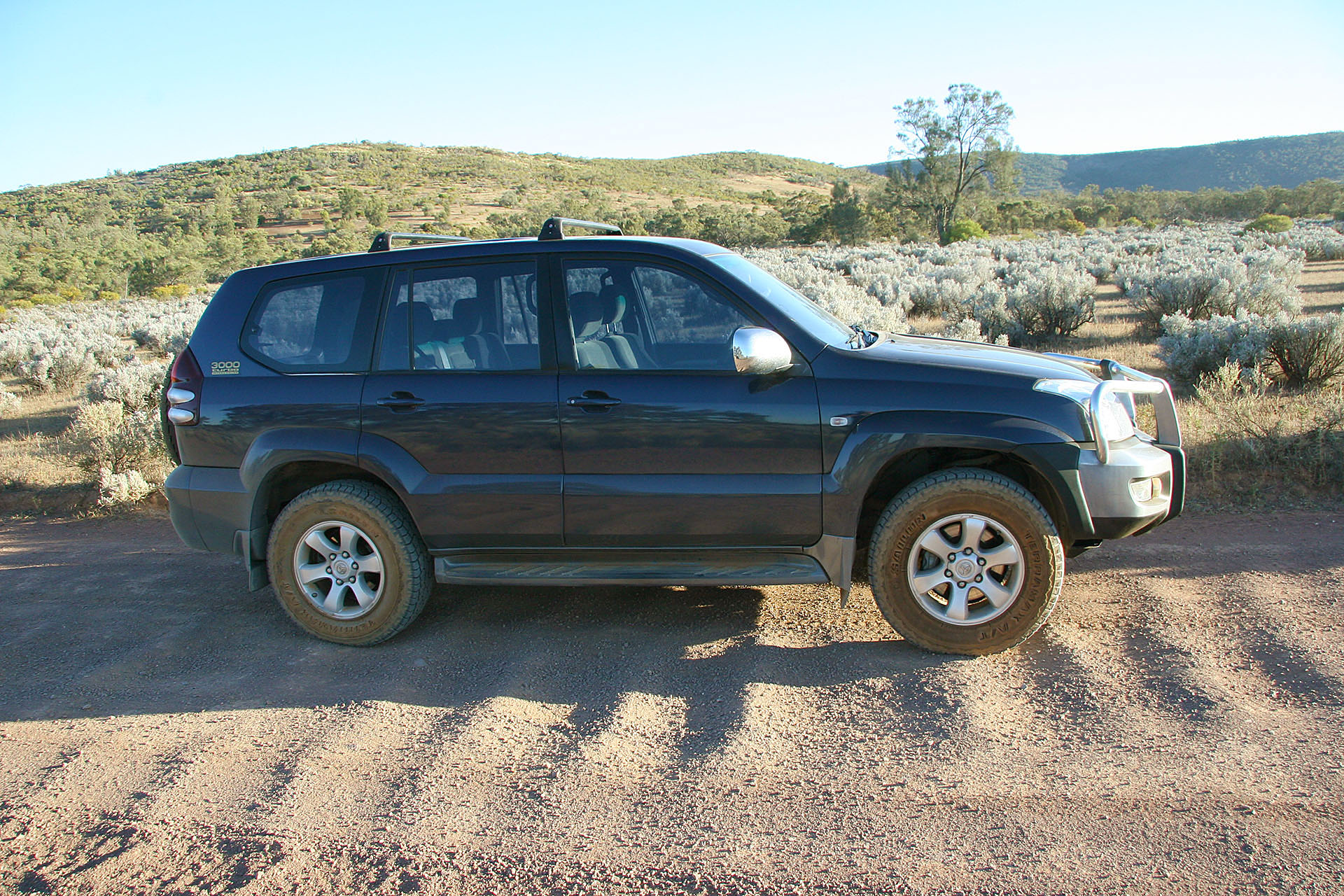 A washboard of a road.
These lands are inhospitable, to say the least, but people tried to live there once nonetheless. In hopes to get the crops and cattle going, they needed water, and to that extent they even built a small dam to collect it.
The Stone Dam, as it's called on the map.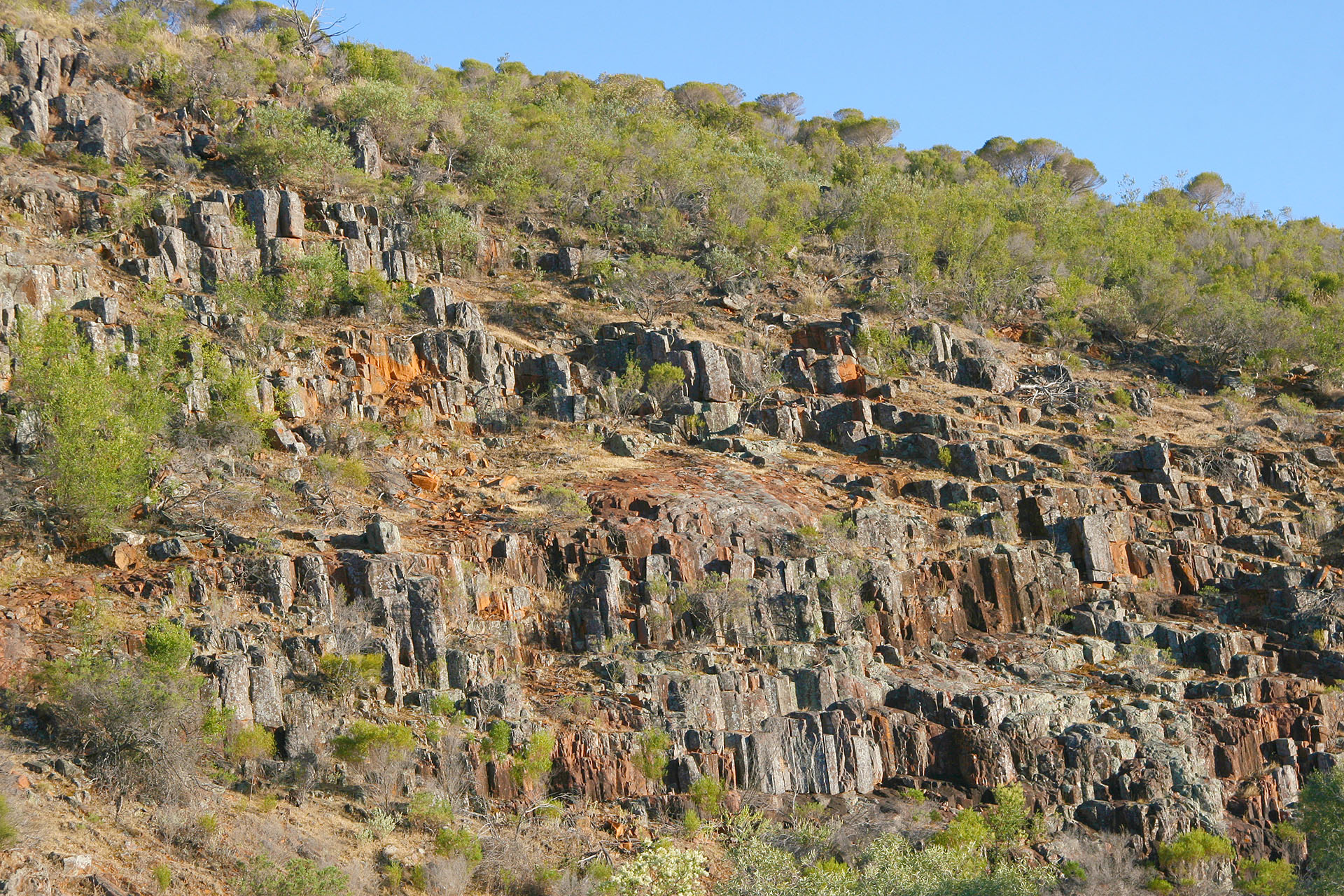 More hills around…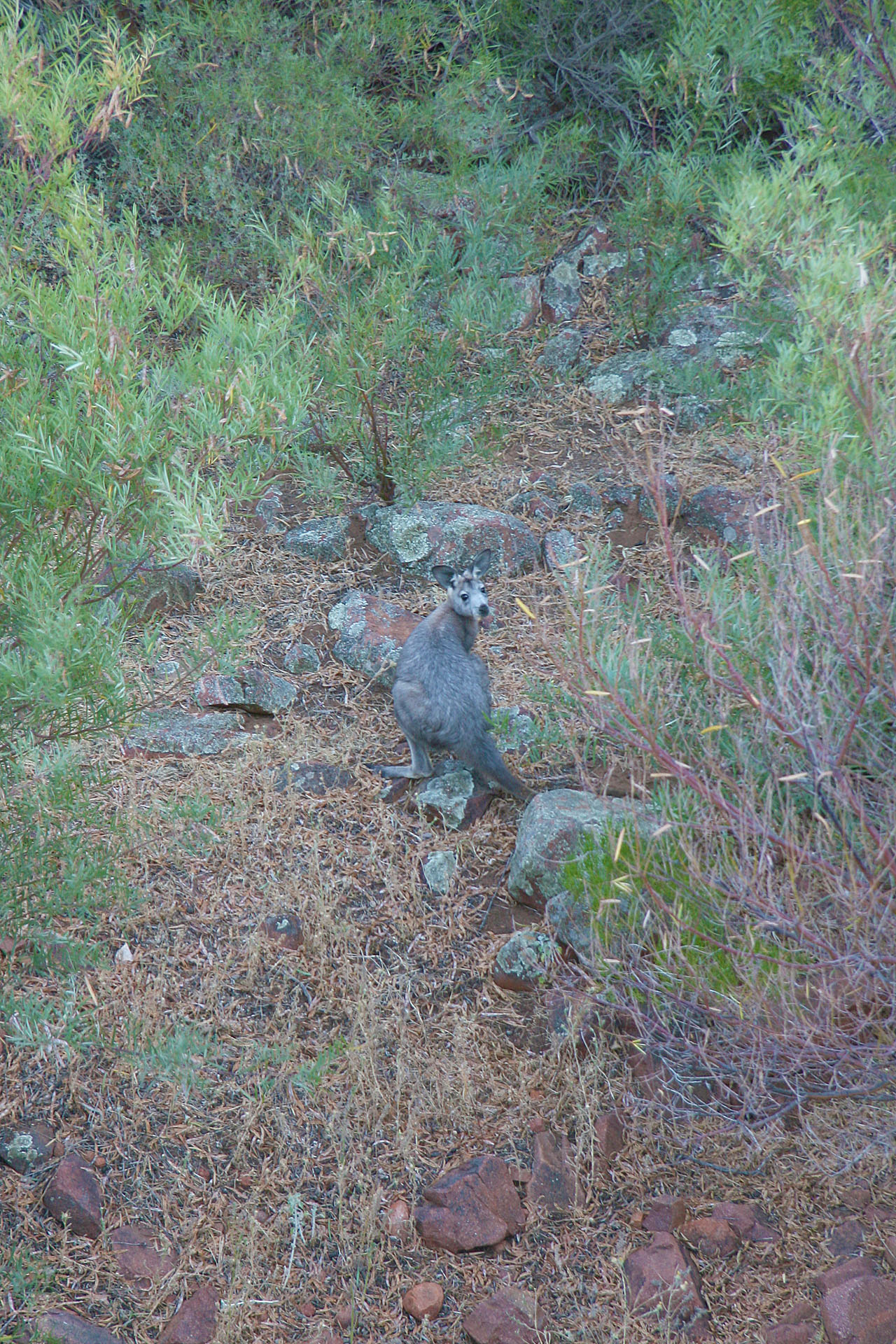 …and more kangaroos.
It is very quiet and tranquil around. Not a single person around.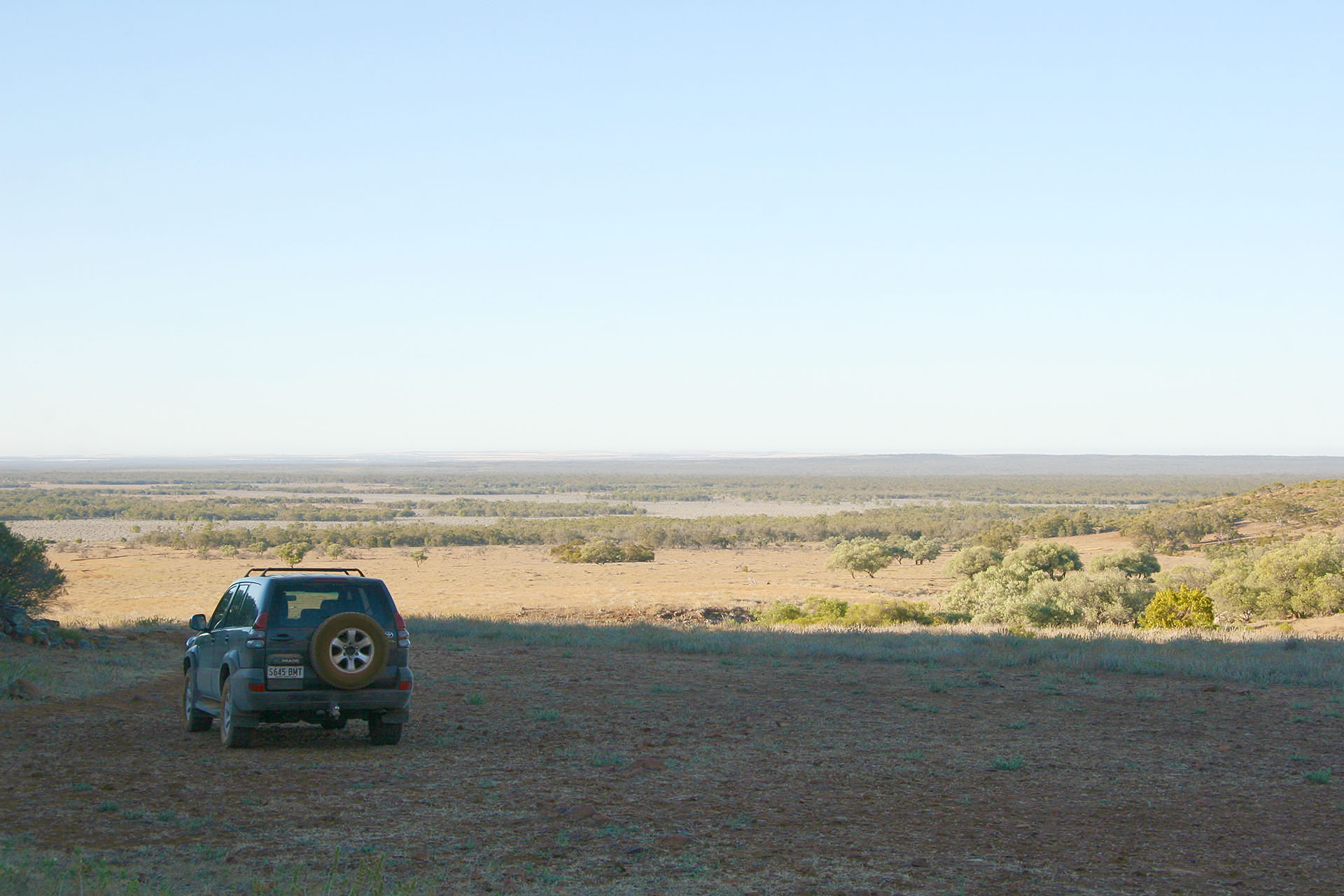 The park is big indeed.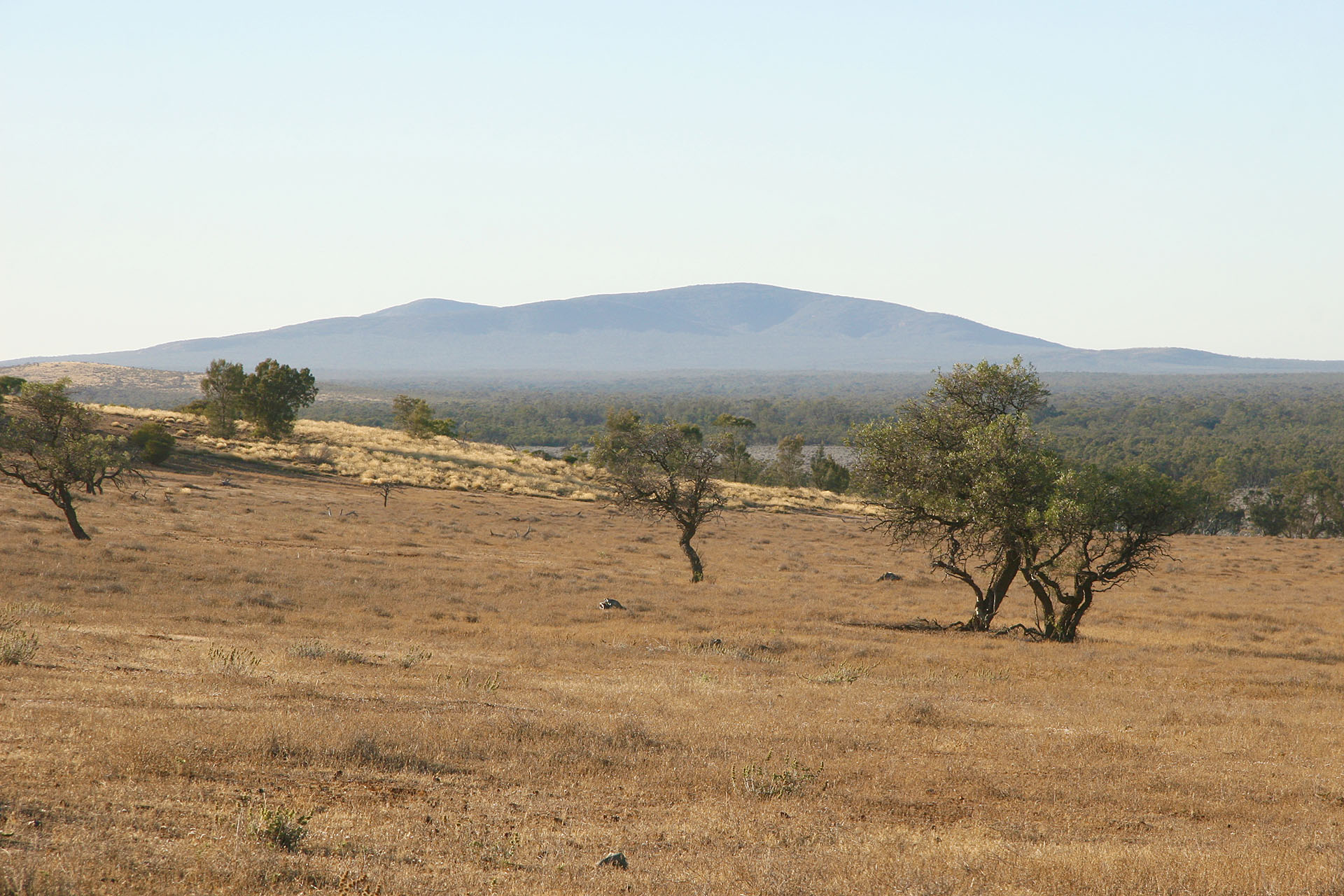 See what I mean?
Kangaroos, on the other hand, are plentiful. Whole groups of them are roaming around the area. They look at my car cautiously, and then they decide to run away from it, but some just stand there and wait until I pass.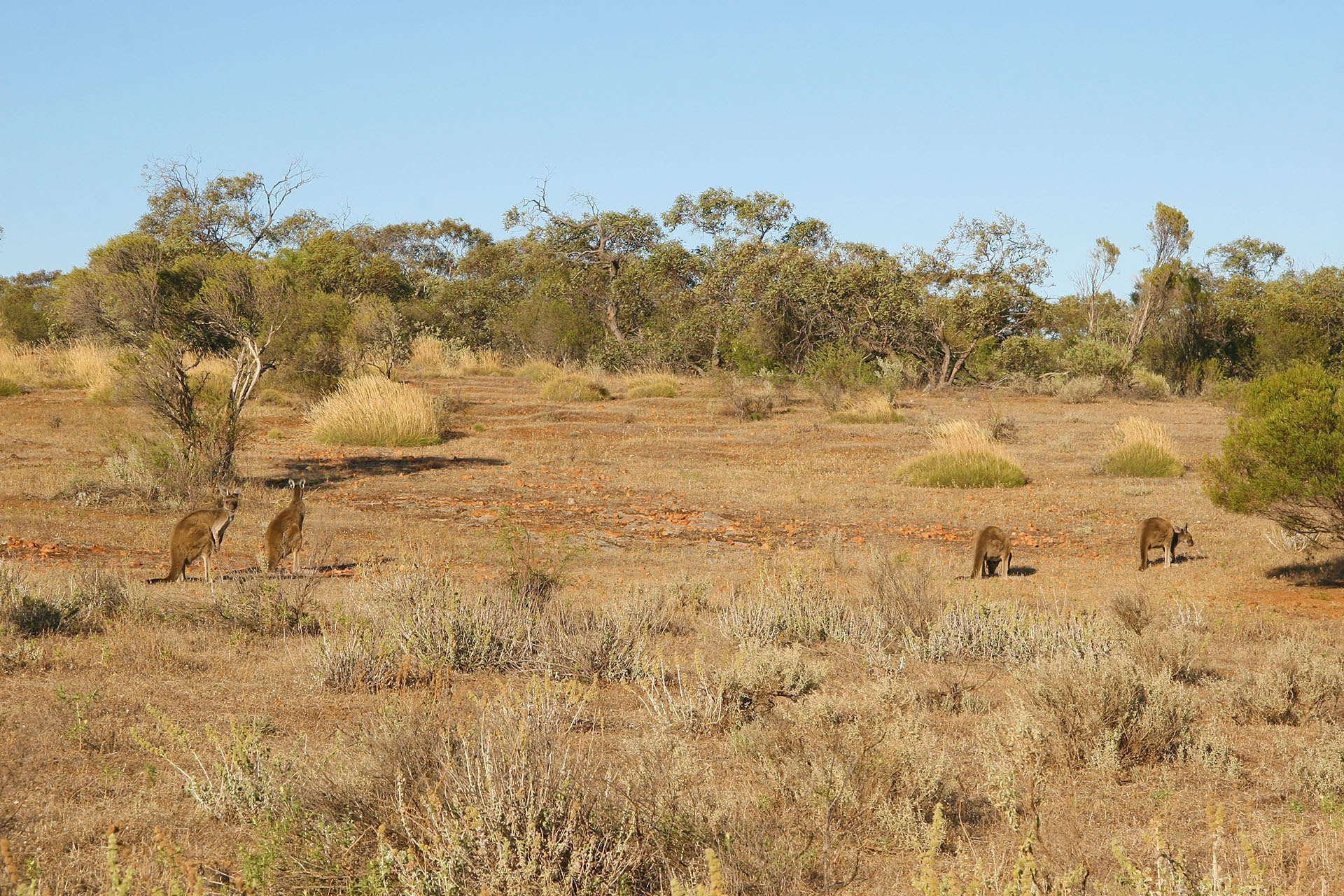 The locals.
A couple.
Has suspicions about me.
I leave the Dam and drive furher. The road is still quite a washboard, but there's nothing I can do about it.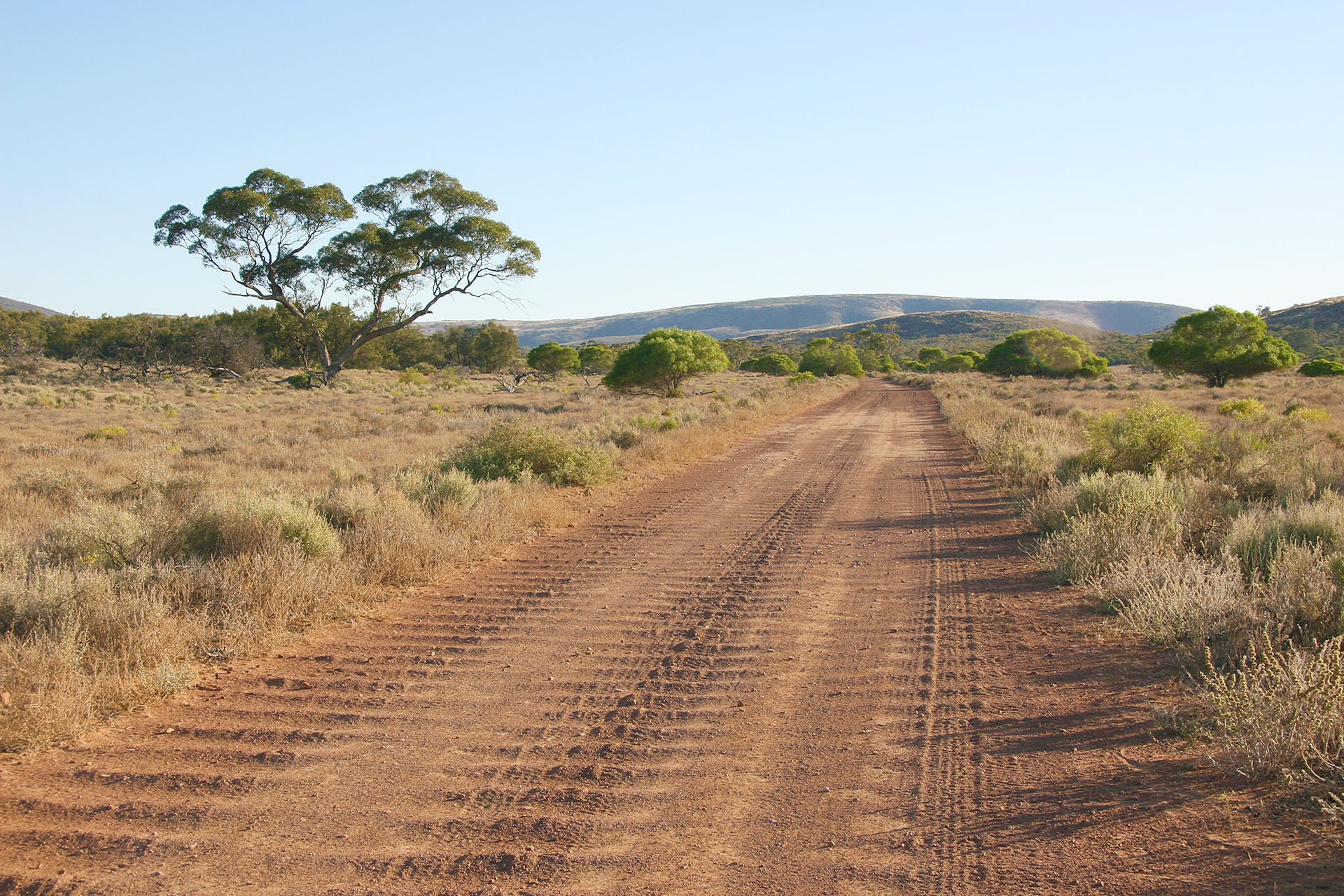 Suspension of the vehicle must be hating me.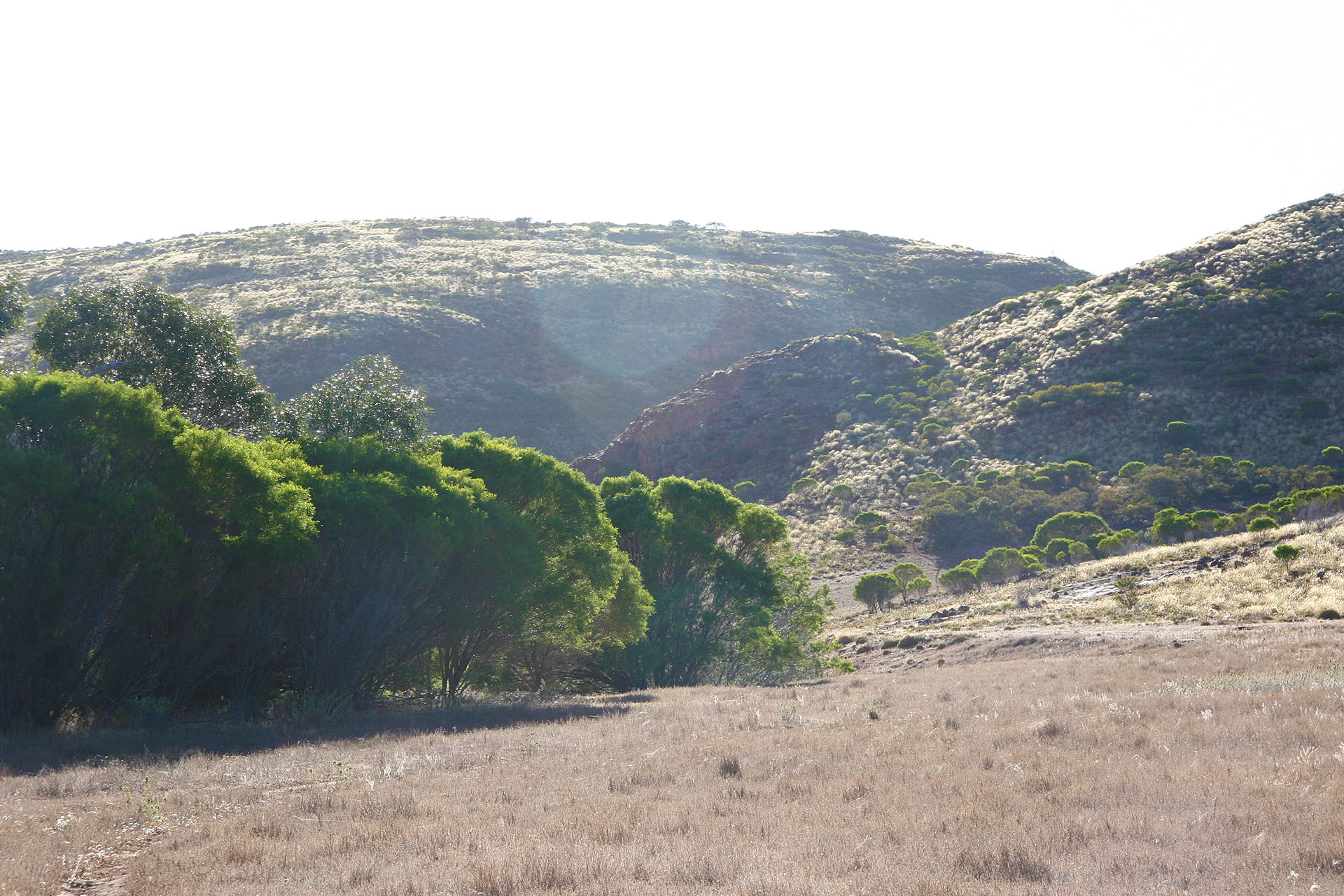 But it still looks pretty around.
As I said, people lived here up to the end of the 19th century. Families after families tried to get their life going here, but none succeeeded, and gradually these hills became empty. The old homesteads are used to accommodate tourists now, and for $50–$80 you can experience the life of those early pioneers firsthand.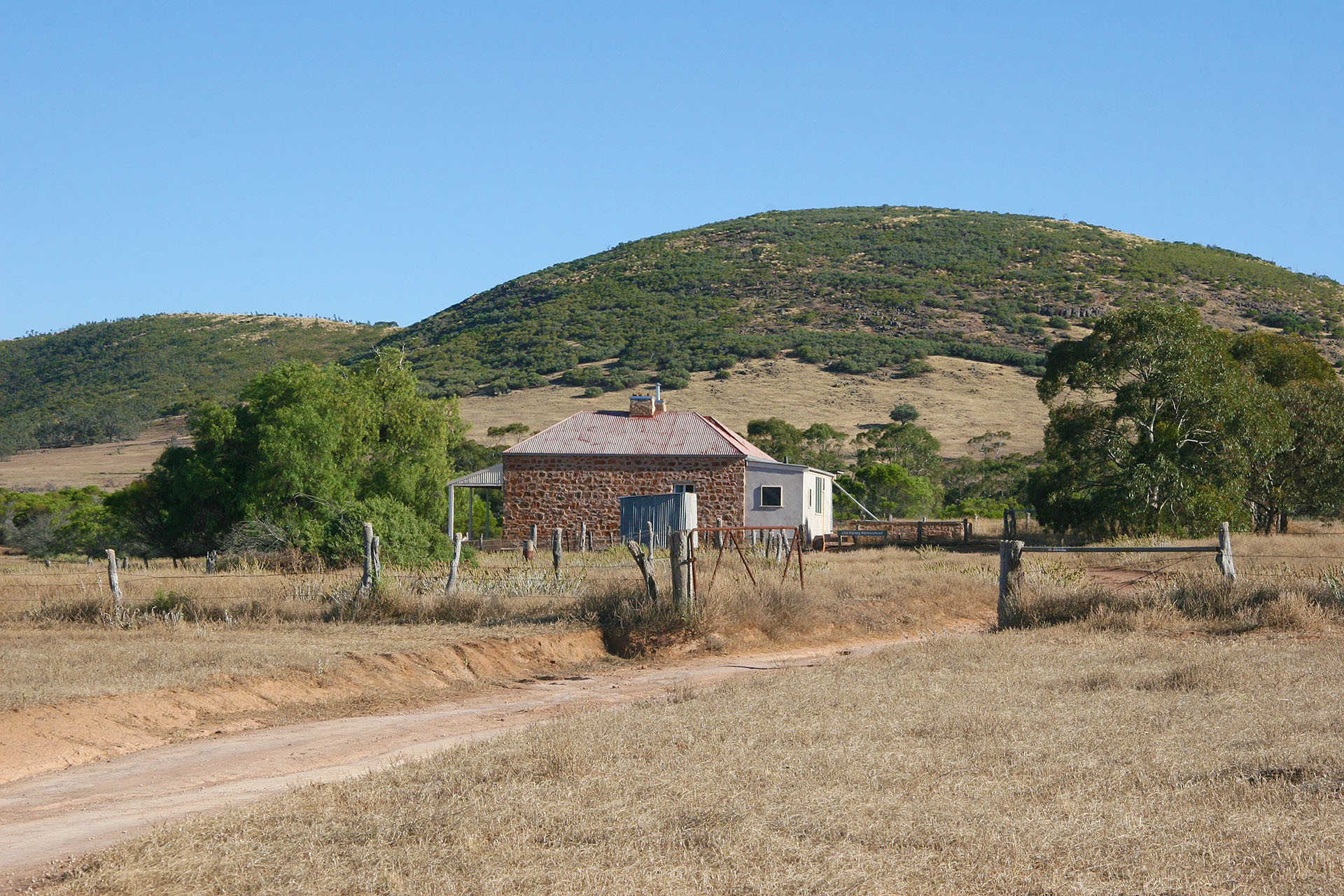 Old Paney Homestead.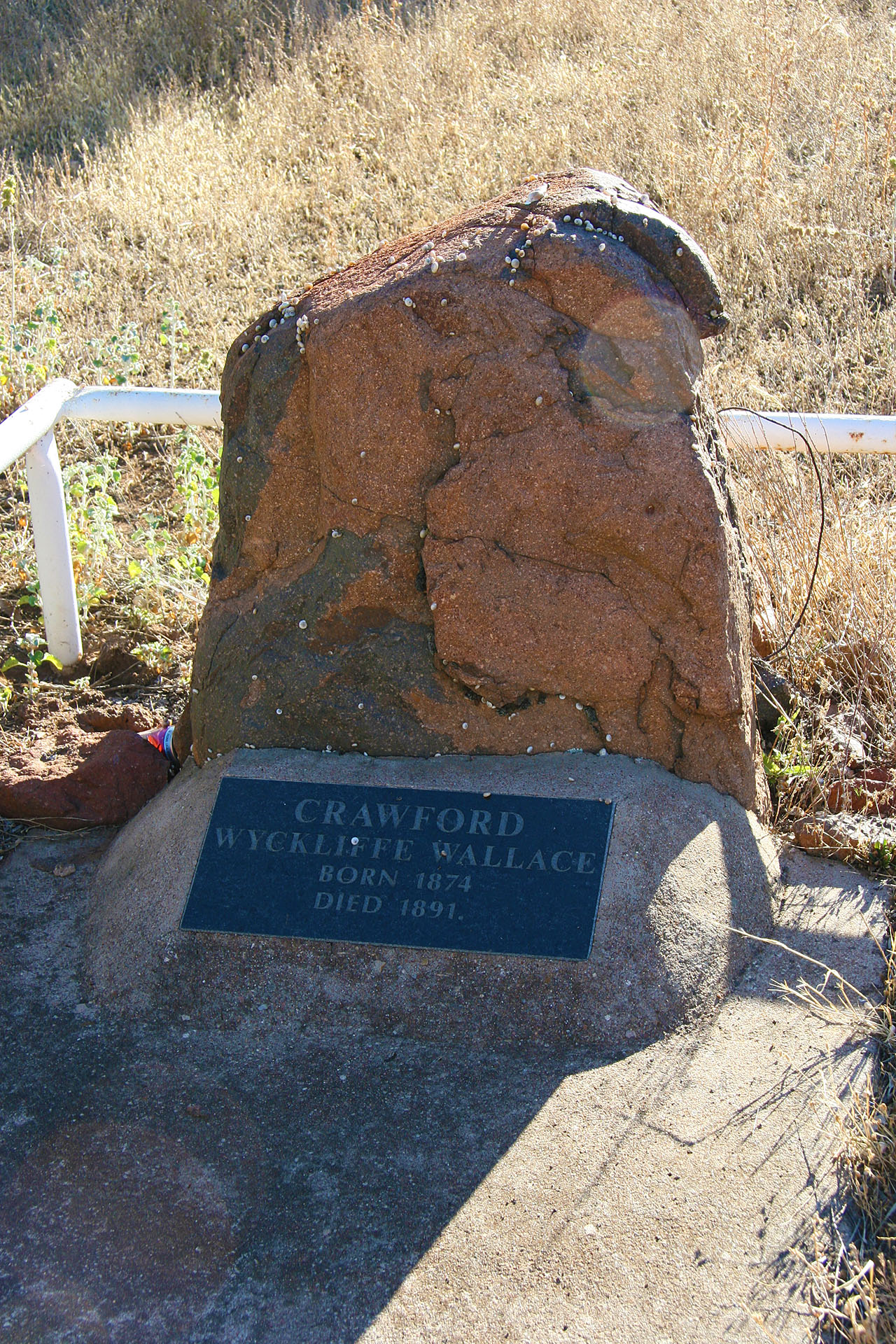 Didn't even make it to 20.
Another sight next to the homestead is called the Policeman's Point. I head over there, but the sun is still a bit too low in the sky, and it gets in the way of taking photographs.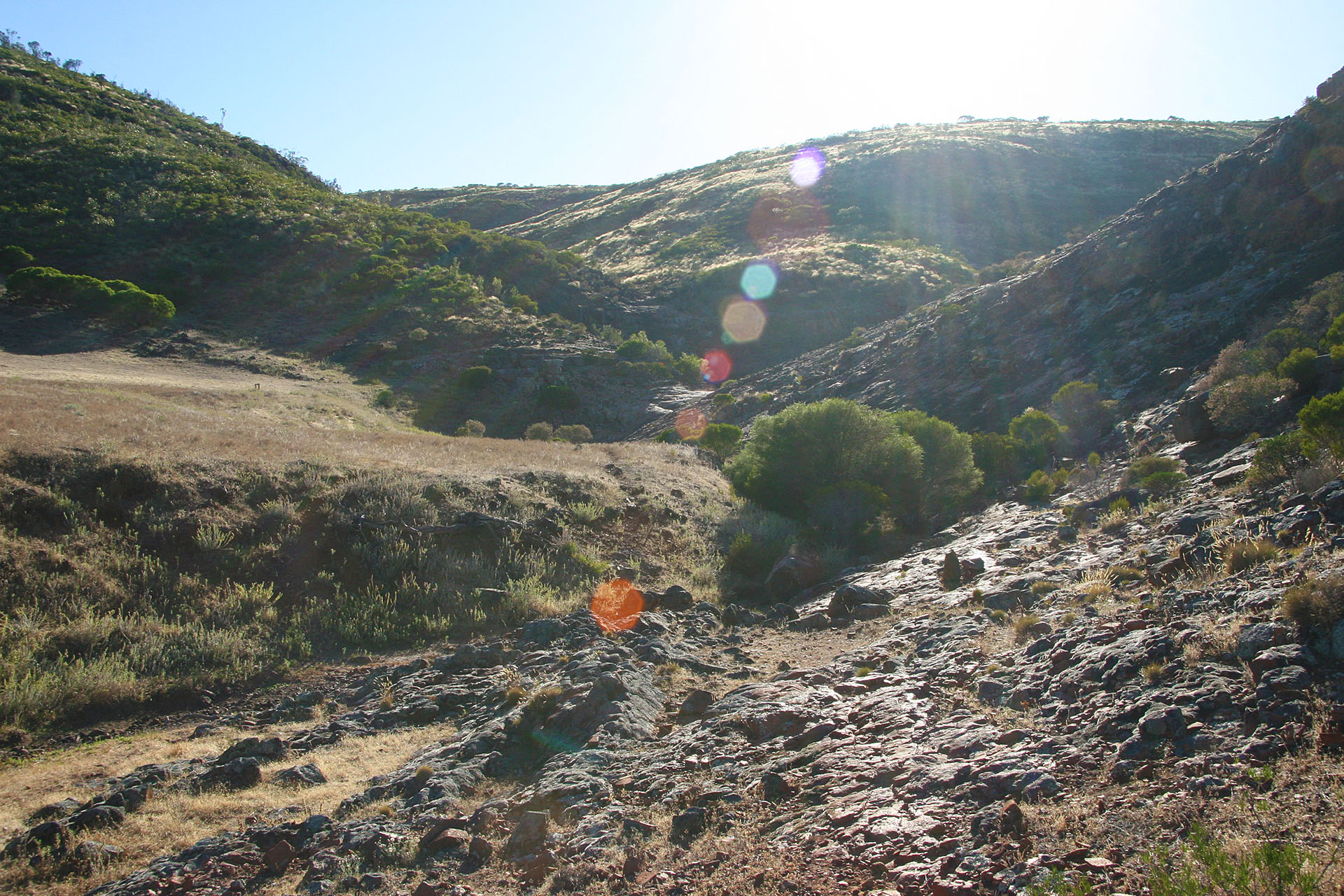 One hell of a glare.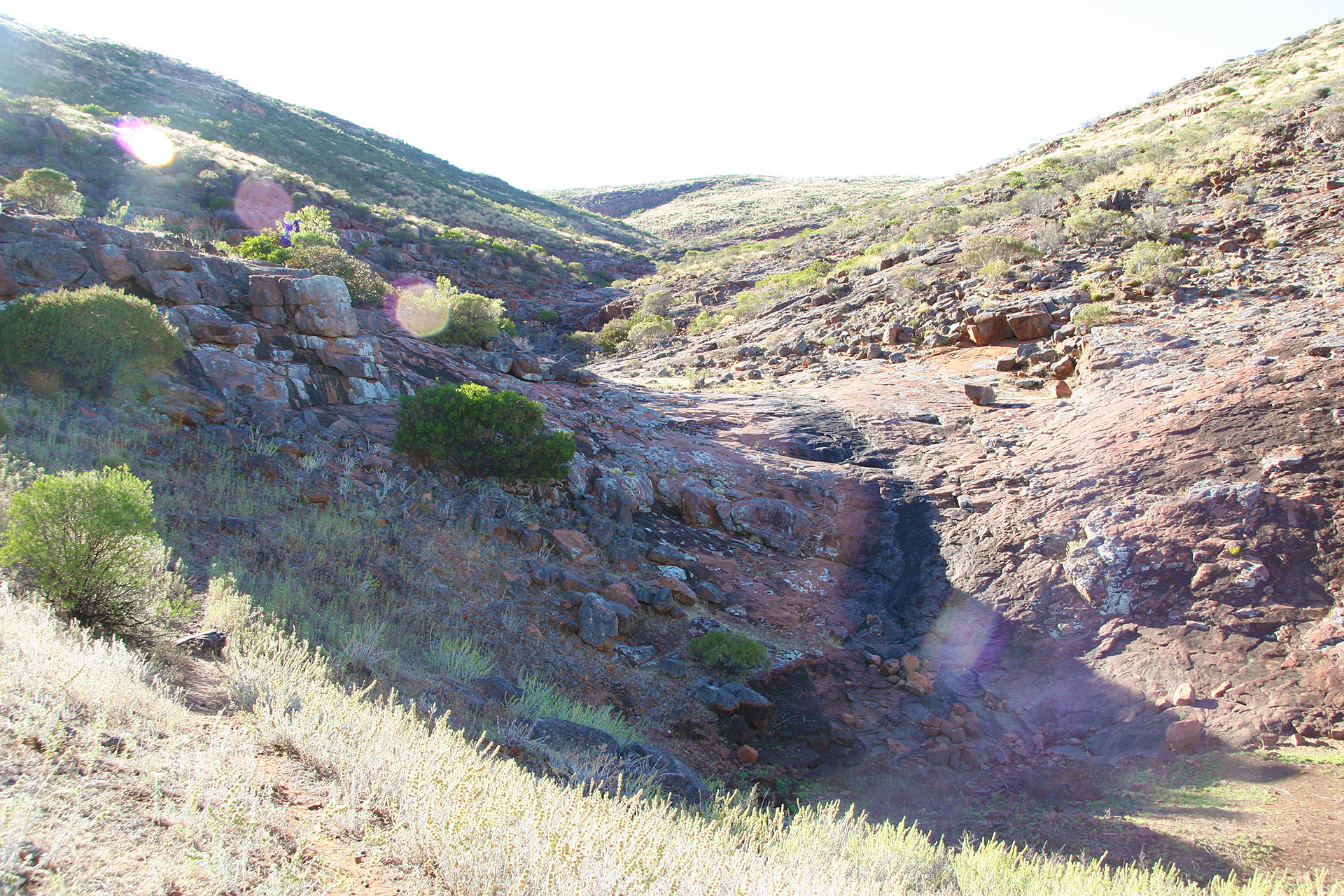 Policeman's Point.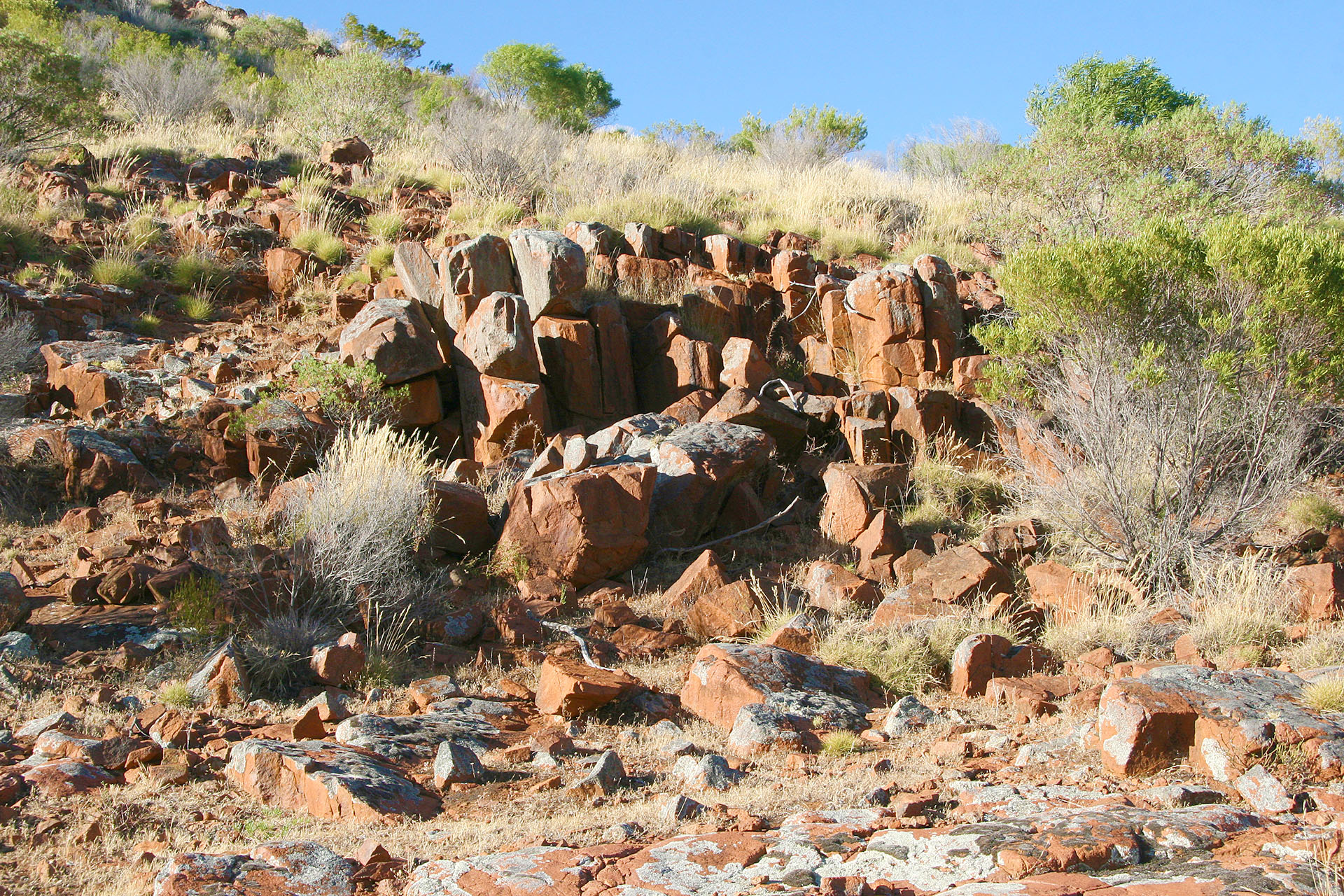 Scenic boulders.
Scenic tussocks.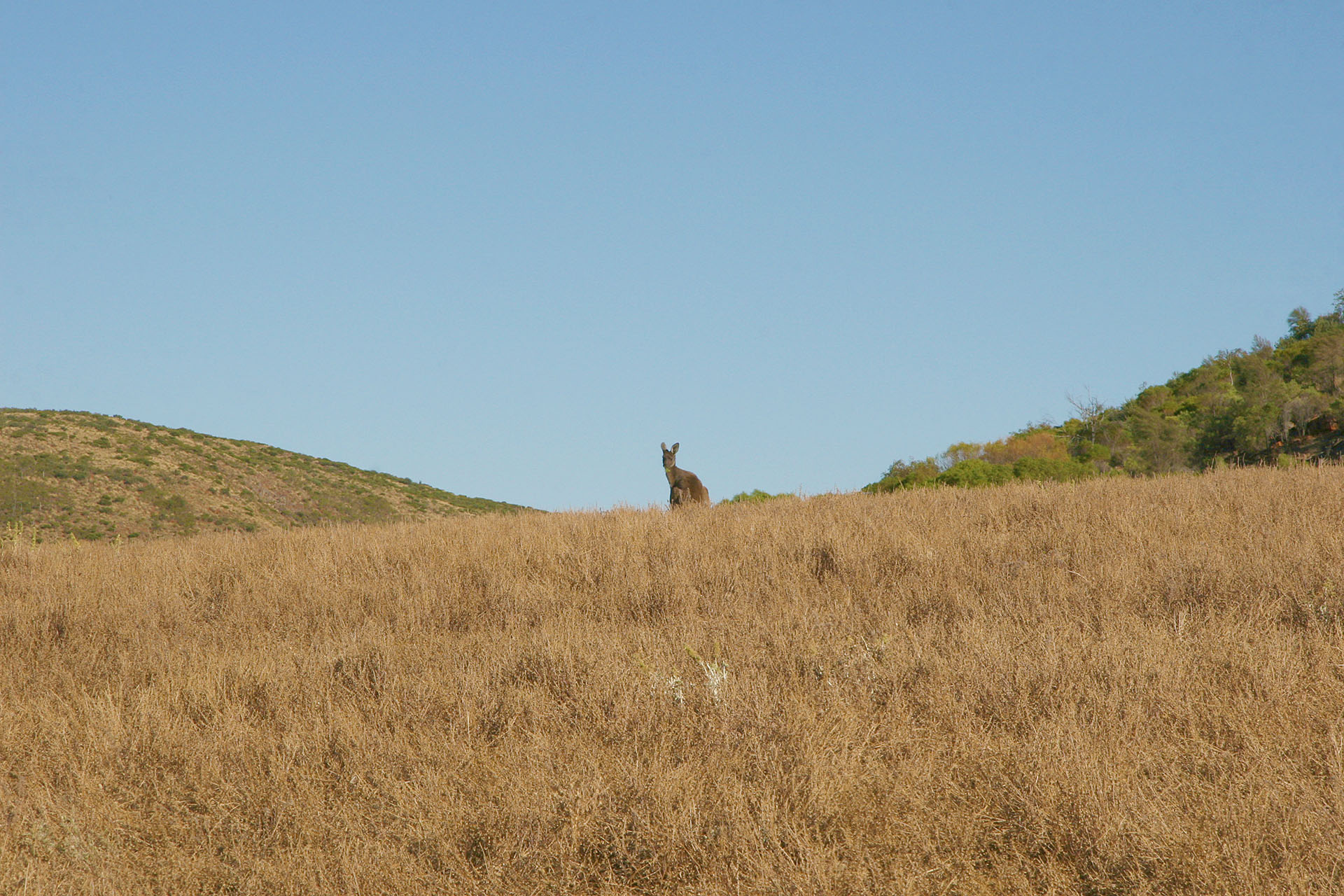 The guard.
Nothing about this place tells me what police could have possibly got to do with it, so I shrug and return to the car. Dozens of roos around. Unsurprisingly, given that there's about 50 million of them in the whole Australia: twice as much as people.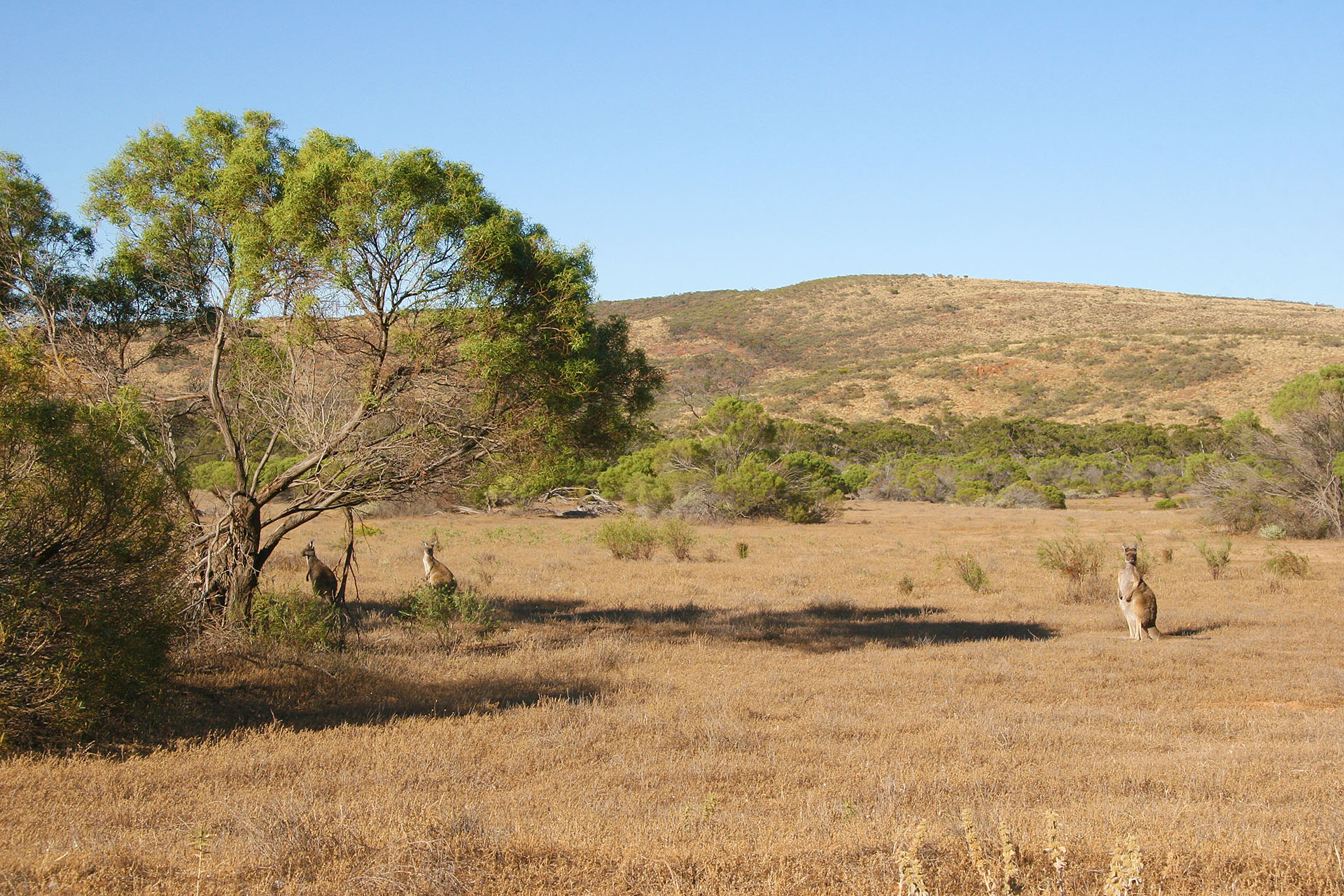 The true owners of the place.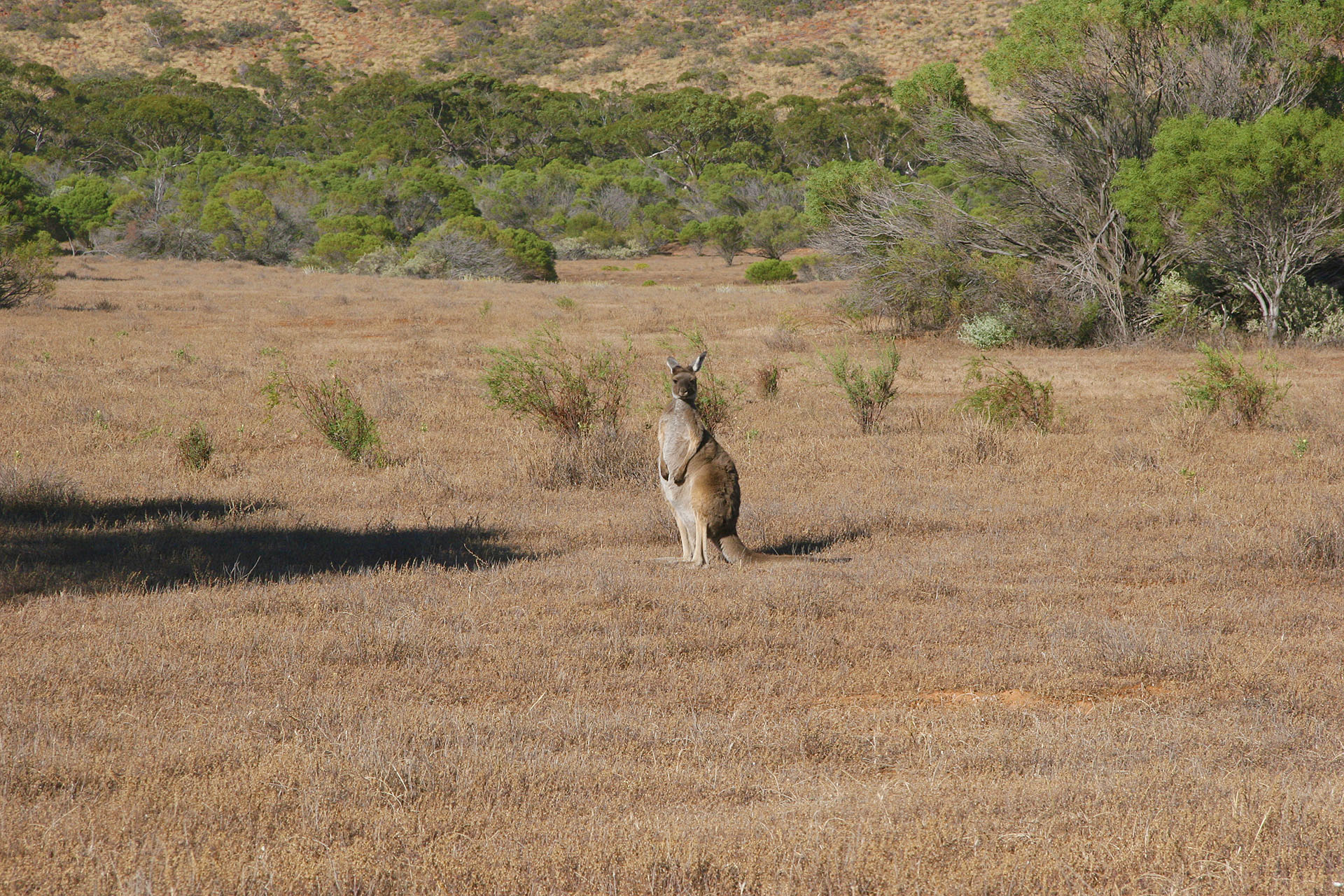 Get off my lawn!
On the right side of the road I suddenly see a large washout. Looks very impressive. Is it really the rain's doing? Talk about dry places.
Quite a washout.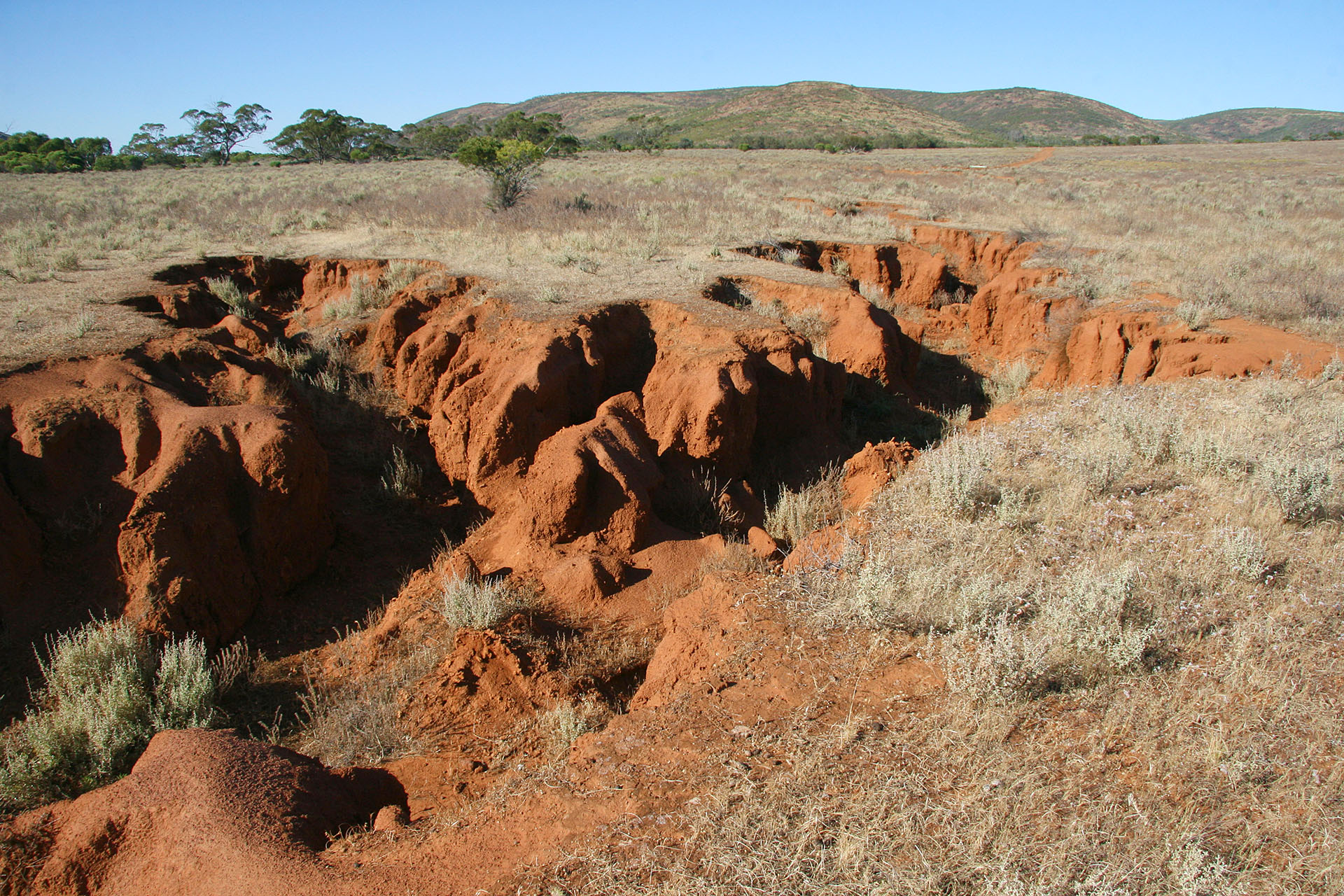 Ditto.
A little while later, on the left side of the road this time, I see a real wombat. As soon as I stop the car, the beast disappears quickly in its burrow. All I can do is picture the burrow itself: I'm not even going to try and visit the unhappy wombat in its house. These guys can be vicious when cornered.
A wombat's digs.
The road rapidly becomes worse. You can't even think about 60 or 70 here: 40 is the limit, and 20 is even more like it. Some inclines are so steep that I get quite nervous, but my Prado navigates them all effortlessly like a boss.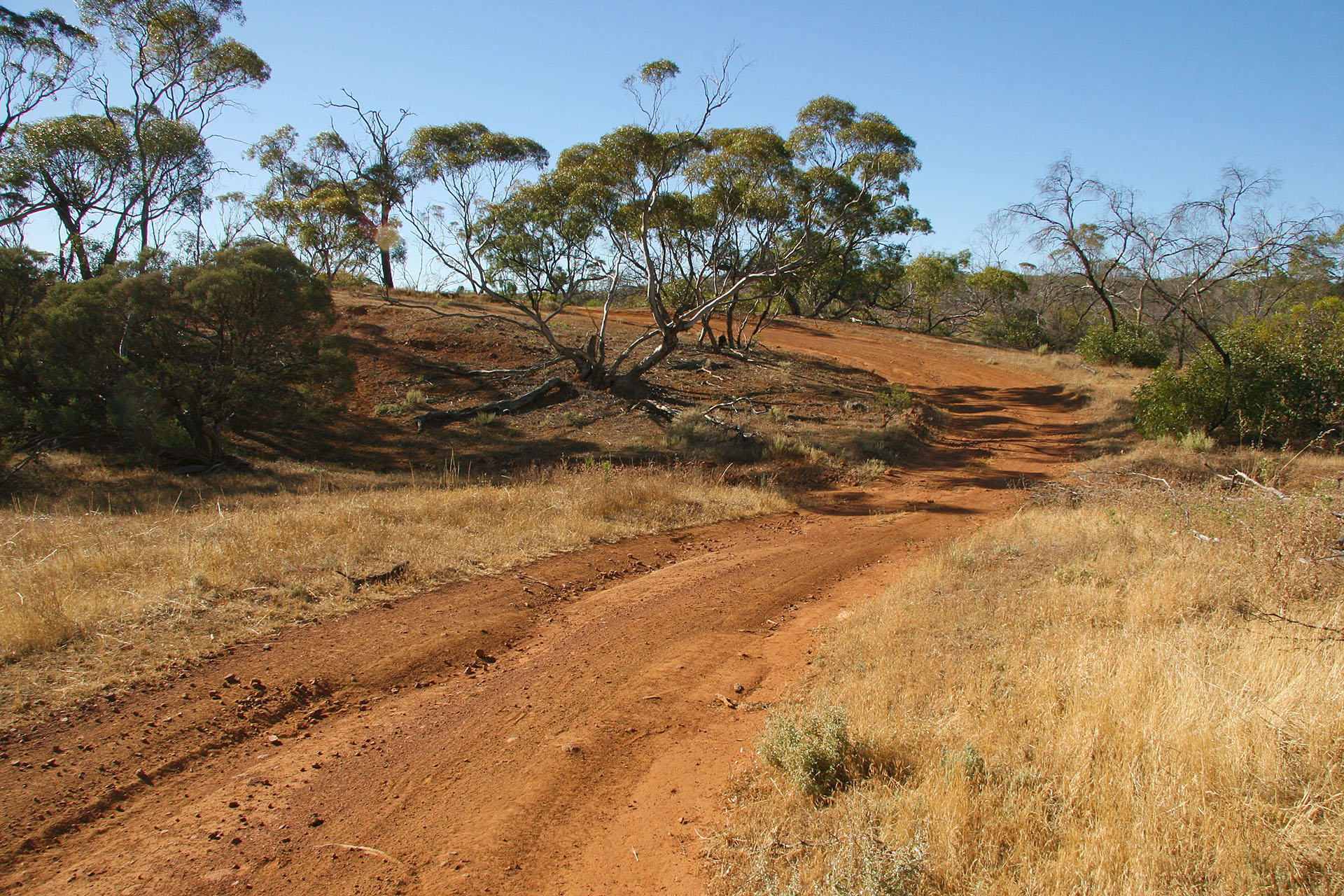 That's quite a rut.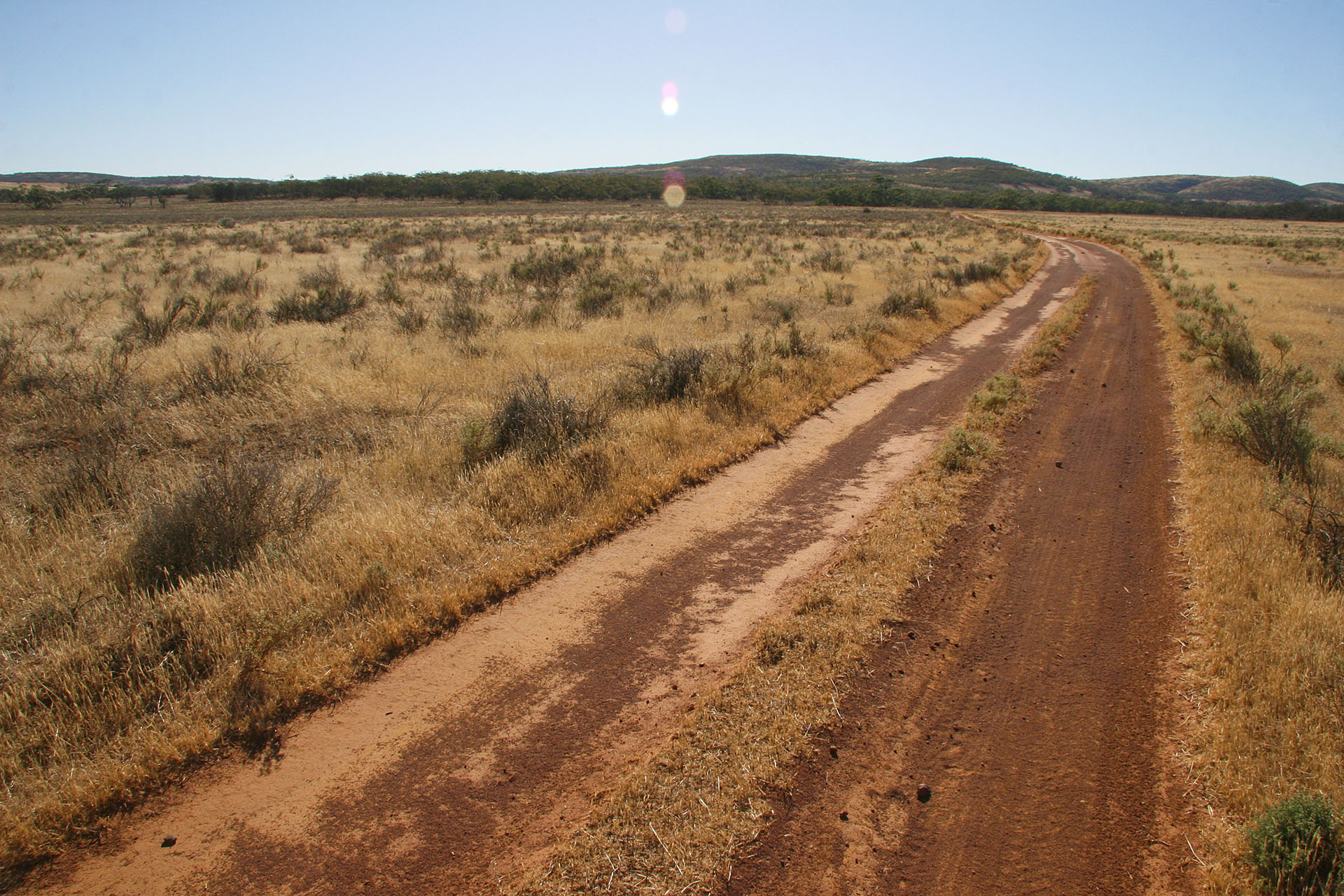 But it's still beautiful around.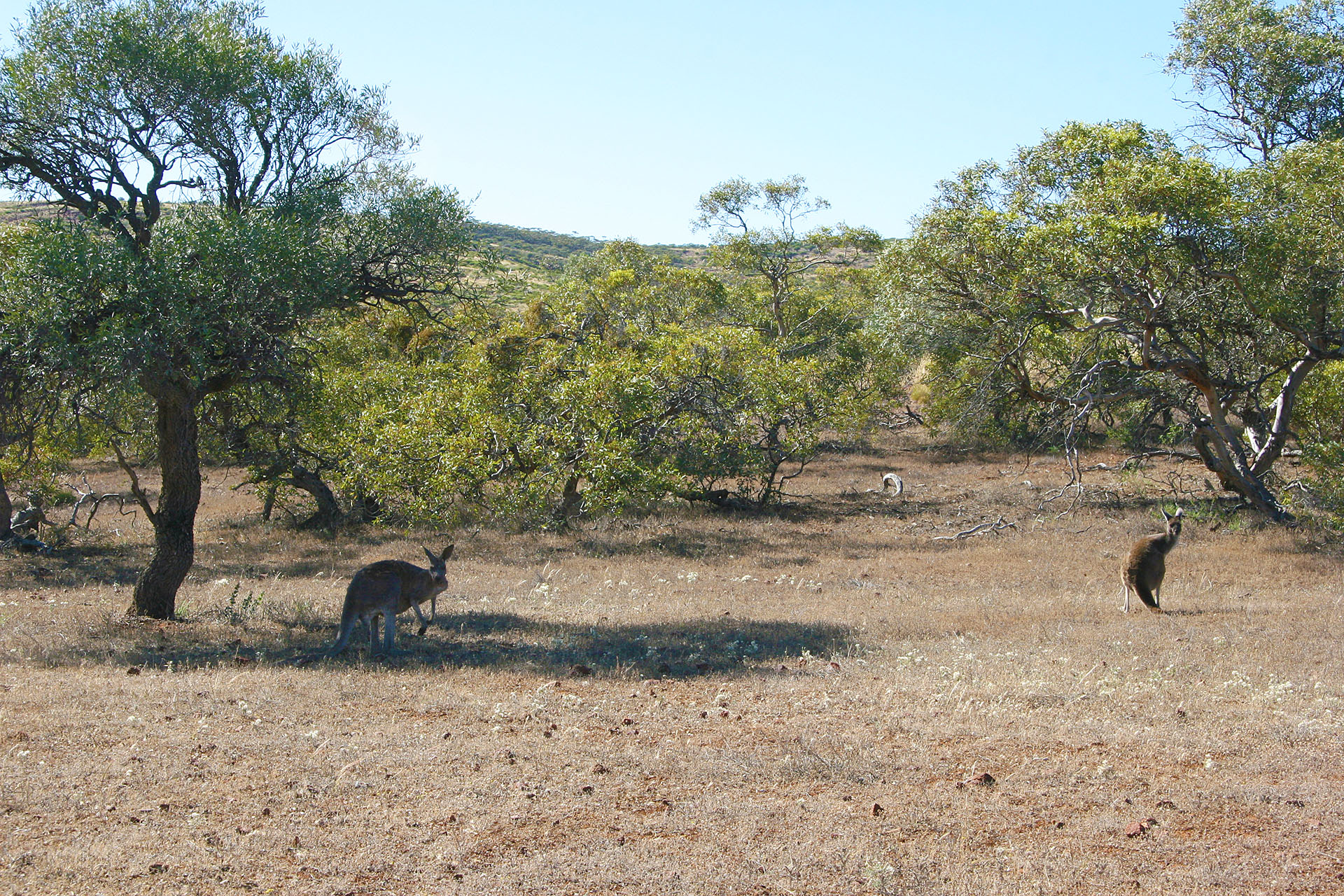 And there's still plenty of roos.
I arrive at the place called Kolay Mirica Falls. Once again, not a drop of water on the bone-dry rocks, but they're quite lovely and scenic entirely on their own.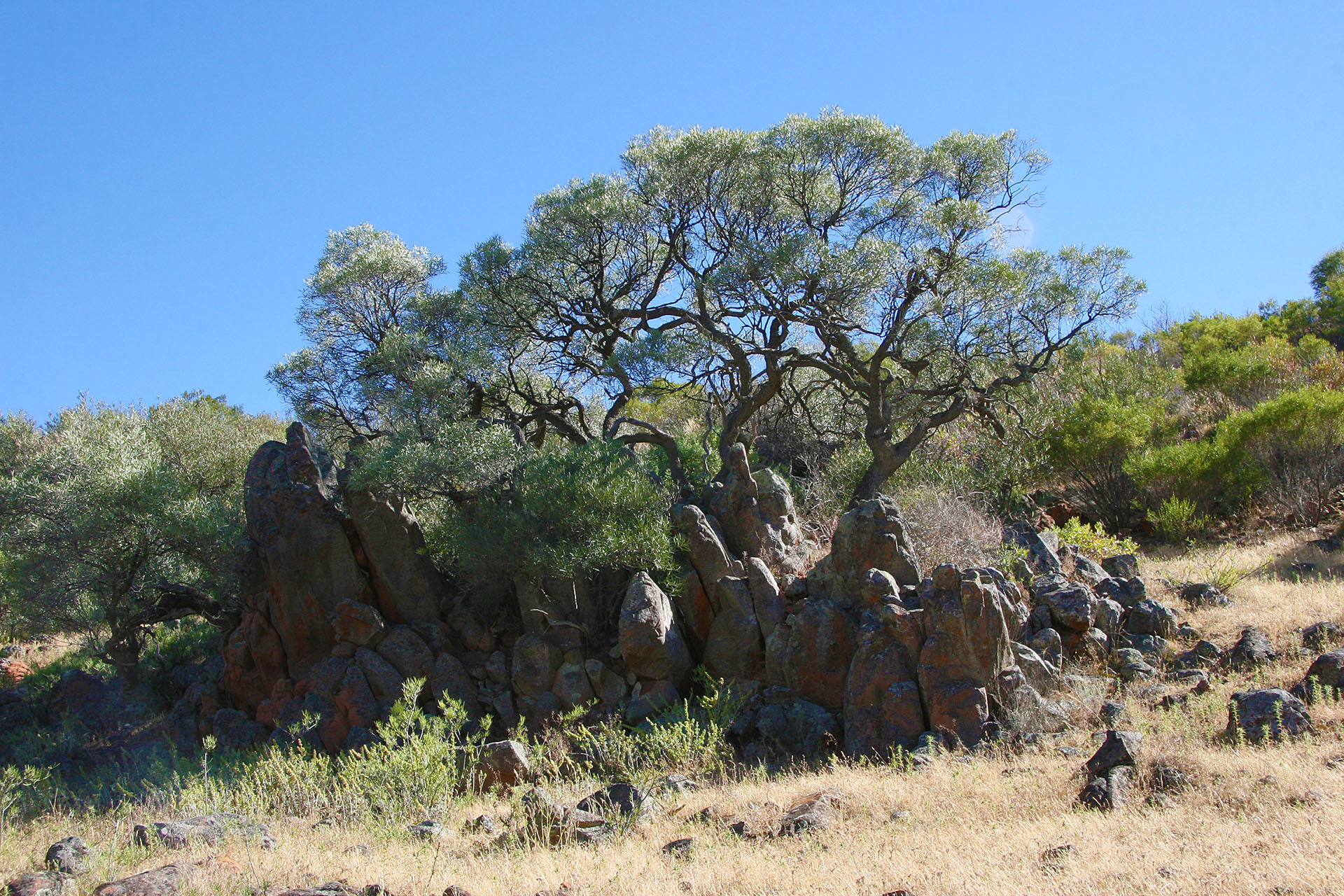 The trees are fighting for it.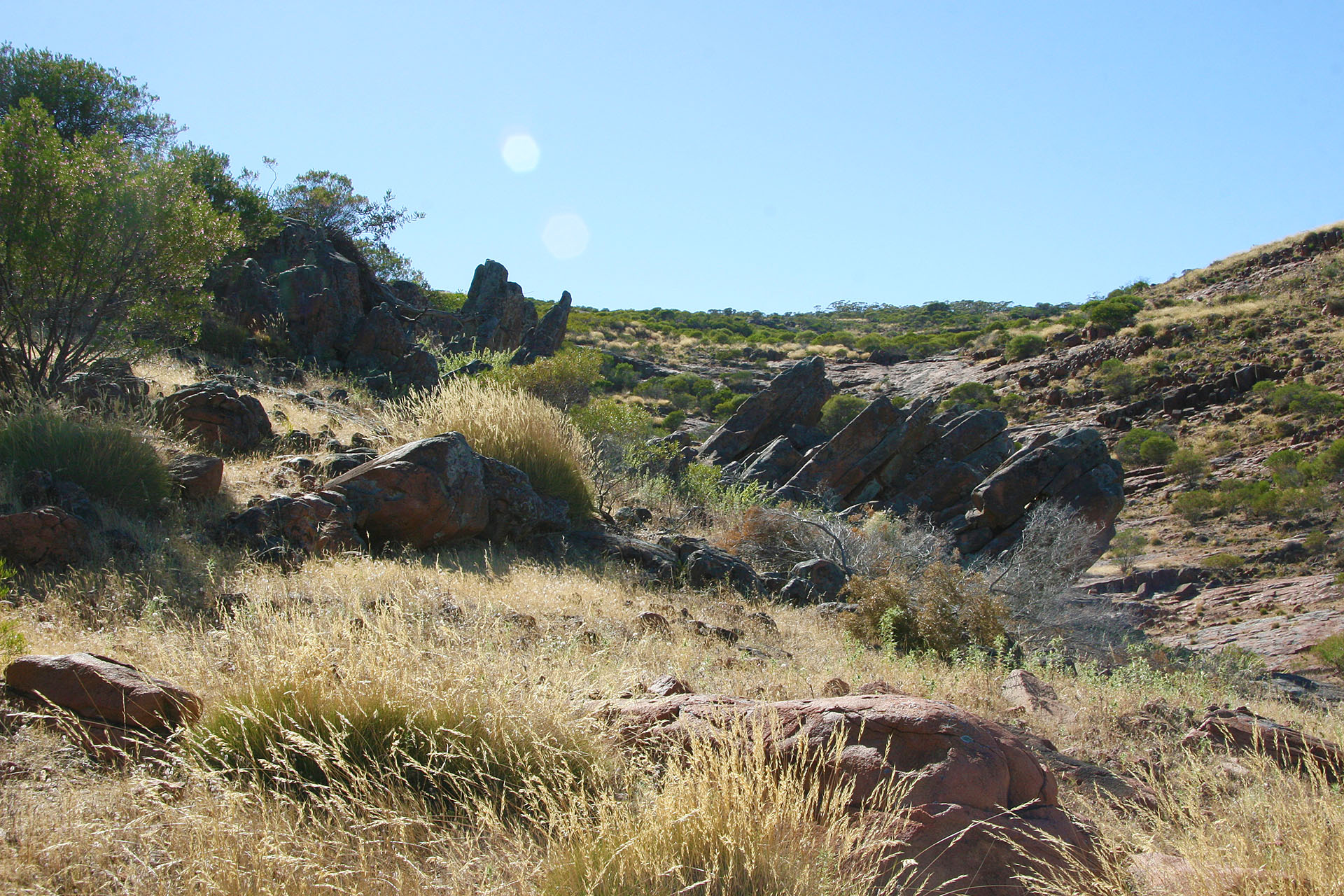 Rocks are slowly losing their battle with the elements.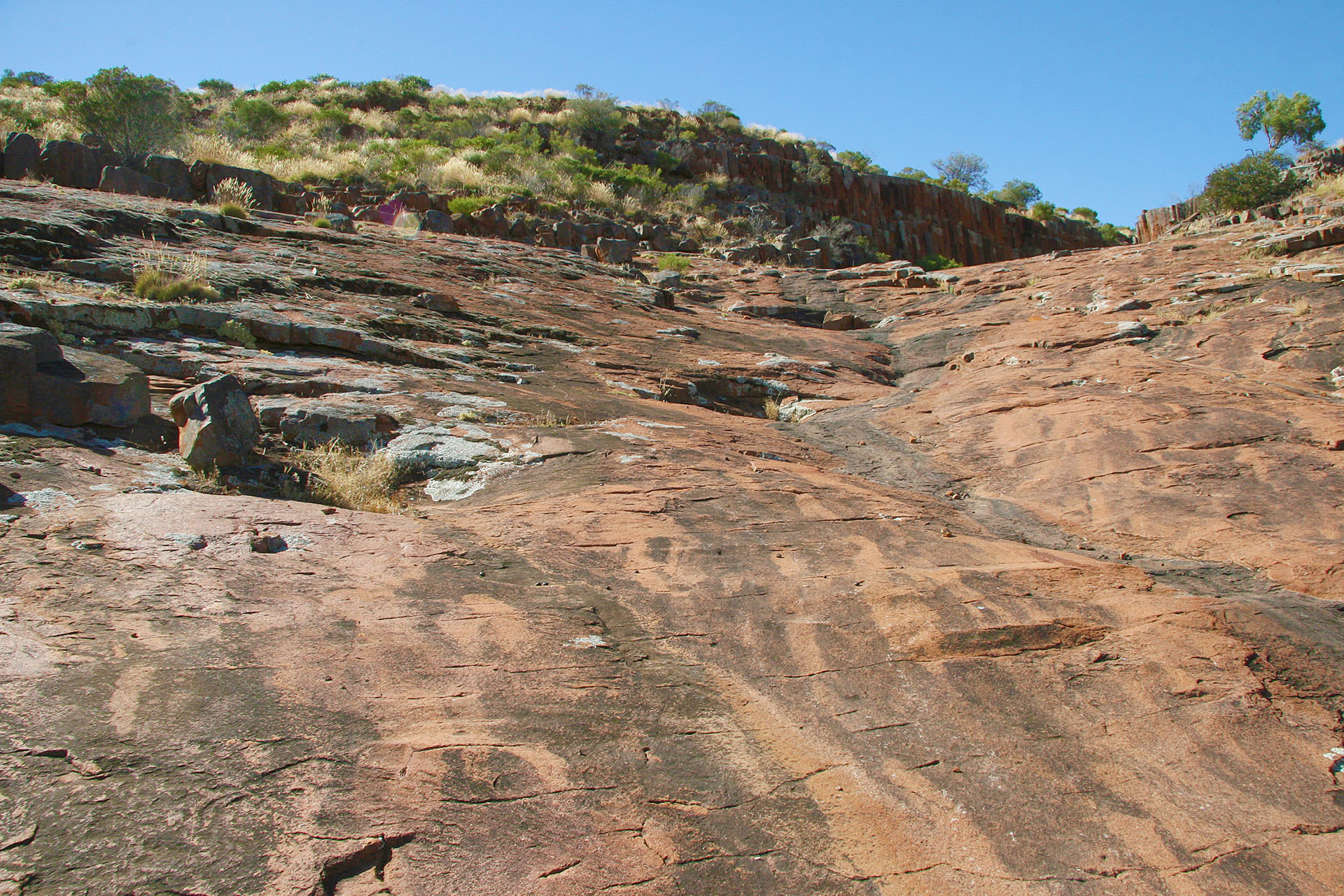 Traces of the falls.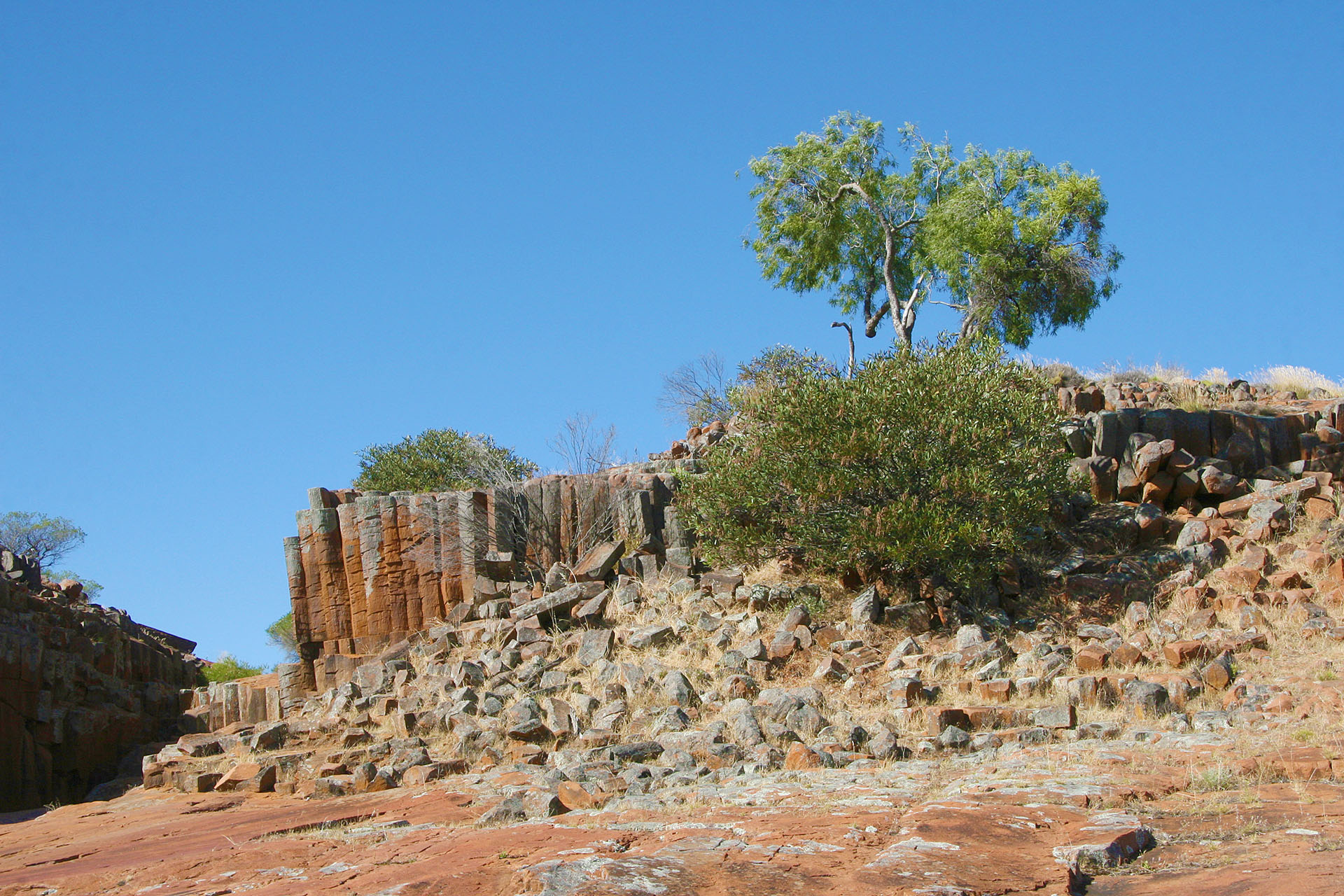 Small trees.
I can see where the waterfall usually is from the dark streaks on the huge, pinkish boulders. Another kangaroo is resting in the shade nearby, keeping an eye on me: it obviously doesn't want to leave a good spot.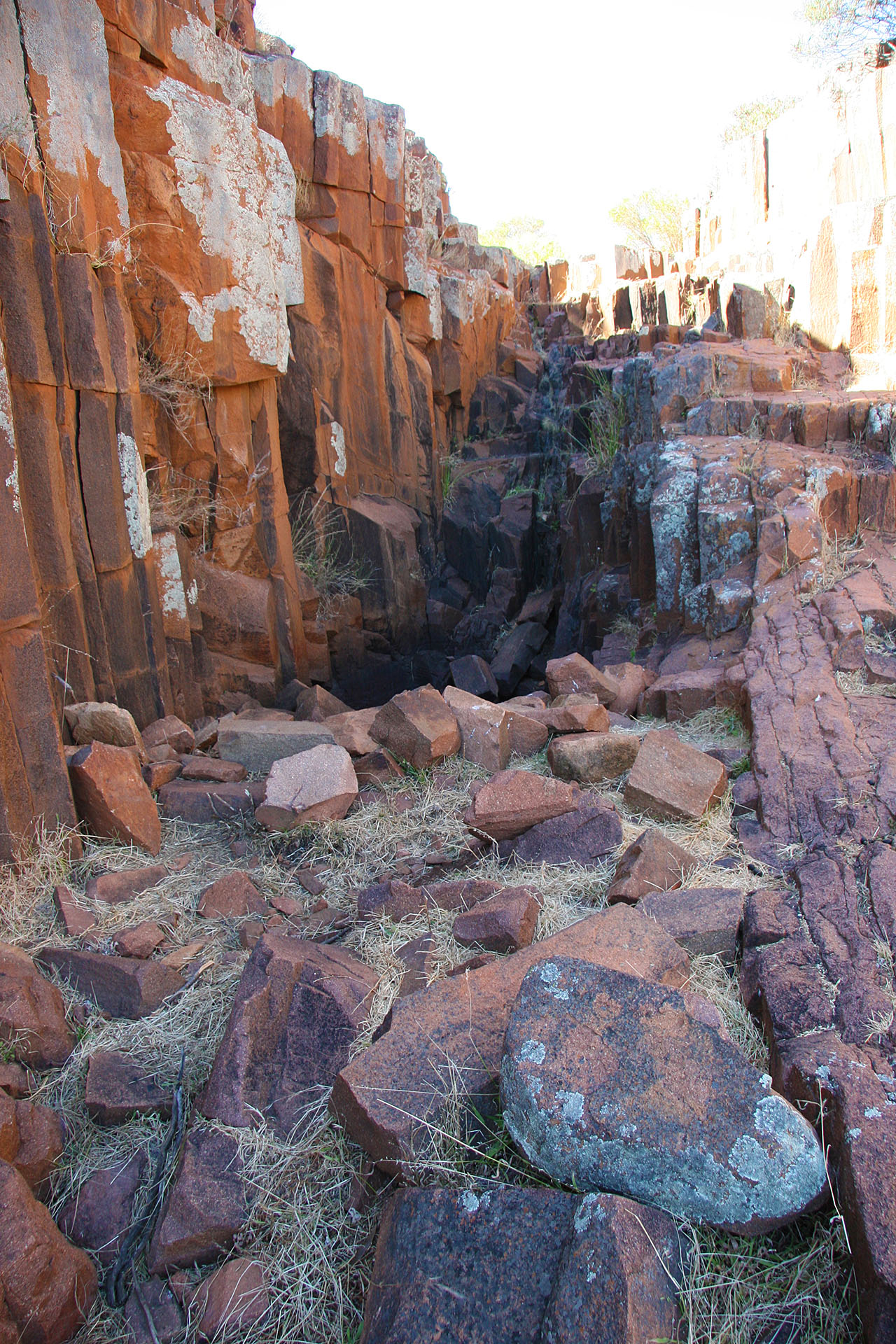 Waterfalls are here, when there's water.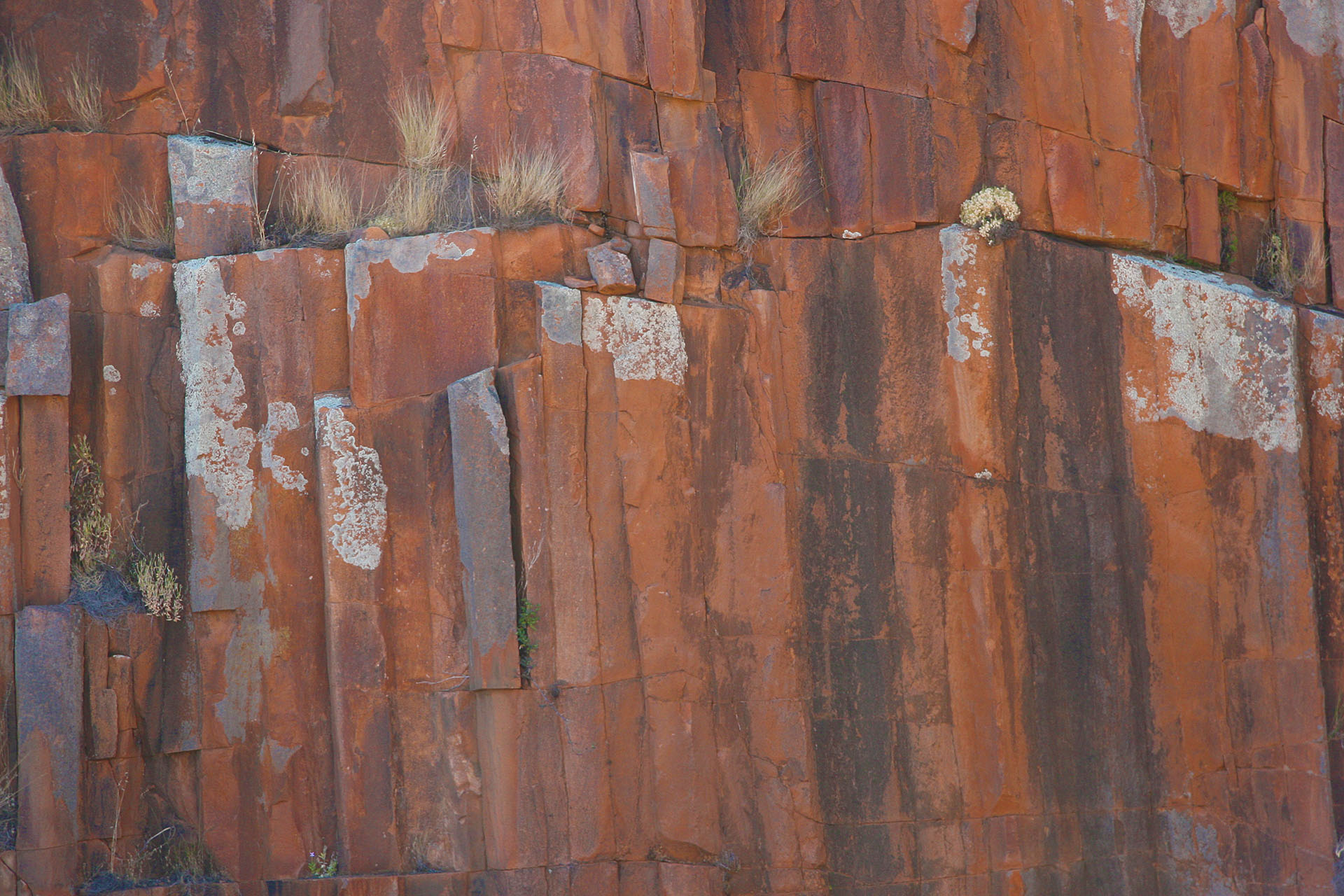 Some more of those "organ pipes".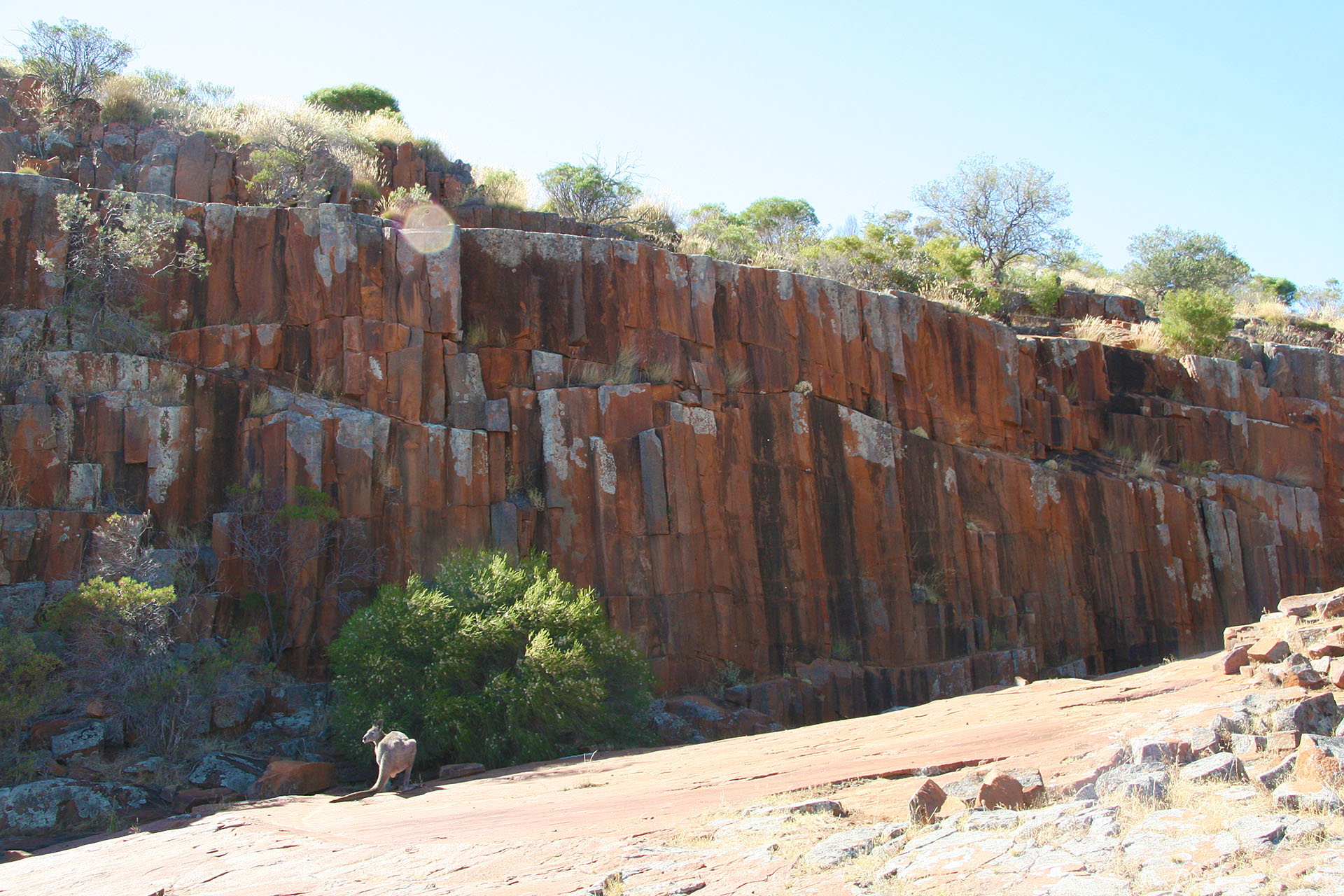 A local roo is on the lookout.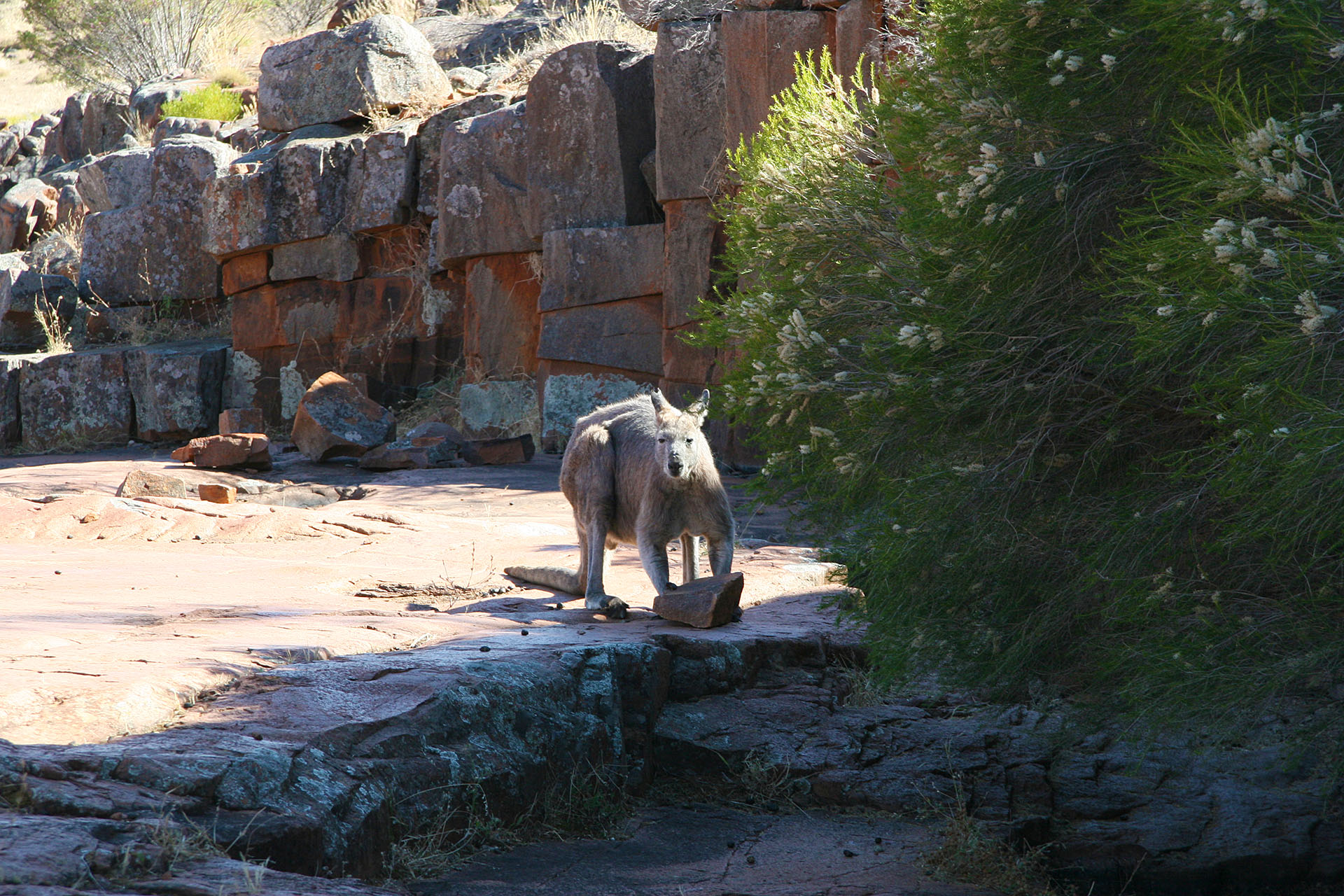 Nothing to see here, please move along.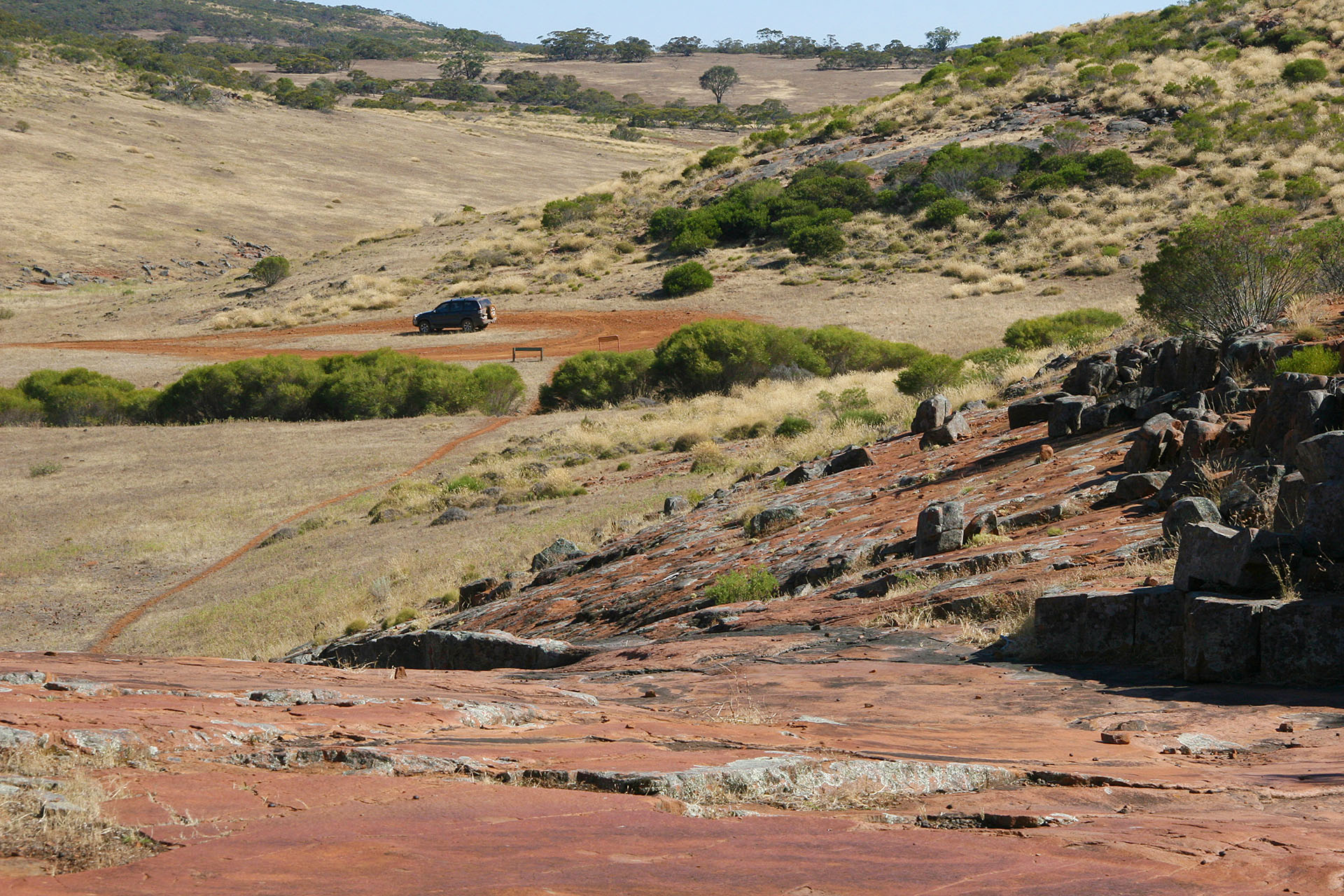 Beautiful views.]

I grab a quick bite before moving out and further on. Some ten kilometres of here there's Lake Sturt, named after one Charles Sturt who explored these (and many other) areas quite thoroughly back in the day. Brown clay under the wheels of my car is slowly changing to yellow sand as I approach the lake. It gets drier and drier around, too.

[IMG_9352.JPG" class="img-responsive" alt="Sand is even worse than corrugations." title="Sand is even worse than corrugations.">Sand is even worse than corrugations.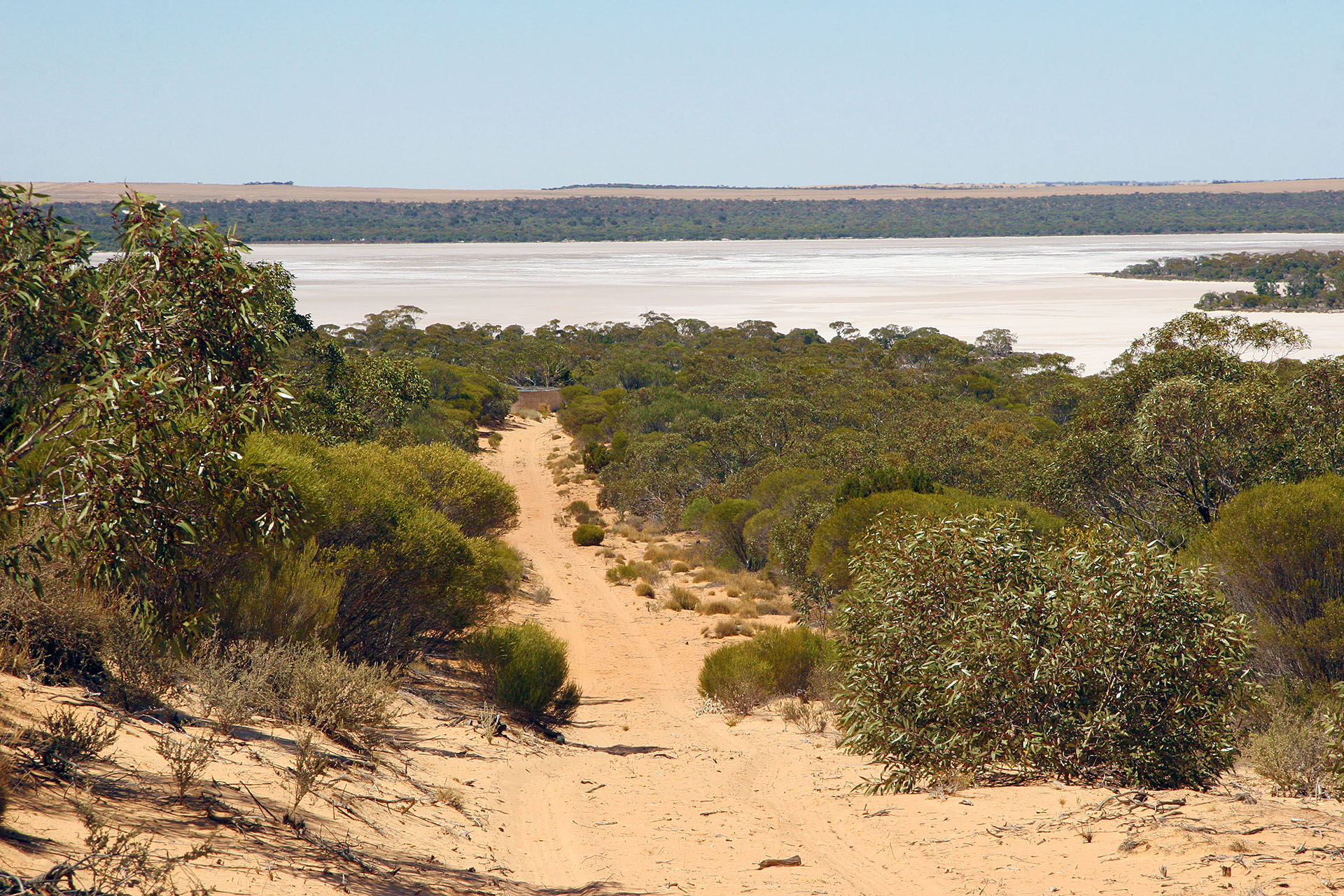 And here's the lake!
Of course, it's only a lake in the name, just like those poor waterfalls. There might be some water during winter here, but for the rest of the time it's a giant salt pan, crackled under the scorching sun. A road goes around it, and I drive along, looking around and stopping from time to time to take a picture or two.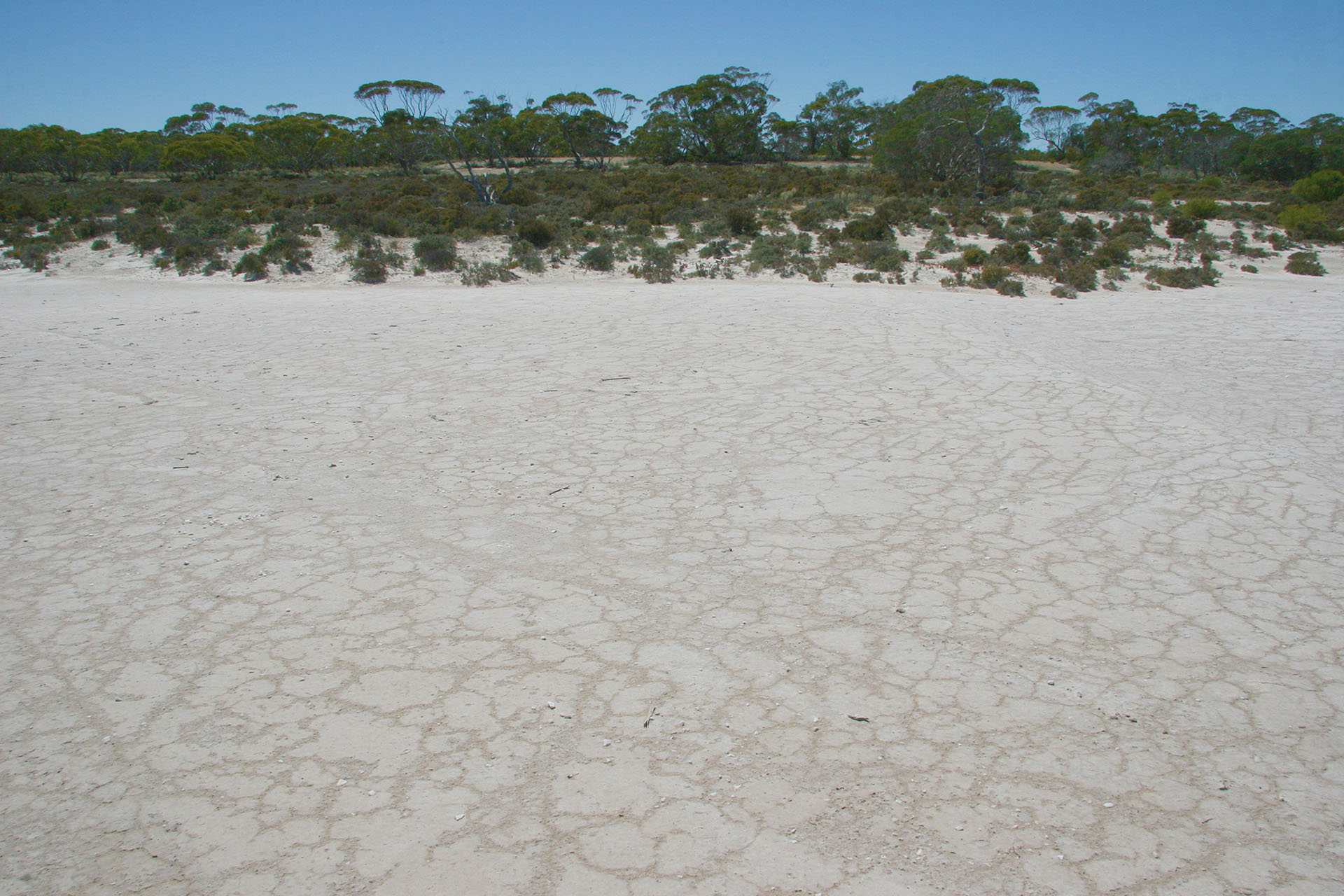 The crackled salt.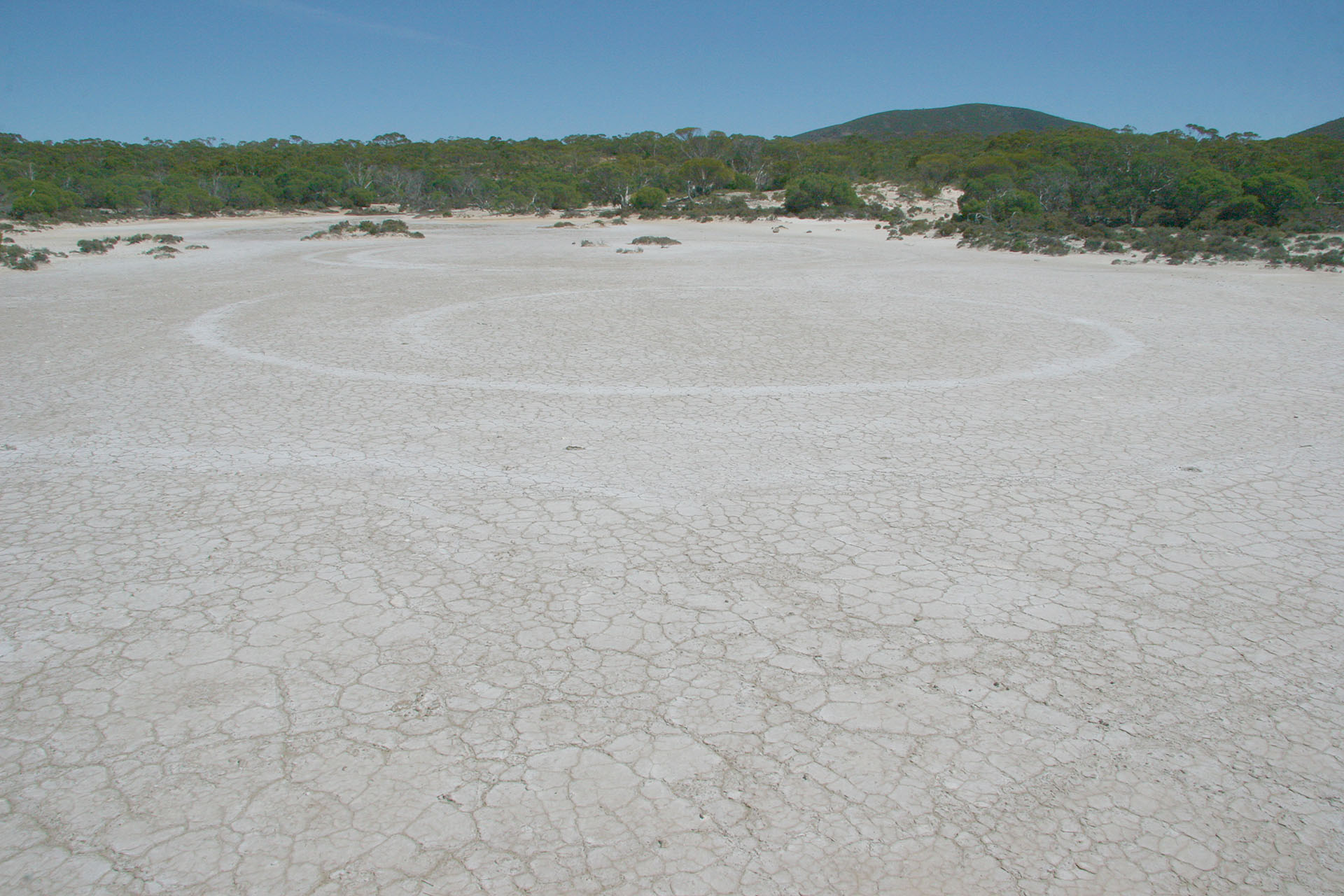 Hoons get here, too.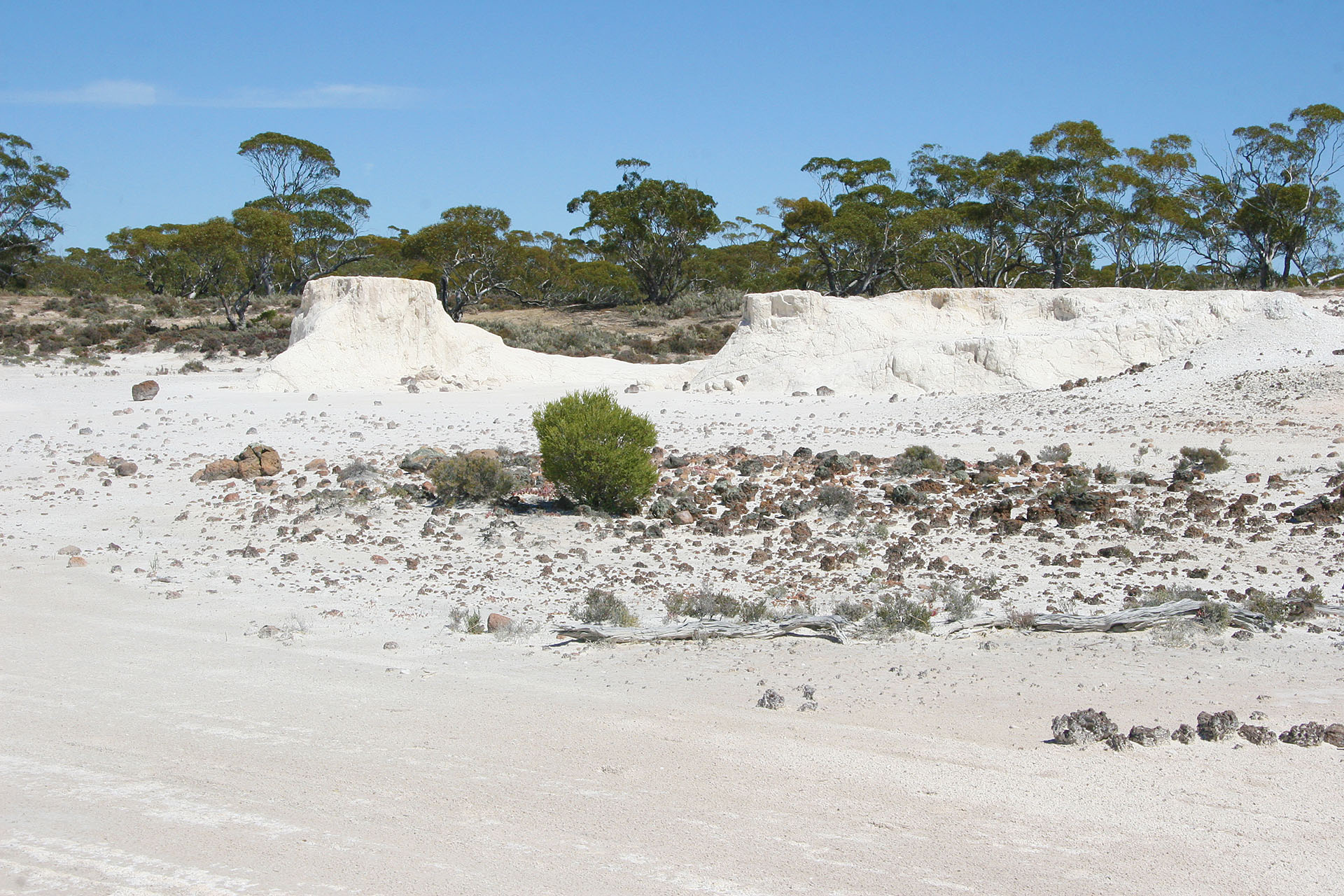 Nearby rocks, salty inside and out.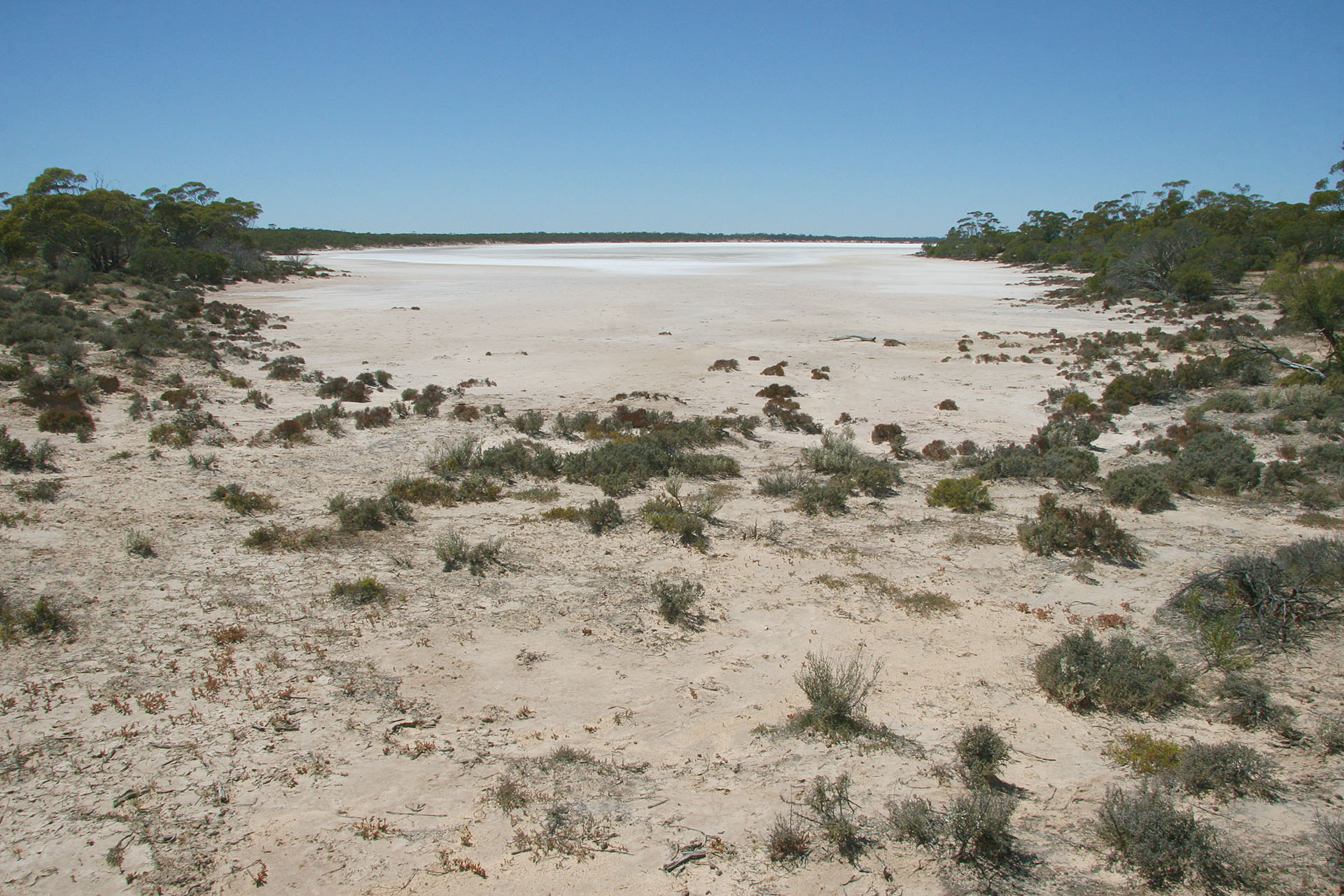 A very inviting beach.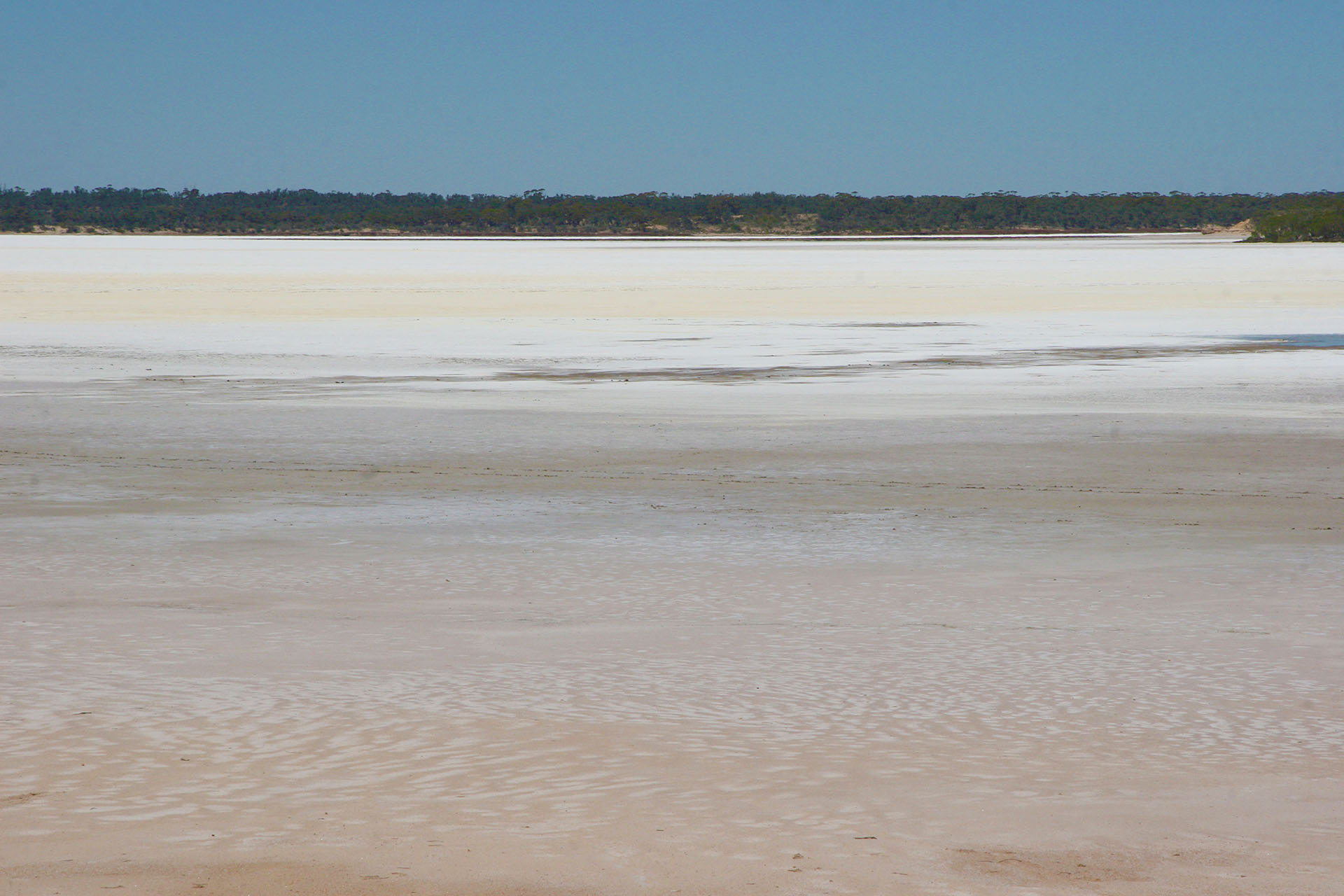 Not a drop of water around.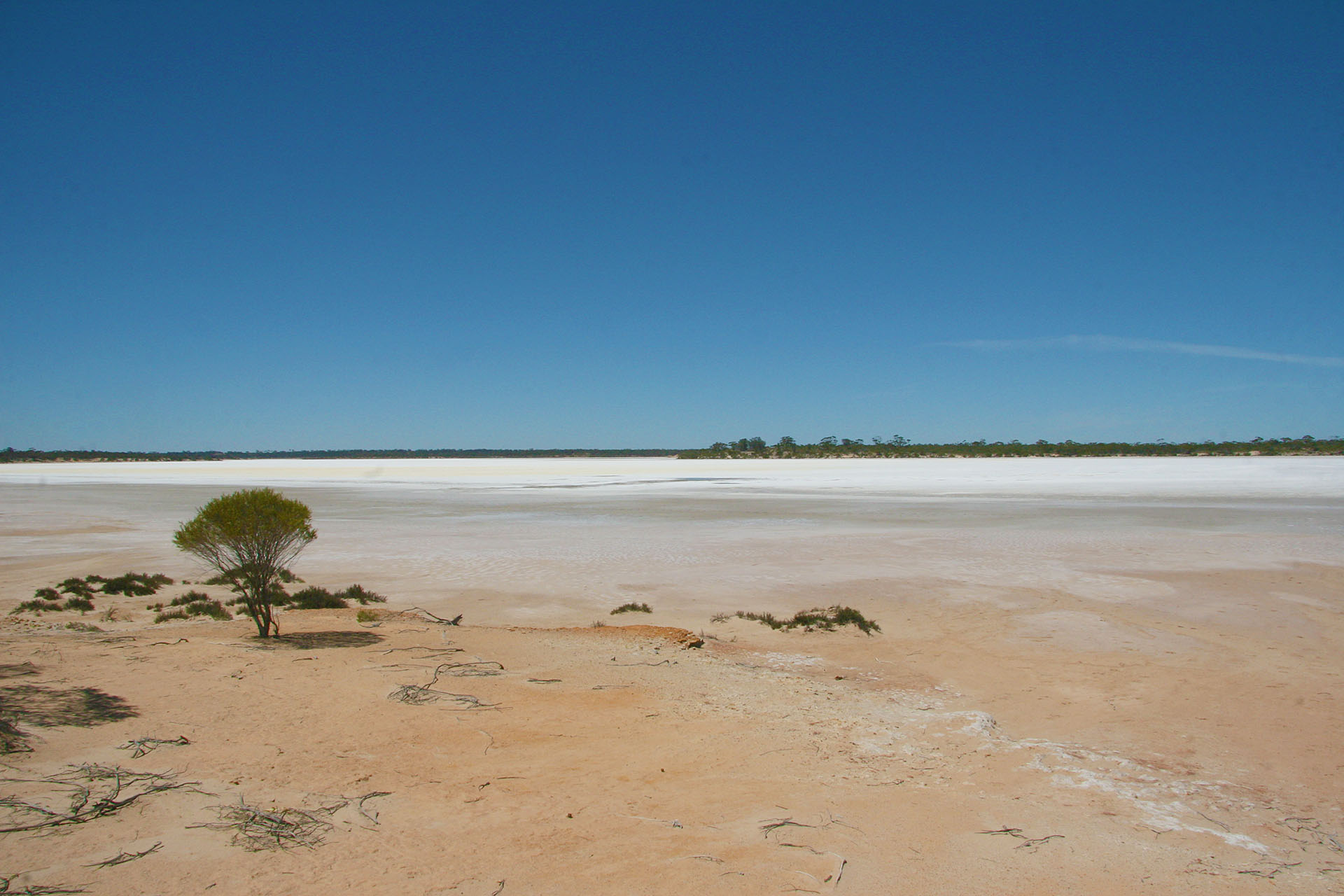 A salty vista.
In the lakeside mallee there are more of the kangaroos, and even some emus can be seen. The road is pure yellow sand, and the car is revving up as it tries to get through its softness and take me out of these God-forsaken places.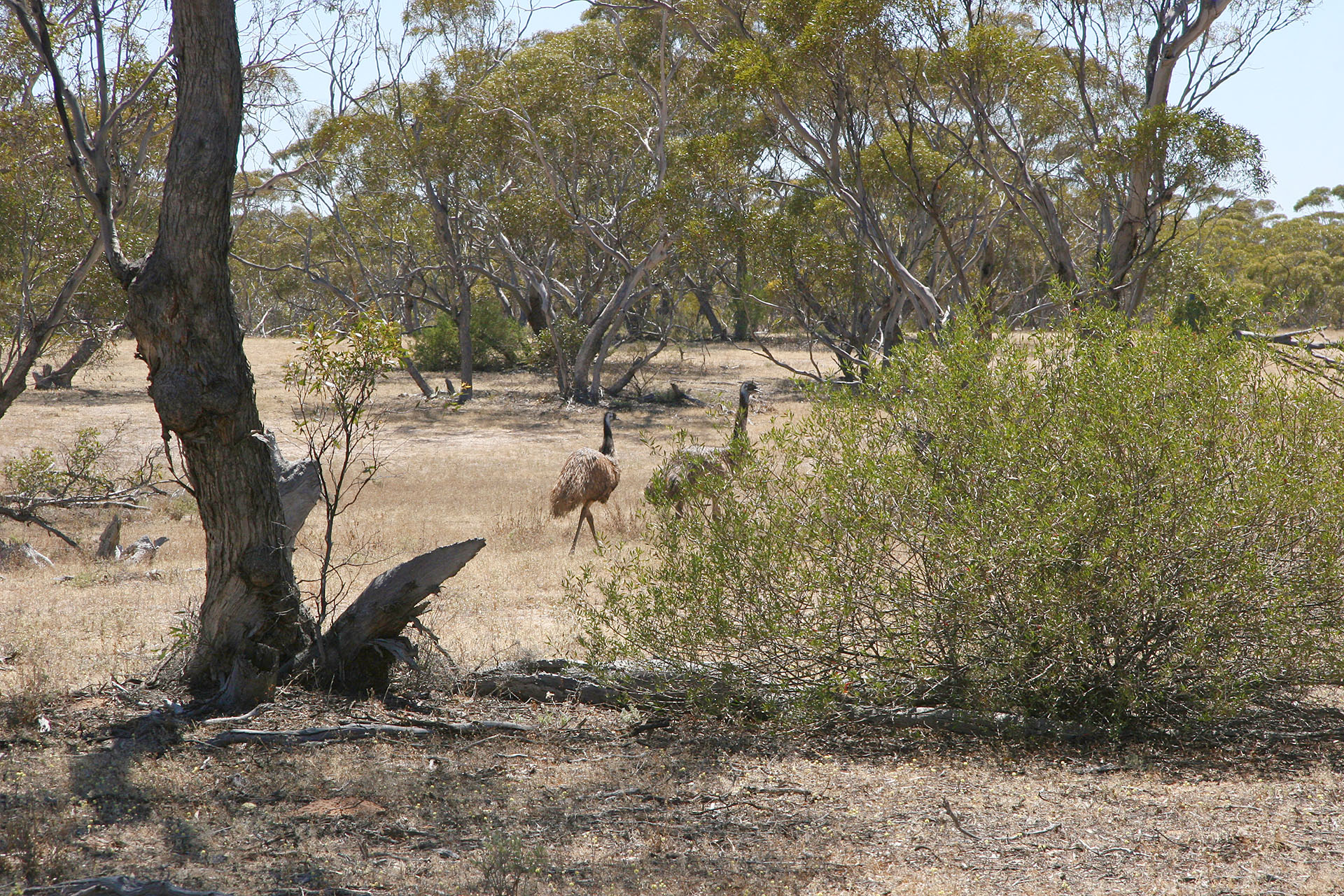 A couple of emus.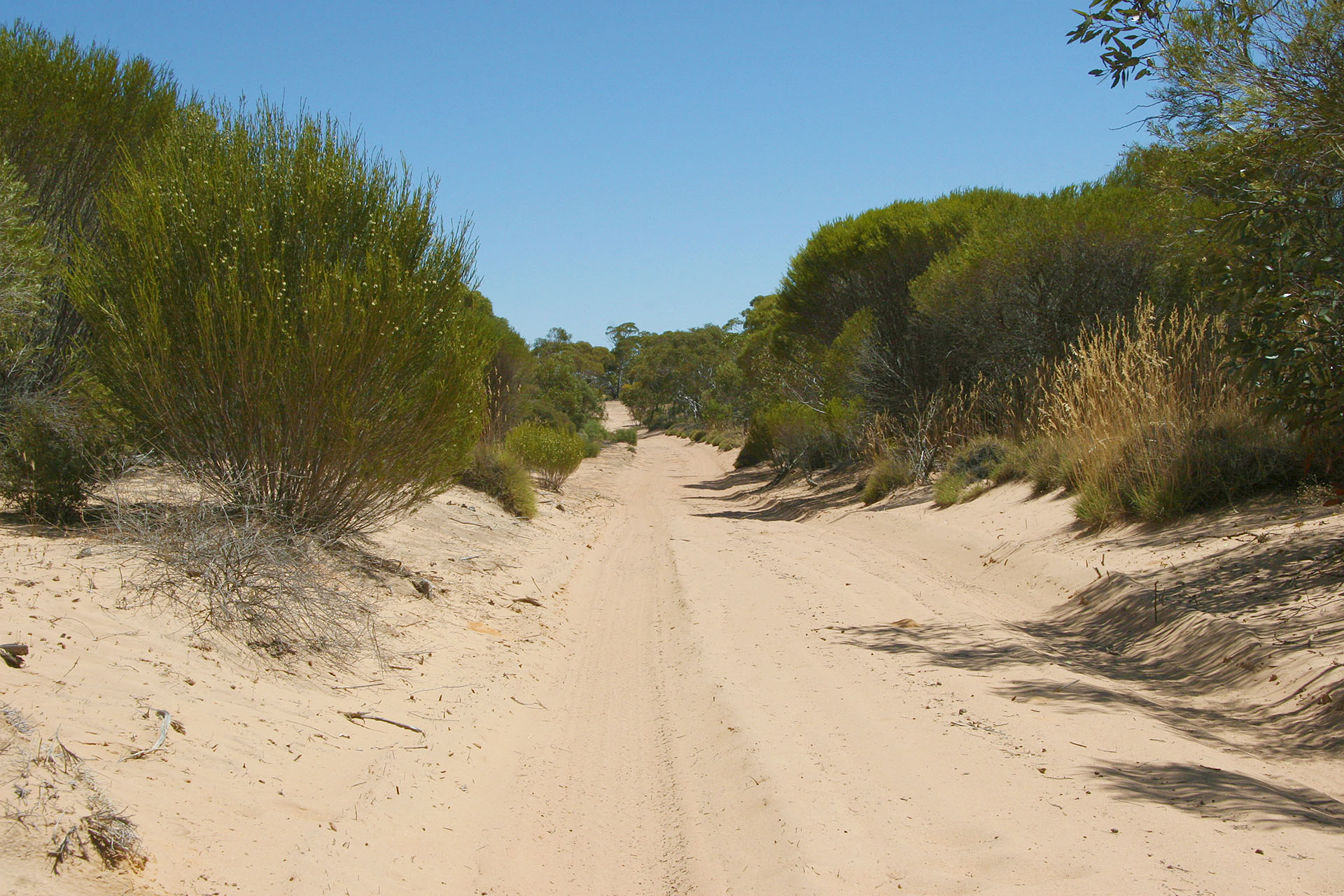 Hello, Sahara.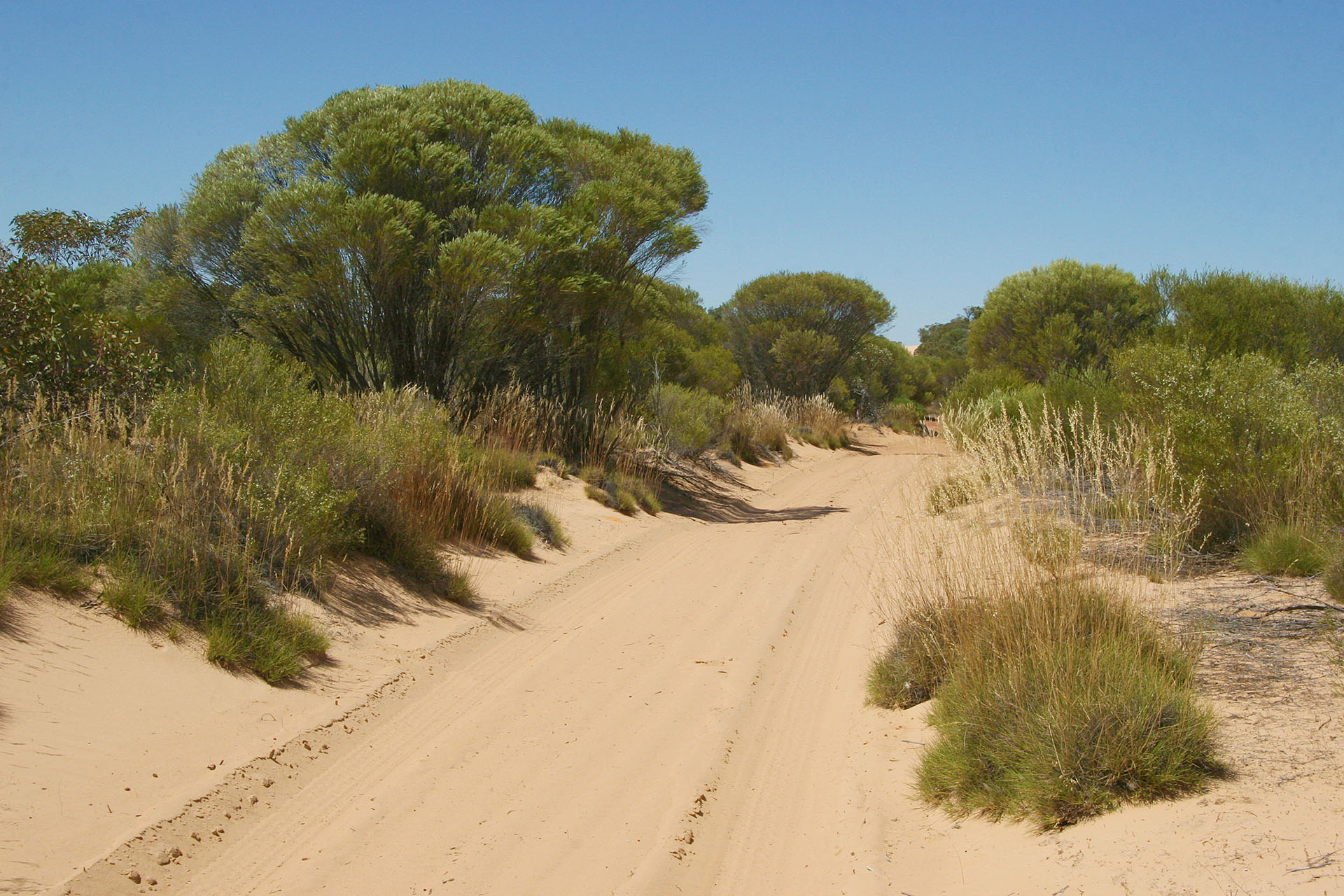 I really miss the bitumen now.
It's getting closer to midday, though, and I have to go back home soon. As I reach the proper dirt road, I speed up to 70–90 km/h and eat up the remaining 50 km of it quite quickly. Next to where it joins the highway there's a tiny town called Pygery, along with the railroad. Also, it has a section of rusty fence all covered in dusty bras of all shapes and sizes. No explanation whatsoever as to what on God's green Earth they are all doing here.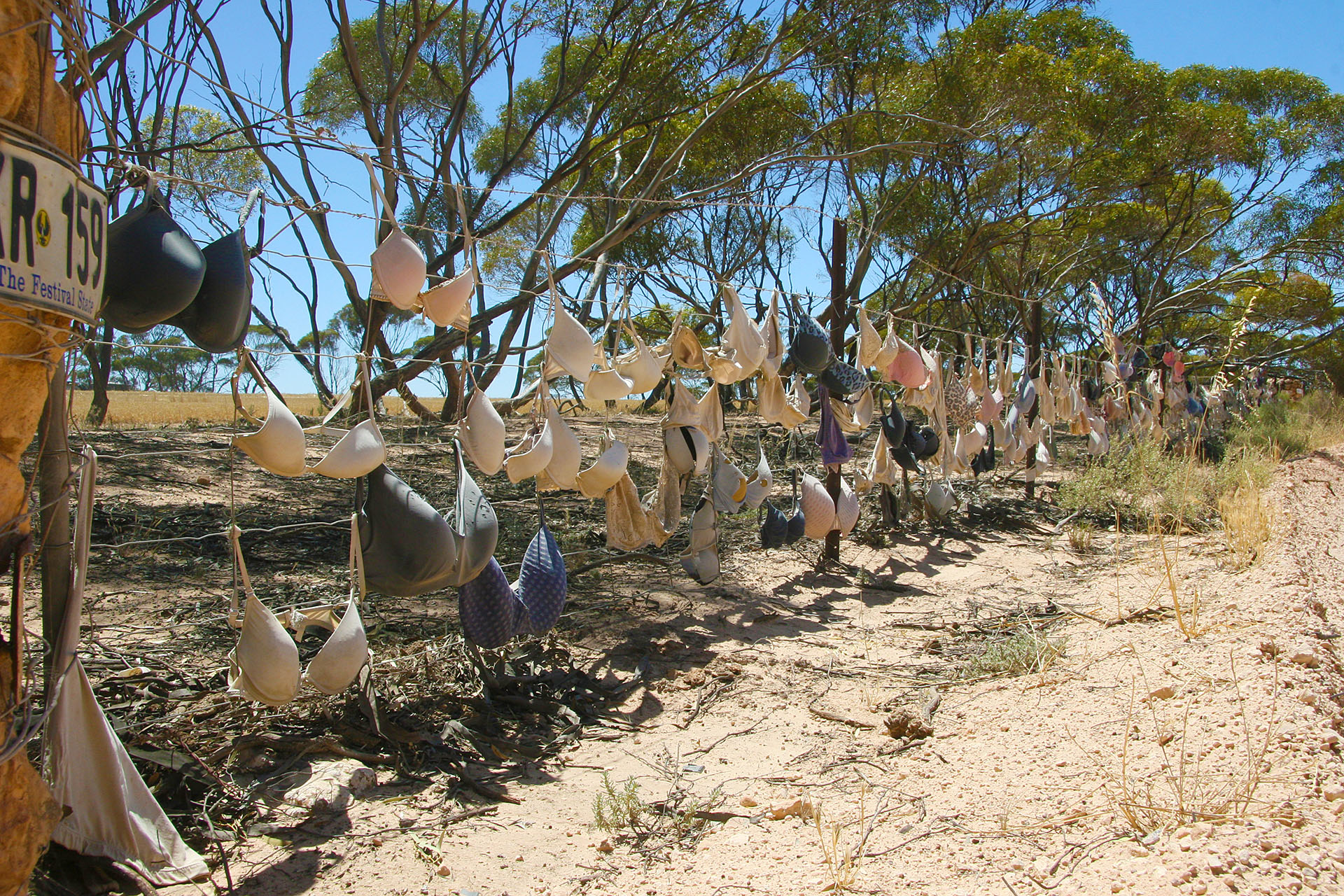 A Victoria's Secret affiliate.
An odd hissing sound suddenly draws my attention, coming from the front right wheel somewhere. Looks like the patch of plastic that separates the wheel from the engine bay bounced off its pins and rubs against the tyre, making the sound that I've heard. It's even melted down partially from the friction, but the tyre itself, luckily, looks intact.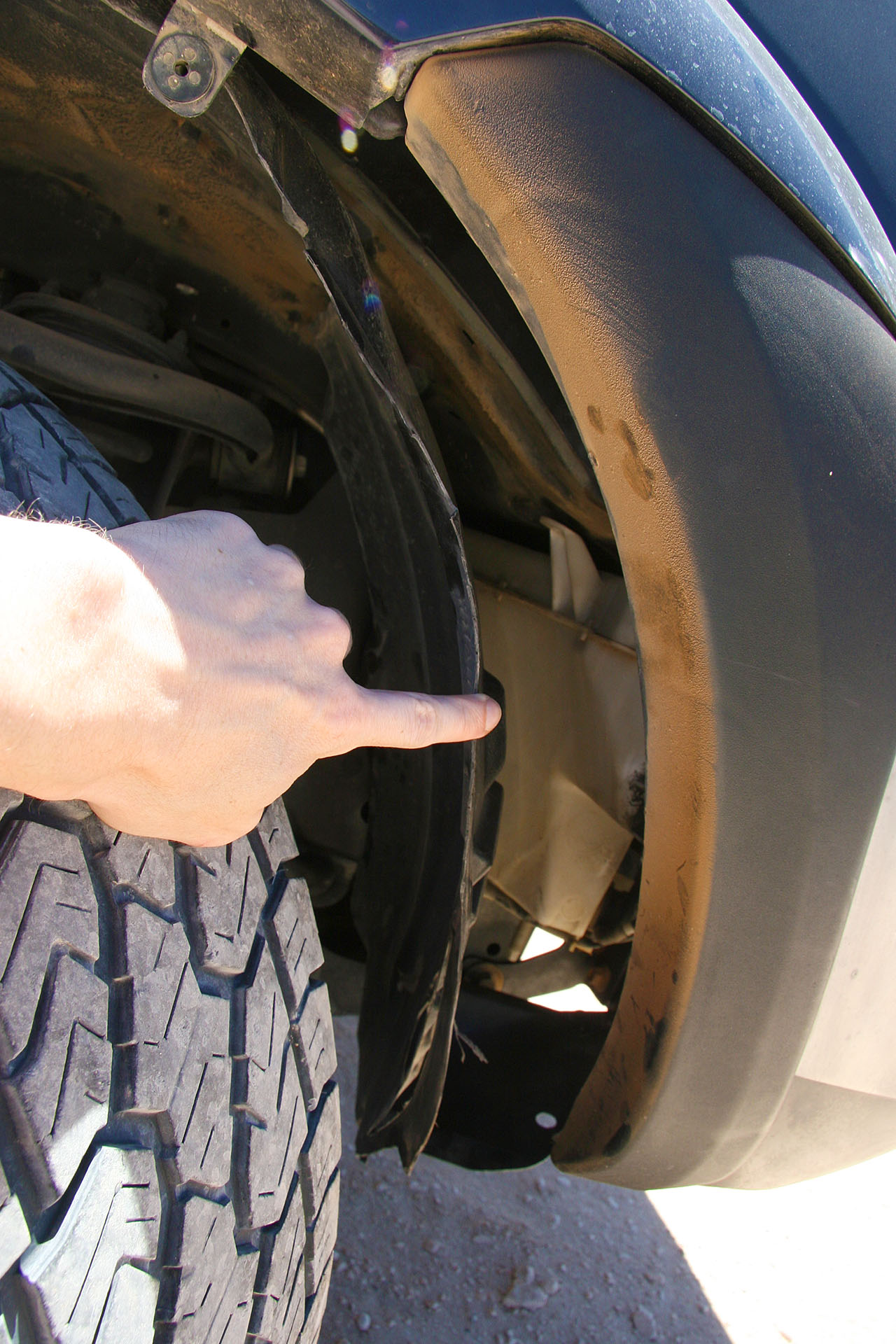 A malfunction.
I air up the tyres, thinking how I should deal with this sudden malfunction. It's all the worse because I don't really have anything to patch it up with in my car (yes, I'm so prepared). Finally I take a couple of bands of scotch tape, roll them up and use them in a rope-like fashion to fasten the plastic to the chassis. The solution works brilliantly, and for the rest of my 600 kilometres to Adelaide the bloody thing gives me no problem at all.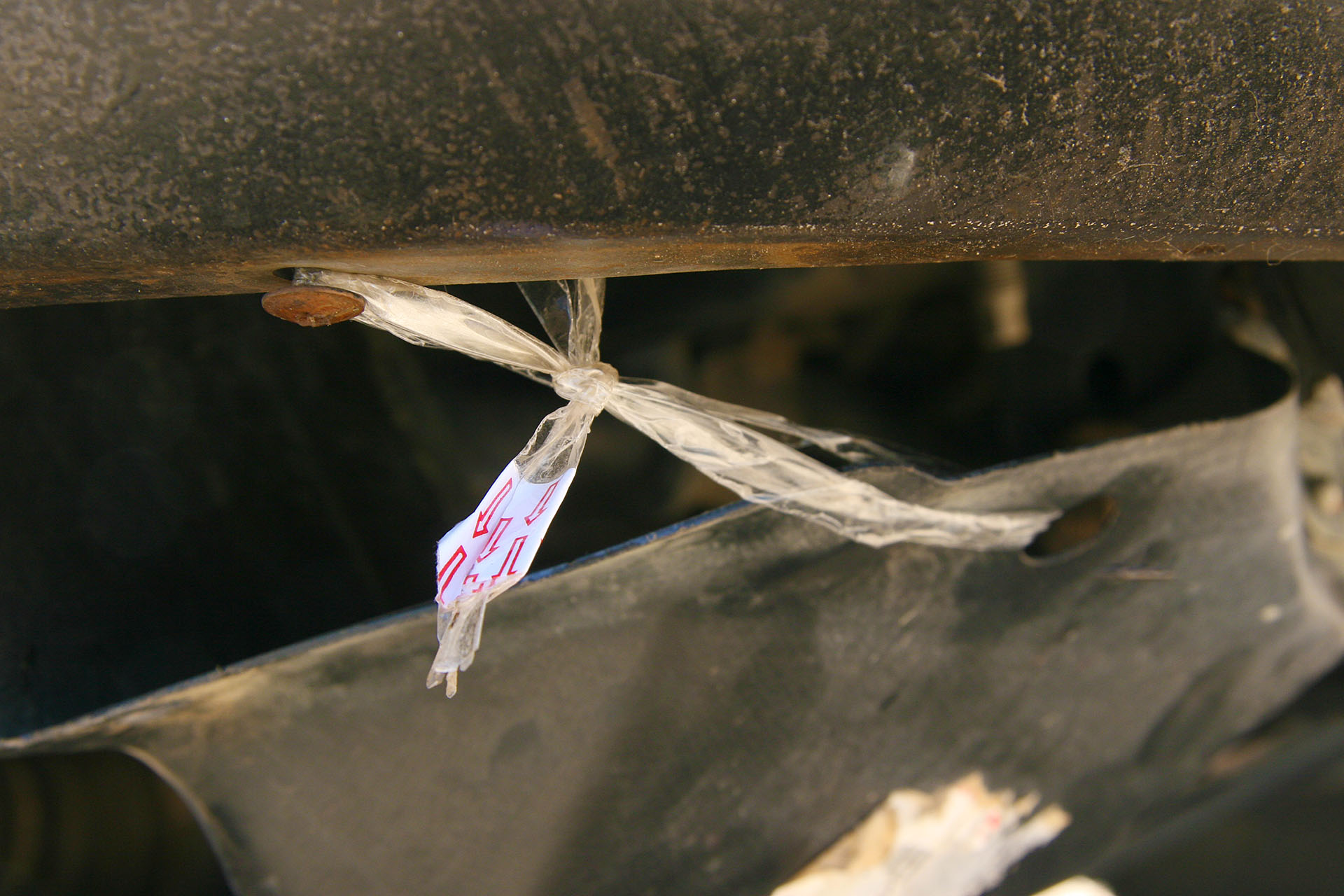 Bush mechanics in action.
I make a very quick stop in Wudinna to replenish my water bottles and take a couple of pics. The town is very quiet and drowsy amidst the midday summer heat.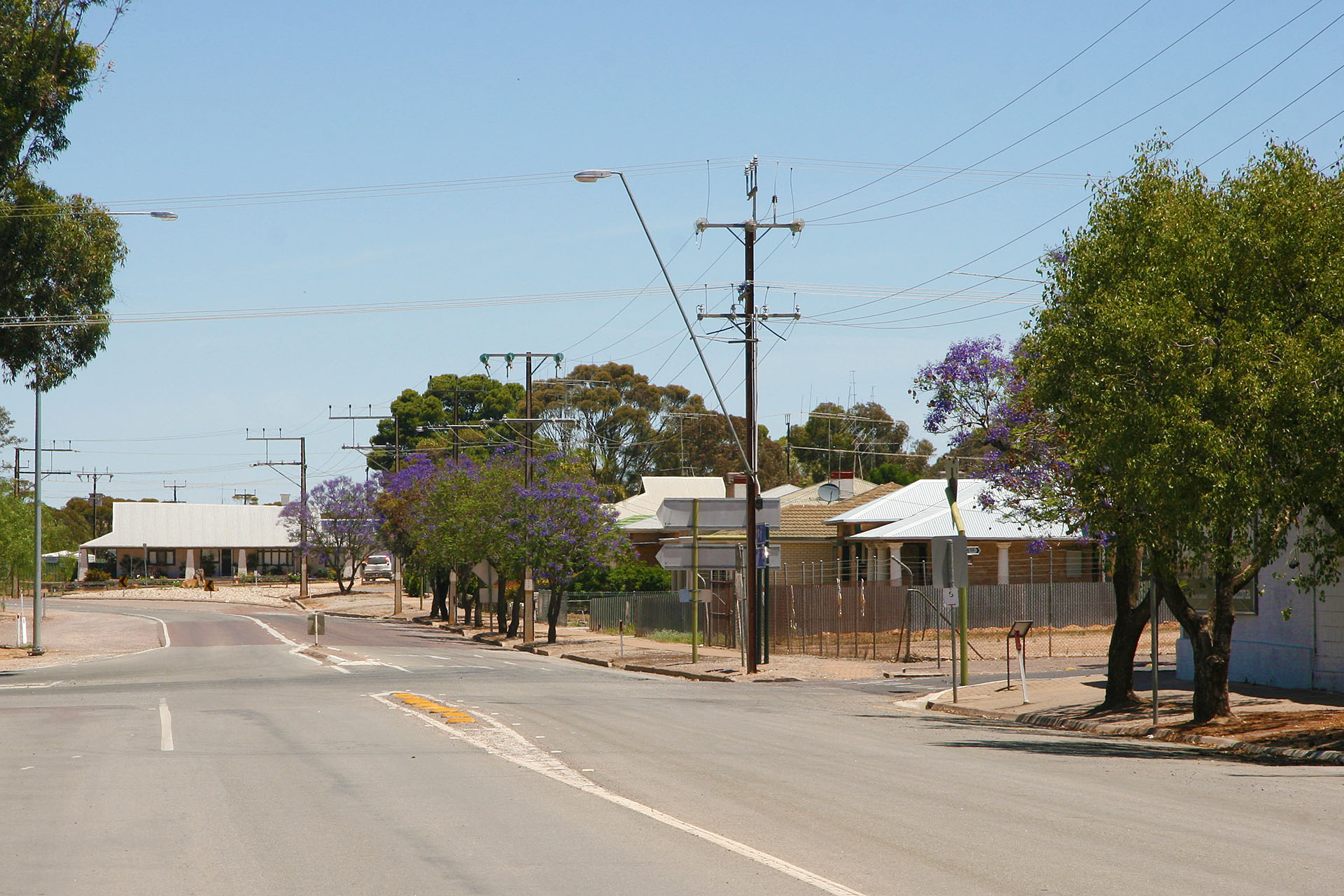 A typical outback town.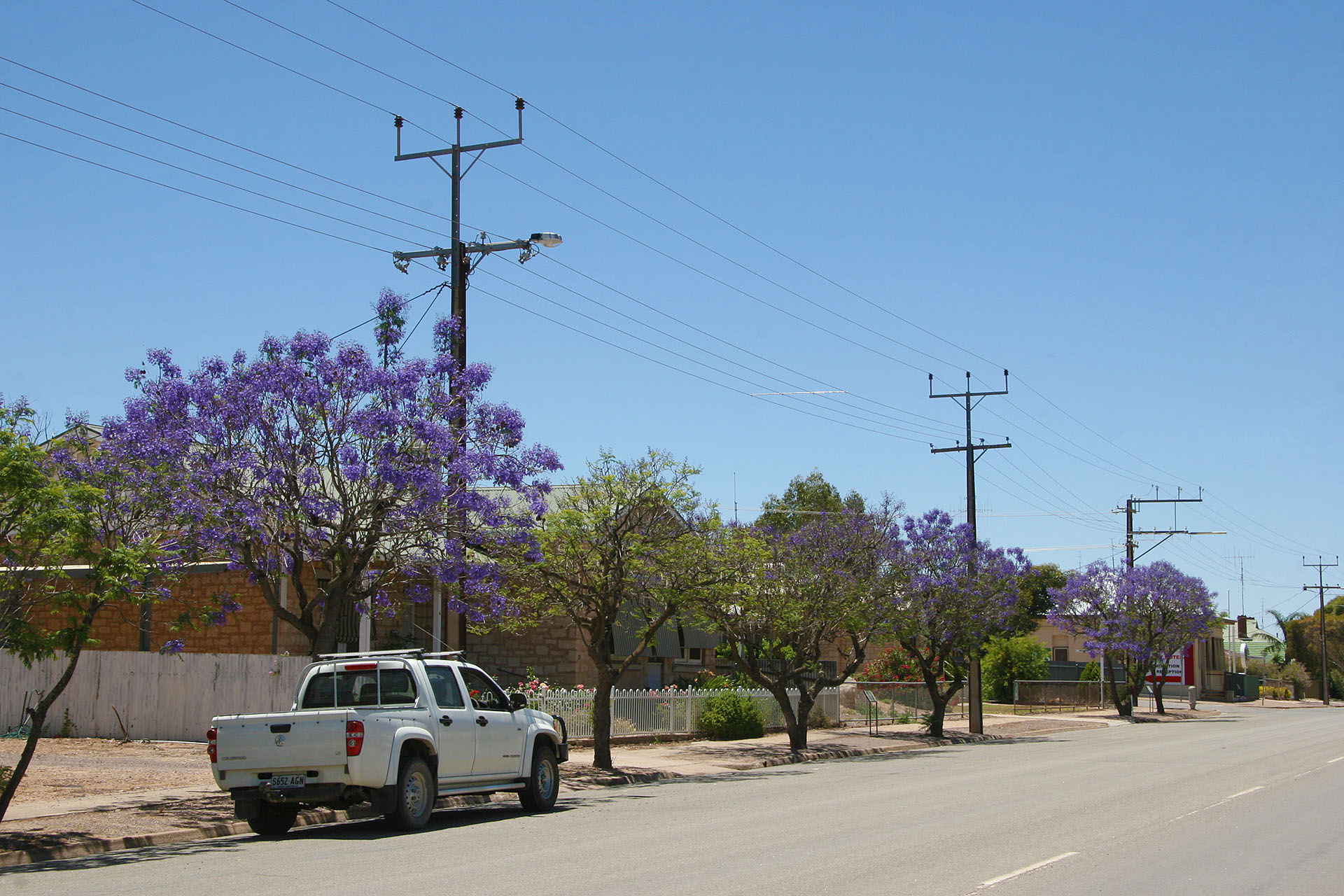 Jacaranda is in full bloom, due to November.
A sealed road! Yay! I savour every bit of my 110 km/h, looking at the shrubland around me, and also overtaking the slower travellers every so often.
Eyre Highway's odd colours.
I can see a small mining town further away: it's called Iron Knob. We're not
Pilbara
, of course, but we do have a mine or two of our own around.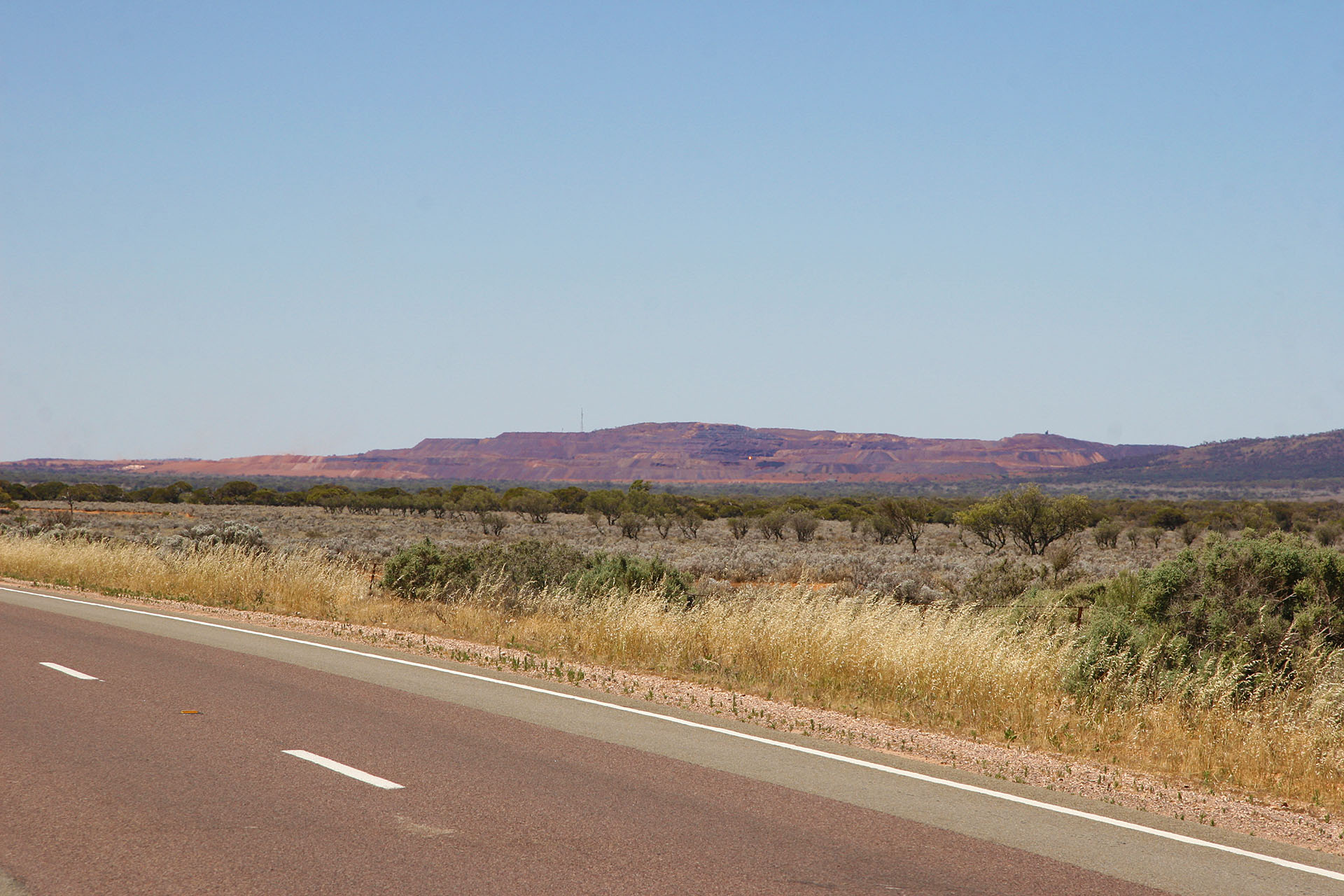 Iron Knob in the distance.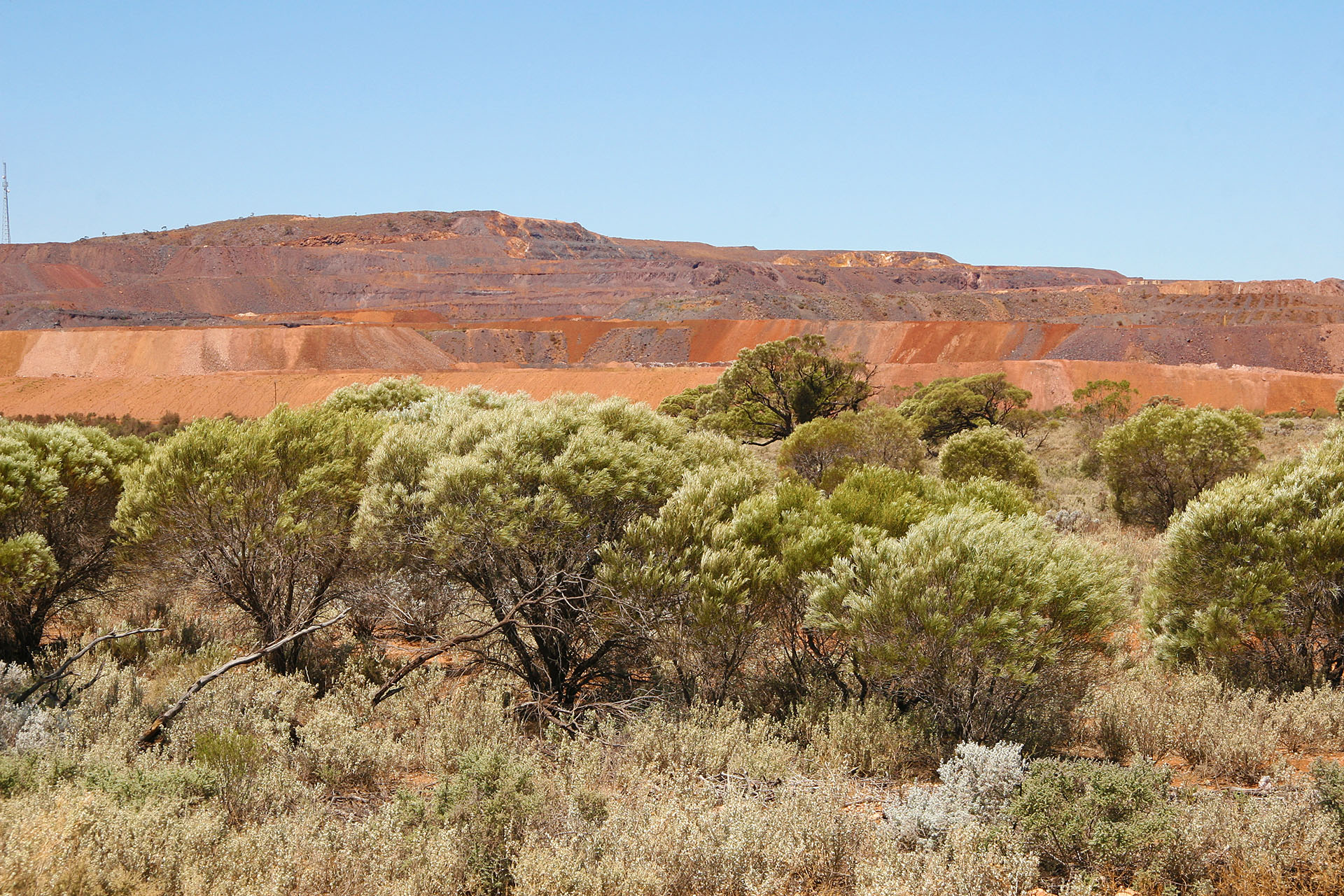 Iron Knob a bit closer.
I pause outside Lochiel to take another glance at the pink lake: it looks a bit different at this time of day, and the evening sun really brings out those colours.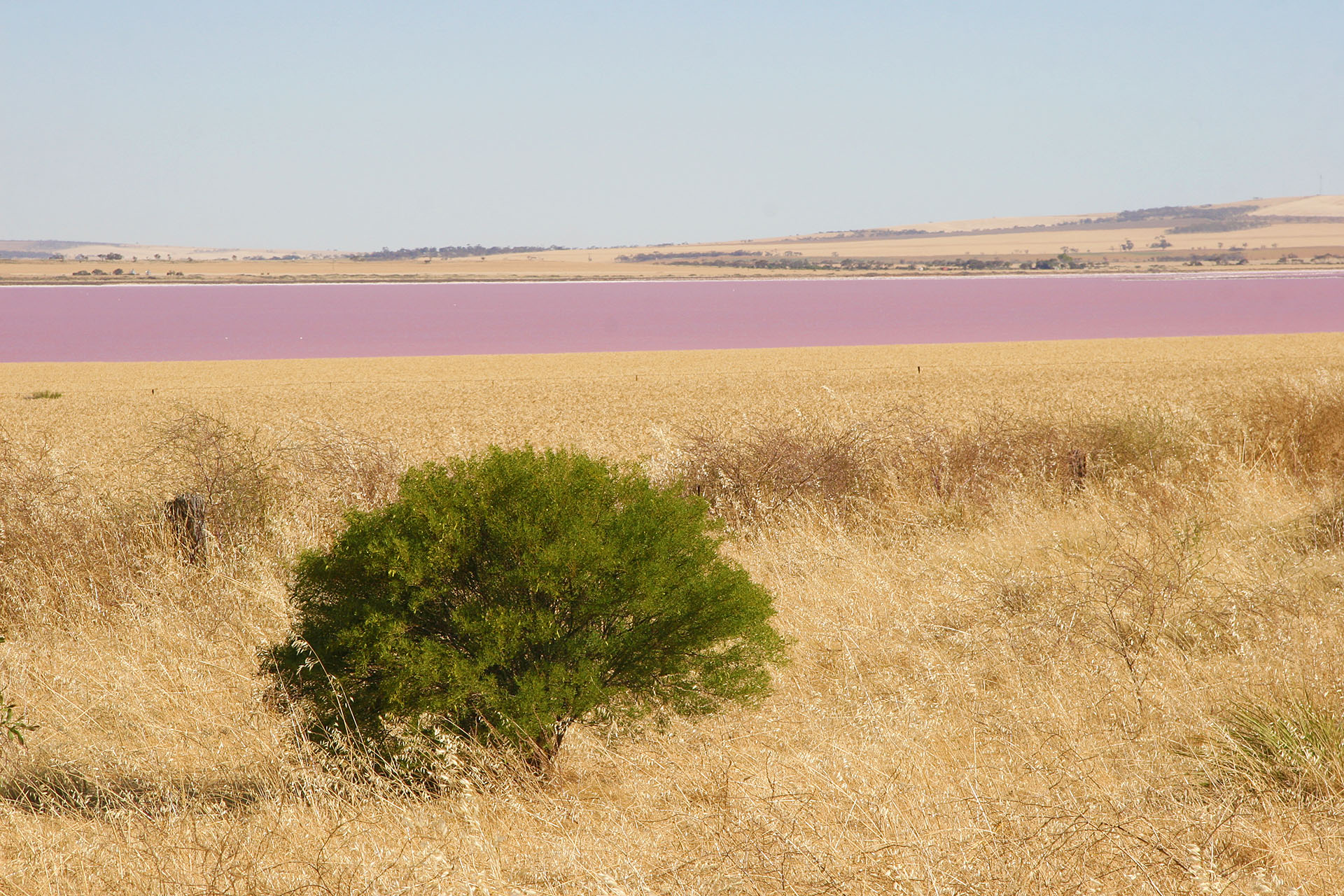 Pink lake again!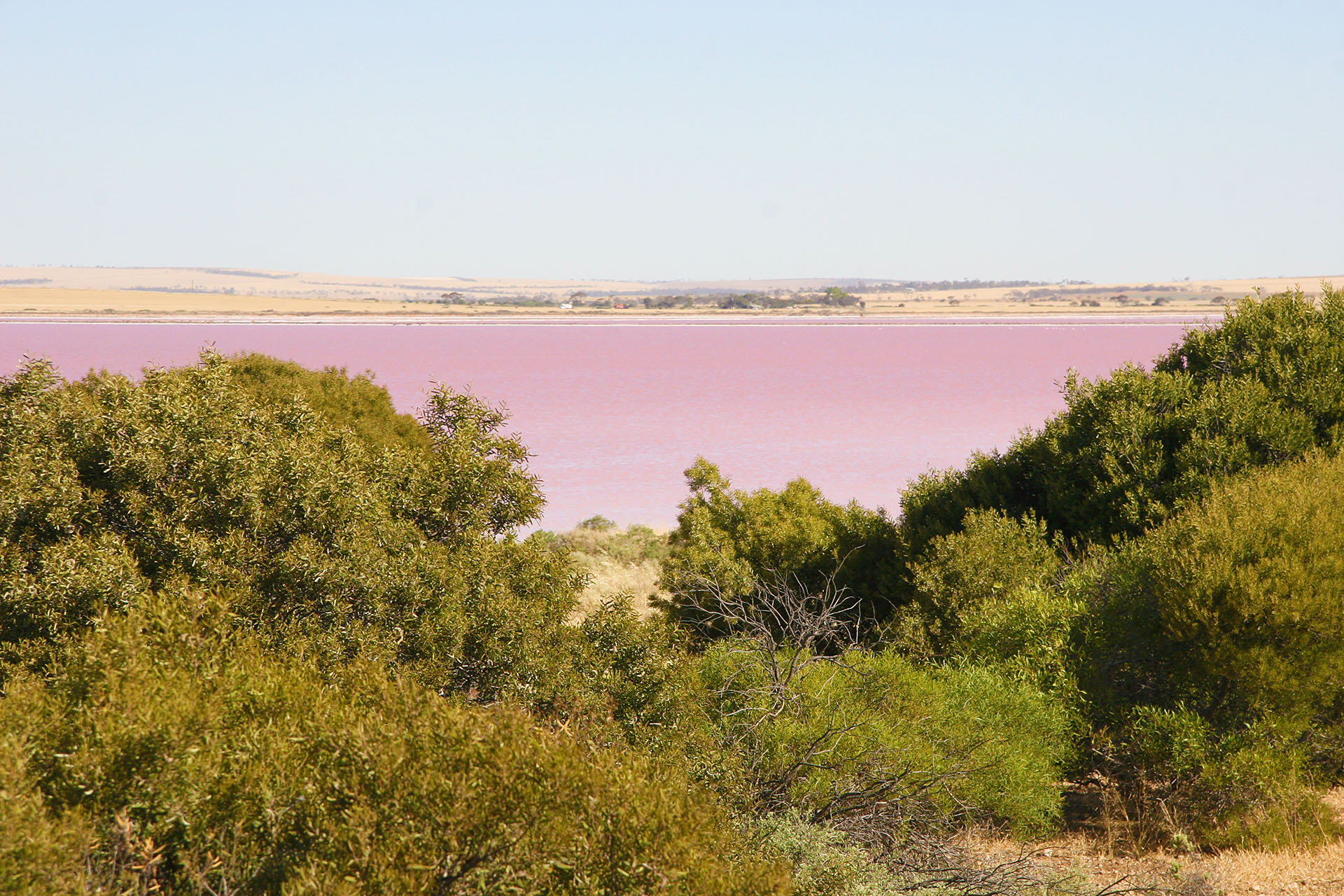 Or maybe purple?
Having finished my weekend trip at last, I can certainly say that Gawler Ranges are lovely indeed. Not super-scenic, of course; but then again, it's all in the eye of the beholder, isn't it? The car behaved excellently, too, and I'm more than confident to hit the more serious road on it again. After all, there's still too many places on the Australian map that I haven't been to yet.