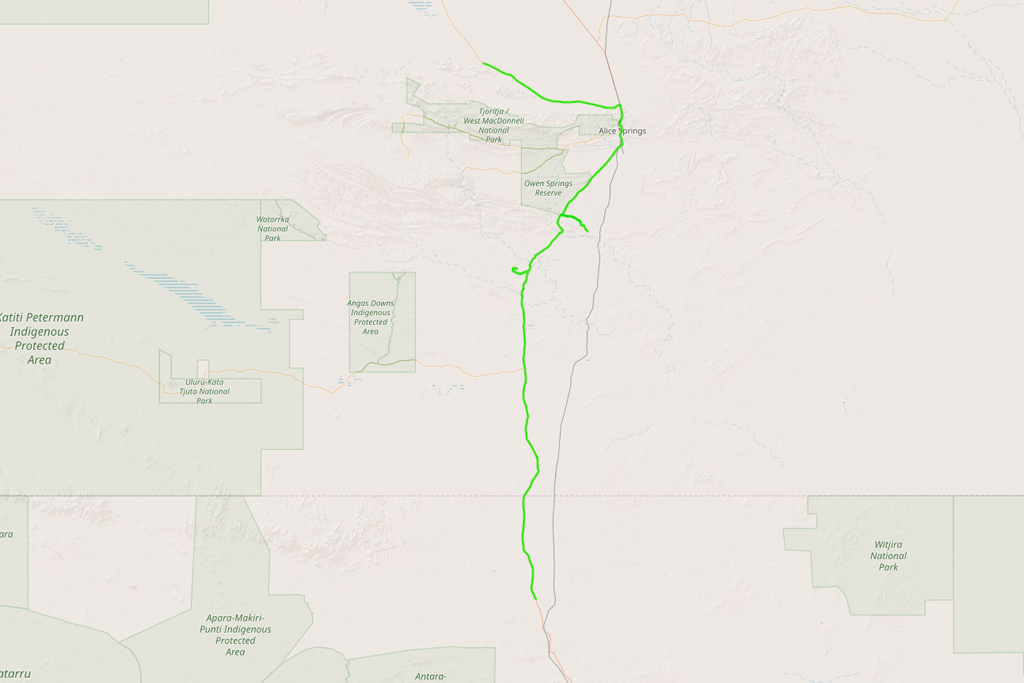 Distance covered: 576 km.
When I wake up and eat my breakfast, I still have no idea whether the mouse is still in the car or not. Just in case, I decide to visit a Bunnings in Alice Springs and buy a mouse trap or two – which is where I'm going anyway.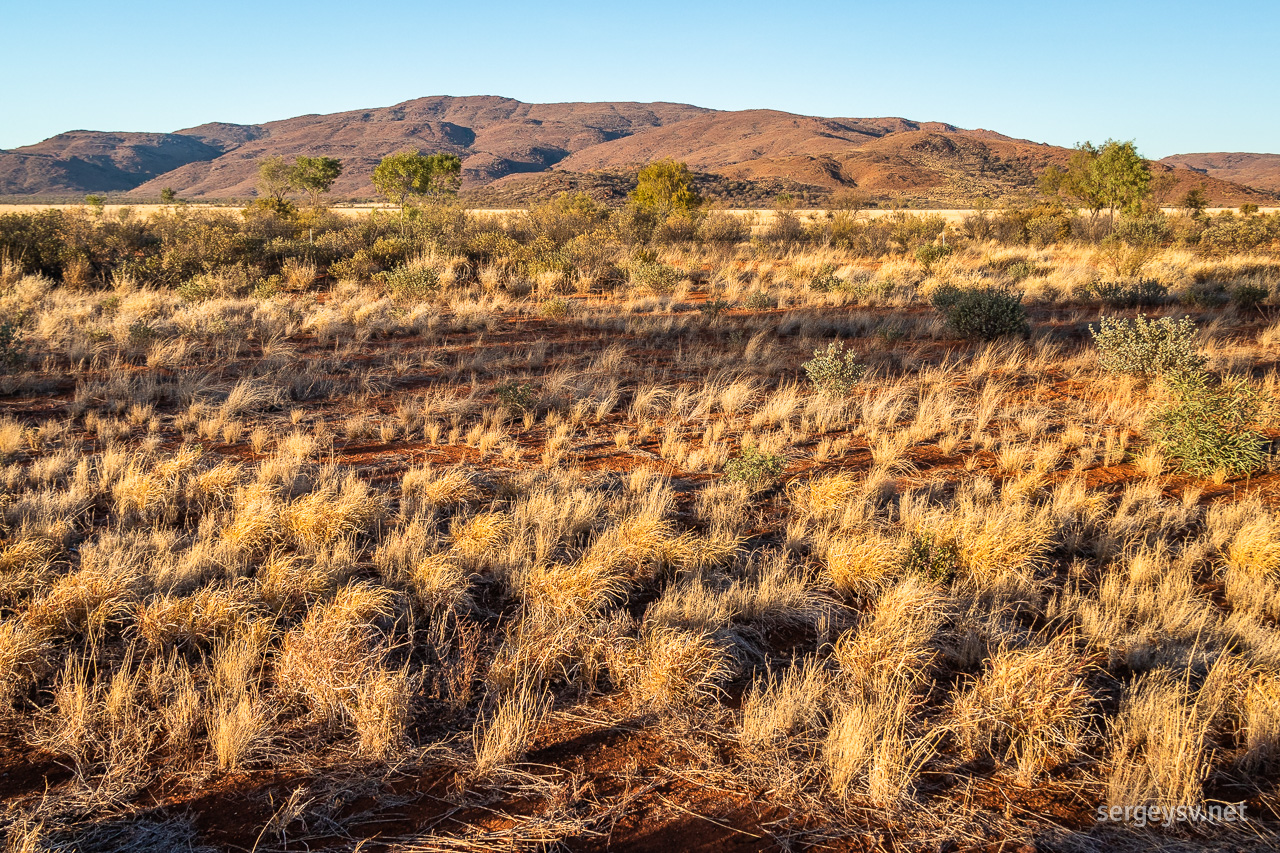 MacDonnell Ranges in the morning.
The Alice is as quiet and spacious and drowsy as I remember it from a couple of weeks back. After a quick refuel stop I ponder about visiting the MacDonnell Ranges (at least some of it), but then decide against it: my radiator's still leaking, after all, and I wouldn't want to break down in the middle of nowhere. It's a spectacularly beautiful region in its own right... but maybe some other time.
The Rainbow Valley, however, is not too far away, so I decide to pay it a quick visit. The road there and back is horrible and as corrugated as it can possibly be. (A week later I will discover that I actually break one of the newly fitted shock absorbers here. Should have aired the tyres down, even if it's just 25 km one way!) But the Valley is beautiful, and well worth the damage in the end. The jagged rocks look very peculiar and brightly coloured; even more so during sunset, they say. Something to plan for next time I'm here. There's another rock nearby which bears the name of a Mushroom, and from a certain angle it does look like one, which is a lot of fun.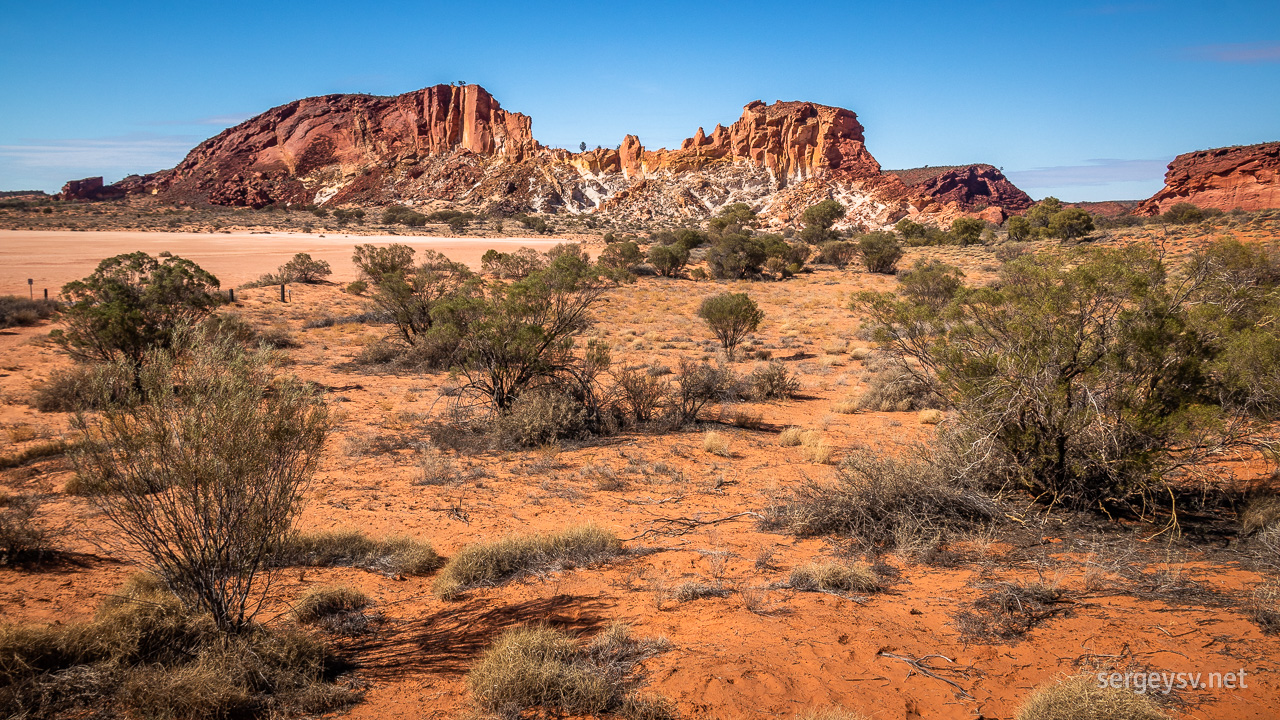 The Rainbow Valley.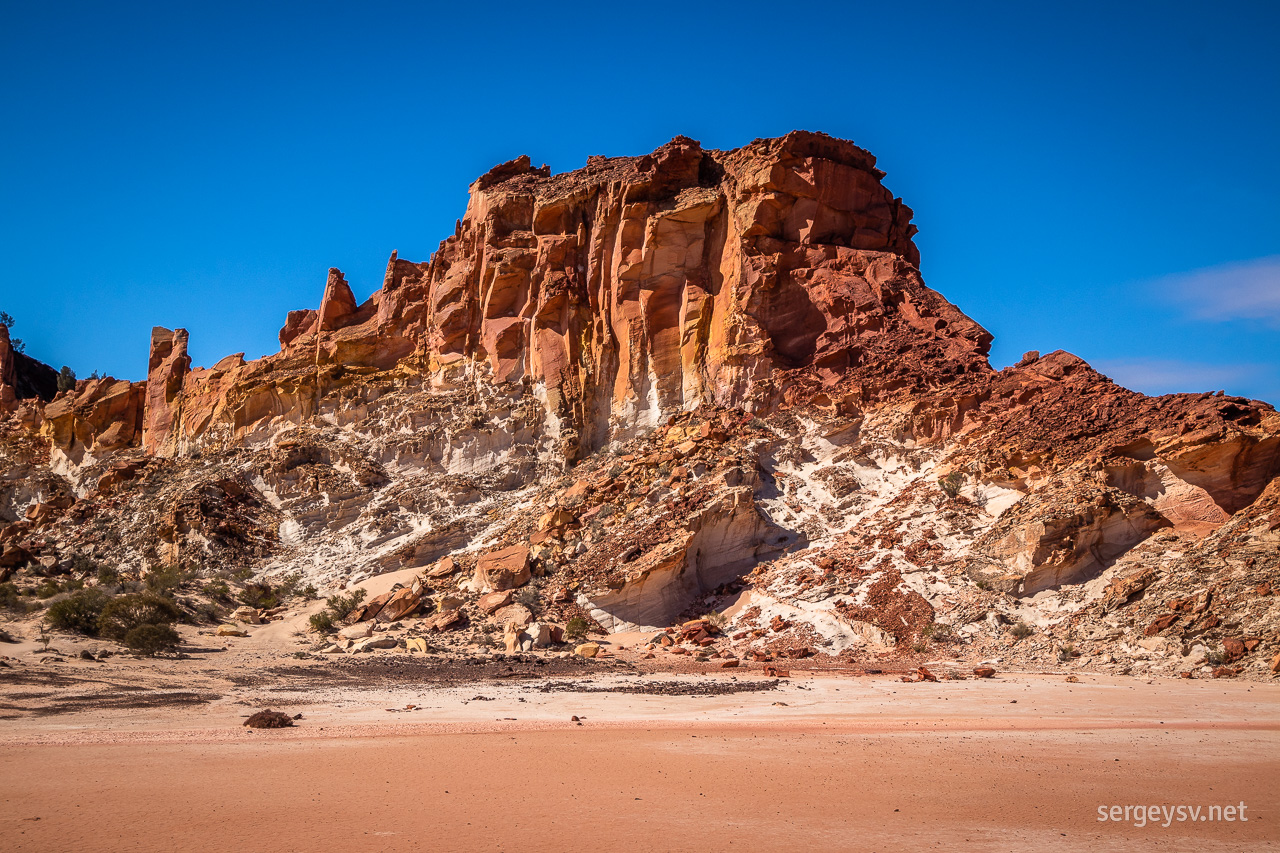 The colourful rocks up close.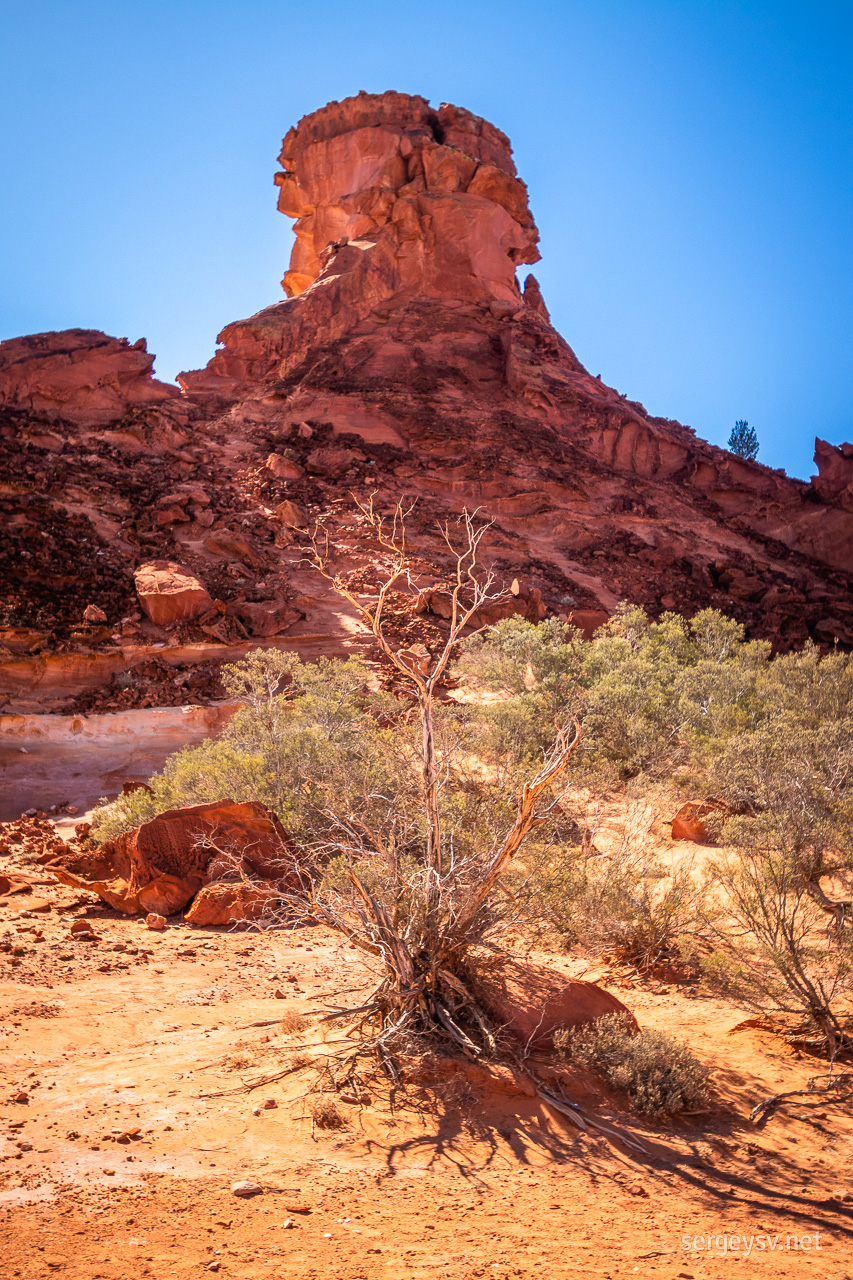 Hot and sunny out here!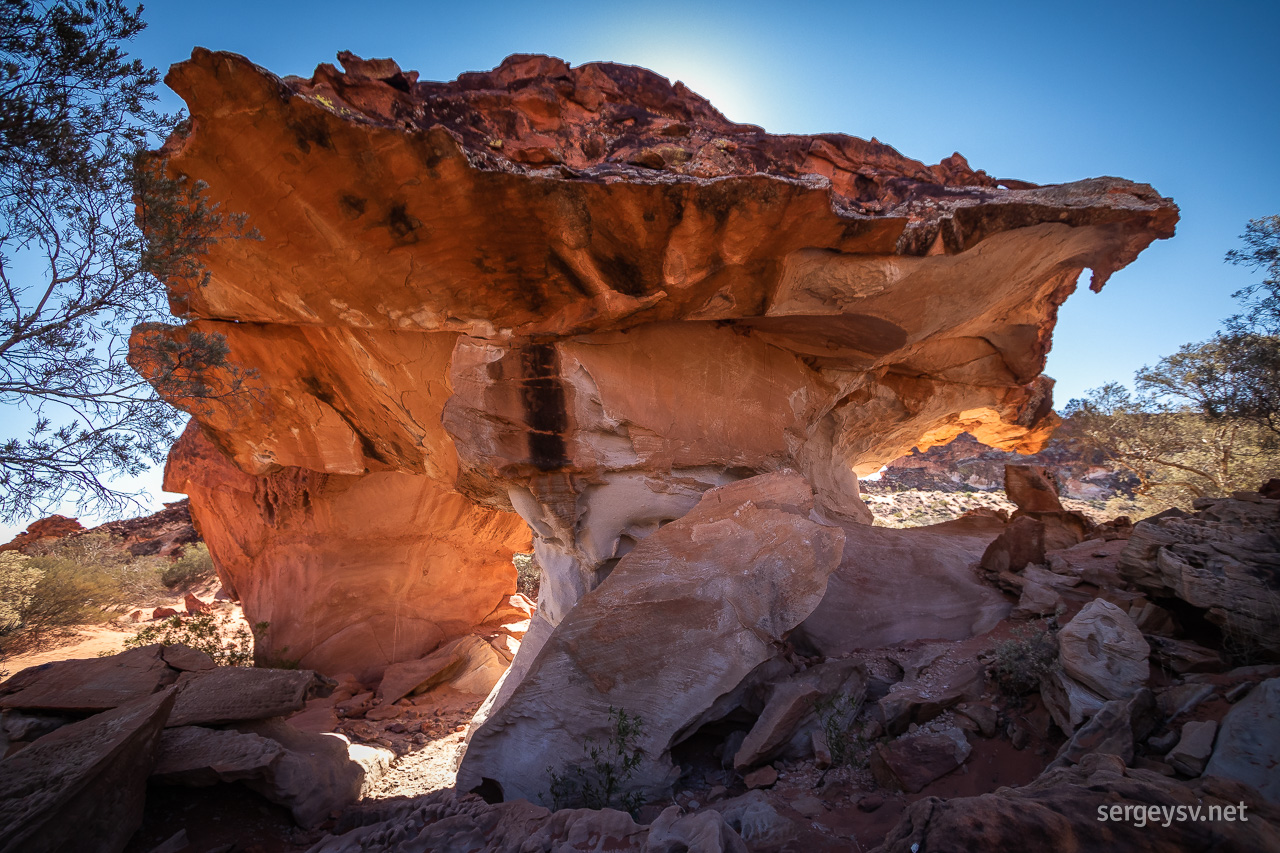 The Mushroom Rock.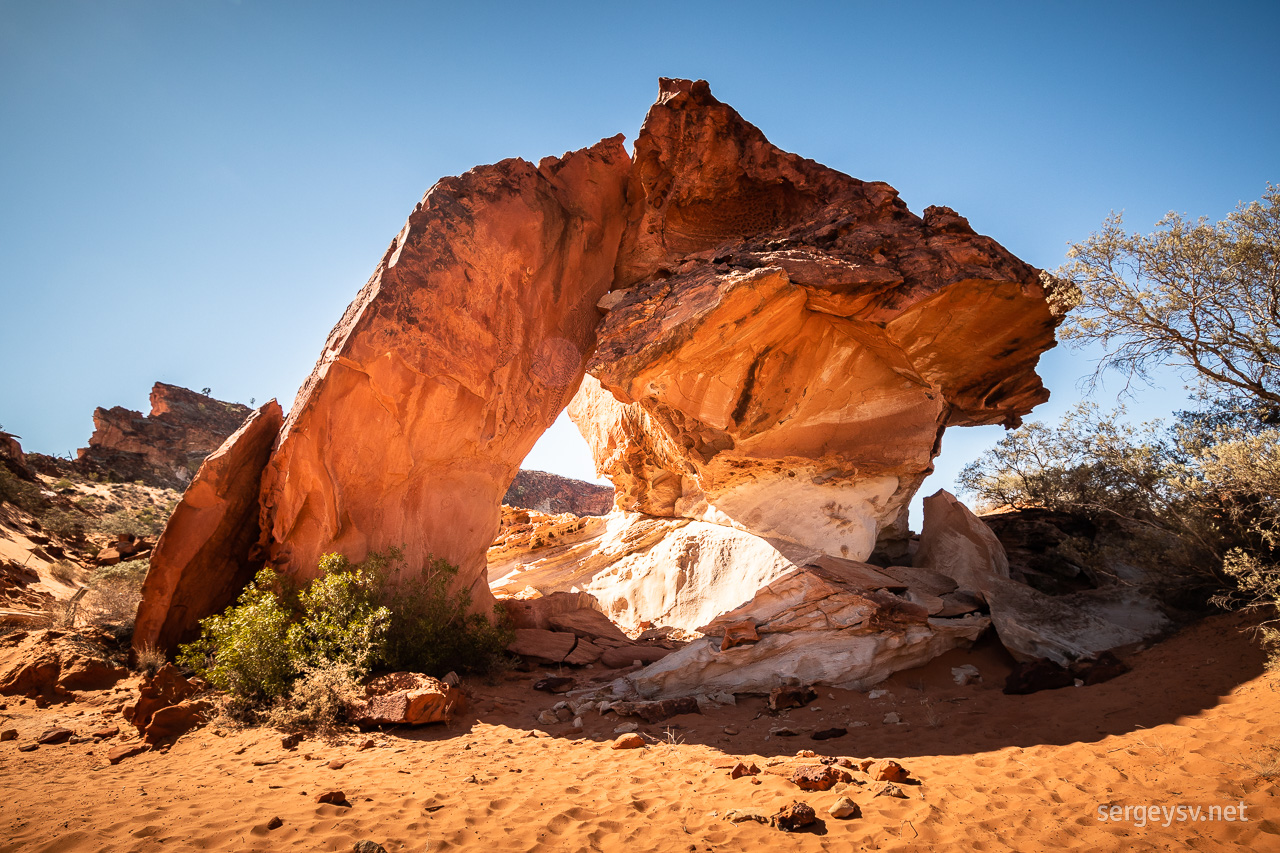 Same (view from the other side).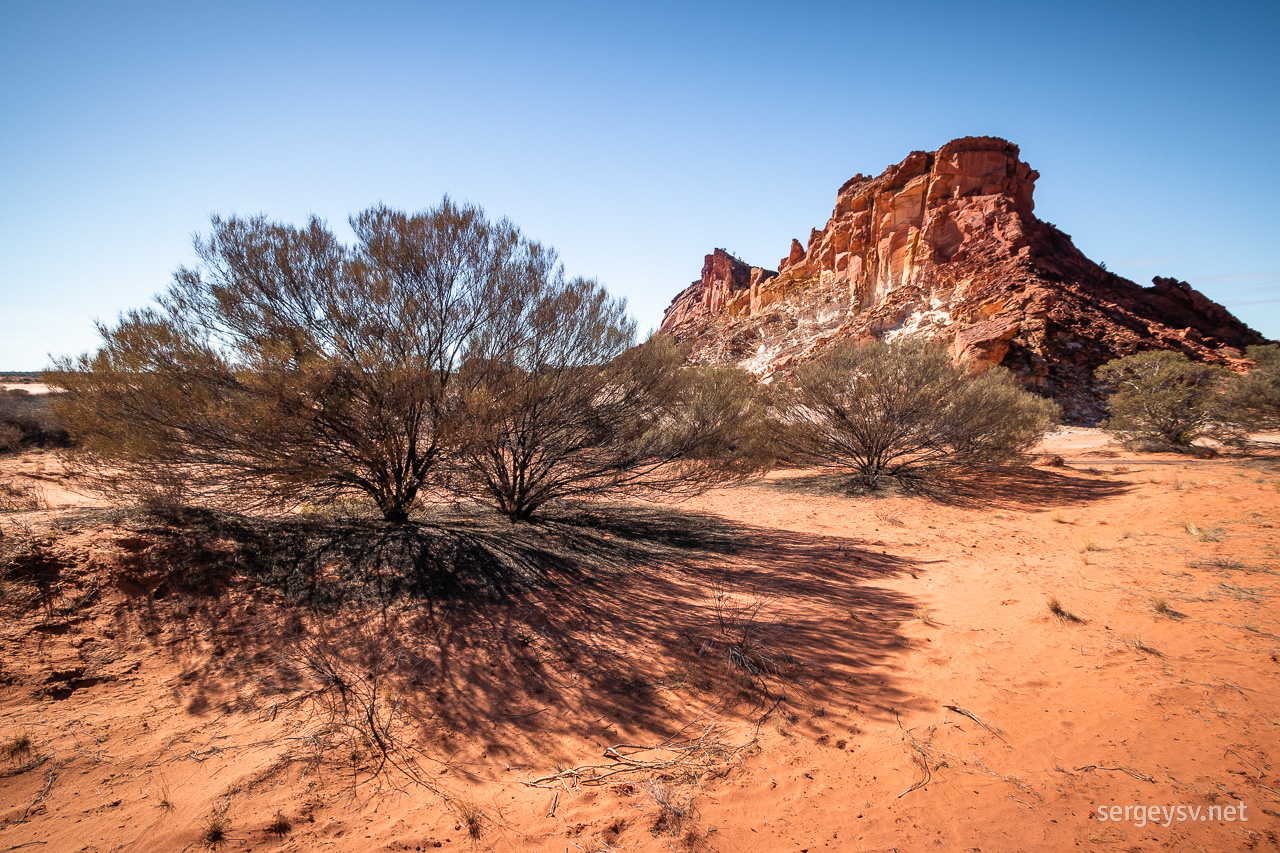 The scenery of the Red Centre.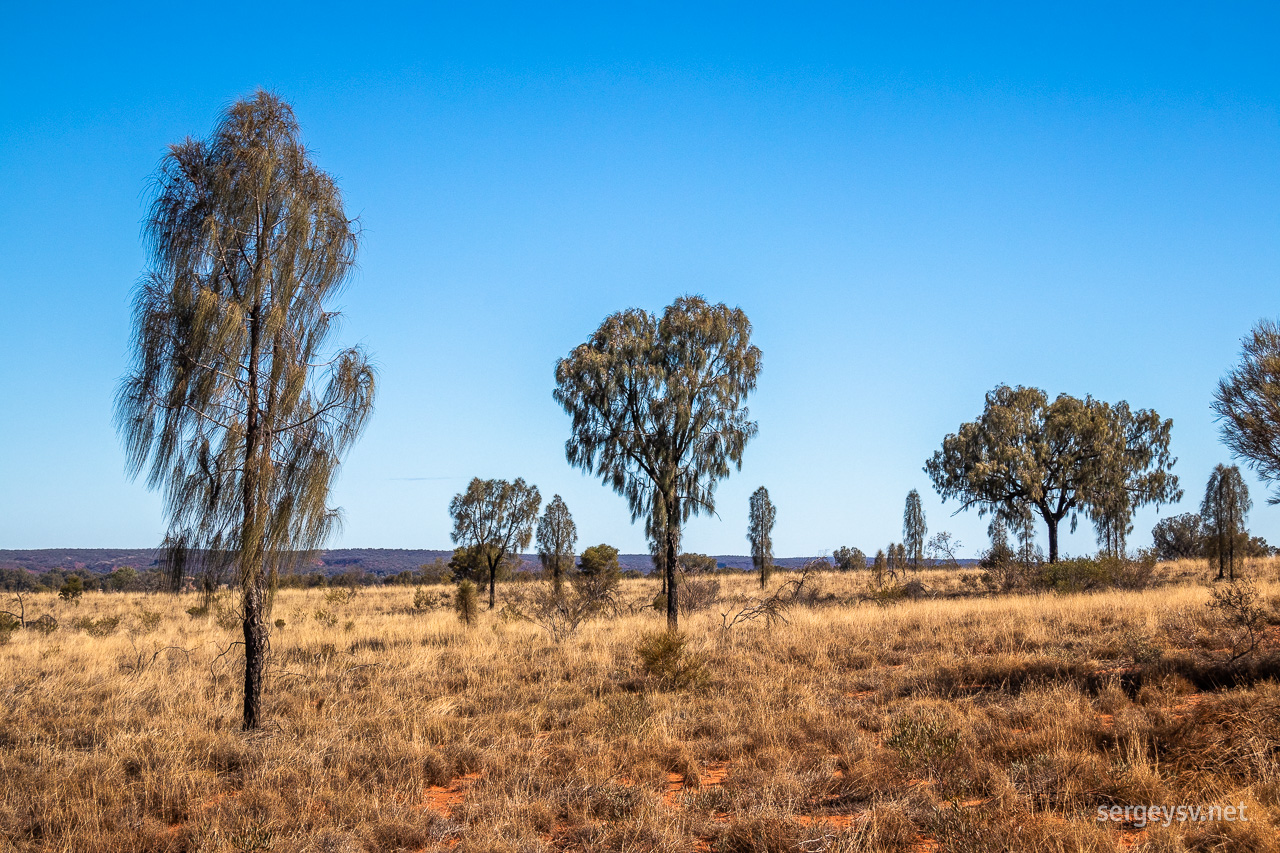 Desert oaks.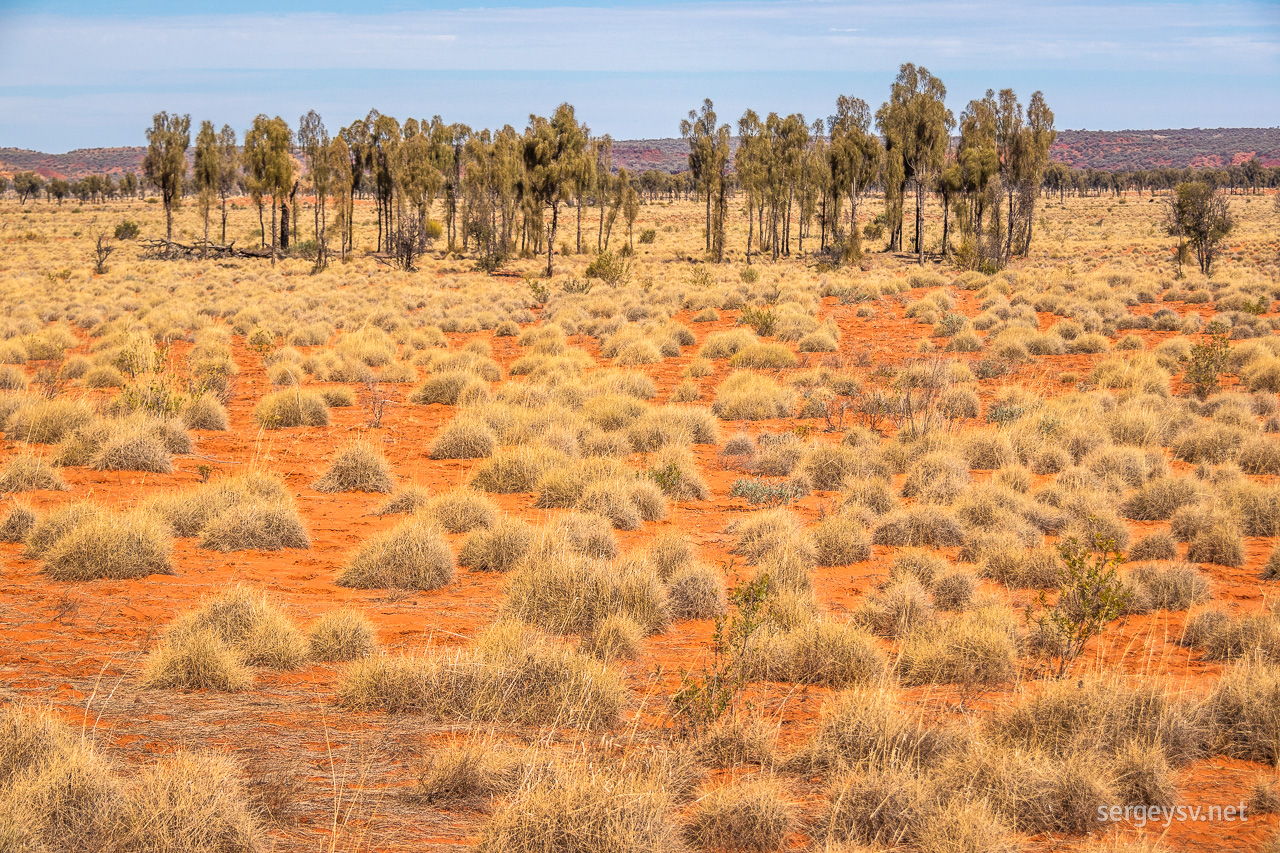 More of them amidst the spinifex.
From there, I drive towards the Henbury meteorite crater. It's not as spectacular as
Wolfe Creek
, of course; but it's still an interesting landmark, and it's not too much of a detour anyway. Even if the crater itself is mostly eroded by now (thanks to the generous water streams in winter), the surrounding scenery is very much the Red Centre I know and love, with all the spinifex and desert oaks. I certainly need to go back to explore this region more!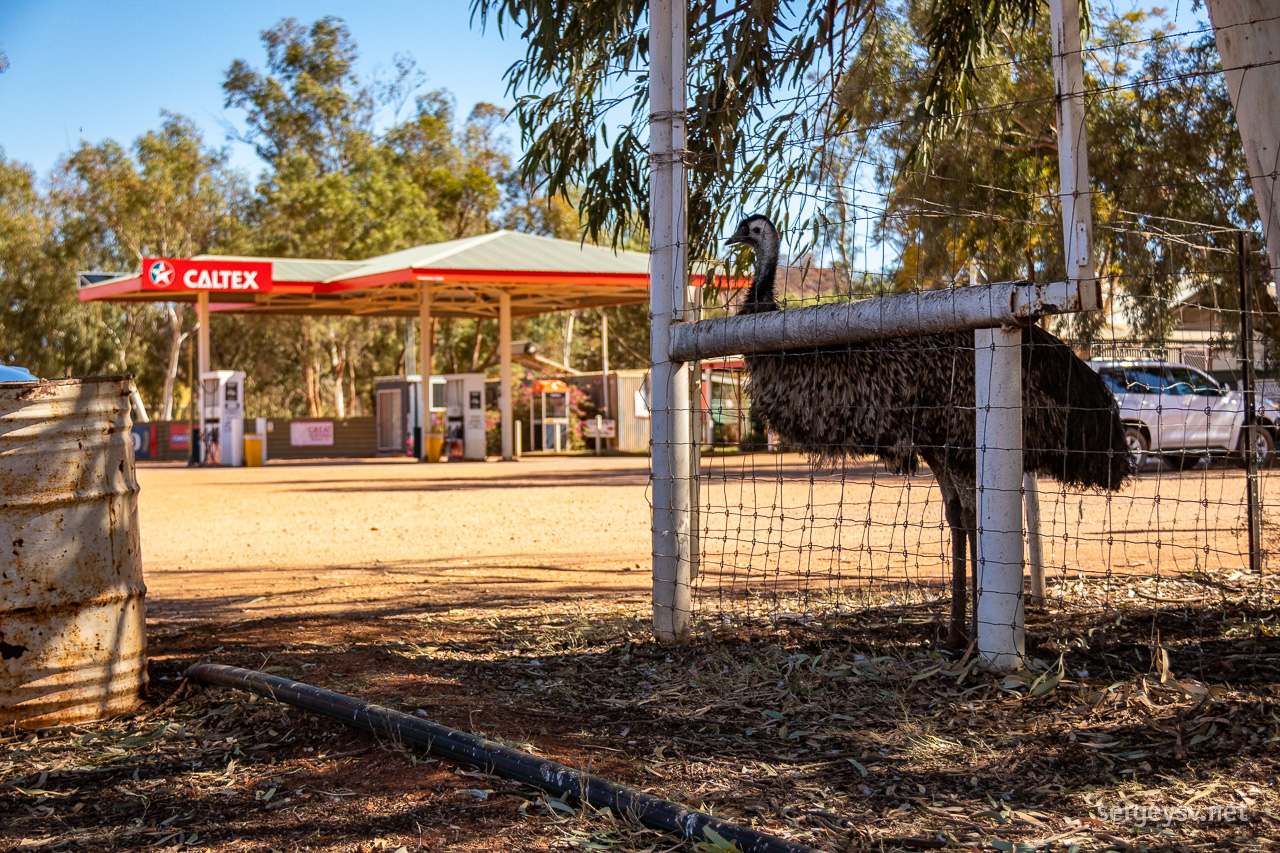 At the Stuarts Well Roadhouse.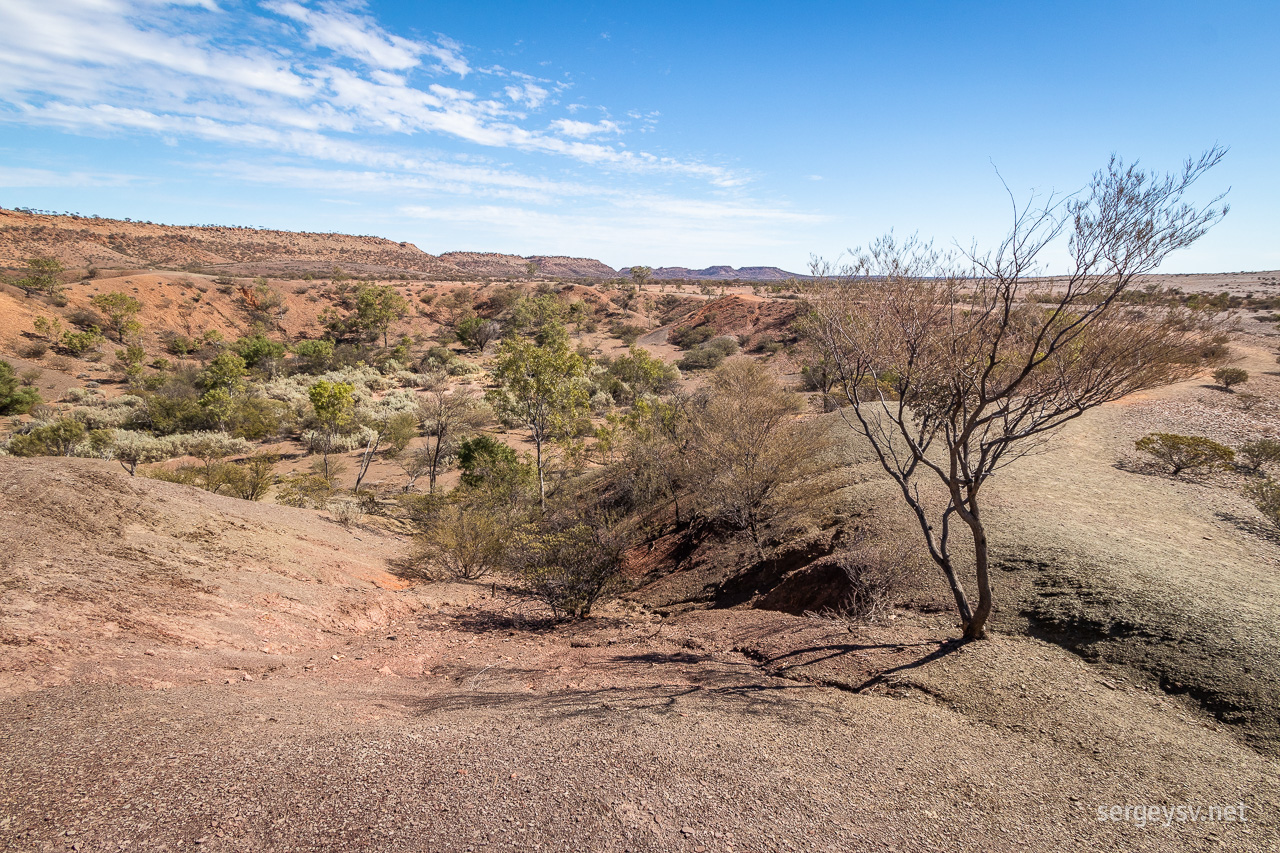 A bit difficult to actually see the crater... but it's there.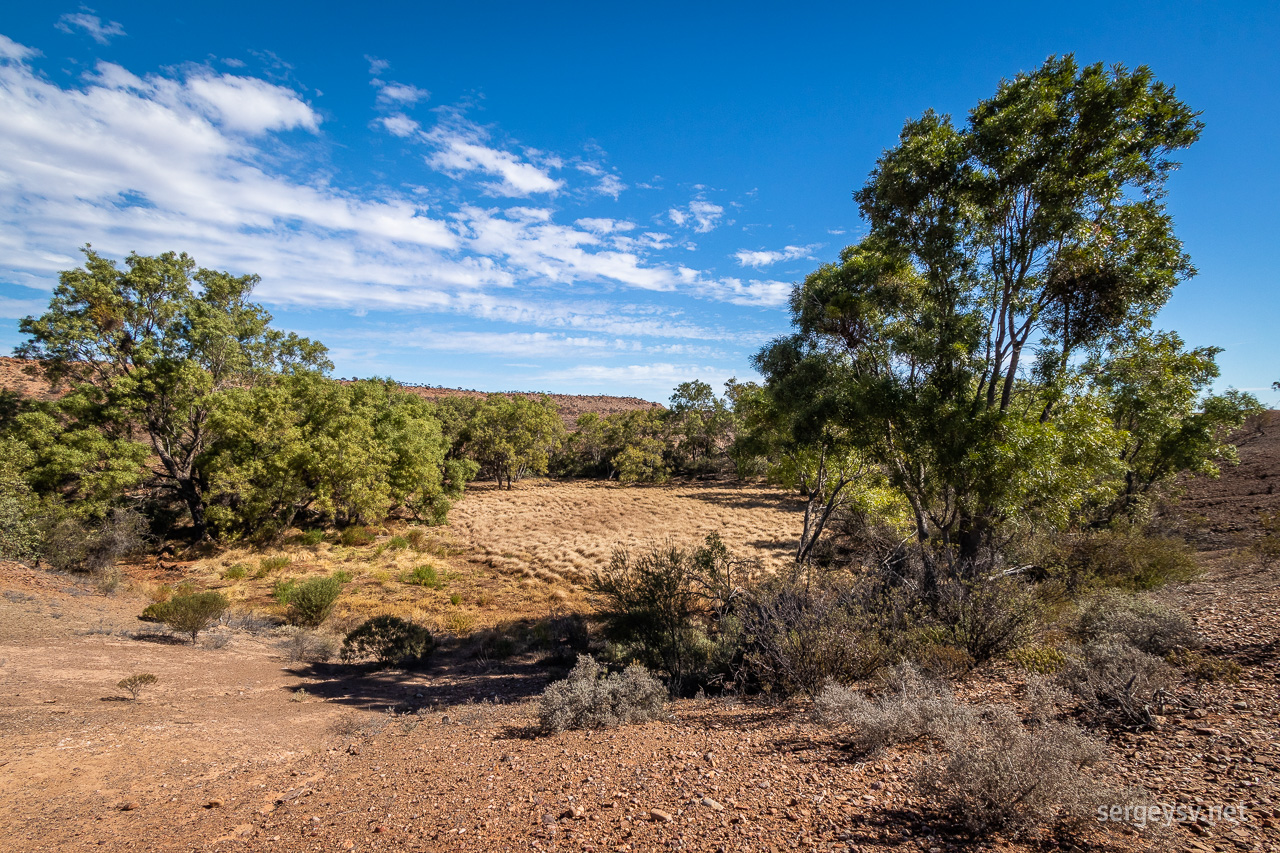 Another crater (more lush and green) next to the main one.
Looking across the desert.
After a quick stop at Erldunda for a shower (it's my third visit here by now, and the place starts feeling like home a little), I cross the South Australian border and stop at the Agnes Creek for the night. Almost home now! I'm also treated with the most beautiful array of clouds in the sky, and it's a little bit odd to see so many: my entire stay in the Kimberley was sunny and cloudless throughout. With clouds, unfortunately, also come flies, which are especially vicious in the central regions of Australia; thankfully, they disappear after sunset as they always do.
Oh, and there's not a sign of that mouse in my vehicle anywhere. It must have gotten out in the morning while I was still on that rest stop. Was nice to have some company while it lasted, I guess?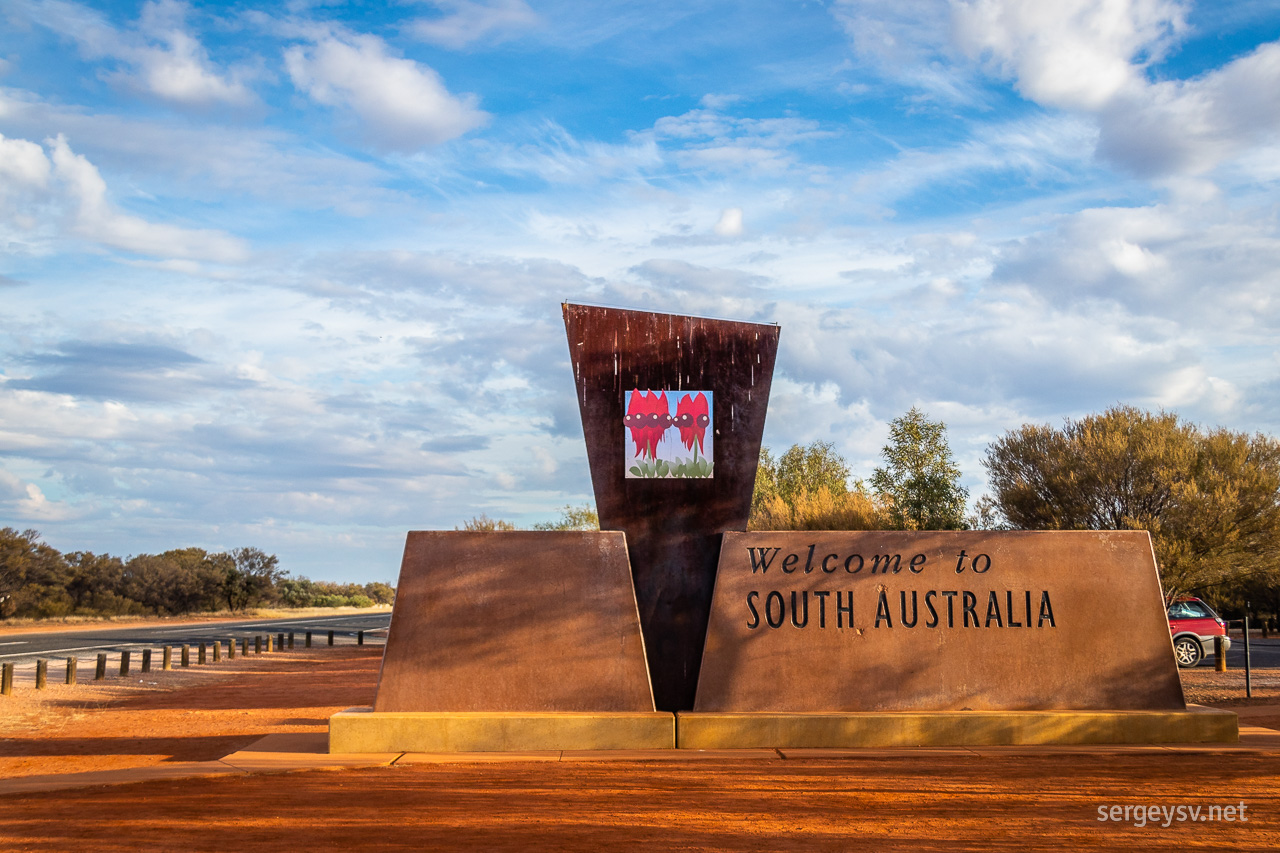 Crossing the border.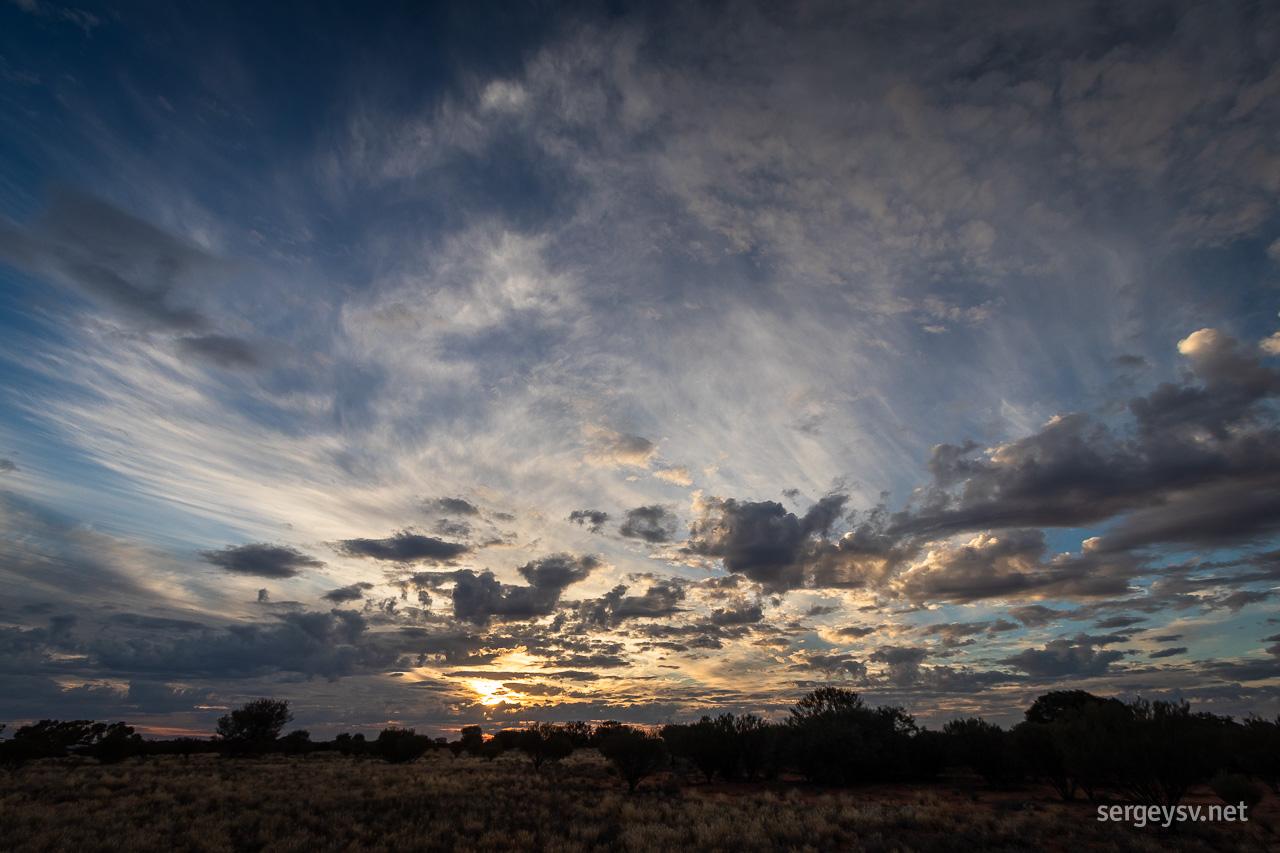 Clouds are going crazy!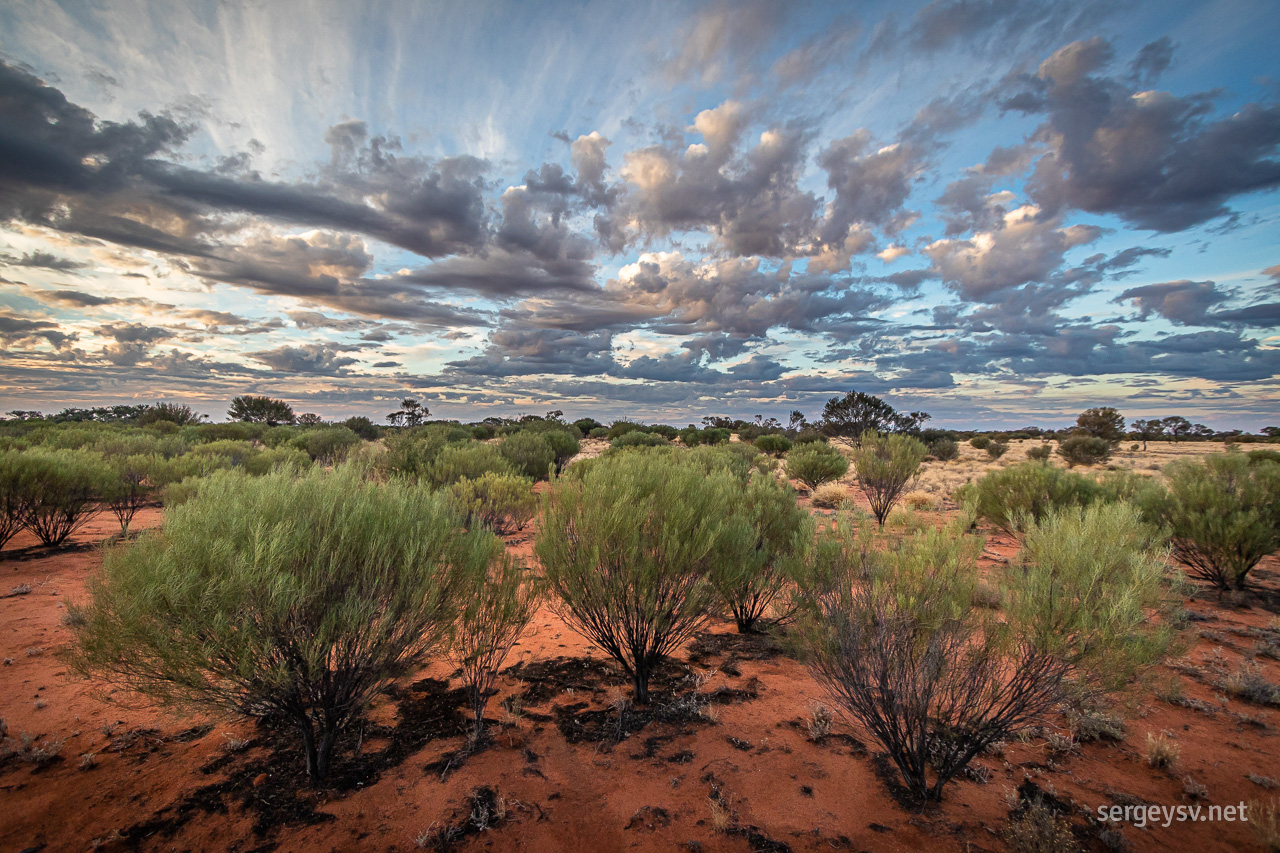 The red desert is about to go to sleep.