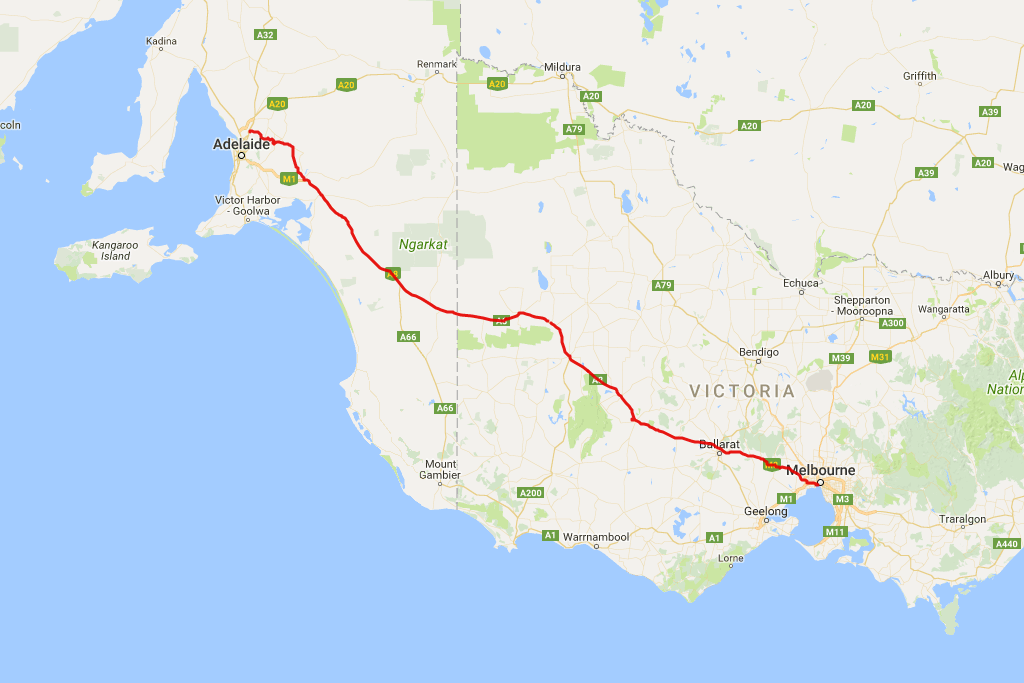 Distance covered: 725.9 km.
Come to think of it, Tasmania may be the only place in Australia where you can travel outdoors extensively during summer. Everything else at this time of year is either too hot or too wet. Unless that's what you're looking for, of course. With that in mind, and also using this week off to test some new camping gear, I'm taking off at eight-ish in the morning of the Australia Day, beginning my way towards Melbourne. Another road never travelled before. Some places are quite familiar yet, though.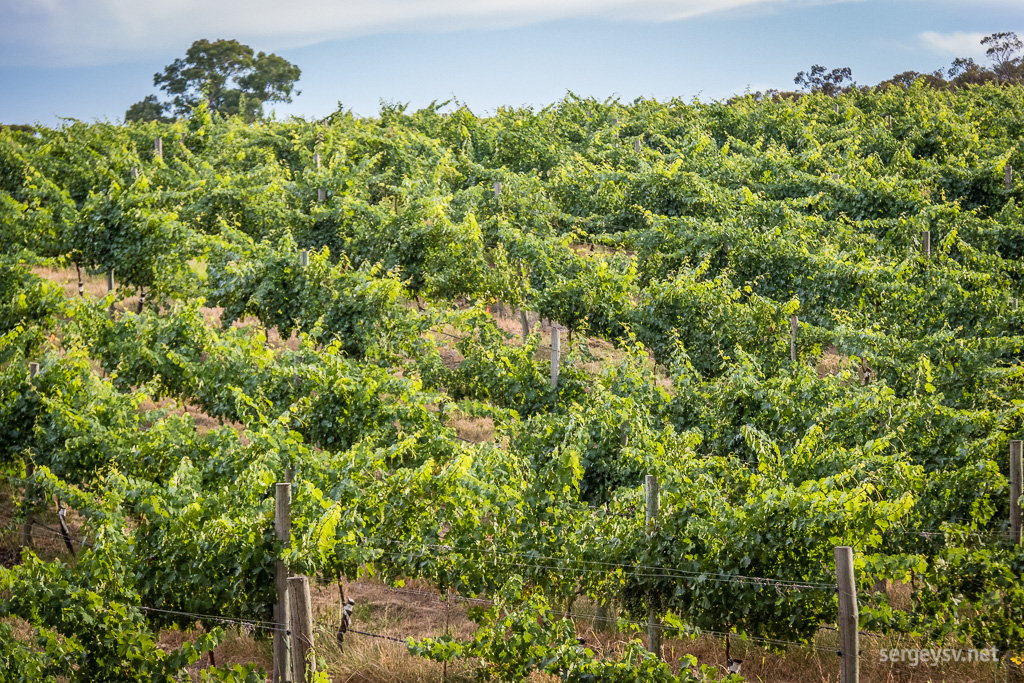 Some vineyard just outside Adelaide.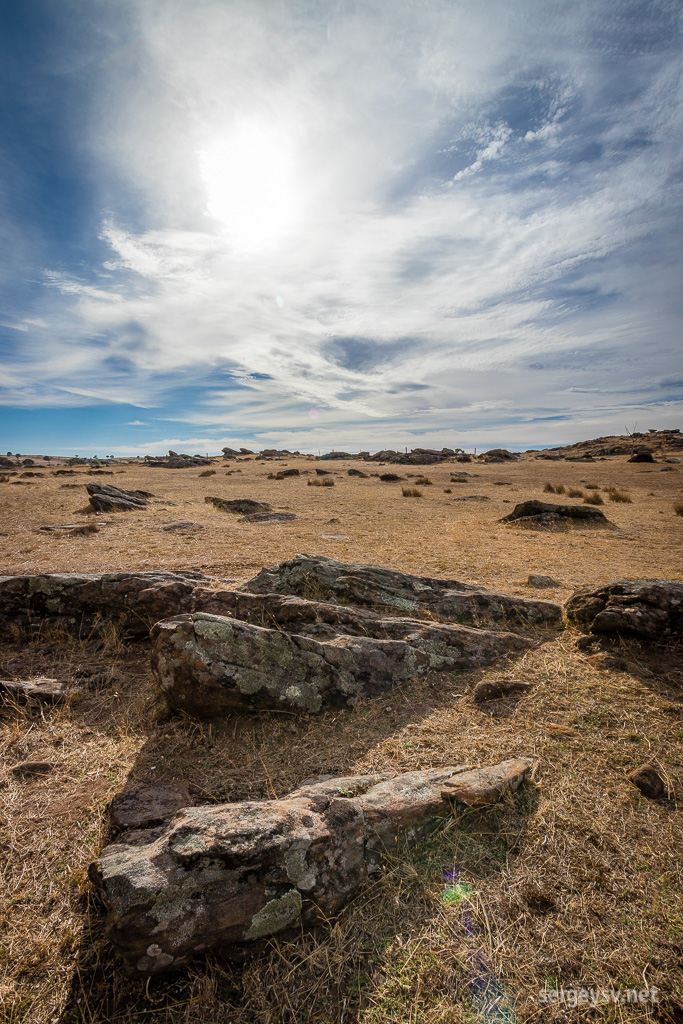 Scenic rocks on a pasture.
It's quite hot already, about 30°C or so. As I move deeper inland, it becomes a bit less sunny, but hotter. Australian summer still rages on. Time to stop in a shade next to a railroad and have a brunch.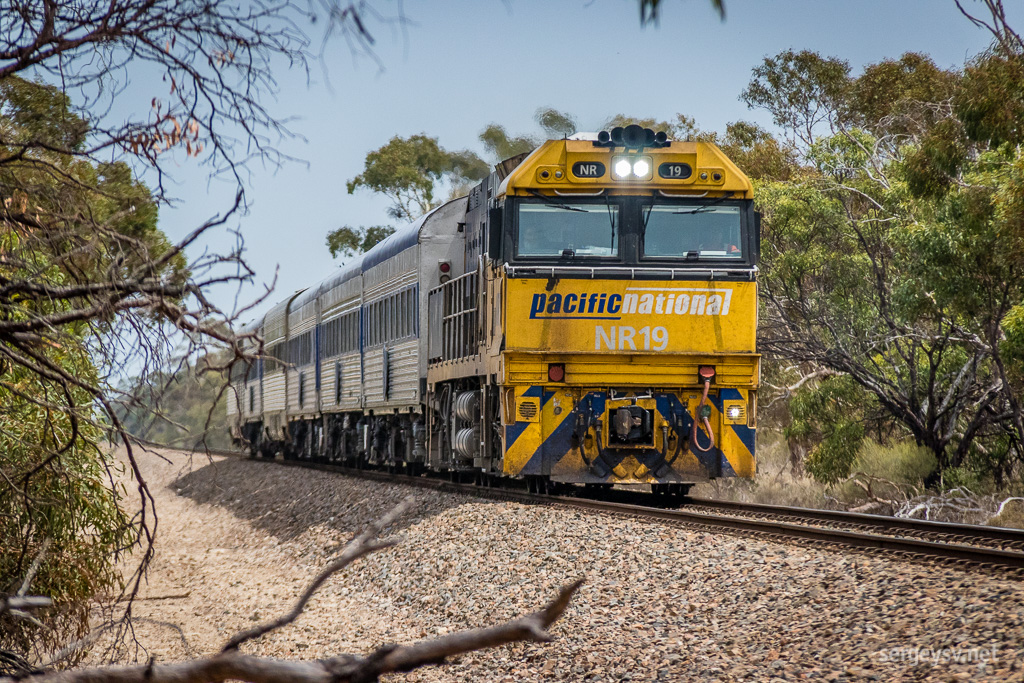 Not only I have a travel bug, apparently.
In Coonalpyn I encounter a nicely painted-over silo: must be a local landmark. Could be worse ways, I guess, to attract visitors and make them exercise their photography skills.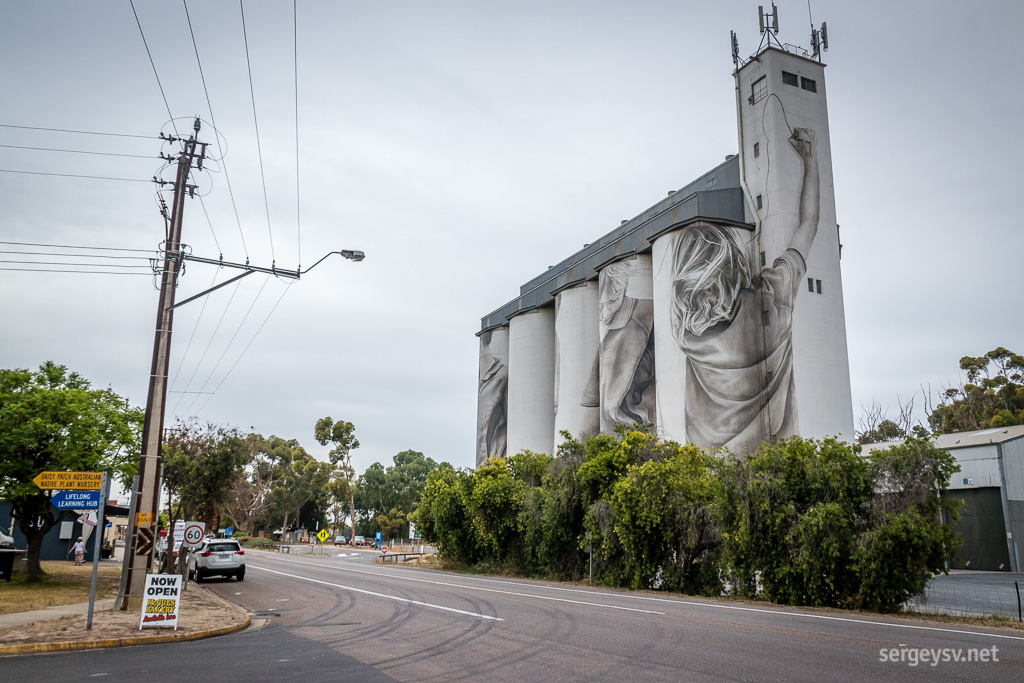 The silo mural.
At 12:30 I cross the Victorian border. Surprisingly enough, the longest I've ever been in this state is an hour or two a couple of years back, crossing it via Mildura. I've been to Melbourne, obviously, but that doesn't count. Time to take a closer look.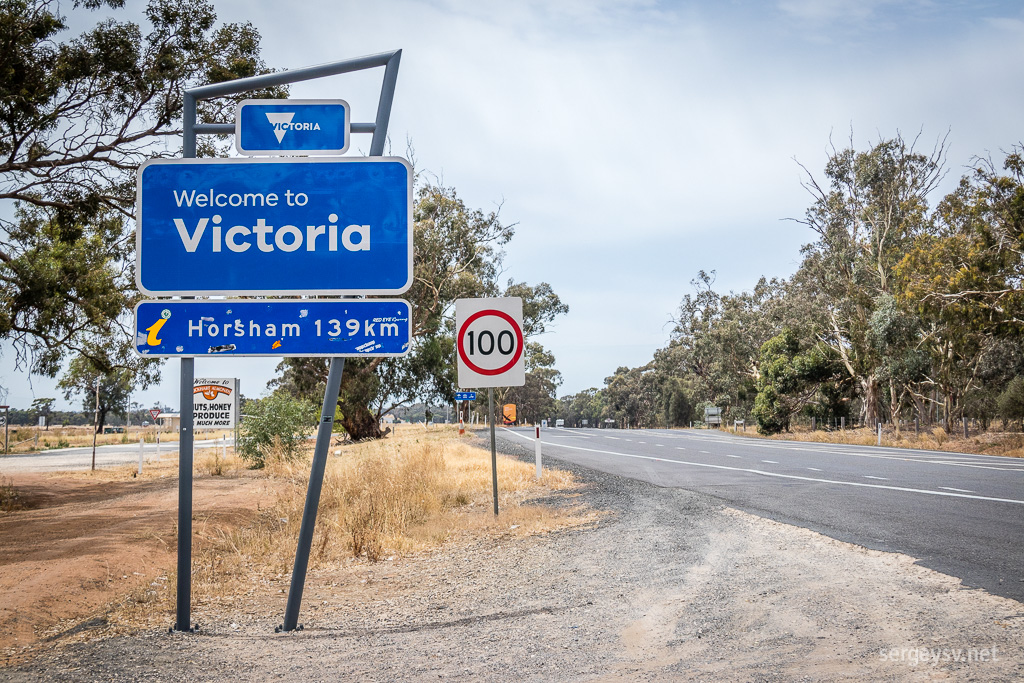 Hello, Victoria.
Victoria looks a lot like South Australia so far. (And it's 37°C already. Very hot weekend!) Farmlands and hills and cattle as far as the eye can see. Quite dull, frankly. At Kaniva my slightly monotonous journey is interrupted by the police doing random breath tests. Evidently, you can encounter drunk drivers even this early in the day if it's a public holiday.
At 2:30 I reach a place called Pink Lake. As is usually the case with Australian "lakes", it's rather a giant saltpan at this time of year. Perhaps it gets a bit more pink when it's cooler and actually has water in it.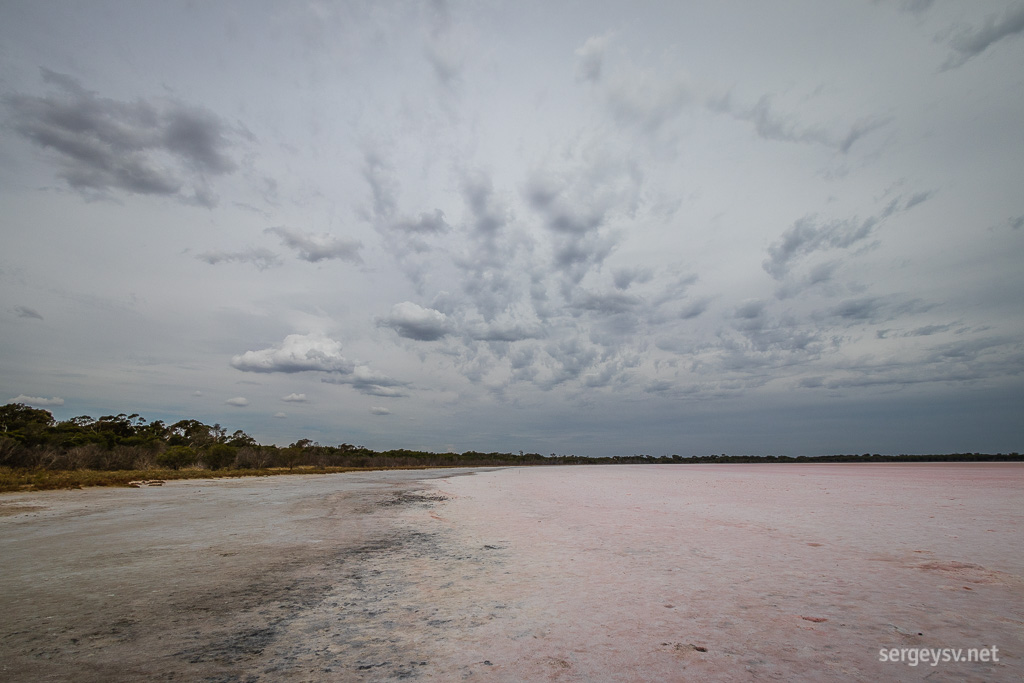 Pink-ish Lake.
Slightly later the Pink Lake is followed by the Green Lake. A proper lake this time, full of water and people. It's a public holiday, all right.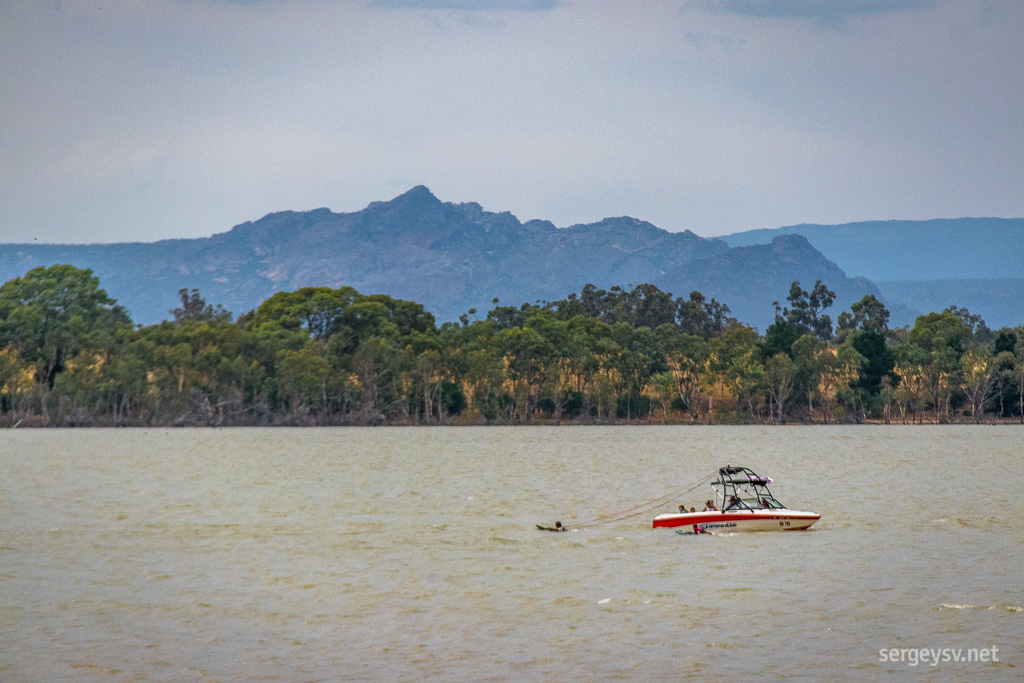 Green Lake.
From here I can see The Grampians looming afar. Gotta pay them a visit one day as well. Funny how the places that are closest to you you end up visiting the latest.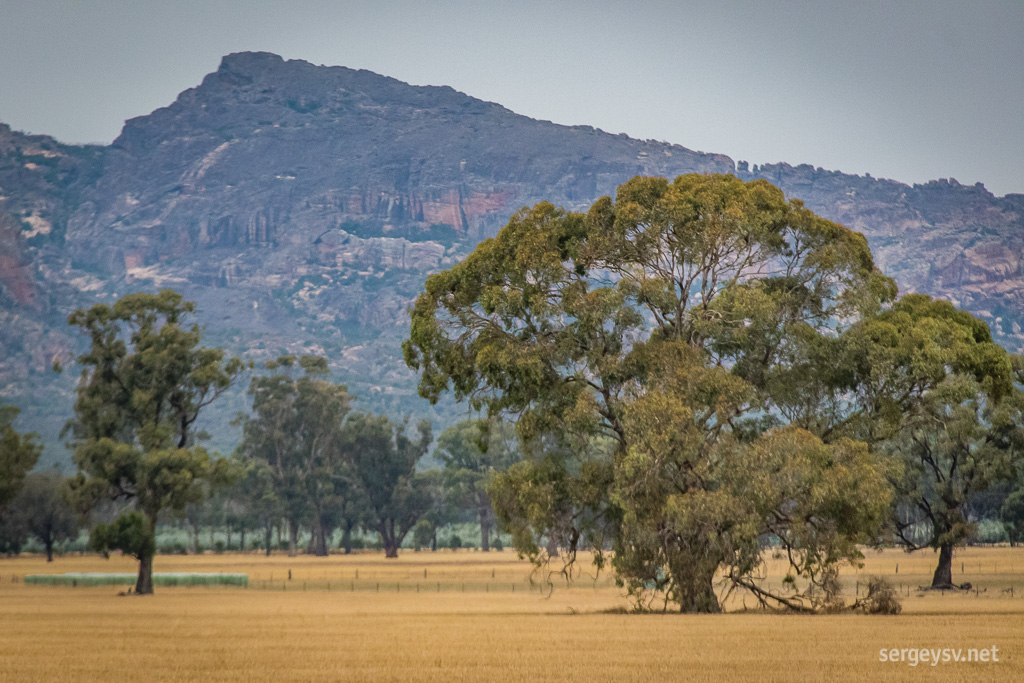 The Grampians (Mount Zero, I think).
A road sign near Horsham proudly tells me that it's the "Victoria's tidiest town 2015" ("and 2016", a glued-on piece is quick to add). The town does look nice and clean. Another landmark further on: a Giant Koala this time, sculputed very lovingly and hosting a souvenir shop in its belly.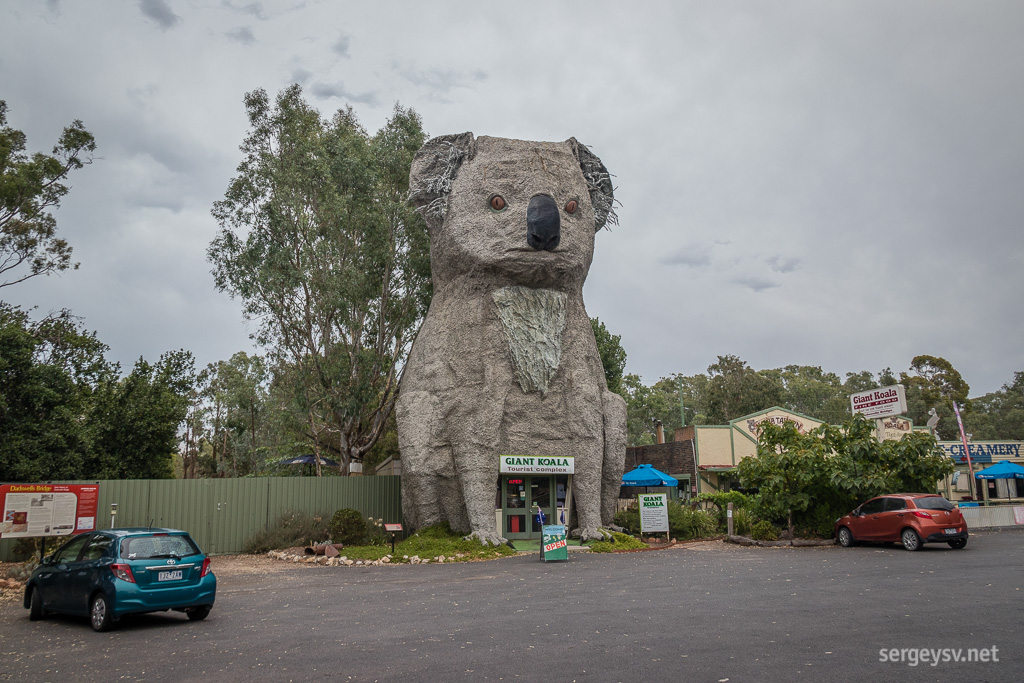 Looks a bit creepy though, doesn't it?
The highway itself is quite popular, which is evident from its numerous rest stops and road signs urging drivers to rest. Here we go:
ONLY SLEEP CURES FATIGUE
A MICROSLEEP CAN KILL IN SECONDS
OPEN YOUR EYES. FATIGUE KILLS
YAWNING? A MICROSLEEP CAN KILL
TIRED? POWERNAP NOW
POWERNAP SAVES LIVES
They quite like the word "powernap" here in Victoria, as you can see.
Near Ararat I turn off to visit a signposted lookout. The views are impressive indeed, very scenic even despite the overcast skies that look more and more gloomy with each passing hour.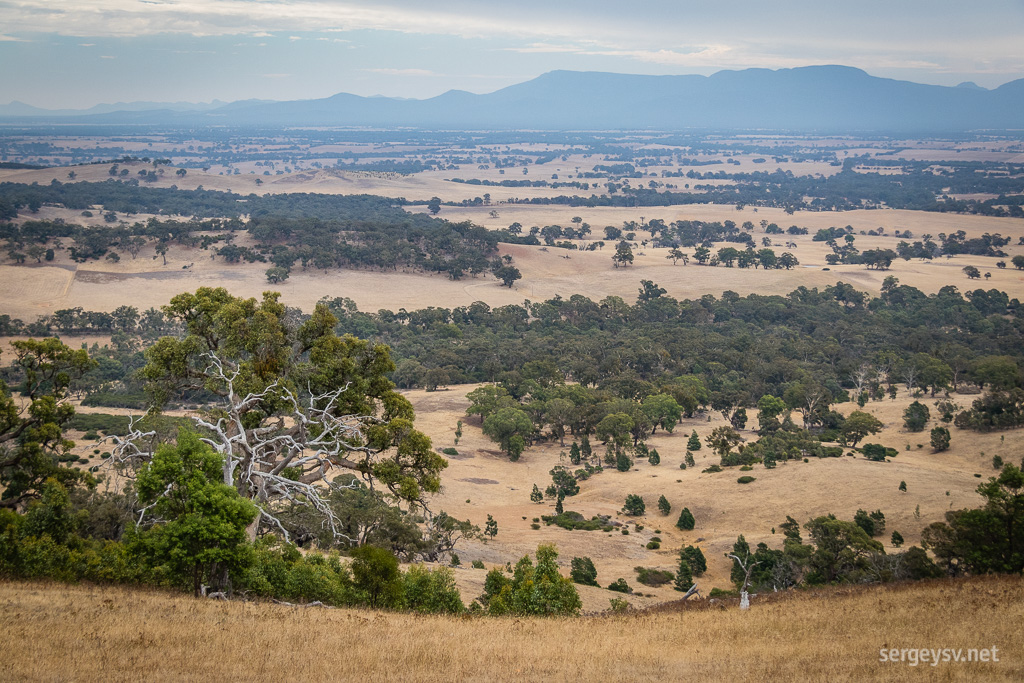 Ararat scenery.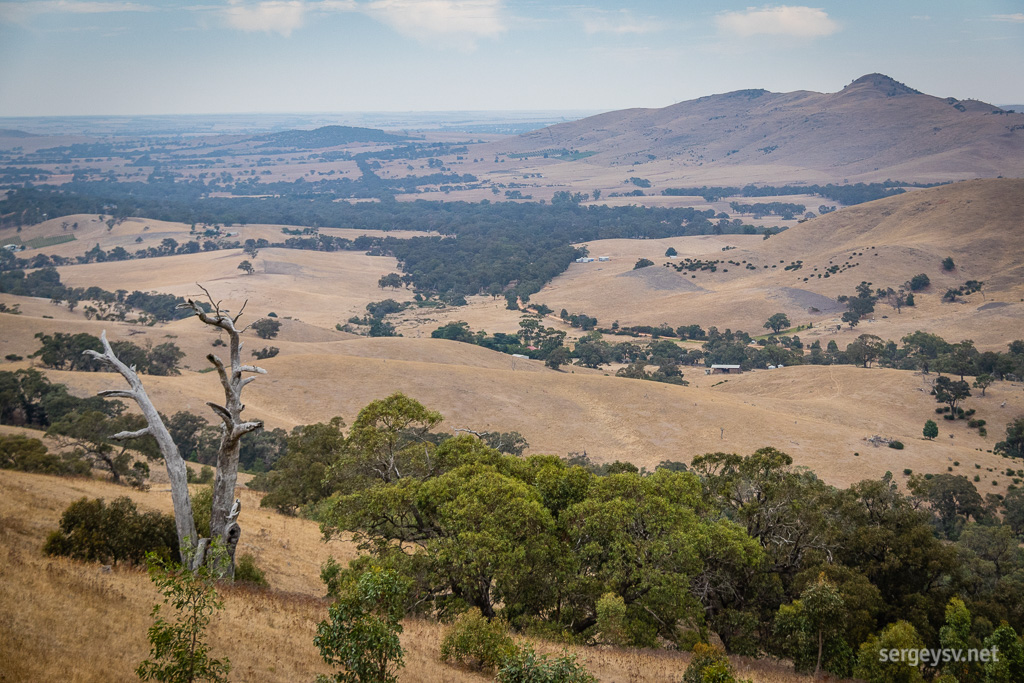 More of it.
As I approach Ballarat, the weather worsens and cools down rapidly. 20°C now compared to 37 earlier! An occasional drizzle turns to rain, and it's still quite wet by the time I reach Melbourne and the ferry terminal, which happens at almost exactly 7 o'clock, as planned.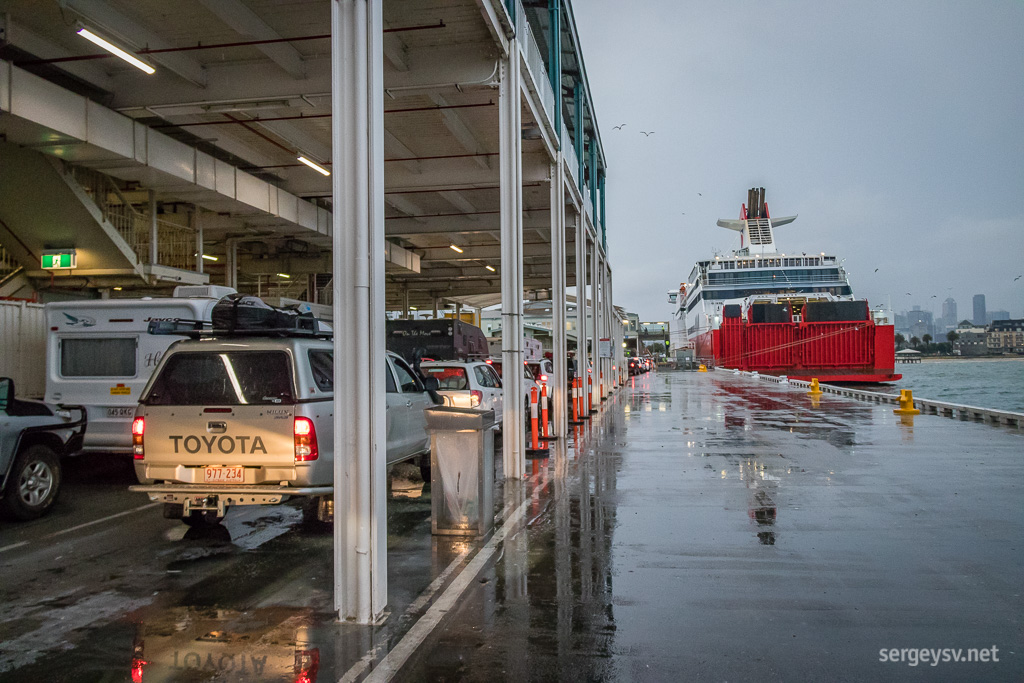 Boarding the ferry.
The ferry looks impressive, and even more so from the inside. It has a bar, a restaurant, a gaming room for kids, a souvenir shop, and even a cinema. ("Darkest Hour" for mums and dads, "Ferdinand" for kiddies.) The boarding takes a fair amount of time, and when I finally buy myself a dinner and sit down to eat it, the ferry departs at precisely 9 o'clock.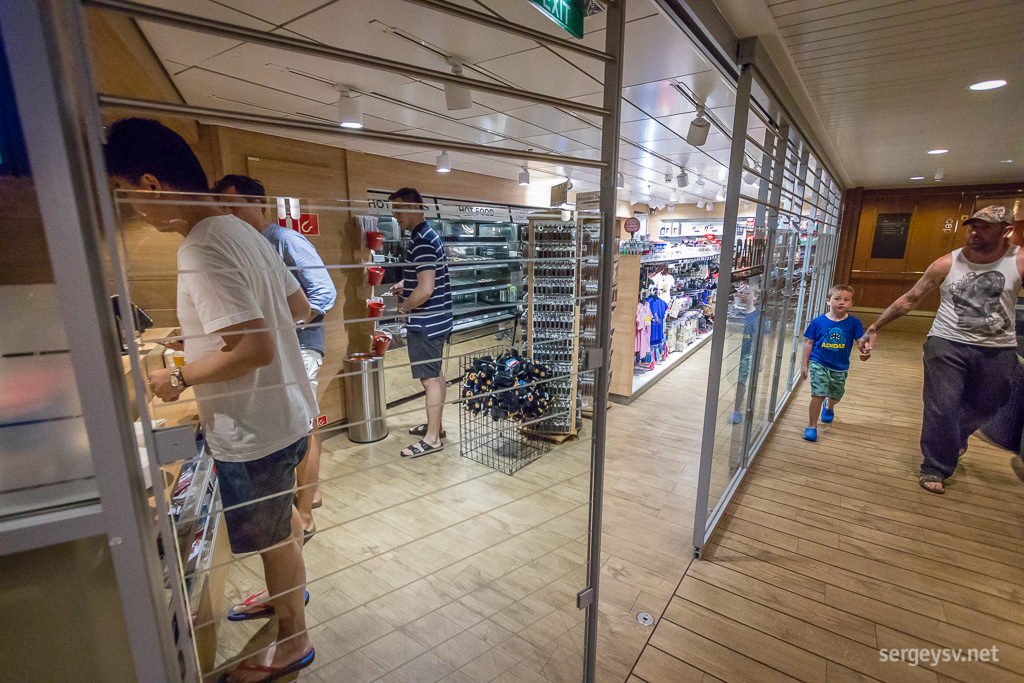 The shop on board.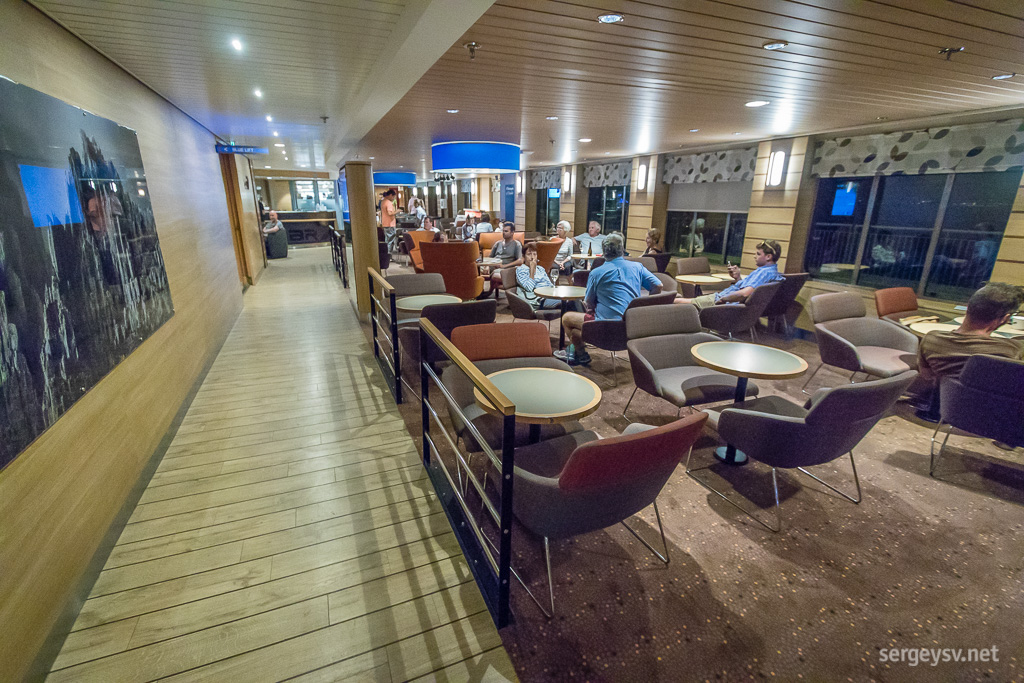 The lounge room on board.
It still drizzles a bit, but even half-covered in rainclouds, the night Melbourne looks spectacular from the deck. Too bad I don't have a tripod to capture it properly.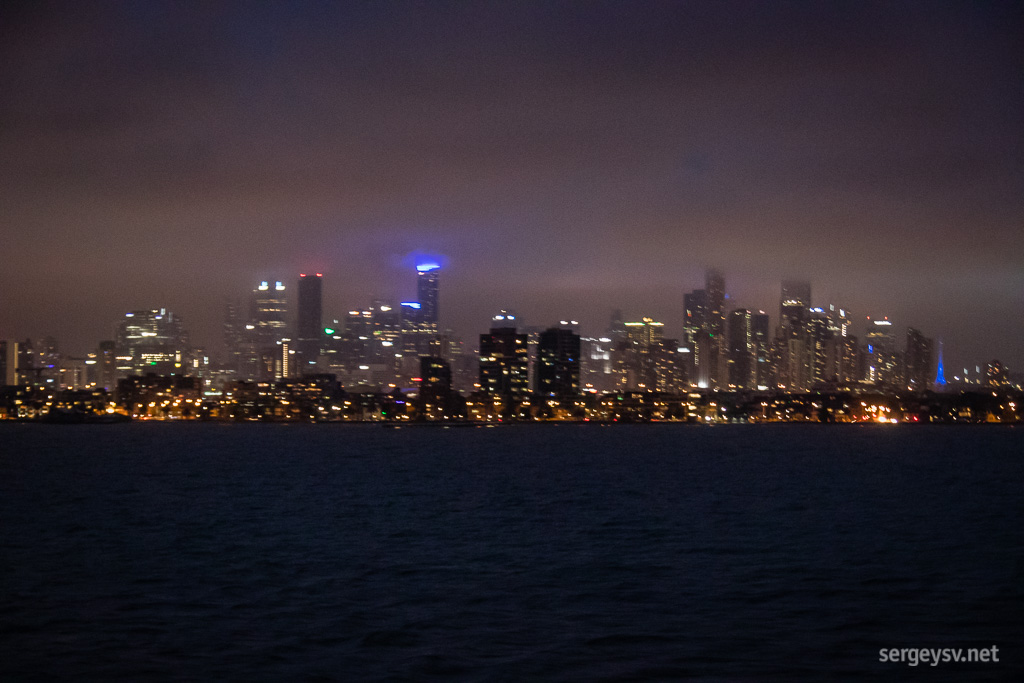 Bye-bye, Victoria.
It's been a long day, though, so I head back to my quarters for the night. It's the cheapest option available—a four-bunk cabin without a window—but I'm not a fussy camper. It has its own shower, though, and it takes me a good minute to figure out that one knob regulates the water pressure, and the other regulates the temperature. No instructions how to use it anywhere, because it's more fun that way, right? Still, a free shower is a free shower, and it's more than welcome after a long hot day.
More long days ahead, though. Tasmania is getting closer.