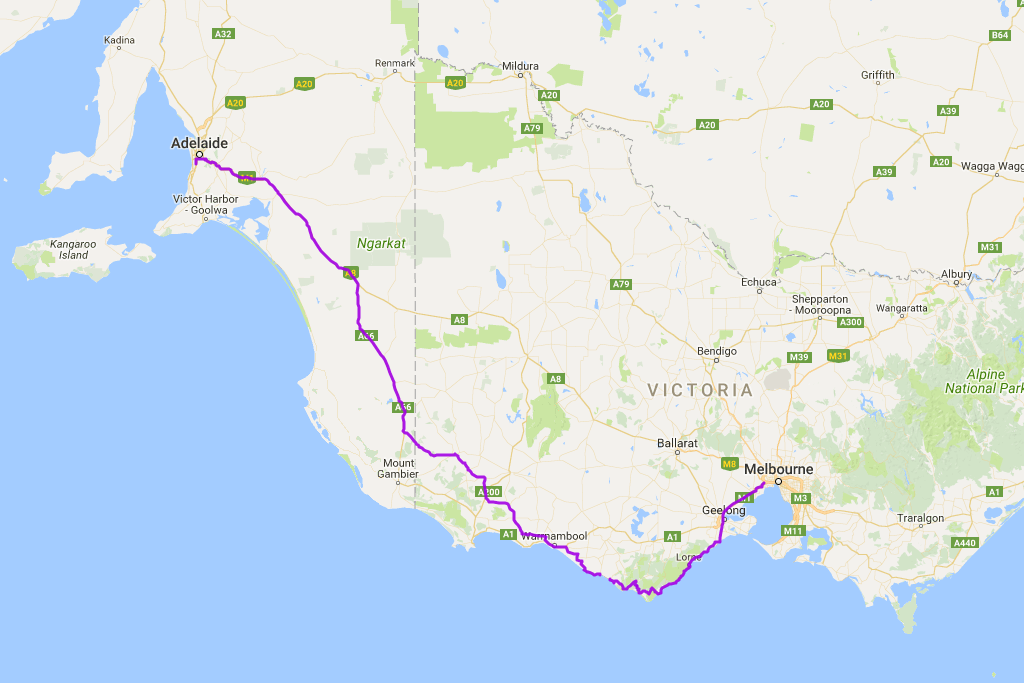 Distance covered: 961.9 km.
There are two options for me when I disembark the ferry and enter Melbourne at 7:15 in the morning. Should I take a good look at the Great Ocean Road and the Otways National Park, spend another night on the road, and get back home tomorrow? Or ignore the Otways for now and do the GOR and get back to Adelaide in one go? I decide to pick the latter. No doubt that the Otways are spectacularly beautiful, but from what I know, these rainforests look a lot like Tasmania's; and besides, I really could use a calm day off at home before going back to work on Monday.
One hell of a long driving day it is, then.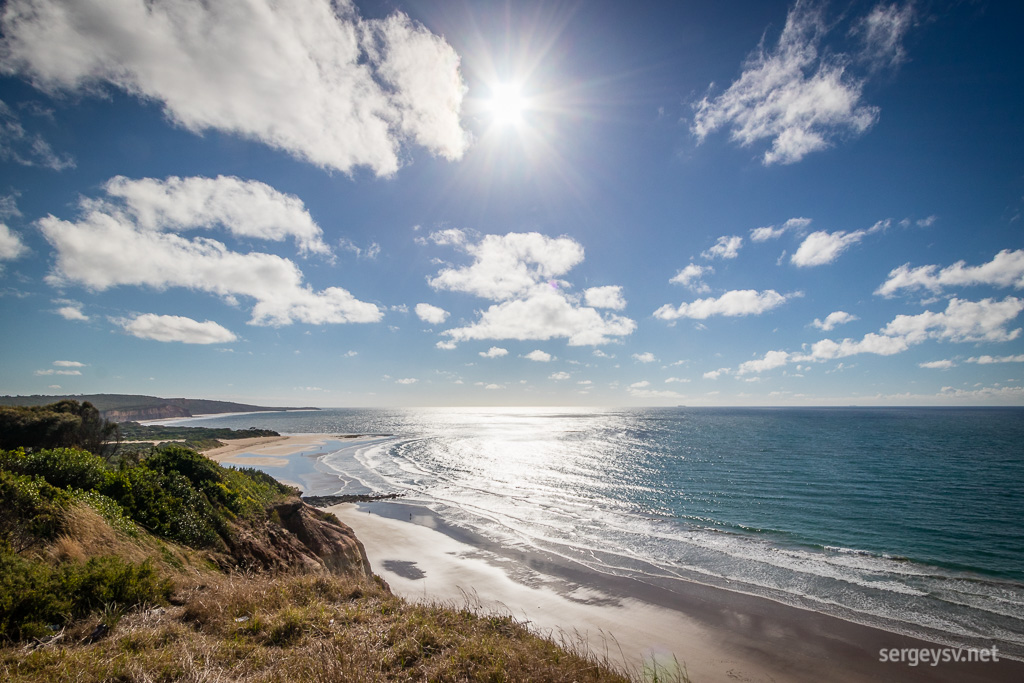 Near the Great Ocean Road.
Heaps of weekend drivers on the road. No surprise here. If there's anything surprising, it's the number of cyclists around. The road itself gives me the same old Tassie twist-and-turn experience, but the coastline does look wonderful.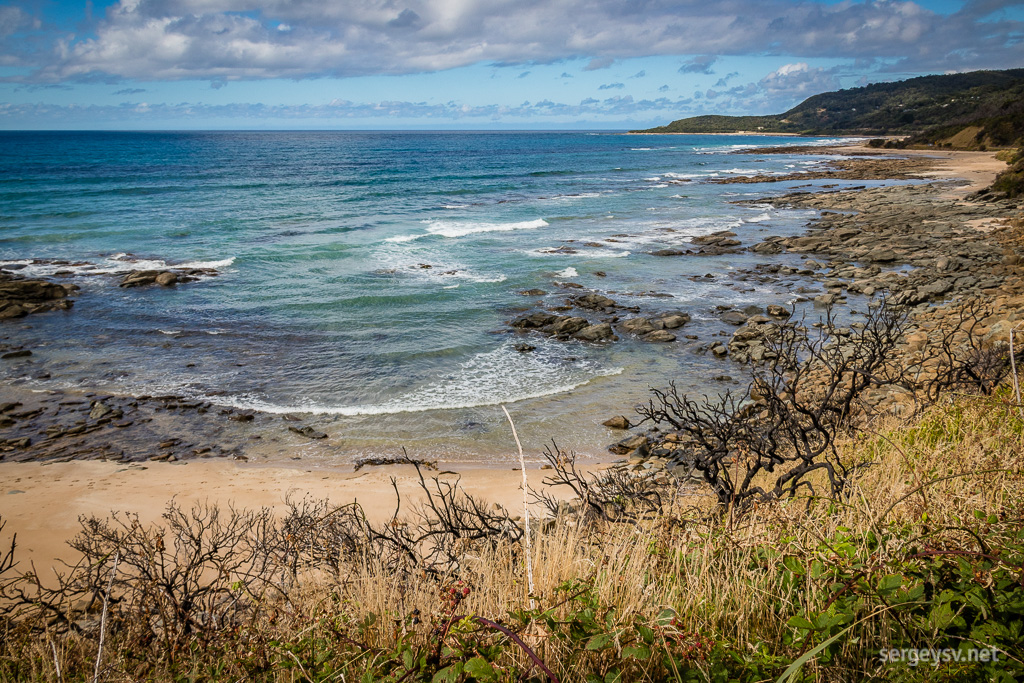 Rocky South Victorian beaches.
And here are the famous Twelve Apostles. The amount of tourists and cars is staggering. Literally hundreds of people storm the lookout platforms, and you have to be careful in order not to impale yourself on someone's selfie stick. The cliffs look amazing, though, and you can instantly see what all the fuss is about.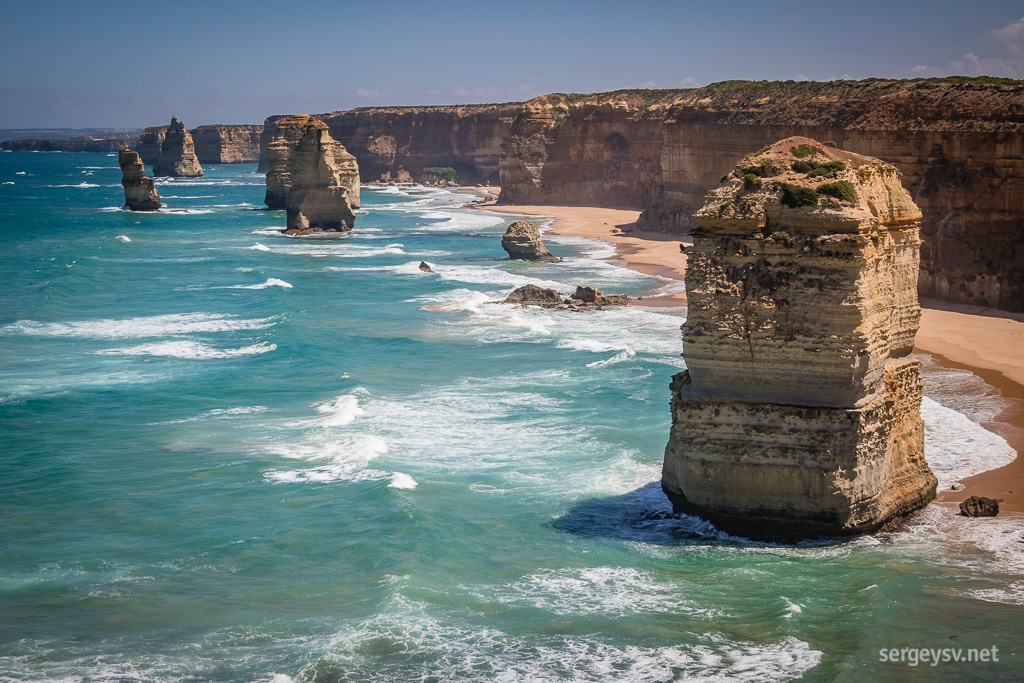 The famous Apostles.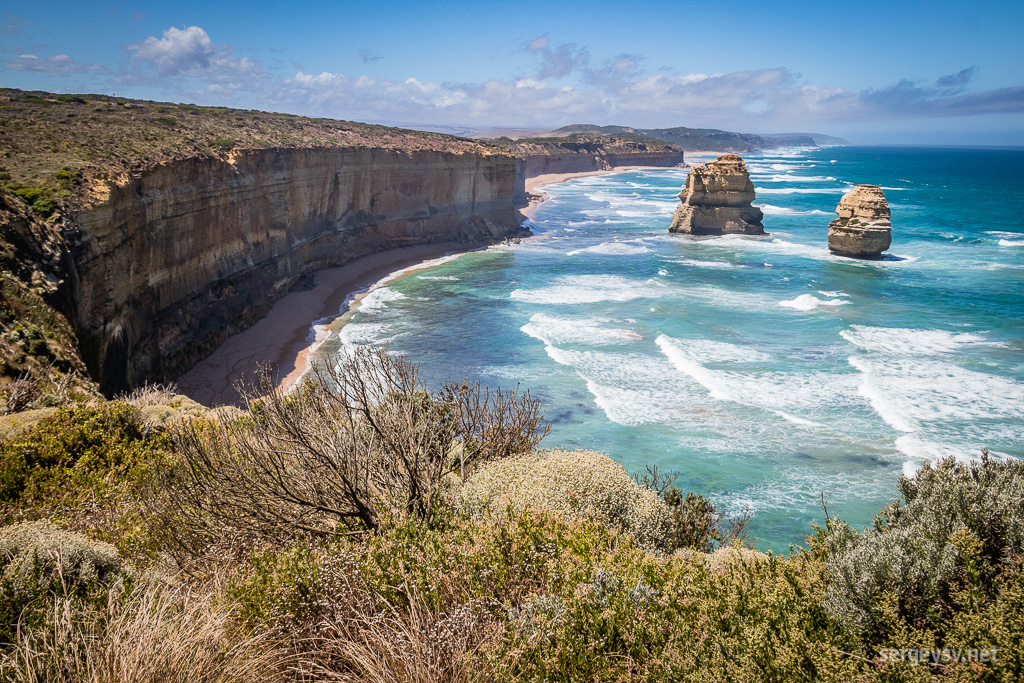 Two more in the distance.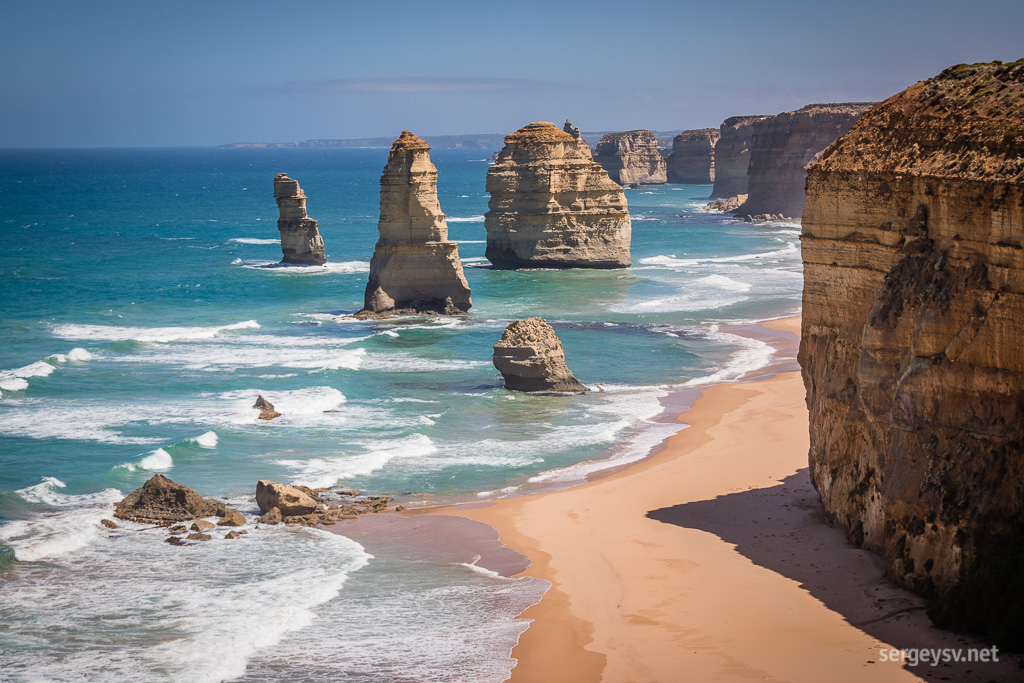 Scenic as!
A place called Loch Ard (whatever that means) is not too far away. Another limestone gorge-like structure towers above the turquoise waters, attracting numerous tourists and swimmers.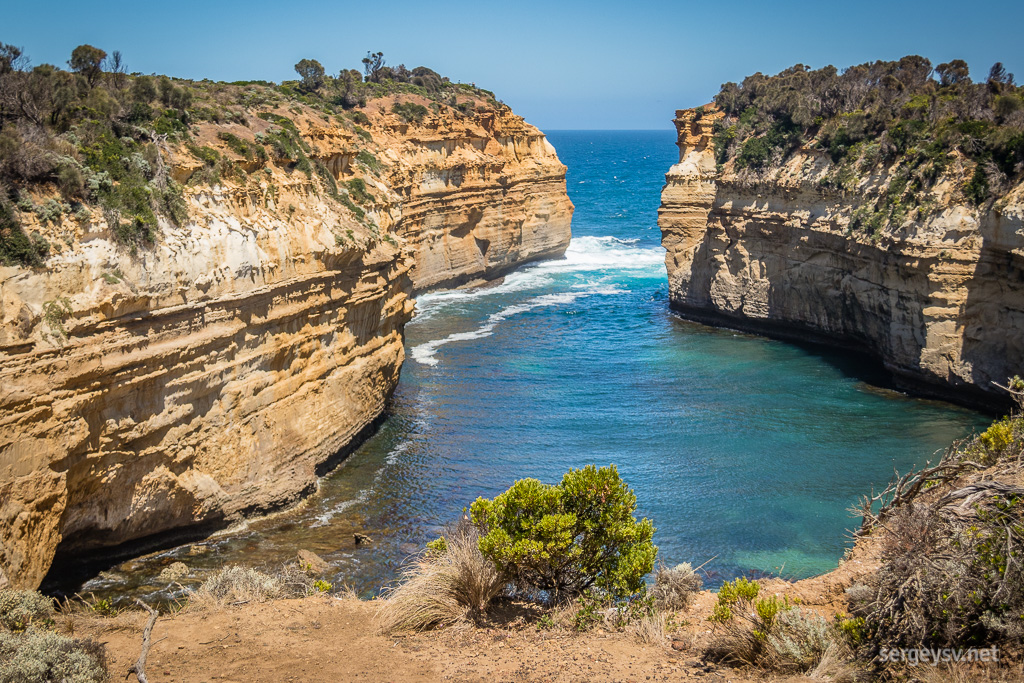 The Loch Ard.
All the quirky limestone things are close to each other here. Next are The Arch, the London Bridge, and The Grotto. Progressively less tourists around, and yeah, they're not quite as striking as the Apostles, but quite imposing nonetheless.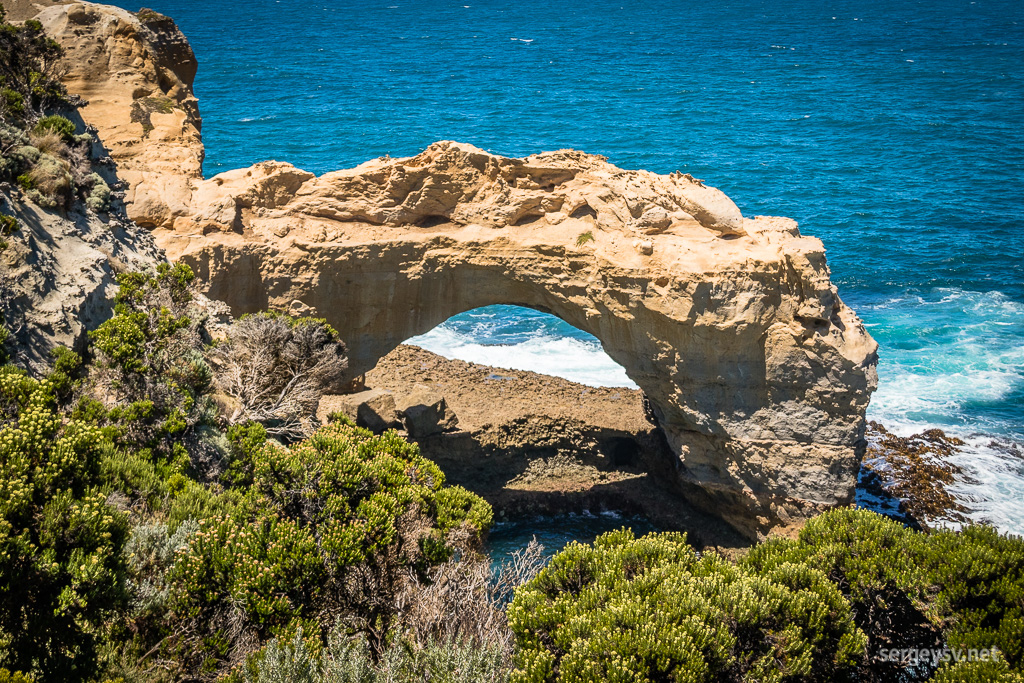 The Arch.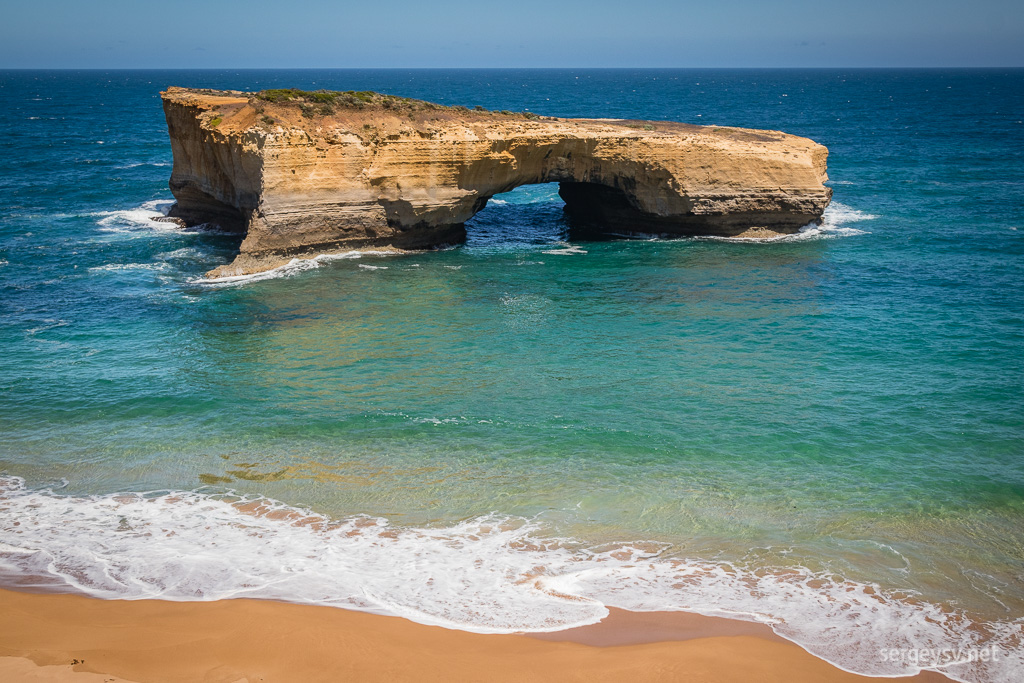 The London Bridge.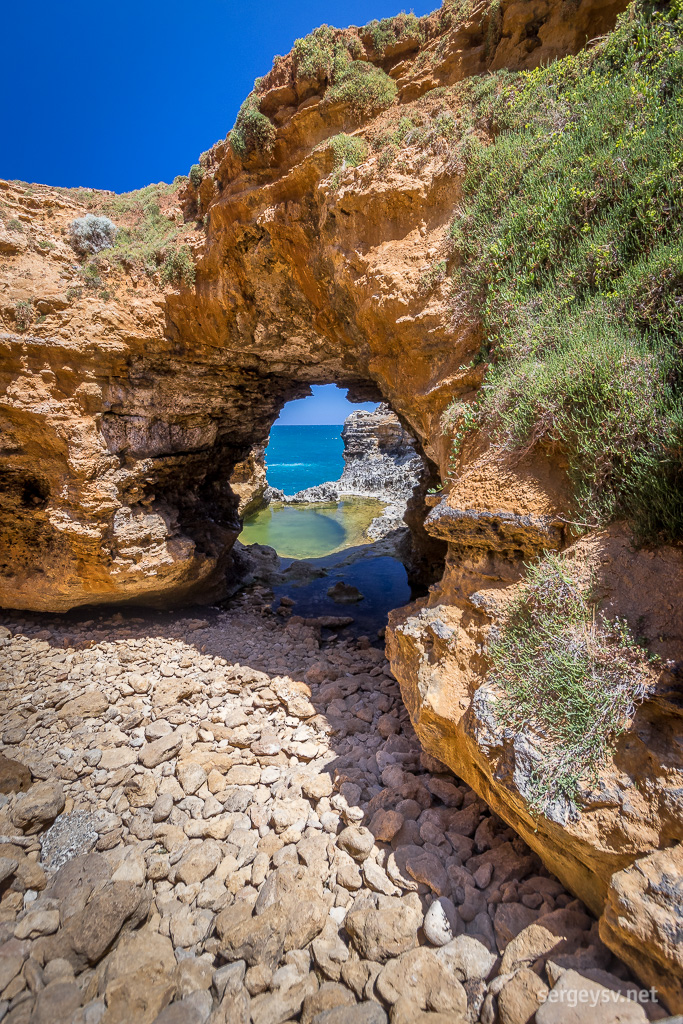 The Grotto.
So many of those half-eroded cliffs here that a few kilometres away they form a large group of isolated rocks called the Bay of Islands.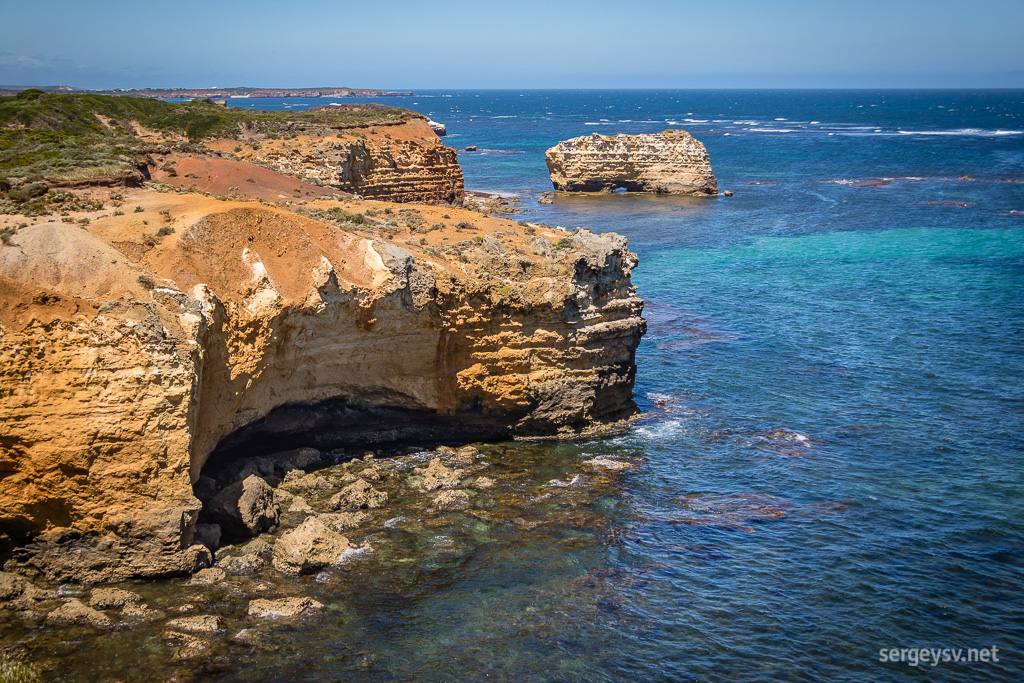 The Bay of Islands.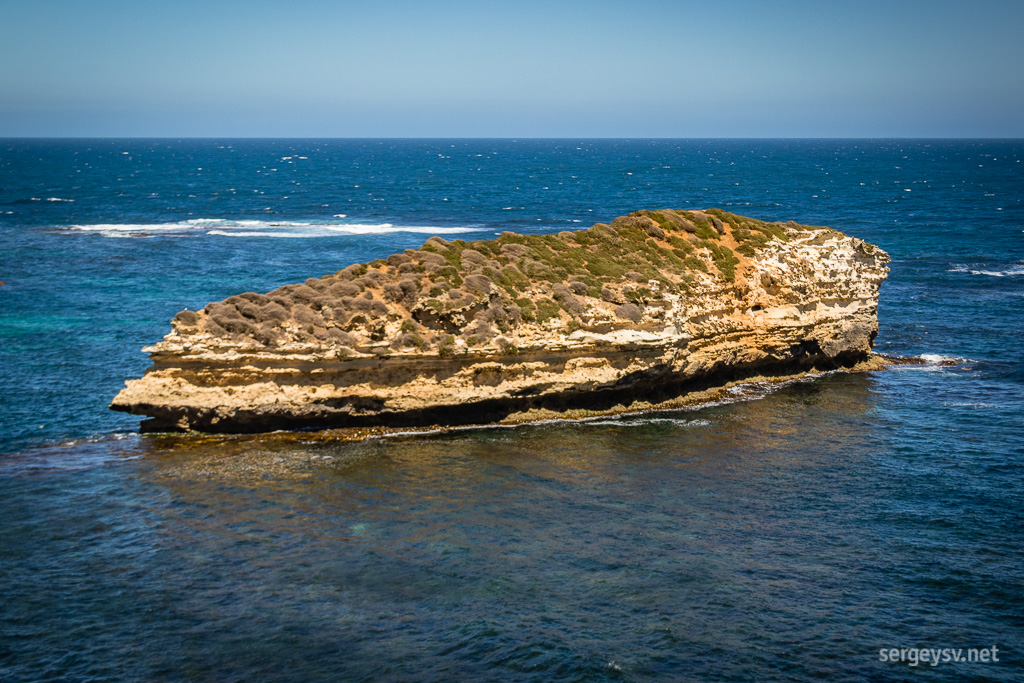 One of the "islands".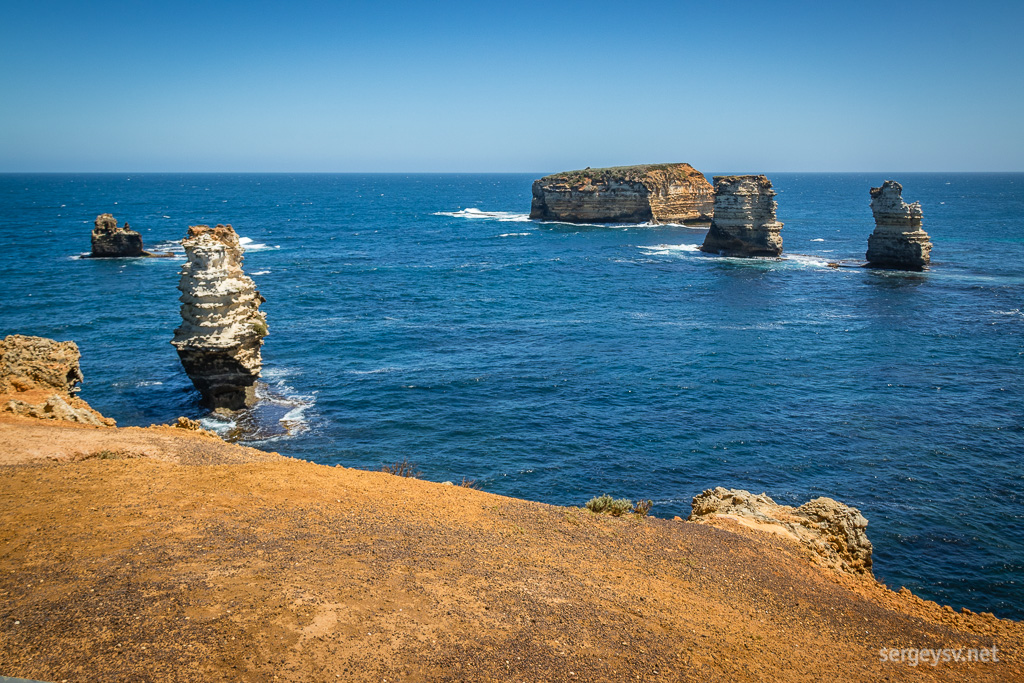 A few more in the distance.
And that's it for the Great Ocean Road. About time, too: it's way past two, and it's still 800 km ahead before I'm done for the day. Well, good thing is that it's still summer, and the days are still long.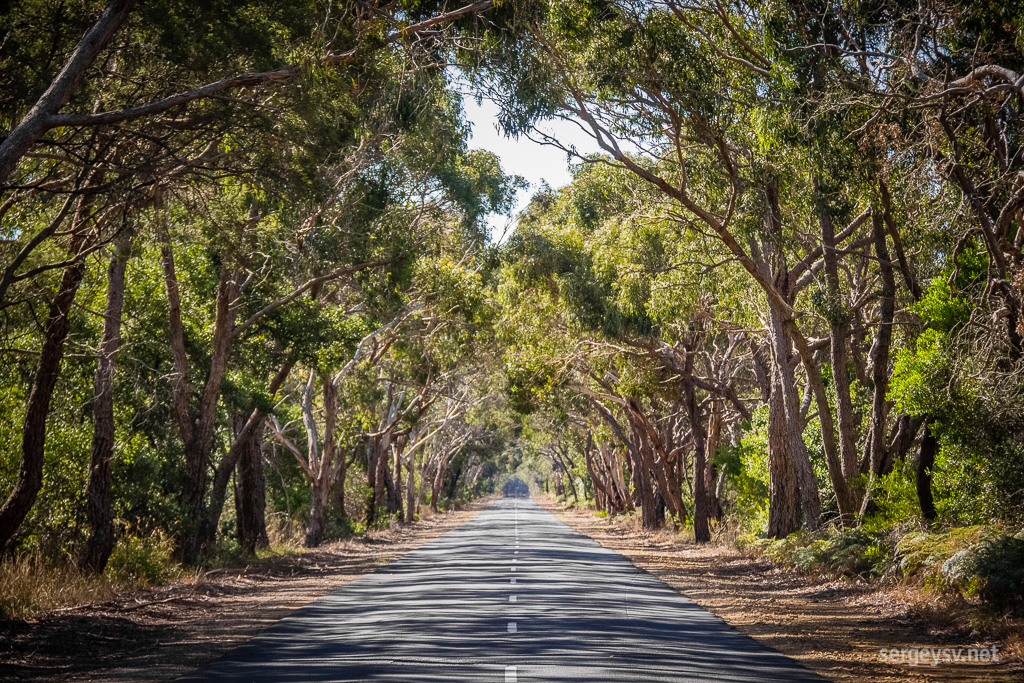 A nice stretch of Victorian country road.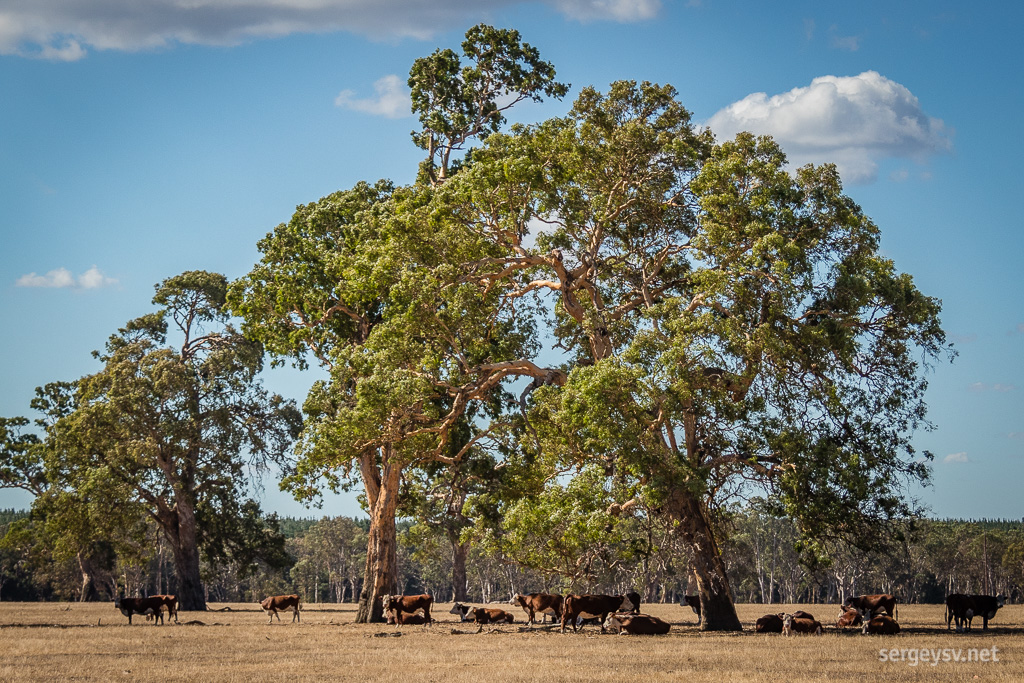 Victorian cows resting in shade.
It's getting warmer and warmer as I progress further northwards, through the undulating and quite dull-looking farmlands, trusting Apple maps this time to make the shortest route back home for me. It does pick some very obscure roads, for sure, and I have to overtake almost a hundred of cyclists on one of them: looks like some sort of a country race is raging on. It gets so hot by then that my phone overheats and almost switches off in protest. Good thing that I'm back on a highway, then.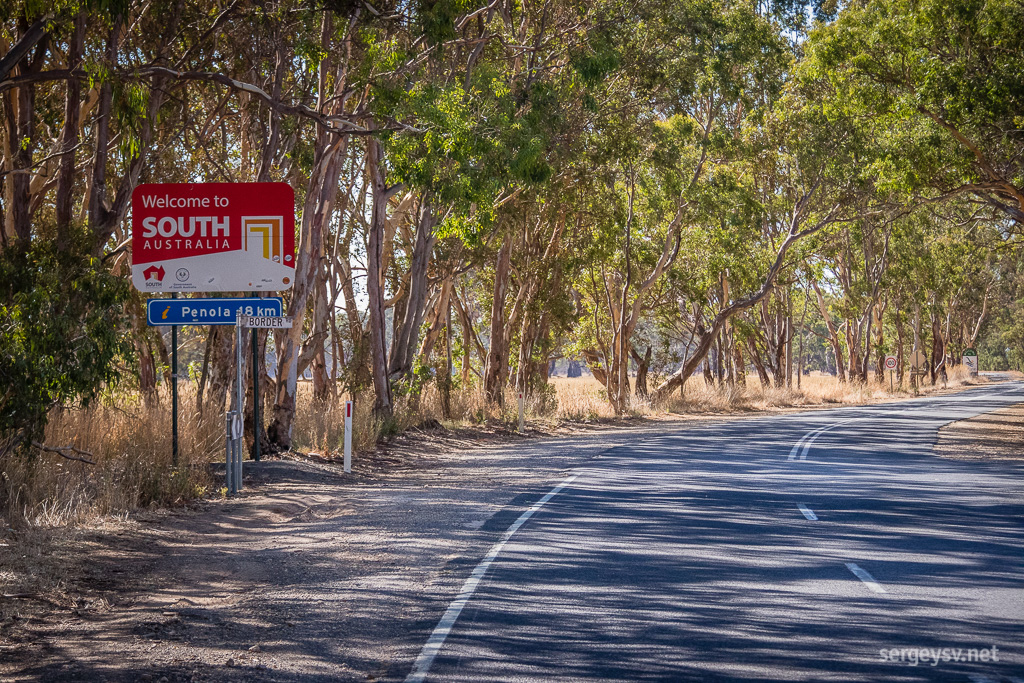 And here we are back in SA.
It's way past sunset, and way past 10 p.m. when I finally get back home. I did longer distances before, but today it's not the mileage rather than driving time that gets me: almost 15 hours with only a few short breaks. But hey, it's Sunday tomorrow. And boy, do that real bed and fresh linen feel good when I finally reach them.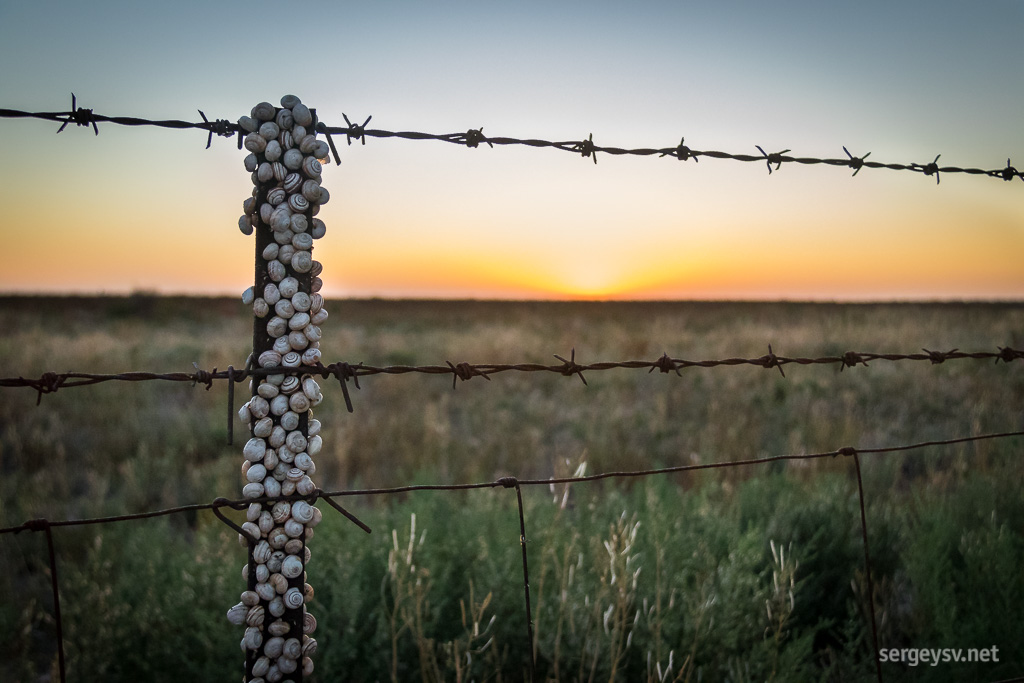 The long day is over.