A car trip around Australia? I can't remember how exactly I came up up with this particular idea, but it's very easy to find out
when
it happened: August 2015. According to Google Docs, this was exactly when I had created a spreadsheet where I began to outline the itinerary in full detail. Soon it became clear that a month would be more than enough to achieve this. The question was: when?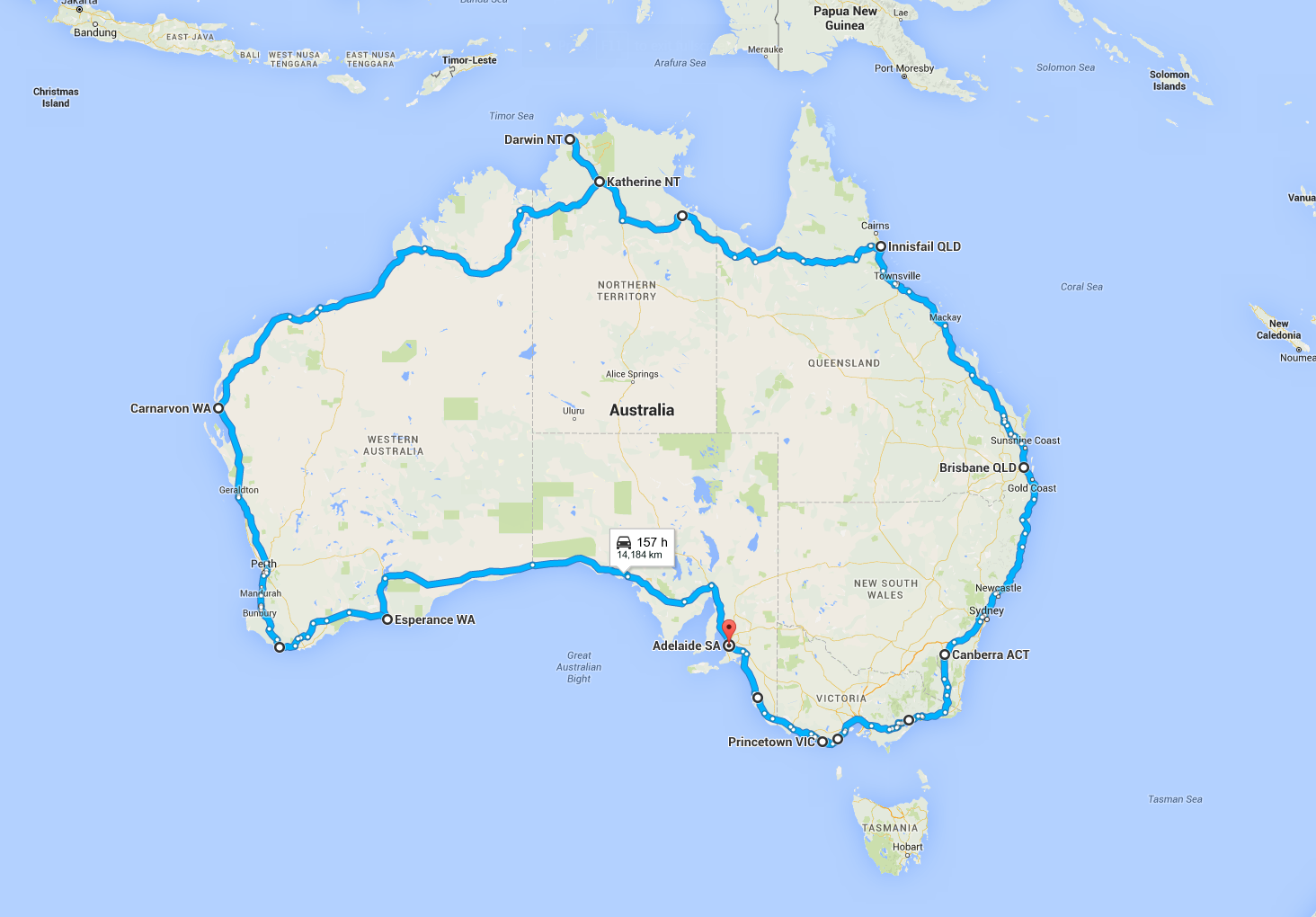 The planned itinerary.
Due to the way Australia is positioned on the globe, up north there are tropics and heat, and down south (where I live) there are seasons and temperate climate. To travel down south under winter rains and to shiver in cold during night was not for me; so the period from June to August fell out of the equation. Up north, in the meantime, there is wet season which lasts half a year, from October till April. Therefore, I had only two available time windows: from April to May, and from September to October. Due to various (and mostly financial) reasons, September and October of 2015 became unavailable, and I had to wait until April 2016.
As for the budget, the preliminary picture (for a 30-day journey) looked like this:
Fuel

$2,250

(1 litre for 10 km, average price $1.50 for 15,000 km)

Food

$1,500

($50 per day)

Accommodation

$500

(campgrounds, motels, etc. etc.)
In total, something like $4,250 for everything. A decent chunk of money; but luckily it was supposed to be spent gradually over the course of weeks, so it wasn't too big a deal.
The rest of the time from August 2015 until April 2016 I spent on: adjusting the itinerary; adjusting the list of the things I would need on the road; anticipating eagerly how awesome this whole thing will be. Also, I had to find out who else to take with me on the journey. A month on the road was undoubtedly too much for Marina, with which she reluctantly agreed. A couple more potential companions also became unavailable due to various reasons, and this only left Alen, who was both capable and willing to go. Unfortunately, to head out together from Adelaide was not possible, so we decided to meet in Perth, on the
6th day
of my trip.
Day and date of departure were now set: the early morning of Sunday, April 17th, 2016. By then absolutely everything was ready, including but not limited to:
Car

a jerry-can of fuel + funnel
tools + jack
first aid kit
air pump
crowbar

Camping

tent + pegs
camping shower
sleeping bags + pillow + mats
foldable chairs + foldable table
rope + clothespins
gas for the cooker (8 in total)
cooker + wind shield for it
lighter
torches (3 of them) + batteries
garbage bags
a few plastic bags with handles
small axe
backpack
small spade
a sponge + wiping cloth

Navigation

atlas
itinerary spreadsheet, printed out
phone + charger

Food

canned food (20 cans), instant noodles (12 packs), fruit, bread, tea, snacks (chocolate, biscuits, etc.)
water (two 25-litre jugs of drinking water + one 10-litre jug of washing water)
water hose + tap connector
cutting board
spoons (2), cups (2), bowls (2), a scoop and a knife

Hygiene

bath towel + 2 hand towels
sunscreen
insect repellent
soap, toothpaste, toothbrush, razor, shampoo
wet wipes
napkins
toilet paper
nail clipper

Clothes

underwear + socks (a few pairs of each)
warm clothes (jacket, pants, 2 hoodies)
hiking shoes
flip-flops
shorts
a hat + a warm hat
sunglasses
raincoat

Miscellaneous

cash ($300)
camera + tripod + charger
notepad + pens
e-reader + charger
Quite predictably, some things became very useful, some didn't; of some I had enough, of some I hadn't… but more on that
at the end of my story
.
Also, on such an occasion I had to buy myself a new car as well – while I was at it, you know. My vehicle of choice became a Hyunday Tucson made in 2007: a compromise between size, appearance, four wheel driving abilities and the presence of cruise control on board.
And so it came to pass that by the evening of April the 16th absolutely everything was ready. All the baggage was assembled, packed, and loaded into the boot of my Tucson. Adventures began early, though: while I was packing the 10-litre jug, I accidentally tore away its plastic tap, and by the time I noticed that, 5 or 6 litres of water soaked the Tucson's boot thoroughly. I had no choice but to hastily take everything out, and the night from 16th to 17th all my belongings spent on the floor of our carport.
Summary of necessary purchases (not including the Tucson):
Food

$159.93

( + lots of other, non-edible stuff)

Fuel

$77.27

(+ 20-litre jerry-can)