The thing is with working on the road is that you need the good ol' Internet. Which, of course, can only come from the mobile network; satellite options are still ridiculously expensive and slow. And when it comes to mobile coverage, Telstra is usually the best, even if in some places Optus takes the upper hand. I've heard about their
"regional hub" program
, and while studying their coverage map, I was pleasantly surprised to see a spot at the Kings Canyon Resort. Perfect, thought I! Right next to one of the most-known wonders of the MacDonnell Rages, which I still haven't seen yet throughout my journeys! A perfect opportunity from every possible angle.
And, of course, the gentle blossom of a dream oftentimes gets crushed by the hairy bottom of reality.
"Yeah, we can't rely on mobile," the lady at the reception said rather sorrowfully, when I complained to her about the total lack of Optus signal upon arrival. " It comes and goes. There's free wi-fi at the Kings Canyon parking lot, but here... I haven't had any signal all day myself!"
So here I am, on a Sunday evening, 350 km away from the nearest populated area, with no Internet at all. Thinking about what to do, I slowly walk around and marvel at the sunset, which paints the nearby ranges into the most beautiful shades of pink and red. I also take a shower, of course; but the drinking water tastes rather dreadful and soapy. At least I get a rather decent spot at the resort's campground for $20 per night, and it's not nearly as crowded as the one at Yulara.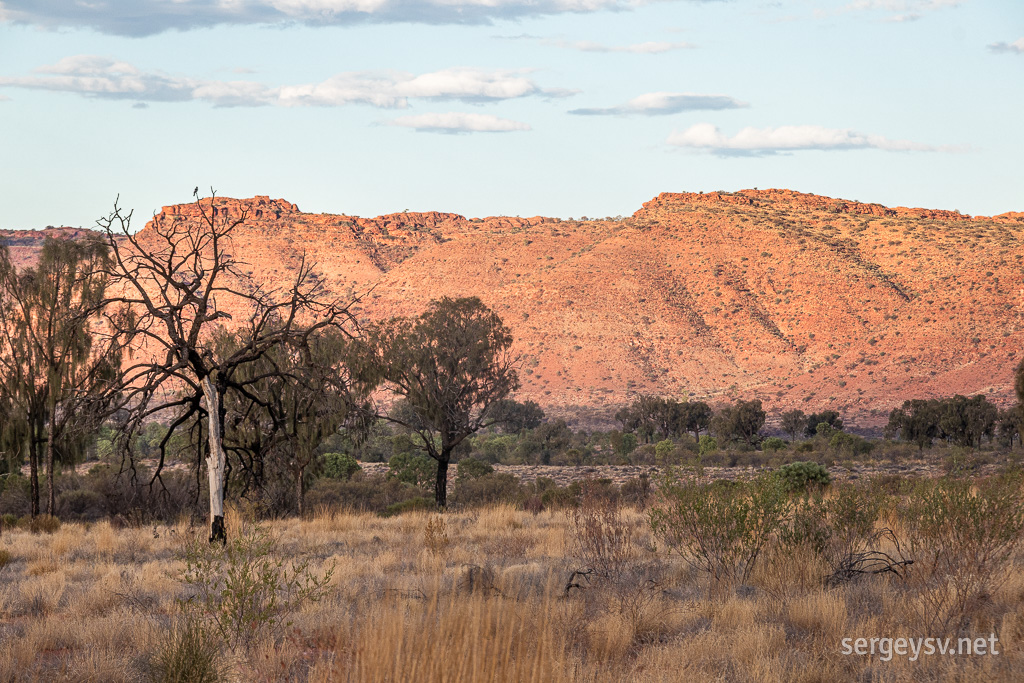 The day is slowly ending.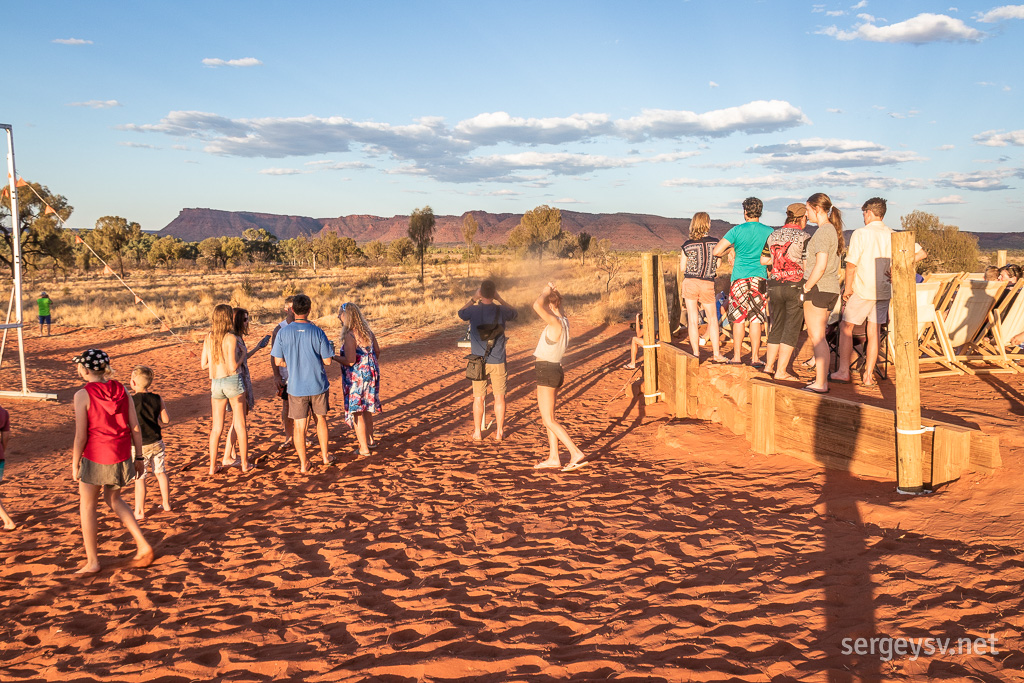 The crowd is slowly gathering.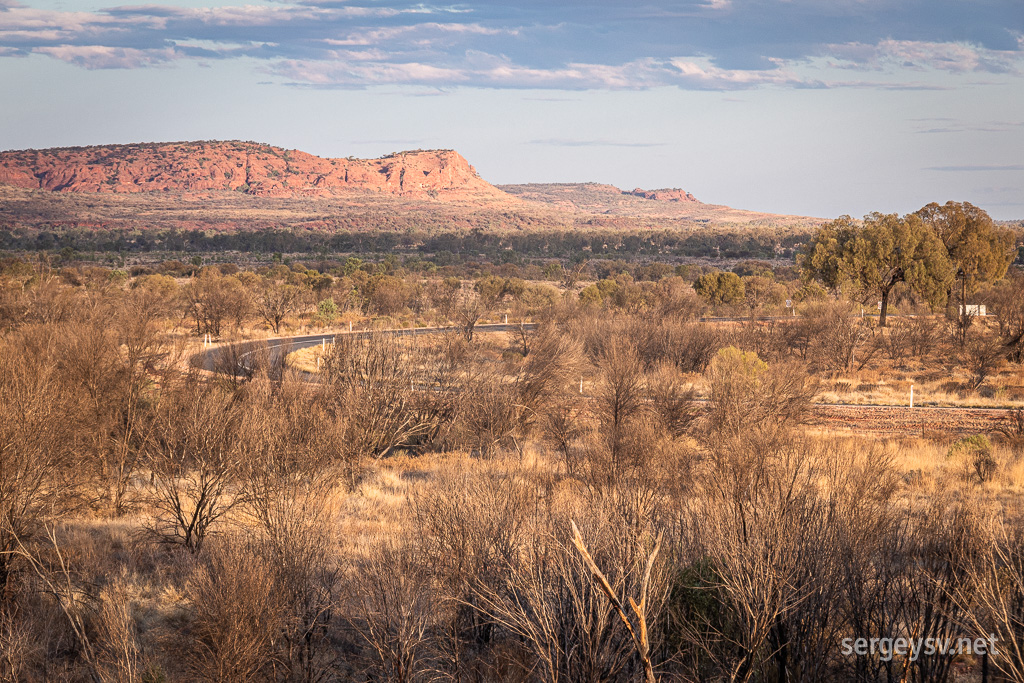 The road is slowly winding.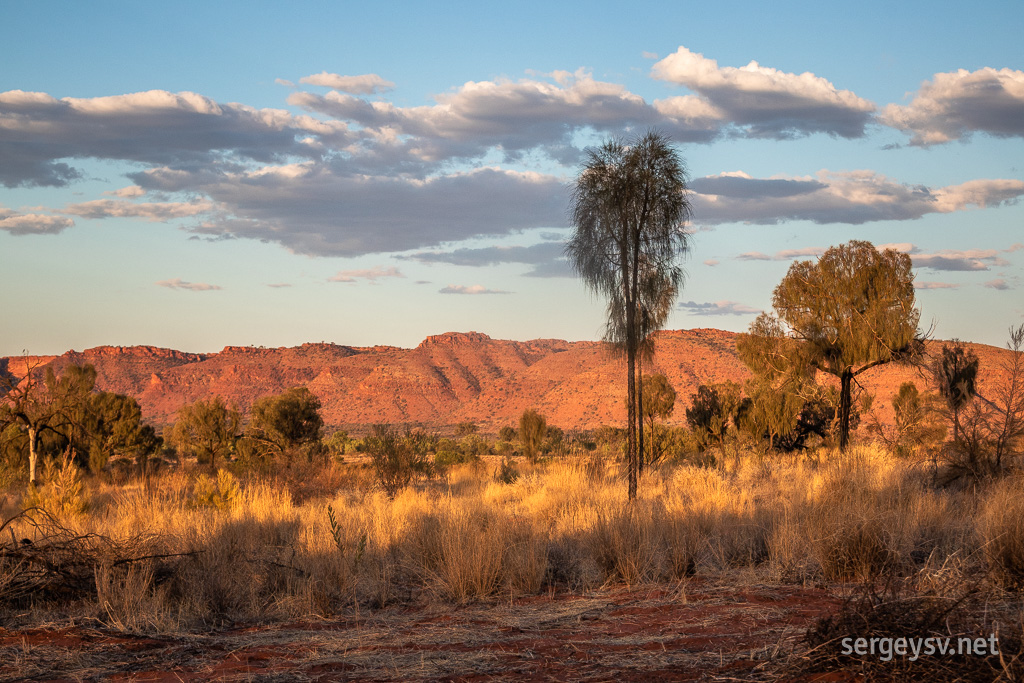 Looks very pretty, I have to admit.
I have to get out of here in the morning: that much is clear. But where to? Back to Yulara? I think I've had enough of Uluru and Kata Tjuta for now,
marvellous as they were
. To Erldunda? Maybe. Or to Alice Springs? Kate is going to be there on Thursday, and we might as well catch up again, just like we did
at Barmera
only a couple of weeks ago. And so it happens that as the day breaks, I take off and start driving away from the Kings Canyon – without having seen the actual thing up close. Sorry, MacDonnells! I'll visit you some other time instead.
Ernest Giles Road, which I choose to take instead of a longer (but sealed) route via Erldunda, is actually in quite a good shape, despite numerous warnings that only 4WD driving there is recommended. True, the first 10 km or so are quite hairy; but overall it's a very well-kept dirt track, where you can't see much in terms of the scenery (mostly gibber plains and an occasional low bluff), but which you can easily tackle at the 70-90 km/h speed most of the time.
I use this stretch of the road as a chance to test a couple of things: even lower tyre pressure for the unsealed part (22 PSI seem to work just fine) and the extent to which I can burn through my fuel tanks with the increased load on the roof of my Prado. Looks like I can travel for about 1,350 km on both tanks, and if I divide the total volume of those by that (180 l) I get about 12.6 litres per 100 kilometres. A bit steep; but it probably depends on the crosswinds more than anything.
For my week-long stay in Alice I select the place called Blatherskite Park. It appears to be some kind of a horse-riding establishment, but they also offer camping ($25 per night) which includes toilets, showers, and secure access through the gates, which are locked during the night. The place is nice and quiet, the grass is green, and the amenities are clean and only a few steps away.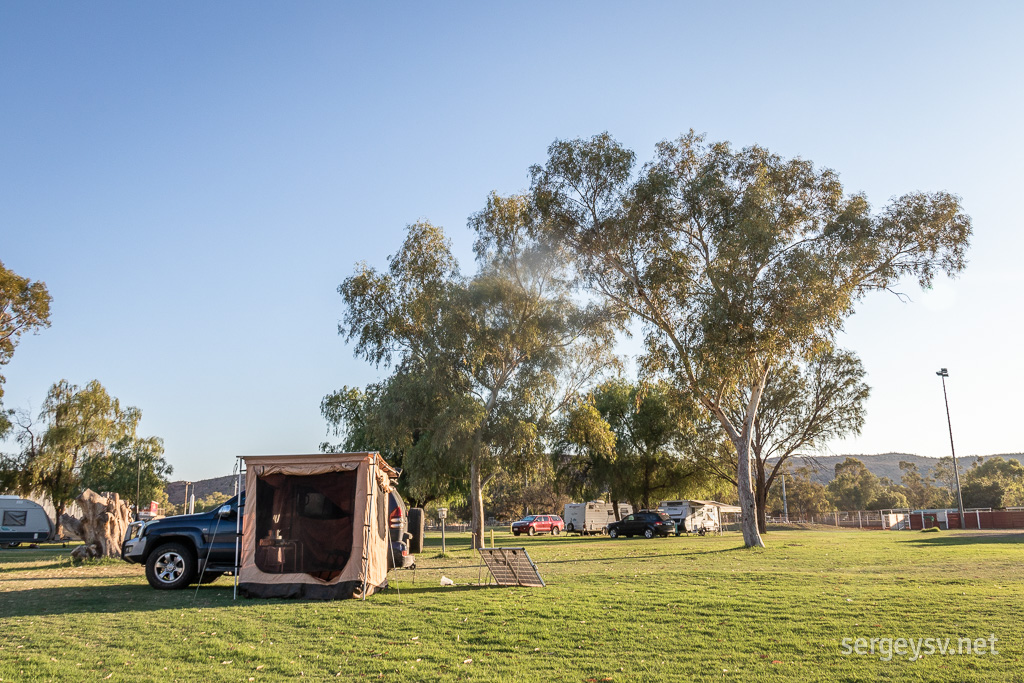 At the Blatherskite Park.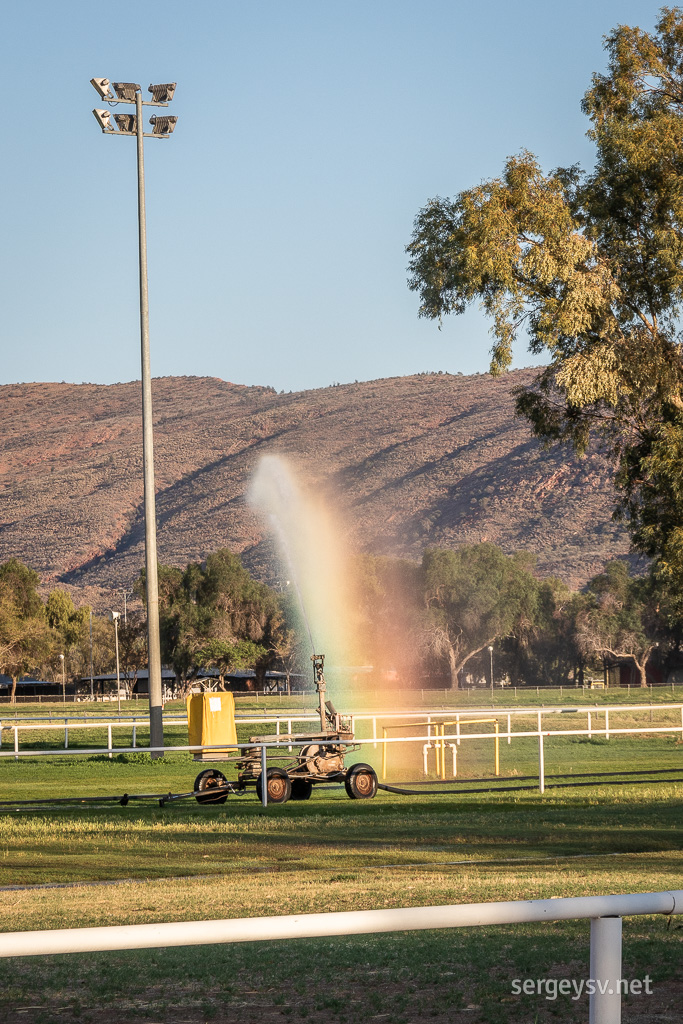 A rainbow! A pretty rainbow!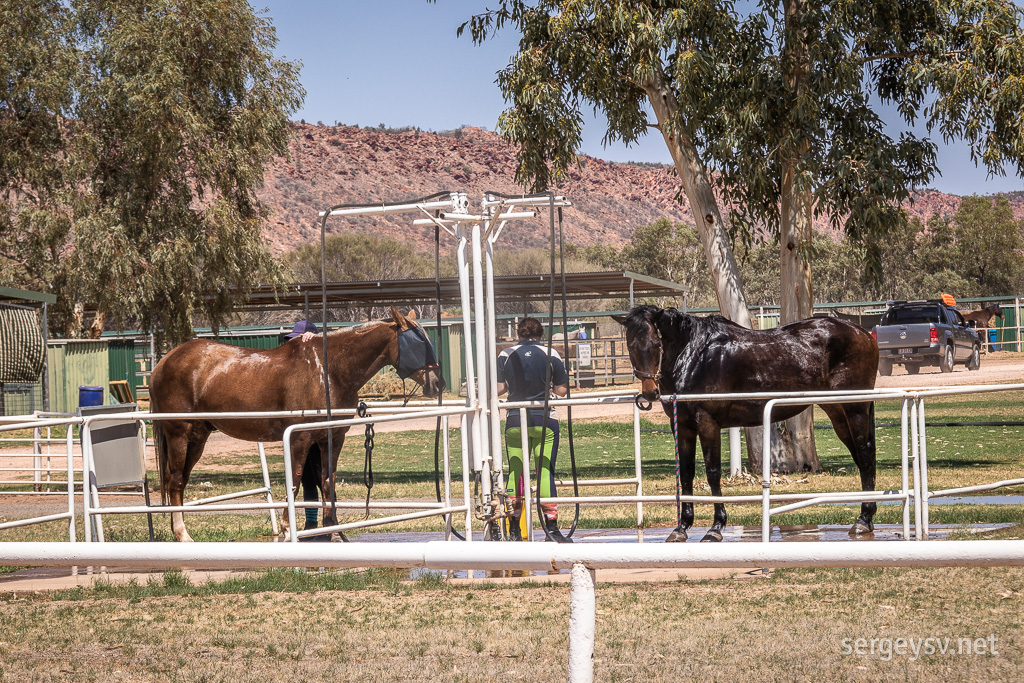 Horses are taking a shower.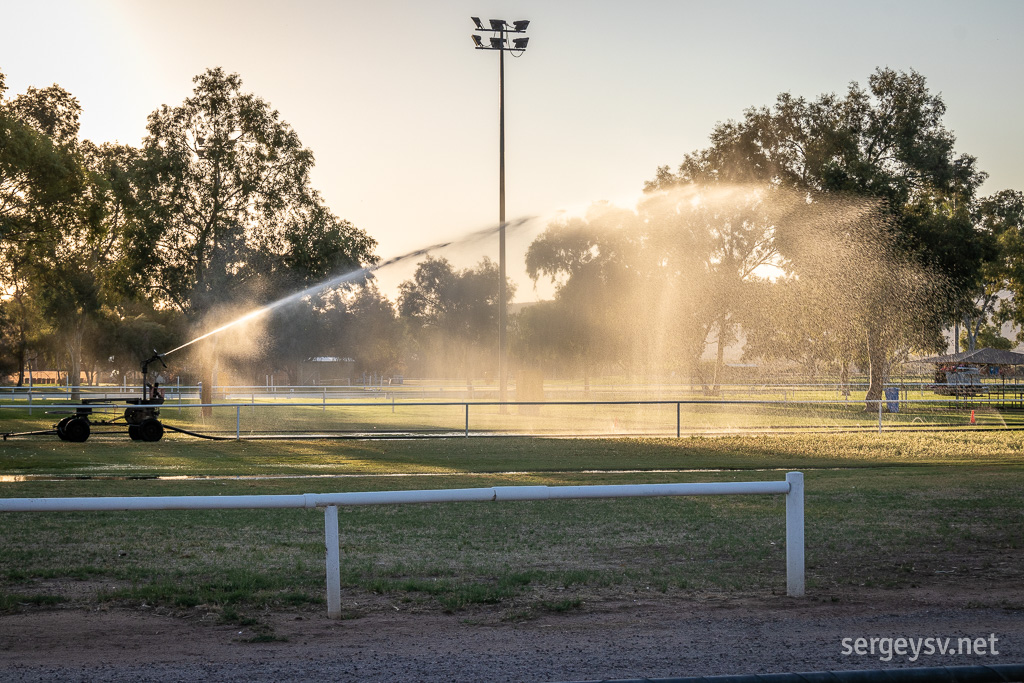 So does the lawn.
However, as the days roll by, it becomes obvious that camping in Central Australia at the beginning of October is not the best idea ever. During the day, the temperature stays around 35°C, which is uncomfortable not only for me, but also for my MacBook: as soon as it's more than 30 degrees outside, it starts fanning itself like crazy, and the performance slows down noticeably. Good to know. Overall, my entire week is rather non-scenic and non-adventurous: I work during the day and rest during the night, and only a very lovely meet and chat with Kate on Thursday breaks this routine.
And so it happens that on a Saturday morning I finally move out, opting to return to the South Australia for a while and then see what happens. The drive is long and quite monotonous, broken only in Coober Pedy, where I traditionally make a stop to refuel and do some shopping. For my next week-long spot I choose some unofficial camping area north of Glendambo; it's got some mobile coverage, and it appears to have a fair bit of twisty trees, which I love so much. And even a salt lake!
When I arrive there, it's very windy and very hot; the northerlies bring in some overheated air from the northern deserts, and the flies go absolutely crazy around me. However, the place is every bit as beautiful as I hoped it would be, and I spend the final minutes of Saturday capturing as much of the outback sunset as I possibly can. Time to take some rest now!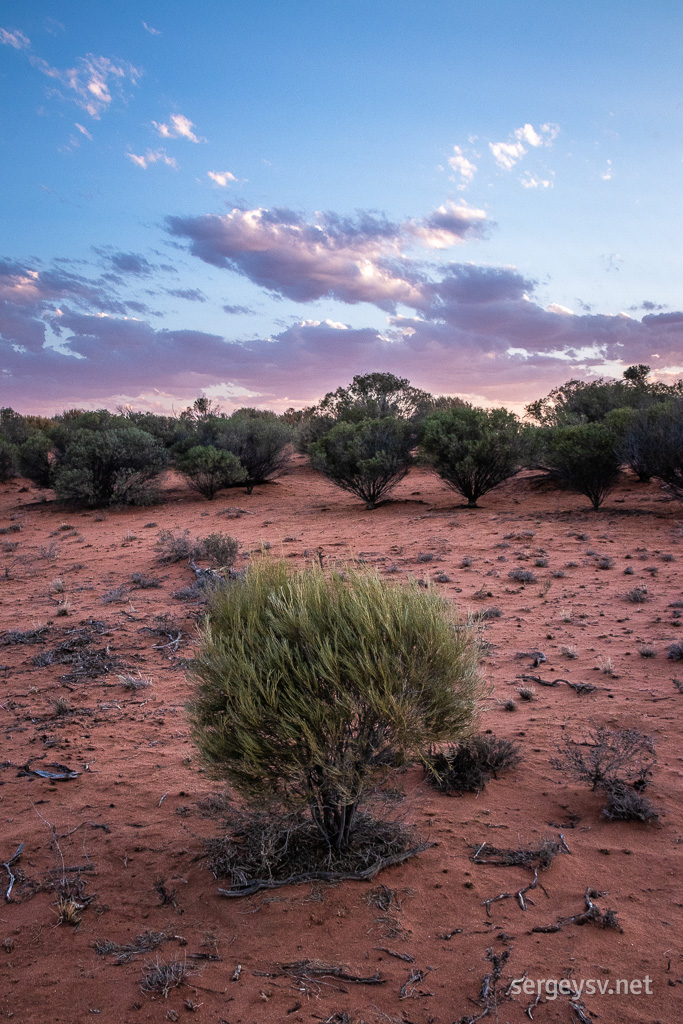 Back to red dirt!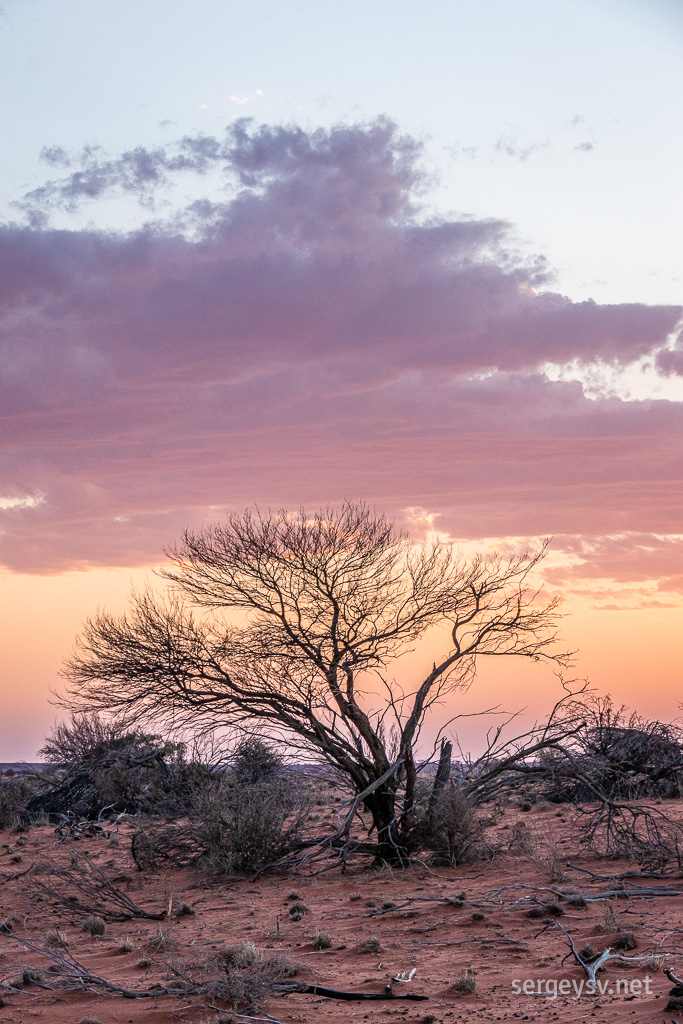 It's very hot...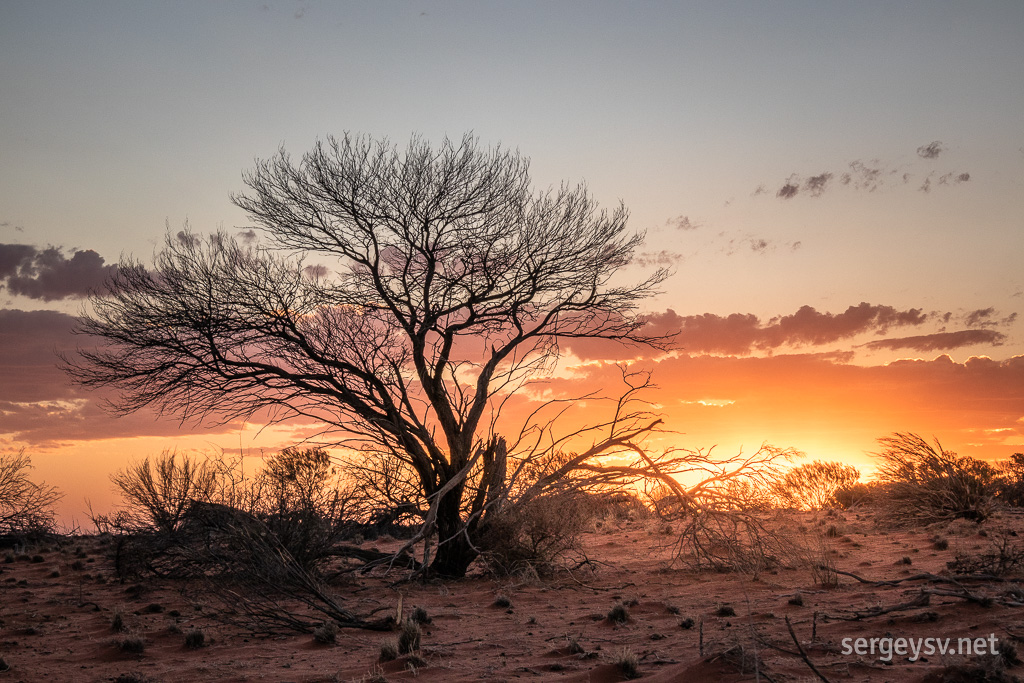 But very beautiful.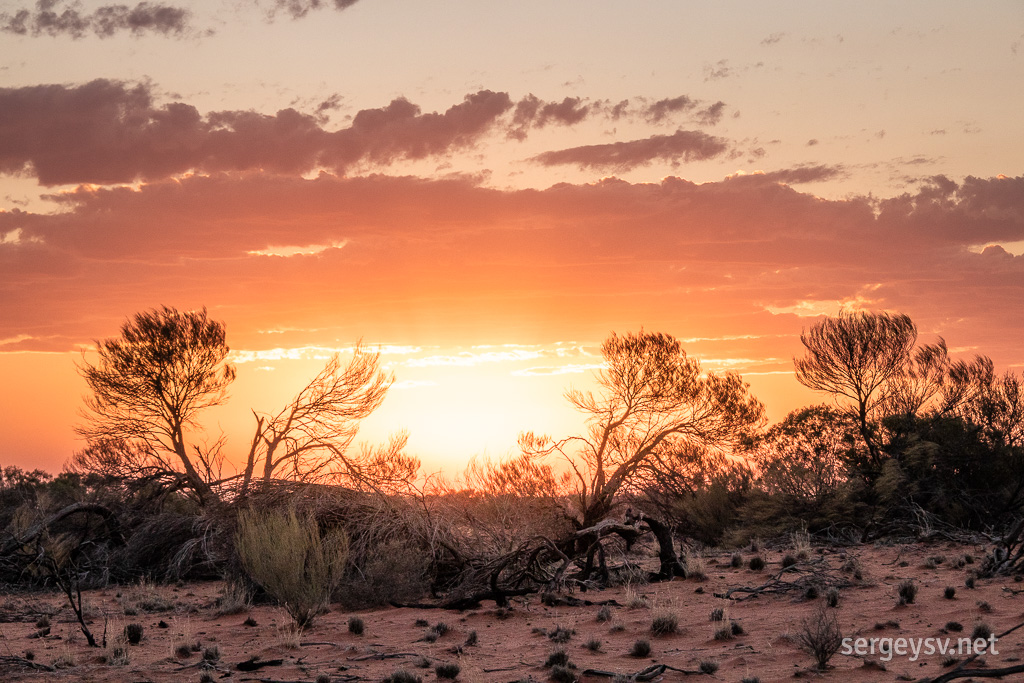 Been a long day. Whew.