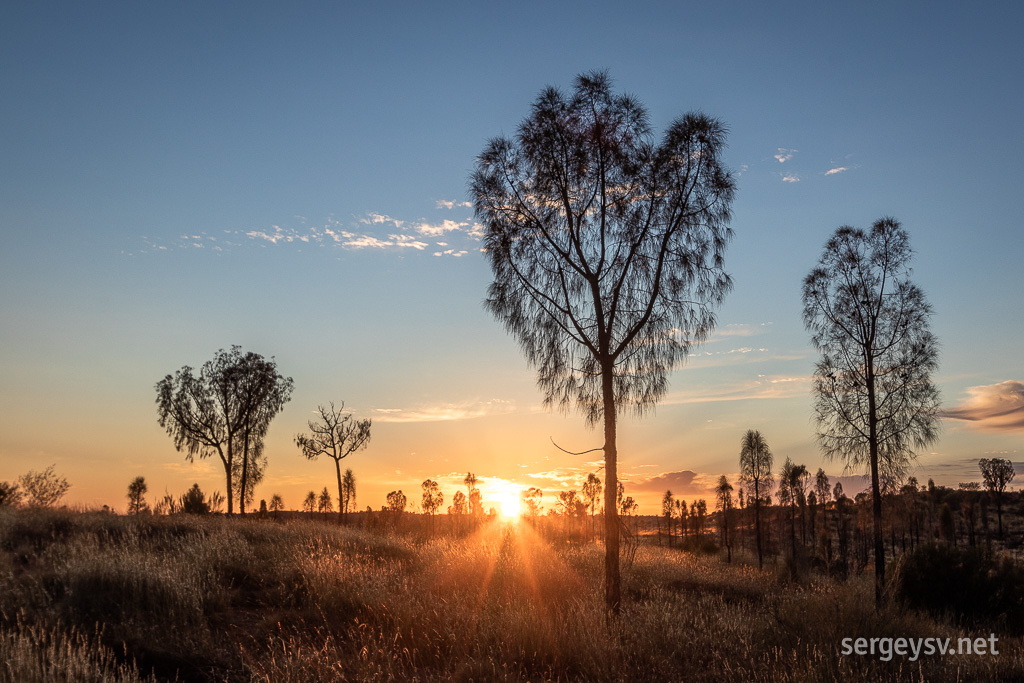 Good morning! Good morning!
On Tuesday evening, I suddenly realise that I could go and see the
Fields of Light
, while I'm here. In case you're reading this and the link died, it's a project by some artist whose name now escapes me, and it consists of a huge (three football fields) area covered with LED lights, slightly raised above ground and changing colours slowly. Add to that the starry sky on top of you, and you could get yourself quite an experience.
It turns out that this idea visits me just in time. All other spots for the rest of the week are booked out, except for one on Wednesday, which is tomorrow. Sold!
I spend most of the Wednesday on the phone, talking to colleagues and other people, due to some issue at work. It's a bit ironic, because during these last couple of days I've been making more work calls than during my entire year of living in Sydney. Oh well.
About an hour before the Lights, I visit the amenities block at the resort to take a shower, which is where I discover that I had forgotten my shampoo, hair conditioner, and shaving foam somewhere along the road. After a week of stealing water and showers, karma finally got me! I still take a shower, though, and afterwards join a bus full of people that takes us to the dark, starry desert some five kilometres away.
The sight is indeed arresting. Tiny lights of every possible colour stretch away as far as the eye can see, and the bright Milky Way overhangs it all in the company of millions of stars. I think that's well worth the price of admission ($45), although the fact that I'm not allowed to use a tripod to take my photos slightly dampens the joy. The walk is also quite short, about 30 minutes or so, and there's barely any time to think about compositions and such... for all you can see in the dark, anyway. Oh well. I'm still glad that I have visited this spot, and some shots actually turn out to be reasonably decent.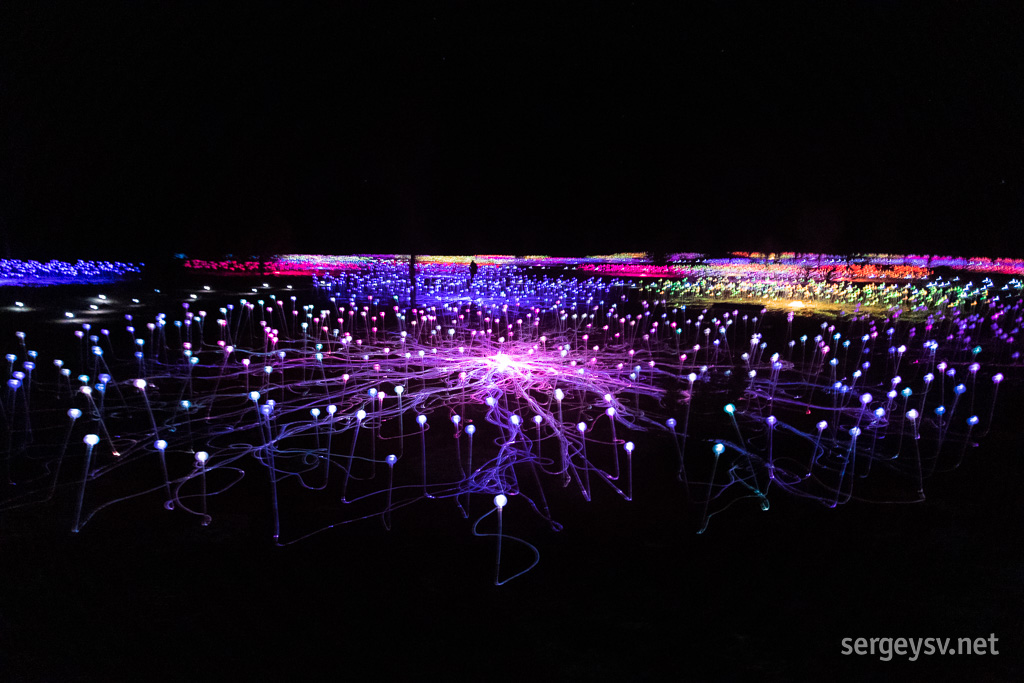 The Field of Light.
Lots of lights for sure!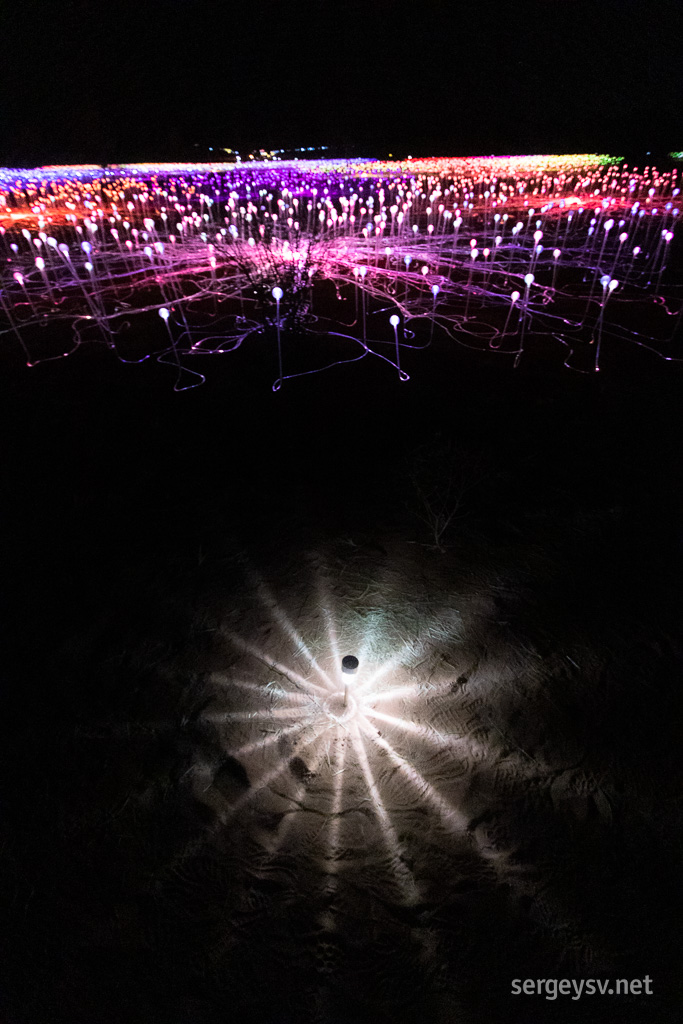 Tiny white lights mark the pathway.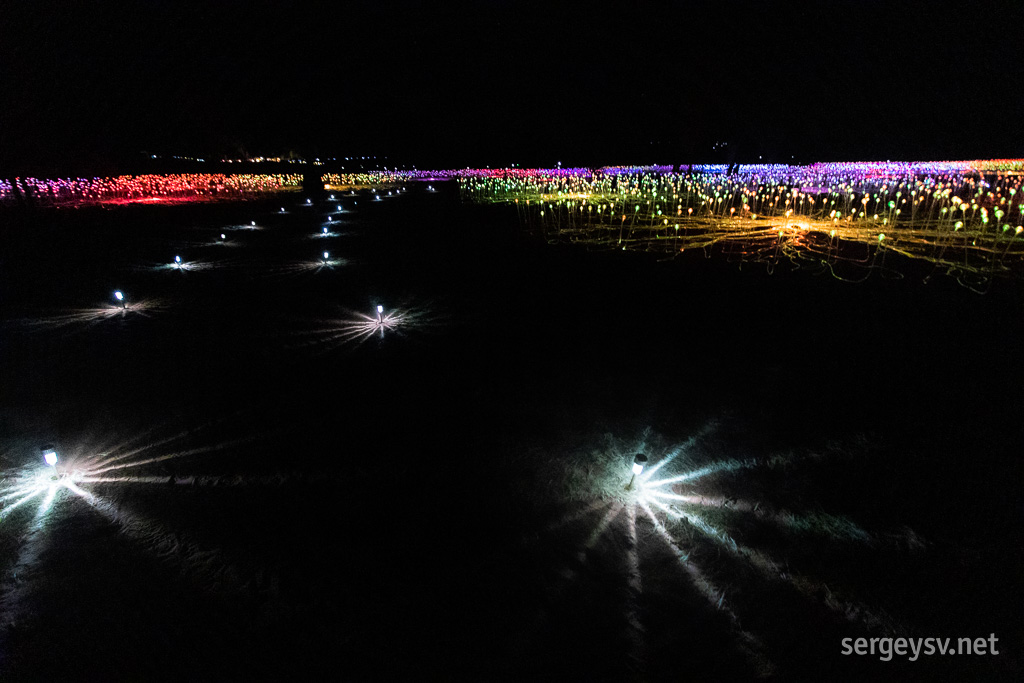 Impossible to get lost!
Because I drove there and had to pack up all the gear, I decide the next morning that I should try an "abbreviated" camping setup for a change: just the awning, table, one chair and only one solar panel. The experiment proves that it's not a good idea. Without the tent, there's too much glare around for me to see my laptop screen; one solar panel is not enough to keep up with all my power demands; it's too windy to use a gas cooker outdoors (even with the self-made windshield); and on top of all that, I also manage to get a pretty decent sunburn all over my back, shoulders, arms and even chest. I'll be damned if I know how exactly it happened, but what can you do. Time to unpack the aloe vera that I've been carrying around since December, when I
bought it in Ceduna
.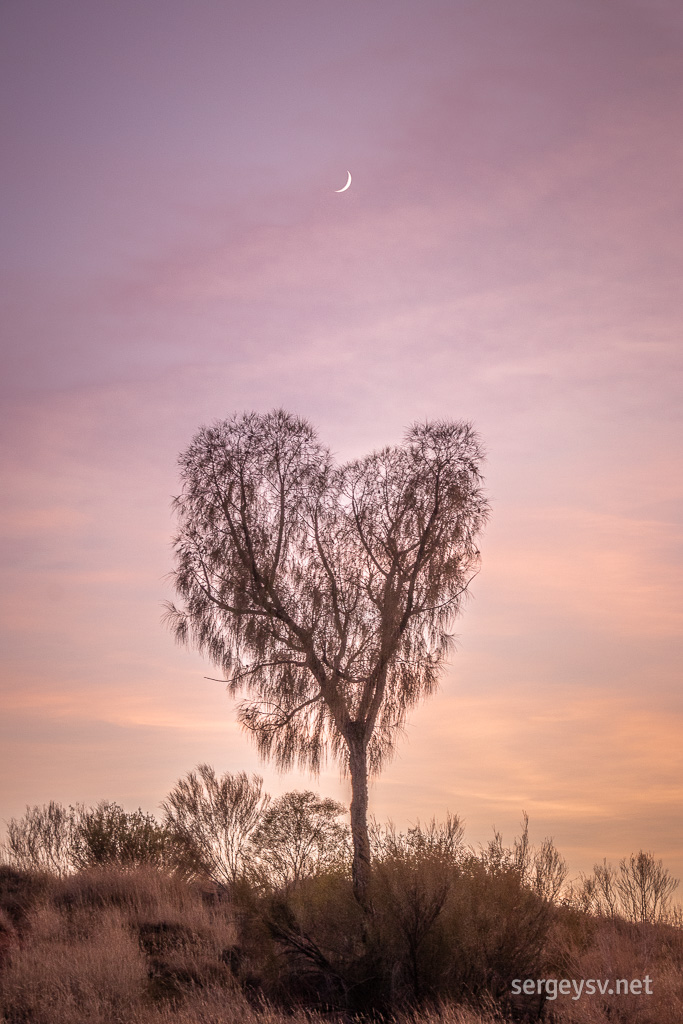 A heart tree and a crescent.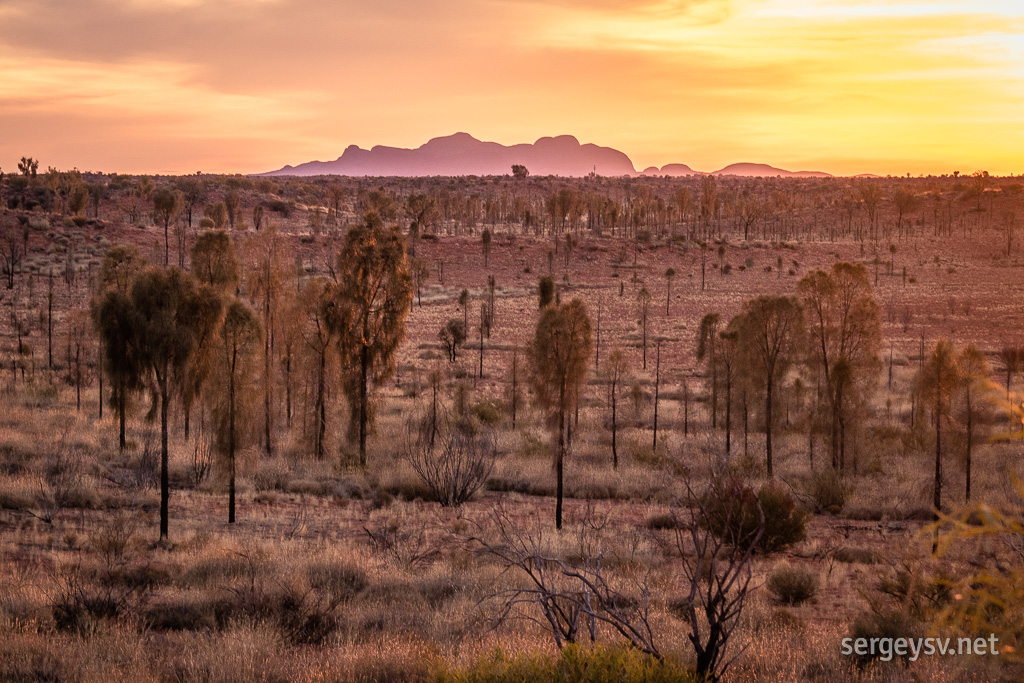 Yet another sunset for Kata Tjuta.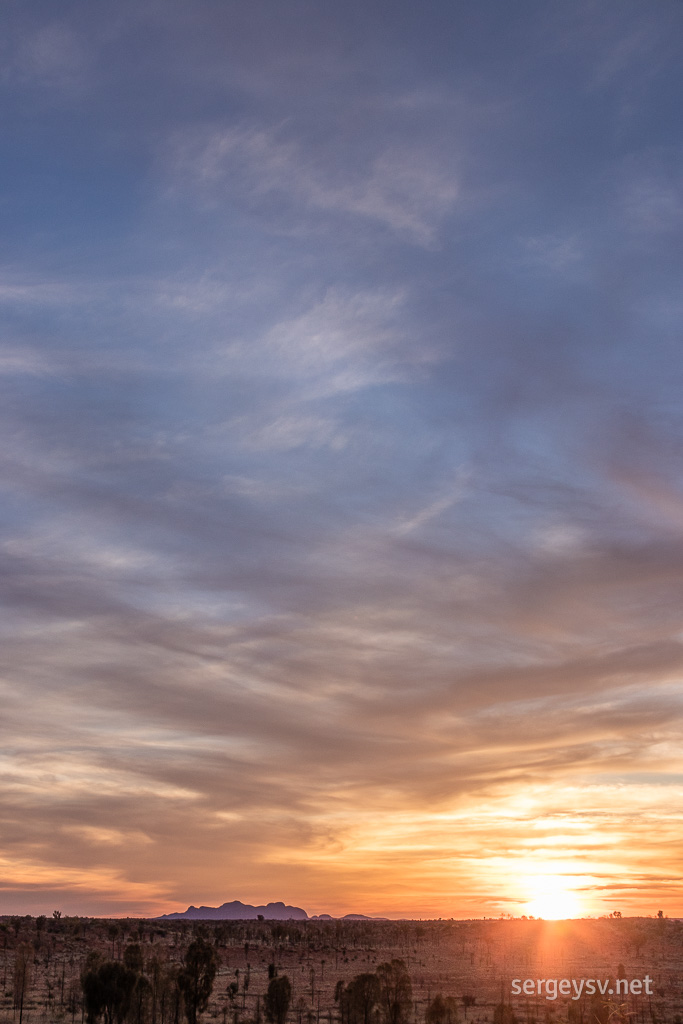 Quite a sky tonight!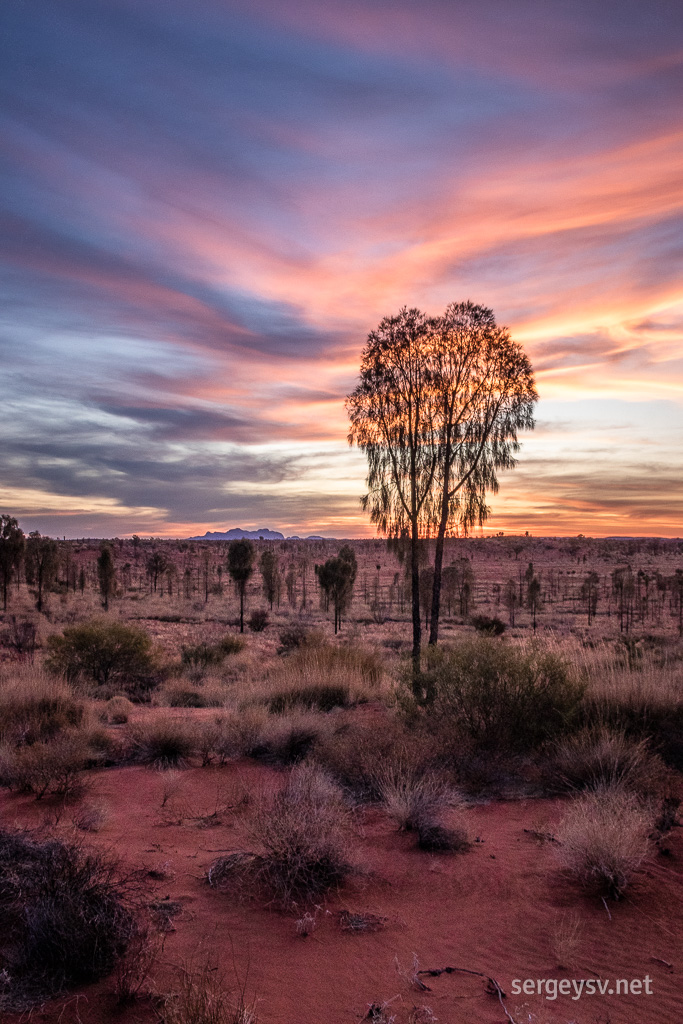 Waves upon waves!
And finally it's Friday, for which I took a day off work, because Asya's flying over today. Waiting for her, I do my laundry at the resort; while the sun dries up my clothes and linen, I write down a couple of previous blog entries and also charge up my laptop from the mains (stealing again! electricity this time). As I start driving away, I completely forget that there's a wooden barrier in front of my car and break it completely by ploughing through it. Whoops. I quickly put the log back where it belonged and drive off hastily, so that no one would notice my blossoming life of petty crime.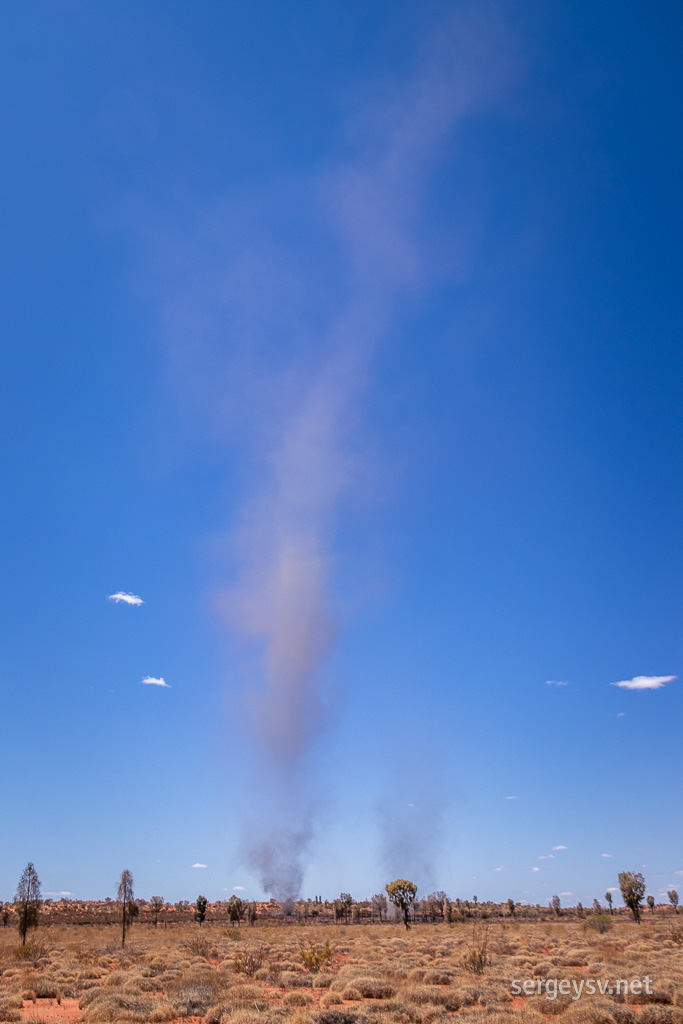 A dust devil on my way to the airport.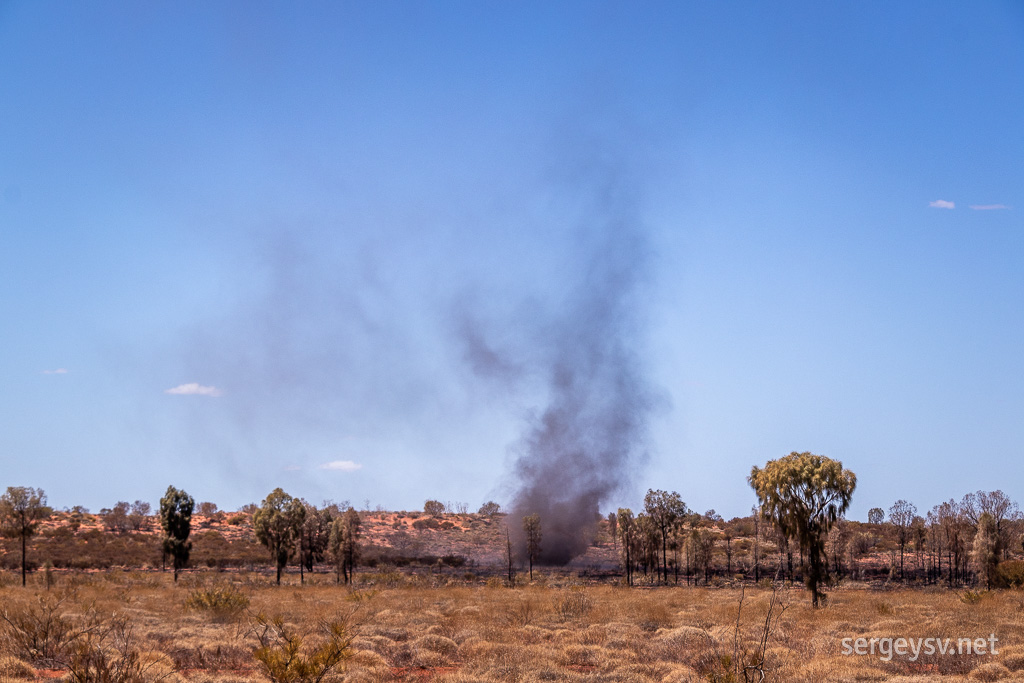 Dust-and-ash, rather.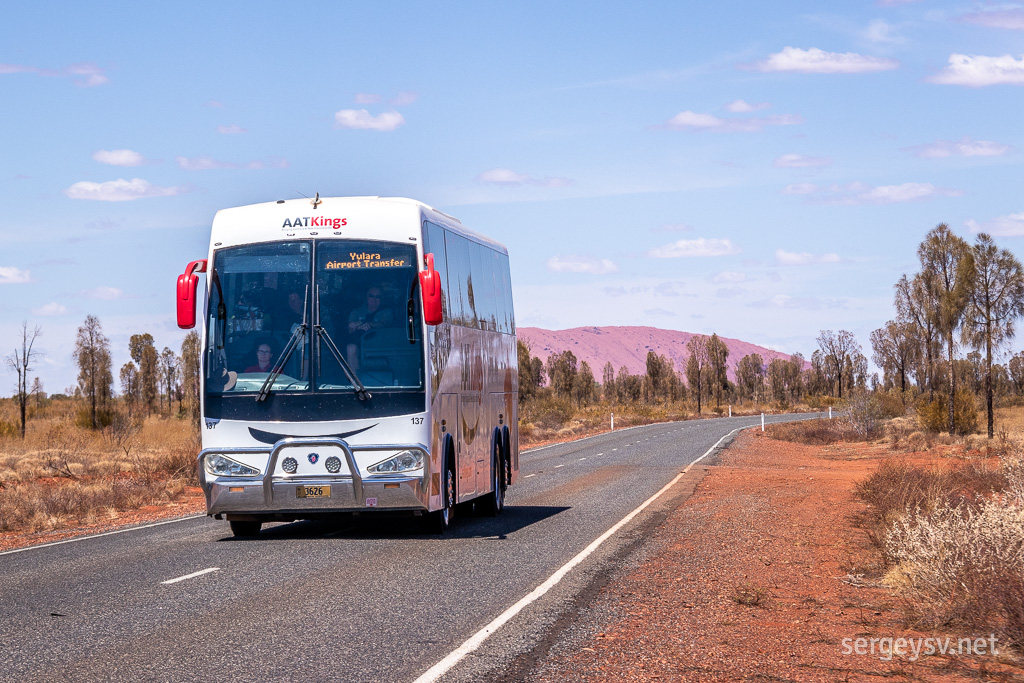 Airport transfer for the carless.
When Asya arrives, we immediately head towards Uluru, where we take a quick drive around to marvel at the Rock from all sides, and then park at the sunset lookout – just in time to secure a good spot before hundreds of other tourists hog up the rest. Sipping wine, we watch the sun setting quickly behind us and the ancient monolith changing colours in response, and life is so good at this particular moment. Back at the camp, we treat ourselves with a beautiful starry sky and then go to bed: there's a long day ahead of us tomorrow.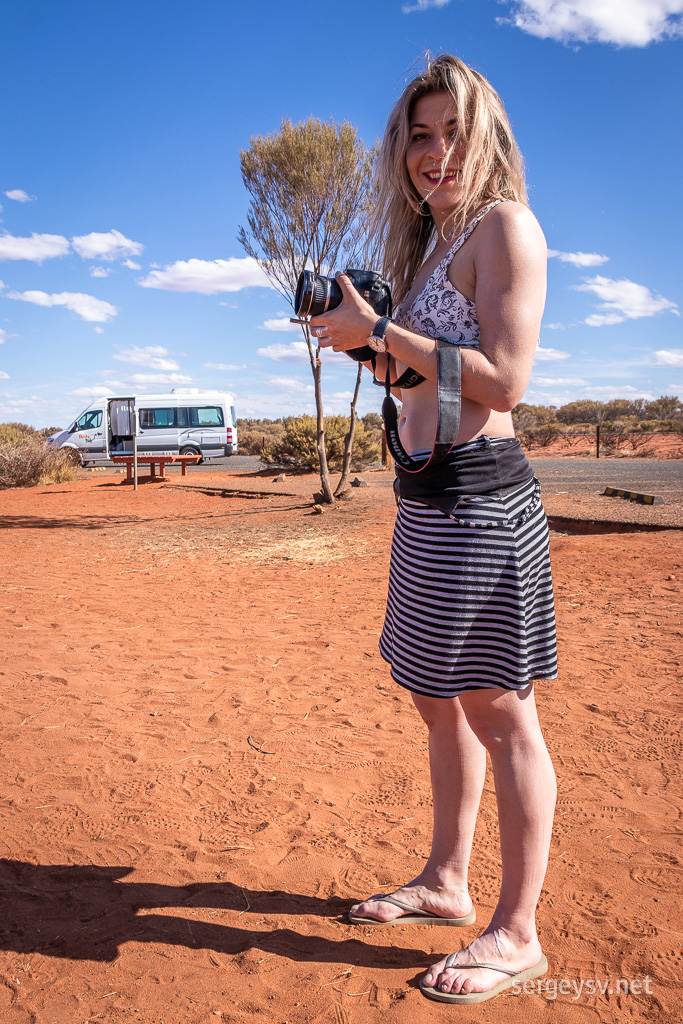 Asya is quite excited to start taking pictures.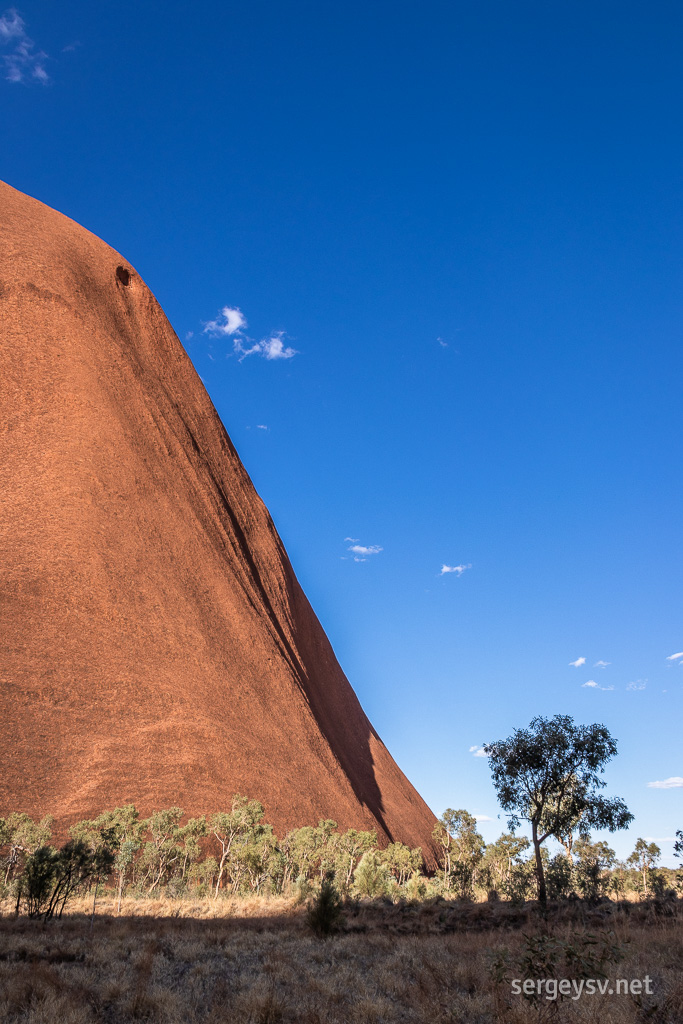 A quick walk towards the Rock.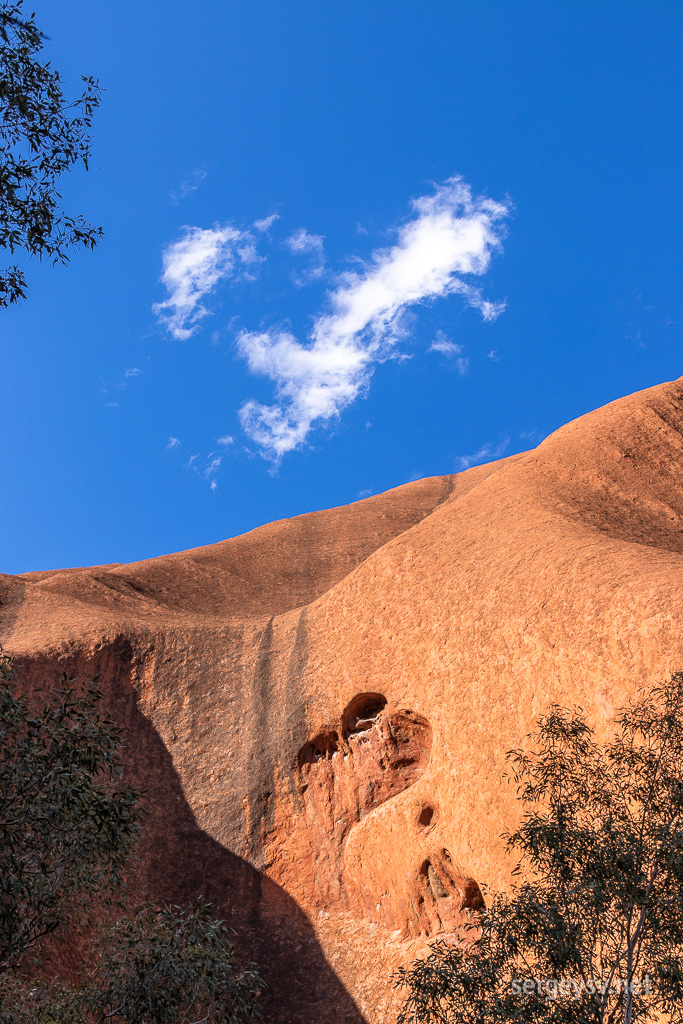 Shapes above and below.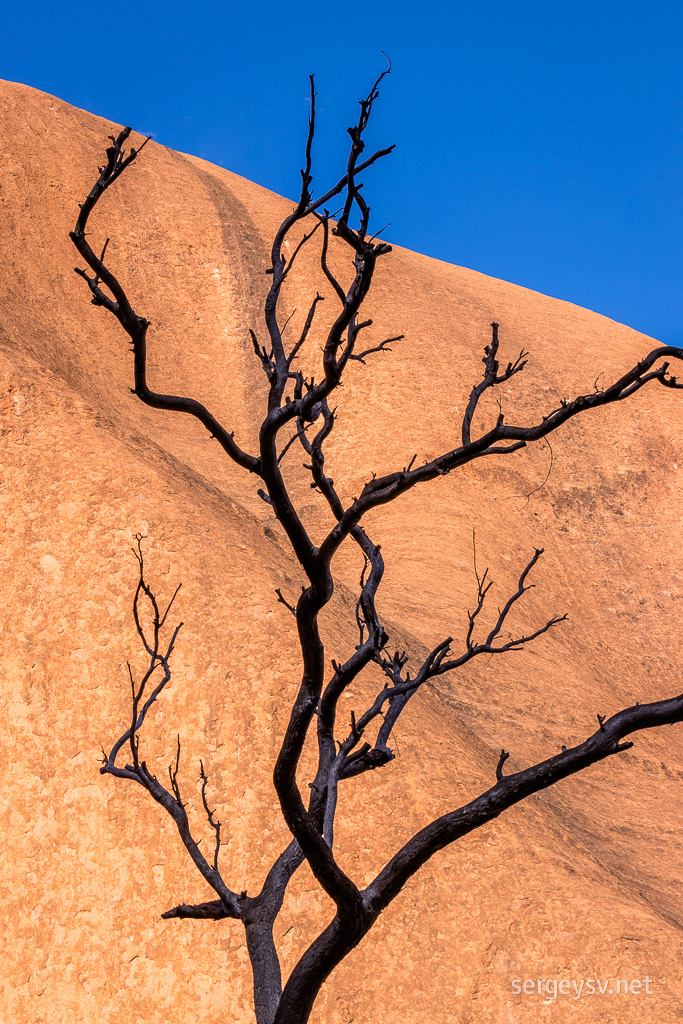 Lines and colours.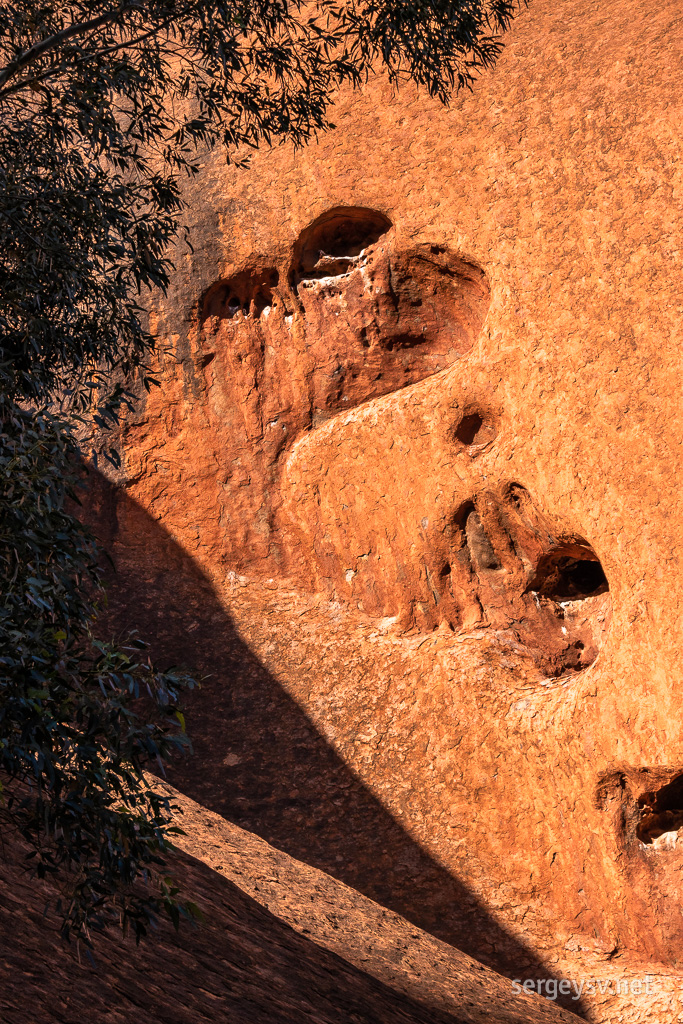 Shadows and textures.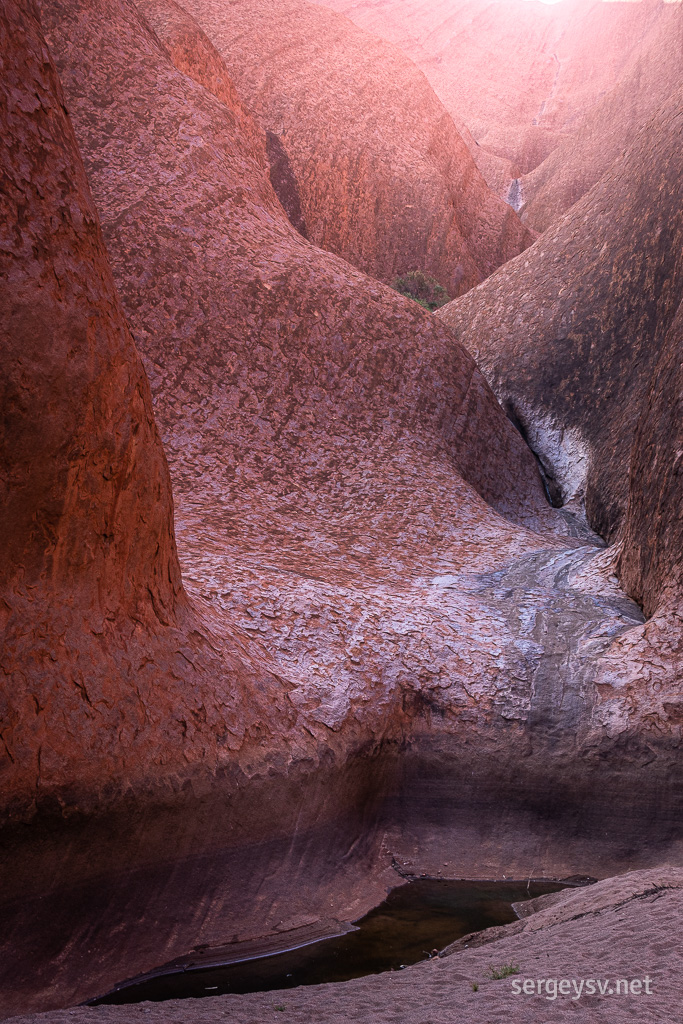 At the Waterhole (with barely any water).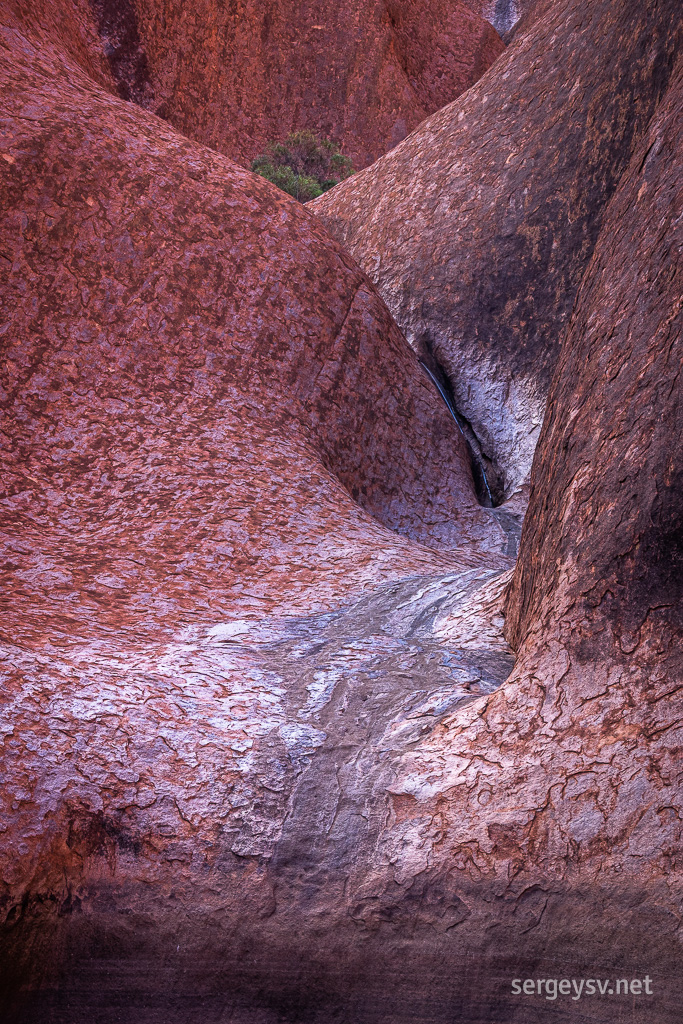 A little close-up, because why not.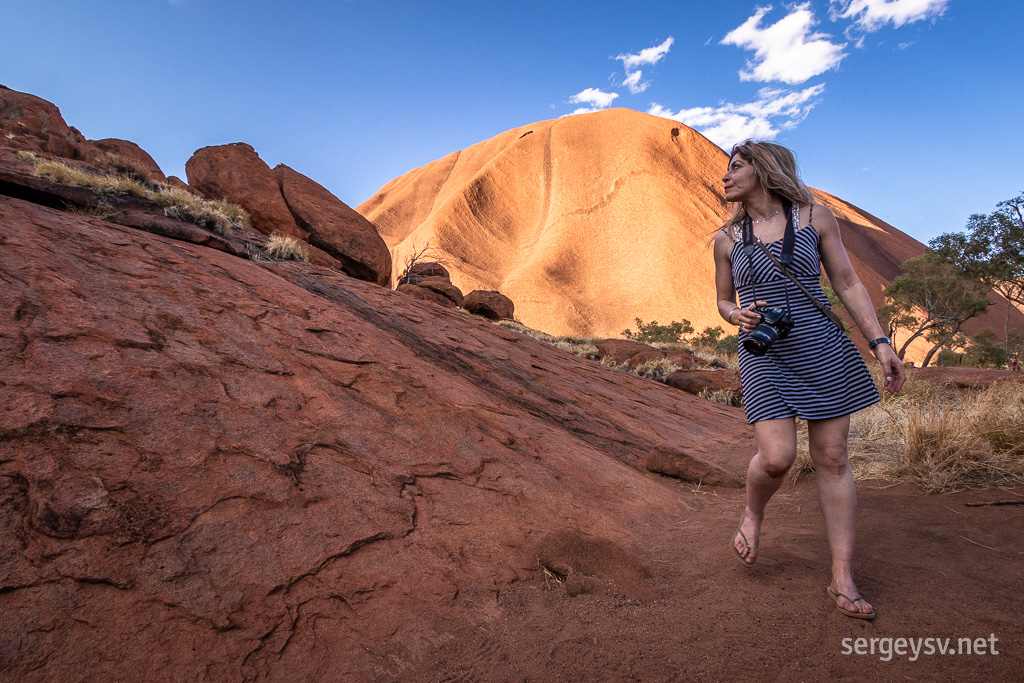 Casting a last glance.
Aliens stole the Rock!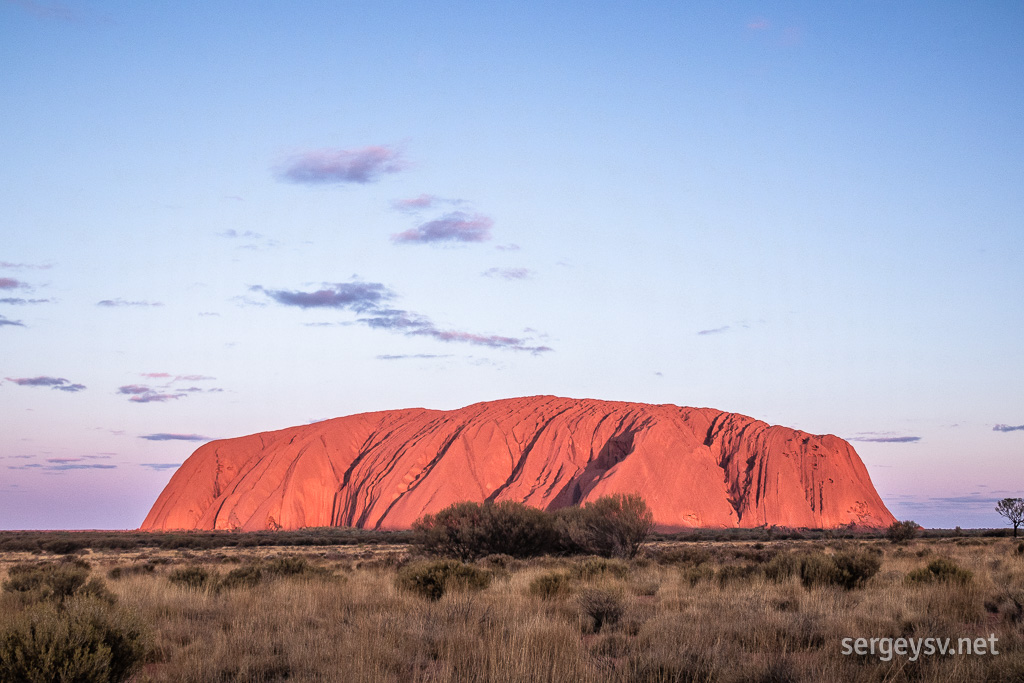 And it's back!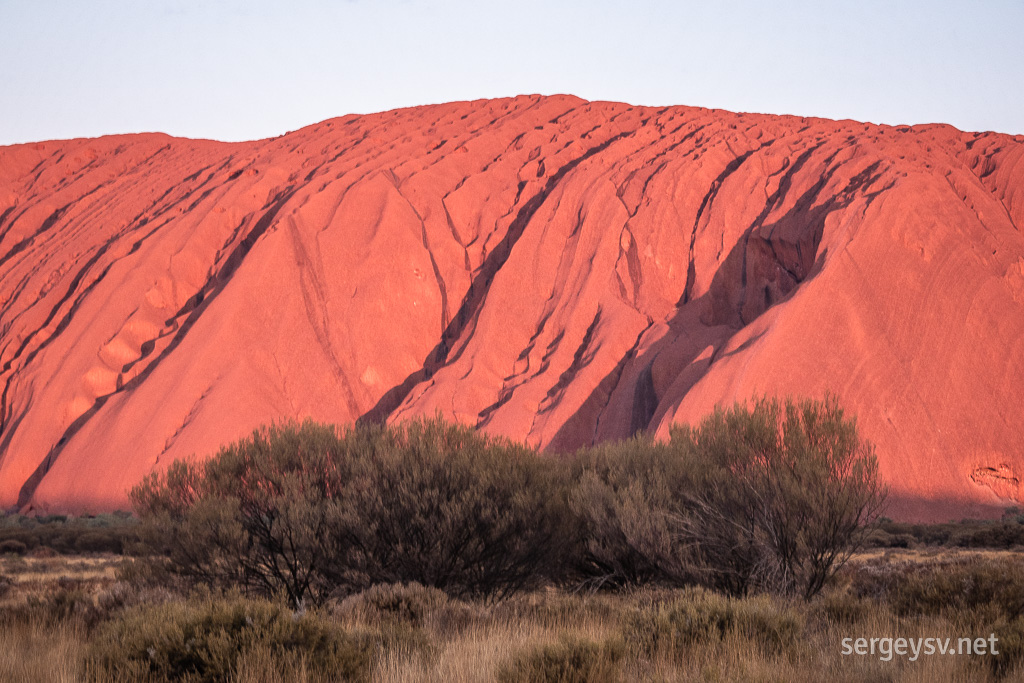 A little close-up, as usual.
Saturday proves to be quite long, for sure. We start it off with a hike in Kata Tjuta, all the way through the Valley of the Winds. It's quite hot (low 30's) and sunny, and the track has a few very steep climbs; but the views are wonderful, and both me and Asya shoot the hell out of the place with our cameras.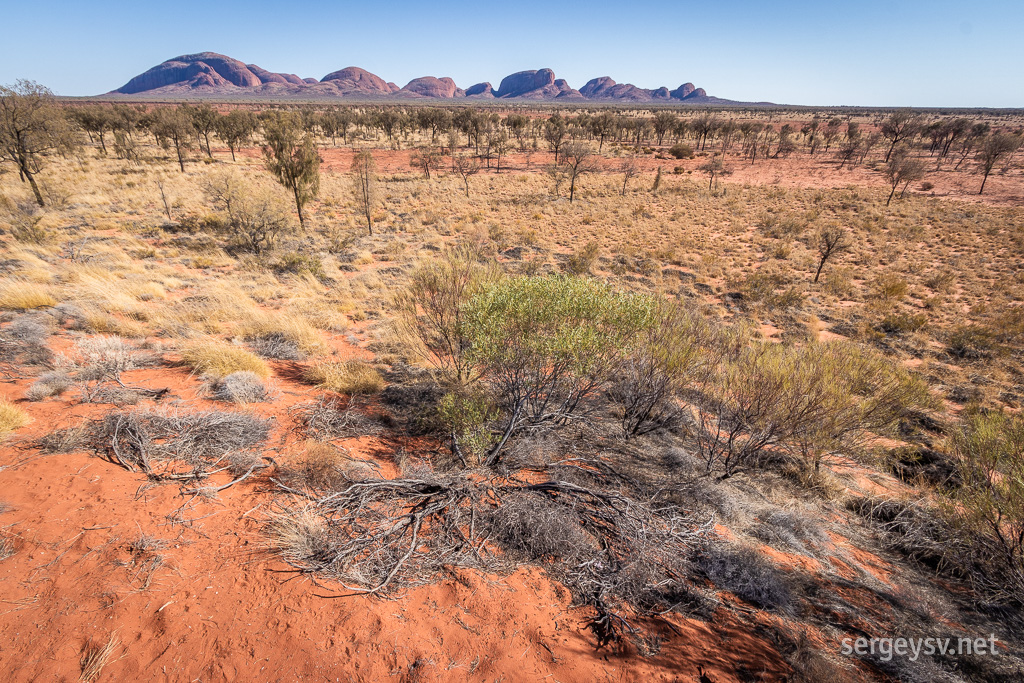 Kata Tjuta, here we come!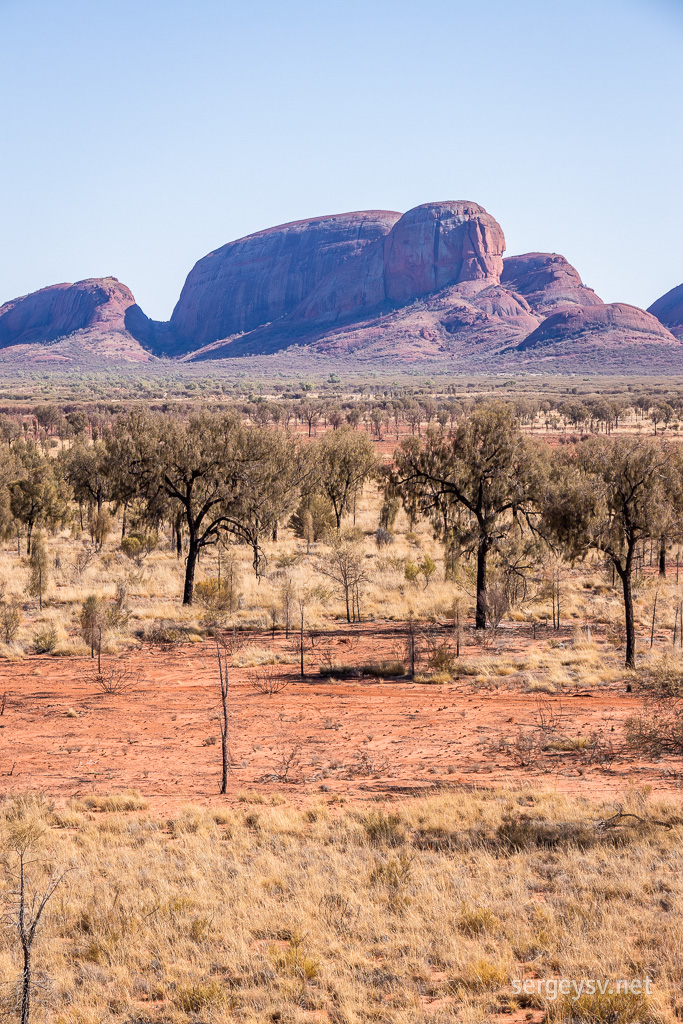 Looking gorgeous as always.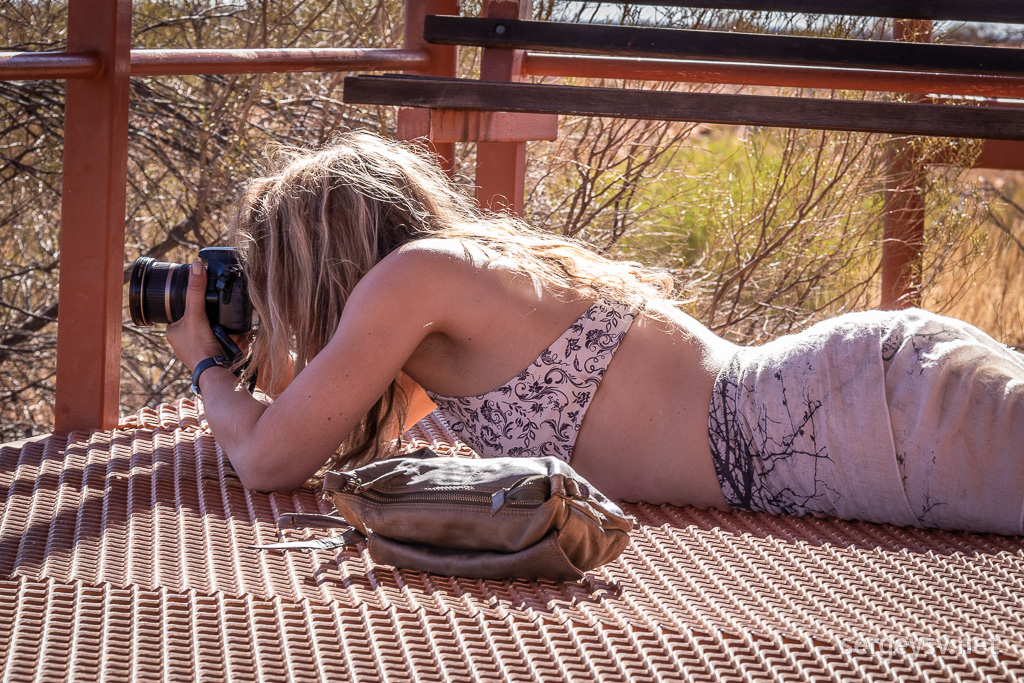 Gotta put them efforts in a good shot!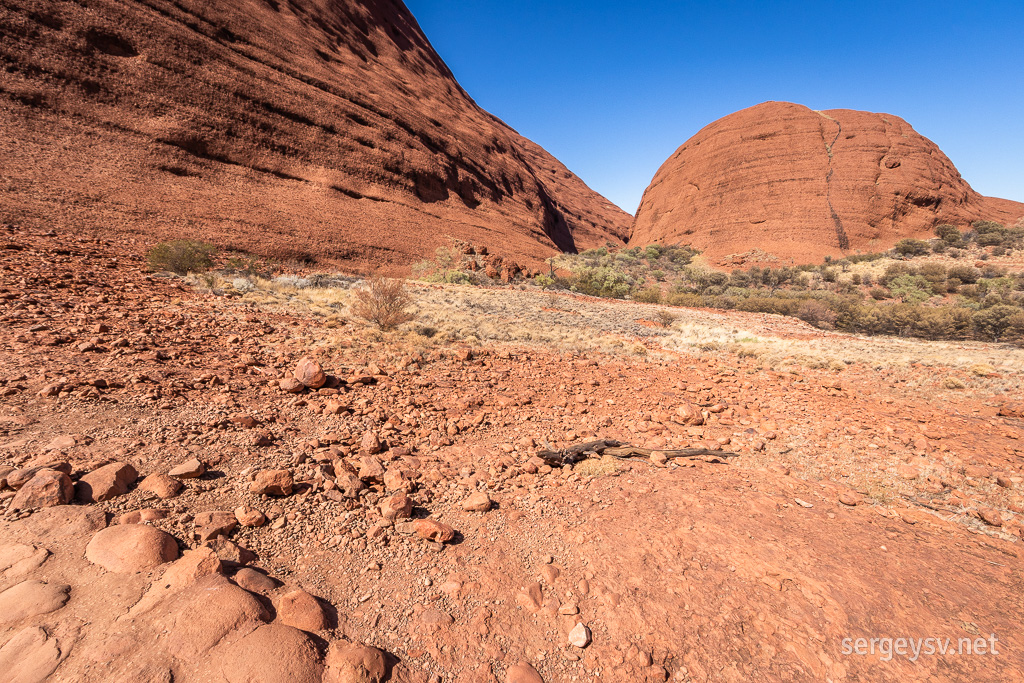 At the start of the hike.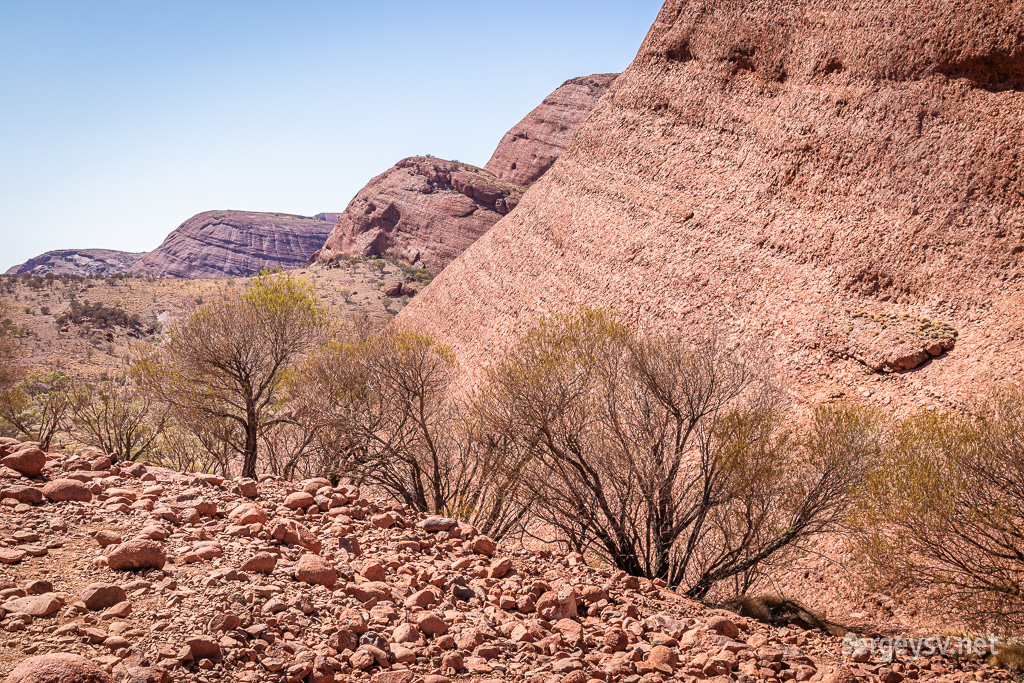 Looking good so far.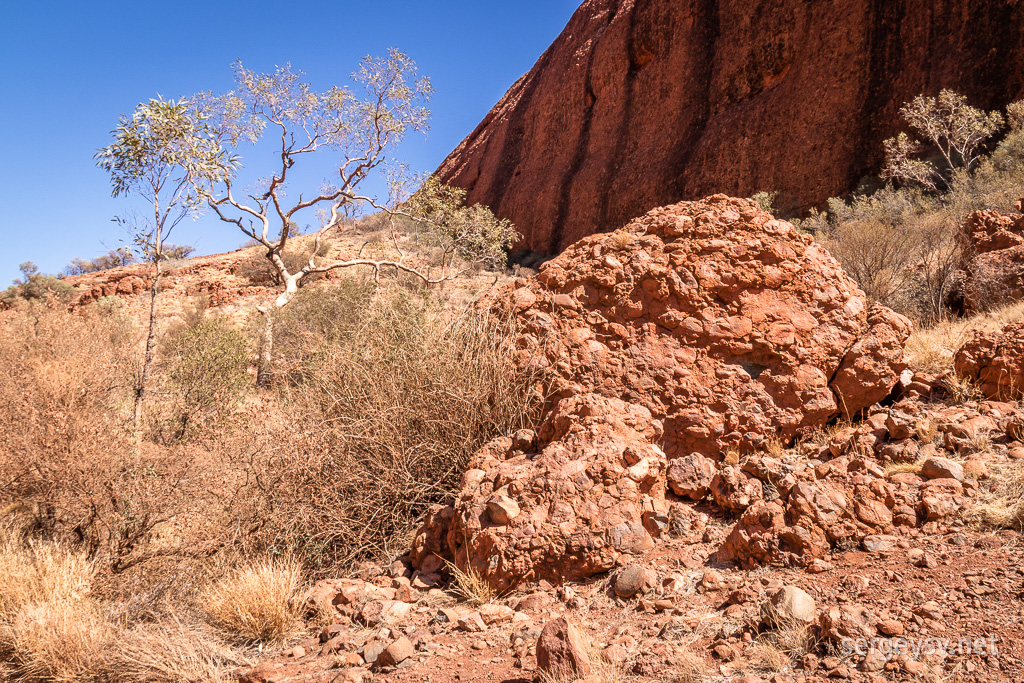 Lots of rocks!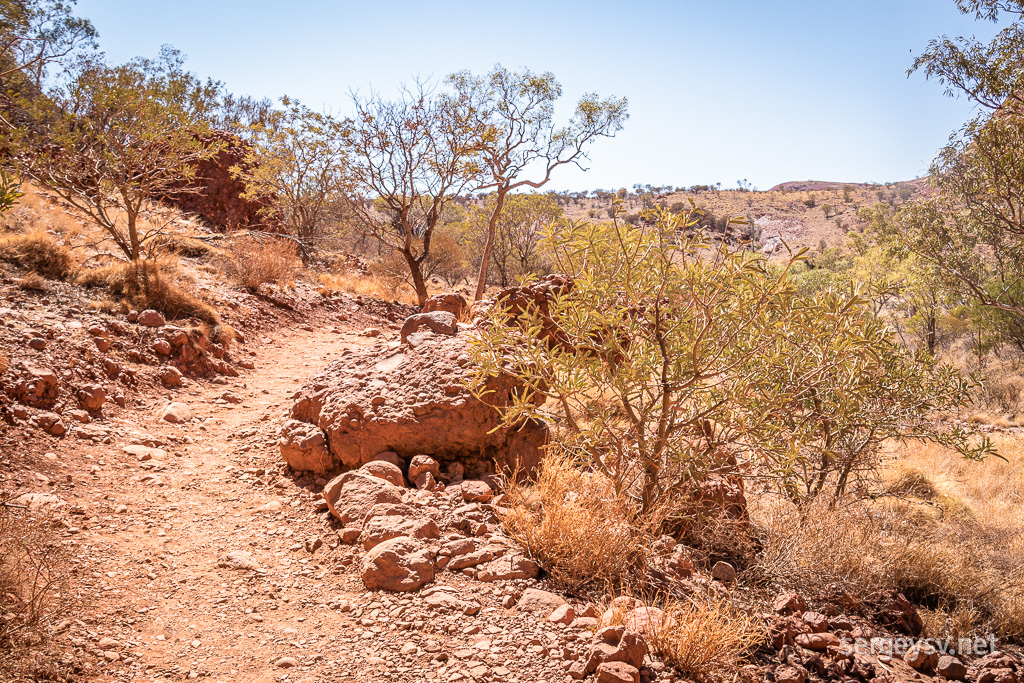 Lots of sun!
Tough life for a tree around here.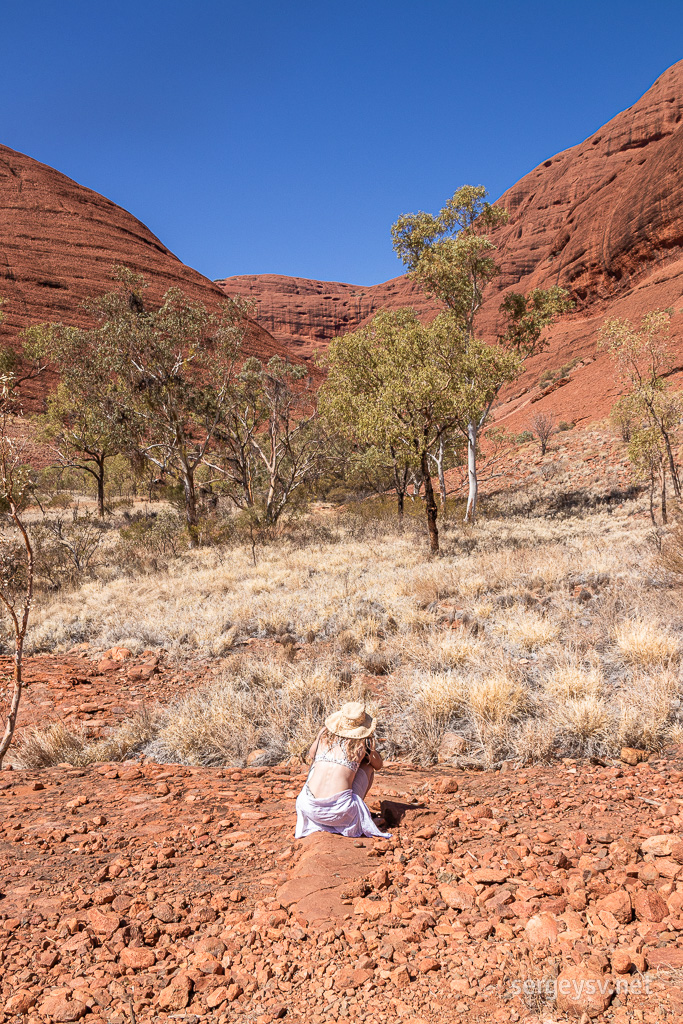 These pretty shots ain't gonna make themselves.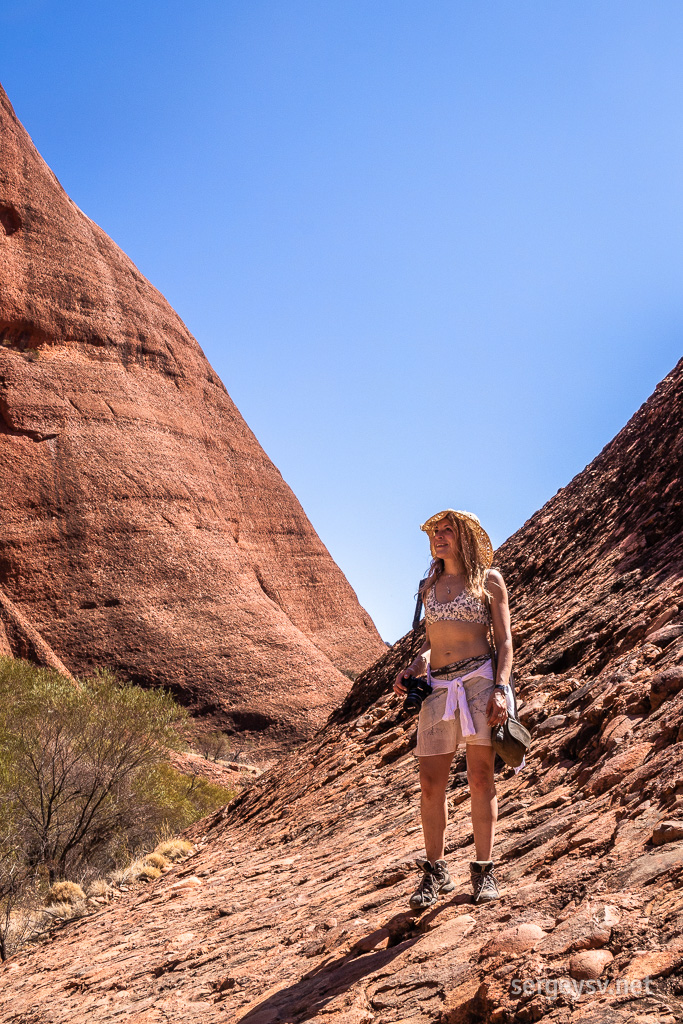 Happiness.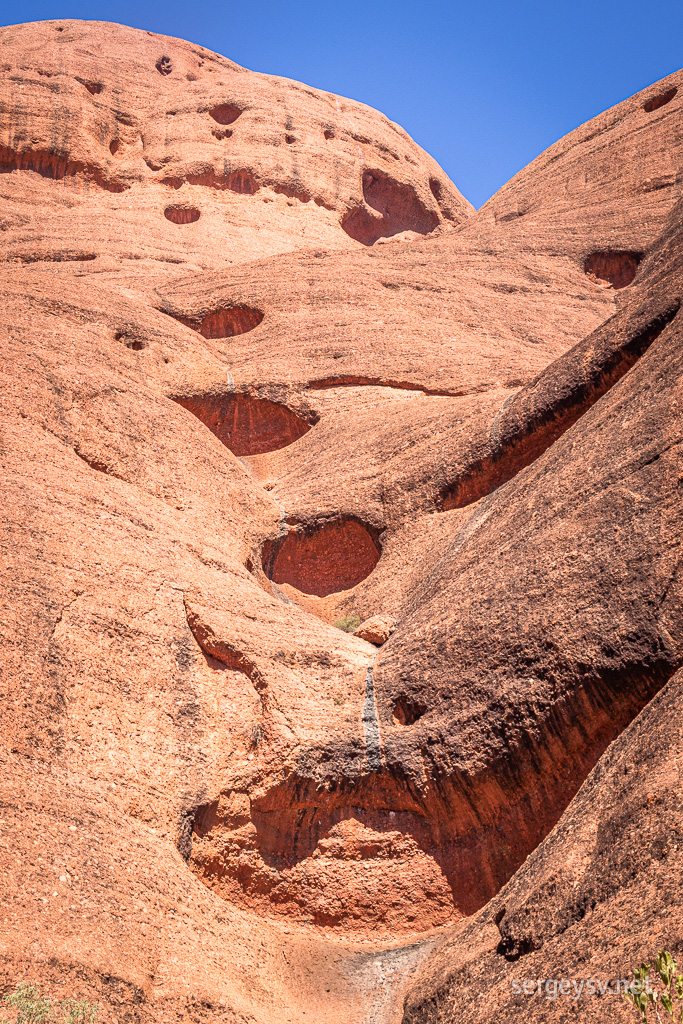 More intricate shapes.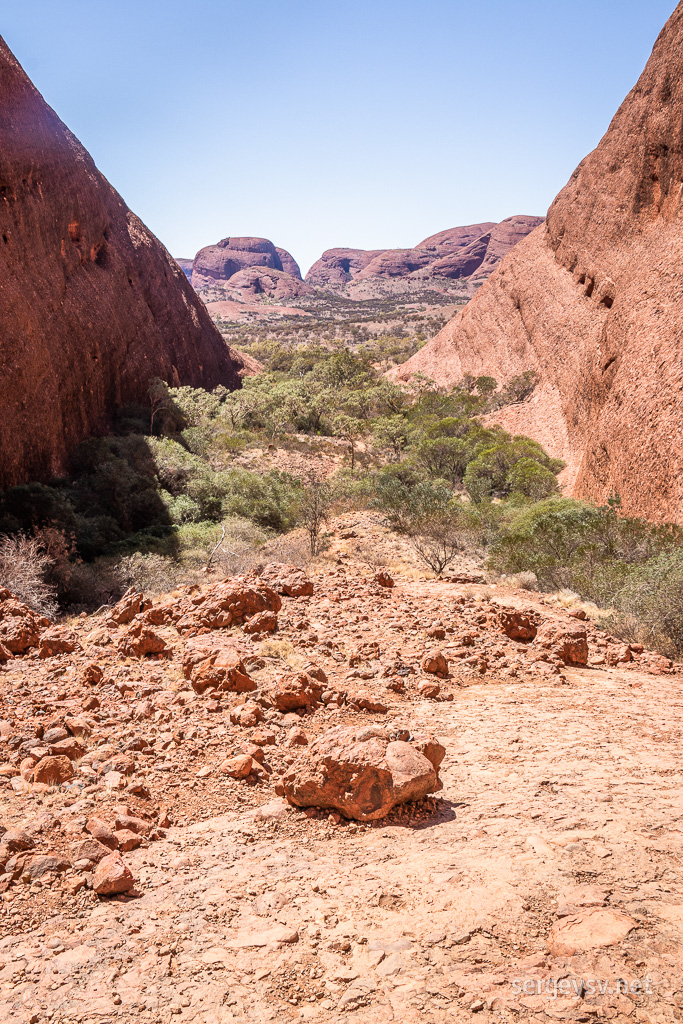 At the Karingana Lookout.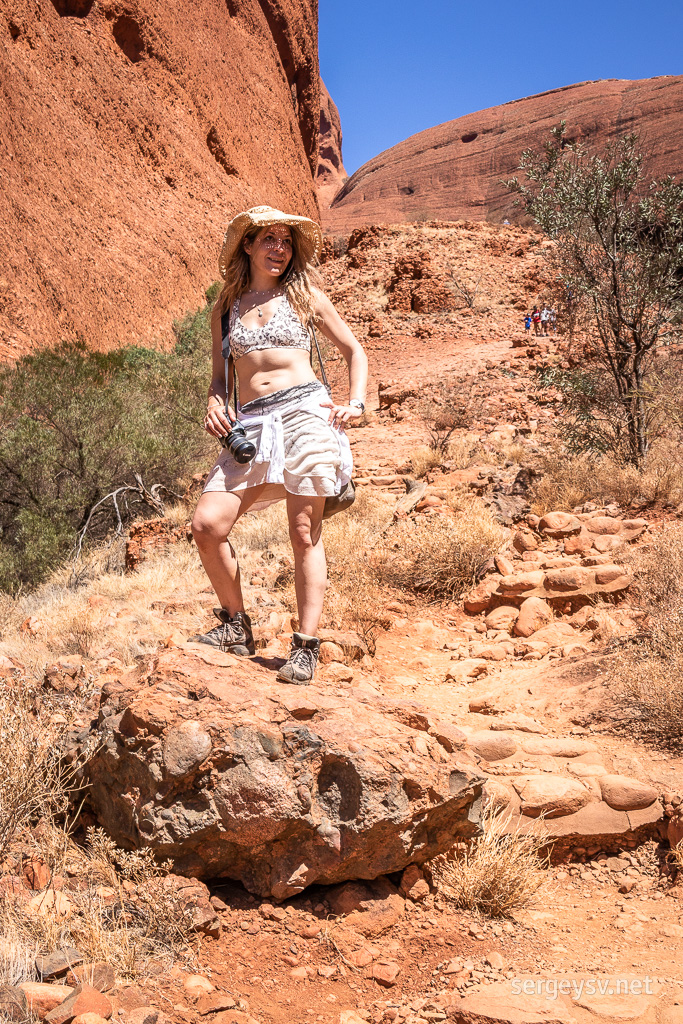 Strike a pose!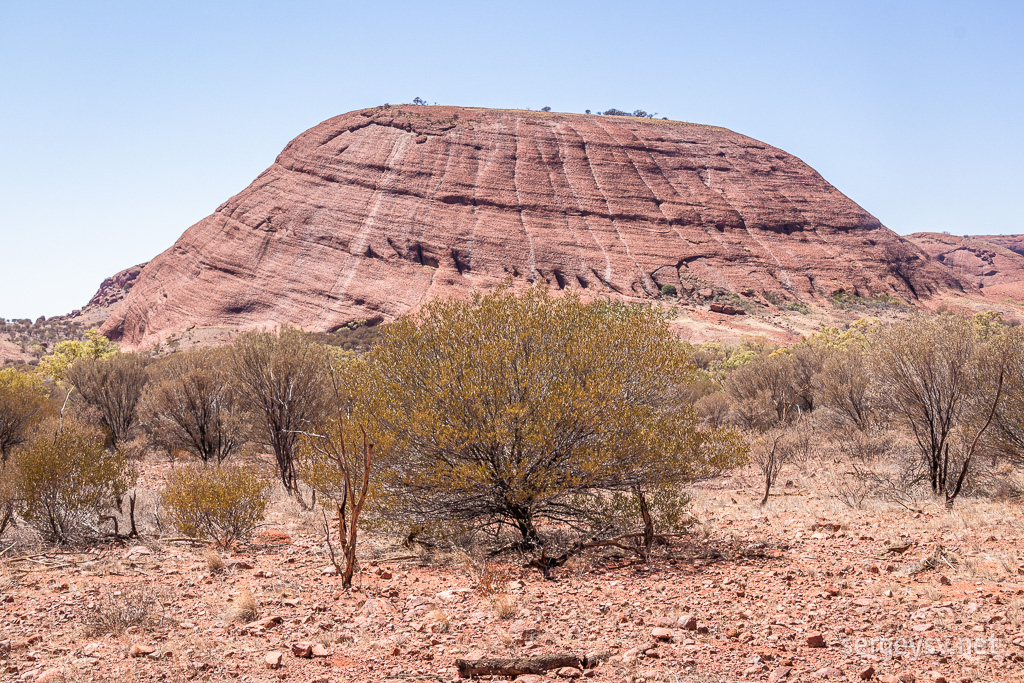 The rainstreaks.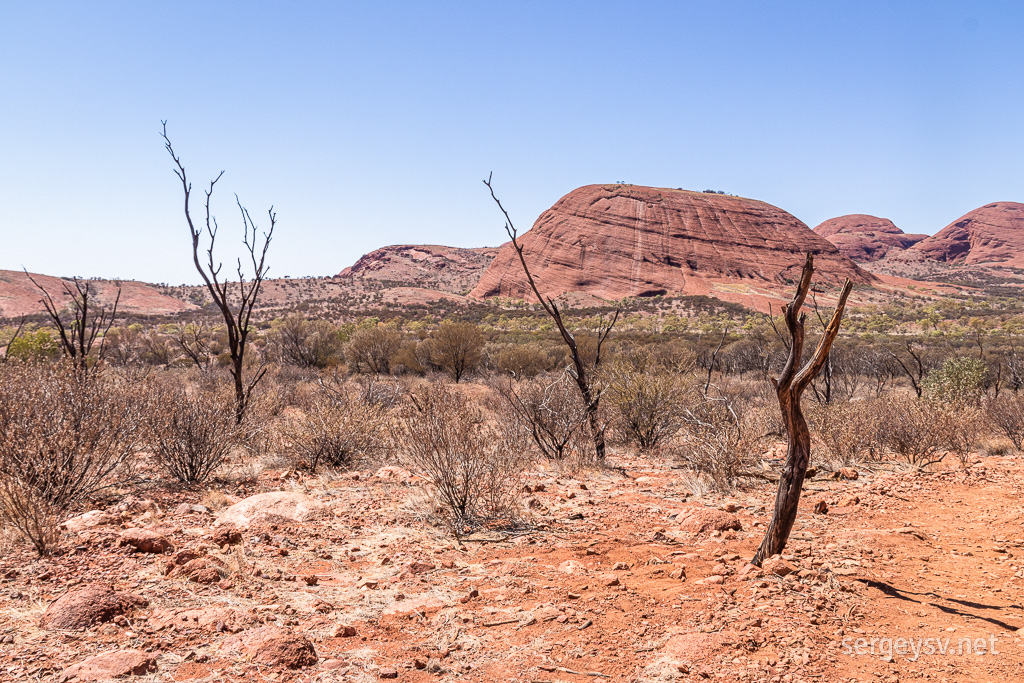 It's getting hot around here.
The Valley of the Winds.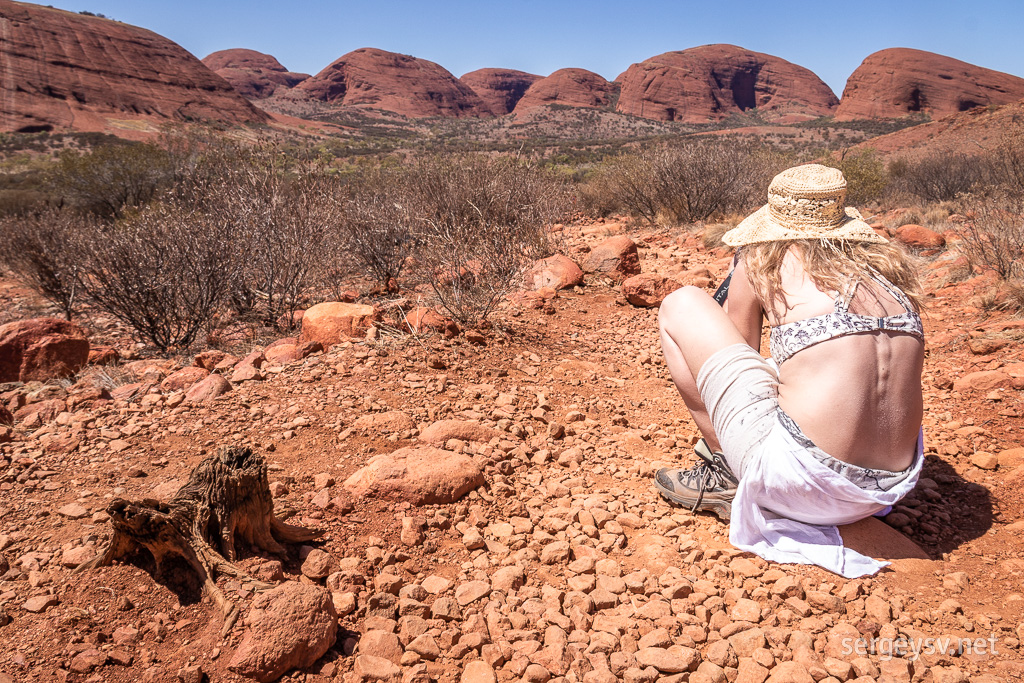 Squeezing some more shots out of the scenery.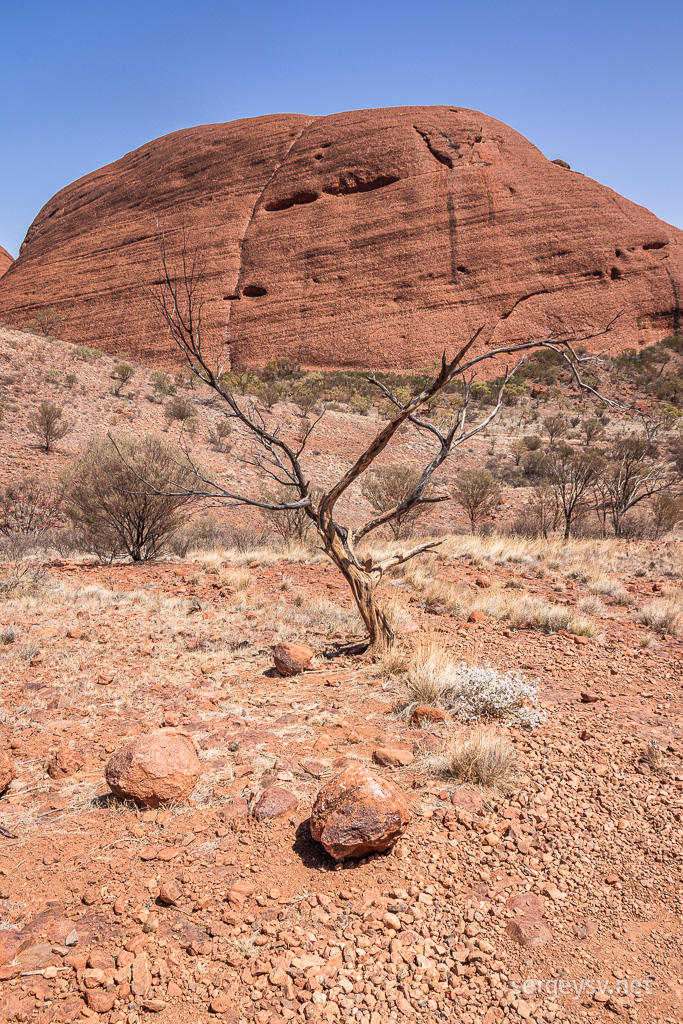 The realm of the rocks.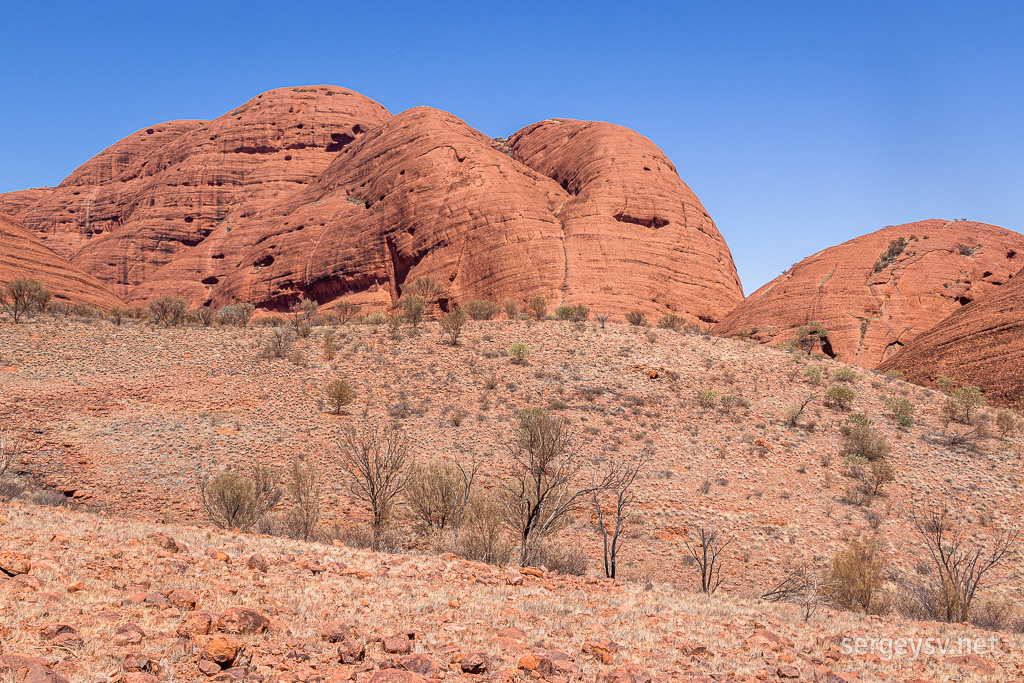 Green barely looks green around here.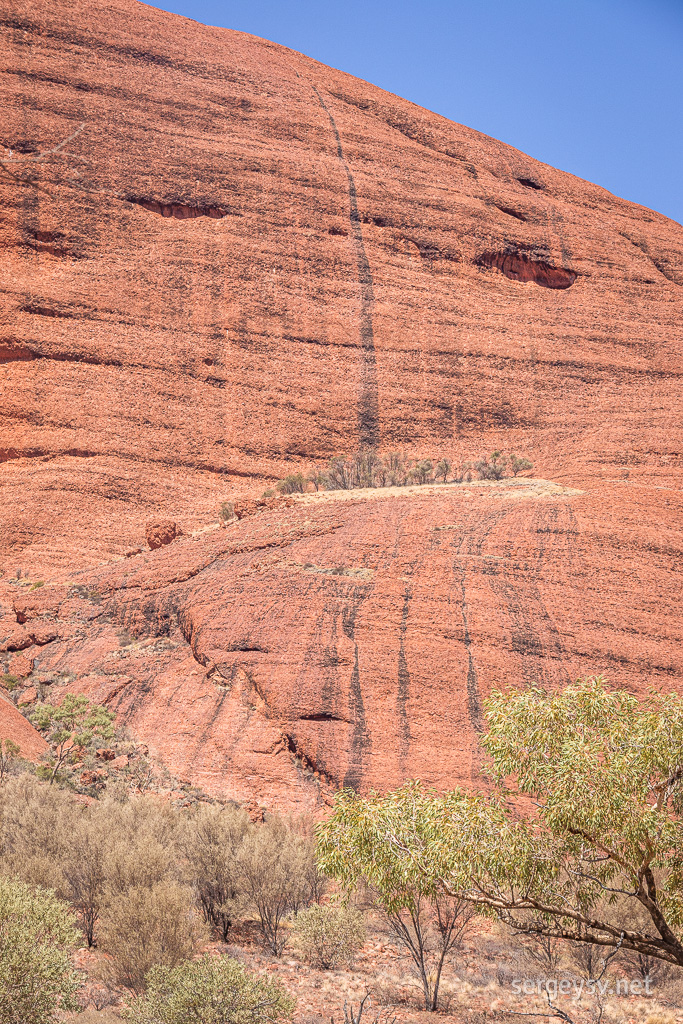 More rainstreaks. Less shadows.
Sweaty and dusty, we go back to the resort to have a meal and a couple of well-deserved beers. The latter, however, proves to be very painstaking. They don't sell alcohol to anyone who doesn't have a campground pass or a hotel room key – neither for takeaway nor for consuming on the premises. The bartender is very keen to find out where we actually camp, so we mumble something like "we're just passing through" while thinking how to get out of this situation. I mean, I could understand the takeaway restriction, given the dry Aboriginal zone all around; but they can't sell us beers to have right there and then? Weird.
Where there's a will, however, there's a way. Asya finds the guy in a
TOOL
T-shirt, who I spotted earlier, and chats him up. And hey presto: he's in! His name's Grant, and he turns out to be quite a fascinated character. Ever since his late teens he's been travelling all over the world, living in a swag most of his life and taking odd jobs here and there, and now he works in a community nearby, cooking healthy food for Aboriginals. Time flies by rapidly as we talk, and he flat-out refuses to take our money for our beers, buying us three full rounds eventually. Now that's what you call a top bloke. TOOl fans for the win!
After that we quickly drive off to see a sunset at Kata Tjuta, and we barely make it in time. Such a spectacular place... with equally spectacular quantities of flies around, too.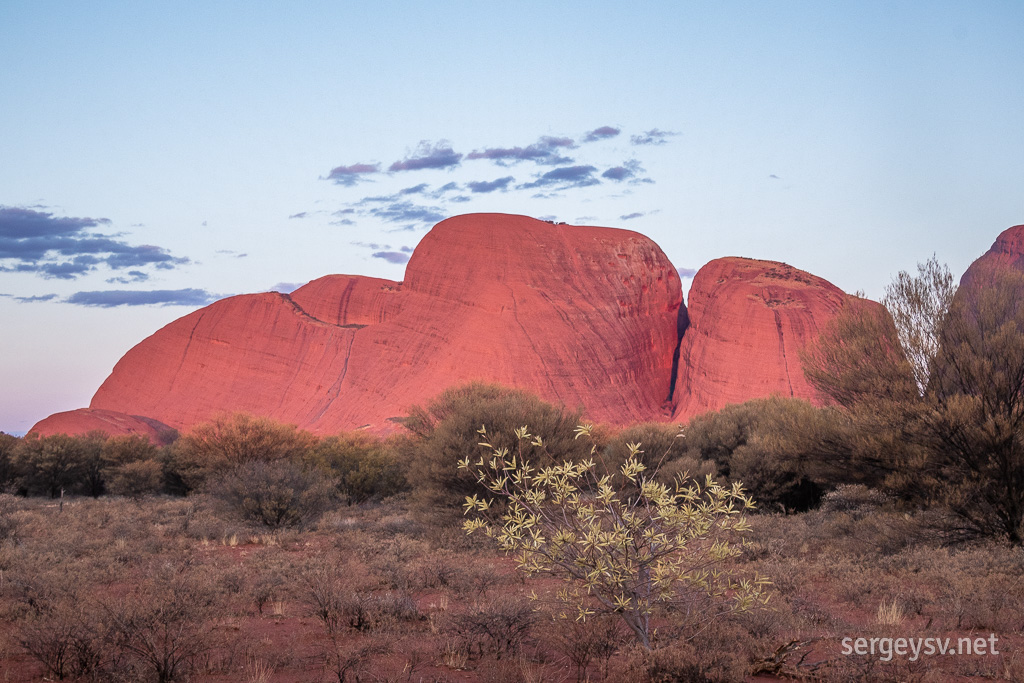 Kata Tjuta at sunset.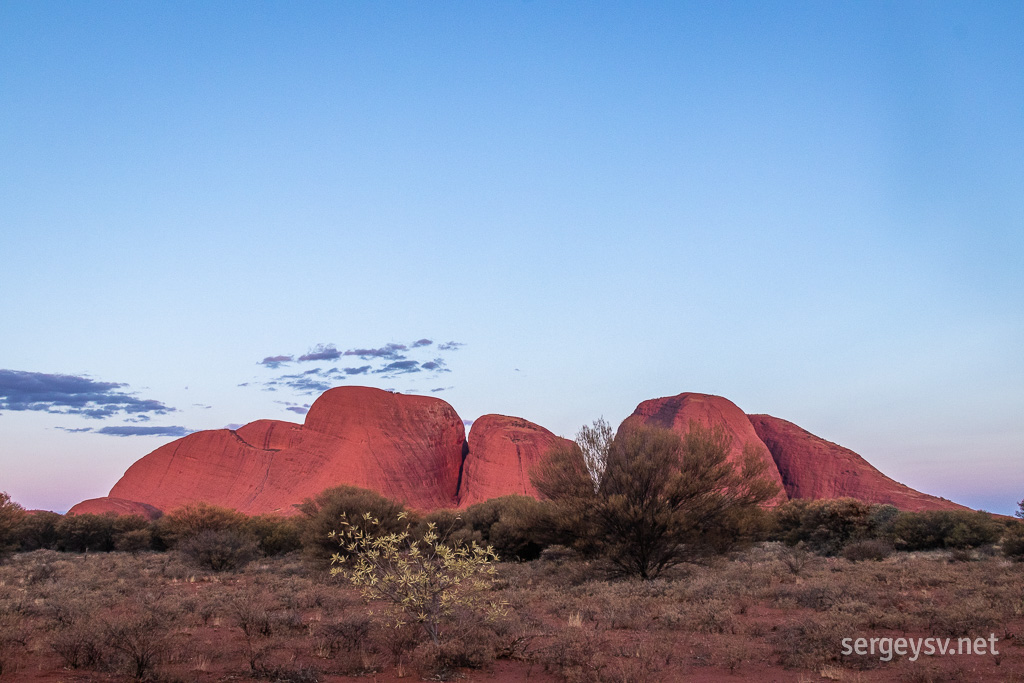 Such a wonderful place.
Sunday morning sees me and Asya walking around our (still illegal) campsite and taking pictures of the desert during the light of day. Across the road, there had been a bushfire a while ago, and the red sand with black burnt-out patches looks very different and alien compared to where we're staying.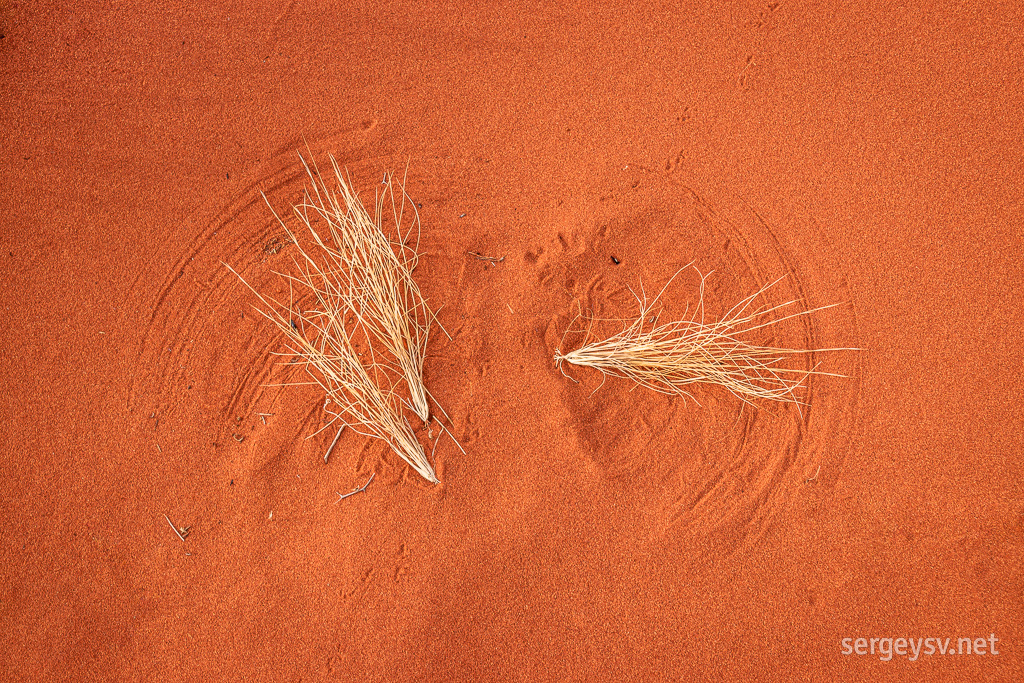 Hello!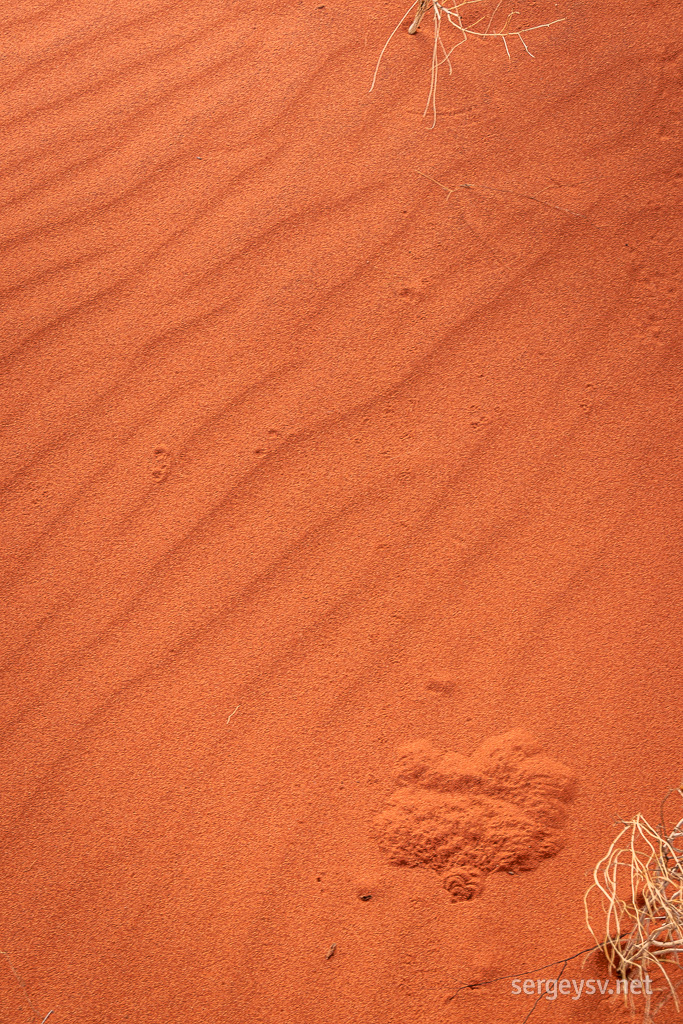 Ripples and blisters.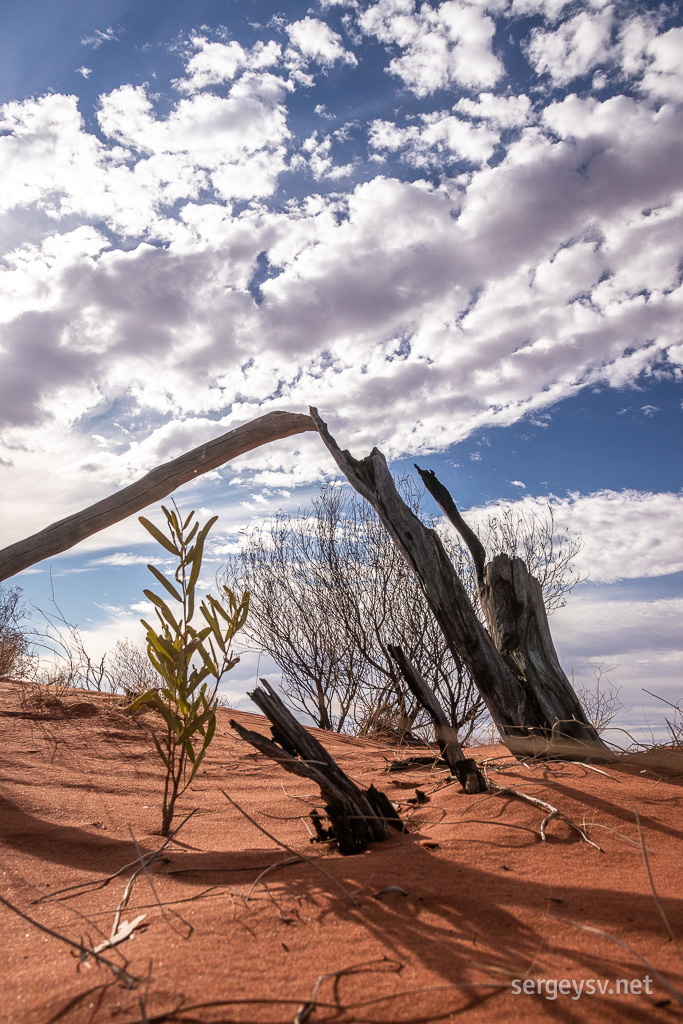 Playing with the shapes and the shadows.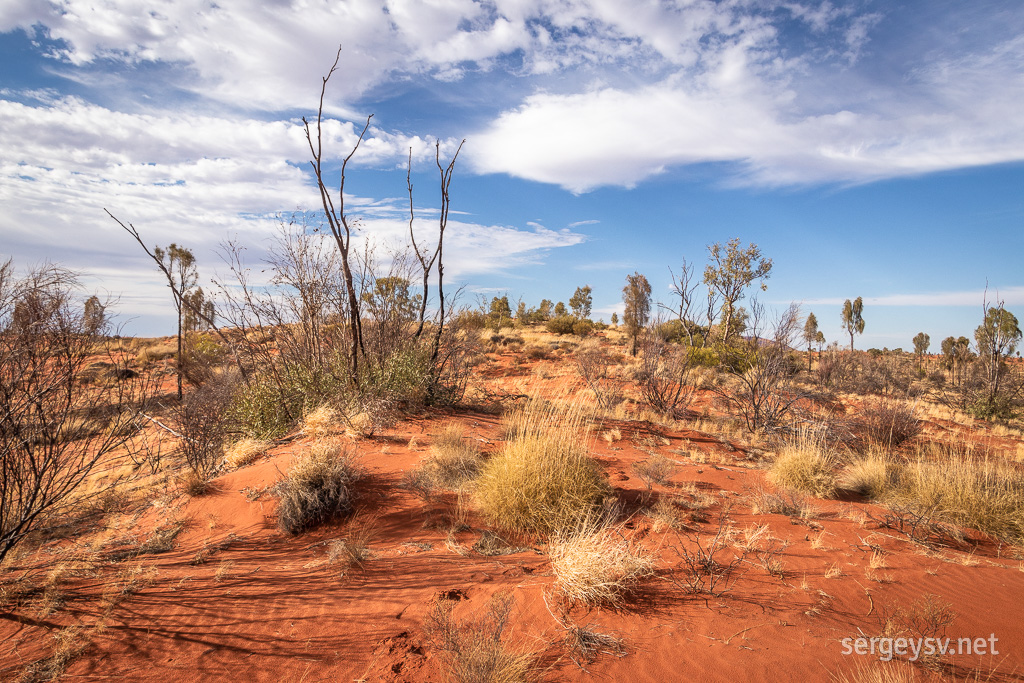 Another little desertscape.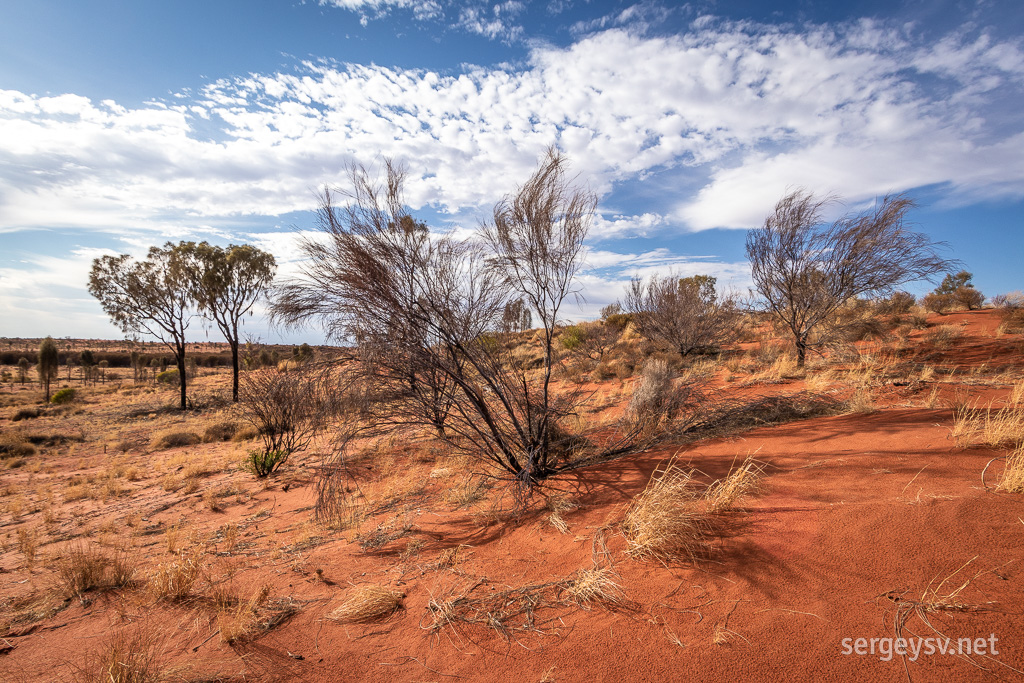 And one more, because why not.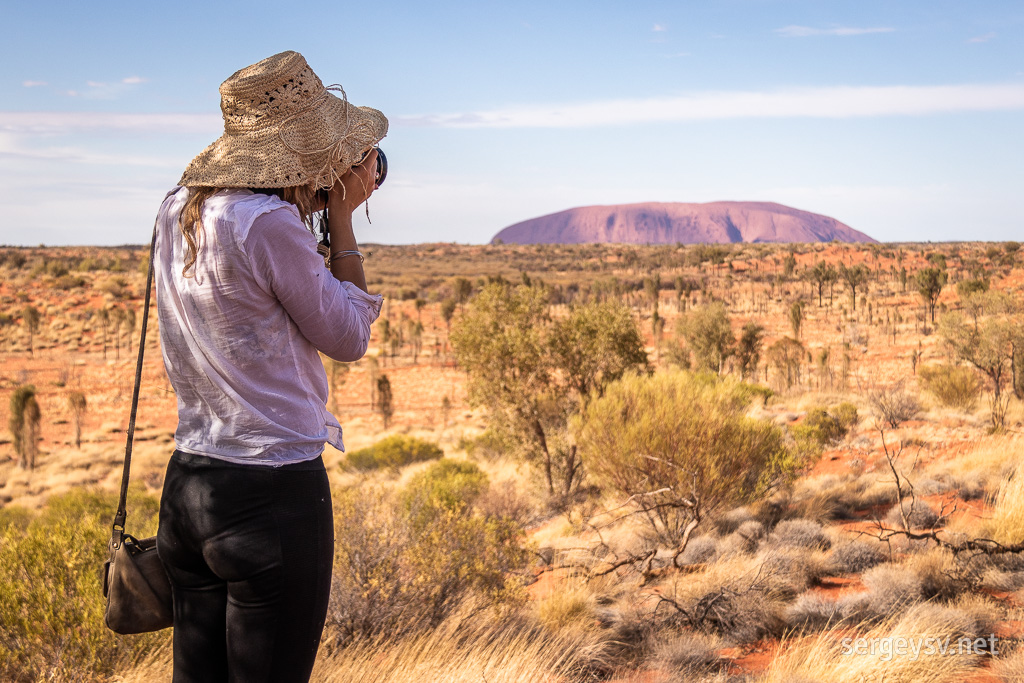 Taking the farewell snaps.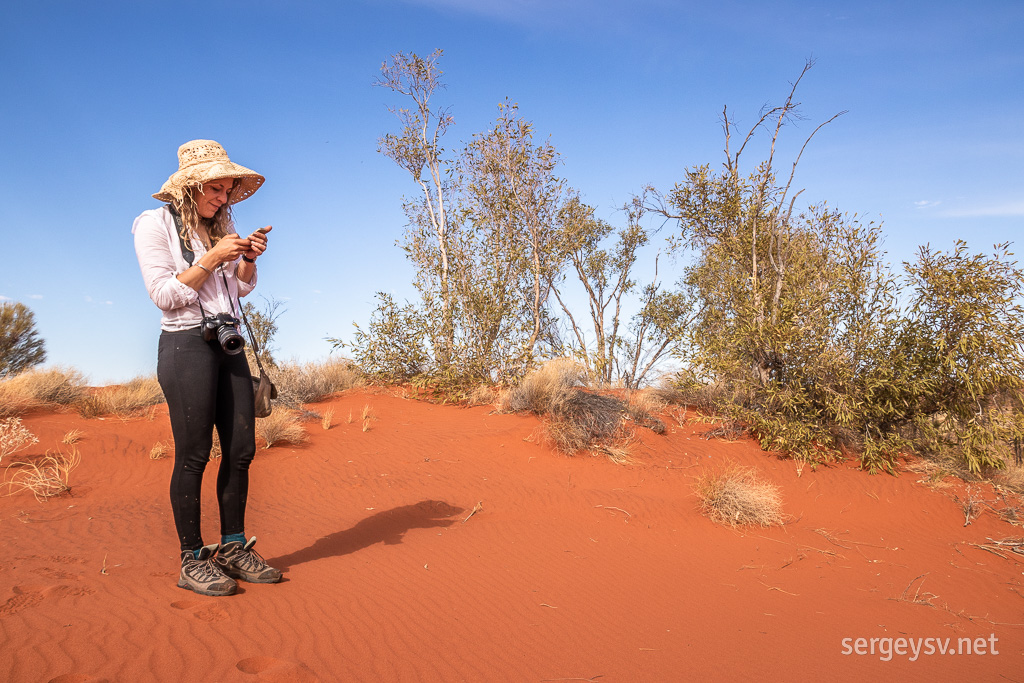 Gotta check the Instagram, of course.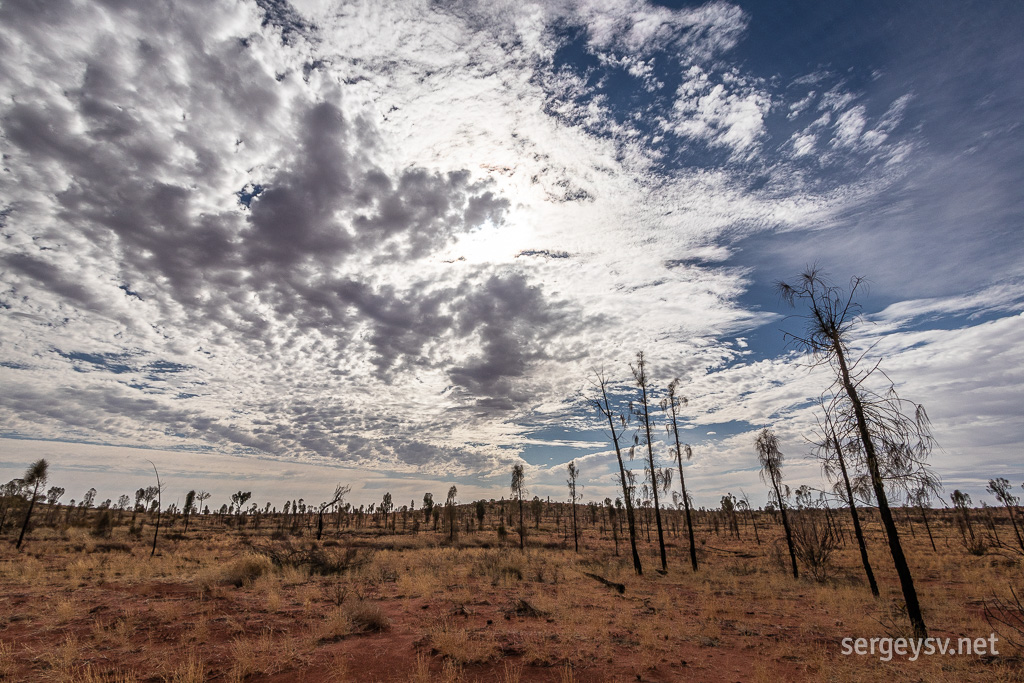 When will I ever return here myself?..
The Four Amigos (and many other amigos).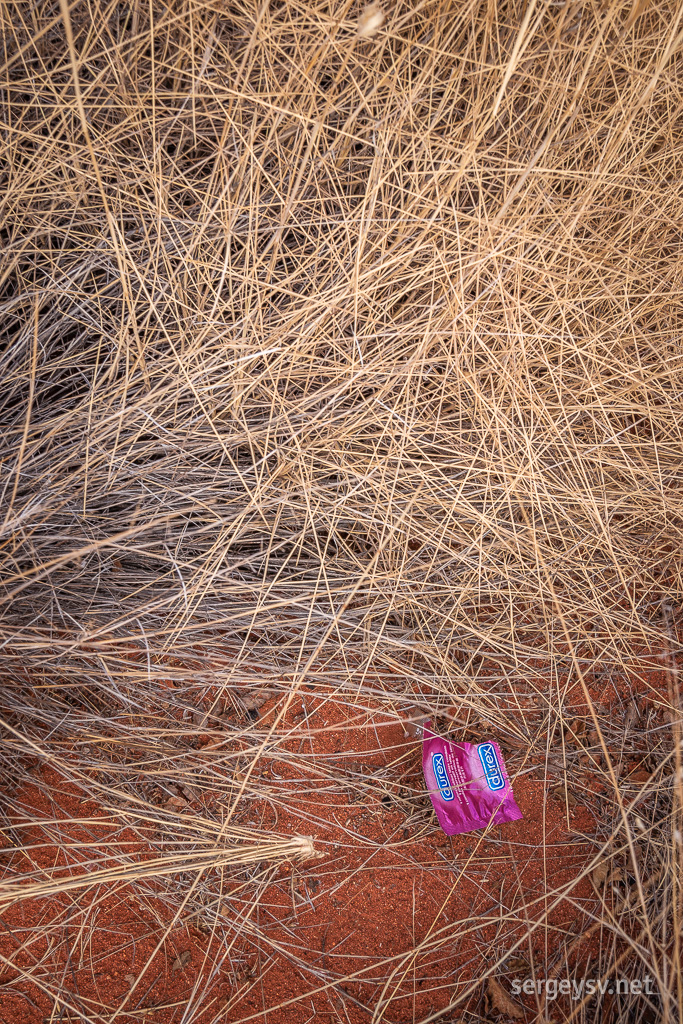 Found this next to the campsite. Who said the romance is dead?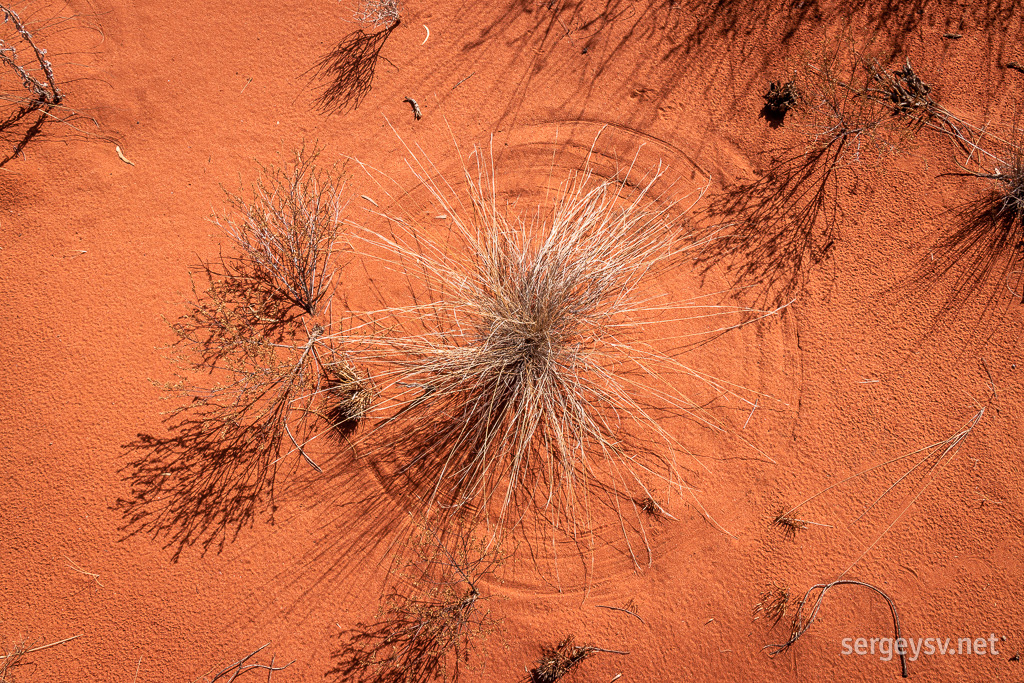 More cute wind grooves by spinifex.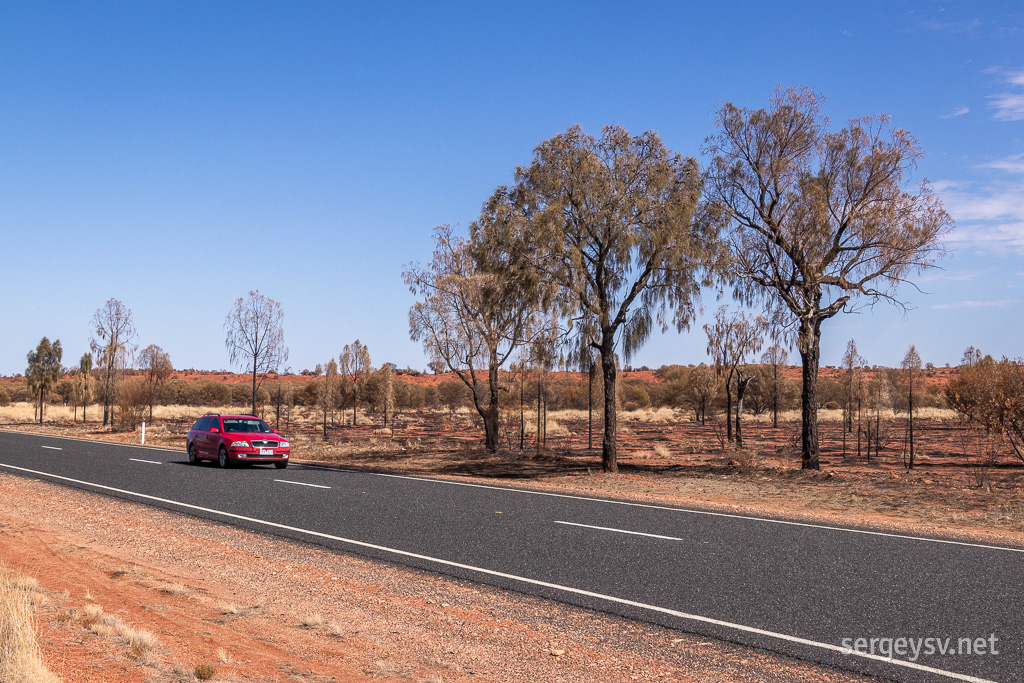 Lasseter Highway.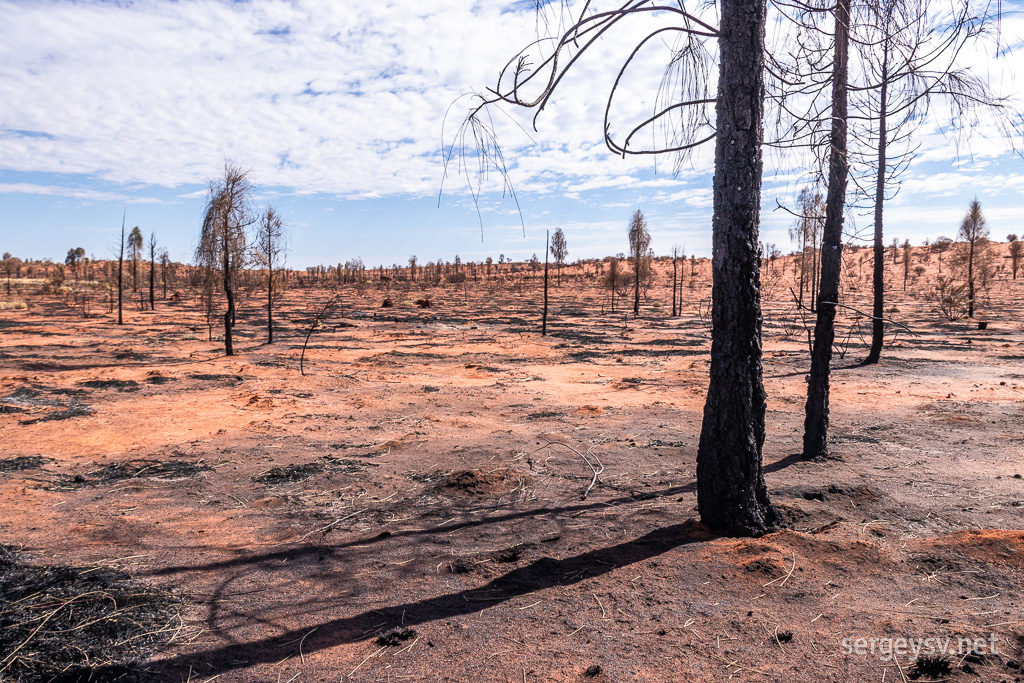 Burnt-out desert.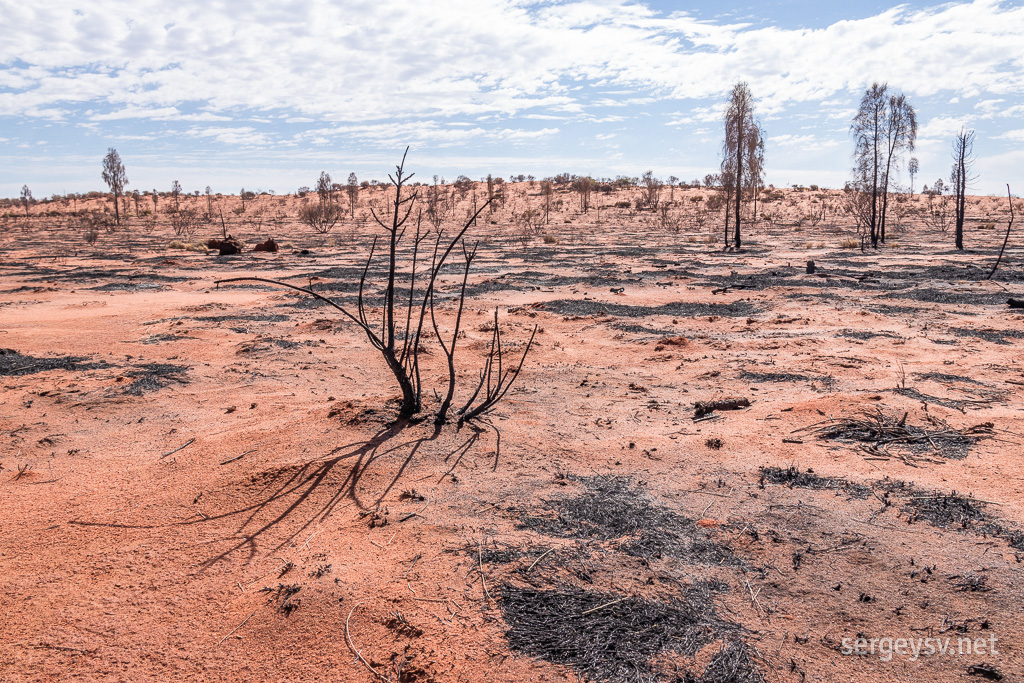 Doesn't look too hospitable, eh?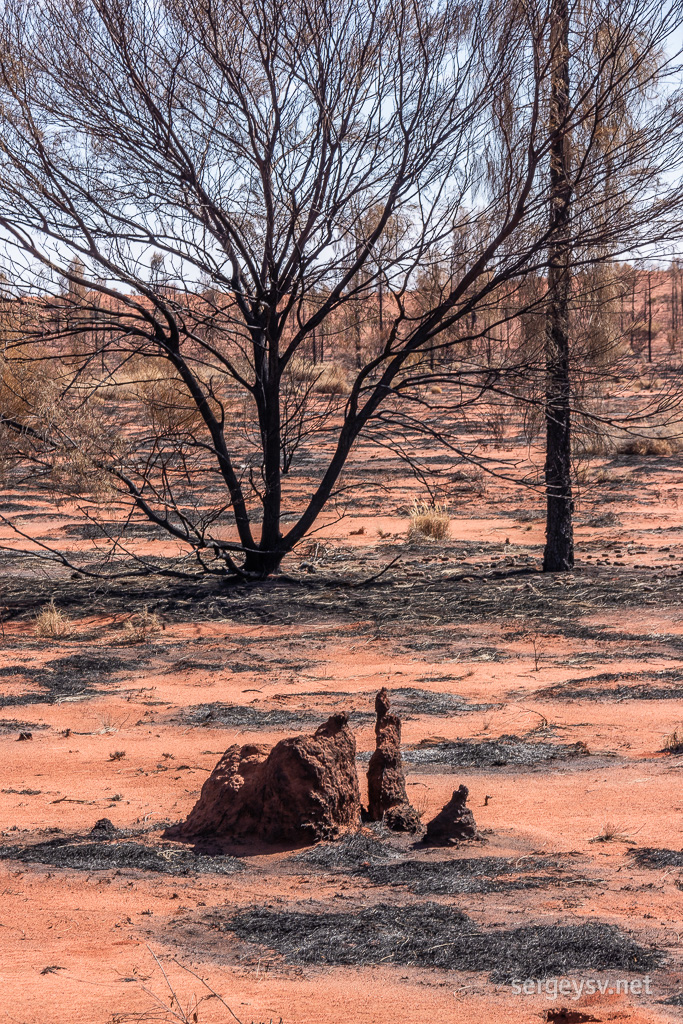 Luckily, the termite mounds survived.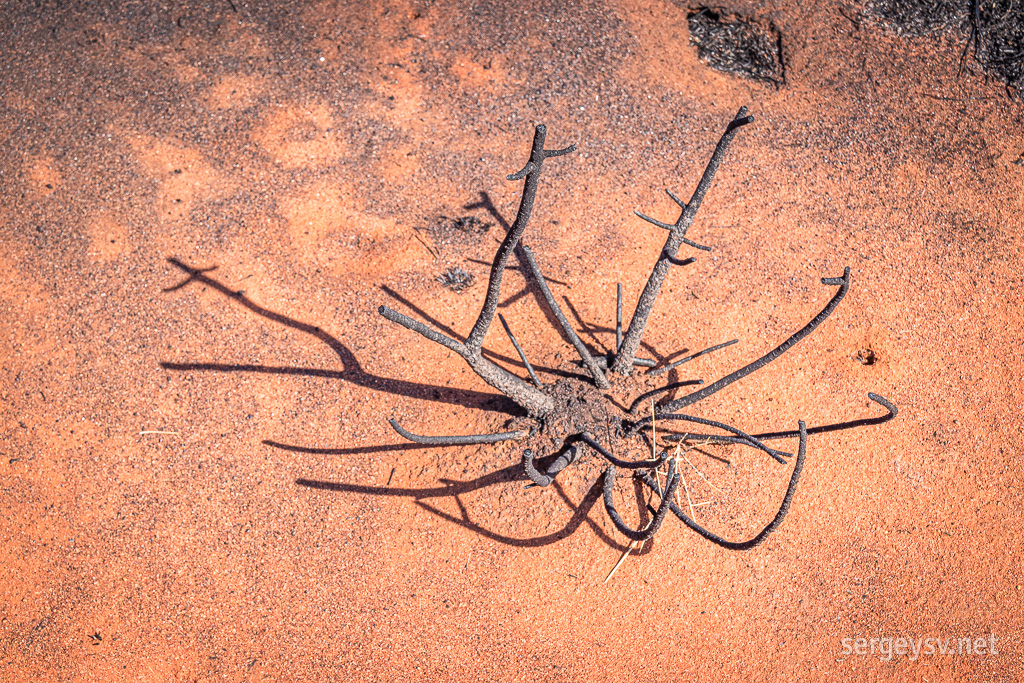 The remains.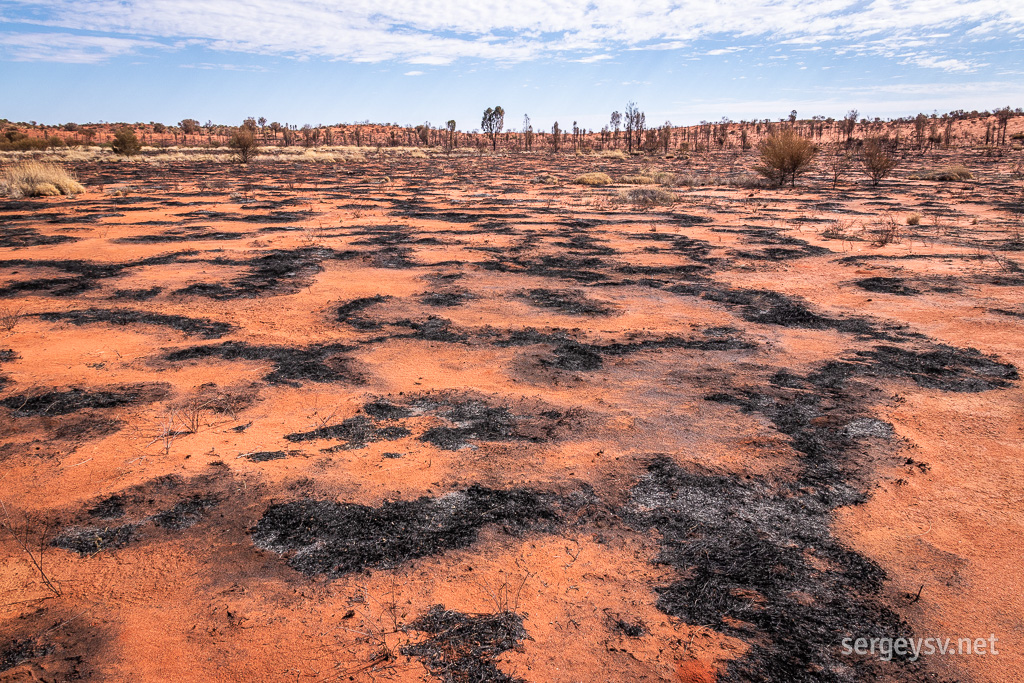 The scenery doesn't look very terrestrial.
More termite mound survivors!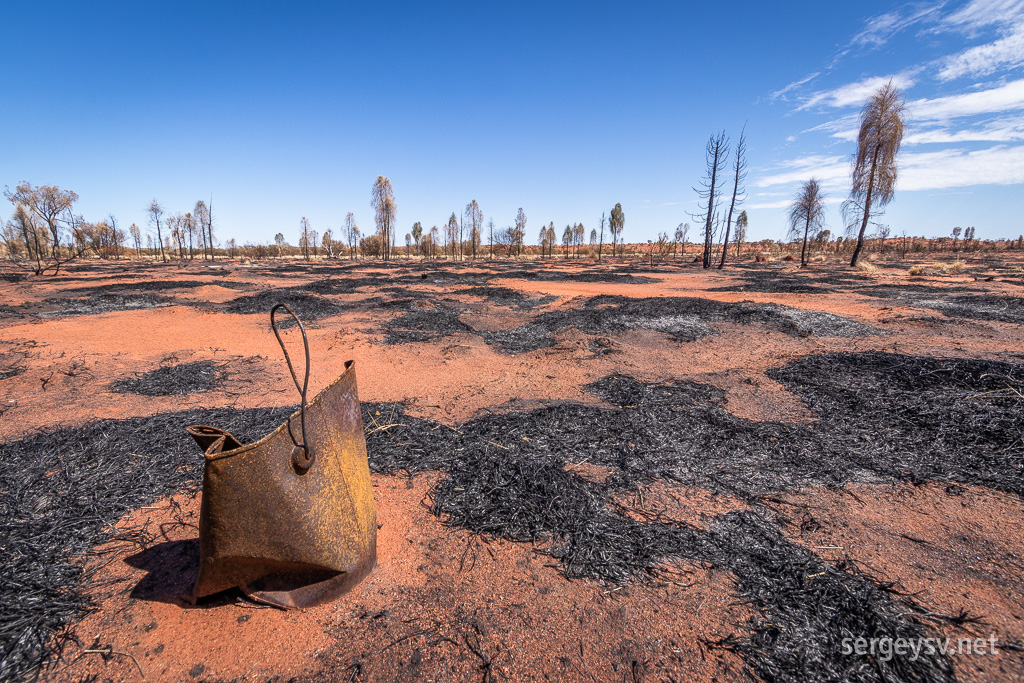 The cause of the fire? Probably not.
Alas, all good things must end, and just as we said a reluctant goodbye to Grant yesterday, I say goodbye to Asya as she flies back to Sydney. It's been a wonderful weekend, and it's such a joy to see a familiar face in this spectacularly beautiful middle-of-nowhere.
That's not the end of my journey, though. I'm planning to go to Kings Canyon now and see what it has to offer – it's been so long since I've wanted to explore the MacDonnell Ranges, and now's my chance. Off I go right now! See you later.