The night between Friday and Saturday sees me at some rest stop between Barmera and Burra. Well, it
could
have seen me, if it wasn't so dark and dusty. The sky is completely overcast, and there's a strange suspension of very fine dust in the air, which I can't really smell, but I can see it in the beam of my torch everywhere I go. It's quite windy, too, and very humid. Interesting combination of the elements. During the night it rains a bit, but the morning is nice and sunny and calm.
Well, mostly.
On my way up to Port Augusta I drive through so many crosswinds, and plunge into so many pockets of rain, that my fuel consumption skyrockets. (Having a few of less than aerodynamic gear items of the roof of the car doesn't help either.) At Port Augusta, I do my usual rounds of refuelling, shopping and KFC'ing; I always like visiting this town, and I always leave it with a sense that there's going to be
nothing
as civilised for hundreds of kilometres northwards or westwards.
For my final stop at Augusta I visit a caravan park on the outskirts to replenish my drinking water. These days, I'm travelling with a 60L water bladder and a 10L jerry can, plus a water pump and a couple of hoses to transfer water between the two. Being a gentleman that I am, I ask the kid at the reception if I can purchase some water at their establishment; but the question obviously flummoxes him, and after a while he says reluctantly that he can only do that if I pay for the entire night's stay.
Once again
, some people are being way too greedy for their own good. Instead I just park outside the gate and take a few trips with my jerry can between the car and the water tap at one of the caravan camping spots. If they don't want my $5 for refilling a water tank, then they don't want them, right?
For the rest of the day, I drive hastily to Coober Pedy, because I still have a lot of road to cover. I camp at the same lovely spot as I used
previously
a few times, and it's still great, even if a bit chilly after the sunset. Spring is a bit slow on the uptake this year!
In the morning, I resume my journey, but this time I try and limit my speed to 100 km/h. With all that stuff on my roof now (second spare wheel, two gas bottles, hi-lift jack, traction pads, and a bag with the tent and folding bed) my Prado's aerodynamics decreased noticeably, and the fuel consumption went up dramatically, estimated up to 15 litres per 100 km. (Those heavy crosswinds didn't help either, of course.) By the time I get to Erldunda and refuel, my calculations show that I managed to get it down to much healthier 11 litres per 100 km, which is good. And hot showers with a hot meal (taken separately, of course) are pretty good as well.
However, things don't look too good by the time I reach the Uluru - Kata Tjuta National Park. When I was here
two years ago
, I camped at a rather lovely (albeit crowded) free spot just outside the park's border; however, this time I find a very prominent sign at the entrance which says that the access is now prohibited. No wonder they removed it from WikiCamps! I can't blame the Aboriginal owners of this land, of course — most campers are filthy pigs, after all — but this poses a problem for me, because I don't want to go to the overcrowded resort and pay $30 per night to stay there. Gotta find another option.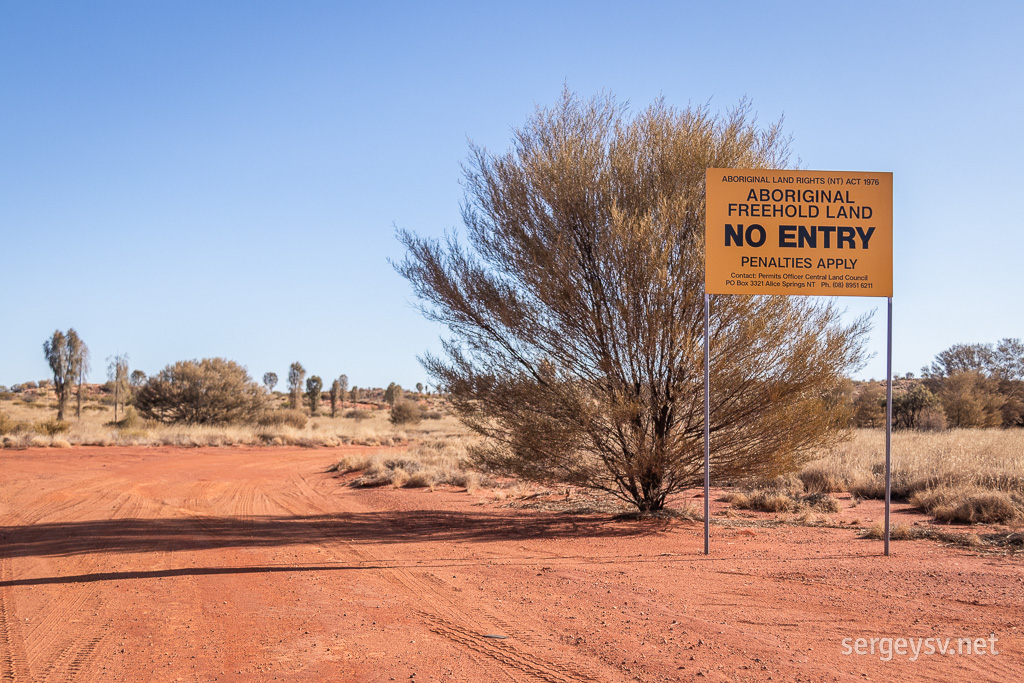 No way!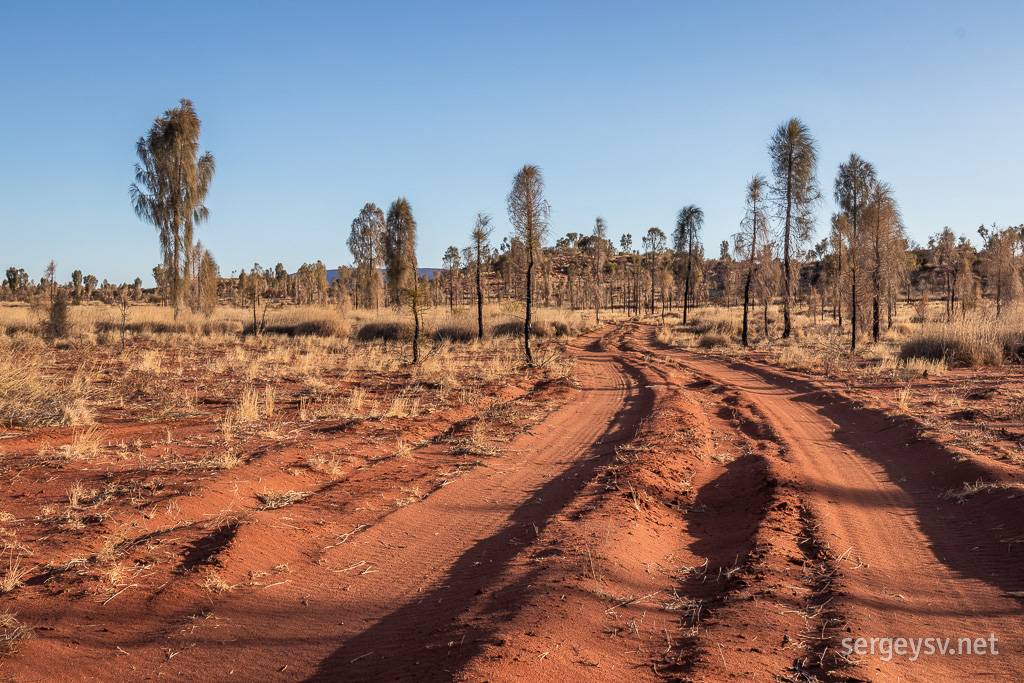 Let's try some other roads.
And I do find it an hour later: one of the dirt roads that veers off the highway leads me to a slightly elevated spot, where (if I climb the adjacent dune) I can actually see both Uluru and Kata Tjuta. People have obviously camped here, as evident from the makeshift firing pit and a few items of garbage scattered around (people are pigs, yada-yada), so I decide to stay here as well for a while.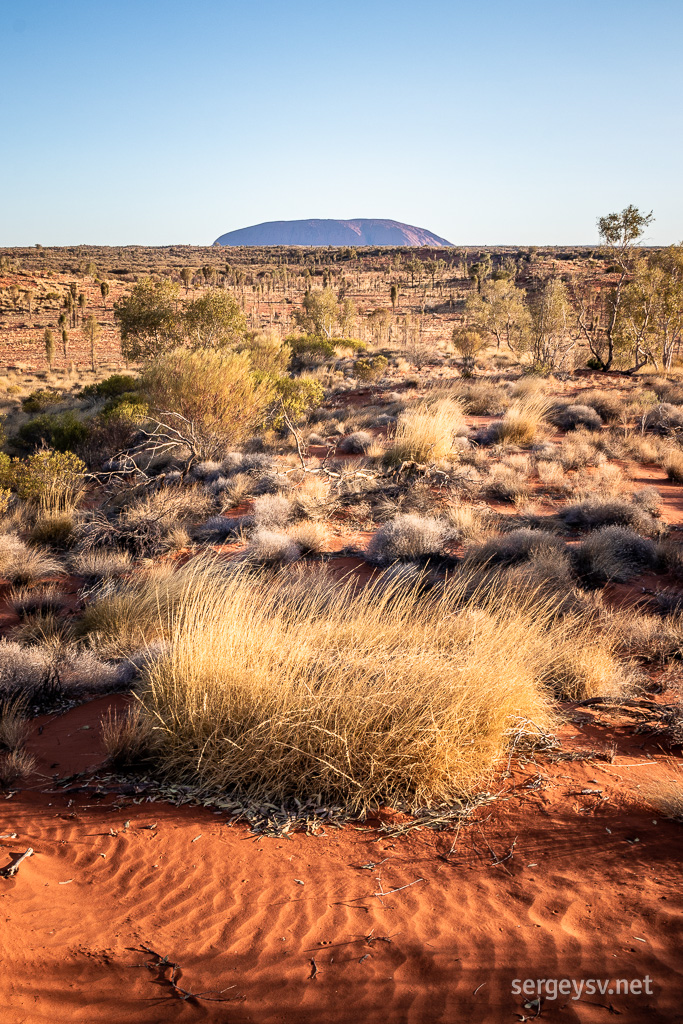 The Rock itself!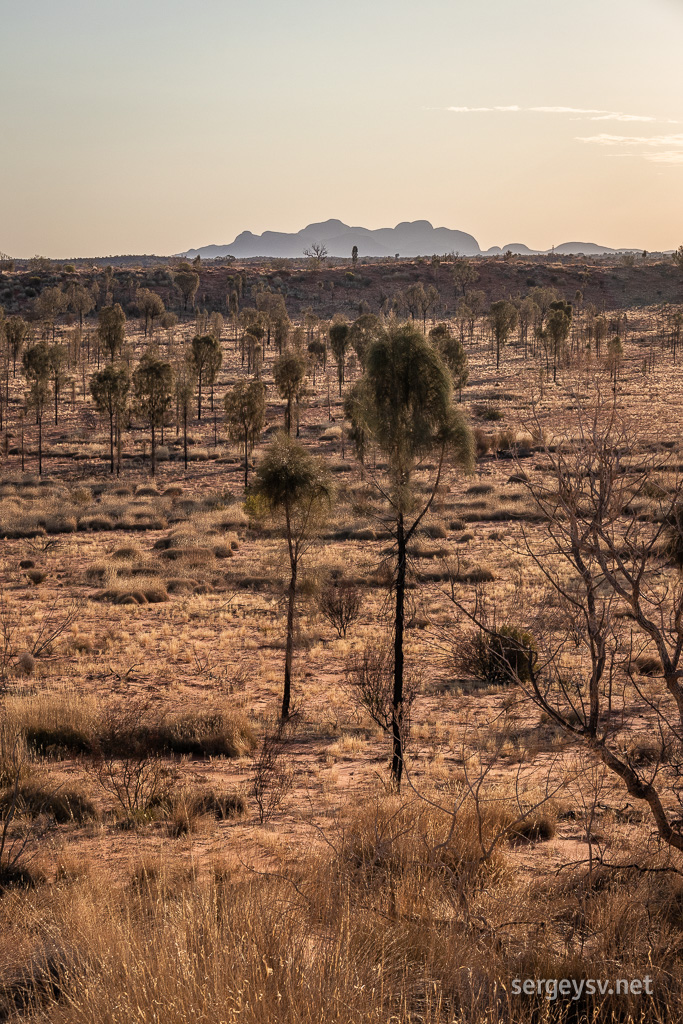 Kata Tjuta in the distance.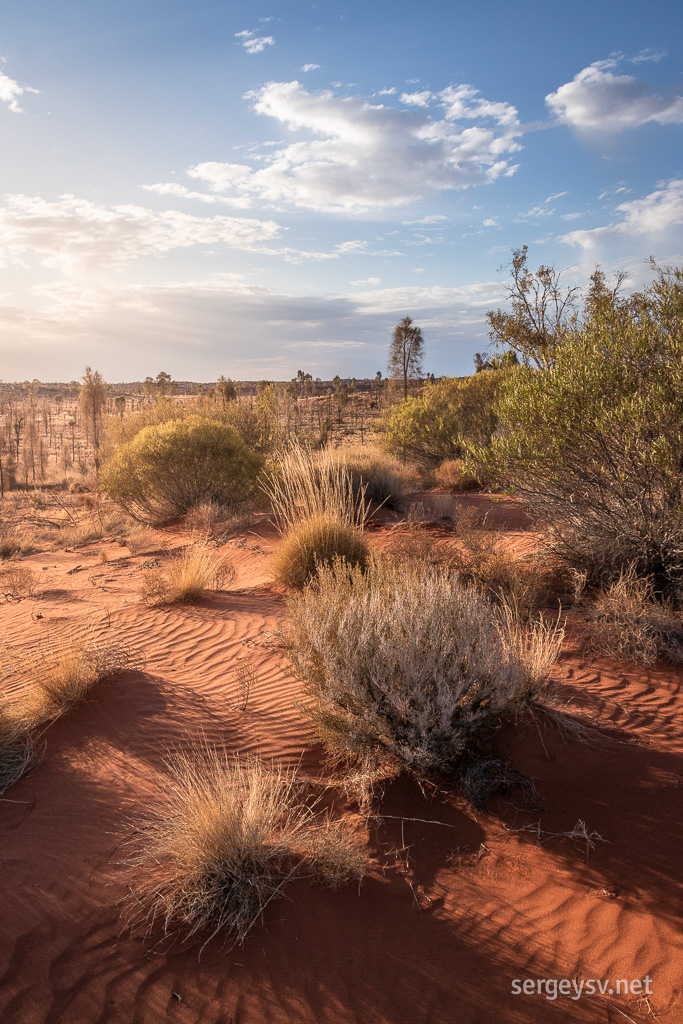 The desert tones.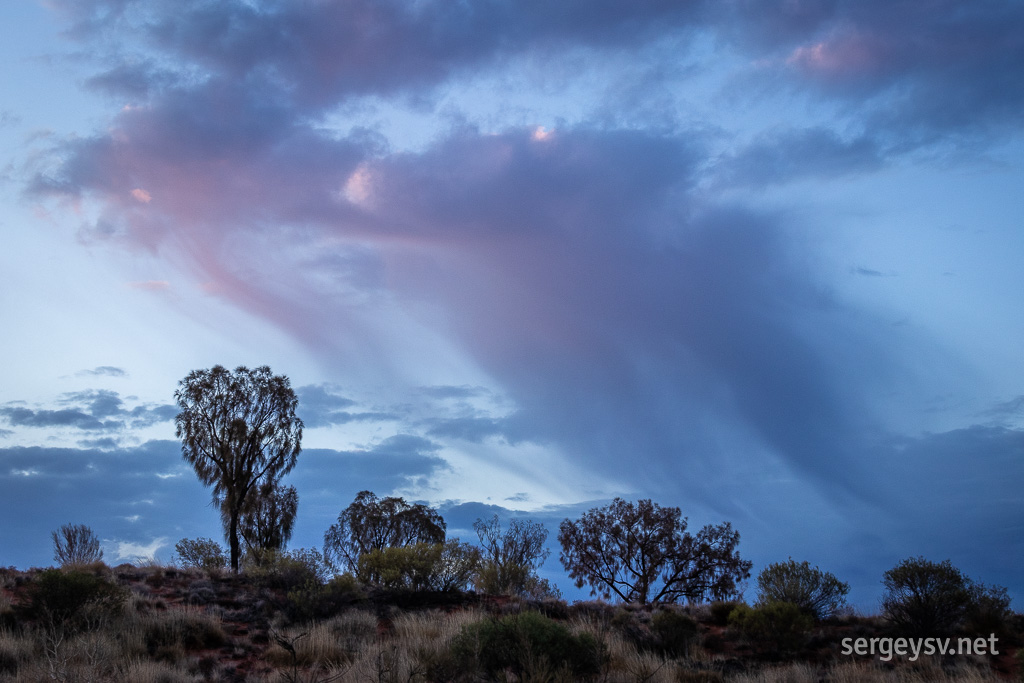 Rain's a-comin'.
However, as I start my Monday here, I genuinely panic pretty much the entire time. I'm here illegally, after all, and even if I'm not being a litterer and know my bush camping rules, it's still trespassing on the Aboriginal land, and the Aboriginal rangers may very well slap me with a $1,000 fine if they bust me. In fact, I do see an official-looking fourbie driving past me at one point... but they don't stop, so I assume that they're either park rangers (the park border is very close), or they didn't notice me (unlikely), or they simply didn't care. So far so good, either way.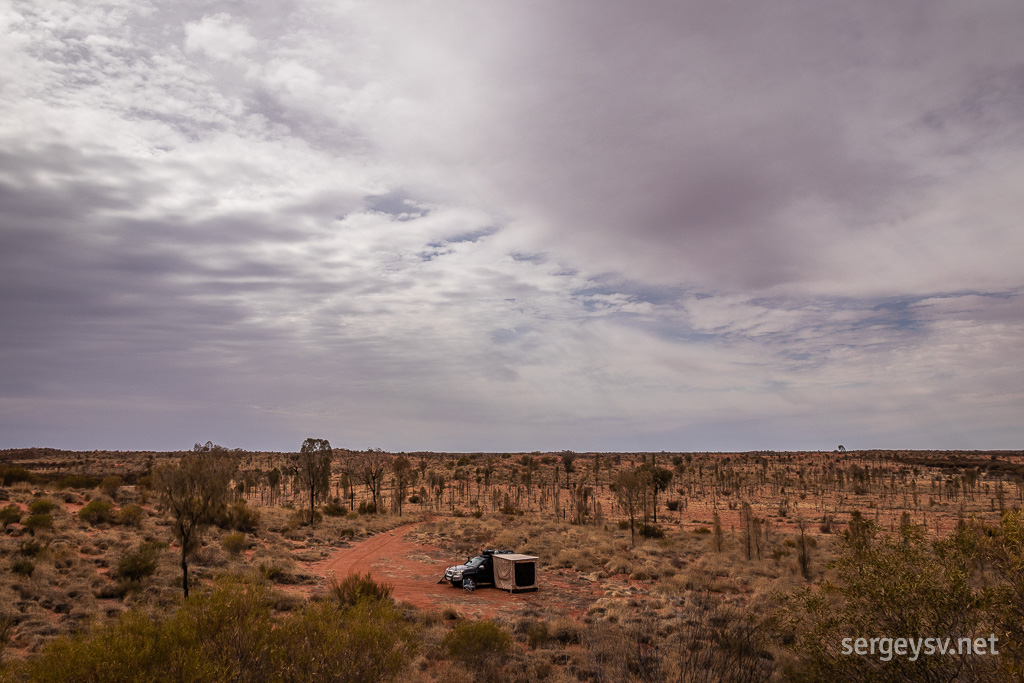 I'm an alien, I'm illegal alien...
And things will definitely get even better on Friday, because Asya joins me here for the weekend! I'm flying her over from Sydney (thanks, Jetstar, for 3-hour direct flights!) for a lovely experience at the Central Australian outback where she's never been before. It's always great to share these things with someone who sees them for the first time, so let's hope that the rangers don't catch me until then. Stay tuned!
And until then, a few pictures that I've taken so far at the spot and nearby.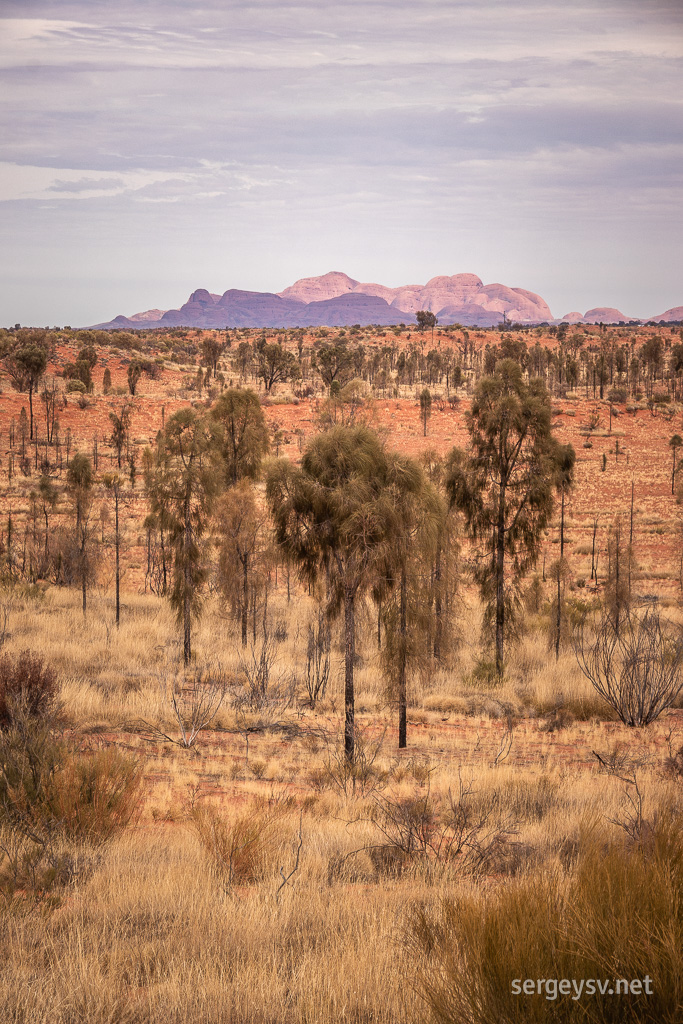 Kata Tjuta once again.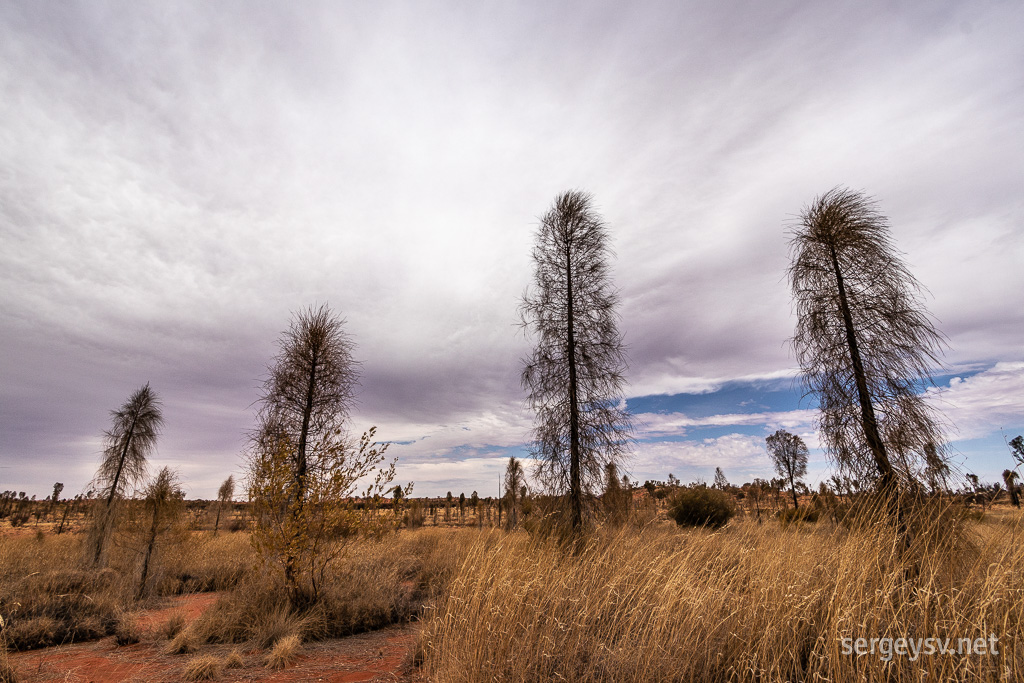 Desert oaks. Love 'em.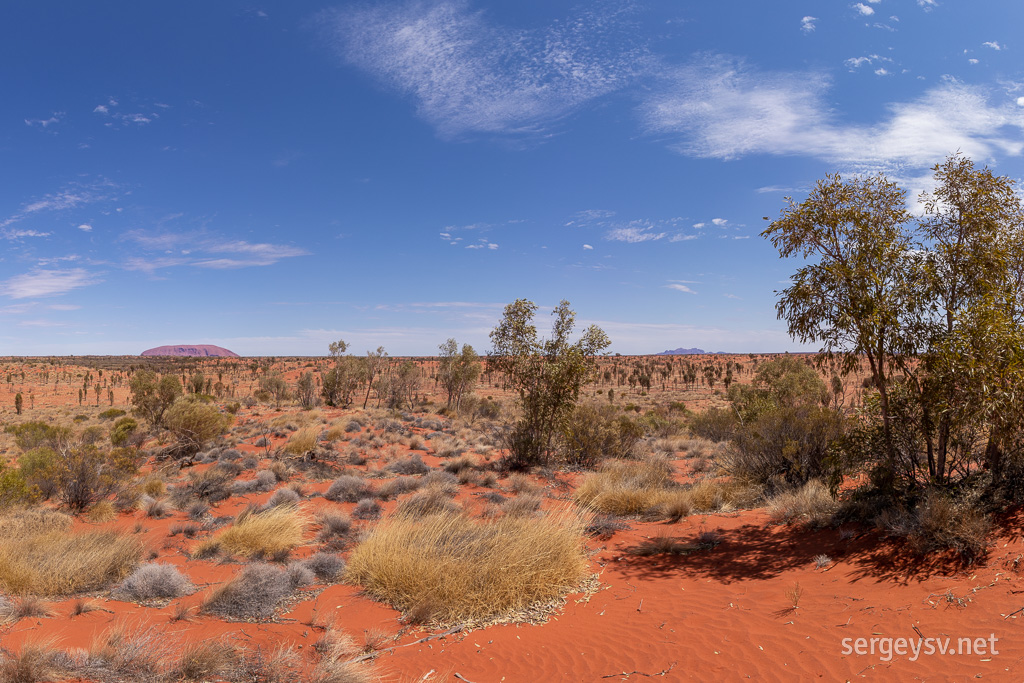 A little panorama with both Uluru and Kata Tjuta in one frame.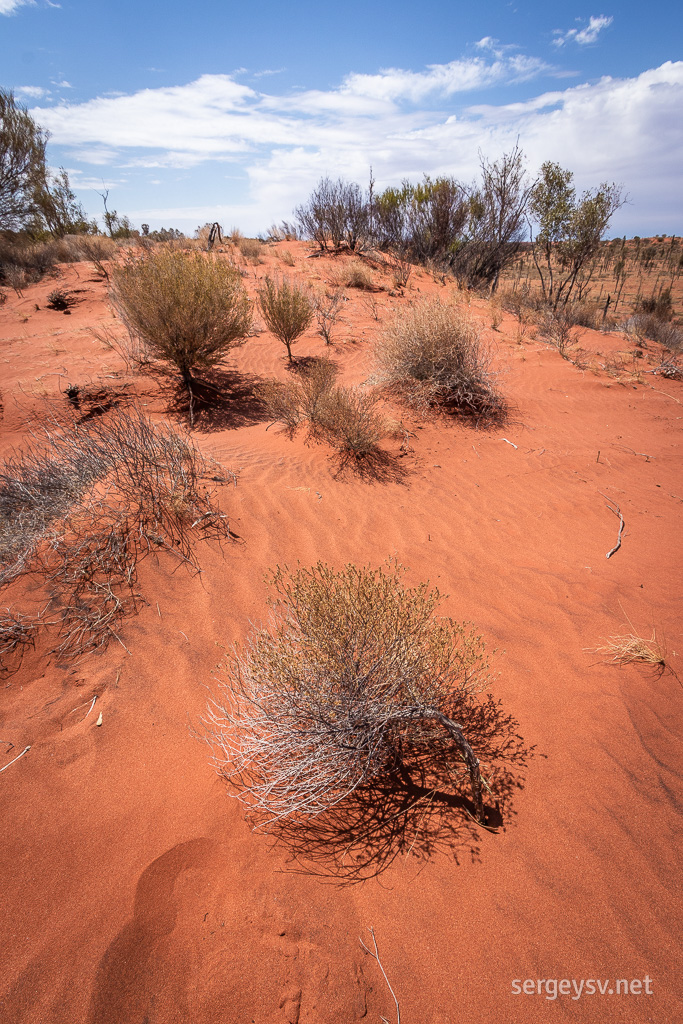 All this red sand. So beautiful.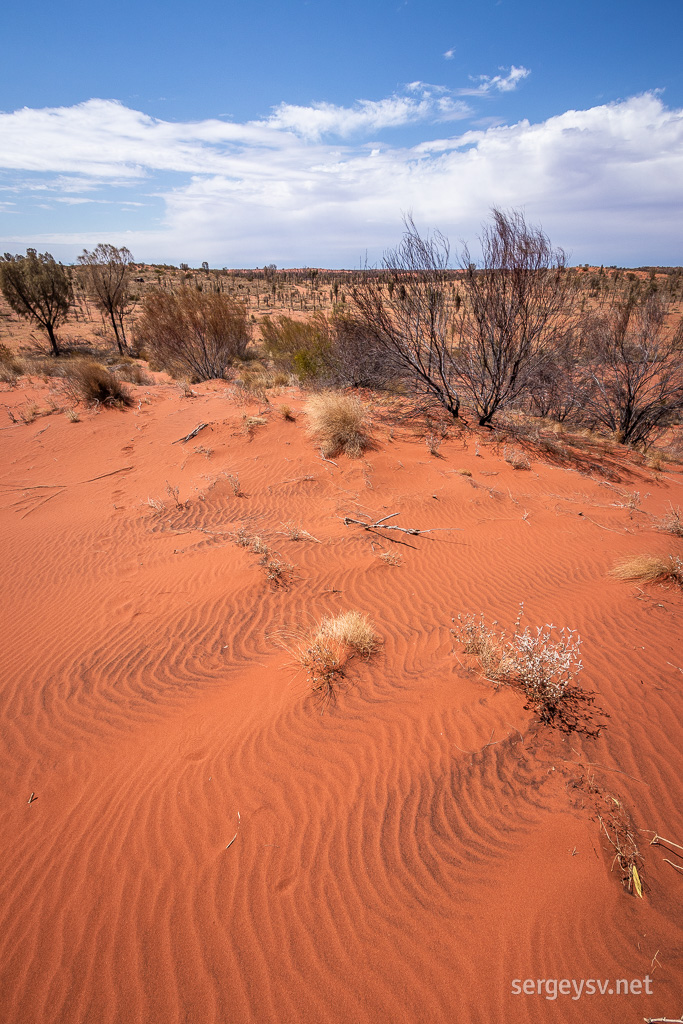 Look at these black ripples!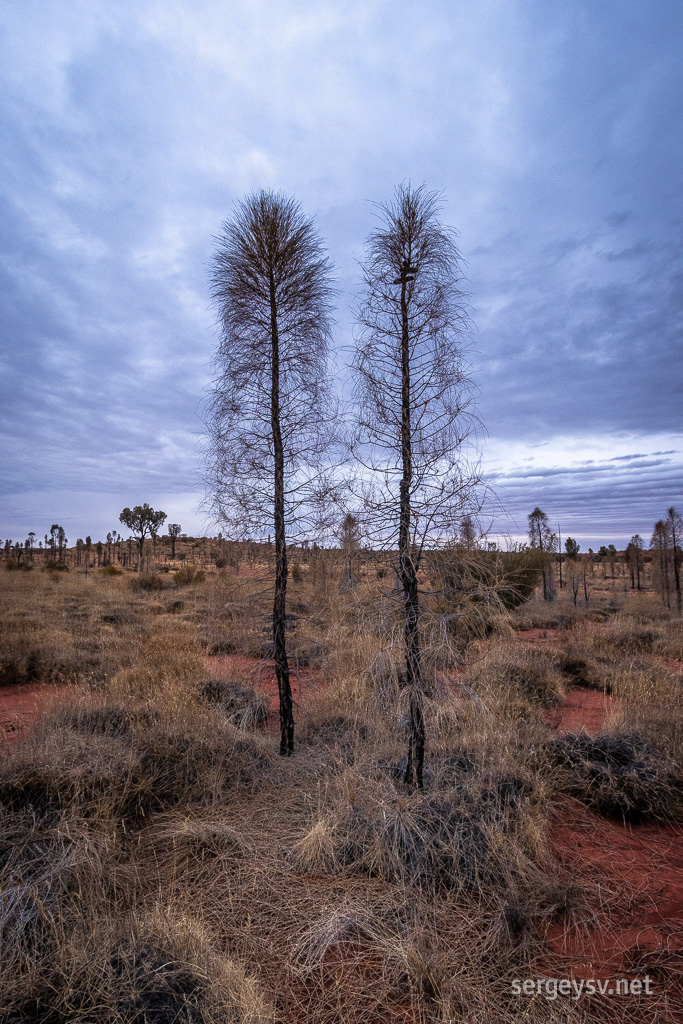 Waiting for the rain.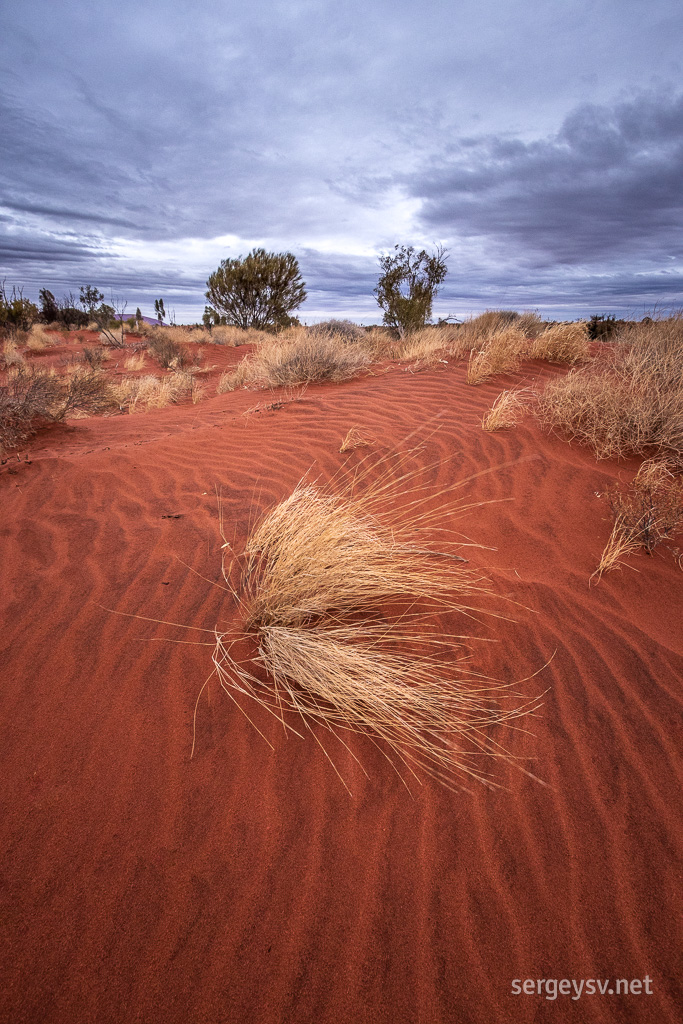 The sand looks even redder when it's cloudy.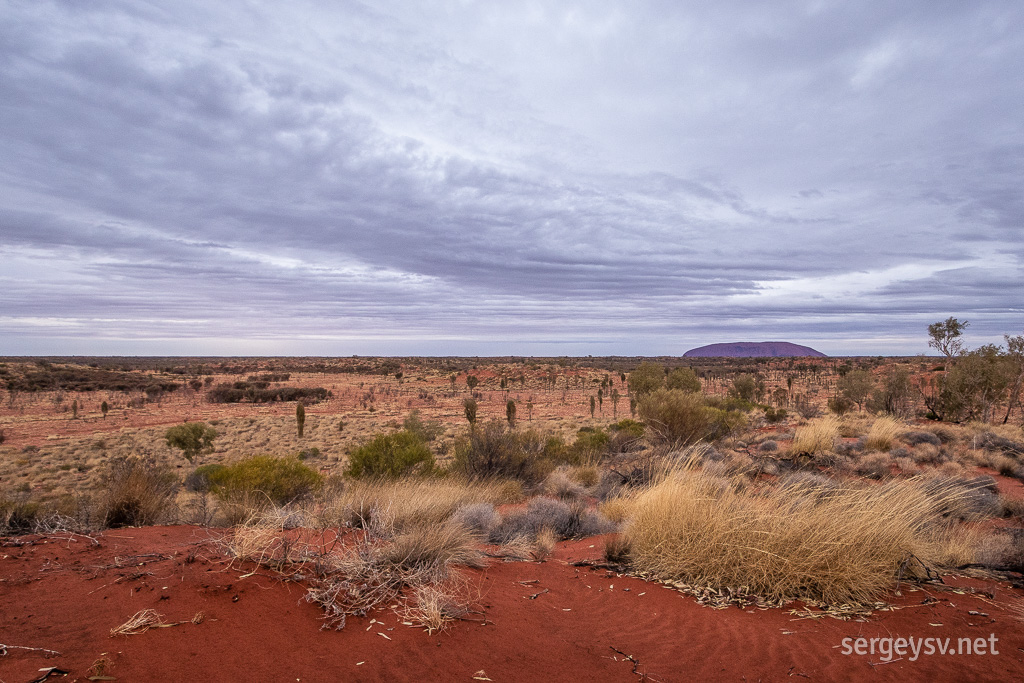 In fact, it all looks a bit different.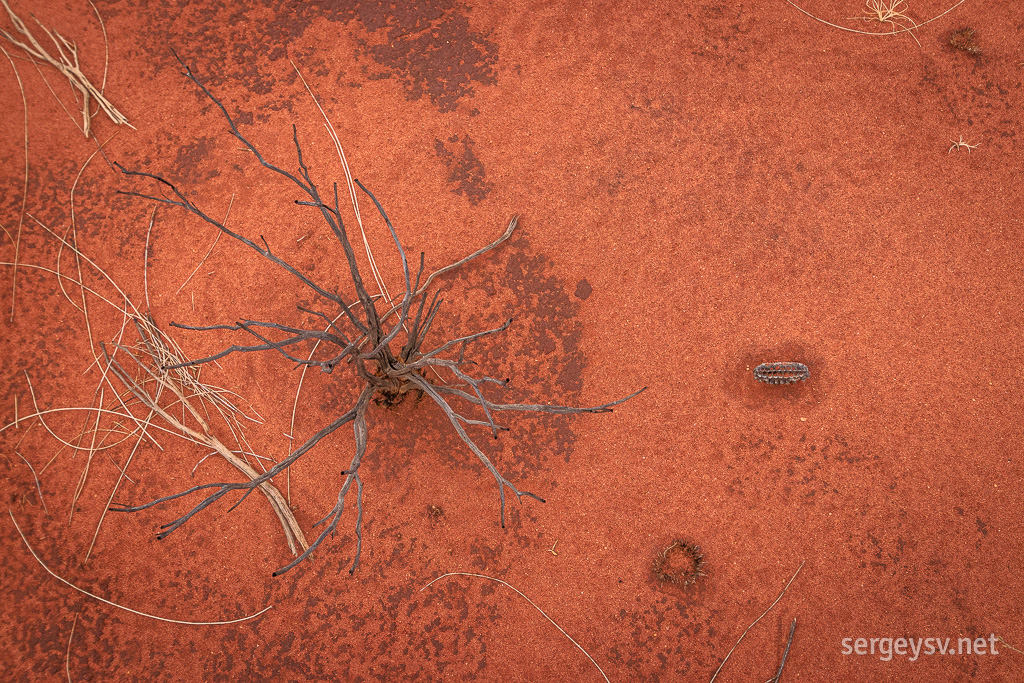 A twig and a cone from one of the oaks.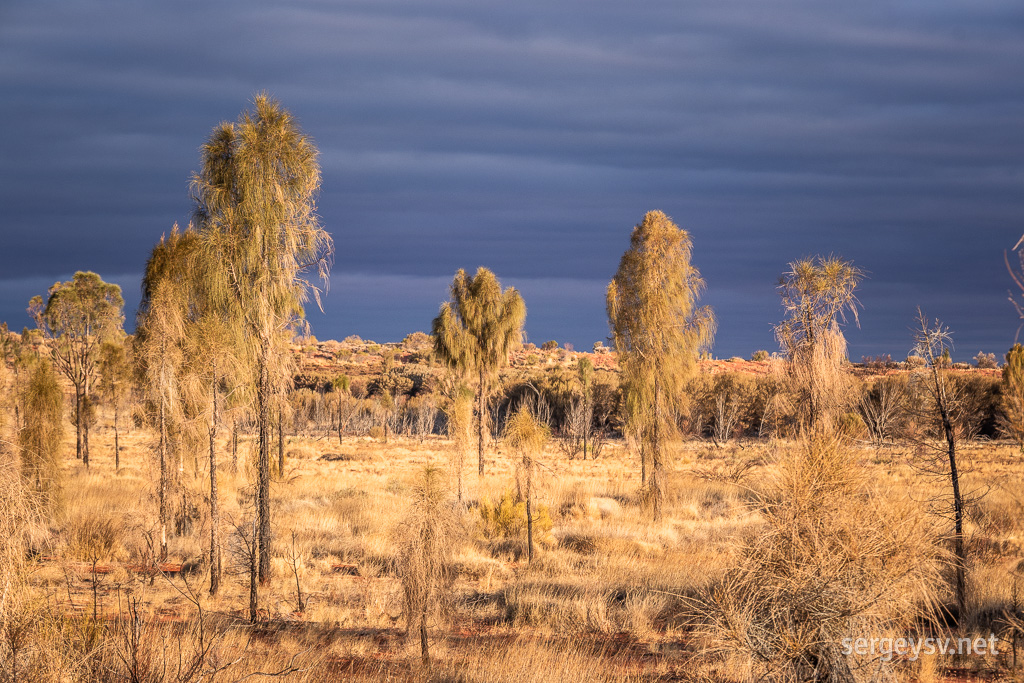 The gold and the blue.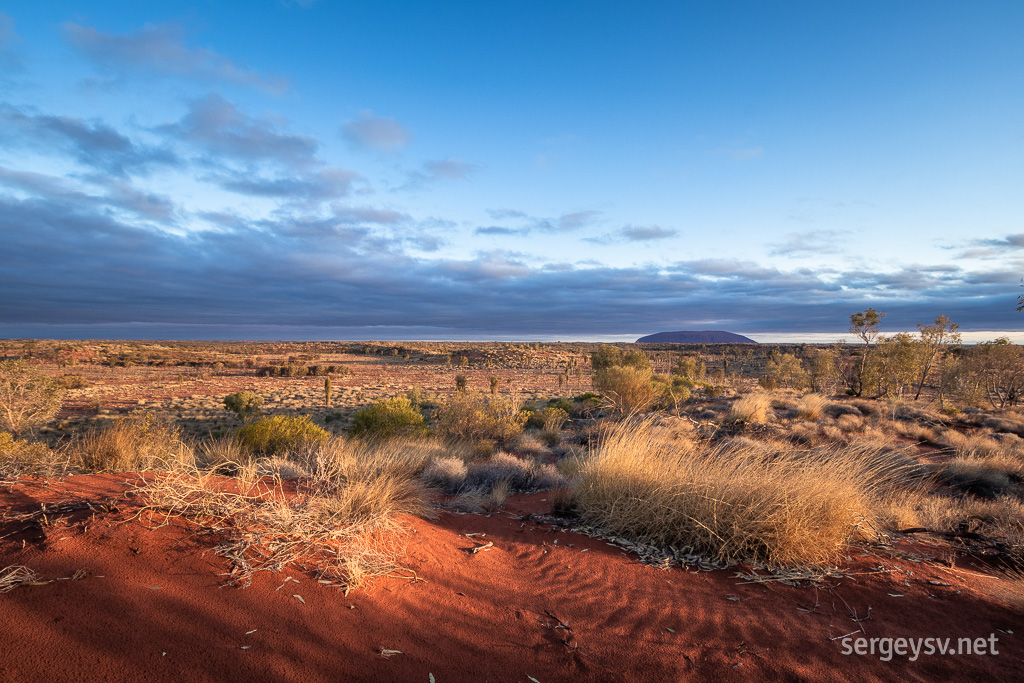 The sunset is close.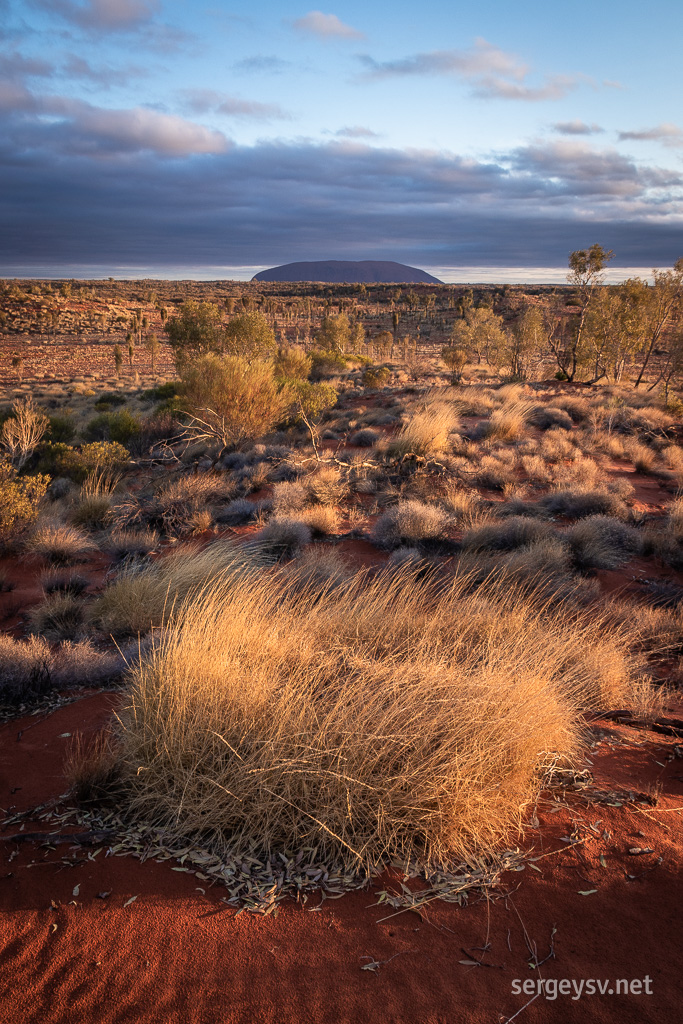 Another take on the same composition.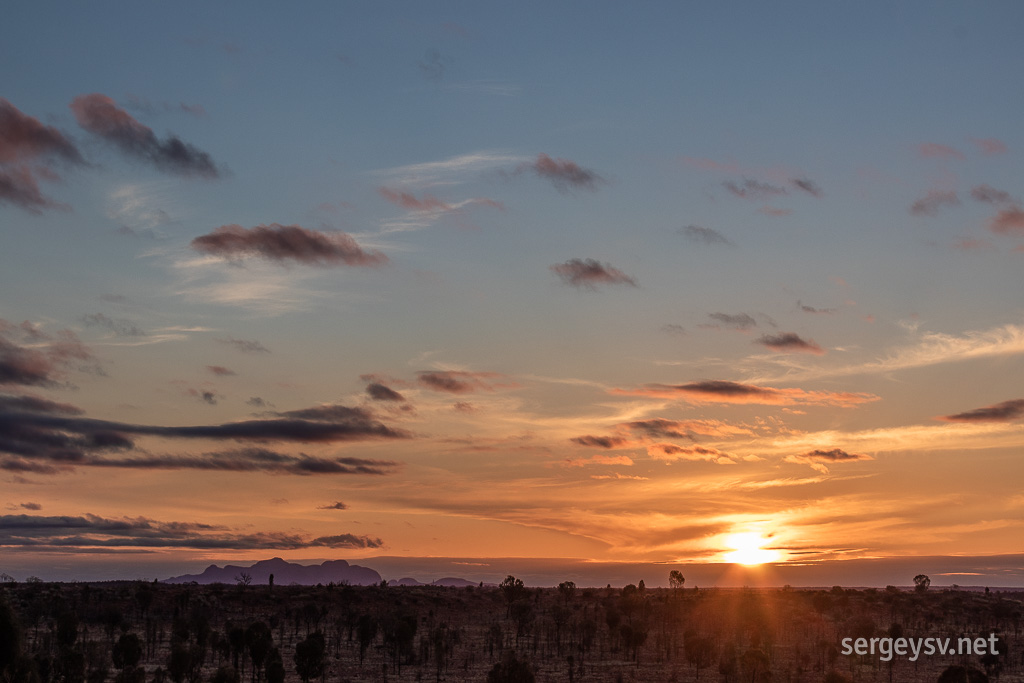 Kata Tjuta is about to go to bed.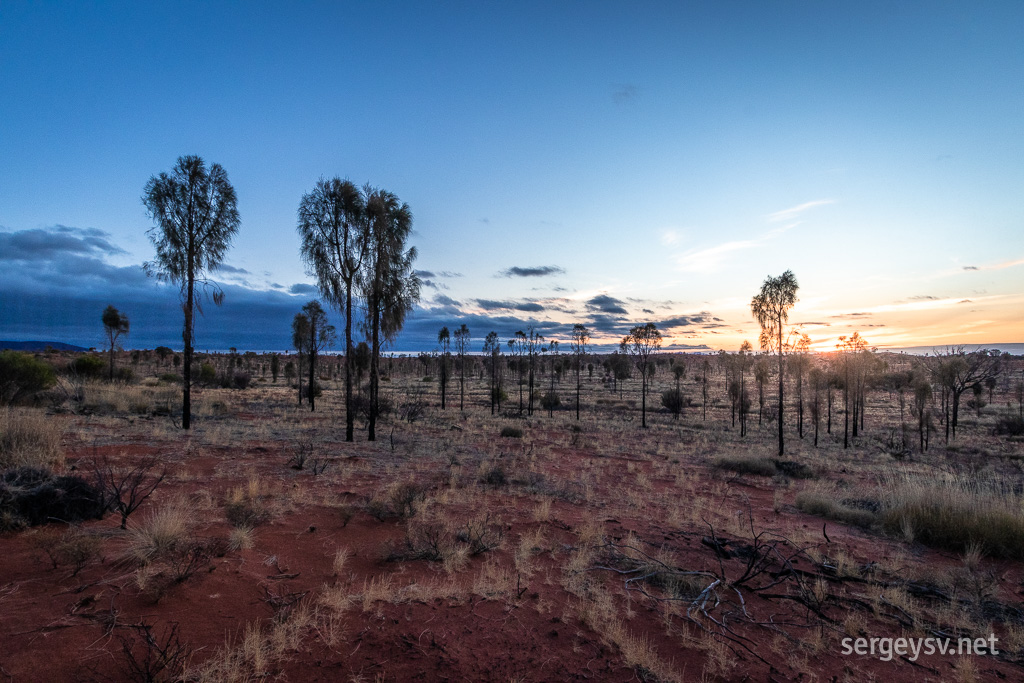 So are the desert oaks.