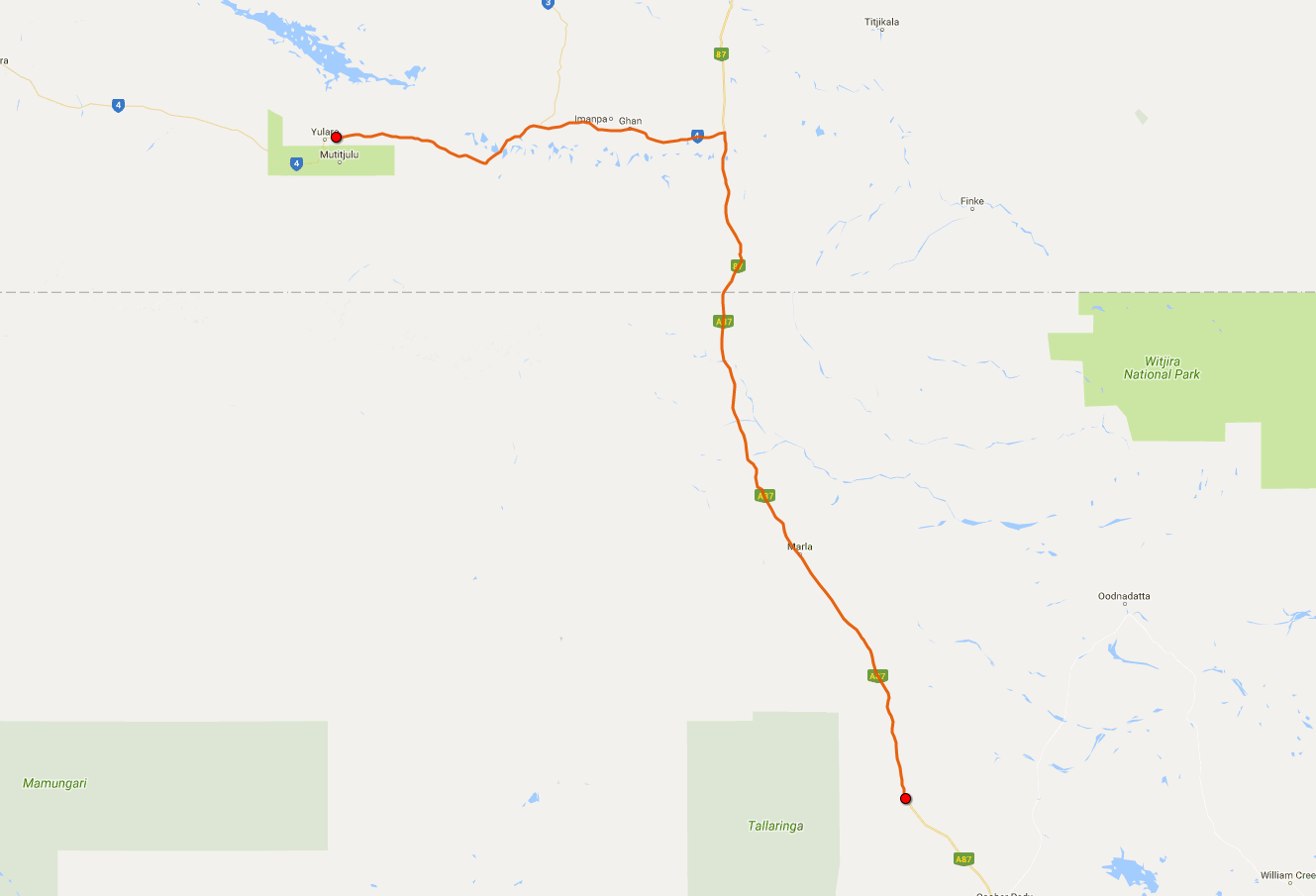 Today's itinerary.
In the morning, as soon as I reach Marla, I make a refuel stop. My Prado, thankfully, has two fuel tanks 90 litres each, but even they tend to run out every so often. Diesel prices bite a little: $1.63 per litre, compared to about $1.20 in Adelaide. Oh well. A beggar's choice.
Formally I'm still in SA, but it starts to look less and less like it. The earth becomes redder, and clumps of golden-white spinifex become more and more common. This grass is exceptionally sturdy: so much, in fact, that barely anyone can eat it, except maybe feral camels. But we'll get to them later.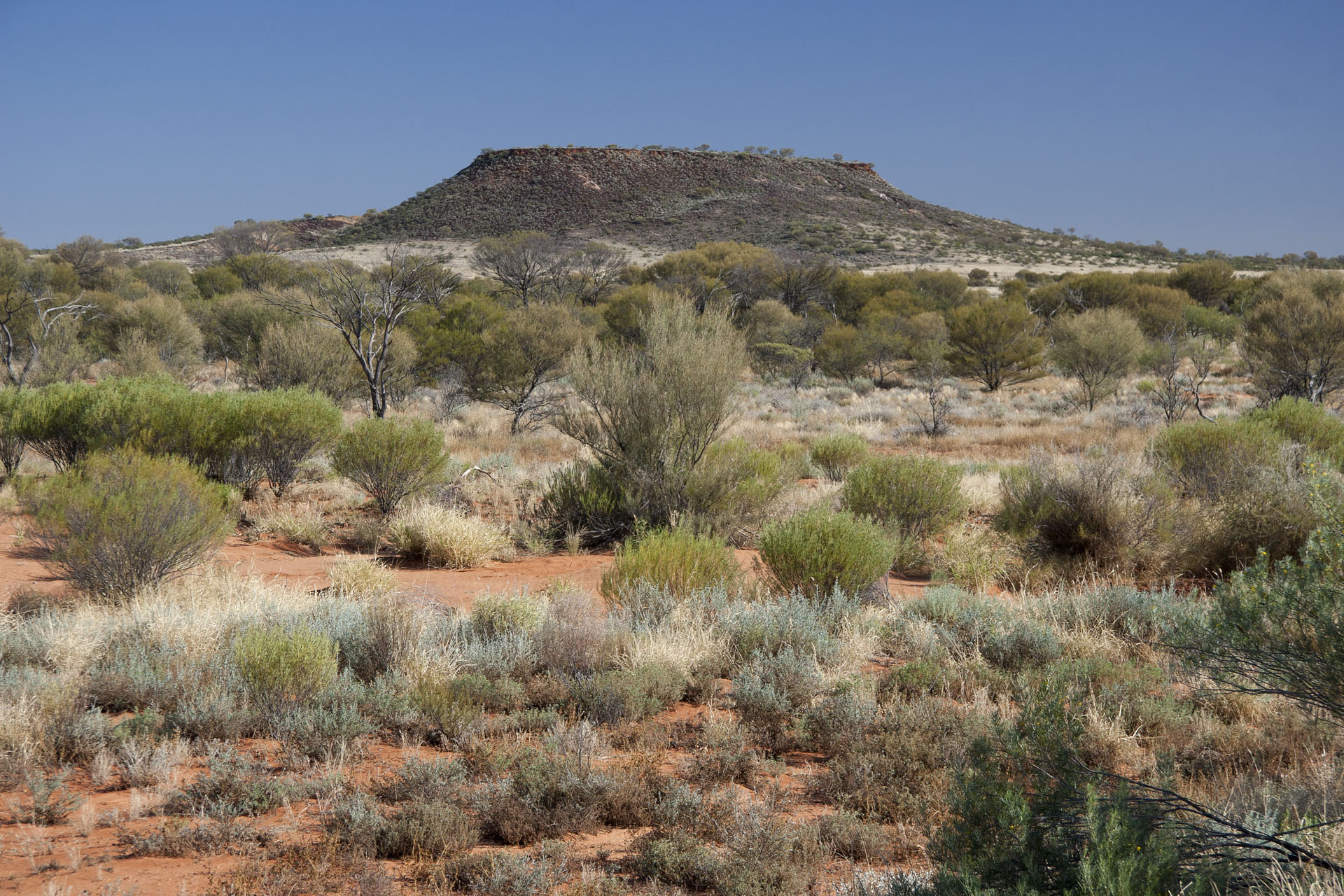 First spinifex clumps.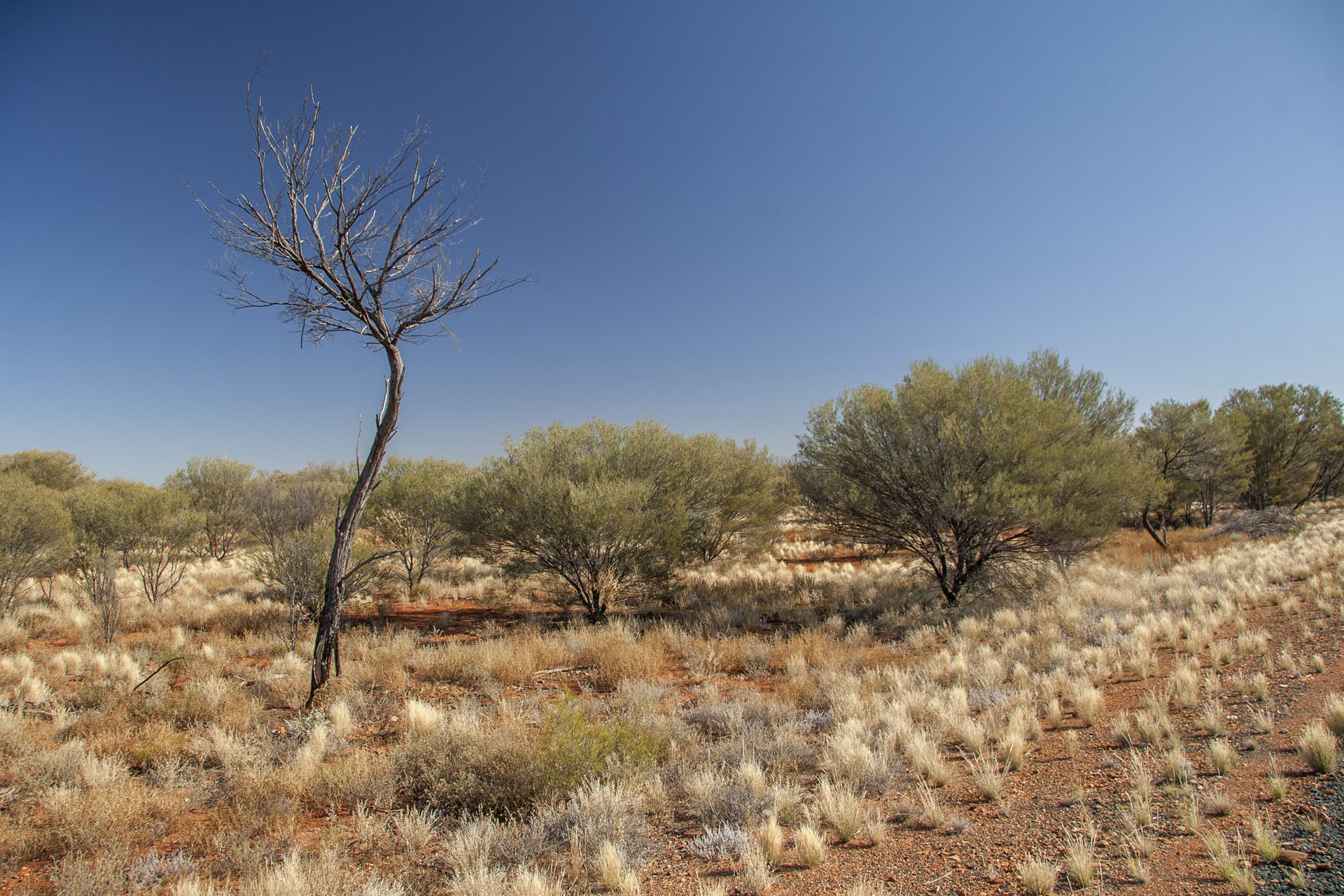 Mulga trees.
I cross the state border at 11:20 and enter the Northern Territory. Not for too long, of course, but still. The speed limit changes instantly to 130 km/h, but I decide not to go to town with that. Fuel consumption would increase noticeably, and I'm not in a hurry anyway. I carry on with my usual 110, but the highway is empty, and no one is even there to overtake me.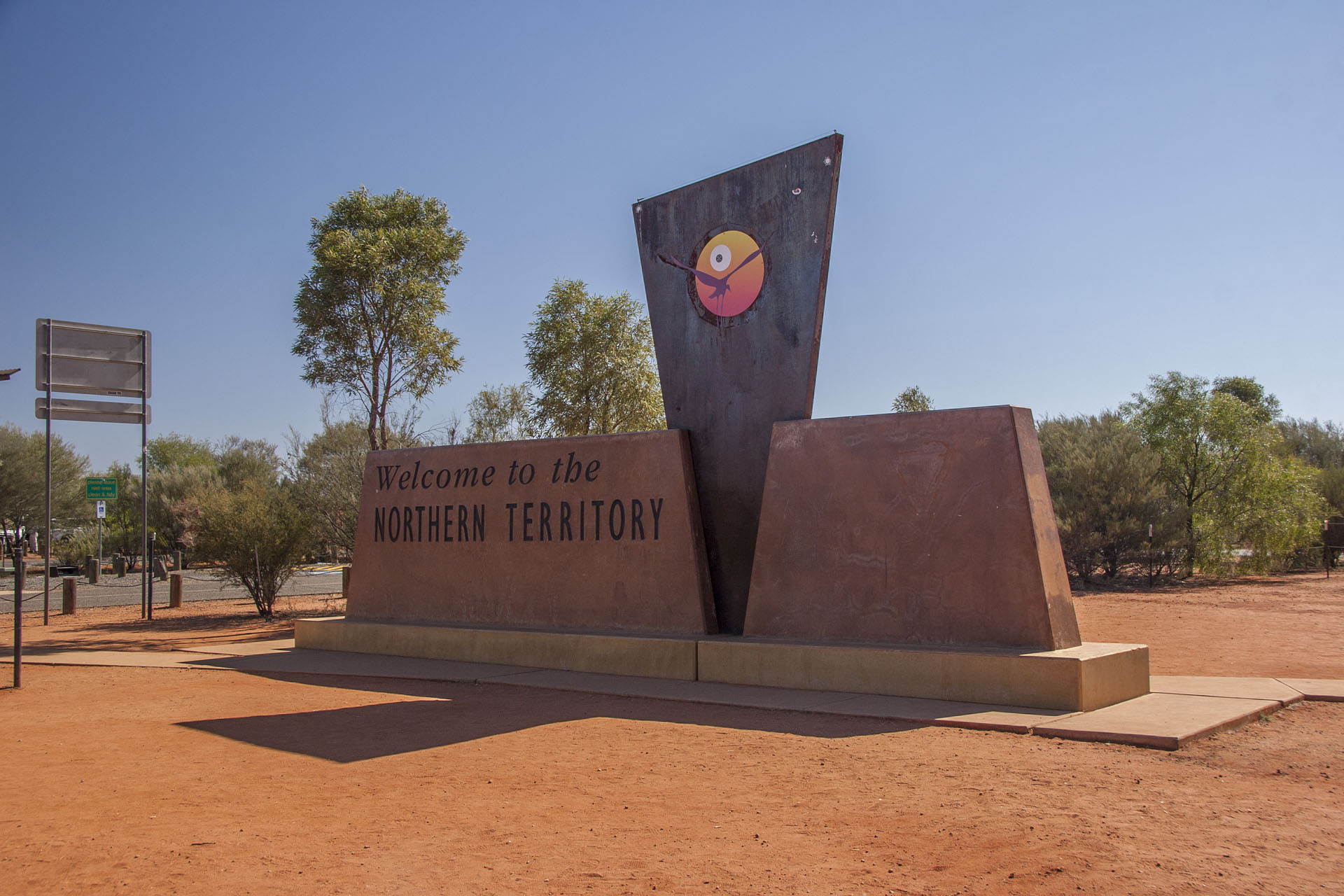 The border.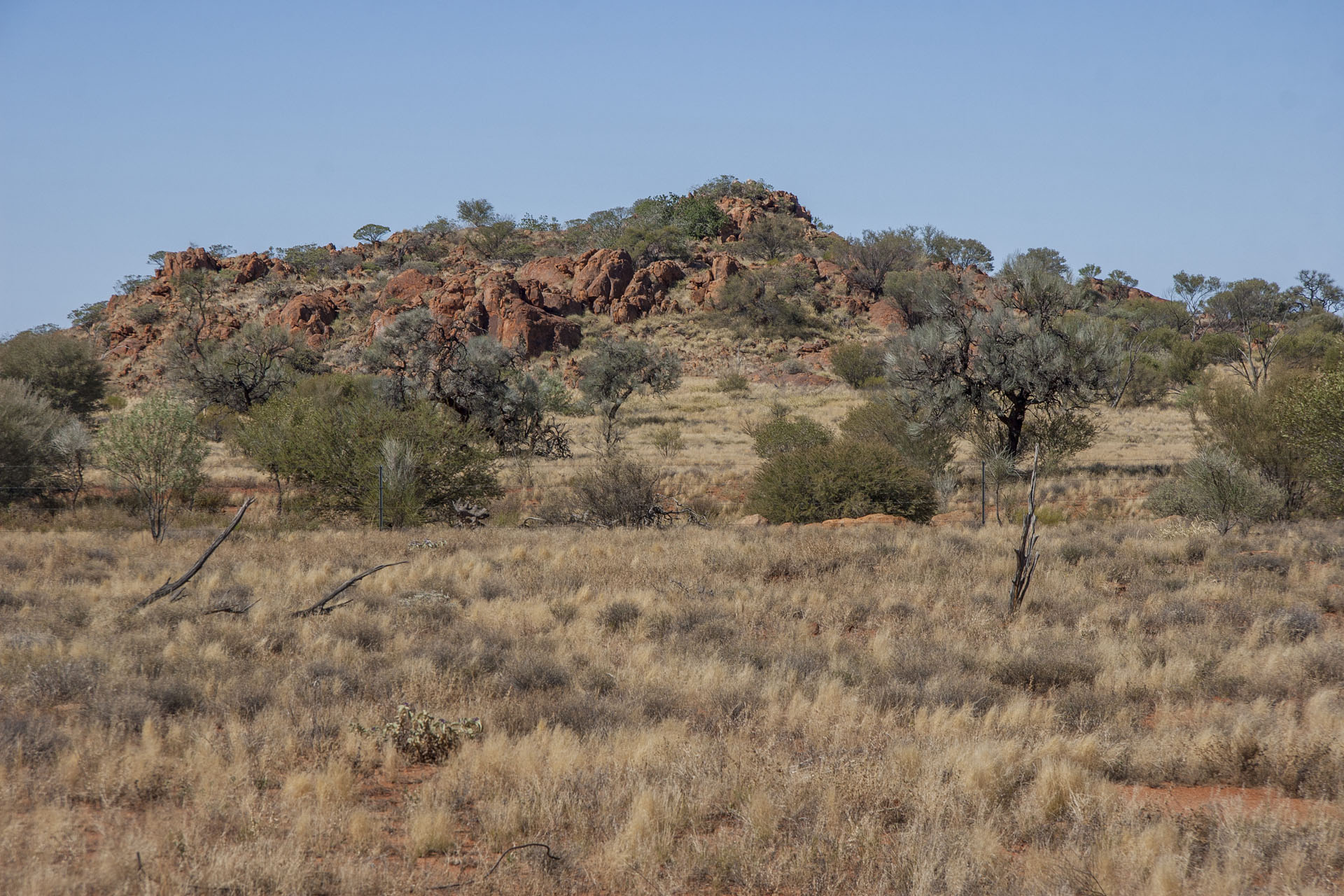 Picturesque granite bluffs.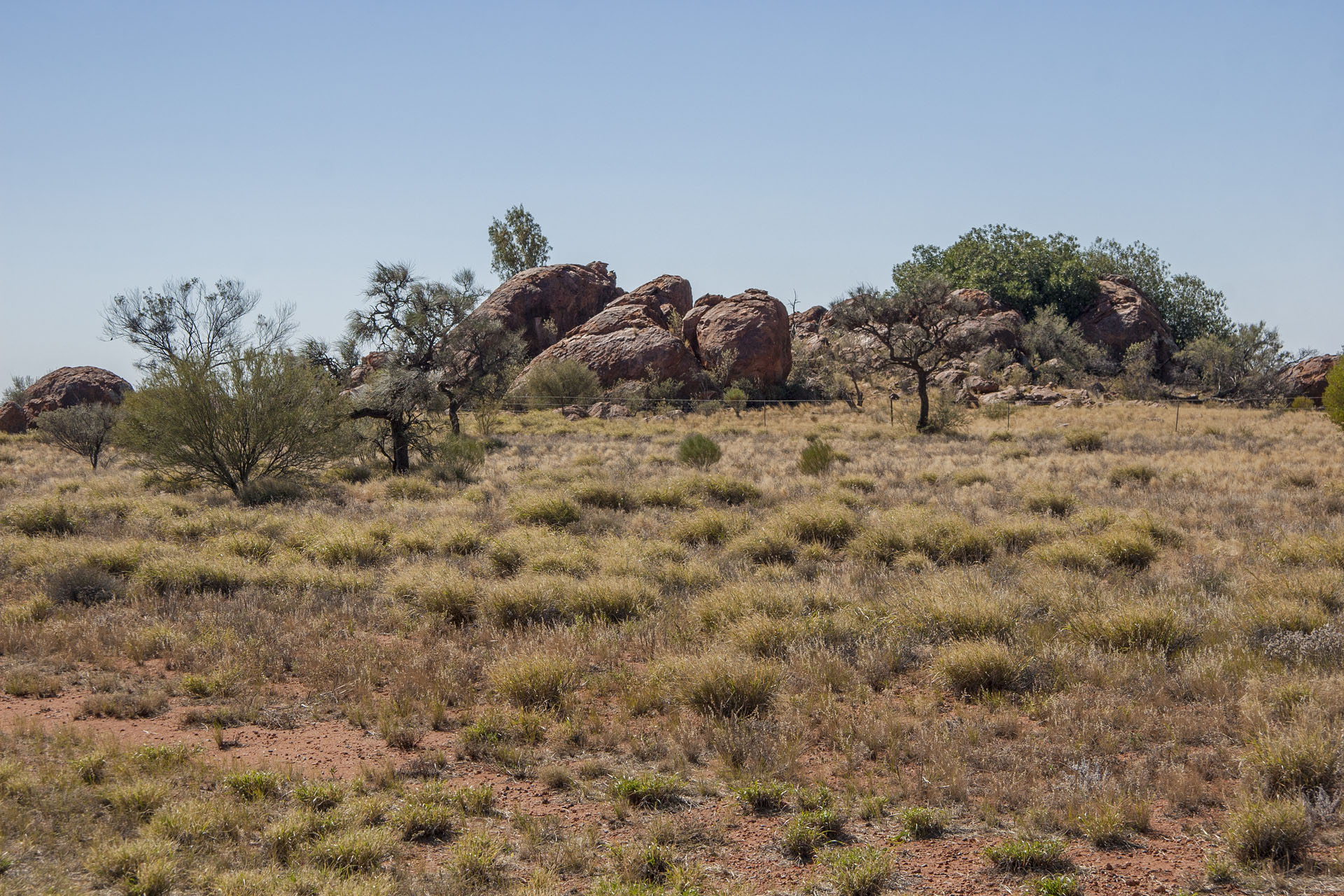 Or just a few loose rocks.
After a while I stop going north and finally turn westwards. In Erldunda Motel, which is right at the intersection, I pause to have a quick meal and a shower. This time I know that I don't have to stay at some caravan park for $20–$30 per night in order to bathe. It's enough to simply pay $4 or $5 at any roadhouse or motel and just take a shower there without any problems. You can even do that at some service stations, designed to accommodate road trains, but these are a bit harder to find.
Fed and refreshed, I take off. Some time later I see a huge flat mountaintop on the horizon. It's not the famous Uluru though (many people make the mistake), but another thing entirely called Mount Conner. Still, it's quite an impressive sight amongst the endless spinifex plains and arid scrublands.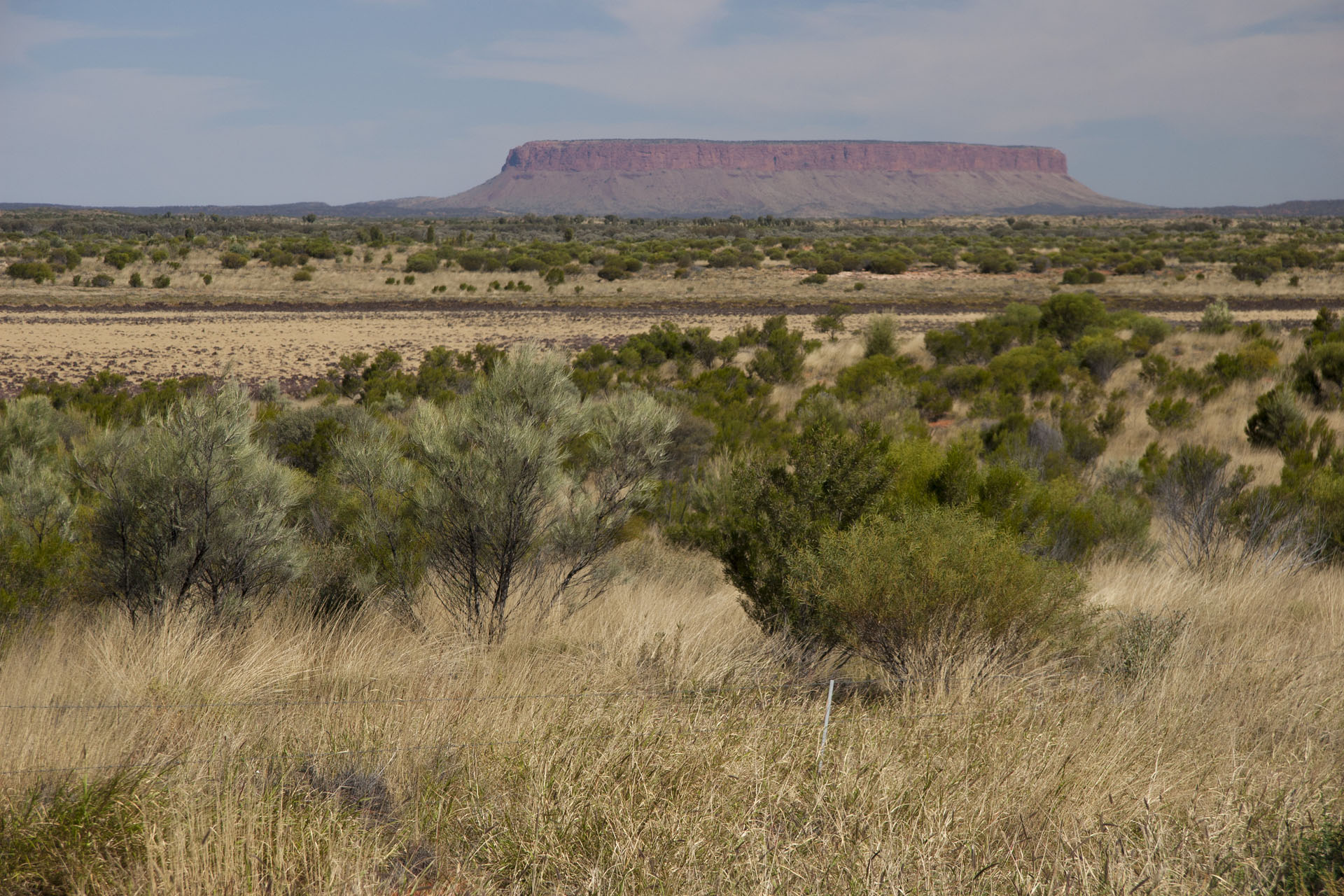 False Uluru.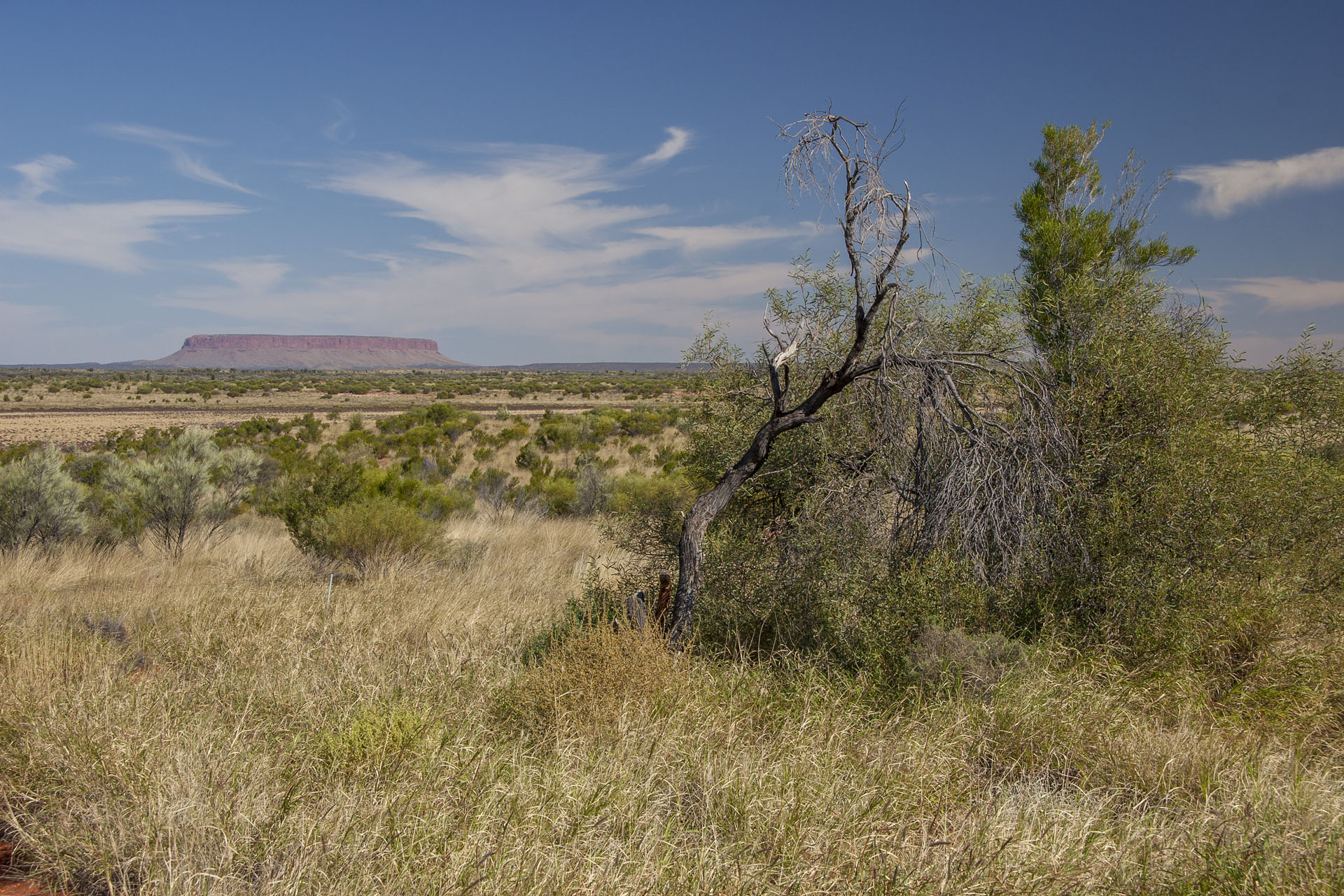 A.k.a. Mount Conner
After the fake Uluru, the spinifex plains turn to low-lying spinifex hills, covered in peculiar-looking trees called "desert oaks". I don't see any similarities with an oak whatsoever: if anything, they look like oversized dusters. Who am I, though, to argue with the venerable name-givers of old?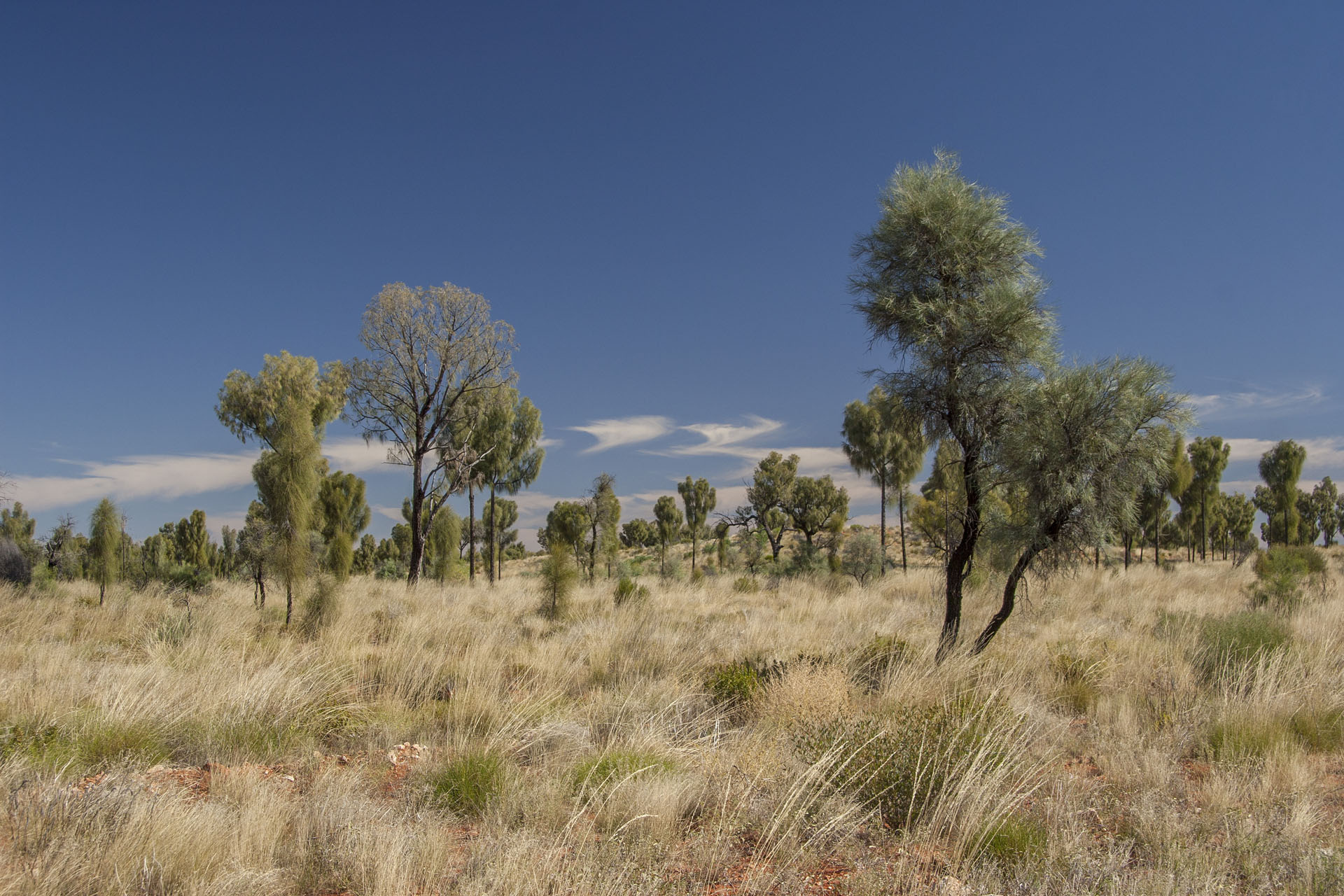 So-called desert oaks.
And now, through the clumps of these weird oaks, I finally glimpse a real, full-sized Uluru. The monstrous monolith looks majestic even from afar. Another granite complex is also nearby, called Kata Tjuta, and it looks quite spectacular as well.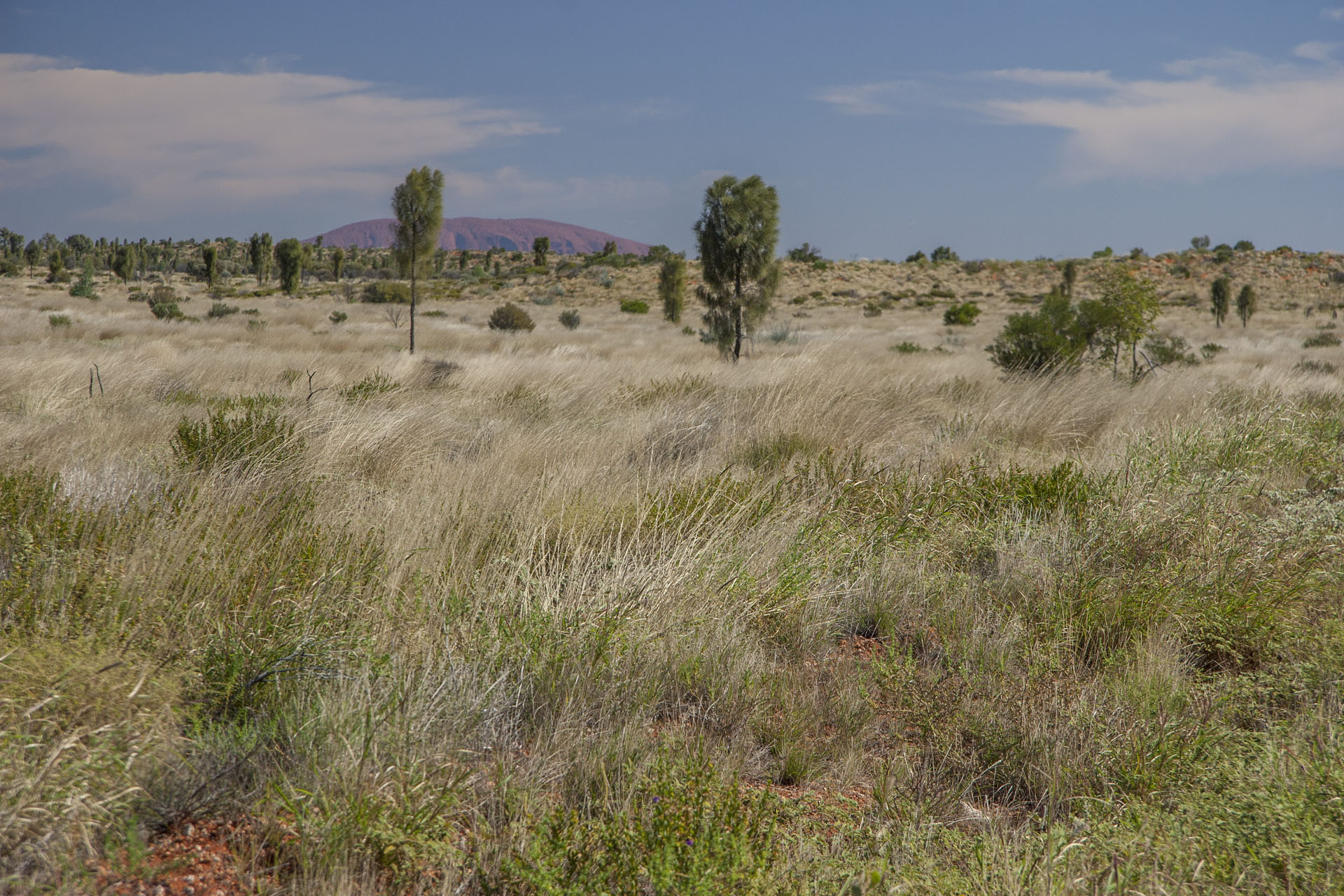 Uluru is close.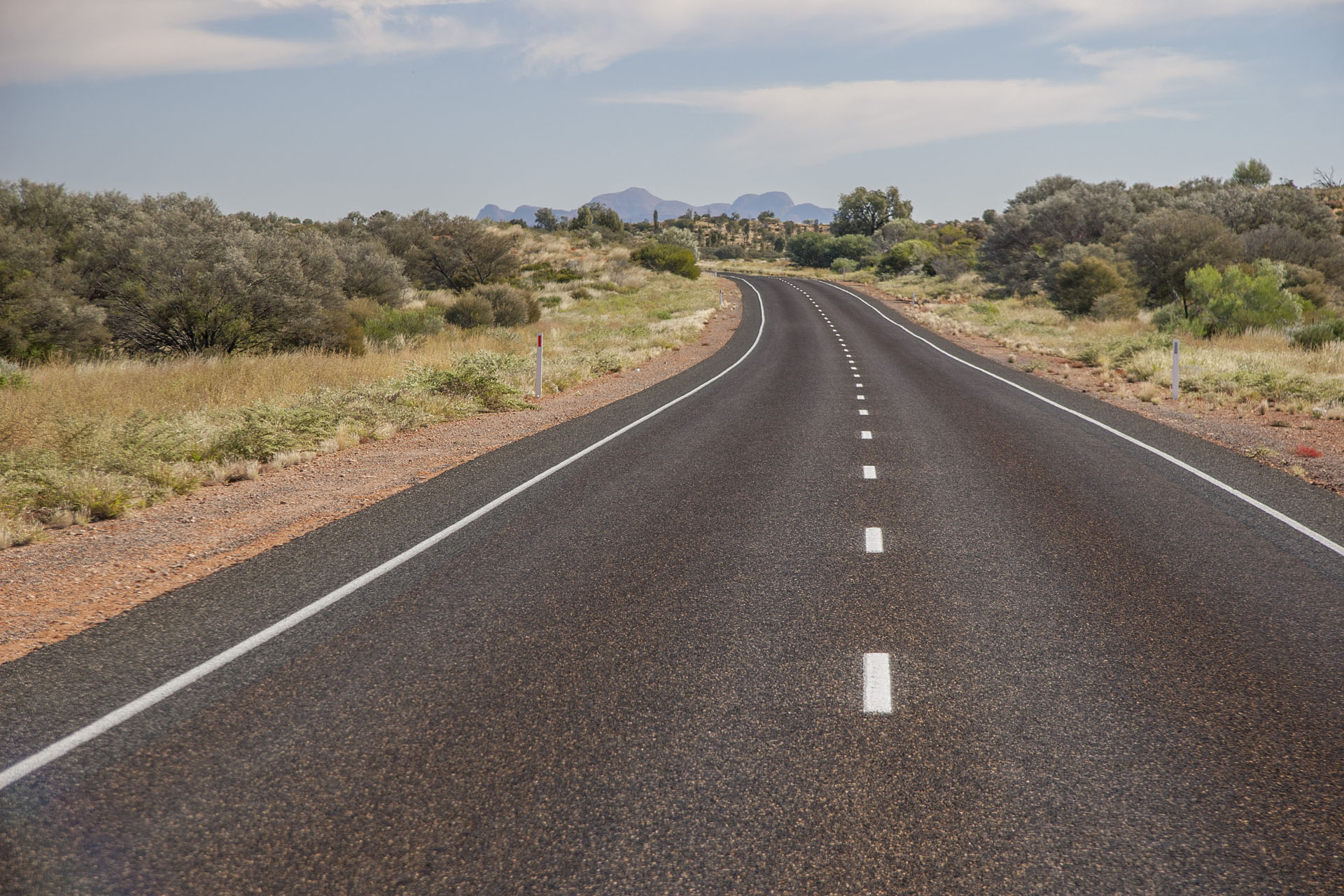 Kata Tjuta is not too far either.
The world-famous rocks are surrounded by a national park. The entry fee is quite steep: $25. This, however, gives you not one, but three days of access; and if you don't want to pay at all, you can simply take a detour of a few thousand kilometres and enter the park from the west. I, however, travel westwards this time, so I pay the price and move on. The entry point has a boom gate and a living, breathing supervisor: quite an odd thing to see 500 kilometres away from the nearest town.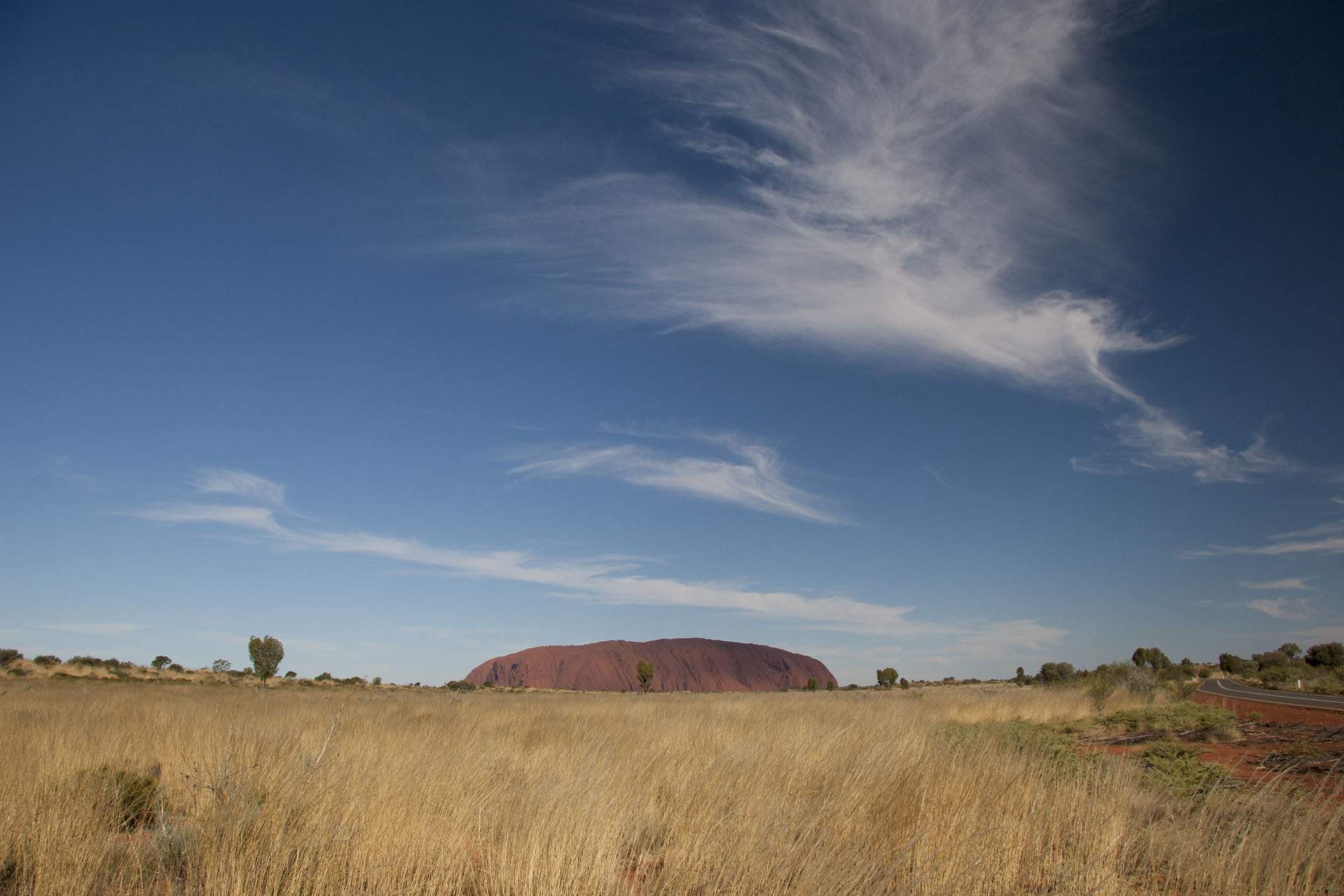 Uluru is getting closer.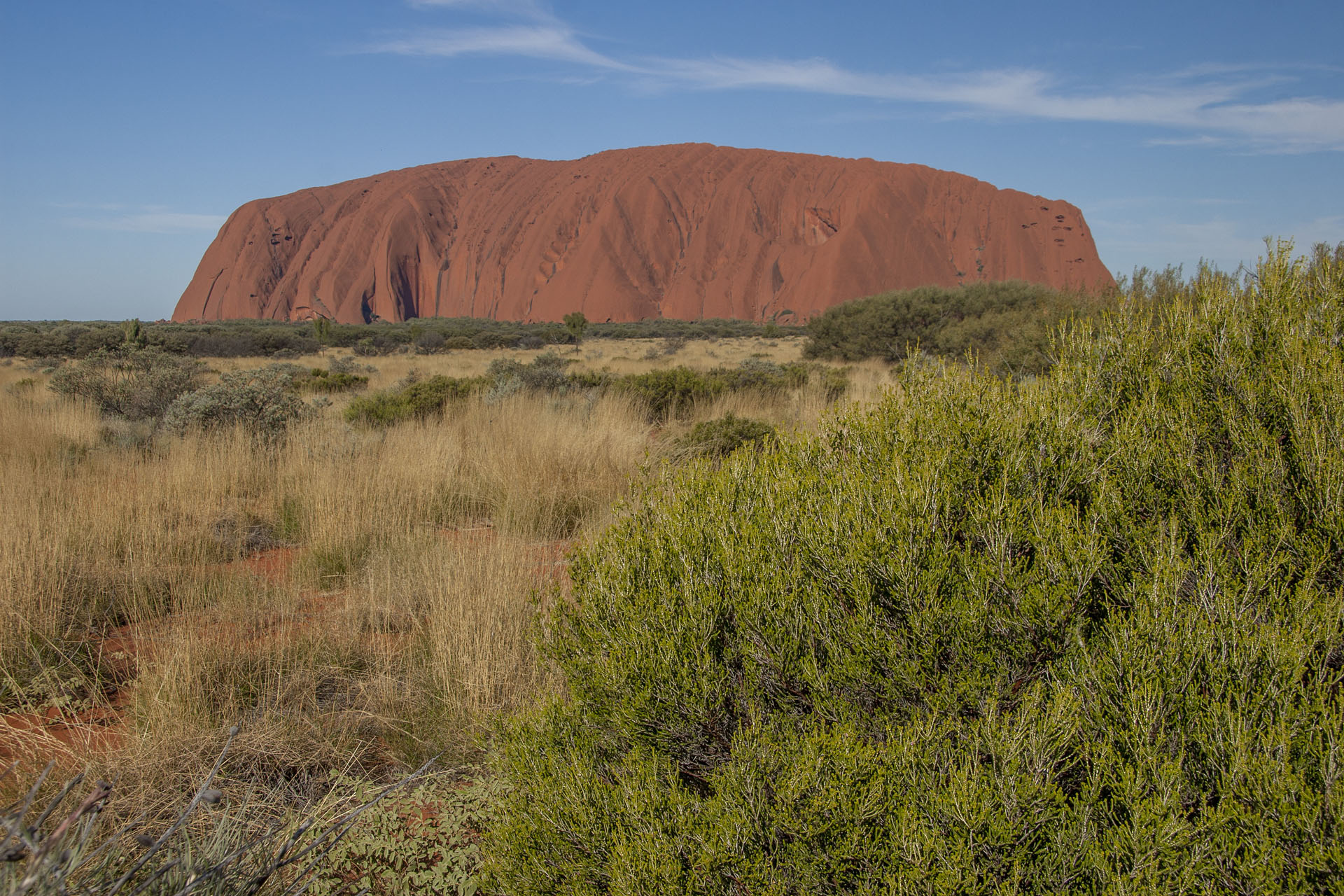 Almost there.
Seen up close at last, the monolith is very impressive. Pictures can't really express how
enormous
this thing actually is. Amidst the dry plains and its perfectly level horizons, this pinkish-red, sky-scraping rock looks quite otherworldly, and tourists swarming around it look tiny and insignificant. You can't help but begin to understand the Aborigines who consider this thing sacred and magical to this day. It kind of is.
An excellent sealed road goes around the rock, and I take it immediately. From some angles, Uluru looks like a back of a huge red beast who is just taking a nap. Thousand-year old washouts on its sides look like patches of barnacles on a whale.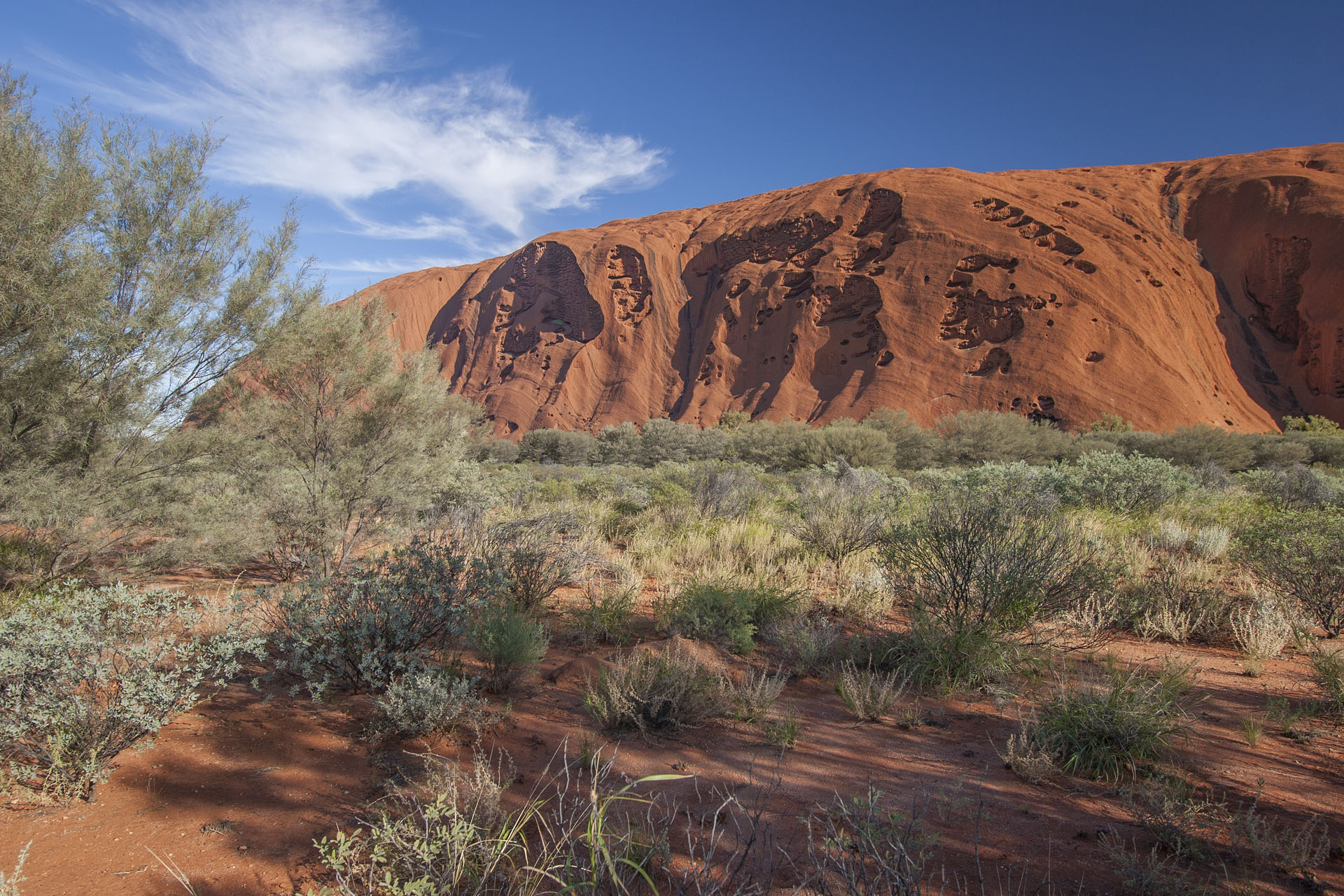 The giant's imperfections.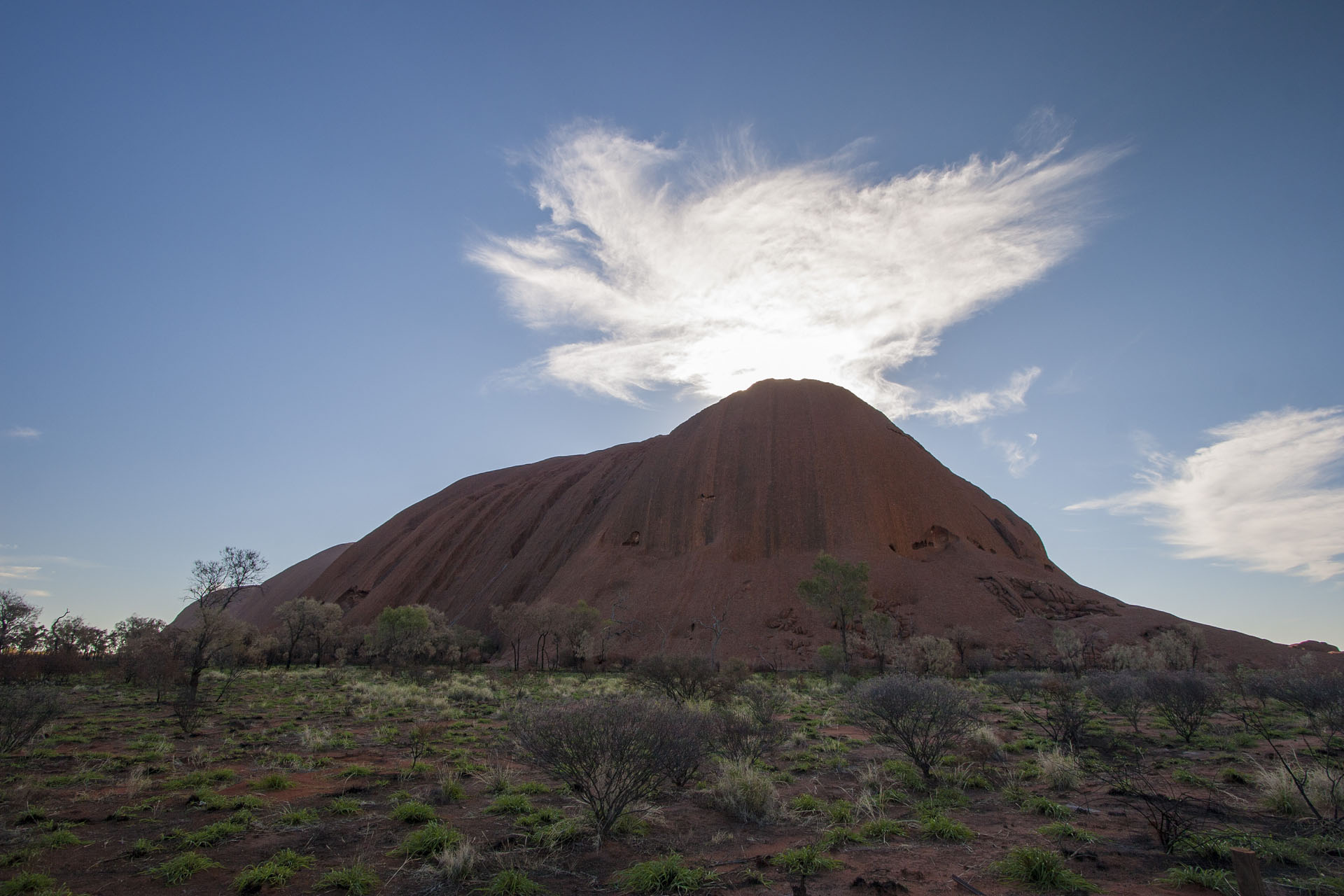 A volcano?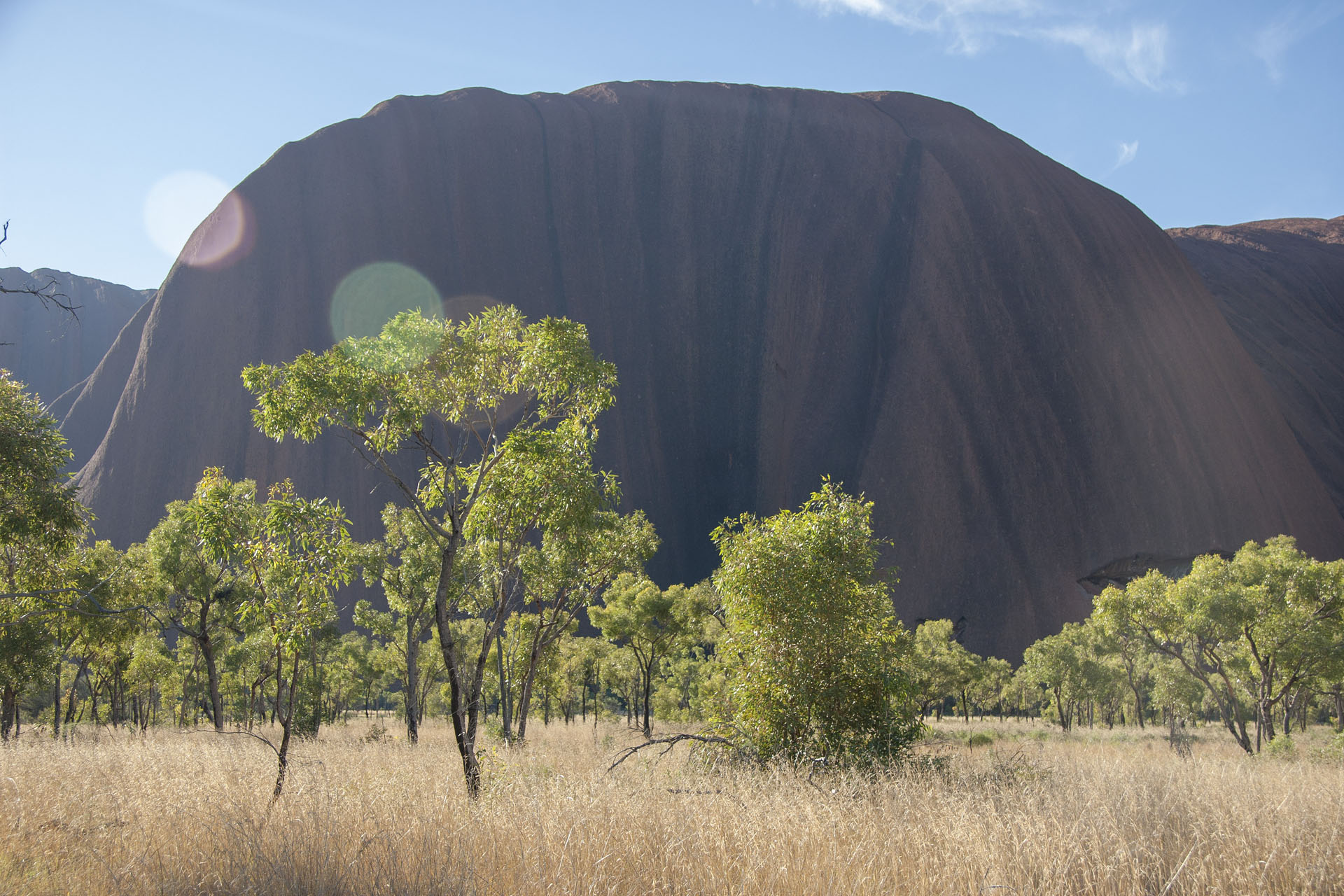 Amongst the trees.
There's also a few hiking trails around. Some of them approach the mountain up close, and I do the same. I'm not sure if I want to engage on a proper hike, much less to climb on top of this thing (if that is indeed allowed), but I'm more than willing just to take a nice pleasant walk and touch the giant with my own hand.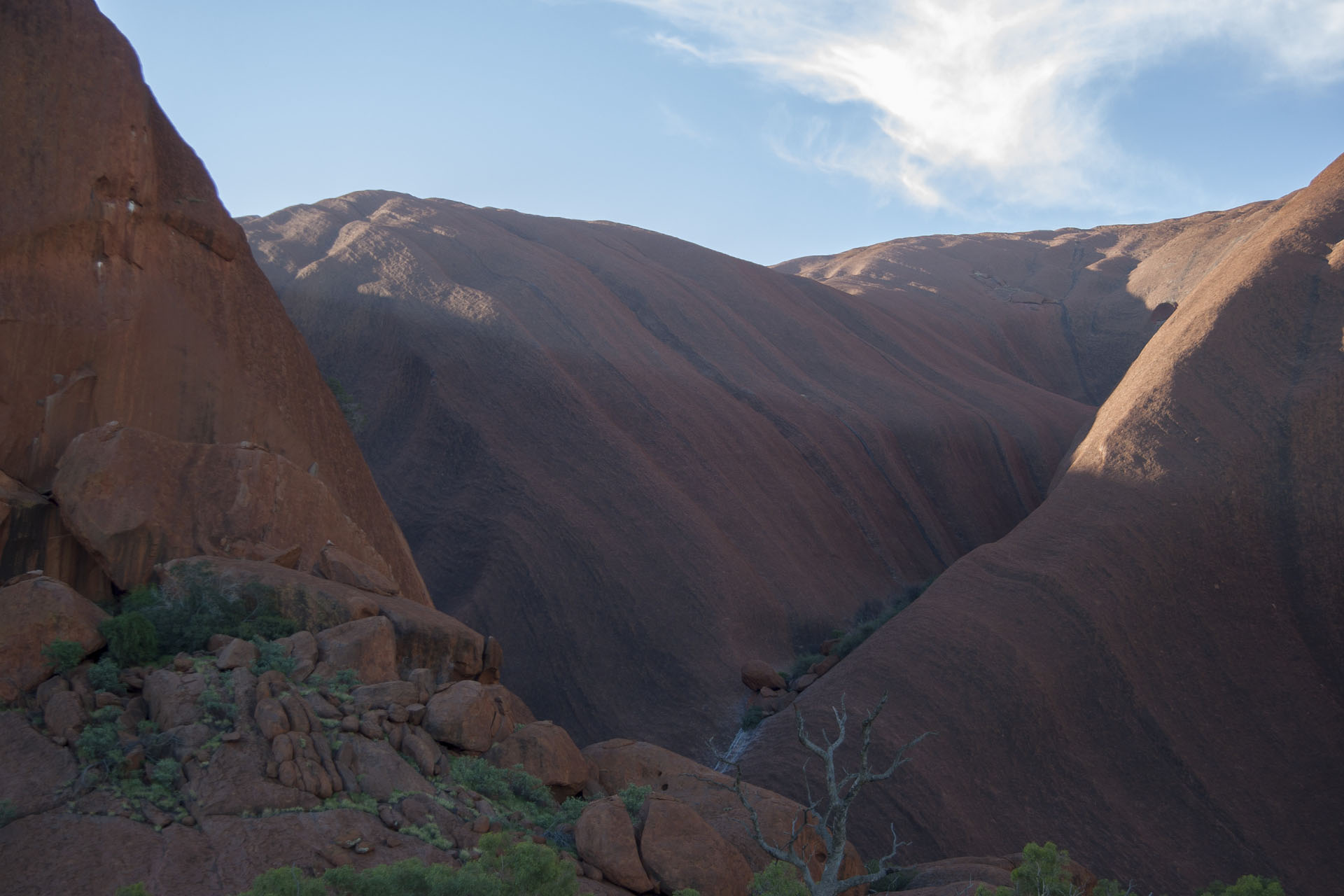 Rocks inside the rocks.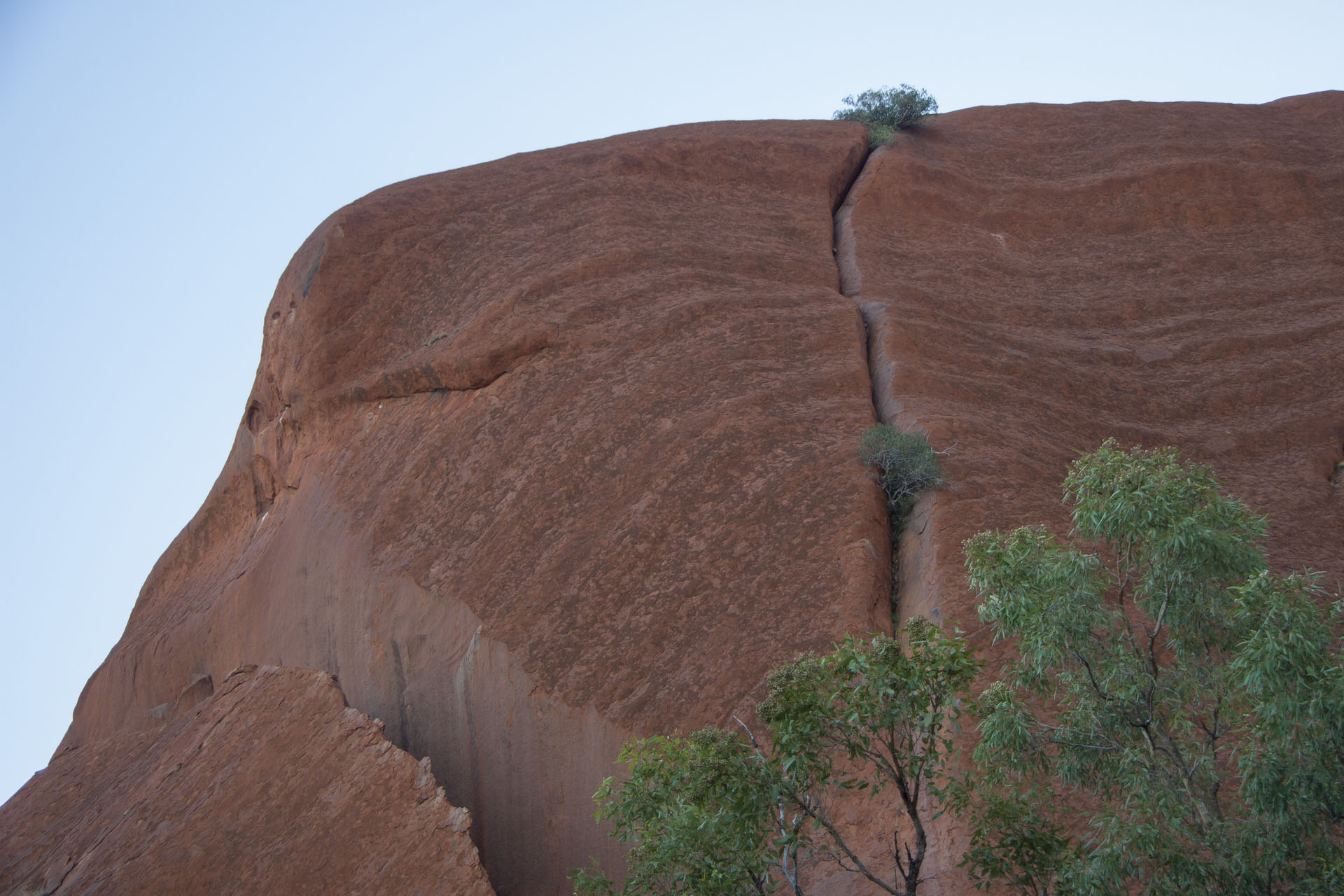 Plants use every crevice to get hold and survive.
After that I finish my drive around the spectacular rock. Sunset is near; they say that at this time of day Uluru becomes unusually red, and to observe this phenomenon you can stop on a special parking lot next to the road. It's quite sizeable (for about a hundred cars, maybe), and there's another one on the other side of the rock (to watch it at sunrise, correspondingly). I decide not to: too many cars and too many people. I leave Uluru for today and return to the campground I chose earlier to settle for the night.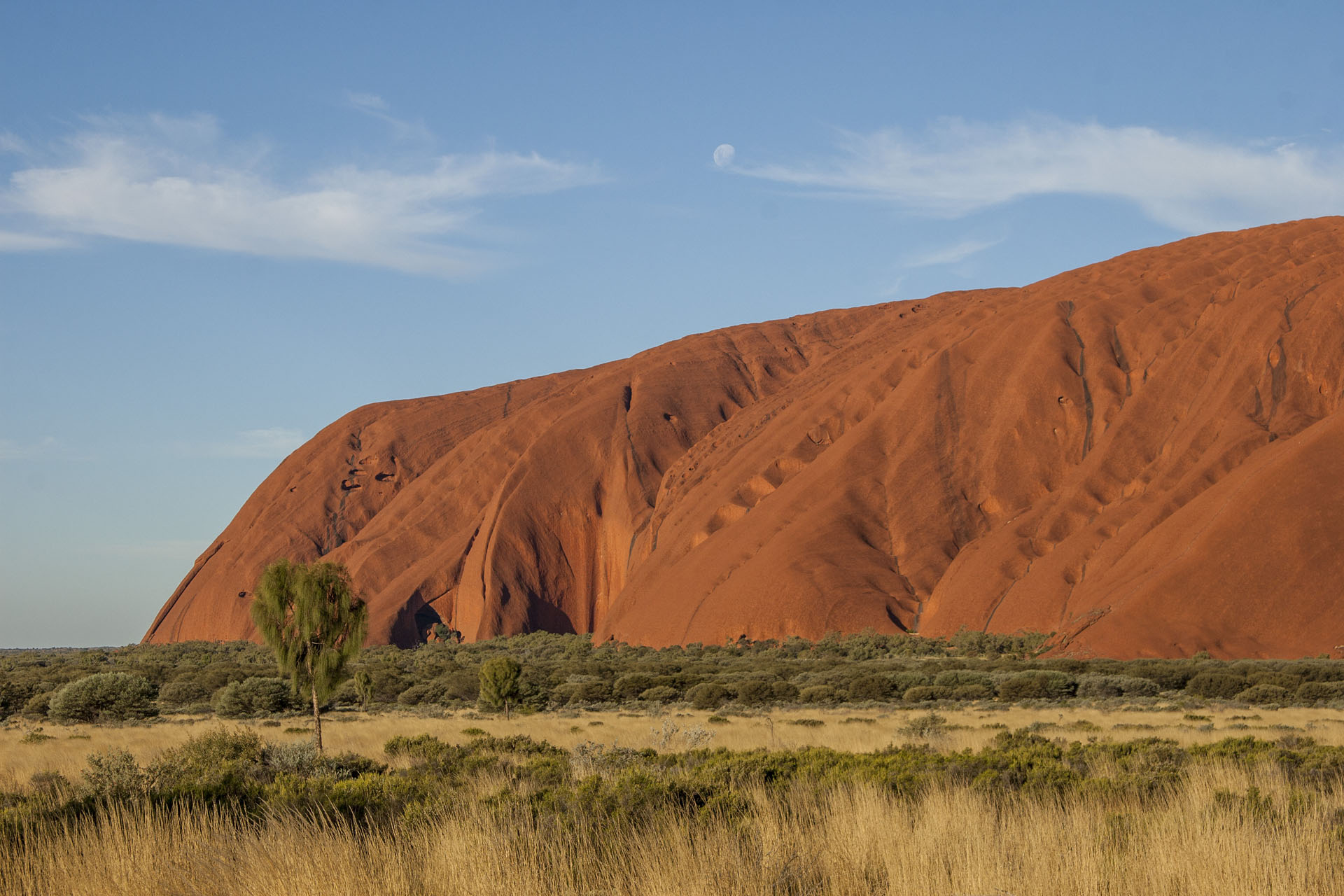 Not sunset yet, but still pretty cool.
There is a resort complex at the park, but I don't want to pay for accommodation unless I have to, so I stay outside the park for no charge at all. Availability begets popularity, though: there are dozens of vehicles all over the place. I try to pick up a spot more or less away from them, then take a brief walk around to make a few last pics for the day.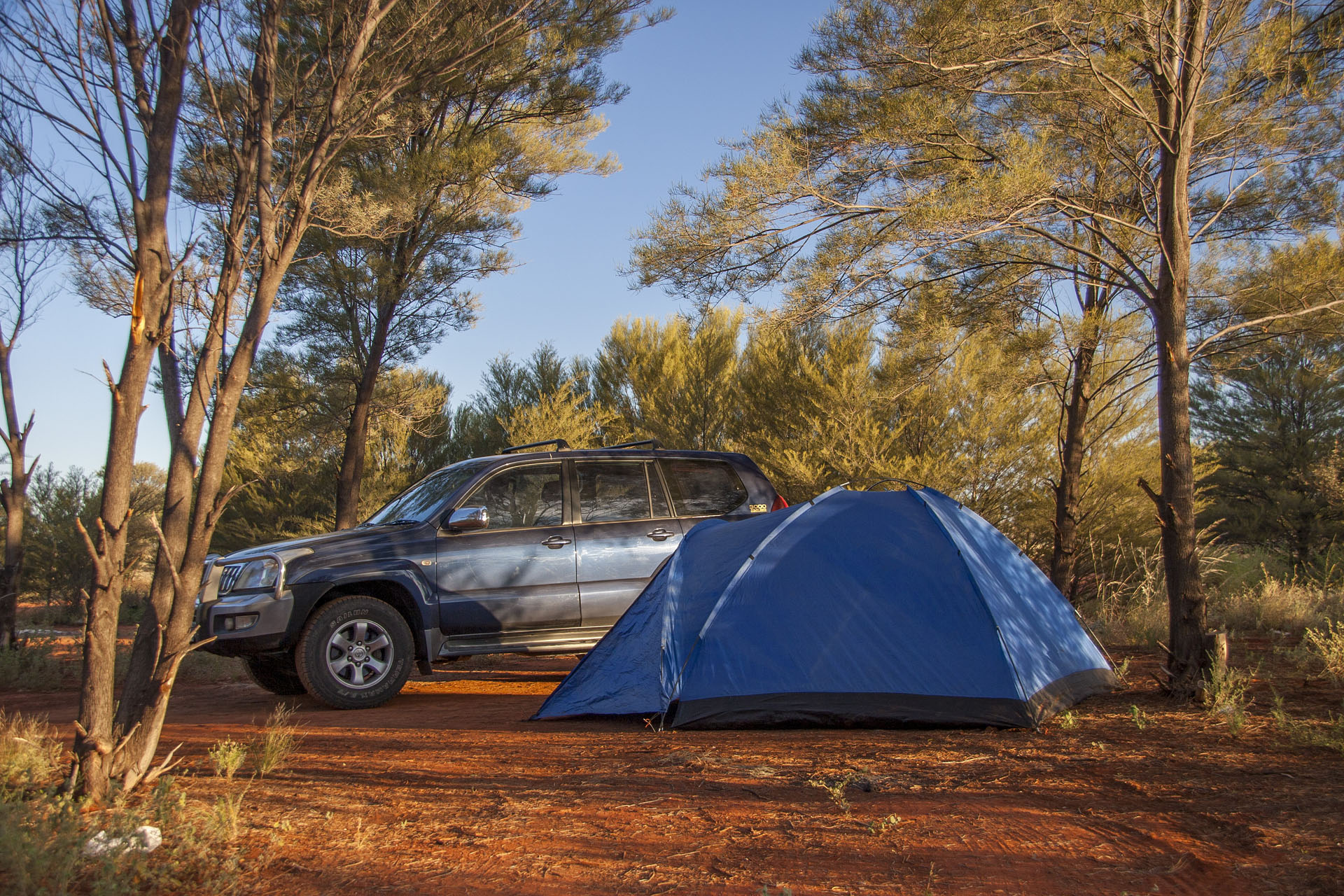 Today's camp.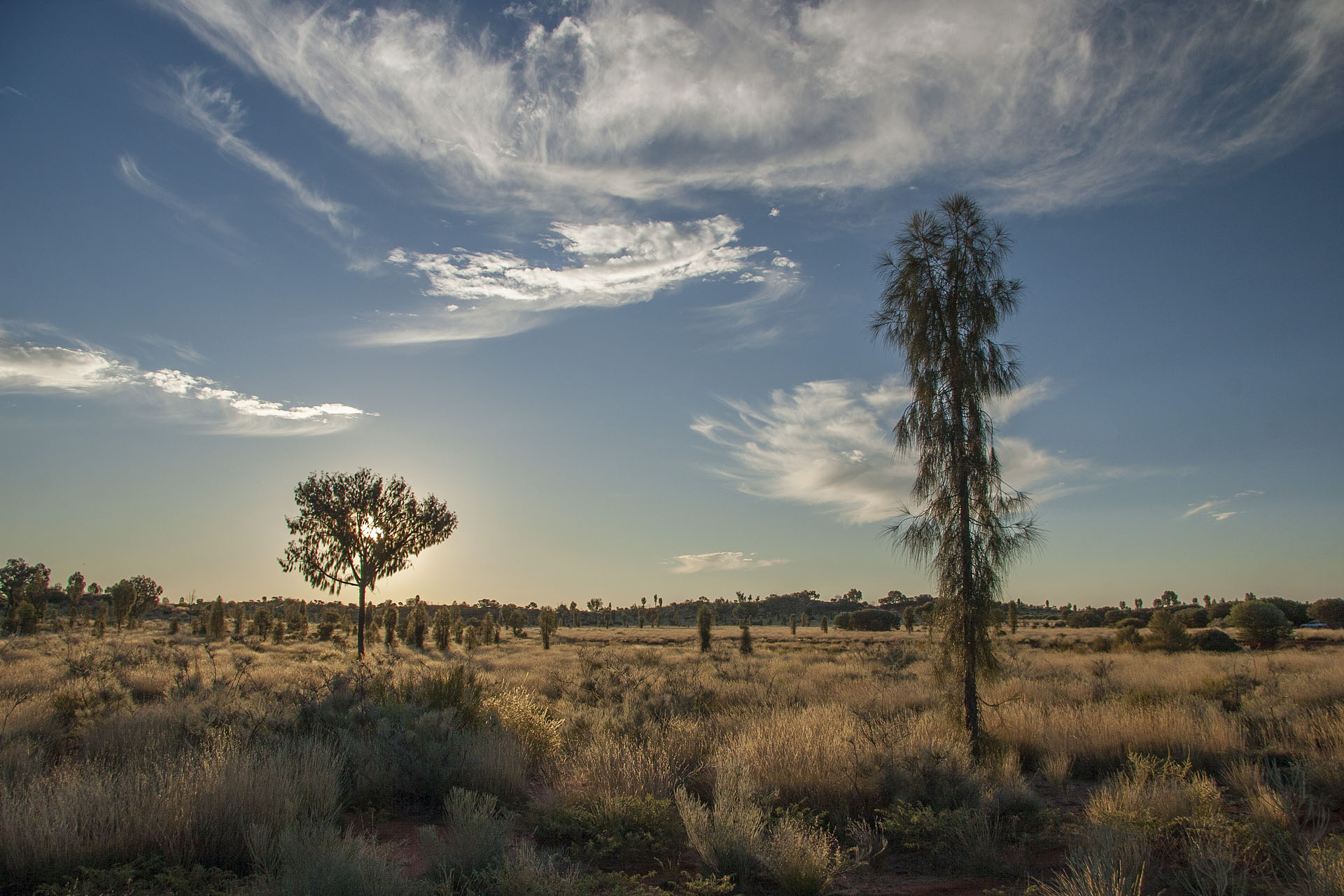 The scenery around.
The night arrives quickly, and in the ancient silence of the land, some 10 kilometres away from the sleeping beast of stone, all kinds of foreign languages are heard. German laughing and shouting here, French murmuring there. It's almost like I'm in a World War 2 Paris. Nazis are quite noisy, indeed: they keep playing guitar and laughing and singing songs well into the night. It's quite chilly, too: around 10°C or so. Not an ideal environment for a good night's sleep.
Distance

677.8 km

Fuel

$246.11

Food

$10

Fees

$4 (shower), $25 (park entry fee)