Well, here I am now, at the start of my first working week as a digital hobo. All I have is a laptop, a spare battery under the hood, a couple of solar panels, and a few bits and pieces to create the illusion of necessary comforts. Let's see if it all holds until Friday.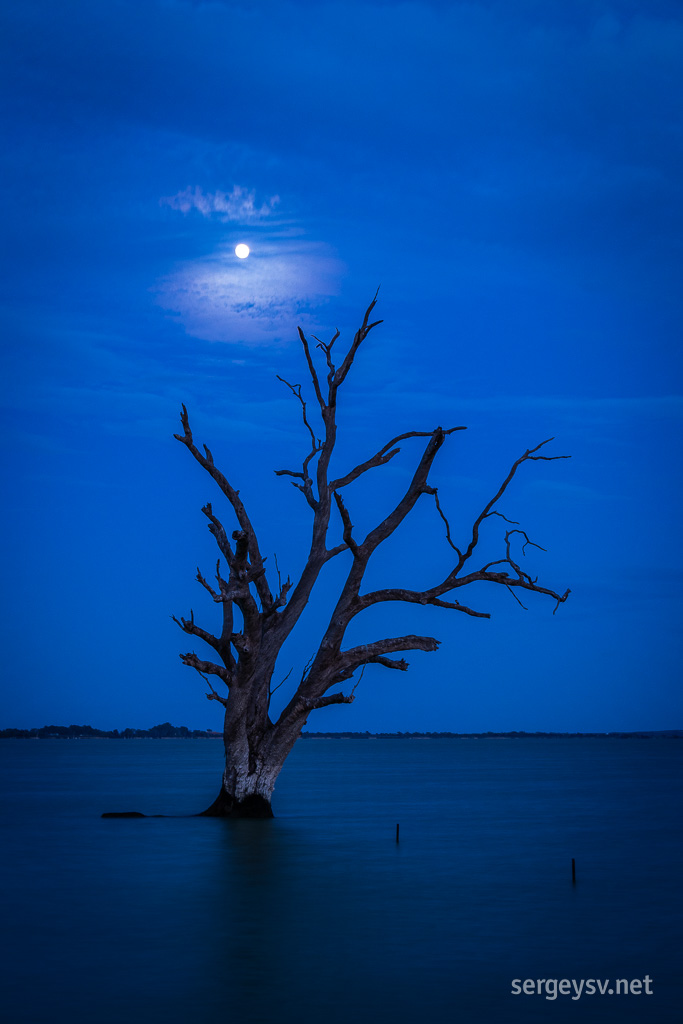 The moonlit morning.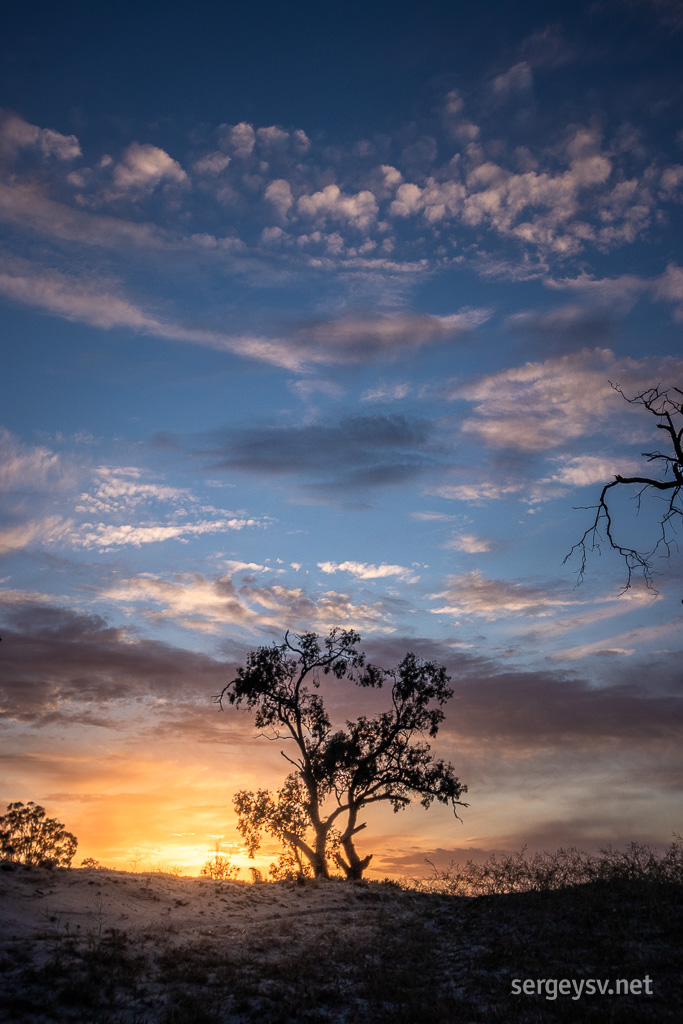 A very lovely sunrise.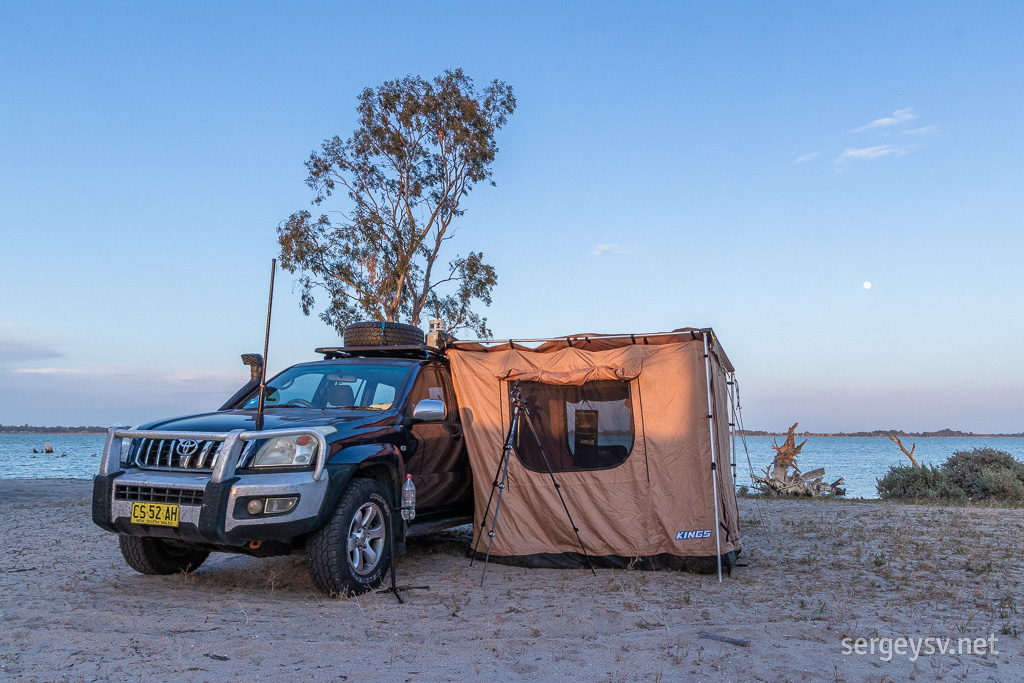 The mobile office is ready.
My Monday is off to a damp and gloomy start though. It rains and drizzles almost the entire day, and my battery doesn't quite keep up with my laptop's needs. Or, rather, my solar panels don't give it enough juice, what with all the rainclouds. It was quite the challenge to find a 87W car charger for a 15" MacBook Pro — a challenge that resulted in a failure, actually — but if I had one, it'd probably have drained the battery even quicker. However, cloudy sky makes for some good photographic opportunities, which I don't hesitate to exploit.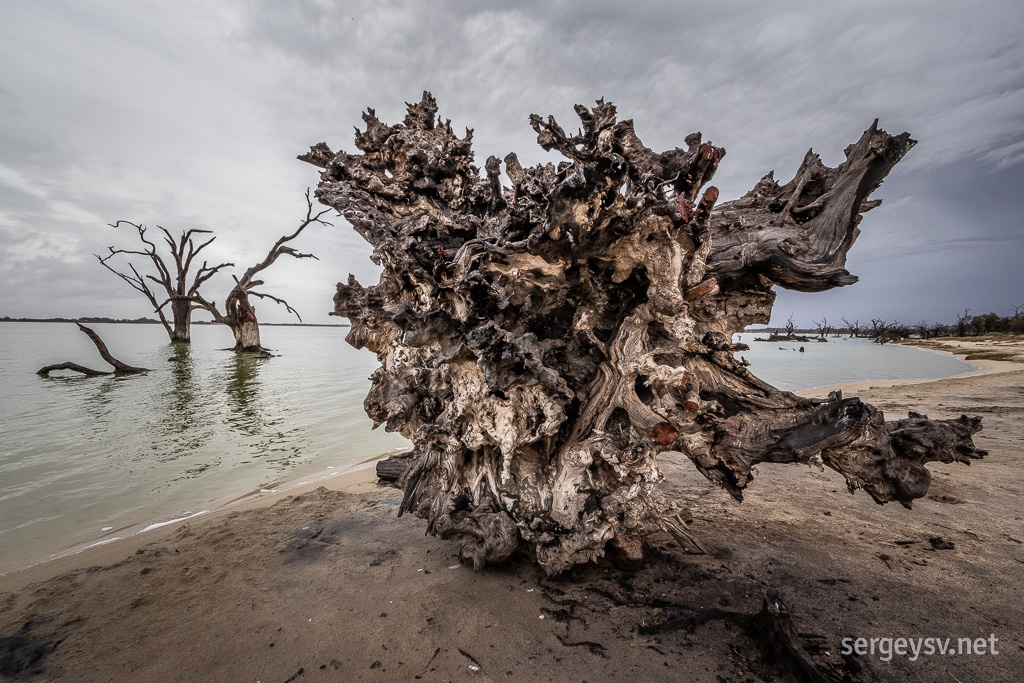 The gloomy afternoon.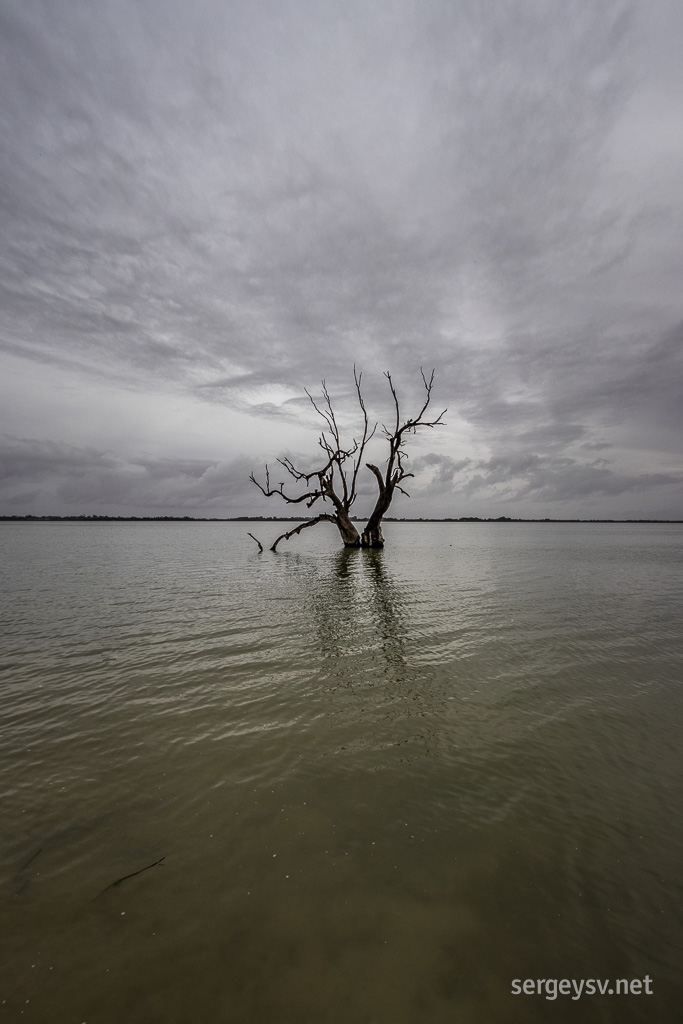 Gonna be rainy.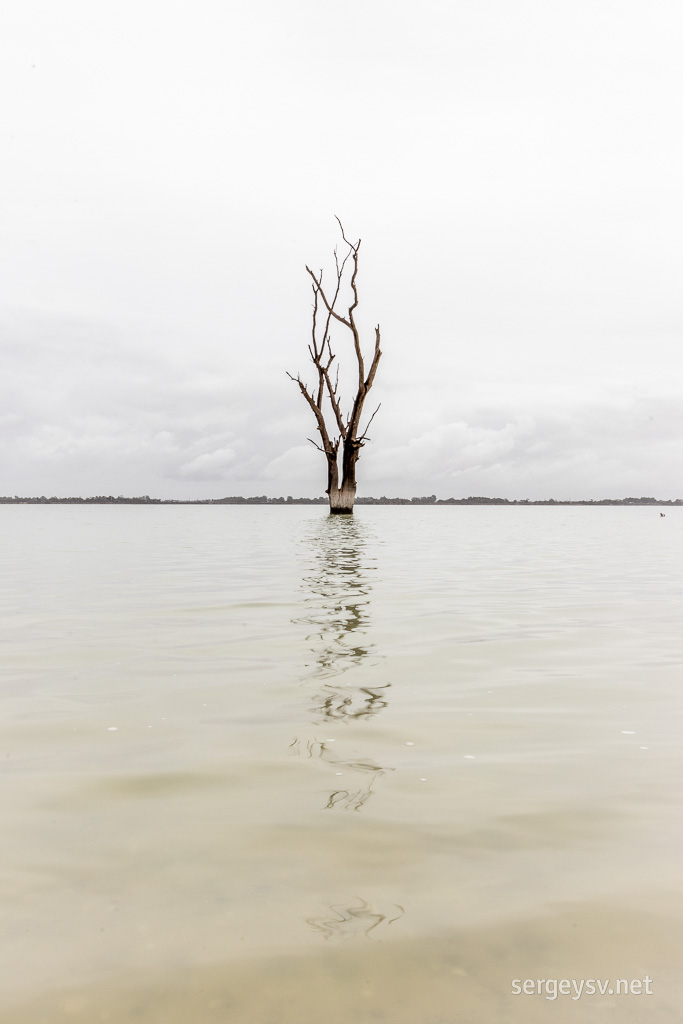 Love the soft light, though.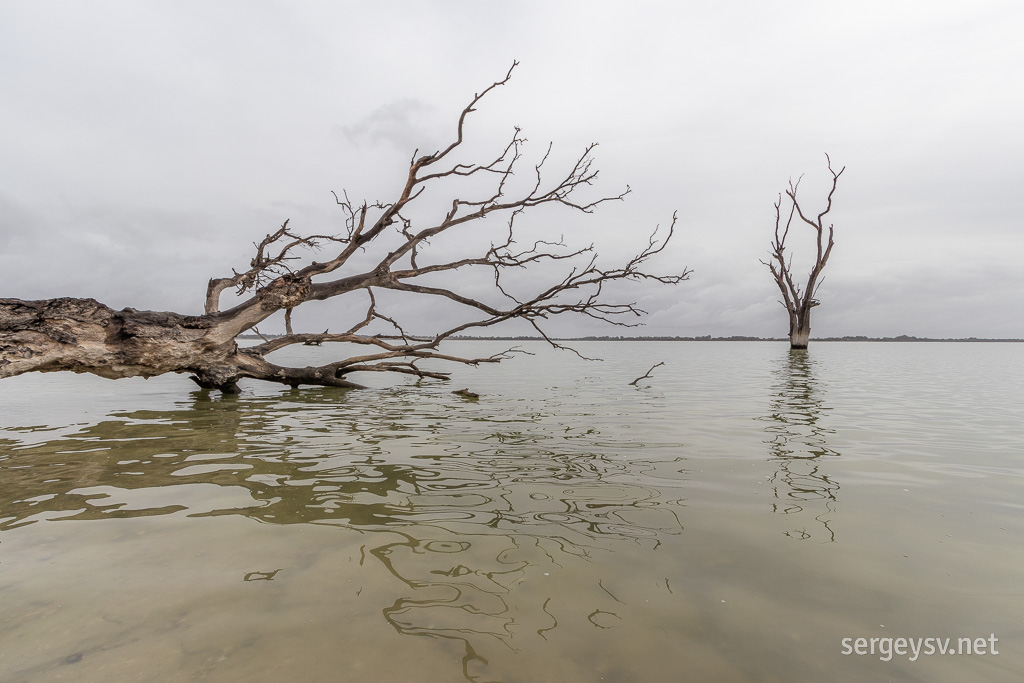 And those trees, of course.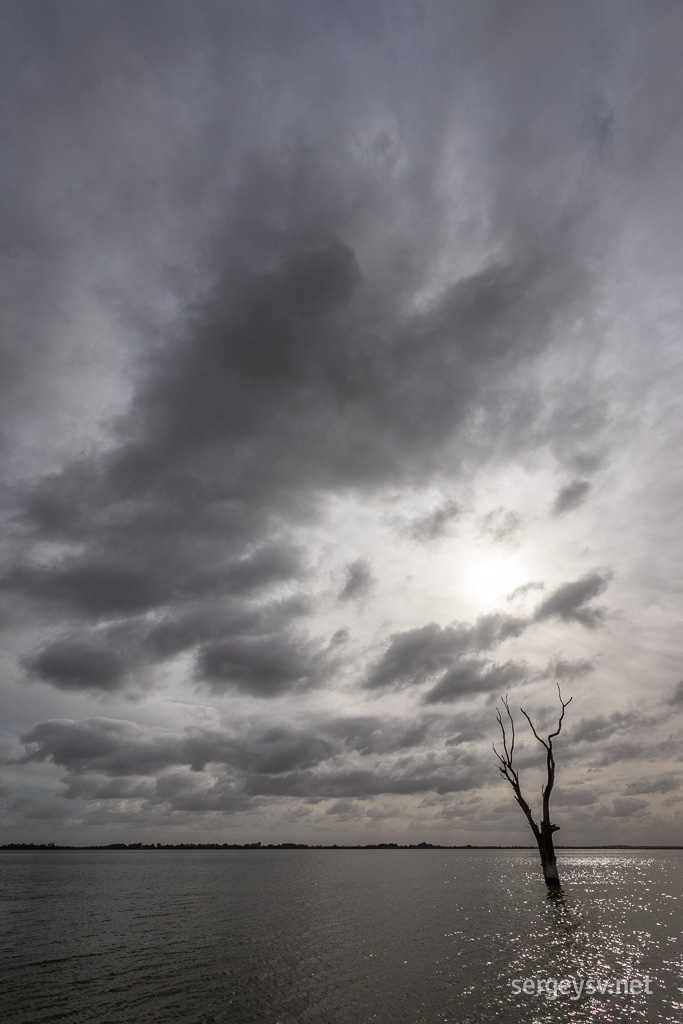 The afternoon's still cloudy.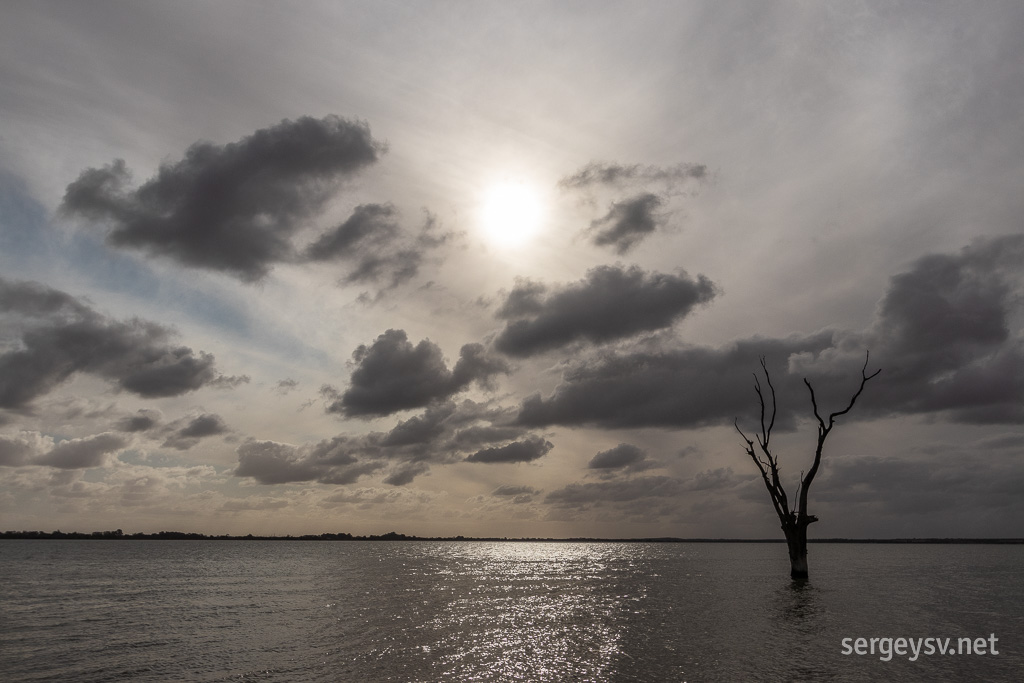 The sun begins to shine through.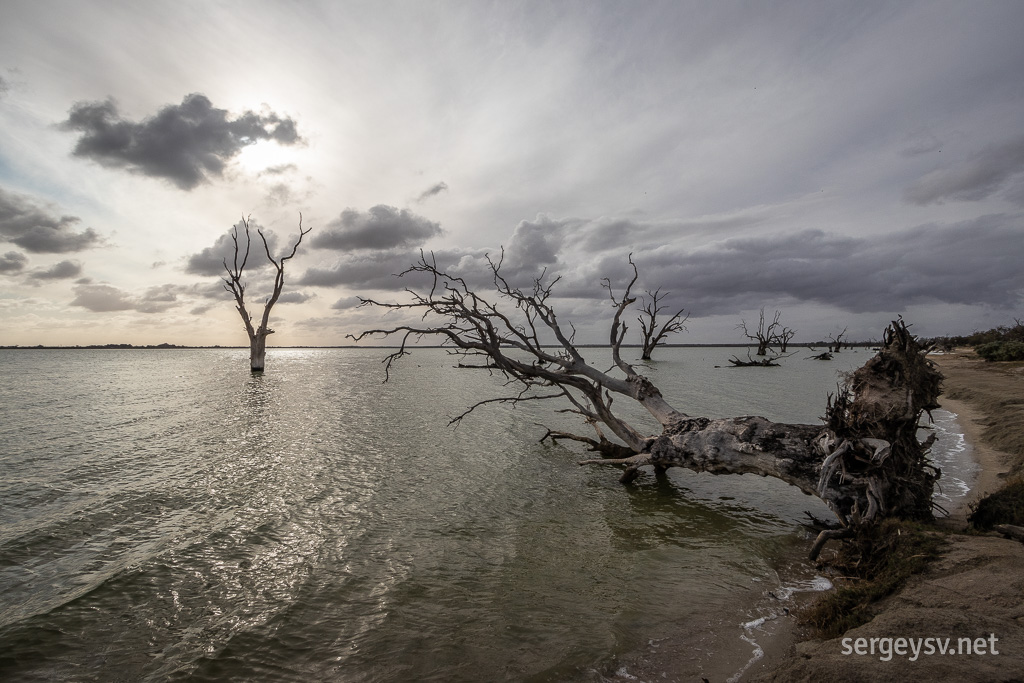 The lake's quite restless.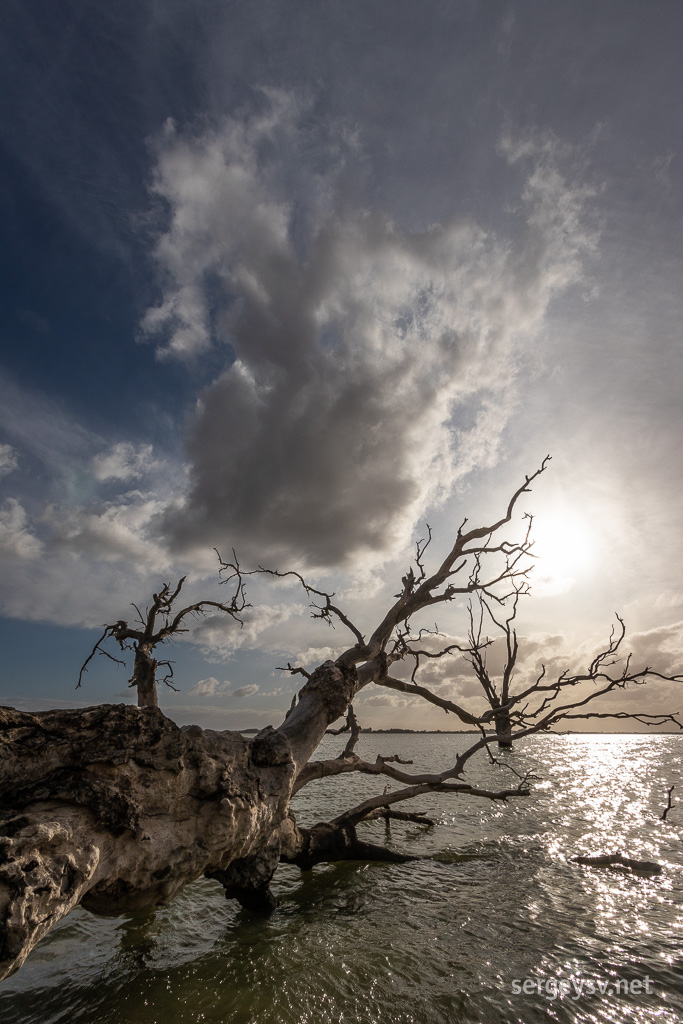 The sunset is near.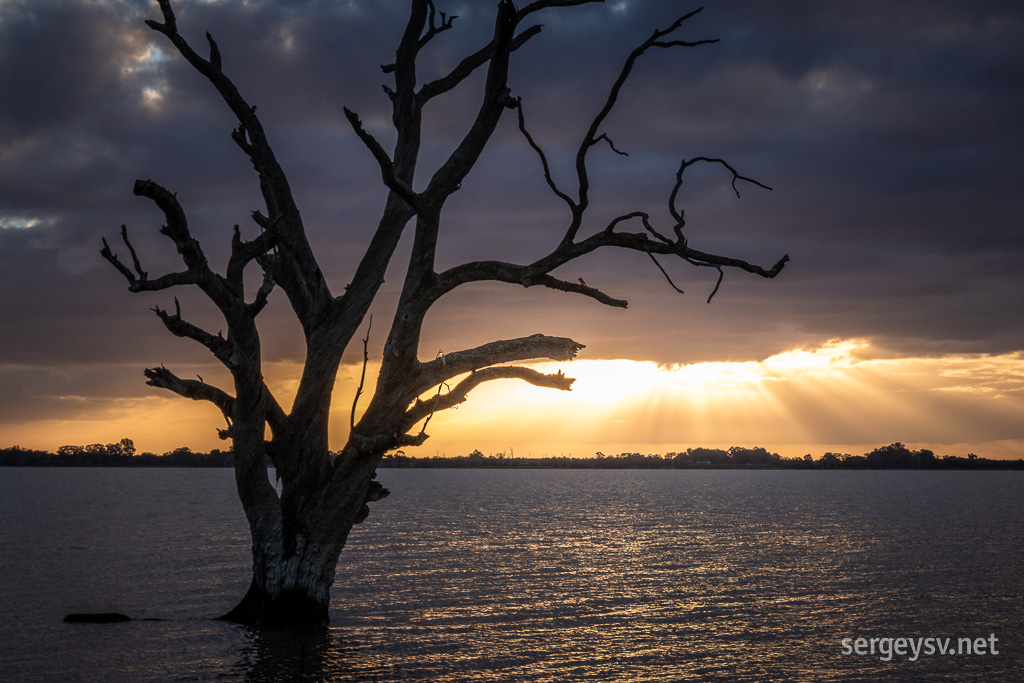 Here it comes!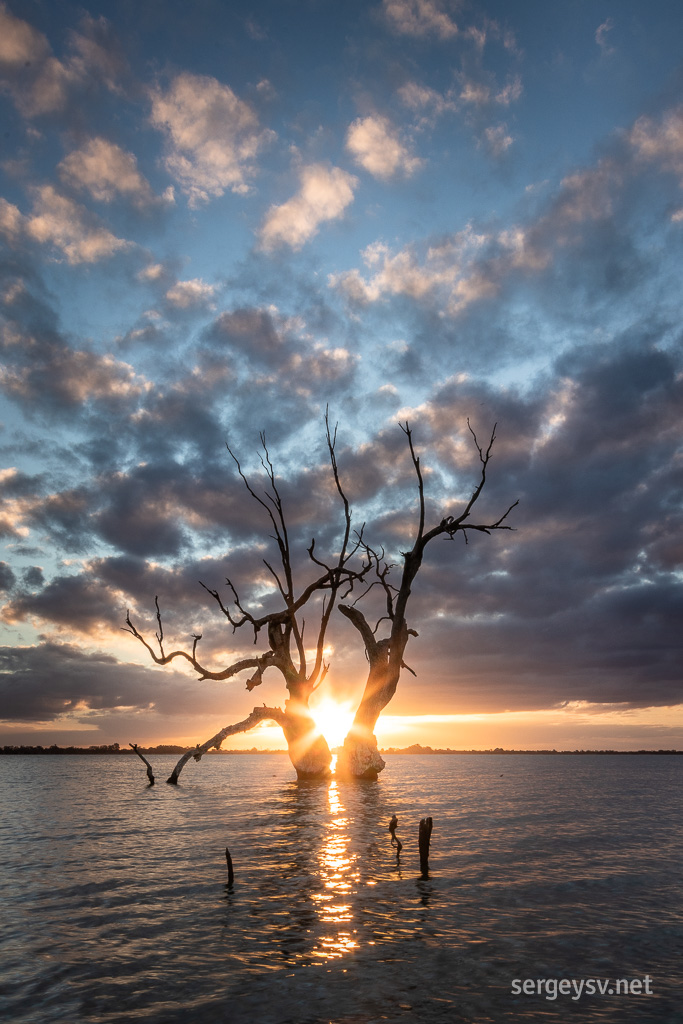 Wonderful. Just wonderful.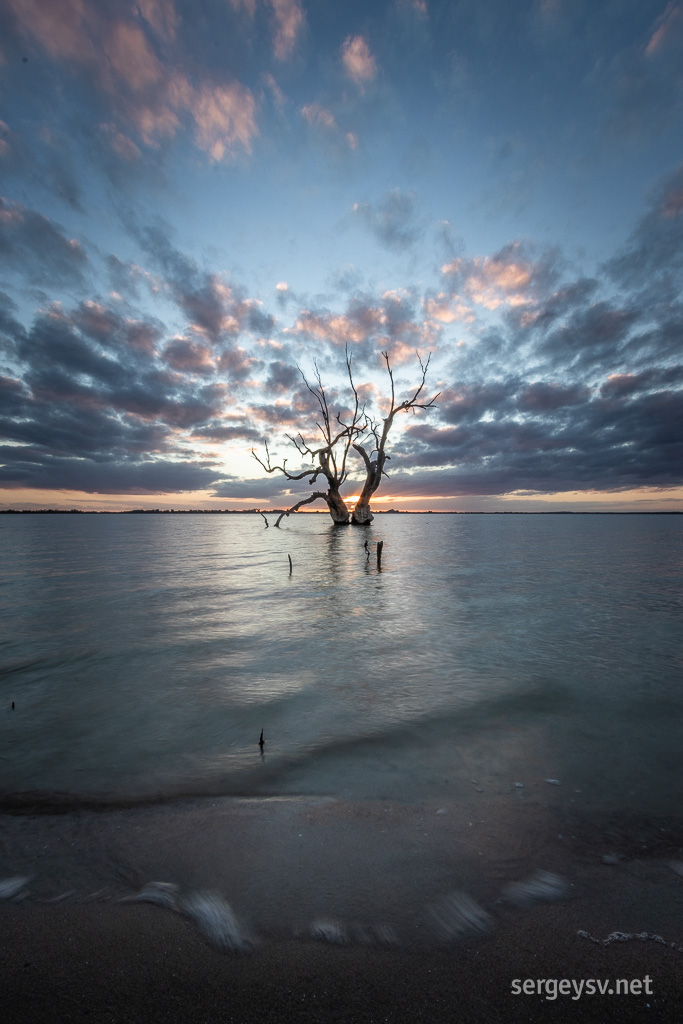 The aftermath.
The following night is quite cool, and the morning is even cooler: one of my solar panels ends up covered in frost! I wouldn't expect that that far into September in this region. However, the sun rises quickly to remedy that, and my panels are very quick to start charging the battery — and therefore my laptop is happy as well, and therefore am I.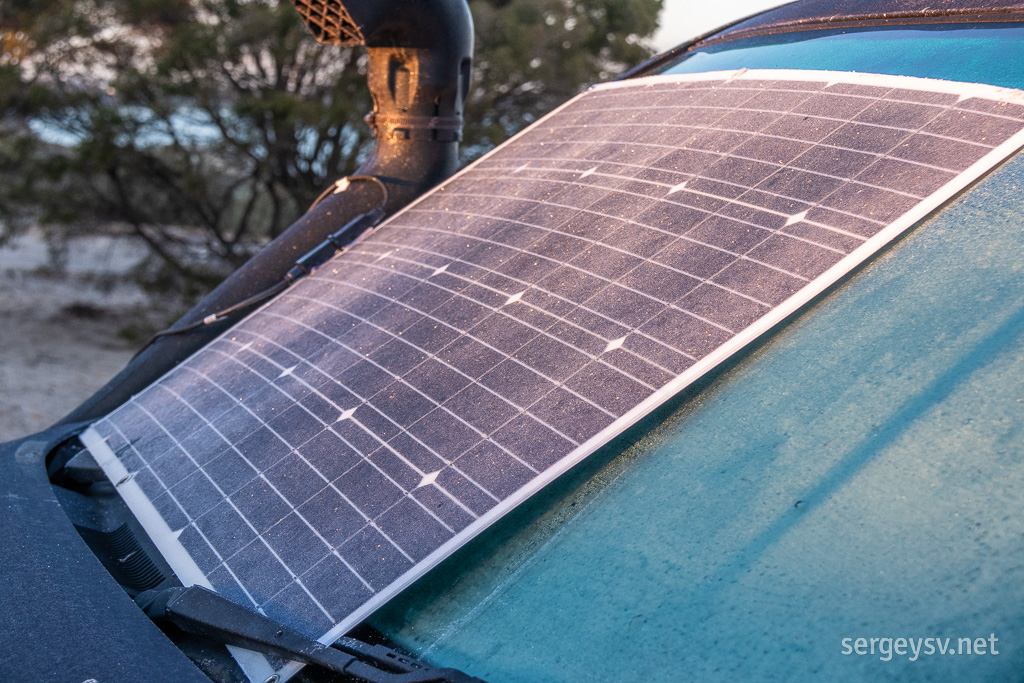 Very nippy!
Shortly after I discover that due to many winds and stresses before, one of the eyelets on my awning rips open completely and can't support the arm that holds the roof. I like this awning a lot, but the build quality is lacking somewhat; the aluminium is a bit too soft and thin for what this thing has occasionally to go through. Adventure Kings should do something about that. In the meantime, I just use a drill to make another hole. It's great to have all necessary tools on you when needed.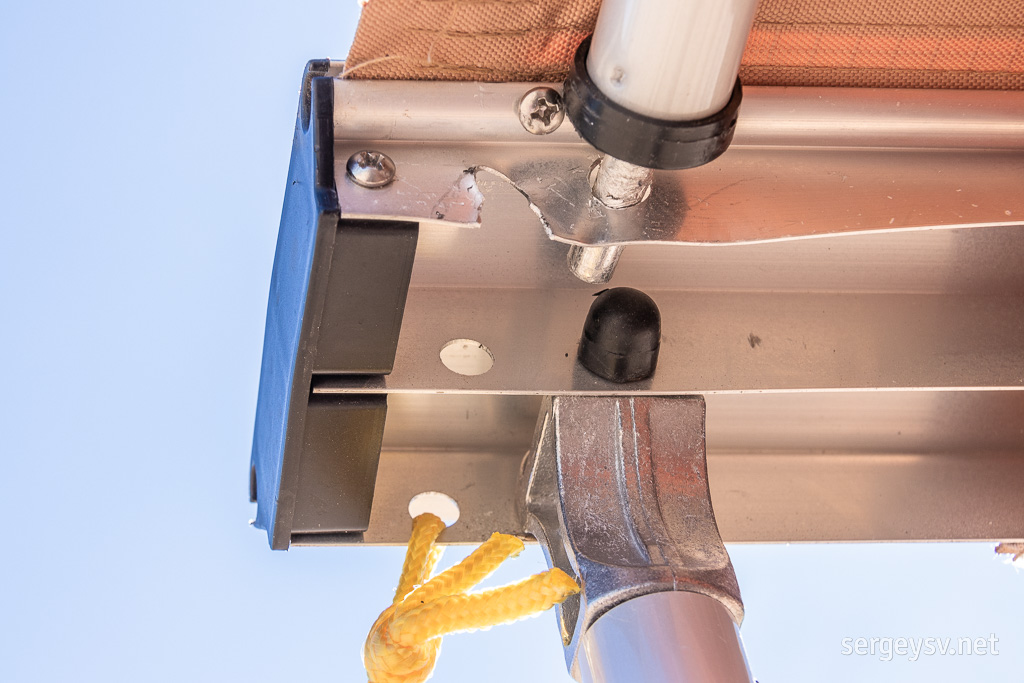 Quick repairs in the field.
This day is particularly good because Kate is driving here all the way from Adelaide just to see me and chat about things, which we do for a few lovely hours. Her dog is enjoying the scenery and the vibes as well; but, as all good things in life, this little rendez-vous also ends, leaving me all warm and fuzzy and slightly sad in the end. A few photos during sunset cap the day perfectly; turns out, a cloudless sunset can work pretty good when done right.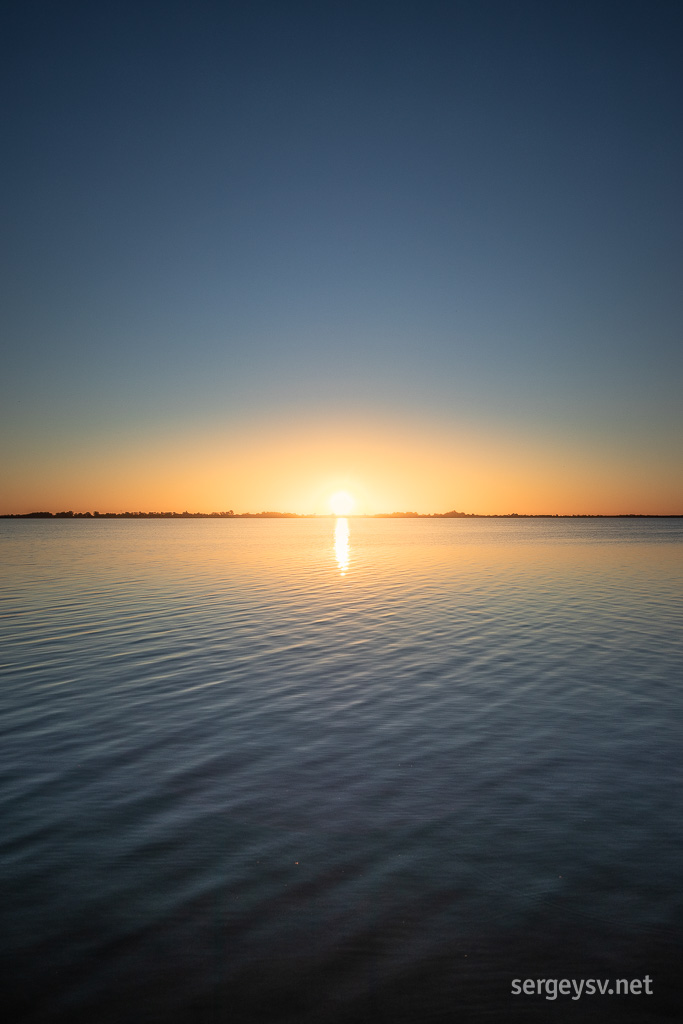 Very minimalistic, eh?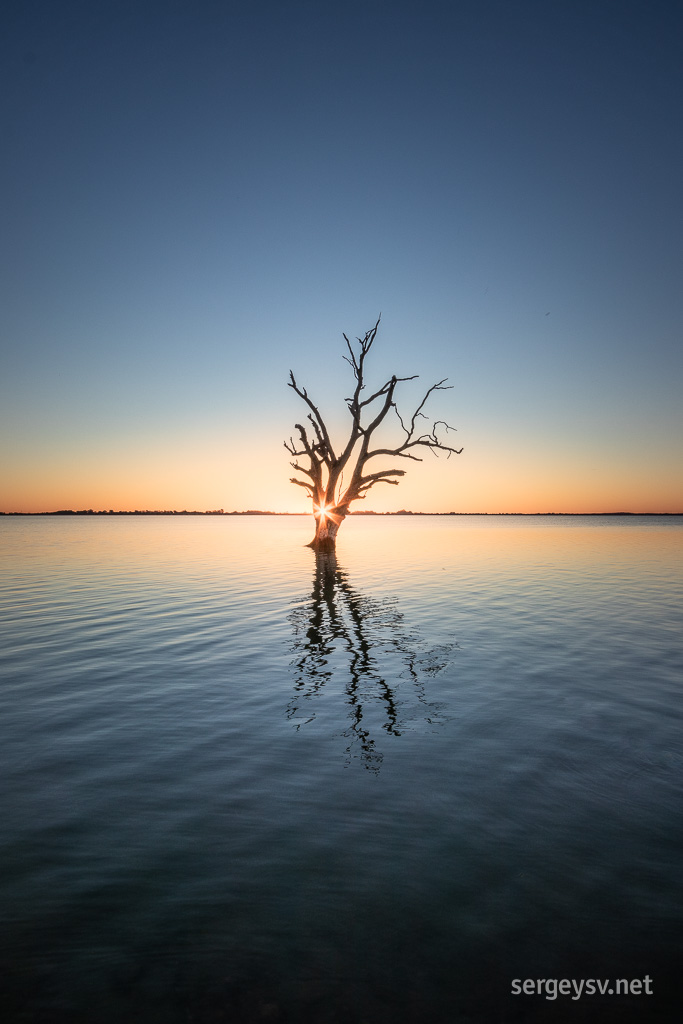 Always good to have something in the frame that draws the eye.
Wednesday brings out another weather extreme; this time it's the wind. 50 km/h gusts sweep up the lake shore, almost lifting my poor awning tent off the ground. Good thing I repaired it yesterday! This gives me something to worry about; but, luckily, I have some plastic bags with me, and as I fill a couple of those with sand and use them as ballast inside the tent (along with two very heavy tool bags), it gives the tent some stability. It had survived the Monday rain, but will it survive the windy night?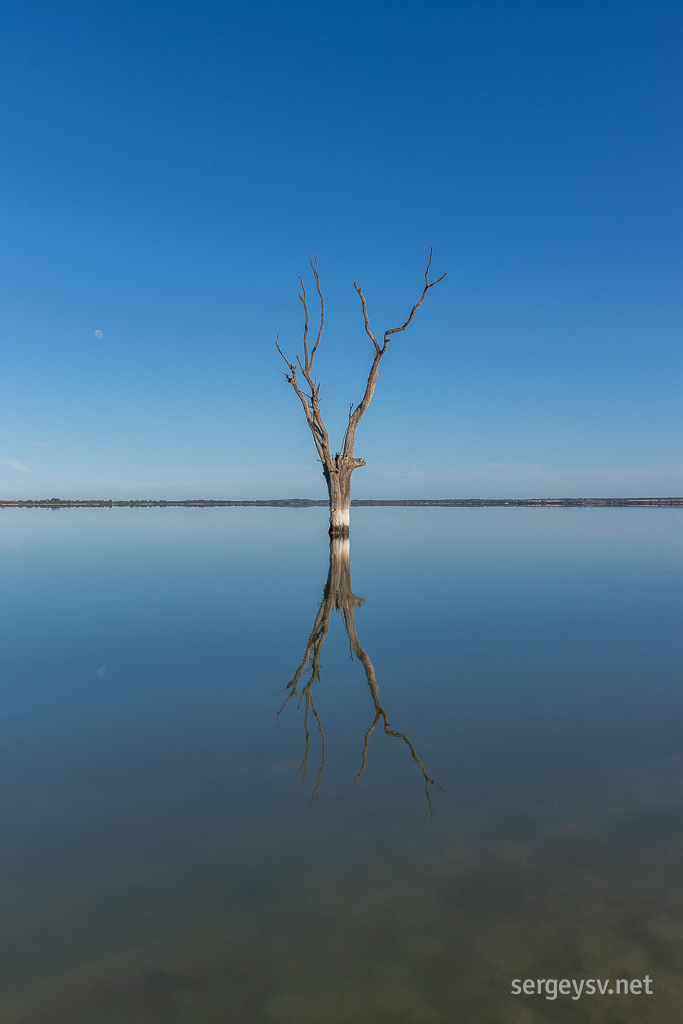 X always marks the spot.
The sunset's alright.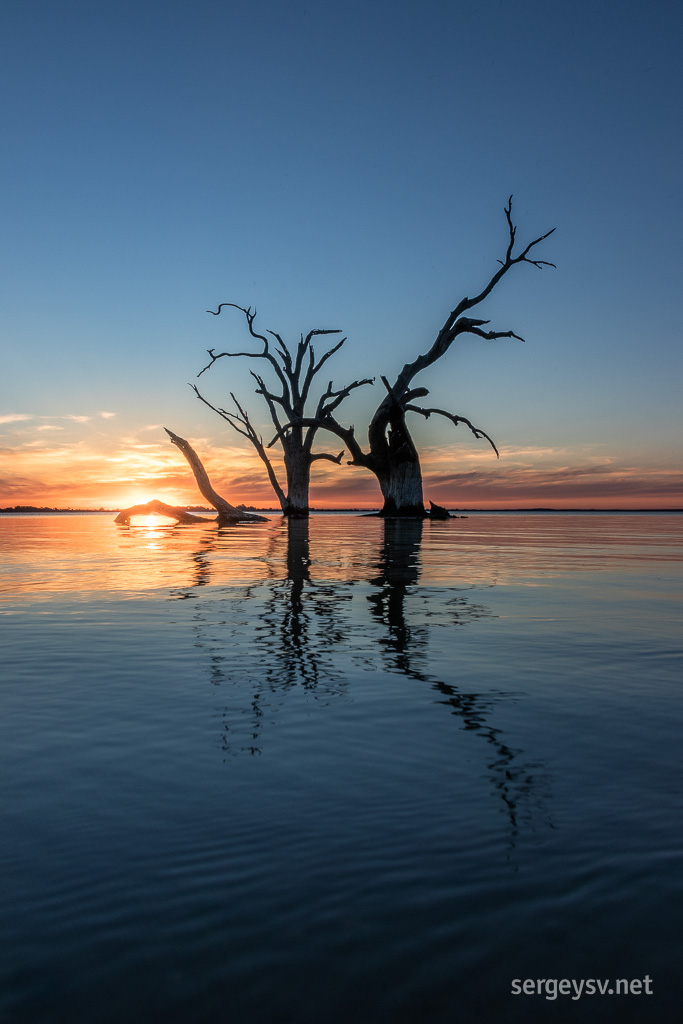 And the trees only make it better.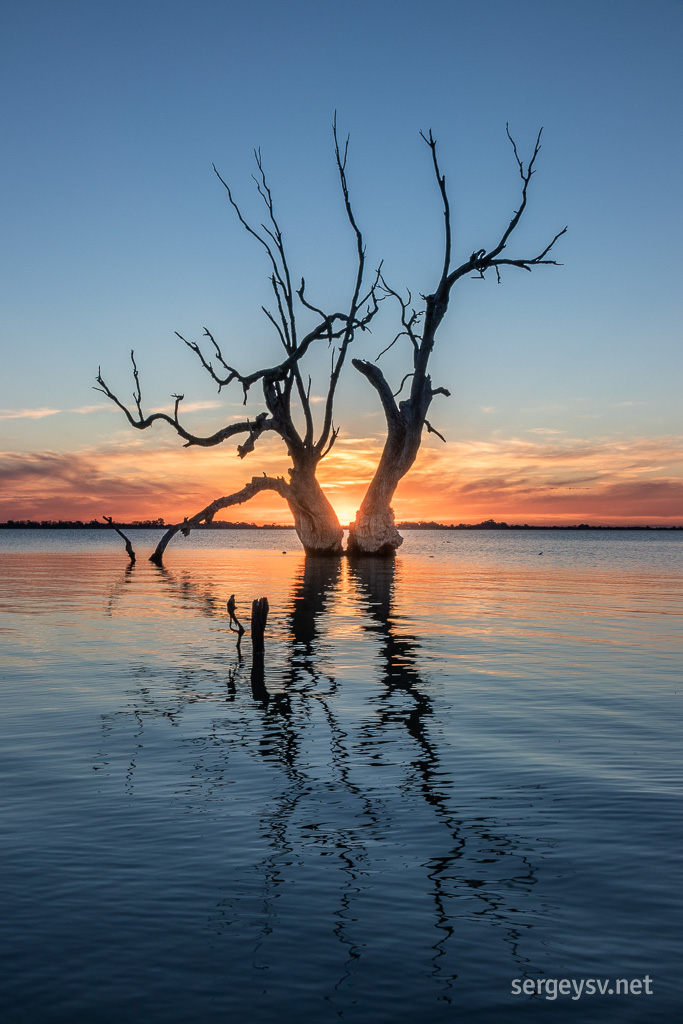 Am I right or am I right?
It's a relief to find out in the morning that it does: a few undone velcro straps is not a big deal. For another weather extreme, however, today's Barmera gives me an almost completely still and windless day; a very good excuse to fit a polarising filter on and explore some compositions with the lake and the trees and the underwater features. Some of them turn out pretty good, I think.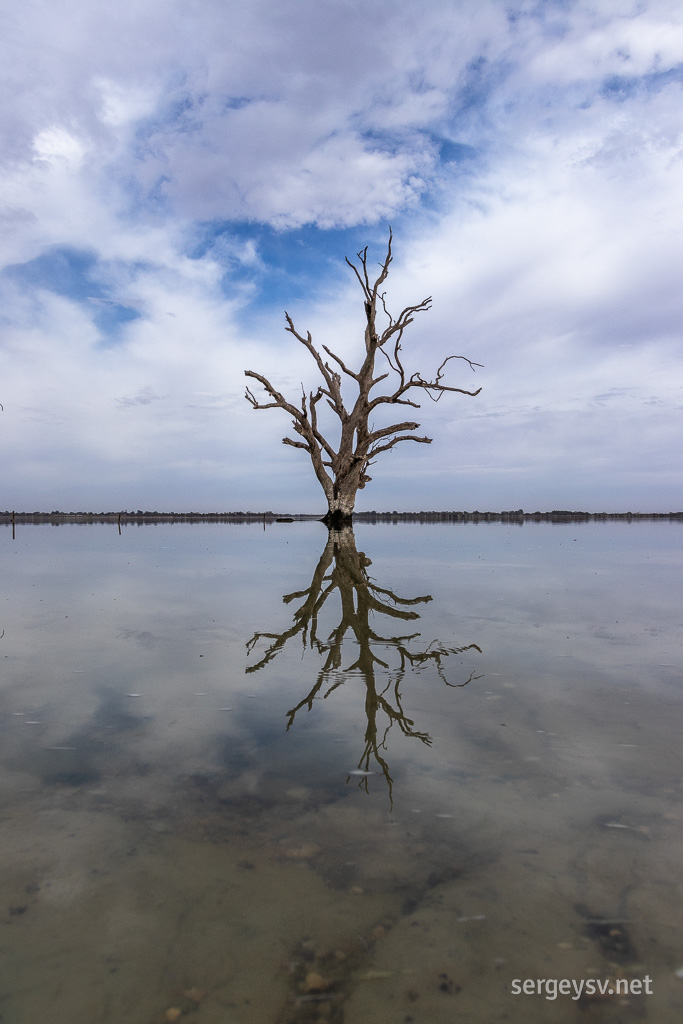 The lake is very still.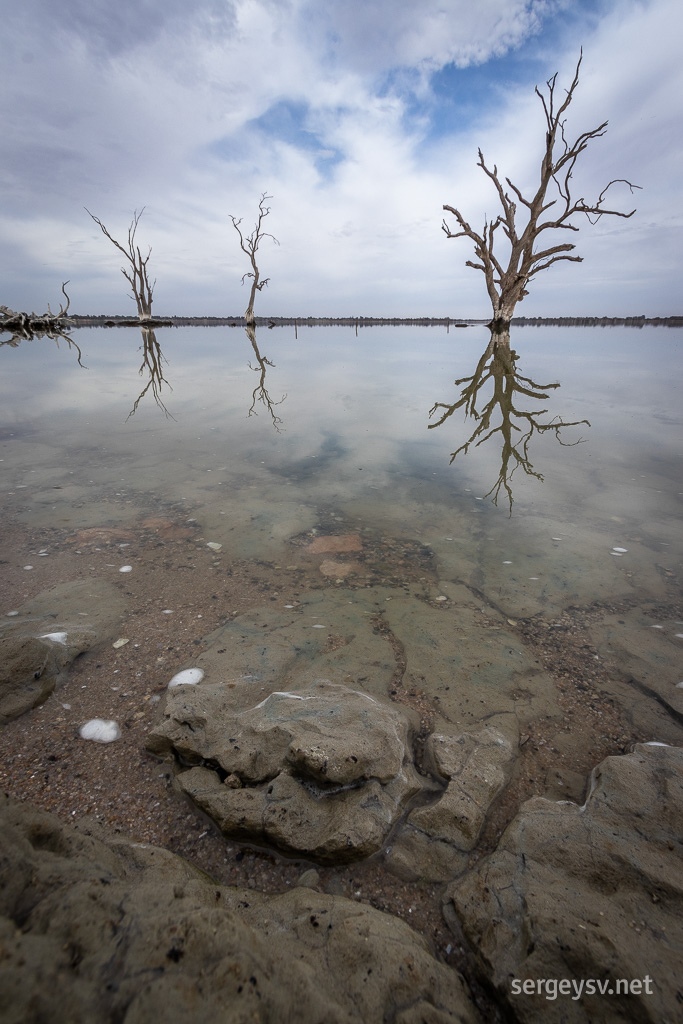 The underwater clay looks like rocks.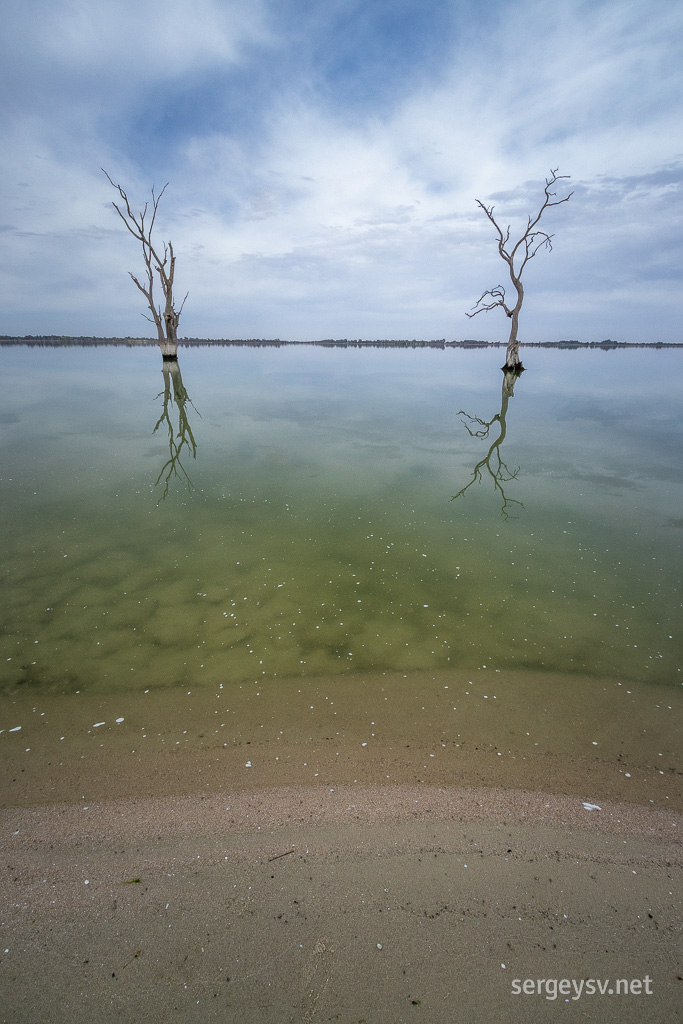 Lines and strokes.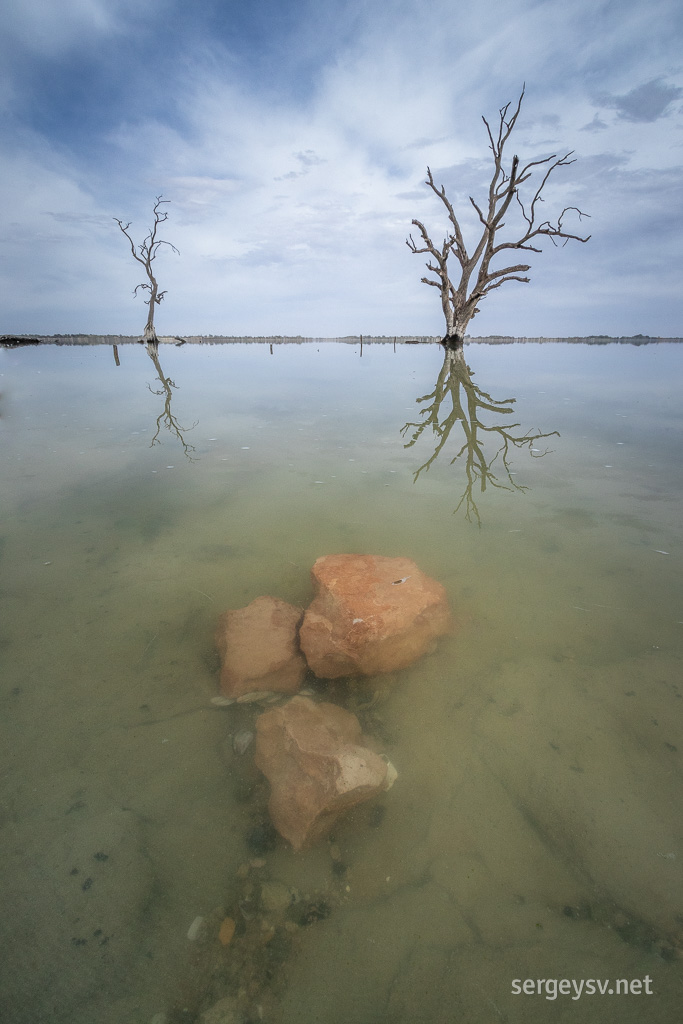 There are some real rocks underwater, too.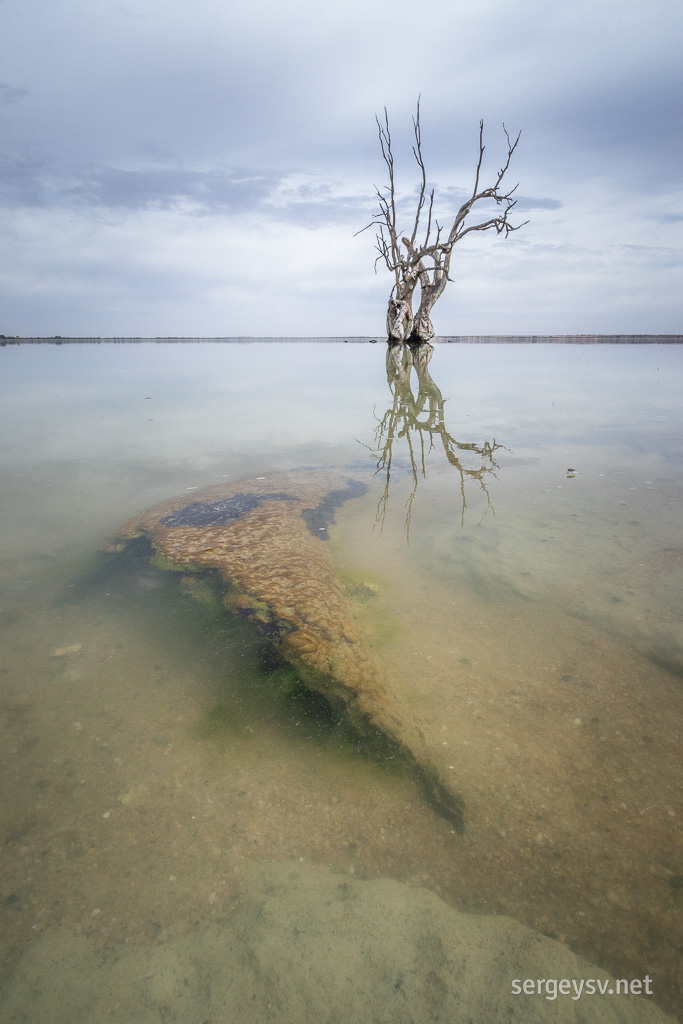 And some dead tree branches.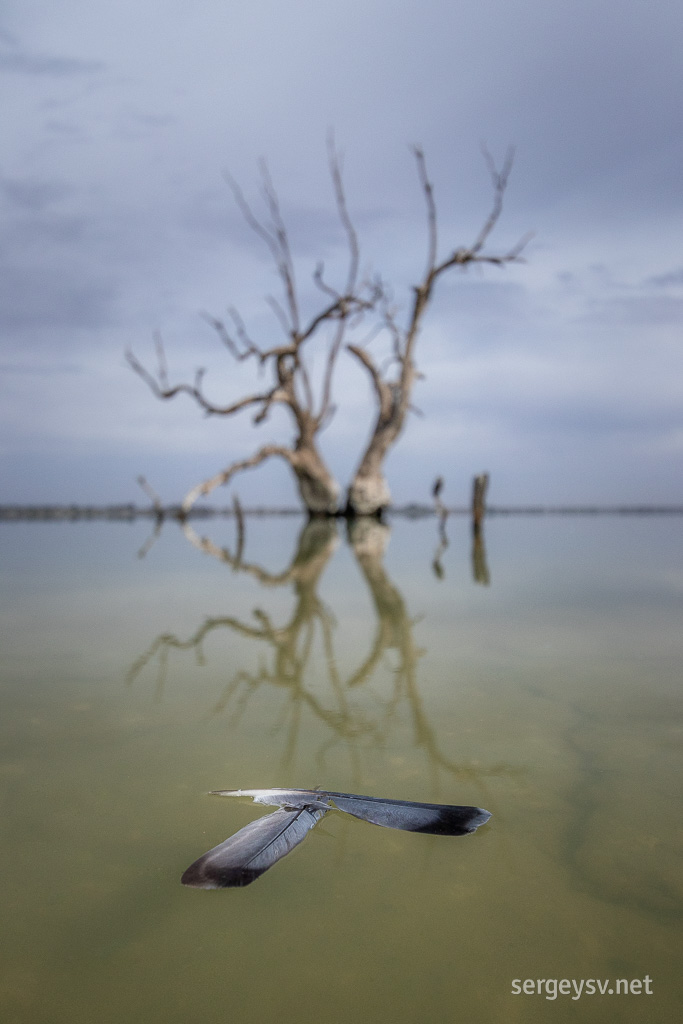 And even some feathers! On the surface, of course.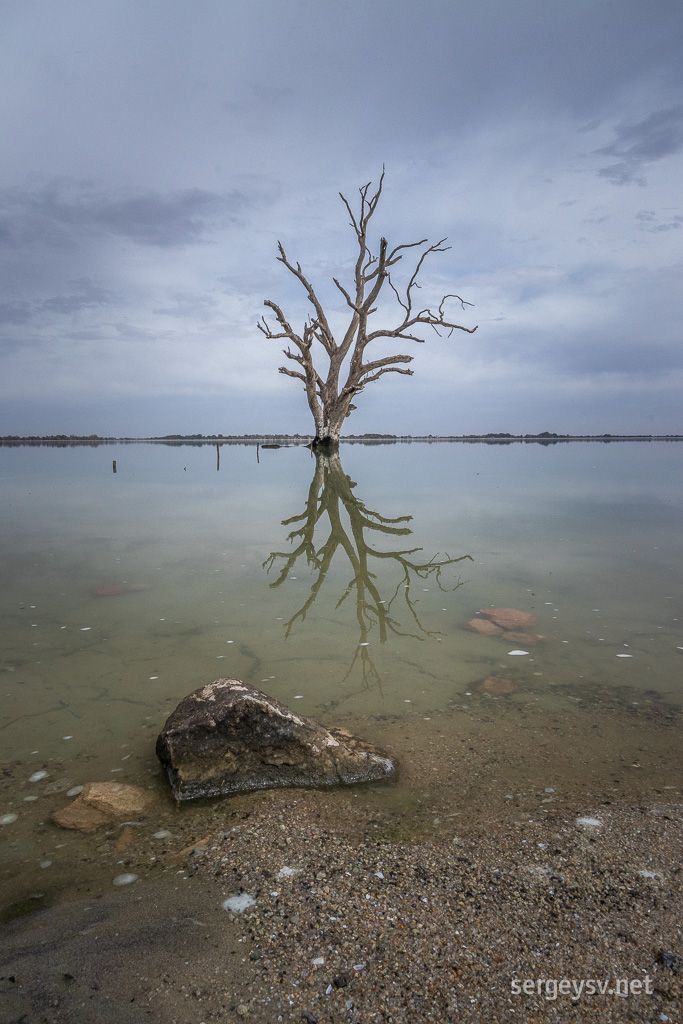 Some rocks to spare on the ground, too.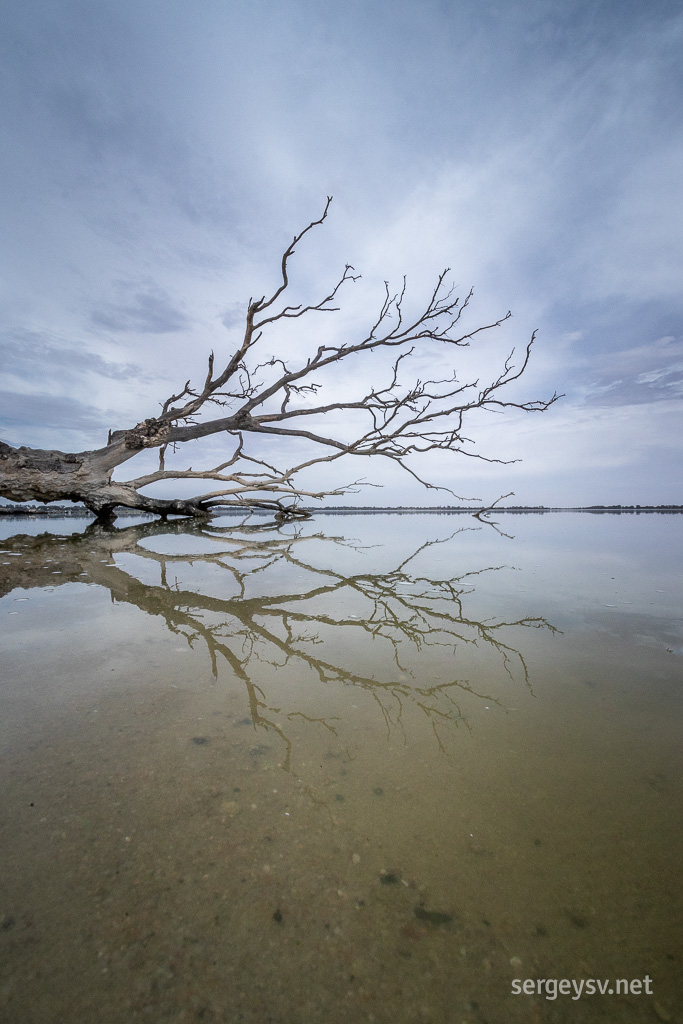 Love the reflections.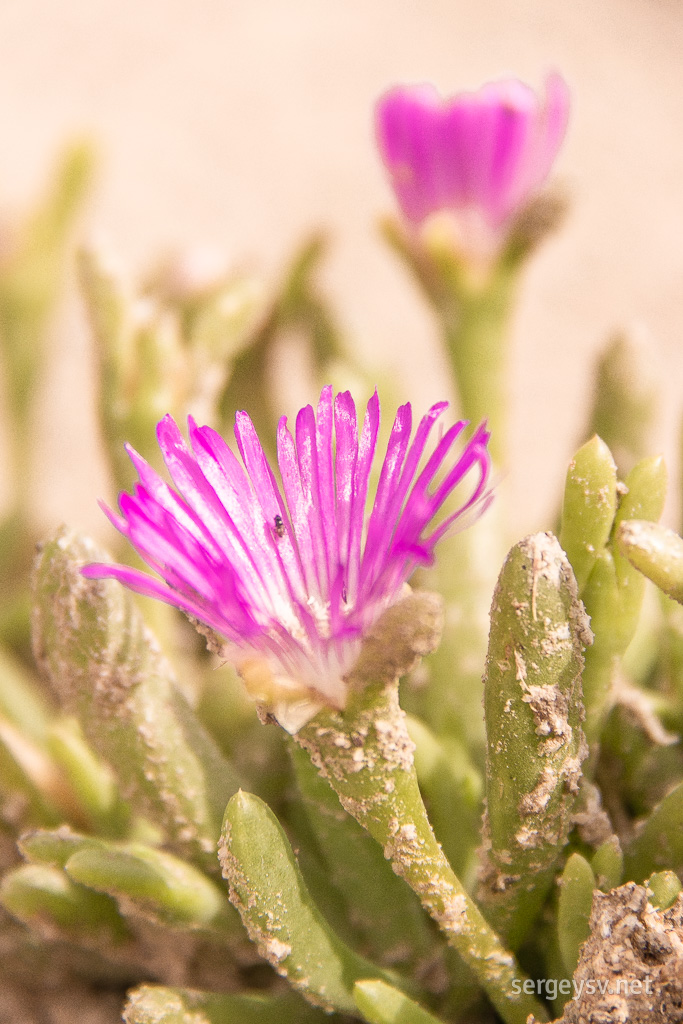 Some pretty lakeside flowers.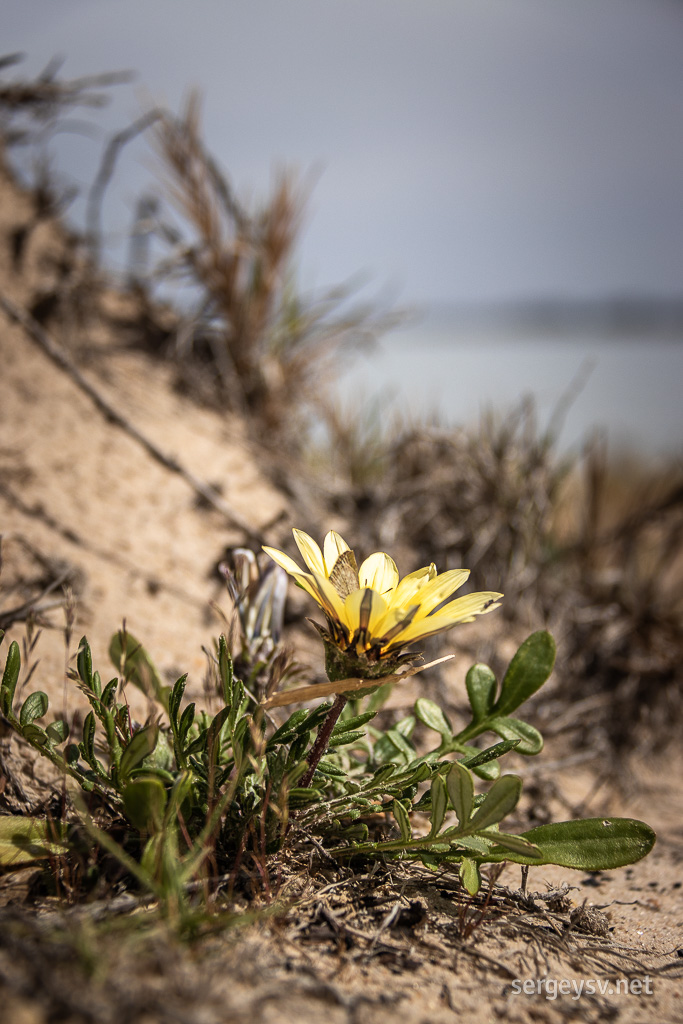 And some slightly less so.
And now it's time for Friday! The week went by fast; and, thankfully, all the gear and the electrics held up nicely. The day is hot and muggy, but there's still enough sun to power the panels and the battery, and I need to pack up my camp and move on. Another reason for that is that I decided to visit ServiceSA and register my vehicle in South Australia again. New South Wales needs to inspect my vehicle yearly before renewing the rego, and I don't quite see myself returning there in time for that. Might as well switch allegiances once more, because a hobo can afford that, right?
This, however, proves to be a mini-adventure in itself. I arrive there an hour before they close, and the first thing they do is ask me for the NSW rego certificate – which, of course, I don't have on me. I can't download it on ServiceNSW website either, because in their infinite wisdom they only allow these certificates to exist on paper. Luckily, I have a somewhat blurry photo of a renewal notice that M sent me a few days ago. Would that work? Yes, but they also need a proof of residency. What? What proof? Oh, the usual stuff. Utility bills, rental agreement, bank statements... Bank statements, you say? Hold on... let me change the address right now in my banking up... take a screenshot... would that work? Yep, sure, why not. And five minutes before closing time, I leave the office with a pair of brand new South Australian licence plates. Gotta love Australia for how easy (or how hard, depending on how you want to look at it) they can get these things done sometimes.
But my adventures are far from over, of course. I'm going to have to travel from the Lake Bonney, the Land of Climatic Extremes, to the much more northern regions of Australia. Will I get there in time? And will I find a good place to camp there for another working week? Let's find out!