Murray is the biggest river in Australia, and on its way it passes through New South Wales and Victoria (acting as a border between the two) before reaching the ocean in South Australia. On its way it makes multiple twists and turns across the country, and one bend in particular is so large that it even has a name: Big Bend! Unimaginative, but descriptive enough; and, more importantly, it has an excellent, free to use camping area along the eastern bank, which is exactly where I'm going to stay for a while.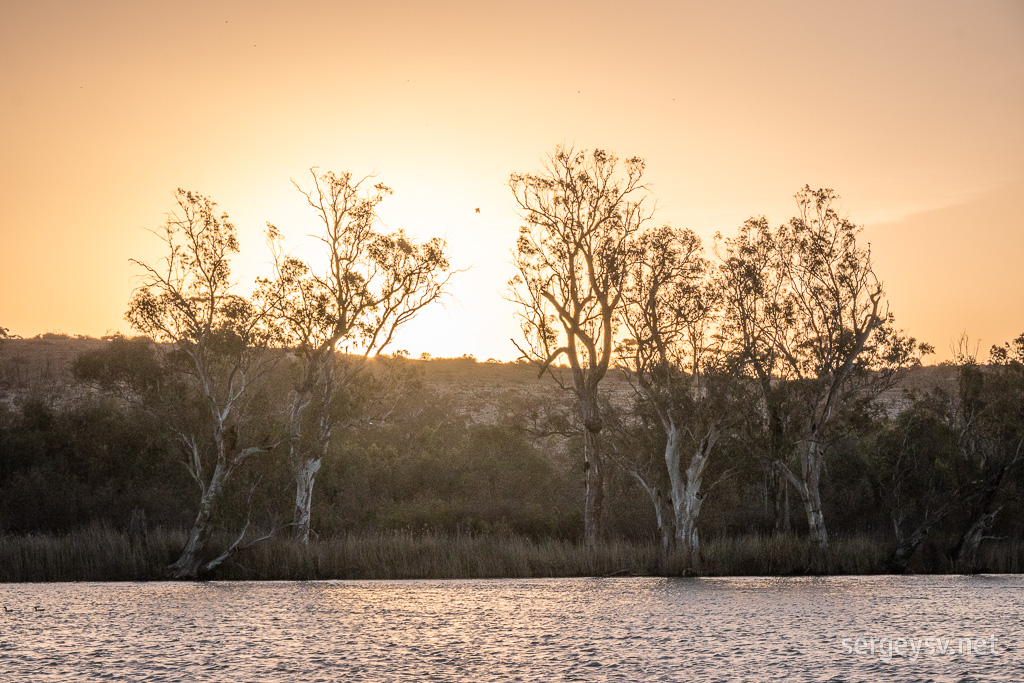 Lookin' good.
It's Saturday evening, so the place is full of weekenders; however, I do manage to find a small spot for myself. The area also has a vast number of birds and other wildlife, which is going to entertain me long after the weekenders are gone.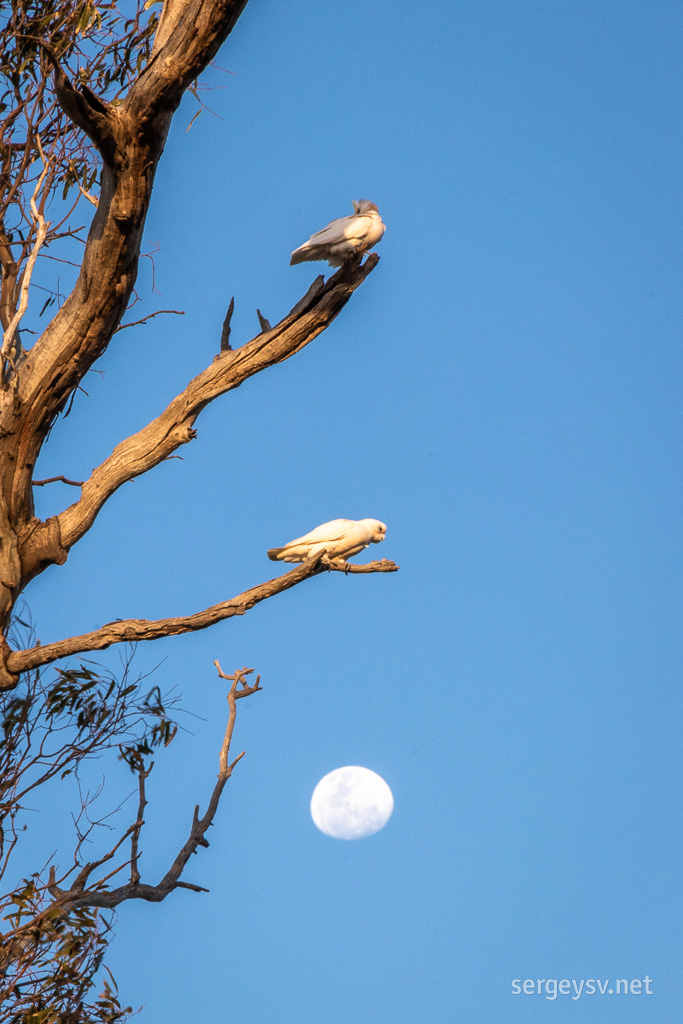 A trio.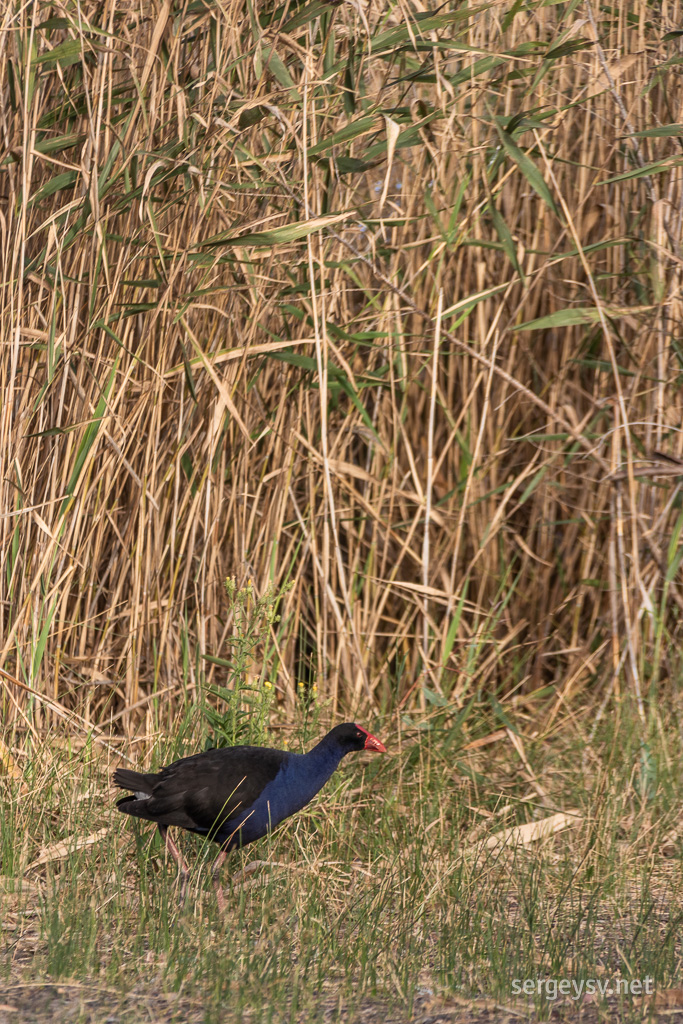 A swamp hen.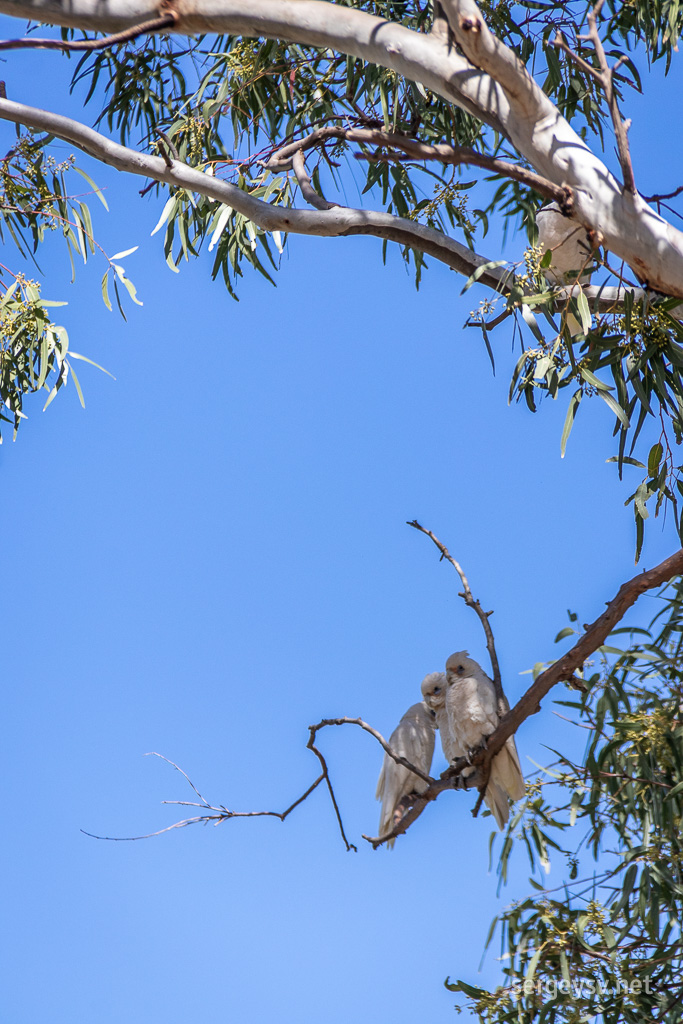 Pals.
During Sunday, the latter slowly disperse. Many boats of all shapes and sizes run along the river in both directions every so often, but they're not much of a nuisance. Birds also make all kinds of weird sounds – especially pelicans, who, as it turns out, moo almost like cows.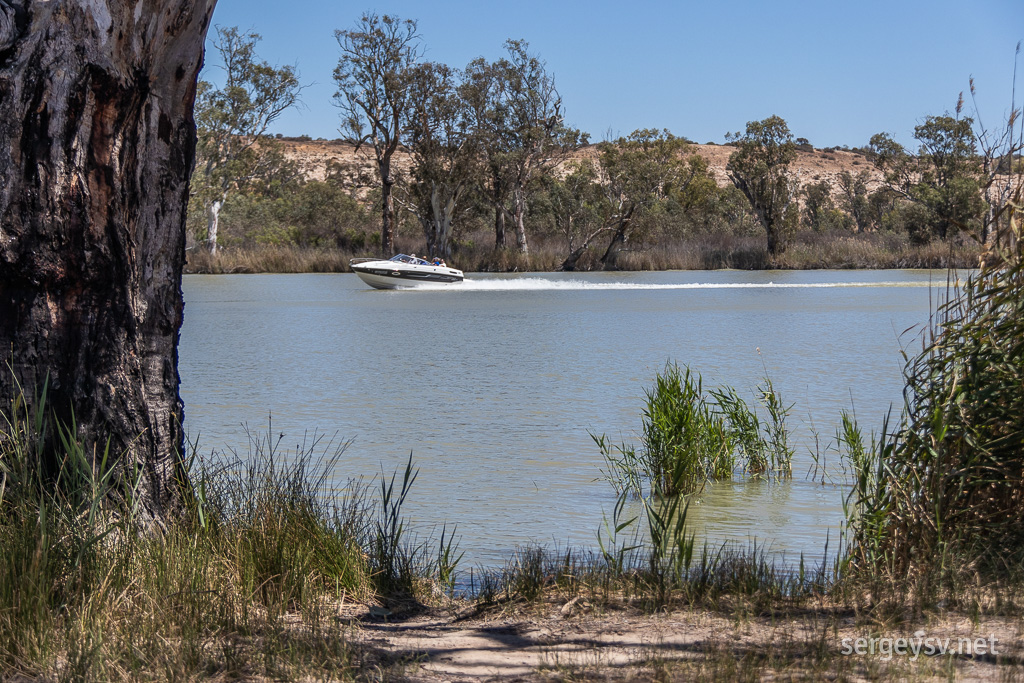 Boats...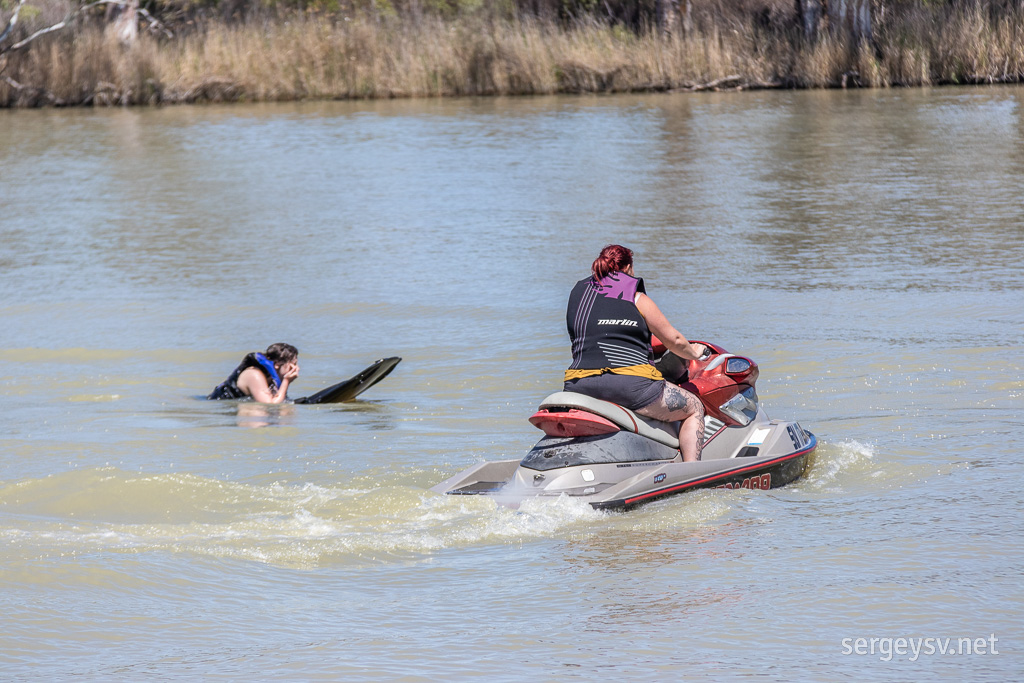 ...and water skiers.
A morning with a pelican (I bet you didn't even see it at first).
And just like that, another working week begins. The Monday is quite hot, and because I am now completely on my own here, I use this opportunity to engage in some skinny dipping. Later that day, a whole group of kayaks passes me downstream; luckily for them, I'm already in my tent by then.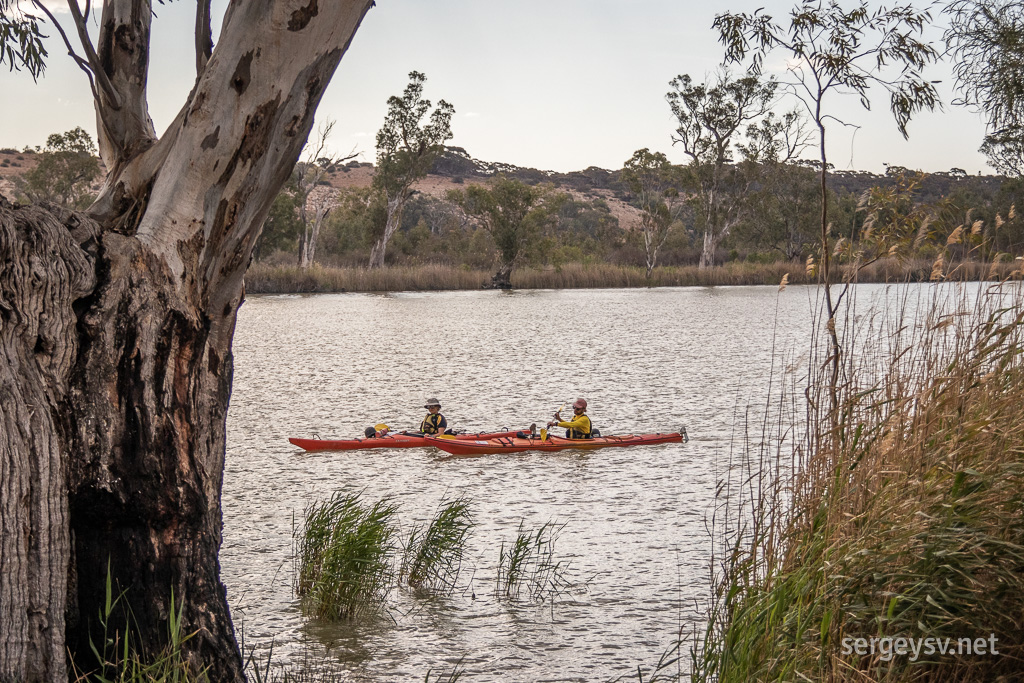 Hey, guys.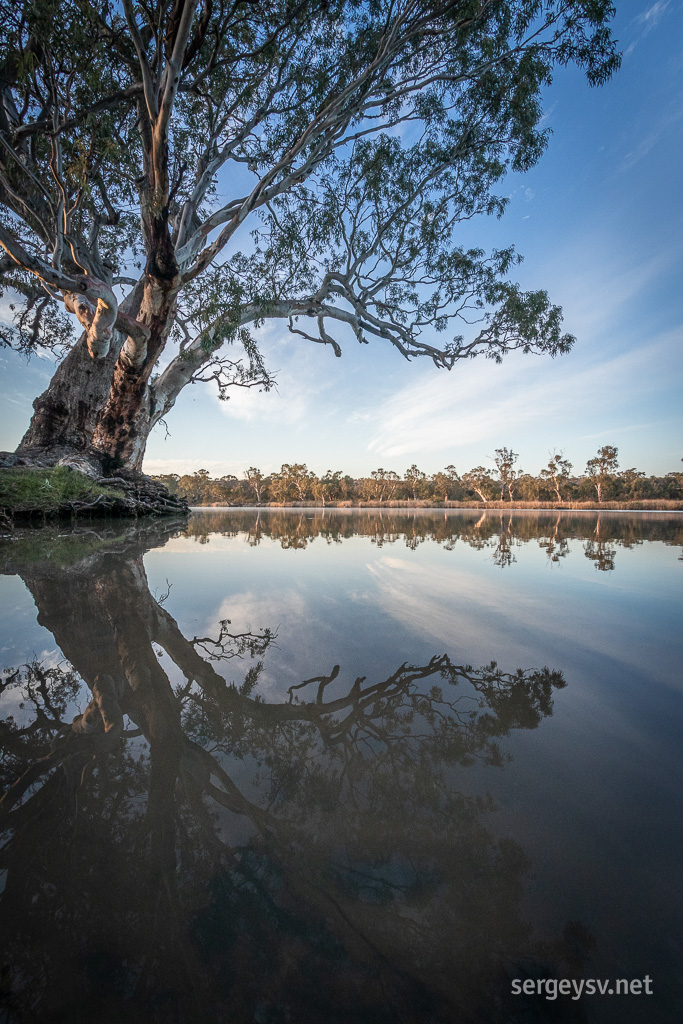 Nice reflections!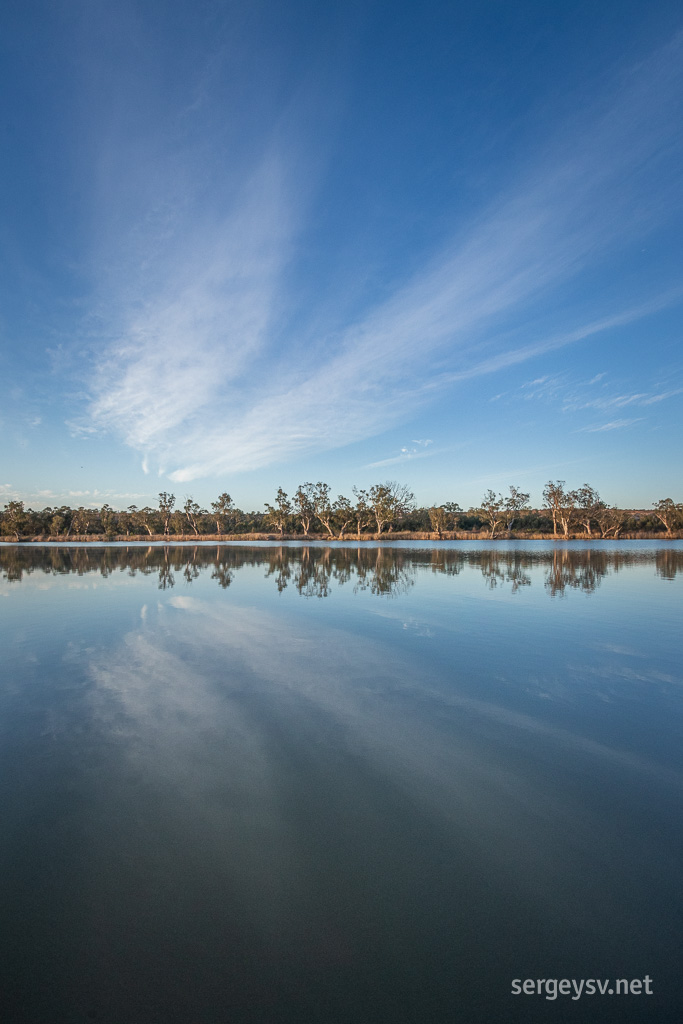 Here, too.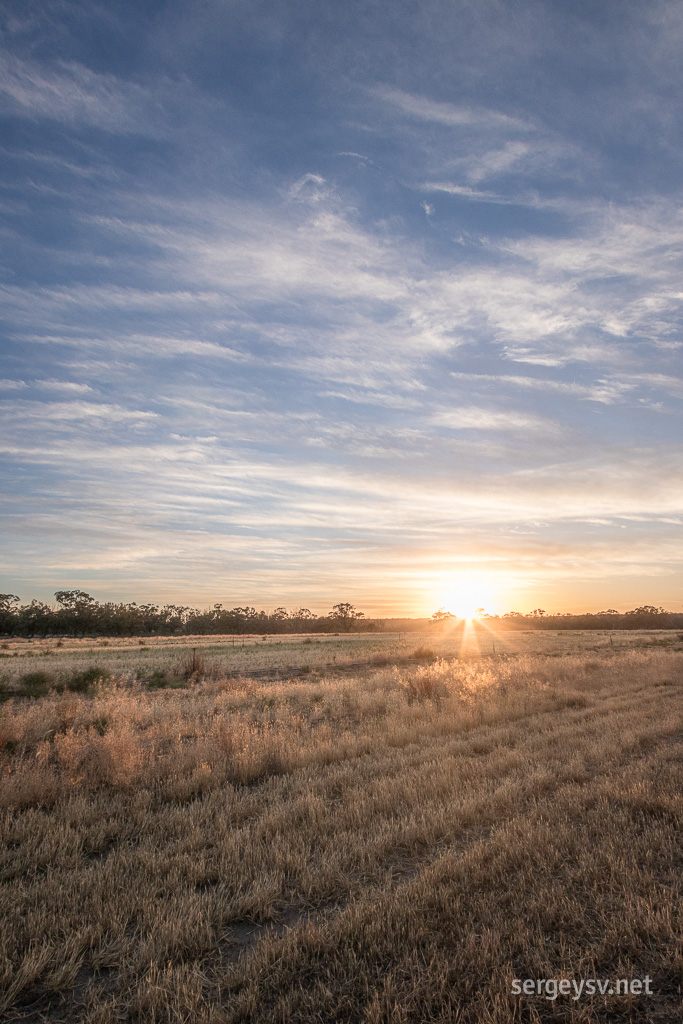 The morning doesn't look too bad in the fields, either.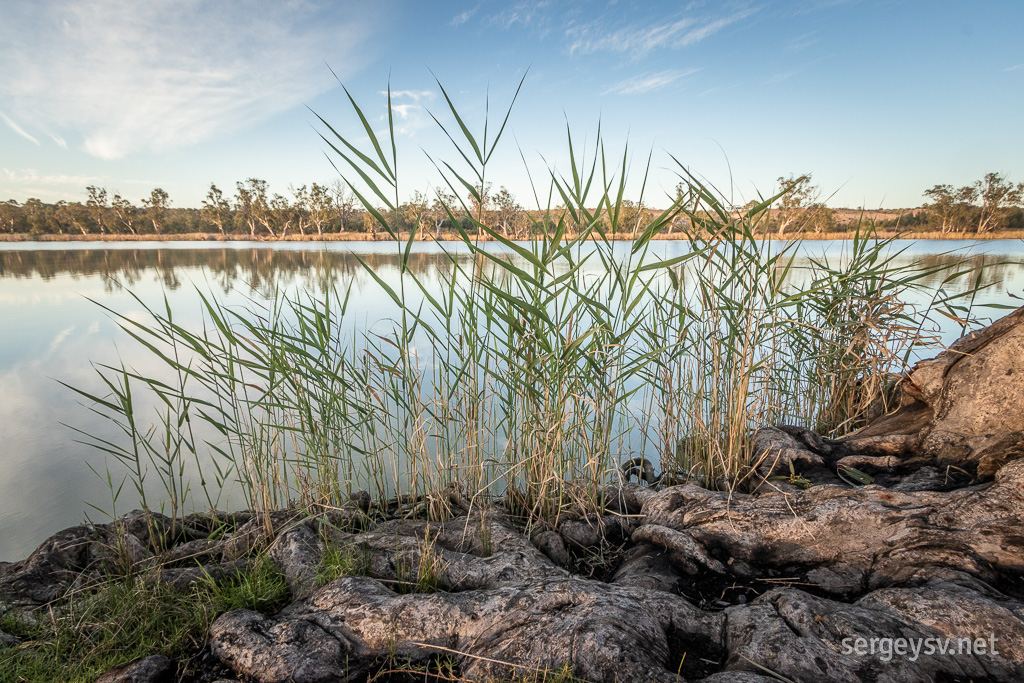 On the riverbank.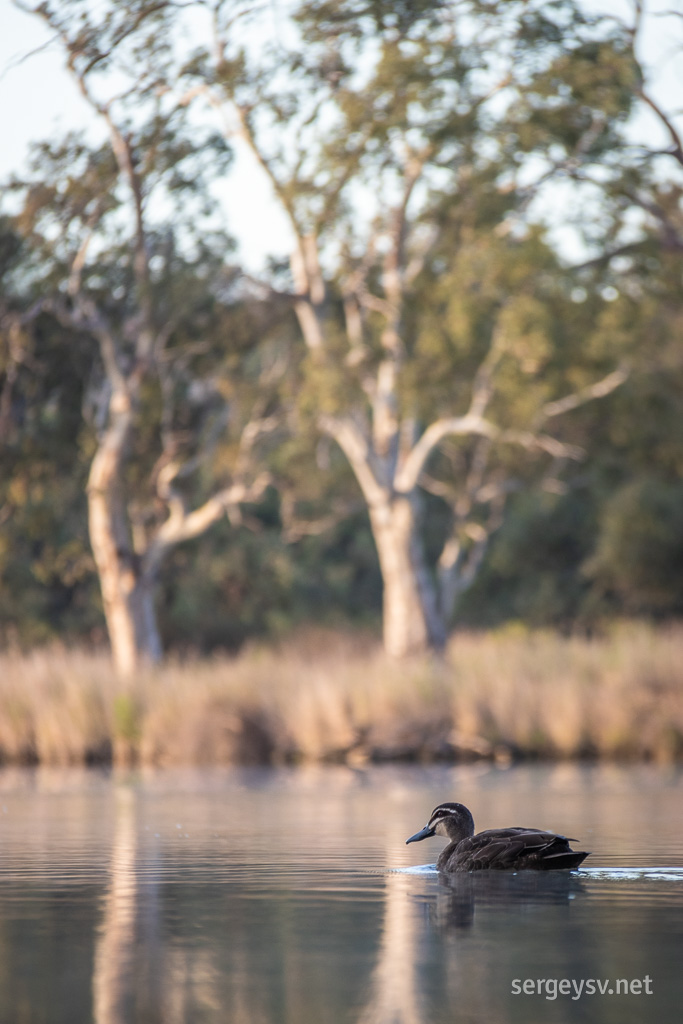 A ducky!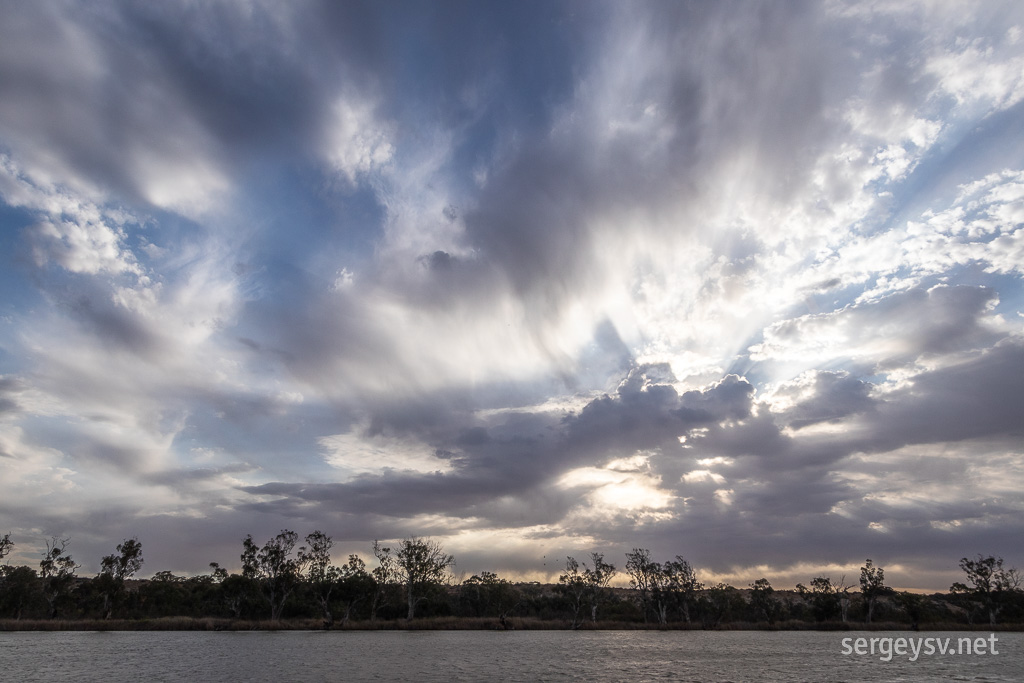 A beautiful mess in the sky.
However, it gets windy at times. So much so that my poor tent is shaking back and forth, constantly ripping off its many velcro straps. However, I already know how to fix them! In Adelaide, I bought some additional straps, and the sewing kit is already with me. An hour or two of leisurely effort, and voila! The tent is now wind-proof... well, at least the straps are.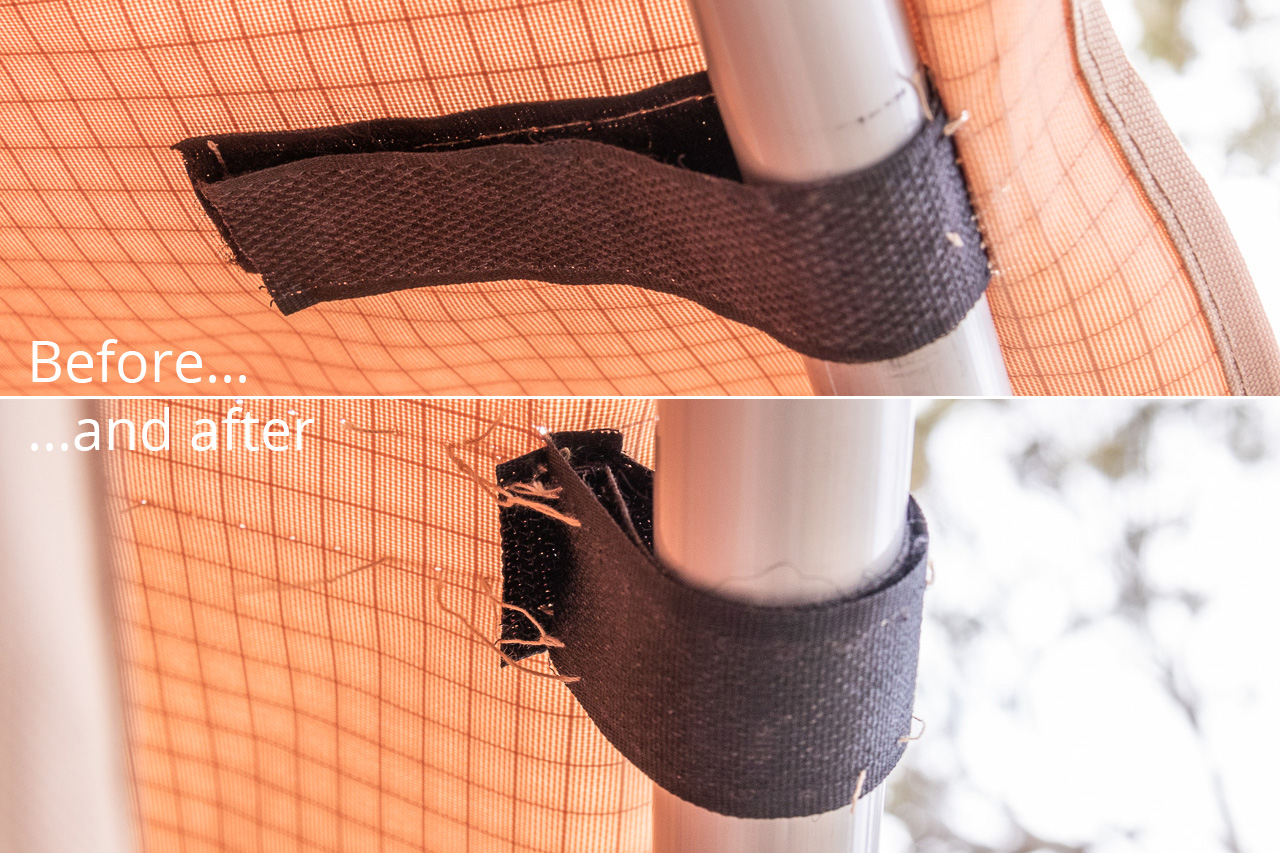 Such elegant craftsmanship.
A weekend finally arrives, and I take a quick trip to Adelaide for supplies. By the time I get back on Saturday, the place is full again, of course. I spend the night a little away from the crowds, and on the next day, when everyone's gone, I grab the best spot available! Sometimes it's the late bird that gets the worm.
The next few days go relatively uneventful. Nice weather, lots of birds and other wildlife (I even spotted an echidna nearby one night), and (apart from a random few people here and now) no one around at all. Beautiful. No one can interrupt my skinny dips! I also take a couple of walks further up the Bend, where the majestic orange cliffs are located.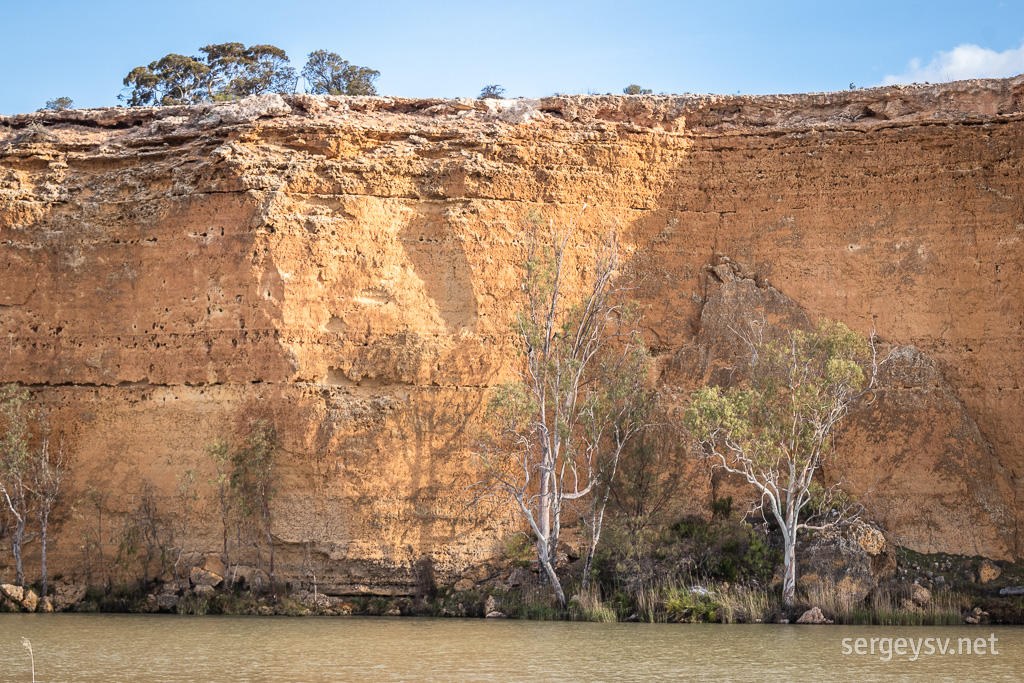 Big orange cliffs.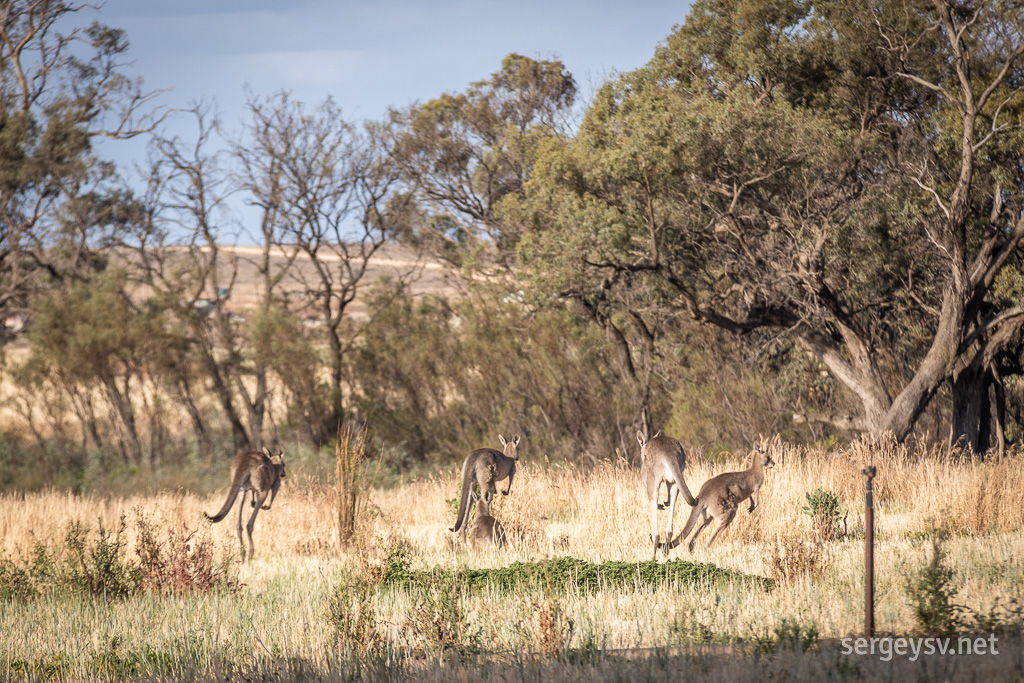 Roos remembered that they needed to be somewhere.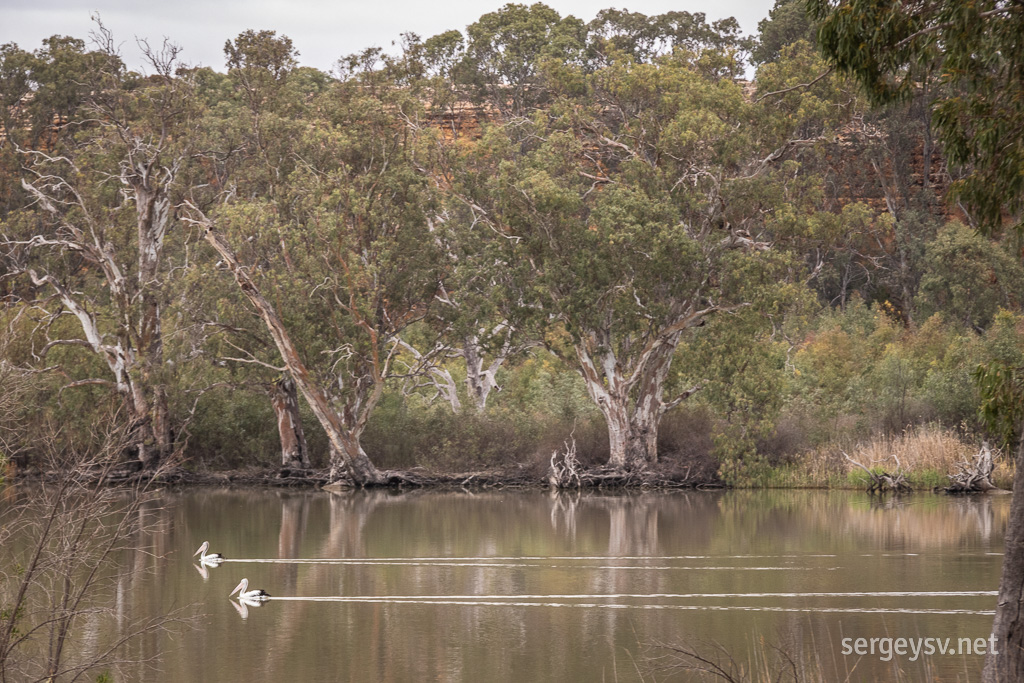 Trails.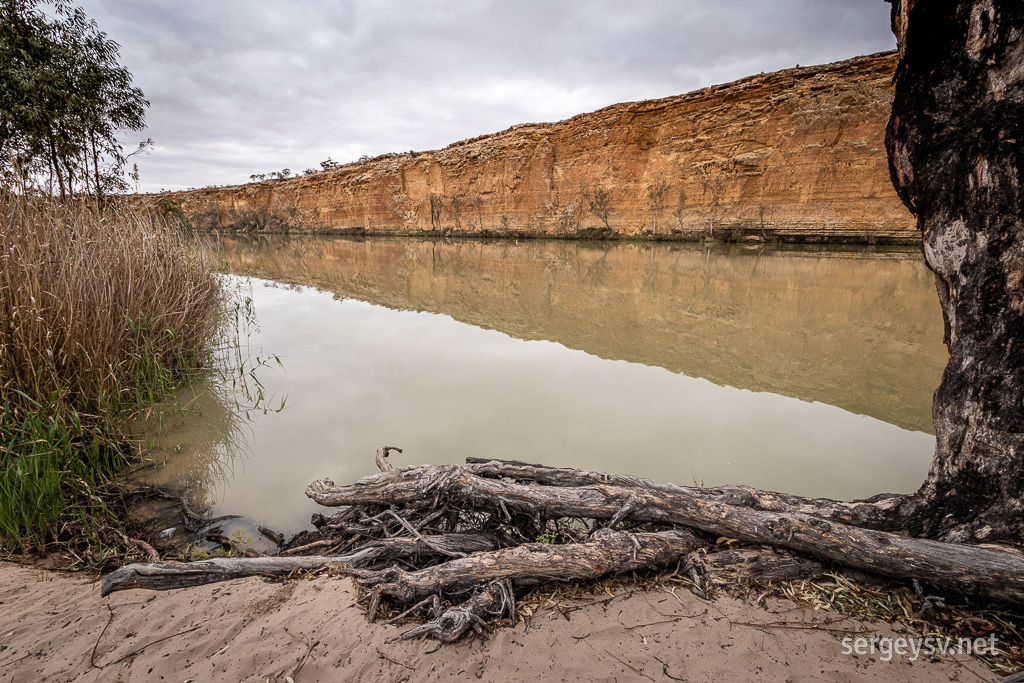 Big orange cliffs on a calmer day.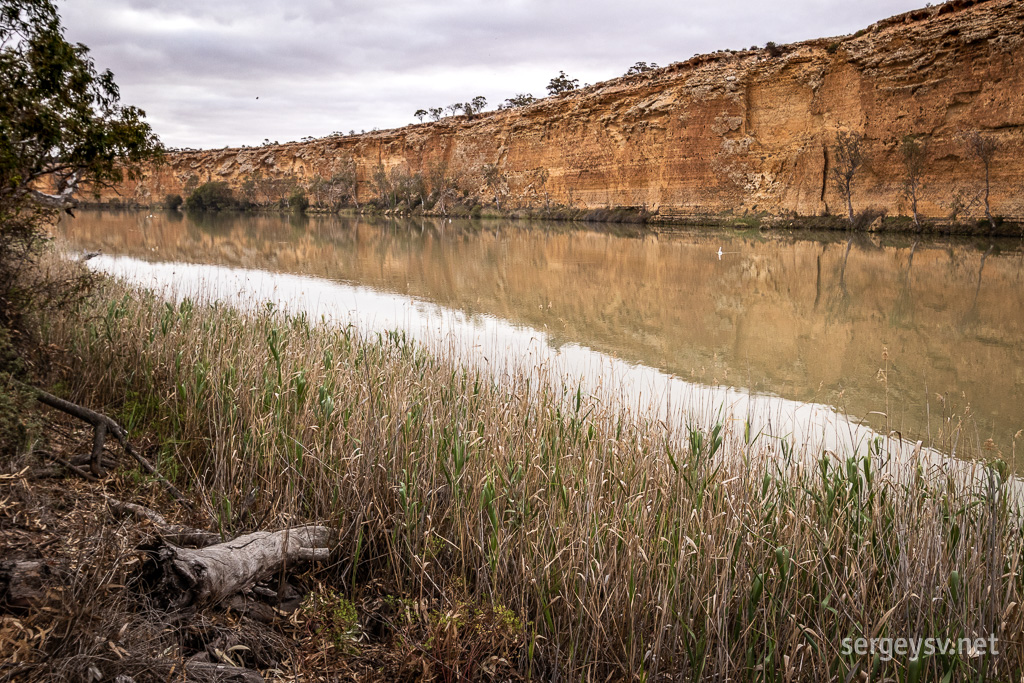 Now with a small log!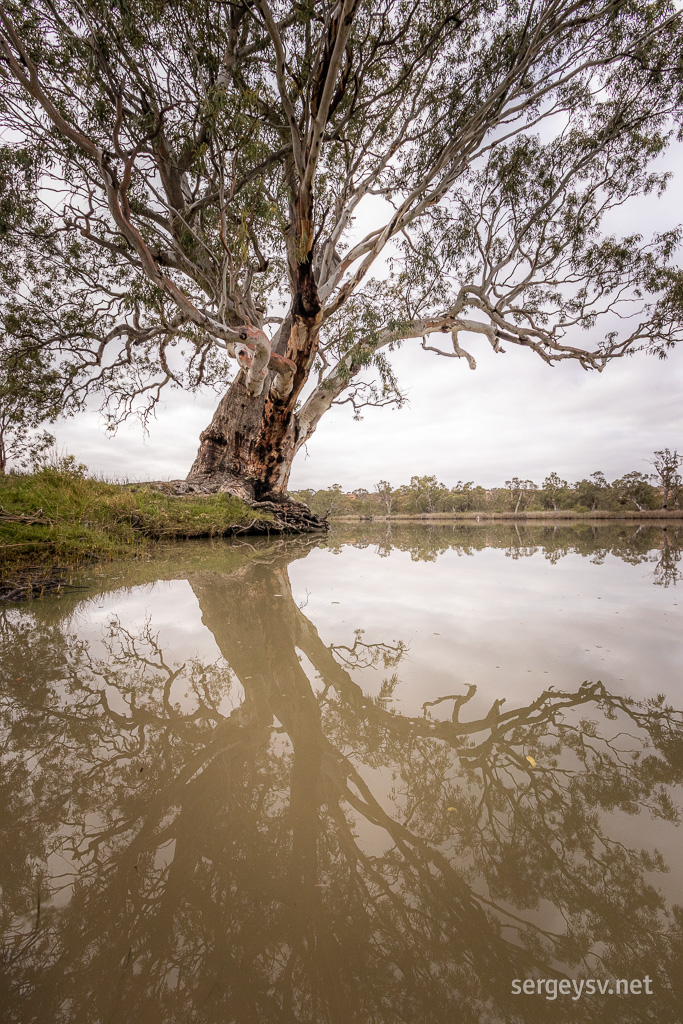 Reflections lookin' good.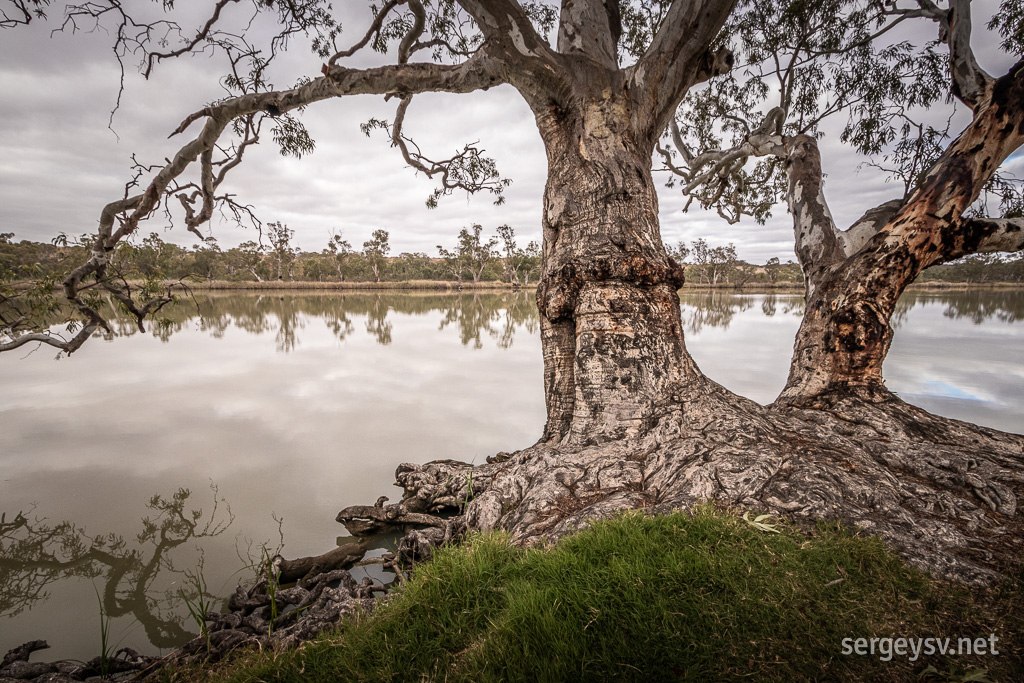 Love this tree.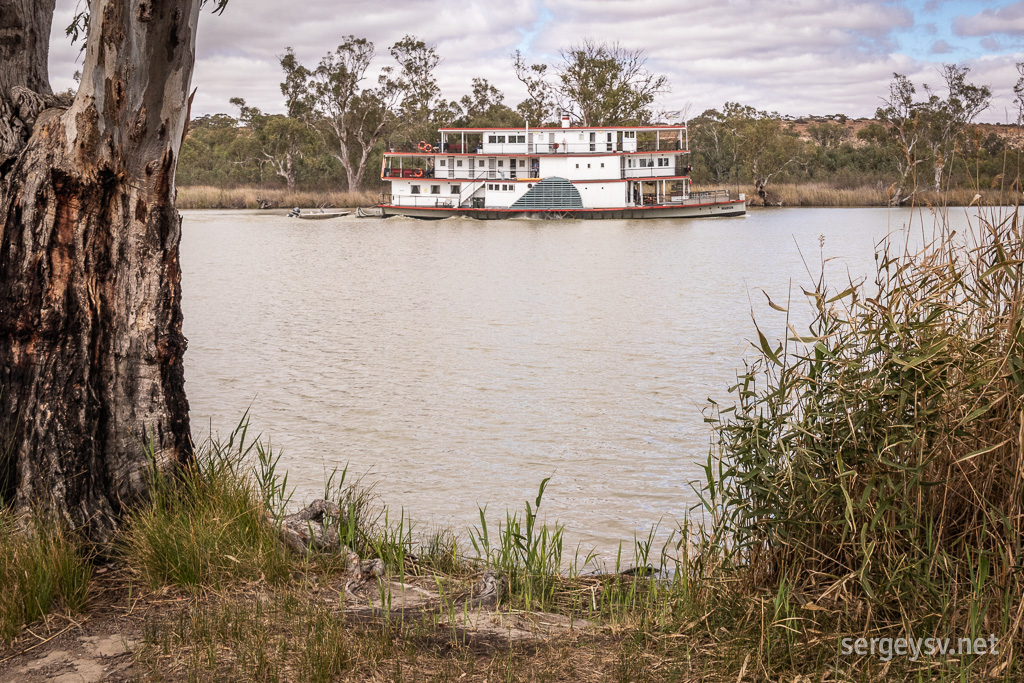 And now enter paddleboat!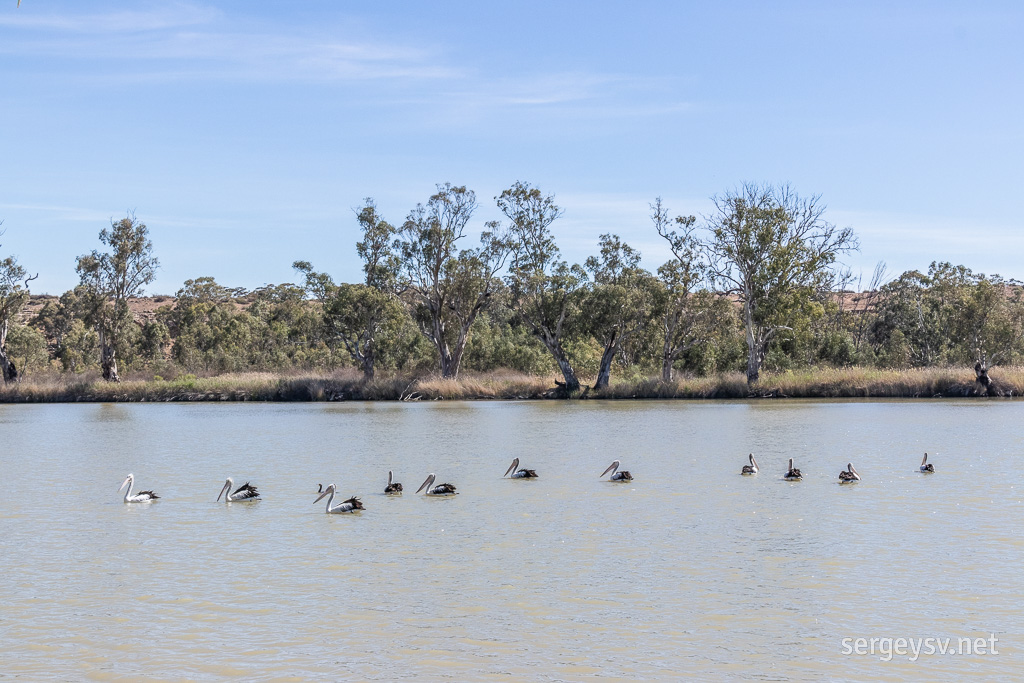 Pelicanmoot.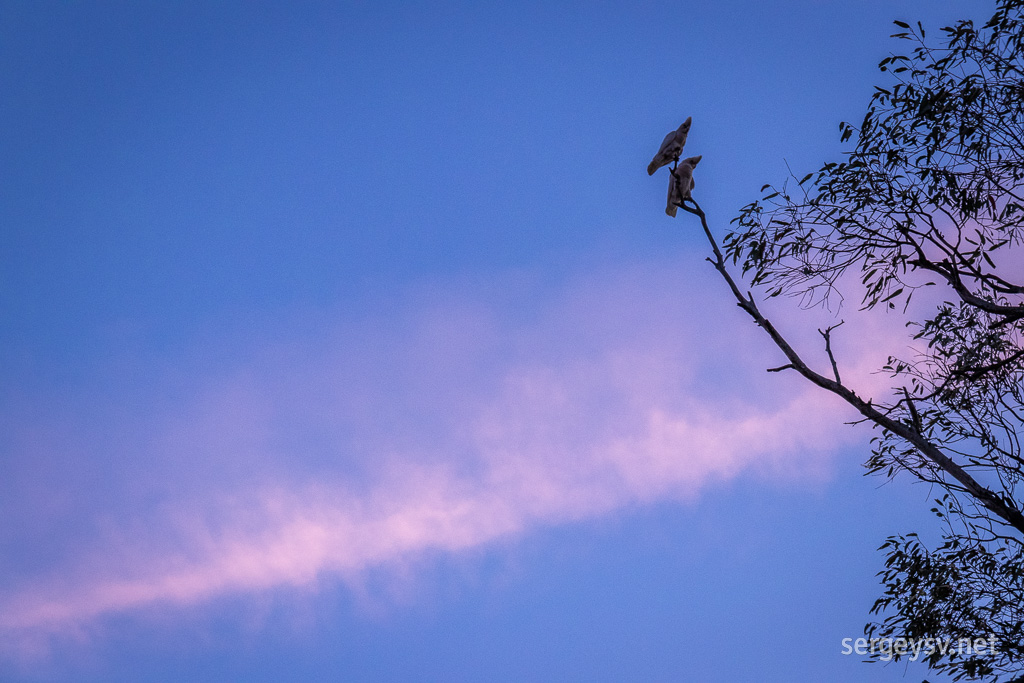 Good night.
Sunbeams! More sunbeams!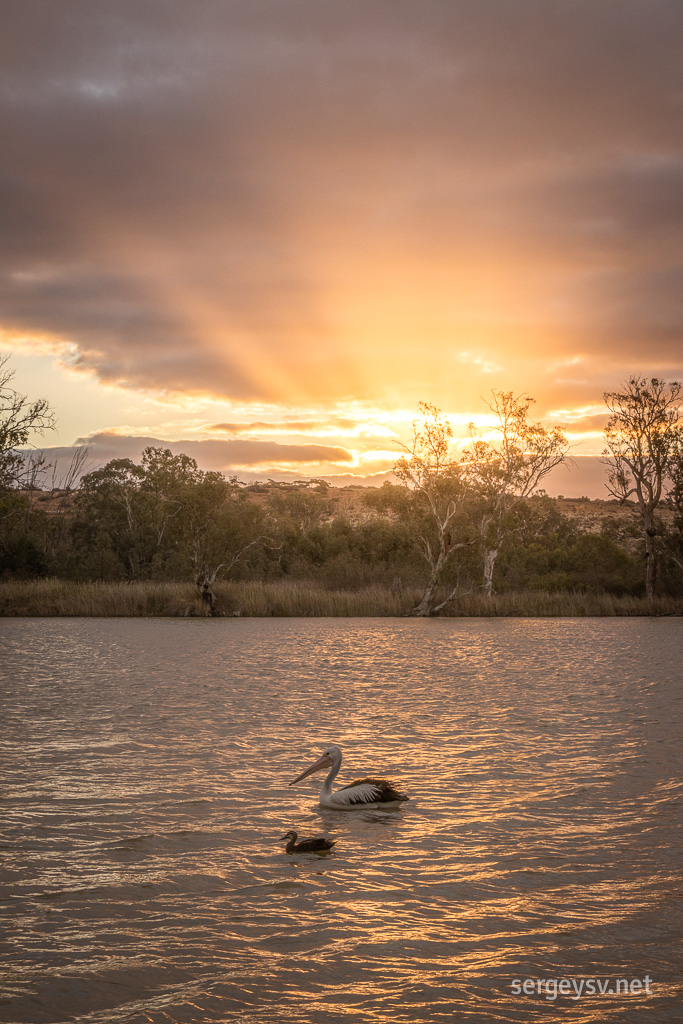 Photobombers.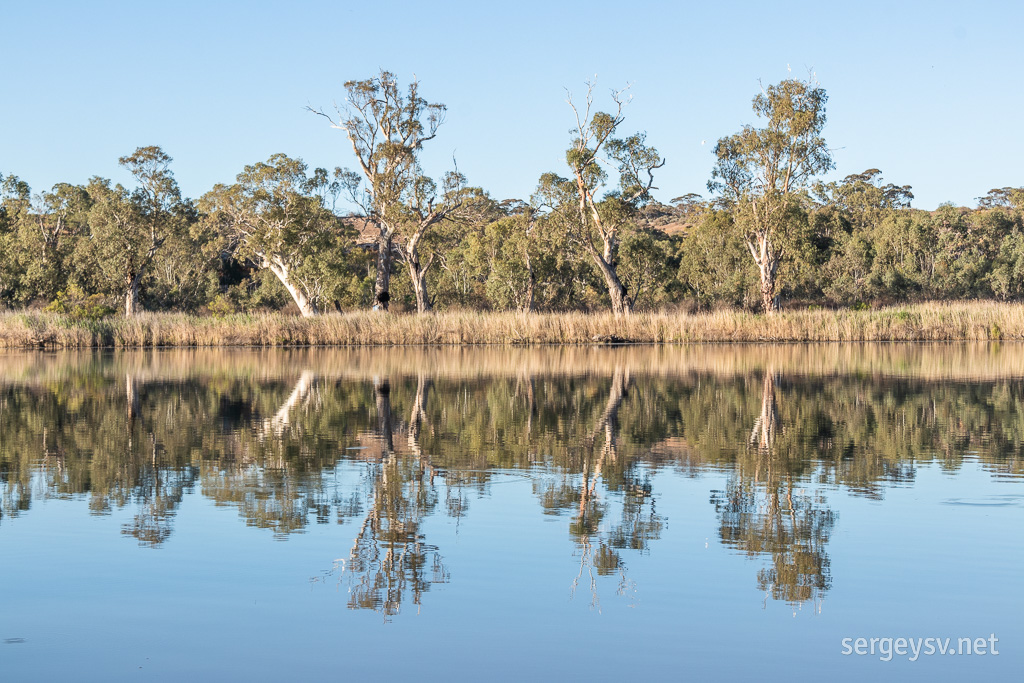 More reflections.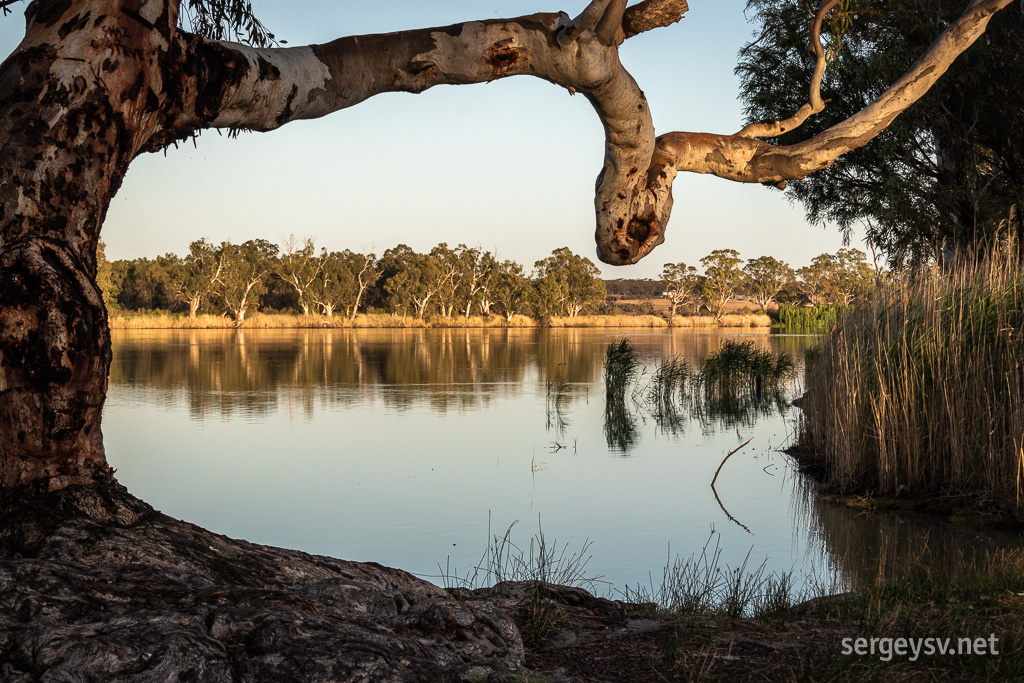 Reflections framed.
And framed some more!
However, by the end of Wednesday the weather takes turn for the worse. It's almost 40, and violent gusts of dusty wind periodically fly in out of nowhere. One of them is so nasty that it kicks the wall of the tent in, and a) bends the awning pole, b) drops everything on the floor and on me, including the table, and c) makes the laptop fall right down onto the armrest. The screen is smashed completely. And, a few hours later, when I'm in the back of my car, dying of heat and dust, another gust comes in and brings the entire tent down. Again.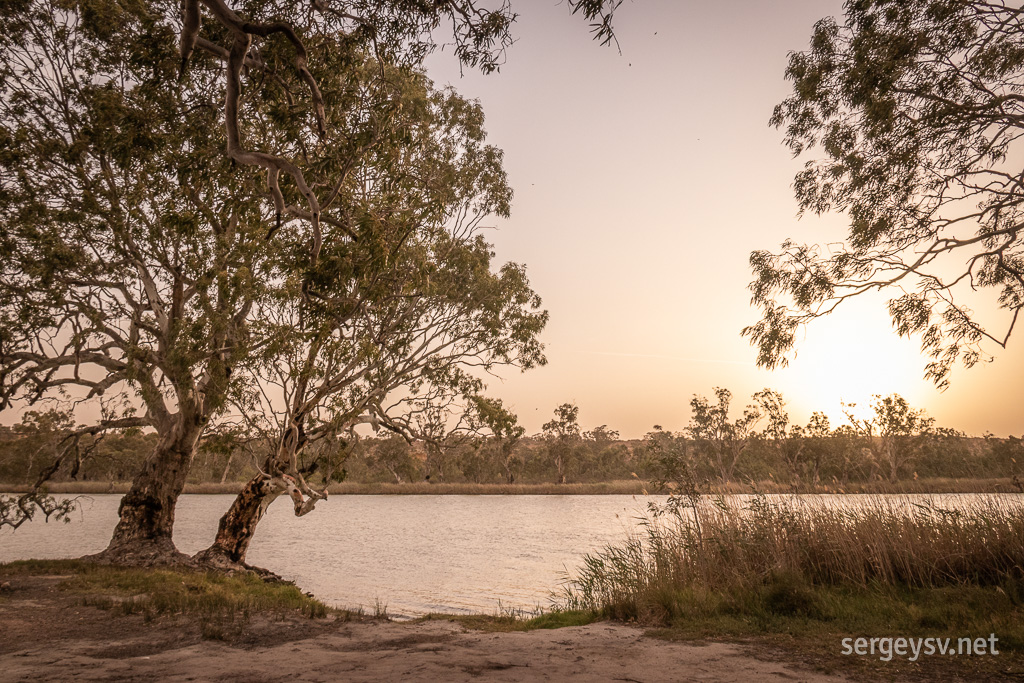 It starts to look dusty.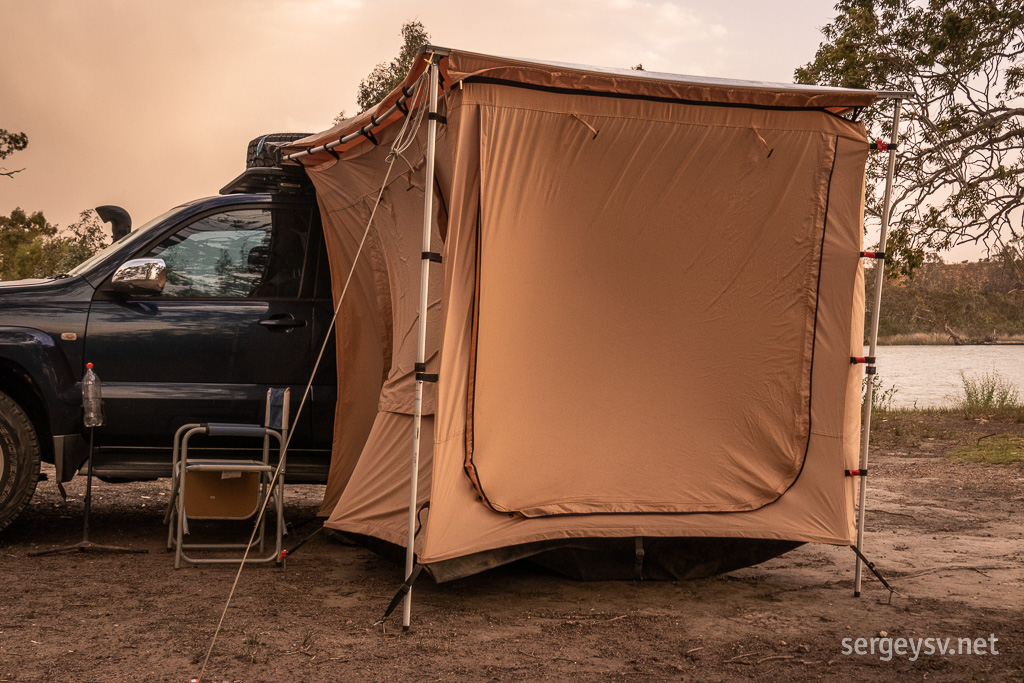 And windy.
Looks like it's time to head back to Adelaide for repairs: luckily, the Apple service centre was able to schedule me for tomorrow.
And also it looks like it's time for me to get myself something sturdier than an awning tent. A quick research shows that this very weekend there's a big caravan and camping show in Bendigo, which is only a day's drive away. Maybe there are some caravan options I can explore? Once I get the laptop fixed, it's definitely time to find out.