3000 kilometres in 3 days across the scorching hot Australian hinterland in a car without the air con. Sounds like fun, right? I agree, and I can't wait to begin. What better way to end the Christmas holidays and meet the new year!
I have to wring my T-shirt dry every few hours, because it's literally dripping with sweat as I drive. I keep both my windows open on the left, but it barely helps: the air is
hot
, it's 40 degrees outside throughout the day. I guzzle water like crazy, keeping spare bottles in the fridge. All in all, I couldn't quite recommend the experience to anyone, but the
Lord of the Rings audiobook
keeps me excellent company. Camping at the end of the day near Elliot, NT, is a very much of a welcome respite, and I even get some mobile signal from the town.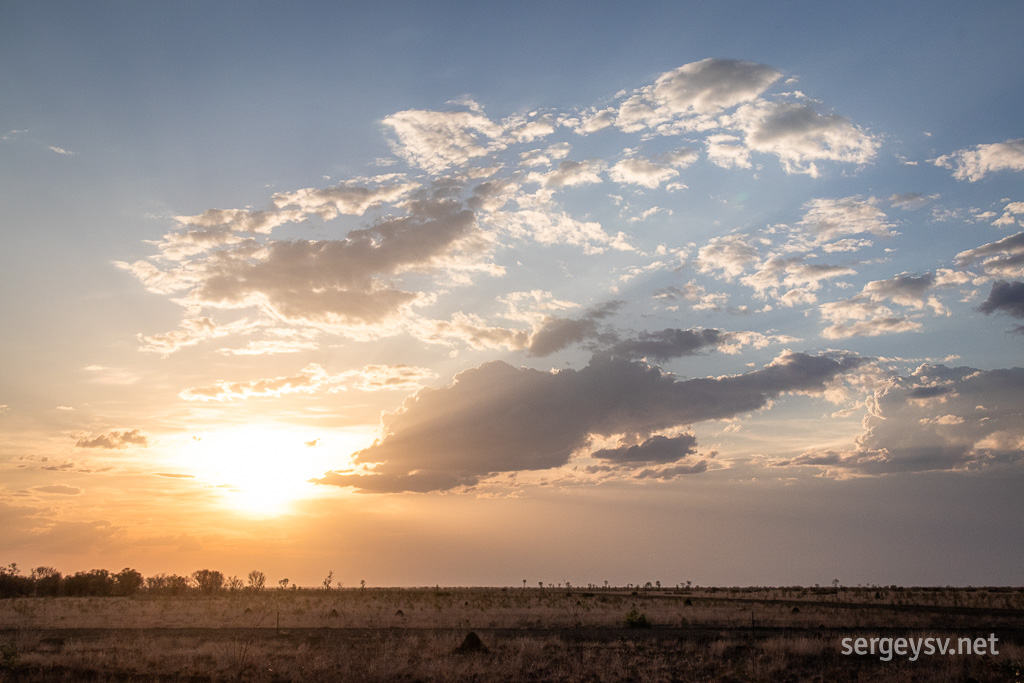 Sun sets over Elliott, NT.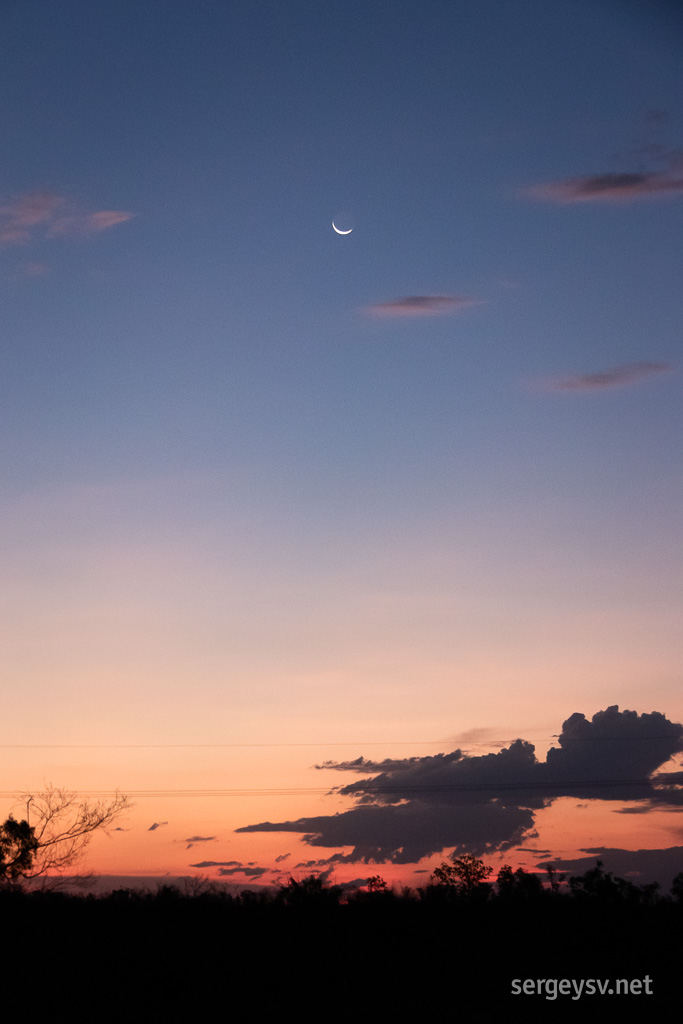 The moon welcomes it.
On the next day, I cross the Queensland border, getting closer and closer to my destination — pretty much like my audiobook's characters. In addition to oppressing heat, I'm also battling
three
cold sores that popped up on my face: must be the
Darwin's
temperature contrasts. Near Cloncurry, there's a private property that lets campers in for a small fee: the place is nice and has showers (you can imagine how welcome they are by now), but there's quite a few ants all over the place. Not a great spot for dining out!
The third day is slightly less hot, but still not a charmer either. Tired as hell, I make my way through the outback Queensland, stopping only at Winton for an ice cream, right next to the Waltzing Matilda Centre. The end of the day (and, coincidentally, the final chapter of
The Return of the King
) sees me at some gravel pit near a town called Comet. I'm so over the drive by now. Hopefully, I could find somewhere in Rockhampton tomorrow to fix my air con at last!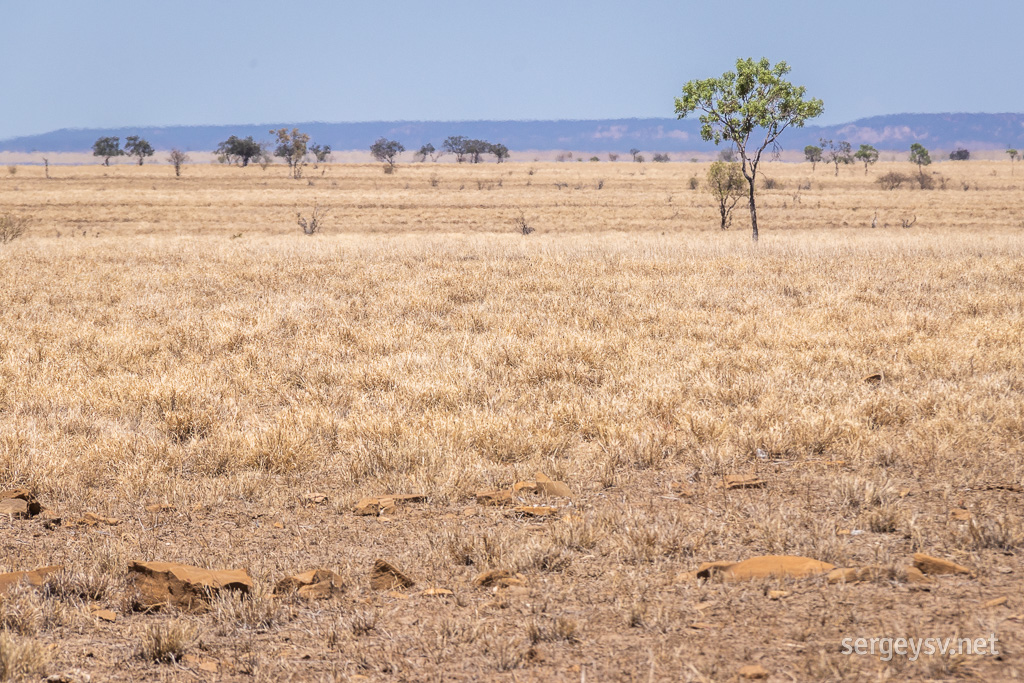 The outback Queensland.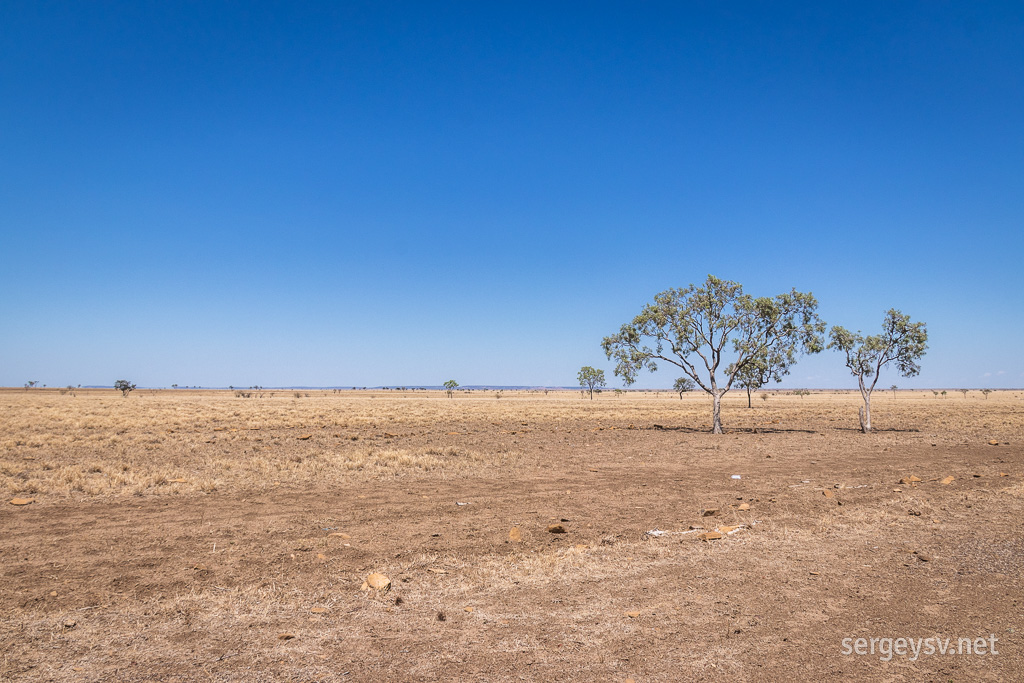 So dry.
No such luck, though. As I arrive there the next morning, everyone's closed: understandably so, given that this is a New Year's Eve. Oh well. I drive a bit further south and make my home for the next week at some spot called Boynedale Bush Camp: it's a nice glade near the lake, not too far away from Gladstone, where you can stay up to 7 days. The place looks quite scenic, and there's plenty of space for about a dozen other campers scattered around. I make friends with a neighbour called Grace and give her one of my 2020 calendars as a New Year's present, because why not.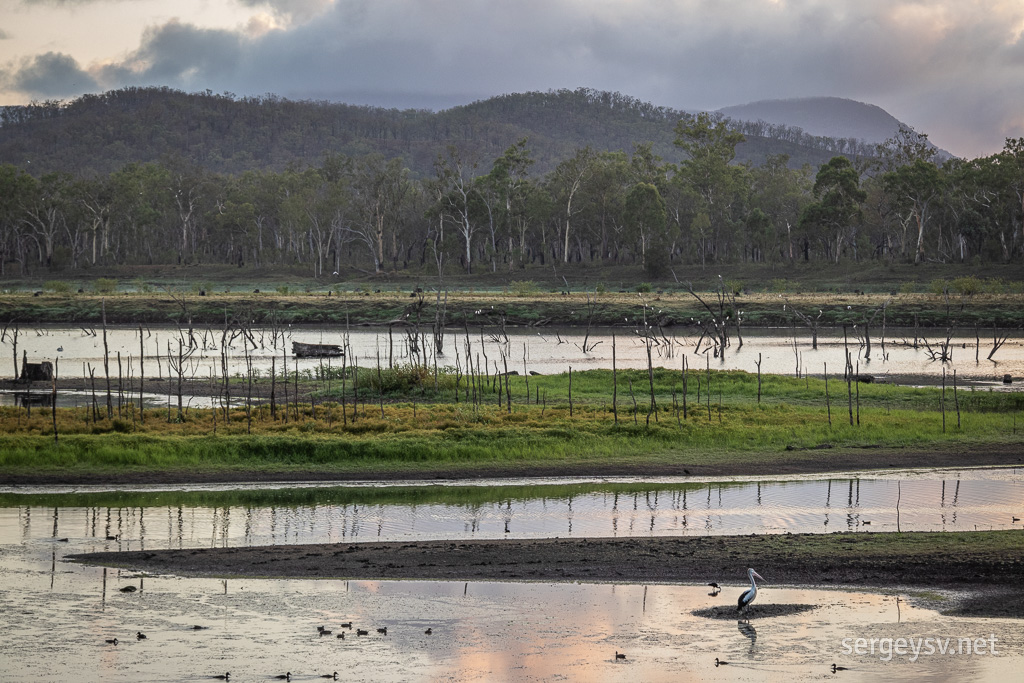 So wet!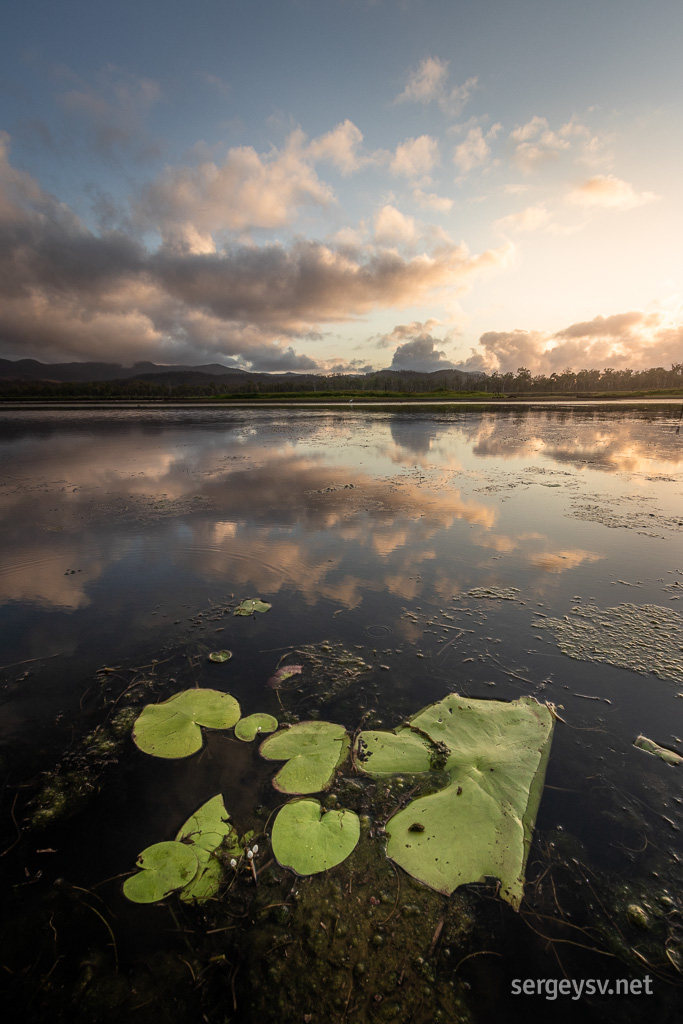 Love the reflections.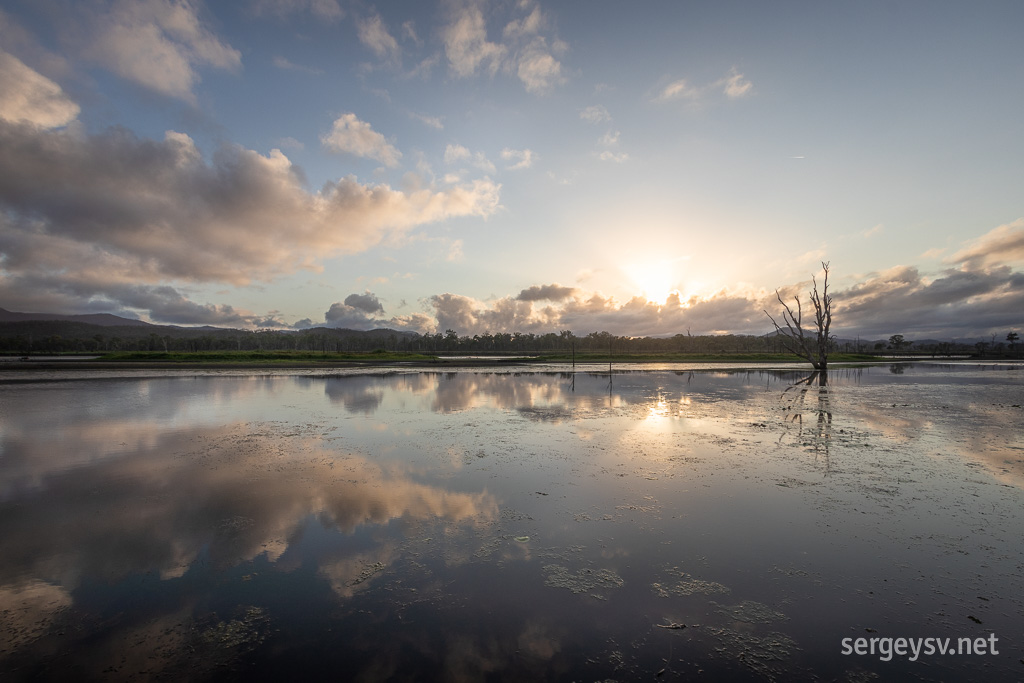 (Almost) perfect symmetry.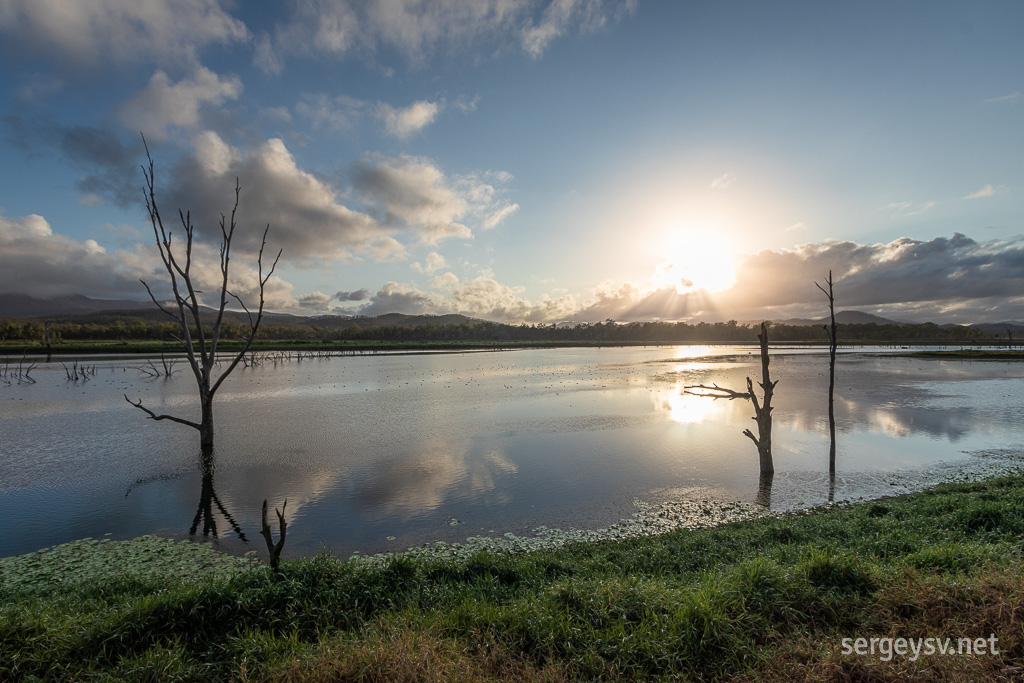 Stick trees are the best.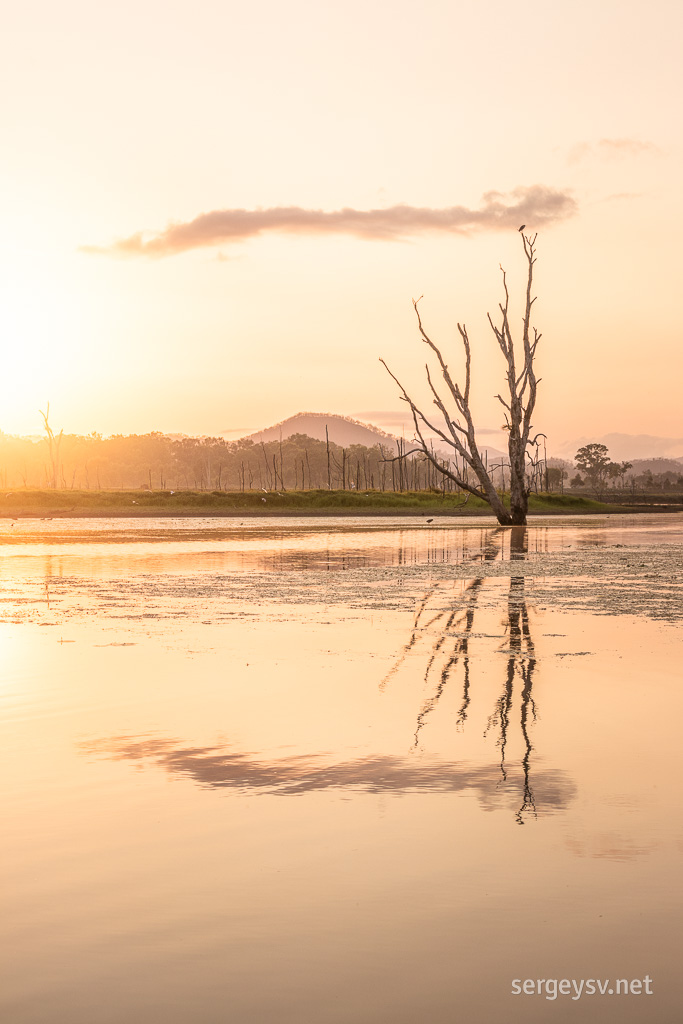 More reflective beauty!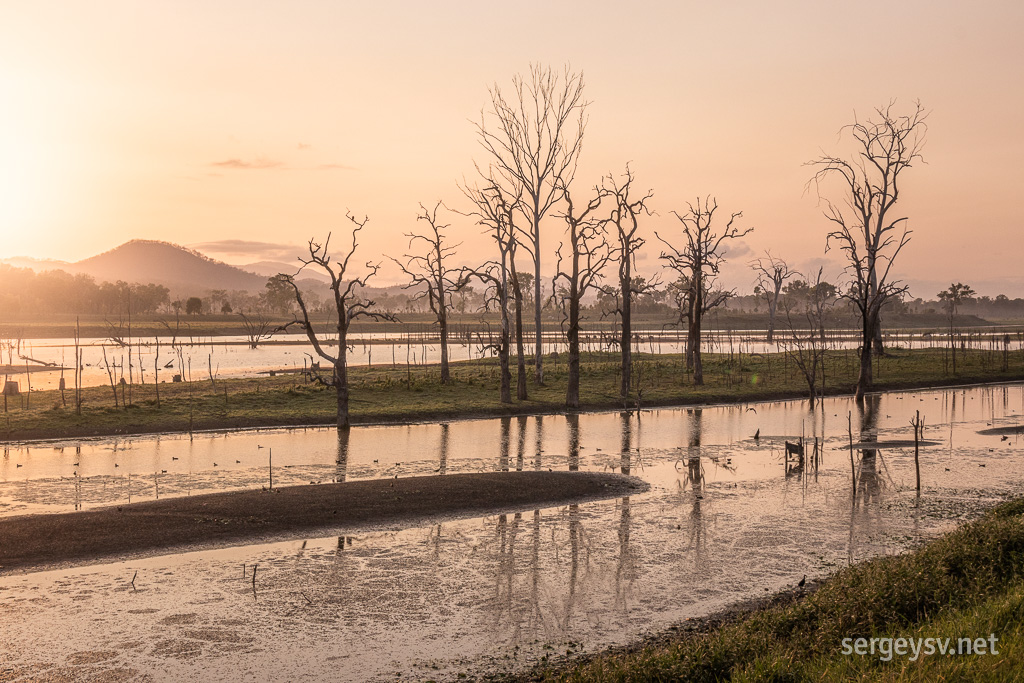 More stick trees!
I stay there till Sunday, and enjoy the place quite a bit. It gives me something to photograph almost every morning; the weather's nice; the neighbouring campers aren't too annoying. However, my electrics begin to act up again: first, my 12V laptop charger dies at last (thankfully, I have spares), and after that my secondary battery begins to run out of juice once again. After some brainstorming, I come up with an idea: hook one of the solar panels to my primary battery and run my laptop from it, and the second solar panel would be hooked to my secondary battery, which would run the fridge and everything else. The setup works a treat, and after that, electrics don't bother me at all. Except for the piezo element in the cooker that also chooses to die this week, but at least I have a lighter and plenty of matches to fire it up.
On Sunday, I move off further south; in a town called Ubobo, there's a so-called Discovery Centre, and for a small daily fee they let you camp nearby and use their facilities. The place is nice, but doesn't have any scenery to speak of, so I don't do any photography there. Also, the toils of the life on the road begin to get to me at last. The weather is hot and humid; the dust is everywhere; the tent feels more and more like a trap instead of a retreat. Definitely time to take a break from all this, which is why on the next Friday (January 10) I move to Palm Valley Motel in Tannum Sands. $660 for 8 nights work a treat on me: after so many weeks on the road, a somewhat basic motel room feels like a palace.
And then it is finally time to conclude this part of my "digital hobo" odyssey and return to Sydney for a while. About a month from now, my camper trailer should be ready; might as well spend this time back in town and catch up with friends. It's still a bit of a journey, though, but now that I've had plenty of rest, it's not a big deal. Indeed, a camping stop on my way near Narrabri proves to be quite a beautiful spot, with a small river with great reflections, and a fair bit of horses and wildlife wandering around.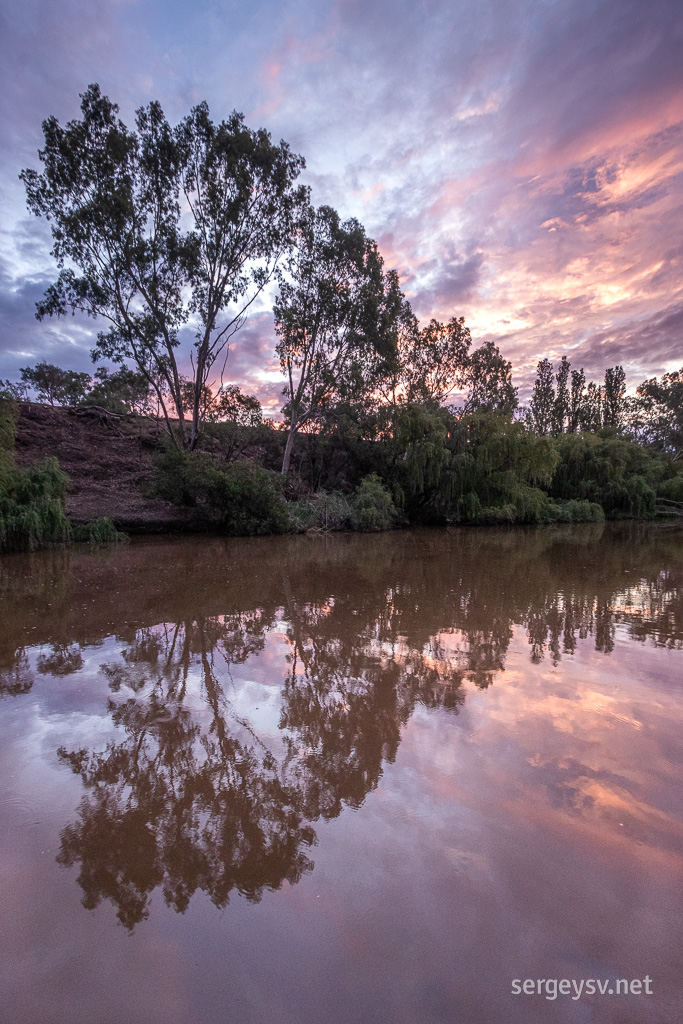 Beautiful reflections are everywhere in this country!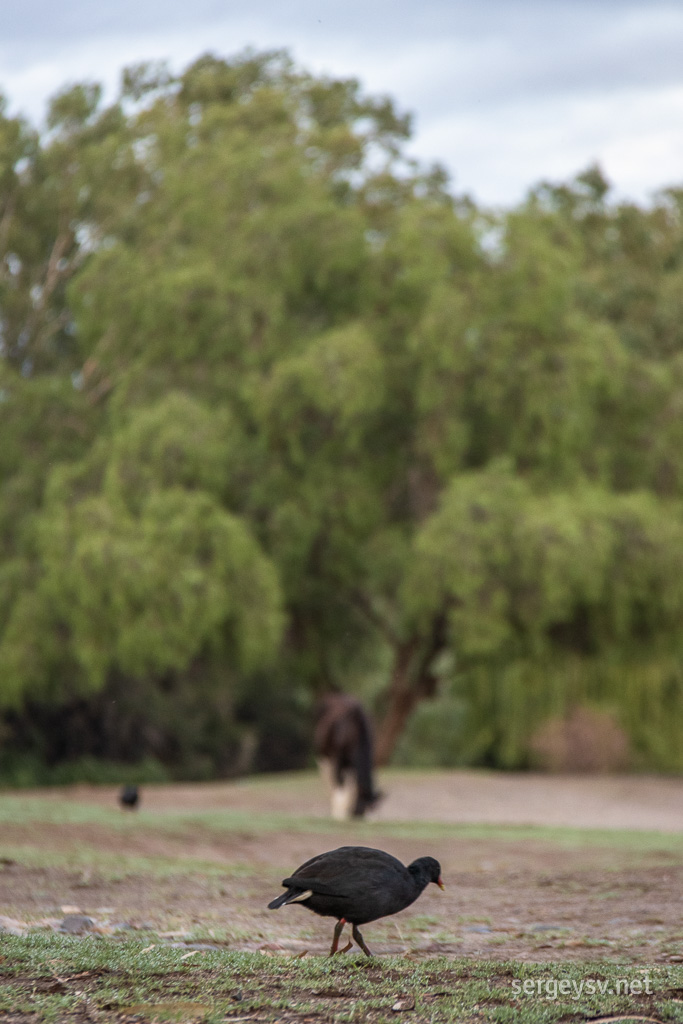 Everybody's out and about in the morning.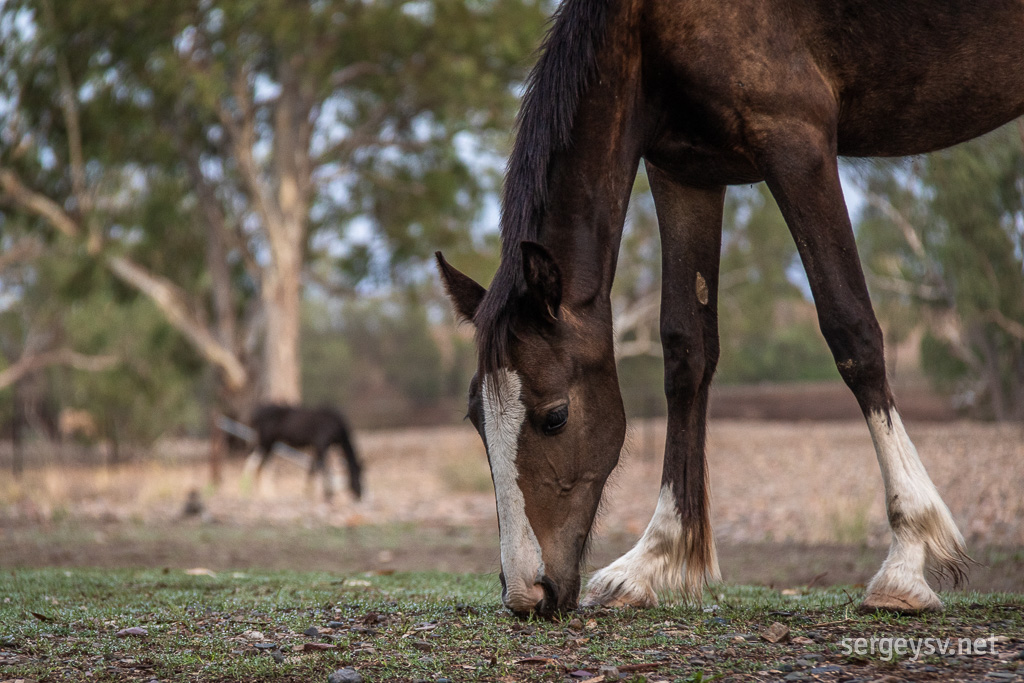 A good horse always knows what it wants.
Well, the next time I'm out and about, it's going to be with much more comfort, because I'll finally be in a camper trailer – whenever that comes about. Until then, I'm done with camping life, and see you guys whenever I'm back on the road!