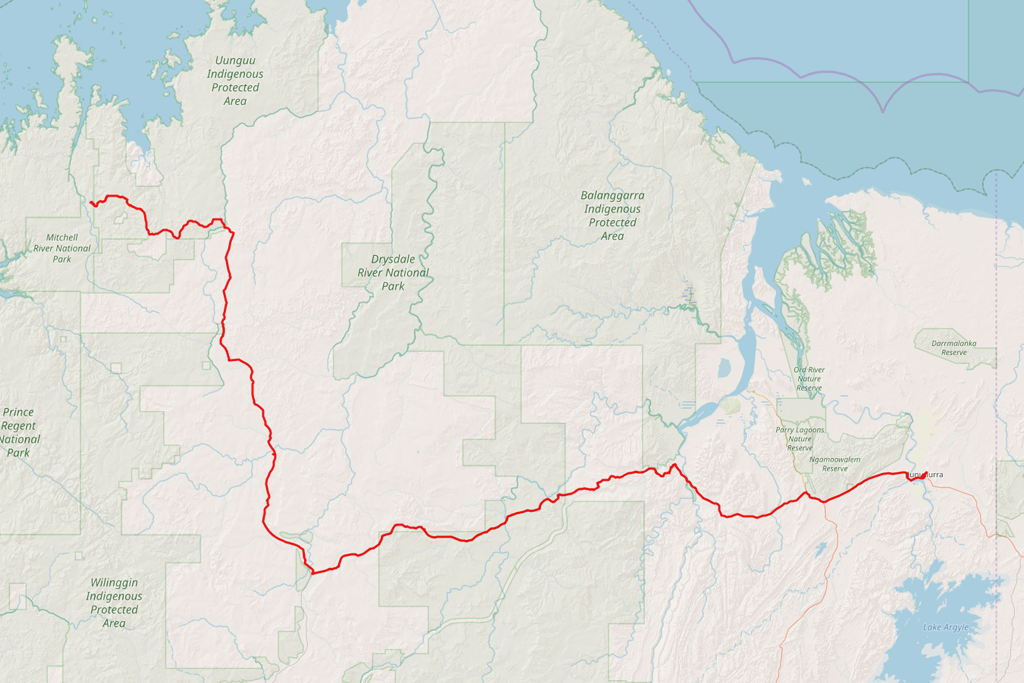 Distance covered: 549 km
In the morning, I head over to the mechanic's just before the opening time and start waiting. Twenty minutes later I begin to realise that something's wrong: no one's around yet, and the entire area looks like it's been wiped out by a plague. I mean, it's a small town, but on a Monday morning? I quickly check with Google, and…
Western Australia Day. Today, of all days. Long weekend. Everything is still closed.
I begin to weigh my options again. Staying in Kununurra for one more day? And, potentially, even more, if the problem is serious and can't be fixed in a day? Or should I just buy more coolant, head back to the Gibb, top it up regularly and pray that the radiator doesn't bust until I reach Derby?
Oh, to hell with it. Enough with doing nothing. I'm here to see places, after all. And if the radiator goes mid-way, then so be it. The Gibb is well-travelled these days, and there's no risk at all of becoming stranded in the wild.
Back in the saddle it is!
I buy a few bottles of coolant at the servo and retrace my steps back to Home Valley. Turnoff to Gibb… to Emma Gorge… to El Questro… air the tyres down again, because the bitumen ends once more… Pentecost River… and now I'm finally in the country I've never been before.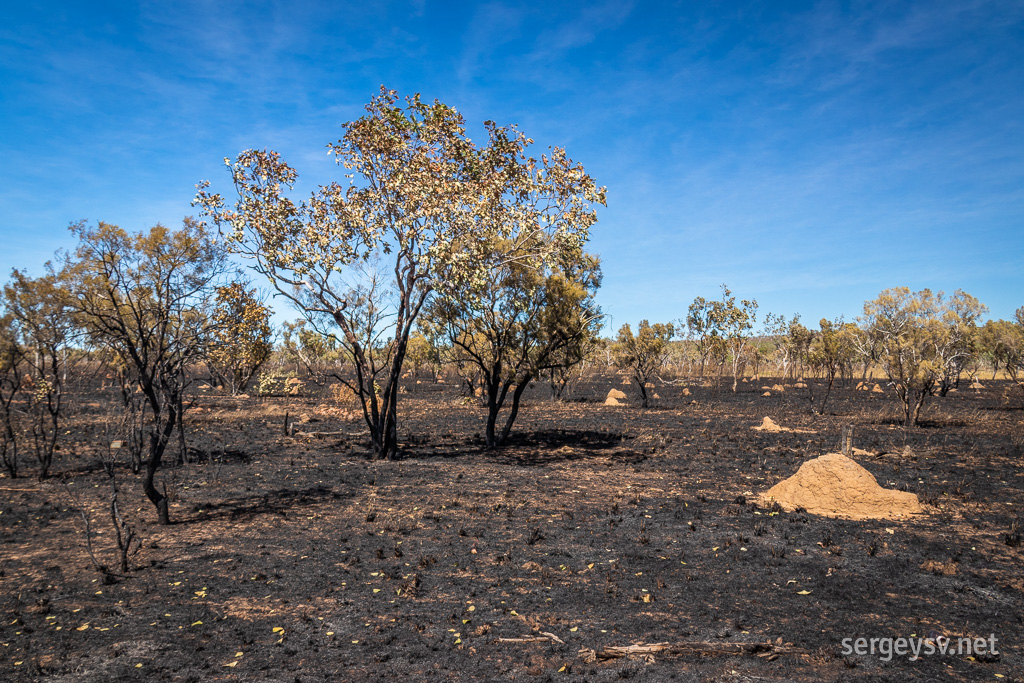 Some bushfires happened here, too.
The road gets a bit worse as I drive on: very bumpy and corrugated at places. Exactly what I need when I'm already leaking coolant all over the place! By 1 p.m. I reach the intersection with Kalumburu Road and check the level of coolant. It's bad. Takes half of the bottle to top it up… but I have no choice now: the only way for me now is forward. But not until I take a slight detour: I
have
to see the Mitchell Falls if I'm here, and they're way further north from where I am.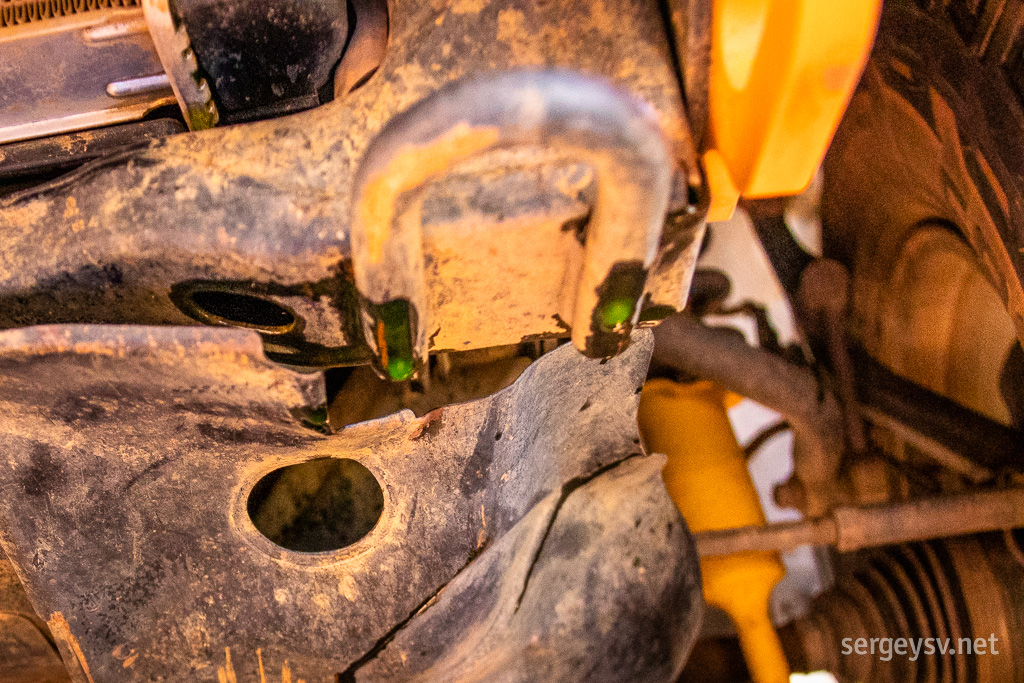 Coolant is still dripping.
I head on to the Kalumburu Road. Contrary to what the guidebooks and the Internet say, it's in a much better shape than the stretch of the Gibb I've already done. Looks like it's been graded recently, which is a good thing: I don't want to spend more on those bumpy tracks than I absolutely have to. Not with the leak, anyway. On my way up north, I stop by the Drysdale River Station just in case, but there are no mechanics there either. The station looks pretty, though. Could definitely camp there sometimes.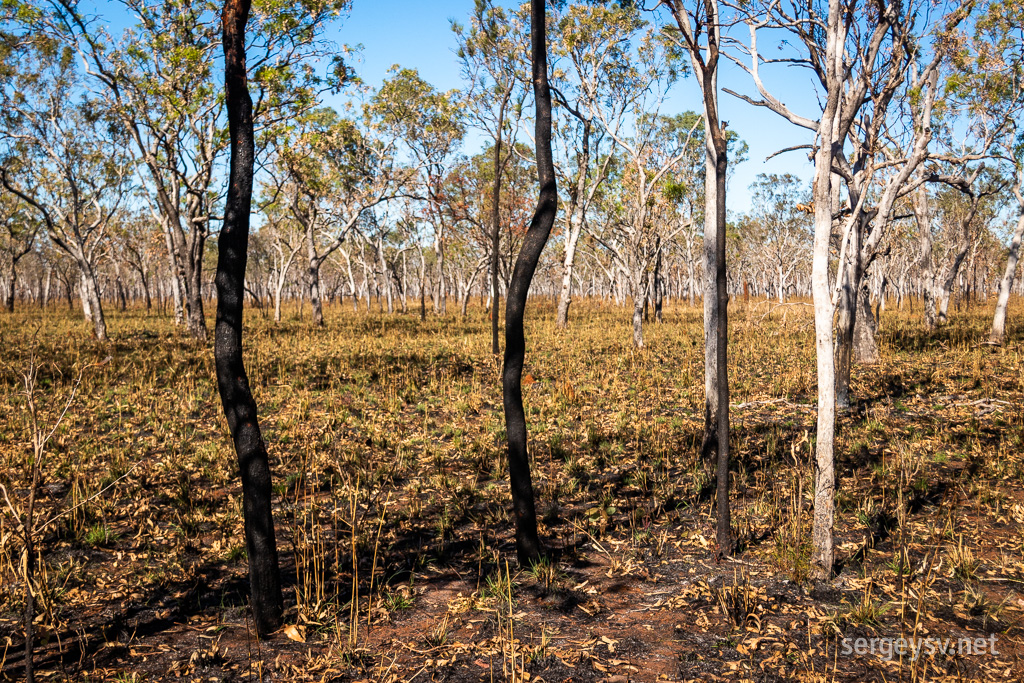 It looks quite different here.
The scenery changes around me. The ground becomes flatter, and trees become taller, but sparser. This becomes even more prominent as I turn off the main road towards the Mitchell Falls: the track is surrounded by huge quantities of palm trees, I've never seen so many of them before in one place. The track itself is in terrible shape, and is extremely corrugated. There's a bus in front of me that I have to trail for a while, because the road is too narrow for me to overtake it, and because of the all the dust it creates I can't see any oncoming traffic. Very annoying.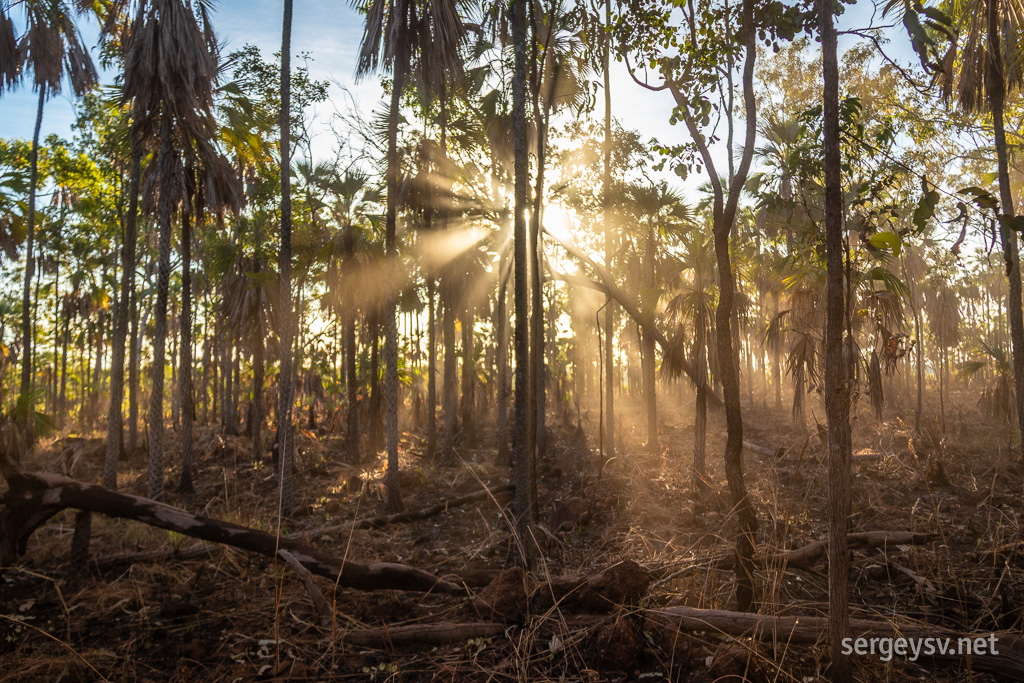 Lots of palm trees here!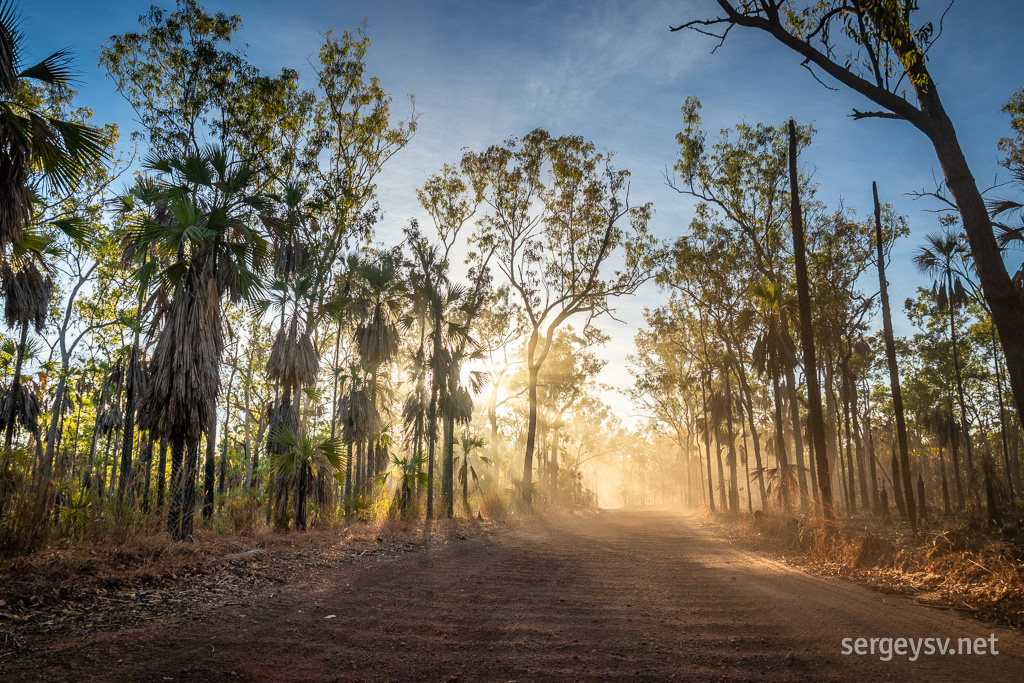 The road is corrugated and dusty.
Everything ends, however, and it's almost dark by the time I arrive at the Mitchell Falls campground. It's not free (envelope box), and it's a bit crowded; luckily, I don't need a lot of room for just one car with no tent. Time to have dinner and get some rest before tomorrow's hike!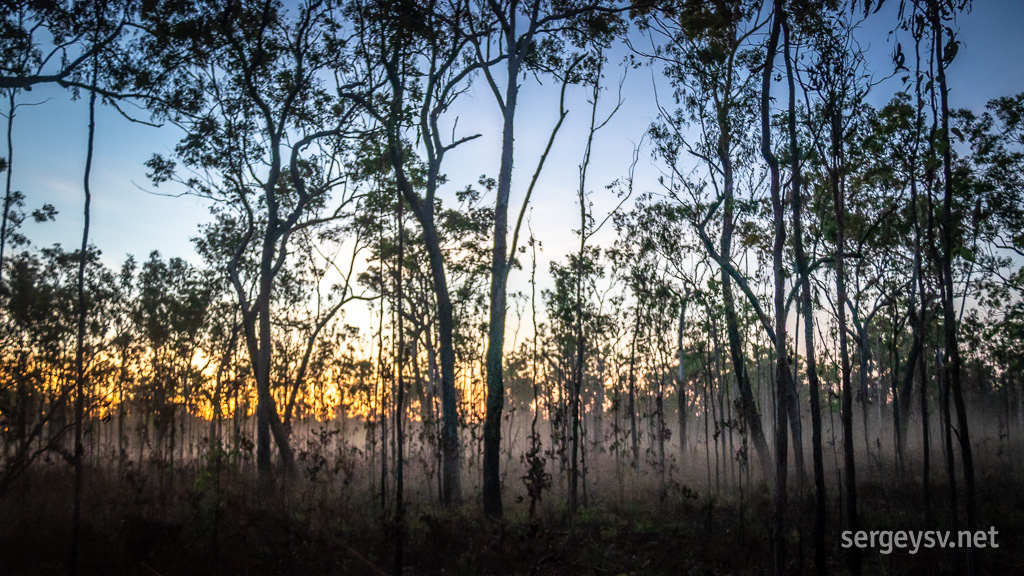 The evening mist creeps out.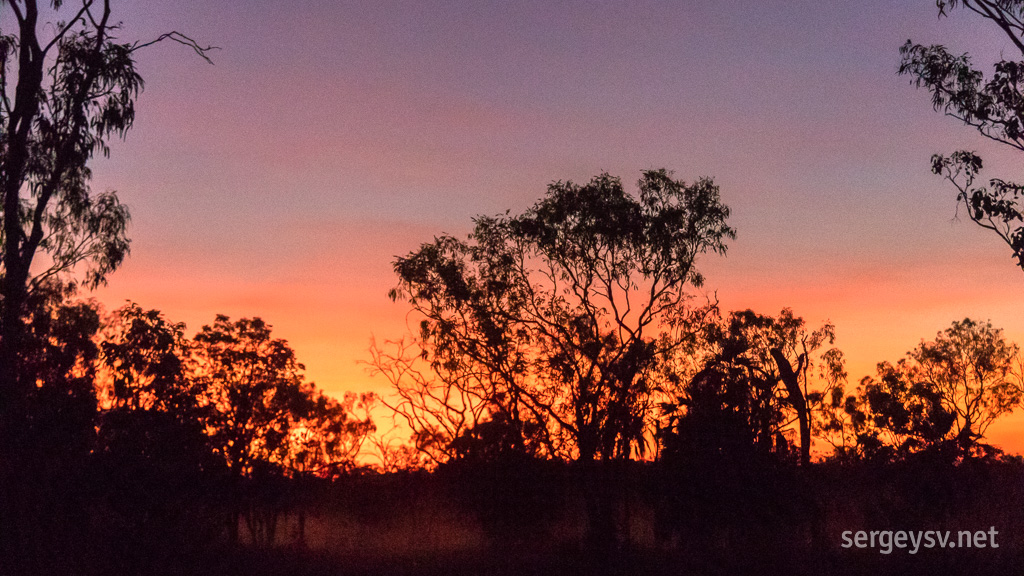 Sun out!