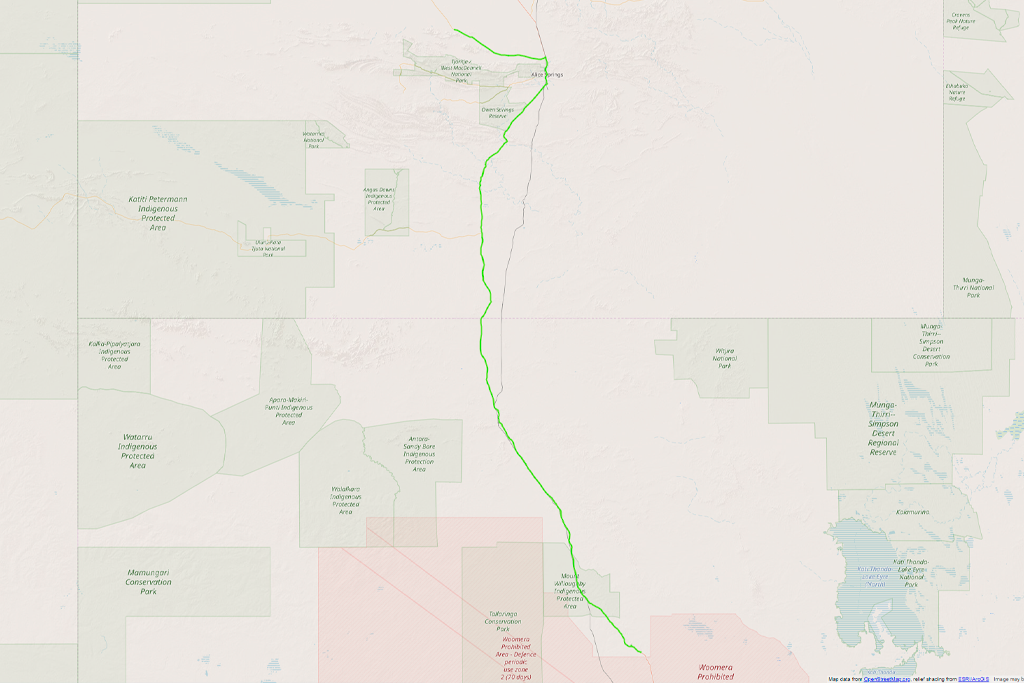 Distance covered: 827 km
It still drizzles in the morning, and I even see an occasional lightning in the distance as I get up and start my morning routine. It's not as cold as I thought it would be at this time of year. However, I still decide to cancel my second visit to the Breakaways: it's probably pointless to try and do good photography of that particular place when it rains.
I visit Coober Pedy to refuel. The vehicle still has plenty of diesel in the tanks, but fuel is going to get quite expensive further down the road. As you can see, I'm becoming better at figuring out all the economics of a car trip. The lady at the servo tells me that their banking terminals experienced a whole-day outage yesterday, which paralysed the trade. Things you miss whilst being away from it all between points A and B.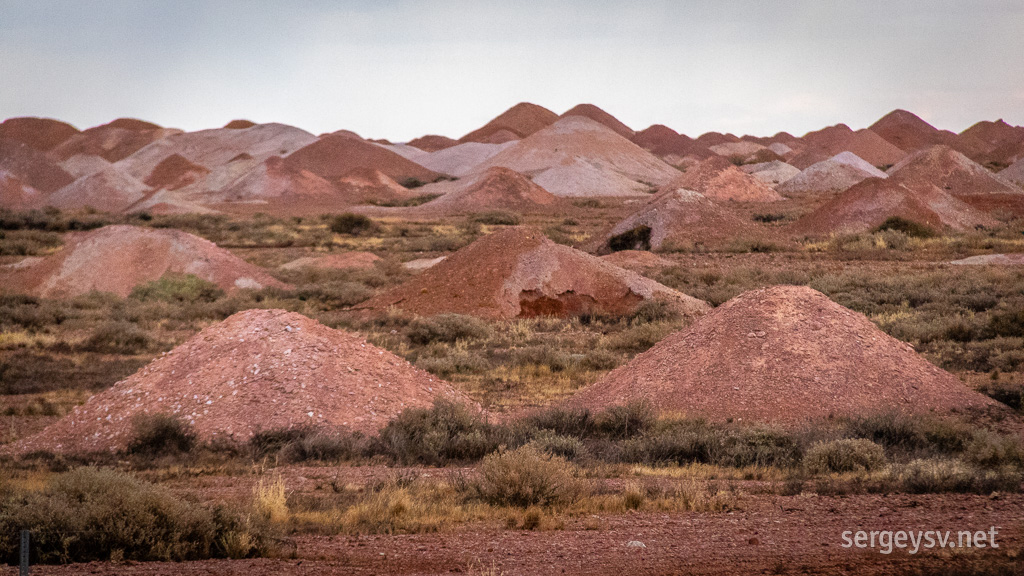 The opal mines of Coober Pedy.
It slowly becomes less and less cloudy as I drive further north. Sun appears more and more often, and lovely rainbows pop up here and there. The surrounding country keeps being its usual treeless, brown, undulating self.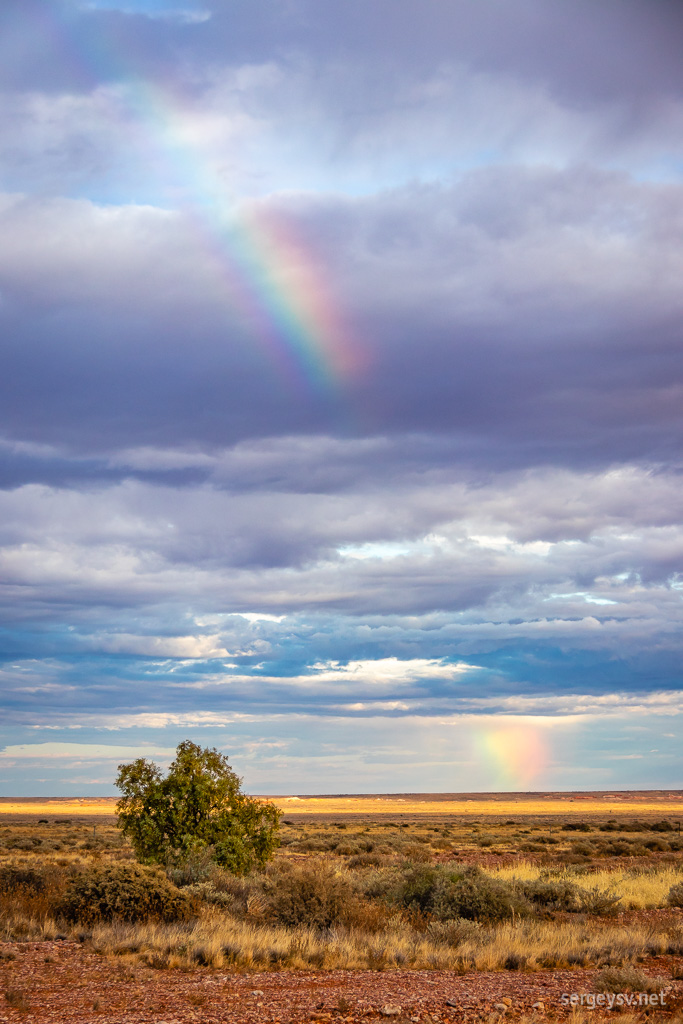 The rainbow of the desert.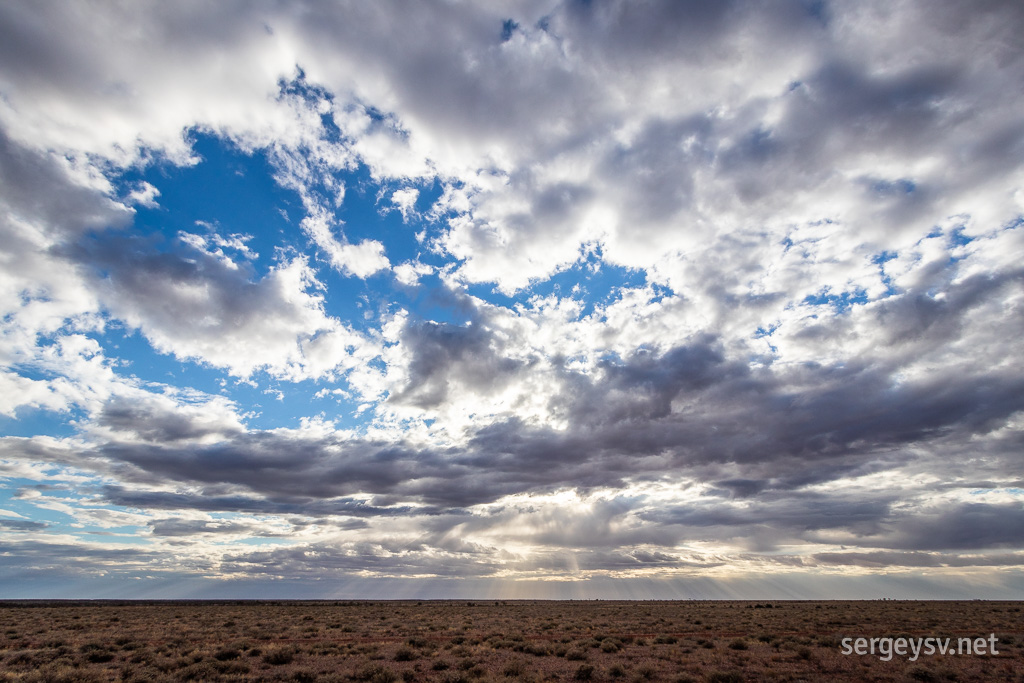 The plains are vast. The sky is endless.
I cross the state border at 12:30, and it's full-on sunny by then. An hour later I make another stop at the Erldunda Motel to take my first shower on the road. I've been here almost a year ago, yet somehow it feels like I only left this place yesterday. The showers look exactly the same, too, and still cost me the same $4.
The scenery changes close to the border.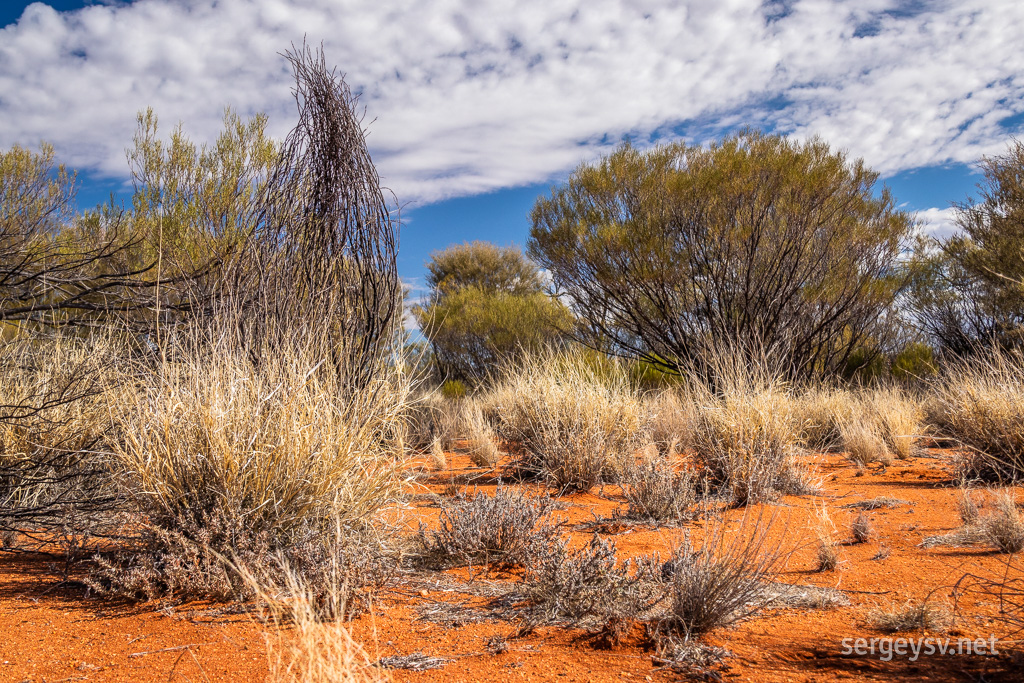 As does the vegetation.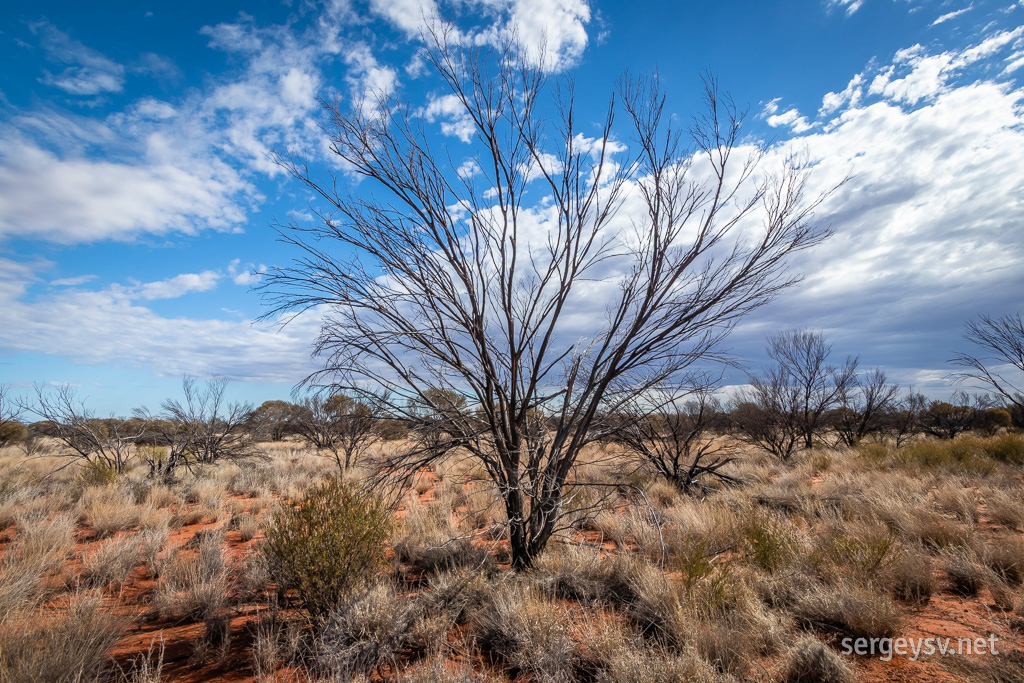 Life ain't easy for it here.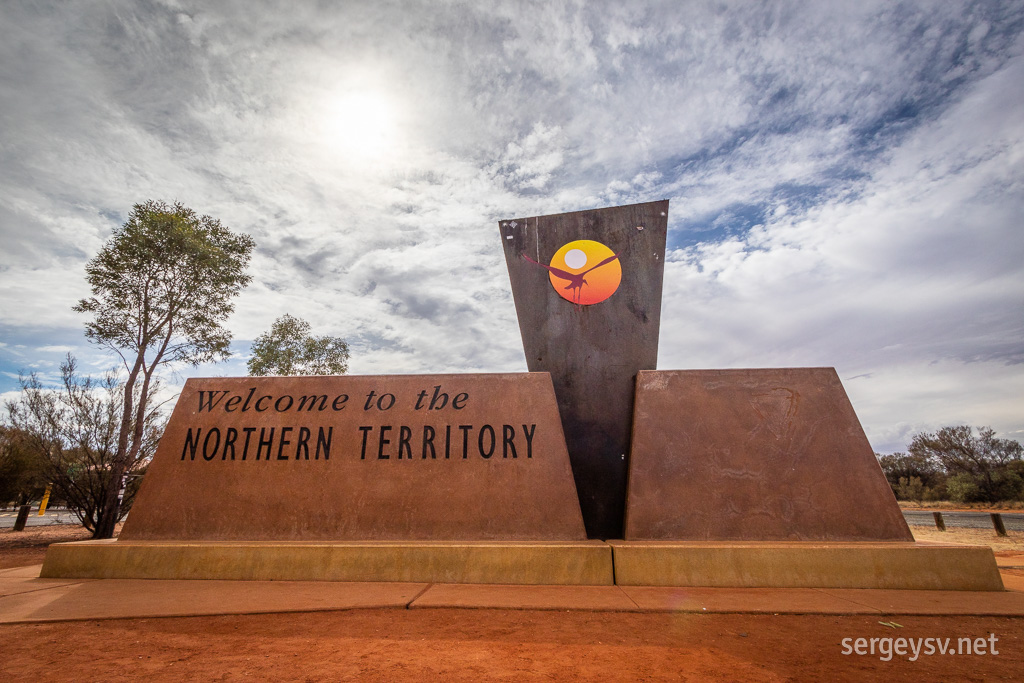 The state border.
Boulders and crumbled hills begin to appear as I venture deeper into the Northern Territory. With people being their usual disappointing selves, a lot of these boulders are covered in graffiti. Well, there's going to be a lot less human involvement where I'm going, that's for sure. Also, the first desert oaks begin to appear, and I still wonder whose bright idea was to name them so, because they look nothing like the oaks I know.
One of those "oaks"
The road becomes more and more scenic as I approach the Red Centre. There's plenty of picturesque destinations around, but they will have to wait for some other time. I'm happy to take a few quick roadside snaps, though.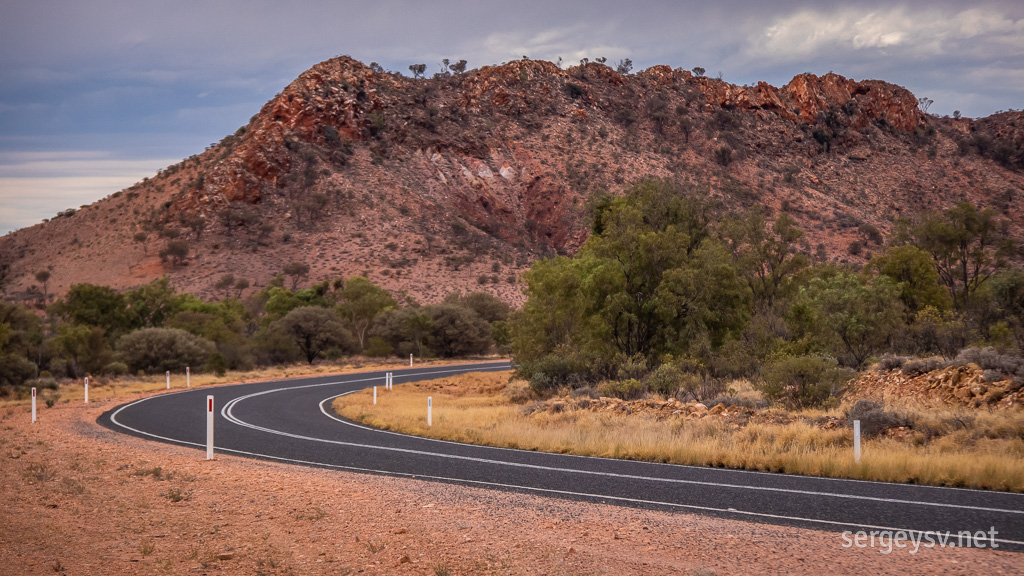 The scenic road.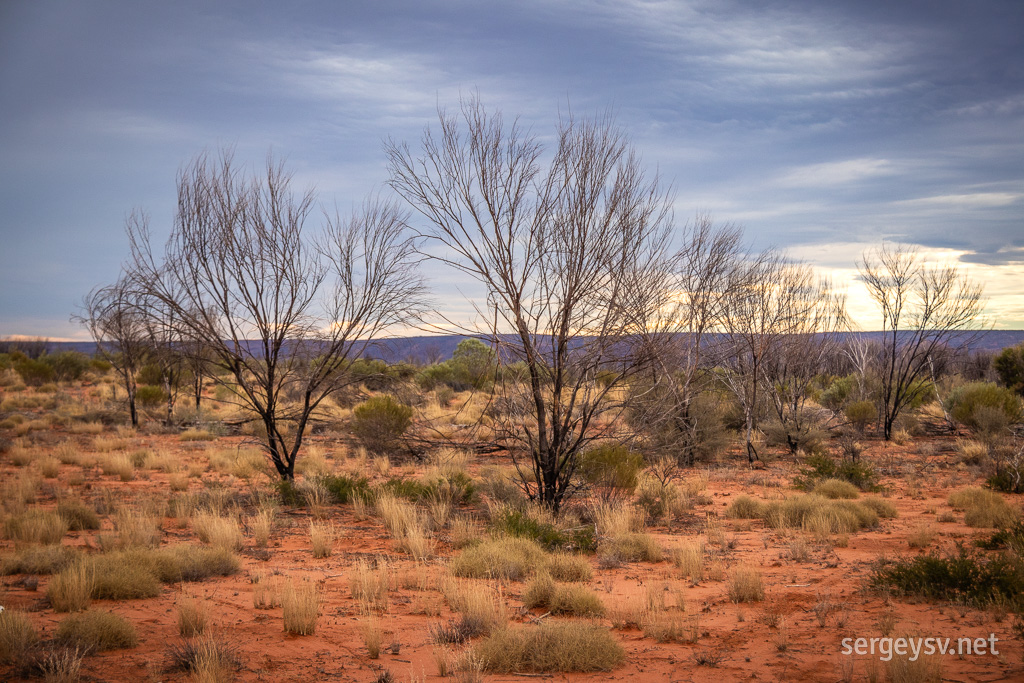 The Red Centre.
Another refuel awaits me in Alice Springs. It's 4 p.m., and because it's Sunday, all stores are closed – which is kinda inconvenient, because I was hoping to buy something. Oh well. The servo doesn't have any people there either, and the fuel is ready for you 24/7 if you have a credit card. My favourite kind of place.
By the way, this is the first time I ever visit Alice Springs. The town looks surprisingly sprawled but quite well-tended, and it has some odd vibe about it that I can't understand quite yet. Remoteness? Lots of wide streets, lots of shops, and lots of Aboriginal people all over the place. The Red Centre is full of Aboriginal communities, after all.
Half an hour later I turn off the highway onto the Tanami Road. Bye-bye, bitumen! Well, not for another 200 km or so, but still.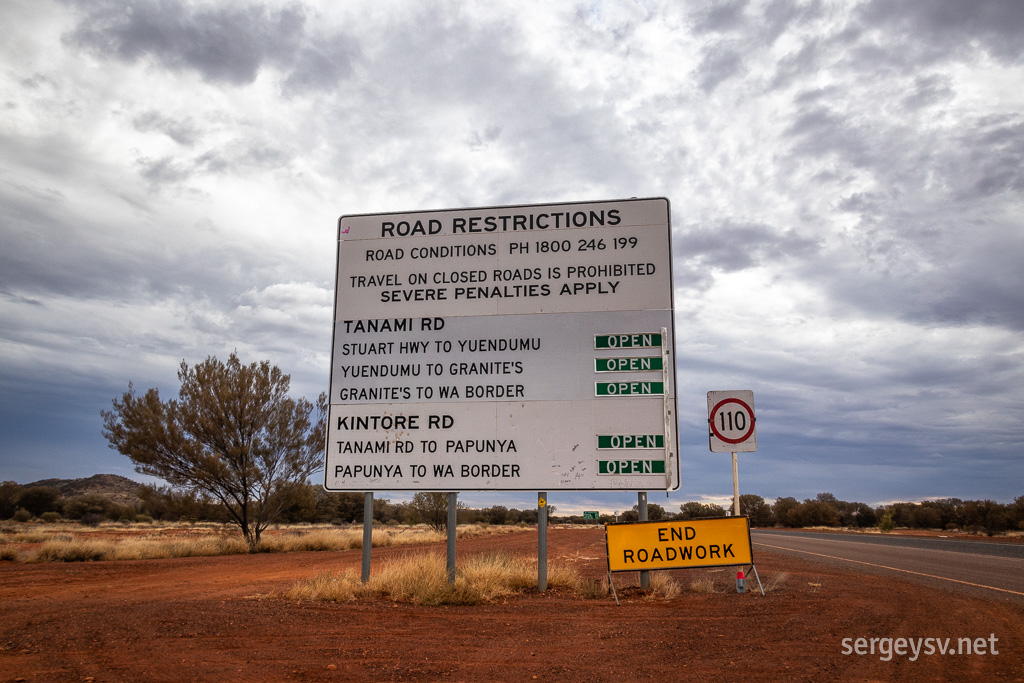 Entering the Tanami.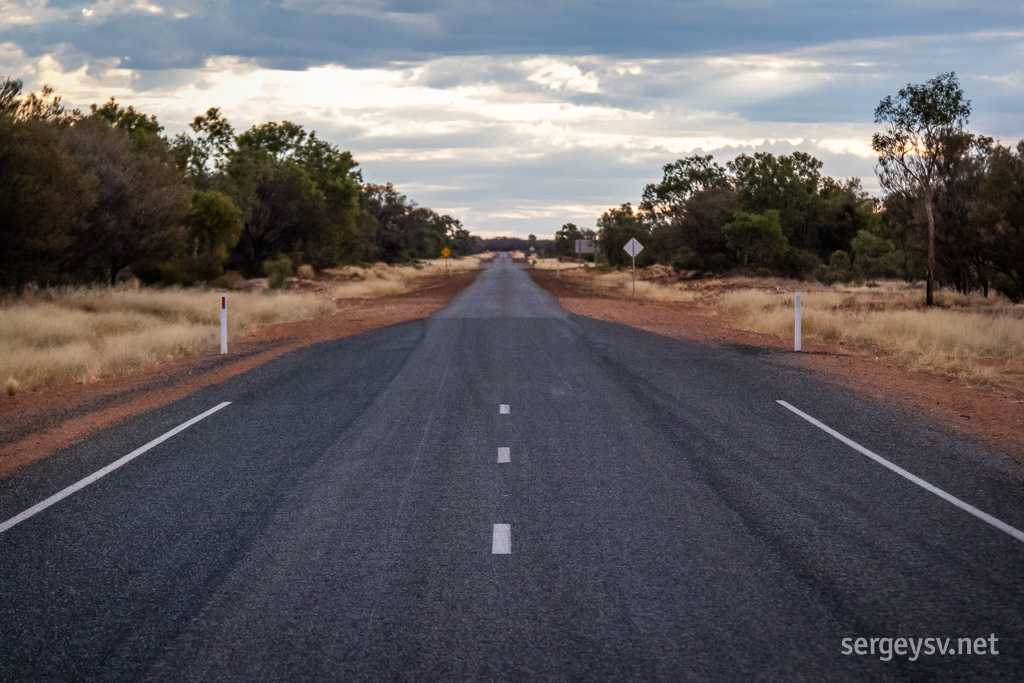 Two lanes... then one... then two... then one...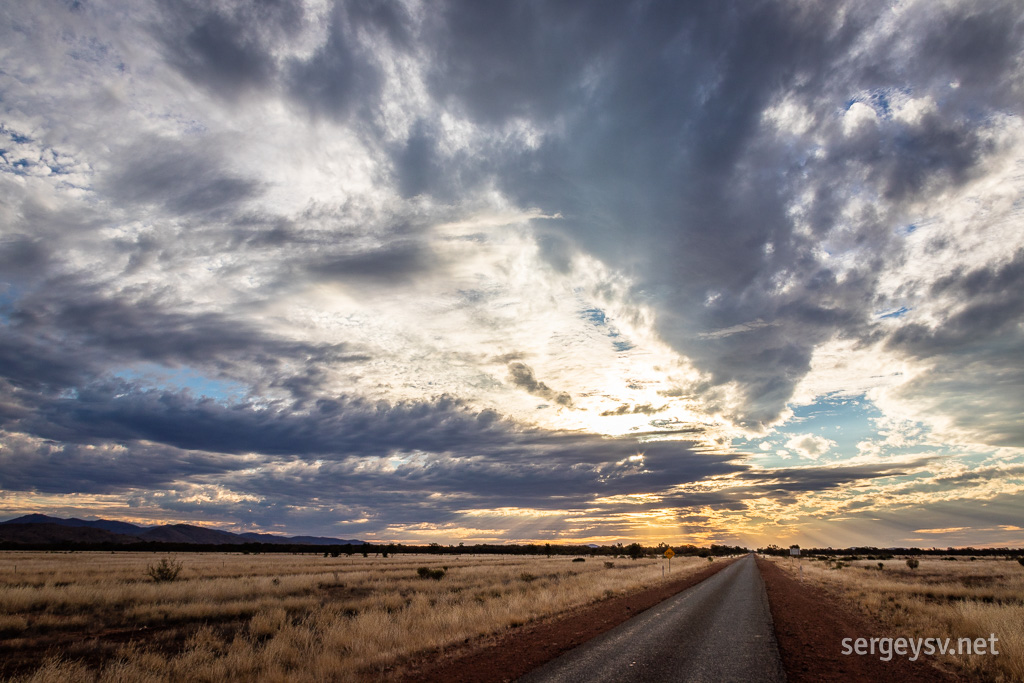 The day is almost over.
Yet another hour later I'm at the Charley Creek rest area, and apart from me there's no one else around. You may notice how scarce human settlements are in this area: even the rest stops have names! Overnight camping is allowed here; it has picnic tables, garbage bins, and even a water tank. And, apart from an occasional road train, no noise at all. Perfect!
A lovely and warm starry night follows, even though the full moon gets a little bit in the way of my Milky Way shots. The only sounds that disturb the silence of the night around me are my own breath and some quiet rummaging in the garbage bin nearby. Must be a mouse of some kind. (I don't know it yet, but in two weeks I'll become slightly more familiar with this mysterious animal.)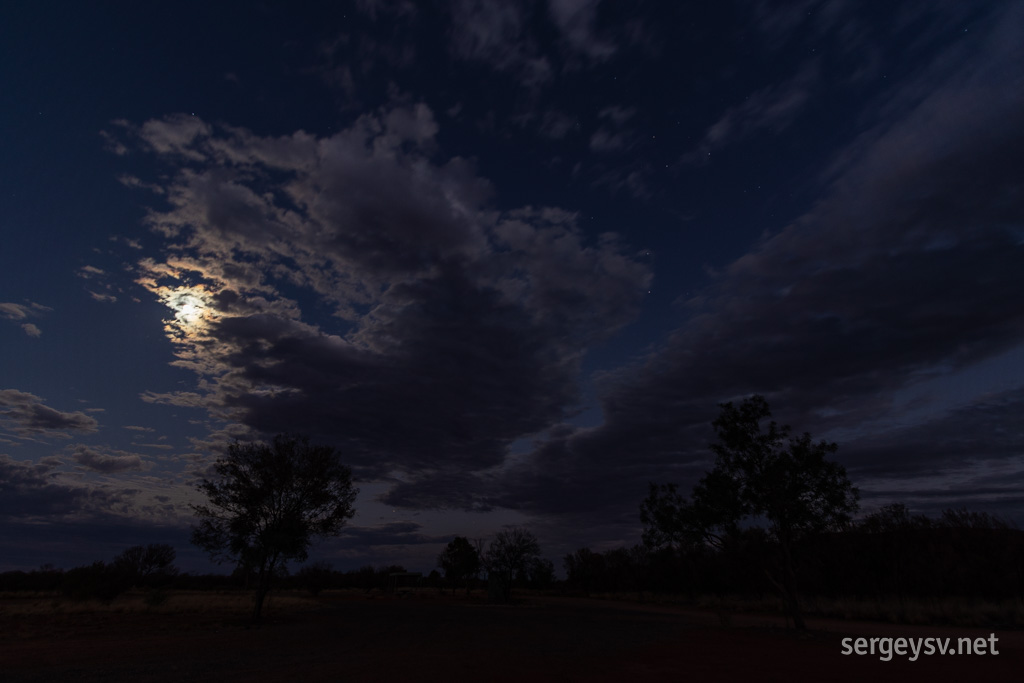 The moon rises.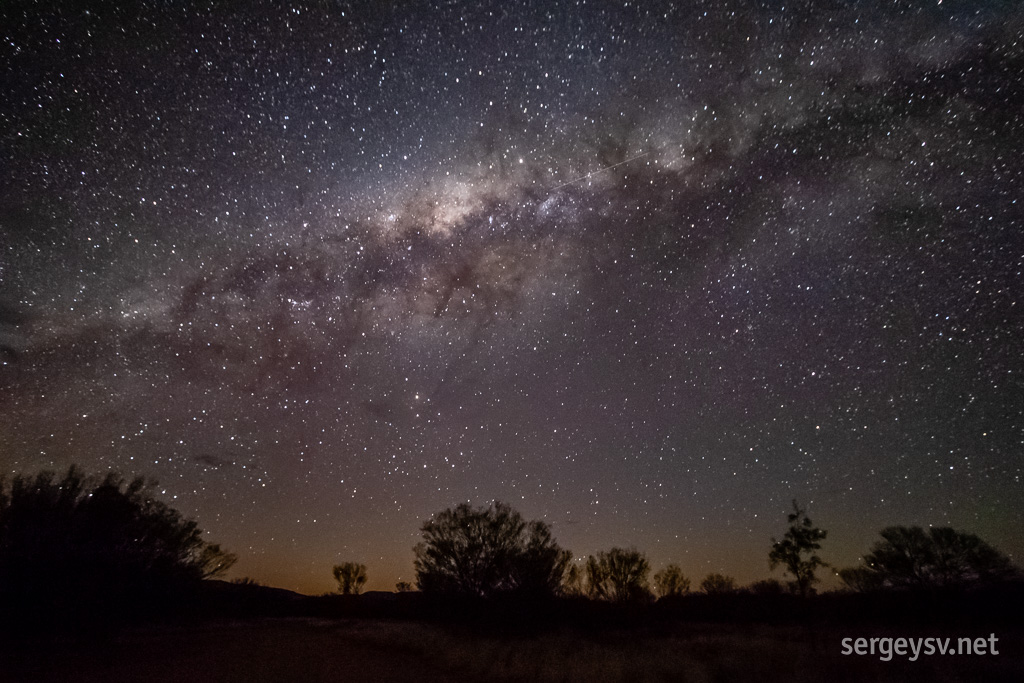 The Milky Way follows.