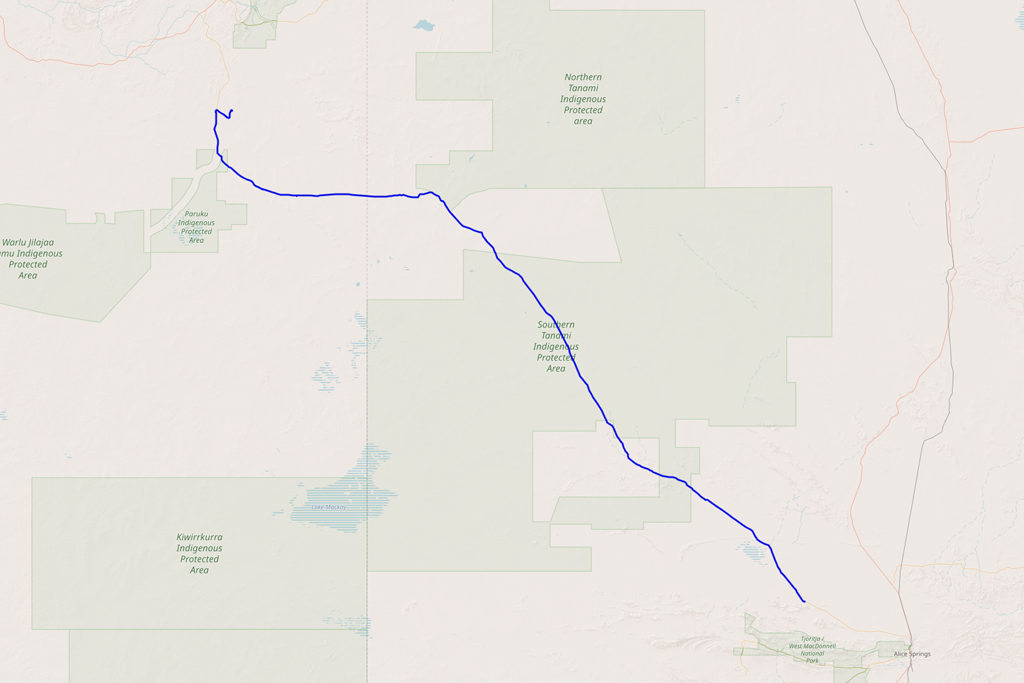 Distance covered: 820 km
I wake up shortly before sunrise to do some more night time photography. Once the moon finally goes down, the sky certainly delivers.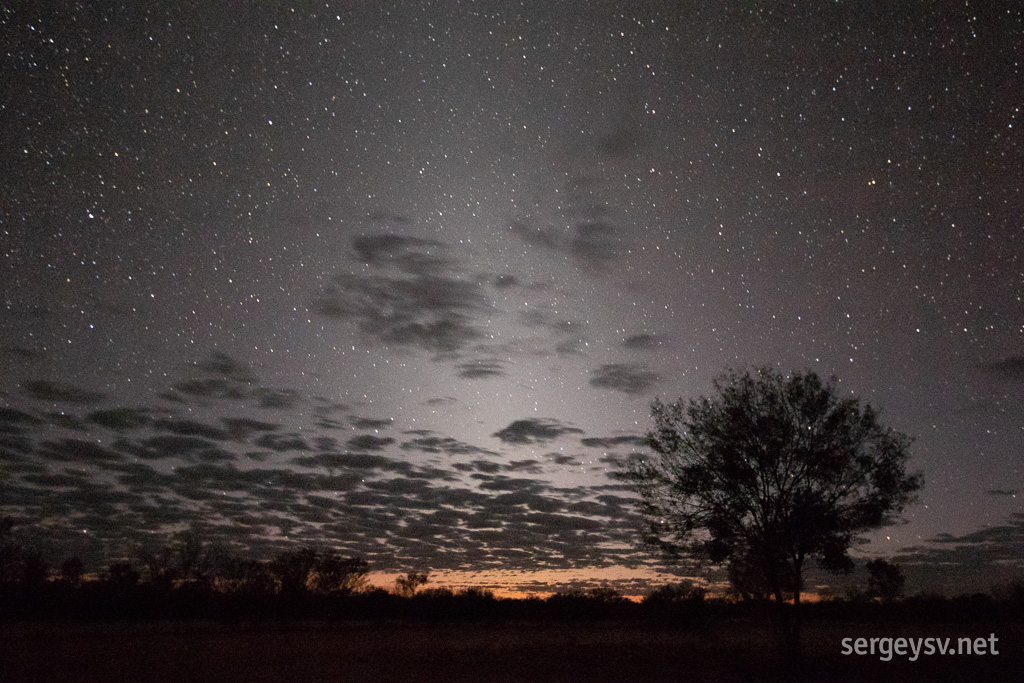 Zodiacal light, a.k.a. "the false dawn".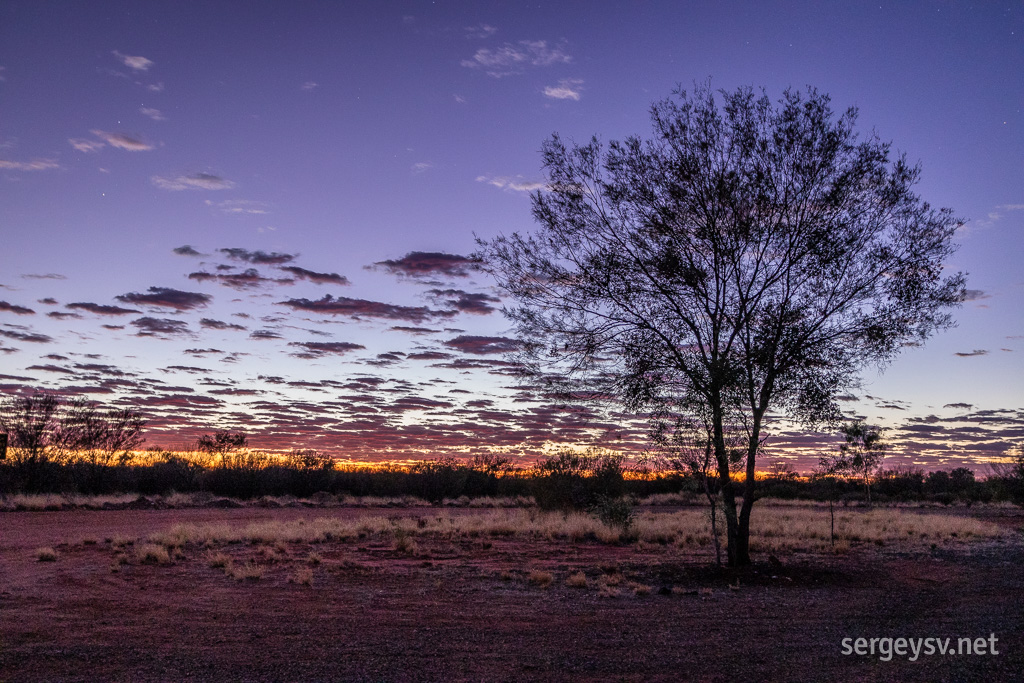 The rest stop awakens.
Another day of driving starts for me at 7 a.m., and exactly an hour and a half later the bitumen ends. Time to air down and begin to really experience the outback.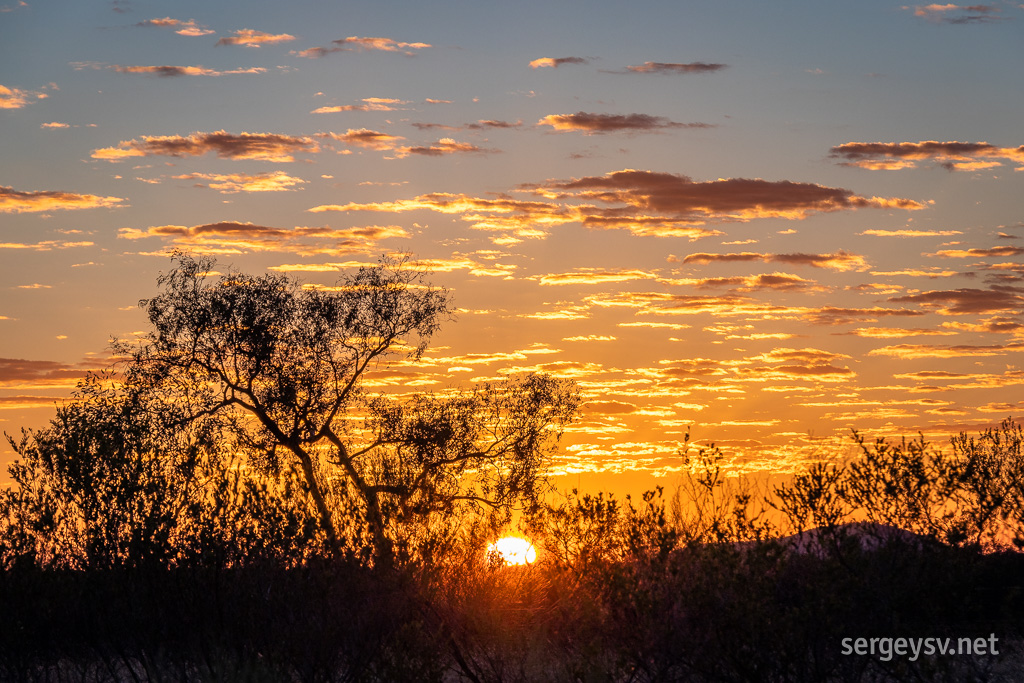 Another day is here.
Tanami Road is mostly used by tourists like me, who want to take a shortcut to the Kimberley, and by mining trucks, because there's a few gold mines around in the desert. As usual, where there's mining, there's better road maintenance, and this particular road is kept in a very good shape: you can easily do 90 or even 100 km/h there. They probably grade it as soon as The Wet ends... oh yes, they do: here are the graders right there on my way!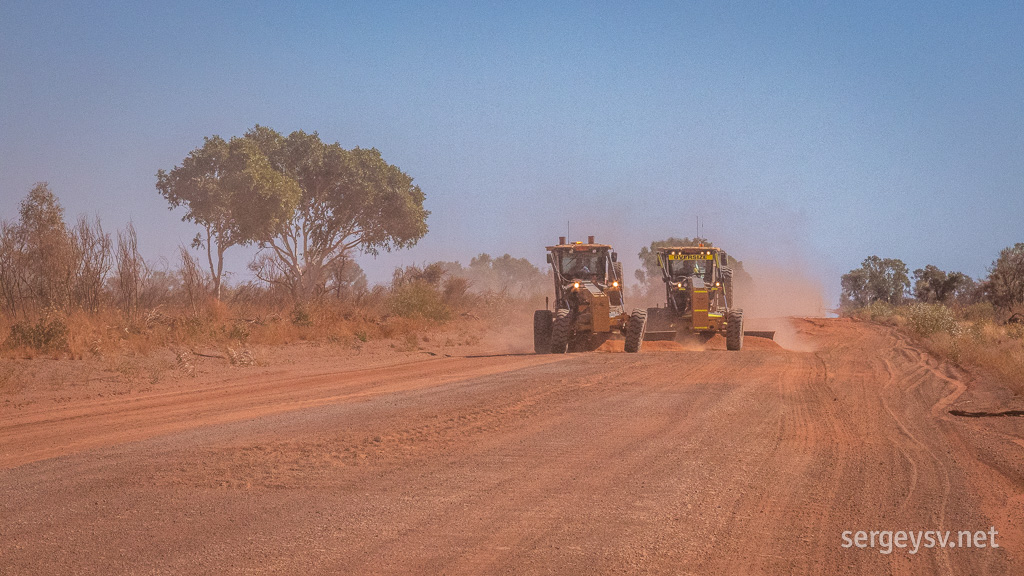 Graders at work.
I make a stop for a quick bite at another rest area, and its garbage bins are overflowing. I wonder how often they clean them out. Or maybe a convoy or two of tourist vehicles went by and overloaded the capacity? A sad sight either way. Last thing you want to see in this pristine desert environment is empty beer cans and used toilet paper.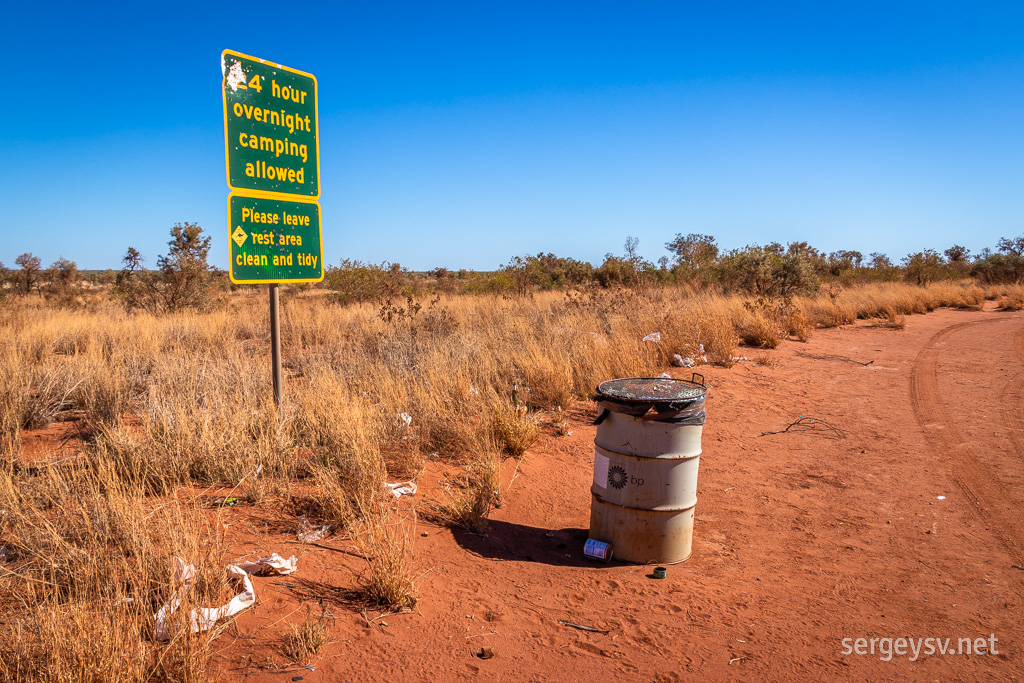 "Clean and tidy", sure.
The sky is 100% clear and blue, and the surrounding desert looks and feels exactly like one. The air is hot, dry, and slightly fragrant. Vegetation changes slowly, and termite mounds begin to appear here and there. I'm entering the tropics here, even though there's not a single sign anywhere to mark the occasion.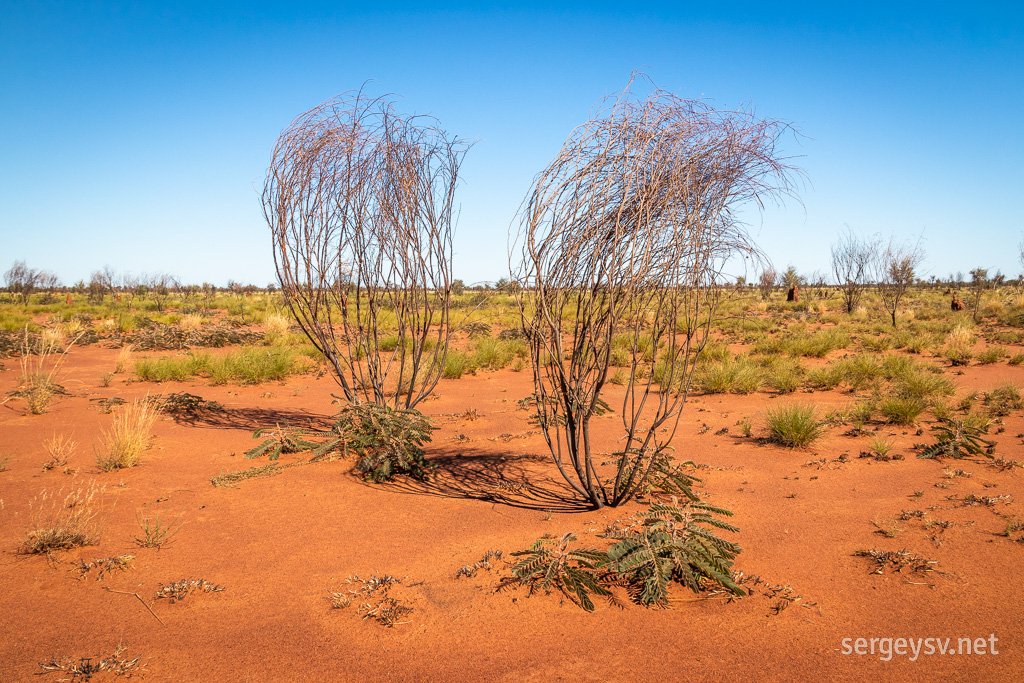 Tanami Desert.
The trees of the desert.
I notice faint plumes of smoke in the distance, and soon enough I see burning patches of the bush by the road. Is it random, or is it a planned burning? They do these after the wet season ends, so that the "random" bushfires would be easier to contain.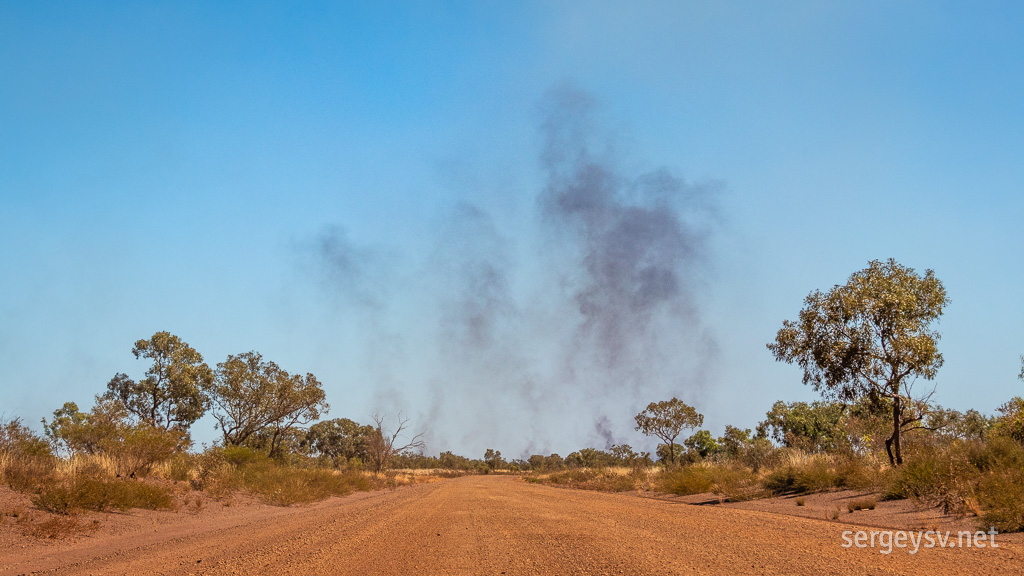 The distant smoke.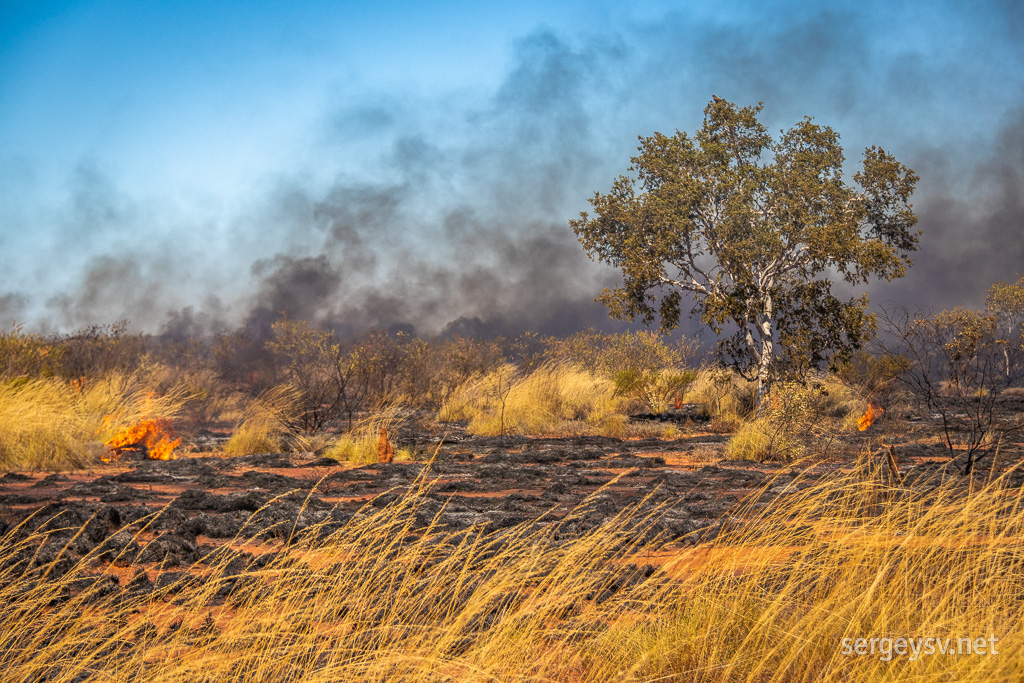 The bushfire.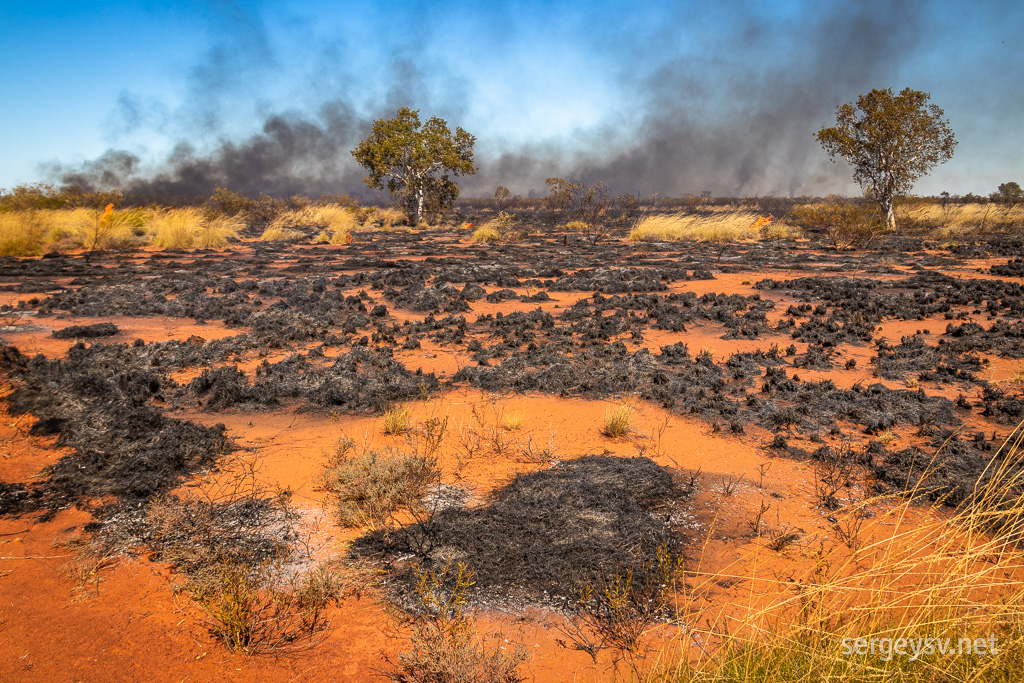 Looks intimidating.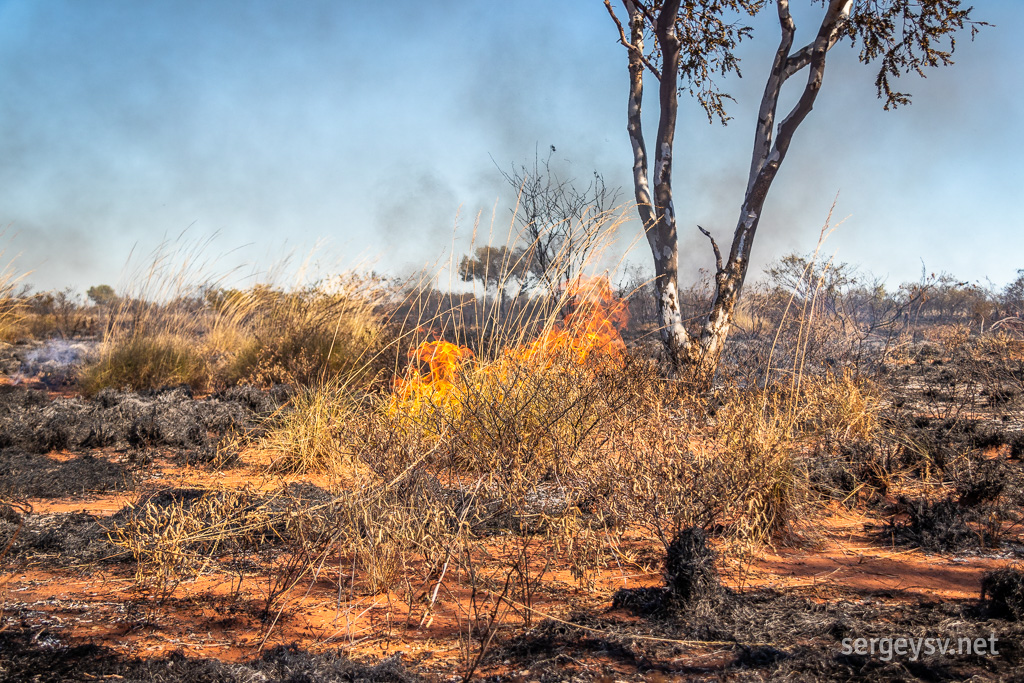 I wouldn't want to be a tree right now.
Another bushfire further on.
There's little to see around except the termite mounds. The land is mostly flat, but then begins to undulate gradually, and ghost gums begin to appear. Love a ghost gum! Along with the termite mounds, they're a very characteristic trait of the northern Australia.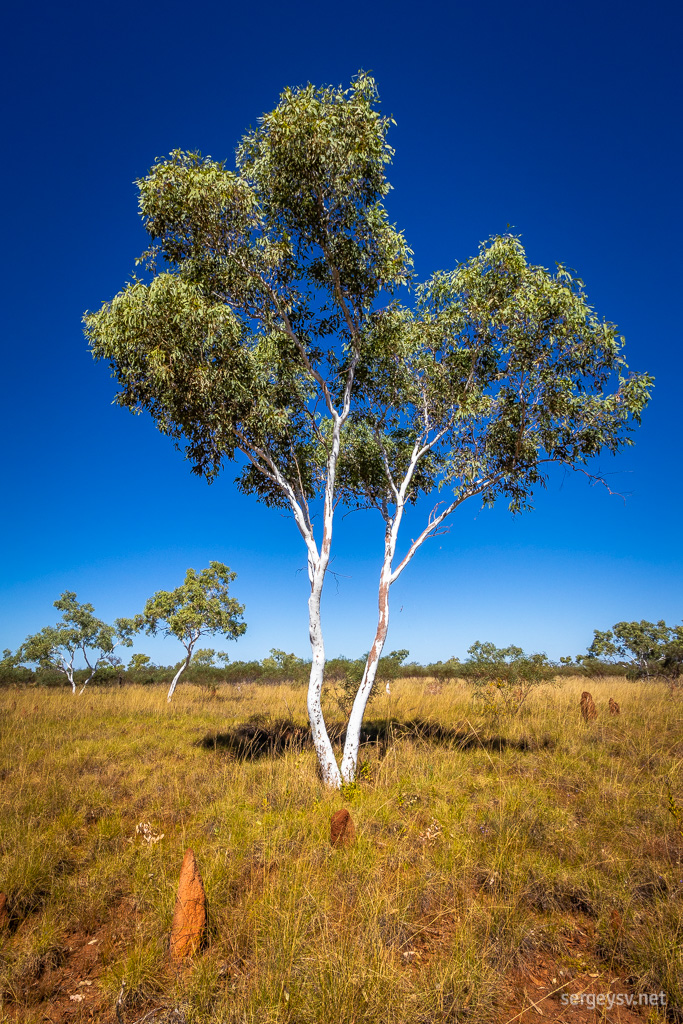 A ghost gum.
Shortly after 2 I cross another state border and enter Western Australia. Now I'm supposed to shift my clocks an hour and a half backwards, but my phone doesn't know about it yet, because (unsurprisingly) there's no mobile signal for miles and miles around.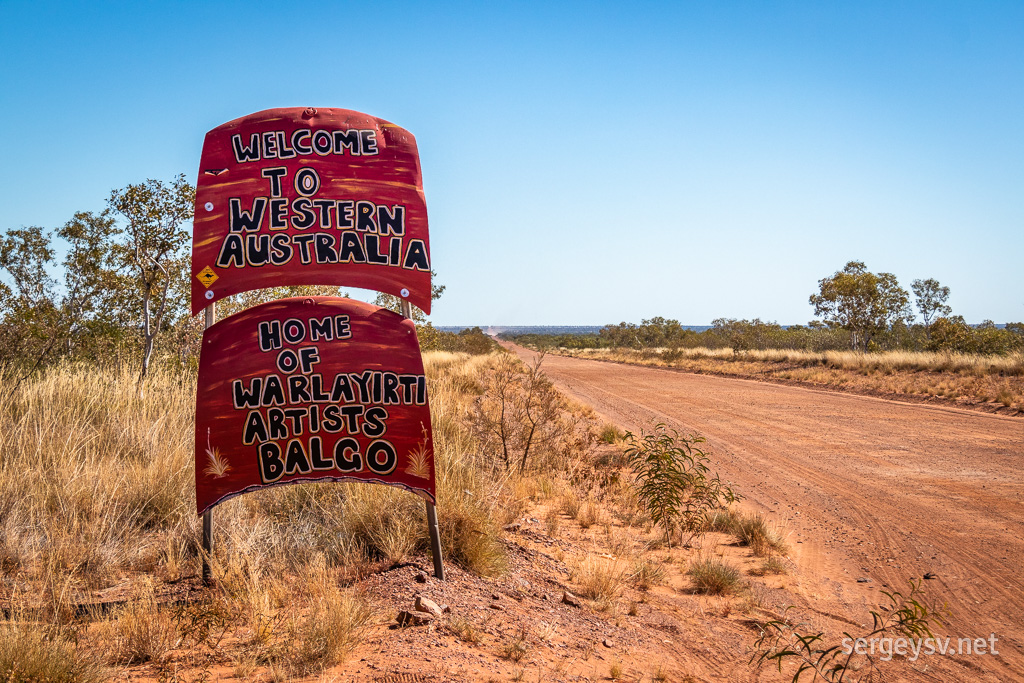 Crossing the border.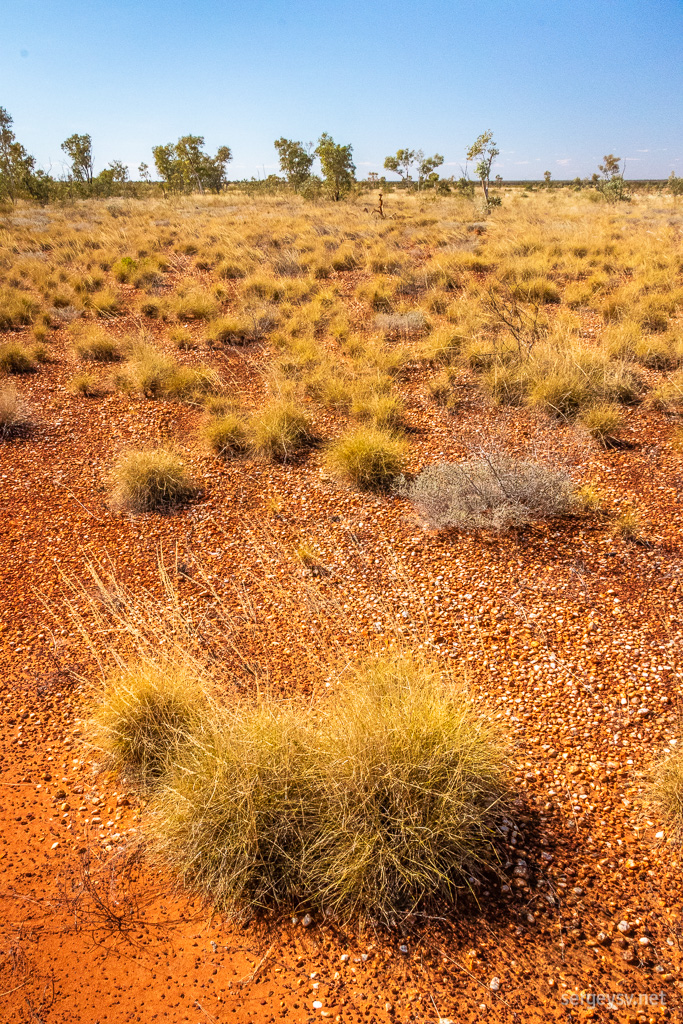 Clumps of spinifex.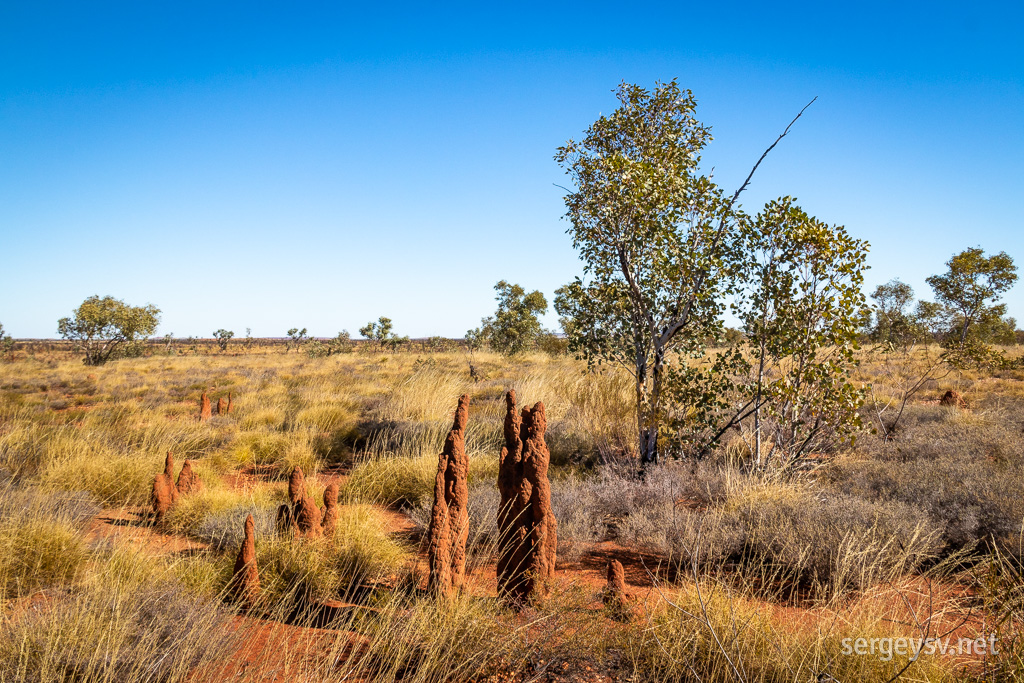 Termite mounds.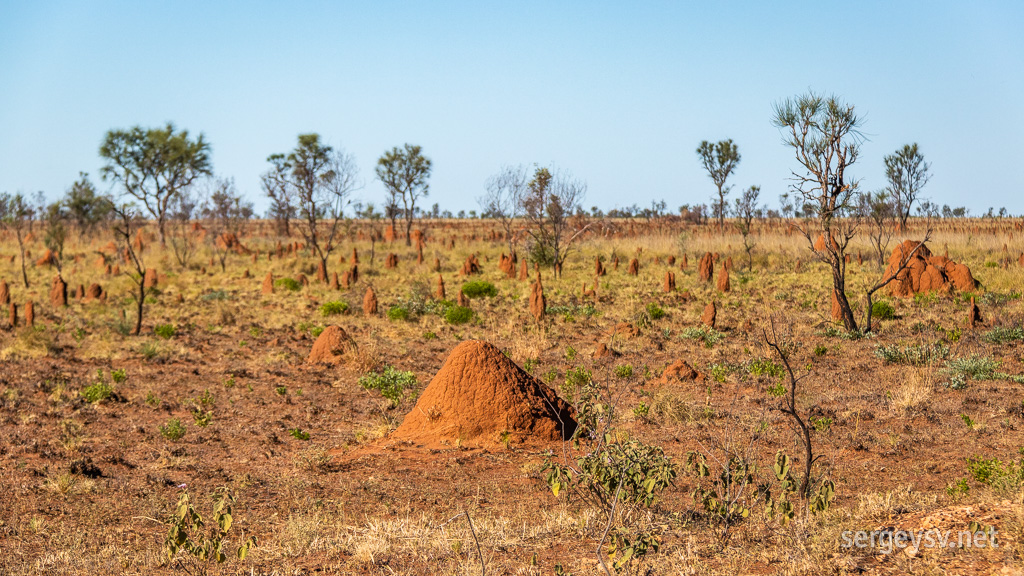 Lots of them.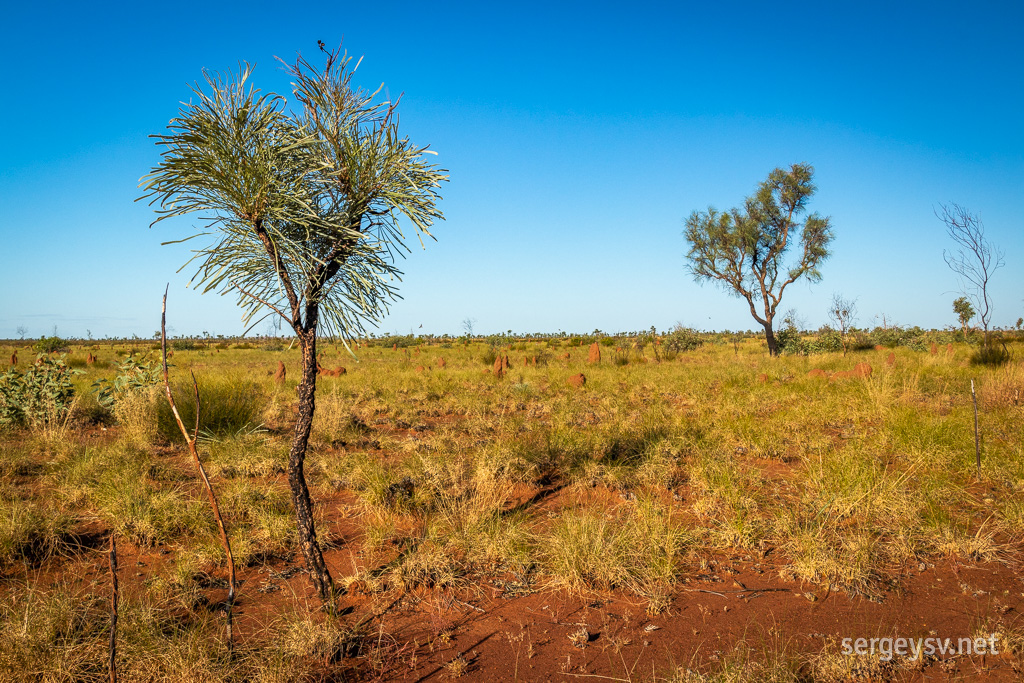 How are these little trees called, I wonder?
An hour and a half later I take a turn left to the Wolfe Creek Crater National Park. Three gates and 15 kilometres of progressively corrugated roads later I reach the site of an
enormous meteorite crater
that made quite a loud bang here over 100,000 years ago. You wouldn't even know that the crater is here, because from the outside it looks just like a regular spinifex-covered hill; and indeed, it wasn't even discovered until 1947.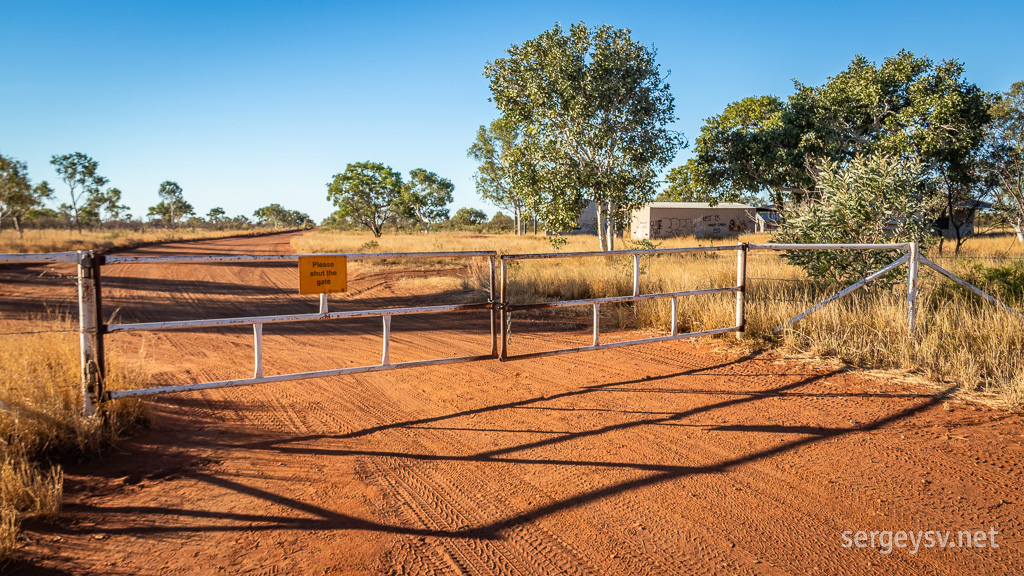 Entering the park.
The rim of the crater is covered in spinifex and ghost gums.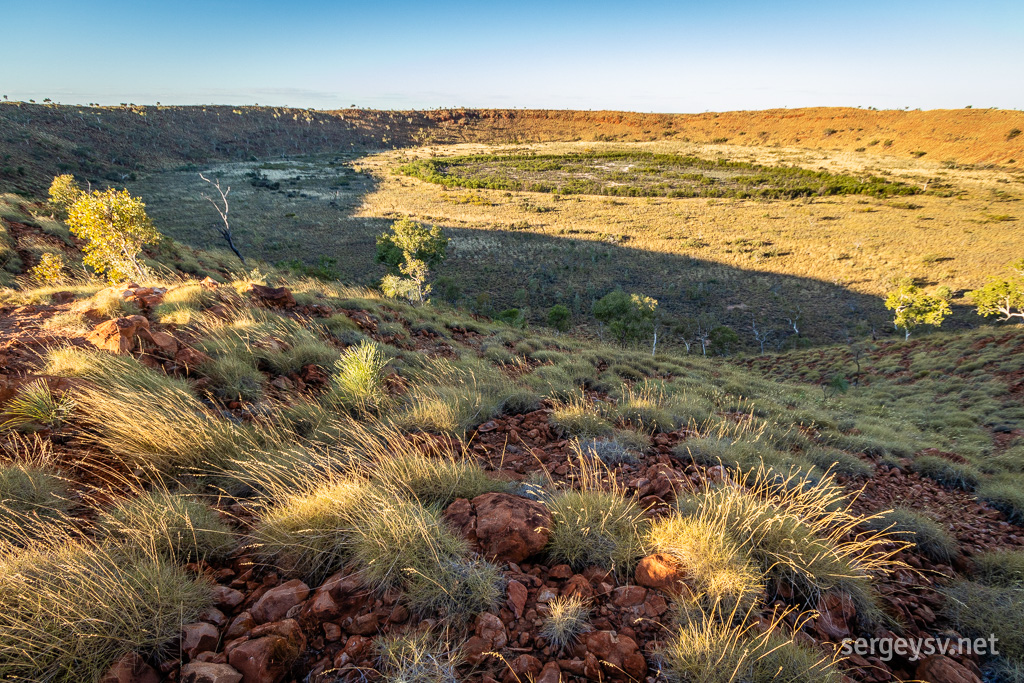 The crater itself. Very big!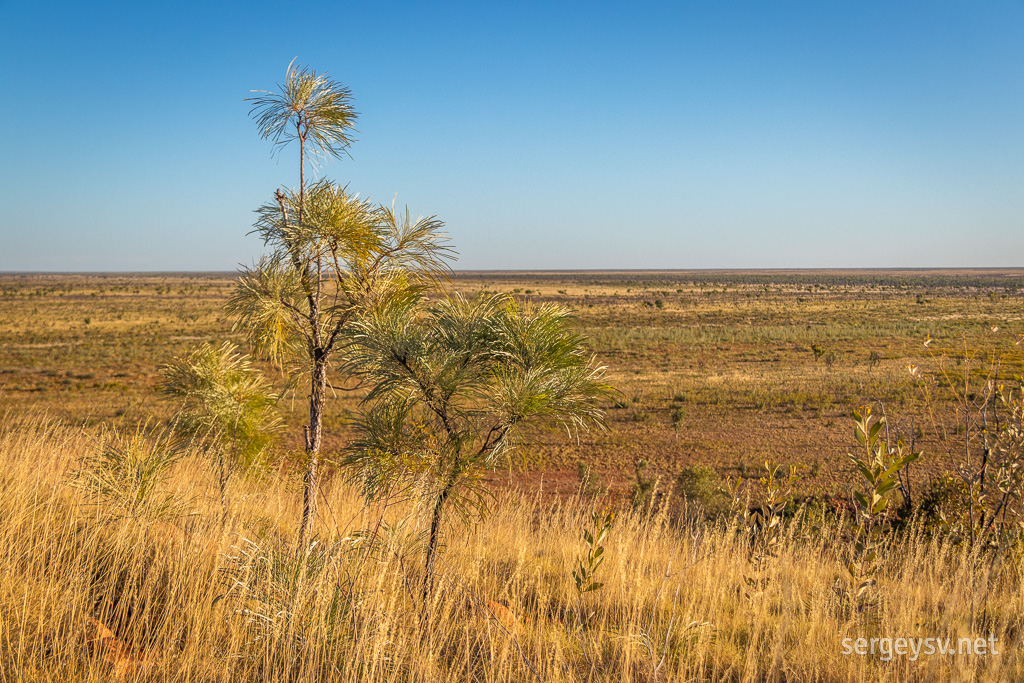 Looking outside from the rim.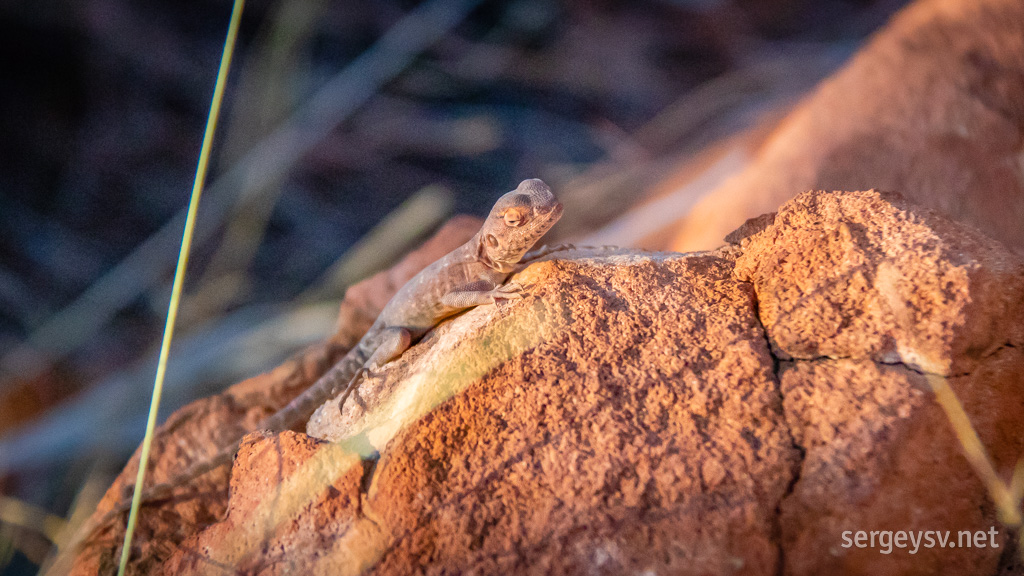 One of the locals.
The crater looks very impressive indeed, and there's not a lot of tourists around to distract from it either: this place is quite remote, after all. The camping area nearby is free; it looks very well-maintained, and it even has drop toilets. It's nice to feel a slight touch of civilisation after a few days of solo driving, and to see other people around doesn't feel too bad either.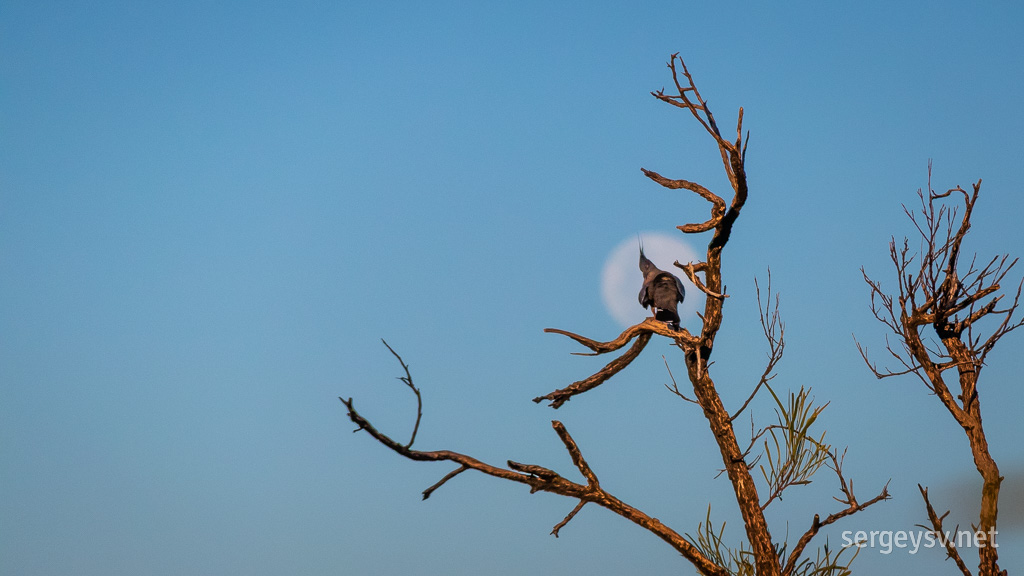 Wildlife is preparing to go to bed.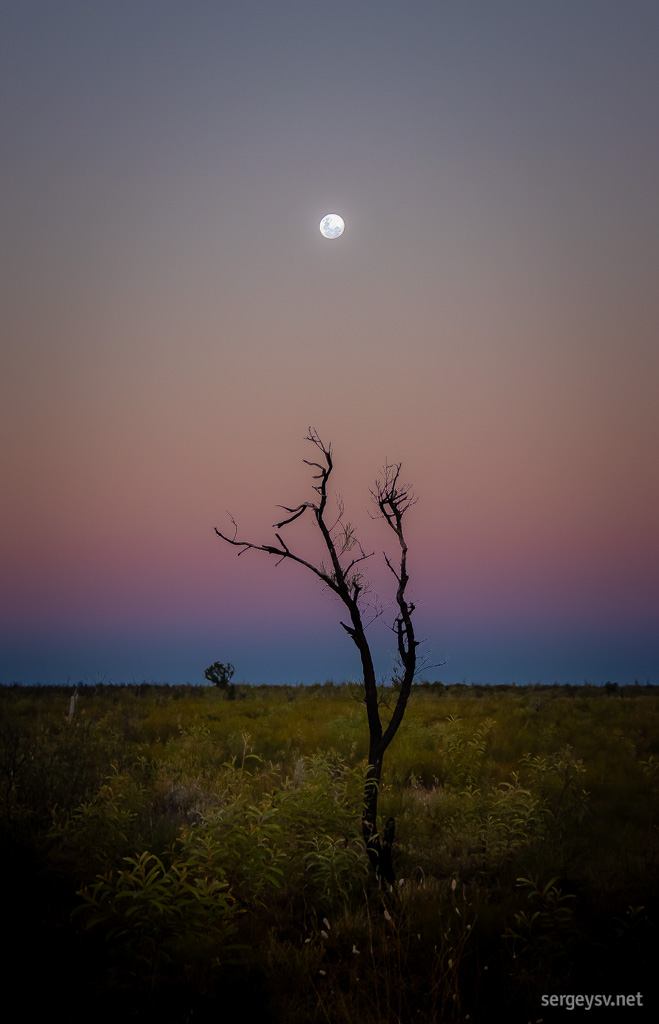 The silver moon.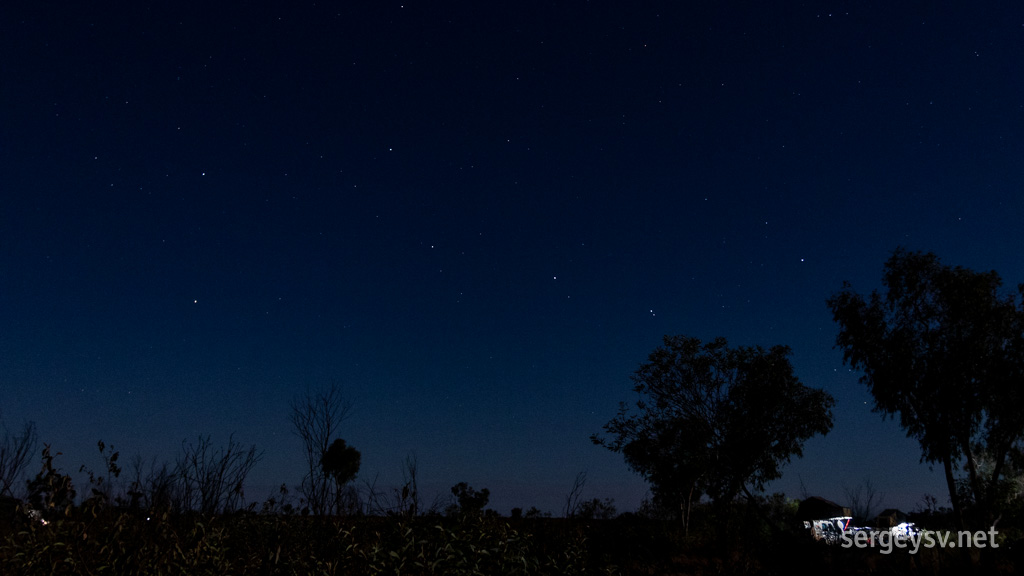 The Big Dipper: an upside-down version.