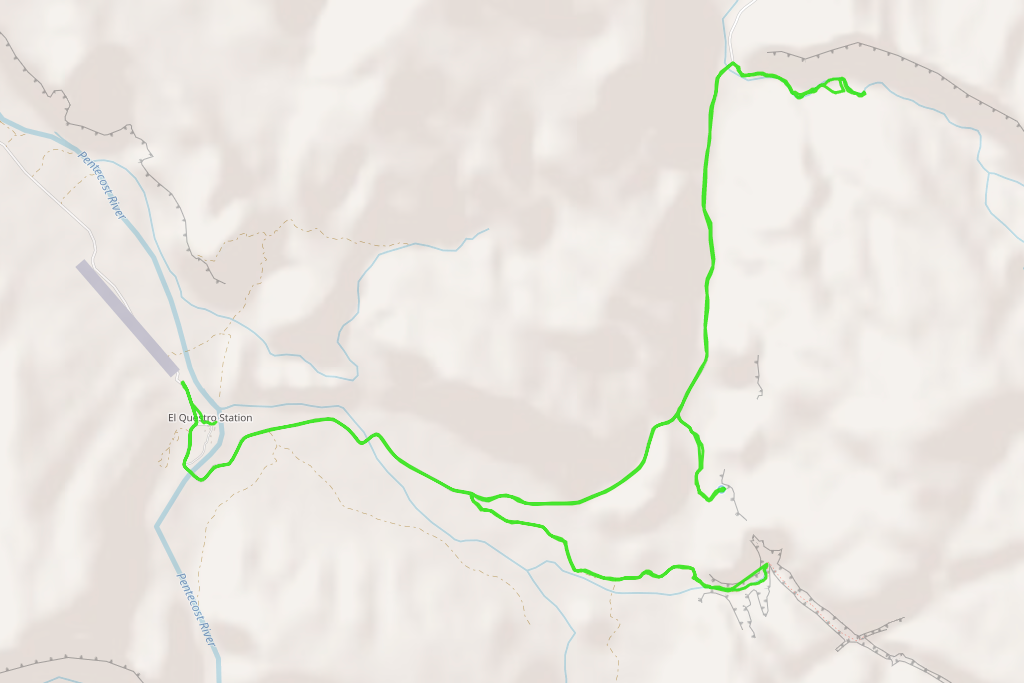 Distance covered: 33 km
The night at El Questro was quite warm and pleasant. There was also a live music event of some sort: in the restaurant, a guy with a guitar and a hat was singing songs about red dirt and tool sheds much to the enjoyment of the crowd. Good thing that I camped far enough from all the noise.
In the morning, however, it's now time to explore. My first stop is Zebedee Springs; I get there so early that the gate is still closed, and I have to wait for the ranger to arrive and open it. However, there's also a big truck parked next to the gate: apparently, I'm not the only early bird around.
A short walk amidst the tall palm trees leads me to the springs themselves: they're artesian and warm, and they're jam-packed with half-naked tourists already. Oh well. Time to move on, apparently. As I do so, on my way back I see another group of tourists heading towards the springs… good luck to them finding a spot!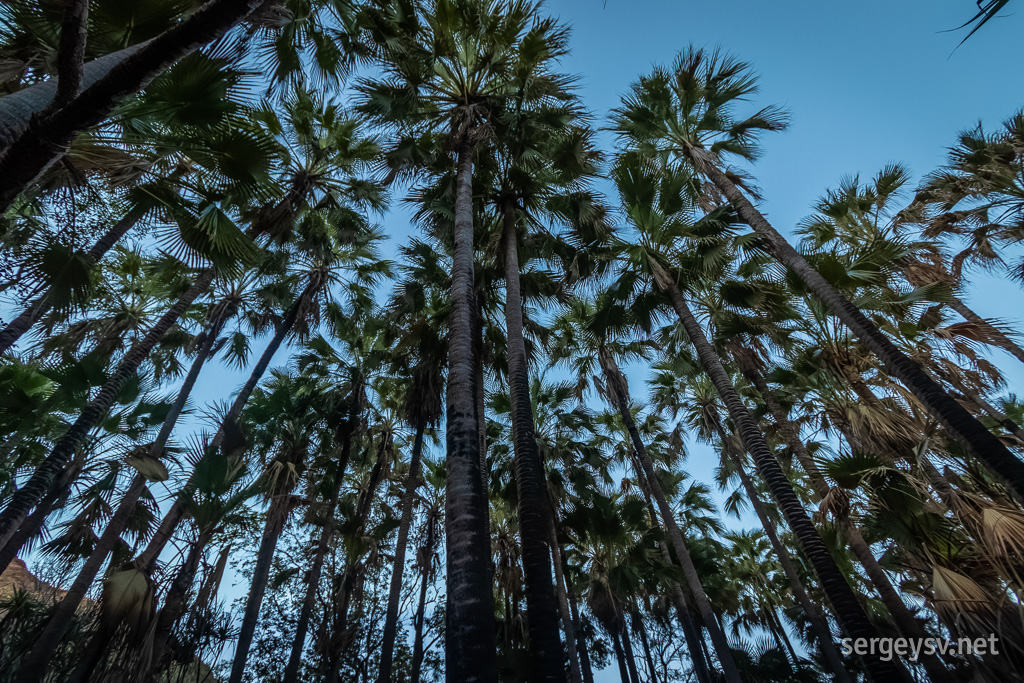 Entering the Zebedee Springs.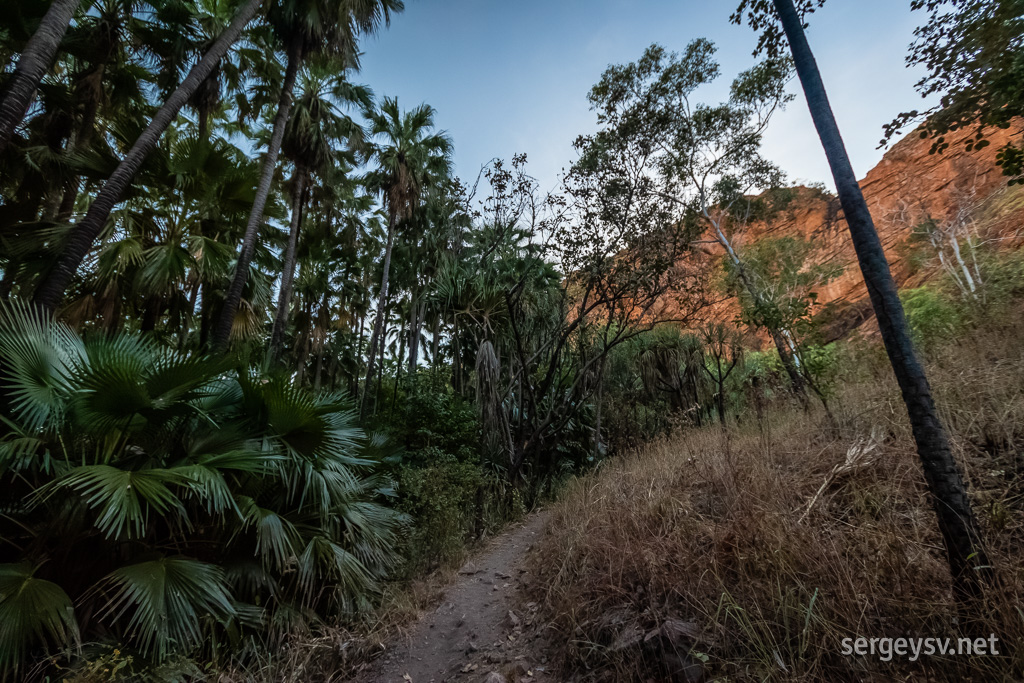 Lots of palms. Lots of sandstone.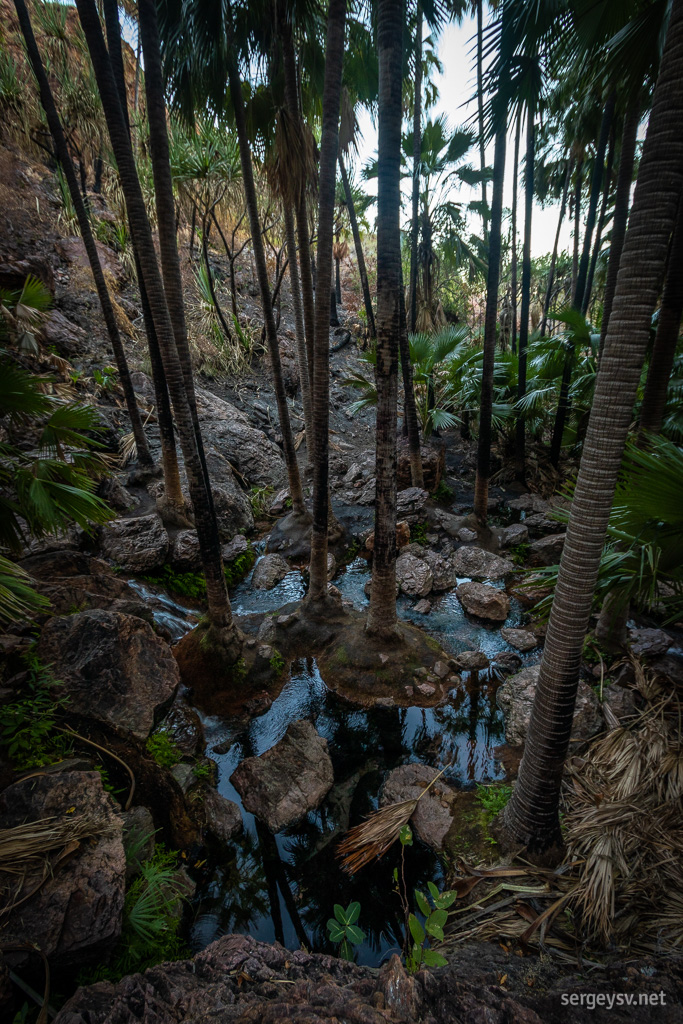 No shortage in water, either.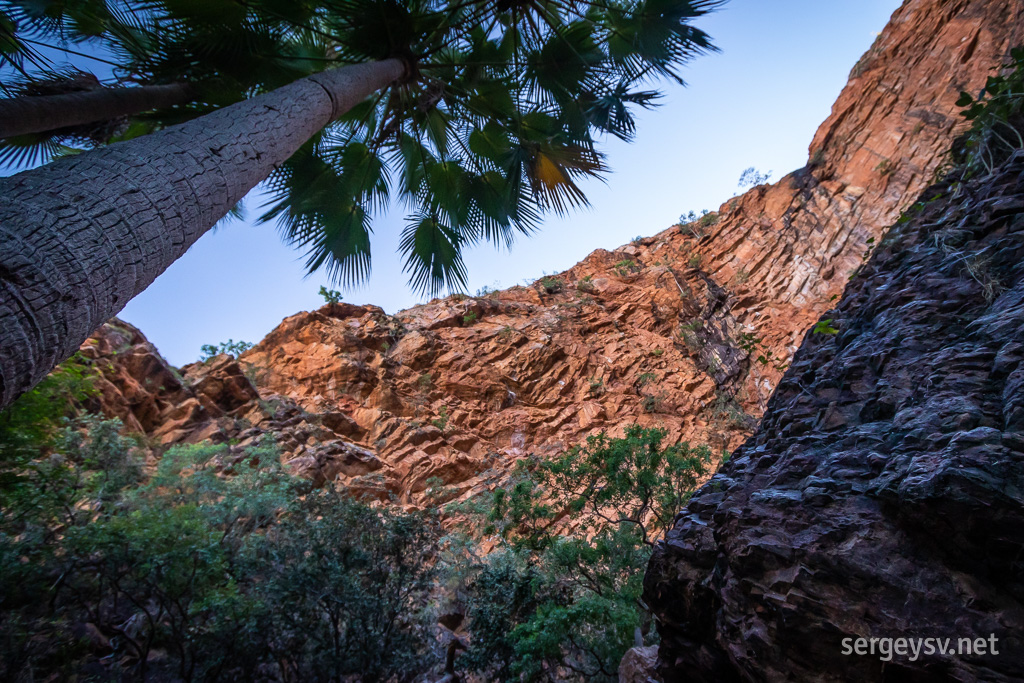 Looking up above.
It's a lot less crowded in Amalia Gorge where I go to next. Just a few people here and there as I embark on a hike towards the pool. The hike is quite difficult at times; so much so that I literally have to crawl in one spot, because a giant rock overhangs the path, and there's nothing but a few metres of nothing on the other side.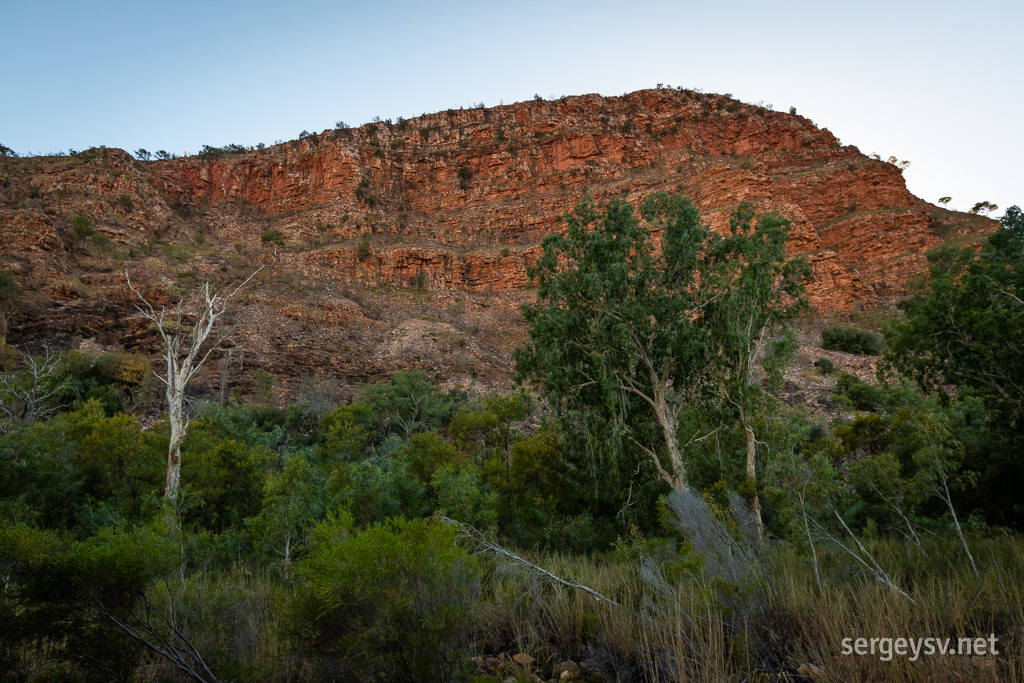 On my way to Amalia Gorge.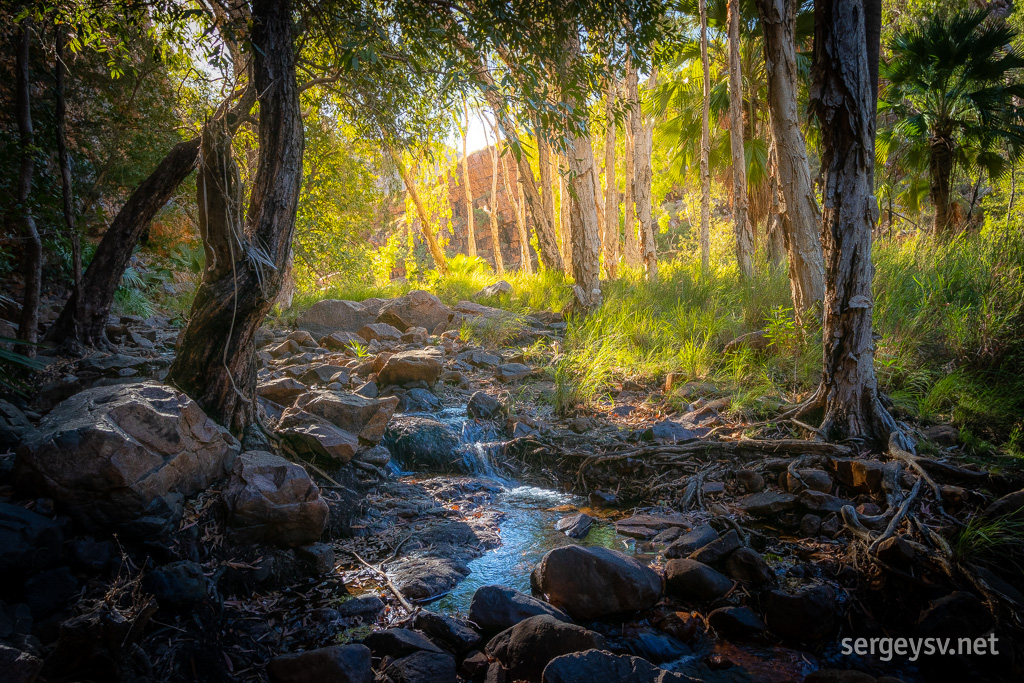 I'm not even there yet, and it's already beautiful.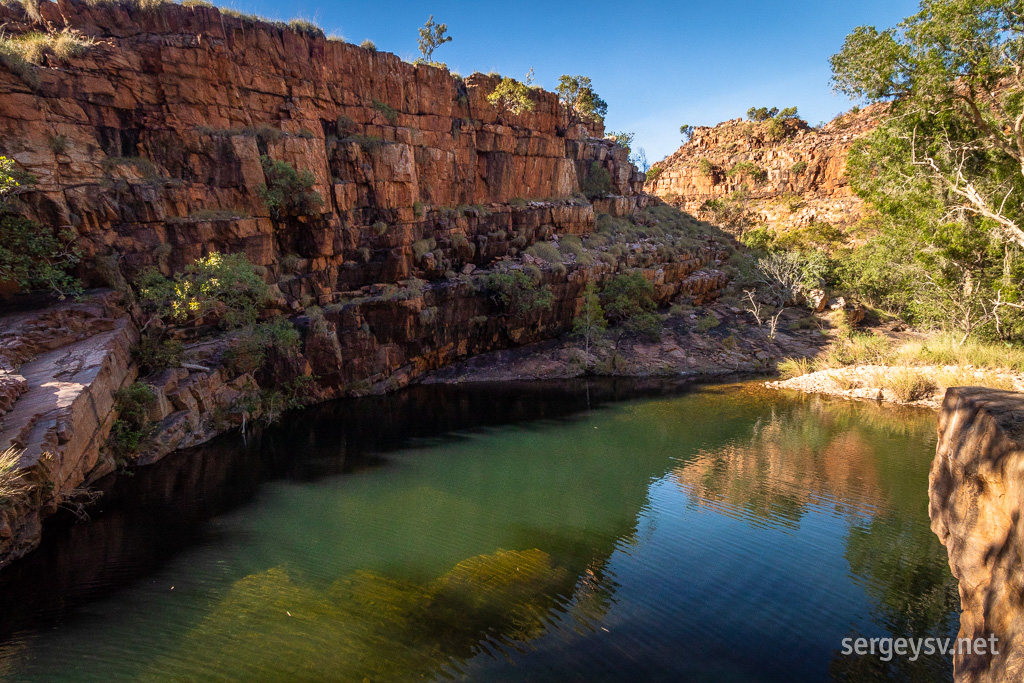 One of the pools along the trail.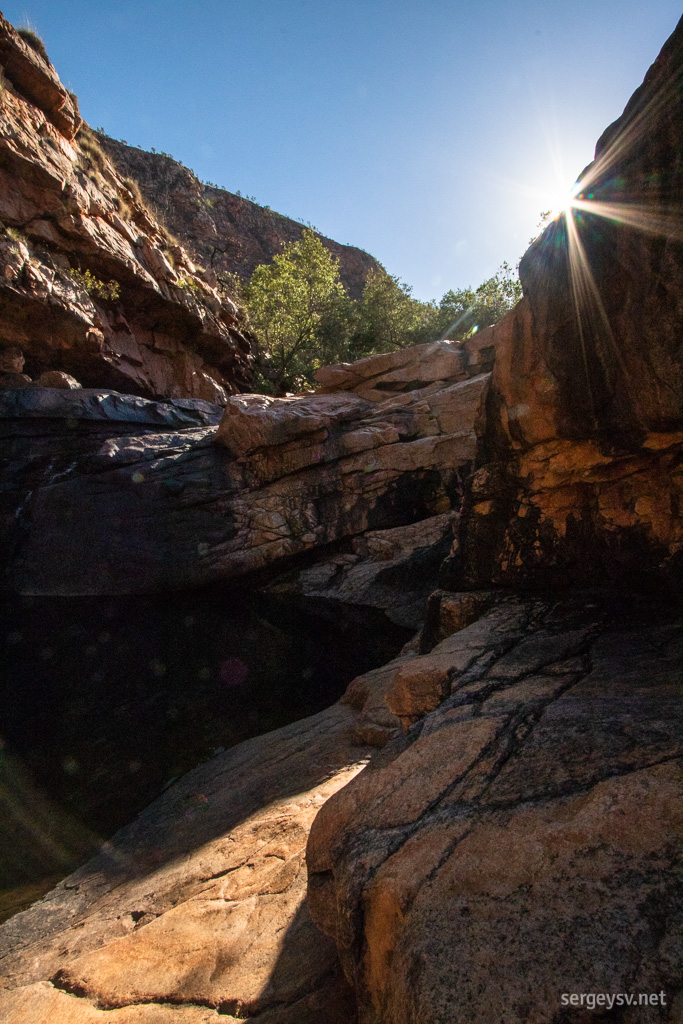 Boy, my lens is dusty!
Although the path is marked by blue light-reflecting plates, they're quite scarce at times, and I manage to lose track at least once until I finally arrive to the pool. Looks a lot like yesterday's Emma Gorge, but without a single soul around. Nice!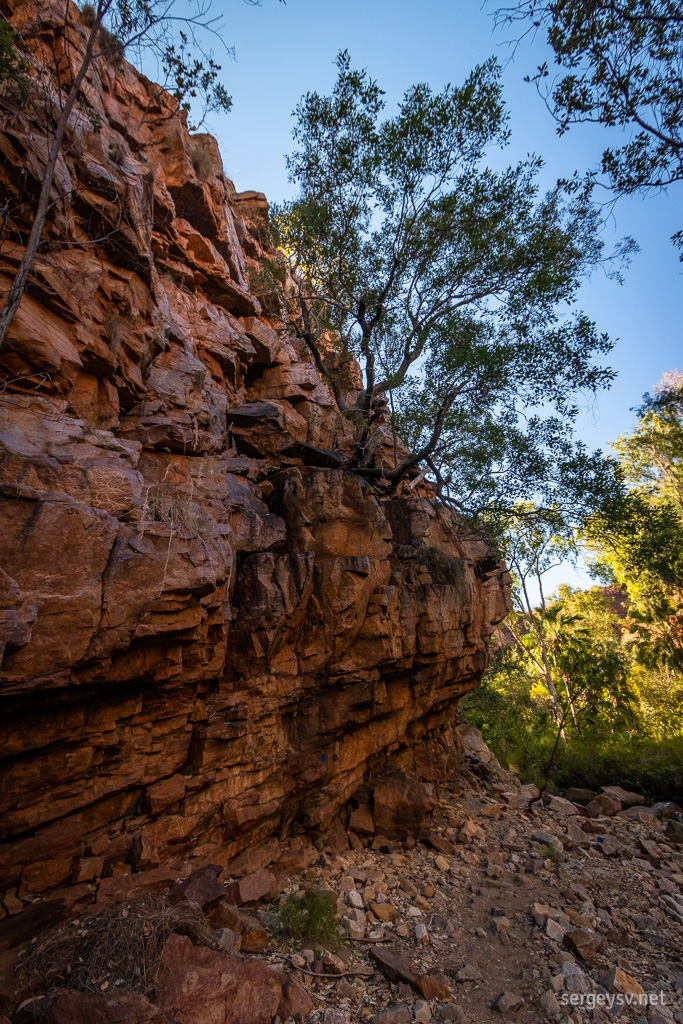 See that tiny blue mark down on the path?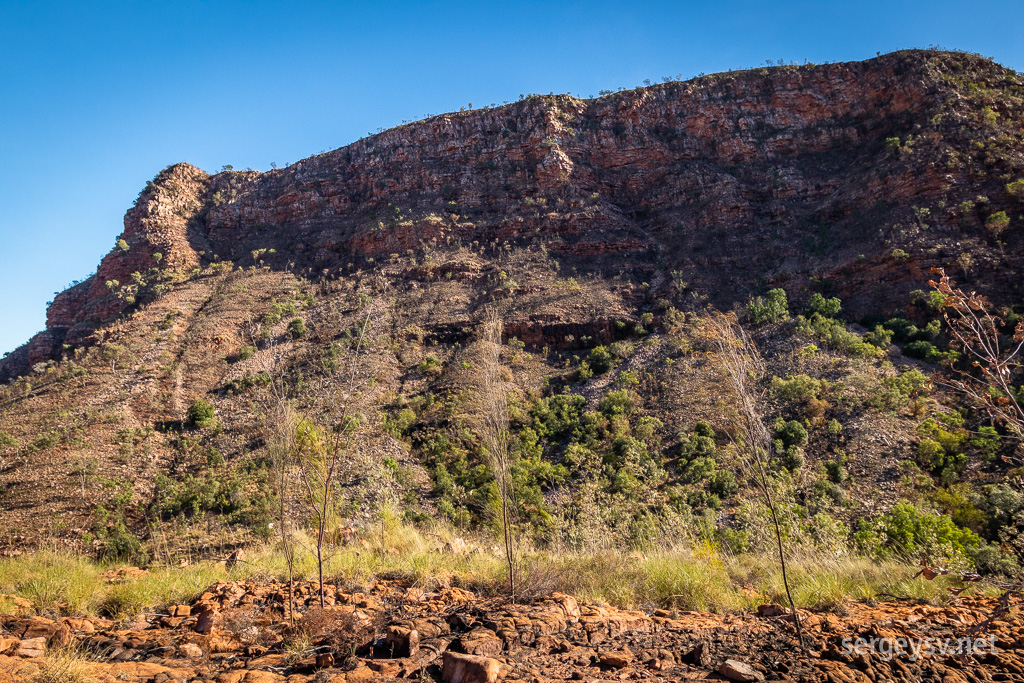 Going further down the gorge.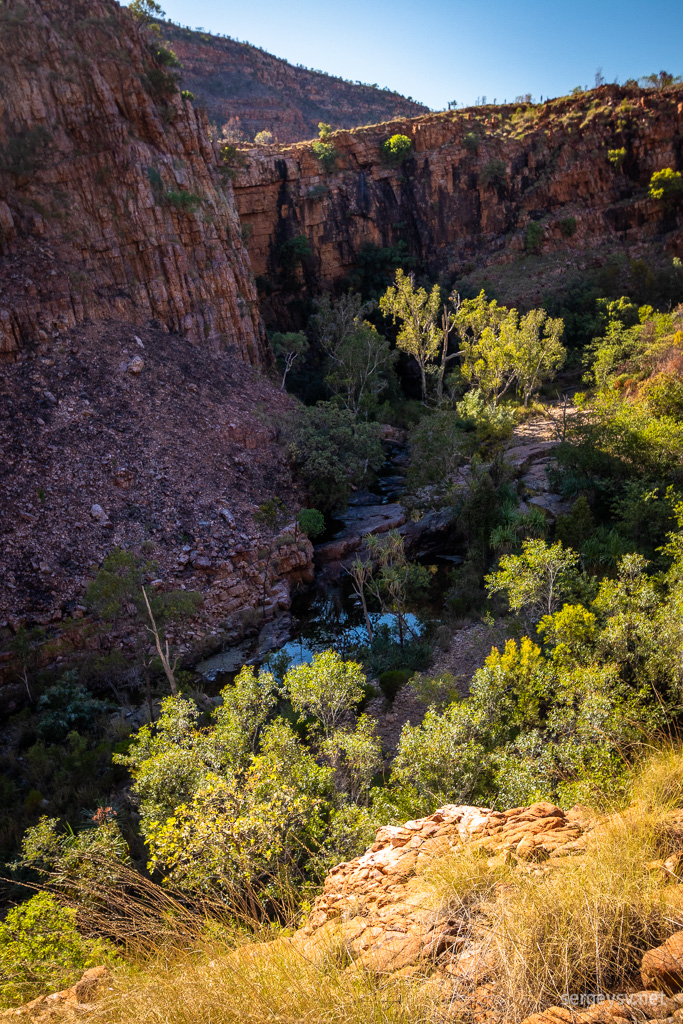 The pool is close!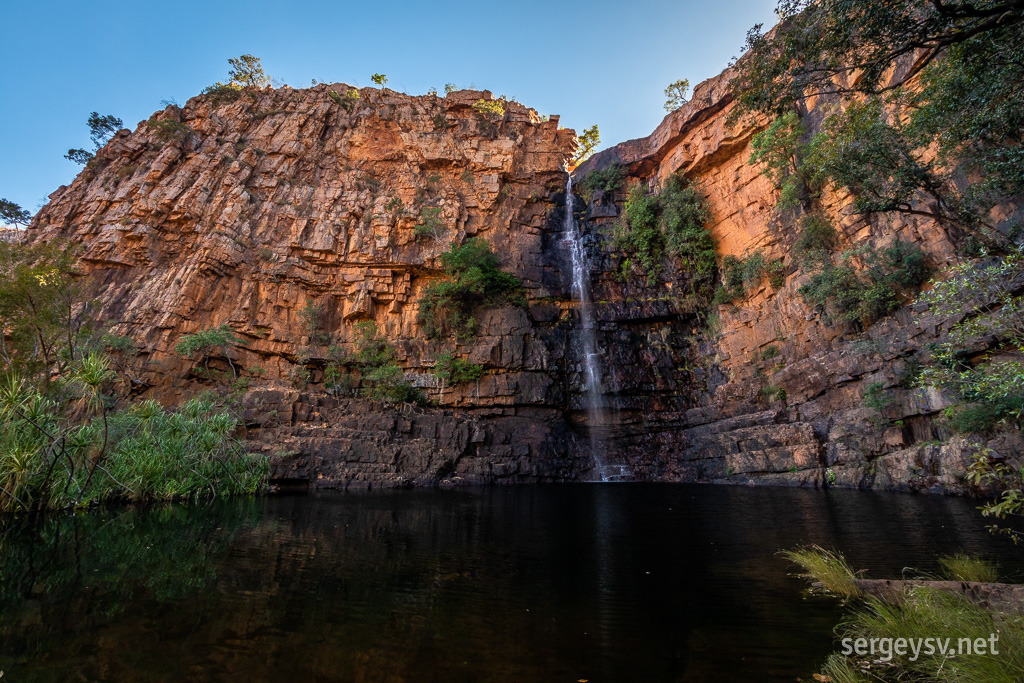 And here it is.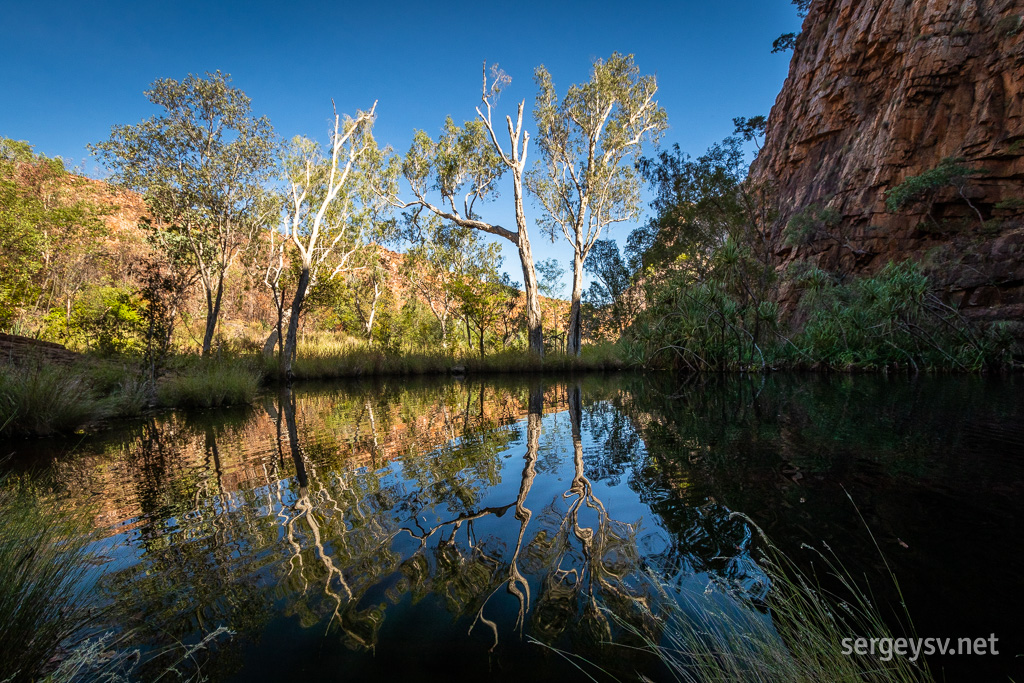 Very pretty! And not a single person around.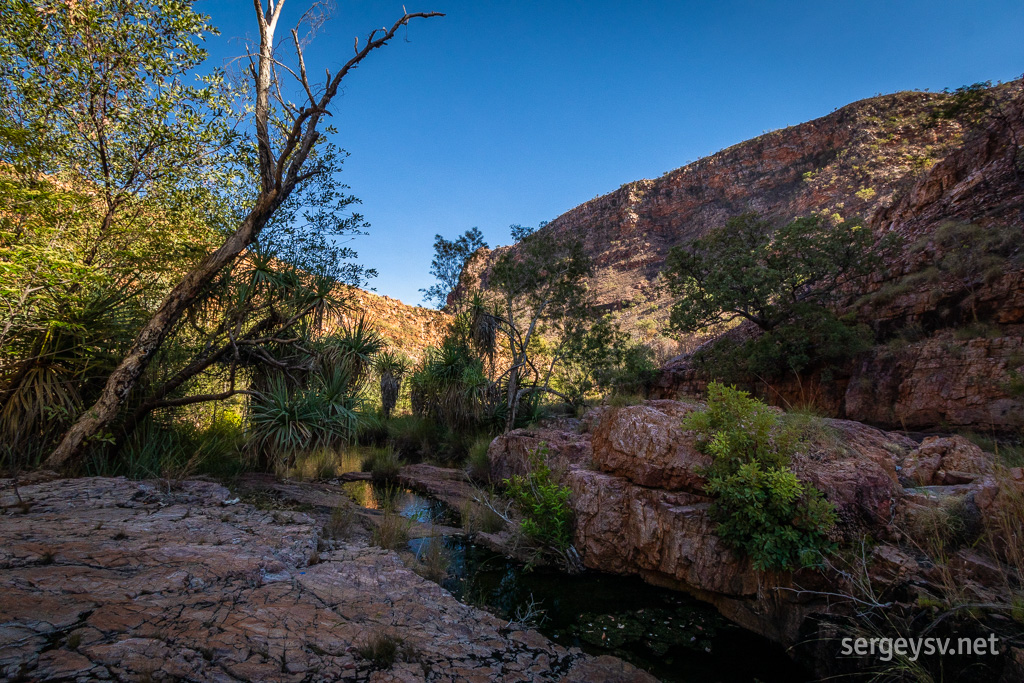 Time to go back though.
My last gorge for today is named after the station itself, and it looks quite different: palm trees are all over the place in this one. As it gets closer to the afternoon, all the station patrons begin to go out on hikes themselves, and every now and then I have to give way to another joyful group in bathers and bikinis. The reason for that is a small, but clear pool of water at the end of the gorge, where people queue up in order to take a dip after a hot and sweaty hike. If you're not afraid to get your clothes wet, you can wade across the pool chest deep, climb up the boulder at the end of it and walk to another pool further away... but I feel like I've done my share of hiking for today. I don't have my waterproof camera bag on me, anyway.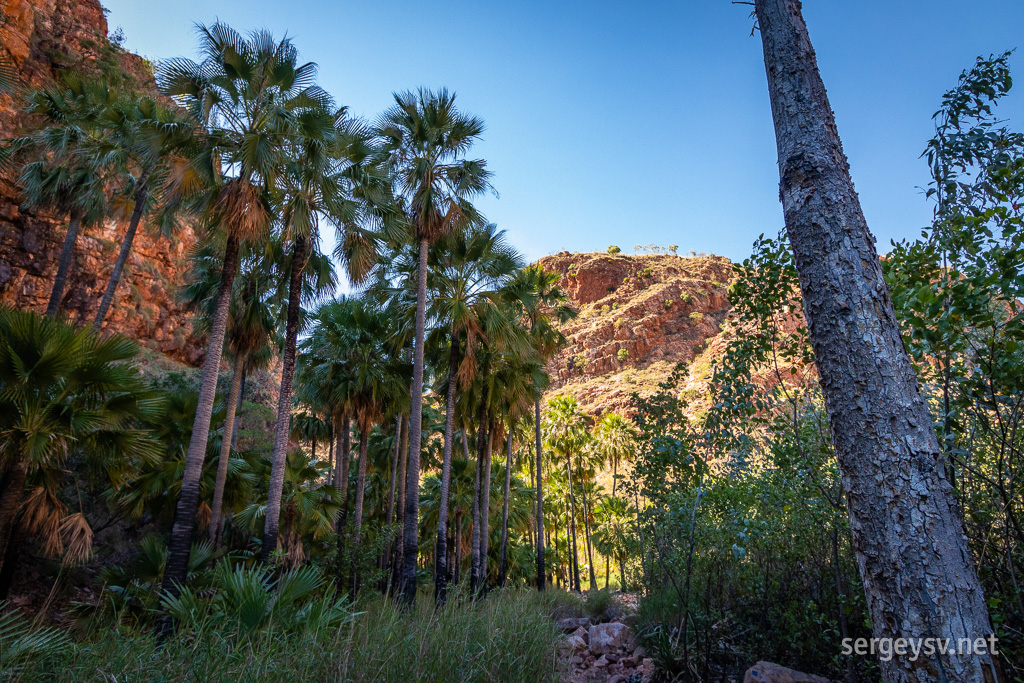 Entering the El Questro Gorge.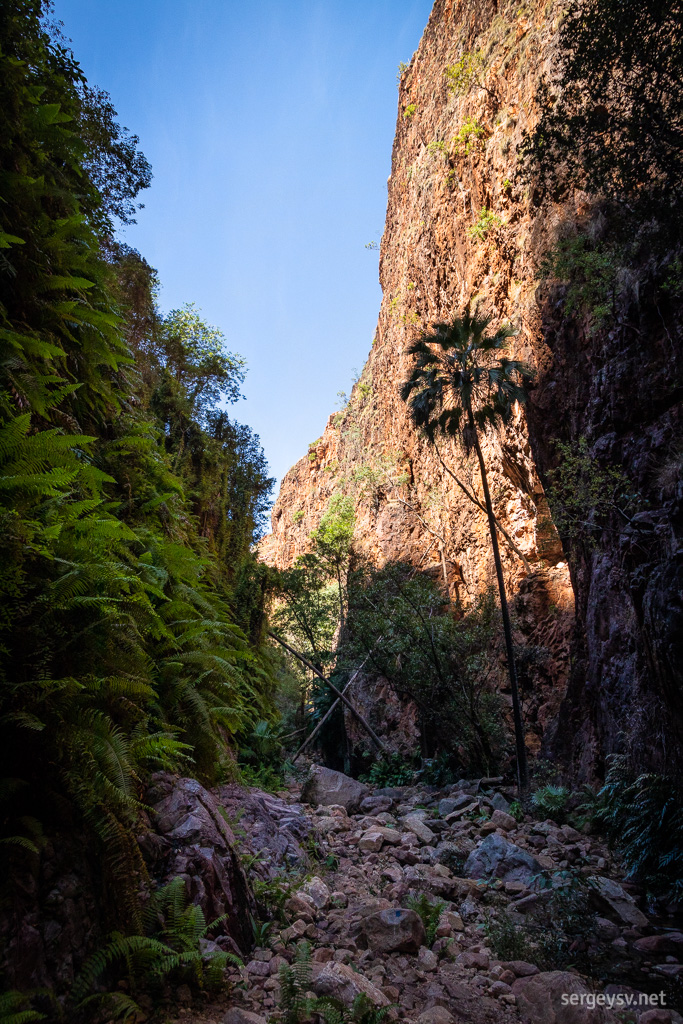 The walls of the gorge are tall and covered with vegetation.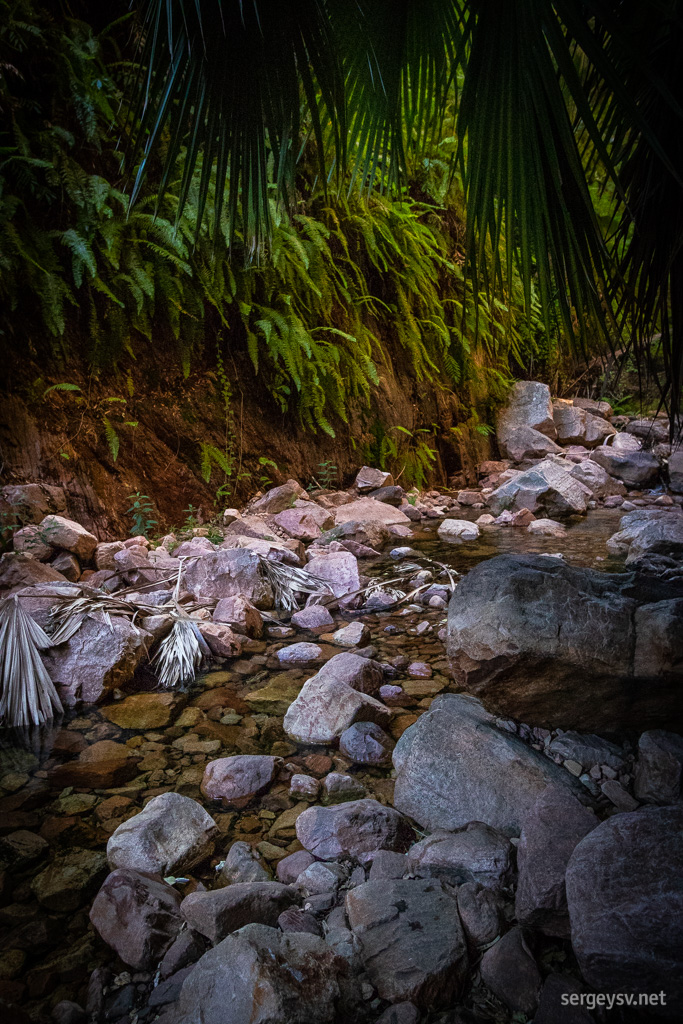 A stream is trickling along the path.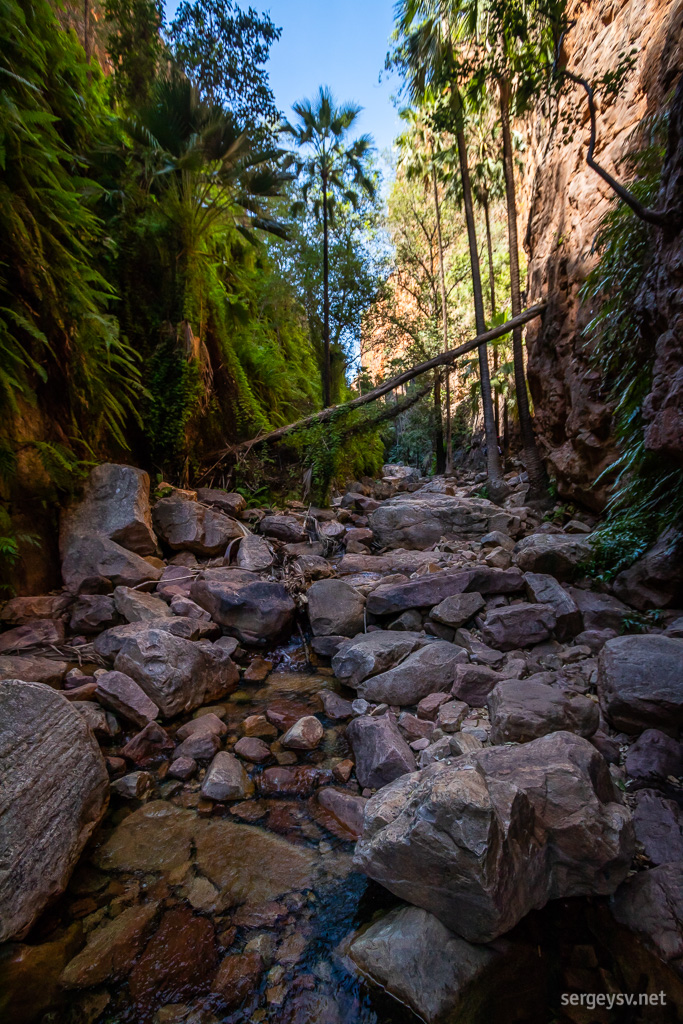 The path itself is very rocky.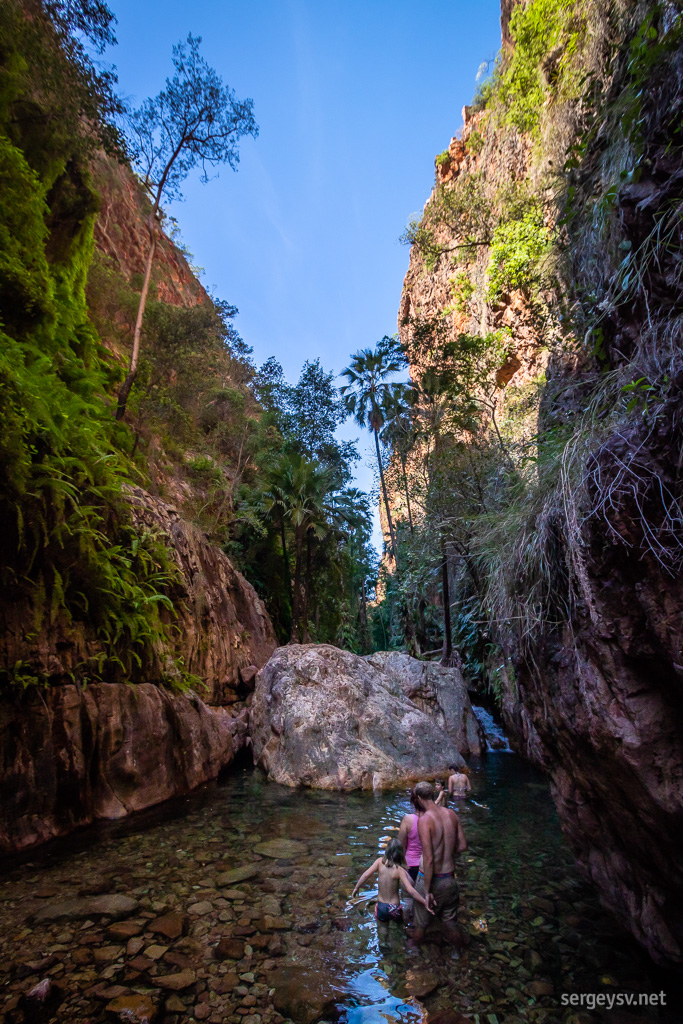 The first pool and the swimmers.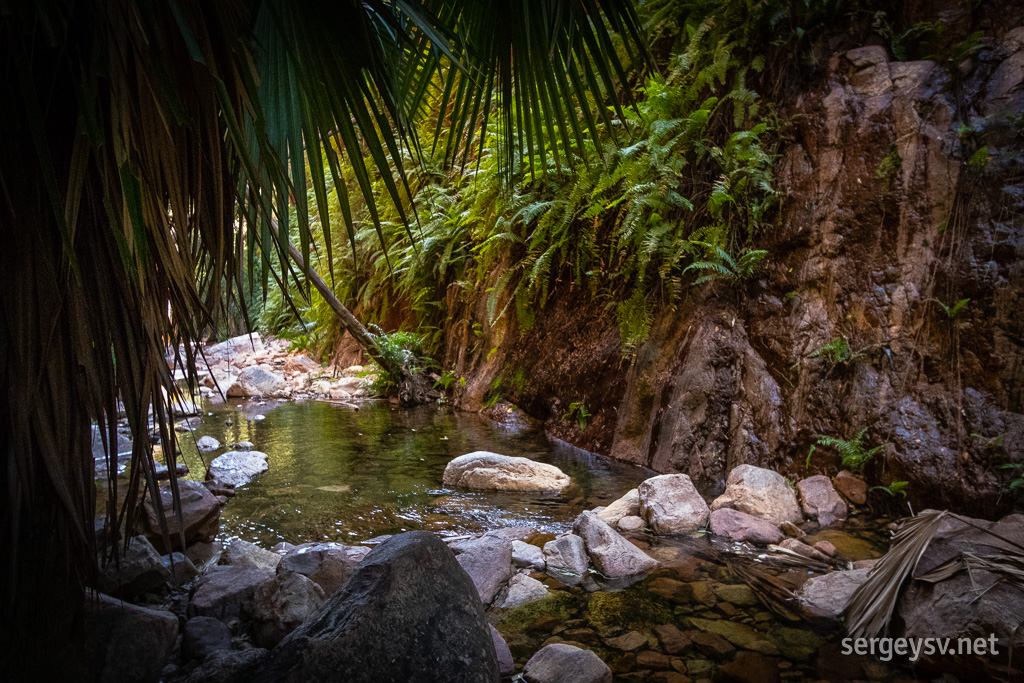 Looking back.
I arrive back at El Questro and indulge myself with a first proper lunch for days. When I discover that the place has WiFi ($5 for 100 MB), I even purchase myself a tinnie of beer for the occasion. The weather is sunny and beautiful, the terrace is shady, the patrons are few and far between at this hour… after days of driving and hiking, it feels like heaven on Earth.
This bliss, however, is marred by the end of the day. As I return from the shower block, I suddenly notice a small wet patch under the front of the Prado. Yep: bright green coolant slowly drips on the ground from somewhere in the engine bay. Now that's bad news. Hose leak? Radiator crack? Looks like the latter, as I quickly inspect the engine bay and find all hoses dry.
Damn.
The leak doesn't look too bad though; and, being a reasonably experienced traveller by now, I have a selection of car fluids on board, coolant included. However, traversing the Gibb with a cracked radiator (if it is indeed the case) sounds like a bad idea. The region is sparsely populated, there's no mobile signal anywhere, and mechanics are in extremely short supply.
Speaking of mechanics: where can I find them around here, actually? El Questro, for all its luxury, doesn't have them, and my map says that the closest station where they can be is Home Valley some 100 km from here further down the road. Fair enough. Let's try that one tomorrow.