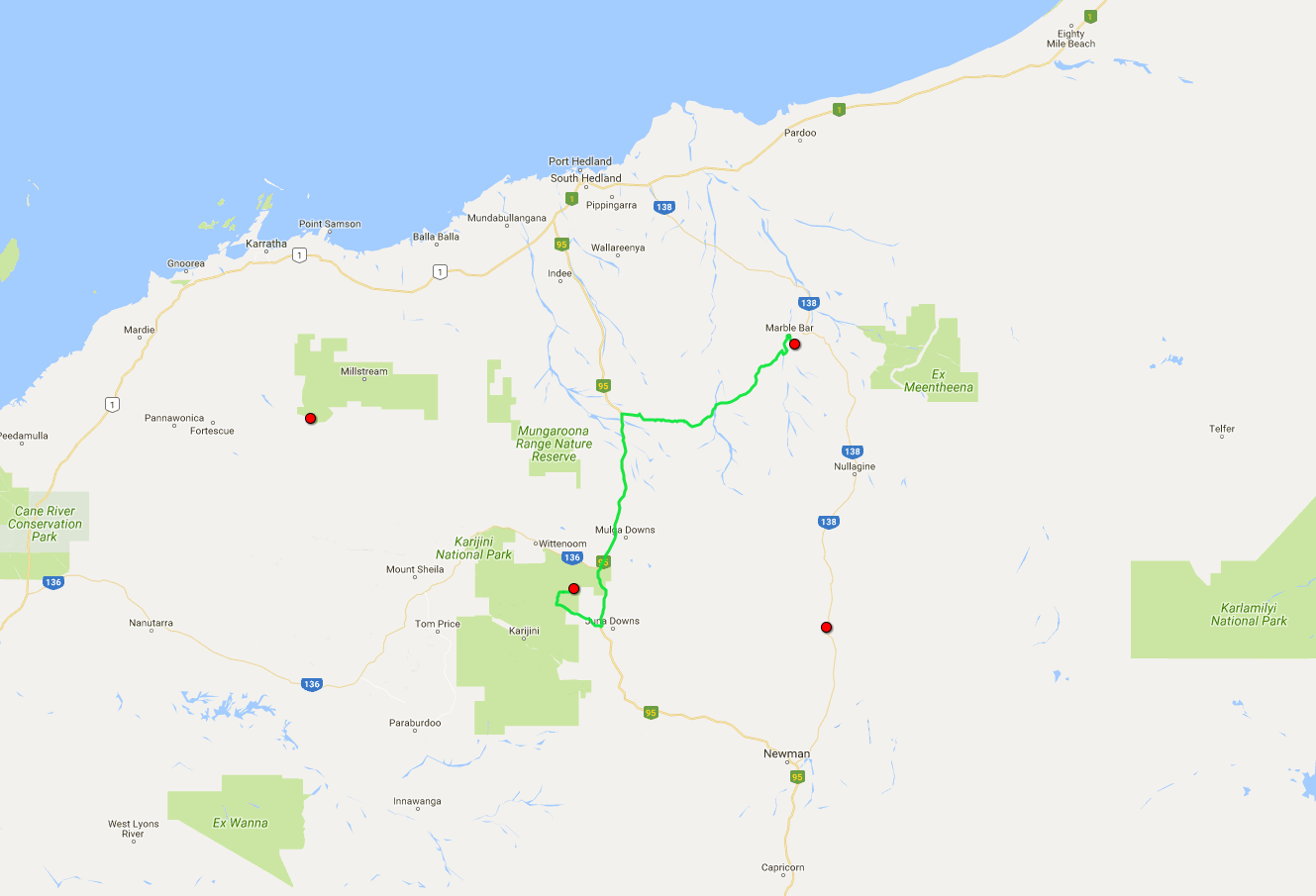 Today's itinerary.
In the morning, as I leave Marble Bar, I hit the dirt again. I have misgivings about that after the somewhat uncomfortable ride to Carawine Gorge, and I'm tempted to modify the route and take a detour via Port Hedland; but the moment of weakness passes soon. Gotta be in it to win it.
Contrary to my misgivings, the road looks and feels quite good. I begin to suspect that there must be some mining companies involved in this… and then instantly encounter a small gold mine. Bingo.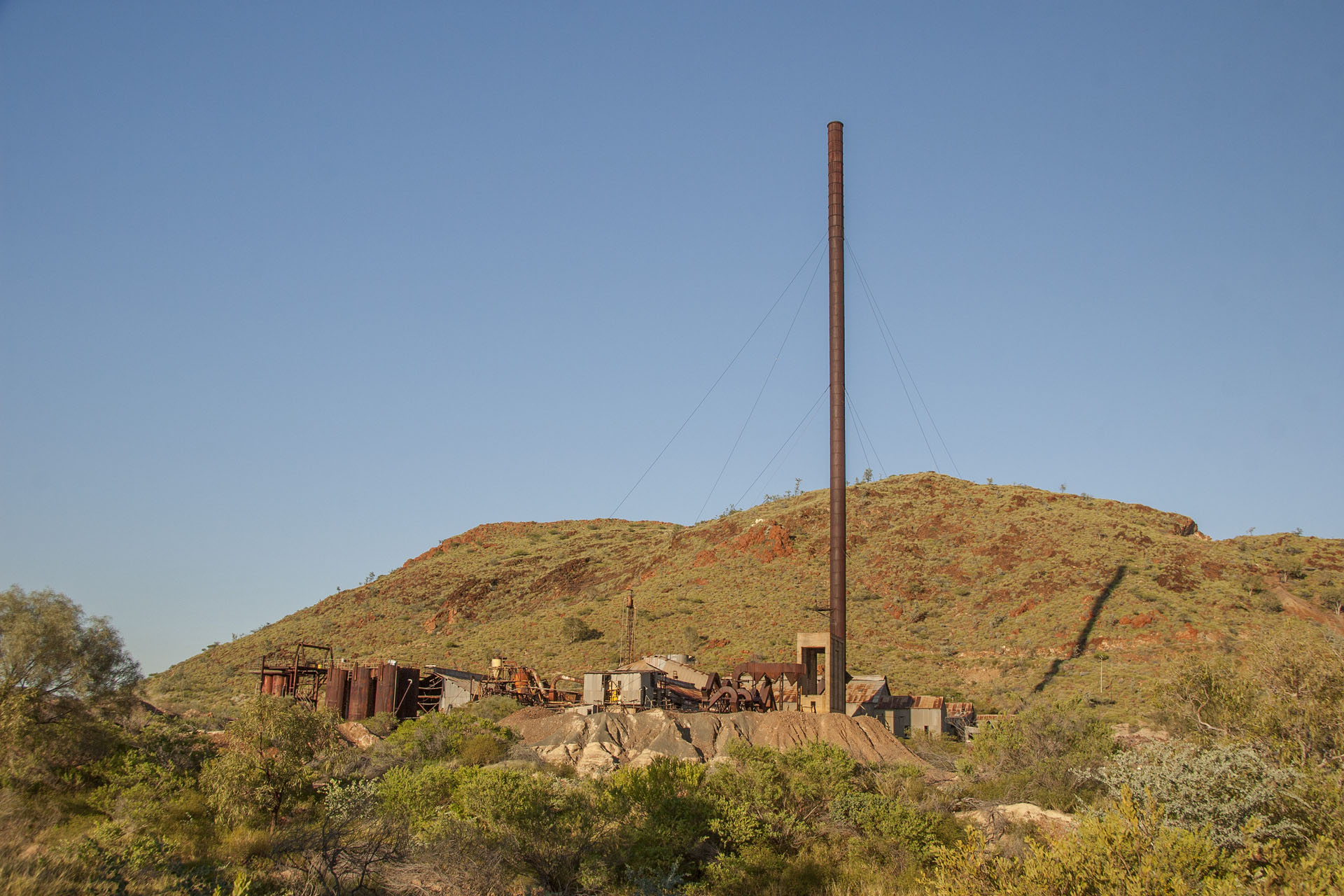 Comet Gold Mine.
The rule of thumb still works: if the road is good, then there's mining somewhere nearby. I meet a few creek crossings, but they're all secured with concrete.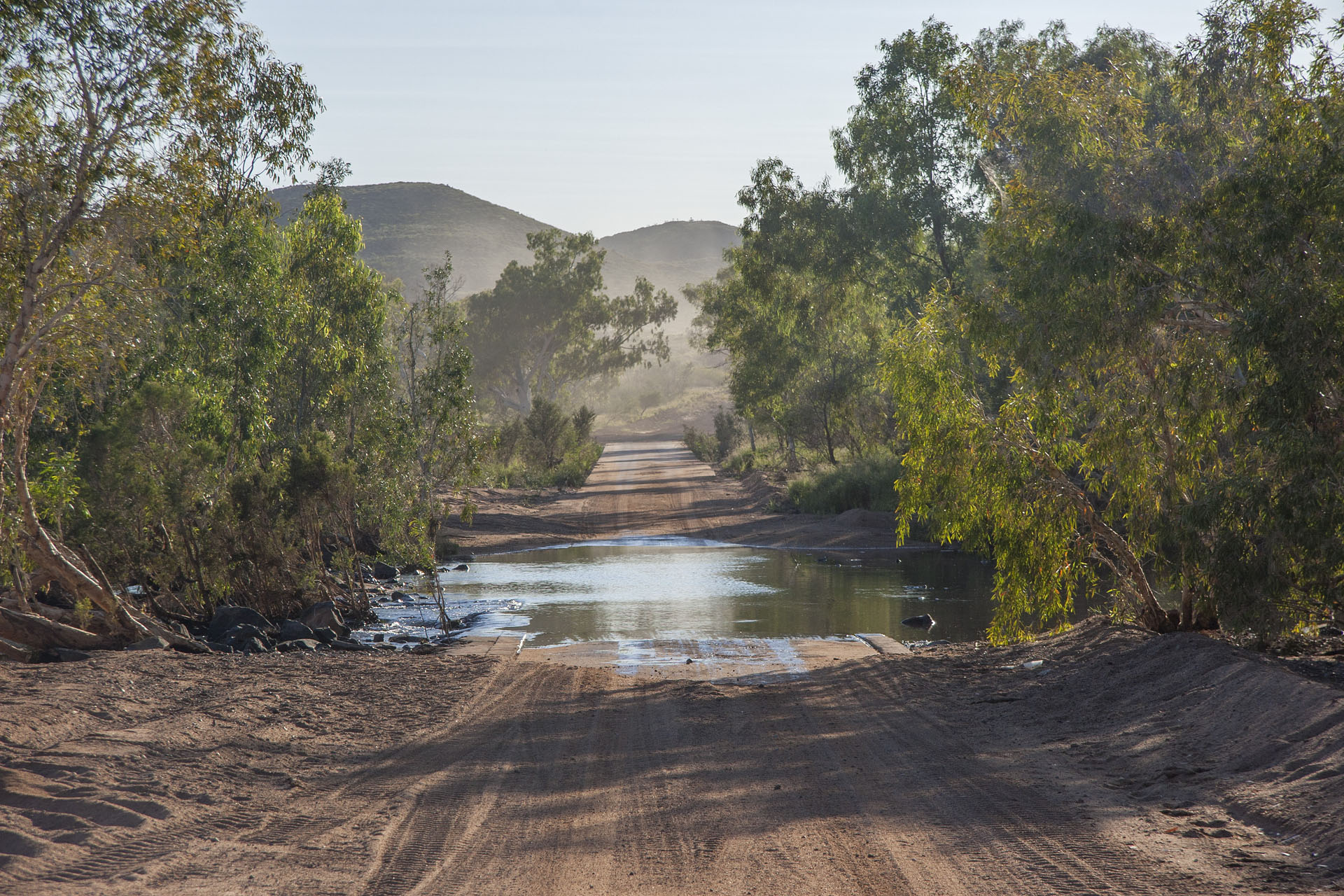 The crossing.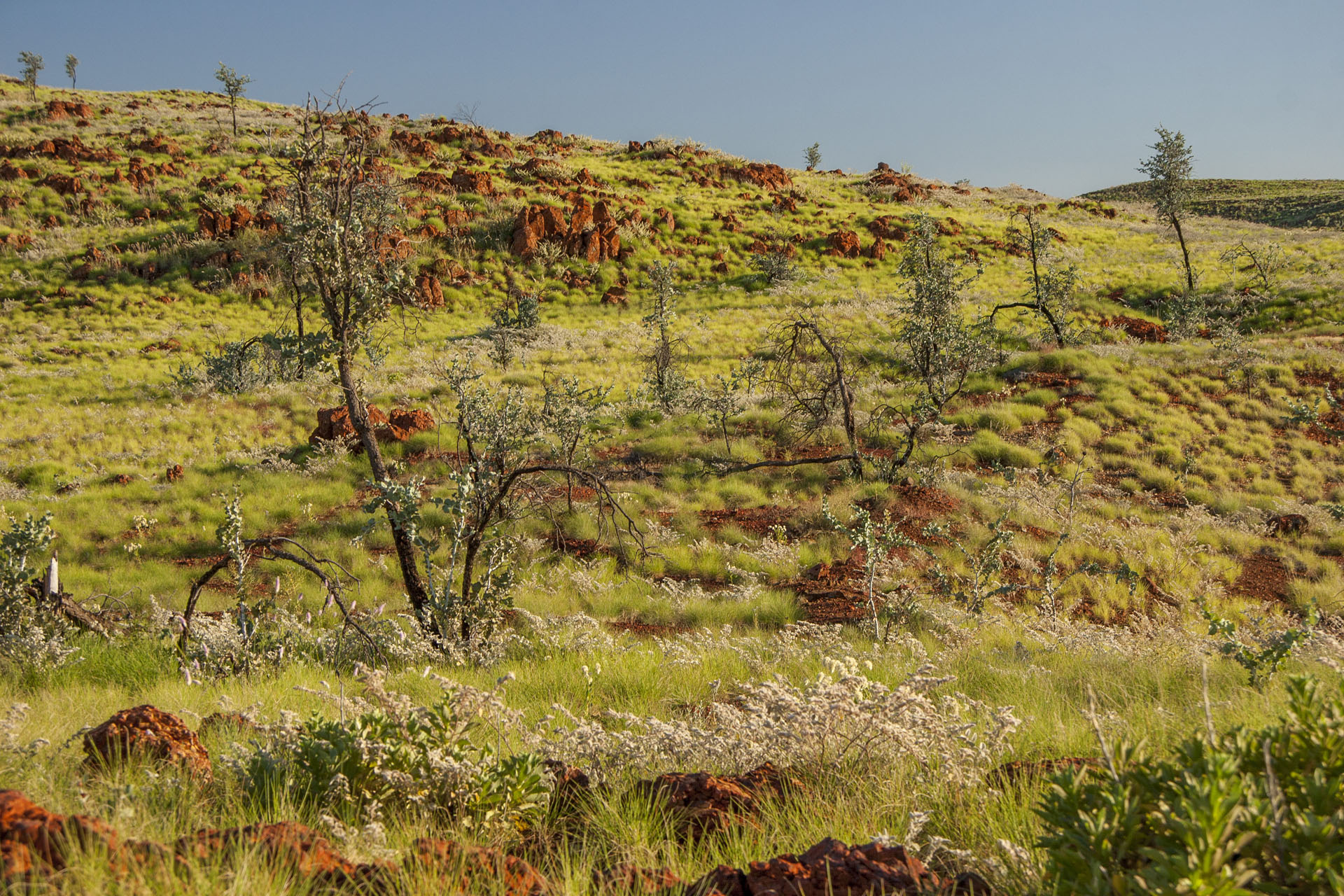 Hills again.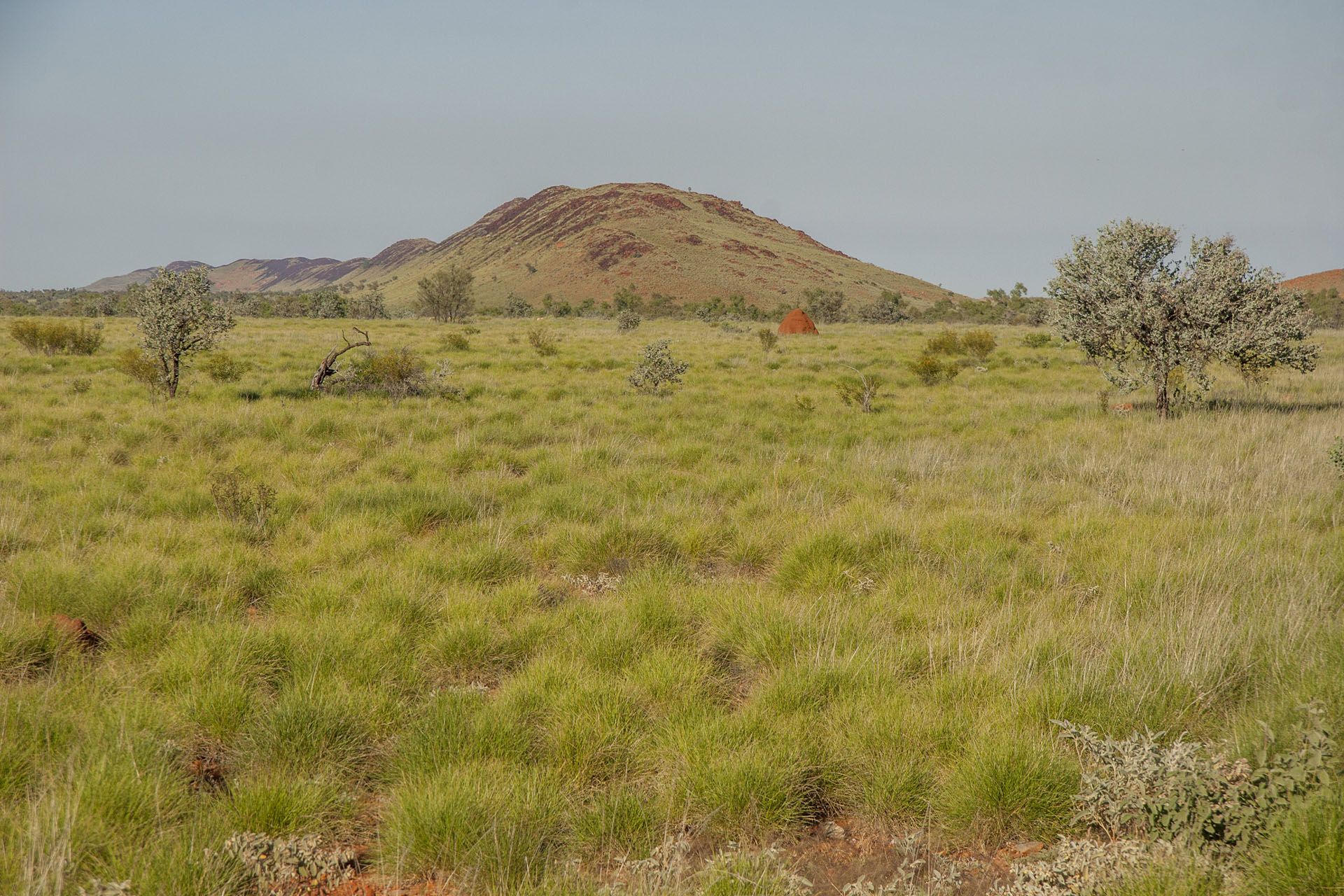 In the distance, too.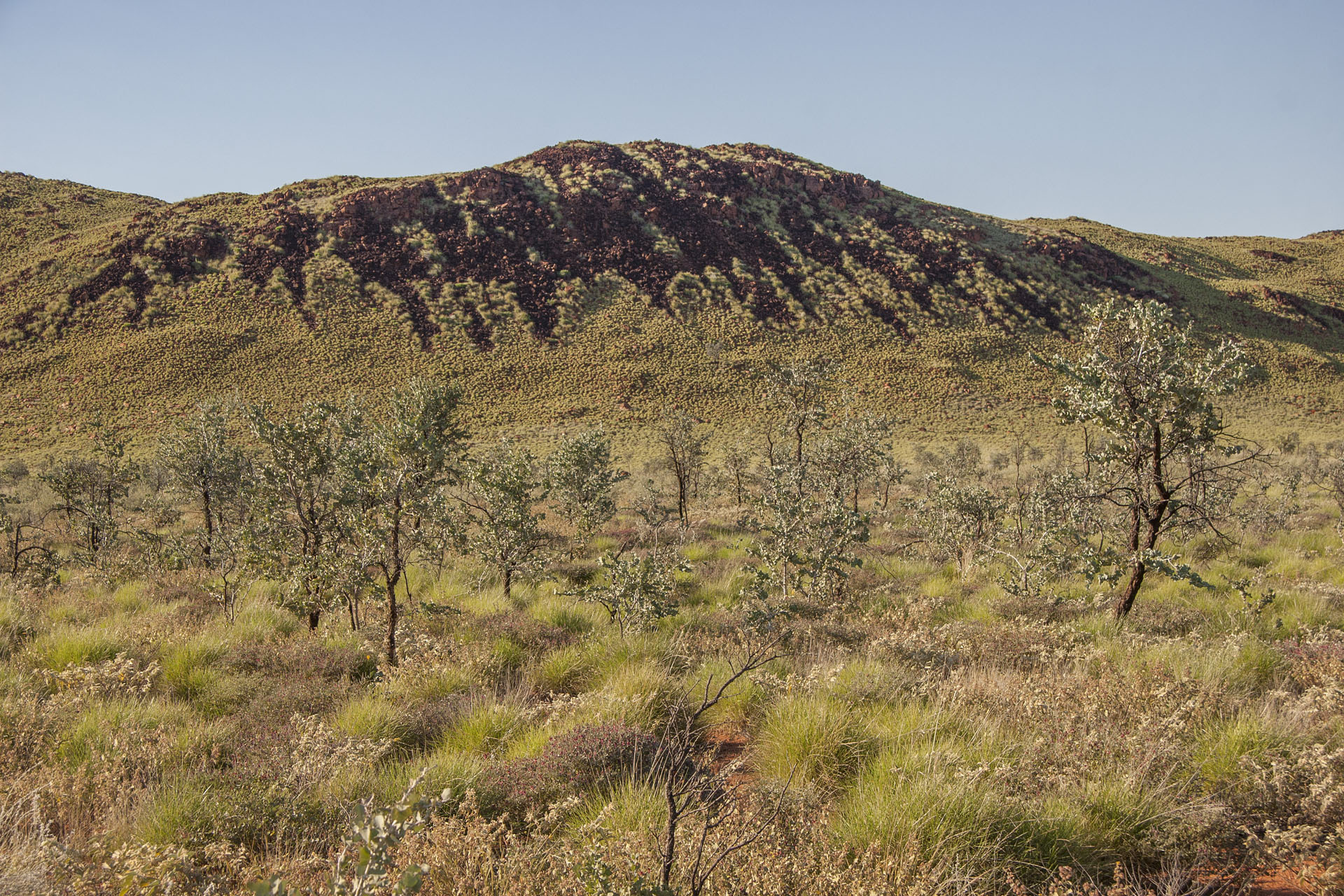 Cool tiger stripes.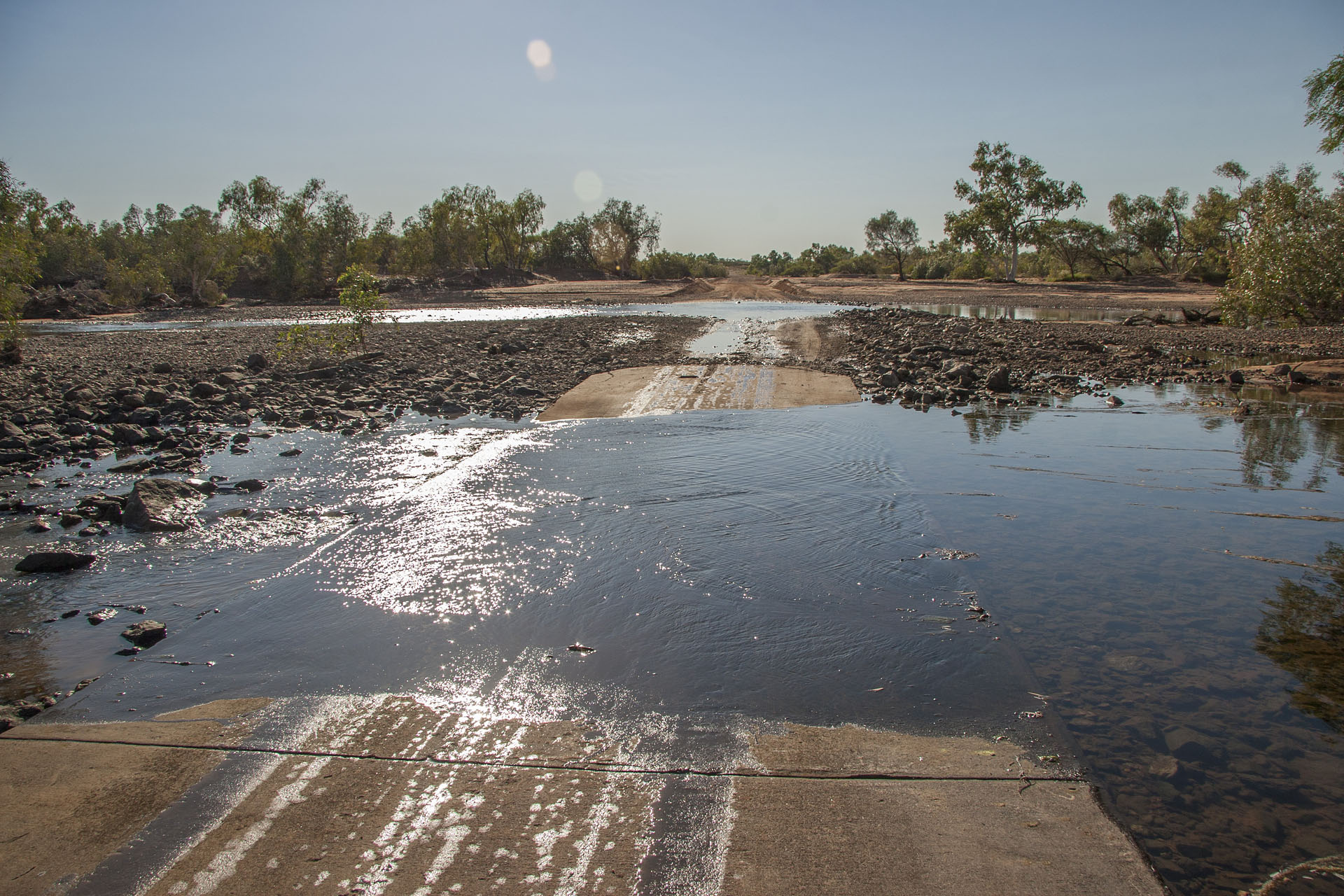 One more crossing.
Once I reach the Mount Webber mine, I suddenly hit the bitumen, even though my map says that this portion is not sealed yet. A pleasant surprise. Feels good to drive on a sealed road, even though the road trains crawl like caterpillars up the numerous steep inclines, and even though there's a fair bit of roadworks still around.
A road train.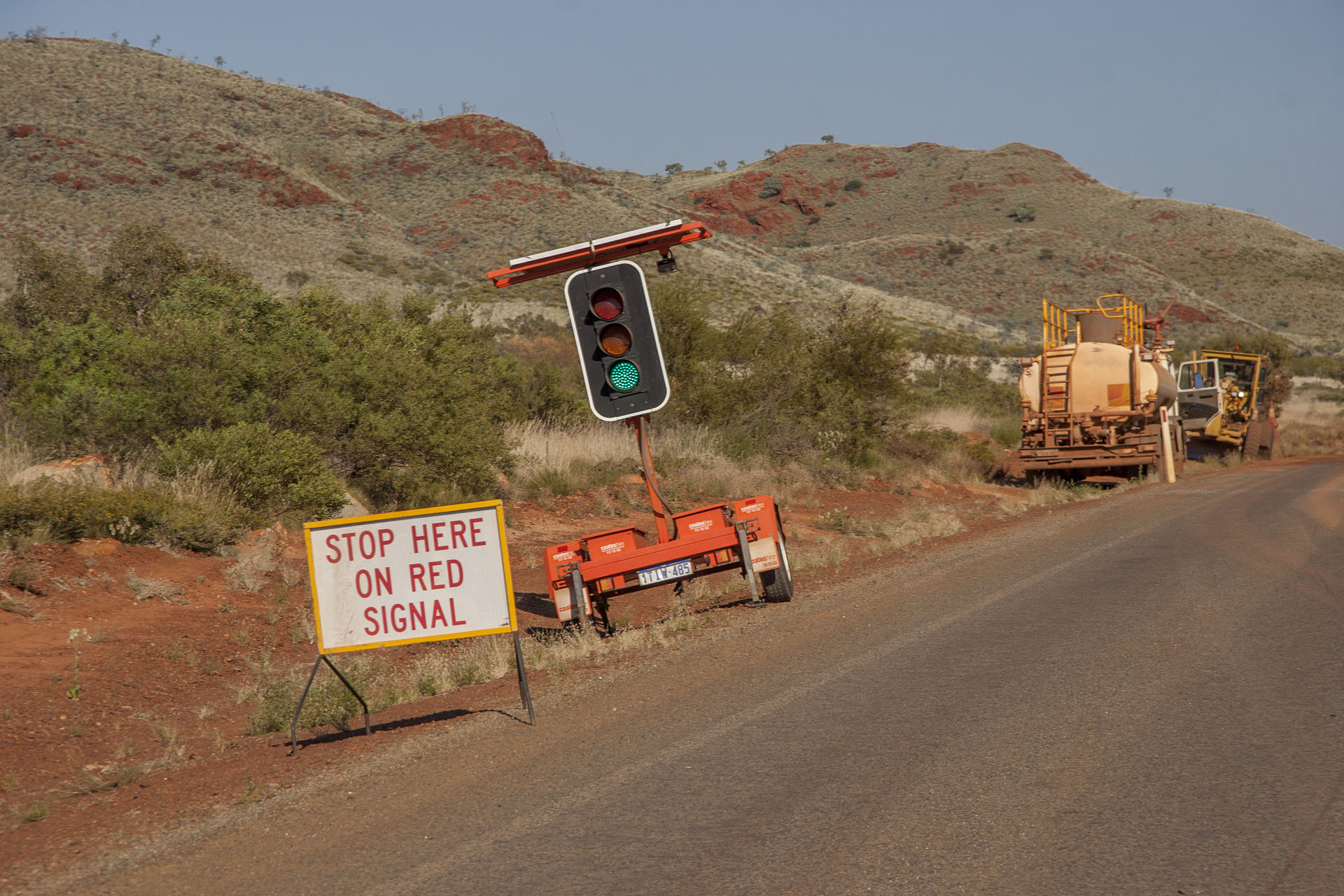 A mobile traffic light.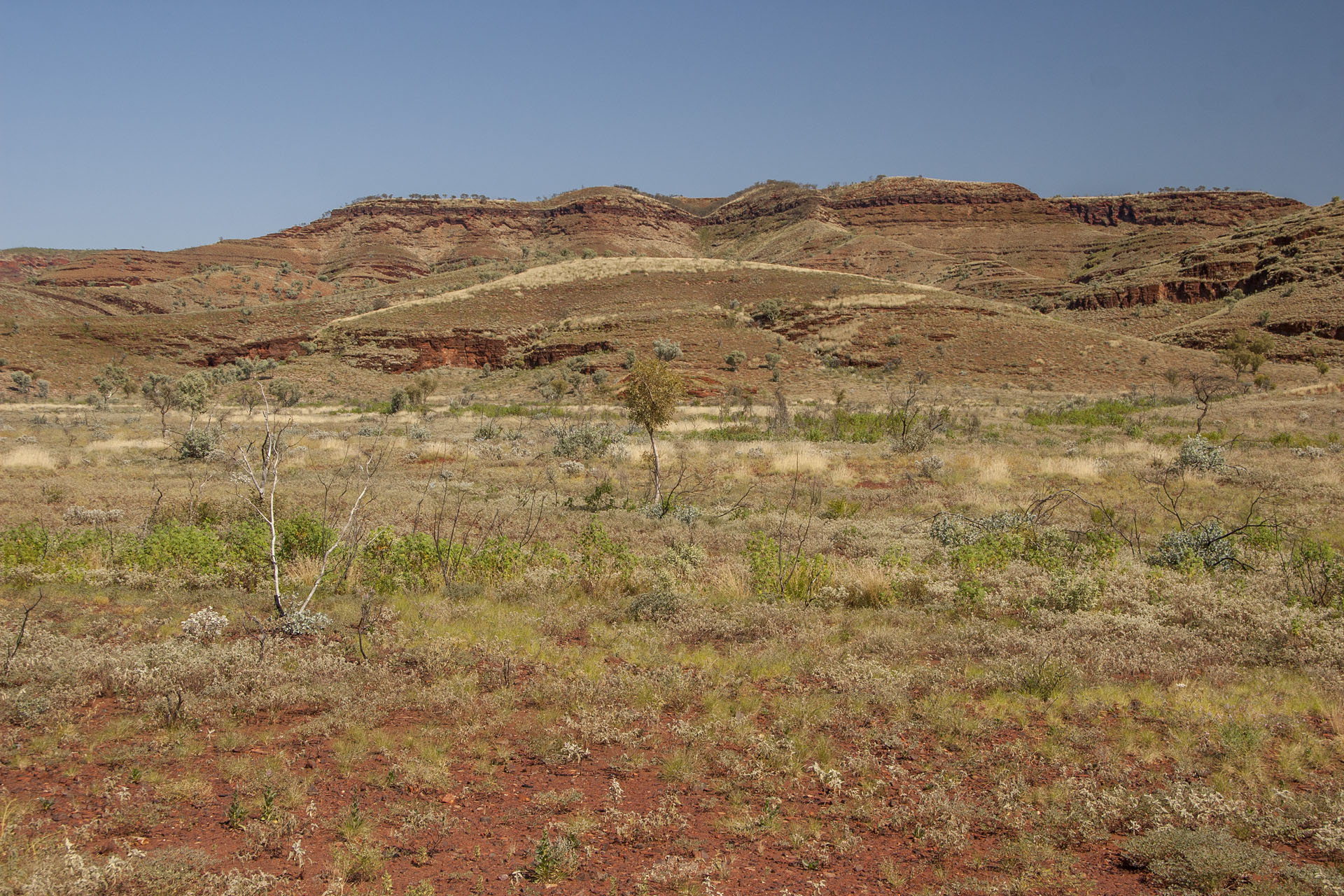 The roadside scenery.
Once I'm back on a proper highway, I turn south and head towards my destination for today: Karijini National Park. I make a quick stop at a nearby lookout to take a look at the scenery, which is quite amazing indeed.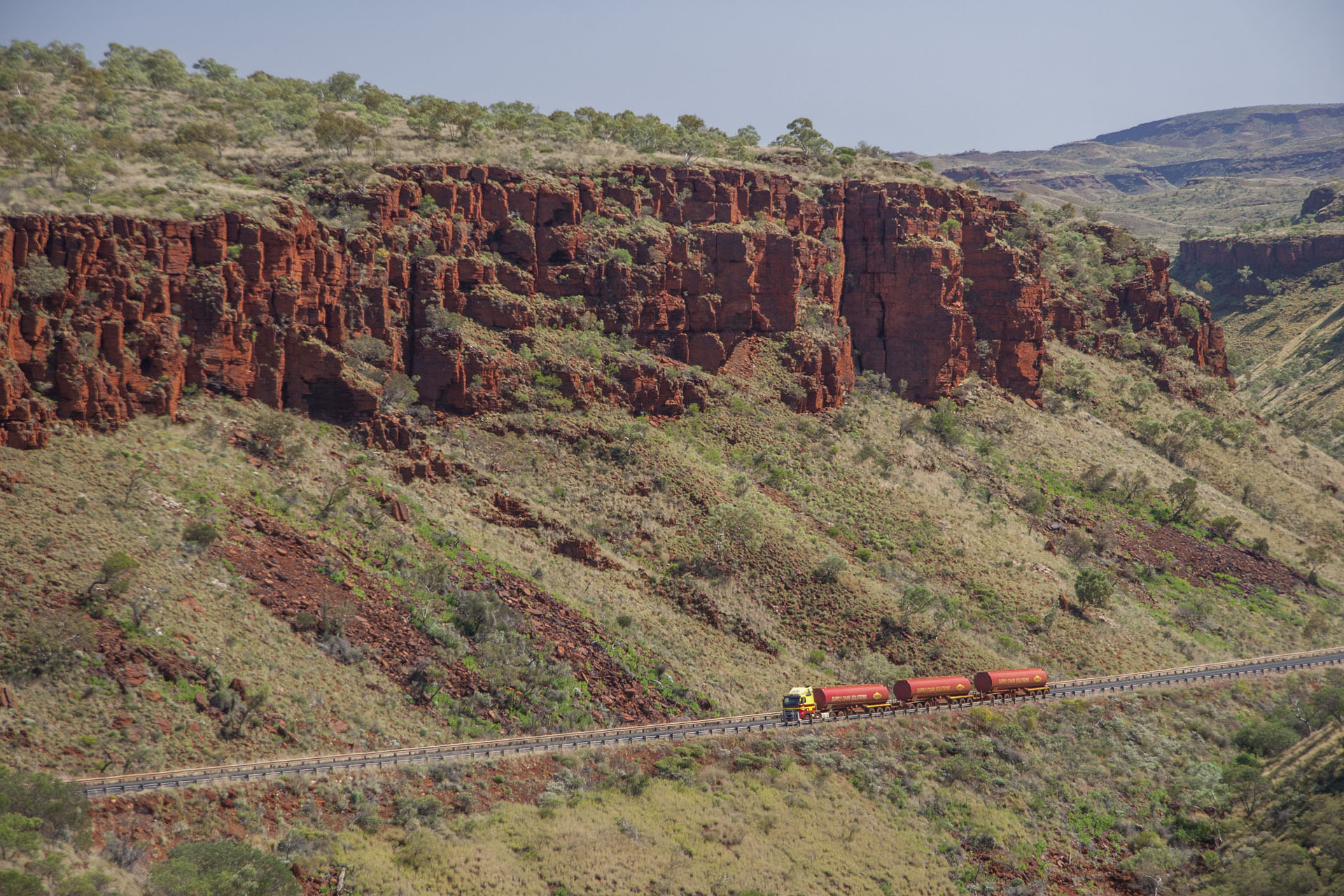 Billion-year old rocks and today's trucks.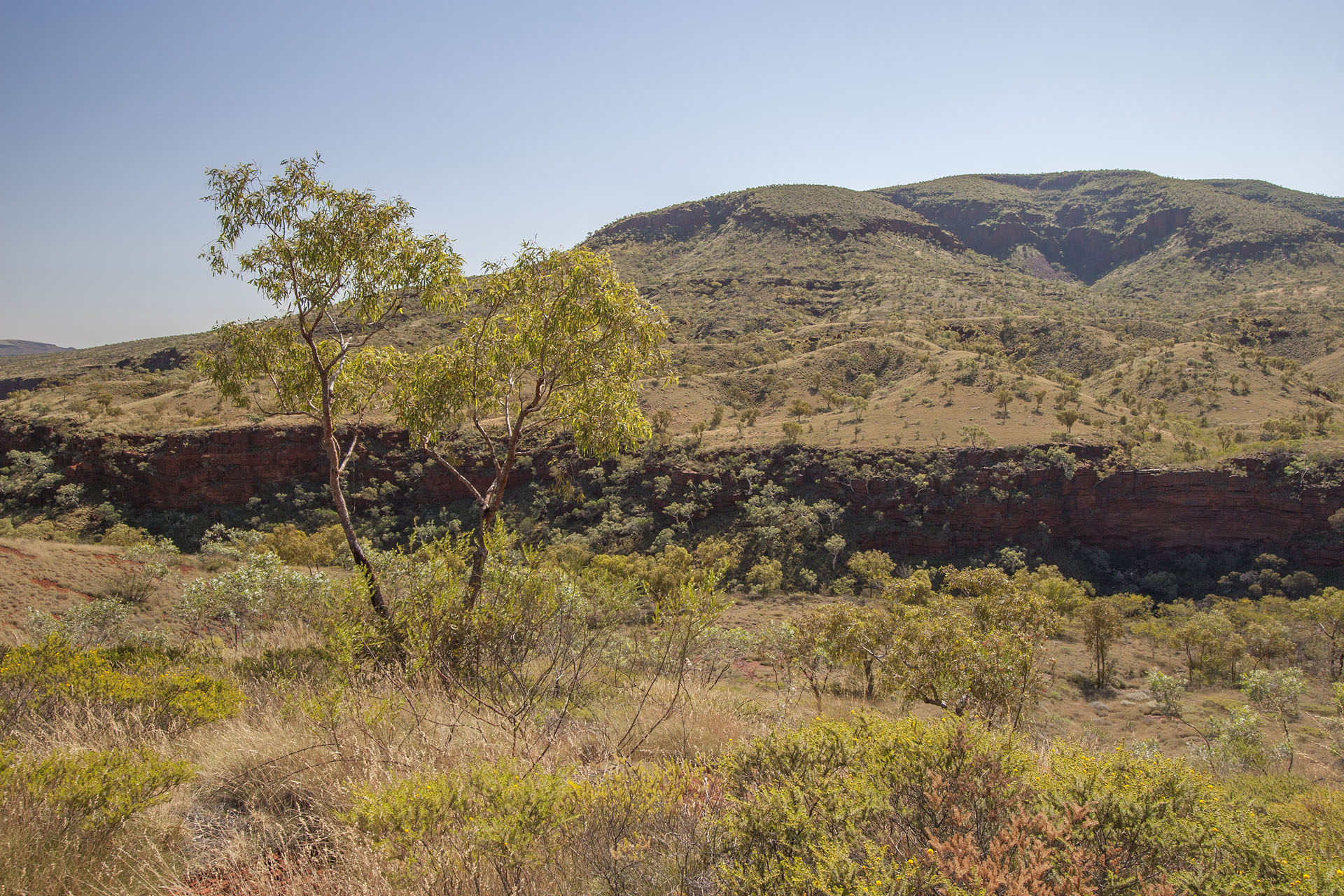 A gorge nearby.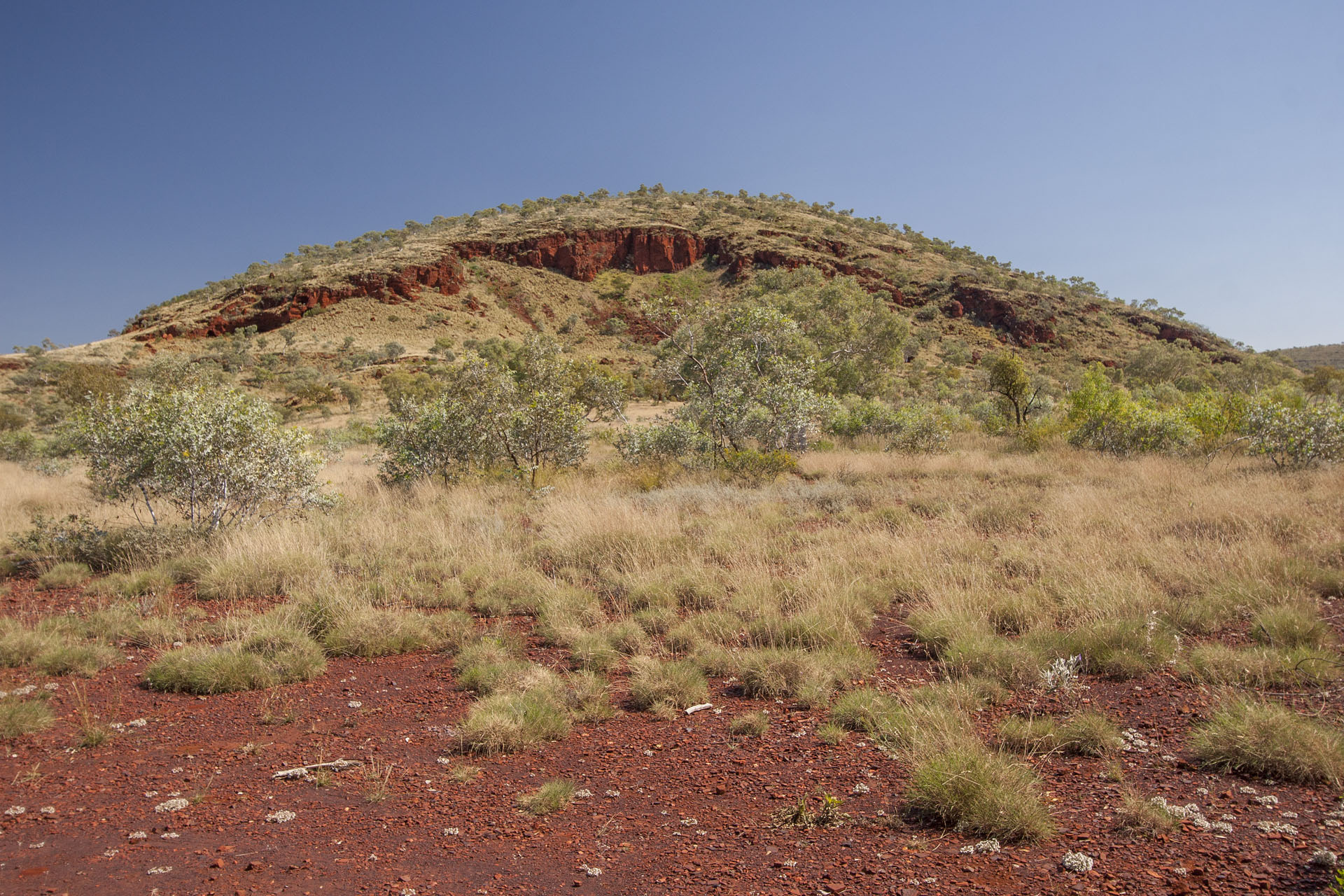 With some mountains.
And here I am at the park. Just like Uluru, it got back its Aboriginal name quite recently, and it used to be Hamersley Range National Park before. The entry fee is $12, as everywhere in WA, and gives me full access to all the park's famous gorges. The first one is Kalamina.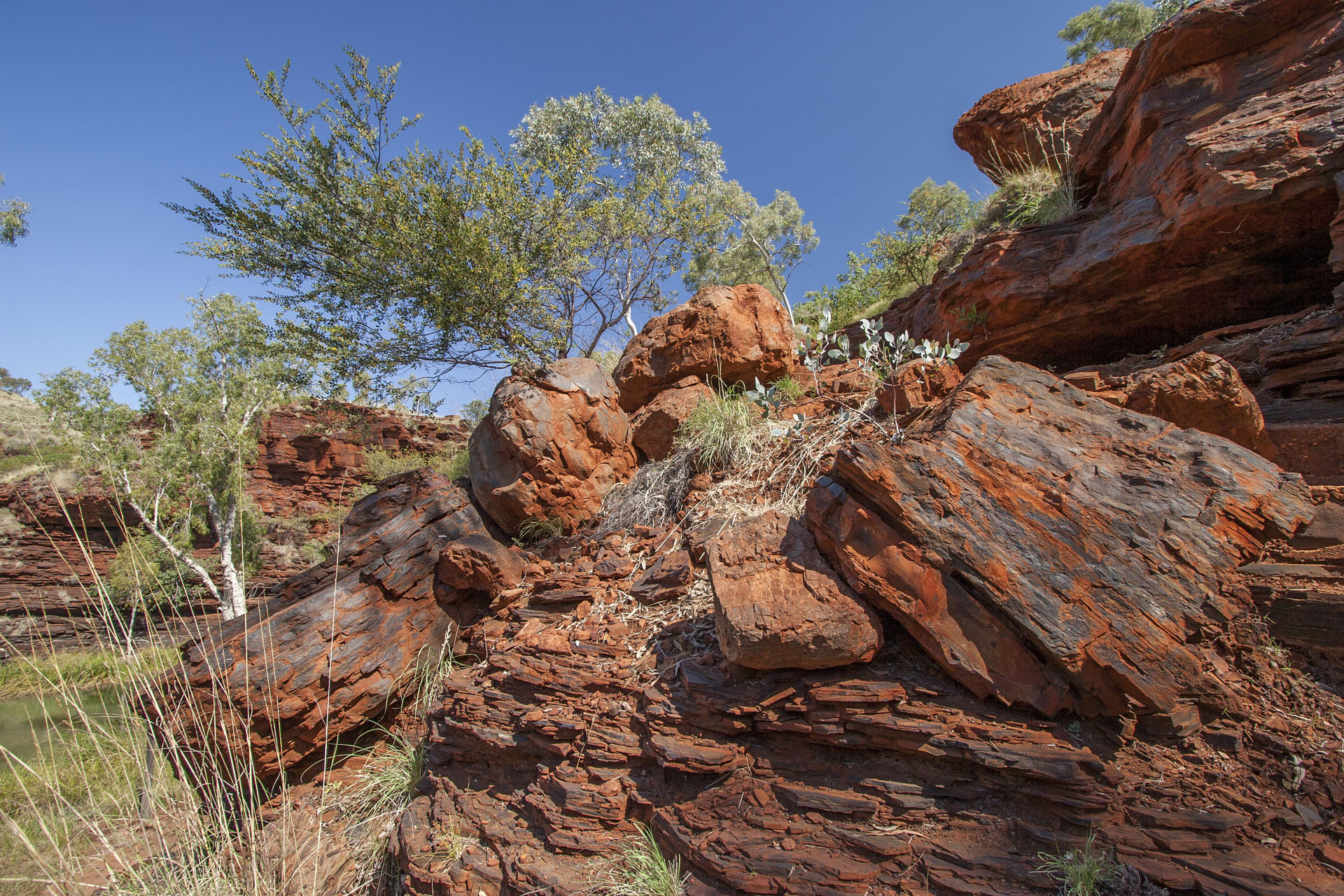 Entering the Kalamina Gorge.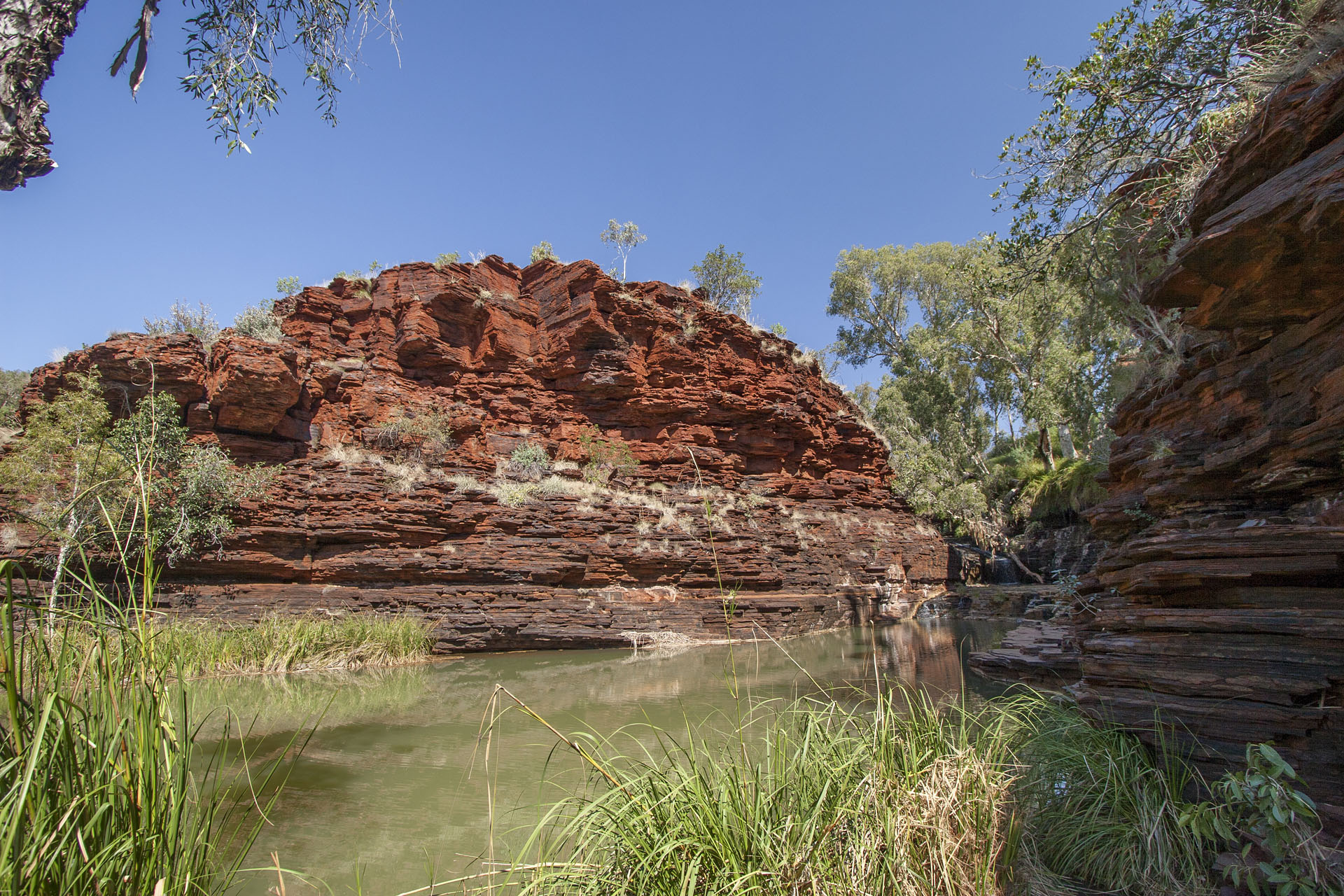 The gorge itself.
As I start my descent, I meet two people who ask me if I have any painkillers. Turns out that further down the gorge some poor fella broke his leg and feels less than fantastic. I don't have any, of course. The gorge must be perilous, but it's quite spectacular, and its every corner begs to be photographed.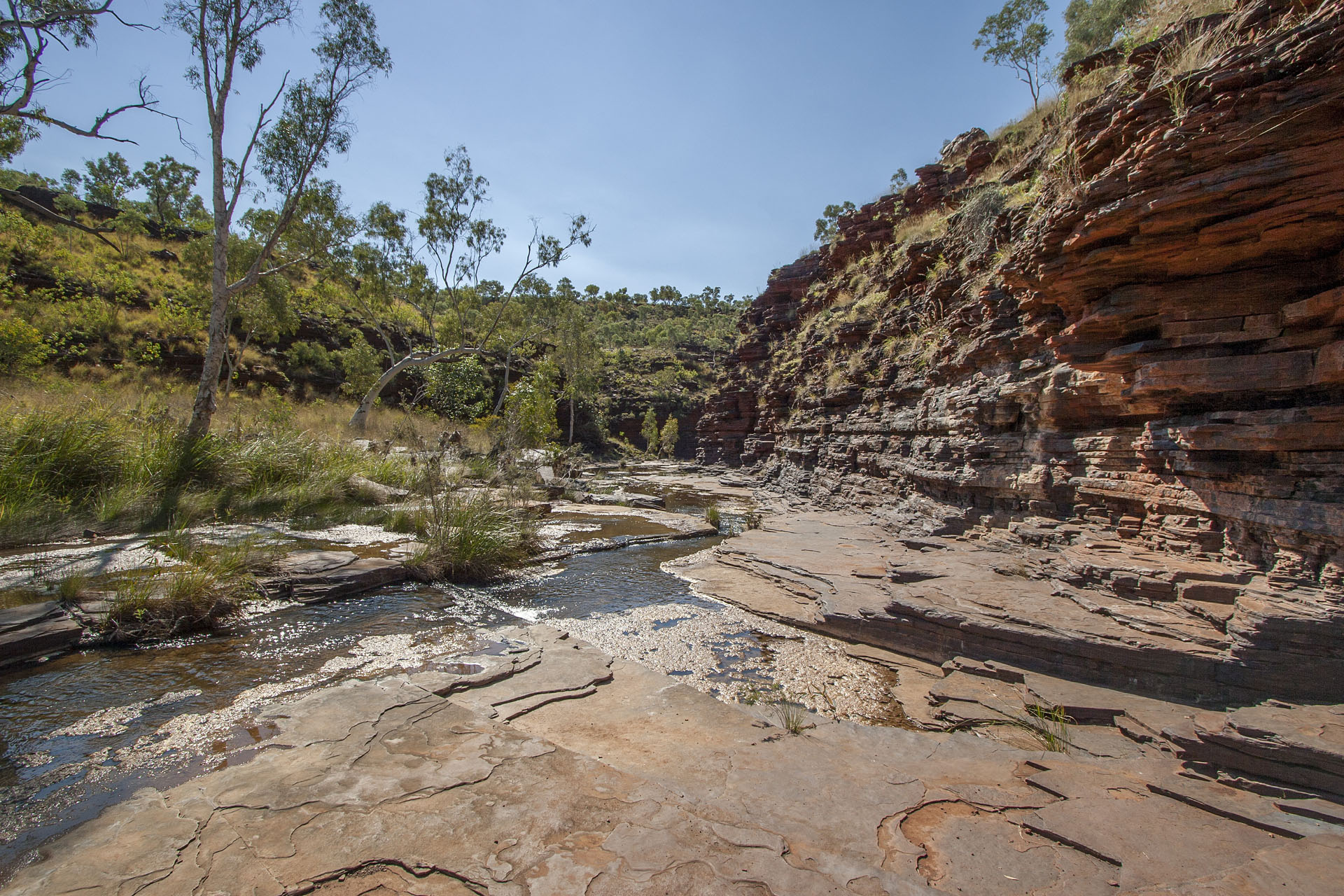 A creek.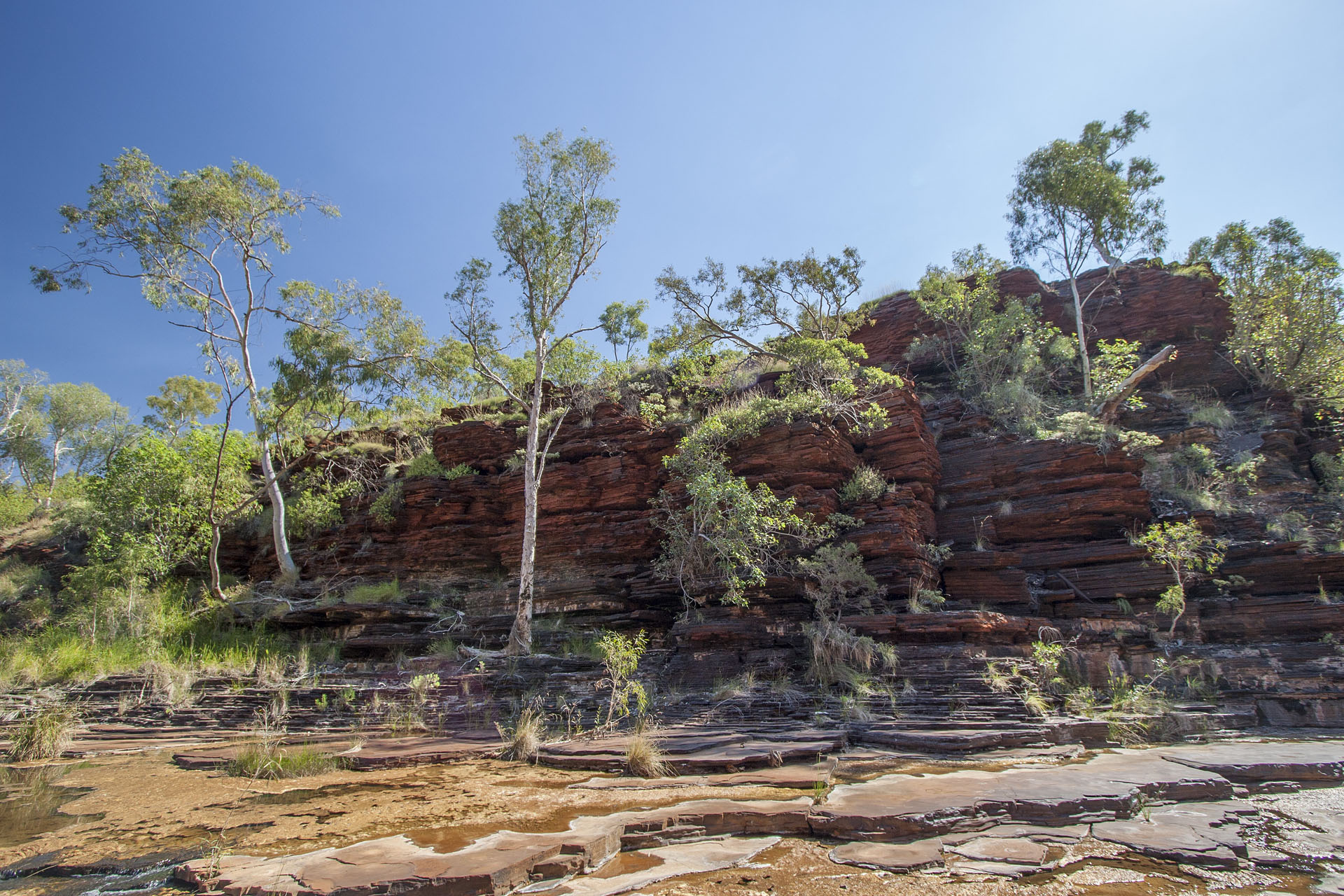 Layered walls.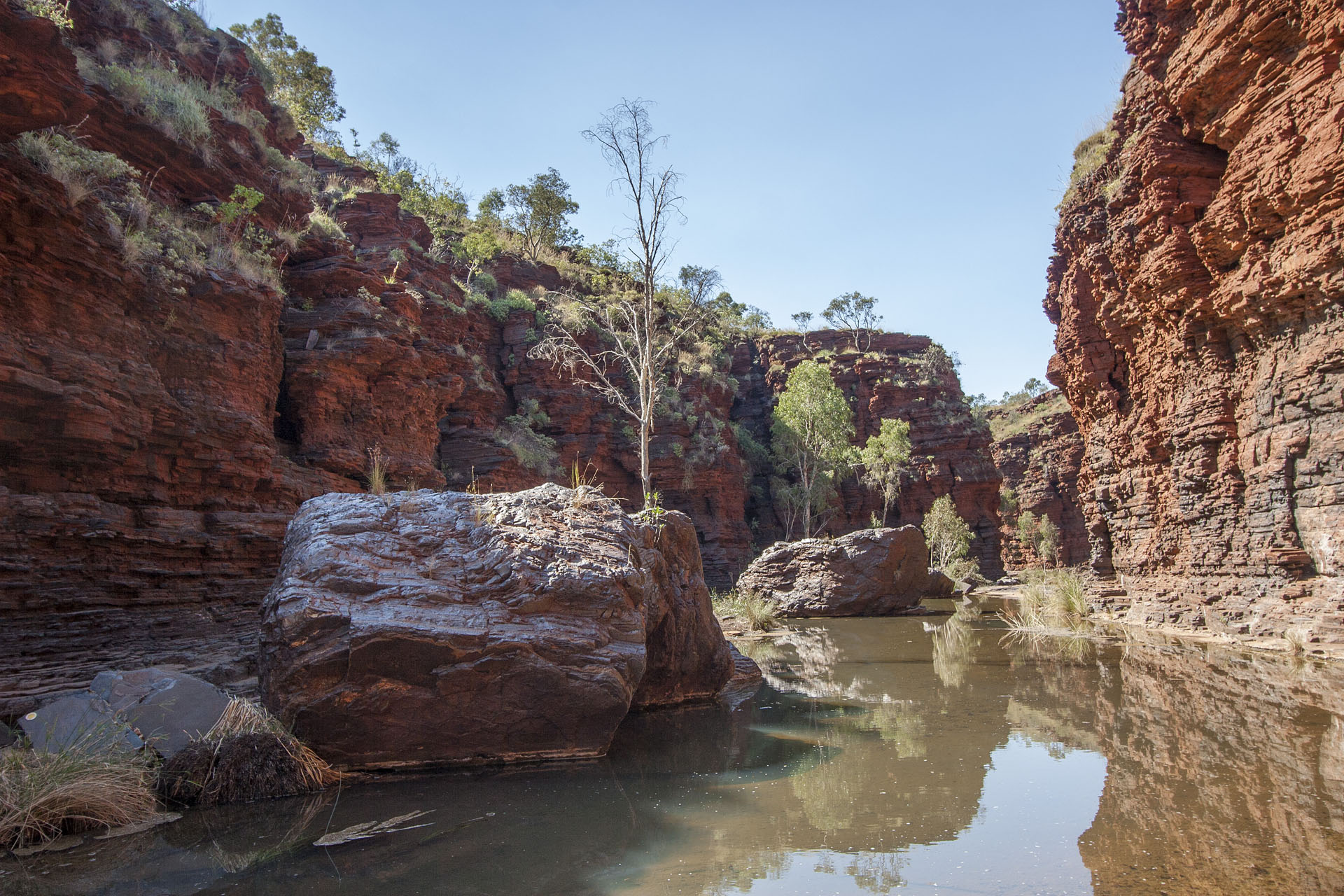 The creek and the rocks.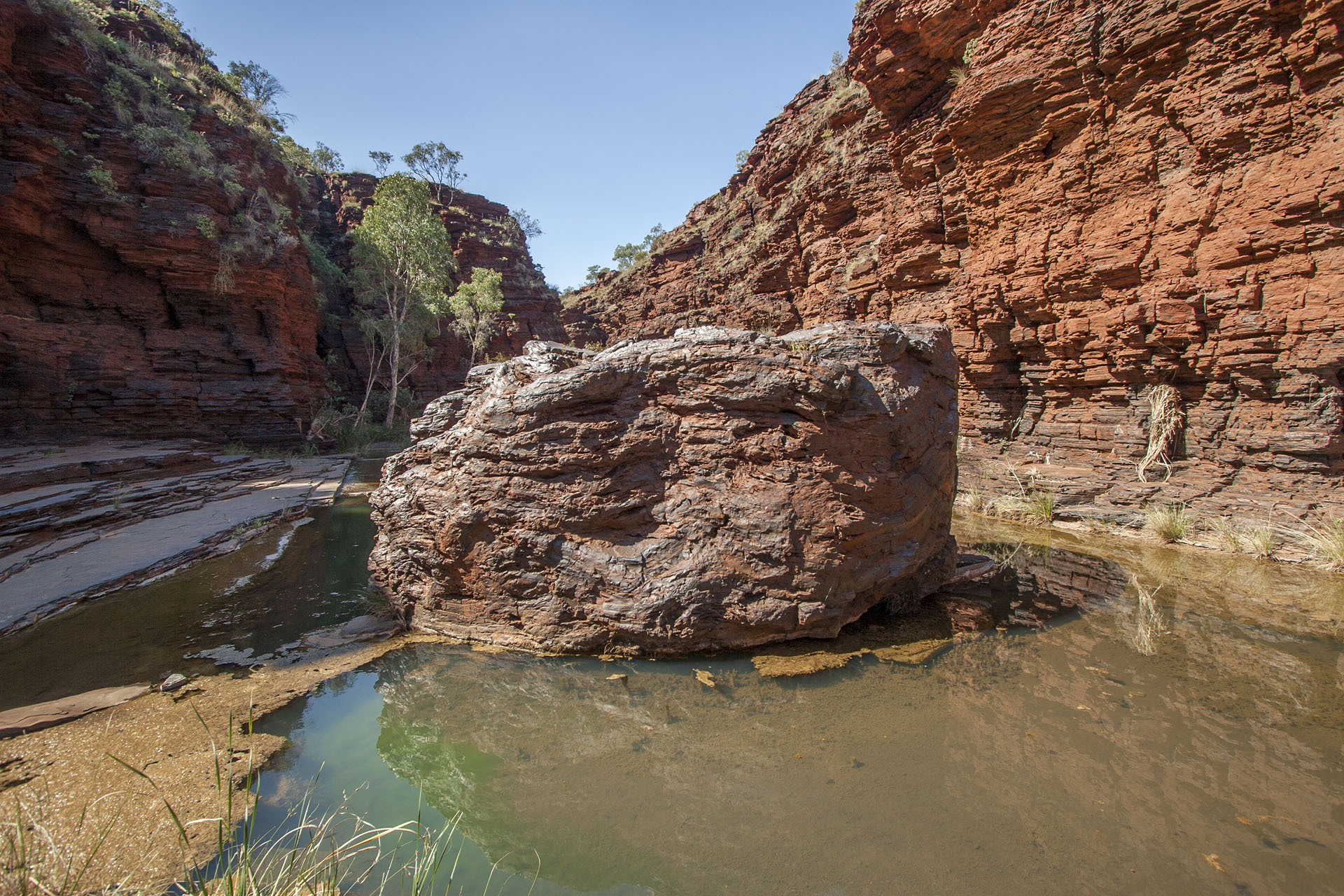 A rock up close.
These brownish-red, layered walls have a noticeable metallic sheen to them, and pebbles under my feet jingle like coins. This is because they are indeed incredibly rich in iron, thanks to the first photosynthetic bacteria that inhabited the Earth billions of years ago. When they began producing oxygen, it reacted with all the iron in the atmosphere, becoming rust and making layers upon layers on the ocean floor. And here they are now, with us walking amongst them. The unstoppable force of water cut deep ravines and gorges through these incredibly ancient cliffs, and you have to check carefully where your put your feet with each step. Otherwise you'll break your leg, you know. Or your camera.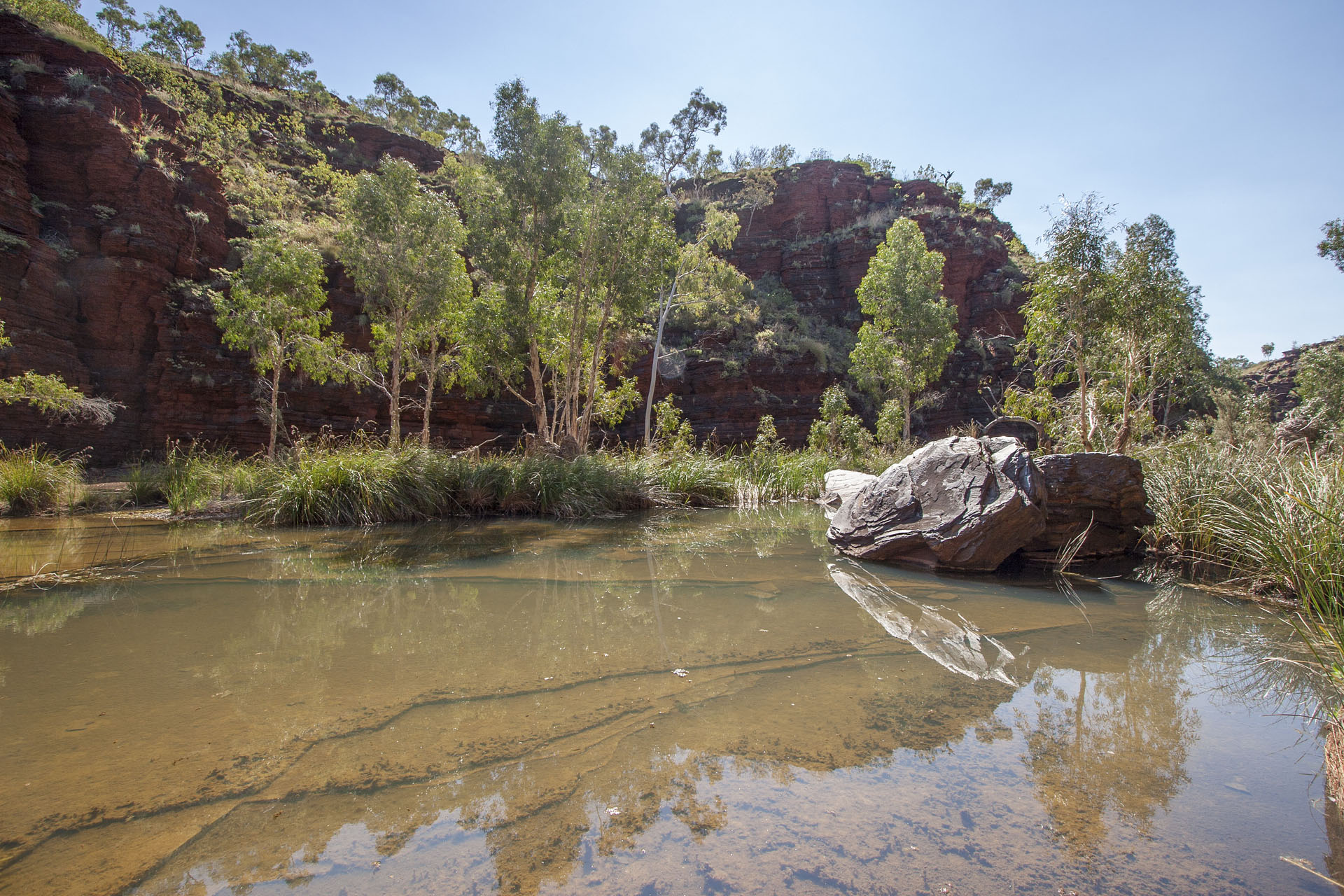 Steep cliffs.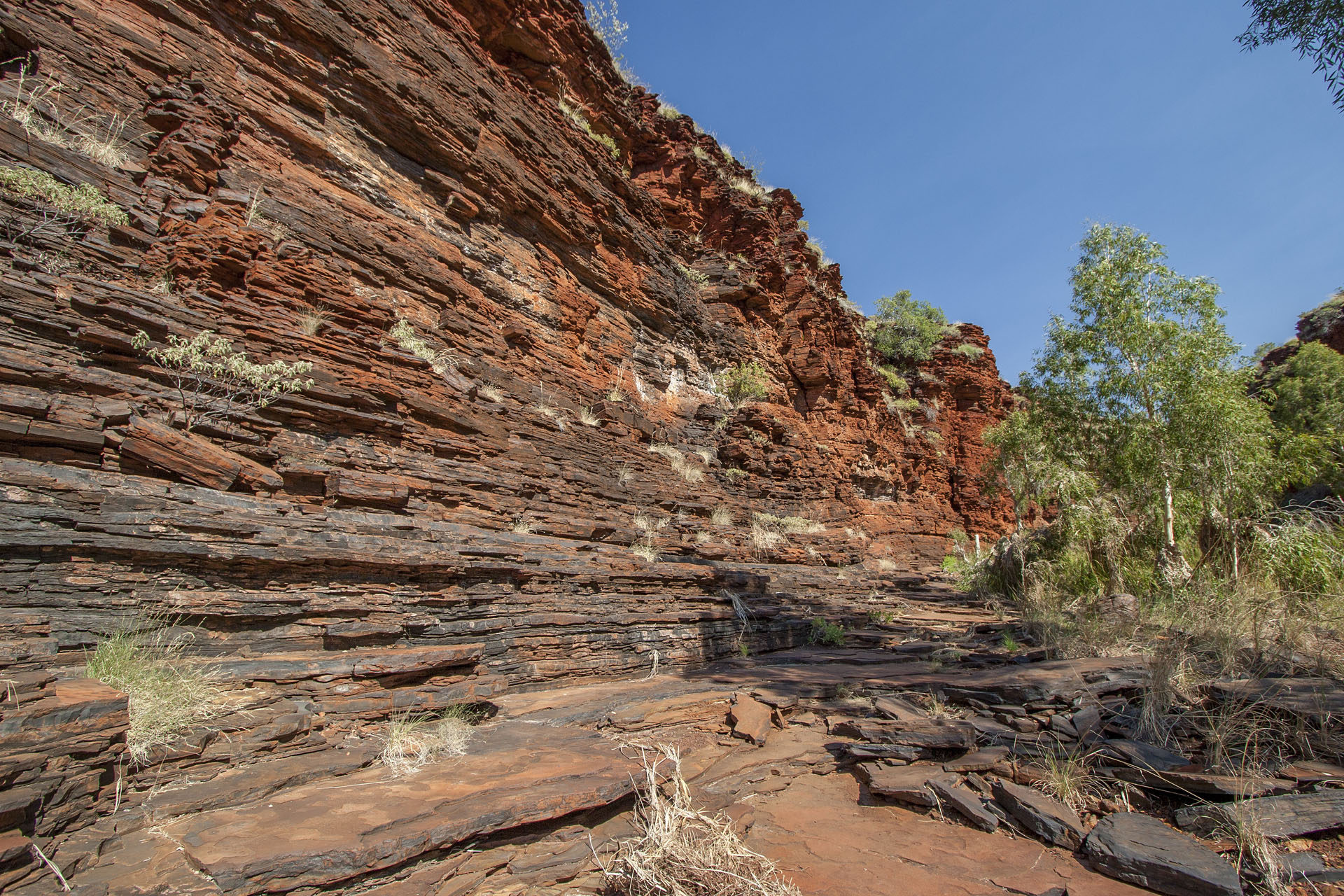 Layers of the ancient rust.
The day is getting hotter, and the hike is getting harder. Finally I decide not to visit the crippled tourist in person and turn around, heading out of the gorge and travelling towards the next. Because of all these tourists, the dirt road through the park is very corrugated and bumpy, and there's nothing you can do about it.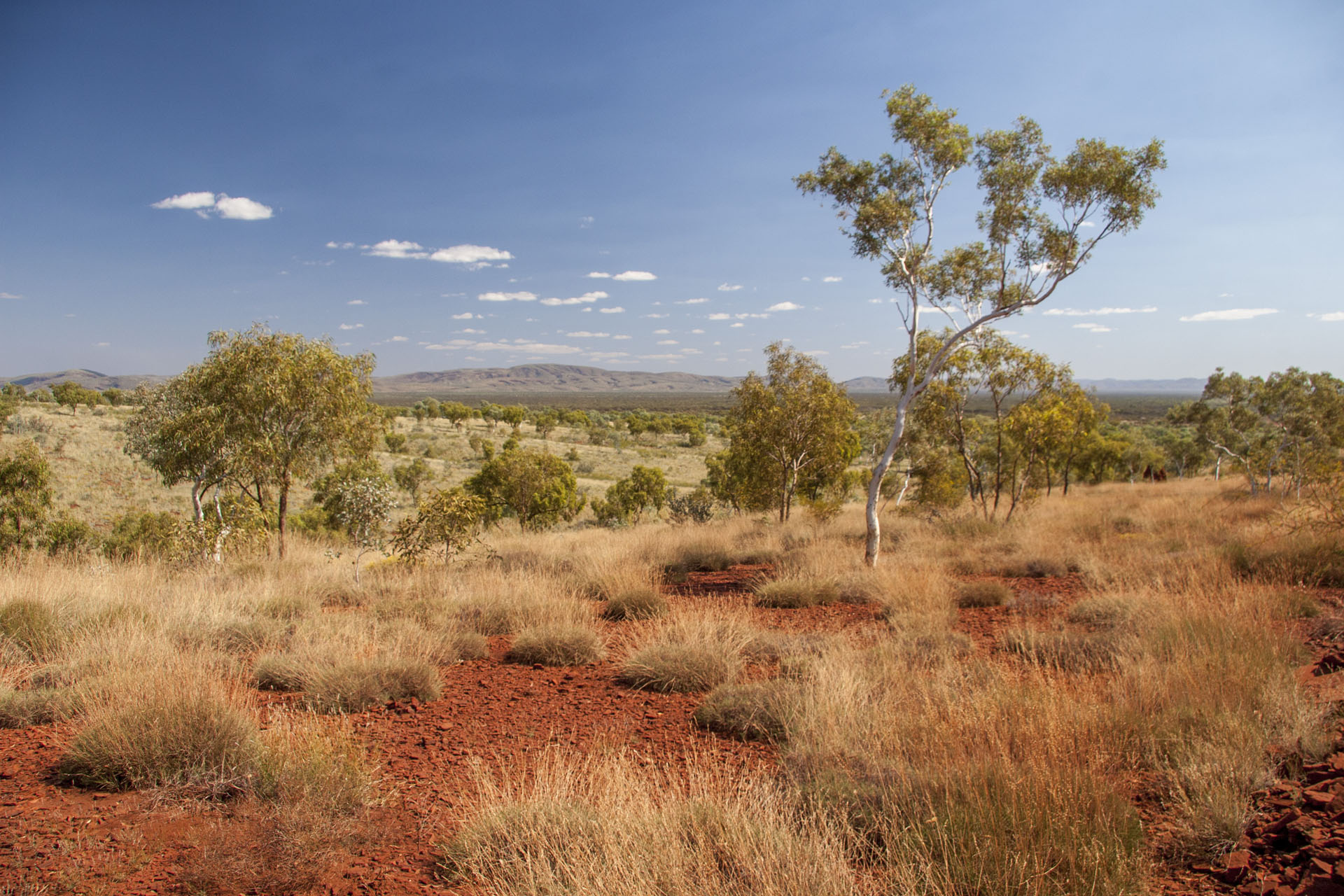 A typical Pilbara landscape.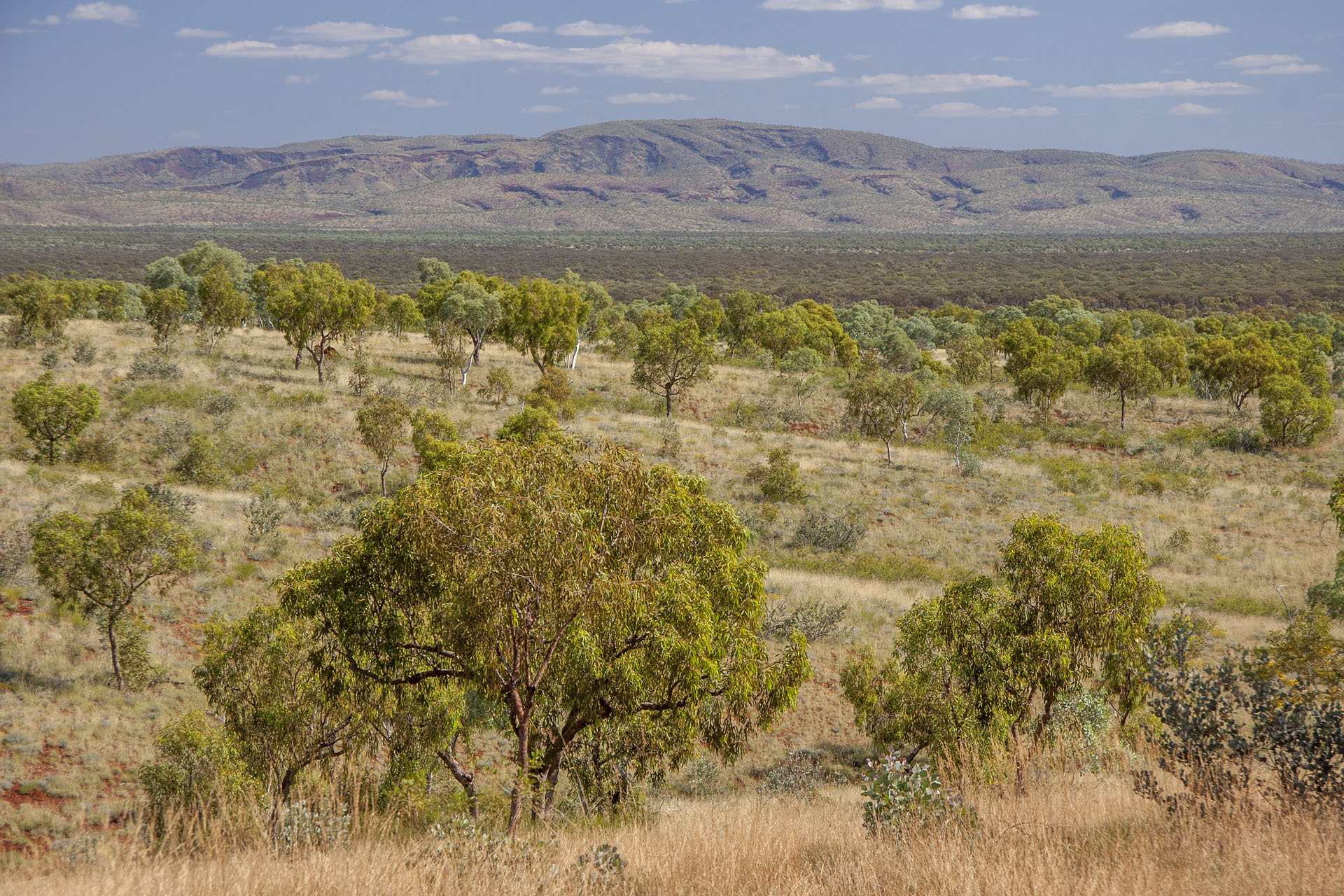 Hamersley Ranges in the distance.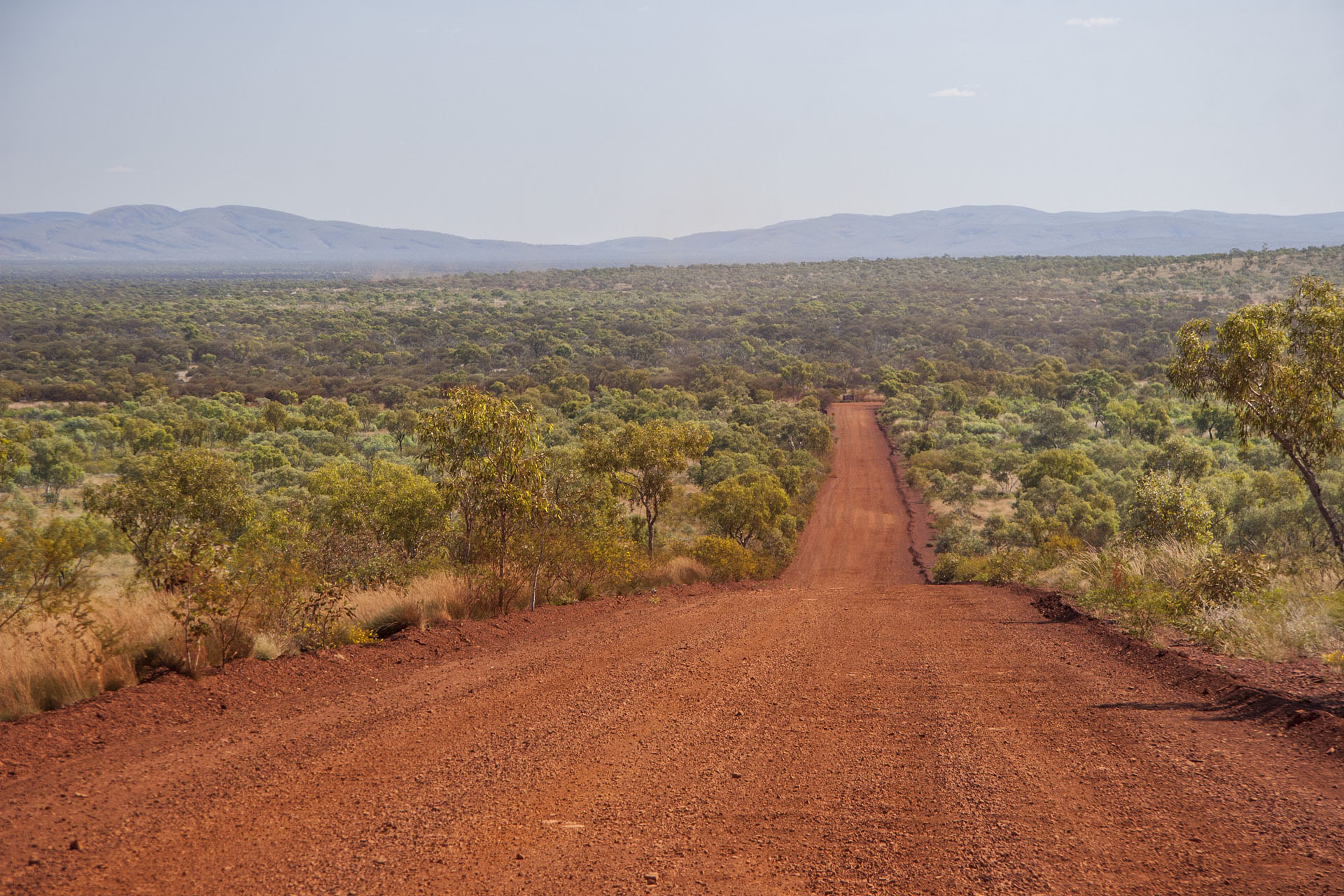 The road through the park.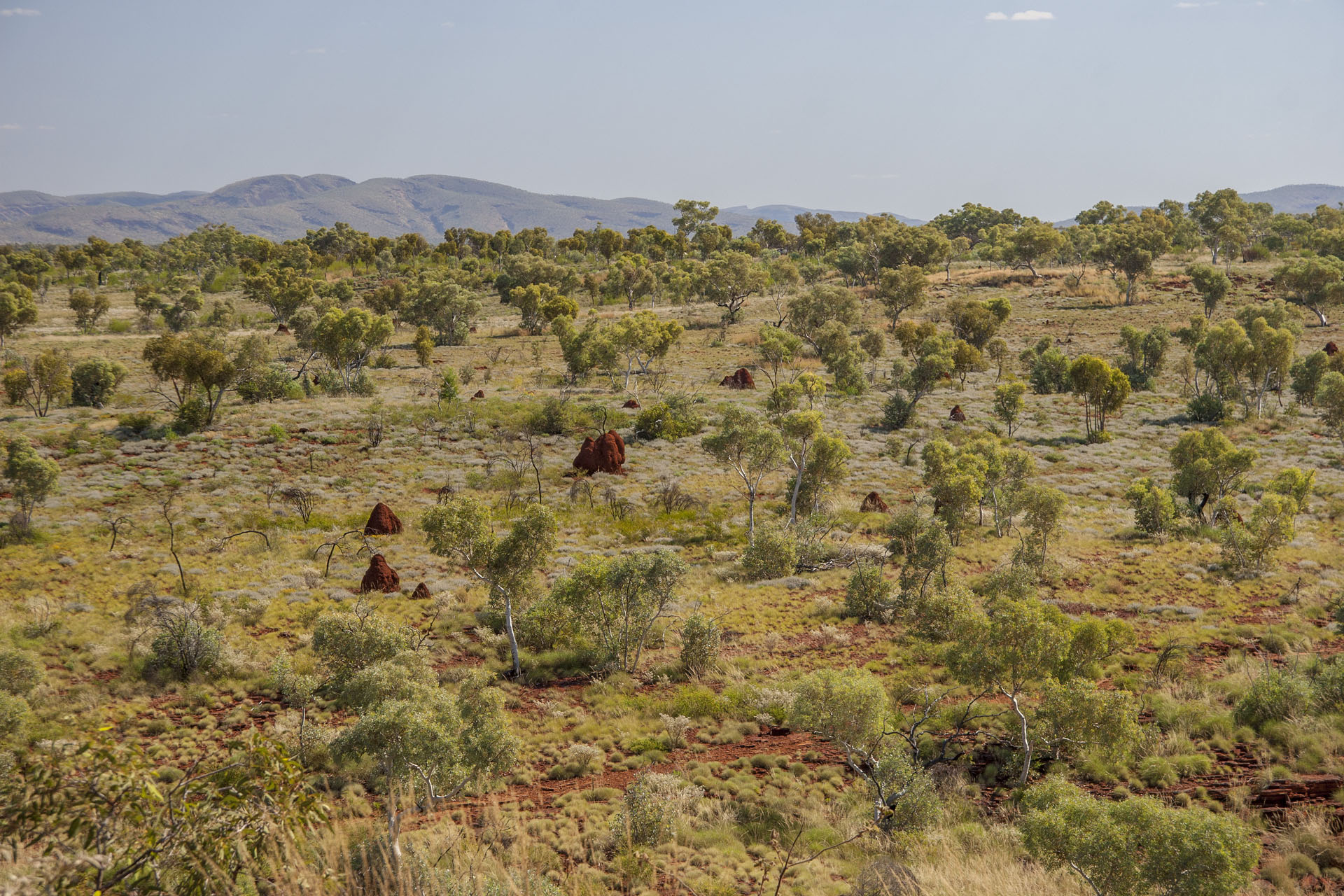 Distant termite mounds.
Next is the Joffre Gorge. The lookout is closed, unfortunately, but there's another way around.
The edge of the gorge.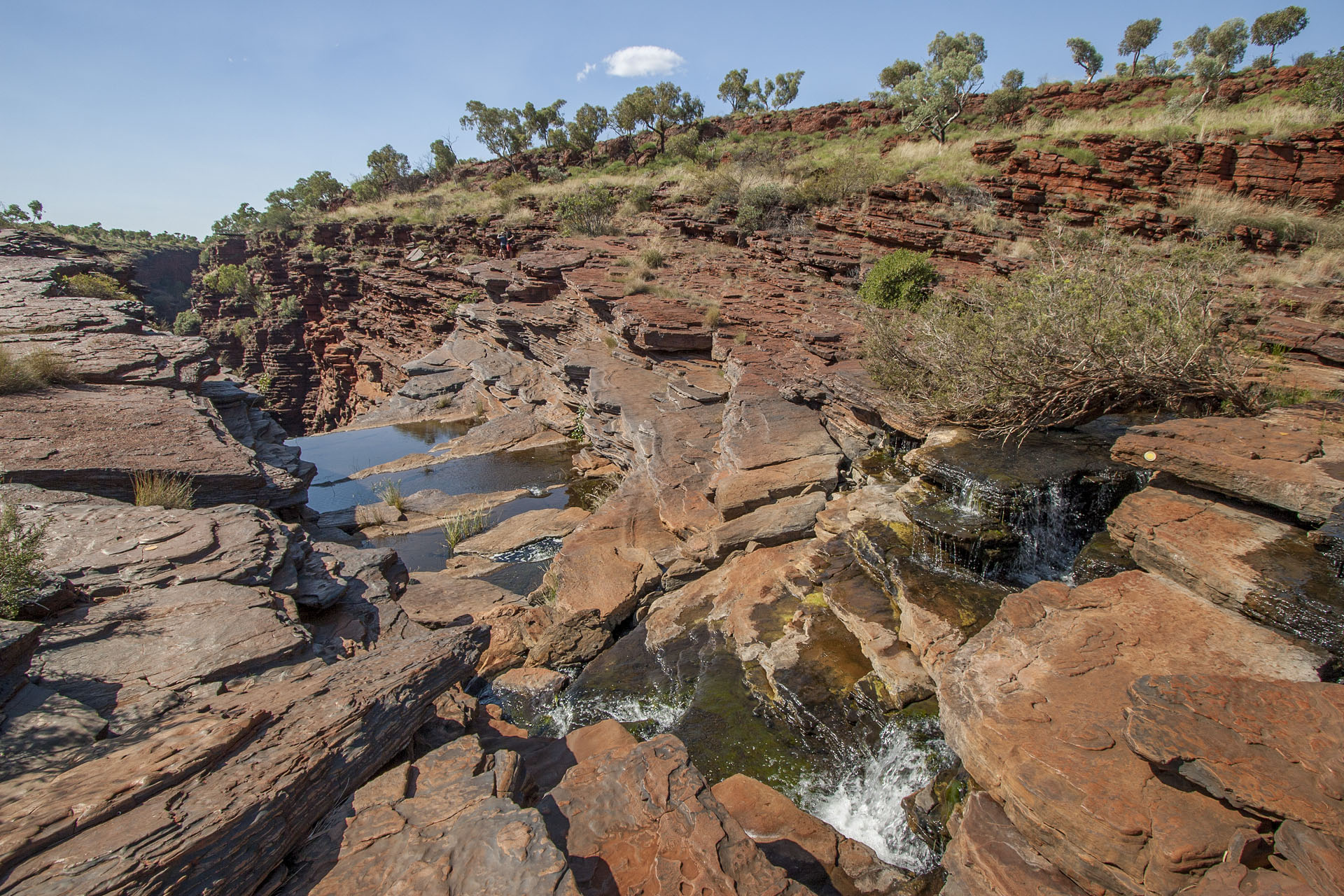 Waterfalls begin here.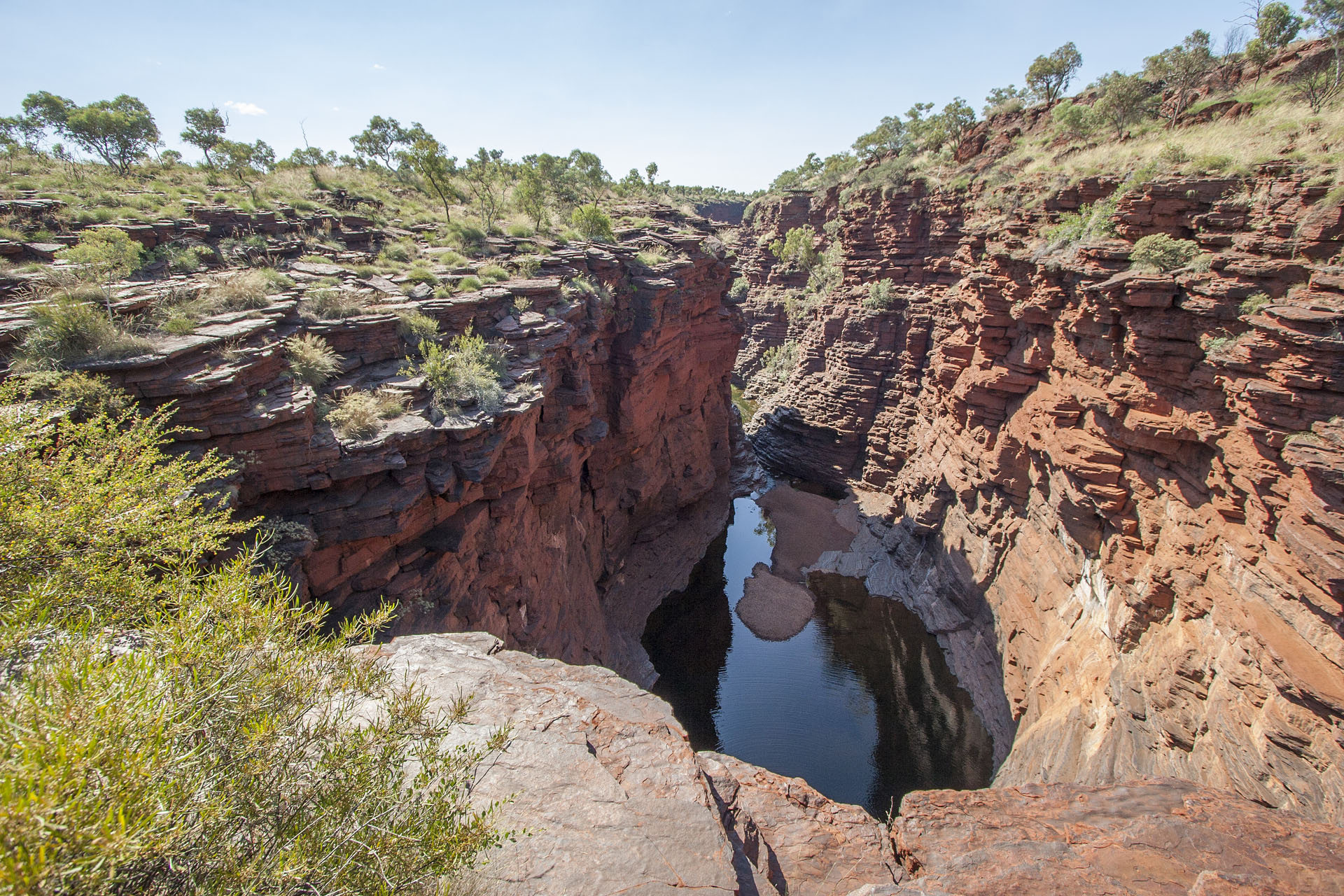 A pool.
Next is the Knox Gorge, and it is a lot deeper than the previous two. The lookout platform is right at the edge of a 100 metre cliff. Grasping at the railing desperately, I make pics left and right, trying not to look down. Nothing else you can do if you don't have a good head for heights.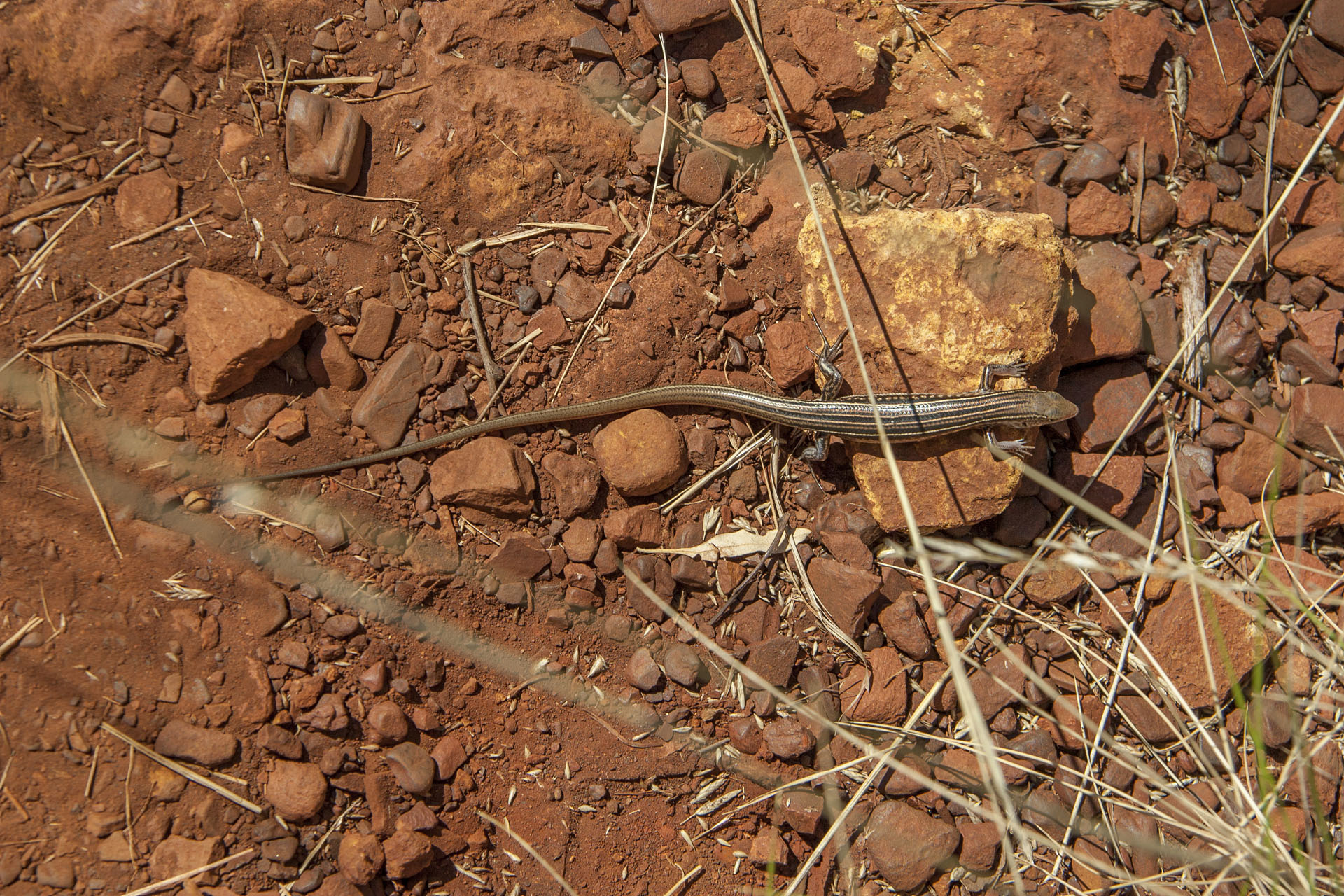 A local.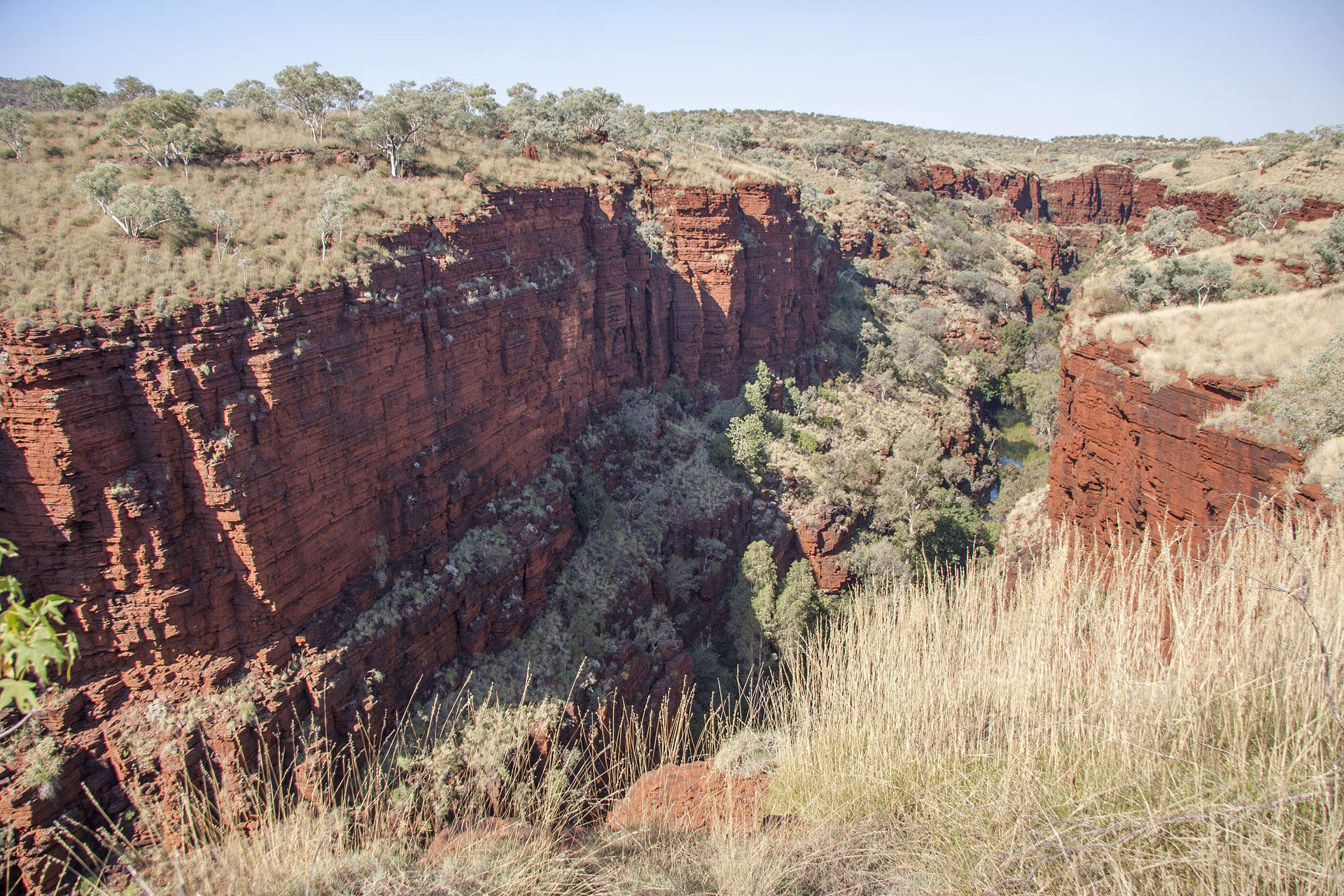 The gorge itself.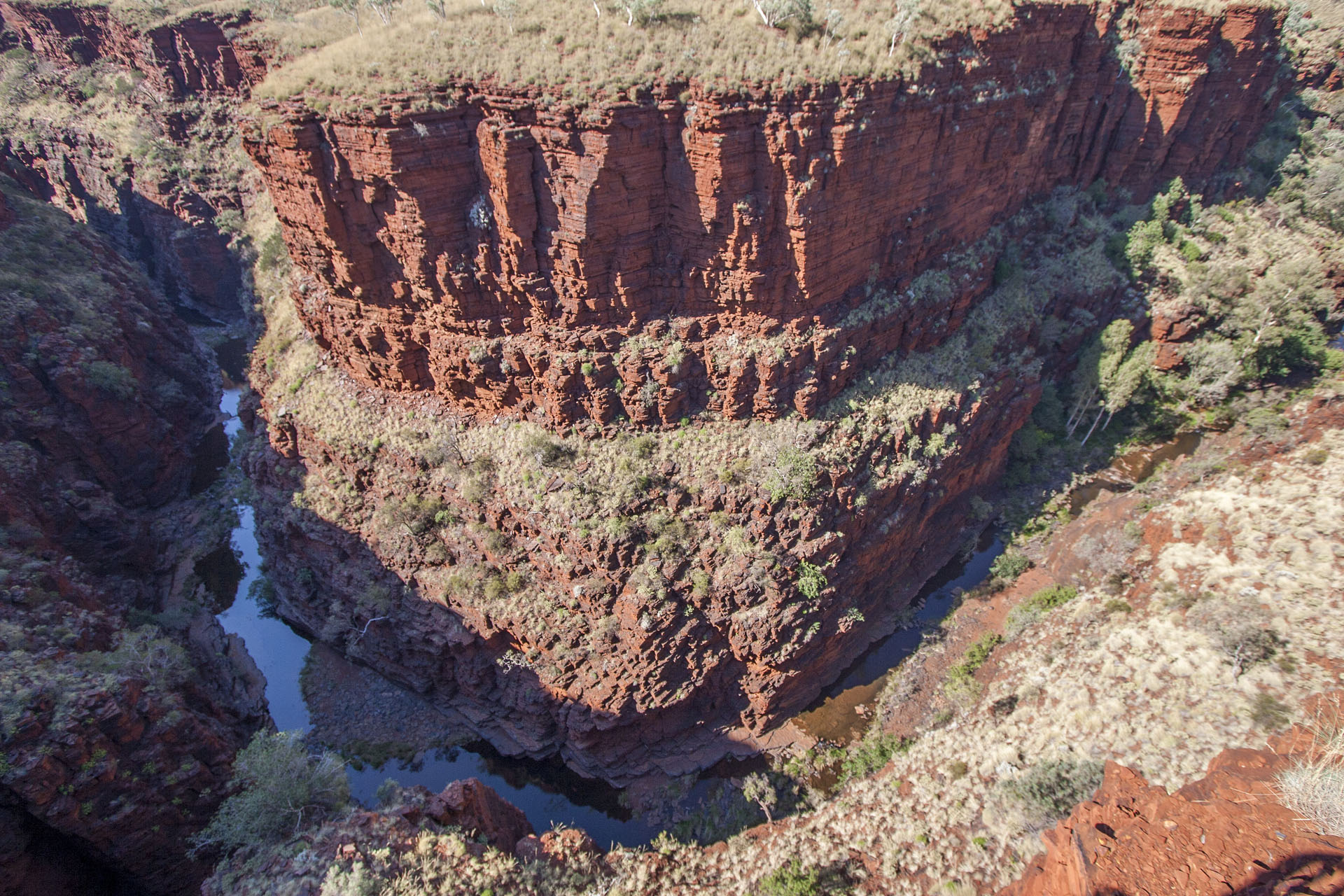 The creek at the bottom.
The gorge goes on.
Tiny creeks at the bottom of these gorges look harmless, but they look far worse during the wet season. There are warning signs everywhere: if you're down there and it began raining, then get the hell out! Flash floods fill them up quicker than you would think. I'm not going to climb down, though, and return to my car instead.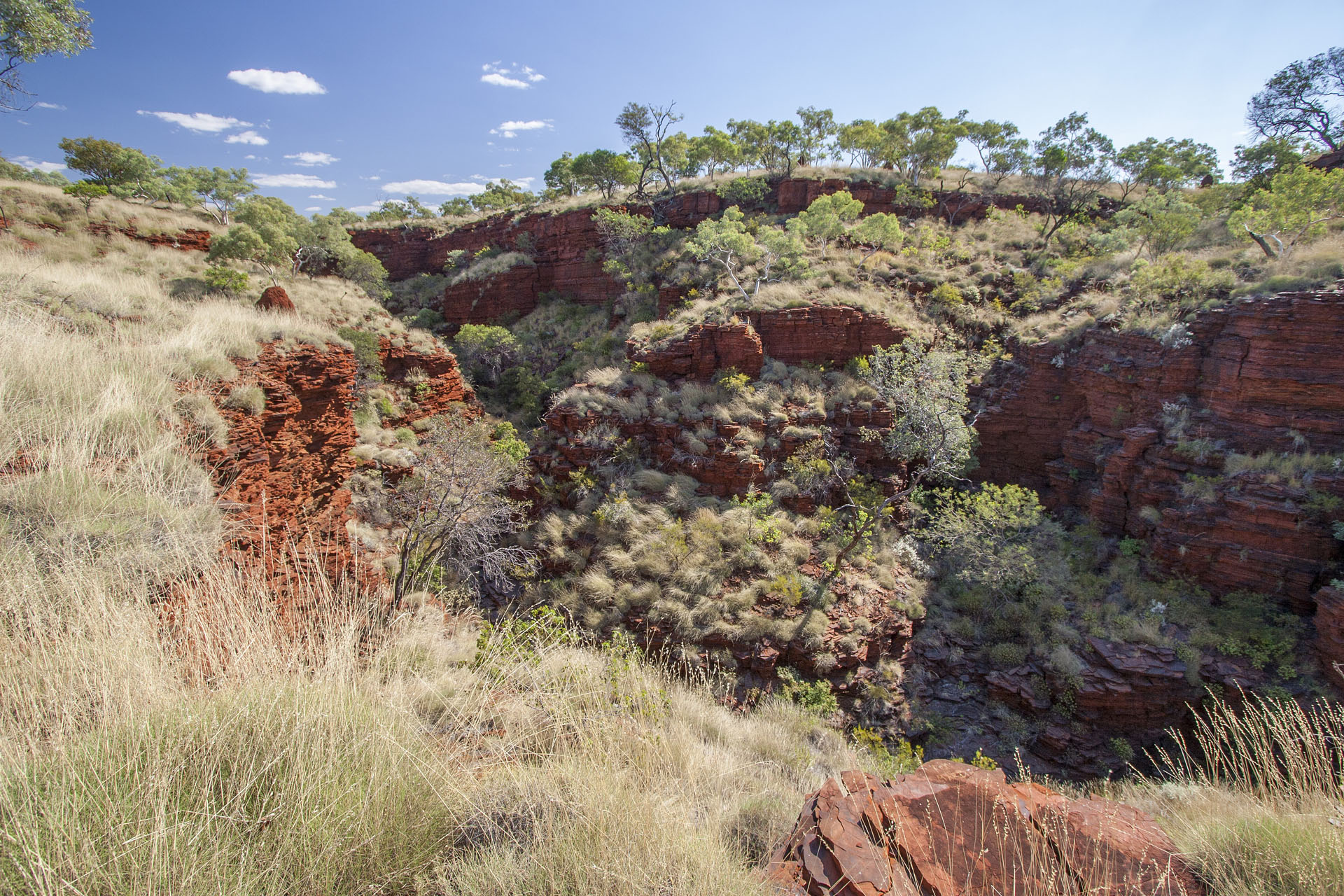 Next to the Knox Gorge.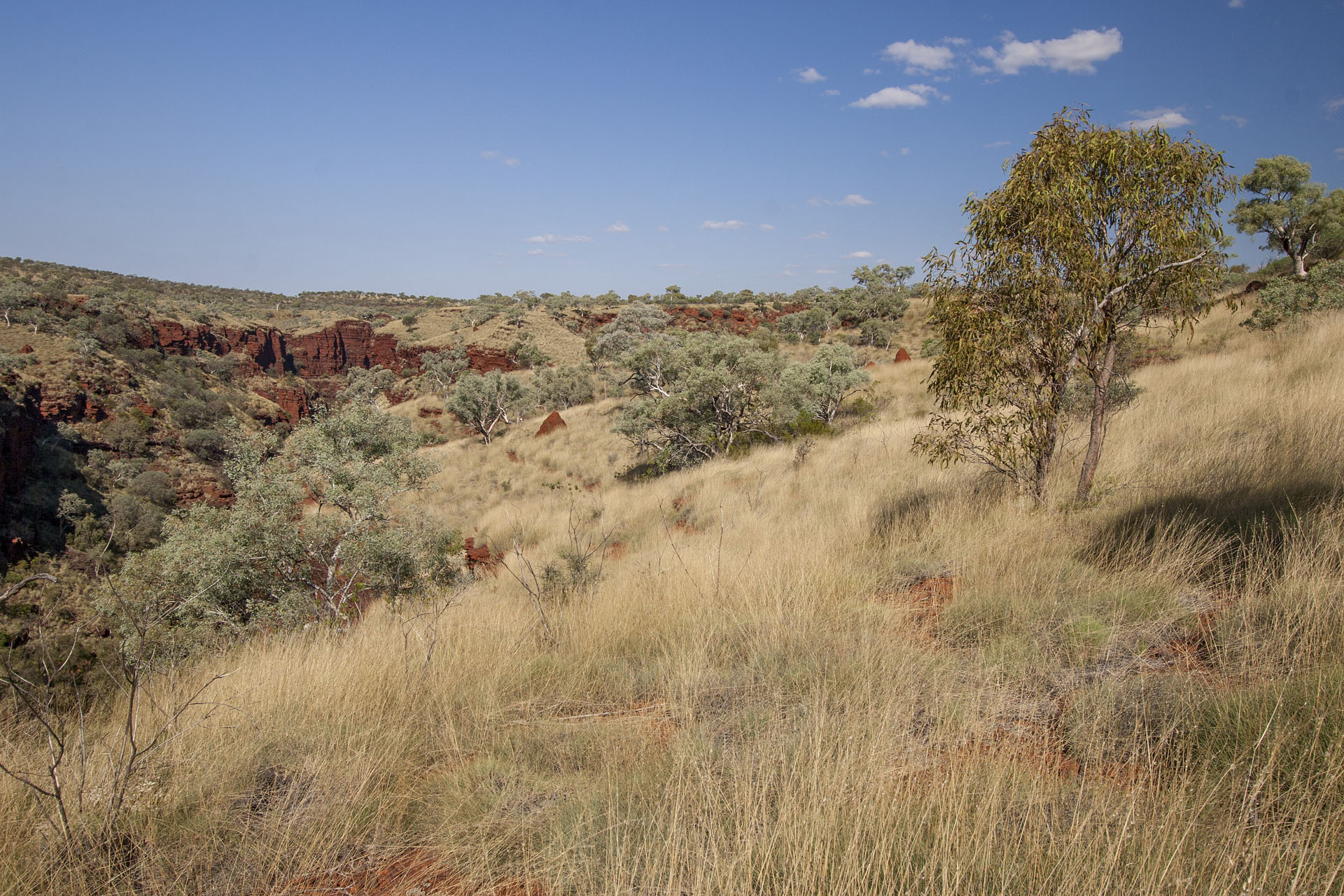 The surrounding scenery.
The last one for today is the Weano Gorge, accessible from the Oxer Lookout. This is the deepest and the most spectacular gorge in the Karijini by far. I can't even imagine how the Grand Canyon must look like, which obviously dwarfs this one. I make my pics, still trying not to look down too much. I notice a small white cross nearby: this is to commemorate a park ranger who had died whilst saving a tourist during one of those flash floods. Nasty business.
Weano Gorge, looking straight.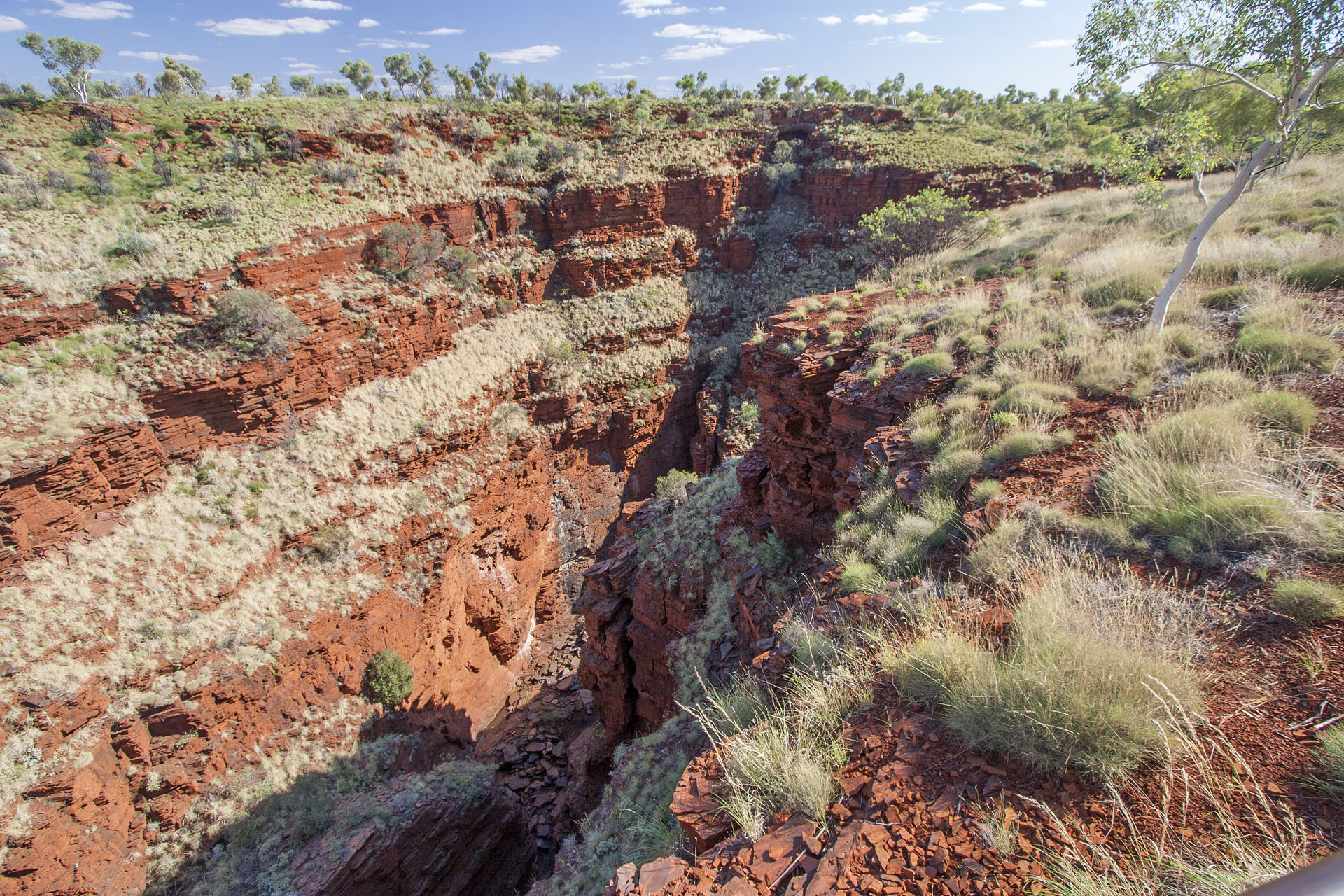 Same, looking to your right.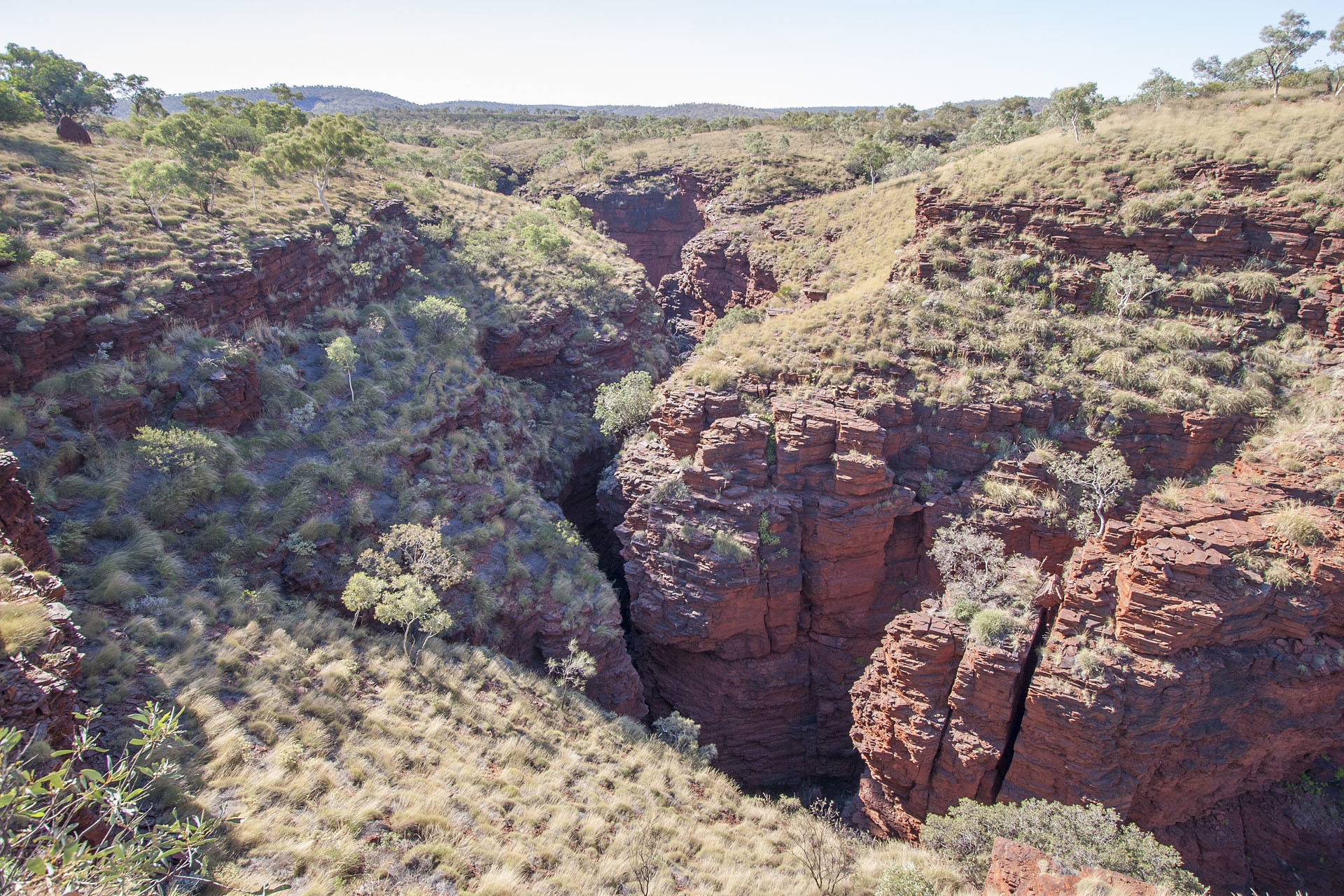 Same, looking to your left.
A bit to your right again.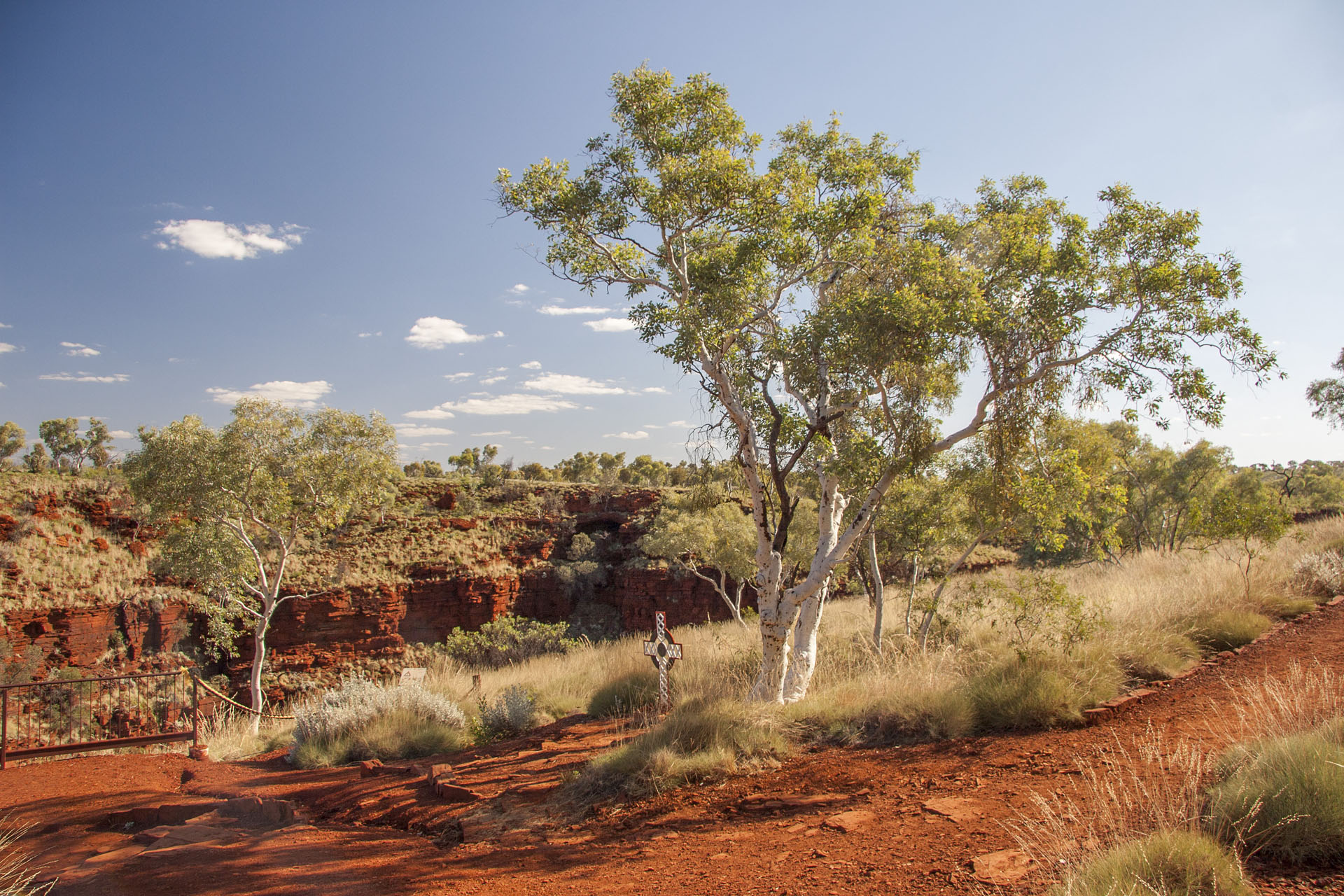 A white tree and a white cross.
And this concludes my Karijini experience for today. I return to the dusty dirt track and head back to the bitumen: the road was way too bumpy for my comfort, so I'm taking a bit of a detour. It's not like I'm in a hurry, anyway.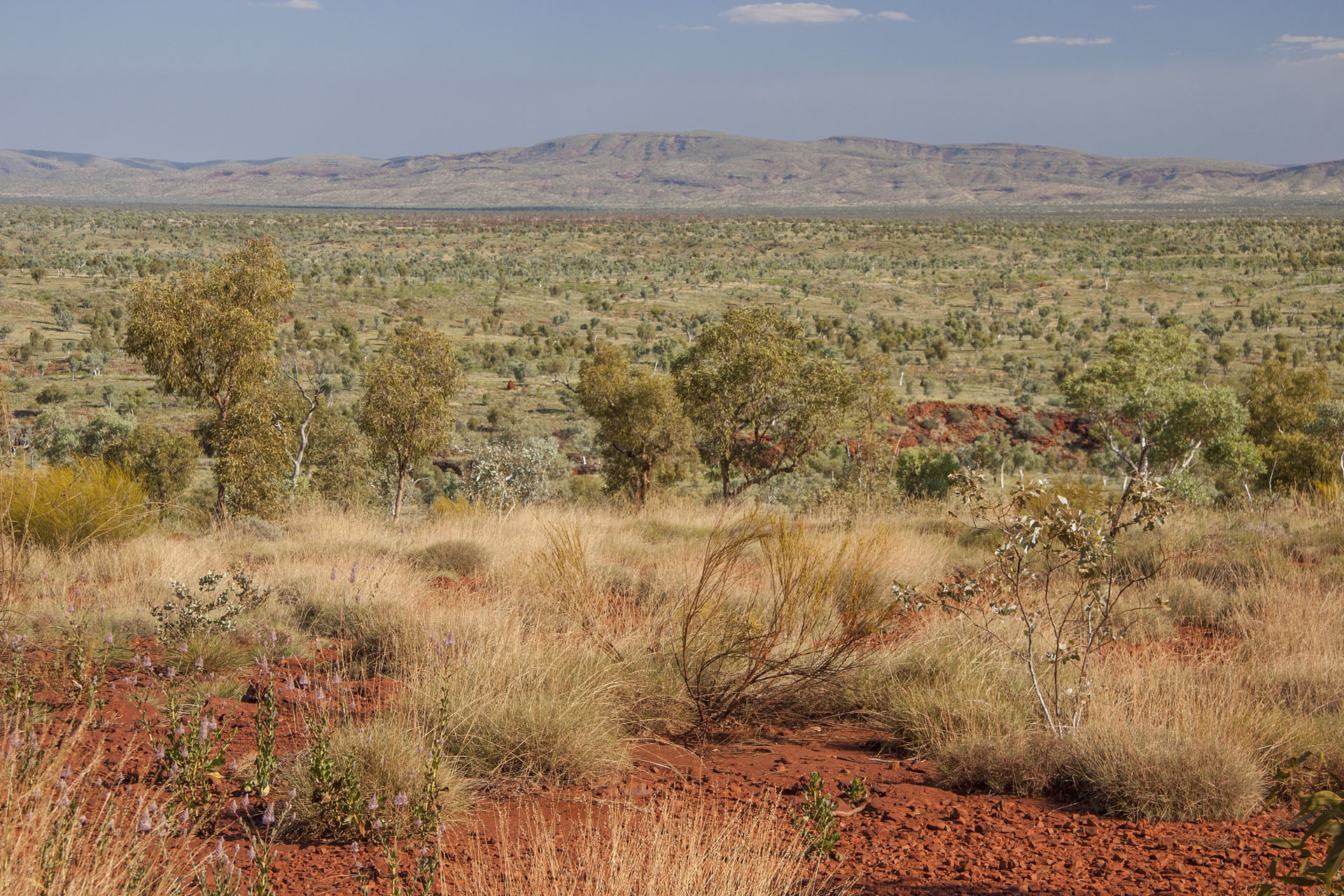 Hamersley Ranges again.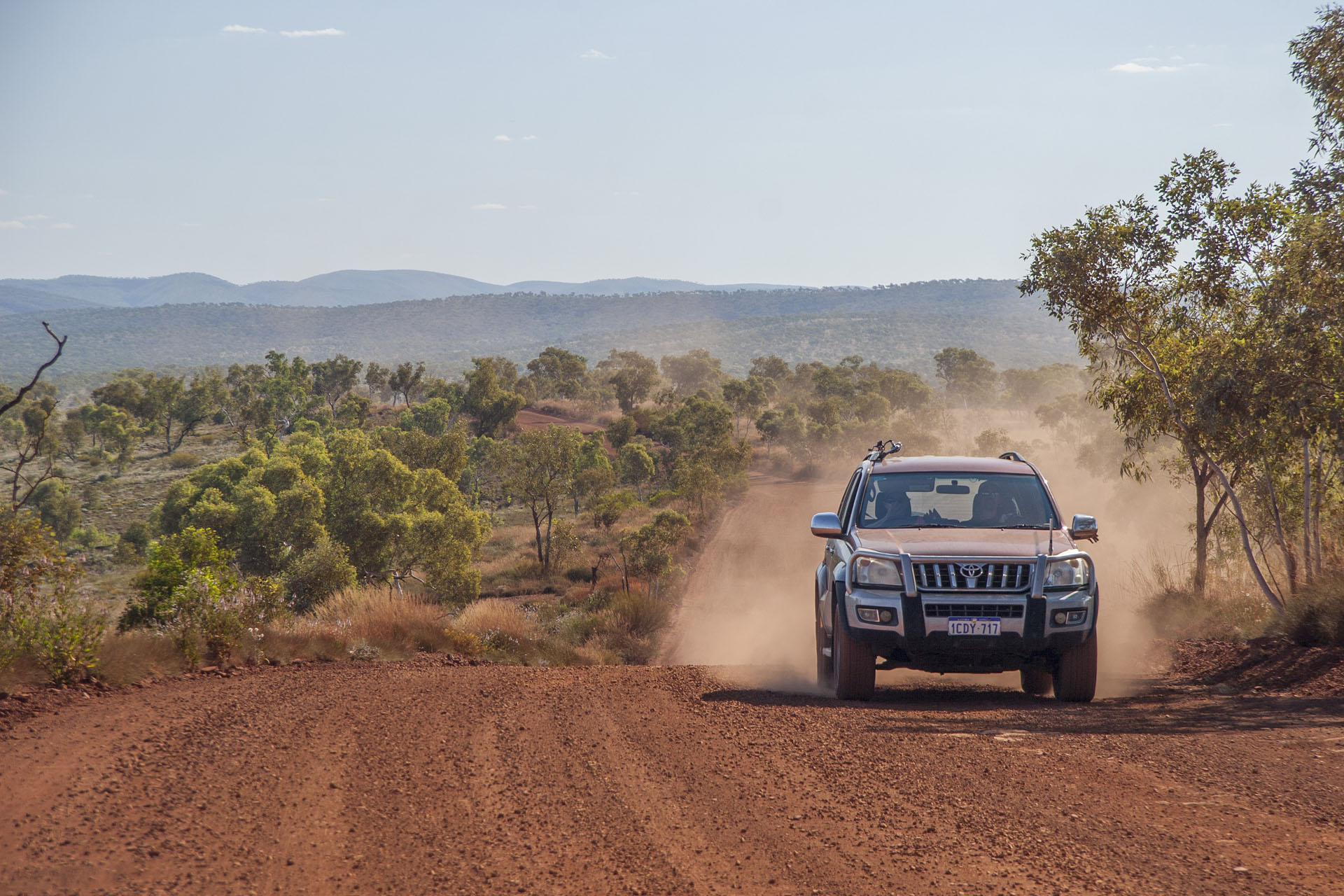 Fellow travellers. Same Prado as mine.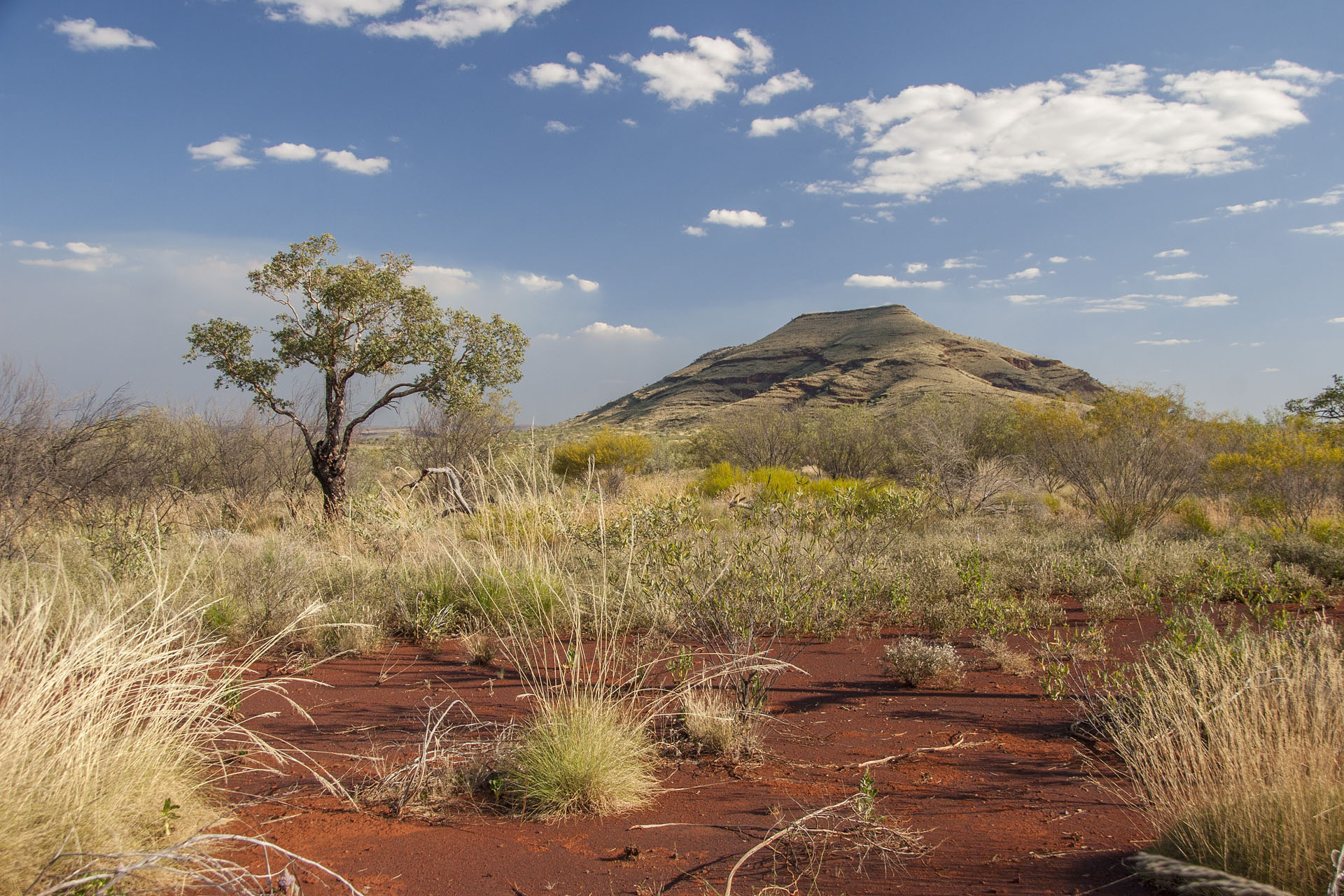 On my way out of the park.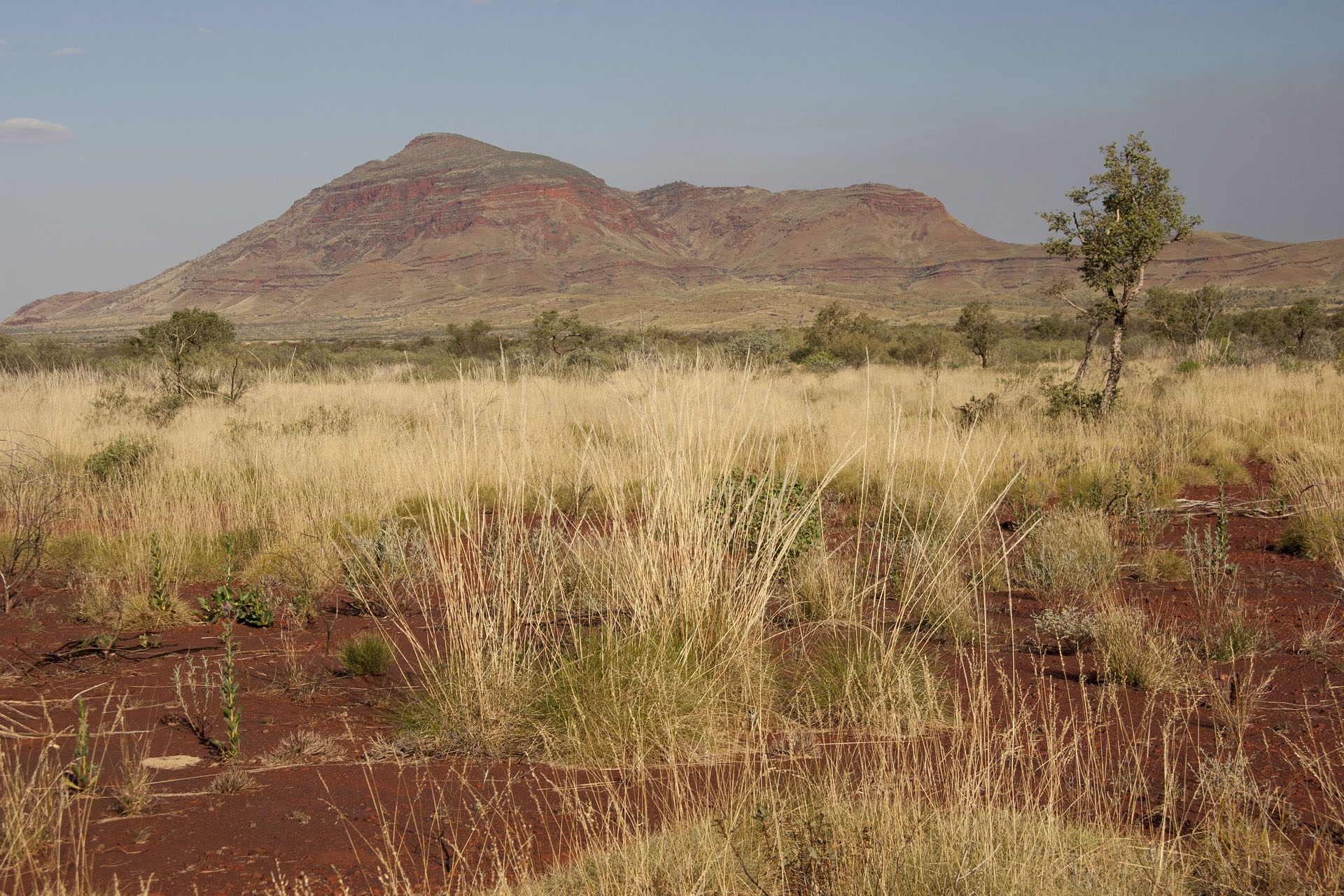 Mount Bruce, the second tallest in WA.
All these walks were a bit sweaty, but there's no shower for me today: the visitor centre has closed ten minutes ago, at 4 p.m. I shrug and pay my $10 for the campsite. An elderly couple, who volunteers in the park, gives me a spot 96 on a track called Euro. When they say "96 Euro", I almost want to reply: "But I don't have any euros with me!" It's not European money of course, just a breed of a small kangaroo.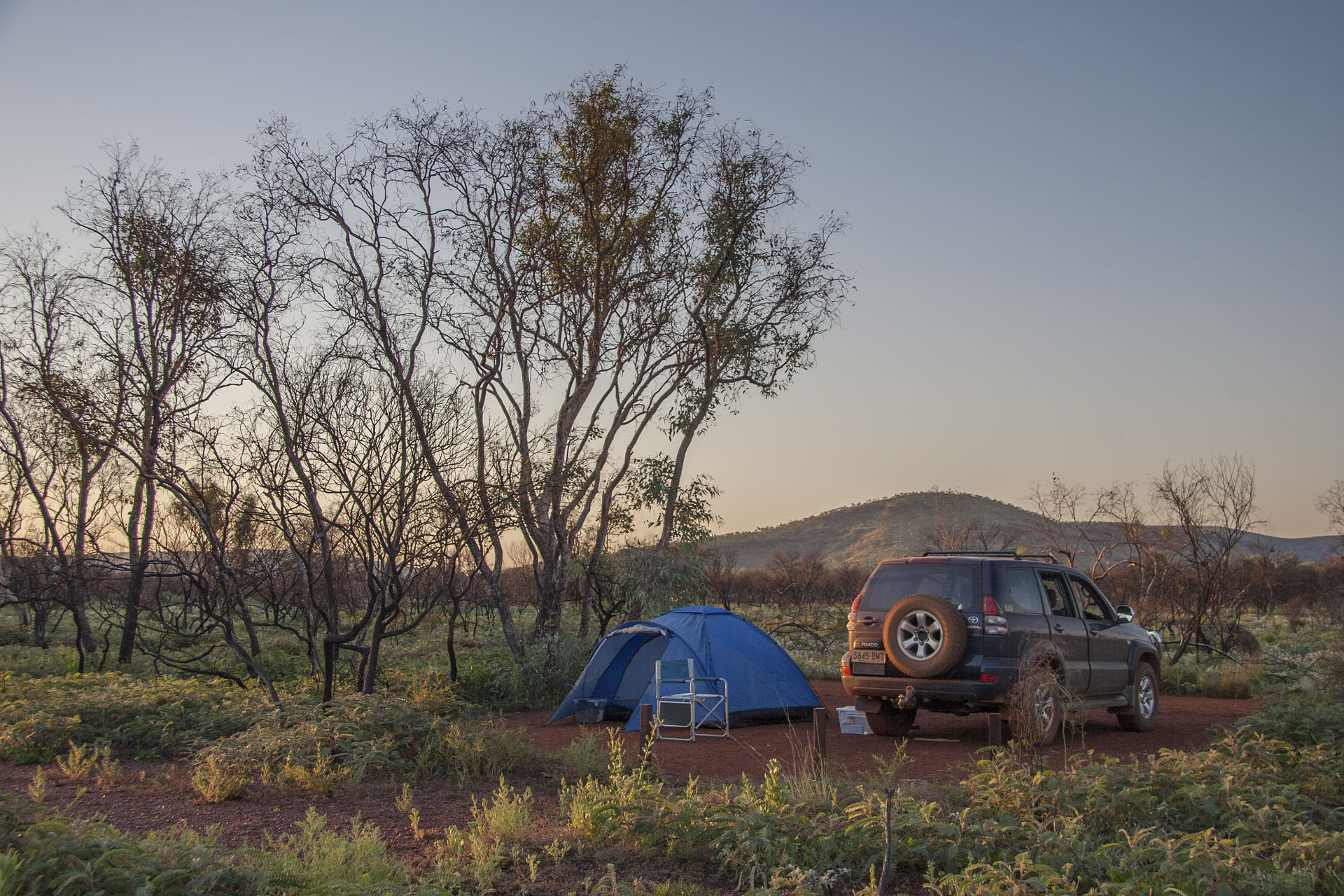 Today's camp.
Before going to bed, I take a leisurely stroll across the campground under the dark starry skies. The campground is enormous, and many dozens of inhabitants are barely noticeable here. Only countless lights glimmer through the thick bush, and an occasional voice is heard here and there. It's almost like I'm in the middle of a nomadic tribe, thousands of years ago, and the orange moon, still the same as it was thousands of years ago, slowly climbs up to the stars. I take a last glance at the upturned Big Dipper ahead of me, then at the Southern Cross behind, and return to my tent, thinking that my journey is shaping up to be pretty awesome so far.
Distance

458.9 km

Fees

$12 (park entry fee), $10 (camping fee)