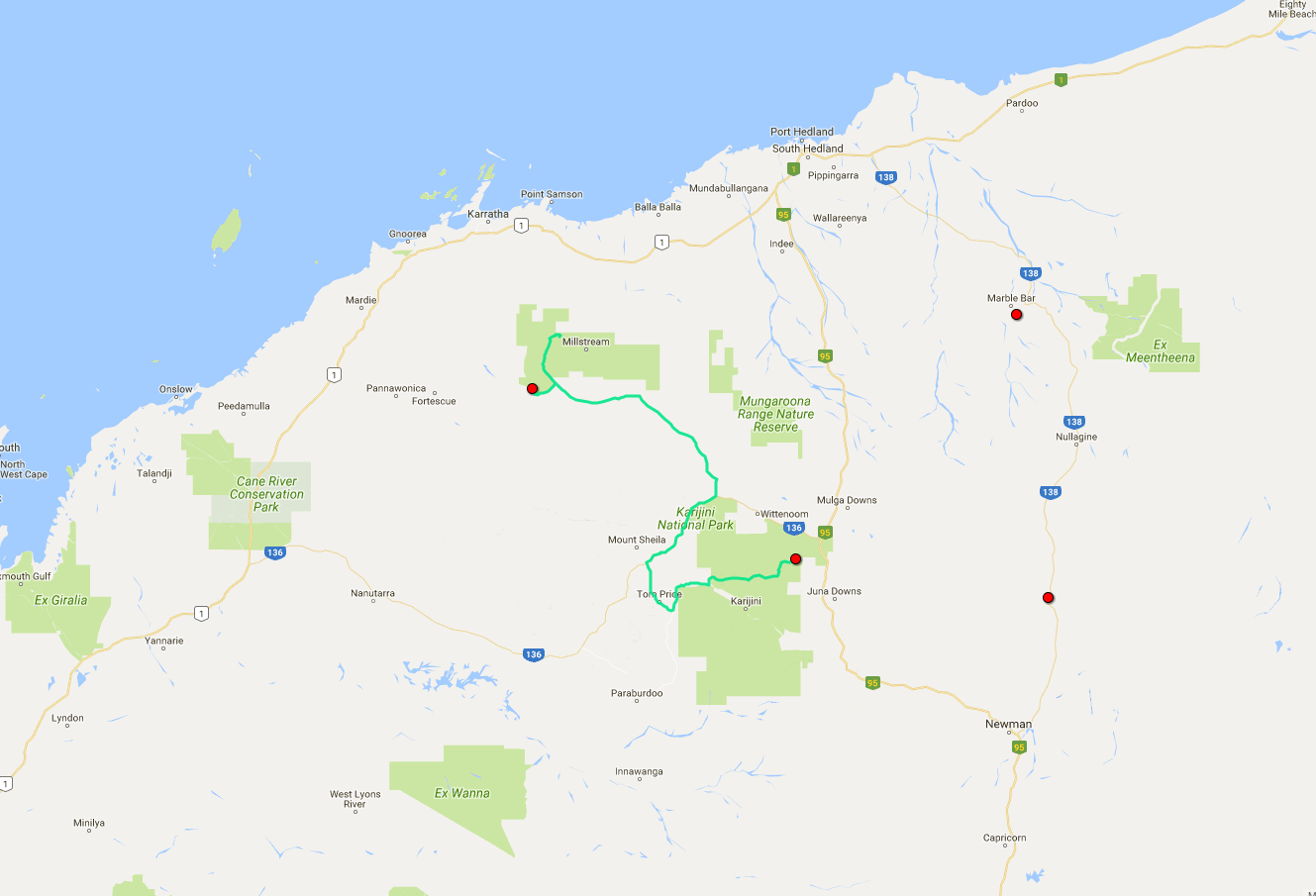 Today's itinerary.
Next to the campground there is another ravine, called Dales Gorge. At the first rays of sun, while no one else is there, I head straight towards it. Unfortunately, the first rays of sun also make it quite difficult to take good pics. And the gorge itself, although undeniably beautiful, doesn't really say anything new after those that I've seen yesterday.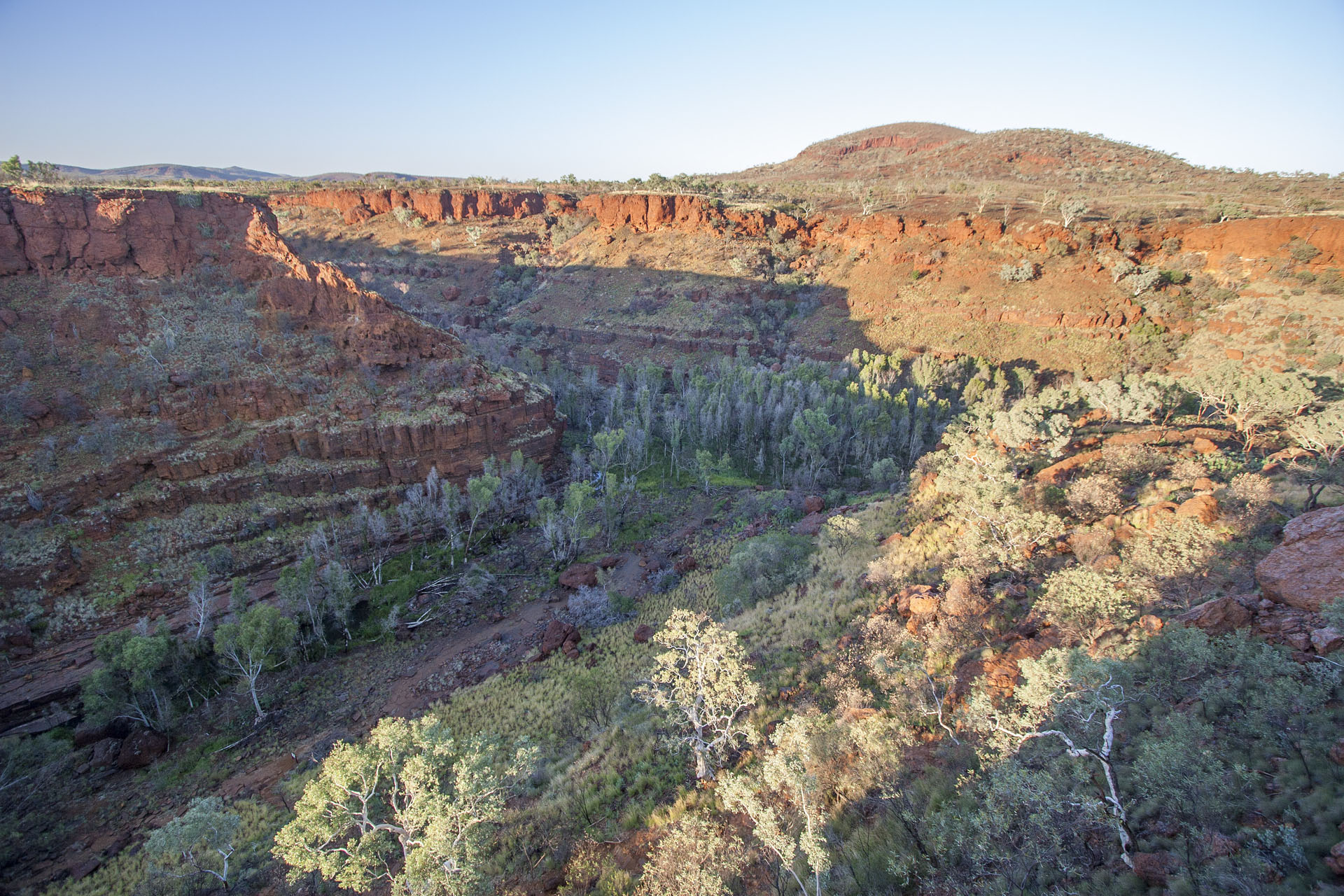 Three Ways Lookout, where the Dales Gorge meets the other two.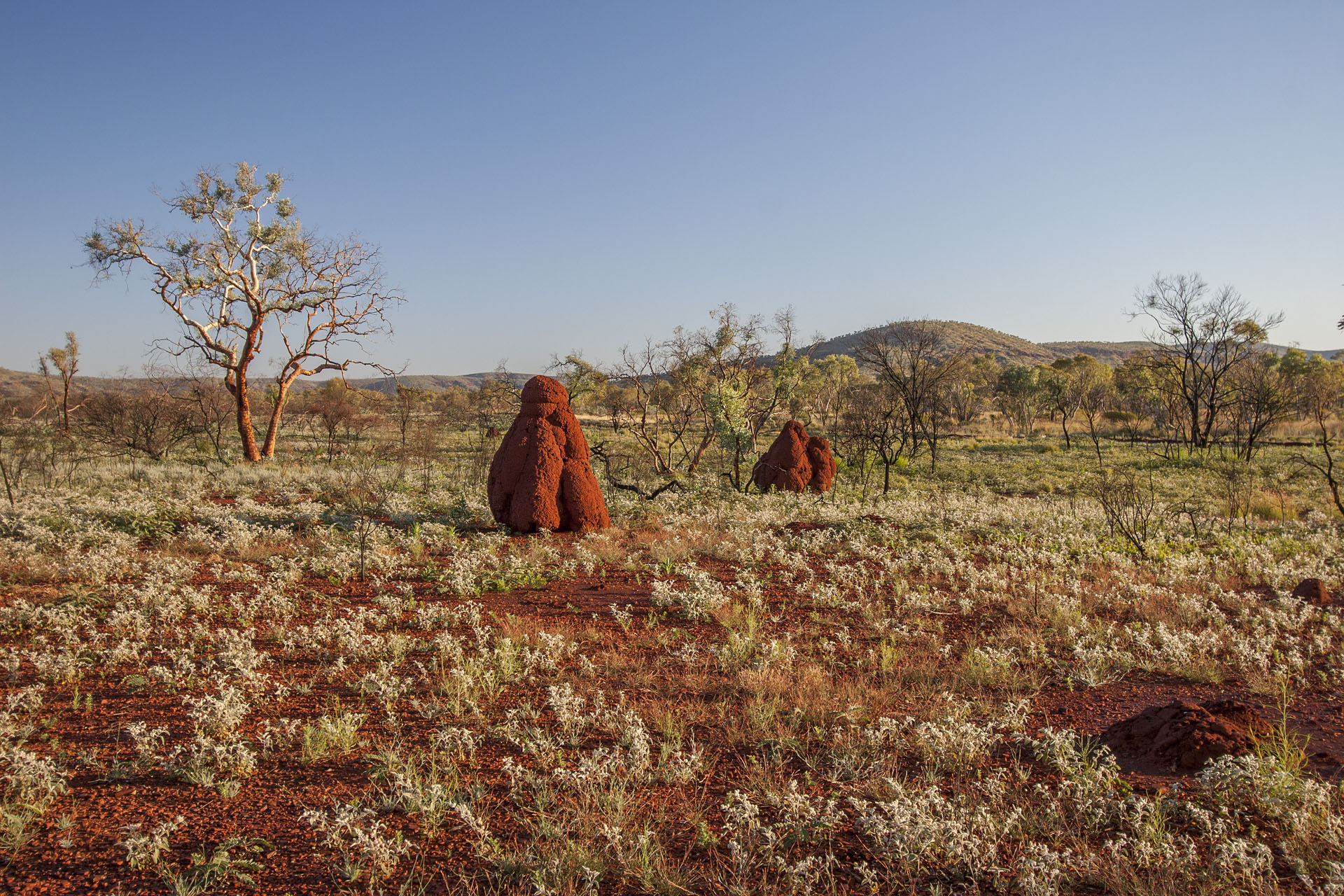 A bit further away.
There's also another place nearby, called Fortescue Falls, but you have to drive a bit further away to see it. From the car park and down into the gorge leads a solid-looking staircase, and it's silly not to use it, so I do. It is a very lovely gorge indeed, all covered in trees and bushes. Looks a bit like the Kimberley, in fact, except there's a lot more conifers here.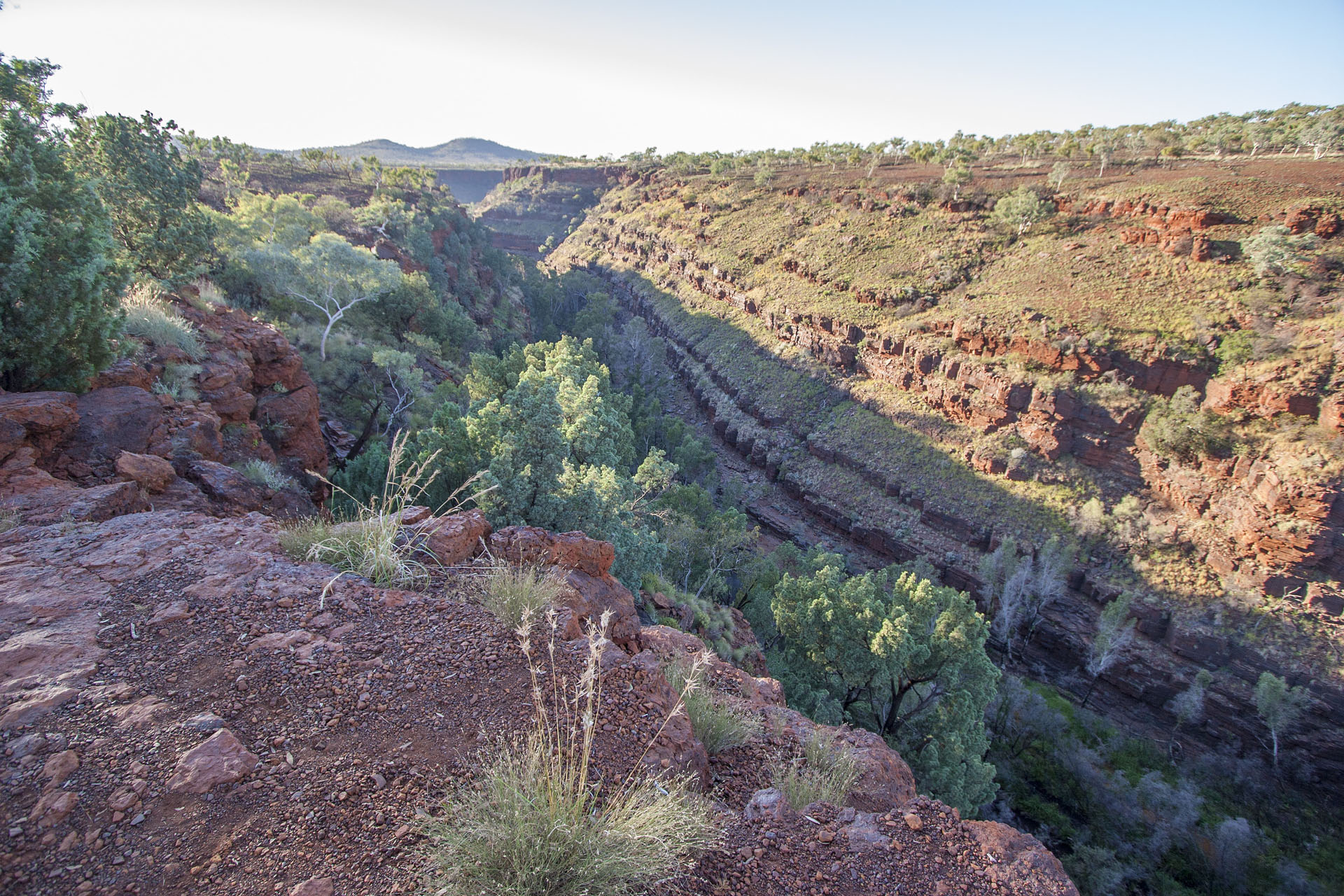 Fortescue Falls are here.
Down below I find out all of a sudden that there's another place of interest just around the corner: the Fern Pool. As I reach it, I find it quite beautiful as well, and it even has its own mini-waterfall. You can swim in the pool, but with certain care: a recent bushfire destroyed the old deck, and there's a lot of burnt timber and nails underwater. Or so the notice nearby says. I have no plans to swim this morning anyway, so I go back upstairs to my car, watching the fruit bats clustered in the branches of the trees.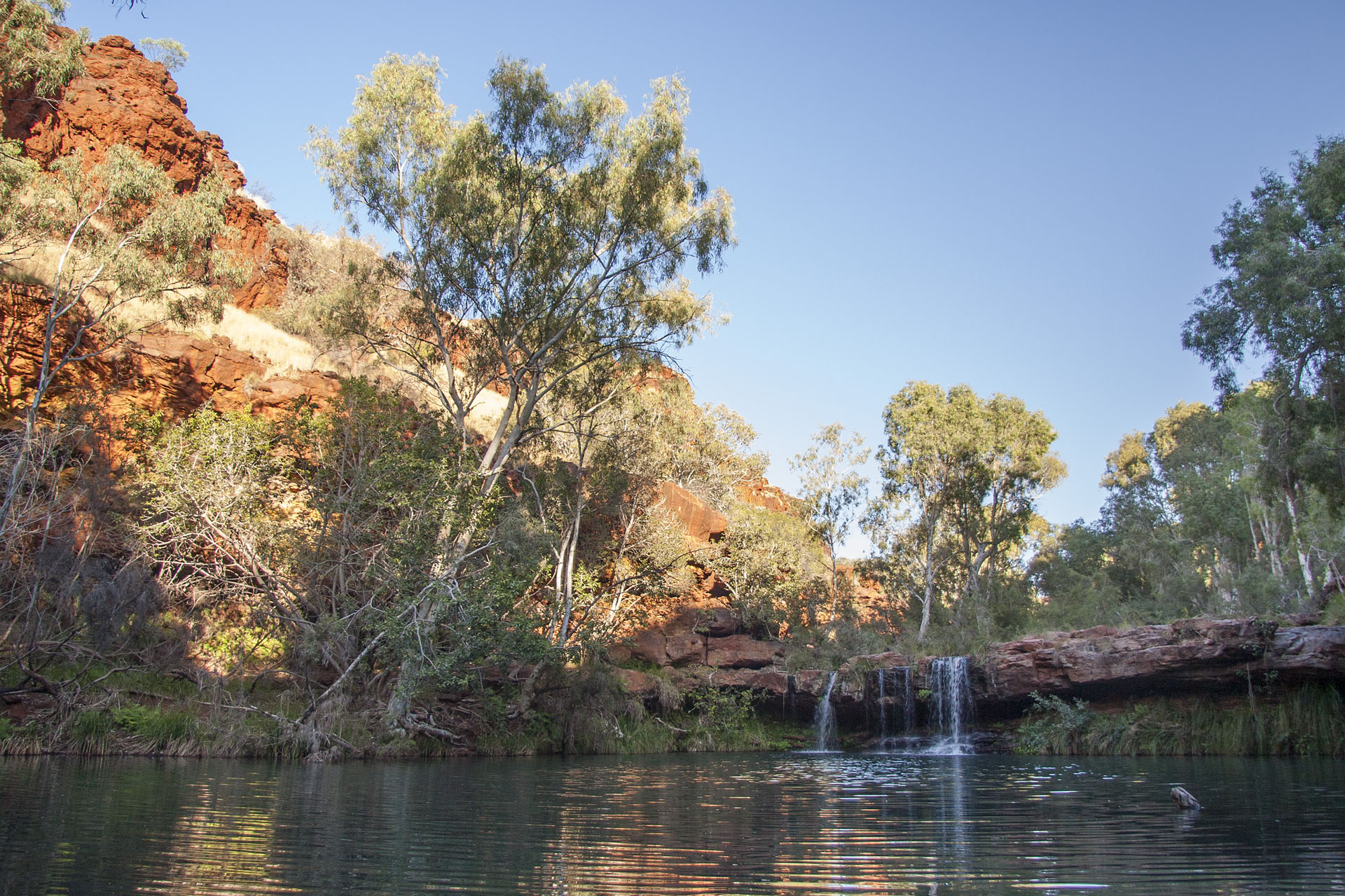 The Fern Pool.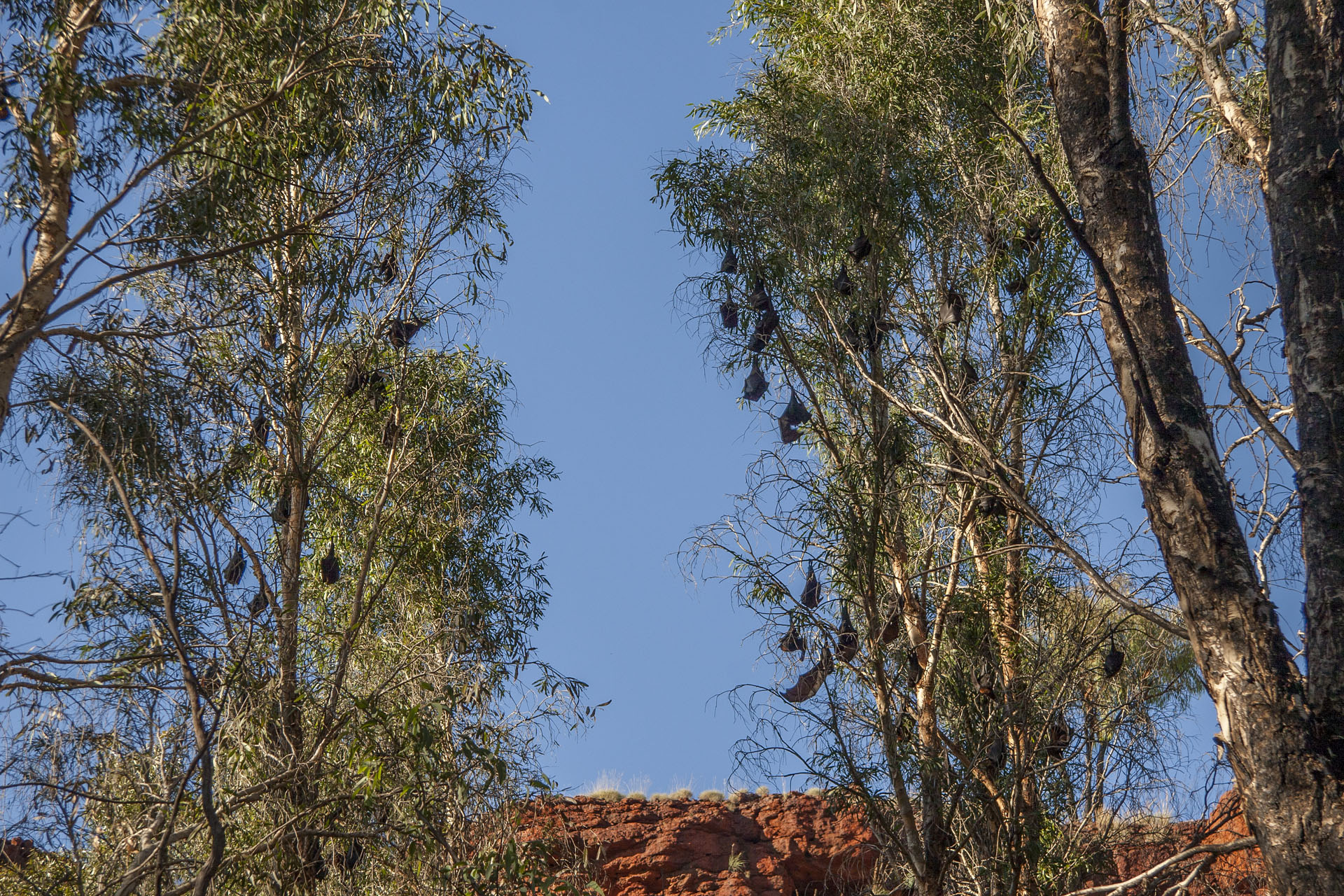 The fruit bats.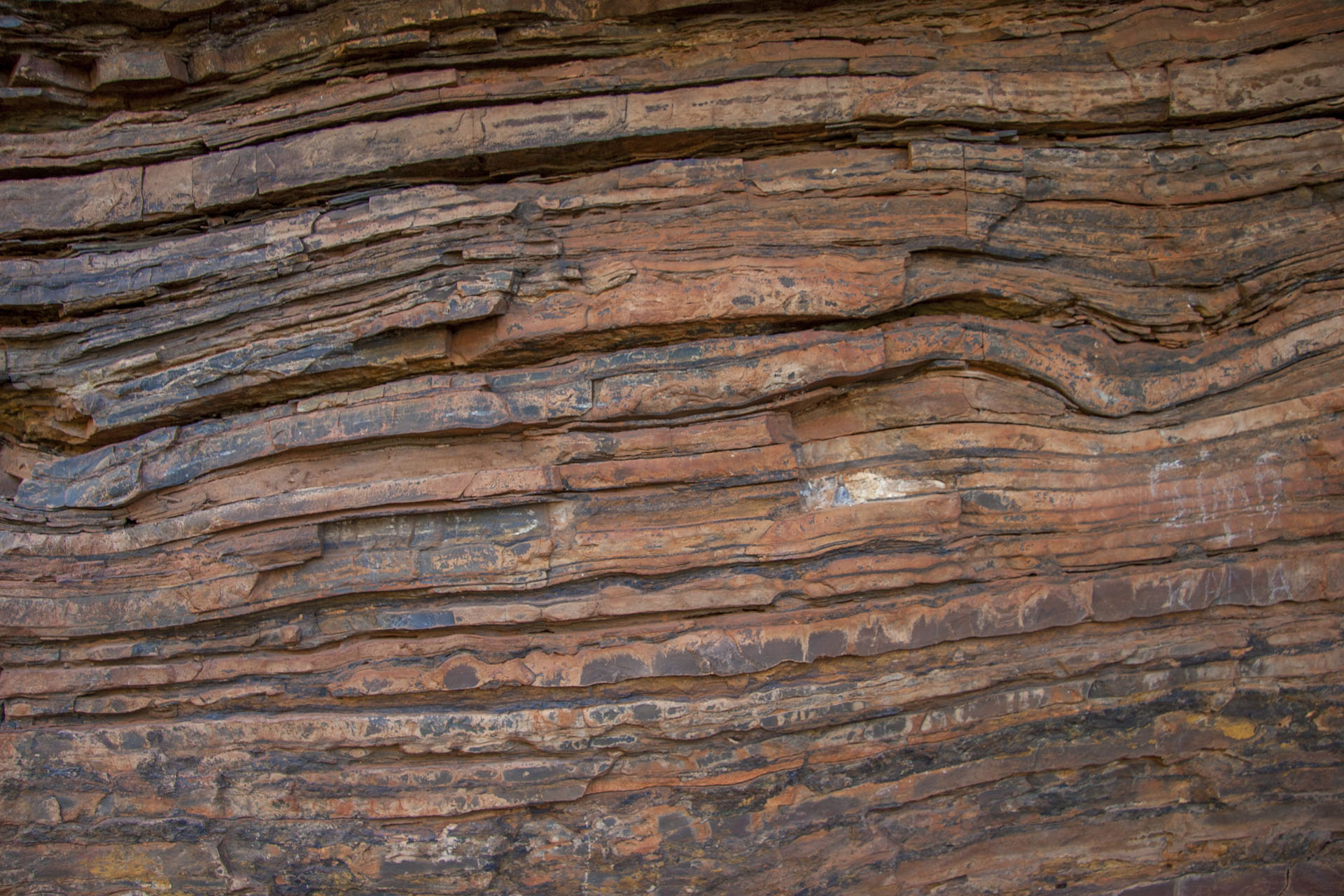 The layered rocks.
This concludes my visit to the Karijini National Park, and it is time to move to another one, called Millstream-Chichester. On my way there, however, I'll have to stop at the town by the quaint name of Tom Price to take a shower and do some shopping.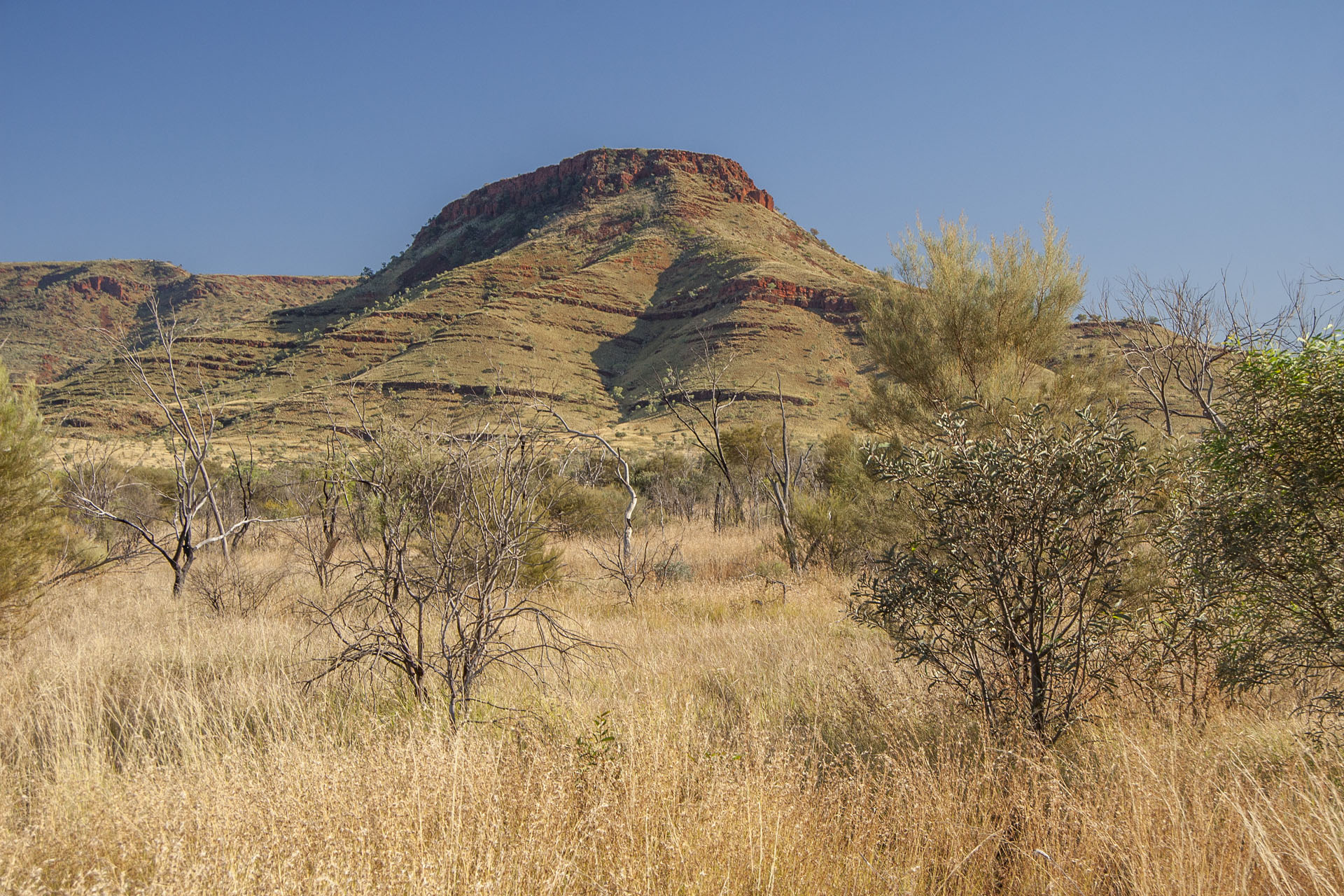 The roadside scenery.
On my way there I stop at a lookout that turns out to be a some sort of weird memorial. All along its border small flat rocks are piled on, covered with names of recently deceased people and dates of their deaths. Why is it all here? No idea. Fingers crossed they didn't all die at this very spot, and that I'm not going to be next.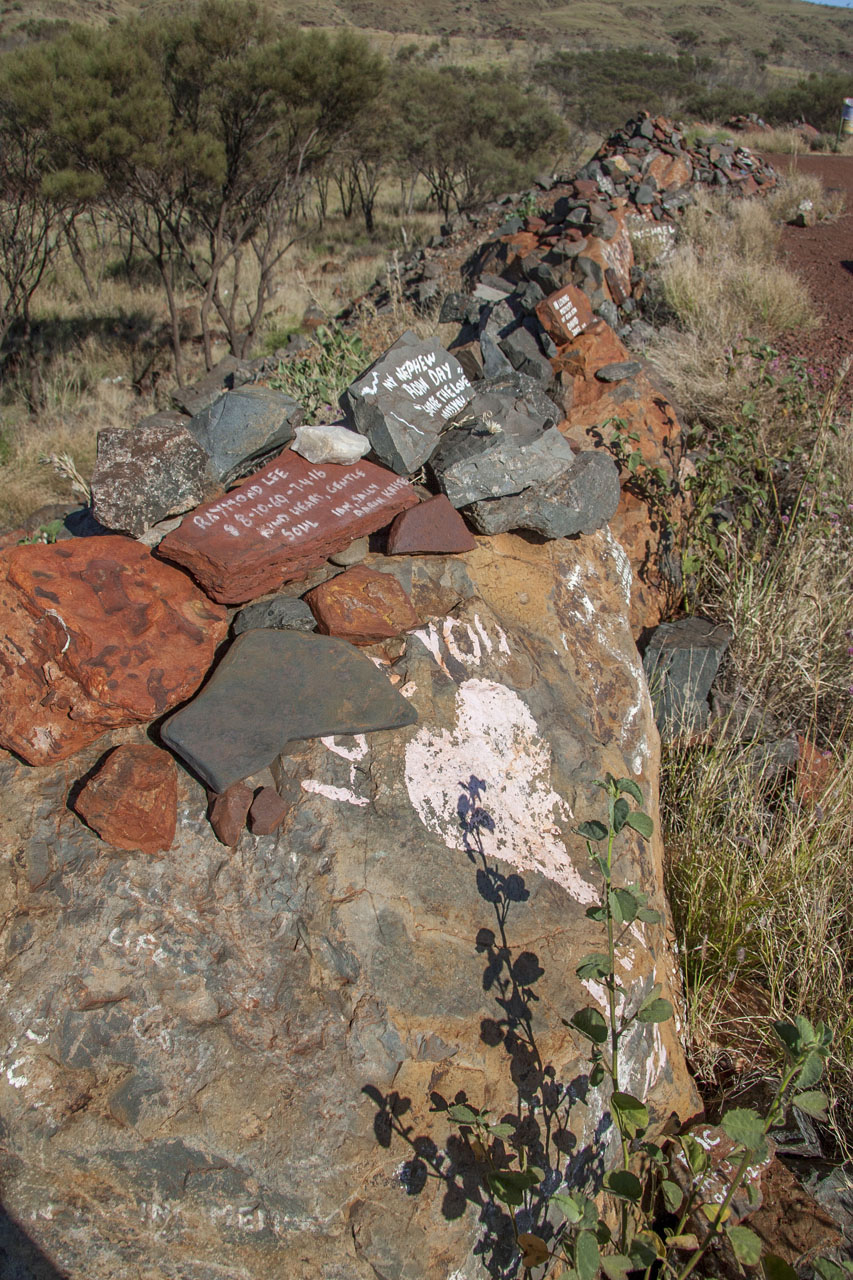 Time to throw stones, time to gather stones.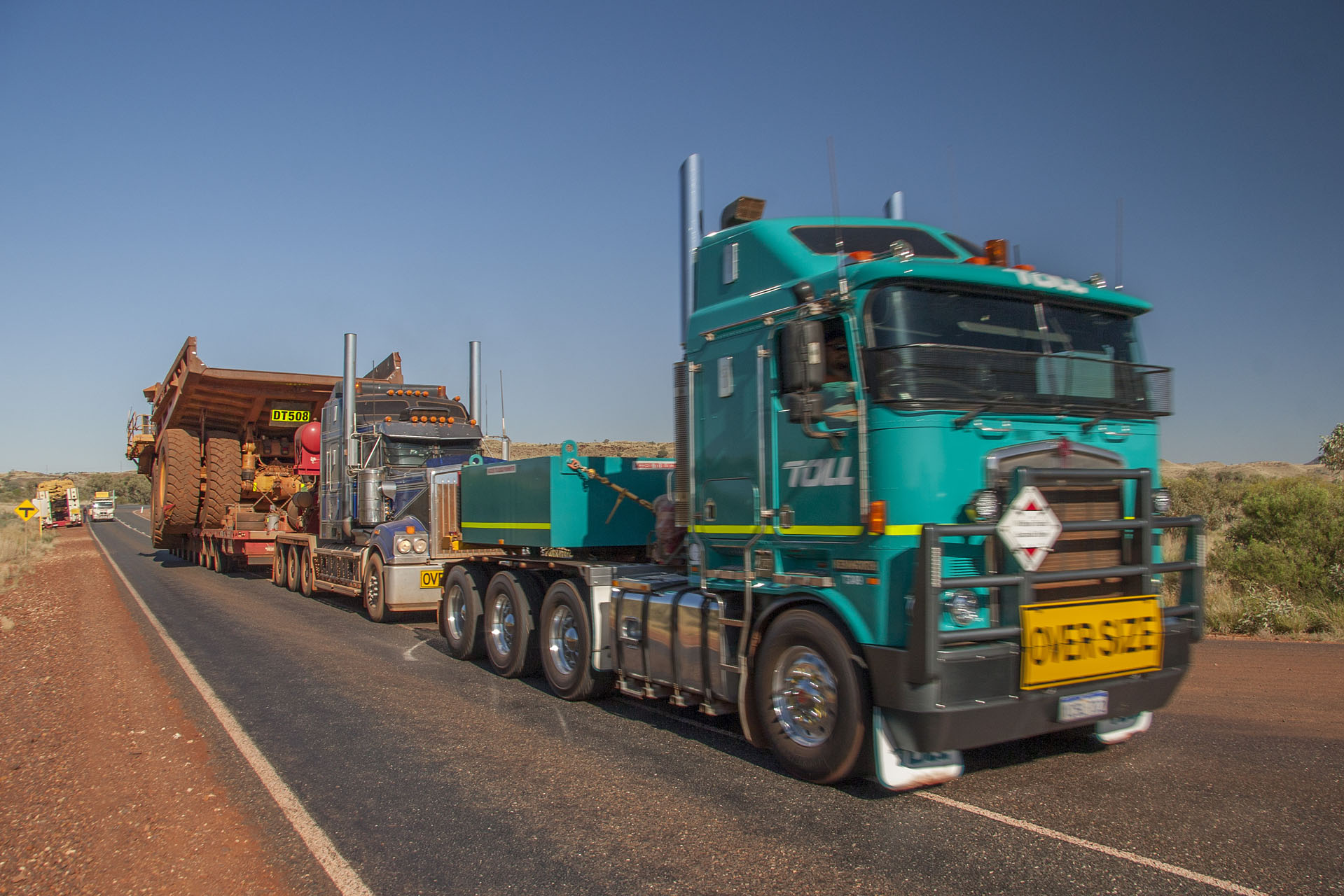 Oversized load on my way to Tom Price.
And here's Tom Price itself, and here's a local Coles, and a ridiculously cheap shower across the road (only $2), and here I am already out of it, leaving the bitumen once again. The dirt track is quite good though (mining companies!) and I have no troubles negotiating it at all.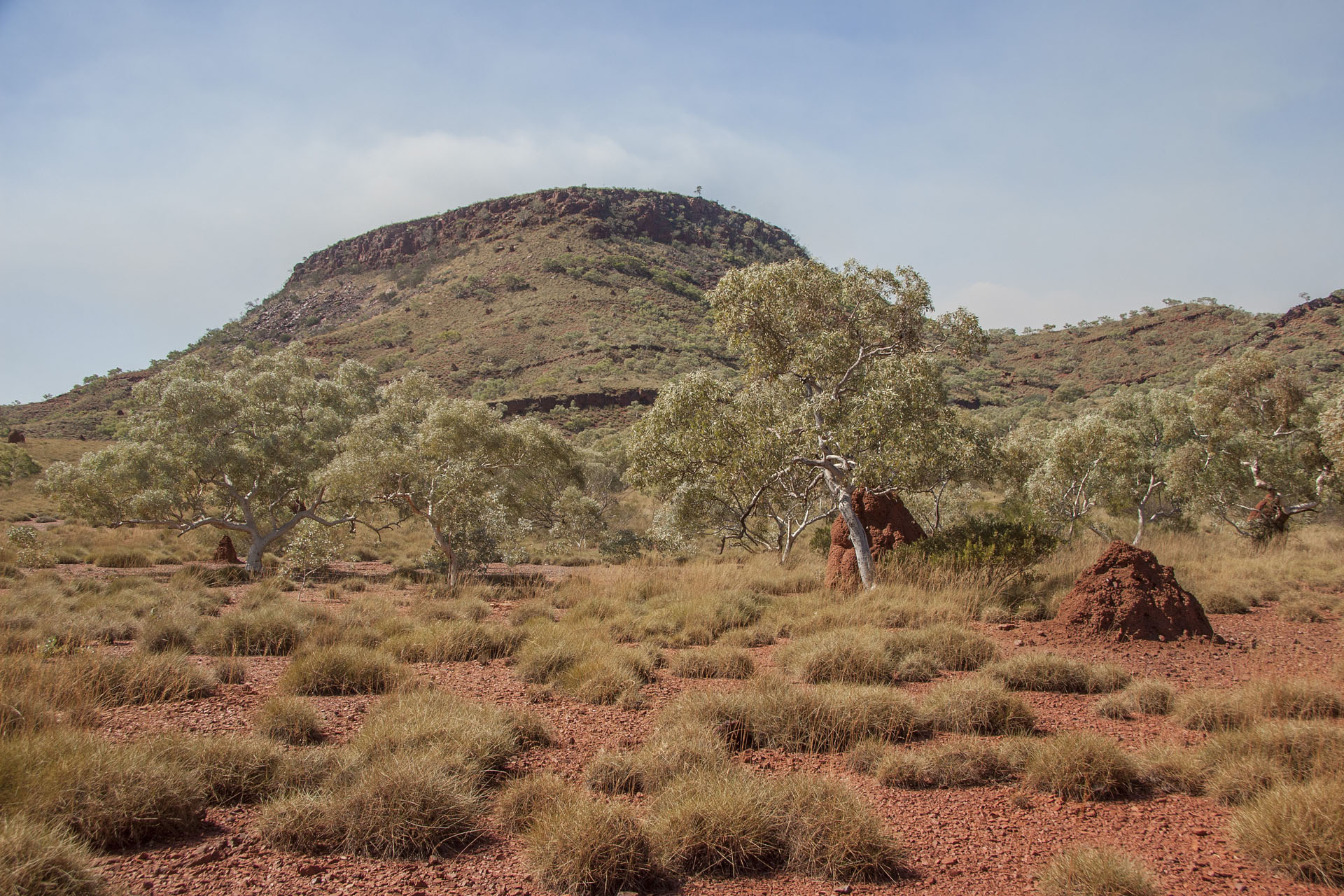 The Pilbara surrounds me.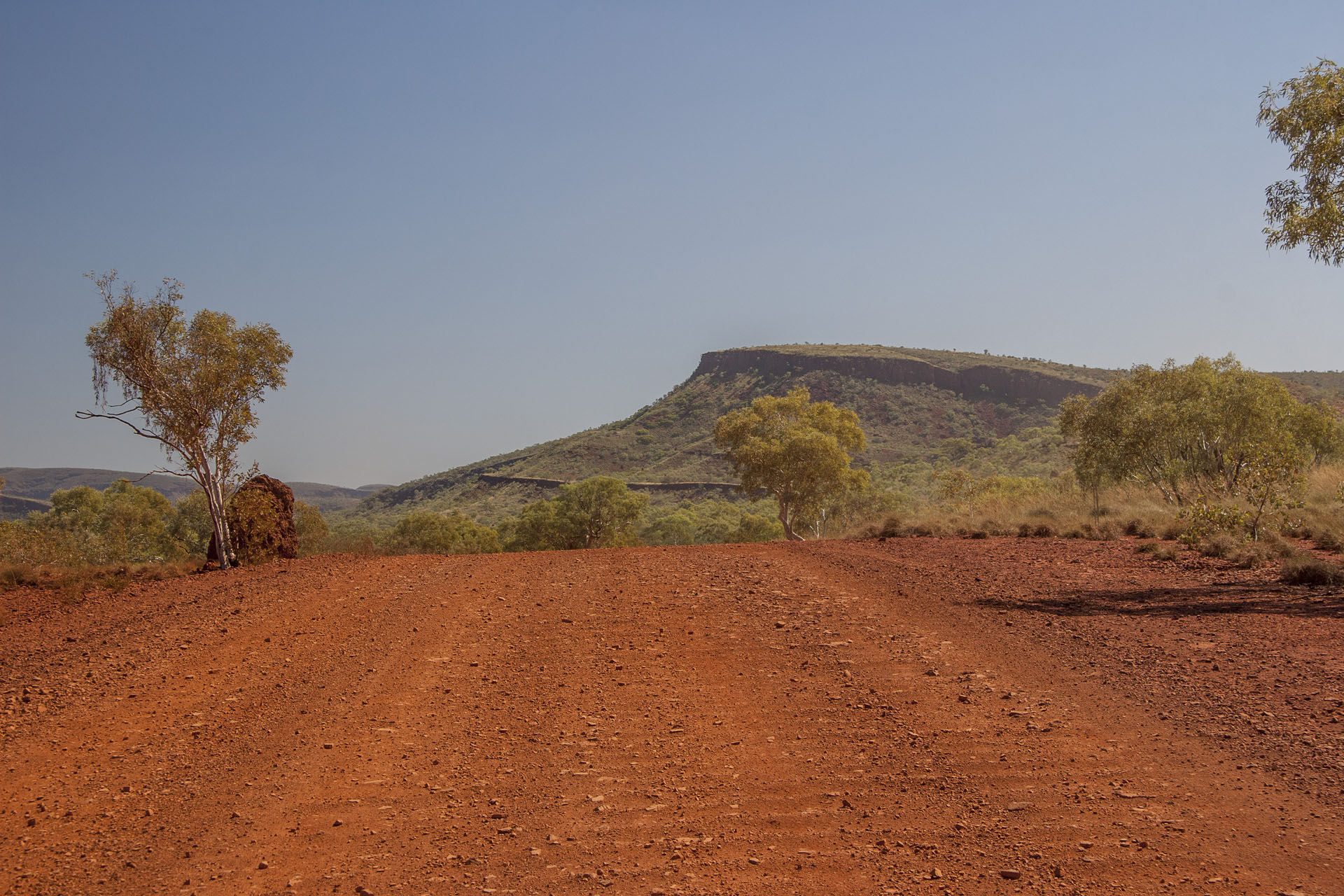 Corrugated landscape.
Not too far off the road there's another bit of the Karijini Park I haven't seen yet: Hamersley Gorge. You can't get there from the park itself, though, so this detour is necessary. I decide to take a peek, and sure enough, it's worth it: a tall rocky wall of the gorge is twisted spectacularly with some brutal tectonic forces, making quite a sight.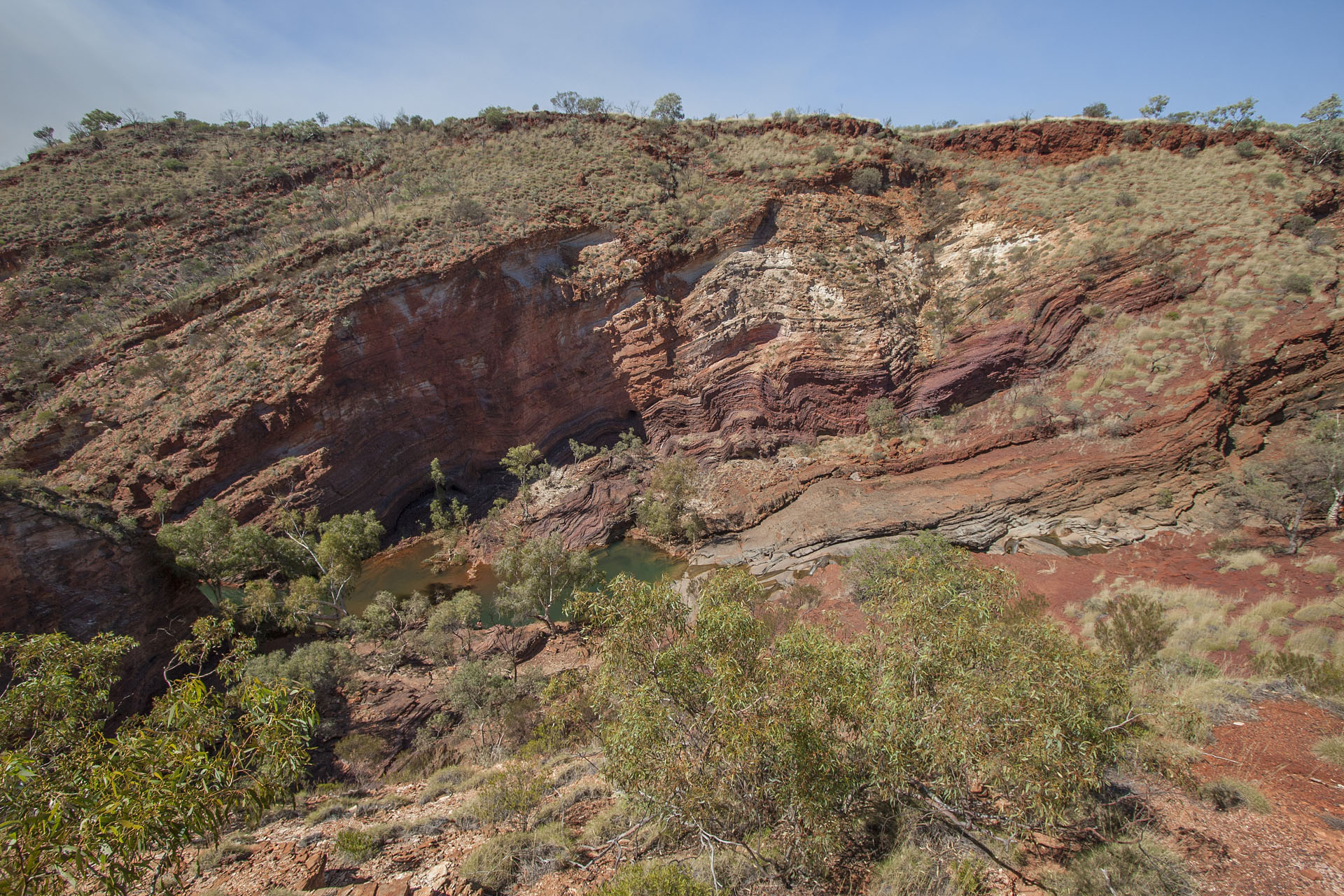 Twisted walls.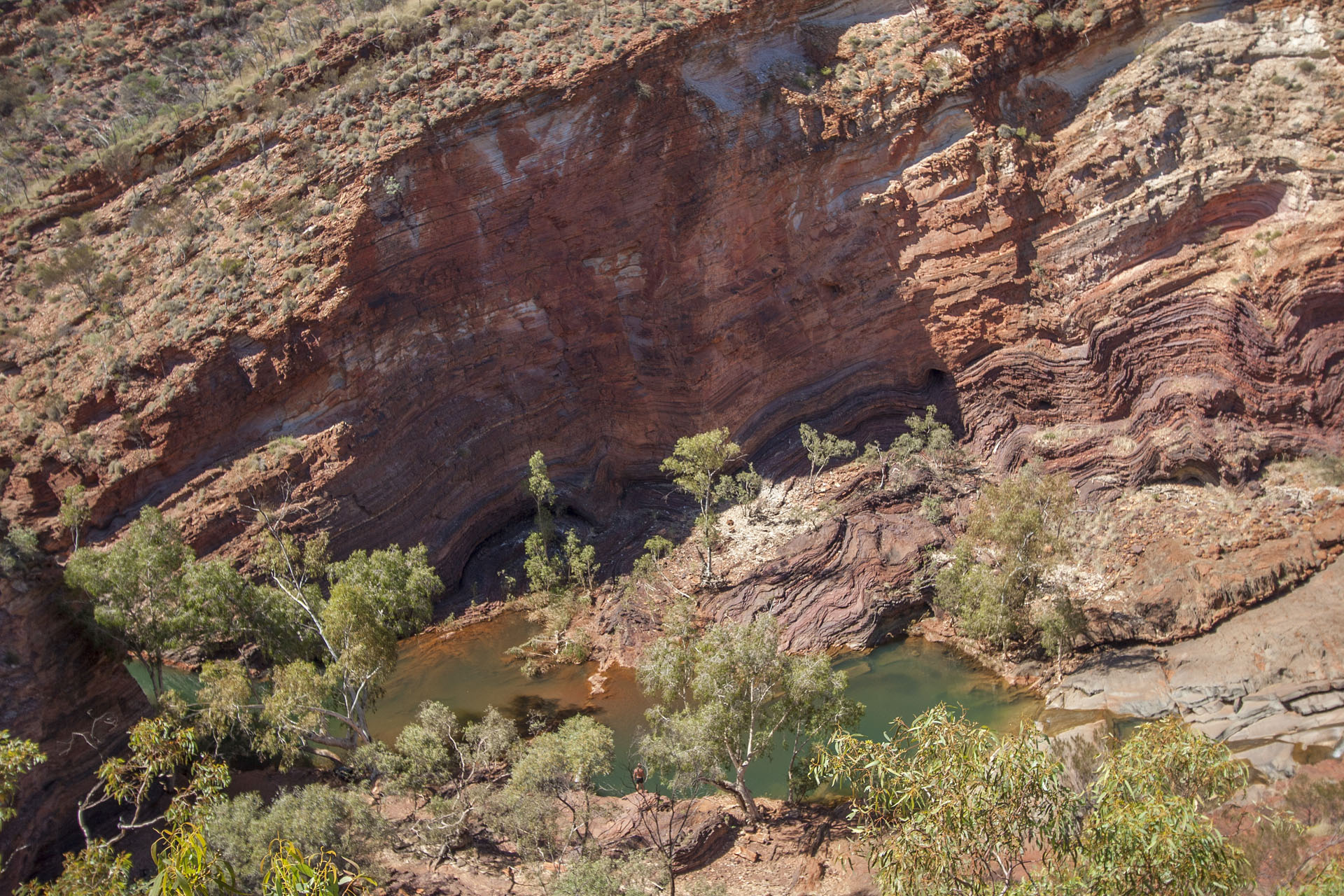 A pool down below with a guy who wants to take a plunge.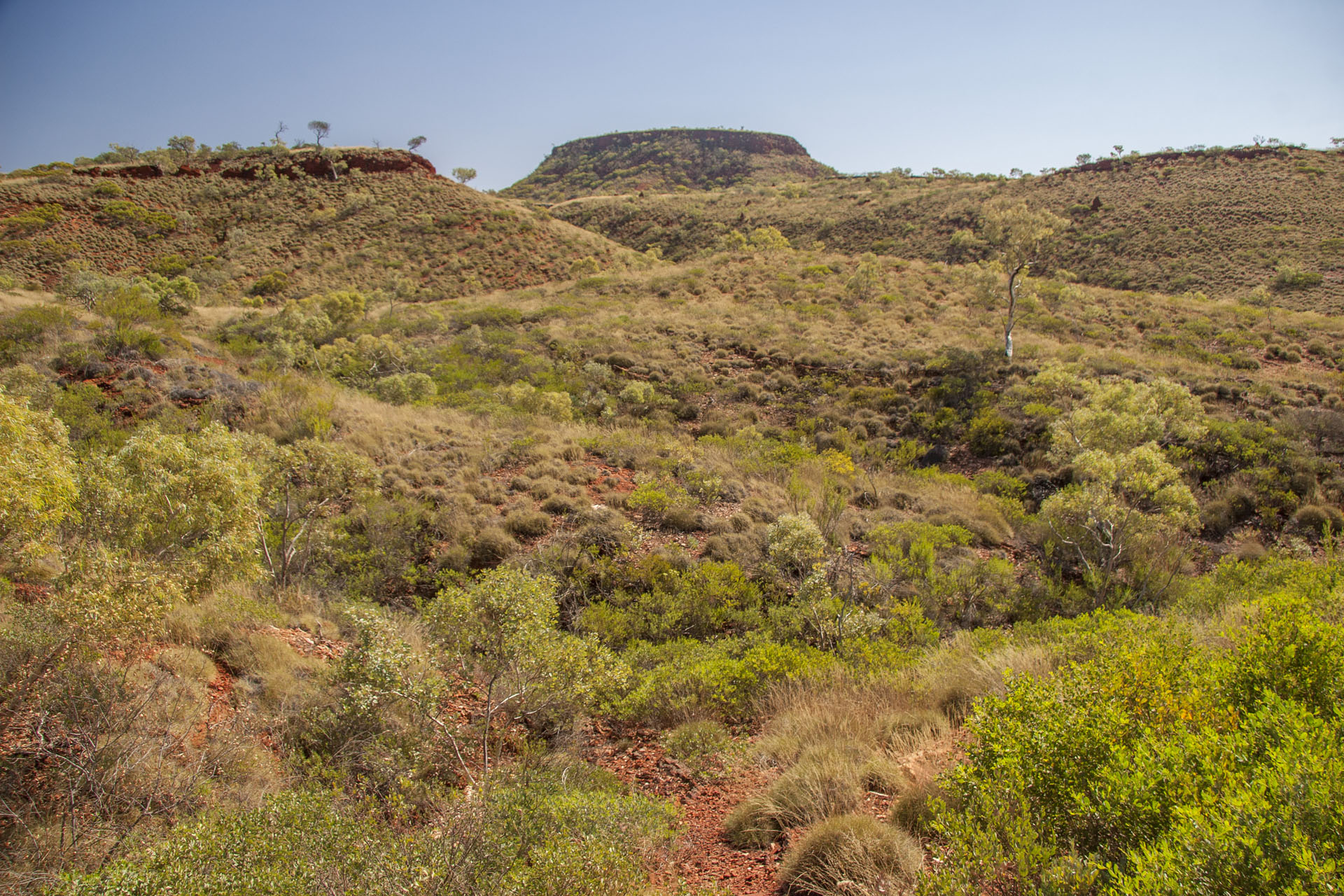 Next to the gorge itself.
I make my way back to the road and drive further. The ancient Pilbara scenery is slowly changing behind the windows. I can see a fire in the distance on some hill, then a few more. How many of those did these ranges see over the last few billion years?
A bushfire.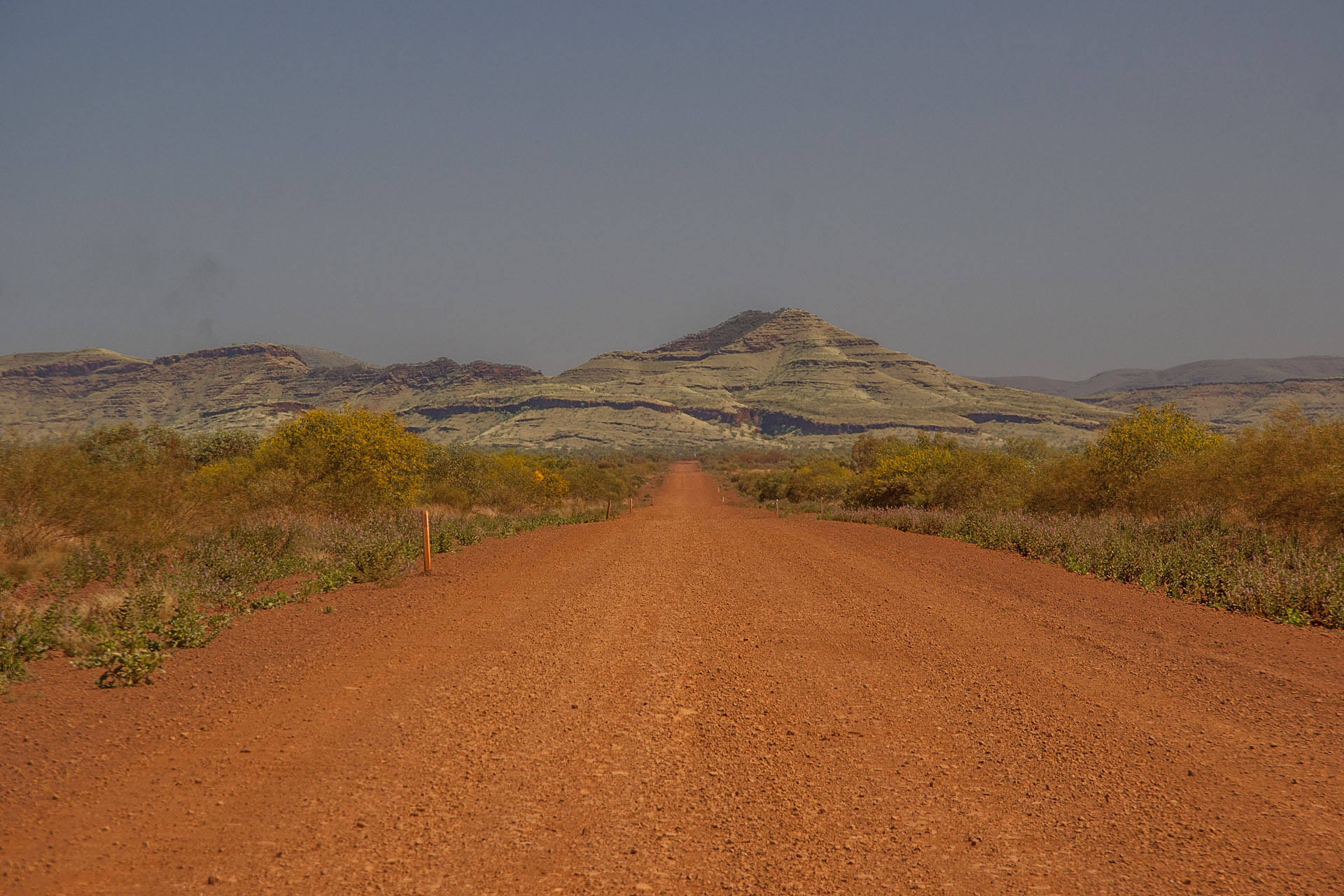 Dirt road and hills, and more bushfire.
A few hours later, I arrive at the park. There used to be two separate parks here: Millstream and Chichester, but they decided to merge them recently. Chichester takes its name from the Chichester Range that crosses it, and this is where I'm going right now.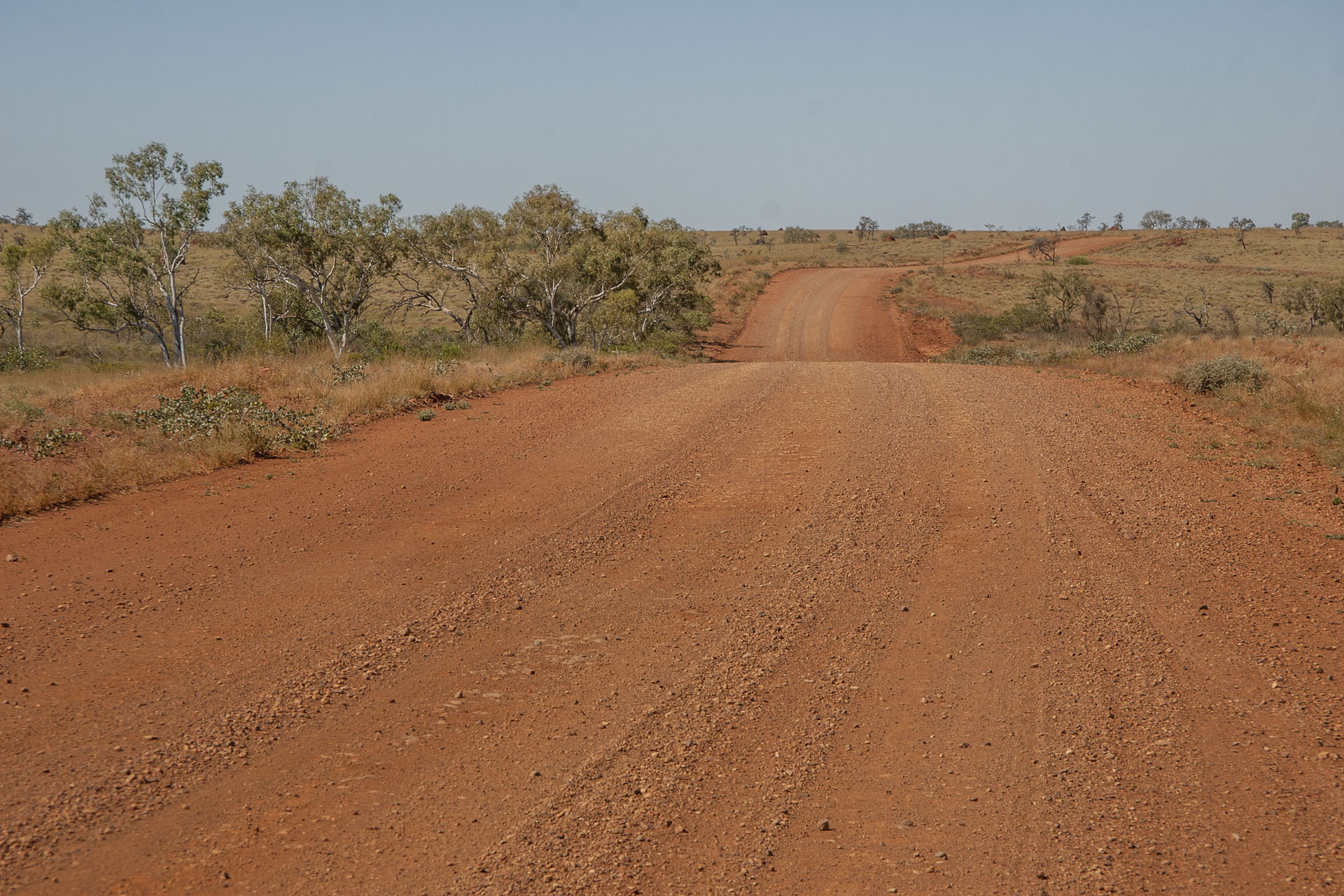 Up-down, up-down, up-down.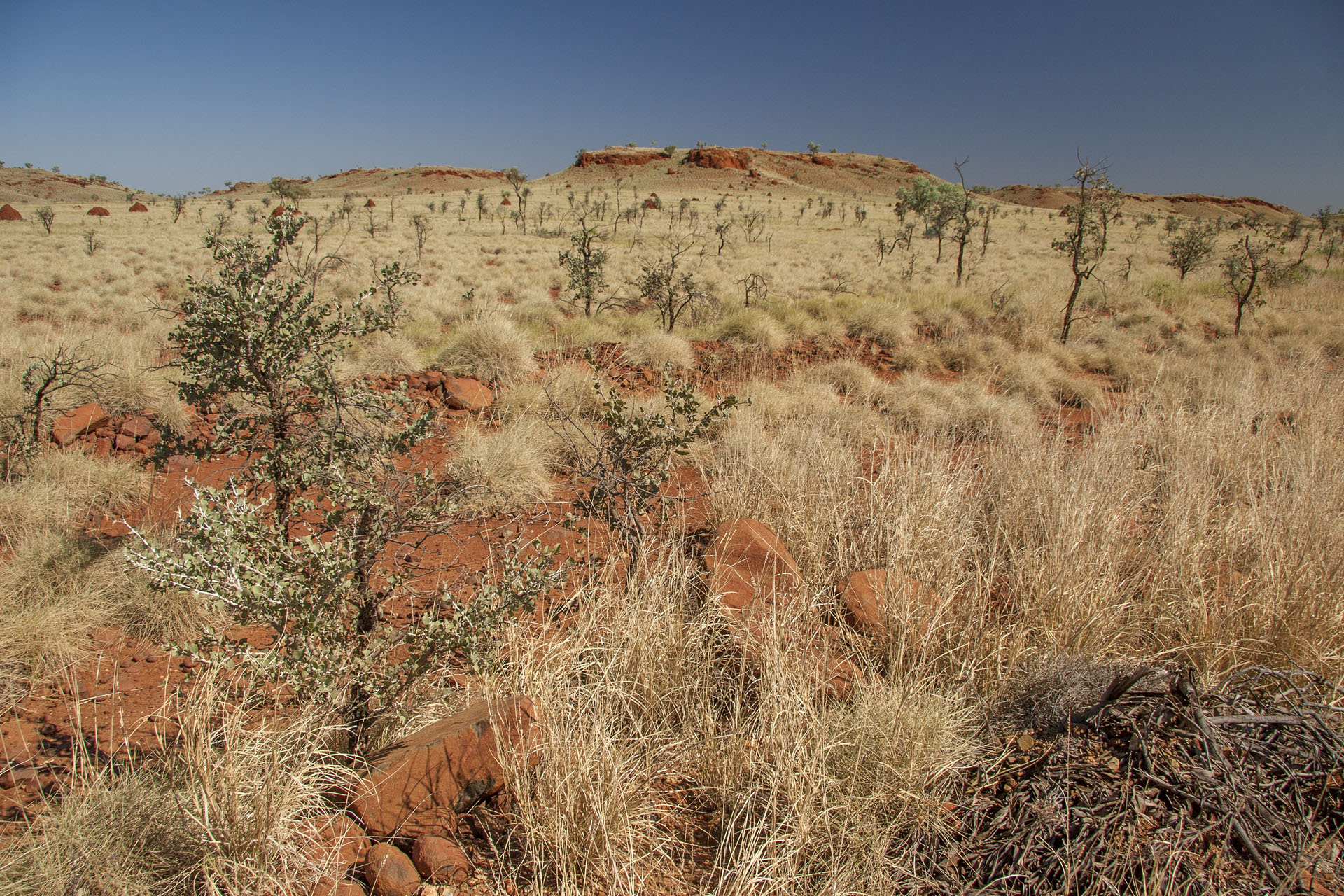 Some more of those "stick trees".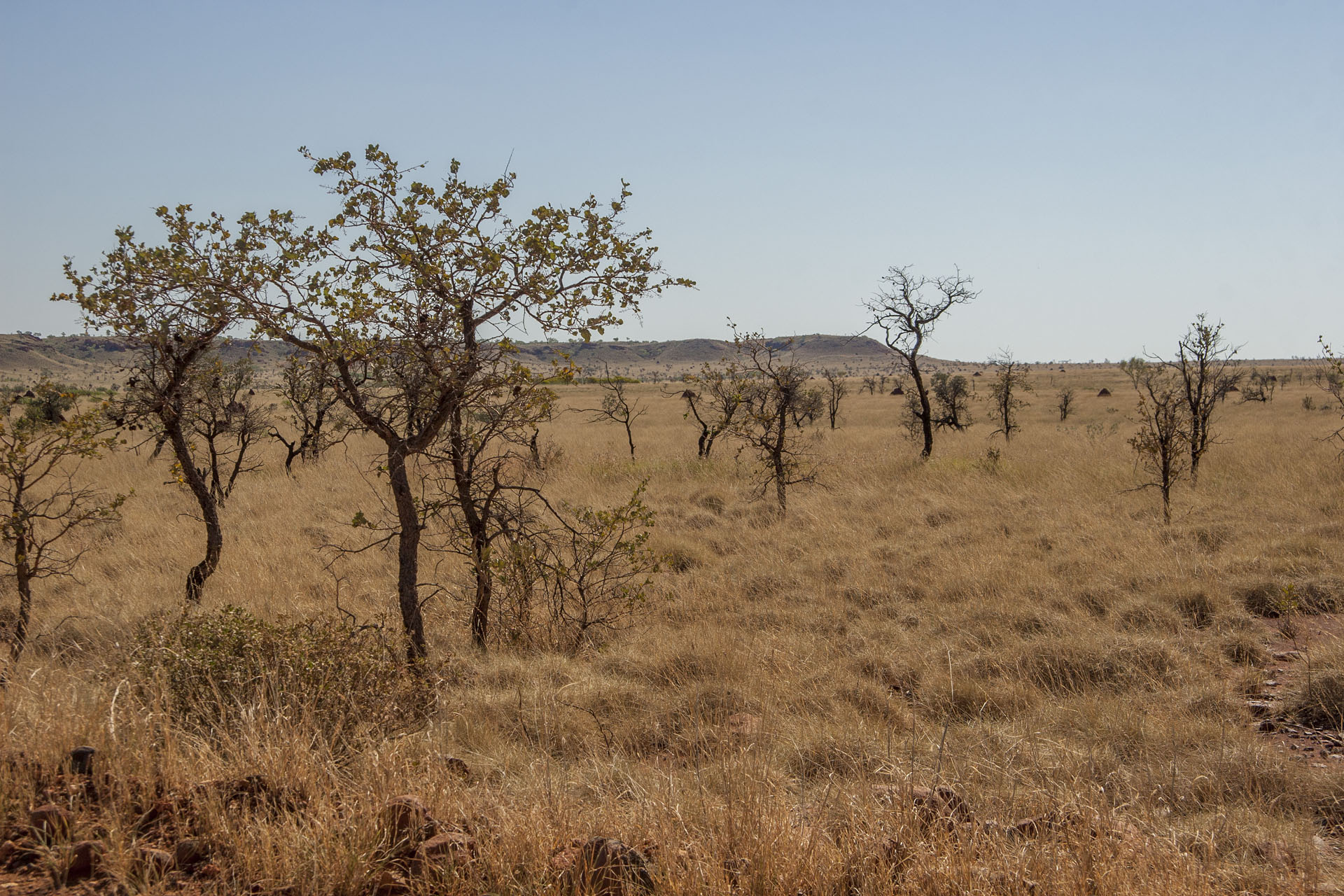 And some more of others.
Finally I see the jewel of Australian desert, just on the roadside: a Sturt's Desert Pea itself. The road itself is quite beautiful, too: it slowly takes me further and further uphill, giving me one spectacular view after another.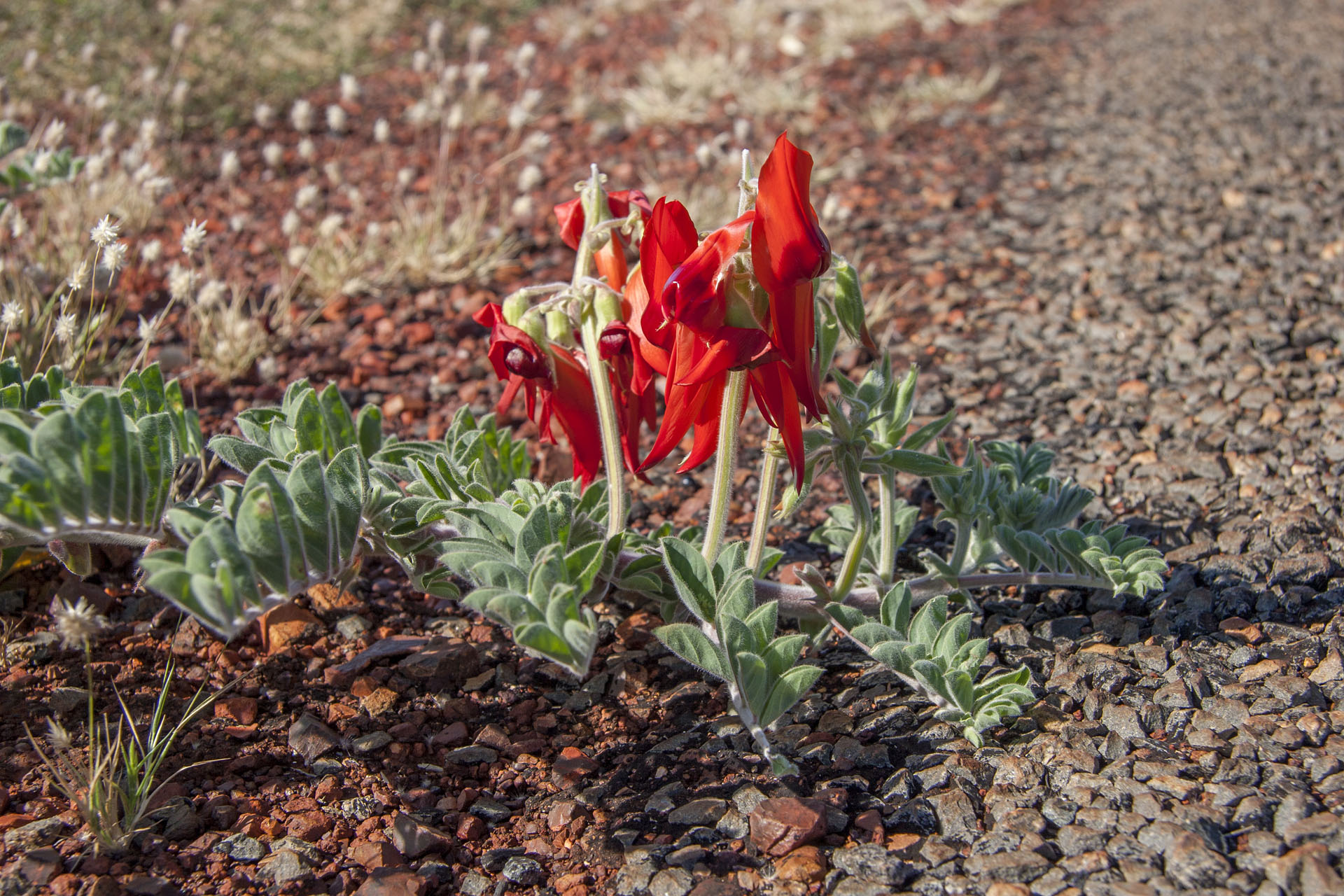 Sturt's Desert Pea.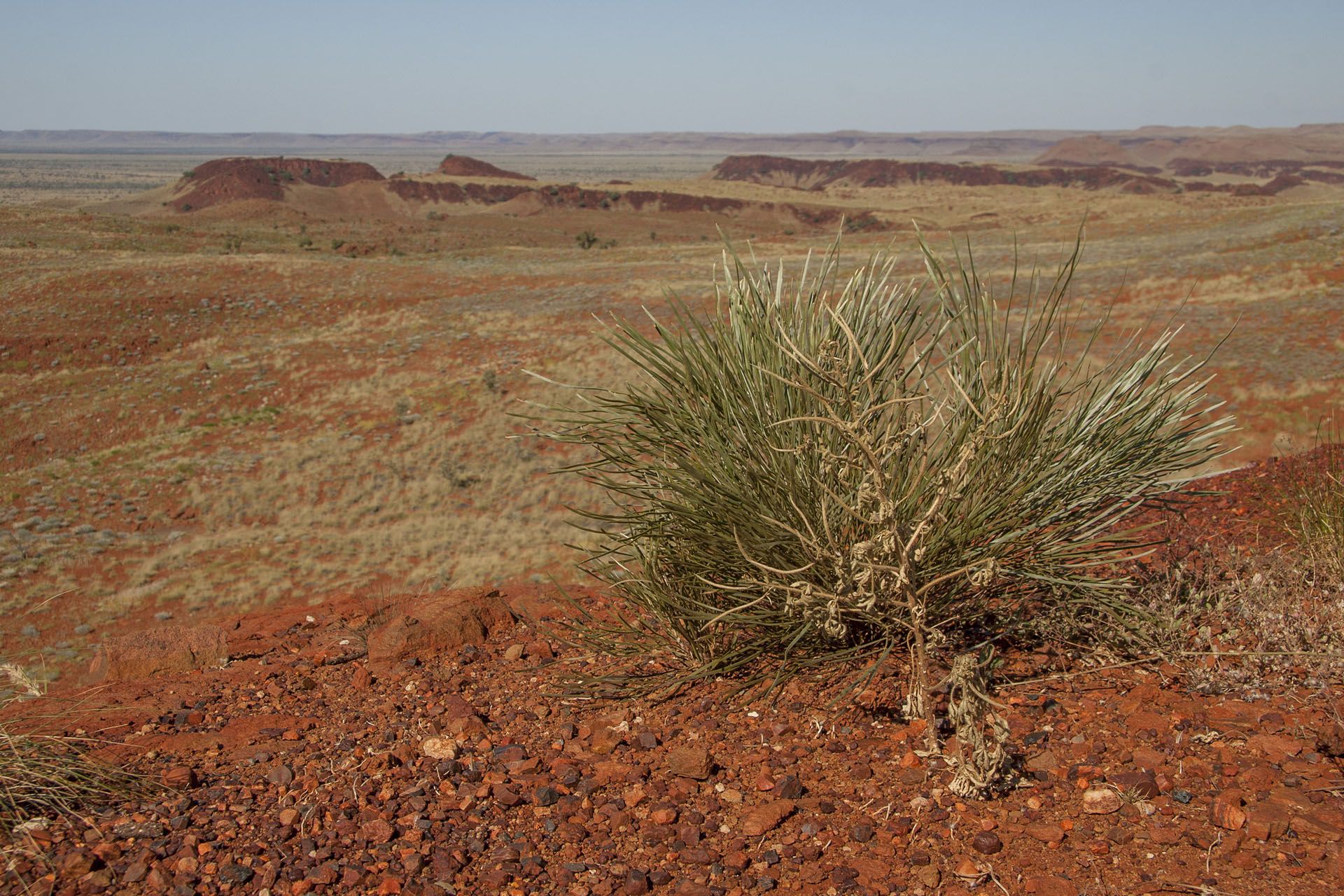 A lonely plant.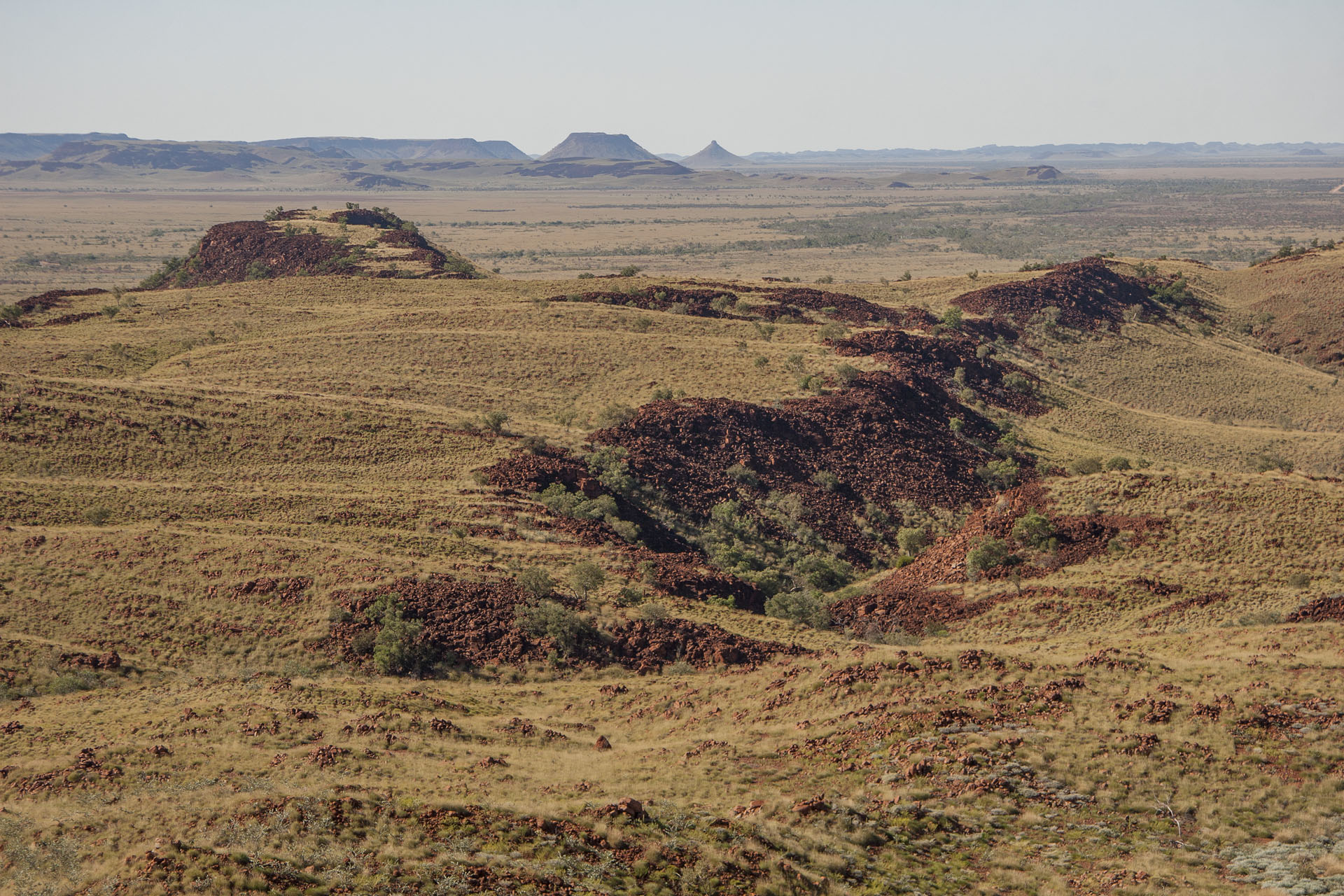 Hills and bluffs of all kinds.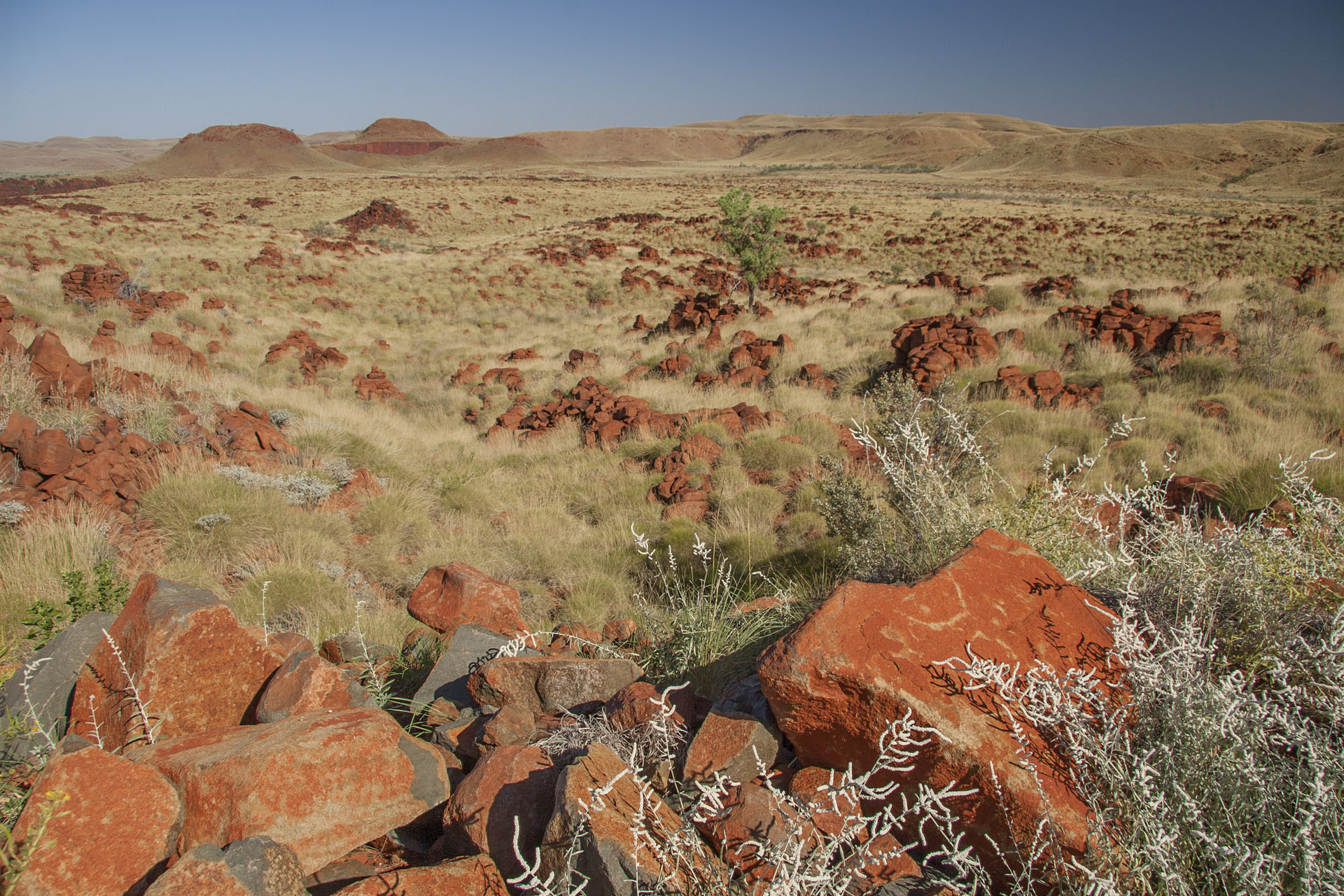 Rocky wasteland.
The road ends at the main (and only) attraction of this place: the Python Pool. You only have to walk a little away from the car park to see the shady pool itself amidst the red rocky cliffs, and then take a nice refreshing swim if you like. I don't have such plans though, so my stay there is quite brief. Having had another sandwich whilst enjoying the scenery, I drive off to leave the Chichester part of the park and to take a few more pics on my way.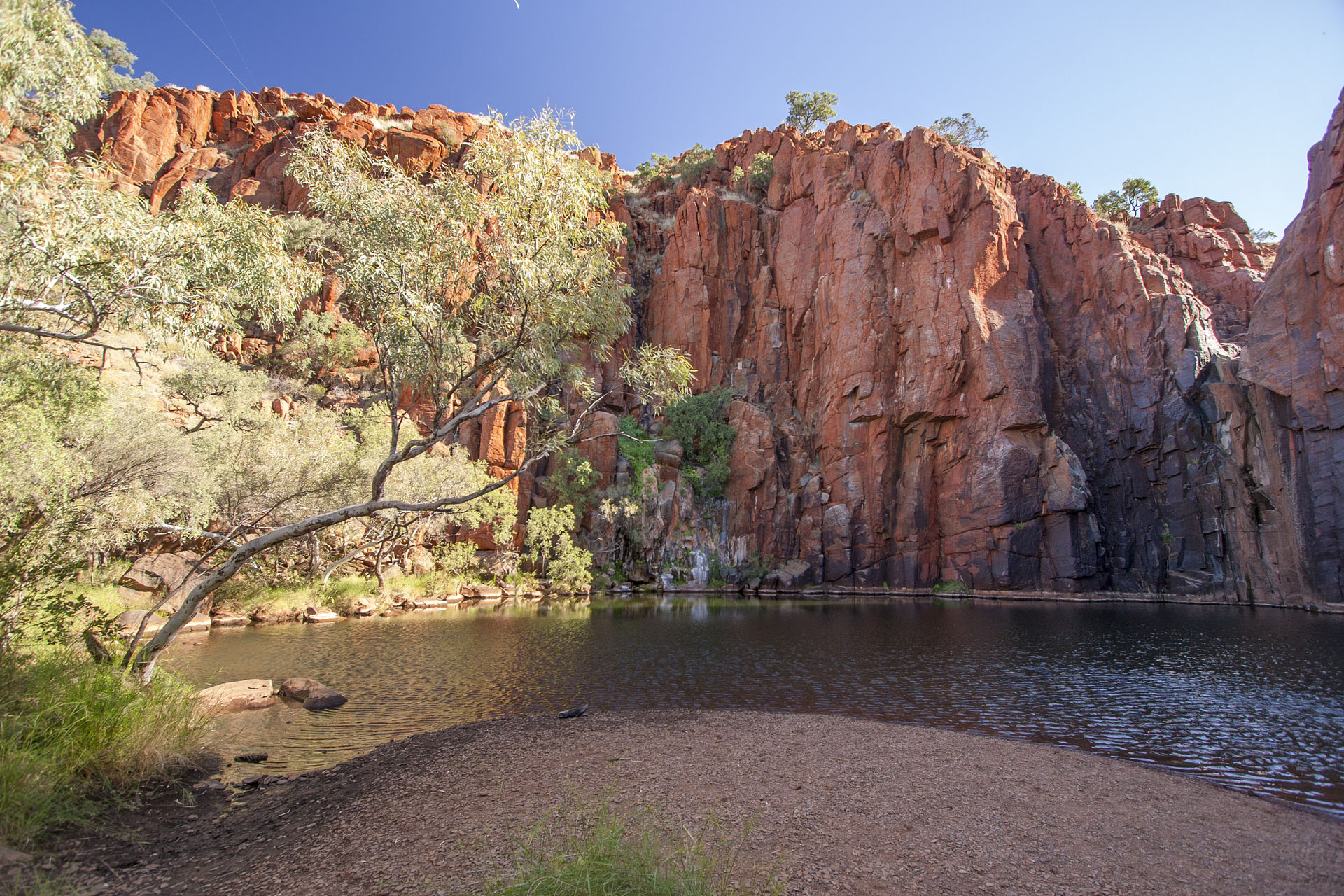 The Python Pool.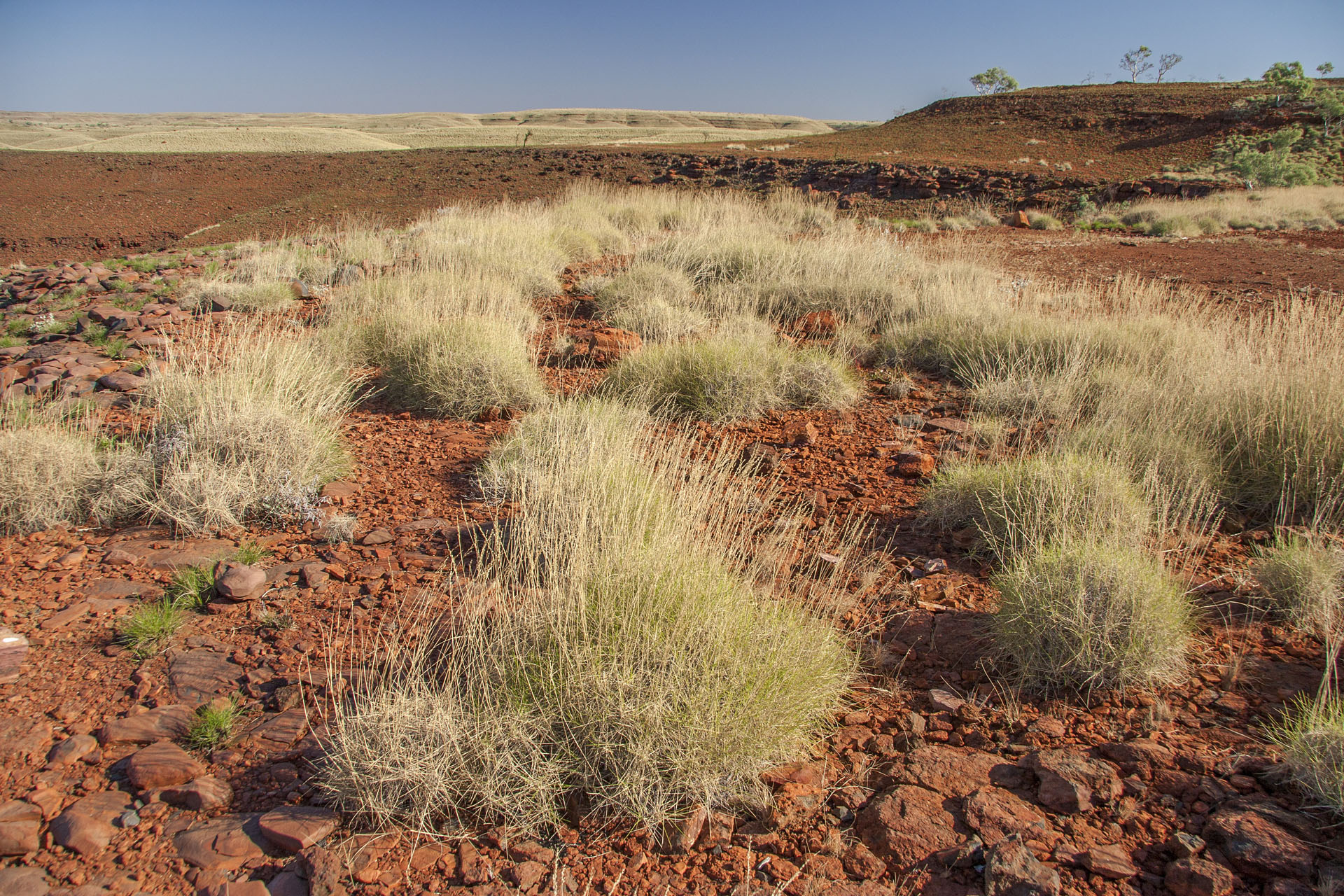 The ubiquitous spinifex.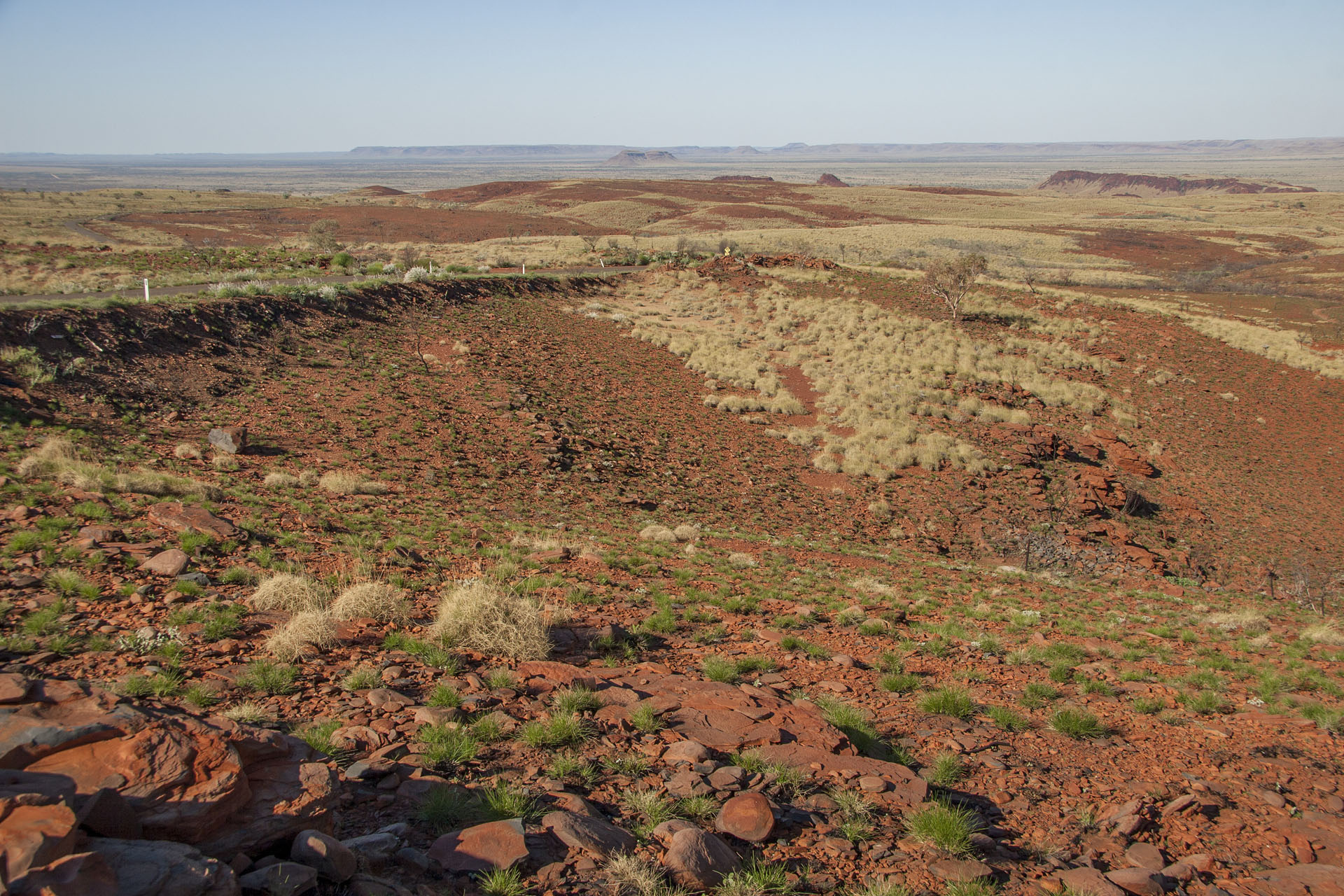 Endless plains dotted with hills.
Finally I arrive to my camping spot for the day, which is the southern edge of the Millstream part of the park, which is the only place where camping is actually allowed in the area. They have quite an unusual way of collecting the standard 10 bucks of the camping fee: a couple of volunteers actually patrols the grounds and takes money from punters that are already there.
It is an auspicious day today, because I've finally bought a real pillow in Tom Price (not an inflatable one, and not just a bunch of clothes under my head) and I'm going to try it out. And boy, do my head and my neck feel grateful. Small pleasures of a nomad's life.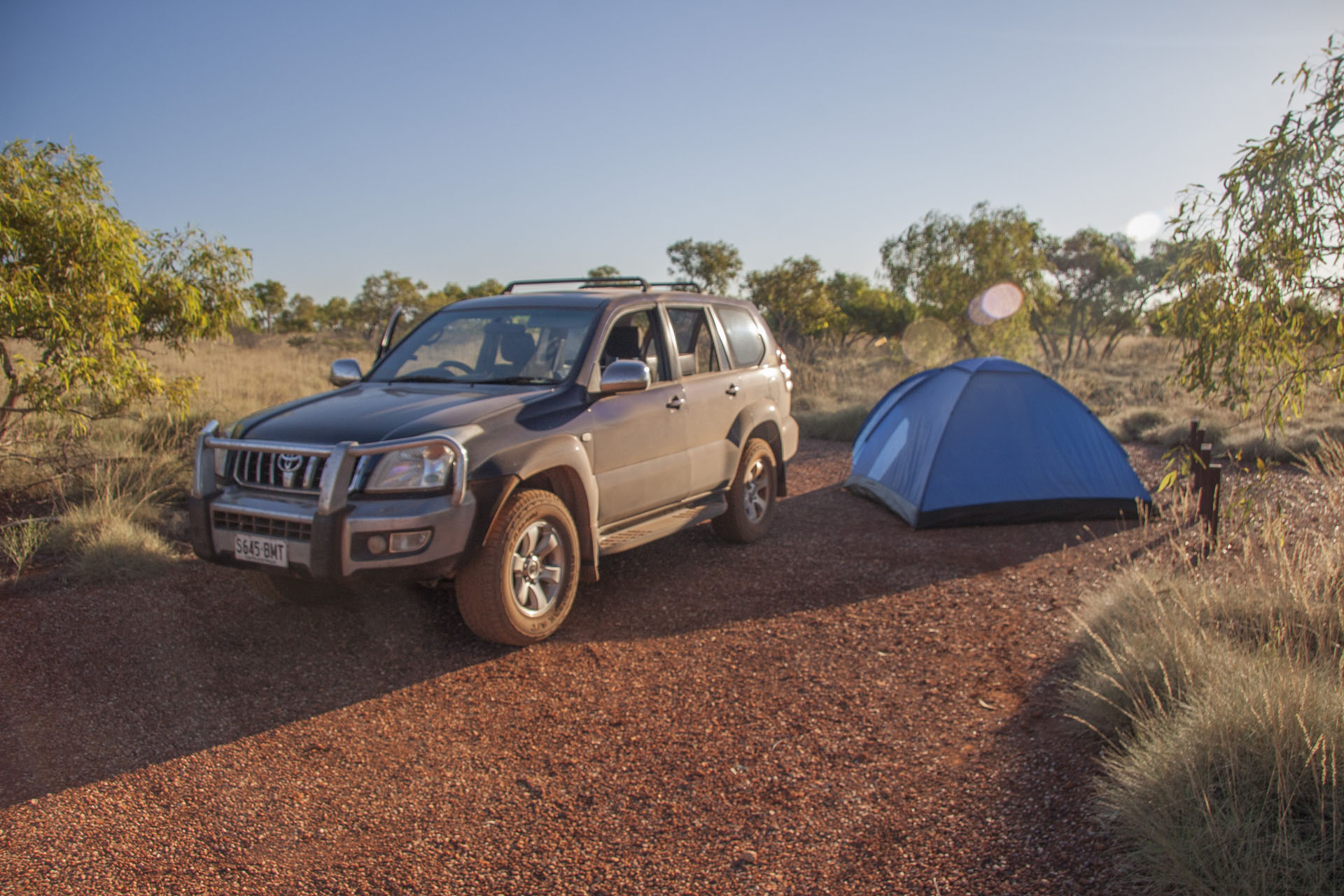 Today's camp, slightly unfocused.
Distance

419.3 km

Fuel

$189.10 (135 litres)

Food

$16,12

Misc

$12 (pillow), $2 (shower), $12 (park entry fee), $10 (camping fee)