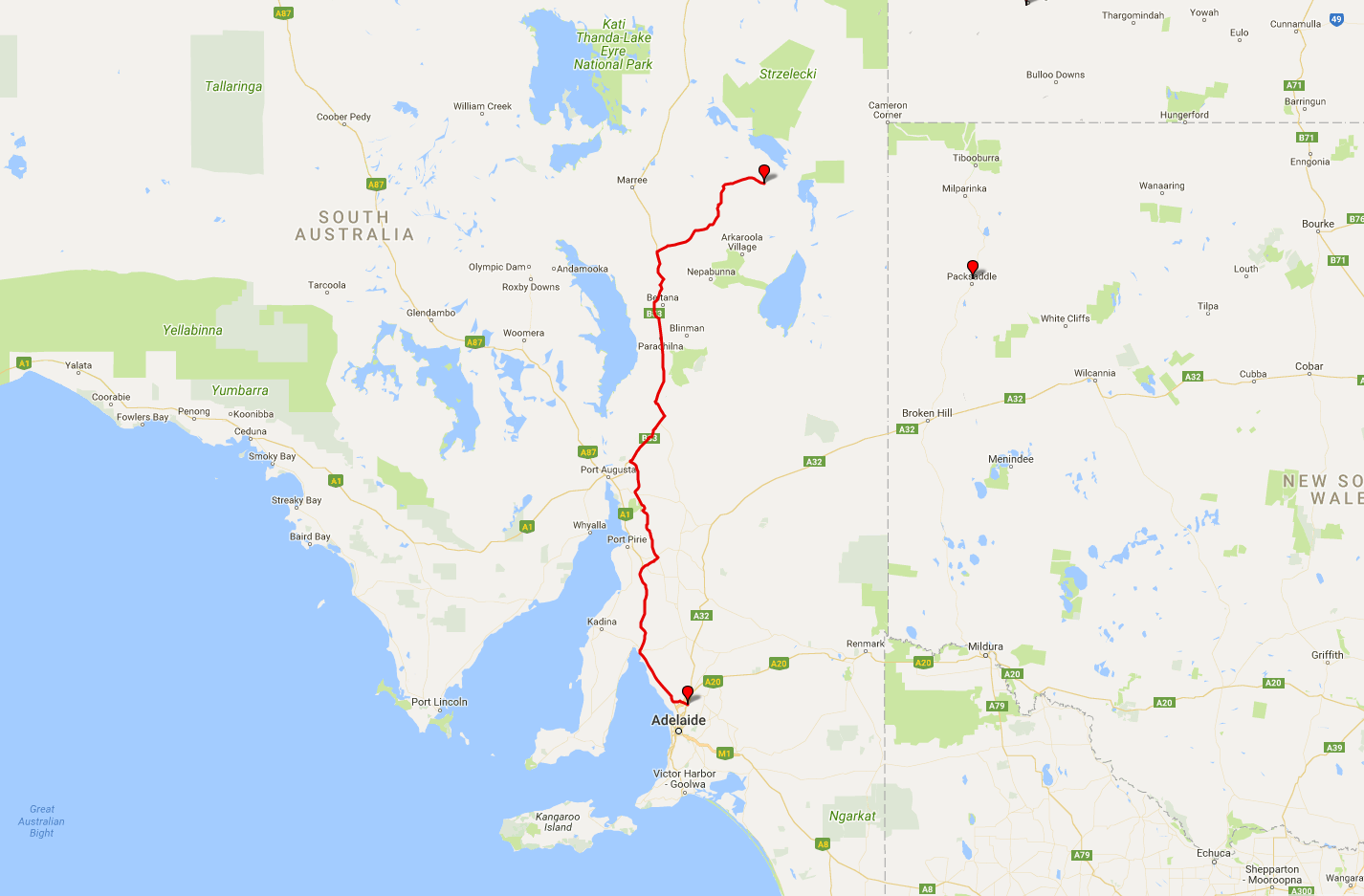 Today's itinerary.
There's no better day to leave home than Friday the 13th. Especially if it's a four-day trip across the Australian outback. Especially if you're entirely on your own, with very rudimentary car repair skills, miles (hundreds of miles, sometimes) away from any help. What can possibly go wrong?
Be that as it may, Australian spring (or autumn) is the best time to travel around its southern areas. Not too cold, not too hot, scenery and wildlife are at their best. And you don't even have to drive too far away to find something to see and do. This time my journey takes me deeper inland, to the hot and arid deserts of northern South Australia.
Once I hit the road at the very reasonable 7:45 a.m., places already familiar to me start rolling by. An hour and a half later I pass Lochiel, and use this chance again to take a traditional photograph of its wind farms. Thanks to the springtime, wheat fields around are unusually green.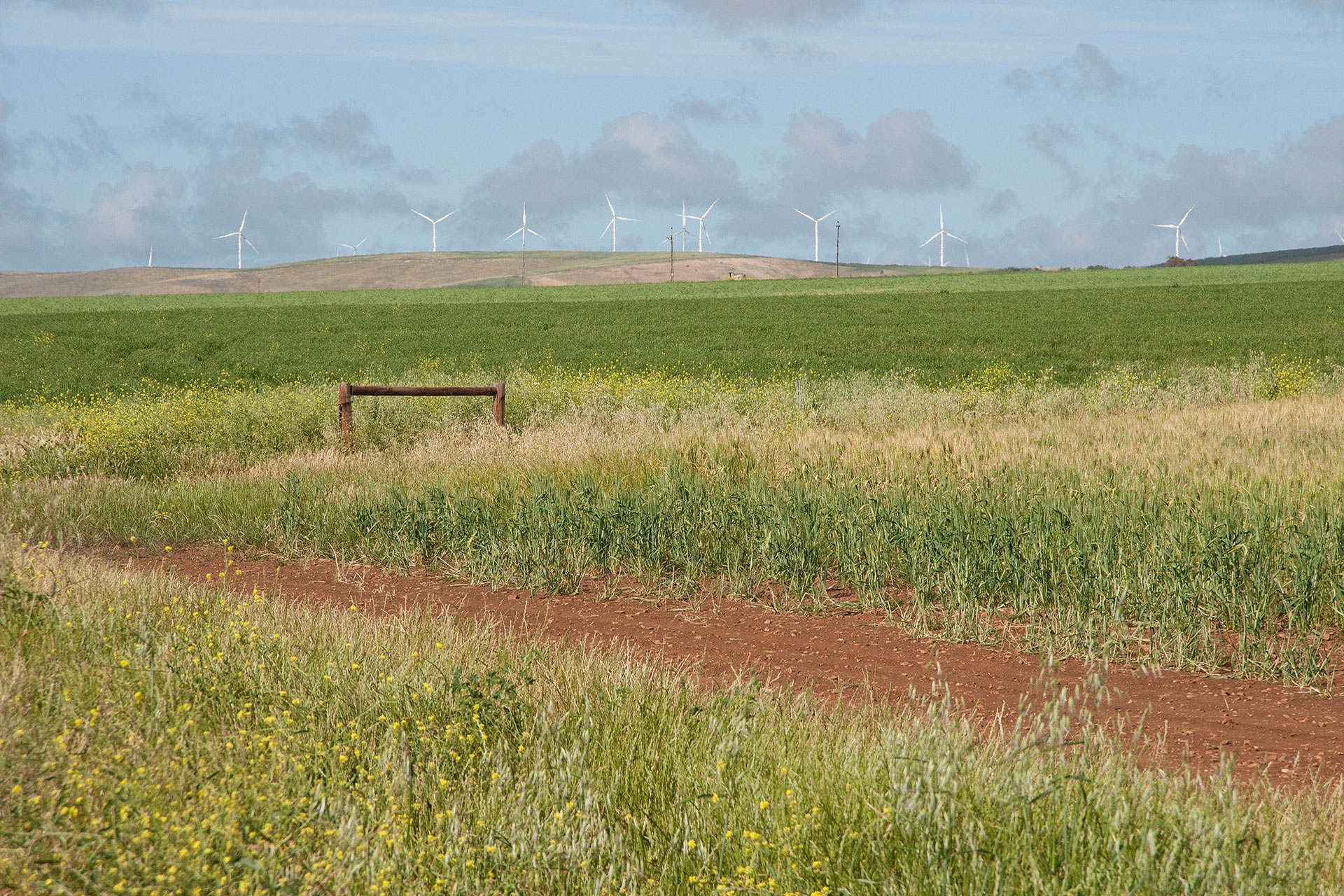 Lochiel's wind farms.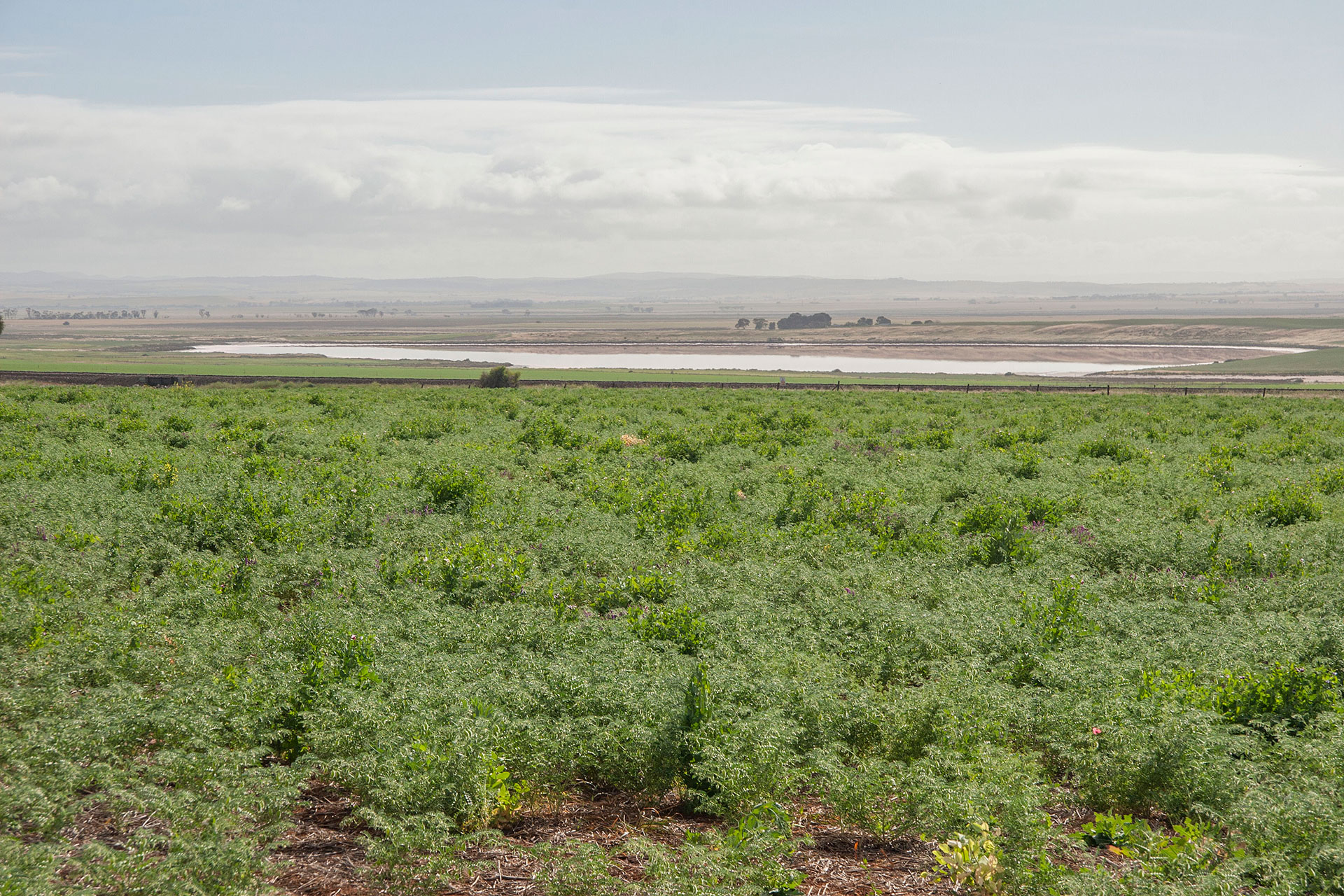 On the other side of the road.
The morning is mild and sunny, and the interior of my Prado heats up fairly quick, so at the same rest stop I change into shorts and continue driving. I deviate slightly from my usual route northwards and decide to leave the Mount Remarkable National Park on my left instead of my right. It is a bit slower, because there's a few more towns on Horrocks Highway with their 50 km/h limits; but the road itself is arguably a bit more scenic. I also realise all of a sudden that it's the same road that we took some five years ago during our first trip to Flinders Ranges.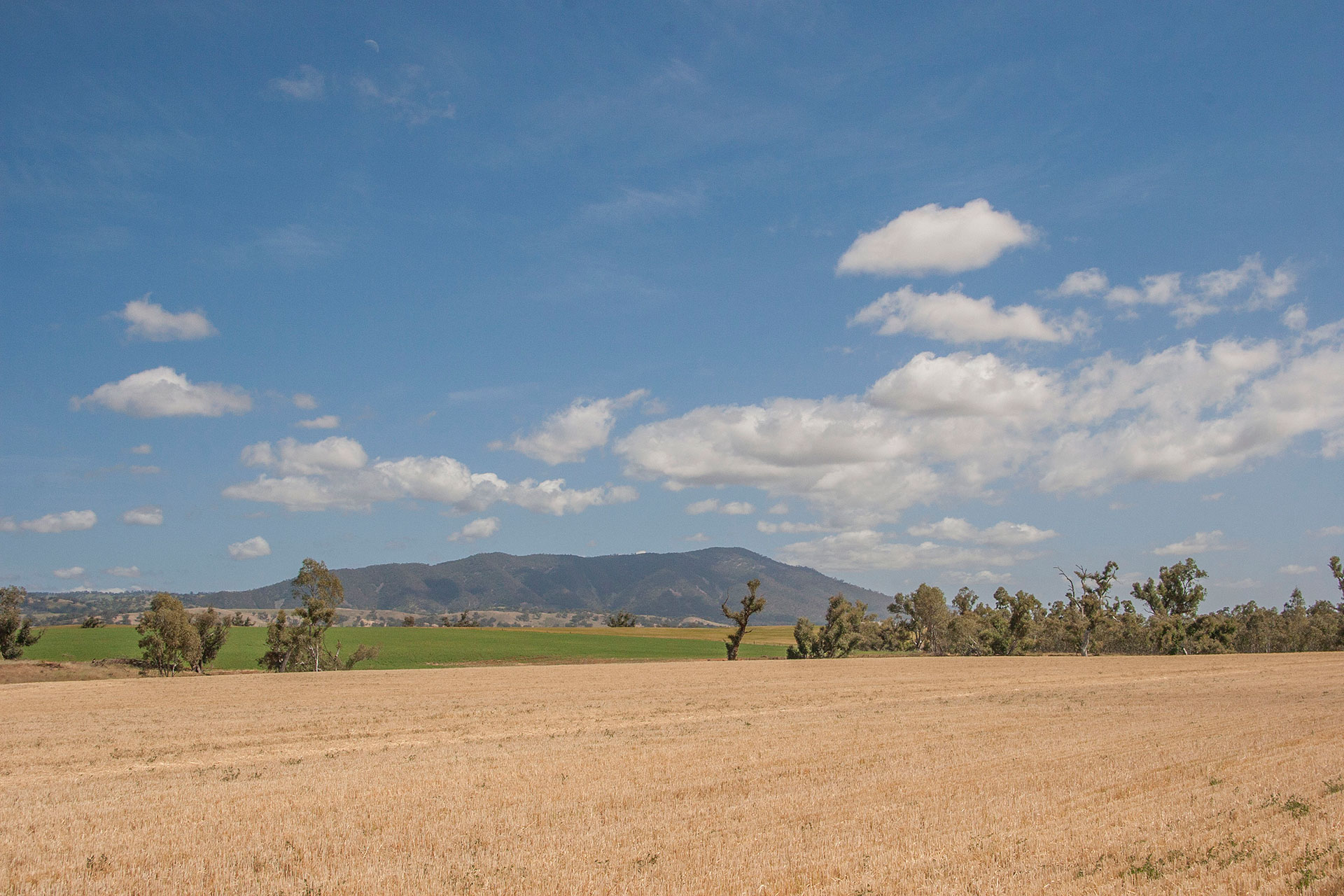 Mount Remarkable.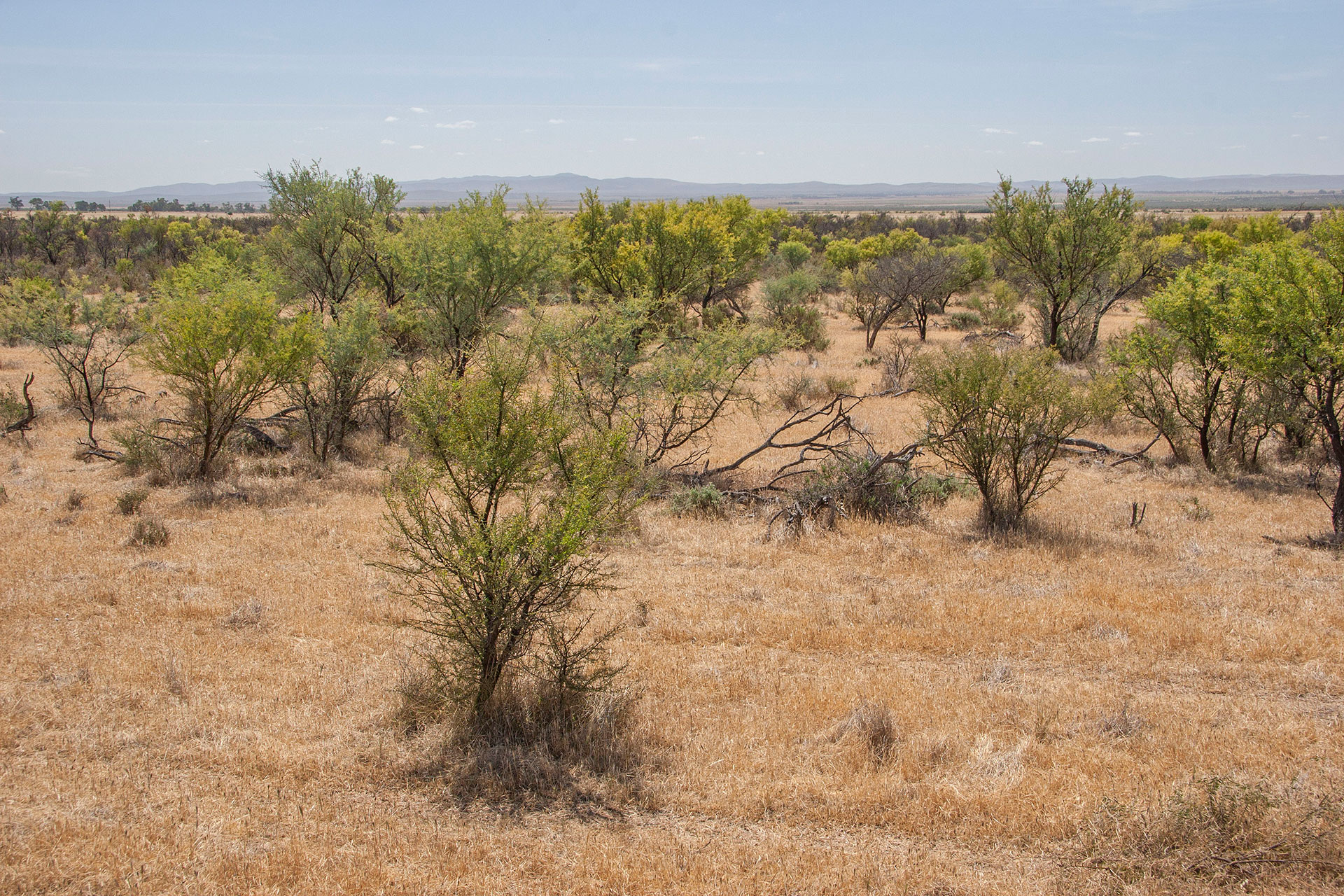 Crops fields turn to shrubland.
At around 11:45 I reach Quorn and turn slightly eastwards. Crop fields and woodlands disappear, and so do all those quiet, dry, sun-baked towns on my way here. Quiet, dry, sun-baked plains take their place. Flinders Ranges loom alongside the highway, ancient and weathered. For 540 million years they have been facing the same desolate plains (maybe not so desolate at times) that I am passing myself at this very moment. I take a quick snack break, using it to walk around a little and absorb the eerie silence of these lands, broken only by wind howling in the tinder-dry twigs of the nearby scrub.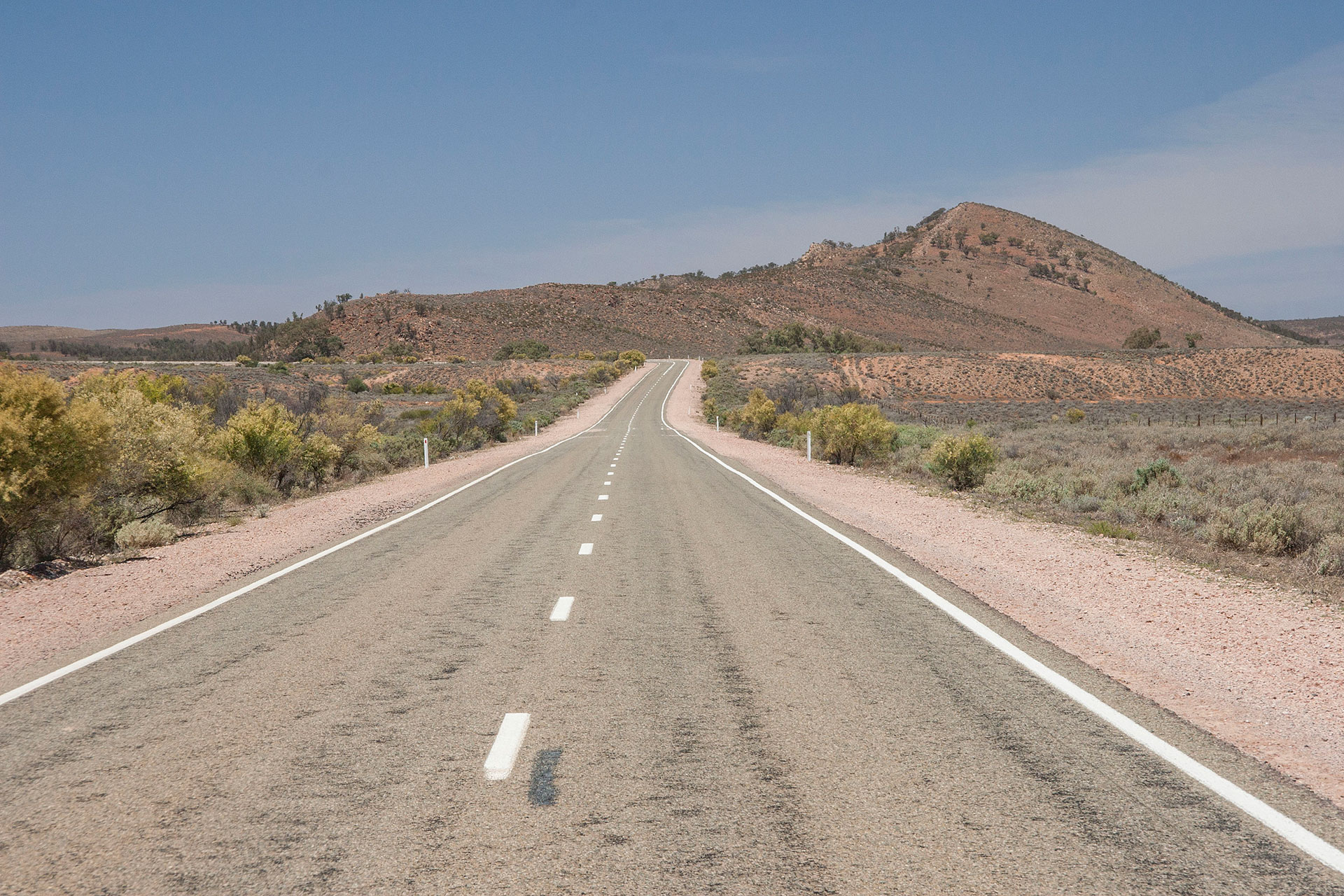 The scenery becomes more arid.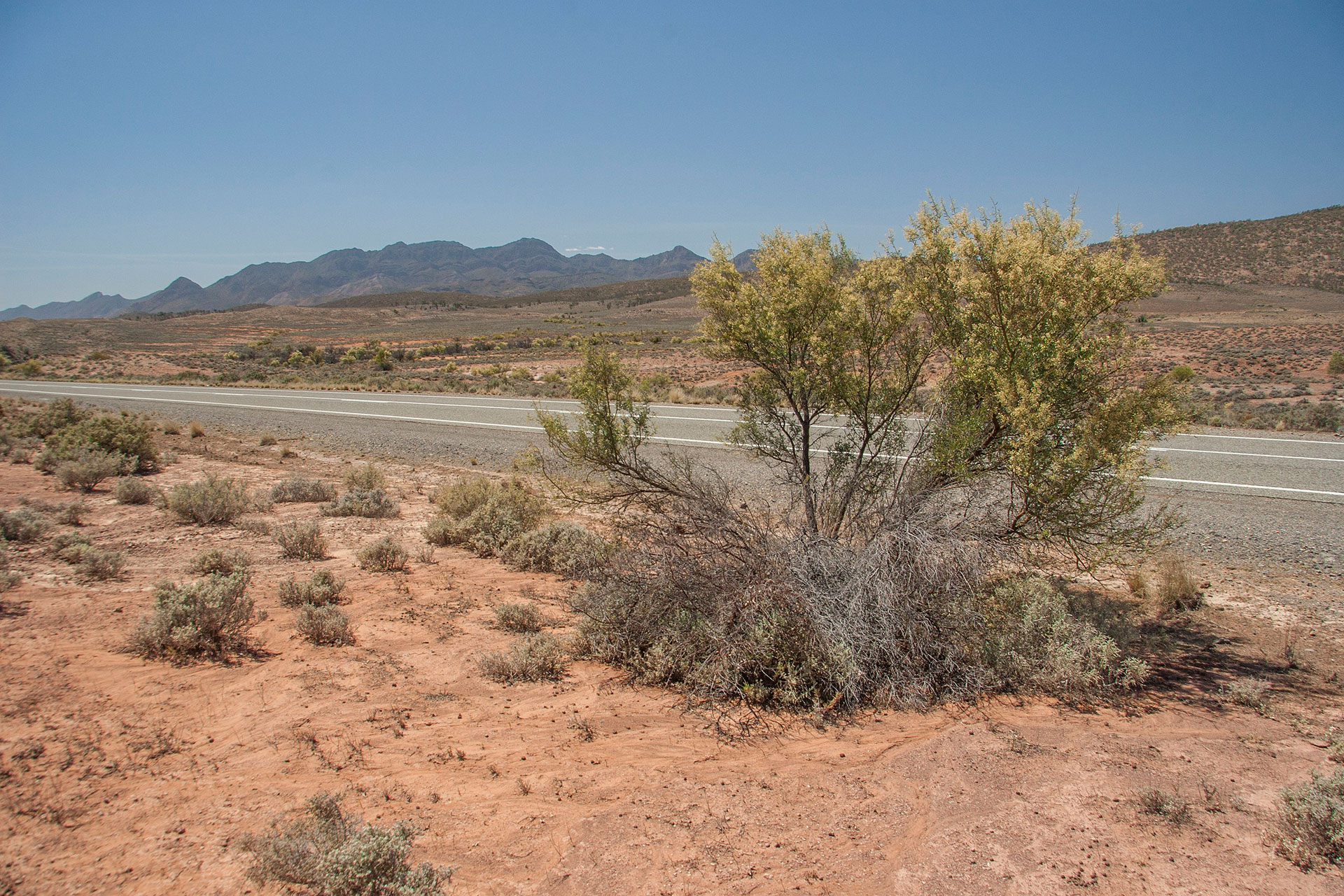 Empty highway.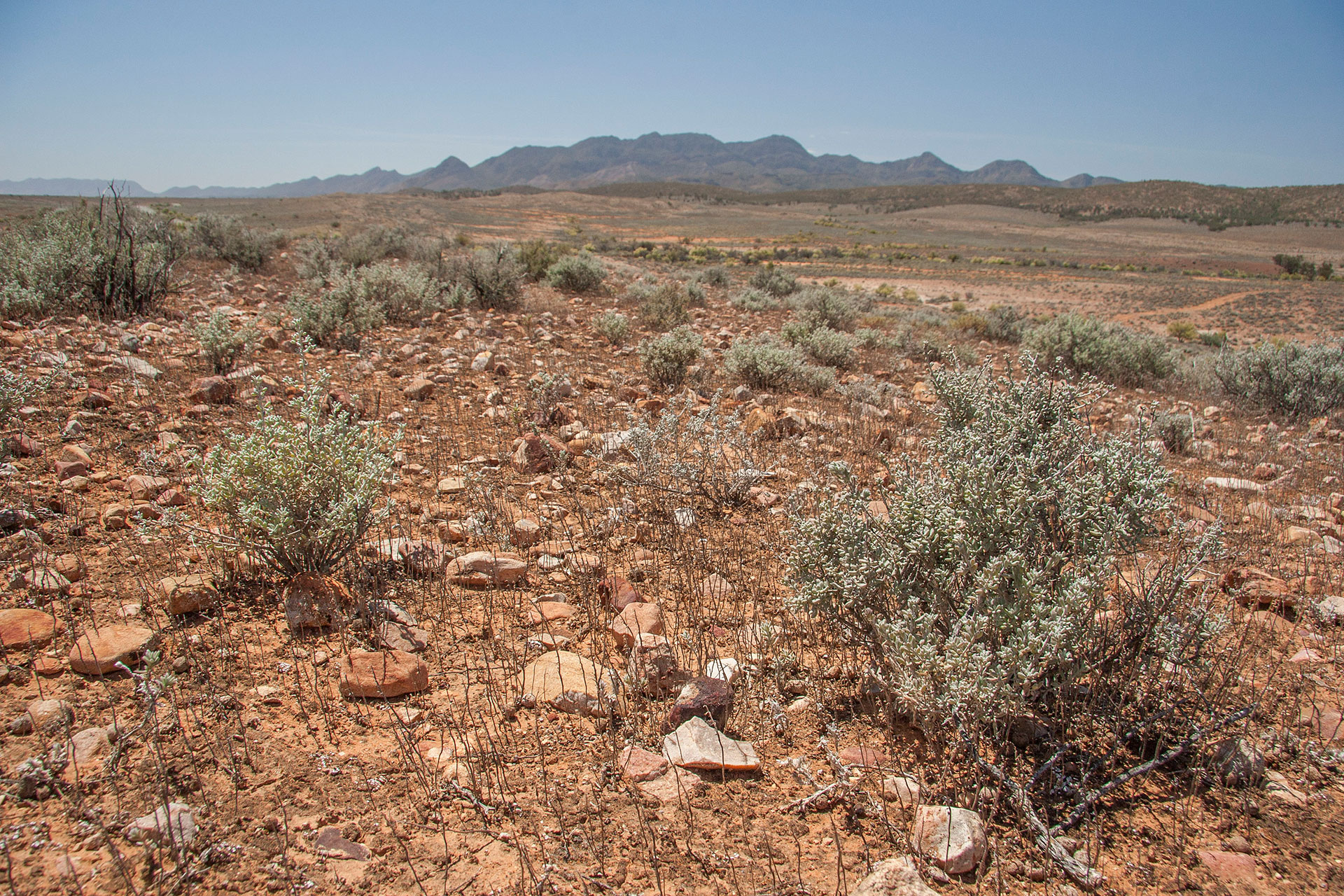 The ancient ranges.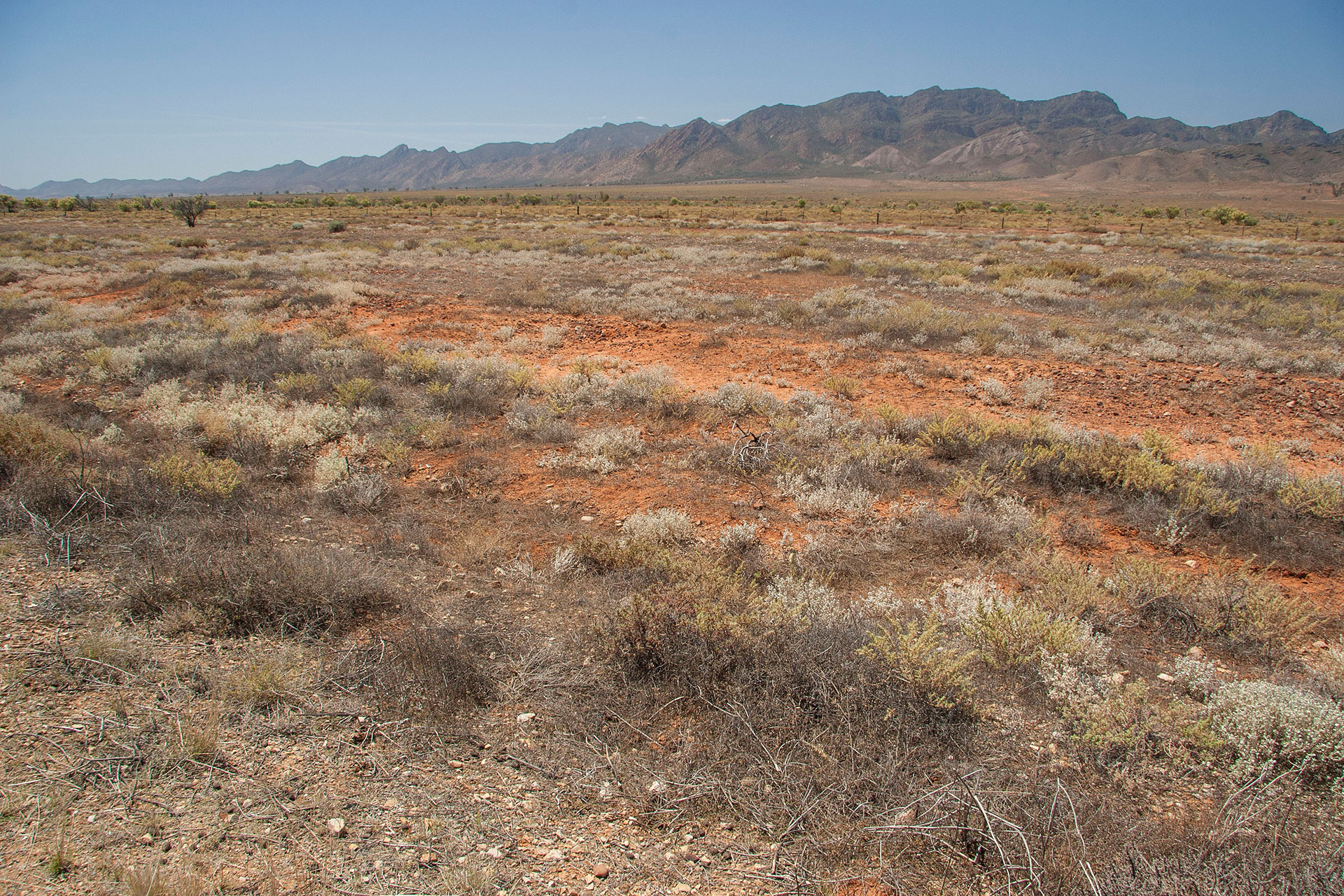 The surrounding plains.
Driving further north, straight towards the midday October sun, I keep thinking how unnerved we humans become when taken out of our own element: out of our cozy houses, away from computers and supermarkets and modern plumbing. It's like scuba diving, or sky diving, if you will. The change of pressure plays tricks with our skull. All the fears and phobias and whatnot crumble down off its inner walls, like rust from the insides of a vice-squeezed water pipe. All these tiny grains of the brain gunk grind on our nerves, making us fidget and panic, blocking our rational thinking completely sometimes as soon as the sun goes down. Nothing but them, because there's nothing else, really, in these quiet, remote areas of the continent. Even dingoes don't make it that far south… but we'll get to them later.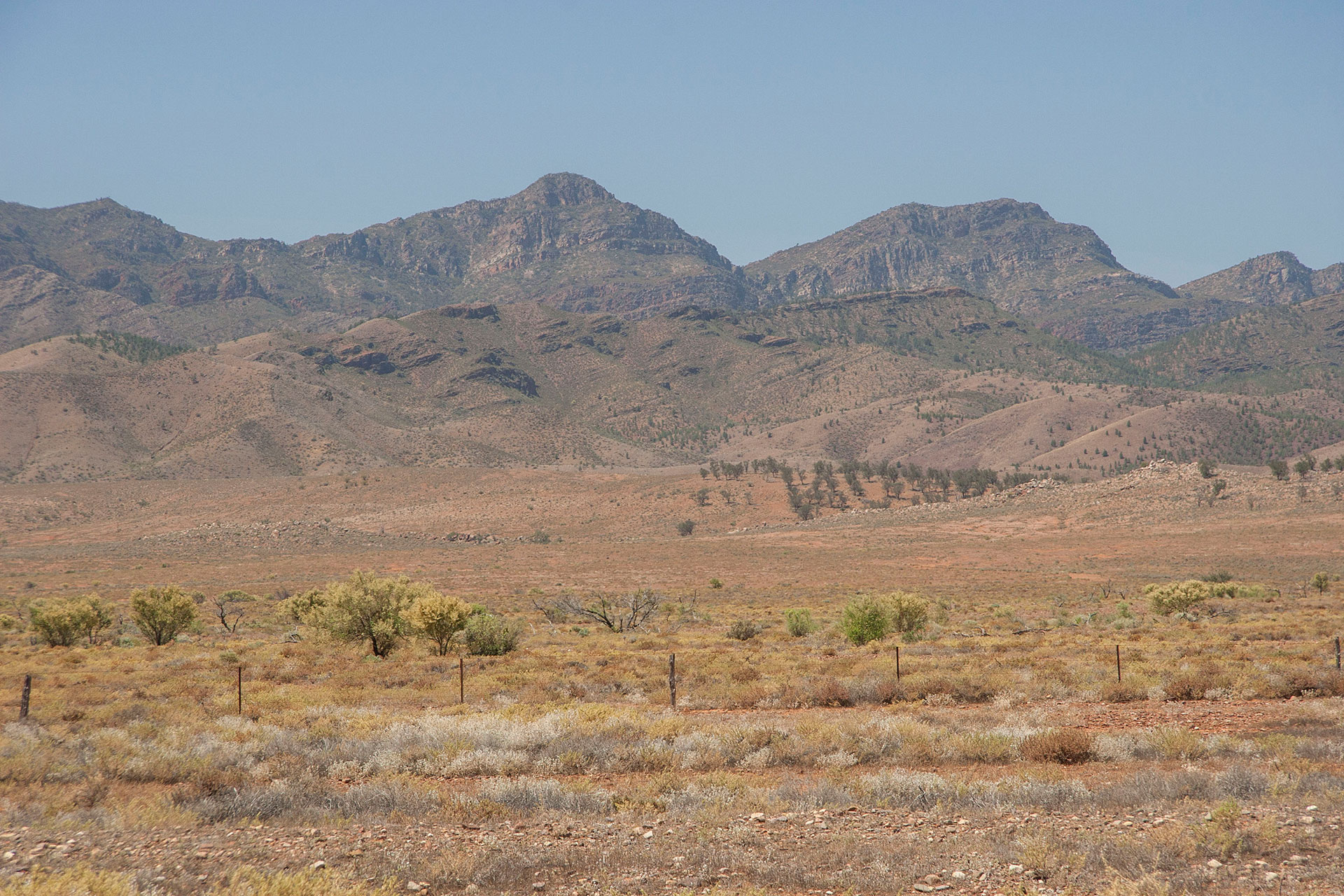 Flinders Ranges up close.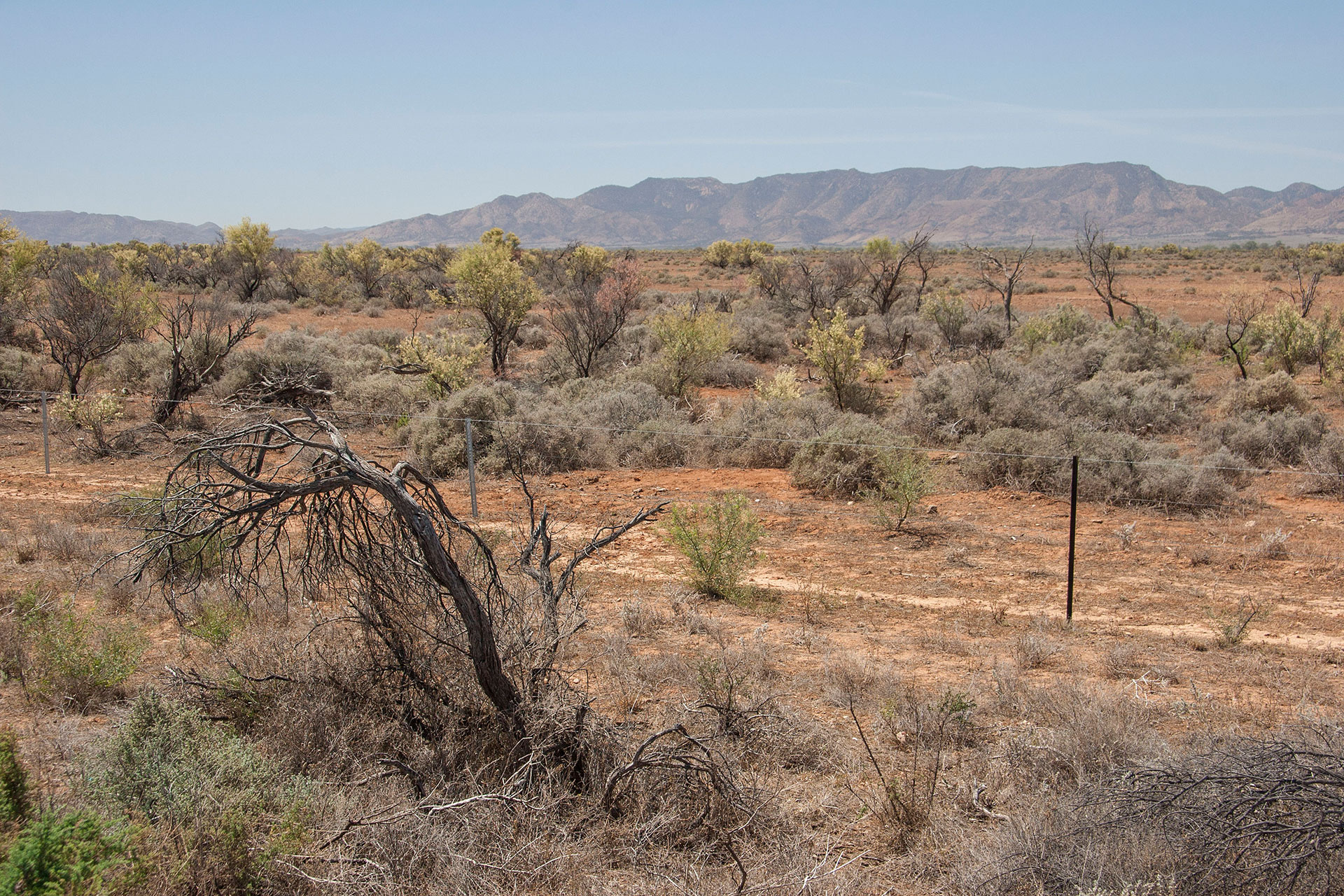 So dry out here.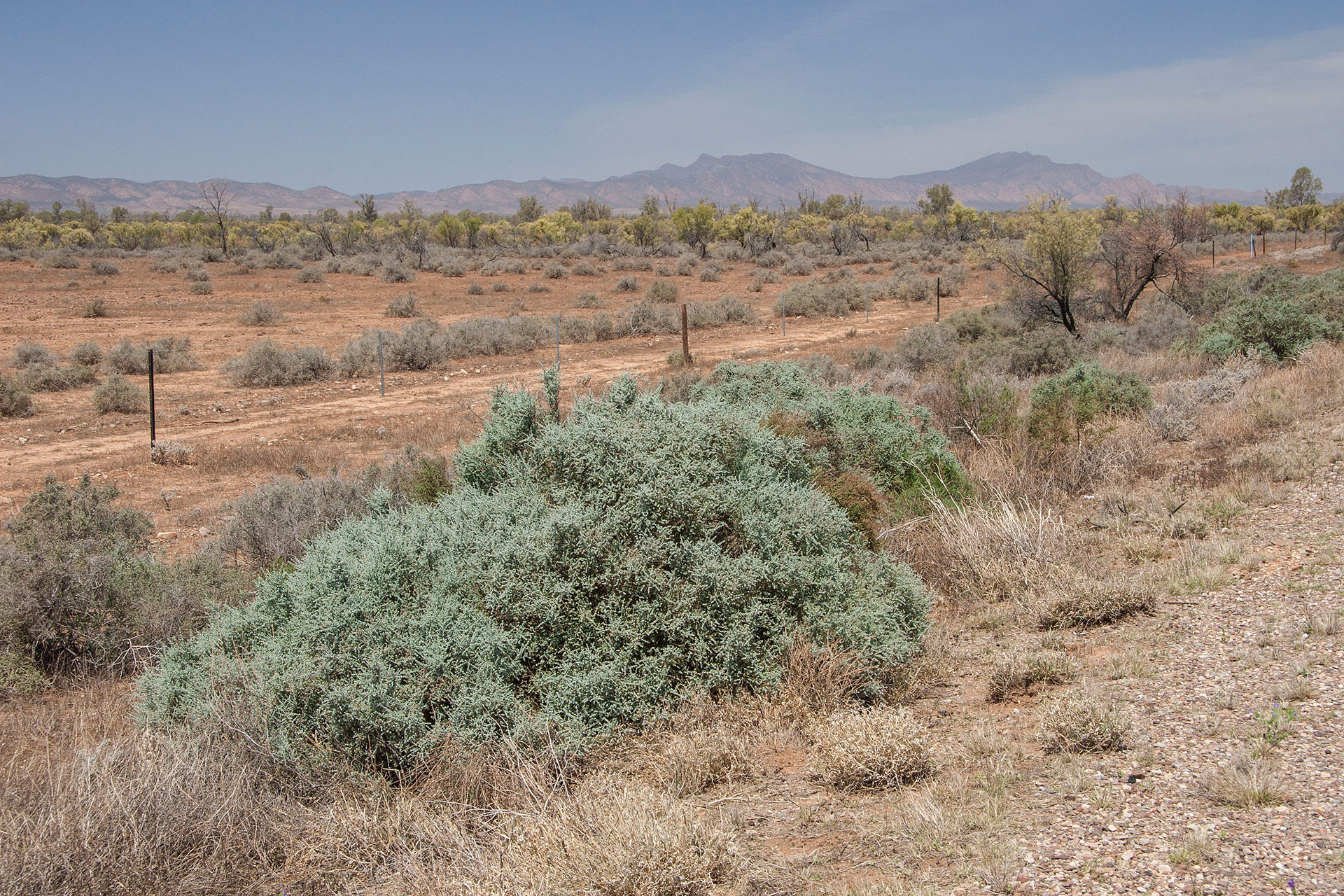 Patches of arid colours.
Wildlife is indeed abundant along the road — well, compared to what I've seen here earlier, which isn't much. Every now and again I see a lizard sitting in the middle of the highway, with its head lifted high up as it calmly regards my approach. Not so calmly, though, if I try to stop the car and walk towards it with a camera. Emus are not as camera-shy, and there's quite a few of them around, as well.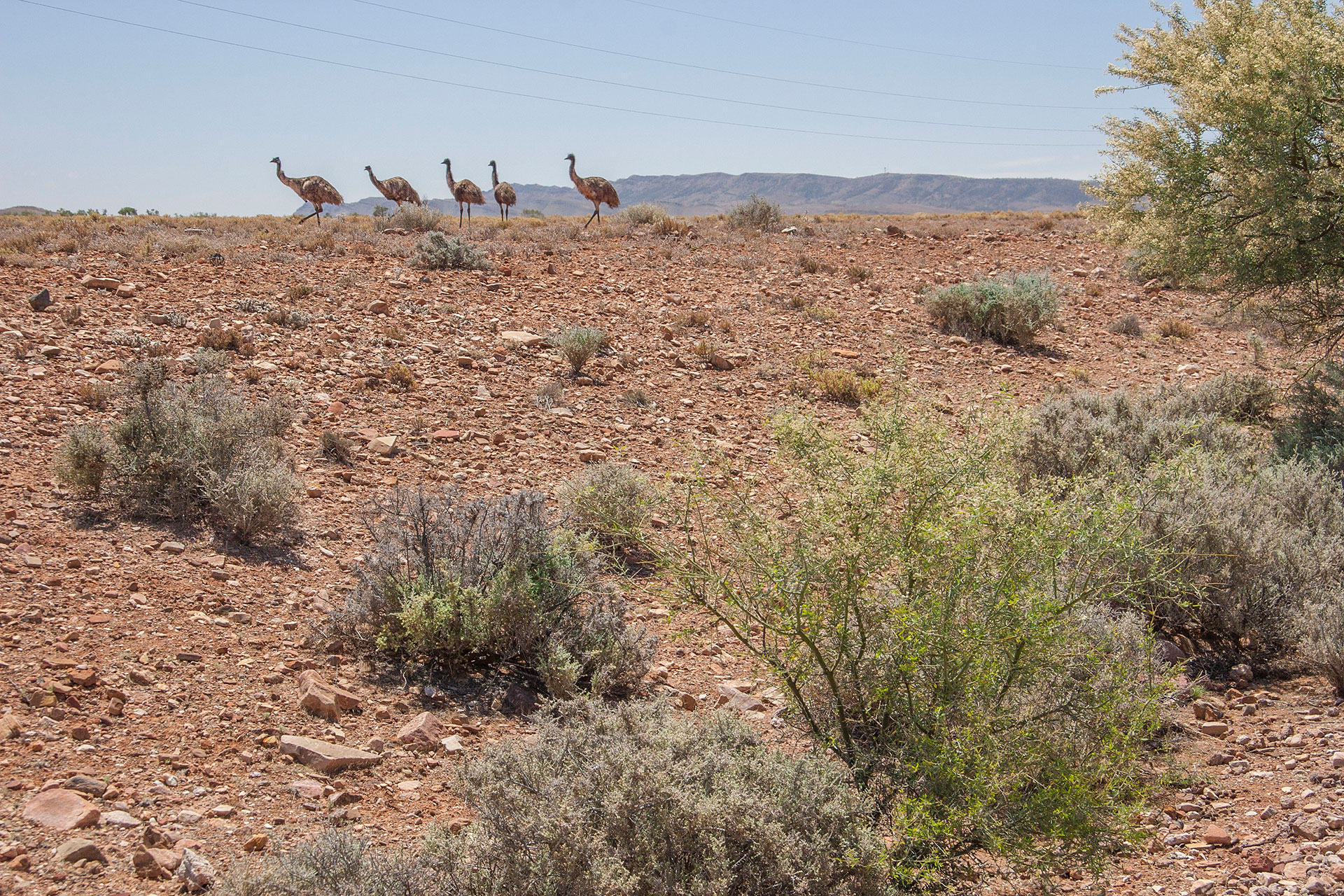 A gaggle of emus.
I truly enter my
terra incognita
as soon as I pass the Brachina Gorge turn. This is the northernmost I have ever been on this highway, and everything I see here is brand new to my eyes. As the road goes up and down through the undulating arid landscape, it feels sometimes like I'm going to fall off the edge of the map any minute now. This feeling is all the more intense because the so-called civilization ends soon: these are my last kilometres of a properly sealed road for today.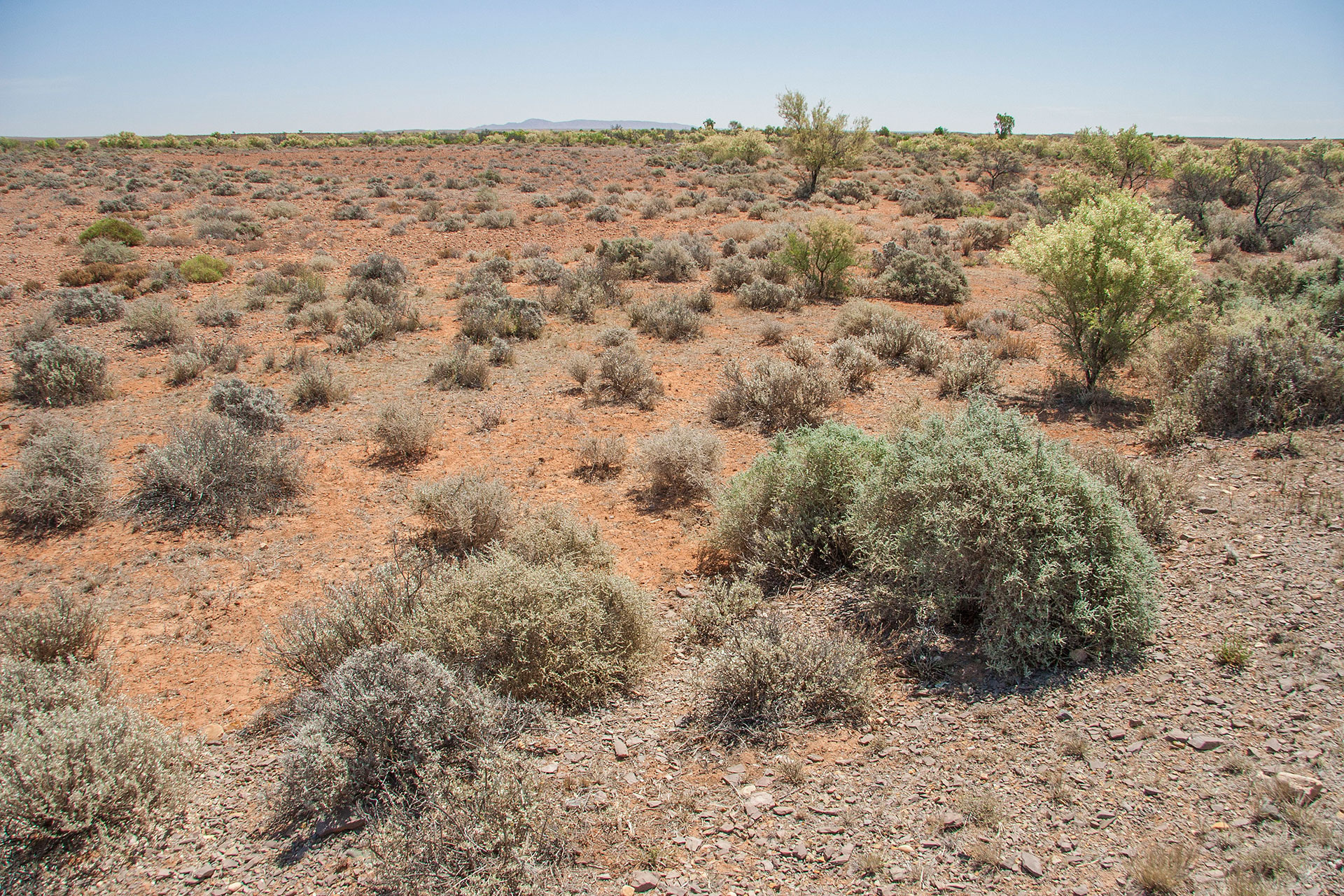 The landscape becomes flatter.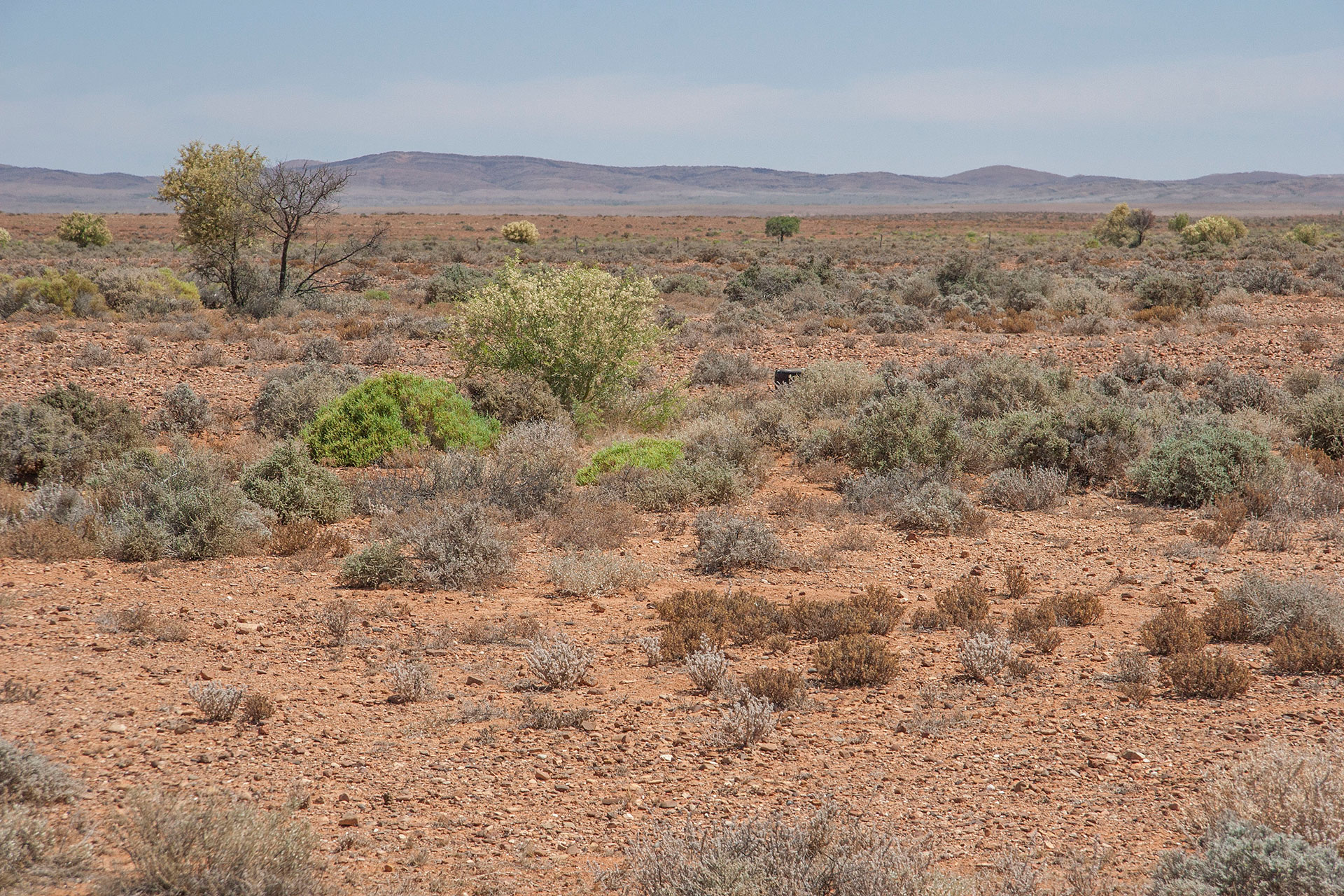 Flinders Ranges end here.
I stop at Lyndhurst at 2:30 p.m., which is exactly where the bitumen ends. Diesel is $1.69 per litre, which isn't too bad, but not too cheap either. A traditional ice cream (Magnum Classic) bought to express my regards to the owners (and also to have a break from apples and sandwiches). From here, my road takes me even more eastwards. Strzelecki Track begins here.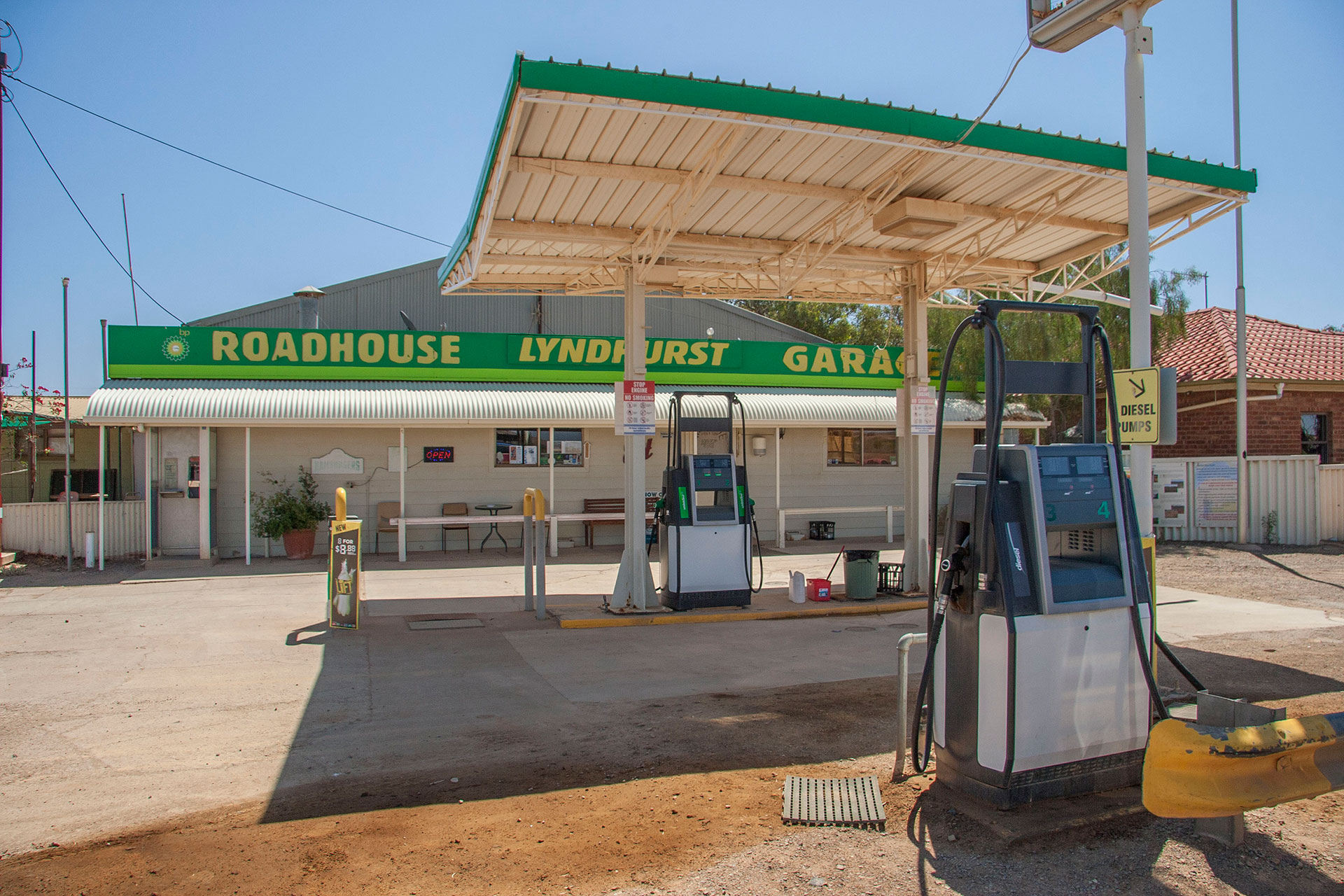 The roadhouse.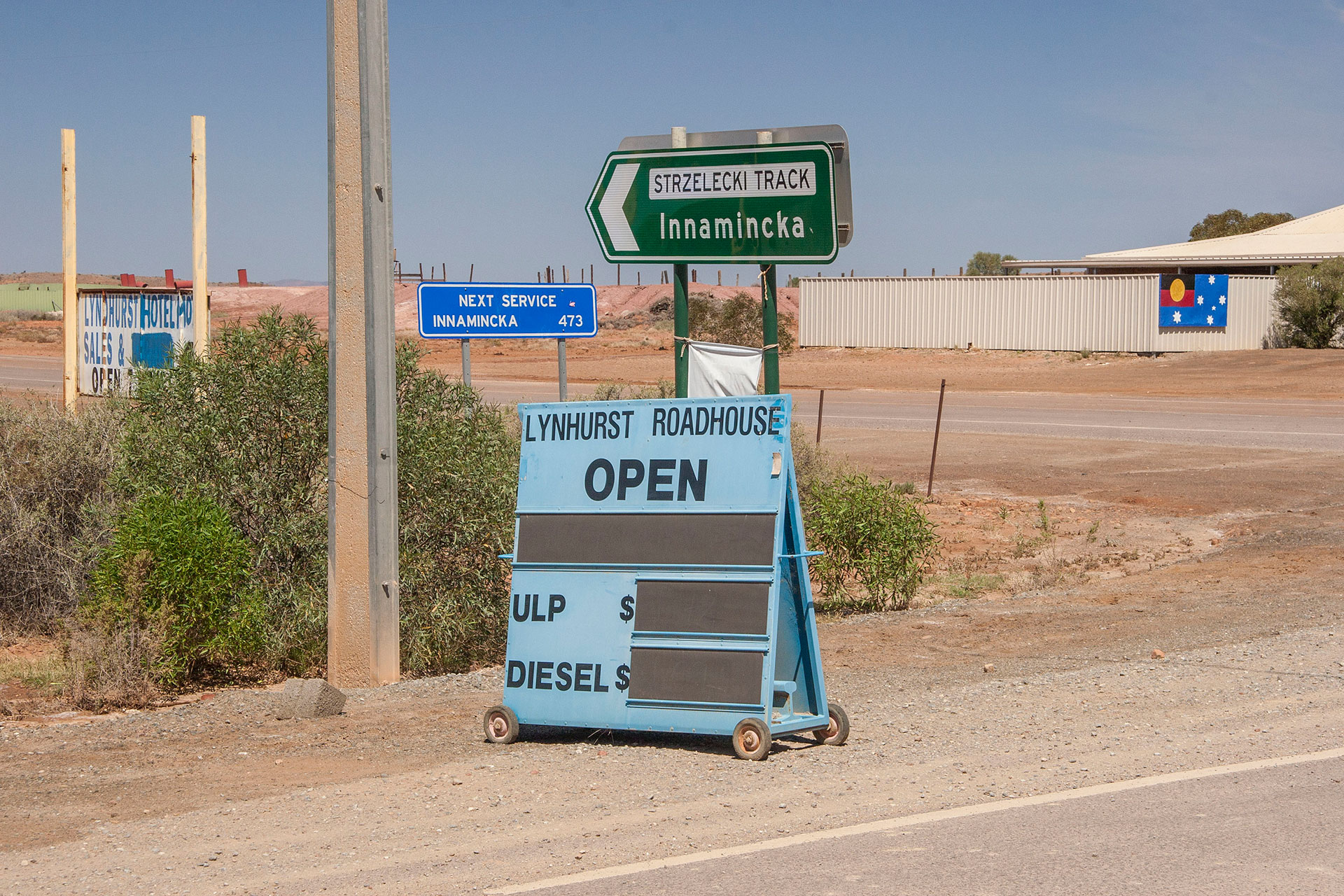 Beyond these signs, you're on your own.
Pawel Edmund Strzelecki
might have been a good guy and a valiant explorer, but he didn't help the locals at all with his place naming skills. The most common pronunciation I heard is
strez-LE-ki
, although something like
che-LETS-ki
would be a bit closer to the truth. Mount Kosciuszko, the highest peak of Australia, is also his fault. I do pity English-speaking people who have to make their way through the Polish phonetics… although, to be fair, it's hardly any easier for a Russian, too.
I deflate the tyres to 30 psi before hitting the dirt: I'm not going to see a lot of bitumen for the next 600 kilometres or so.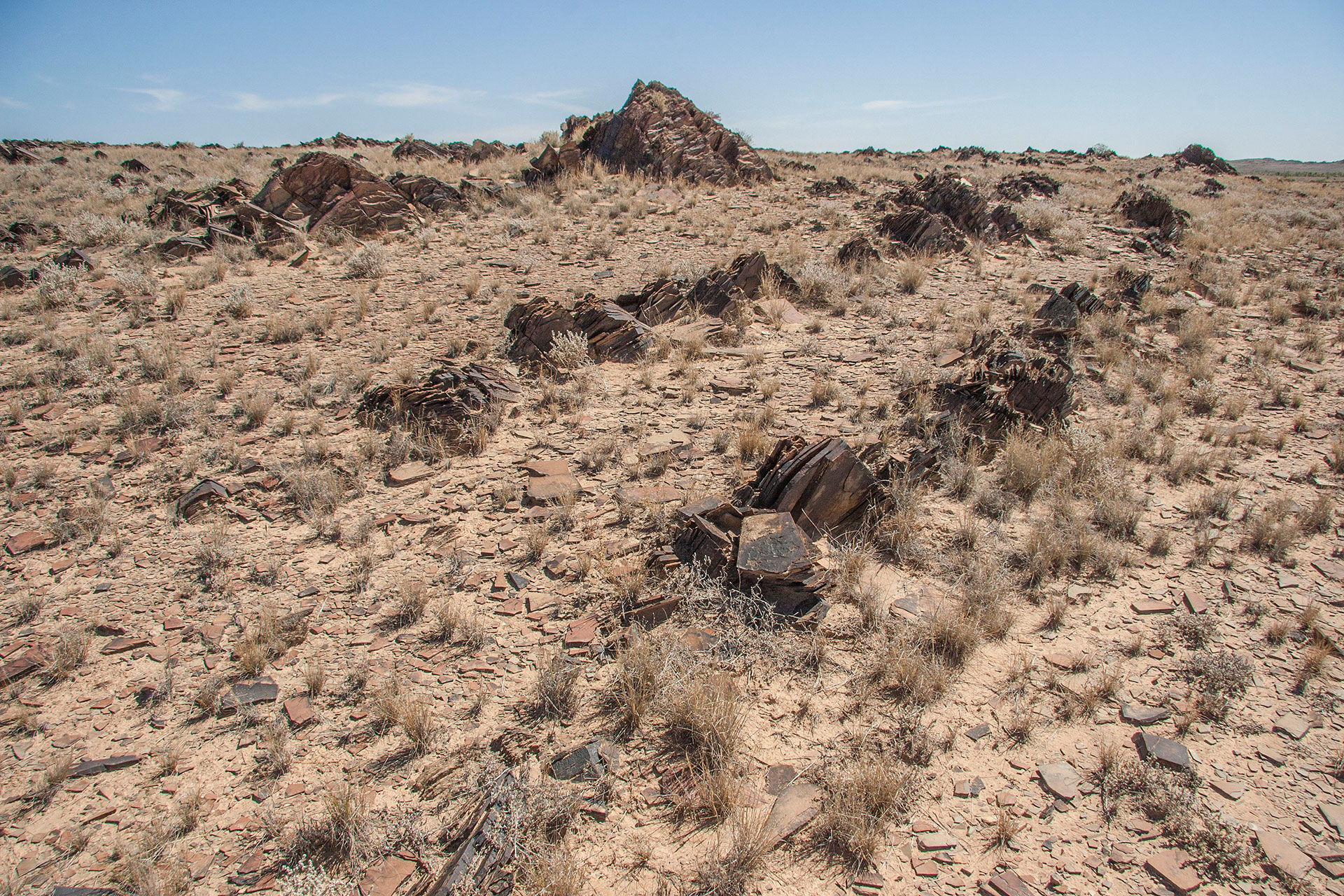 Cool rock formations.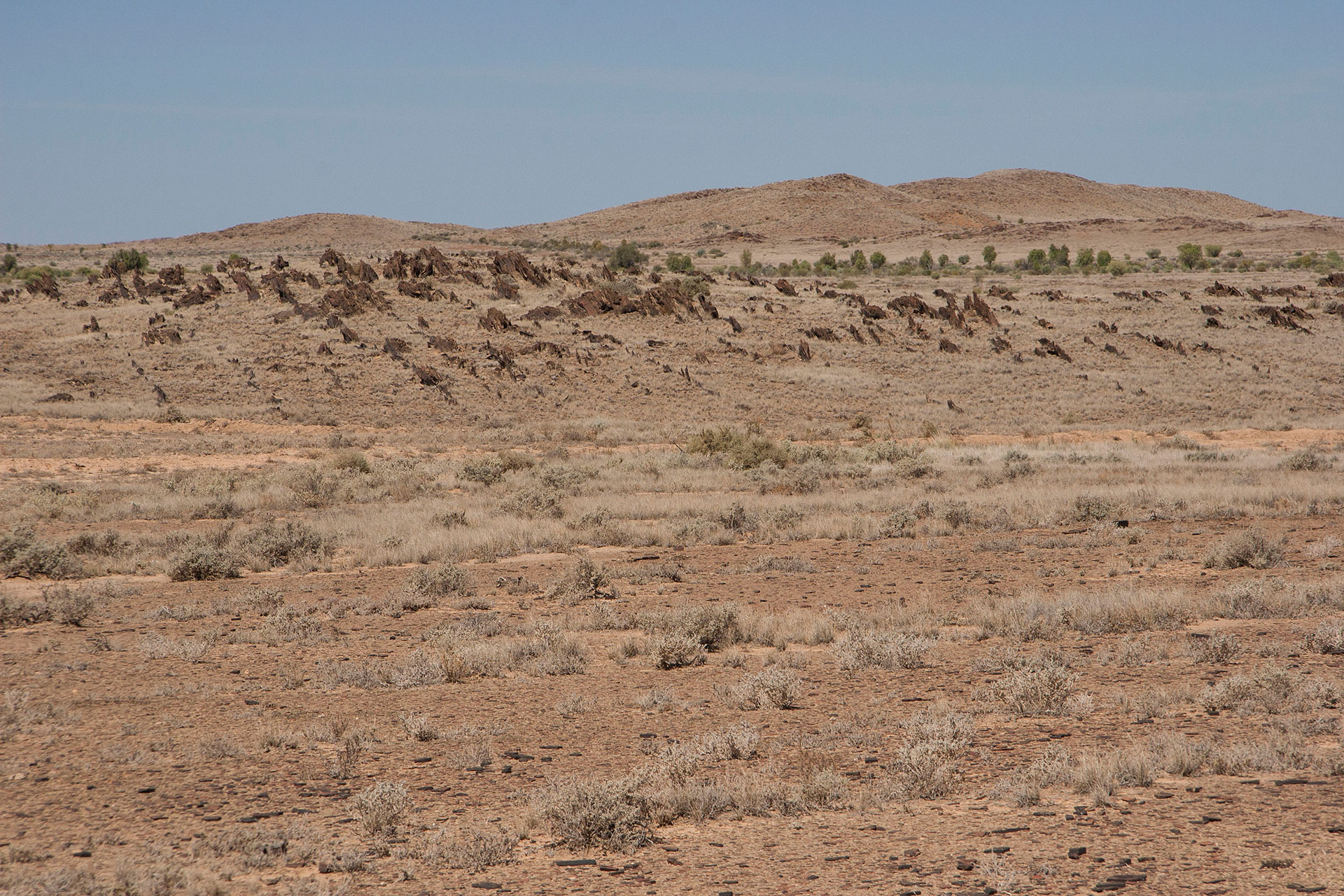 More of them in the distance.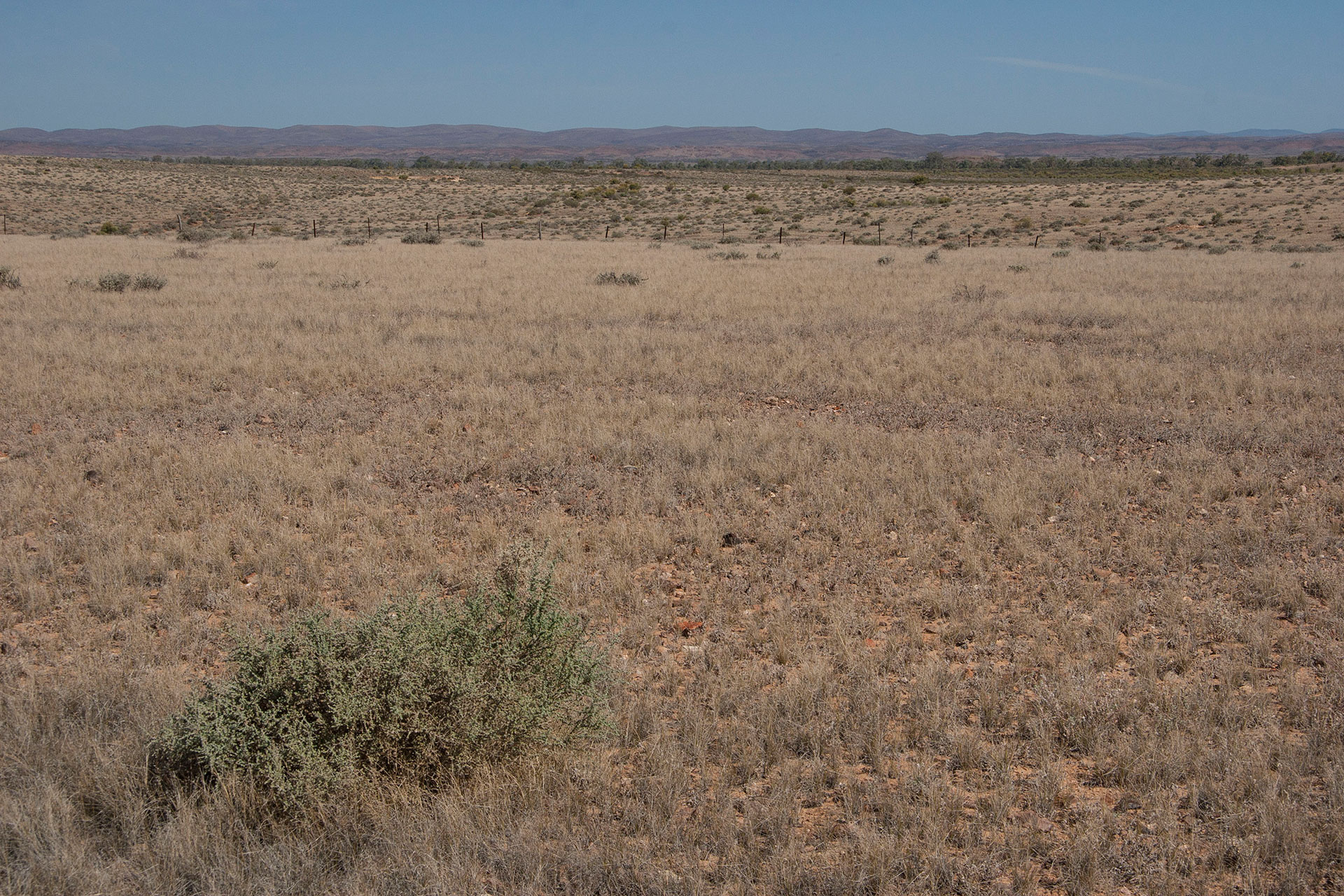 The yellow plains.
As I head onto the Strzelecki Track, the scenery changes noticeably. Red and ochre shrublands of Flinders Ranges give way to yellow gibber plains, which redden slowly as I drive further east. Gammon Ranges are barely seen on the horizon, soon to disappear altogether. It gets flatter and flatter around, too.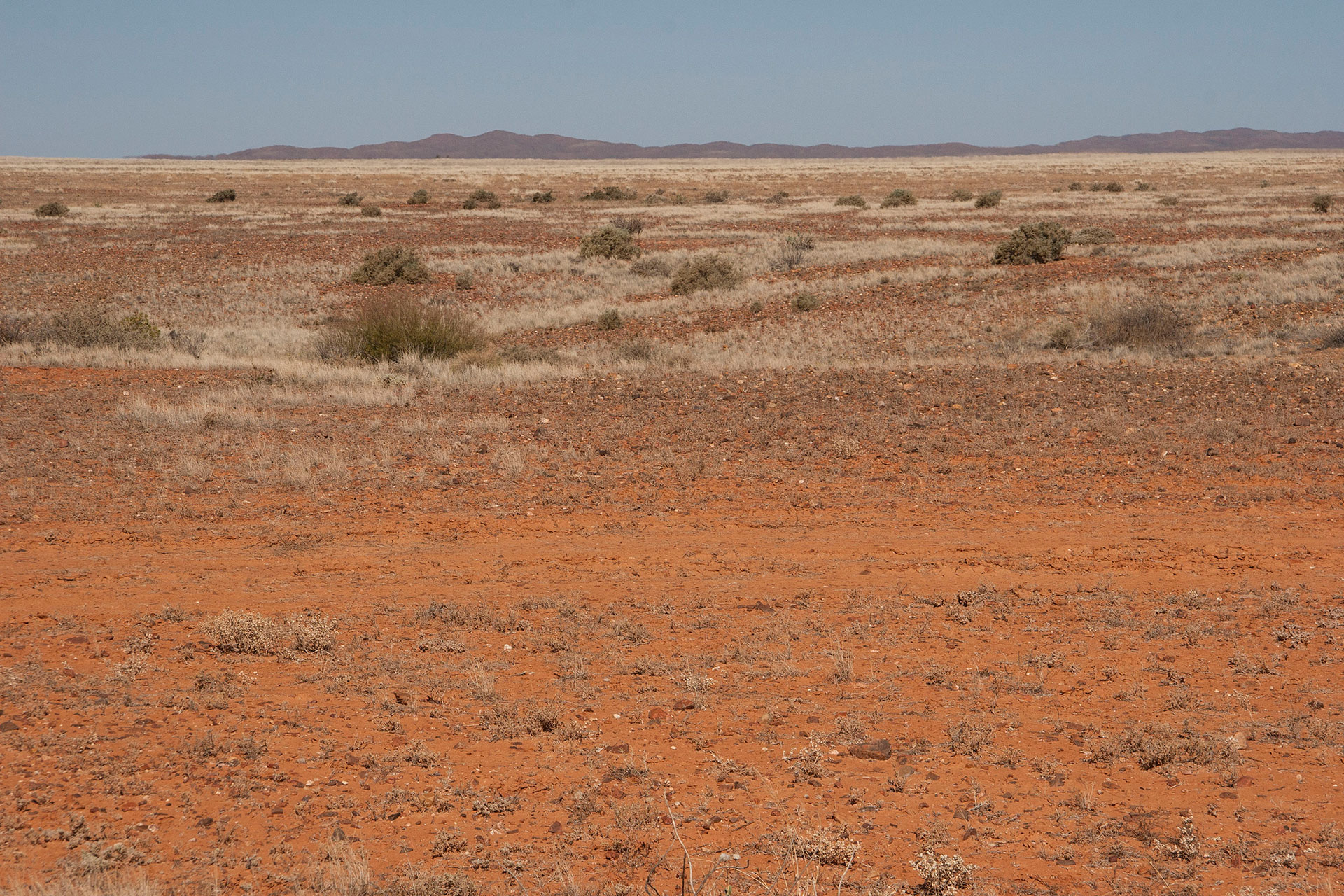 Gammon Ranges in the distance.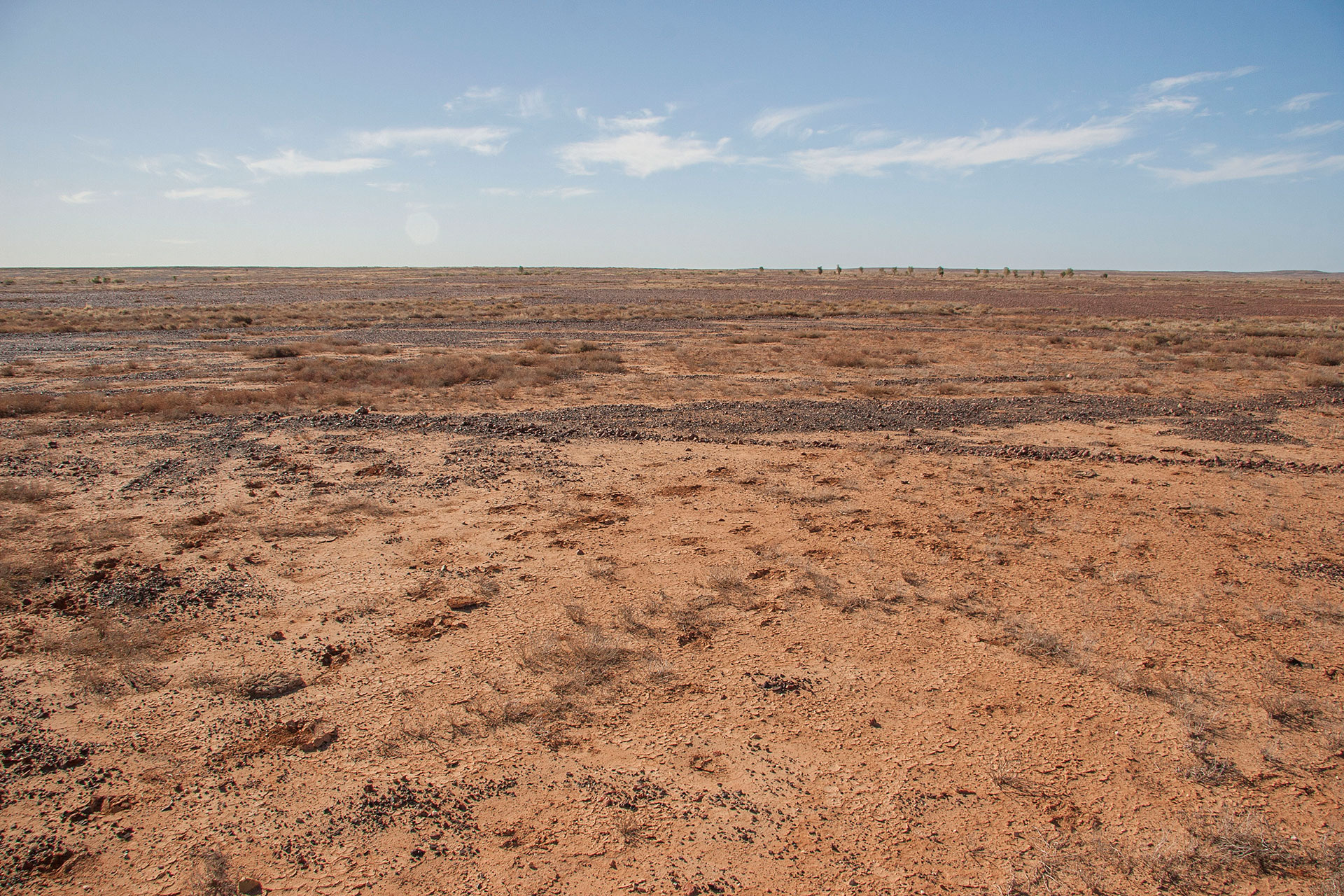 Red plains of dry clay.
The road is very good, as far as the dirt roads go. It's wide and graded often, and all the creek crossings are sealed. I even meet a few sealed patches 5 to 10 kilometres long, which is apparently an attempt to upgrade the track. Understandably so: the reason why it is maintained very well is that a lot of trucks are using it, servicing the extensive oil and gas fields ahead; but I'm not going to see them just yet. My first day of driving is coming to a close, and I need to find a place to camp for the day.
The area around is not very suitable for camping: mostly cattle stations, or Aboriginal title, or mining leases. However, at Macdonnell Creek I notice a car taking a sudden off-road turn, and I decide to follow. There's not a lot of cars on this road (which is closed to non-4WD vehicles, anyway), which makes my luck all the more timely. The place has a few tyre tracks around it, which leads me to believe that this spot may be quite popular amongst travellers. Today, however, there's no one but us, and my new neighbours are fairly far away from me anyway, so I might as well feel myself entirely on my own.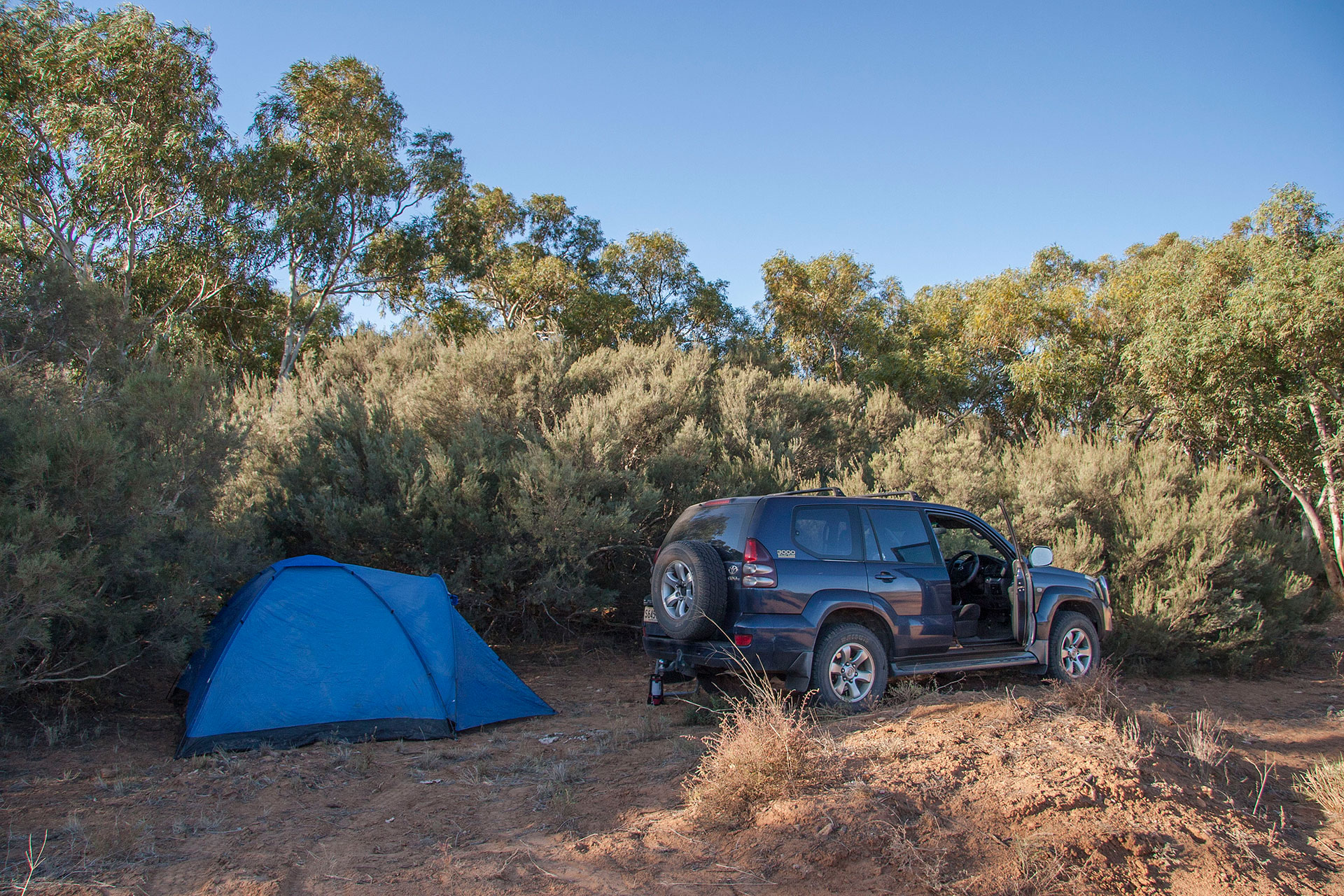 Today's camp.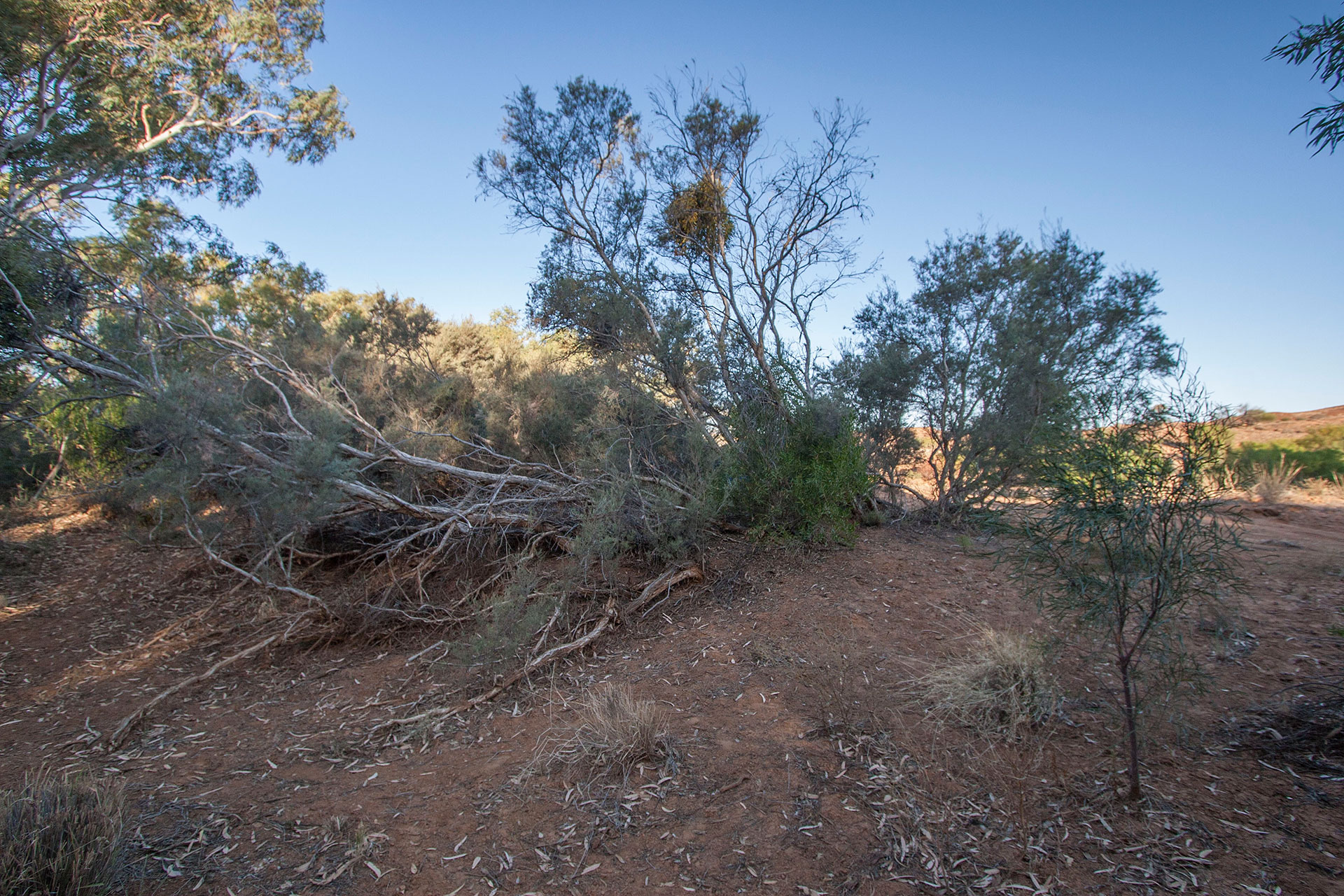 At the dry creek bed.
The camp spot is quiet and dry, but surprisingly windy: even the surrounding vegetation doesn't help. I'm not a huge fan of wind, because it usually makes for a noisy night, but I'm too tired to travel further in search of a better place, and the sun is setting down in an hour or so. This will do for today.