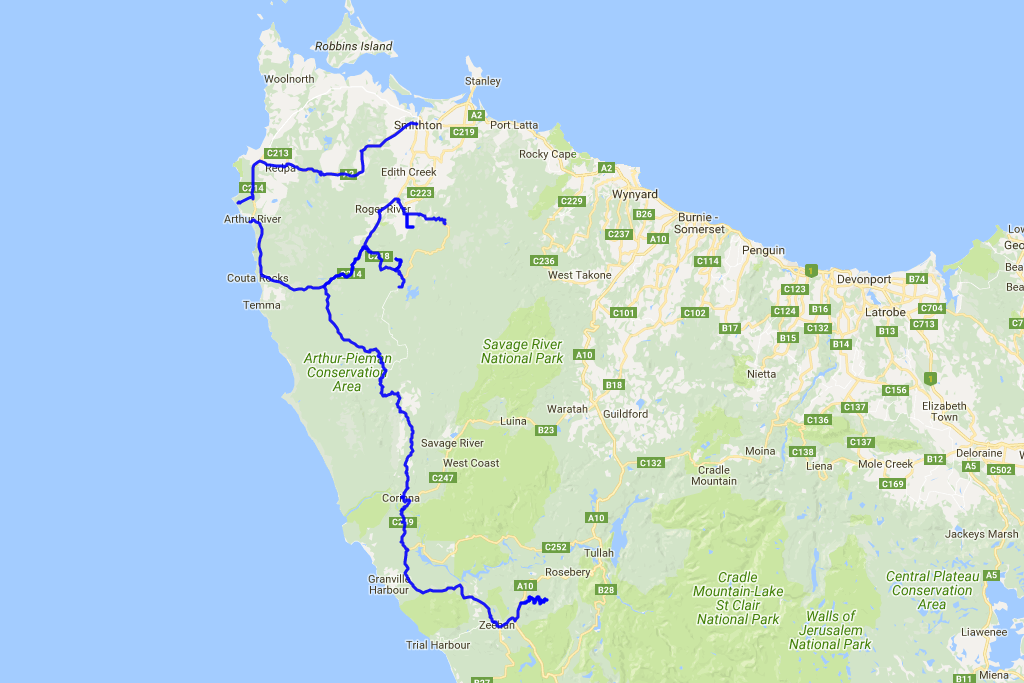 Distance covered: 397.7 km. The gaps are where I forgot to switch my GPS tracker back on in time.
At 7:15 the journey resumes, taking me southwards along the Tasmania's west coast. An hour later I get to the place called Bluff Hill Point: a lovely-looking lighthouse towering above the terse coastal scenery. Saltbush, rugged rocks and a very blue ocean without a single person around.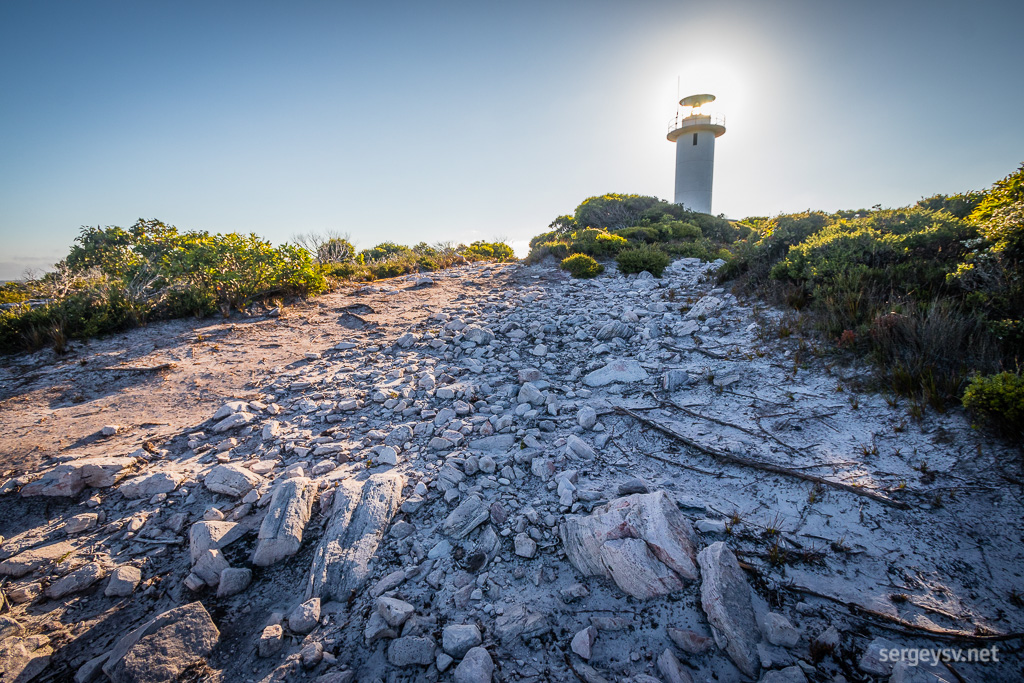 Bluff Hill Point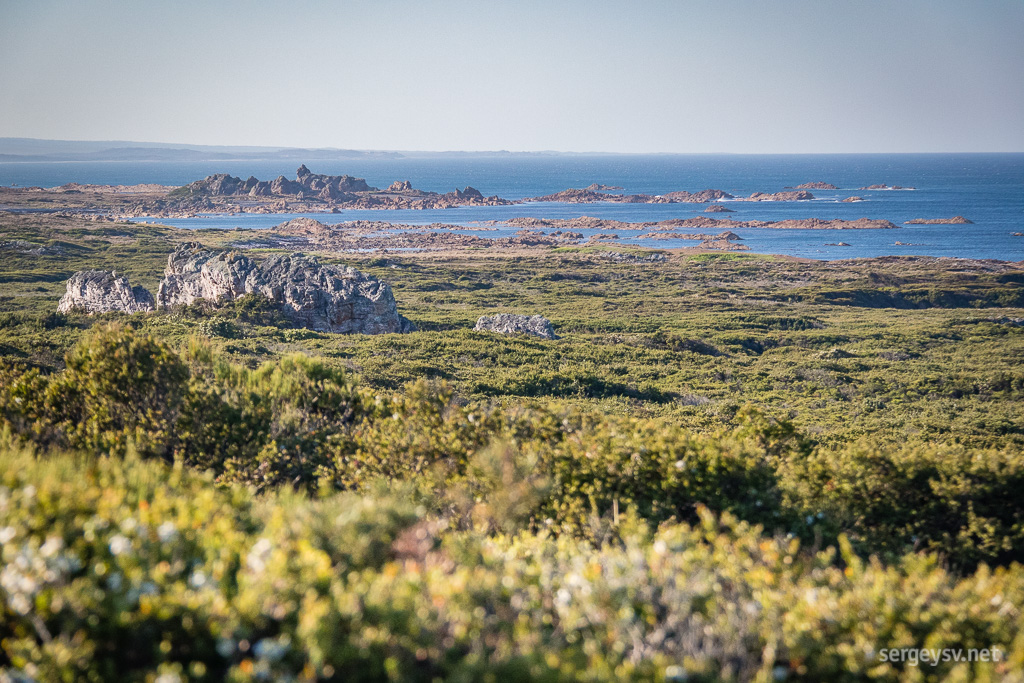 The coastline nearby.
Slightly further away, in Arthur River (that's the name of the town), I treat myself with another ocean view. From there, the road takes me slightly further inland, to the Tarkine Forest Drive.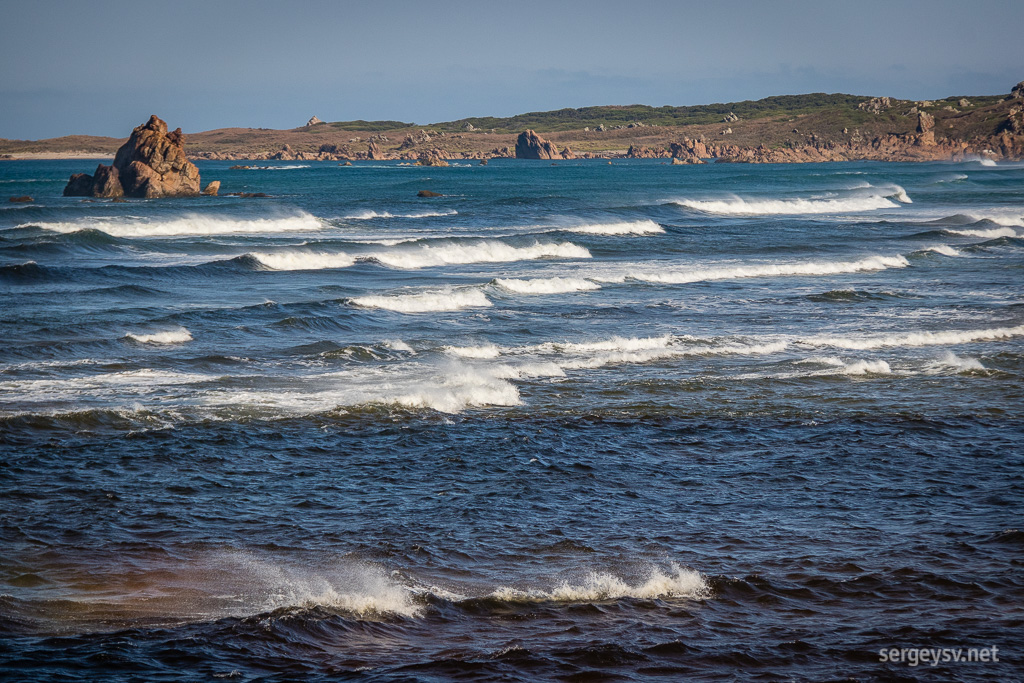 At the Edge of the World Viewing Platform.
My first stop there is Trowutta Arch. A very pleasant walk across the forest takes me to a very peculiar-looking rock formation, which is the Arch itself. Apparently, it's a collapsed cave that gradually became overgrown and filled with water. The pool looks quite foul and stagnant, but the forest around and the cool layered rocks forming the Arch are quite beautiful.
Some moss-covered roots.
Trowutta Arch.
Looking back through the Arch to see where I came from.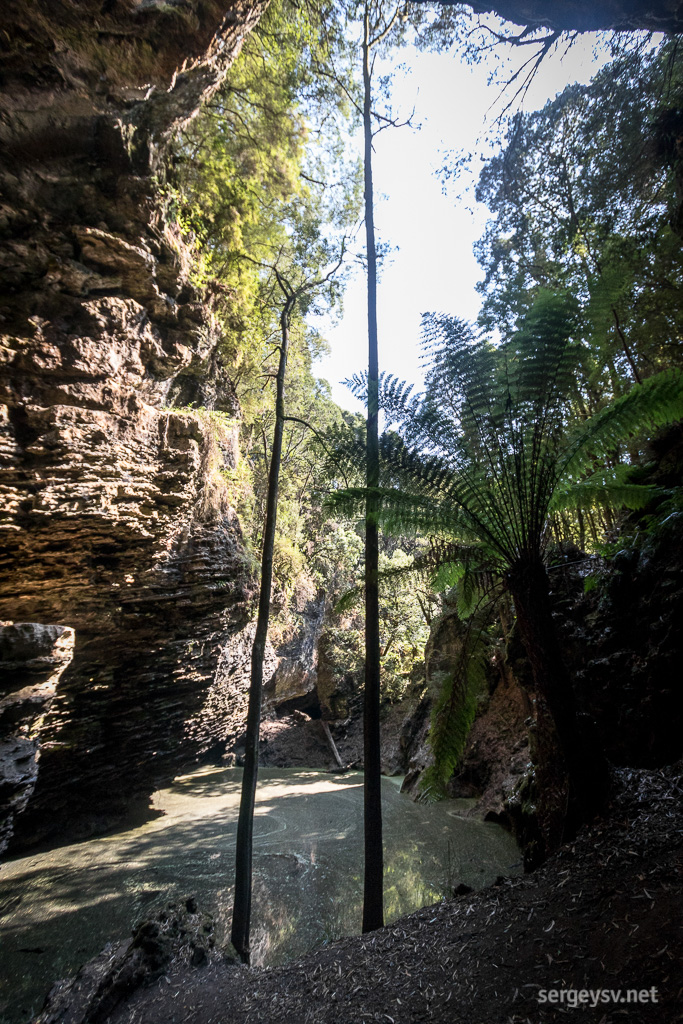 Swimming? No, thanks.
The ever-winding road gradually takes me out of the rainforests to a much drier and higher ground. At the Dempster Lookout I take another quick walk to see what's out there.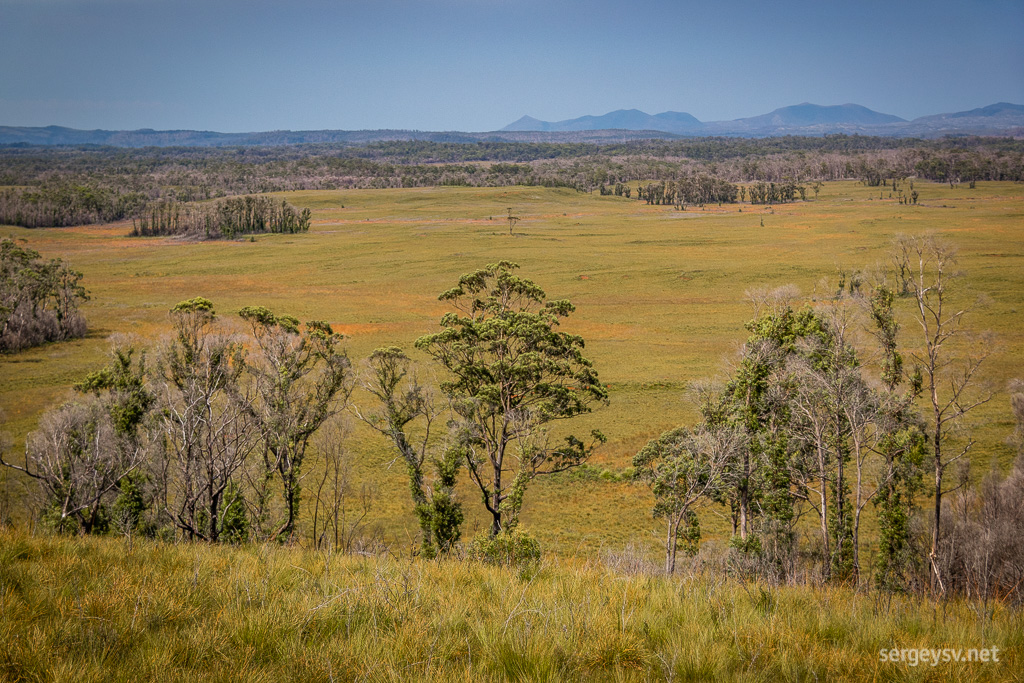 The Dempster Lookout.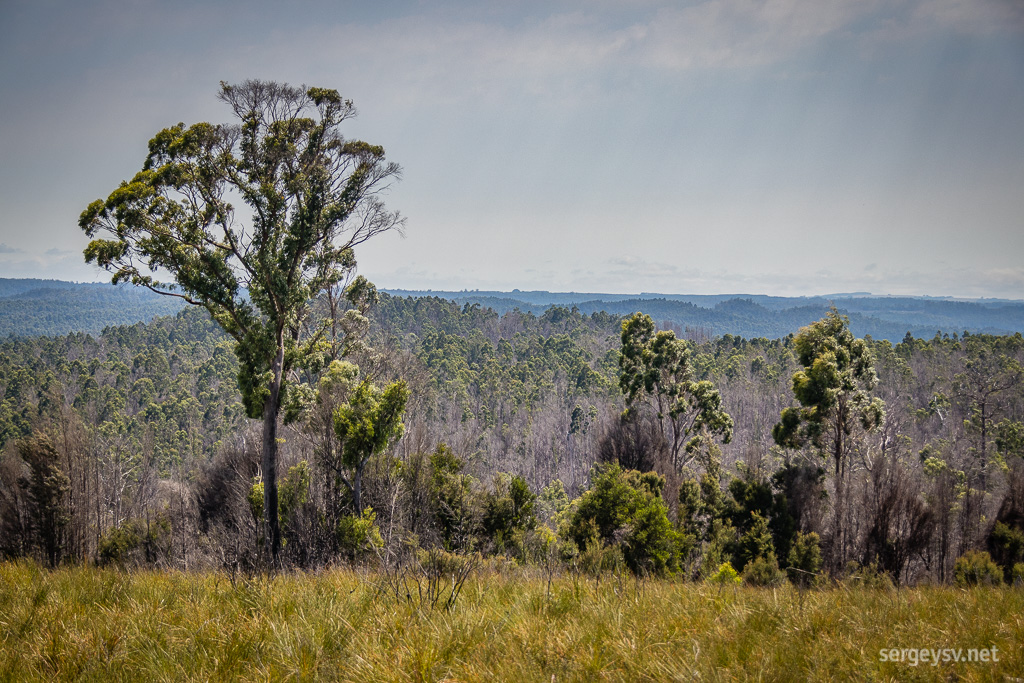 The forest looks quite different, indeed.
At noon I reach Lake Chisholm. It looks quite modest, but the hike is pleasant enough to make it worthwhile: giant trees and tree ferns everywhere you look.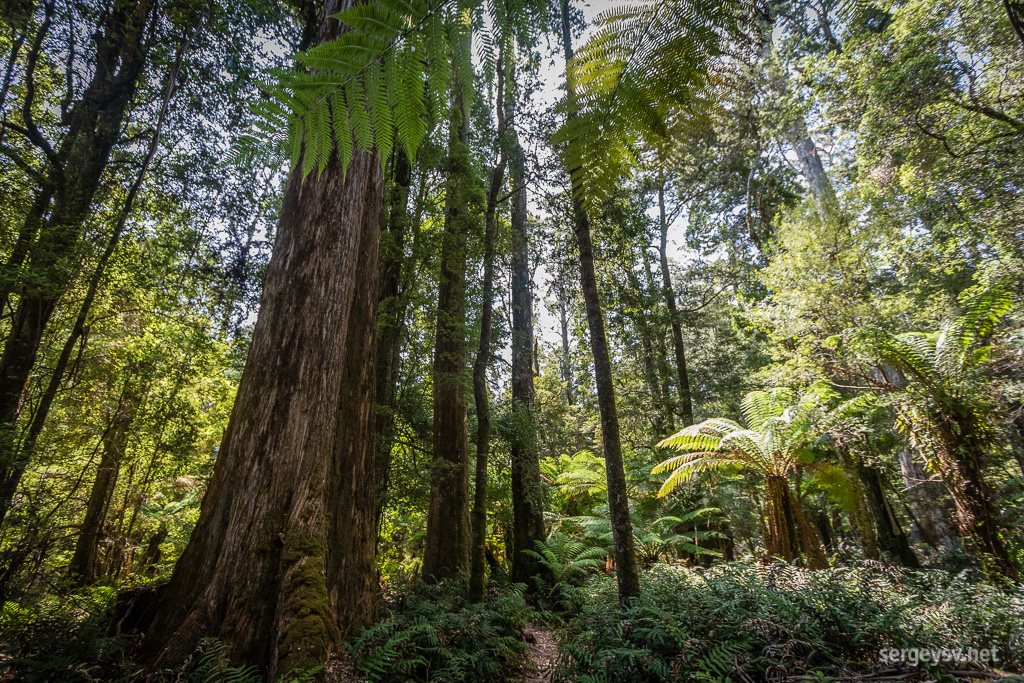 On my way to Lake Chisholm.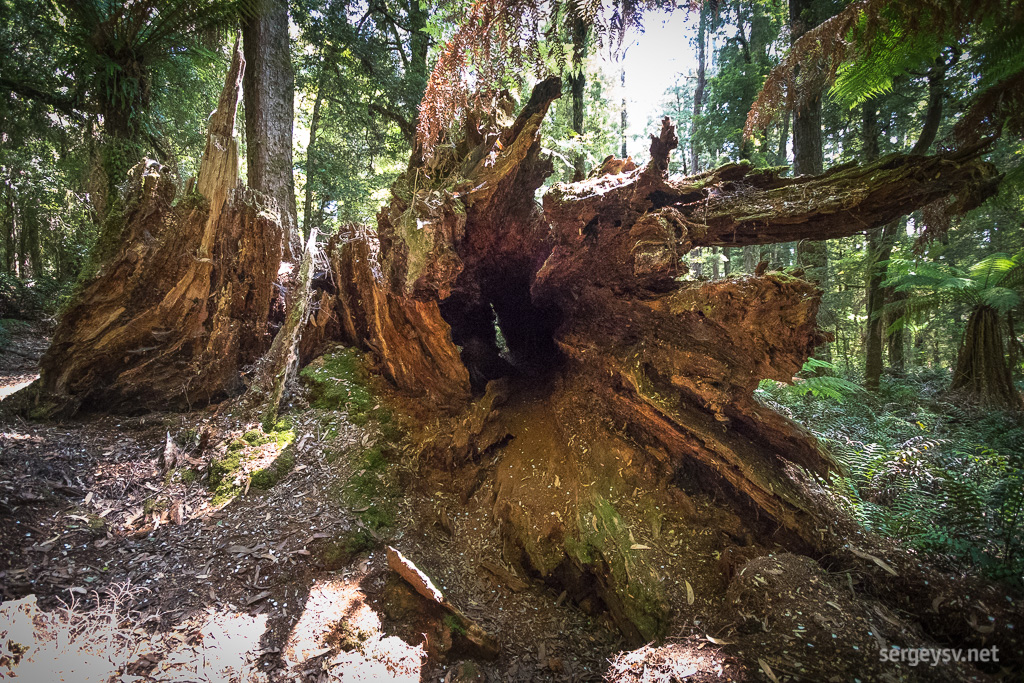 Some impressive windfall.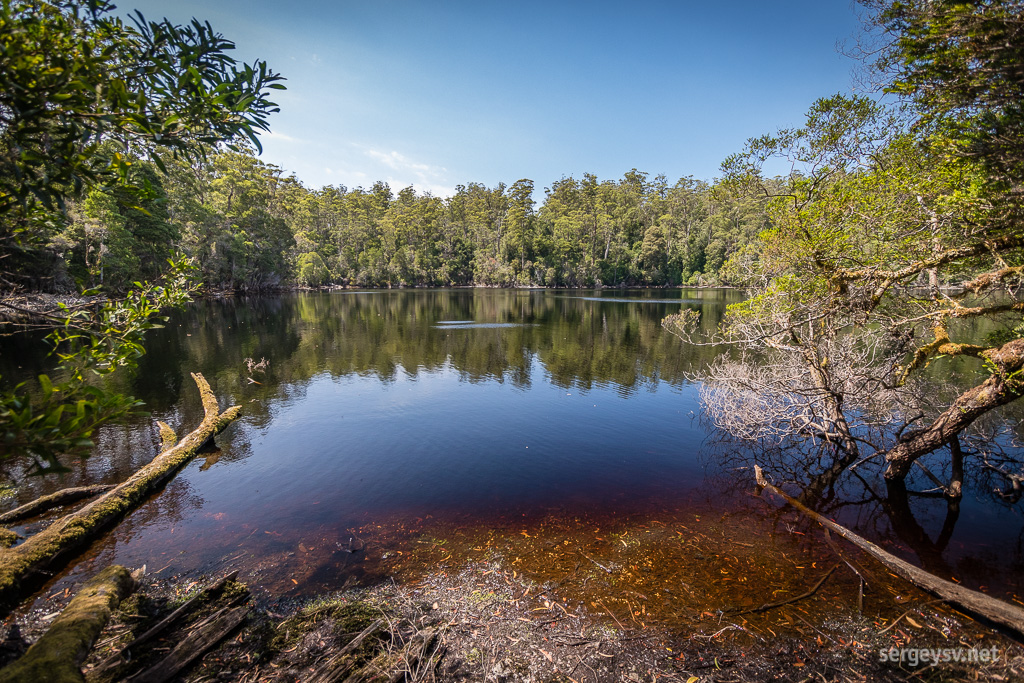 The Lake itself.
Heading out again. Not a single stretch of straight road. Twists and turns everywhere, sometimes U-shaped: got to slow down to a crawl to navigate those. So many of them that eventually you lose count. At least the road itself is sealed, and it even has more than a few "wake-up" bumps, which arguably are more annoying than the U-shaped bends.
Wake-up bumps.
Another interesting feature (not only here, but throughout Tasmania) is beehives. Stacks of crates and boxes can be seen on the roadside, with swarms of bees all over them. No idea who and why has put them out here, but it looks like a very popular setup.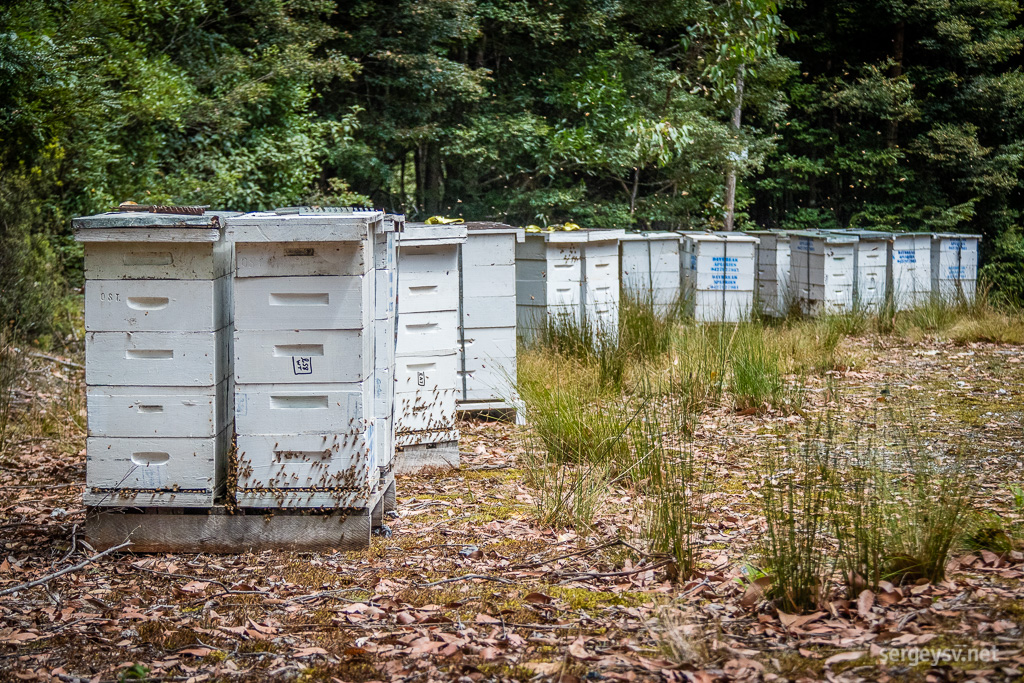 Roadside beehives.
And now it's time for some dirt driving at last. About two hours of that towards Corinna, where a small ferry will take me to the other side of the river. Let's begin, shall we?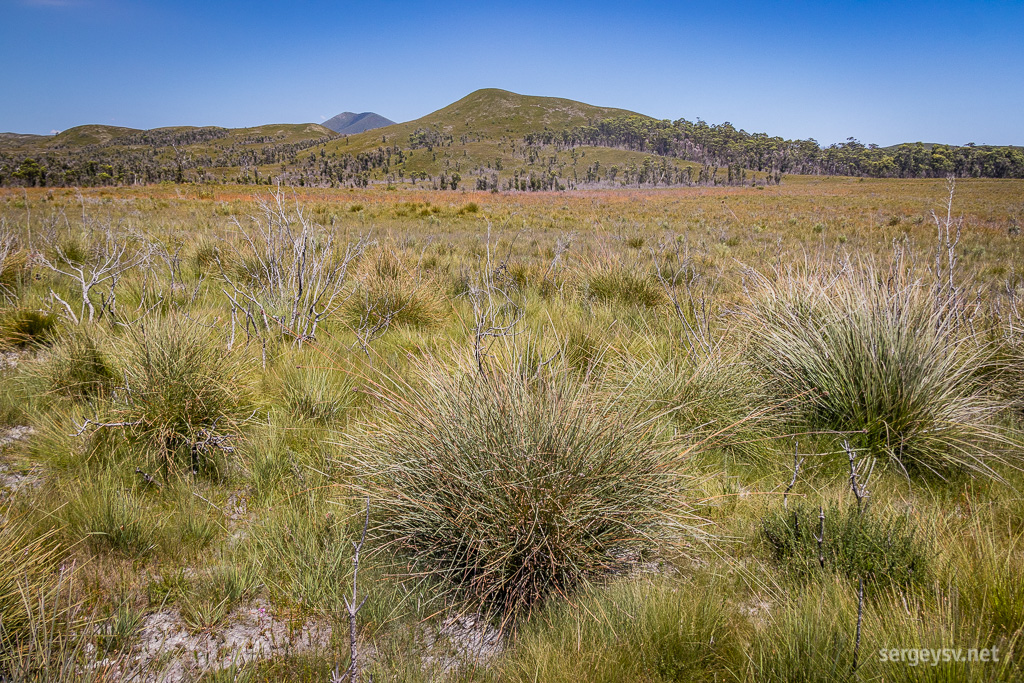 The surrounding scenery.
The dirt road itself (or gravel road, more precisely) is of excellent quality, although it's just as twisty as every other road I've seen so far. The surrounding scenery reminds me a little of the outback portions of the continent: dry, sunny, dusty. The vegetation is different though, which makes the overall landscape look quite unique.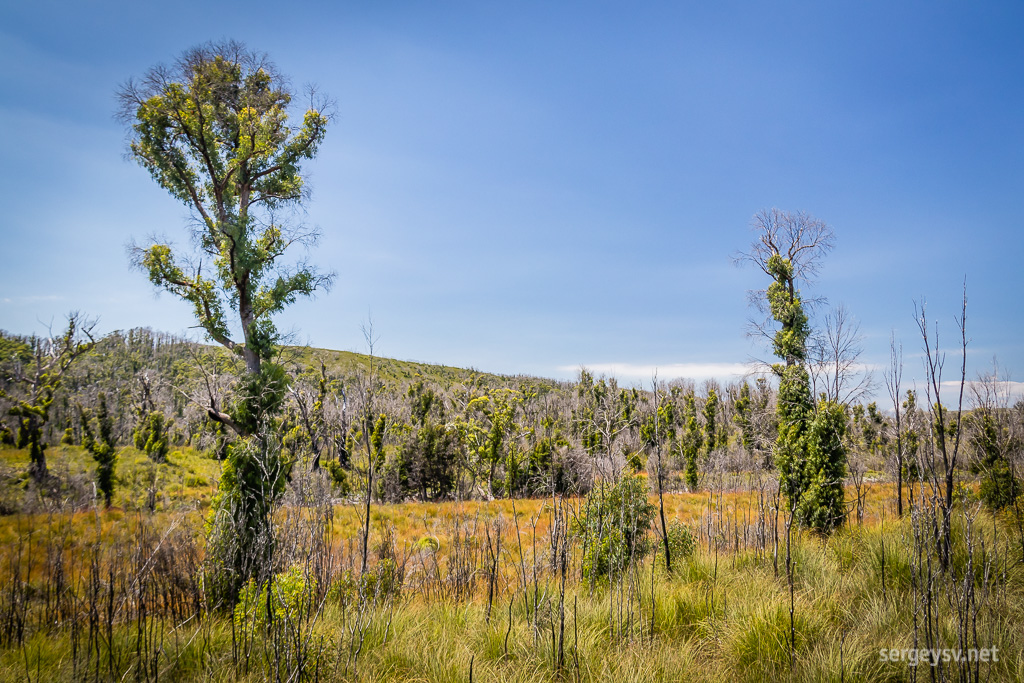 Some cool-shaped trees.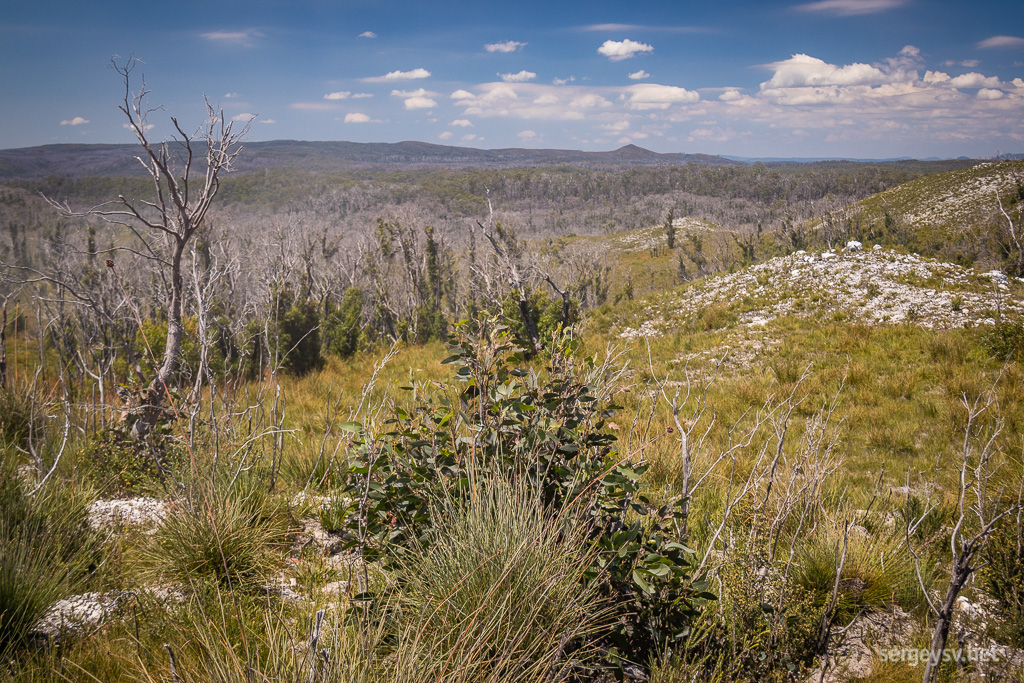 The higher ground.
And here I am at Corinna at last. The ferry isn't cheap ($25, and of course the operator doesn't accept cards), but it does do its job and takes me across the wide Pieman River very quickly.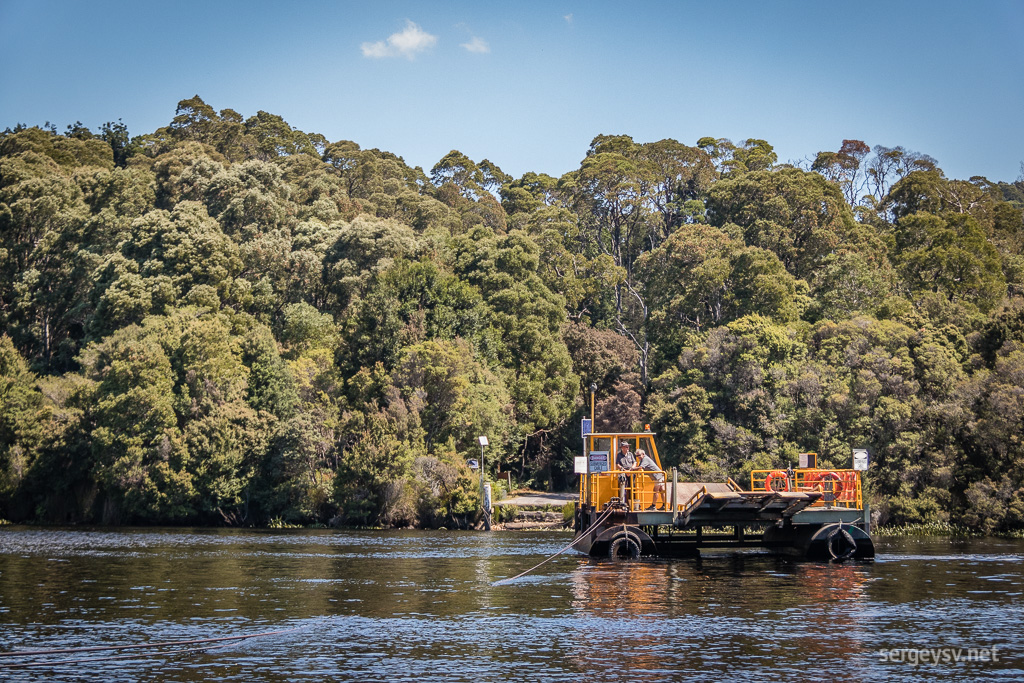 The Corinna ferry.
And an hour later, just outside Zeehan, I embark on the scariest ride of my life so far. A very rough 4WD track, covered in knee-deep ruts filled with water, sharp-looking stones, half-crushed logs and whatnot. "Challenging" sounds like an understatement for a rookie four-wheel driver such as myself. 20 kilometres of constant low-range and high alert. Shudders.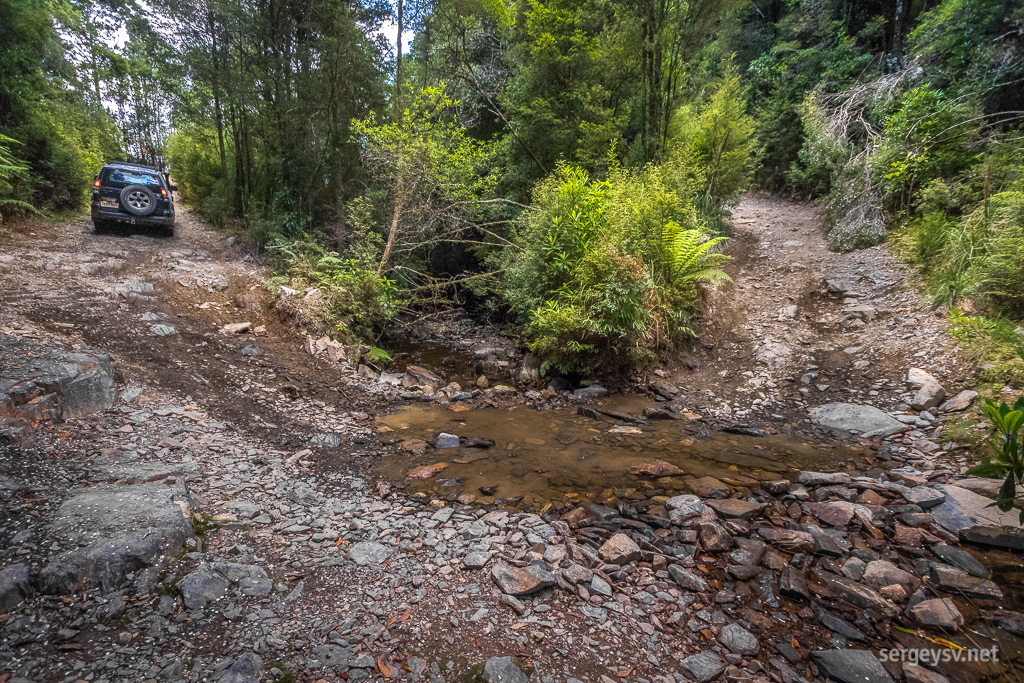 Try that in a regular car.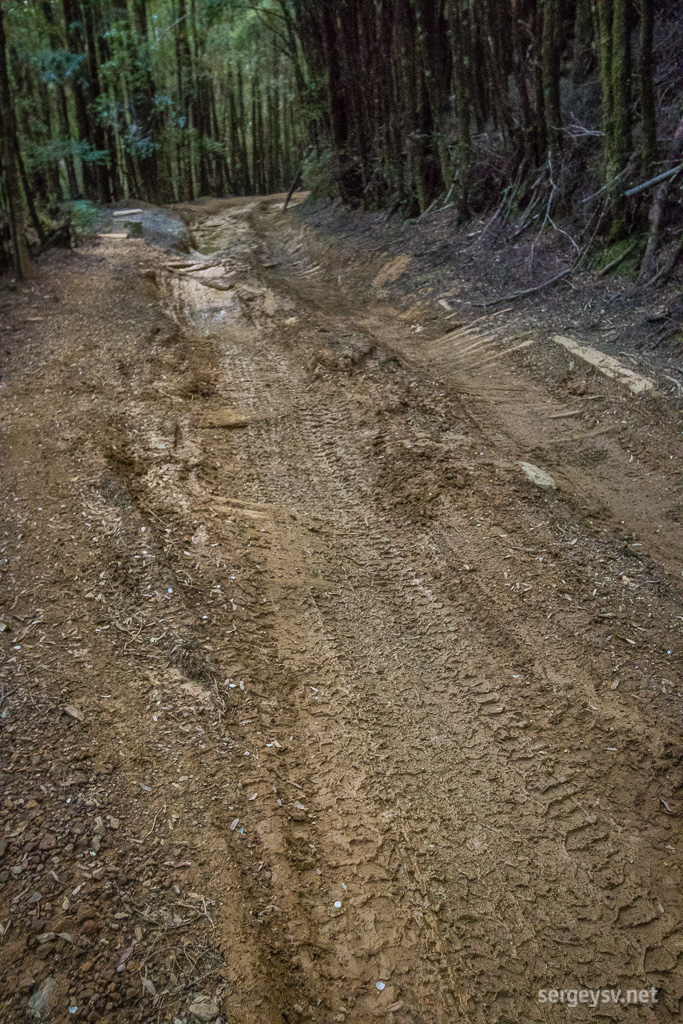 No dirt, no fun!
It's well past 4 now, and on my way there I pass a couple of fellow four-wheel drivers heading back. It's quite an achievement in itself, giving way to on a bumpy and a very-much one-way track surrounded by thick forest. But everything ends, even the scariest drives of all, and half an hour later I finally reach the hanging bridge that takes me to the Montezuma Falls lookout.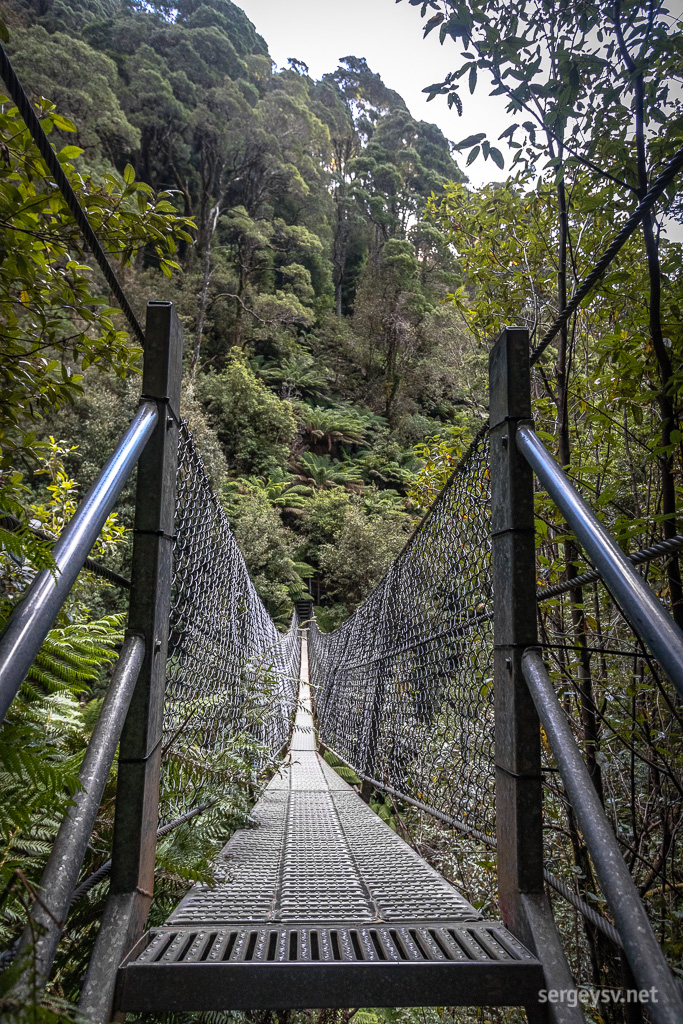 The bridge.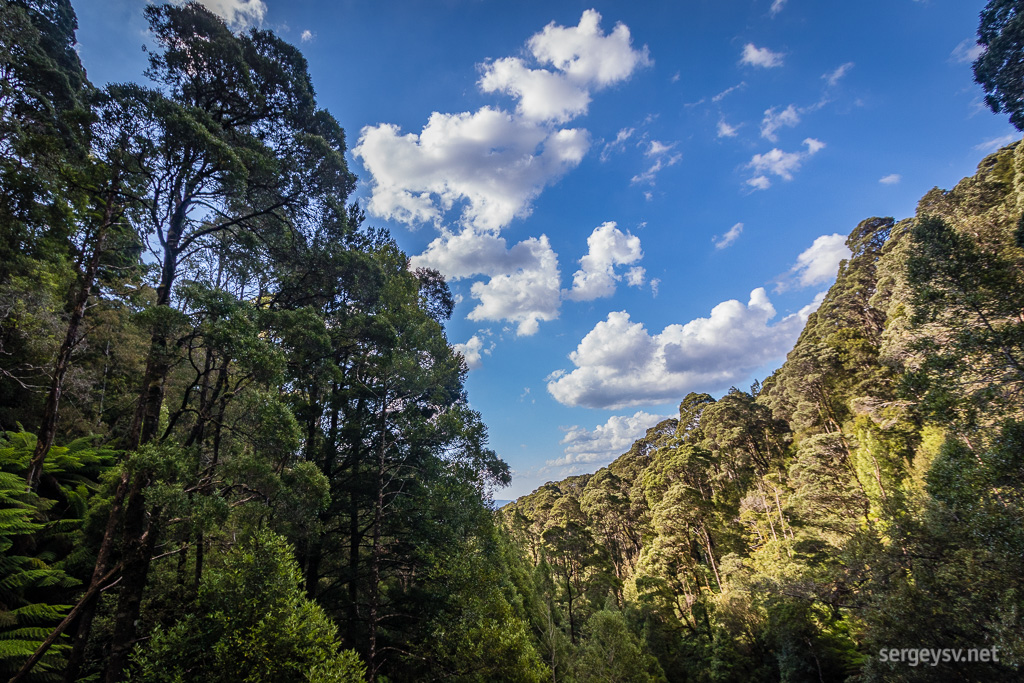 The gorge.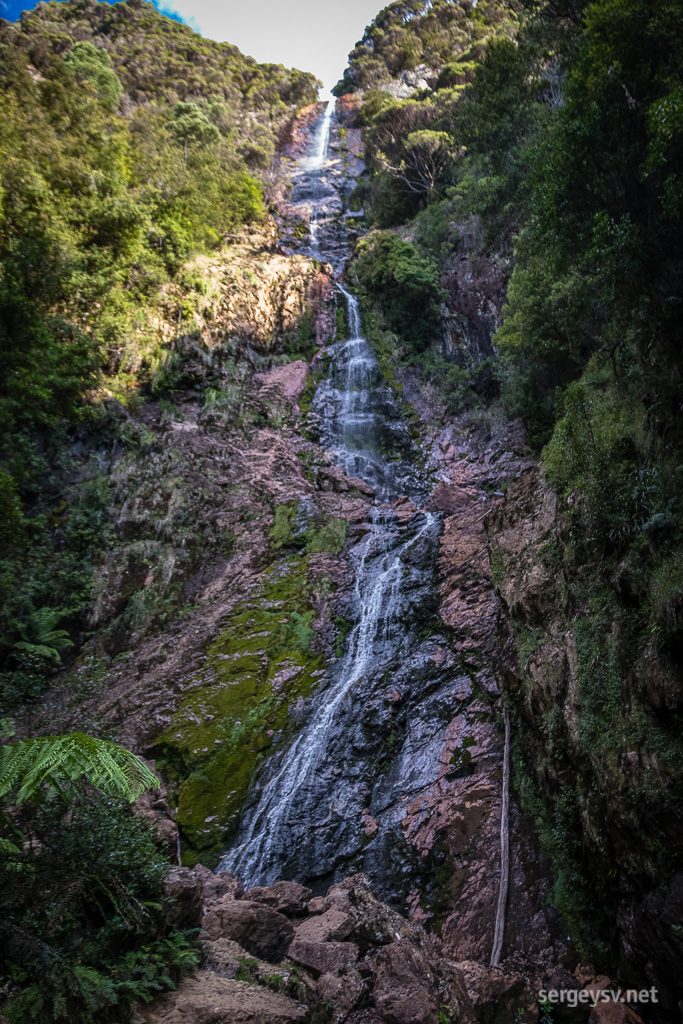 The waterfall itself.
The waterfall is strikingly beautiful, perhaps even more so for me in my slightly distressed state. Definitely worth the ride, no matter how scary and challenging. More than a hundred metres tall, it plunges down through the forest onto the smooth rocks below. A perfect place to take a well-deserved rest, have some tea and mentally prepare yourself for the way back.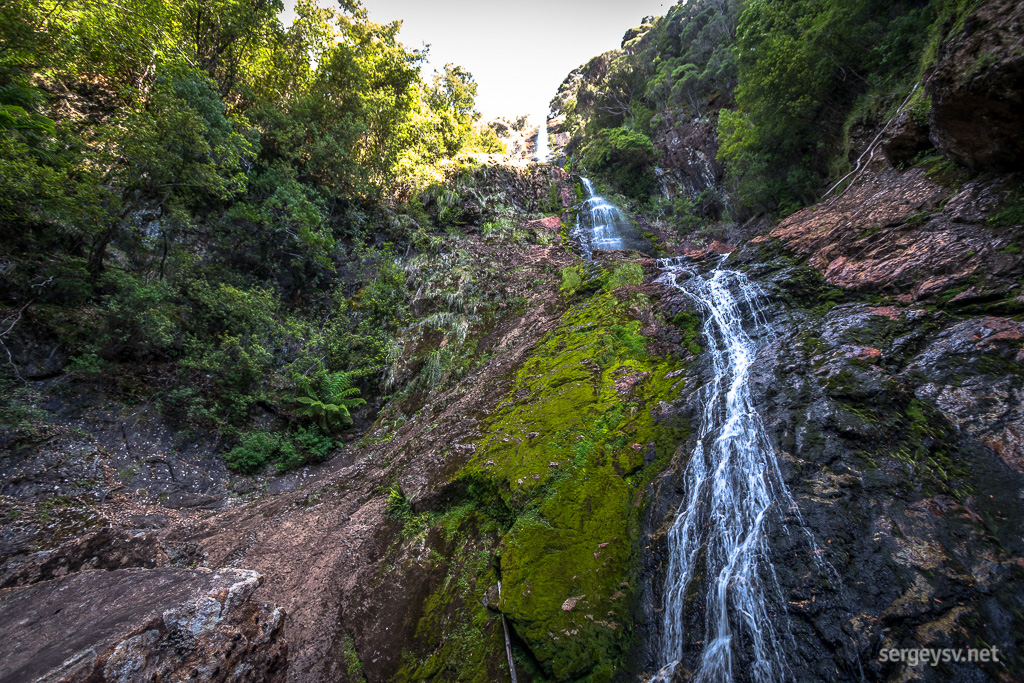 Montezuma Falls.
The way back, however, is not scary at all: looks like the fear of the unknown was the worst part of it. I do manage to return to the bitumen before sundown, and at 7:40 I'm back at Zeehan. A very cozy caravan park gives me a place to camp and shower, and it even has a car wash — nice! My vehicle definitely needs it right now. A one-dollar coin for two minutes of high-pressure water. Sometimes Tasmania can be surprisingly cheap.
Still quite tropical outside: 27°C and quite humid. That is to be changed very soon, for sure.