Distance covered: 379.0 km.
Time to move much deeper inland now, away from the west coast into the mountainous and very forested central regions. A few glaciers beat me to it, though.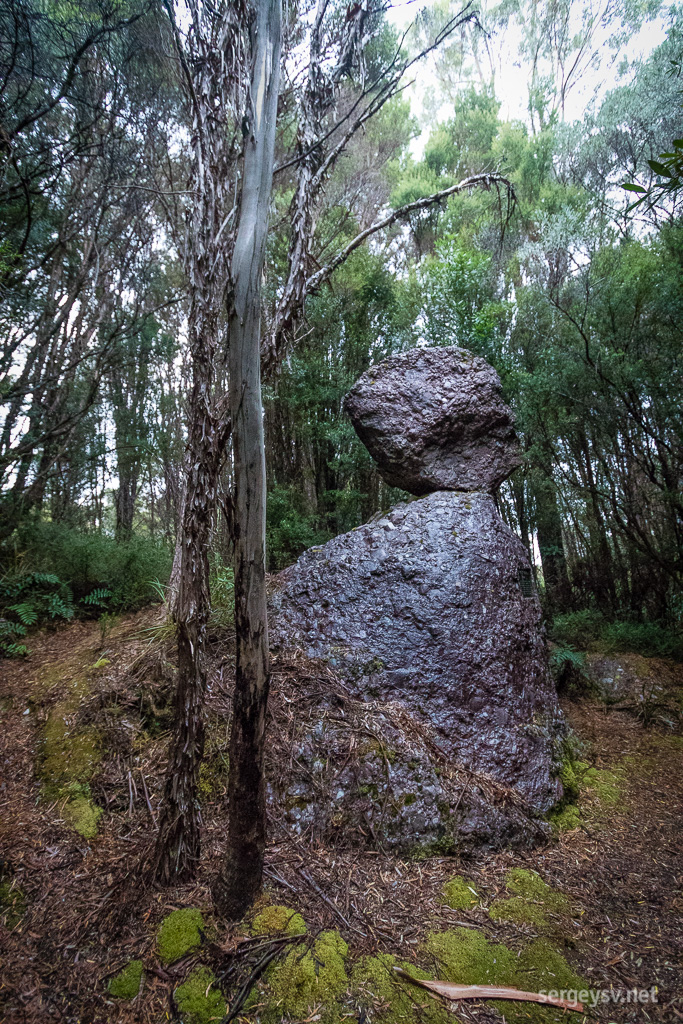 Remnants of the ice age at the Henty Glacial Moraines.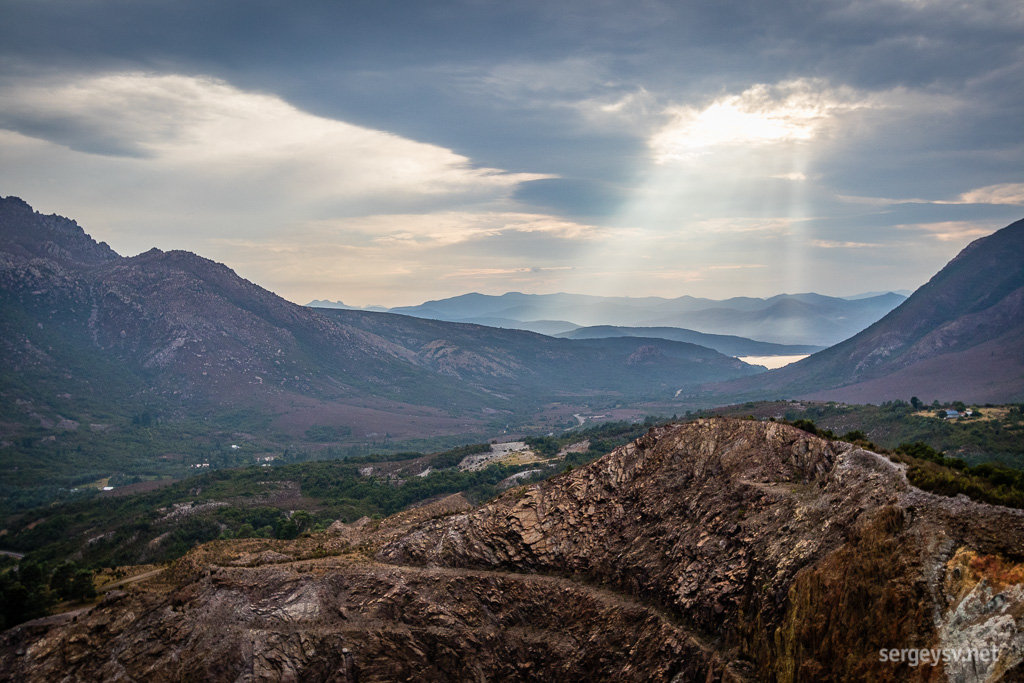 The Iron Blow lookout.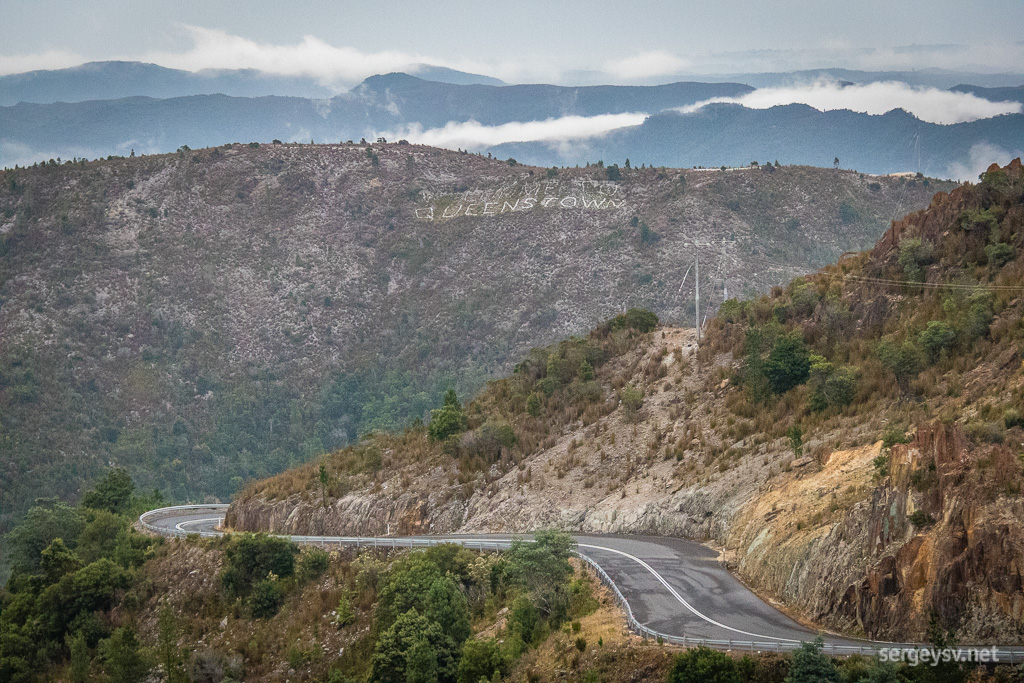 Queenstown welcomes you!
From the Iron Blow lookout just outside Queenstown, a short hike takes me to the Horsetail Falls. This is my first reminder that visiting Tasmanian waterfalls at summer is probably not such a good idea. Slightly damp rocks is all I get this time around.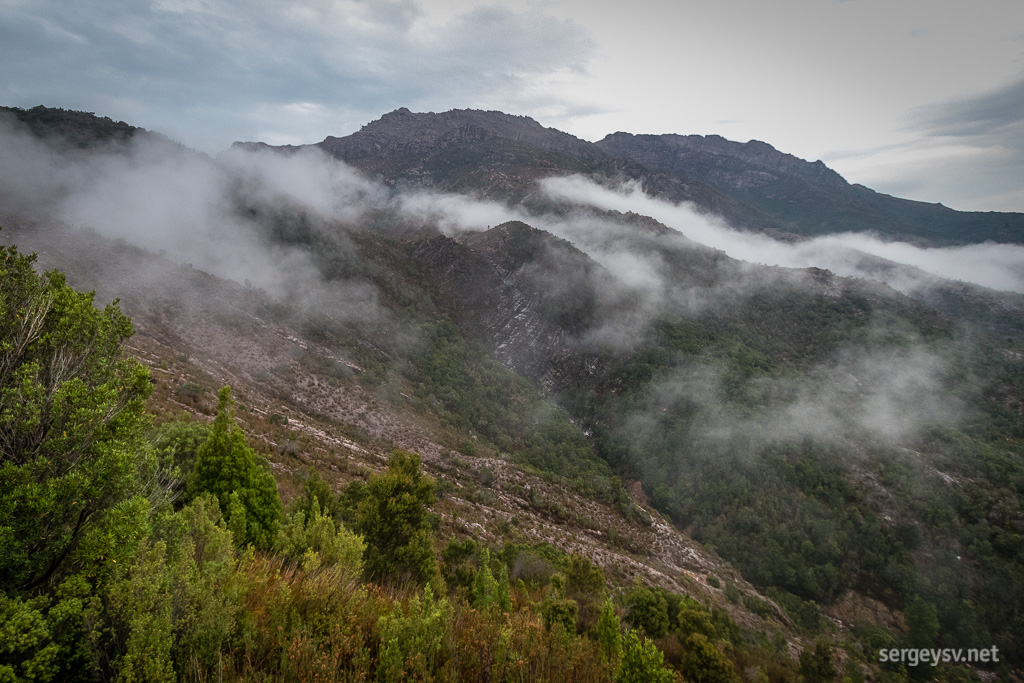 Horsetail Falls is taking a break.
Closer to 9 a.m. I reach the Nelson Falls walk. It starts to drizzle a bit: here's some more erratic Tassie weather for you. It's not too bad, though, and the walk is quite picturesque and tranquil. Lots of ferns and moss-covered things, and a beautiful waterfall at the end of it.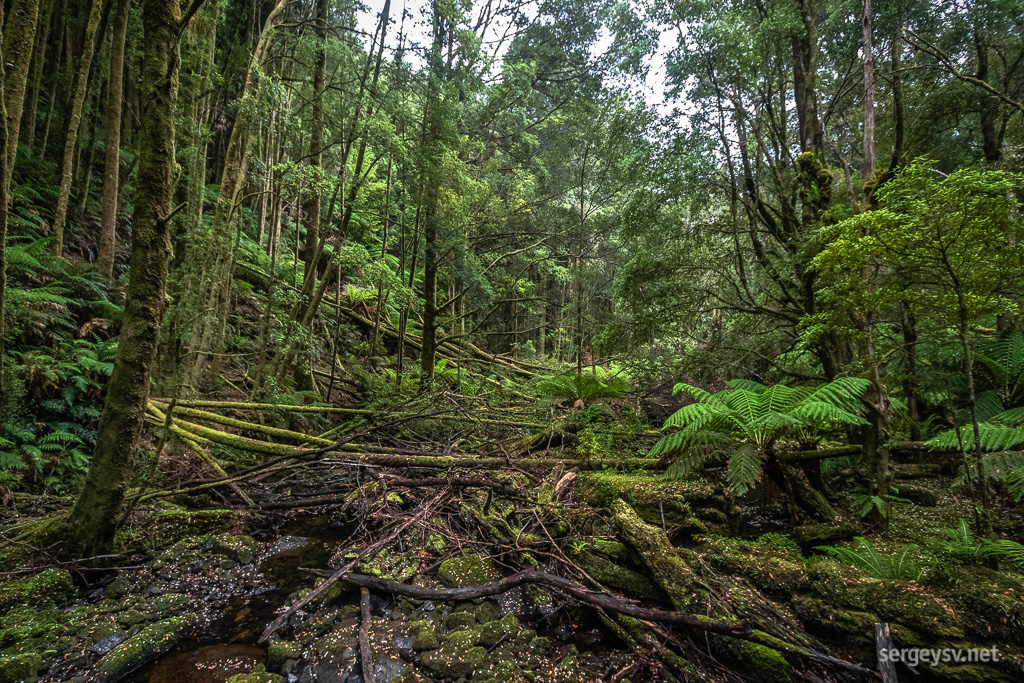 On the way to Nelson Falls.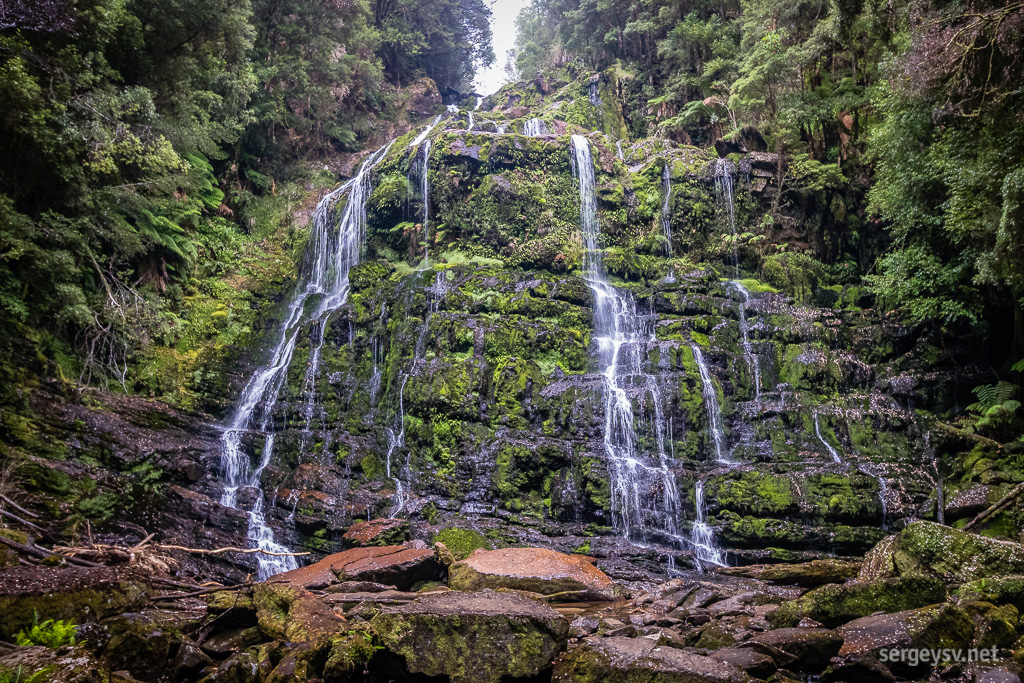 The waterfall itself.
An hour's drive away from there takes me to the Donaghys Hill. Another walk through the damp, quiet forest, and a very scenic view from the top.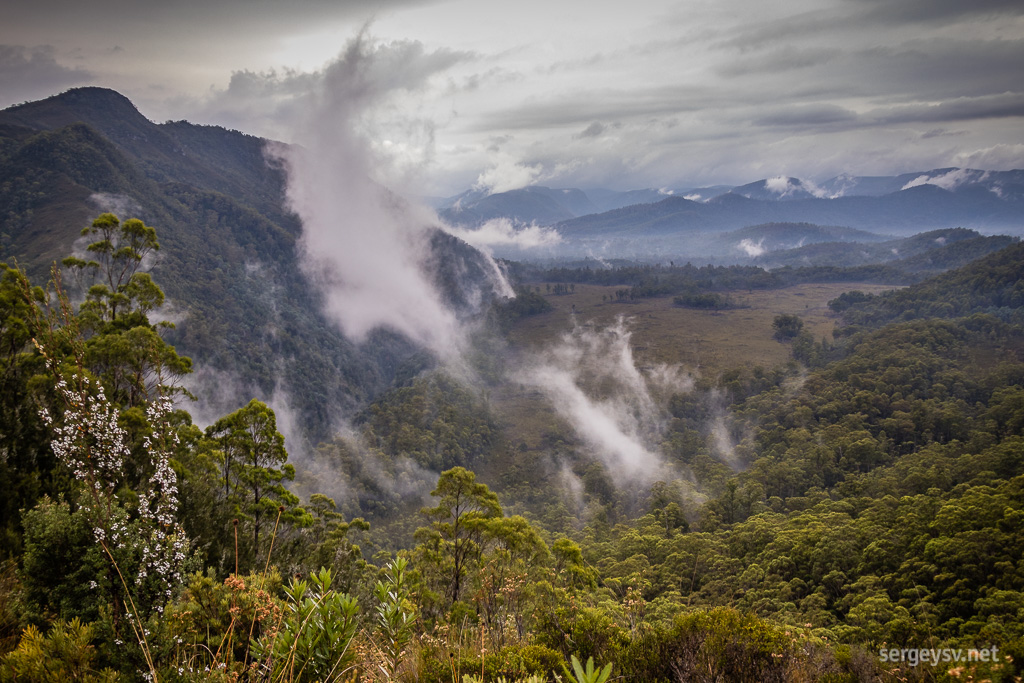 The Donaghys Hill Lookout.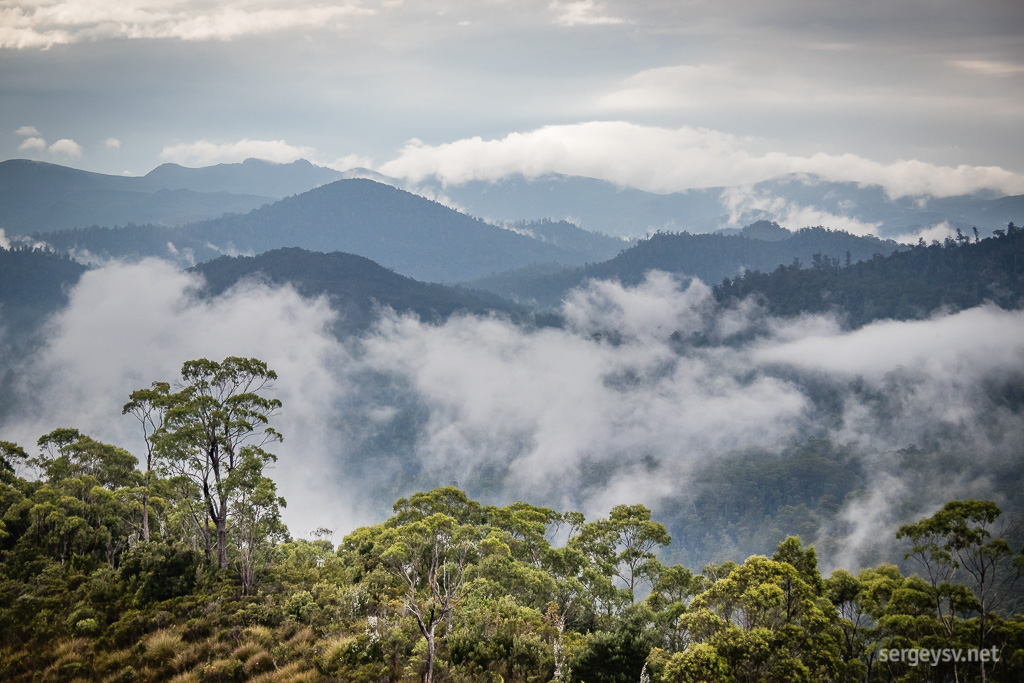 Same.
Yet another hour's drive along the ever-winding highway, and here I am at the Lake St Clair National Park.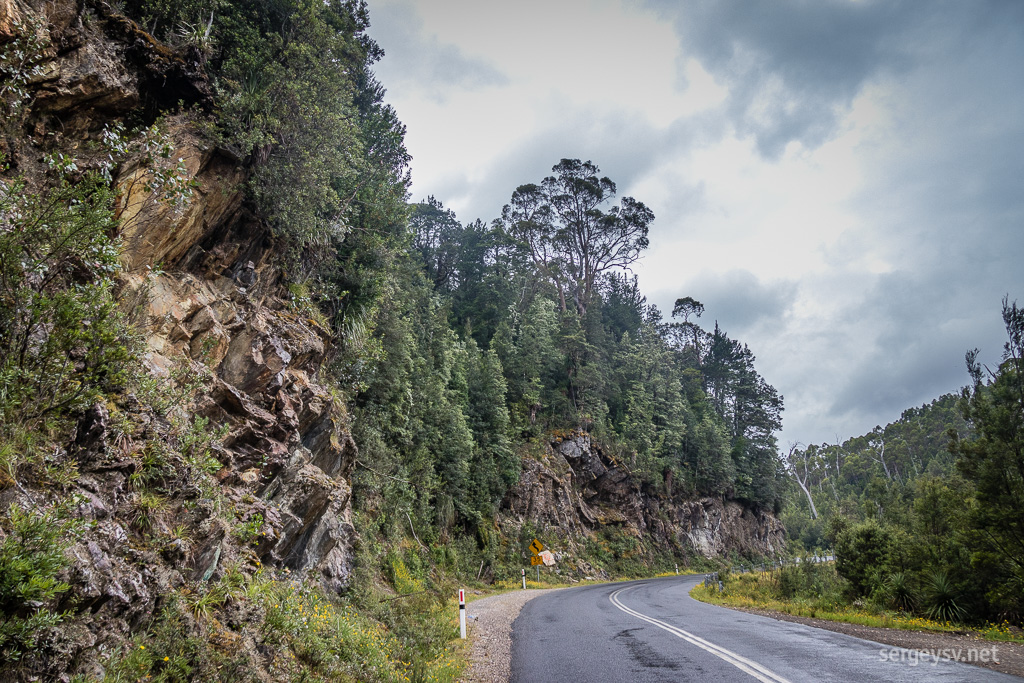 A typical Tasmanian road.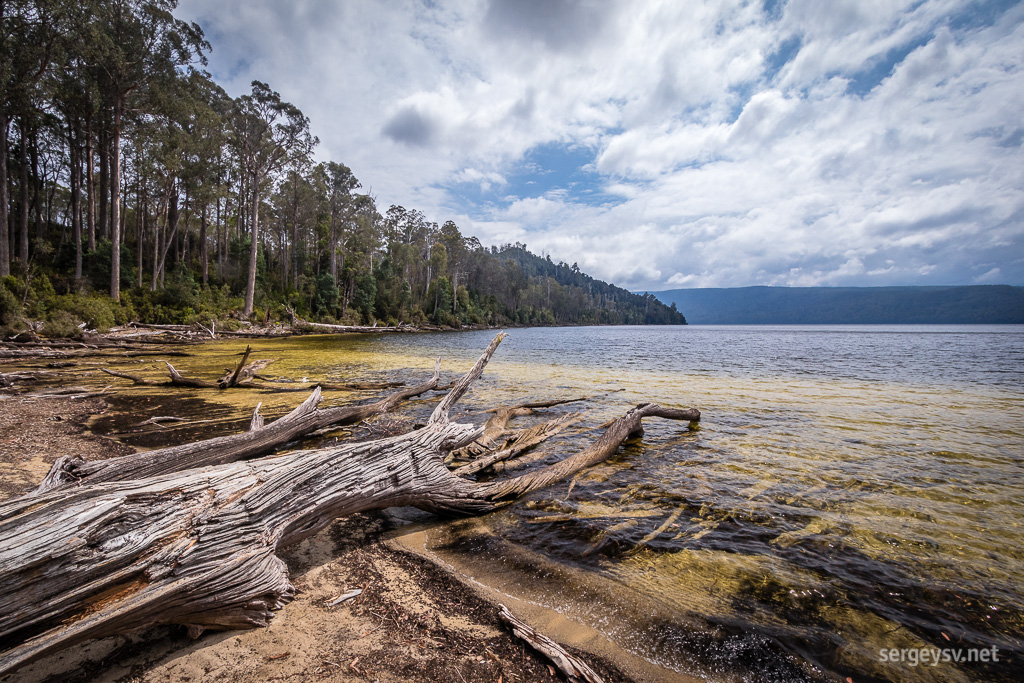 The lake itself (the Platypus Bay).
Looking at the size of the visitor centre, and obviously from the steep $16 entry fee, I can tell that this place is quite popular; but why exactly, I'm not sure. The lake itself is big, but not super beautiful; and if the surrounding mountains and ridges are more scenic, the cloud cover hides them from me. Oh well. At least a walk through the quiet forest is nice as usual.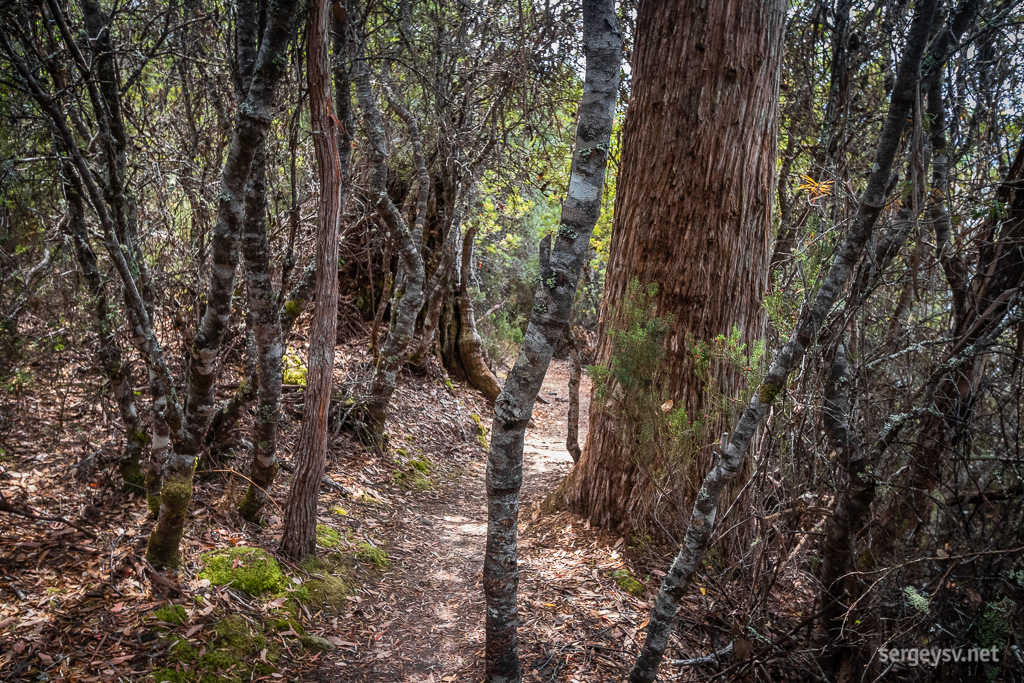 A walk through the forest.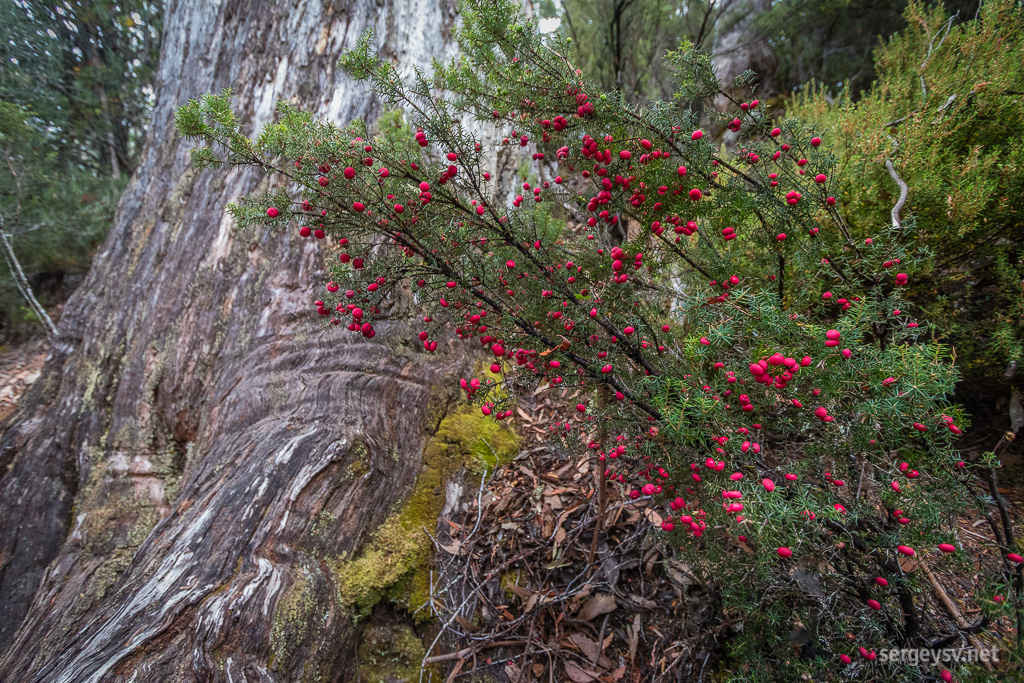 Some bright-looking berries.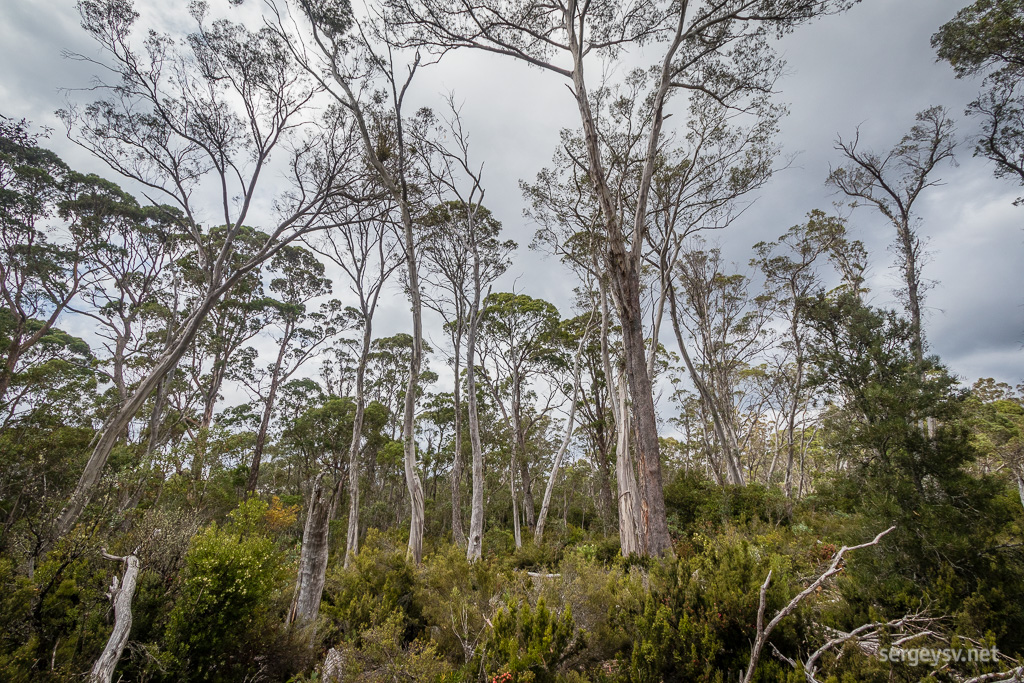 Some very temperate forest.
More driving after that on my way to the Mount Field National Park. The roadworks are very few and far between, but I do manage to get some. Near Glenora I encounter a lot of hops plantations, and the plants look quite interesting. So that's where all the beer comes from!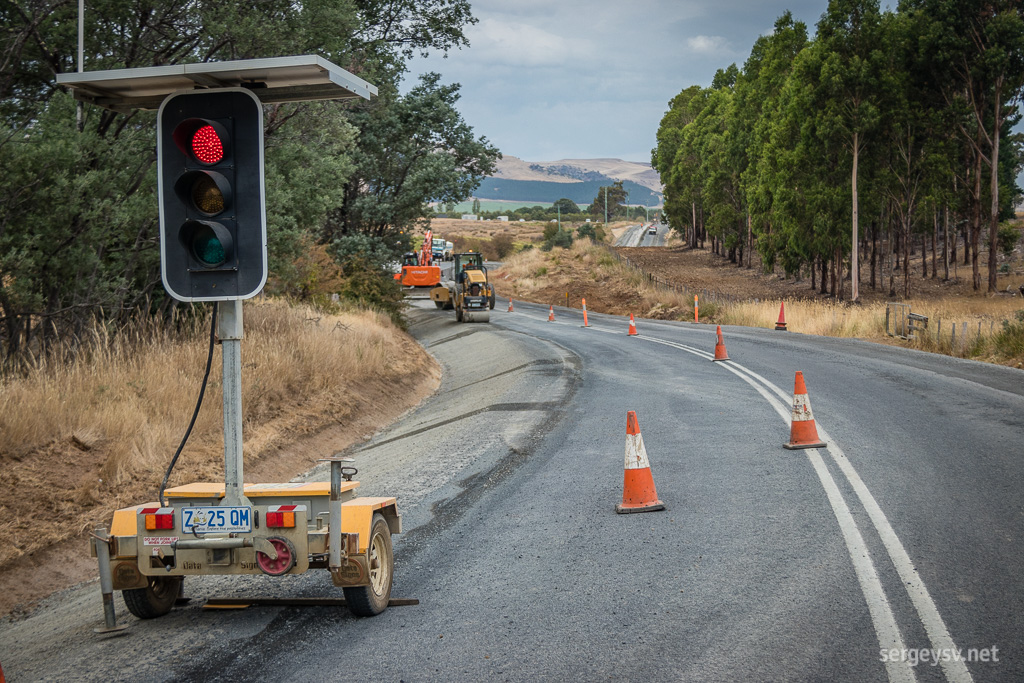 Tasmanian roadworks. Love those mobile traffic lights.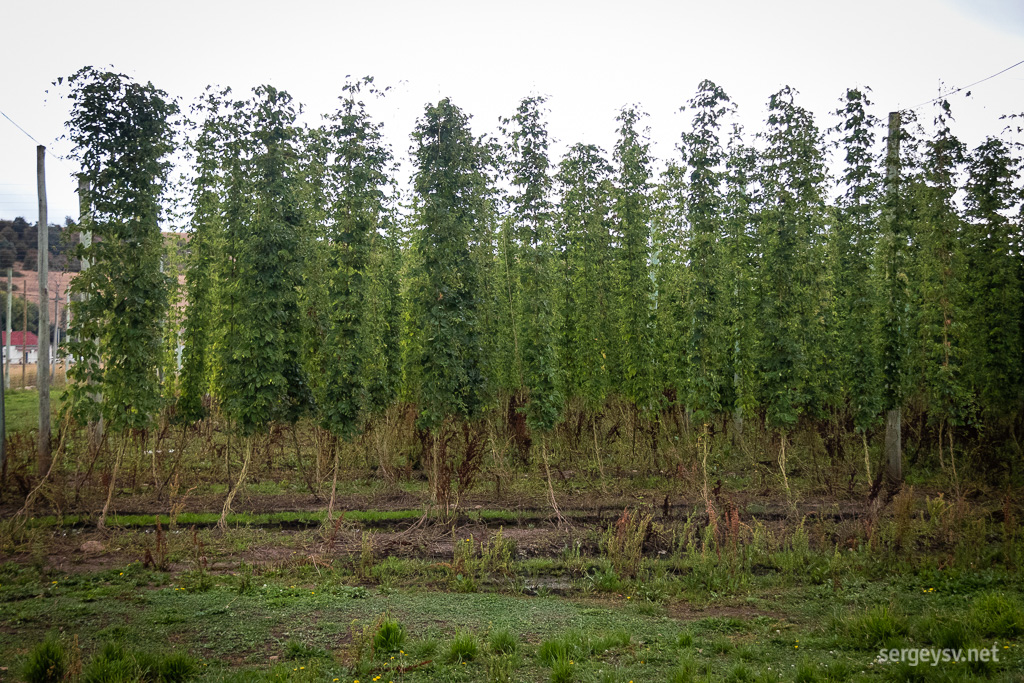 Hop plants.
And here I am at the Mount Field. This is where I discover that the $12 entry fee is just for myself, and if I want to be able to park my vehicle as well, I need to pay $12 extra. Or park outside the gates a hundred metres away. Twelve dollars for a hundred metre walk. Not bad.
A walk that is included in the fee takes me to the Russell Falls, the obvious drawcard of the place (judging by the sheer number of tourists around). Looks quite lovely, and probably even more so in winter.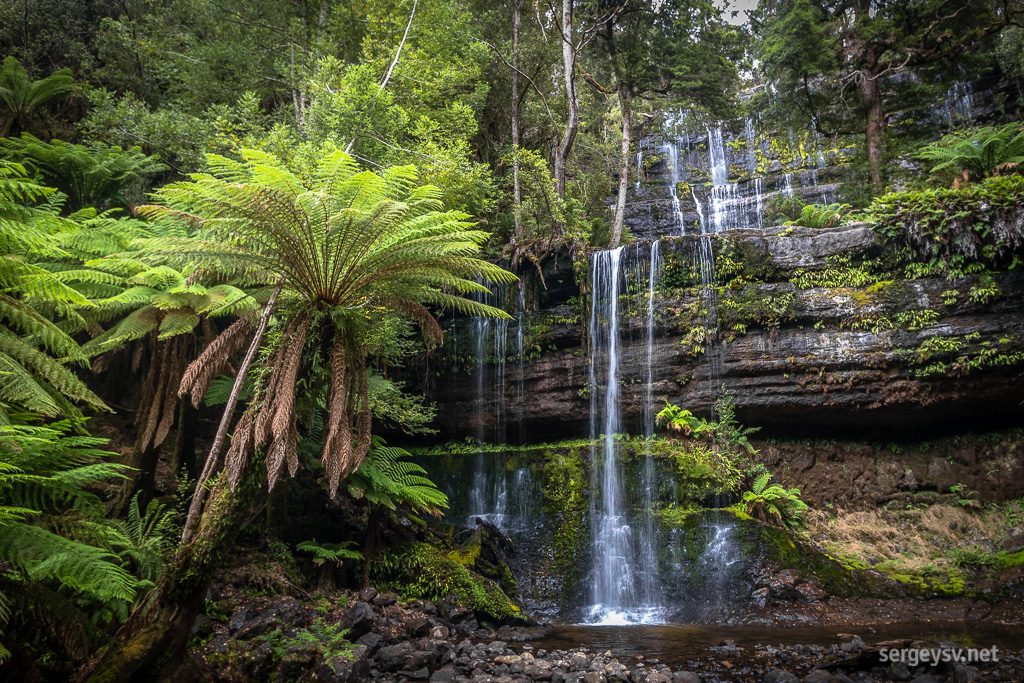 Russell Falls.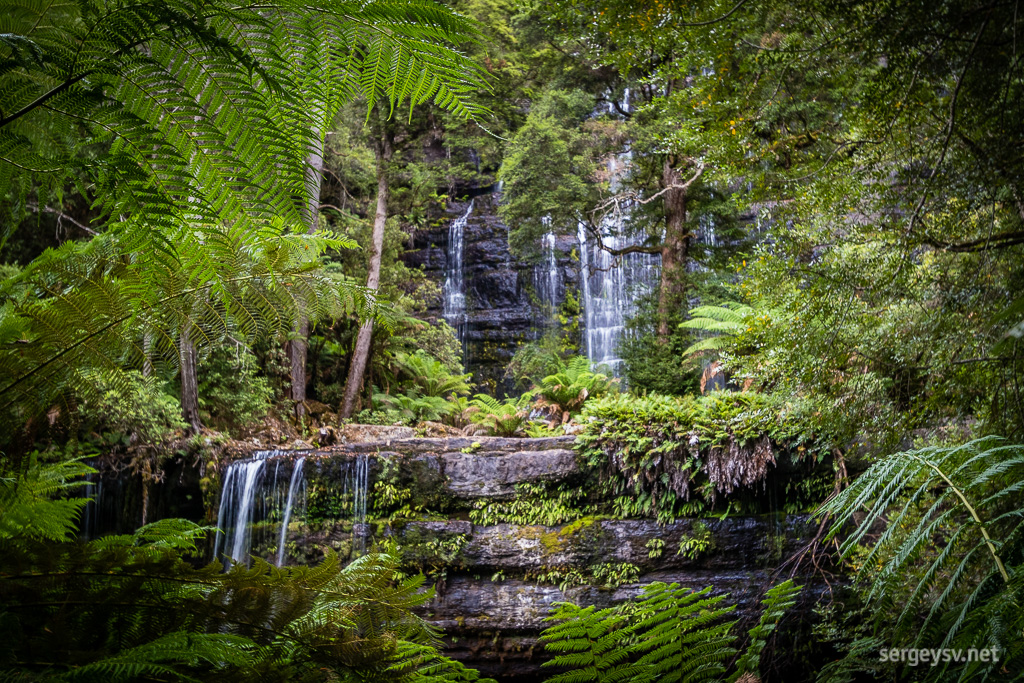 From a different angle.
A short walk from there takes me to the top of the waterfall and thence towards the Horseshoe Falls. So many people around with selfie sticks that it's not even funny anymore.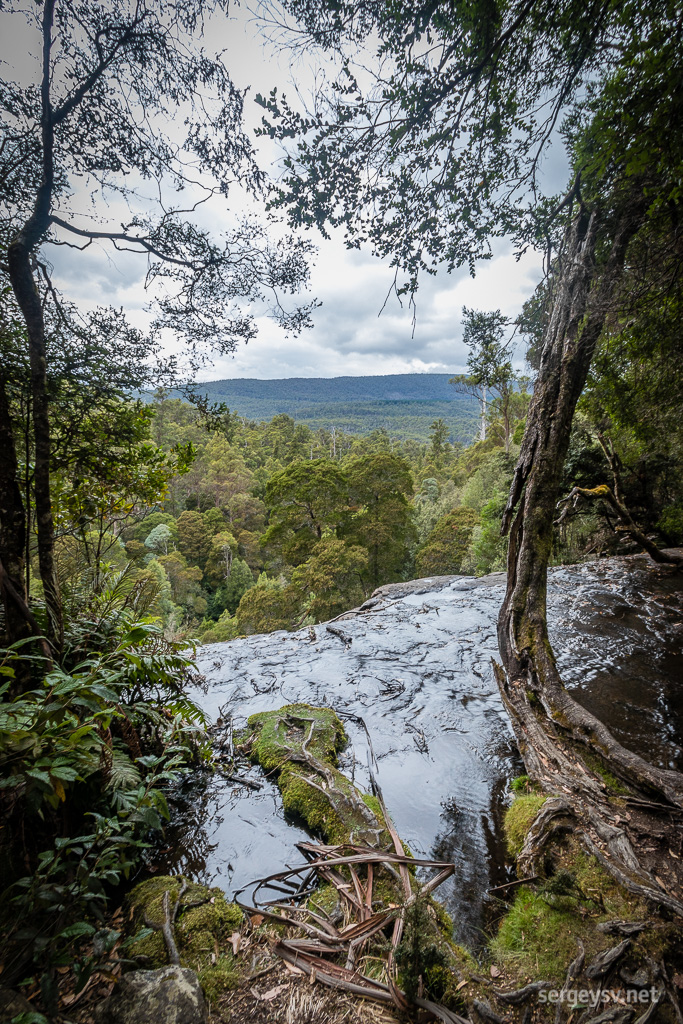 The top of the Russell Falls.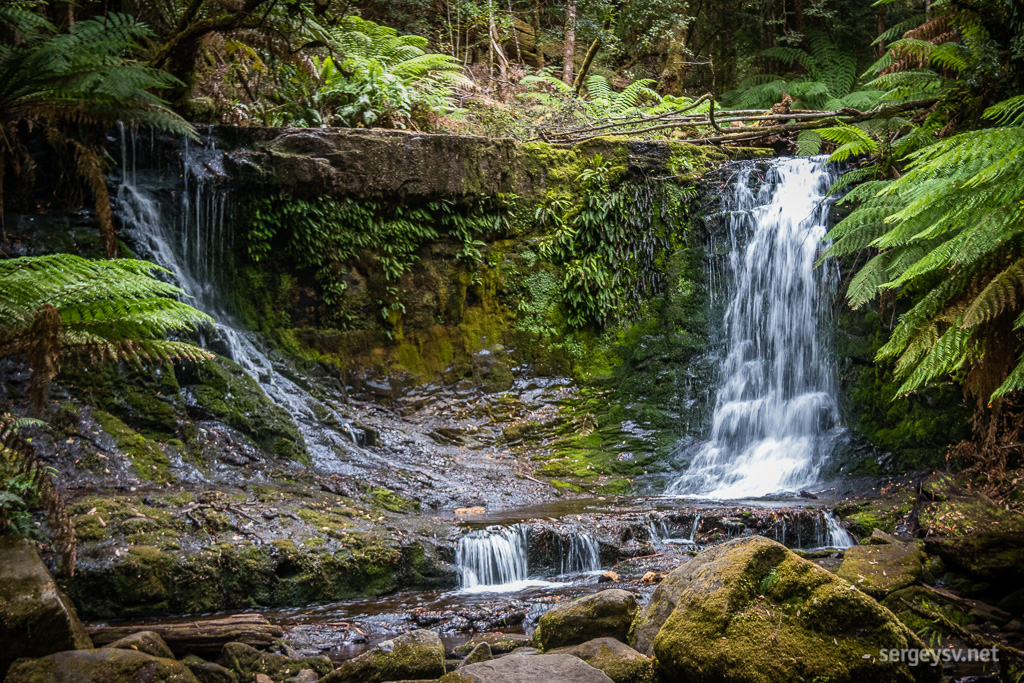 Horseshoe Falls.
A noticeably longer walk can take you to the Lady Barron Falls, the third one at this place, and I decide to do it as well, because why not. Much less people with selfie sticks around here, anyway.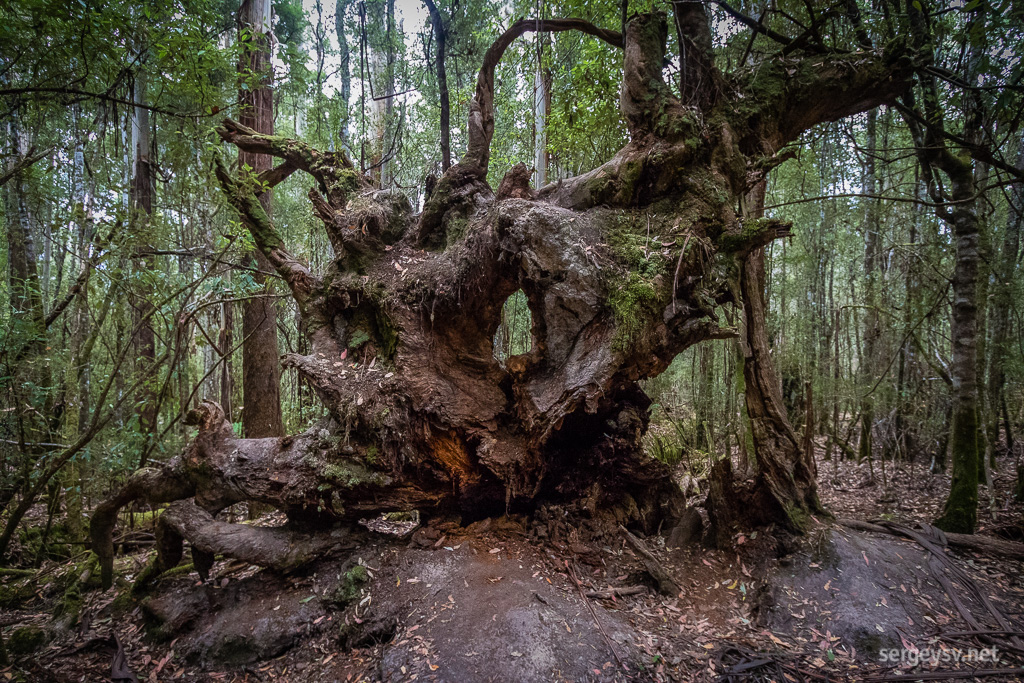 Some impressive roots.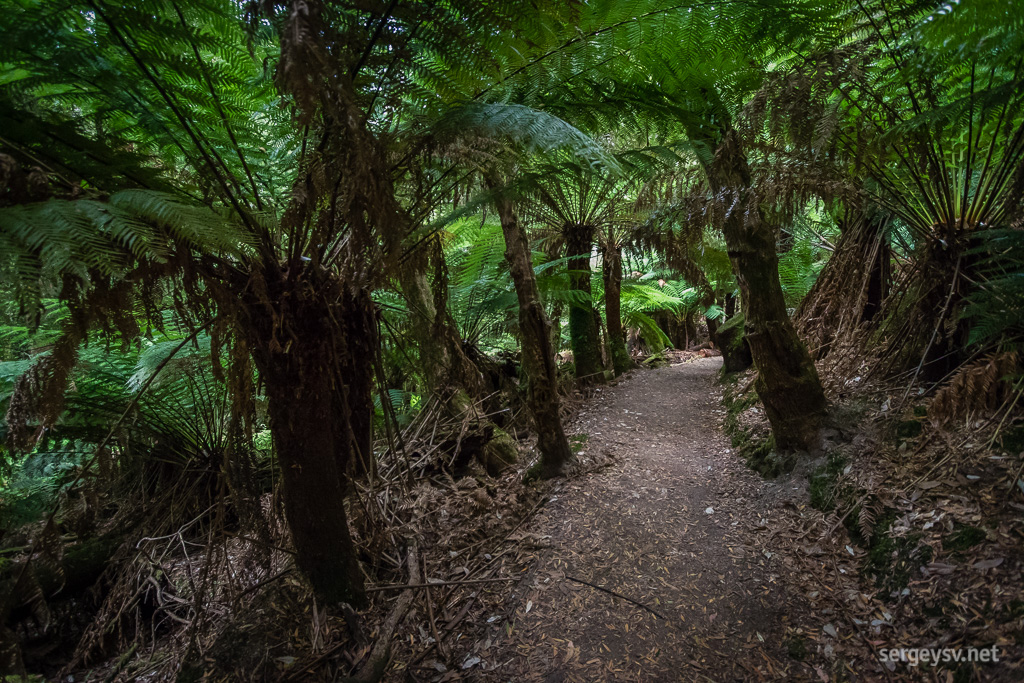 A walk amongst the tree ferns.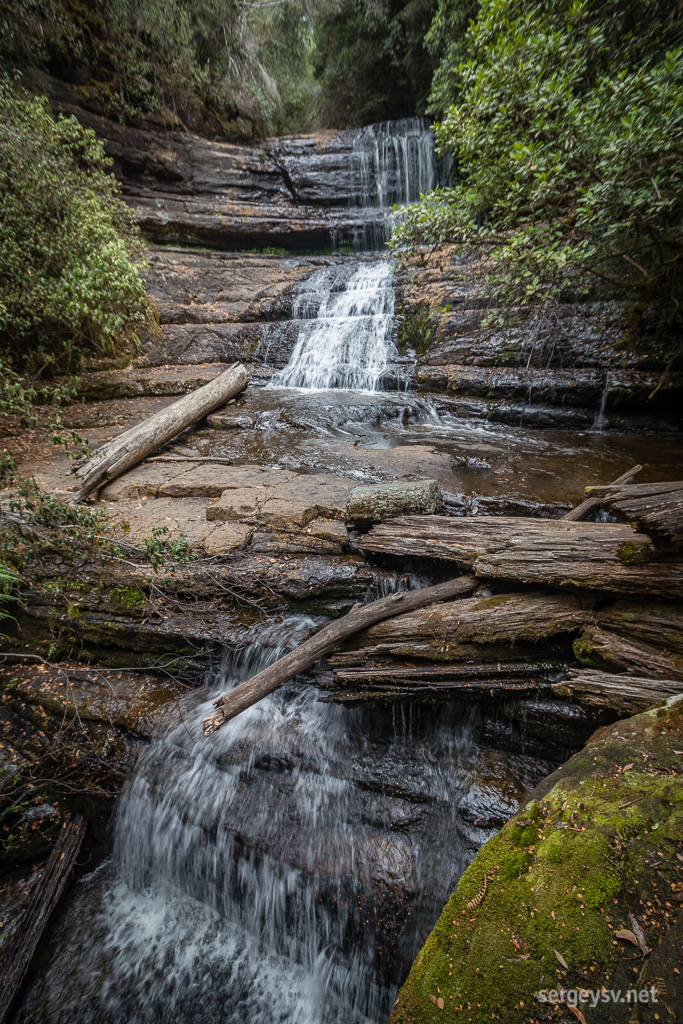 Lady Barron Falls.
Lady Barron Falls are not very impressive, but that's alright. At least on my way there and back I'm getting as much fern, moss and moss-covered trees as I can possibly get.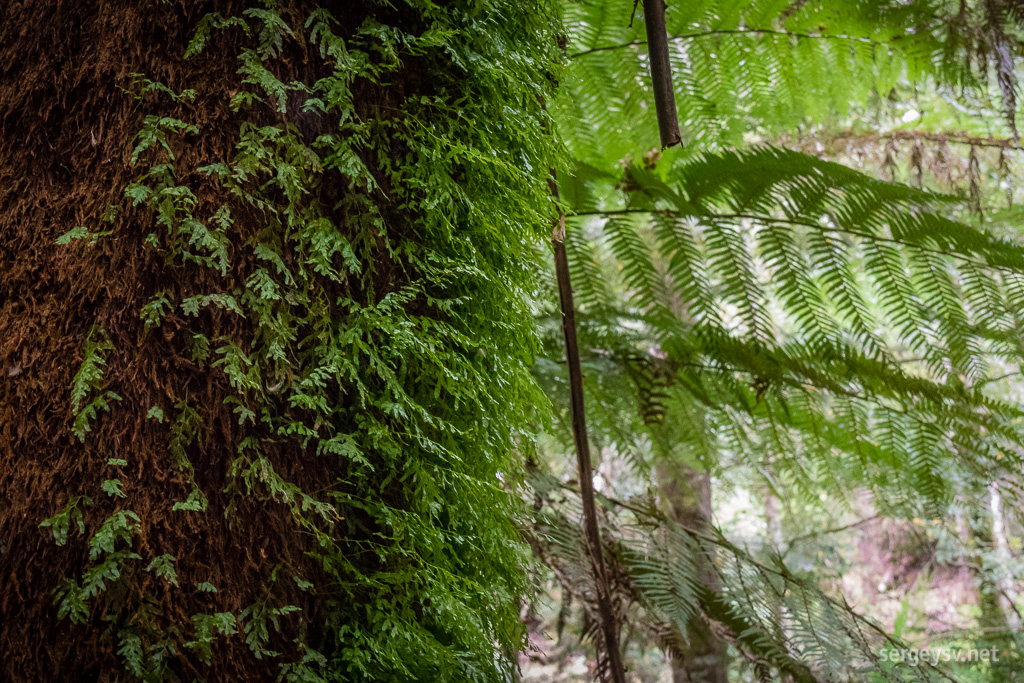 Fern growth.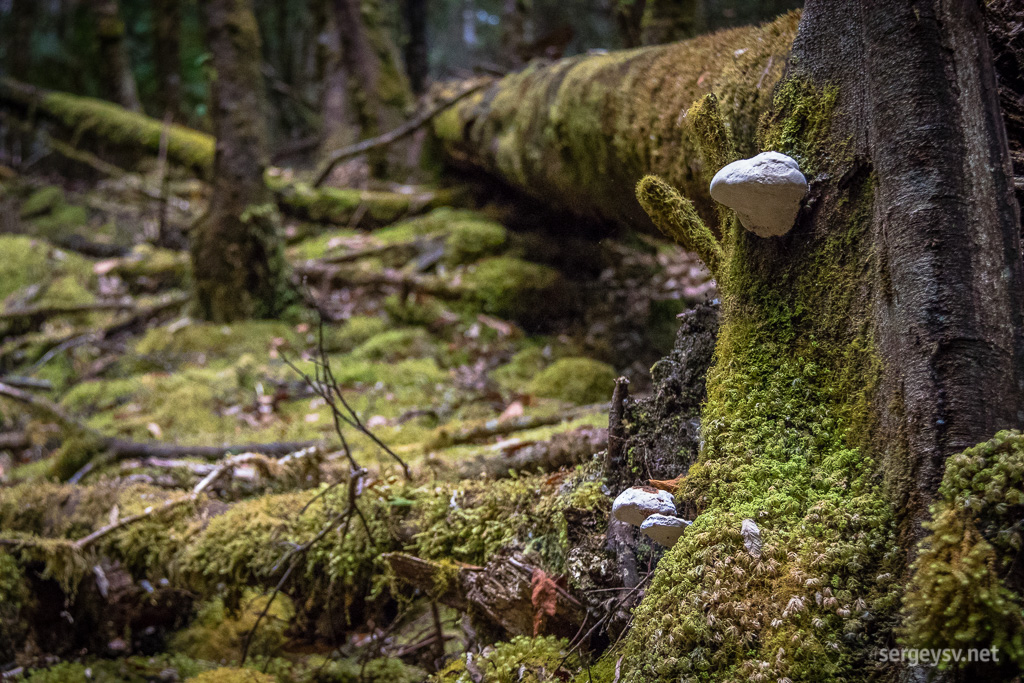 Mosses are cool.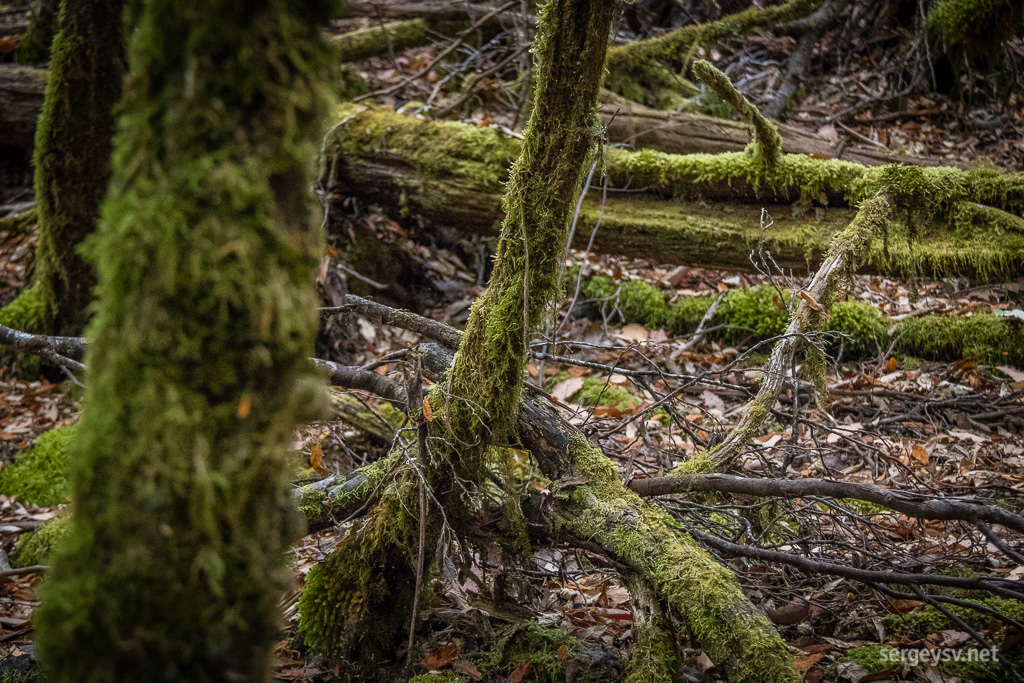 So are the moss-covered trees.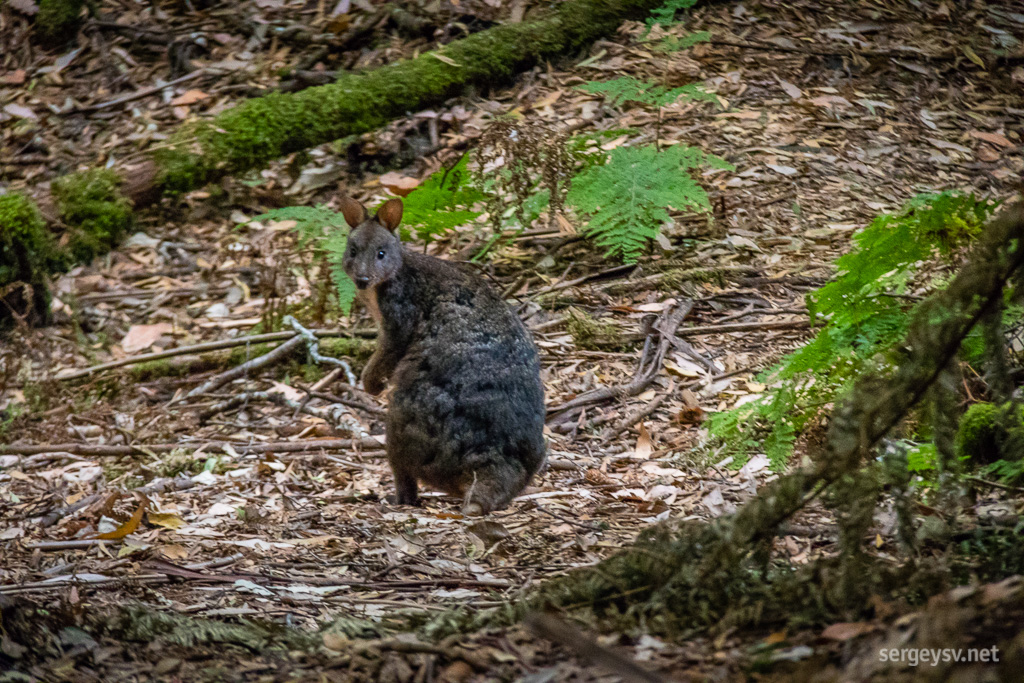 Marsupials agree.
I still can't make peace with the extra charge for the vehicle, and as I return to the visitor centre I steal a shower at the nearby campground. Sorry, guys. In my defence, you could at least fit those shower booths with curtains.
That done, I help myself with some tea and after some thinking decide to take the road to Lake Pedder: looks like I can fit it in and stay on schedule, such as it is. The road is unsealed, and I do manage to miss my turn before correcting my mistake, but otherwise the drive is quite pleasant and uneventful.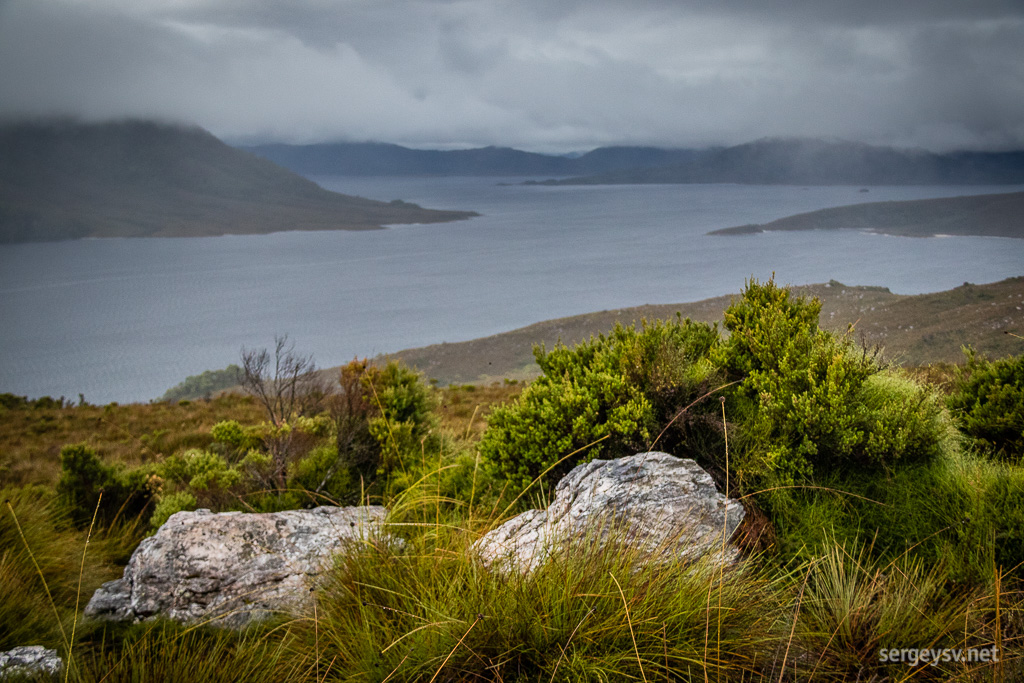 Lake Pedder.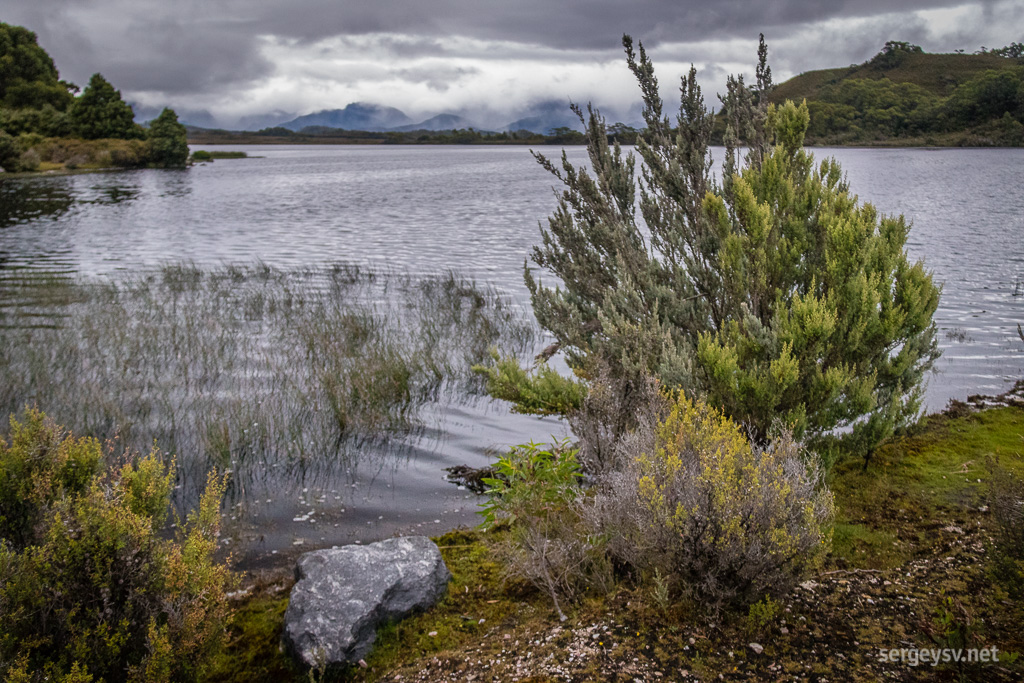 Near the Edgar Dam.
The lake looks scenic and very remote indeed. Only a couple more campers near the Edgar Dam, and no mobile signal at all, but that's fine. In exchange, I'm treated with a sight of a Tasmanian pademelon grazing a few steps away from my car at dusk and not even trying to run away as I try to photograph it. Here's when my prior upgrade to Canon 80D finally pays off. High ISO levels allow me to shoot in near dark effortlessly, and the pivoting LCD screen helps a great deal to take shots very close to the ground.
A pademelon, camper's best friend.