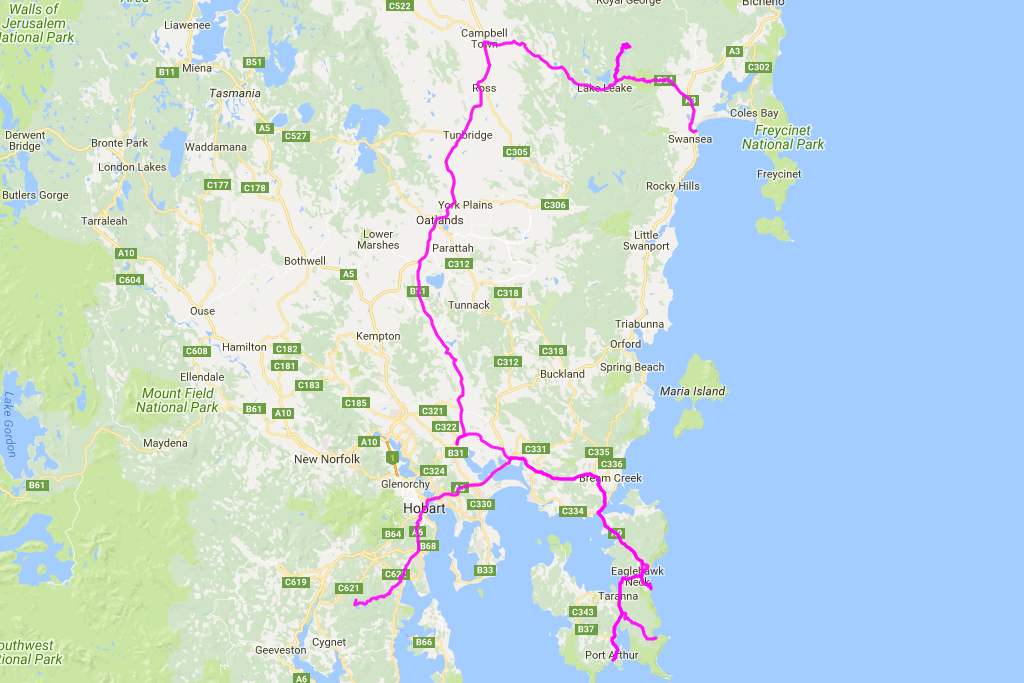 Distance covered: 451.0 km.
Having deflated the tyres in the morning just for good measure, I retrace my steps back across that nameless 4WD track; and, of course, take two is a lot less scary than take one. Valuable lessons learned, though (never trust Google!), and some four-wheel driving skills gained, and not even a single busted tyre for it. Could be worse. Could be much worse.
I pass Hobart for the second time and drive further west, towards the Tasman Peninsula. The weather is the worst: barely 10°C and very sharp, chilly winds. Knowing how fast it changes here, though, I'm not worried.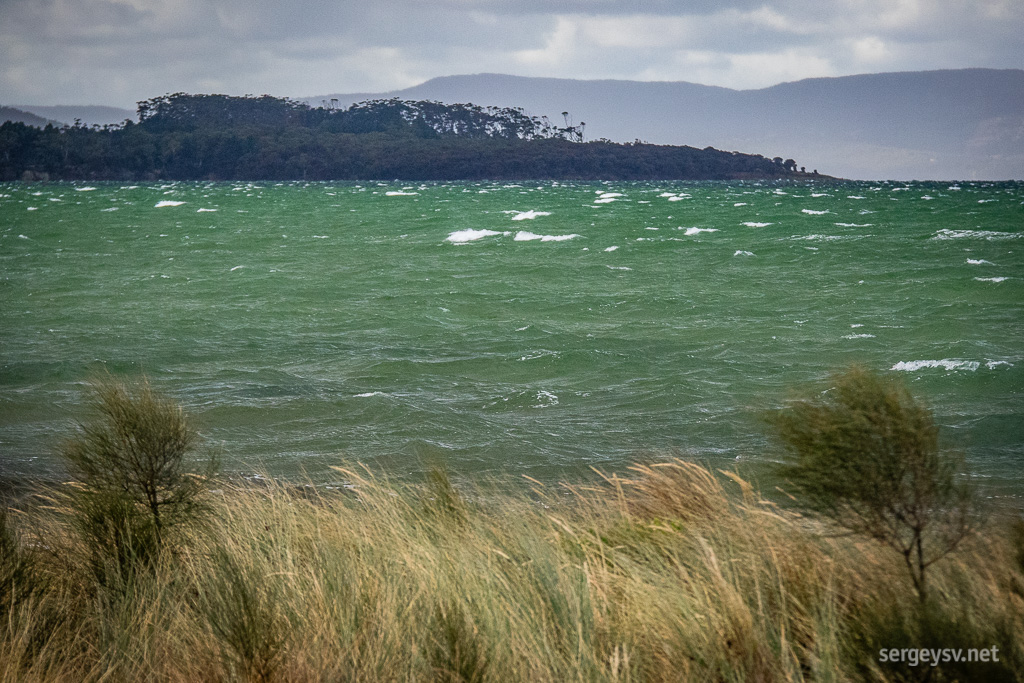 Dunalley Bay.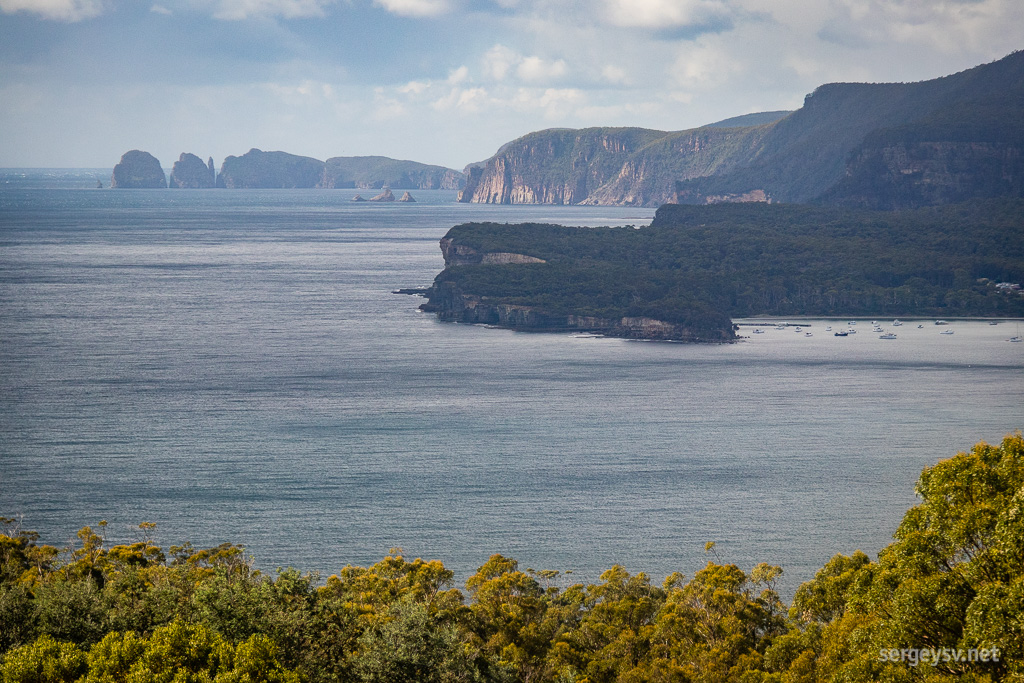 Pirates Bay.
Sure enough, soon it gets a bit more sunny and warm, and the surrounding scenery becomes more and more appealing. I'm in the Tasman National Park now, and you can see why they made it here. The Tessellated Pavement is my first sightseeing stop for today.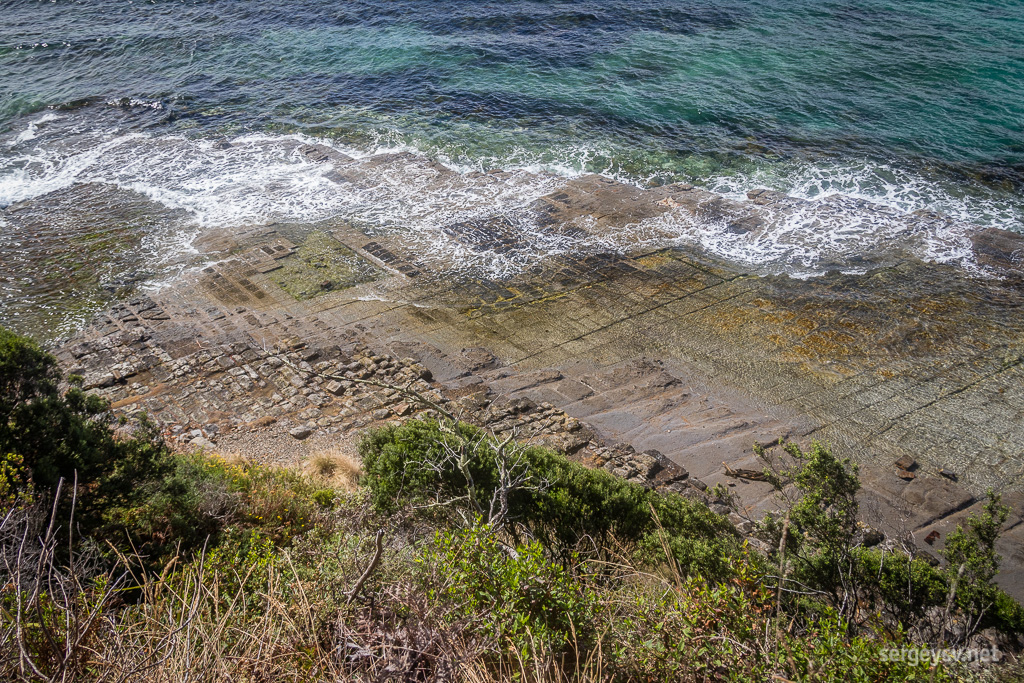 The Tessellated Pavement.
A portion of the rocky beach seems to be paved with square-looking tiles, but it's not: the whole thing is Mother Nature's doing. Unfortunately, it's high tide now, so I can't see as much of this remarkable beach as I would like, but even what I do get to see looks very interesting.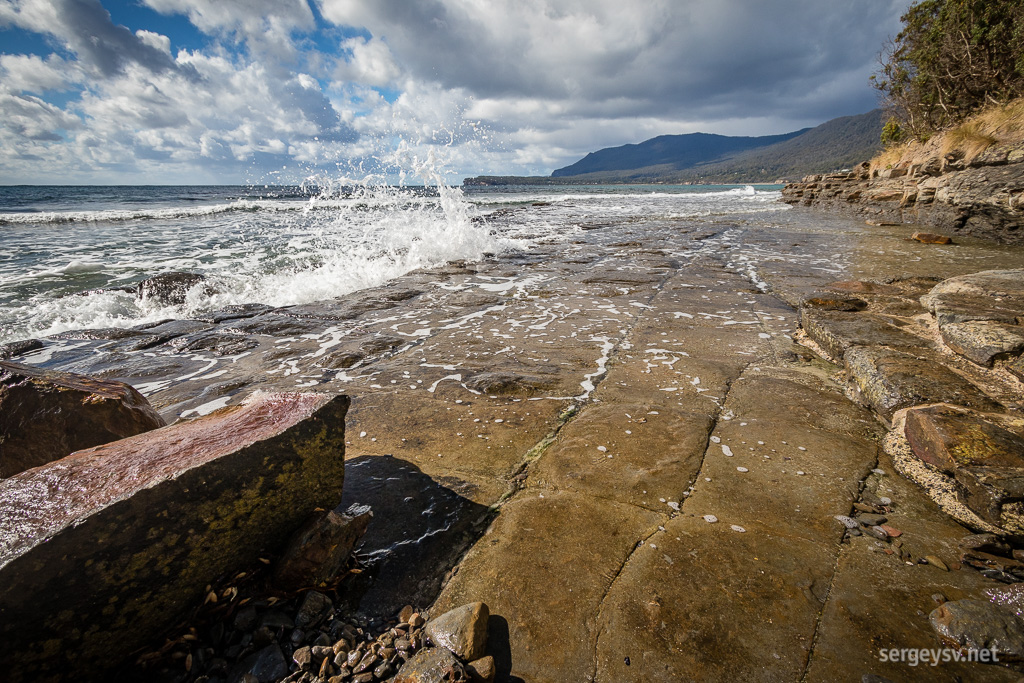 Cool rocks and cooler surf.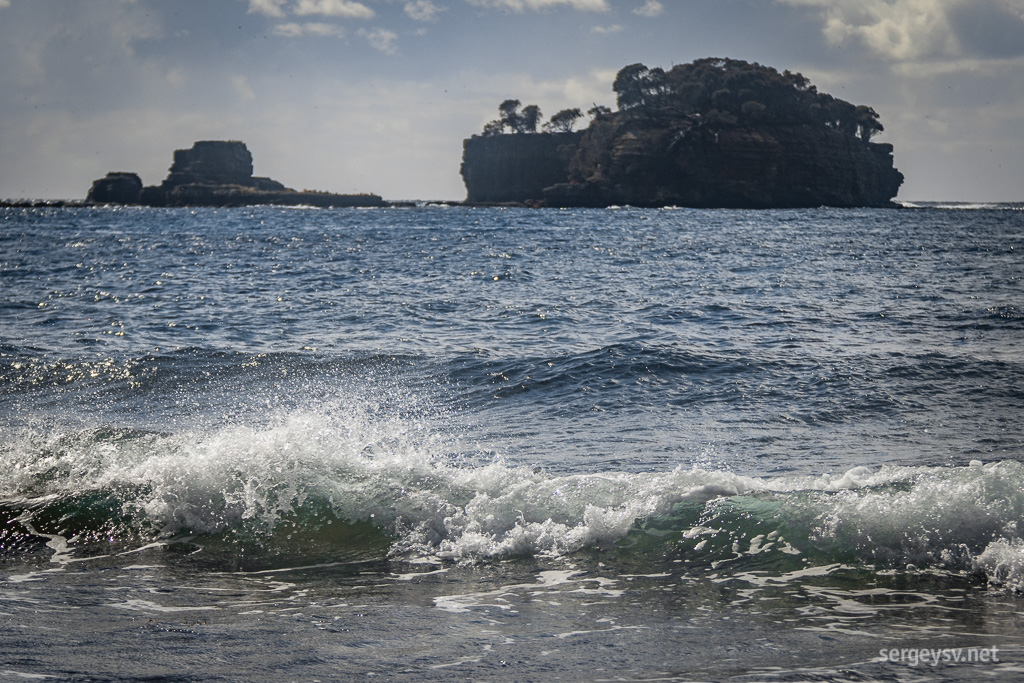 Gotta love those isolated limestone islets.
This isn't, however, all that the park can offer. It features some of the most spectacular coastal scenery in Tasmania, and every lookout seems to be more striking than the other.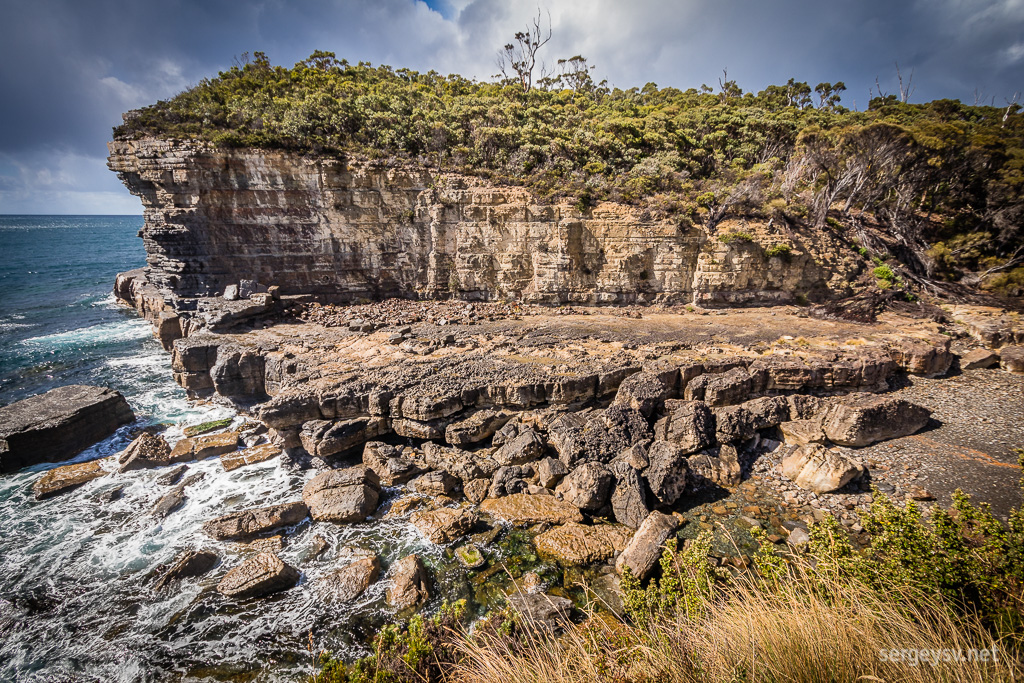 At the Fossil Bay Lookout.
From the Devils Kitchen, you can take a stroll along the coast towards the Waterfall Bay to soak up the scenery; it might take a couple of hours, but you won't regret it. It's a very easy walk, and every few hundred metres there are more and more lookouts that provide the most breathtaking views.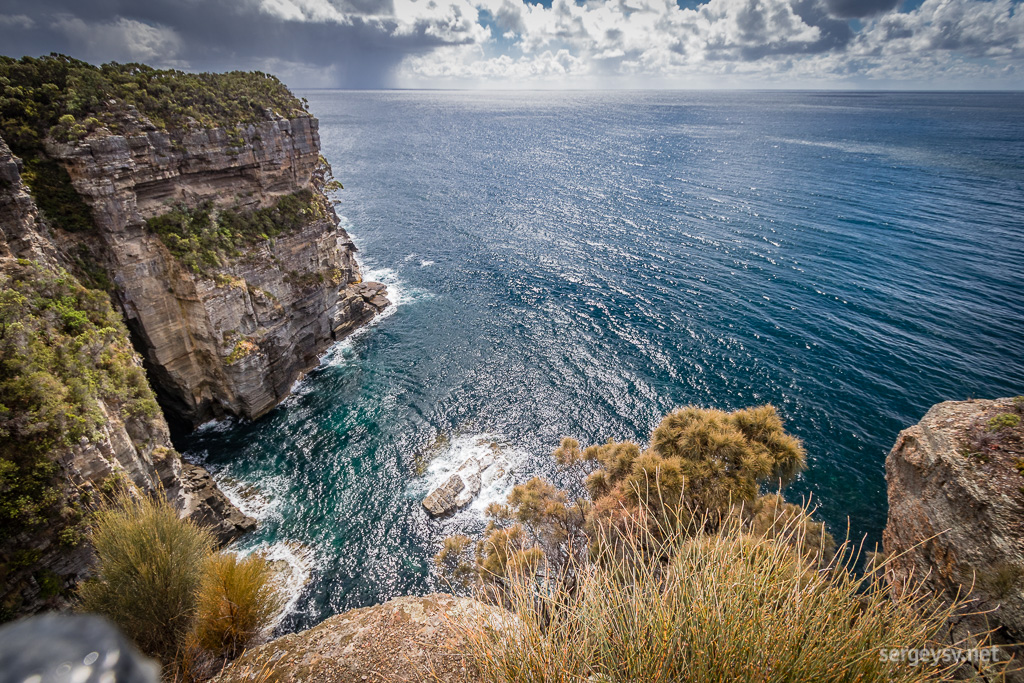 The coastal cliffs.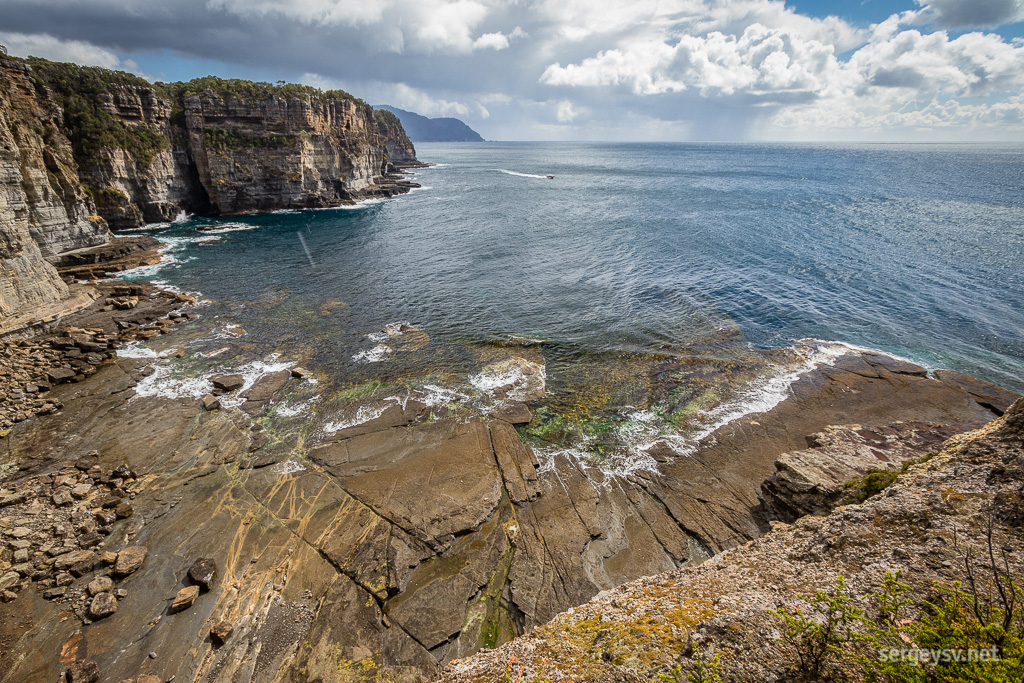 An inhospitable-looking beach.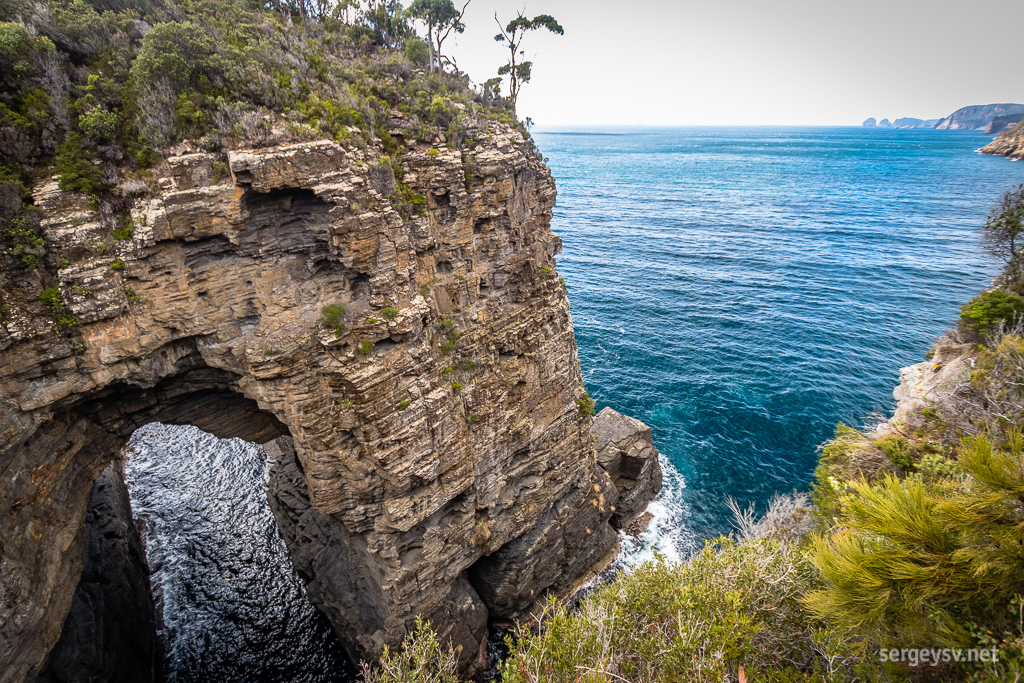 The Patersons Arch.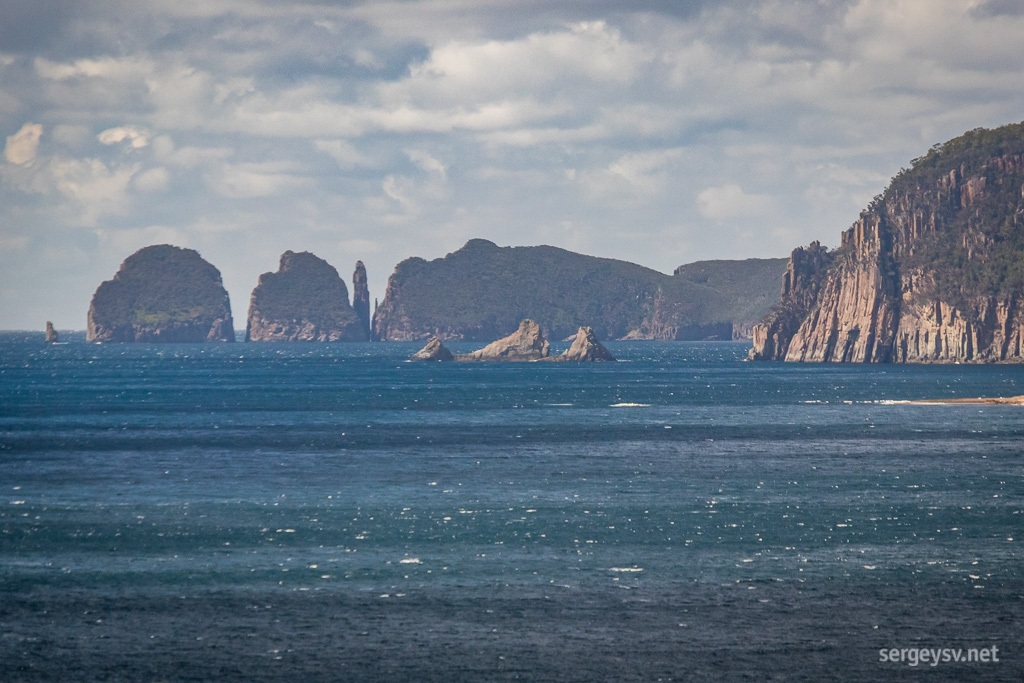 Spectacular rocky islets.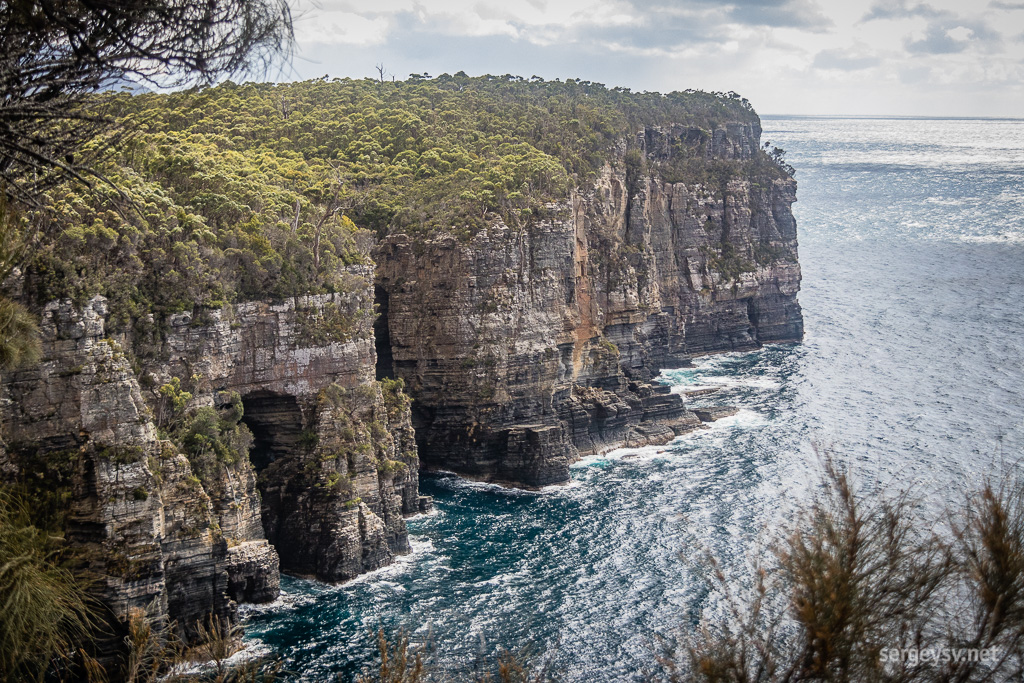 Even more coastal cliffs.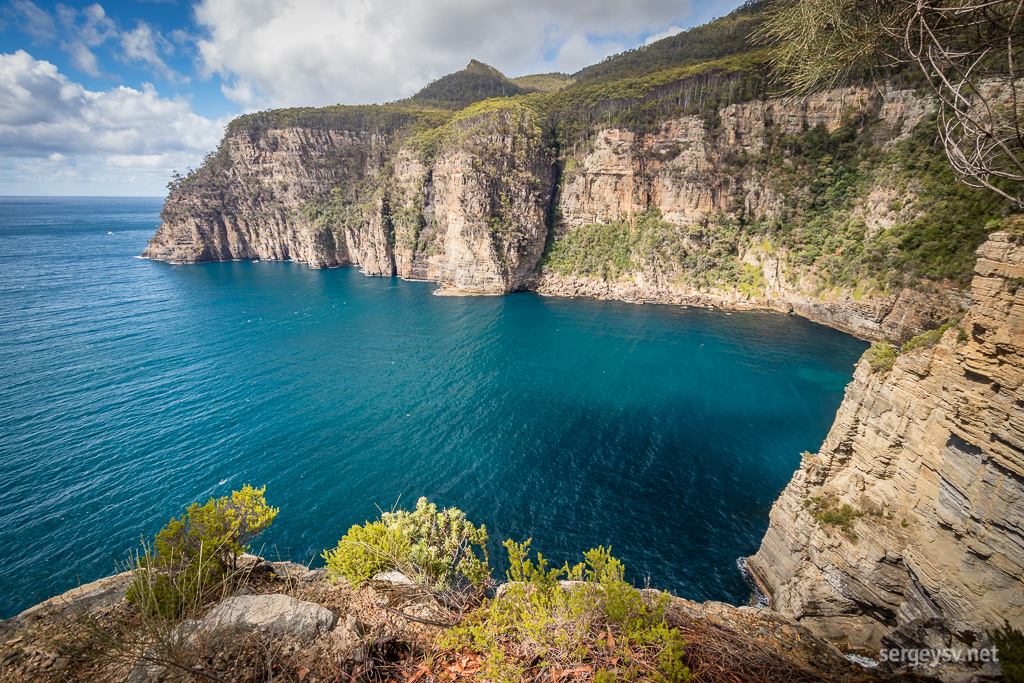 The Waterfall Bay.
Upon returning back, I have a quick snack to fuel up my hiking ambitions, then take a brief stop at Tasmans Arch before heading to the Fortescue Bay.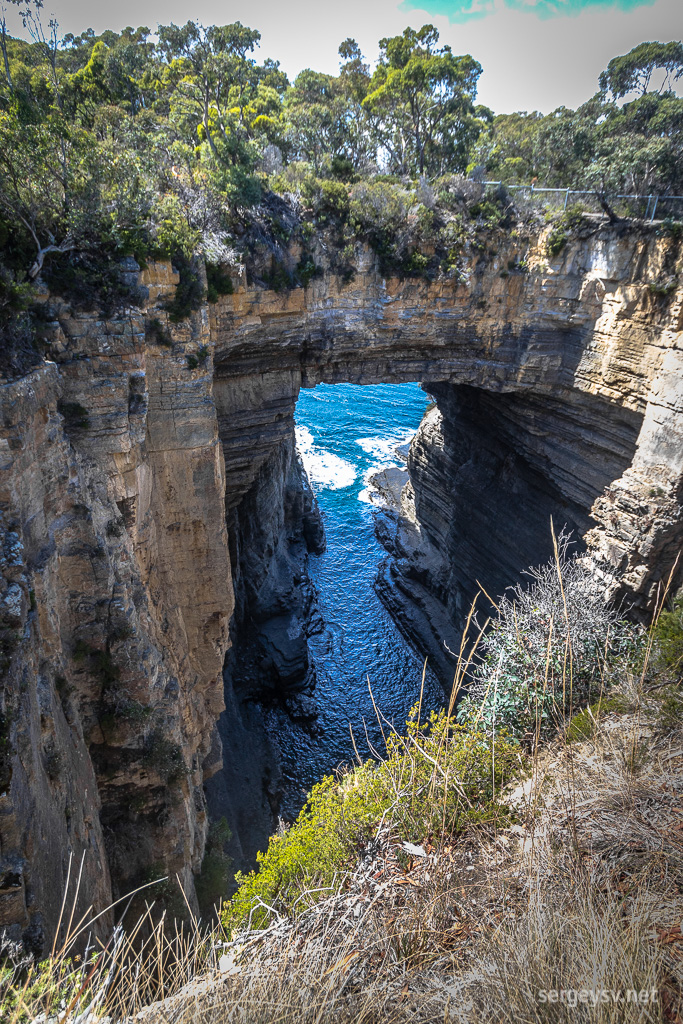 The Tasmans Arch.
The Fortescue Bay turns out to be a popular picnicking destination, and they even charge a fee to access it. The bay itself looks lovely, but nothing extraordinary, so my stay there is brief. On the rocky beach I spot a couple of pretty girls and a swarm of photographers. It's sunny, but still quite chilly, so if they're there to advertise swimwear, I do not envy them at all.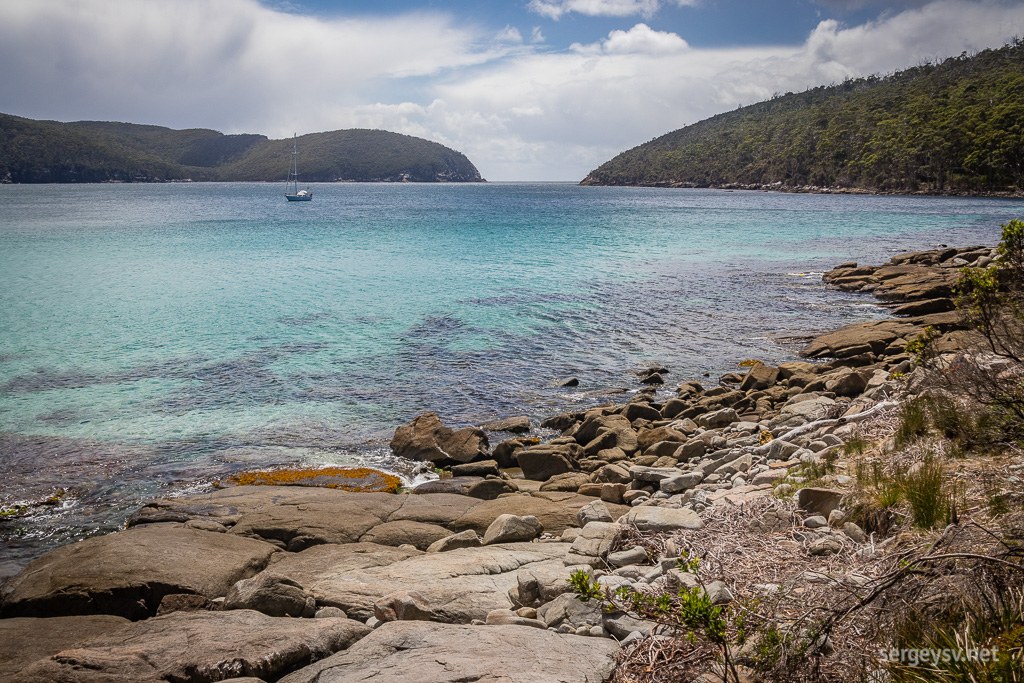 The Fortescue Bay.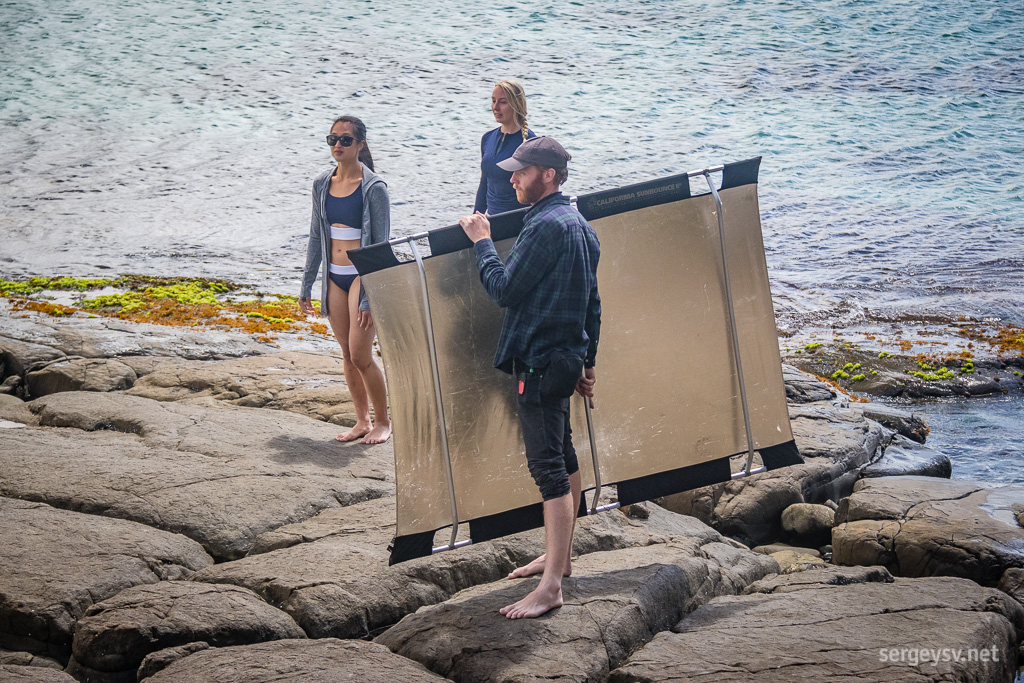 Models at work.
Time to go further, though. A few more kilometres of beautiful coastal scenery, and I'm at the Remarkable Cave. A fair bit of tourists around, but I've seen worse.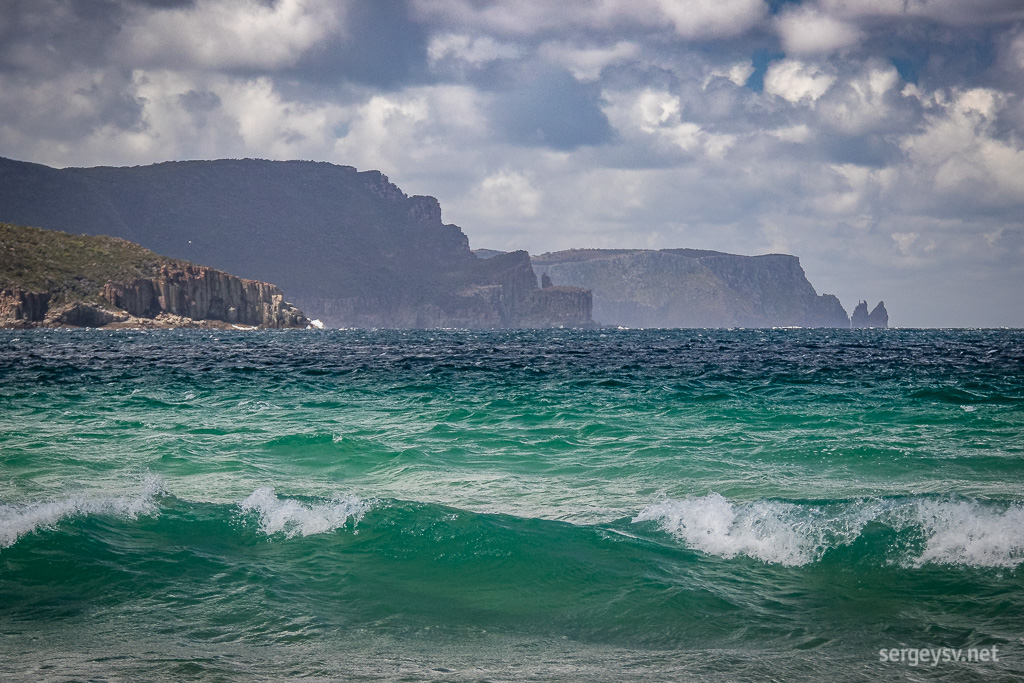 Surfs and cliffs.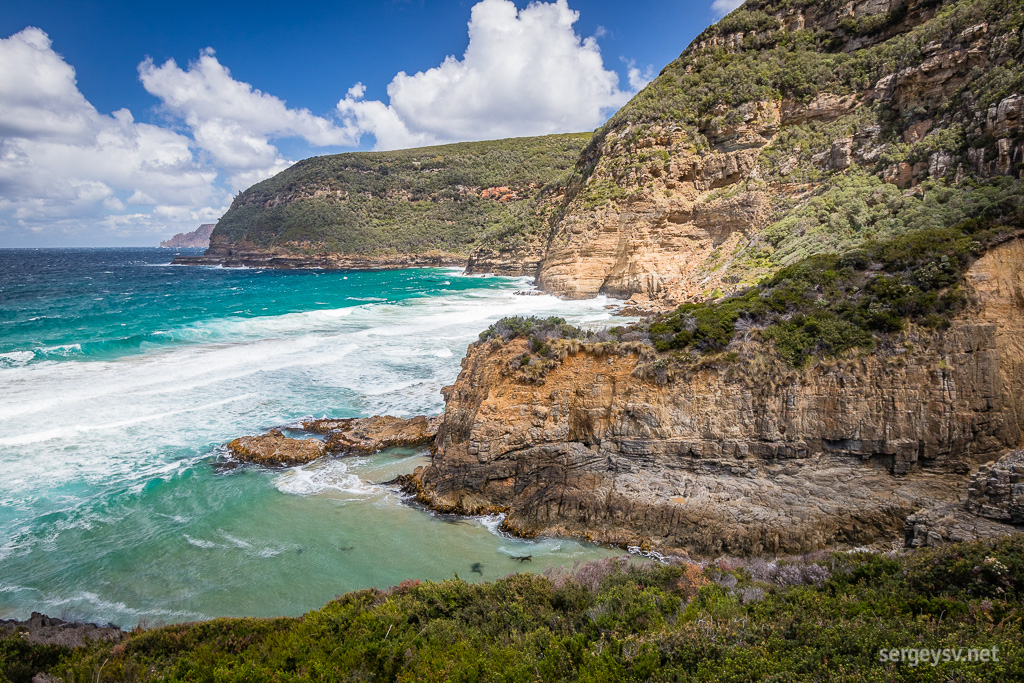 Near the Remarkable Cave.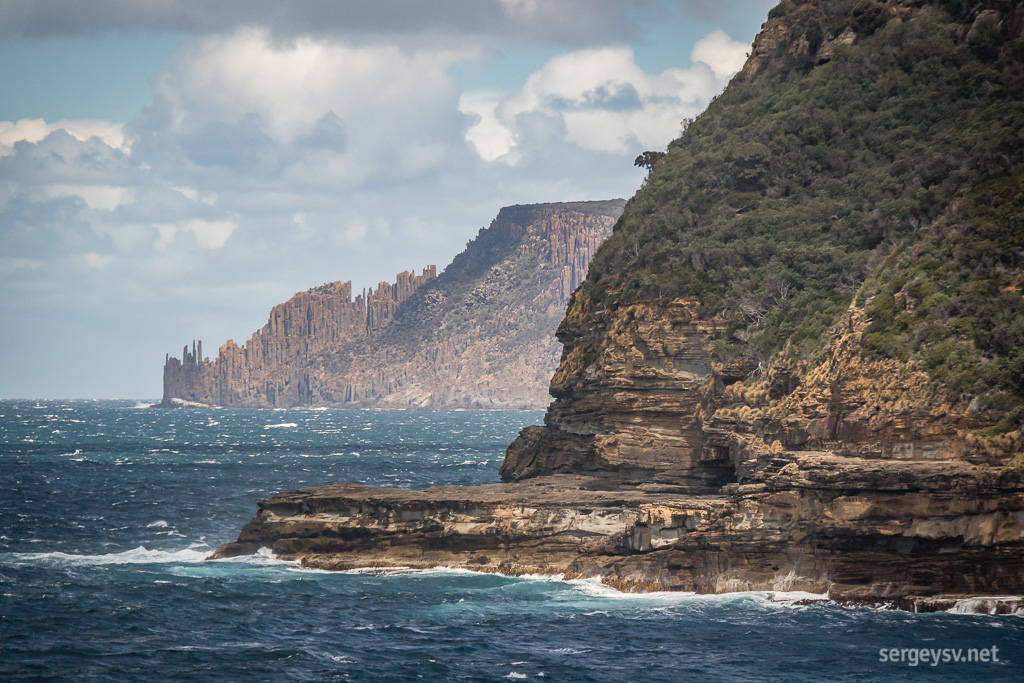 Devilish-looking cliffs in the distance.
The remarkability of the cave is the fact that tide waves come rushing through it all the way to the lookout platform, producing cool effects and interesting sounds. Due to the tide being low right now, it's not the best time of day for that particular show. This is, however, why I can climb off the platform and venture out into the cave itself. You're not supposed to do that, by the way.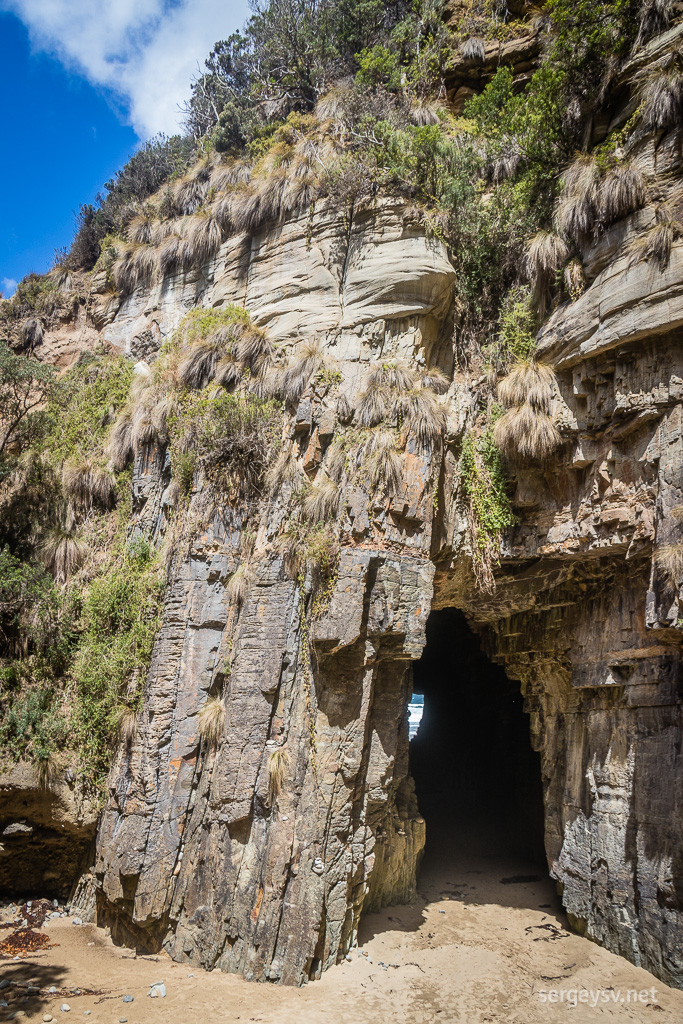 The Remarkable Cave.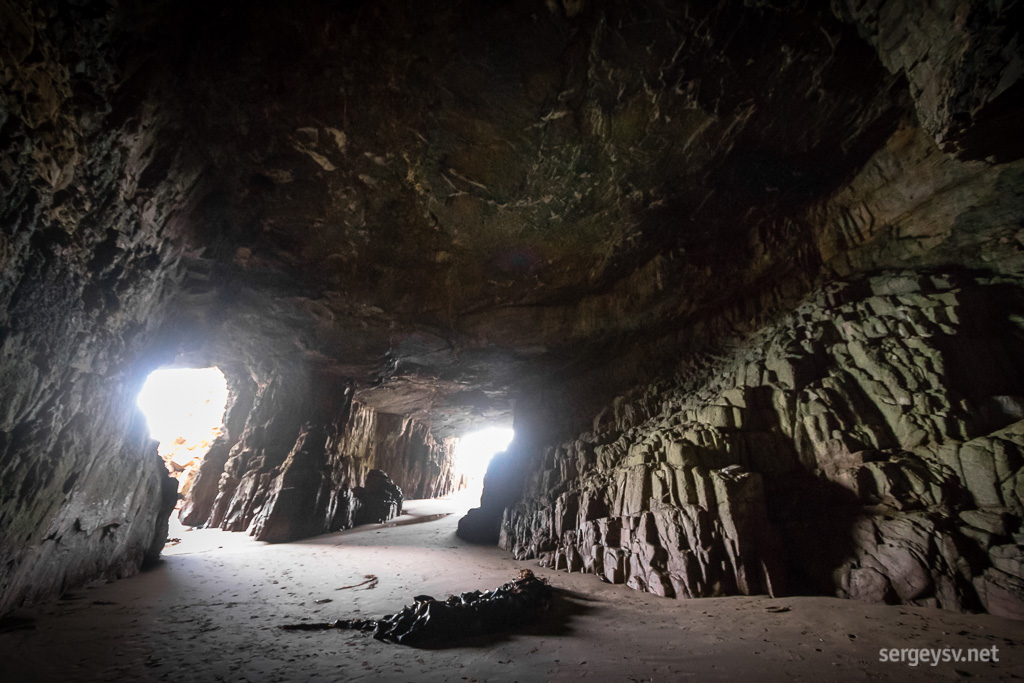 Two entrances are clearly visible from the inside.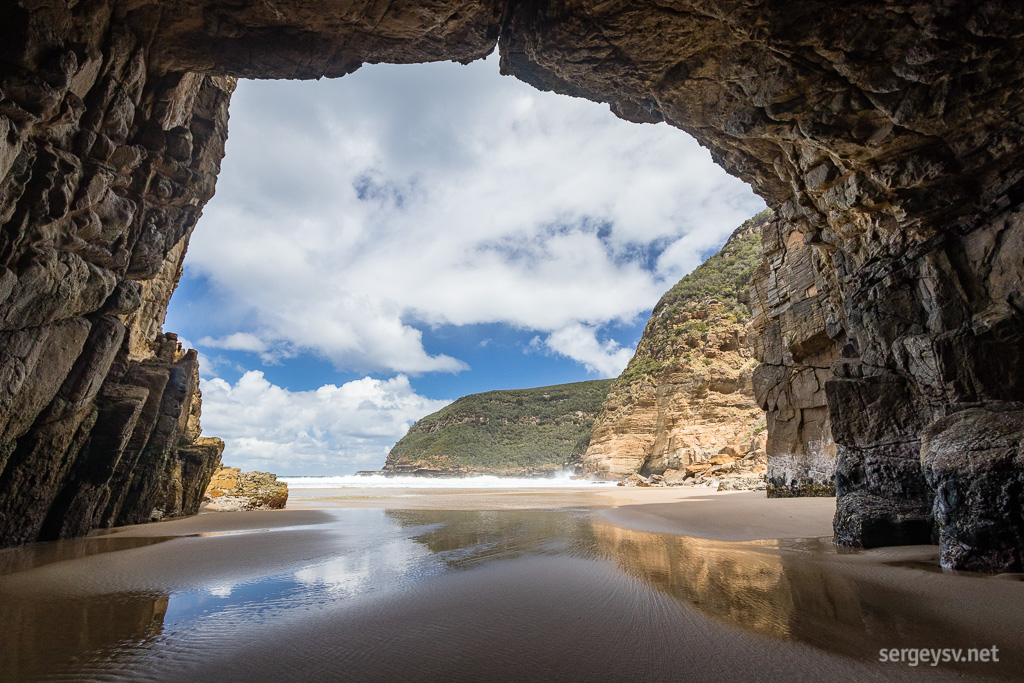 While the tide is low.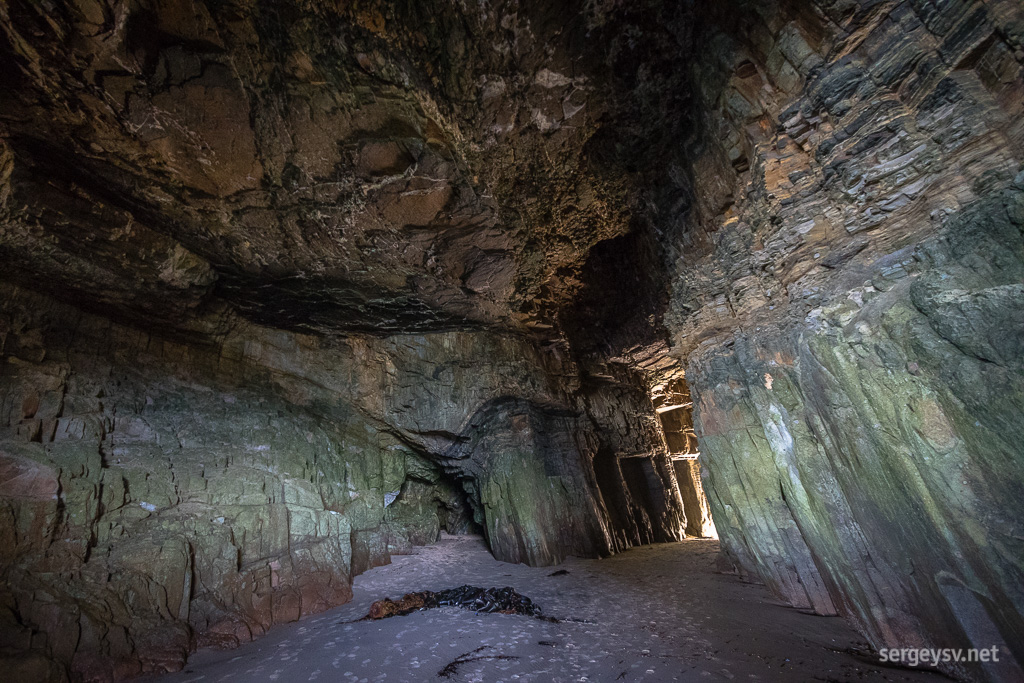 Looking back inland.
That concludes my coastal experience for today. I return back inland and visit Richmond to purchase a few things for my friends, and then drive across the midland portion of Tasmania up north towards Campbell Town. For the first time in days I can enjoy a relatively straight road that doesn't twist and turn every few kilometres. In a truck in front of me a dog barks joyfully at the sheep grazing nearby, and they scatter around in panic much to the dog's delight. Simple joys of rustic life.
At 5:20, after some gravel road driving, I arrive to Meetus Falls. Not a single soul around: evidently, tourists don't like gravel roads. More for me, then. A very quiet and a very tourist-less walk takes me to the waterfall – with my favourite tree ferns all over, of course.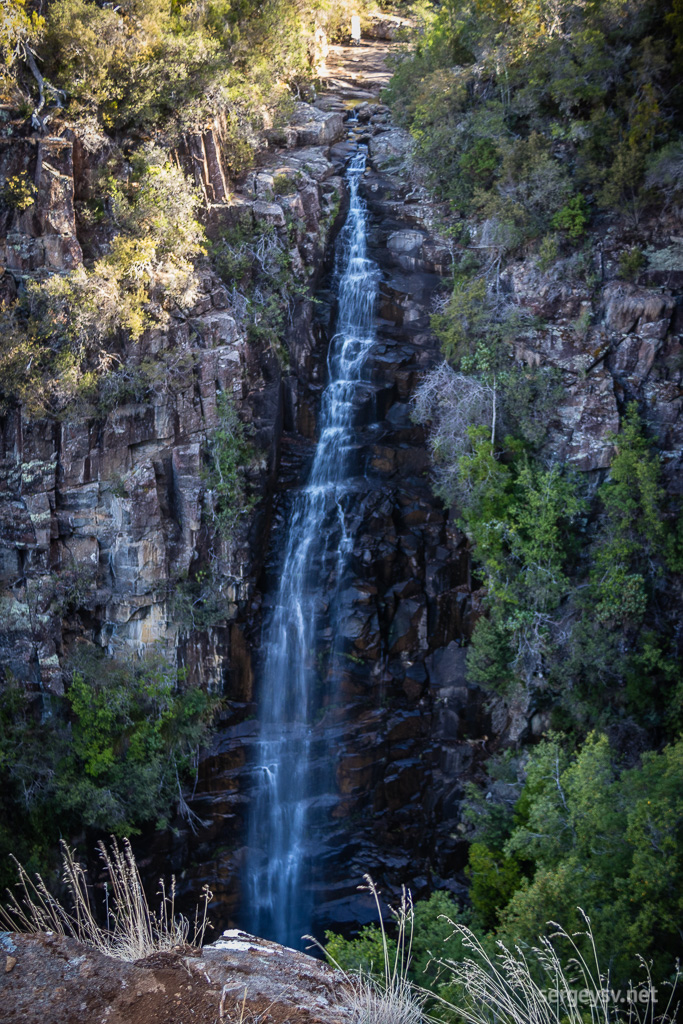 Meetus Falls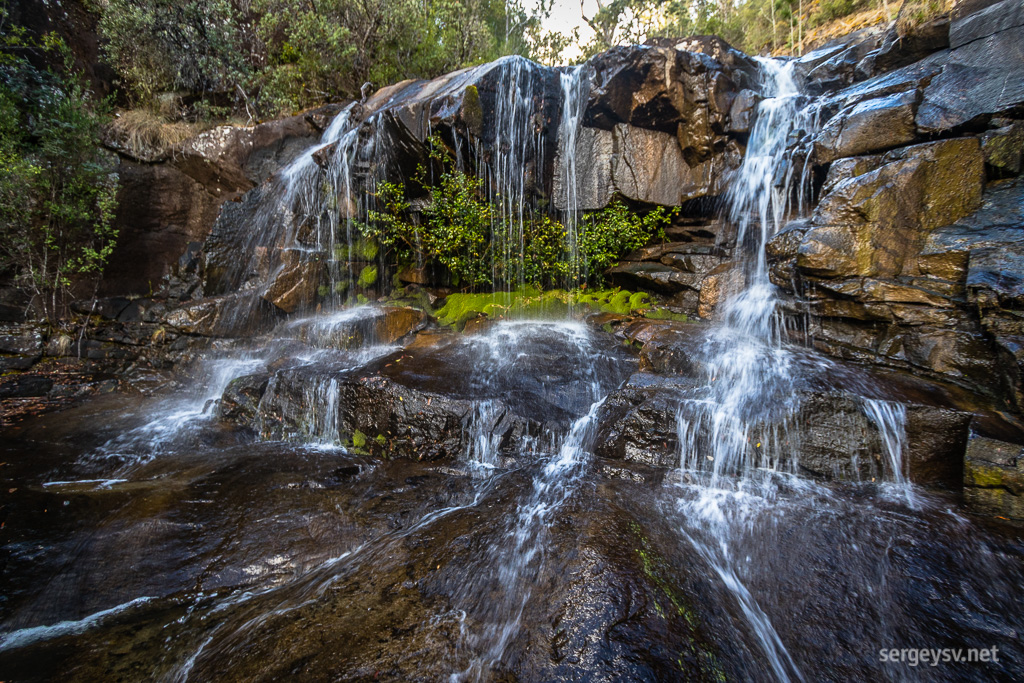 The lower cascade.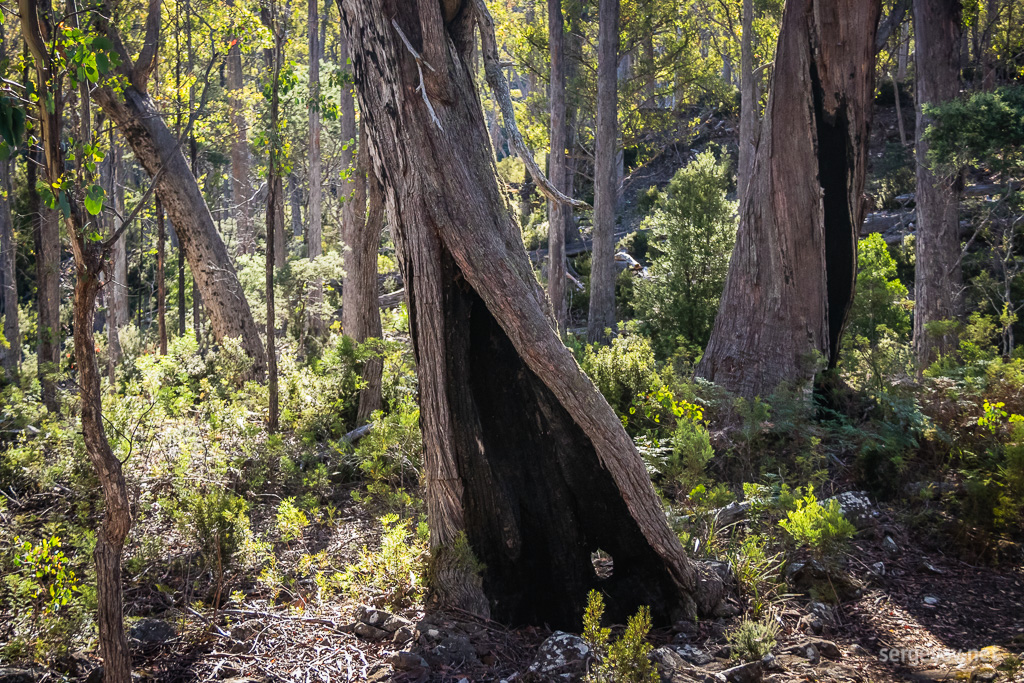 On the way there and back.
On my way back I spot an echidna on the road shoulder. The creature is obviously not harassed by tourists too often, because it quickly stops worrying about my car idling nearby and starts looking around in search for food. Who needs zoos when you can see wildlife like that in its natural habitat? If you can call road shoulder a natural habitat, that is.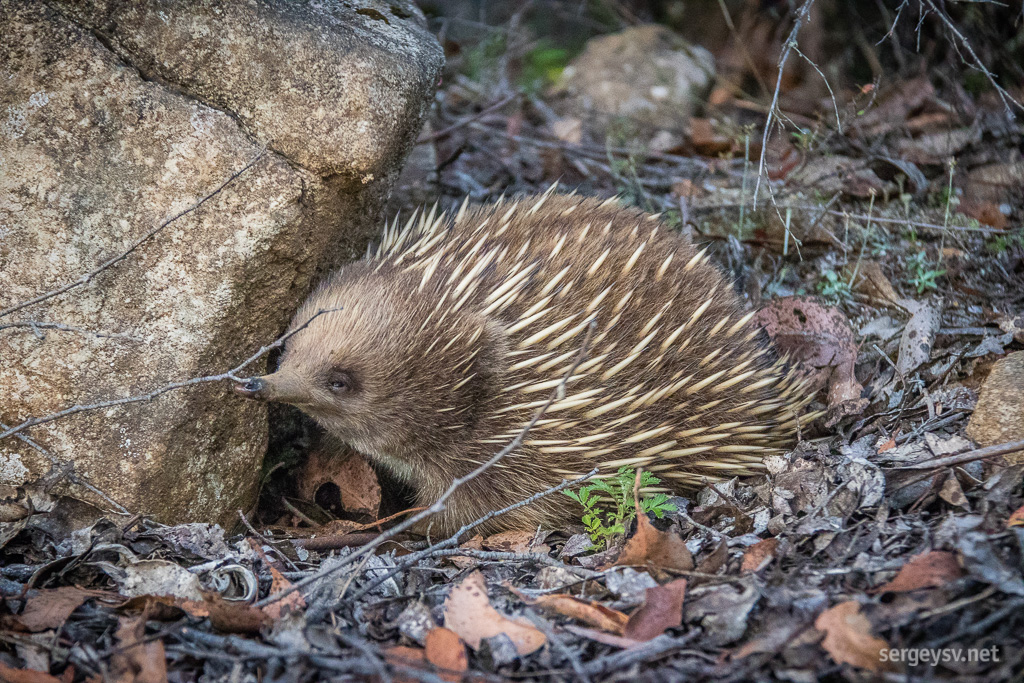 A roadside echidna.
Upon arriving at Swansea at 7 o'clock, I try my luck at two different places for a shower. No good. Both look more like resort-style places rather than regular caravan parks, and the reception is simply closed for the day. Time to improvise. A backpackers hostel on the outskirts of the town allows me to shower for $5, and I camp for free near the boat ramp where another caravan driver is already stopped nearby for the day.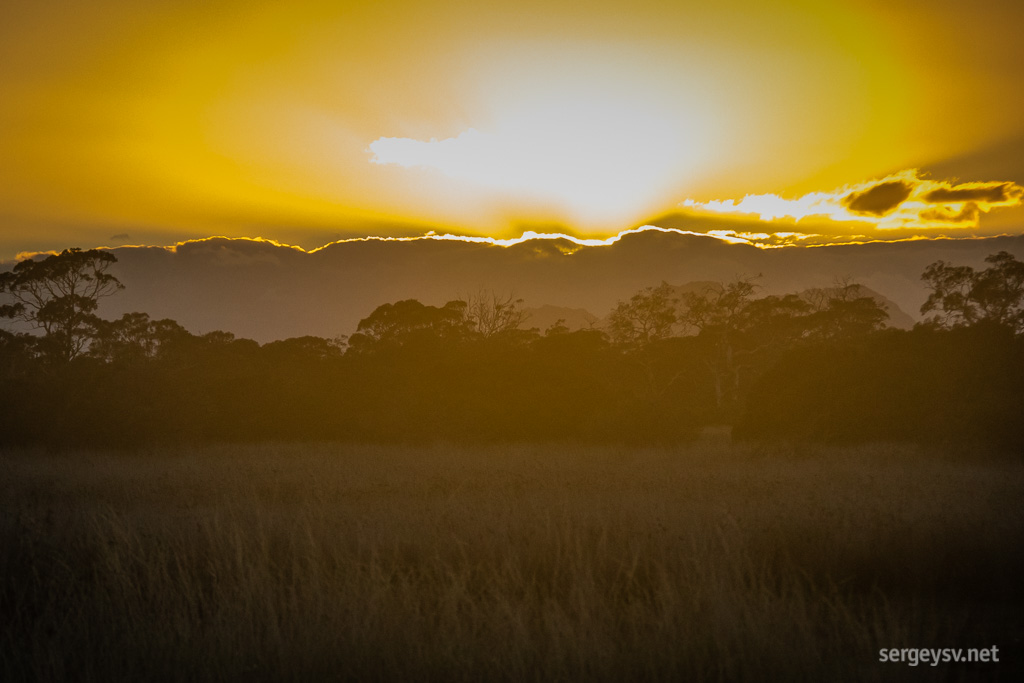 Time to call it a day.