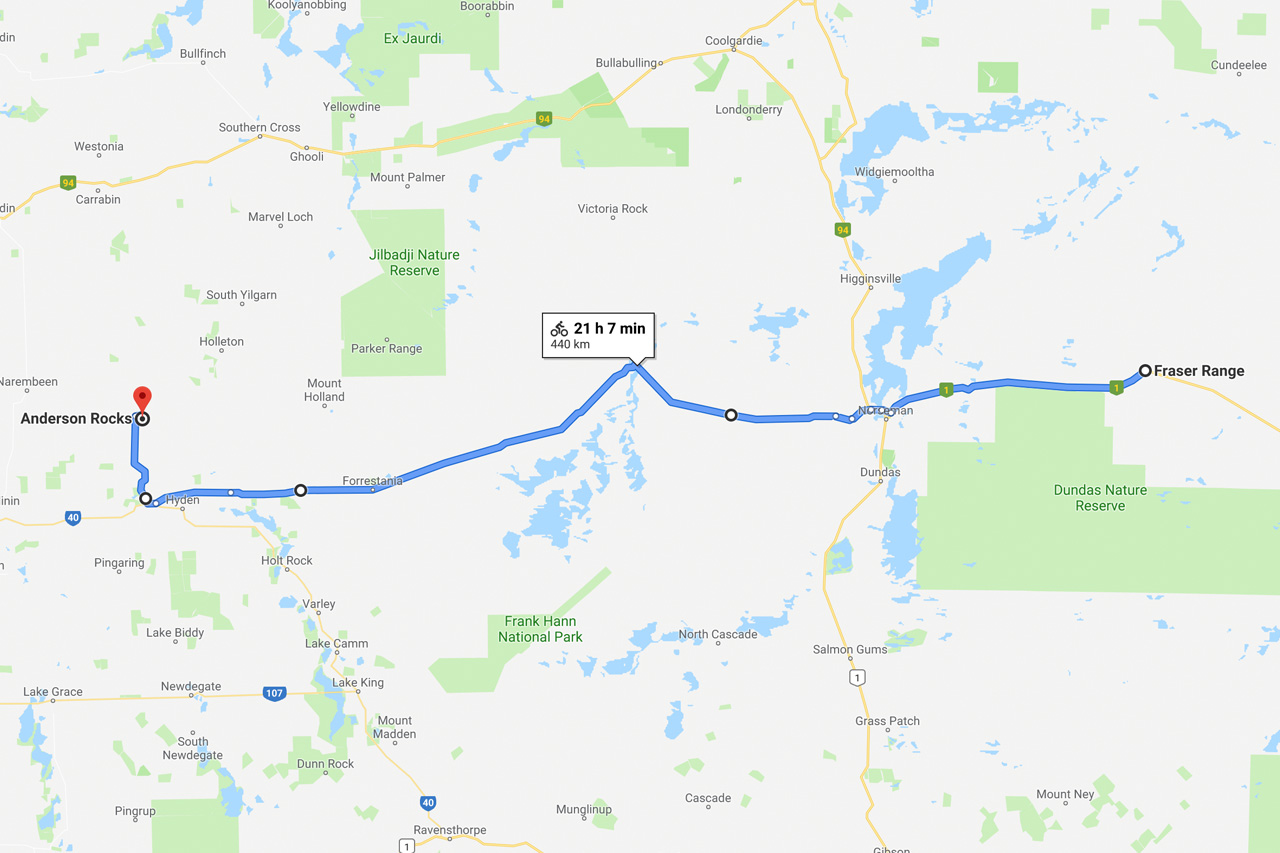 Today's journey.
Prior to this journey, all my previous outings were (more or less) carefully planned; I knew exactly where I wanted to go, and when approximately I would get there. This time, however, I'm completely winging it. Because I have my laptop with me, I can actually work on the road, so I don't even have to return to Sydney by a specific date. For now, however, I'm still on leave, and therefore I have to decide where to go from here.
After some consideration, I set my sites on a route with a rather flamboyant name of
The Granite and Woodlands Discovery Trail
, which is just a fancy name for a stretch of unsealed road between Norseman and Hyden. And near the latter I also have a chance to visit the famous Wave Rock as well. Sounds like a plan, I say!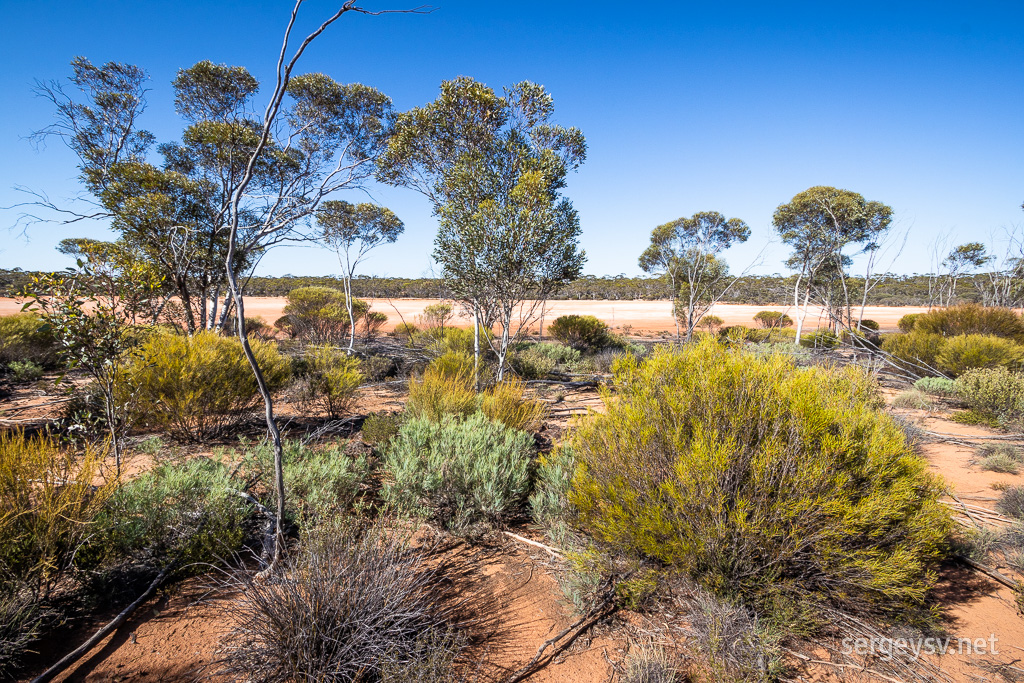 More Western Australian red dirt.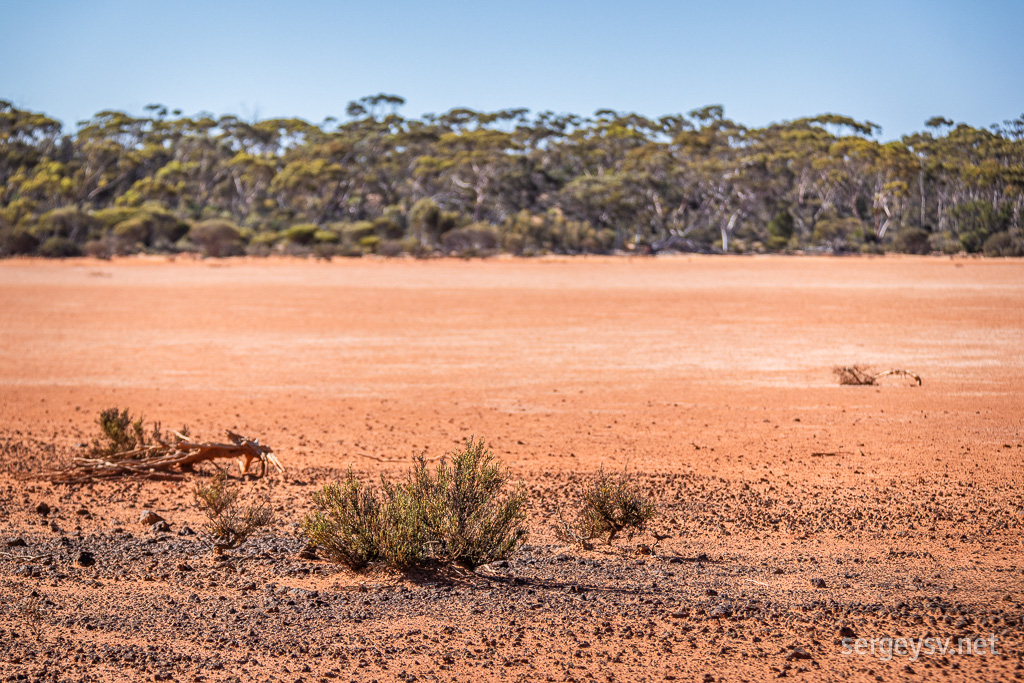 A saltpan, one of many in these regions.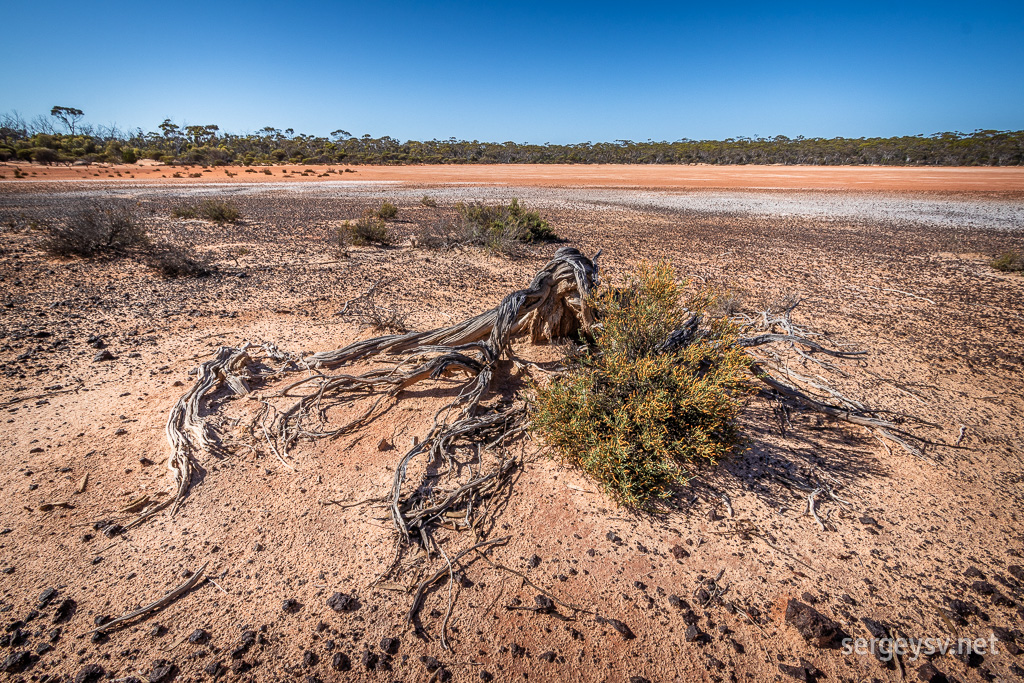 I wonder what happened to this one.
Before that, however, I need to take a maintenance stop at Norseman. I'm already familiar with the BP servo at the intersection, right before you enter the town; here you can take a shower for just a few bucks, which is what I happily do. I also use this opportunity to replenish my drinking water reserves and to refuel, of course. Some shopping is also due; and as I start the car to drive away from the local store, I manage to inadvertently scare a couple of old ladies with my squeaky air con belt. In my defence, the squeak developed only in the last couple of days; definitely something to look at later.
For now, though, I'm happy to move forward. The bitumen ends almost as soon as I'm out of Norseman, and red dirt promptly takes place. The road is in excellent condition, though, and it is every bit as scenic as the Internet promised. Some places look like they have recently survived a bushfire or two, which is not a surprise at all in this heat.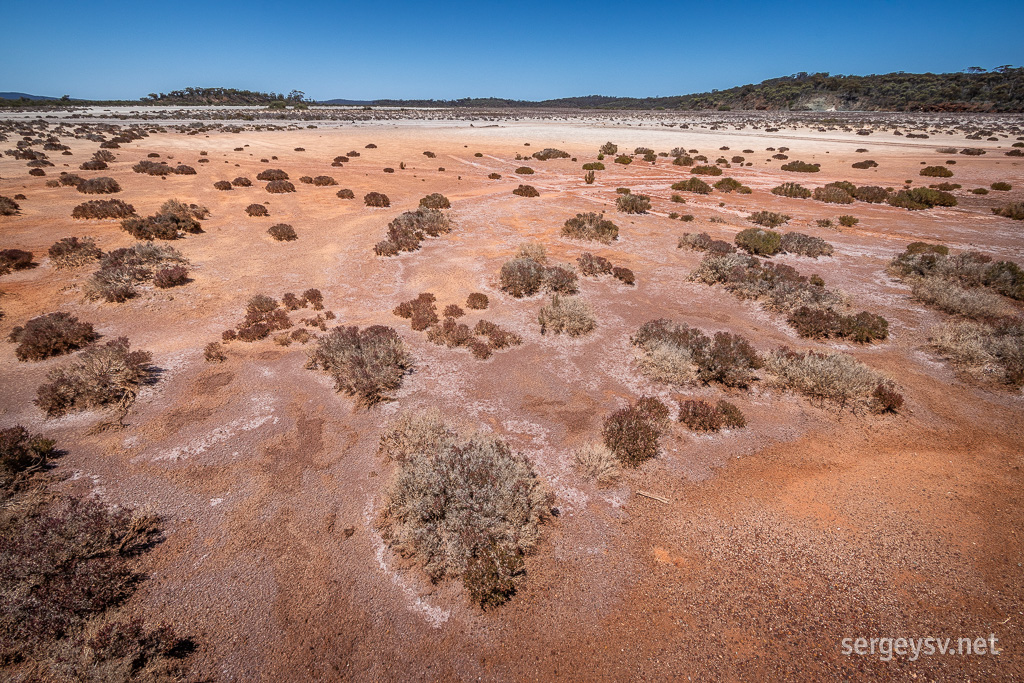 Another saltpan, just outside Norseman.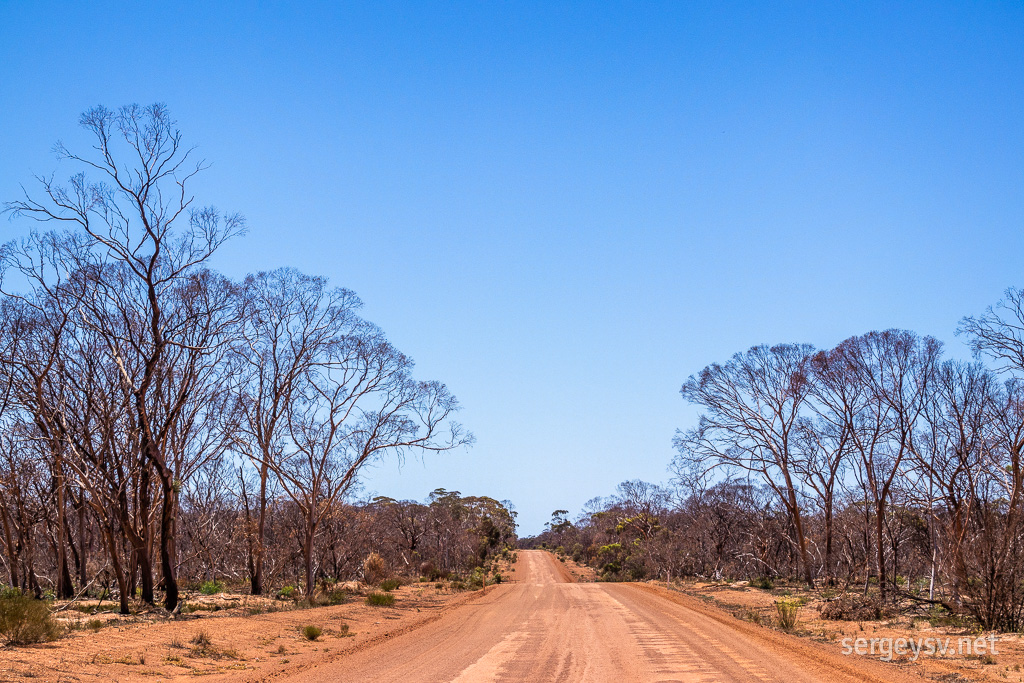 The Trail itself.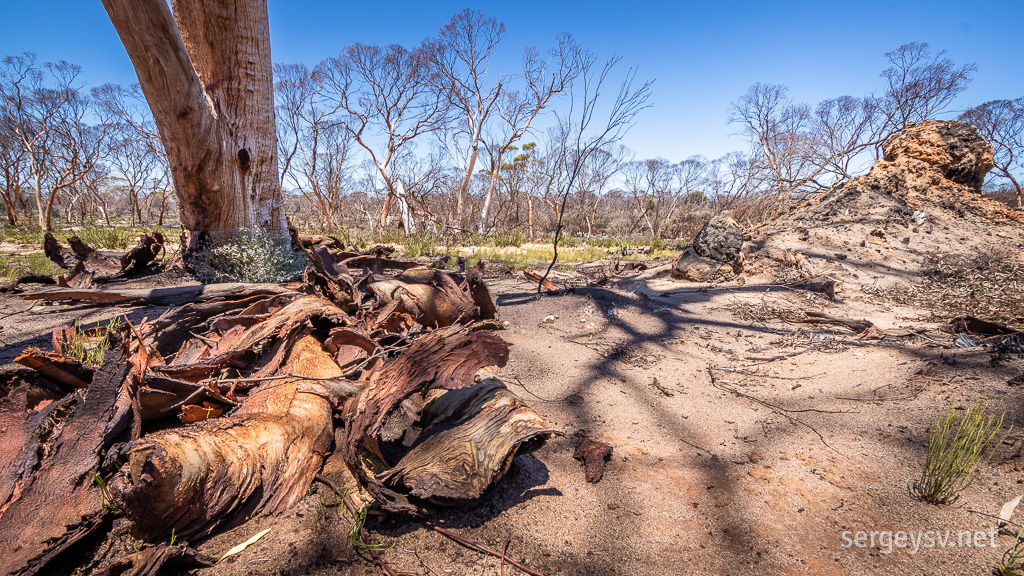 Traces of bushfires.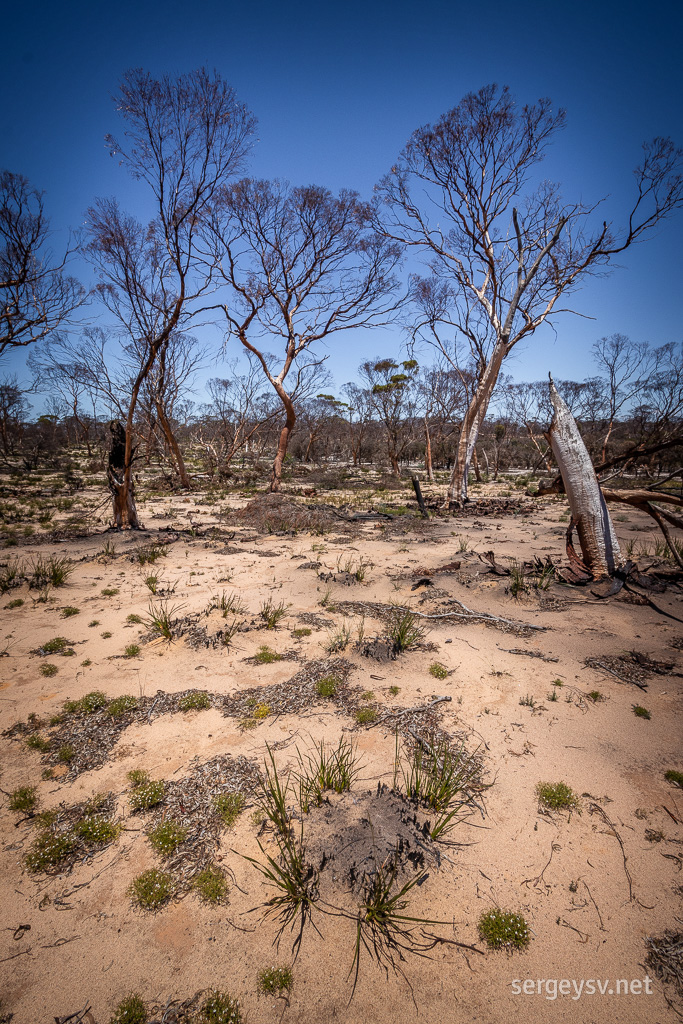 The grass is already springing.
About an hour later I arrive at the place called the Disappointment Rock. It's always good when a place name sets the bar of your expectations low enough. However, it does look quite interesting. The Rock itself is a huge granite outcrop – there's so many of those in this region of the country – and despite the total lack of people around, it has plenty of signage and information boards, explaining the geology and the botany and the Aboriginal significance of the place.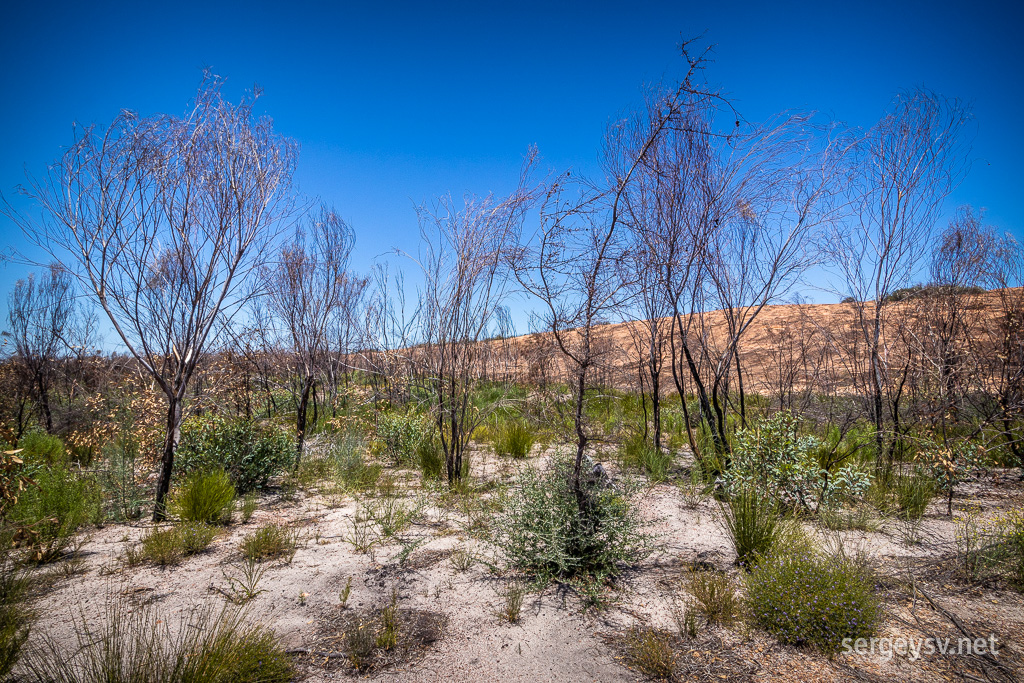 Near the Disappointment Rock.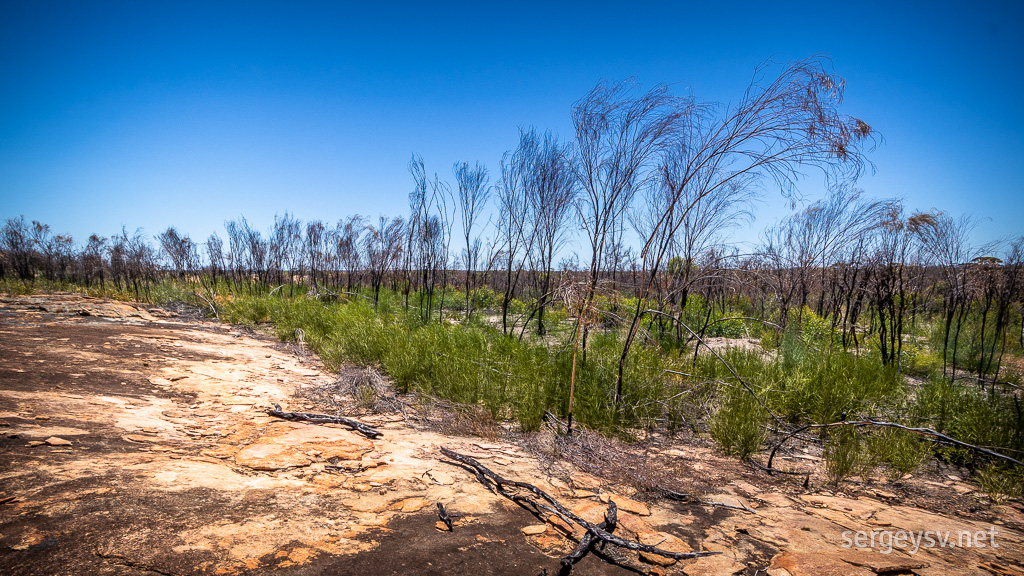 Going uphill.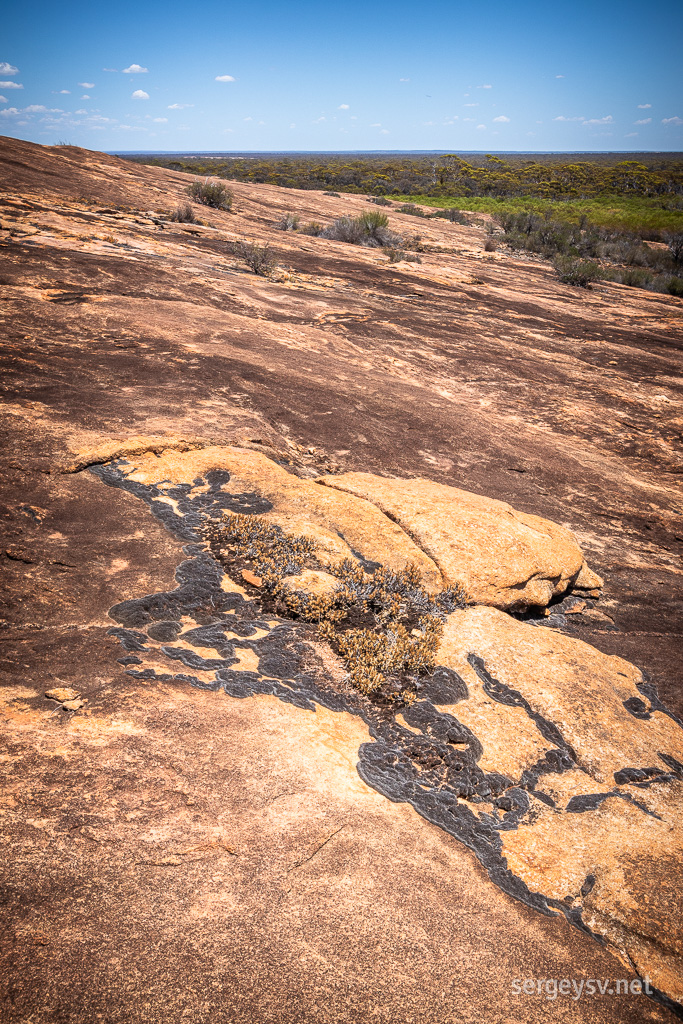 Going further up and seeing some odd black lichens beneath my feet.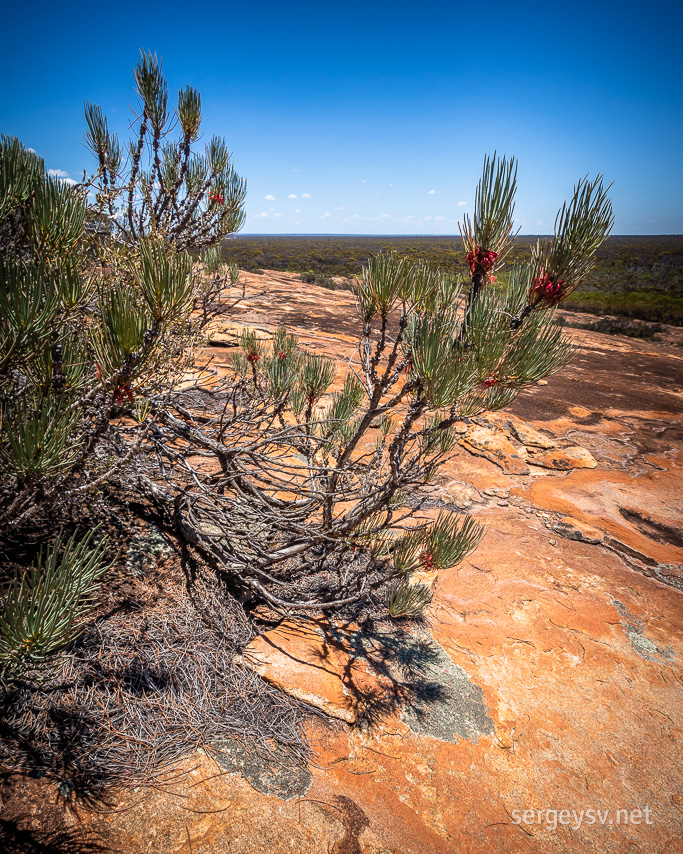 An interesting conifer with flowers.
Further down the road, there is a certain Lake Johnston with a designated lookout spot. As usual, it's only a "lake" by name – at least, at this time of the year. Still, the view is pretty, and the tall gums suggest presence of water at least deep underneath the shiny salty crust.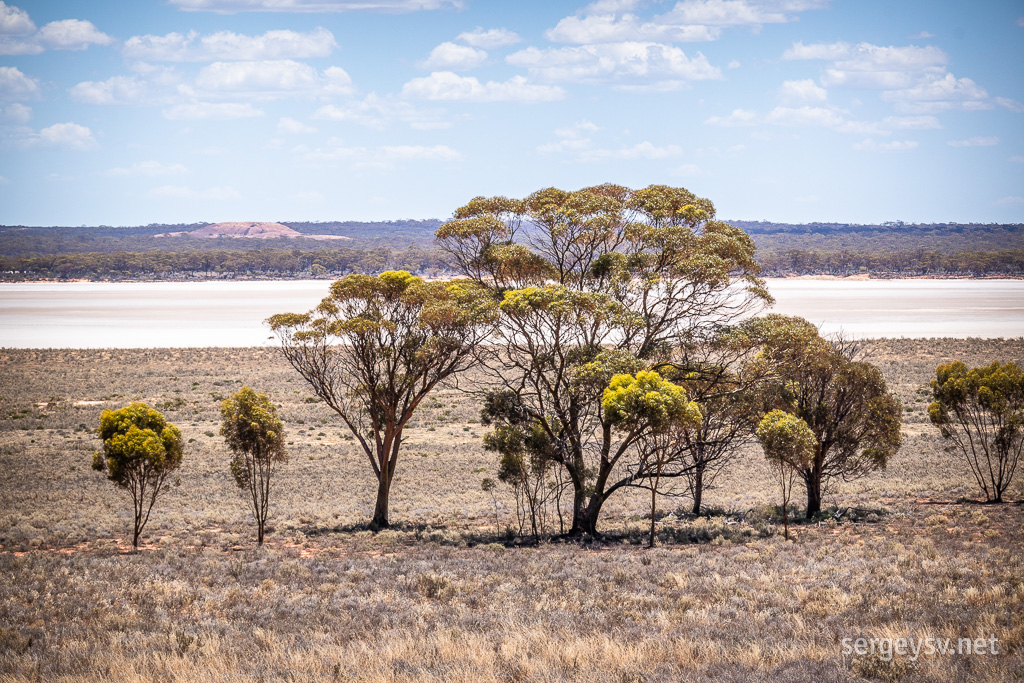 At the Lake Johnston Lookout.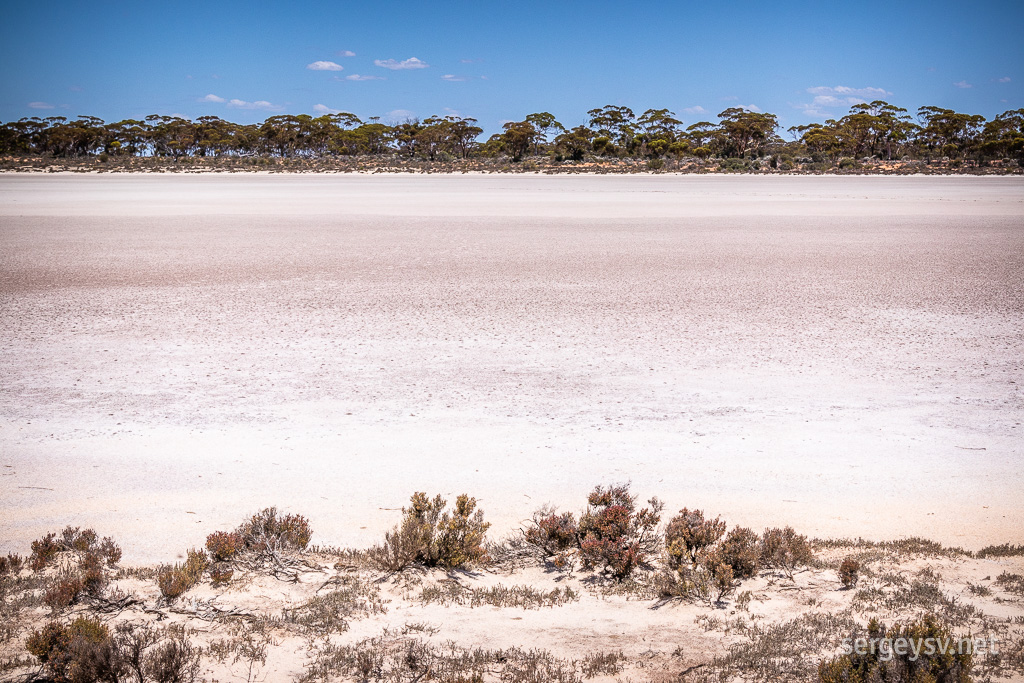 The "lake" itself.
The highlight of the road, however, is a place called The Breakaways. It's certainly not as majestic as its
South Australian counterpart
, but the local rocks look quite bizarre and scenic nonetheless. I spend some time looking for interesting shots; however, this time gets to be quite limited – first, because of the oppressing heat (40-odd degrees), and second, because of the huge swarms of flies. They keep me company the entire time I'm cooking and eating my lunch, but at least I get to see some cool (okay,
warm
) outback scenery. Who knows when I'll be here next time, and if I ever will!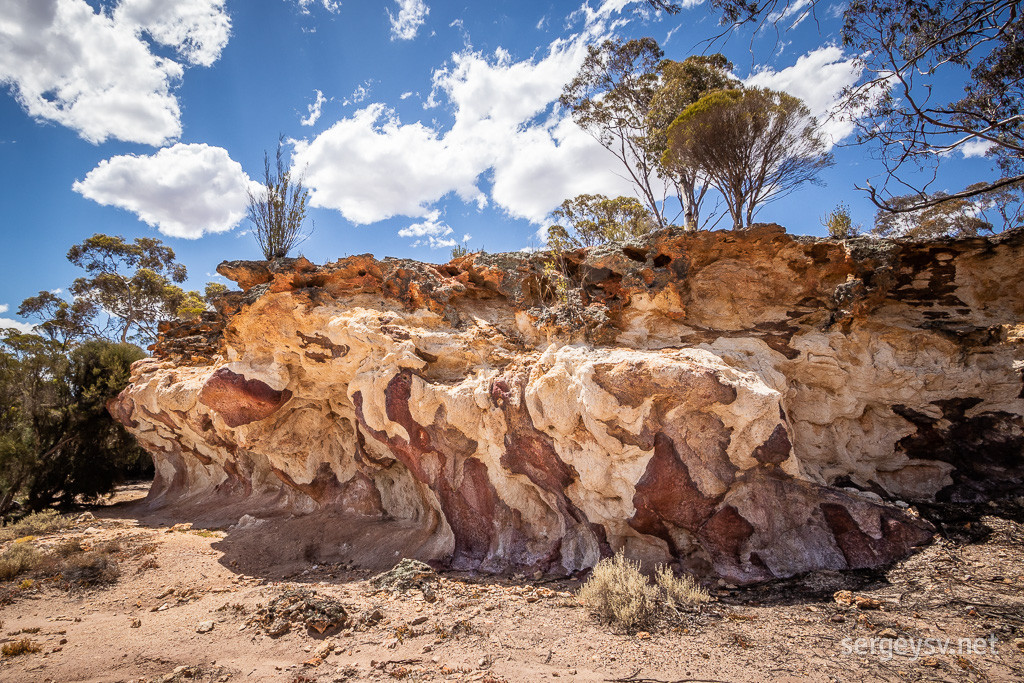 The Breakaways.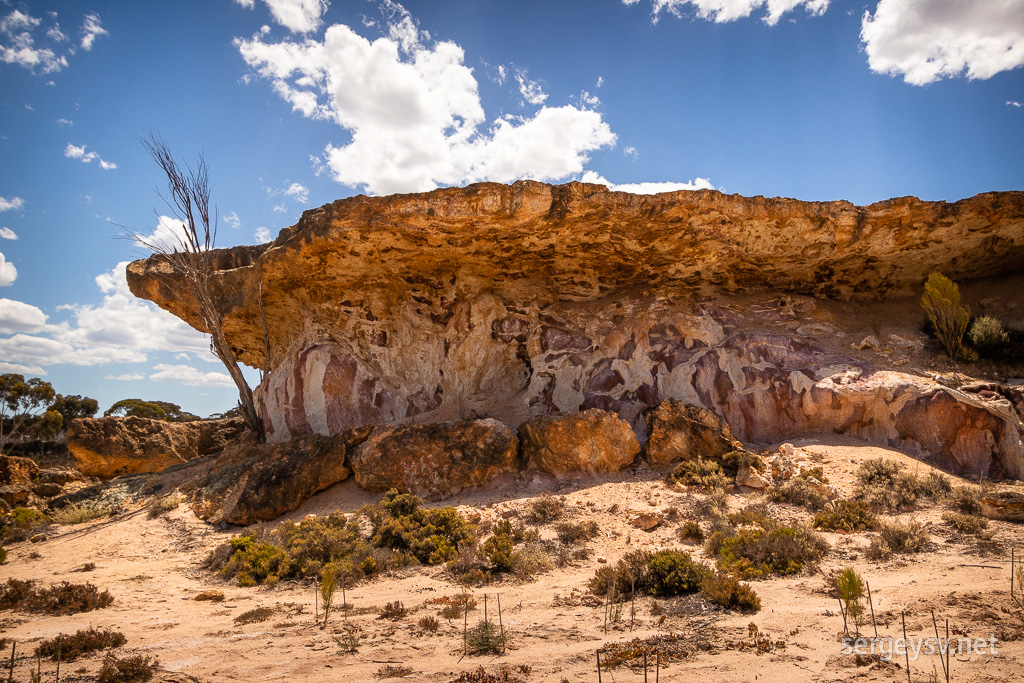 Very interesting rock formations.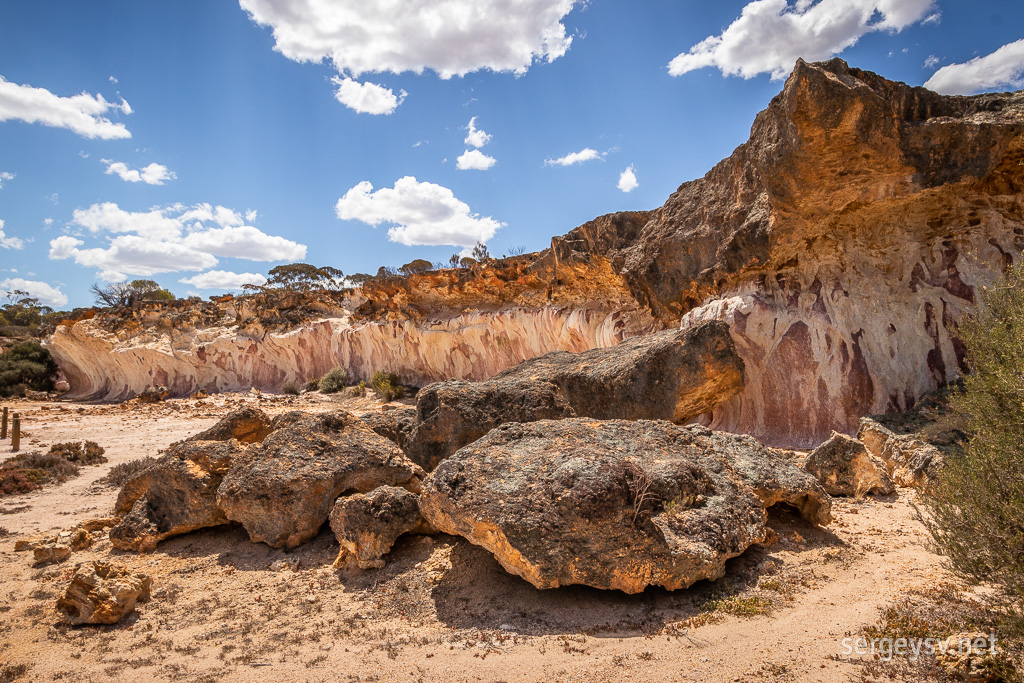 Can you feel how hot it is out here?
A couple of hours later it's time for another geological oddity: the famous Wave Rock. By now, I'm back on the bitumen, and it's slightly less hot as the day is slowly drawing to a close, but it's certainly more crowded. To be completely honest, I find the place a bit underwhelming. The rock looks pretty, yes; but it's not nearly as big as some I've already seen, and there's too many hiking trails and too many people surround it for me to fully appreciate it. There's another rock formation nearby, called Hippo's Yawn, which does look a lot like a giant maw of the African beast; however, it's already occupied by a few Chinese tourists, and I promptly retreat.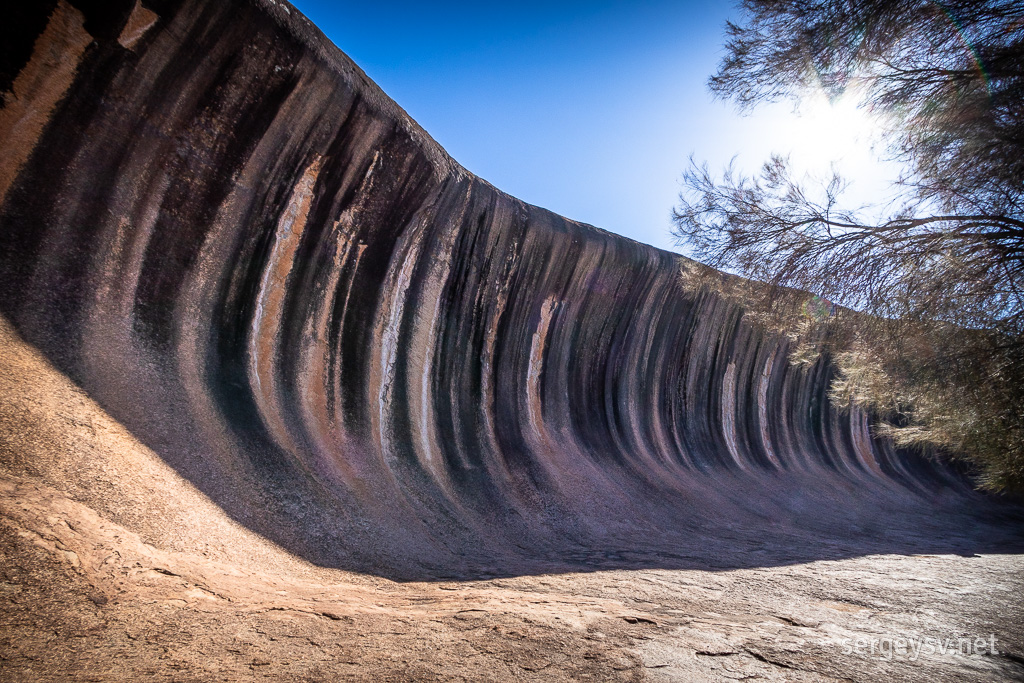 The Wave Rock.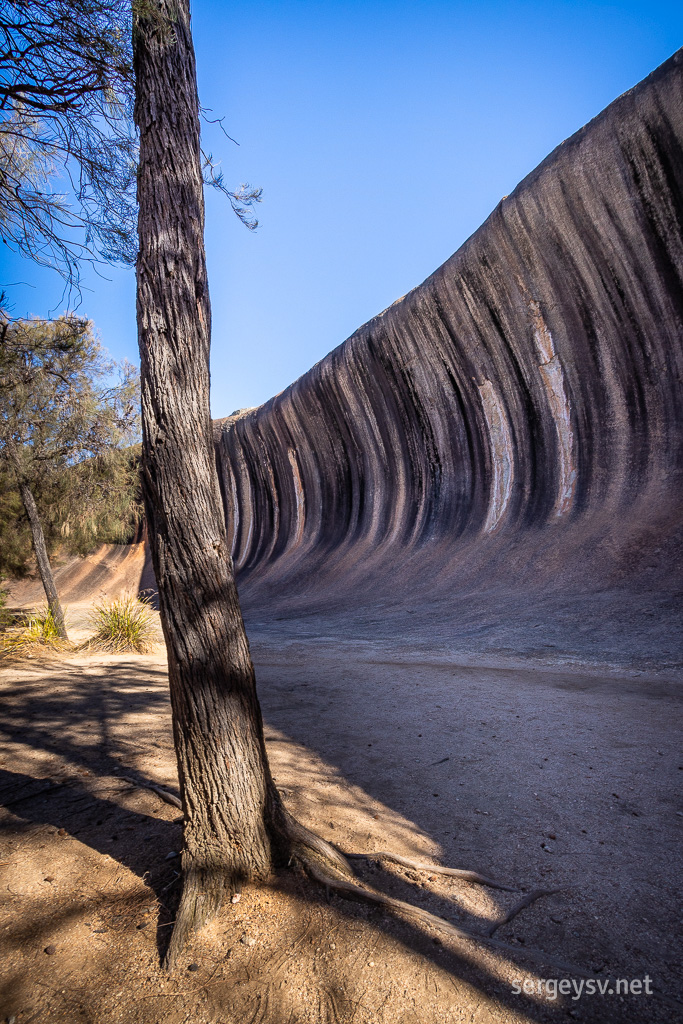 From another angle.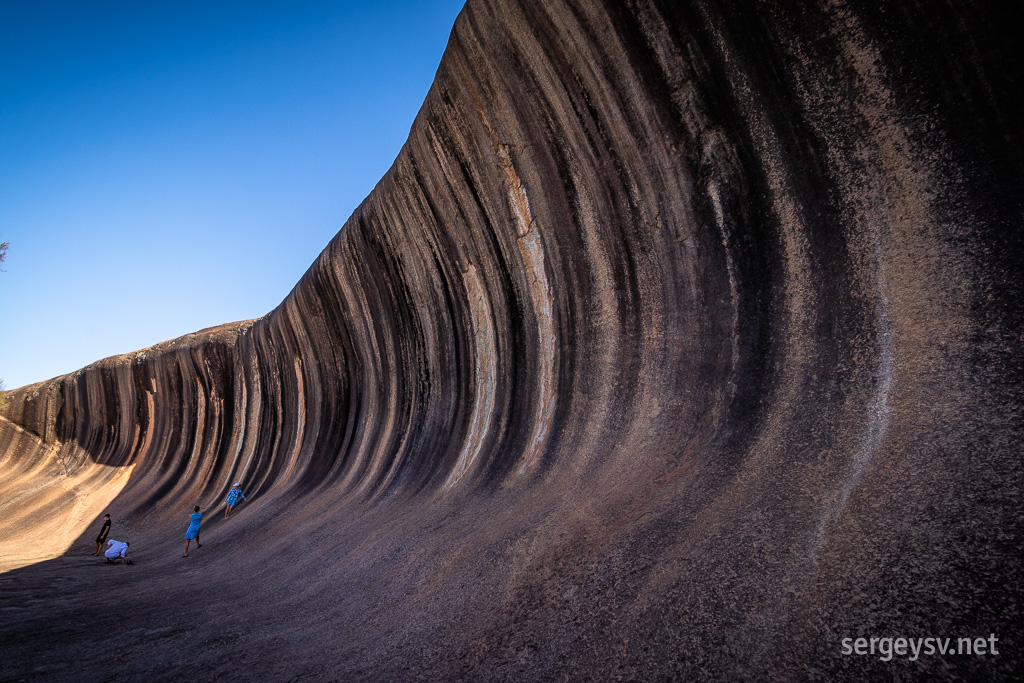 People!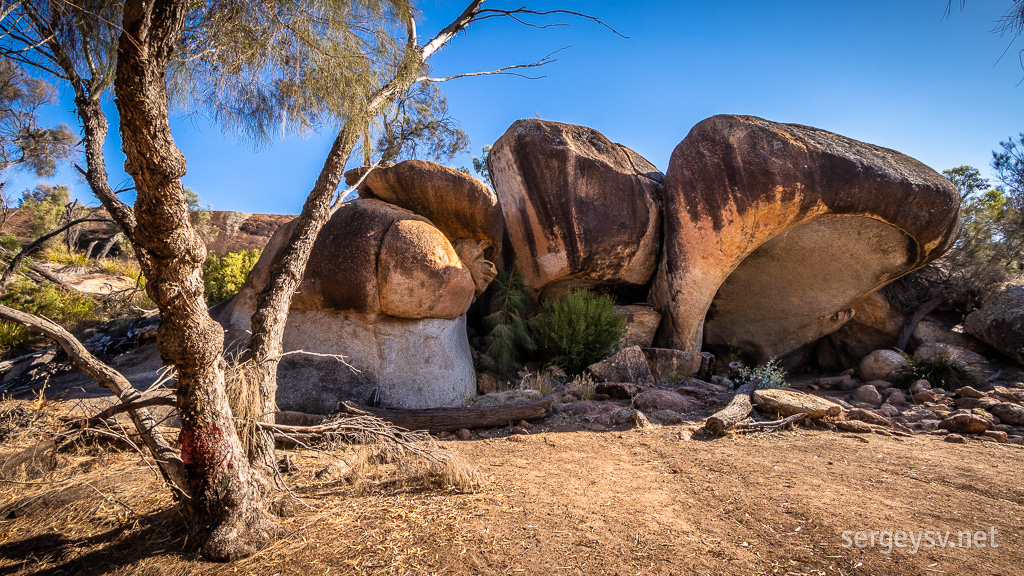 The Hippo's Yawn.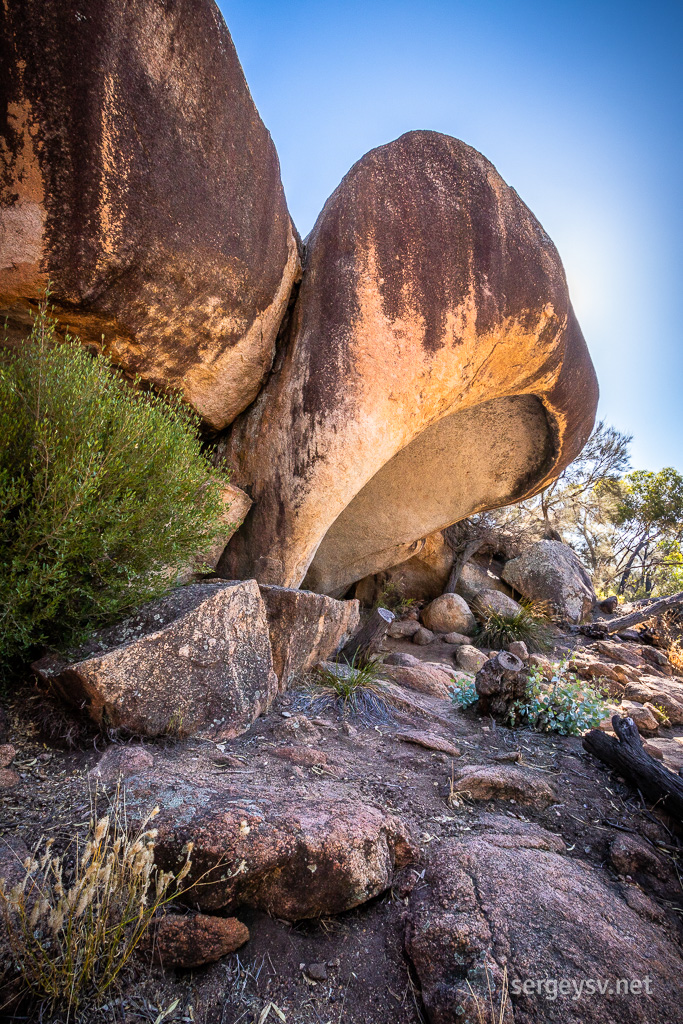 From another angle.
My last rock formation for today is called the Anderson Rock, which is slightly north of Hyden and which I choose to be my camping spot for today. Pros: free, no people, decent mobile coverage. Cons: stifling heat and lots of flies. To be fair, flies quickly disappear after sunset, and the heat somewhat subsides as well. The Rock itself is just a low-lying granite outcrop, which are numerous here in these parts, and which isn't even prominent enough to make a shot out of.