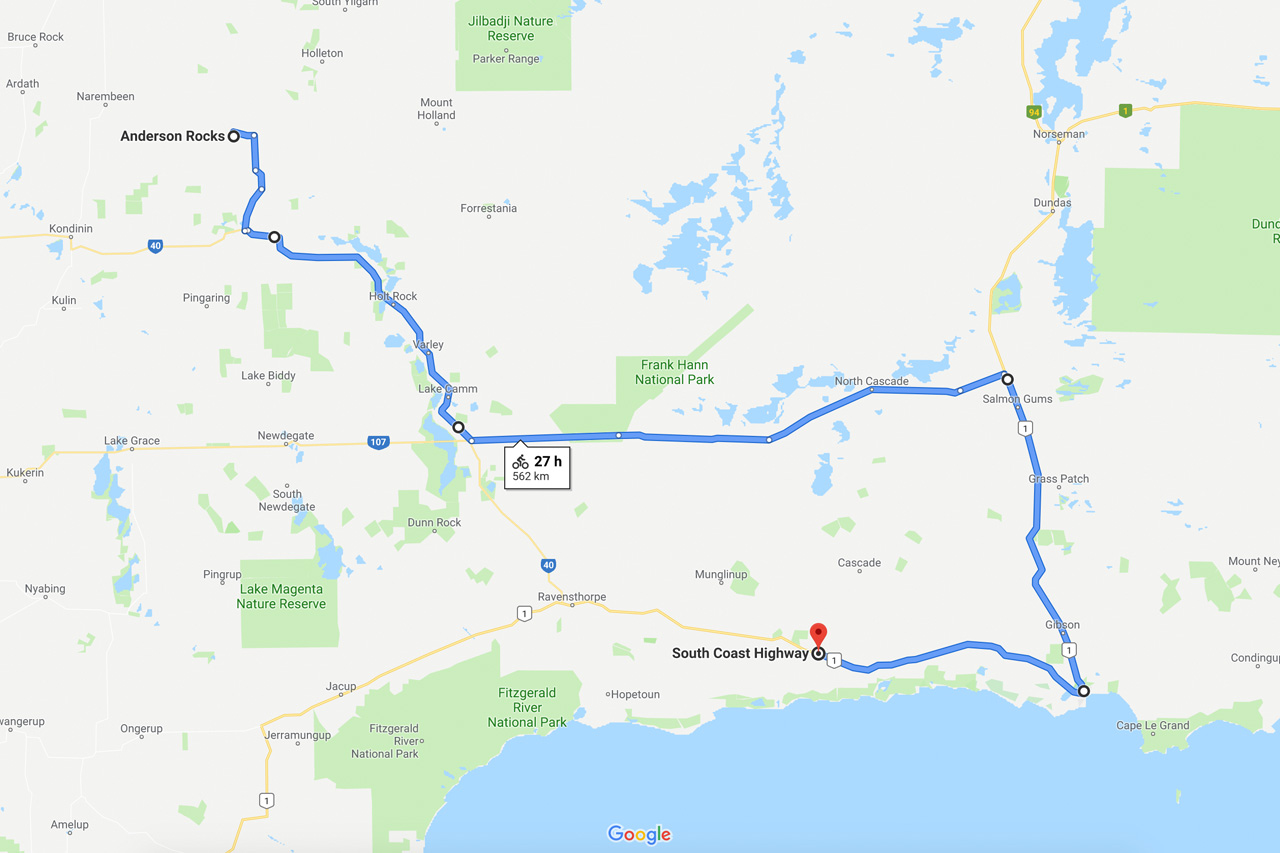 Today's journey.
Looks like today's the day I finally meet with Alen and Dessy. After a few griefs with the vehicle, and a fair bit of hasty driving across the Nullarbor, they're finally here in WA, and we agree to meet somewhere near Esperance, which sounds like as good a destination as any. Now it is for me to decide how exactly to get there.
Funny thing: when you're driving on bitumen, you're kinda eager to get off it, because all the scenery is usually a bit underwhelming. And when you're out there on the dirt, you're very keen to go back on the bitumen, despite all the scenery, because of all the bumps and corrugations and shaking that your vehicle has to endure. Or maybe it's just me, I don't know. Either way, for my route back to the highway I pick the Lake King – Norseman road, of which I know nothing about, but it goes through mostly the same kind of area as yesterday's
wonderfully scenic track
, so maybe I'll be able to steal some nice shots there as well?
Unfortunately, the road proves to be an utter waste of fuel and money. It's decidedly rougher (especially when you cross the shire border), and some places are most definitely 4WD-only. Well, all the signs that I've seen on my way there did warn me, after all. I spend a lot more time and energy there than I planned, which makes me a bit angry; but a quick bite near the highway and the subsequent return to the bitumen cheer me back up. It's interesting to see the same places that I travelled across
two years ago
, and how different they look in summer compared to late autumn.
At 2 o'clock I reach Esperance – a lovely, bustling town where I wash my car, do some shopping and have some very decent fish and chips at a local eatery. Alen and Dessy are going to arrive a little bit later, so I use the spare time to visit the local beaches and try to do some decent photography in the harsh afternoon light.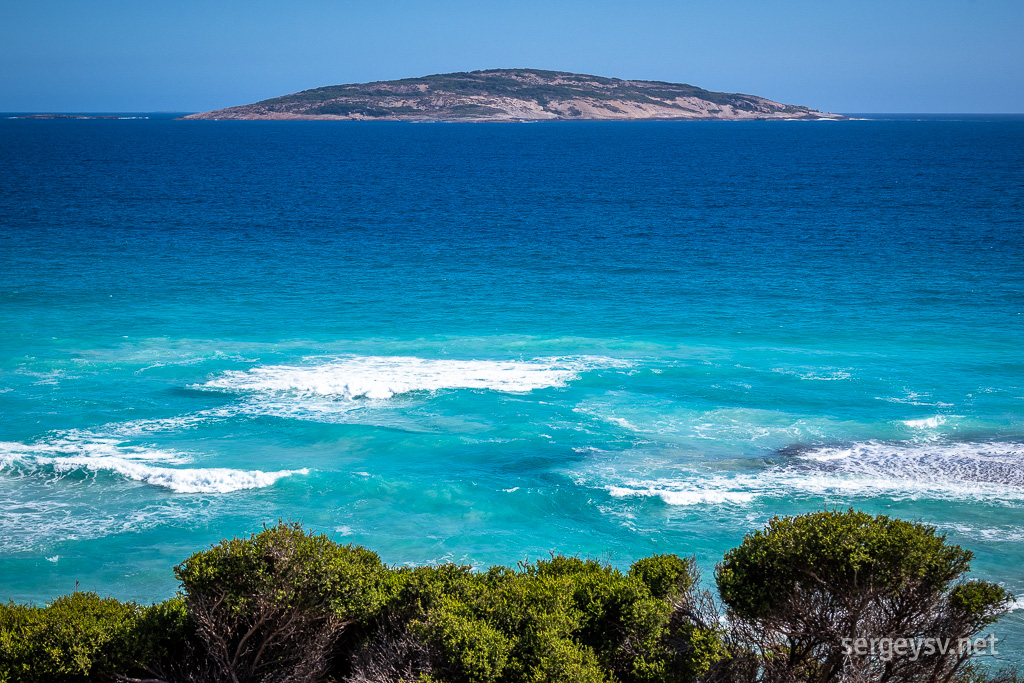 Near Esperance.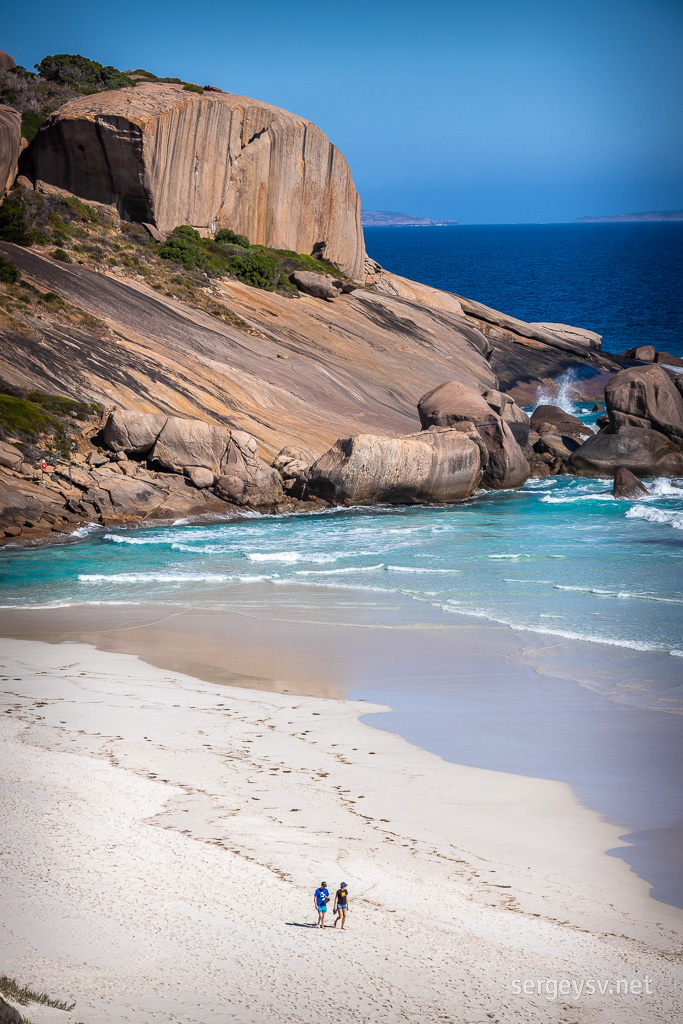 The coastal rocks and the carefree beachcombers.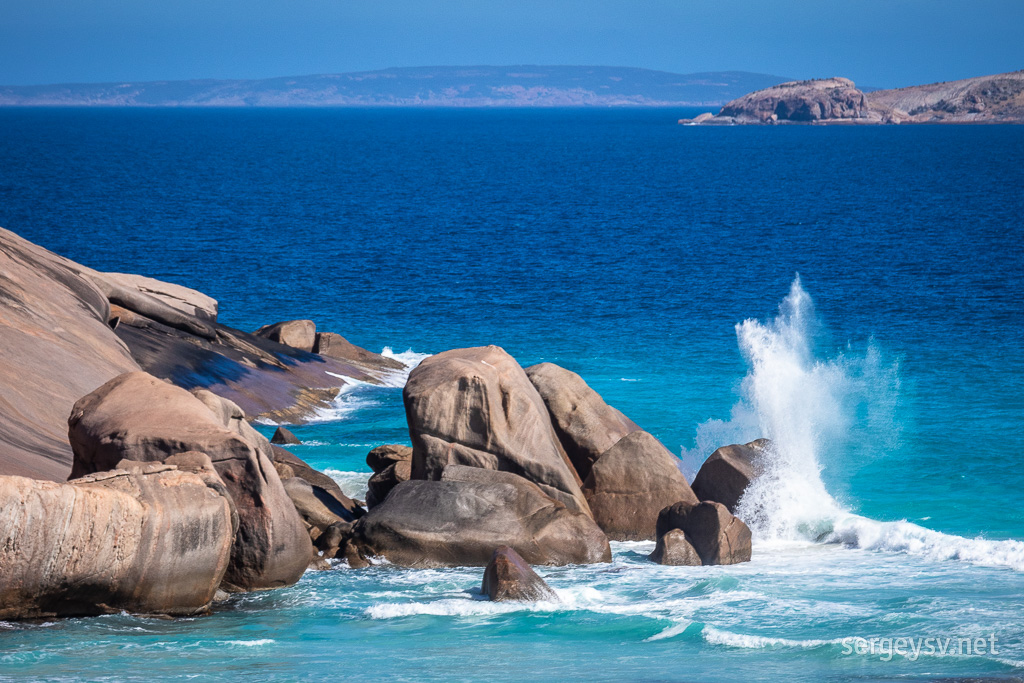 Whoosh!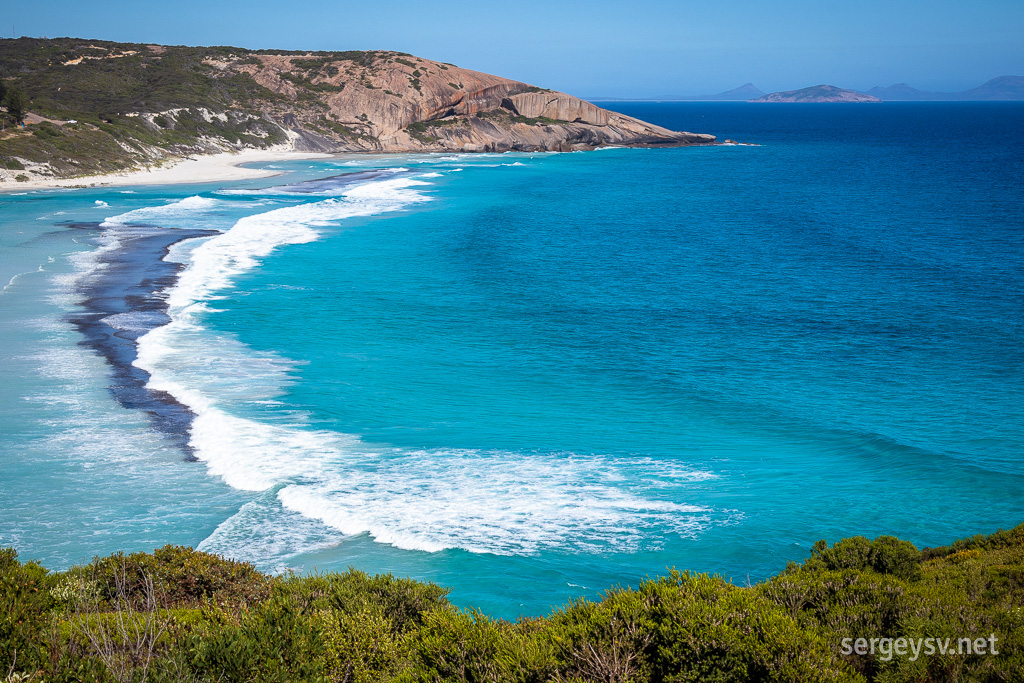 Anyone up for a swim?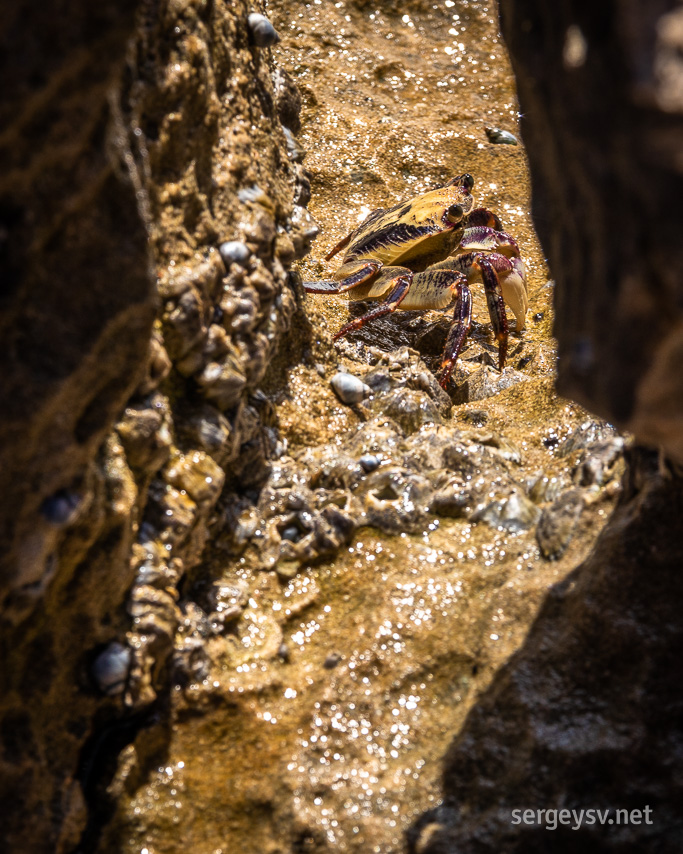 This tiny crab certainly is.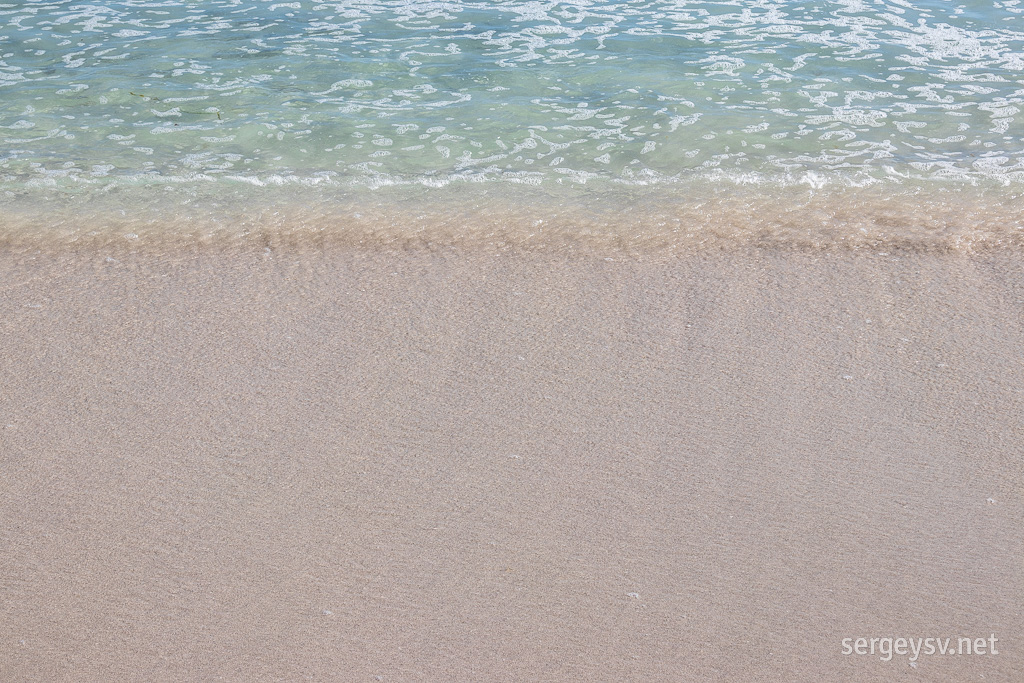 The surf can be very gentle...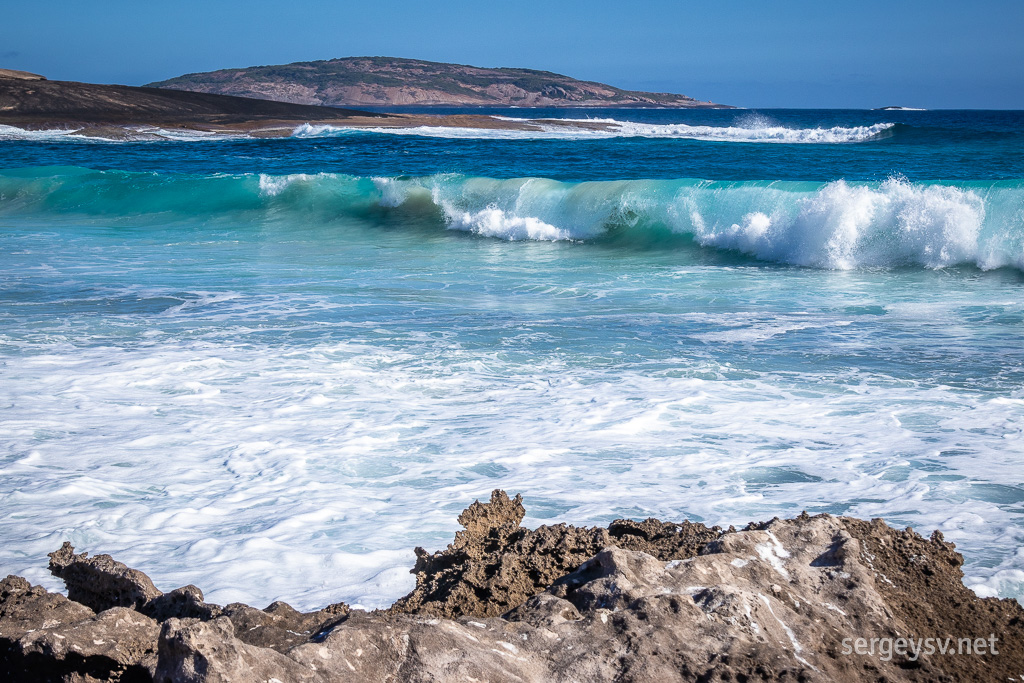 ...or strong.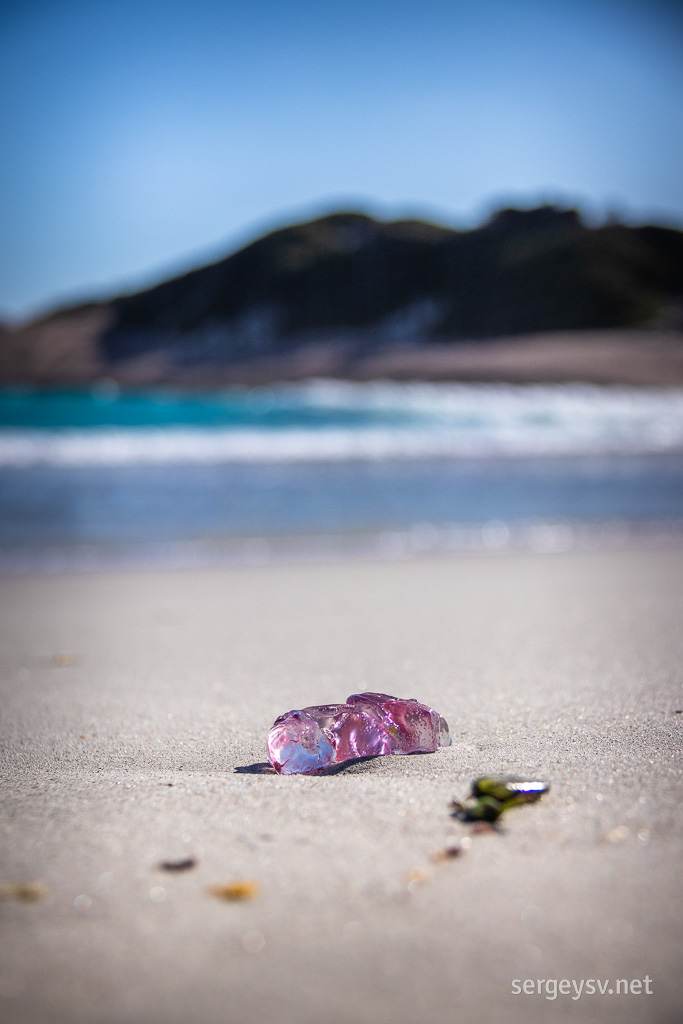 Some odd jellysomething.
Green + blue + white = happy.
And finally we do meet — at the Woolworths' parking lot, no less. Their touring vehicle is a small van (no bigger than my own Prado, really), which they had been refurbishing and repainting for most of the year. It does look pretty, though, both inside and out, and together we make our way back to the beaches, where it's Dessy's time to express herself photographically. A very joyful and very well-mannered Jack Russell by the name of Peanut keeps us all company and keeps us all in a festive mood.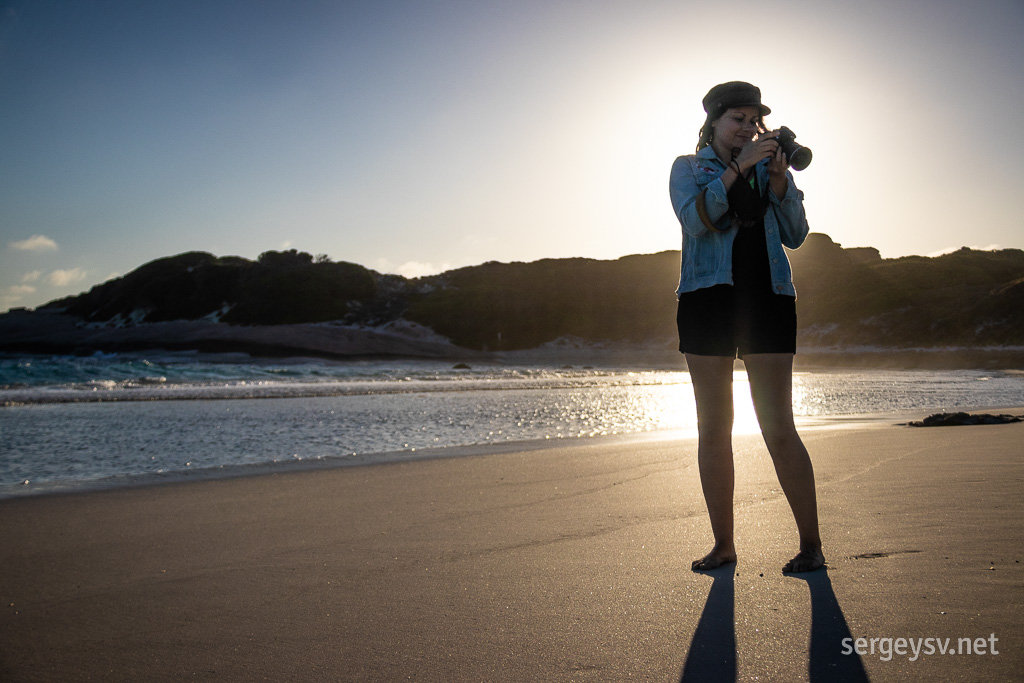 Des is doing her own photography.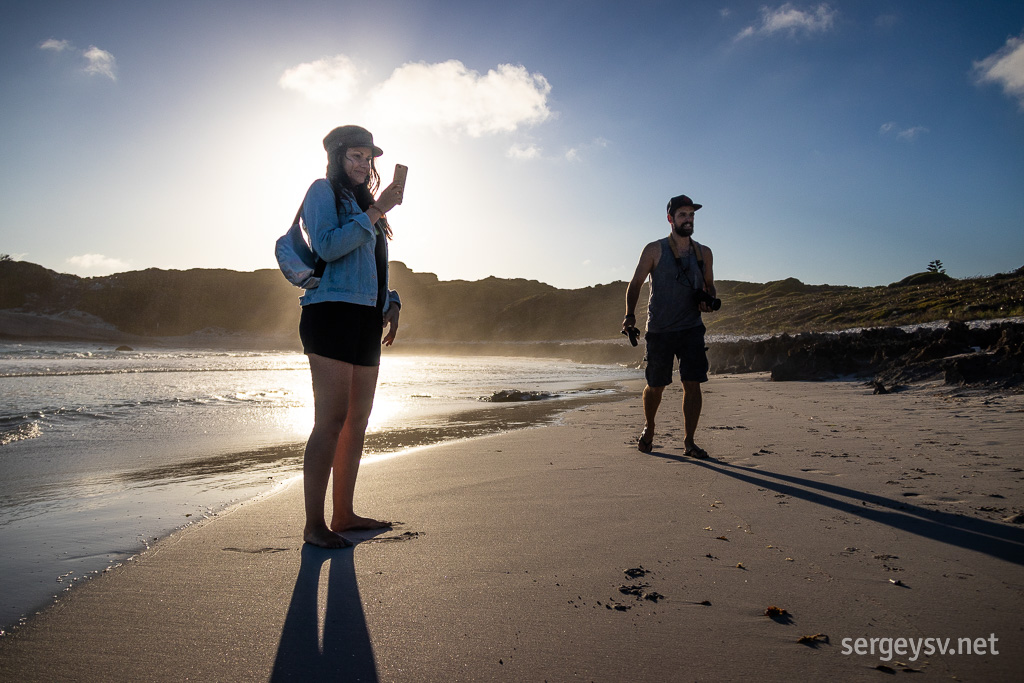 Alen and Des are chasing Peanut.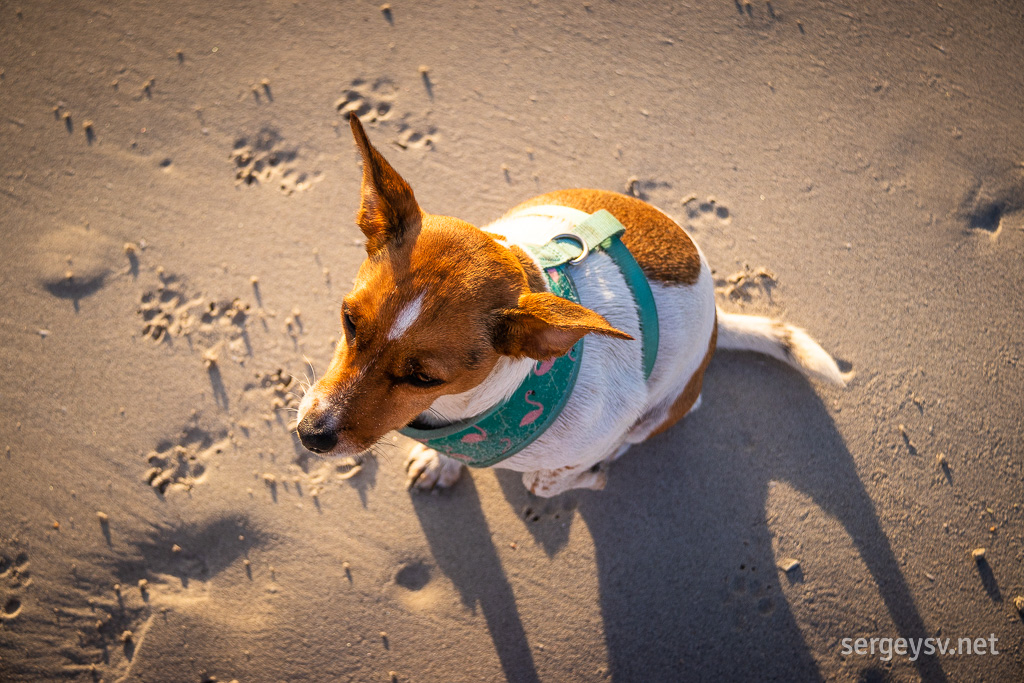 Here she is!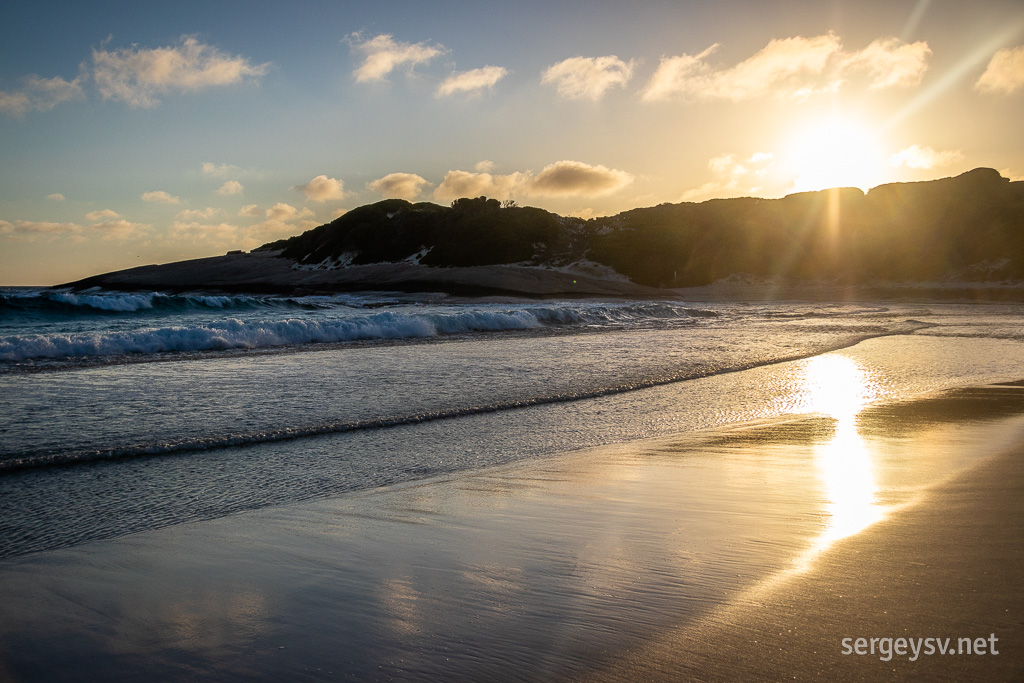 Time to roll out, though.
Because hey – it's the New Year's Eve, right? As the sun begins to set, we quickly weigh our options in regards to the camping spot, then pay a visit to the local Pink Lake (which is mostly inaccessible and not pink at all at this time of year), and finally get back on the highway towards Perth. It's completely dark when we reach the Munglinup Roadhouse – just in time for the manager to let us into the showers before he leaves for the night.
The shower is probably the worst I've ever seen so far; the water is hot, but it's extremely difficult to maintain the temperature, because it fluctuates randomly on its own, and the pressure is a tiny bit too high to feel comfortable on bare skin. But hey, a shower is still a shower, especially when it's free. We also camp there entirely free of charge, and we even manage to stay awake long enough to toast the New Year under the romantic dome of stars and Milky Way stretching across. Here's to more amazing travel destinations and good company, whenever it comes across!