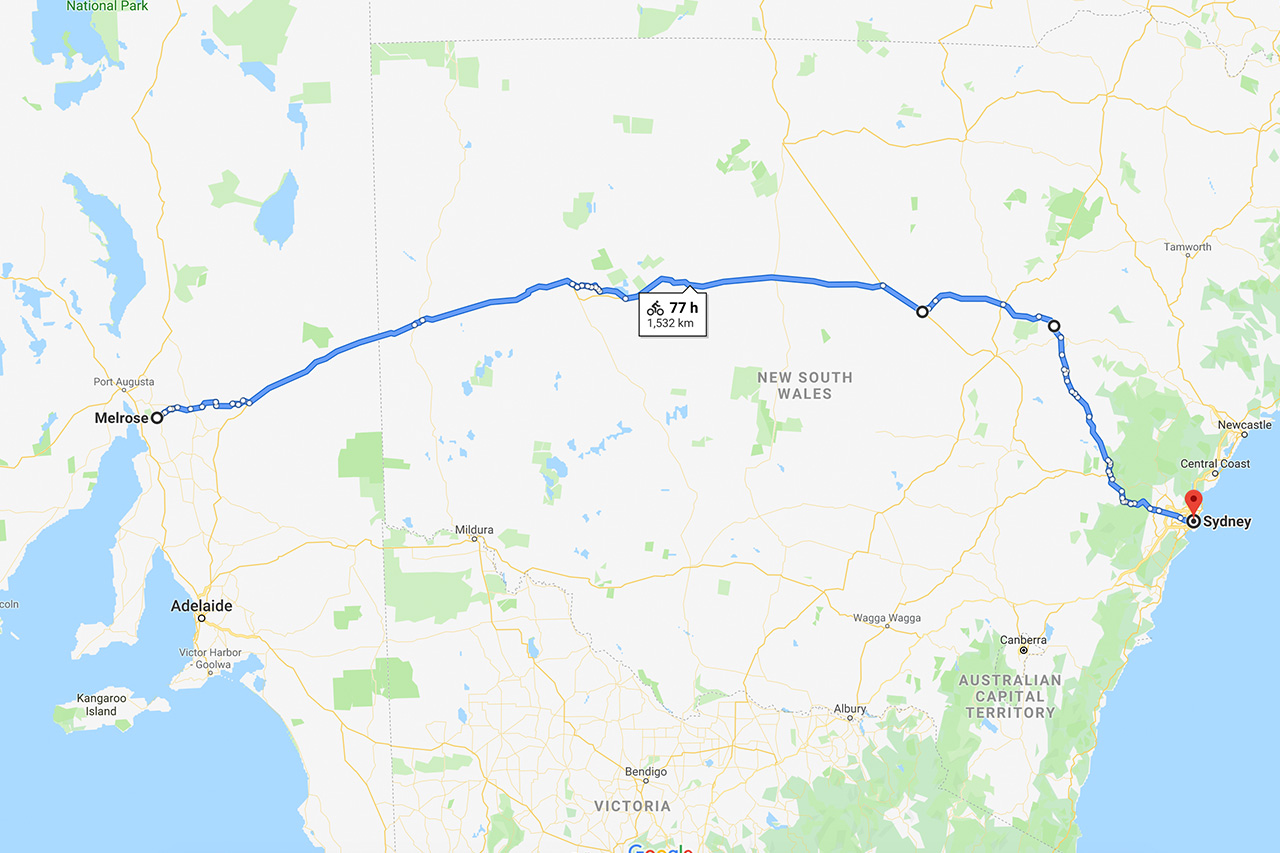 Two days' journey.
To go back home, I decide to take a slightly longer road via Broken Hill out of sheer curiosity, because I've never been there before. As I leave Melrose, the scenery is still familiar (I've been a few times to this part of South Australia), but after I cross the NSW border, it's all new to me.
I passed Broken Hill once,
going from north to south
, and now I'm crossing it from west to east. I can't say this town clicks with me completely, but I'm quite enamoured with its street names: Bromide Street, Oxide Street, Galena Street... a chemist's paradise! Or geologist's, for that matter. The place also allows me to do some shopping and have a lunch, after which I promptly take off: it's still a long way to Sydney, after all.
Long... and excruciatingly hot. My thermometer shows 45°C outside, and under the hood (where the battery and the isolator/charger are) it must be 70 or even more. It's so hot that the charger dies too and cuts the power off my fridge completely. I have to stop at some roadhouse and buy a pack of ice just to not let my perishables perish.
The scenery looks a lot like outback SA, I have to say – especially the areas around Cobar. Lots of red dirt and mallee scrub. Should I feel any red dirt nostalgia, it's probably the place to go, if I don't want to move too far away from Sydney!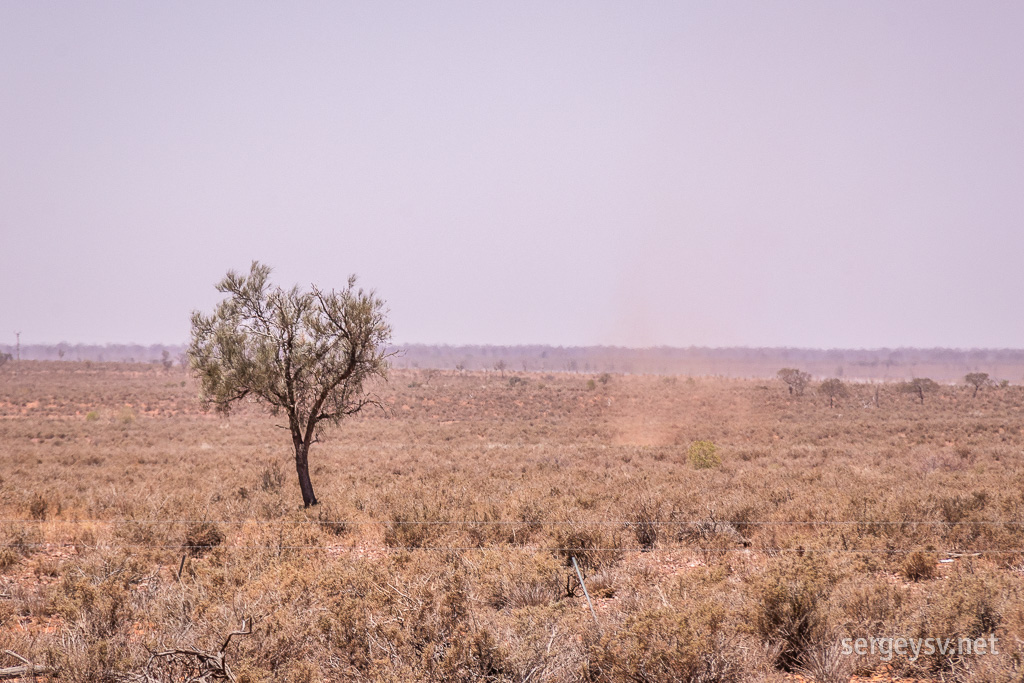 See the dust devil?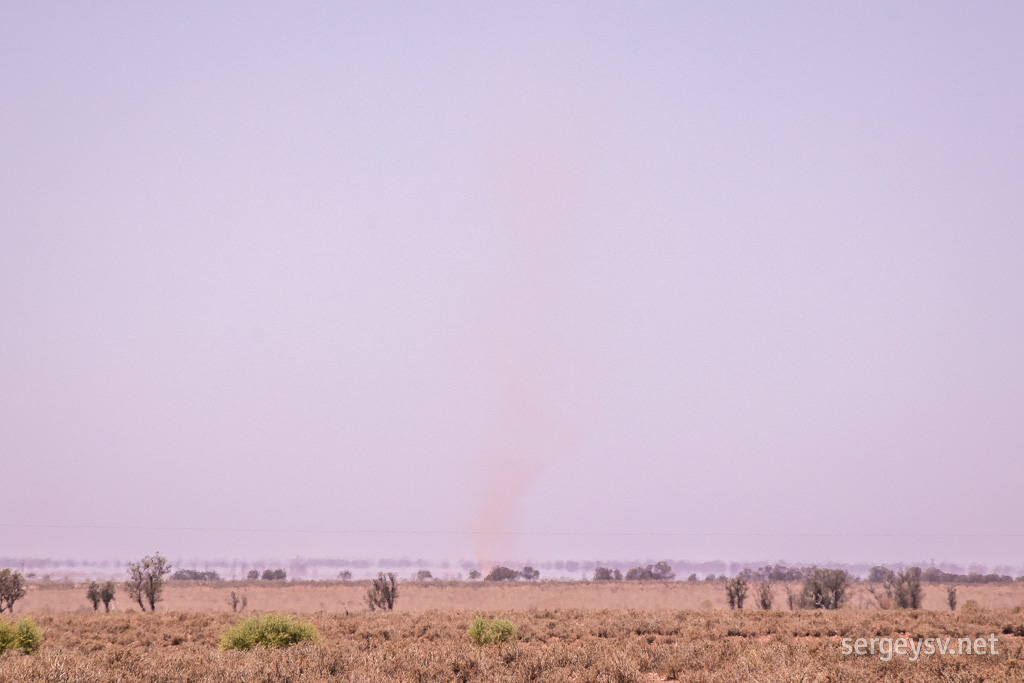 And yet it's there!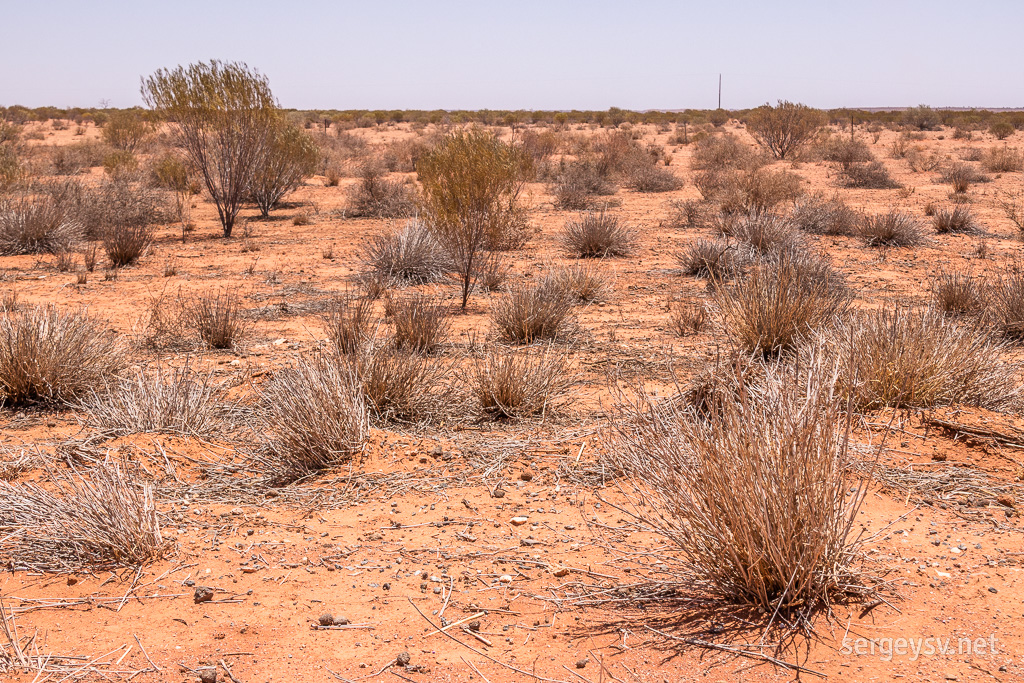 O for Outback.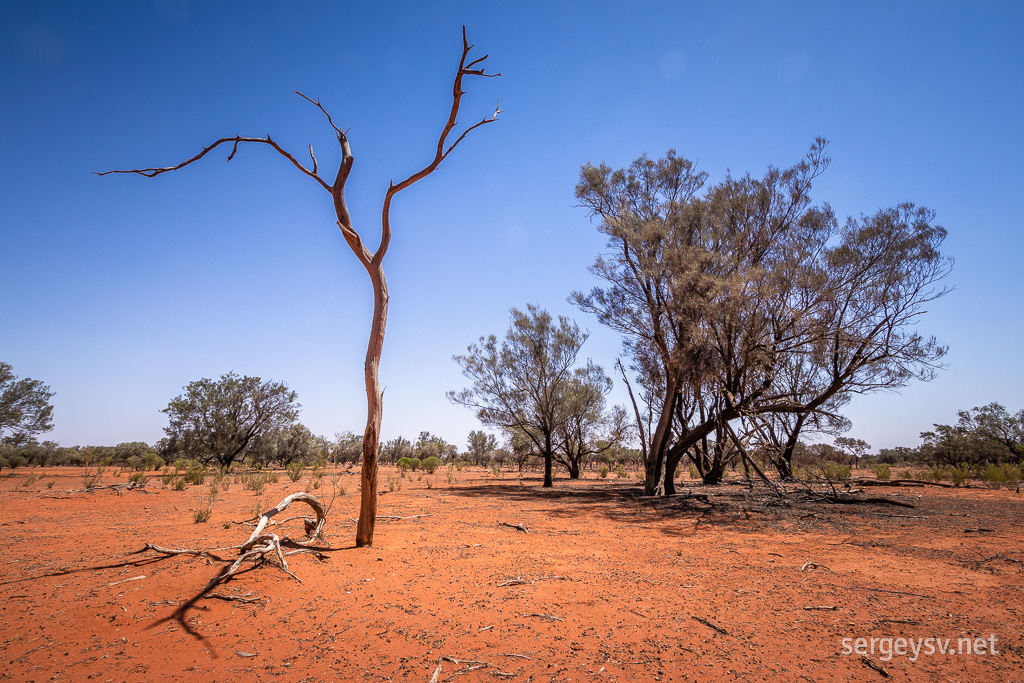 I'll never say no to some red dirt.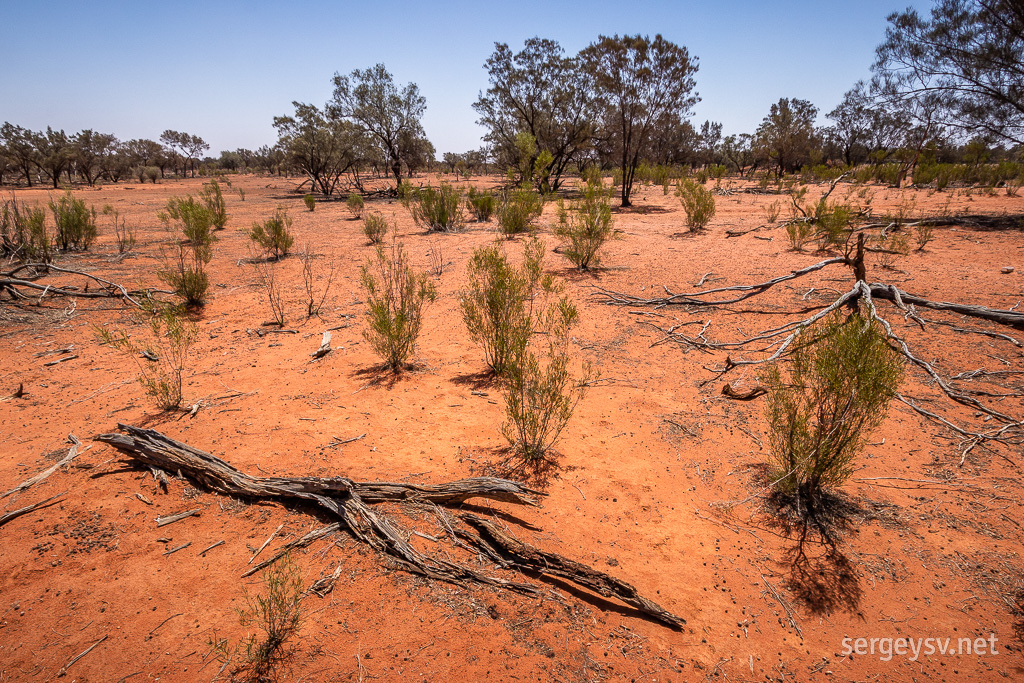 It's soooooo hot, though.
After a very long drive, I find a place to camp near Warren, just off the main road. It's still very hot... and now it's also humid, which makes the evening feel positively tropical, which isn't a good thing at all. No battery, no fridge, no good scenery around, and no good sleep for the second night straight... probably the lowest point of my entire journey. Maybe tomorrow will bring something interesting?
The scenery changes quickly as I wake up and take the "scenic drive" between Warren and Bathurst. Red dirt and dusty scrubs are replaced by the green pastures and rolling hills, which get taller and taller as I approach the Blue Mountains. It's a bit cooler out here, too, and I even take a power nap at some rest area, surrounded by all this rustic serenity. After that, it's only a few more hours... and I'm back home in Sydney after 22 days on the road.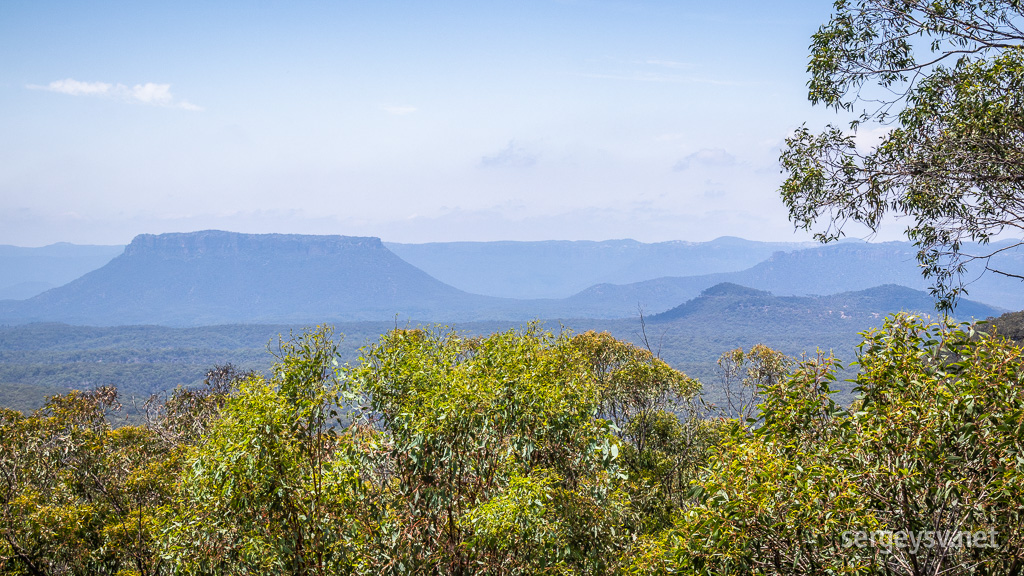 Approaching the Blue Mountains.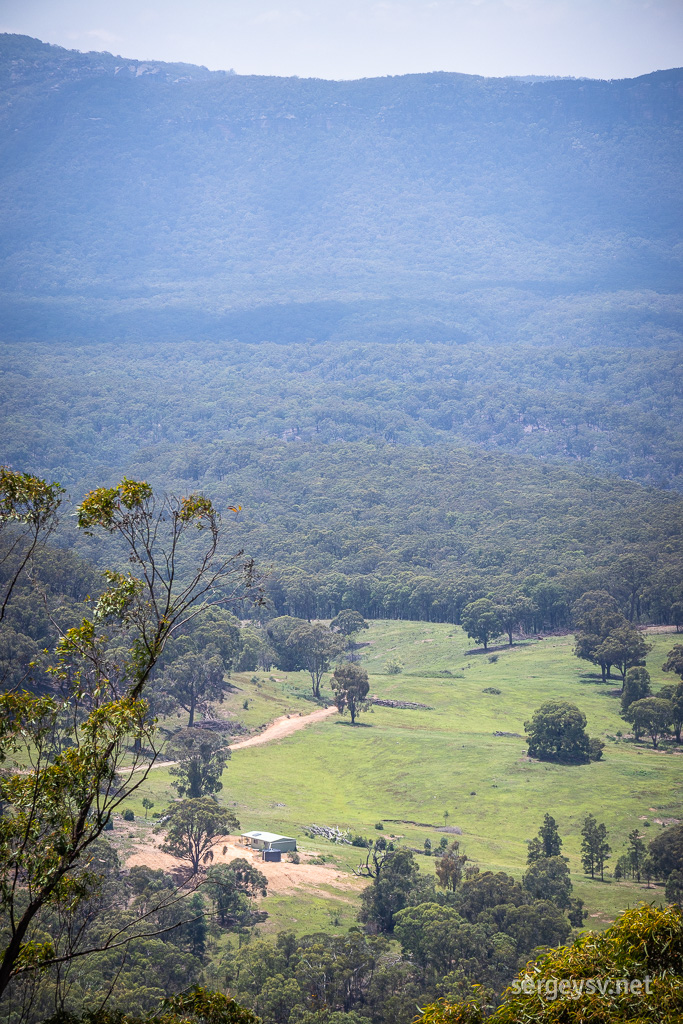 It's getting more and more civilised with each passing mile.
What can I say? Even despite the electrical griefs on my way back, these 22 days were quite spectacular for the most part – and if you read
the entire thing
and saw all the photos, I hope you agree. The awning tent and the mobile signal booster are definitely major improvements of my touring setup; and, what's more importantly, I can work in that kind of environment, too – which means that now I can go out farther and stay there for longer, without worrying about getting back home by due date, as long as the mobile signal is there. Something to look forward to, isn't it? So watch this space for more stories and photos: I'm pretty sure that there will be many, many more to follow in the months and years to come.