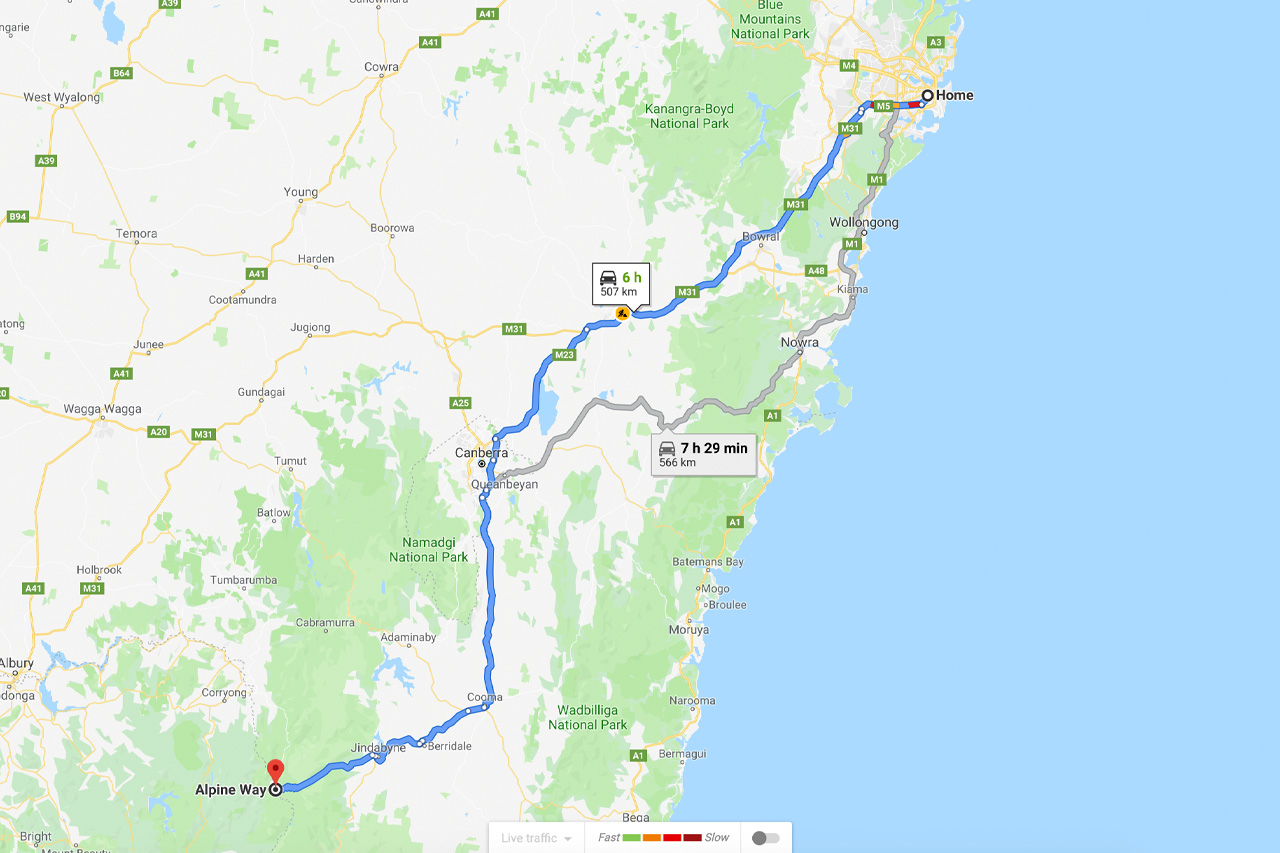 Today's journey.
It's kind of pointless to stay home during Christmas and New Year: too many days off, too many destinations to visit. Also, I need to test out a few more items of camping gear that I purchased recently. Time to hit the road again, I think!
On a bright Saturday morning I leave Sydney and begin my journey west... which I begin by a short journey south. I've never been to the Snowy Mountains before, and it's only a day's drive away. Not that they're particularly snowy at this time of year, but I'm not looking for that kind of entertainment just yet. I've seen way too much of it growing up, and after nine years of living in Australia, I'm still not nostalgic enough.
There isn't much to say about the road to the Kosciuszko National Park – apart from the fact that on my way there I stop in Canberra for a lunch, and it looks just as nice as it did
two-odd years ago
. However, on my way out I make a couple of interesting stops for roadside photography. The first one happens when a batch of a dead gum trees, scattered among the rocks (or the other way around), catches my attention. Of course, it's a rural property, so there's plenty of cows and sheep around as well.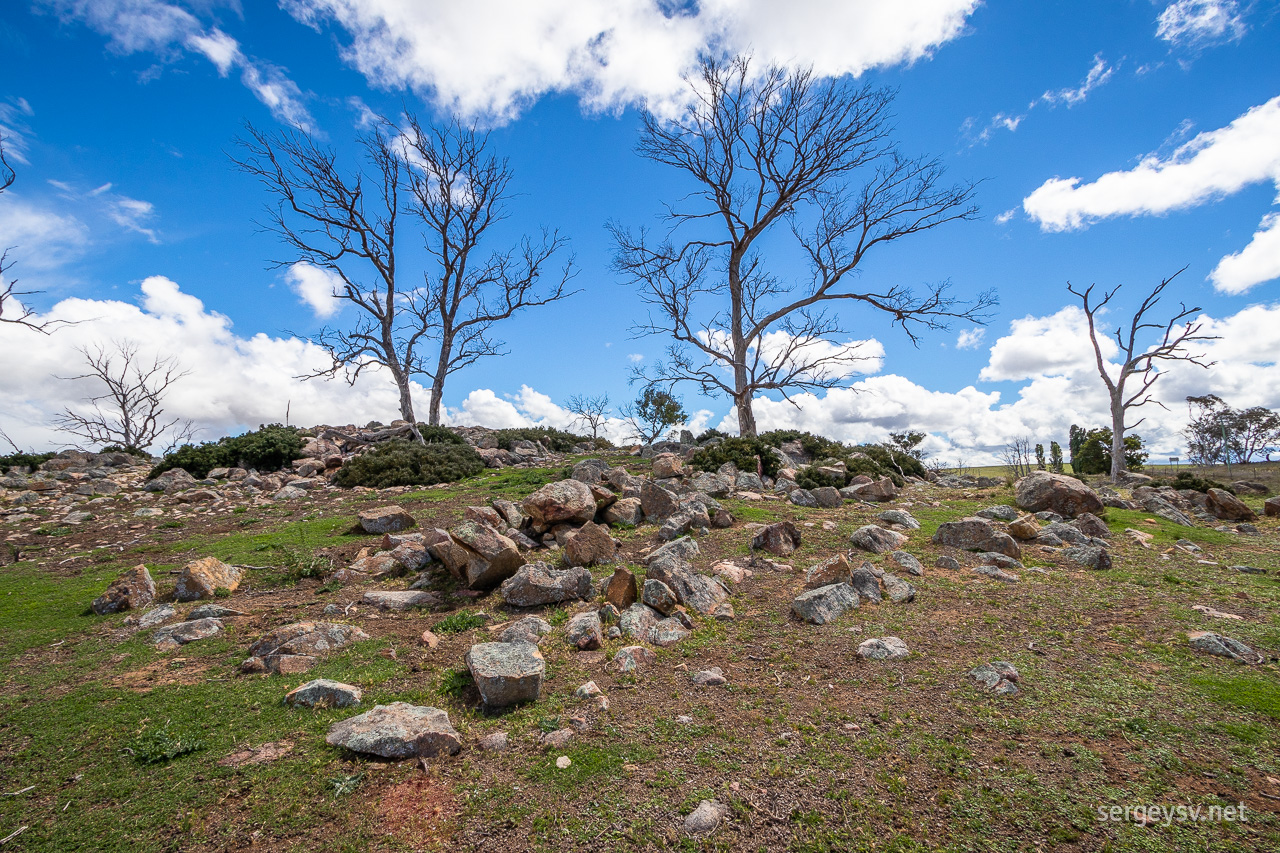 Trees and rocks. Always a scenic combo.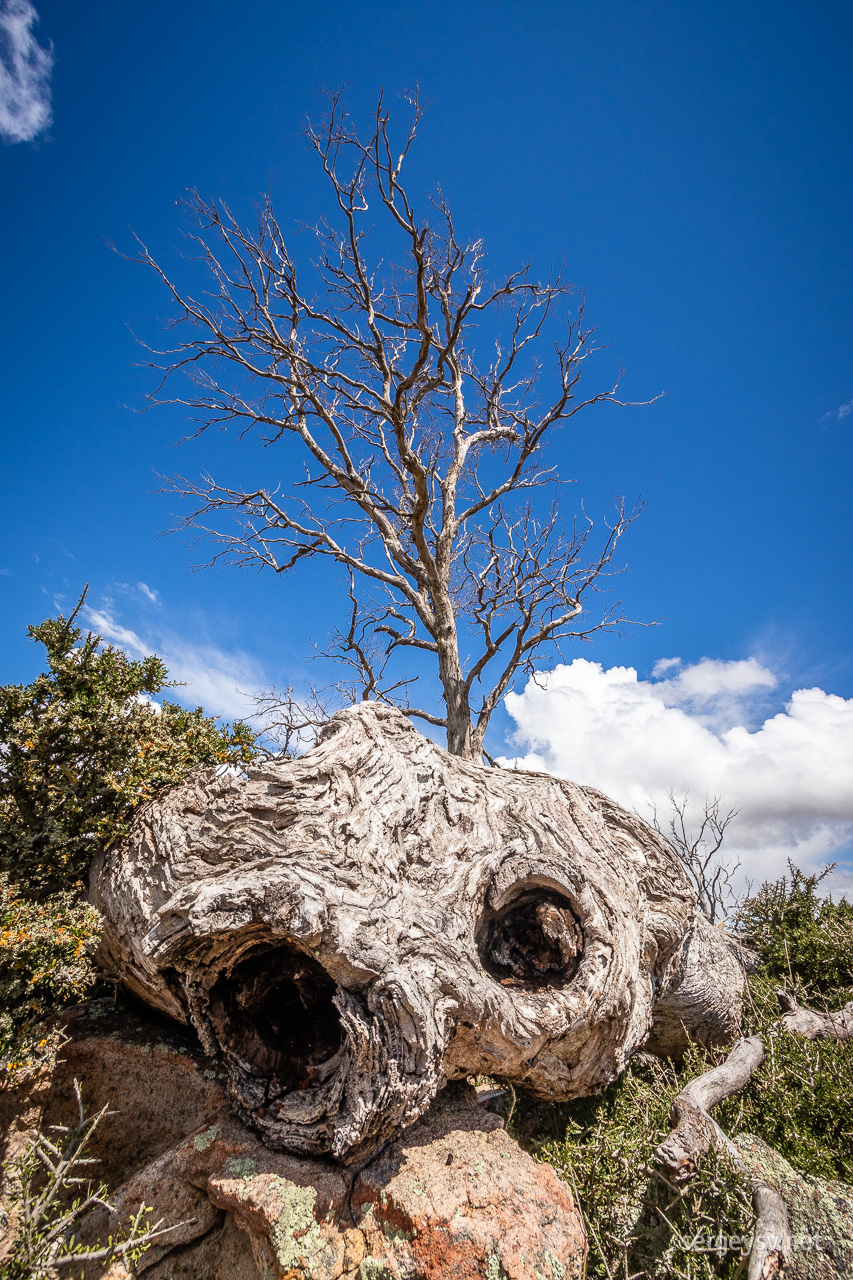 Some interesting deadwood, too.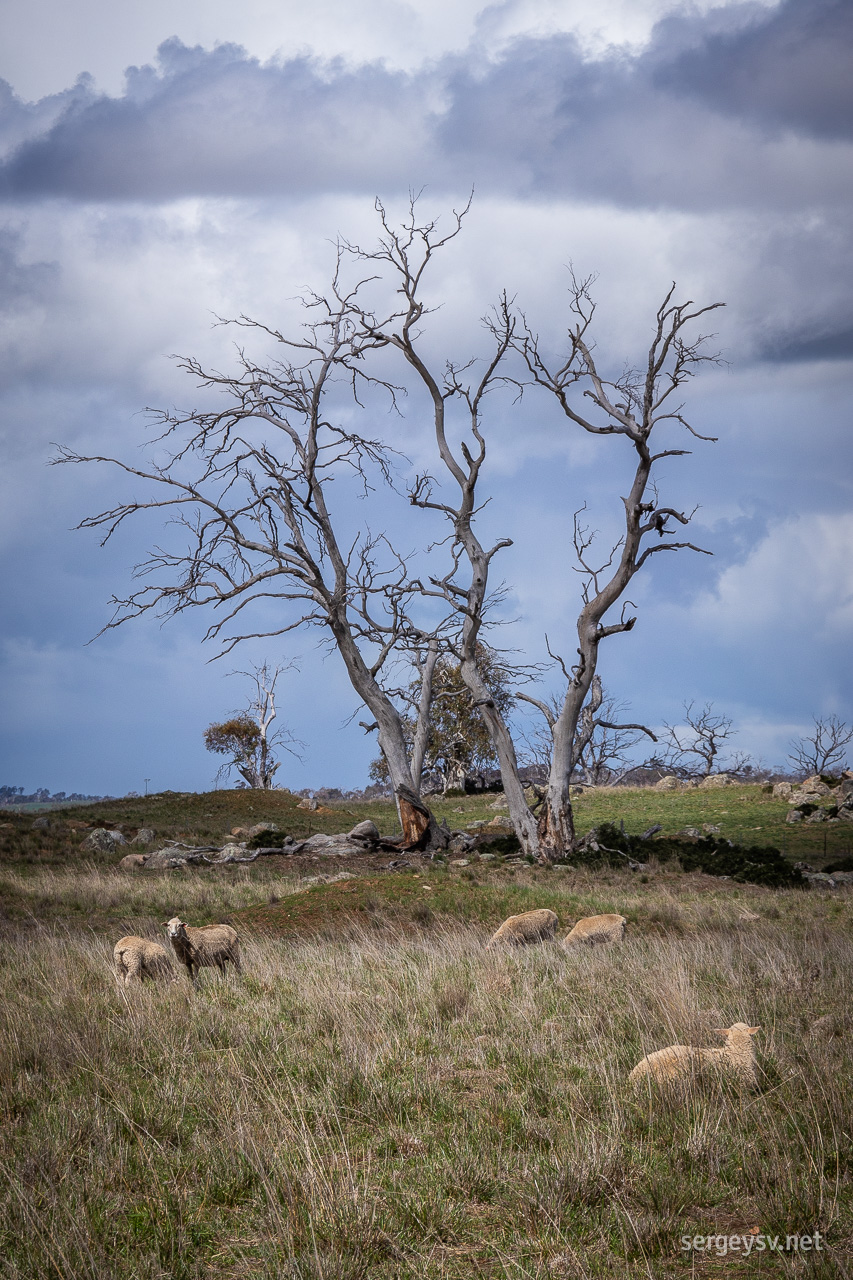 Sheep!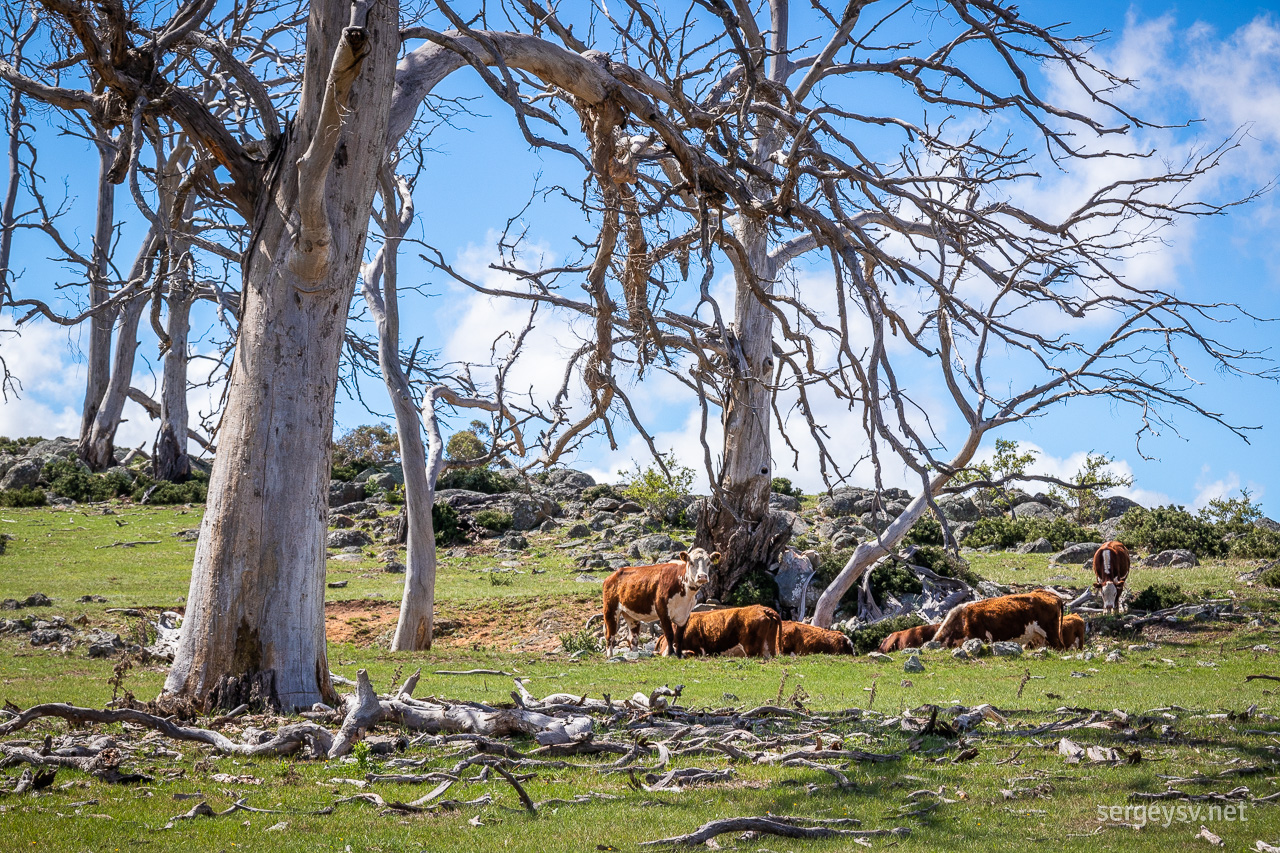 Cows!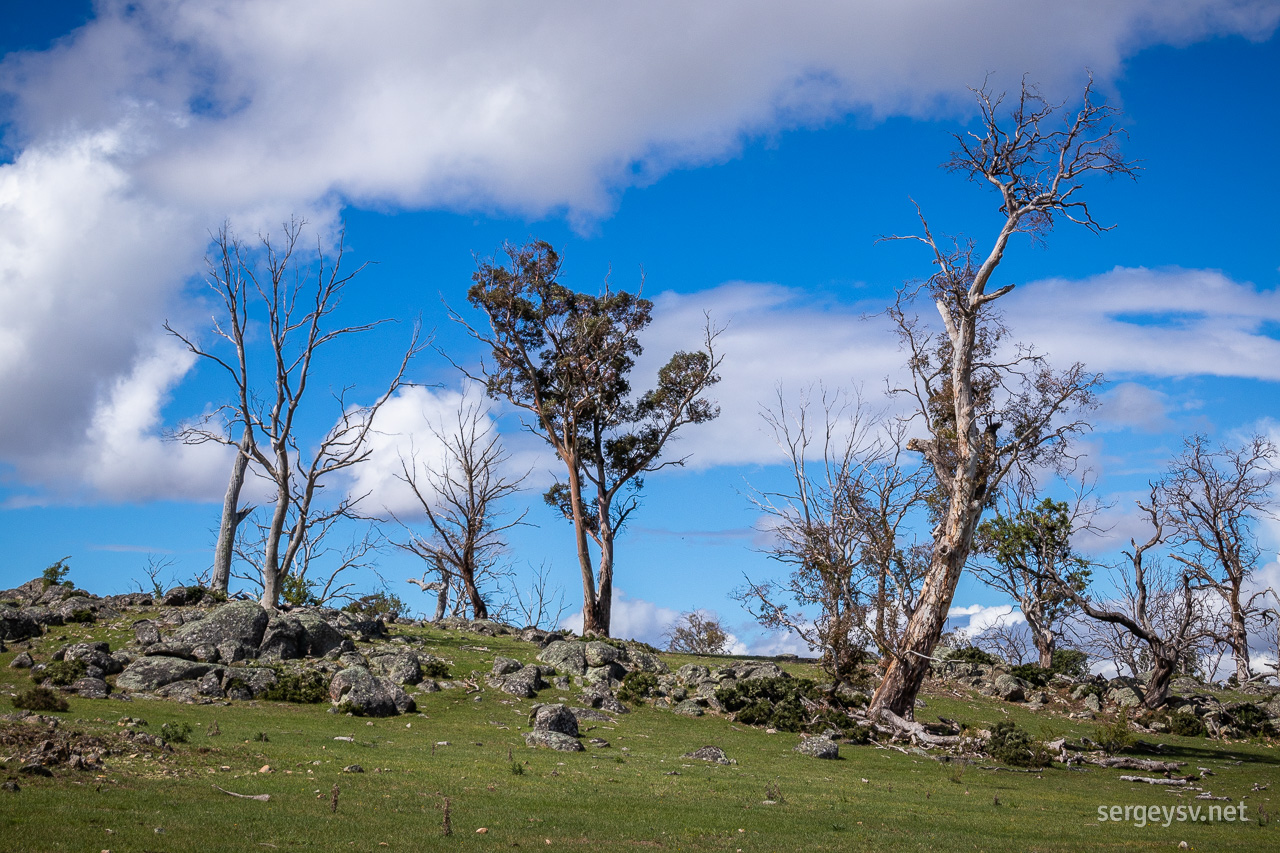 More trees! More rocks!
The other stop is near the Jindabyne Lake, which is very close to my destination. The lake is very pretty, and I imagine that from certain vantage points, and with a great sky of clouds, you could produce some excellent imagery there. I, on the other hand, have to improvise and make do with what I have on the spot.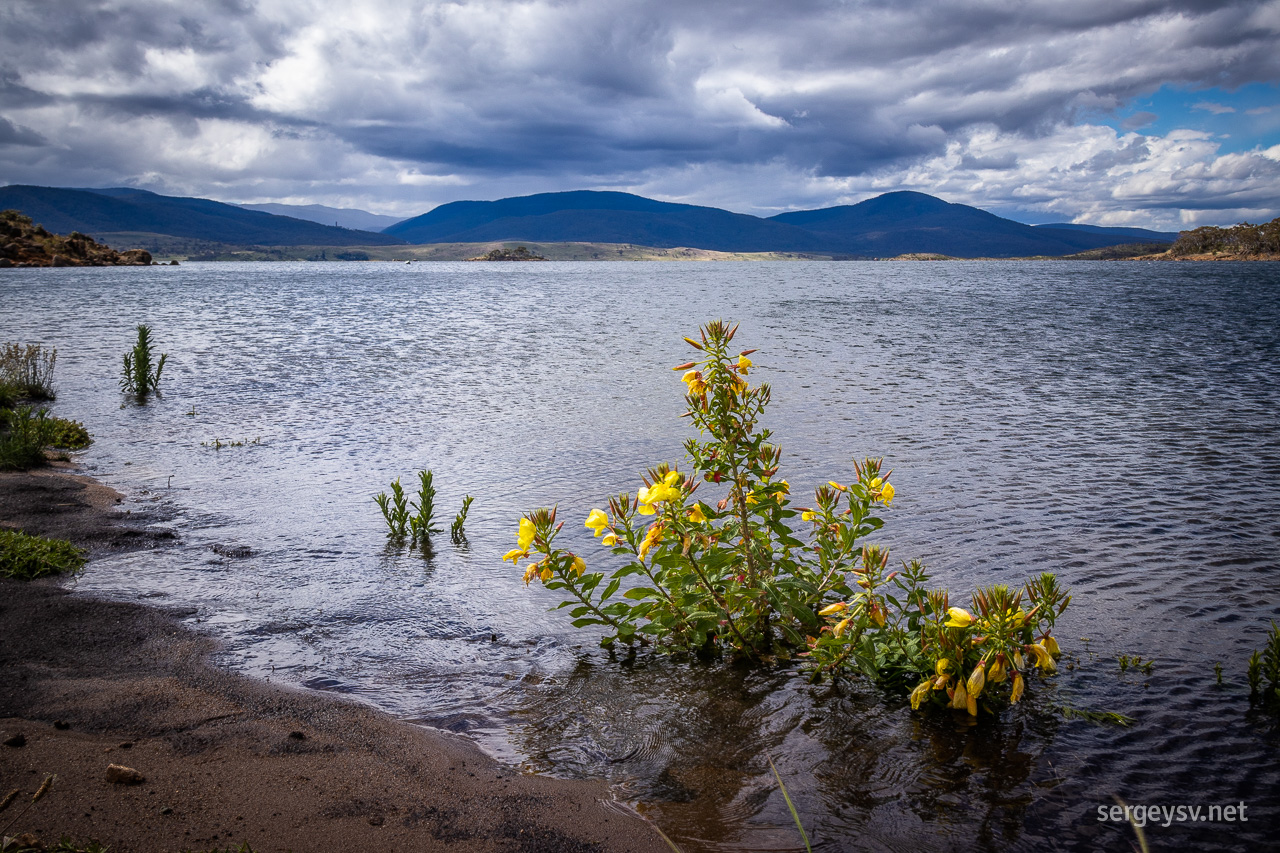 The Jindabyne Lake.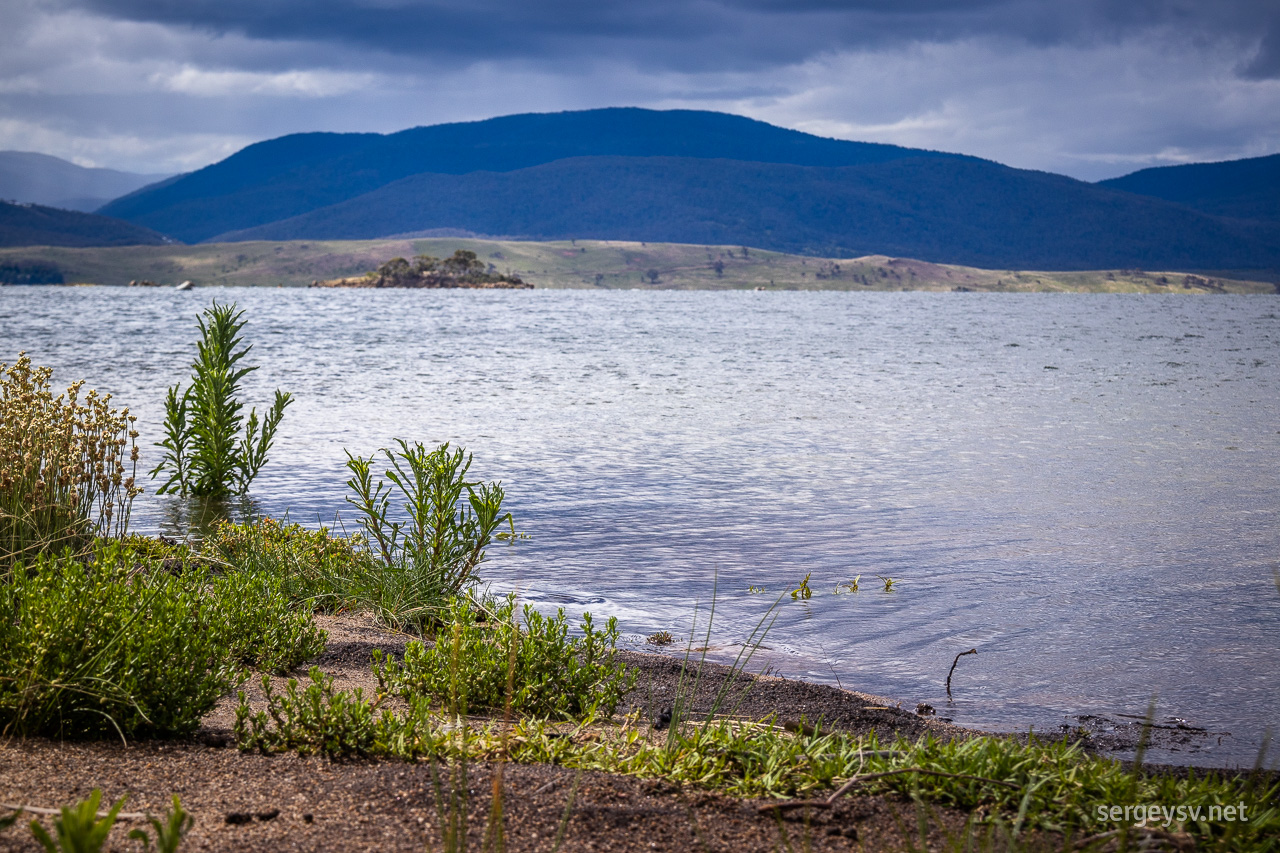 The mountains are close.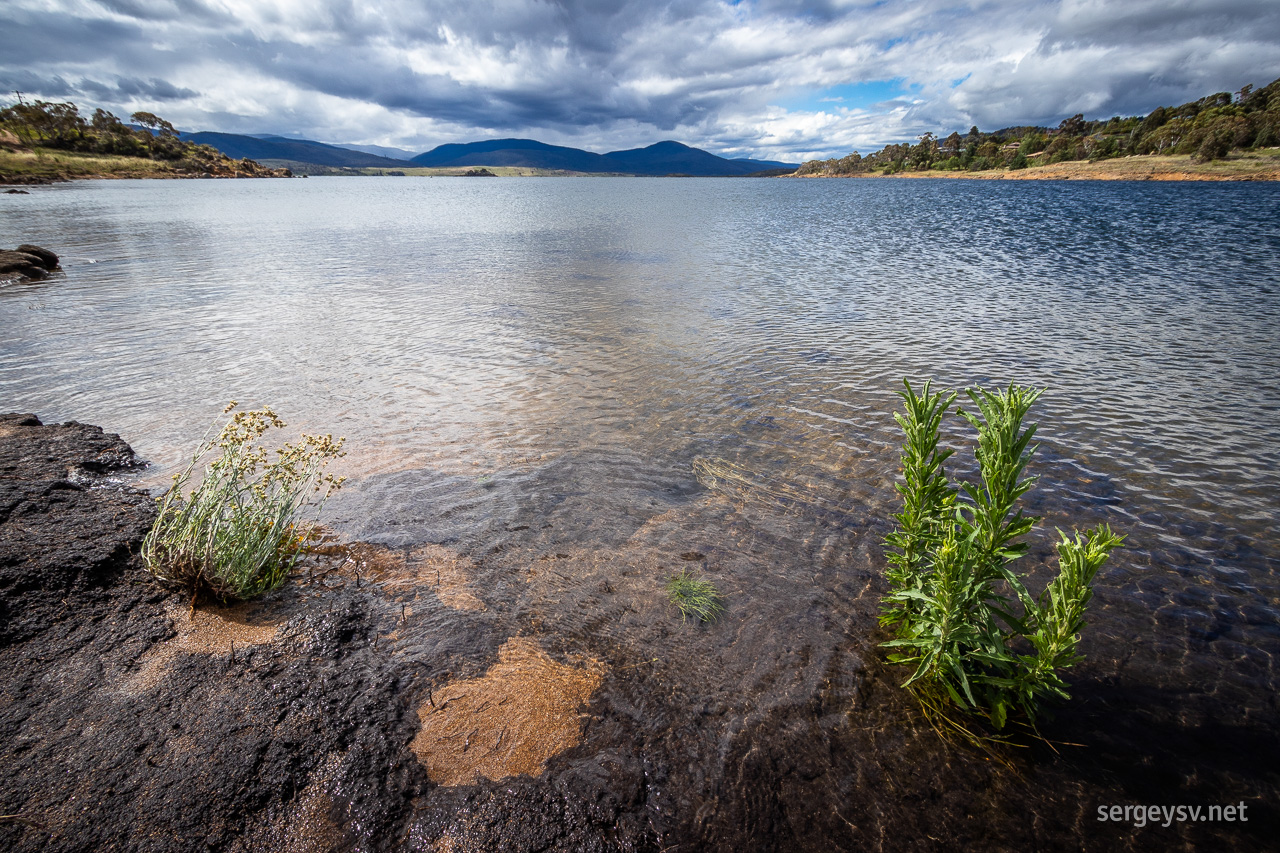 The water is so clear.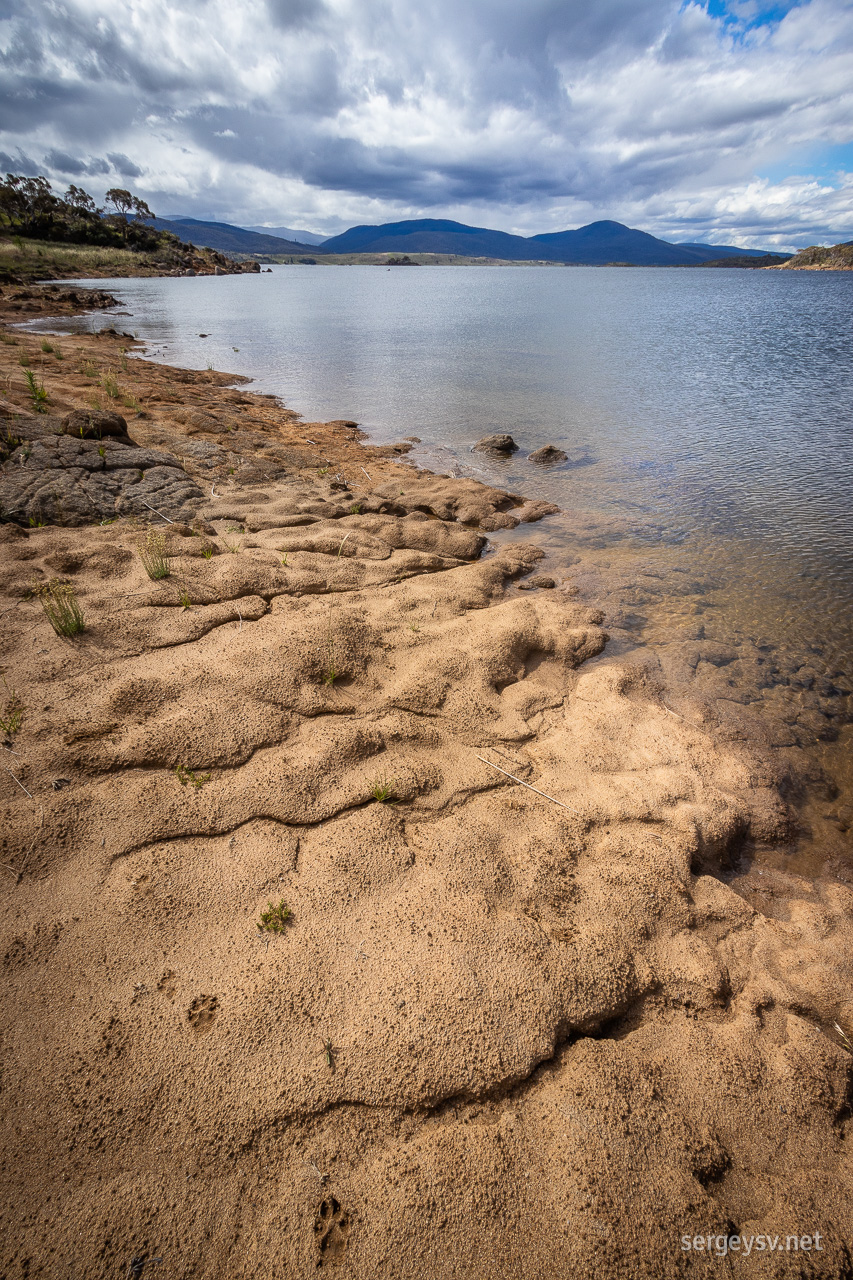 Some interesting cracks in the dirt.
And now I'm finally in the mountains! Costs me a pretty penny to get in: 17 dollars (29 during winter). Let's see if it's worth all the money and hype. For my first brush with the alpine wilderness, I choose the Dead Horse Gap – doesn't sound intimidating at all, does it?
The most striking feature of the park (at least from my brief encounter with it) is lots and lots of dead white gum trees all over the place. At least I think that they're dead, but maybe they're just pretending? Either way, they make for a very interesting and somewhat bizarre scenery; especially with all the clouds that tend to roll in every so often and slide right on top of them. It's pretty high above the sea level here, after all.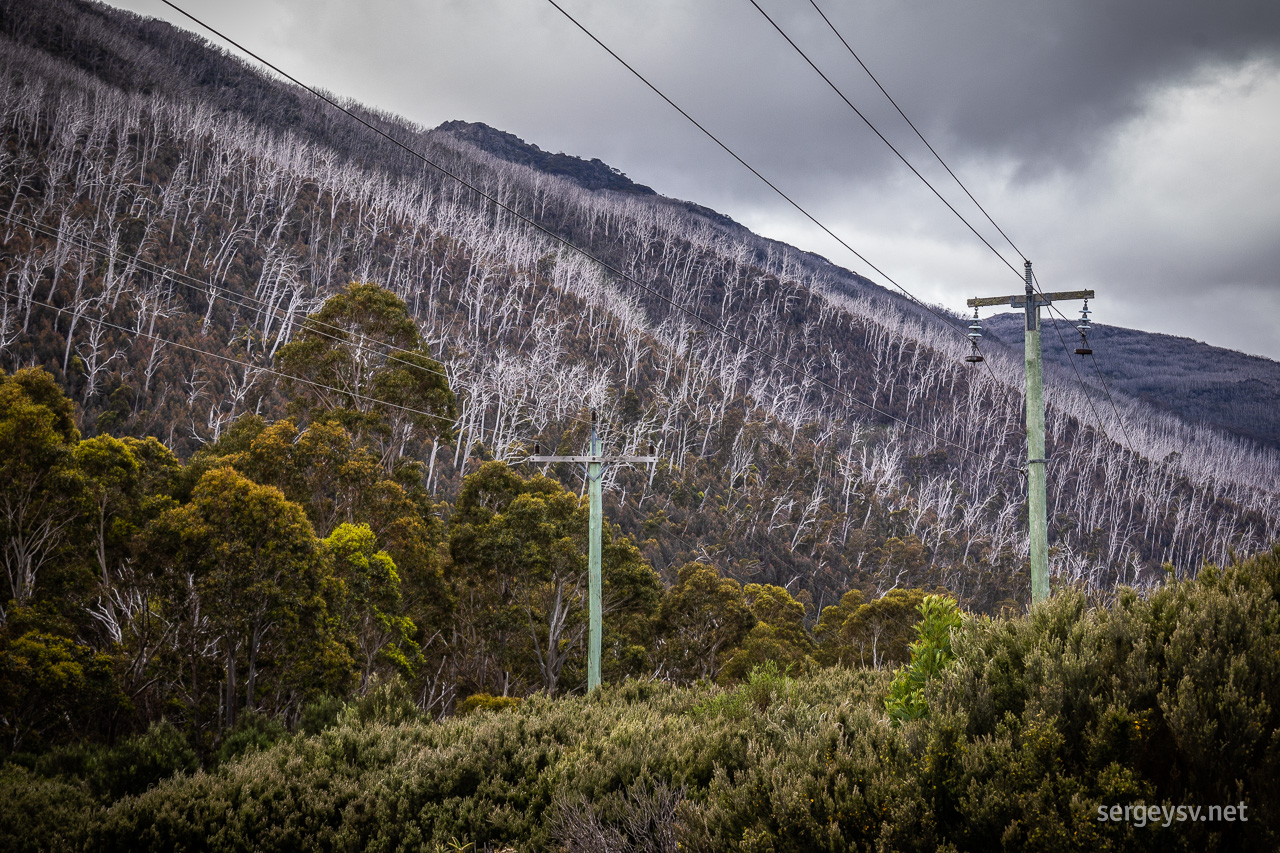 Entering the park. Those trees are so white!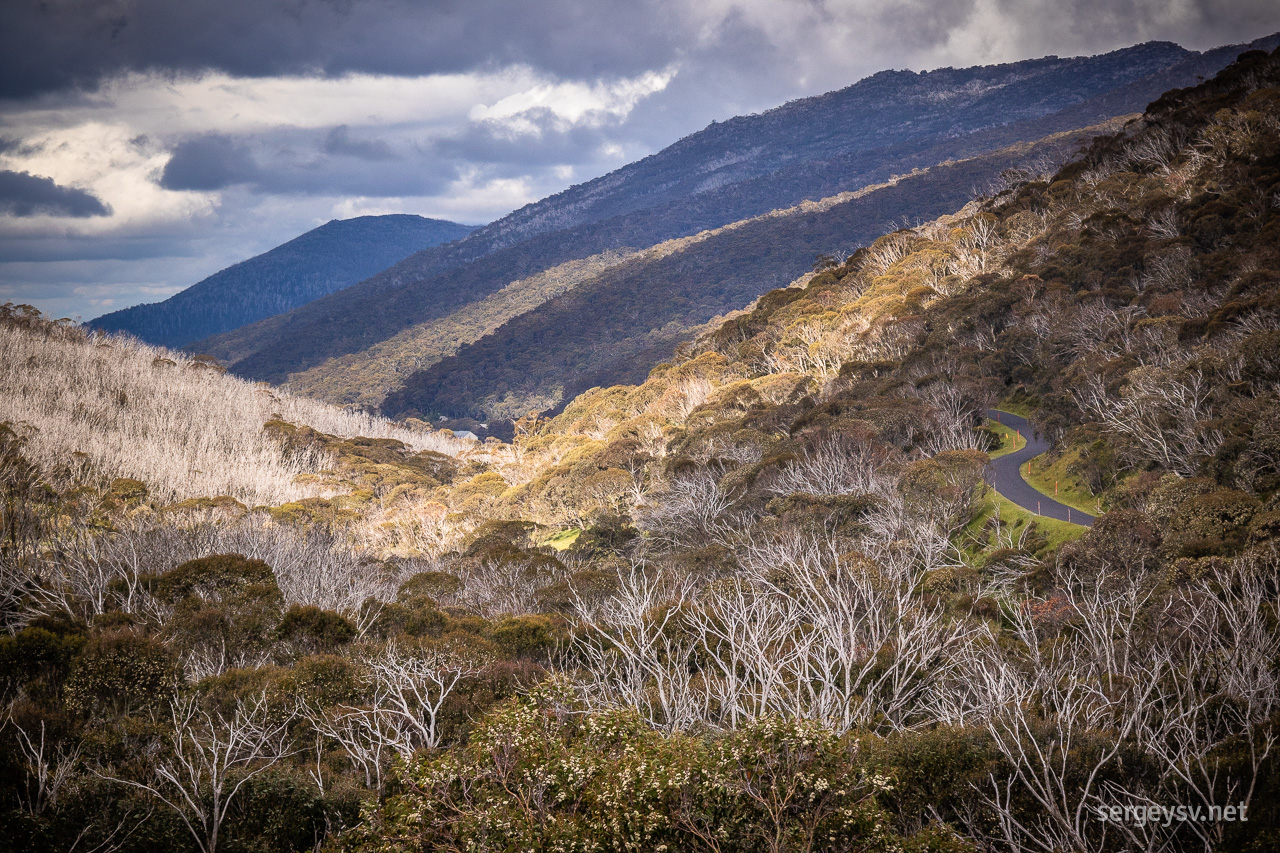 See the road that I just came here from?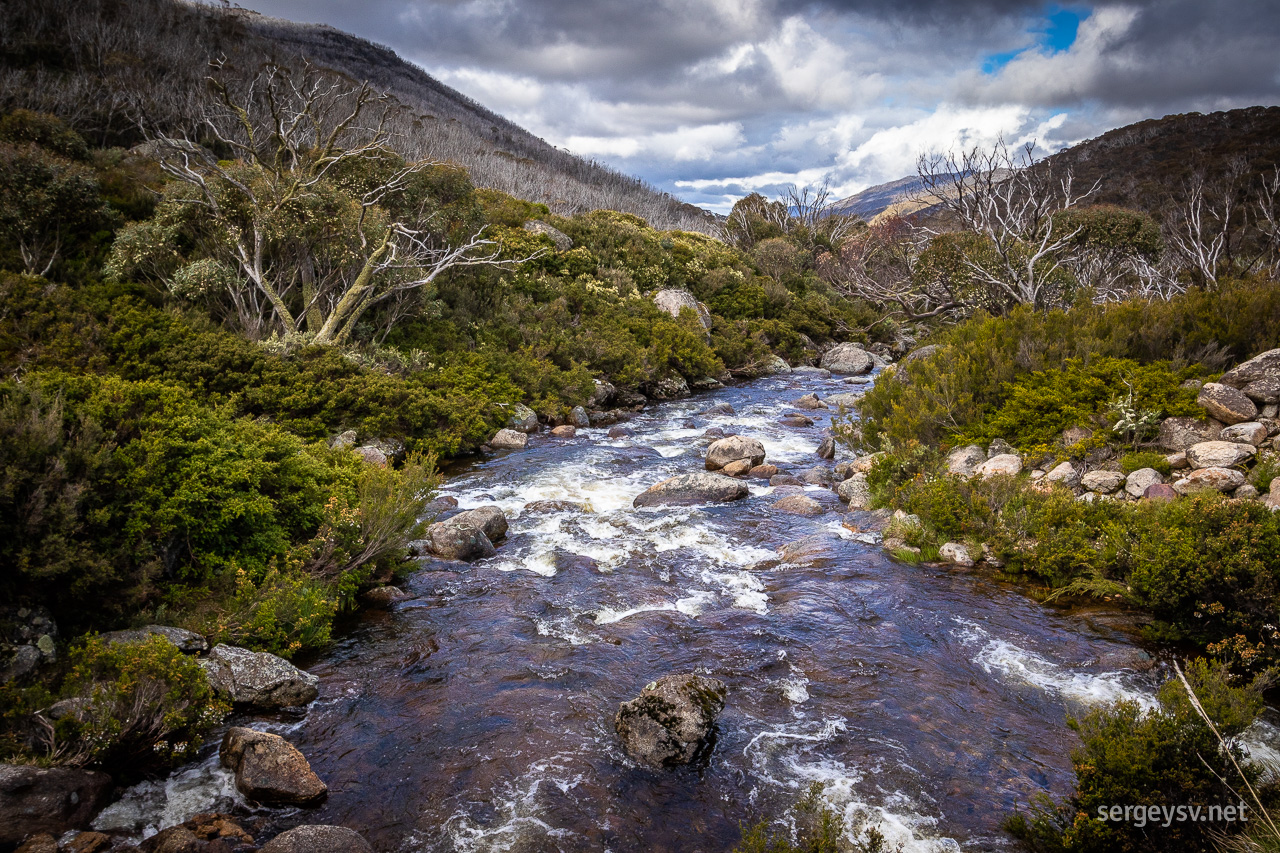 A small river at the Gap.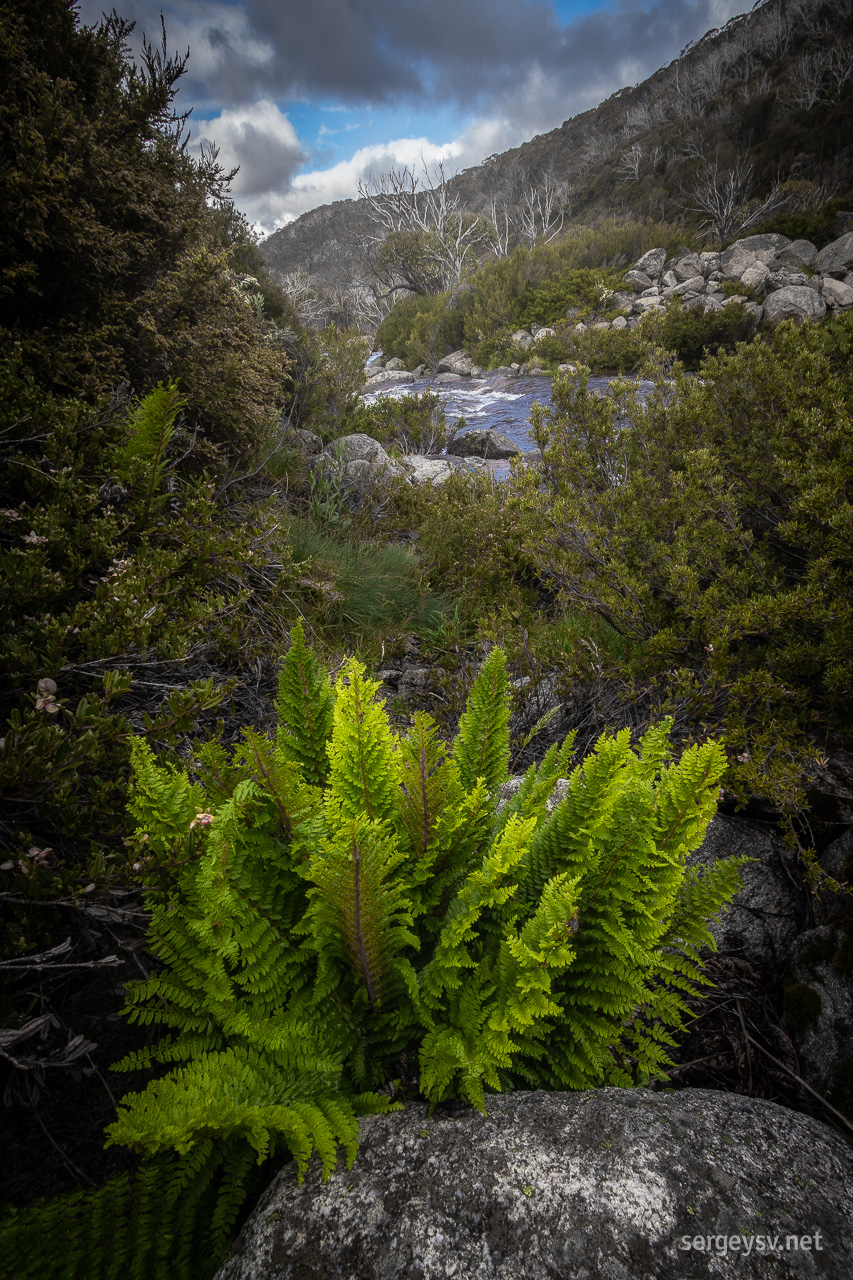 Many different shades of green around.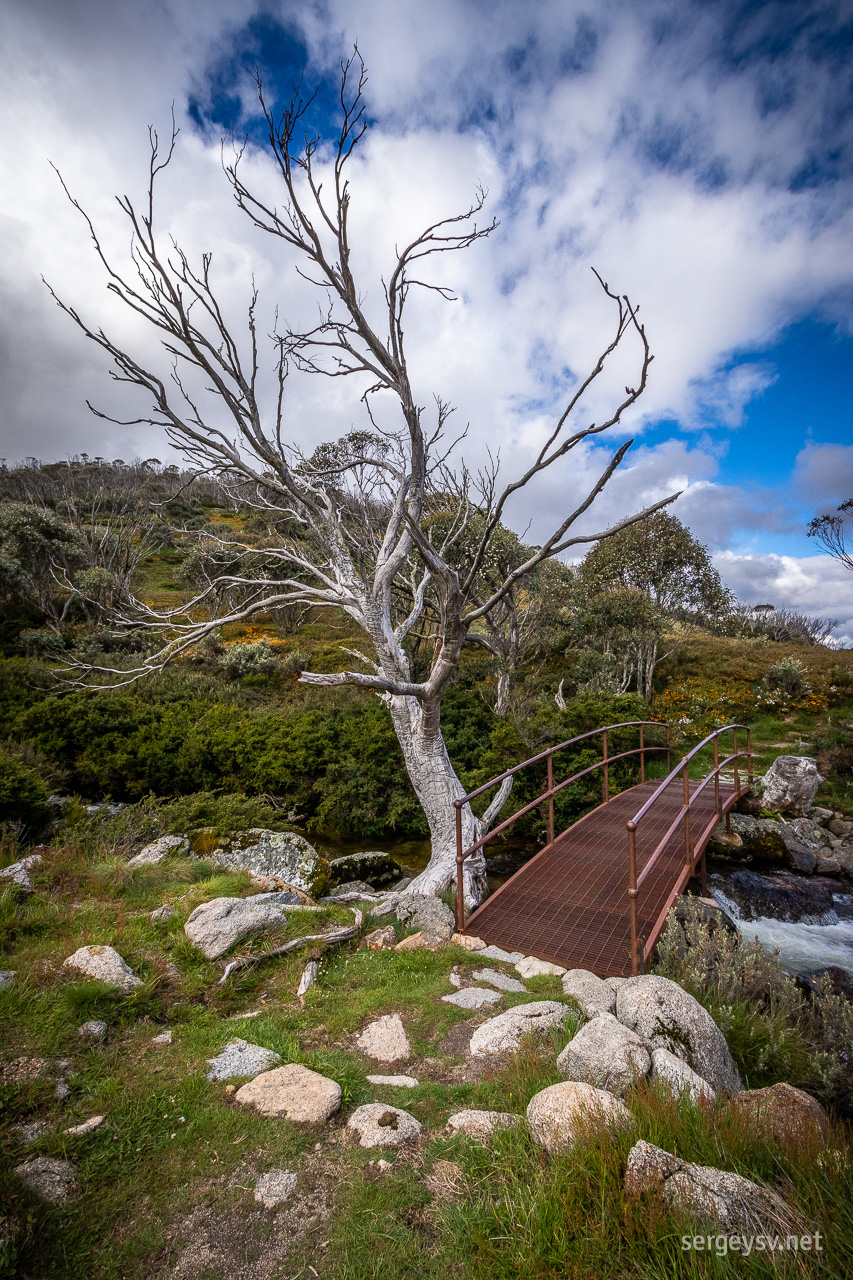 Welcome to the trail!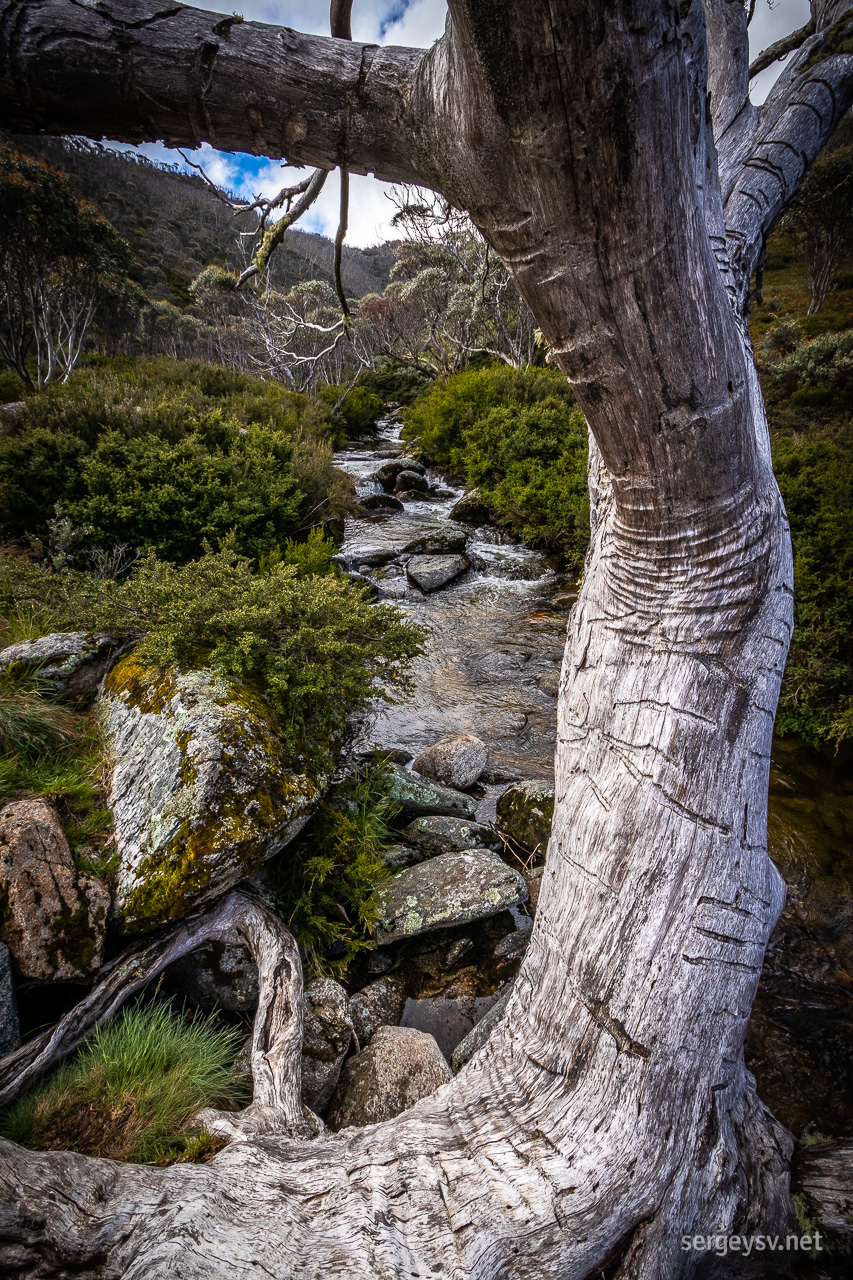 A natural frame.
I make my way uphill about halfway through the trail, taking pictures at almost every step, but then the setting sun forces me to retreat: I need to find my camping spot yet, after all. It's not too far away, and the mountain road, as usual, gives me more than a fair share of twists and turns.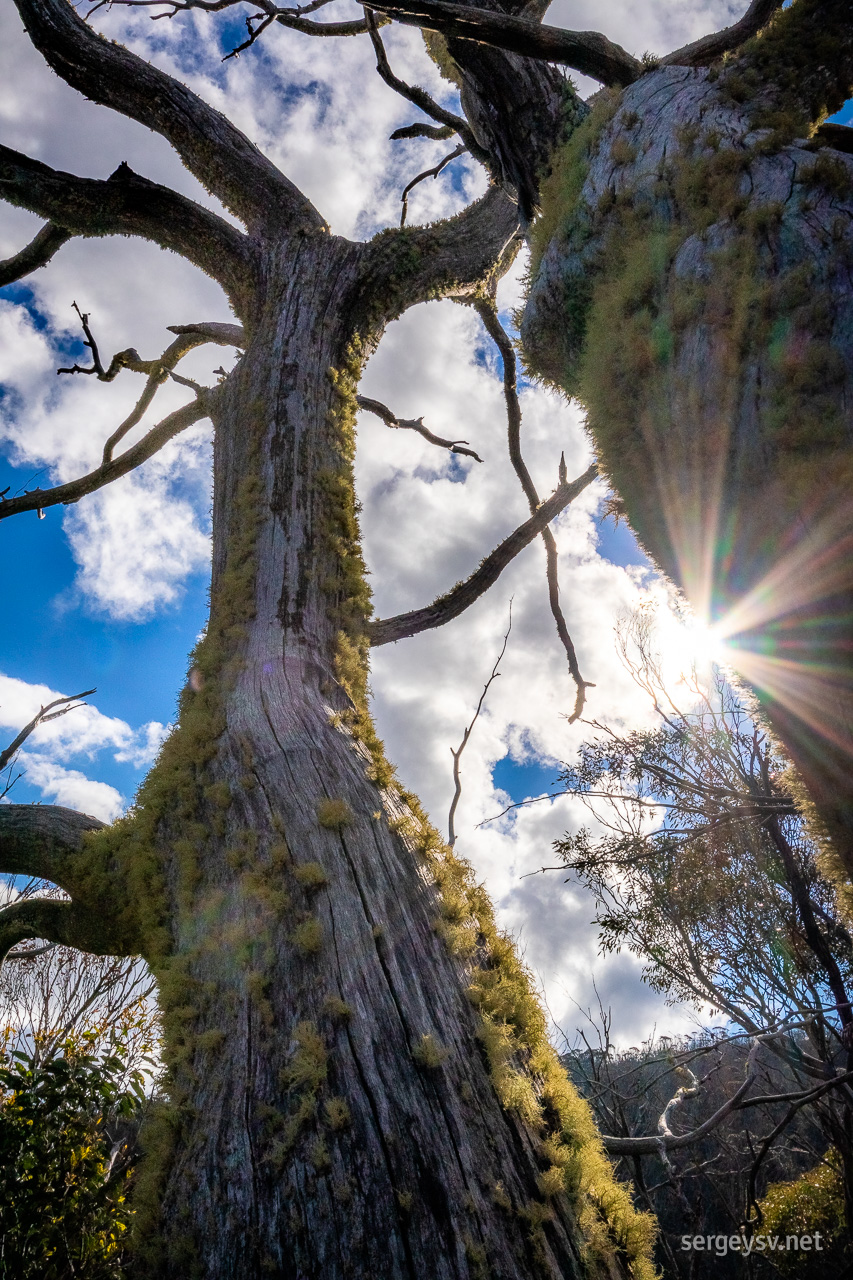 Looking up.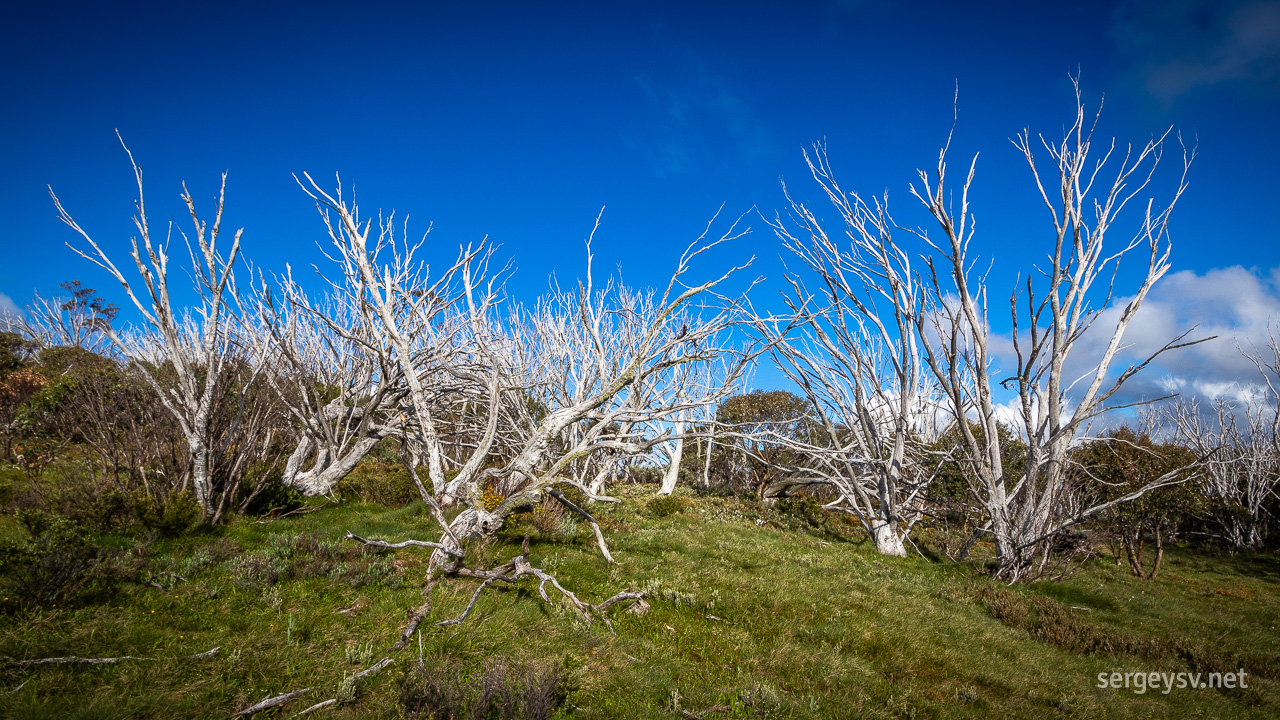 White as bone!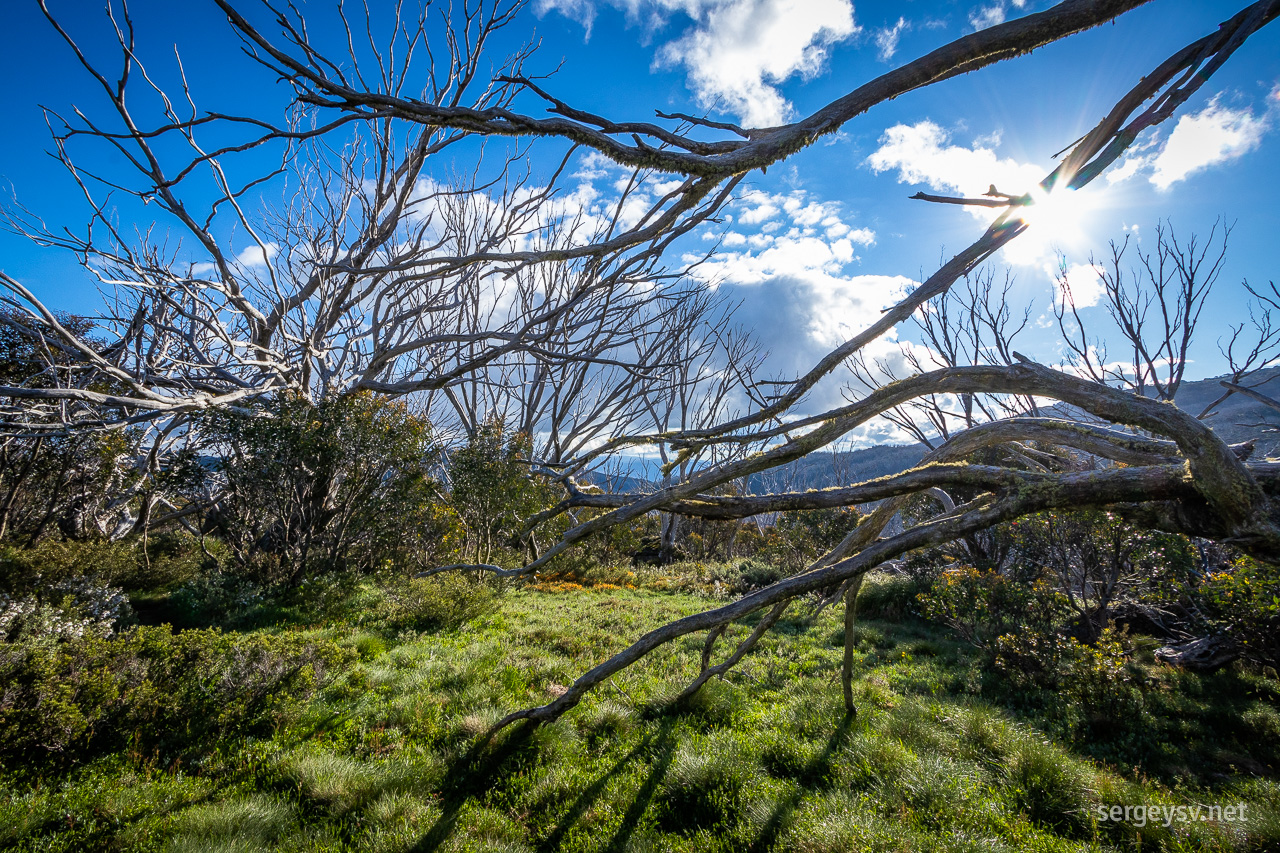 Lots of grass and moss around, too.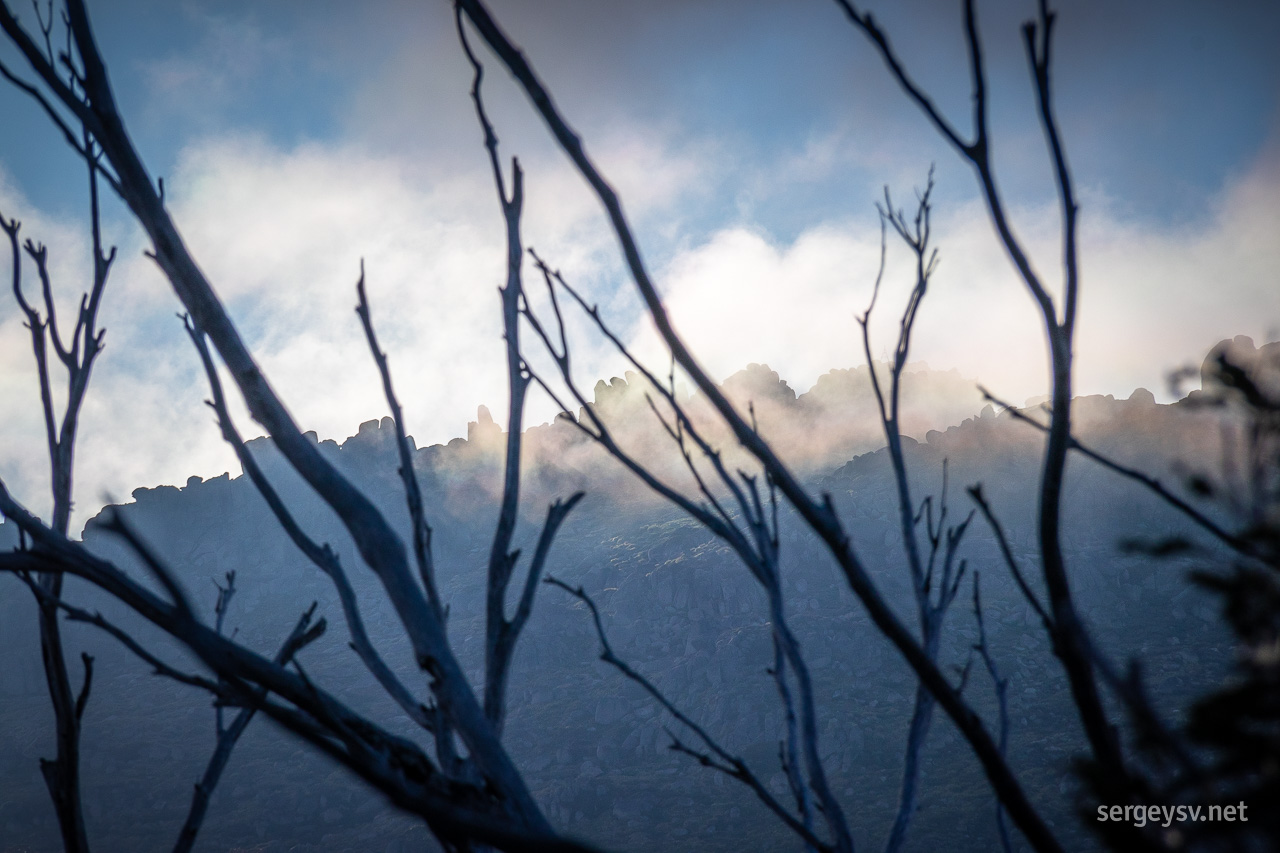 The mountains are shrouded in clouds.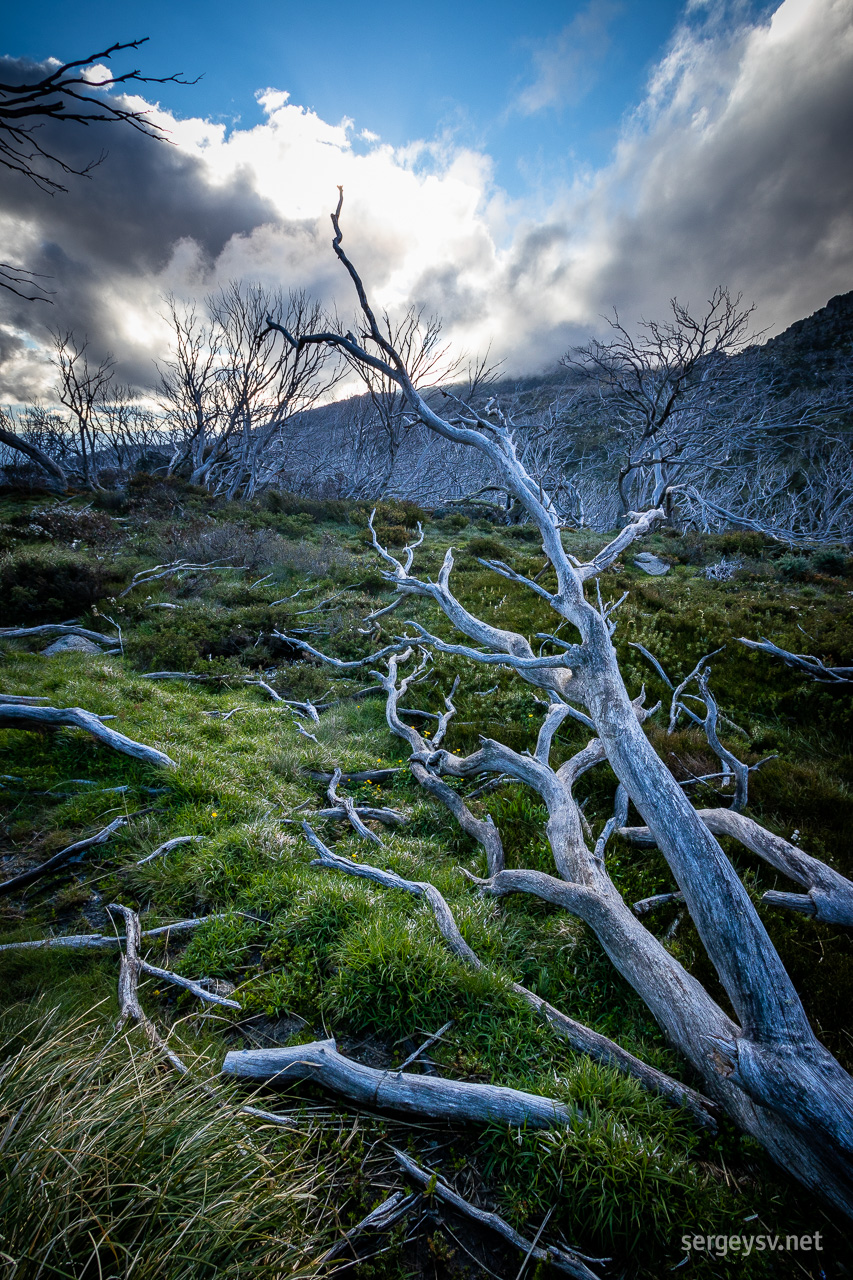 Deadwood is everywhere.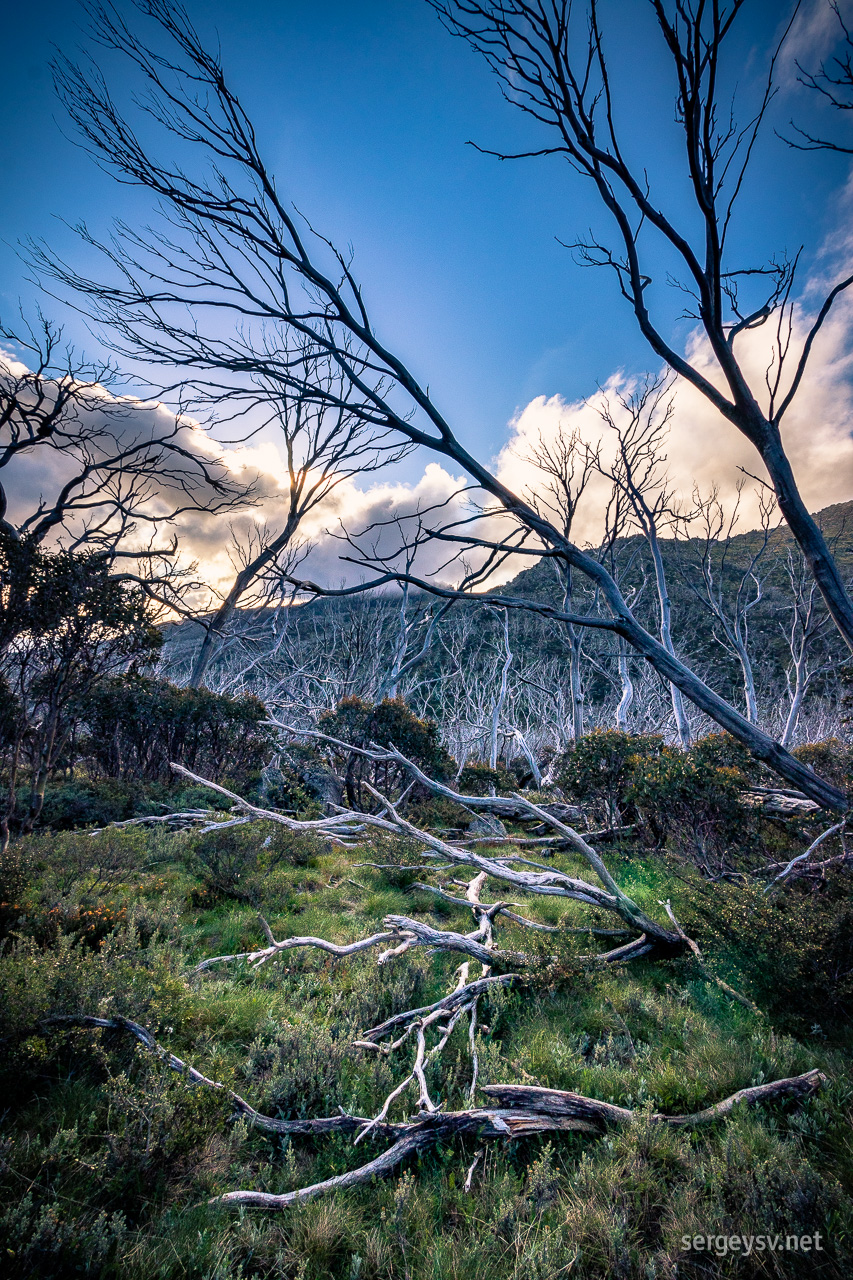 Lots of it!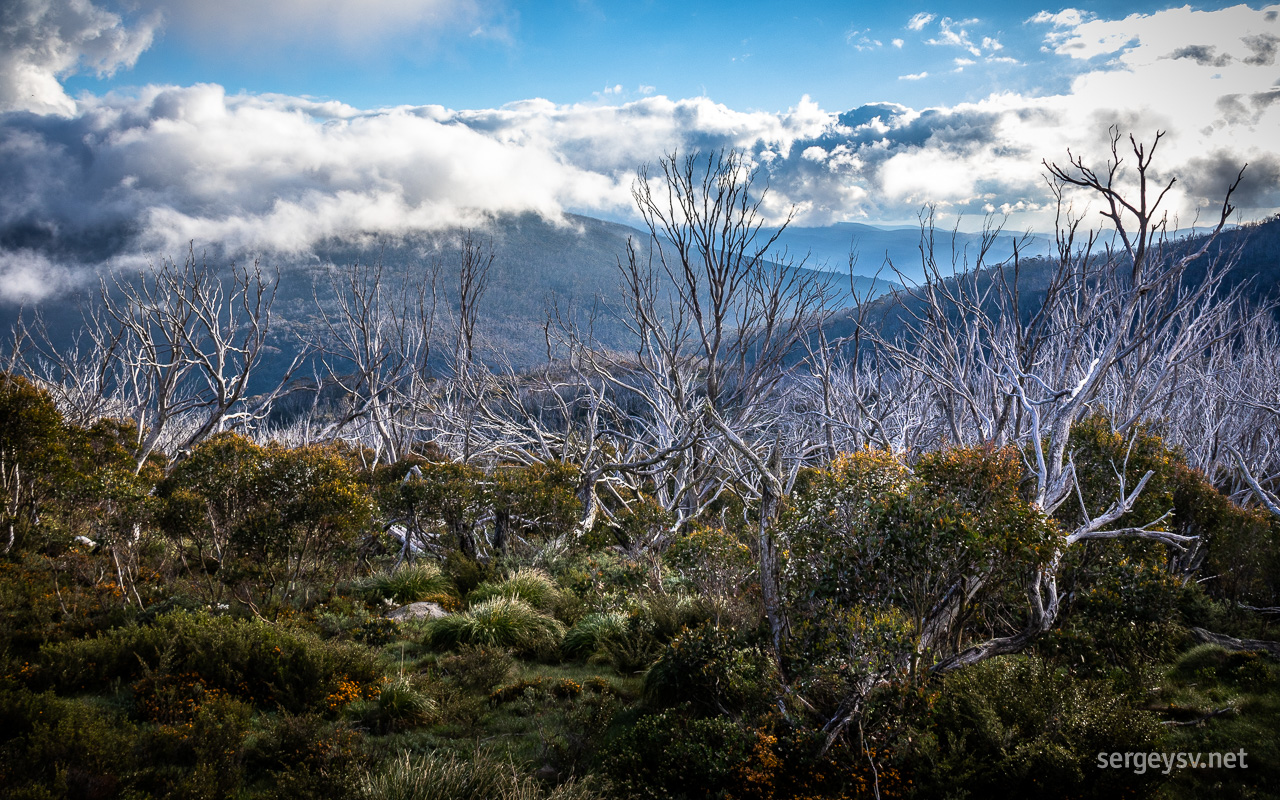 The clouds are rolling in.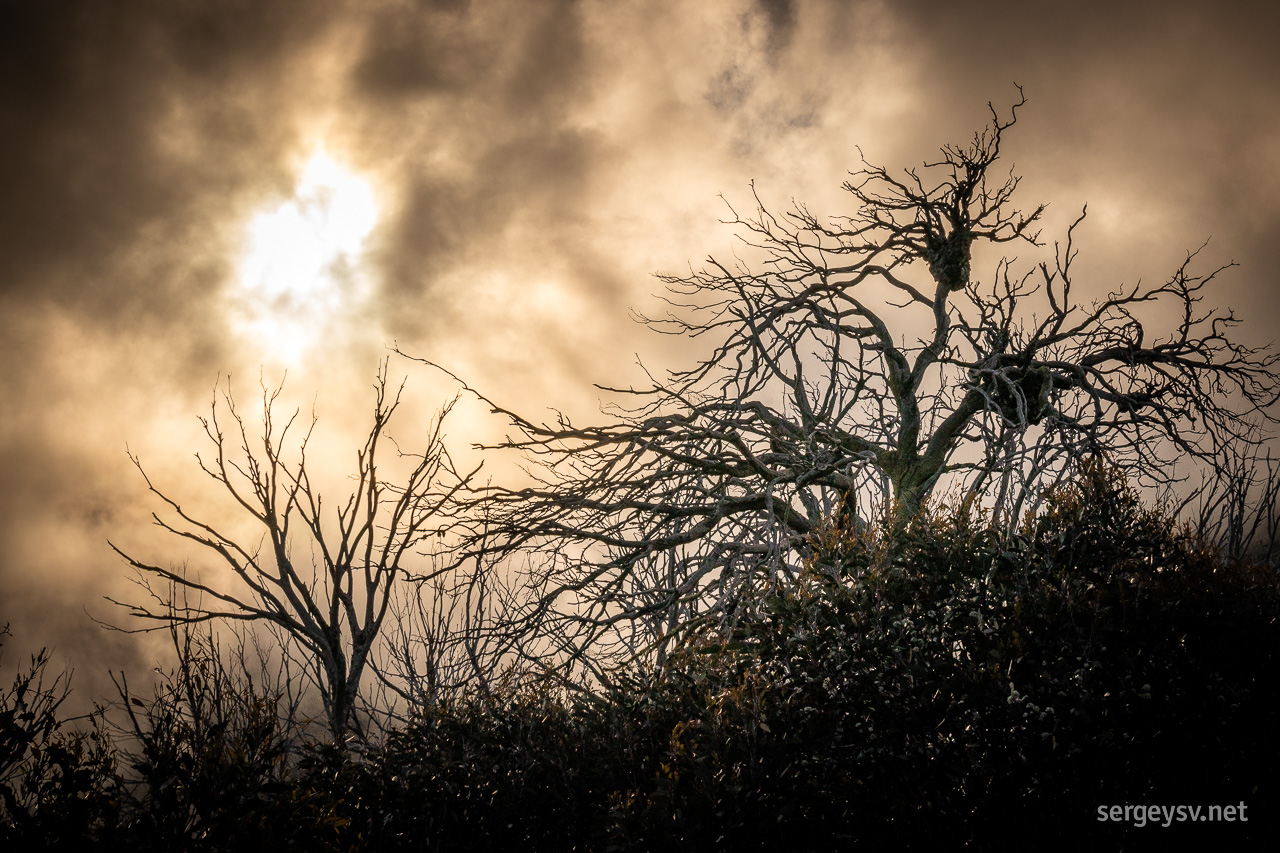 Quite an infernal sunset.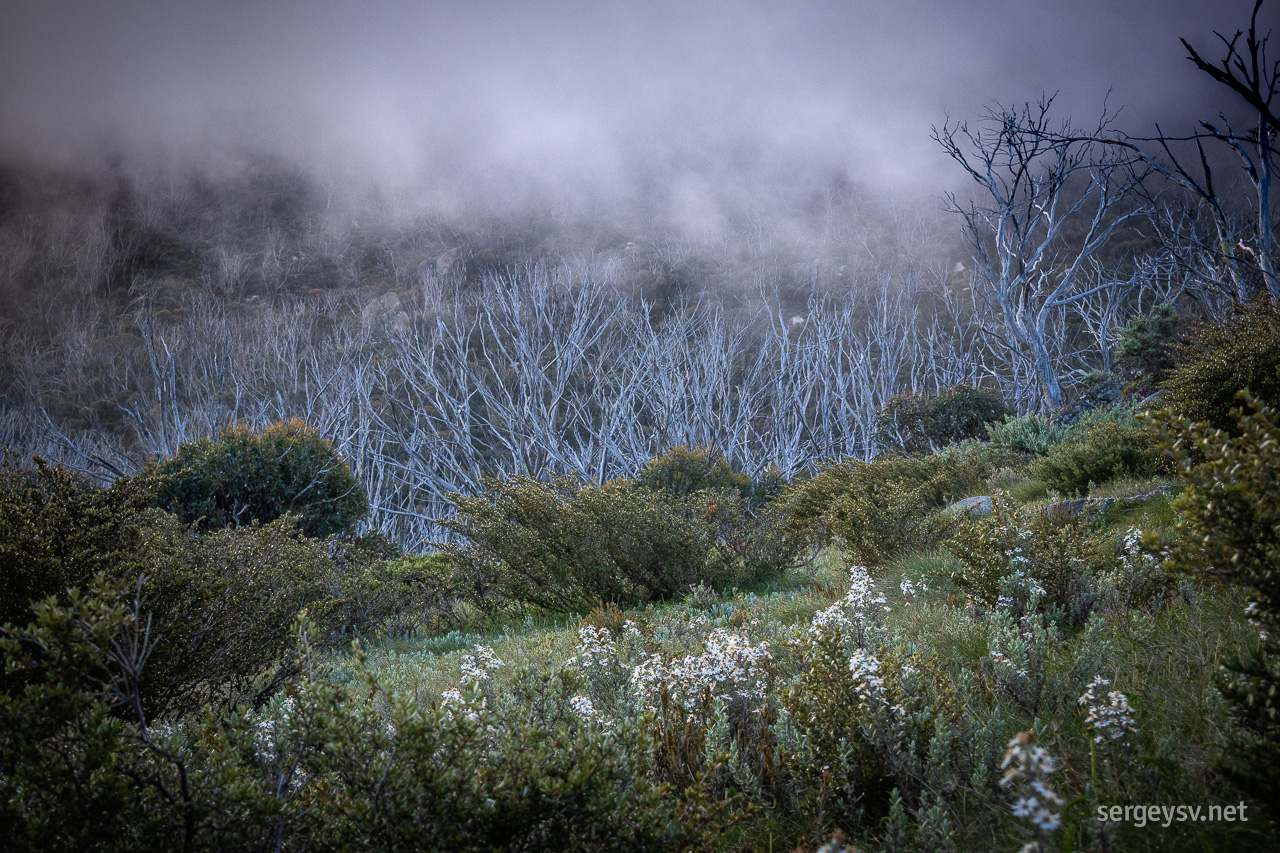 Feels like it would rain at any minute. But it doesn't.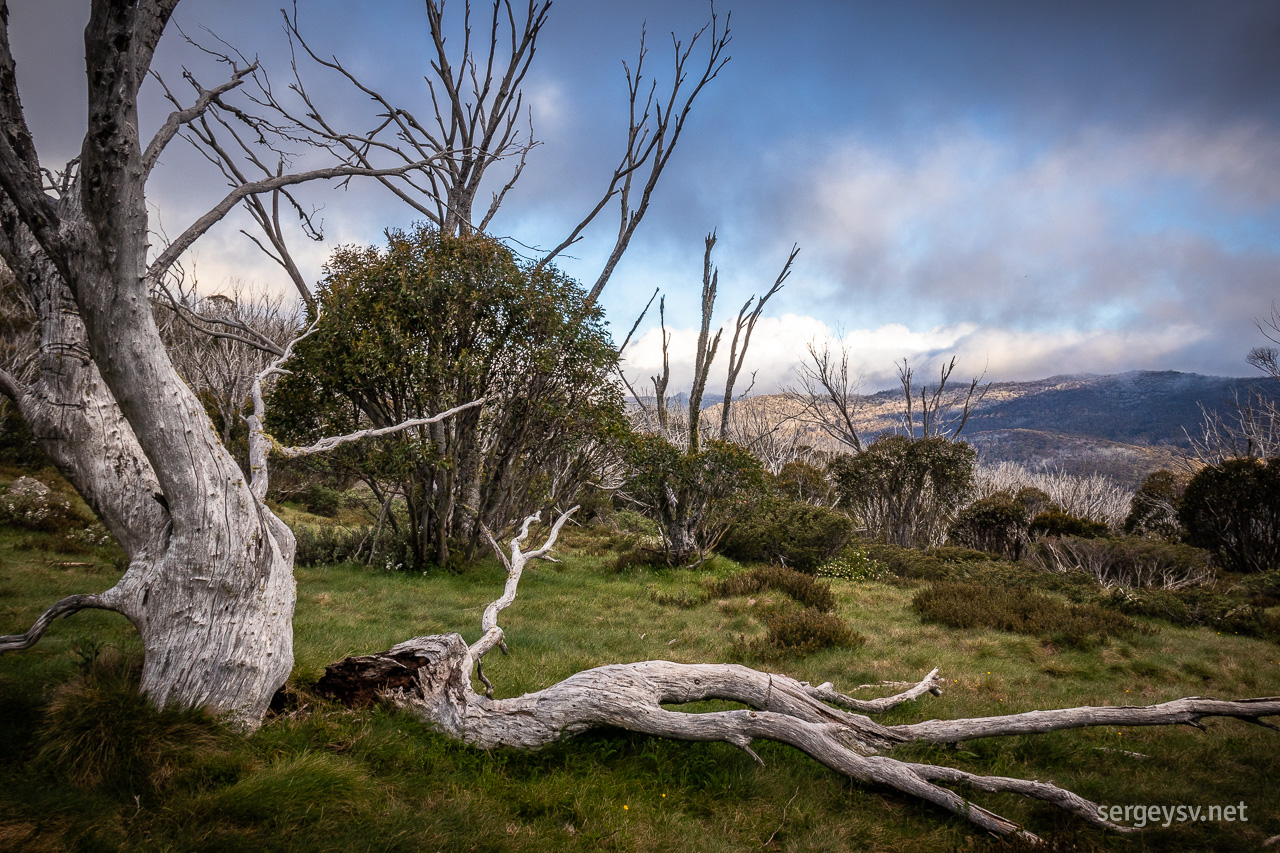 Light is changing literally every minute...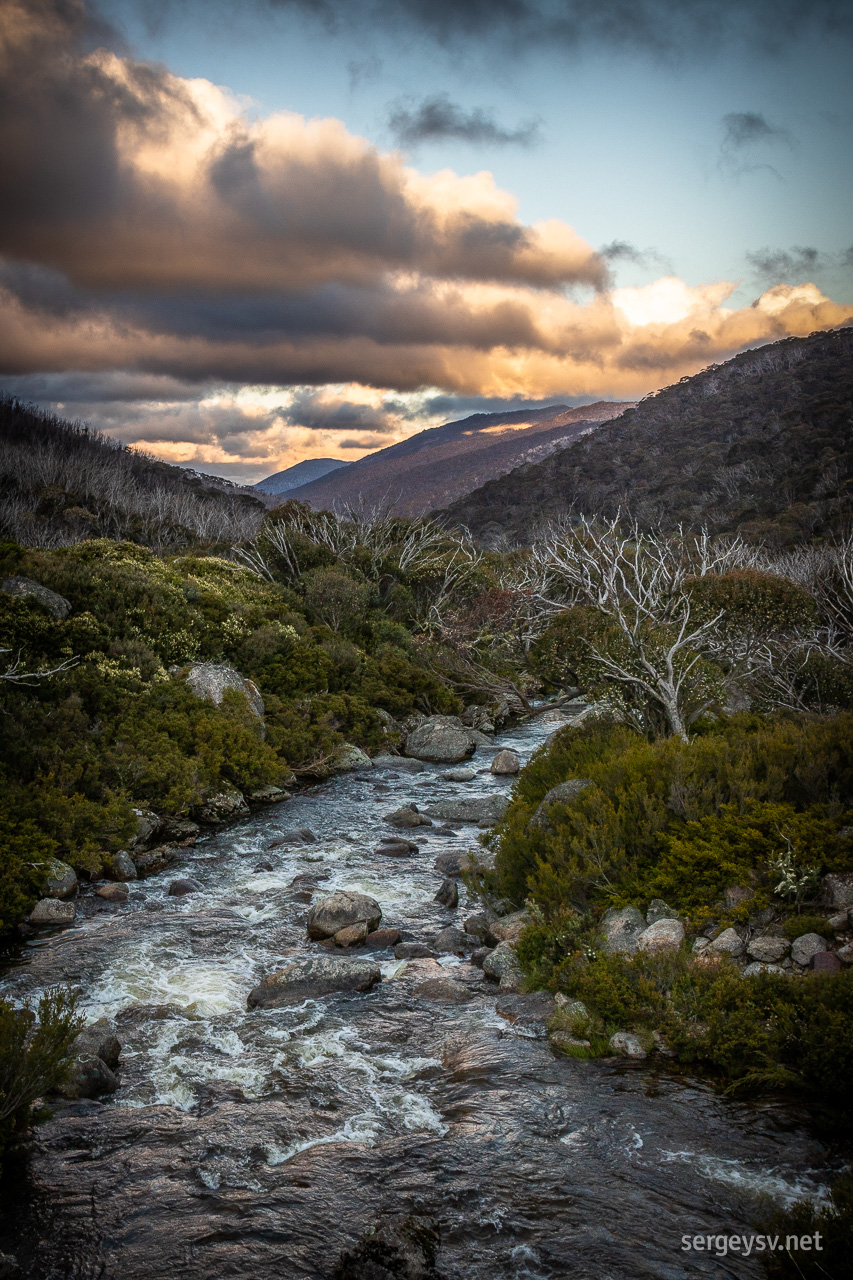 ...and soon will be gone entirely.
Tonight's the big night: this is the first time I'm trying out my awning tent, which I've purchased recently. Takes me a while to figure out where all the poles, ropes and zippers go, and by the time I'm finished it's already dark, and the moon is peeking through the tree tops to marvel at my efforts. It's not alone at that: a few curious kangaroos stop by as well to check out what I'm doing. They act apprehensive, but not very frightened – it's a national park, after all. And a popular camping spot, too: there's quite a few vehicles and trailers scattered around. Luckily, there's plenty space for everyone, and it's entirely free of charge as well.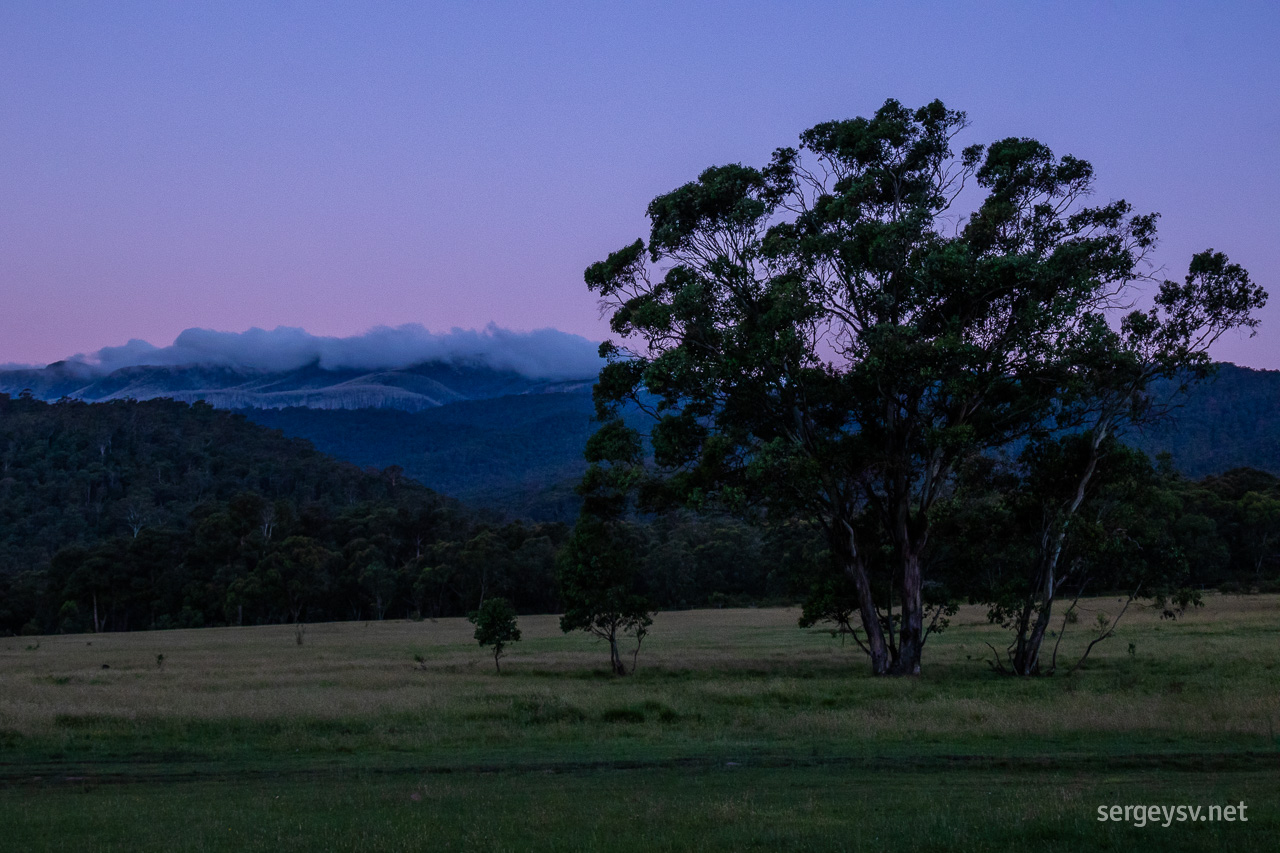 In the gathering dusk.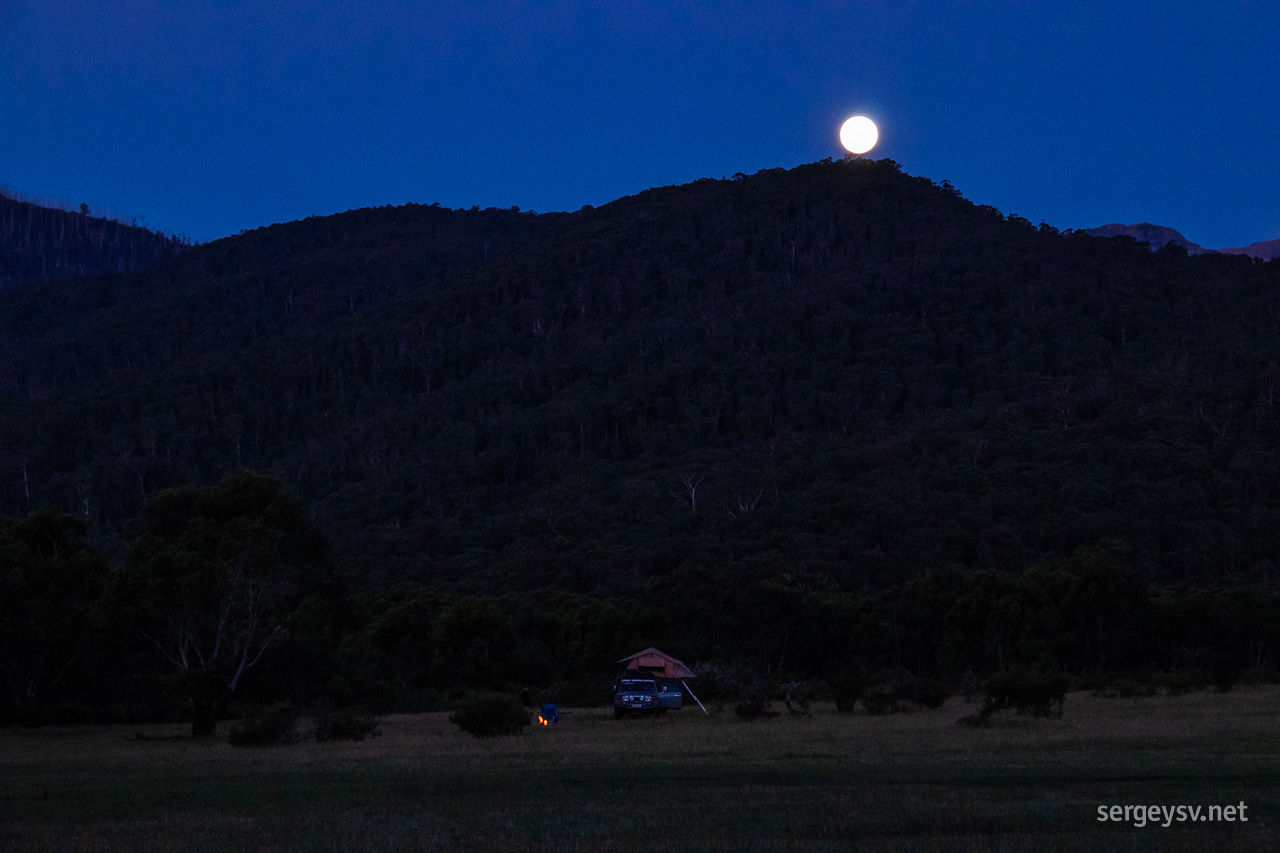 The neighbours and the moon.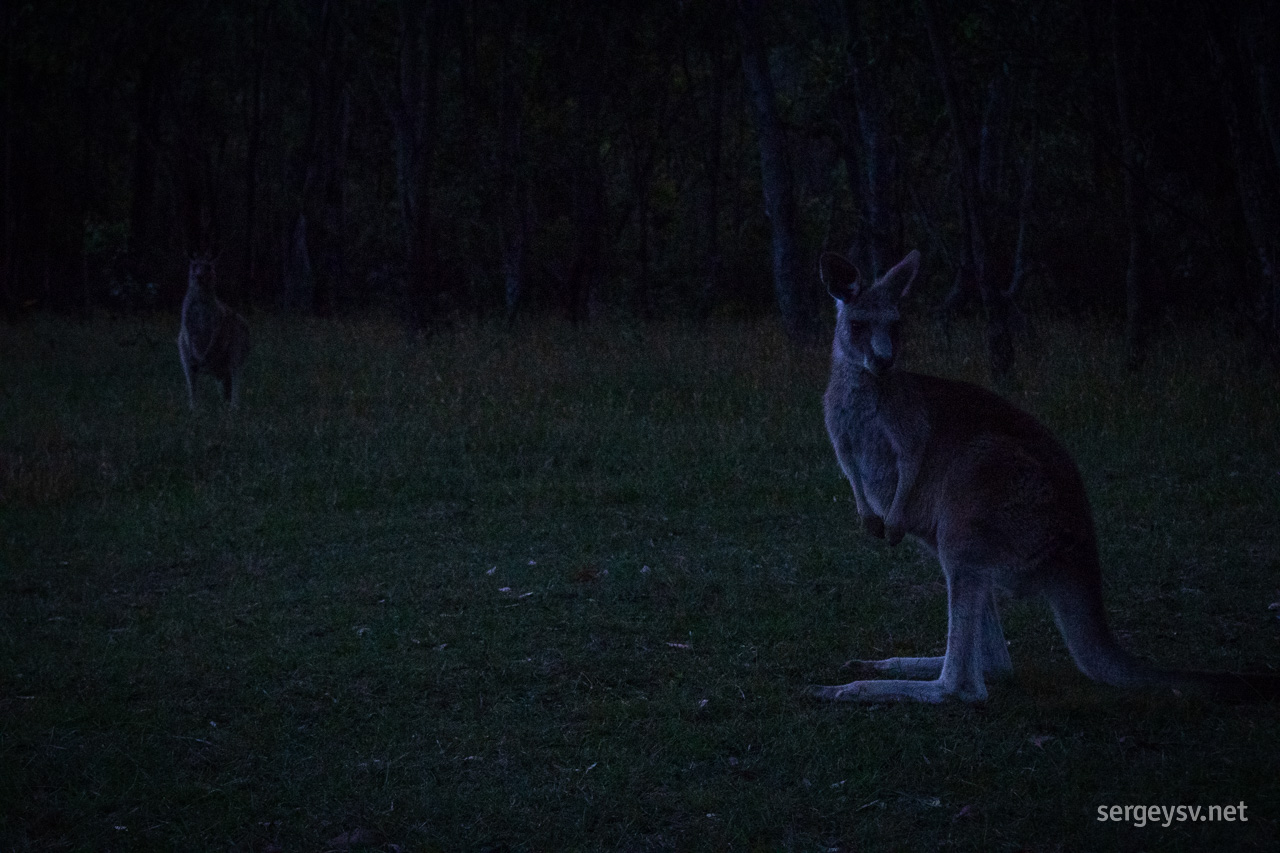 More neighbours!
I spend some time in my new awning tent offloading images from the camera and doing some preliminary editing on them; but after a while it gets quite chilly, so I retreat to my sleeping quarters, which is in the back of the car. It's been a long drive, after all, and an even longer drive is waiting for me tomorrow.