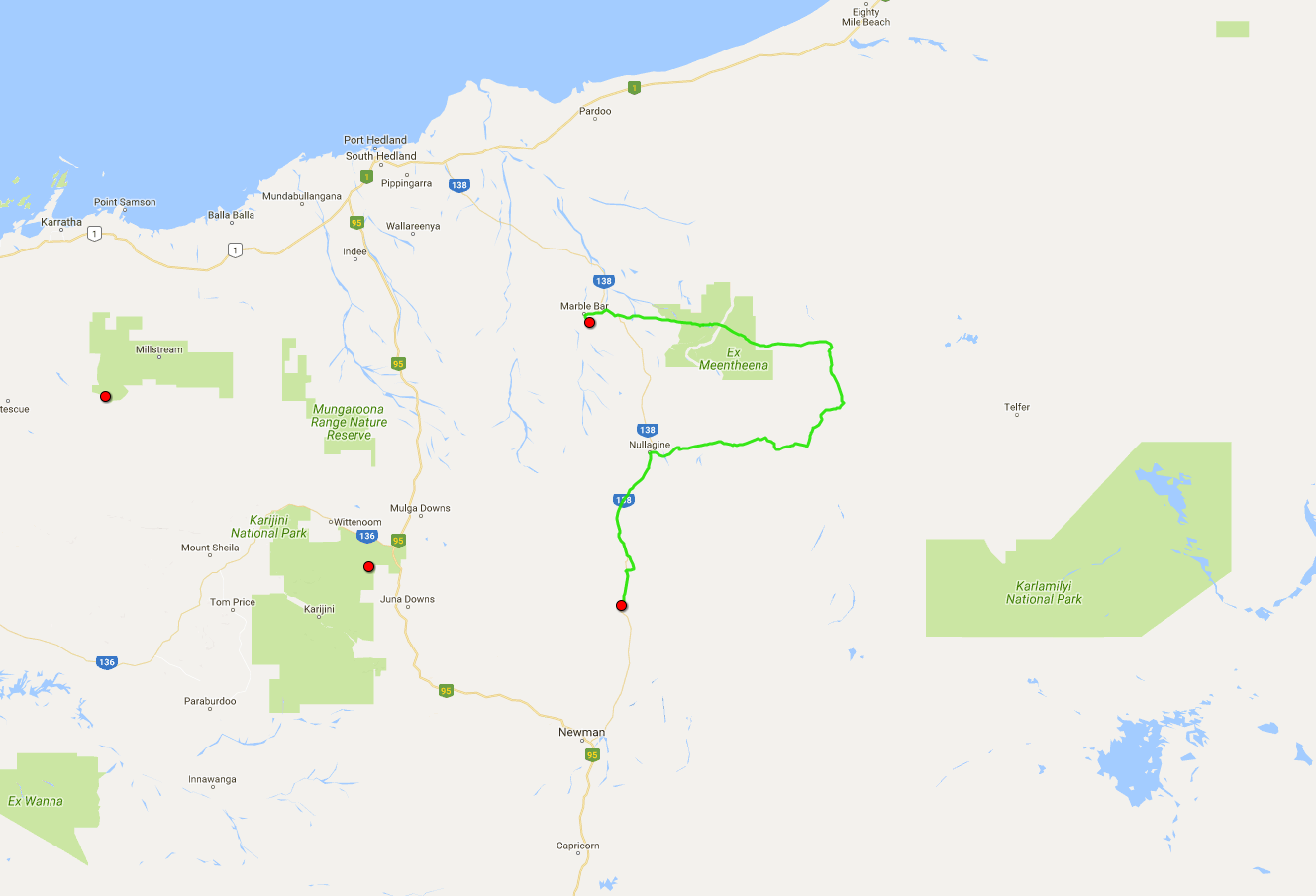 Today's itinerary.
The further north I drive, the more mining activity around I see. Thanks to the mining companies, the roads here are of excellent quality, and most of them are pretty new. They have also built all those long railroads, leading straight to
Port Hedland
, whence all this ore is shipped all over the world.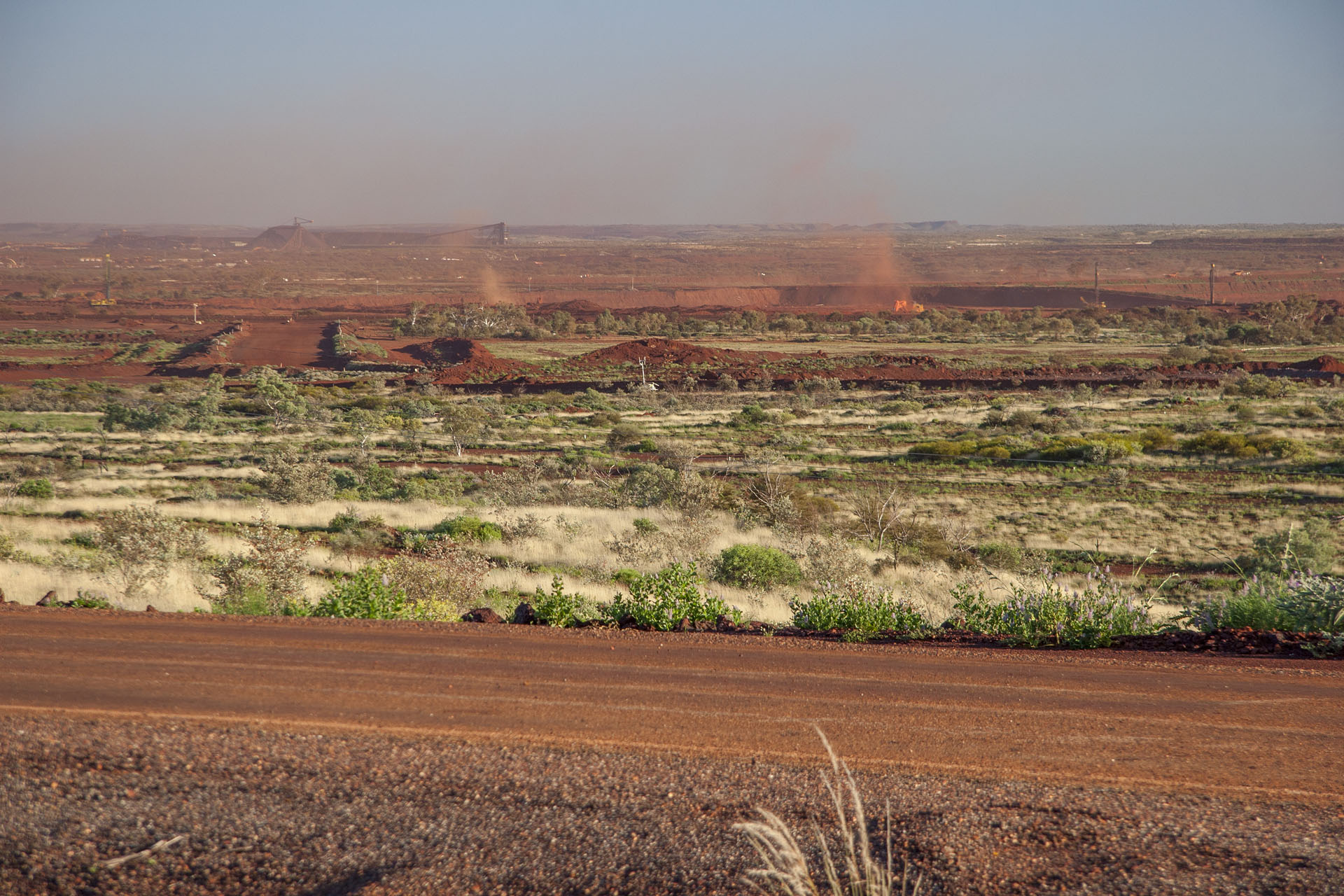 Miners at work.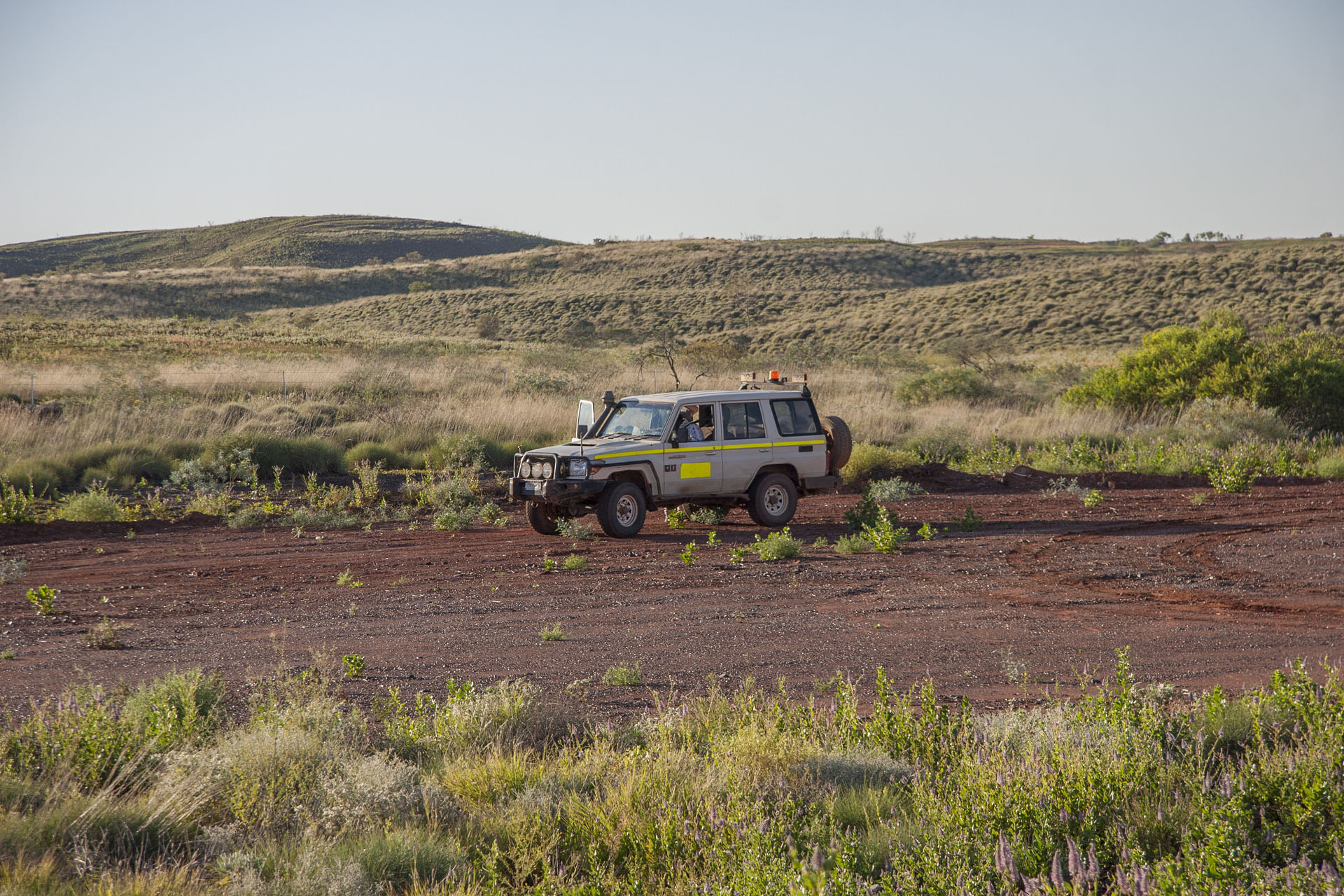 A mining fourbie.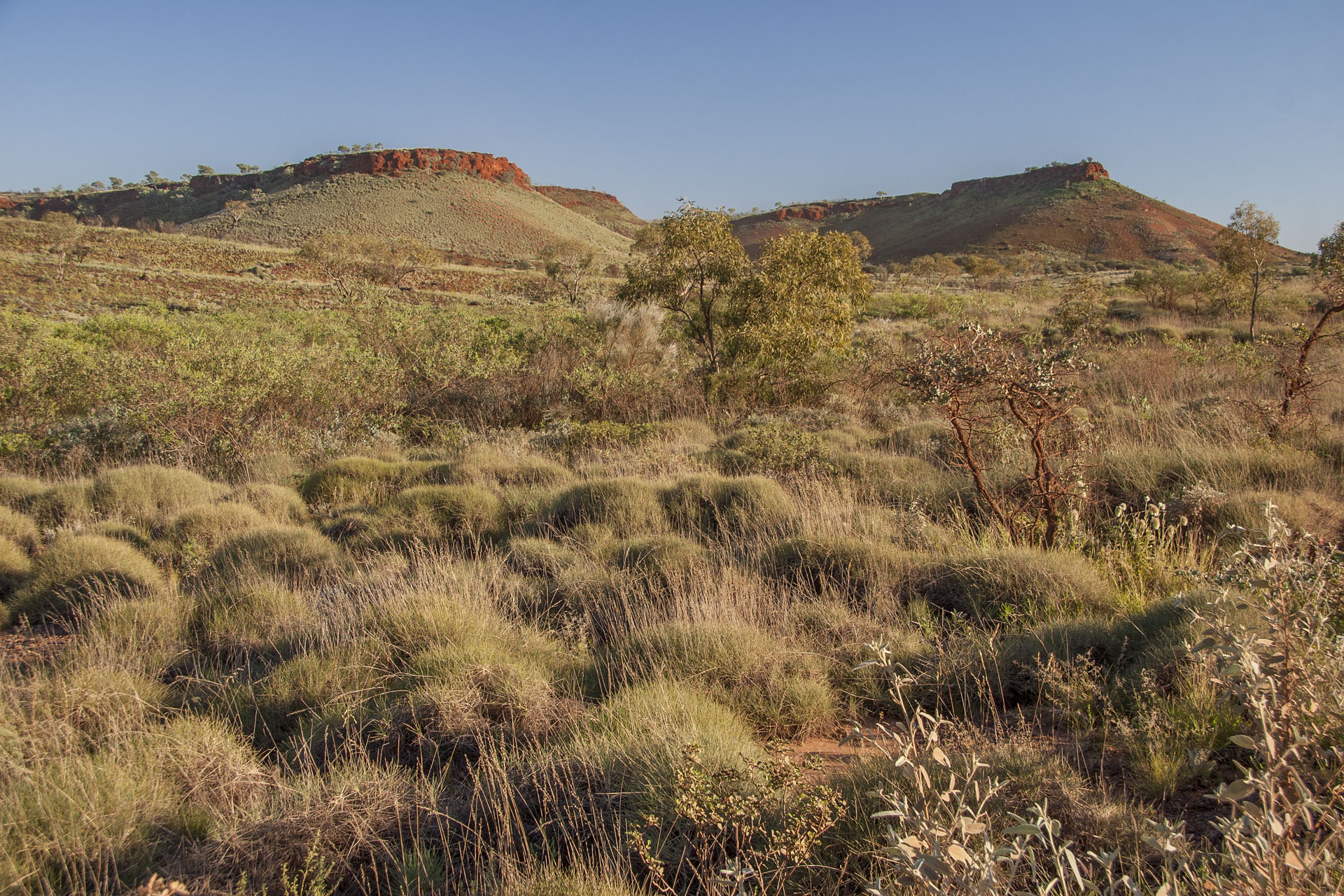 Ranges nearby.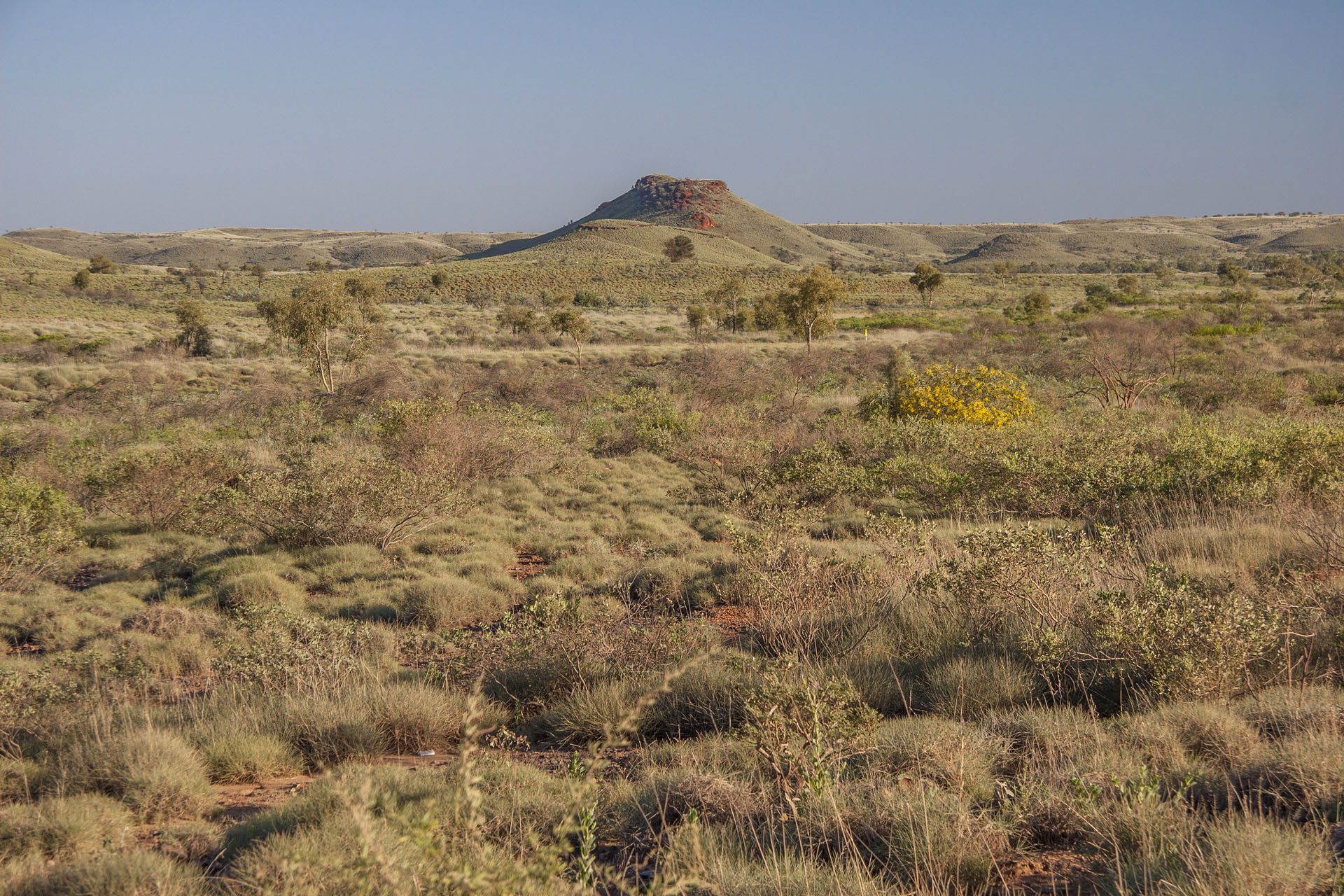 Same.
In Nullagine, I turn onto another dirt track, Skull Springs Road, which will lead me to the place called Carawine Gorge—my destination of the day. Ancient, half-crumbled ranges and bluffs are all around me, covered in spinifex tussocks. Where there's enough water, snow-white eucalypts also grow: these are the famous "ghost gums". Somewhere around there's also a small river called Pilbara, which lent its name to the whole region.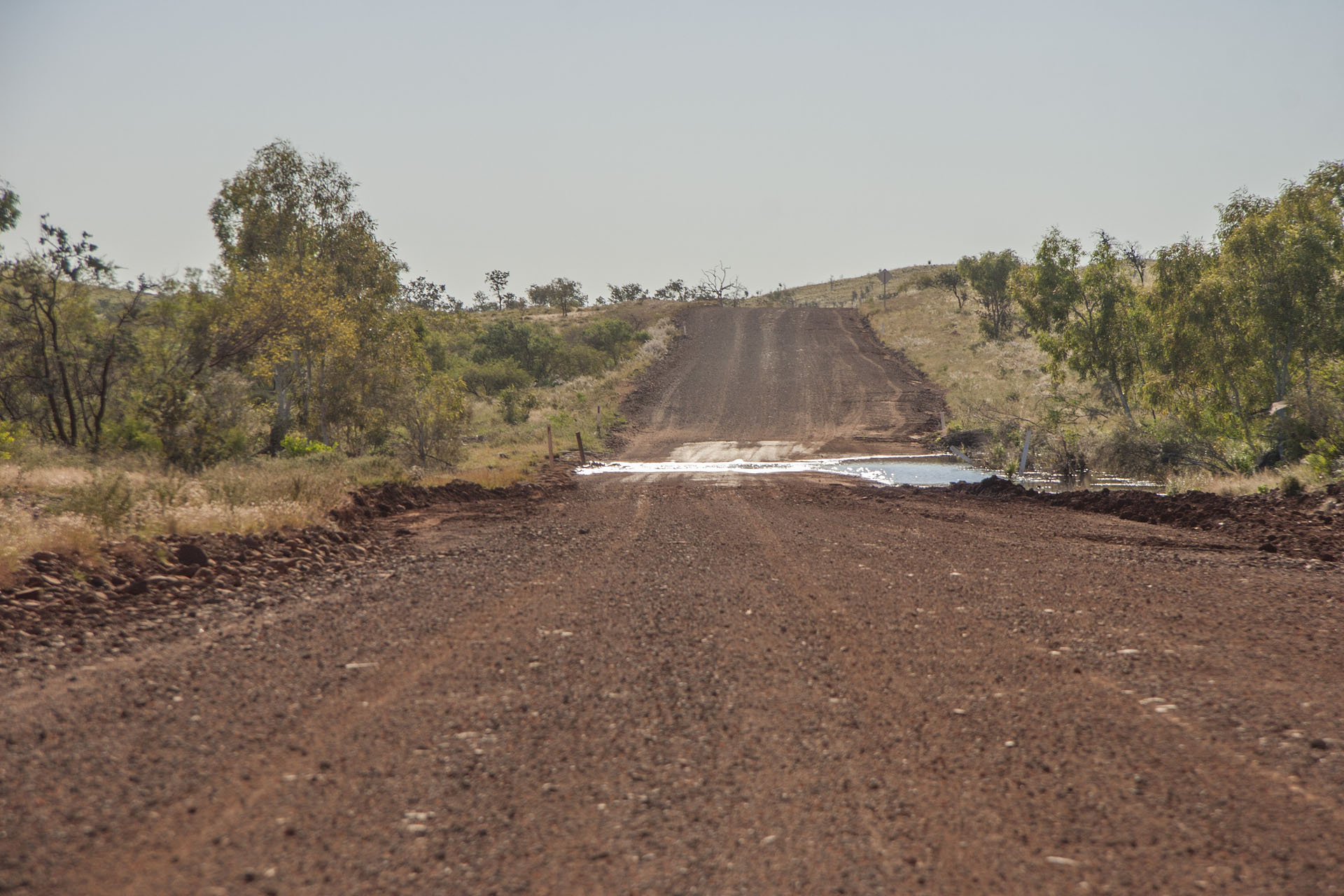 The road is meh.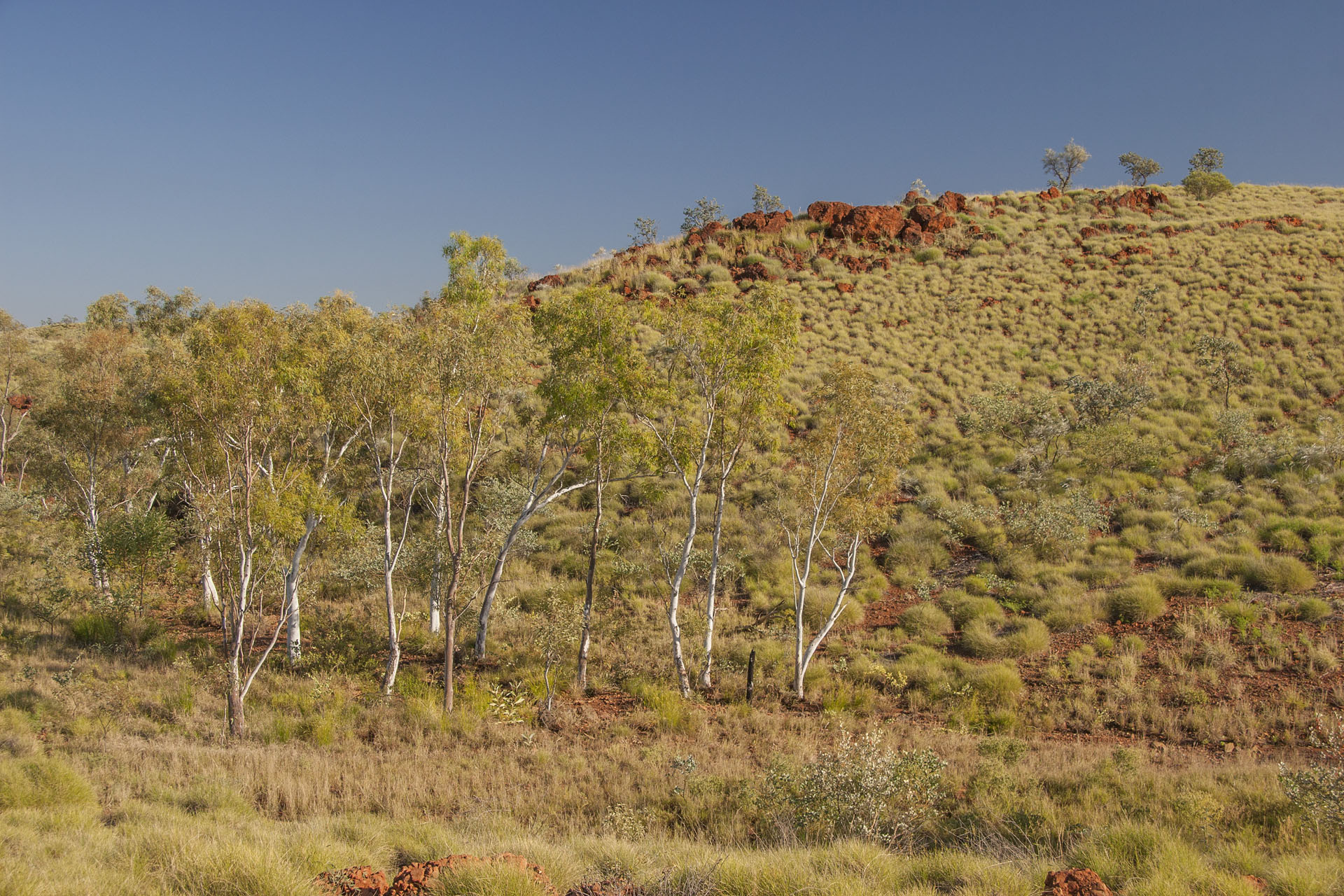 Weathered ranges and ghost gums.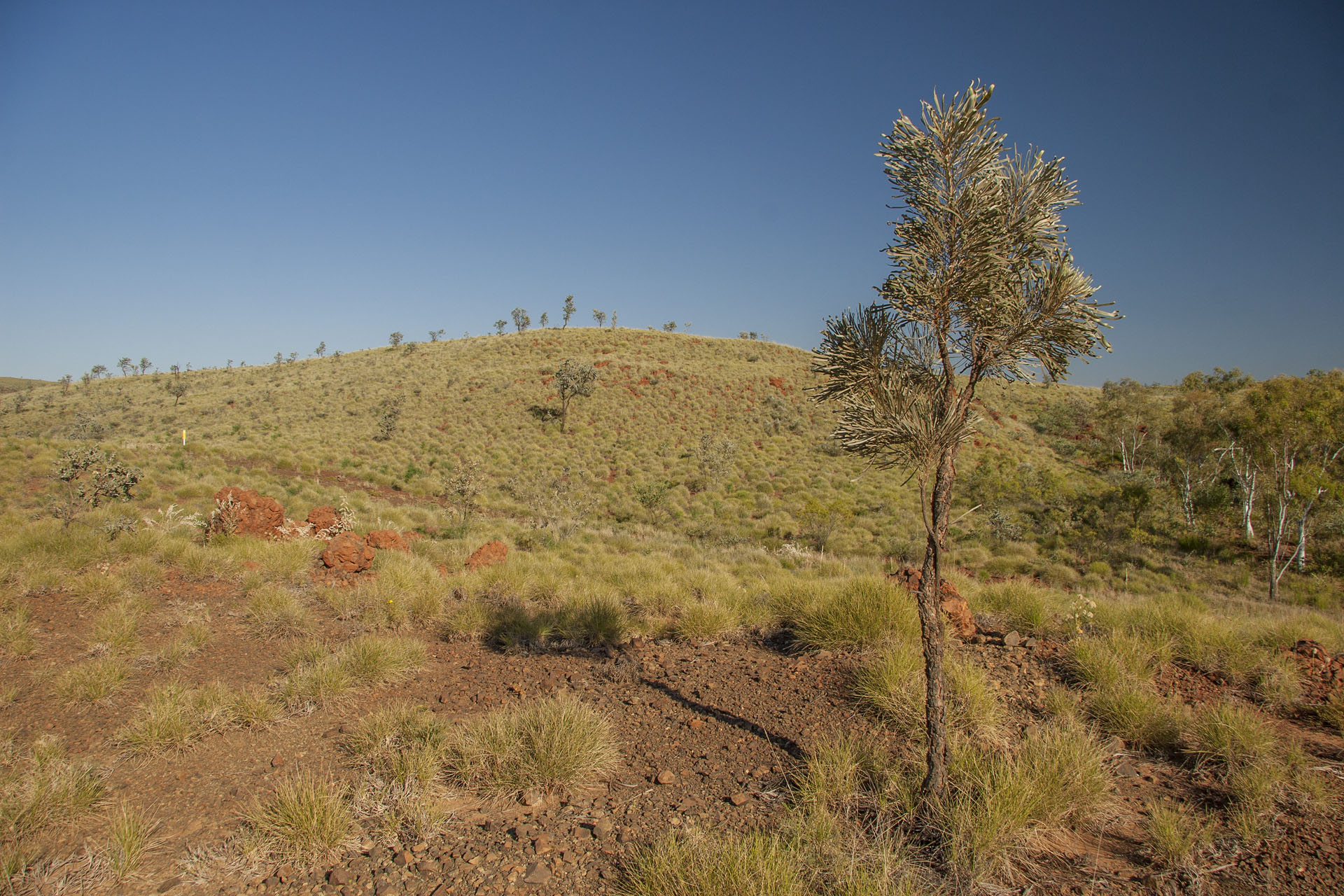 Trees can look like that, too.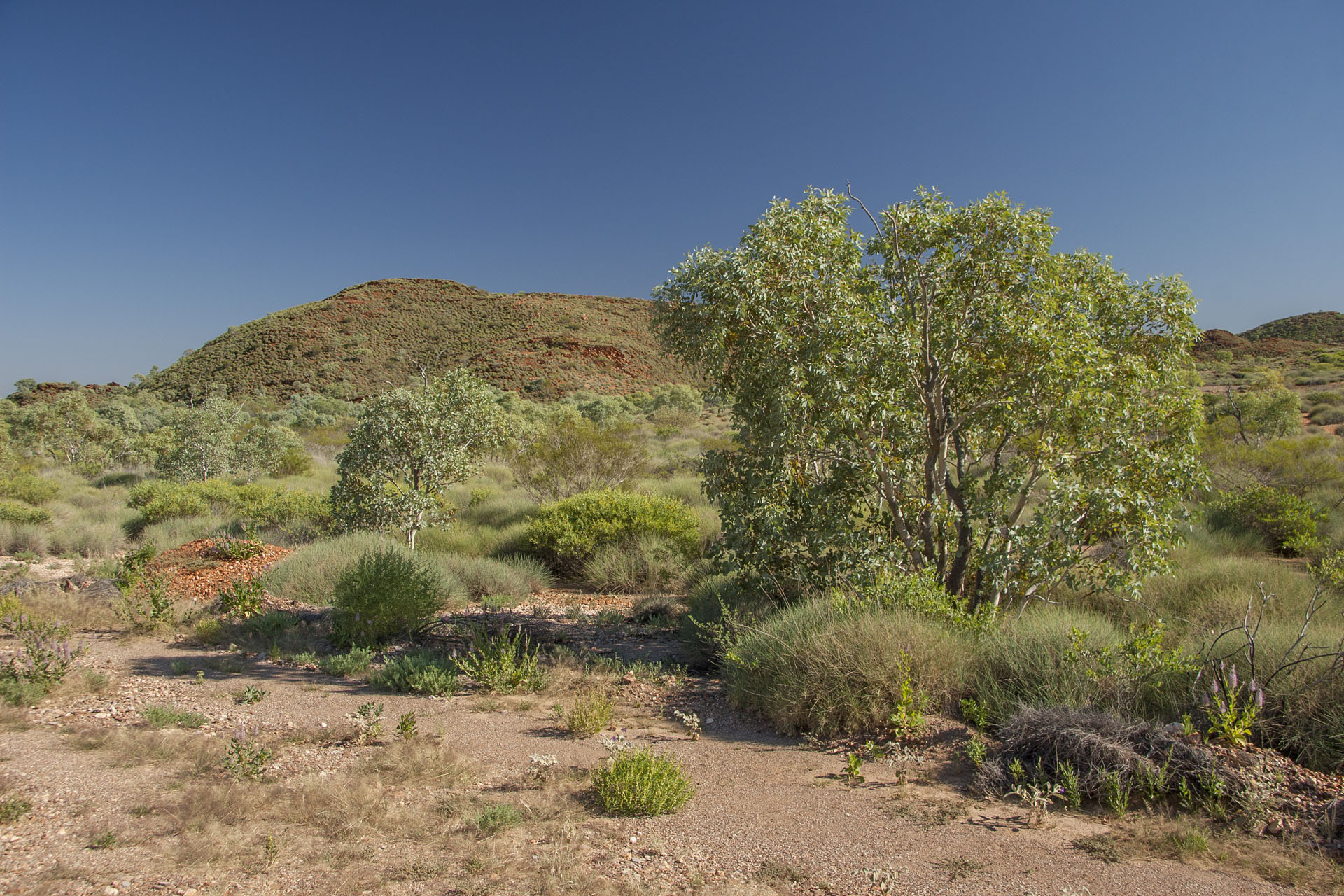 Or like this, with proper foliage, if they can get enough water.
The road isn't great, and it only gets worse as I plod along. No chance of navigating it in a regular car. It jumps up and down, swerves left and right, and it's bumpy and rocky throughout. It's also very scenic. The Pilbara is all around me now: ancient crumbled hills, purple soil, golden spinifex, white ghost gums. Beautiful. The sun rises quickly, and the temperature is close to 30°C now.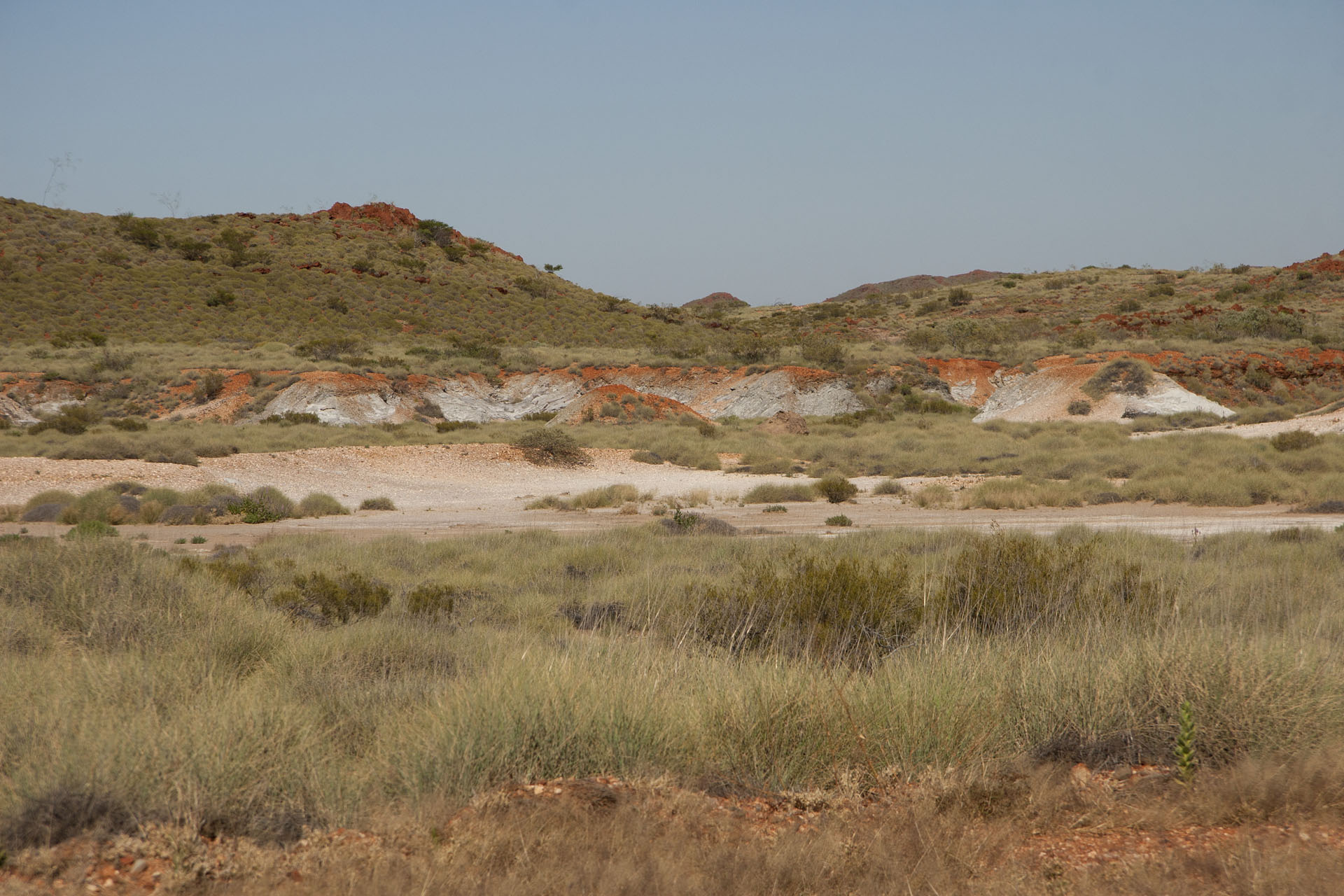 Abandoned mines, with white patches of asbestos.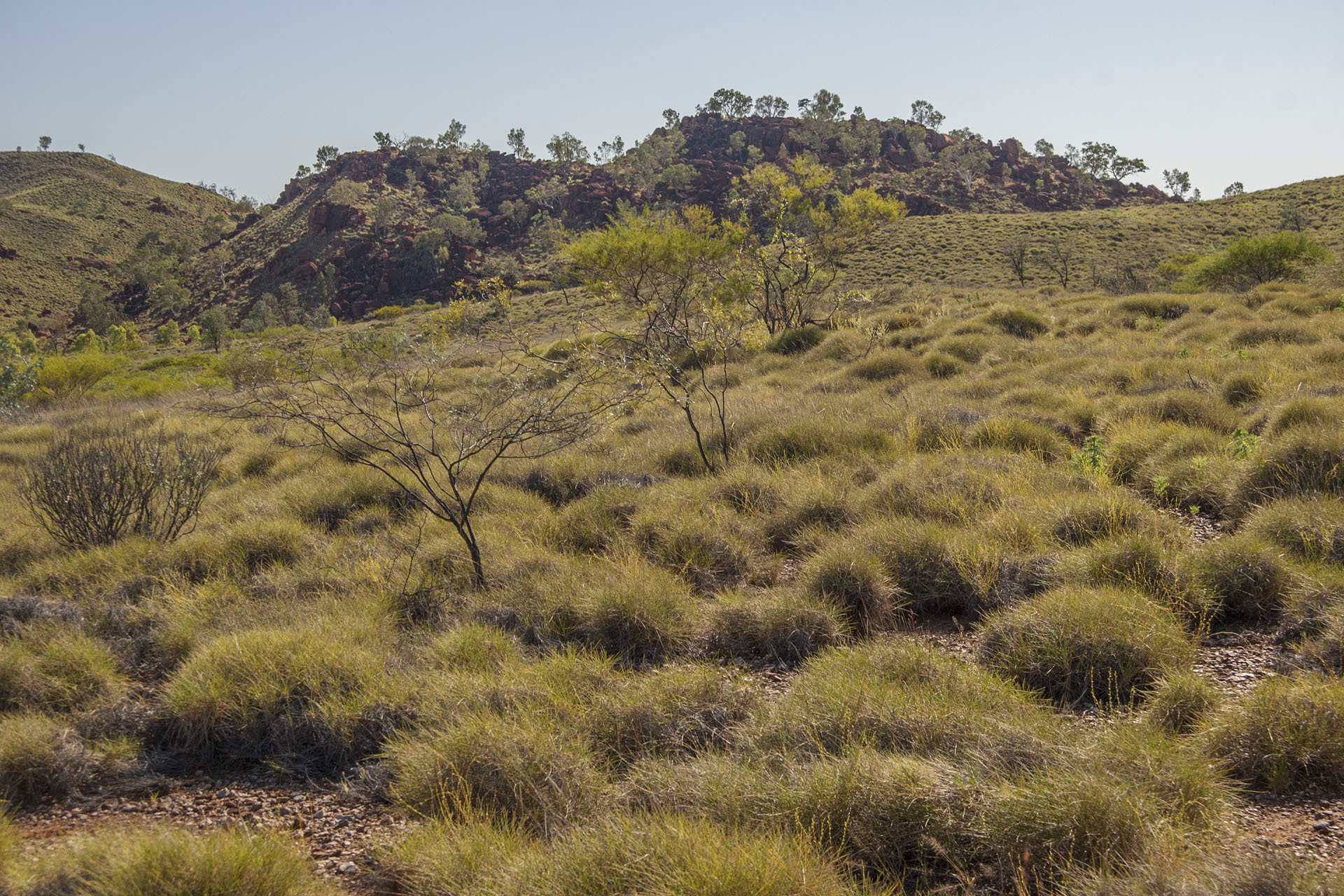 Spinifex, trees, hills.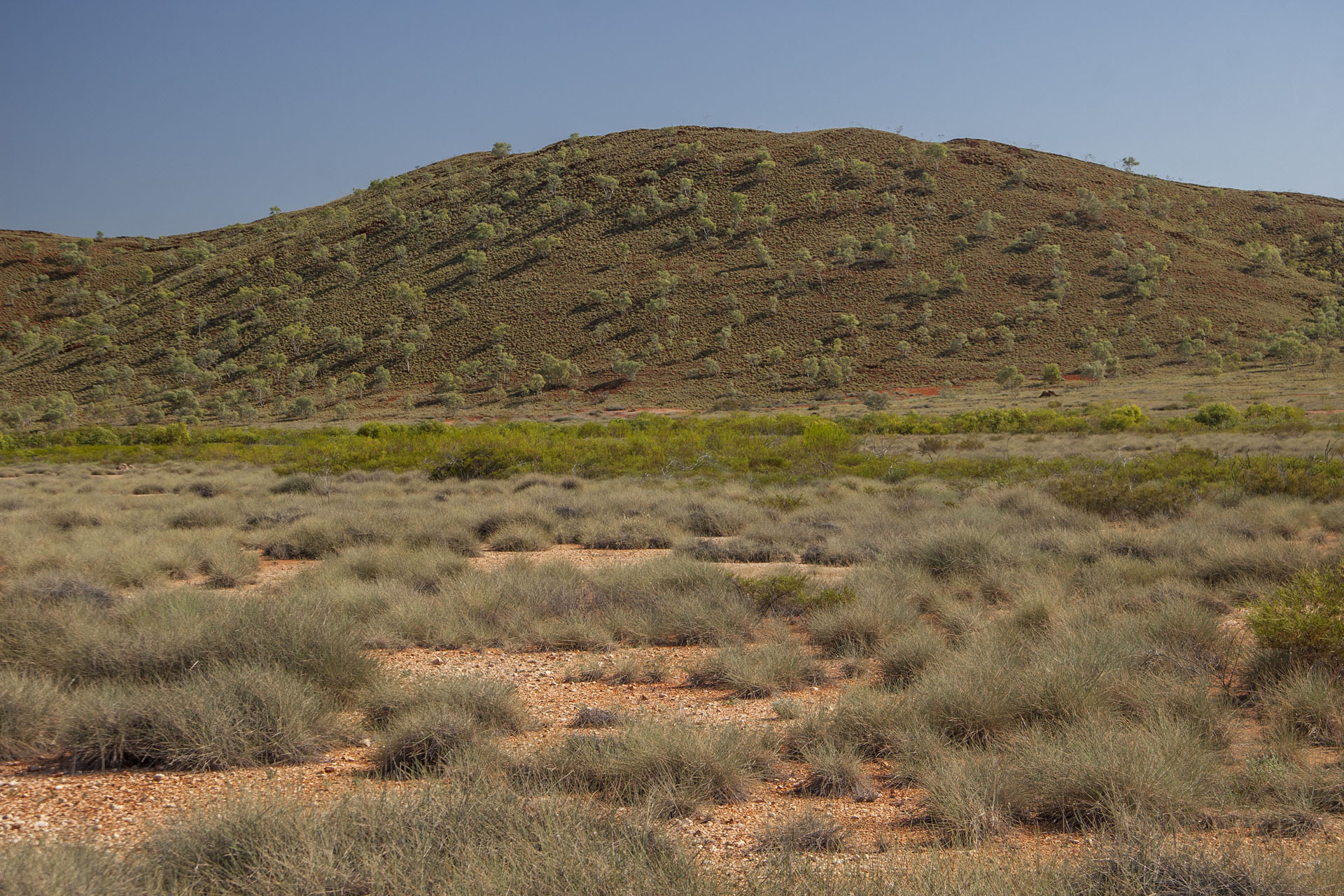 Hills, trees, spinifex.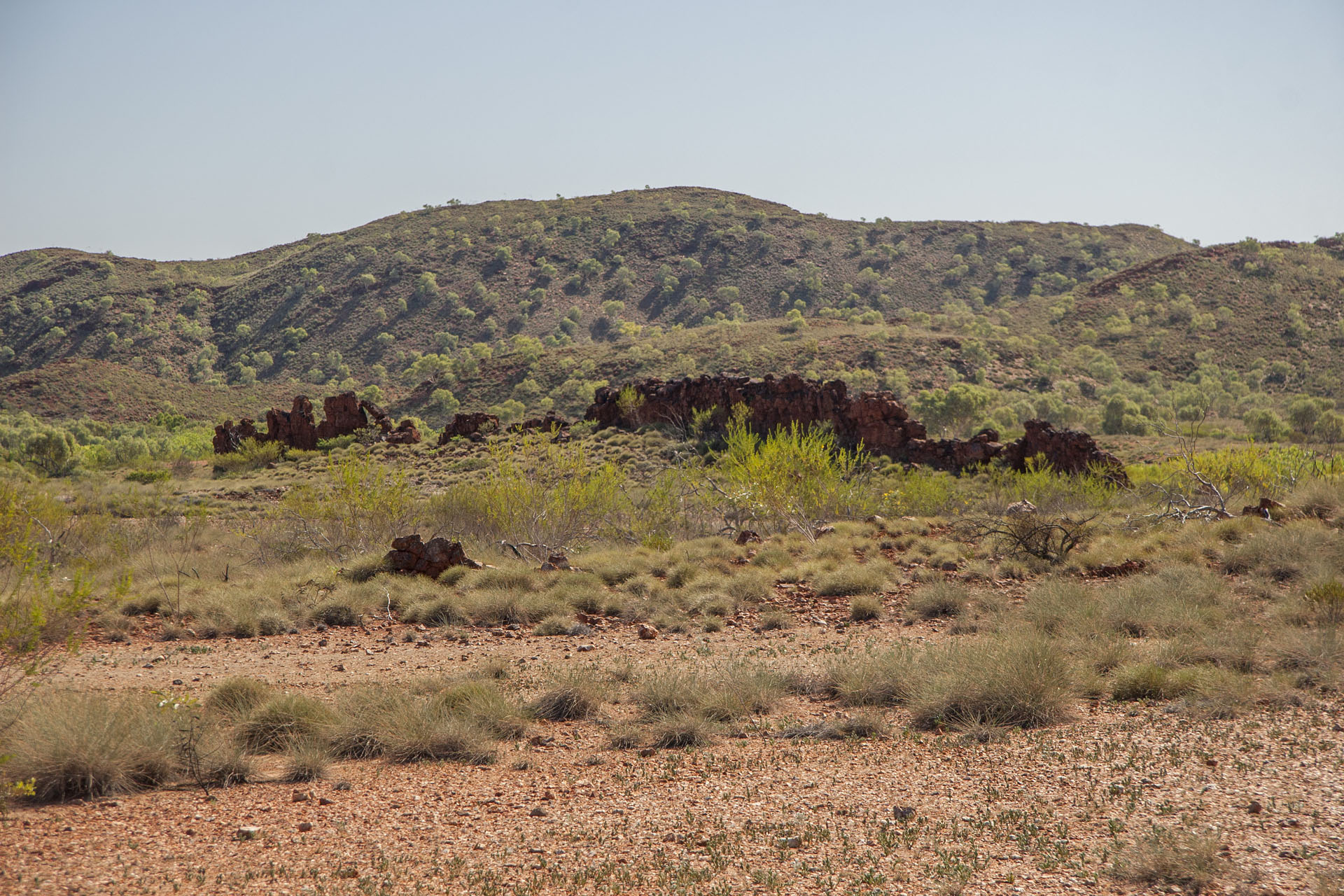 A crumbled "wall" that humans never built.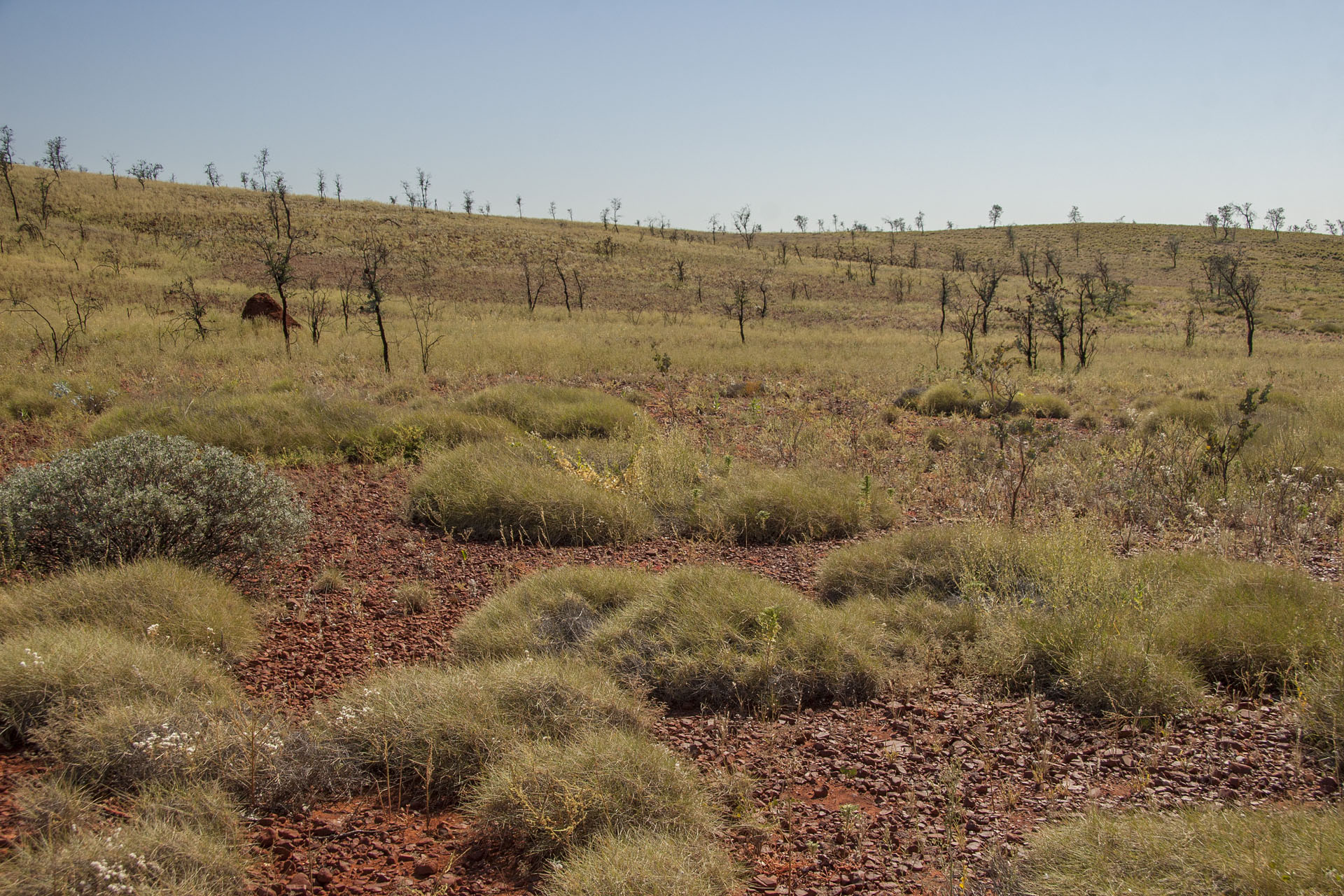 These stick-like trees cover the entire areas sometimes.
Suddenly I stop before a very intimidating water crossing. I check with the map and coordinates, making sure I'm still on the right track and haven't gotten lost. Nope, still there, and I still need to get on the other side. I carefully wade the water back and forth to find out that it's almost knee deep and that the bed is solid gravel. Looks safe enough. I get back in the car, turn the diff lock on, and slowly and steadily drive through the water without any problems whatsoever. Phew! My first
proper
water crossing is now behind me.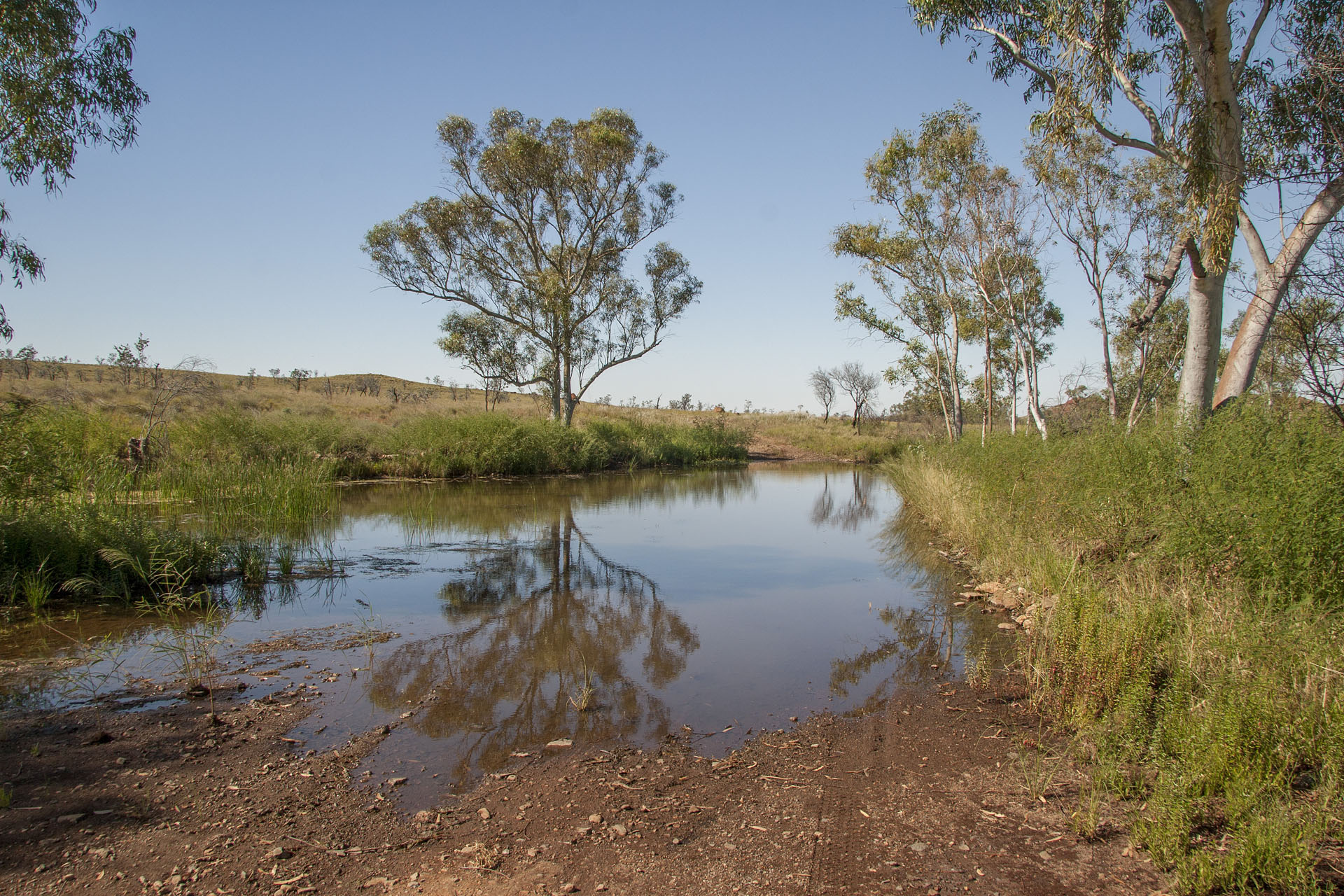 Gotta get on the other side.
Feeling proud and relieved, I resume my driving. Not a single person around. The sun is hot and bright, and the road keeps bouncing up and down amidst the gently rolling hils. No chance to gain any proper speed there: the maximum I can get is 50 km/h. It's still beautiful around, though.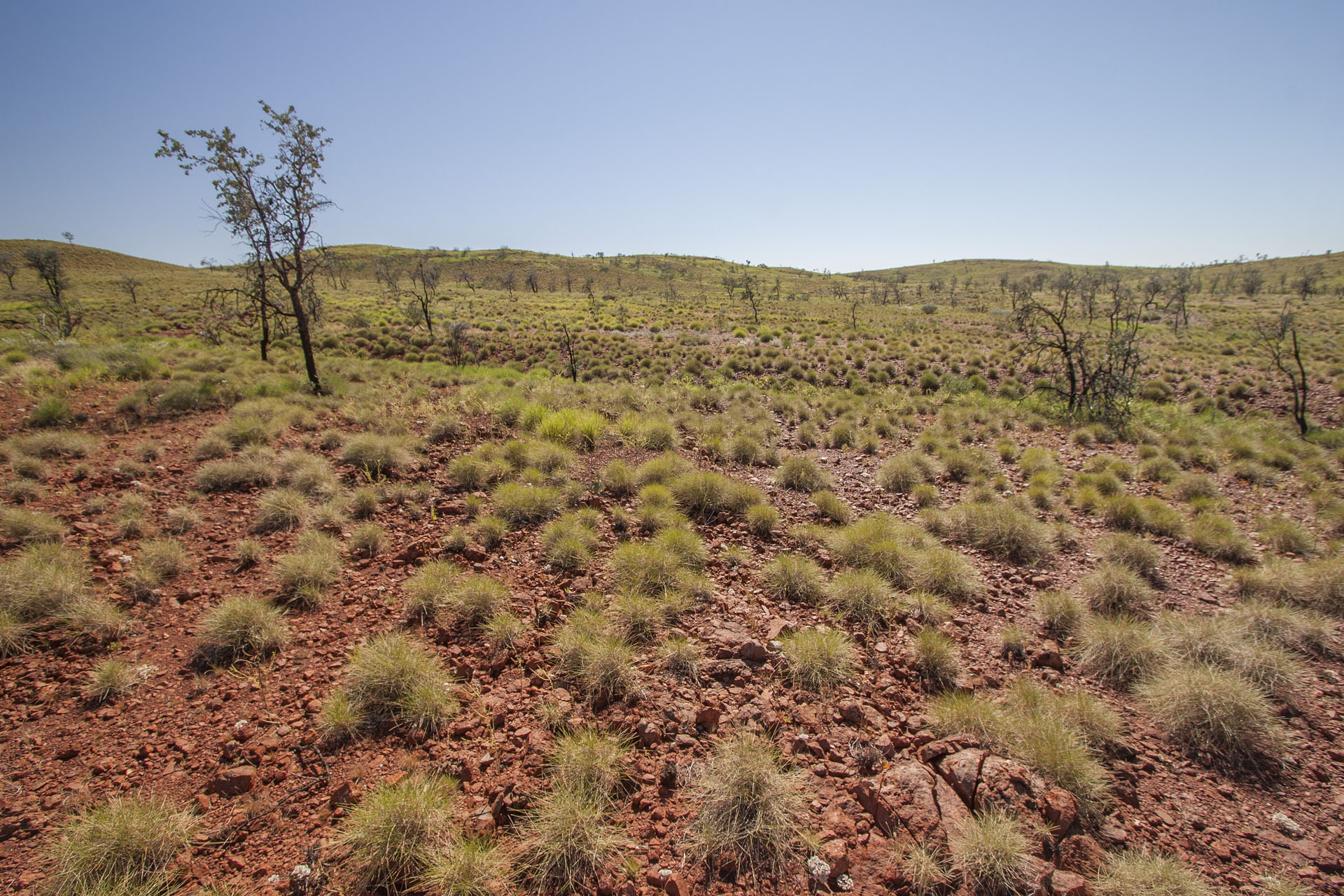 "Stick forests" go on.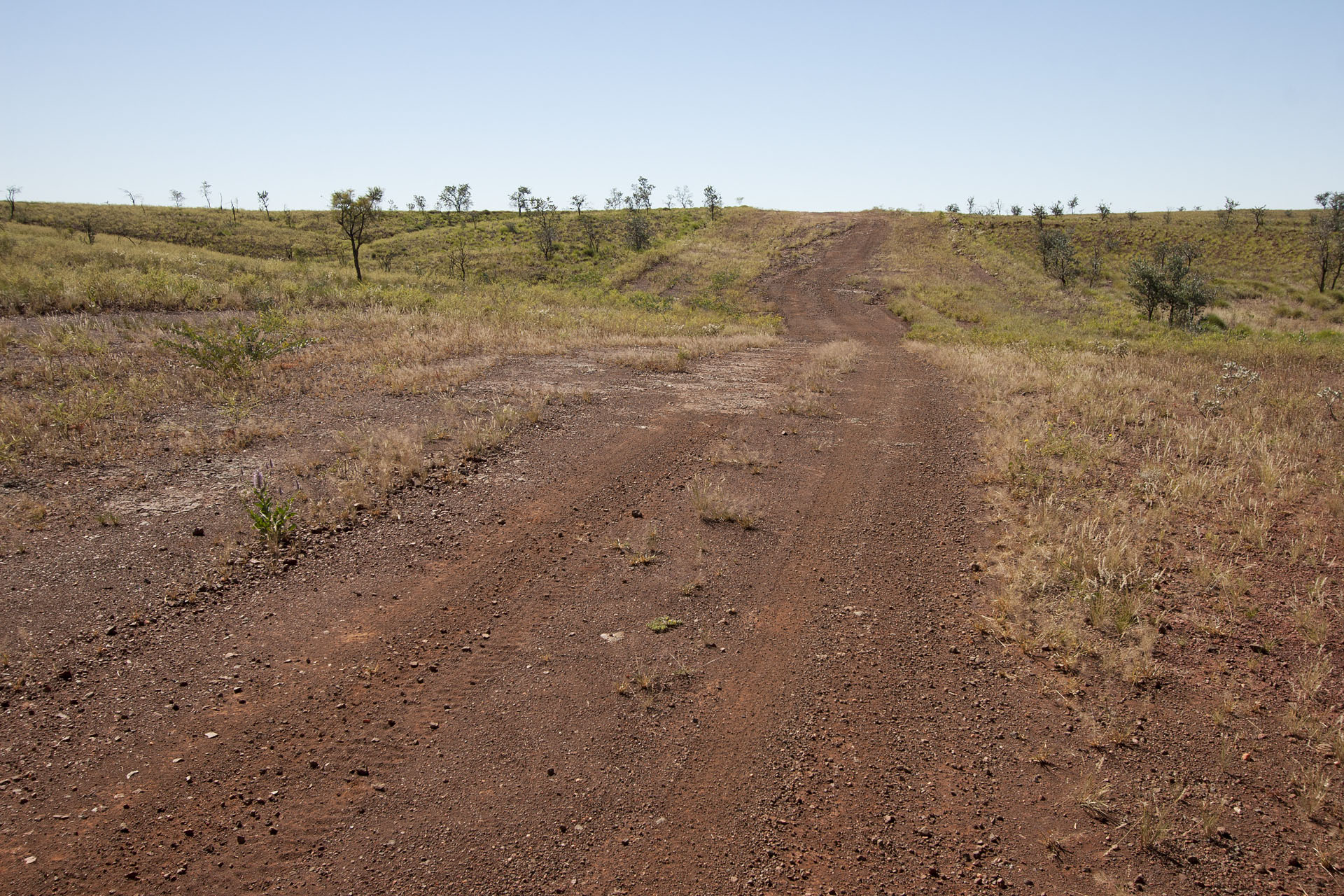 No other roads here.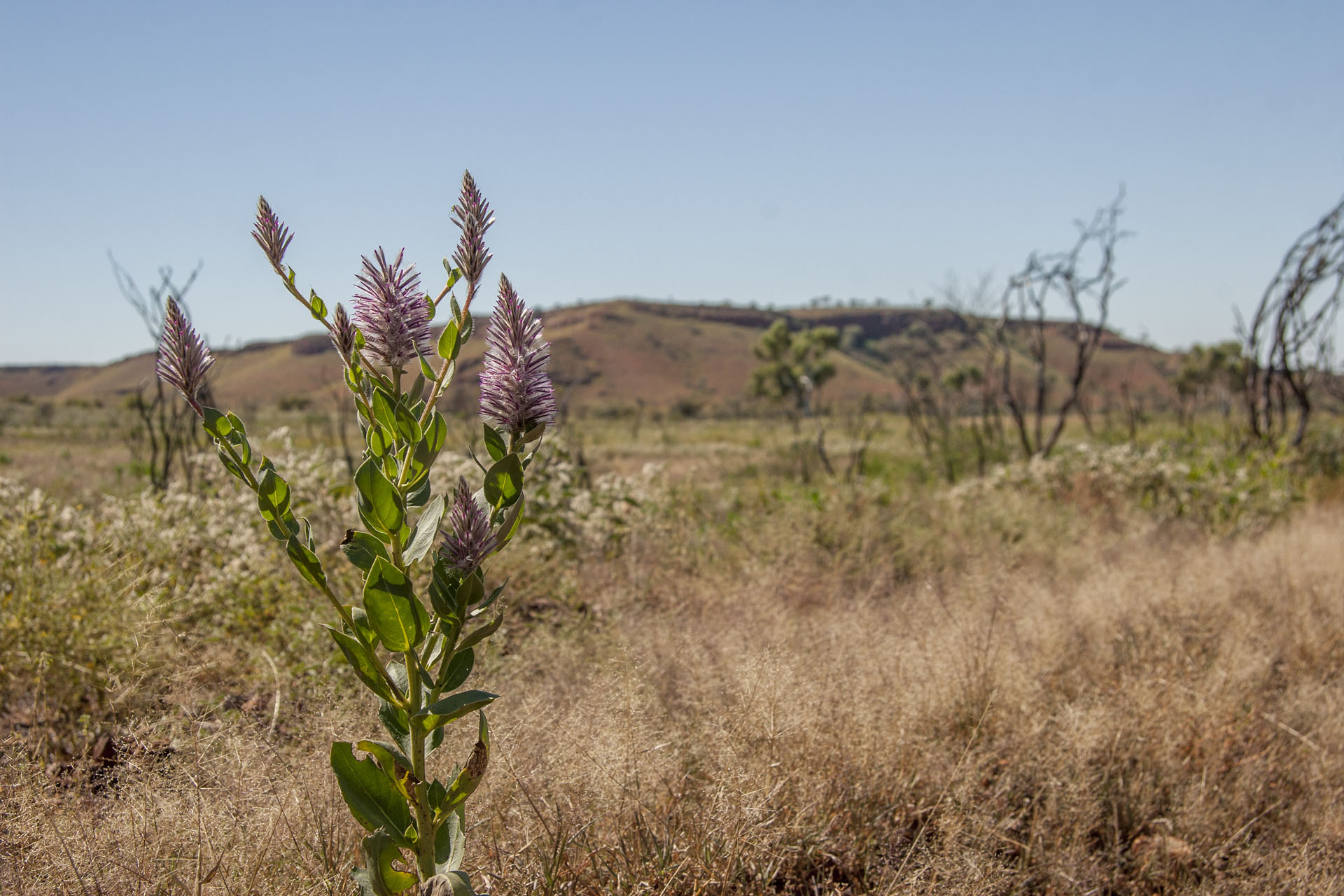 A local flower.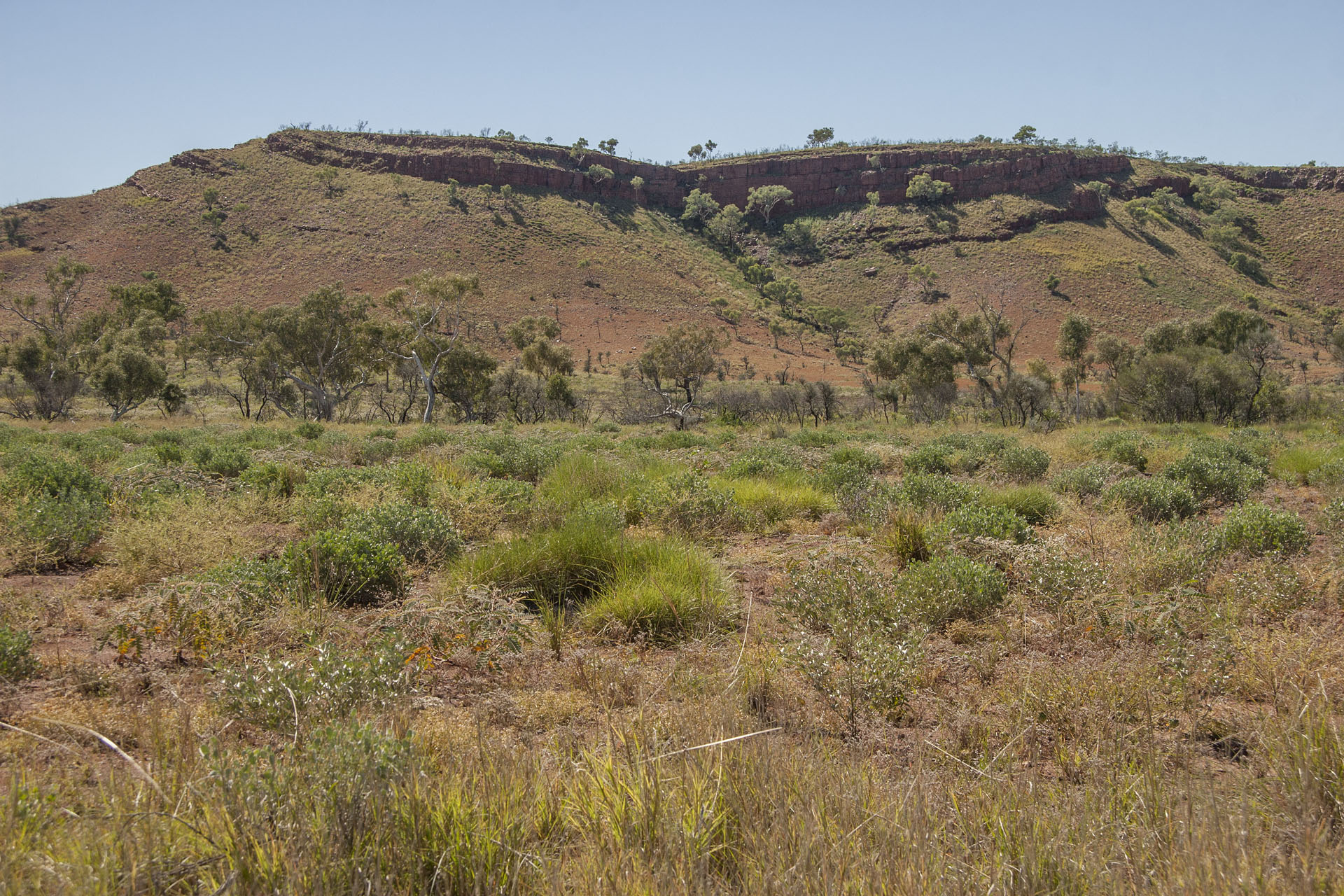 Ancient ranges ahead.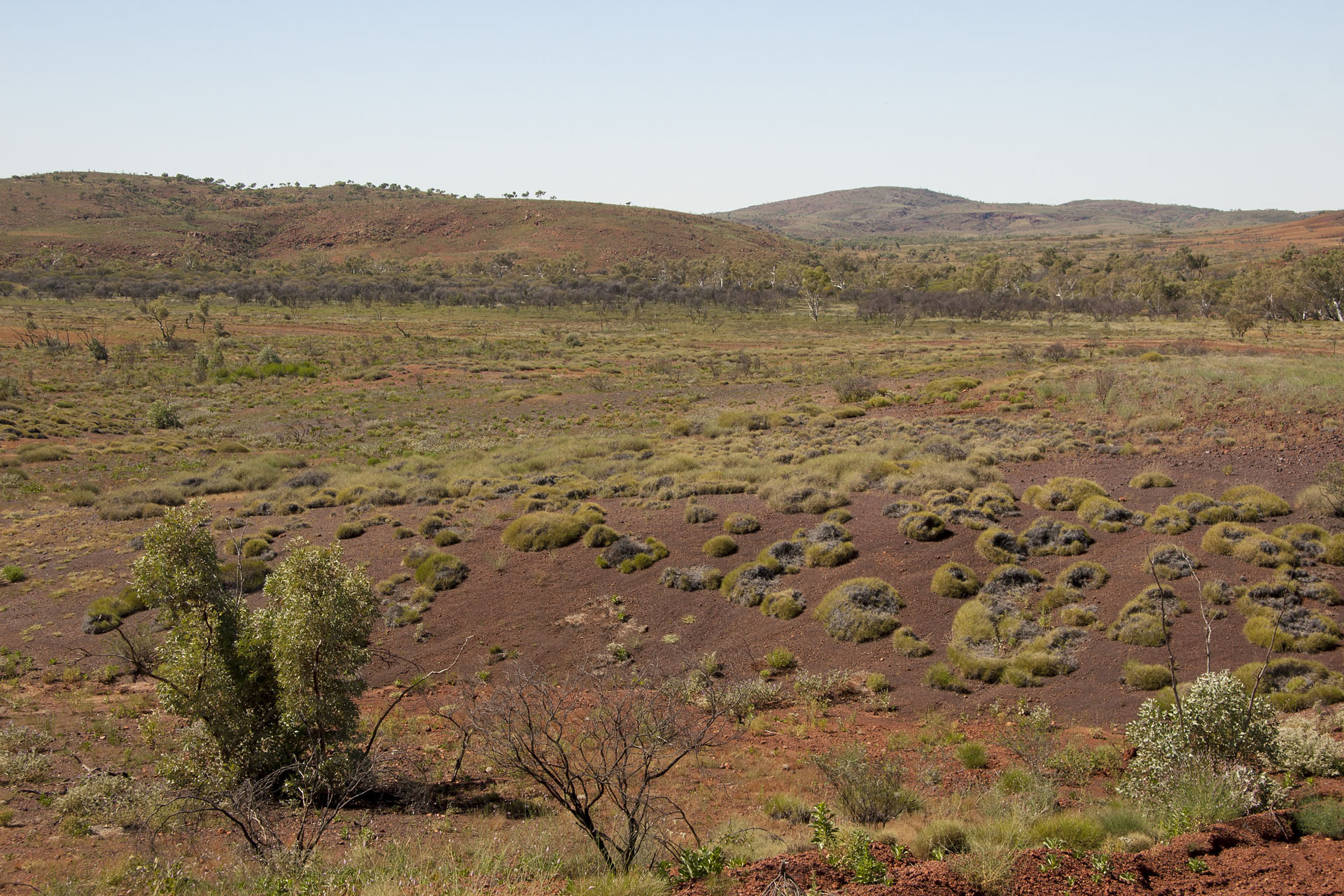 Purple soil and spinifex.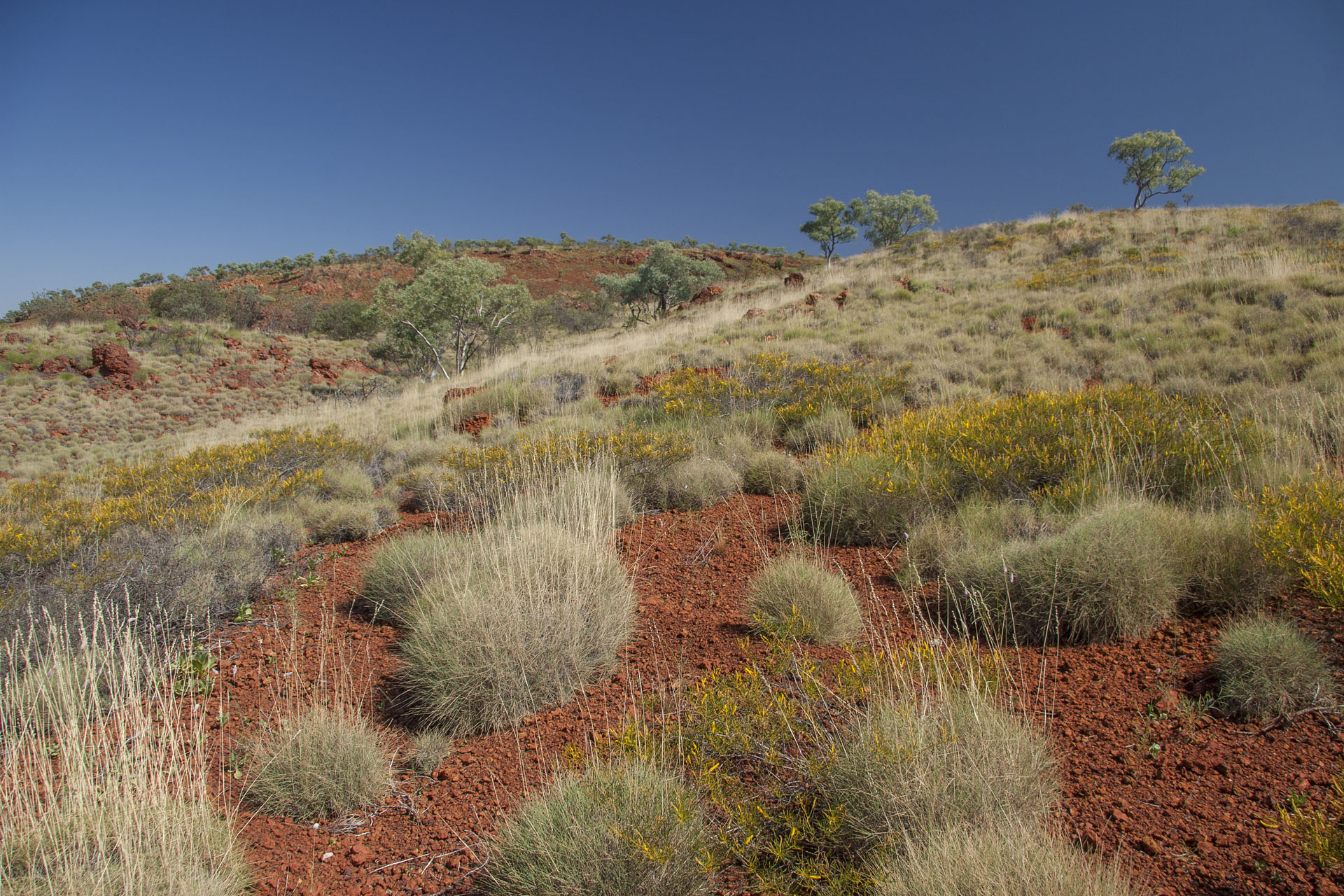 More of them.
A few more water crossings as I approach the end of the dirt track, but they're quite insignificant and give me no problem at all. This is the Oakover River, and I'll meet it soon enough in a lot more picturesque environment.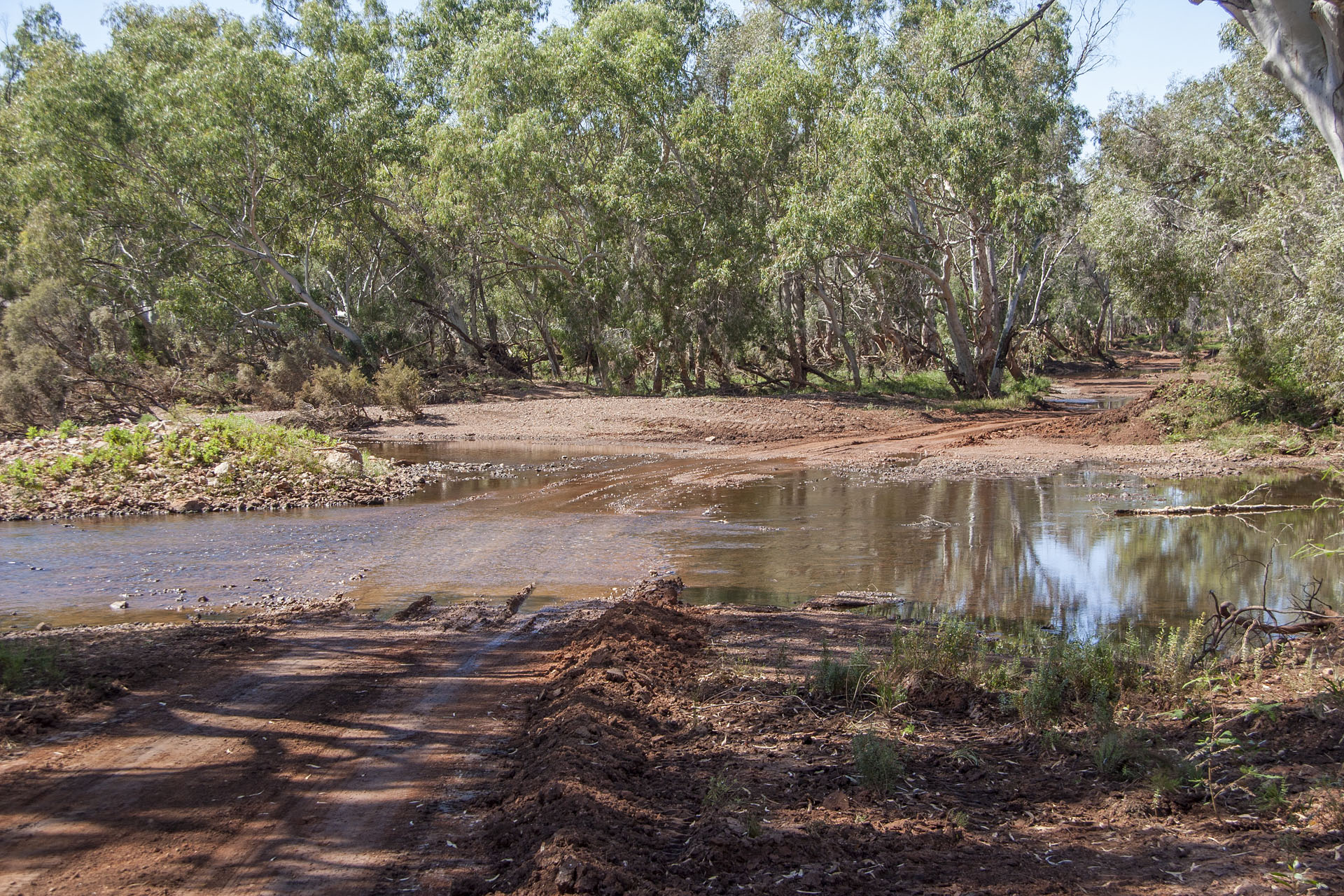 Welcome to the other side.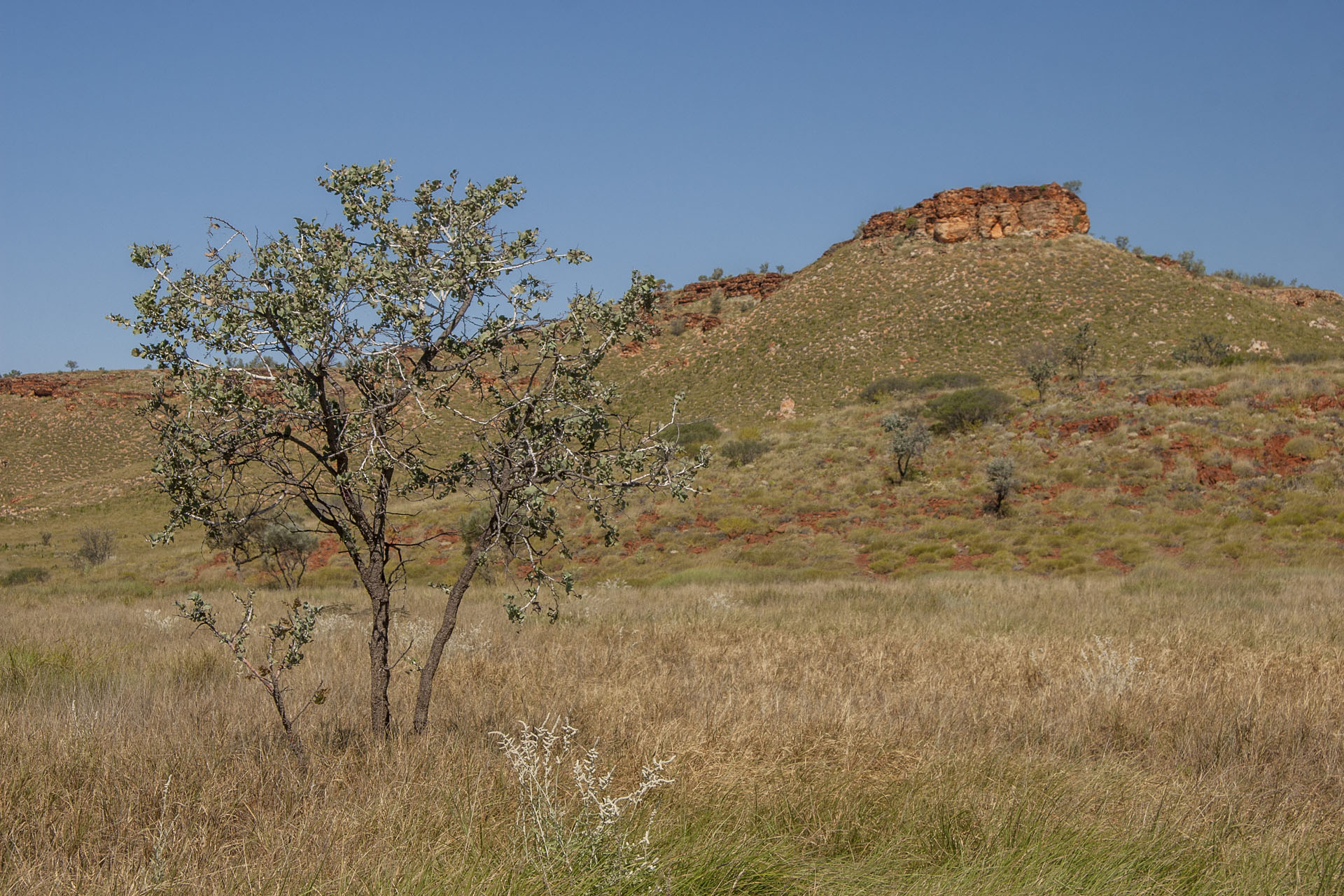 Arid landscape.
I reach the bitumen at last, but it's too early to relax: Carawine Gorge is not reached yet. The last obstacle is another stretch of dirt some 10 kilometres long, in truly horrible condition sometimes.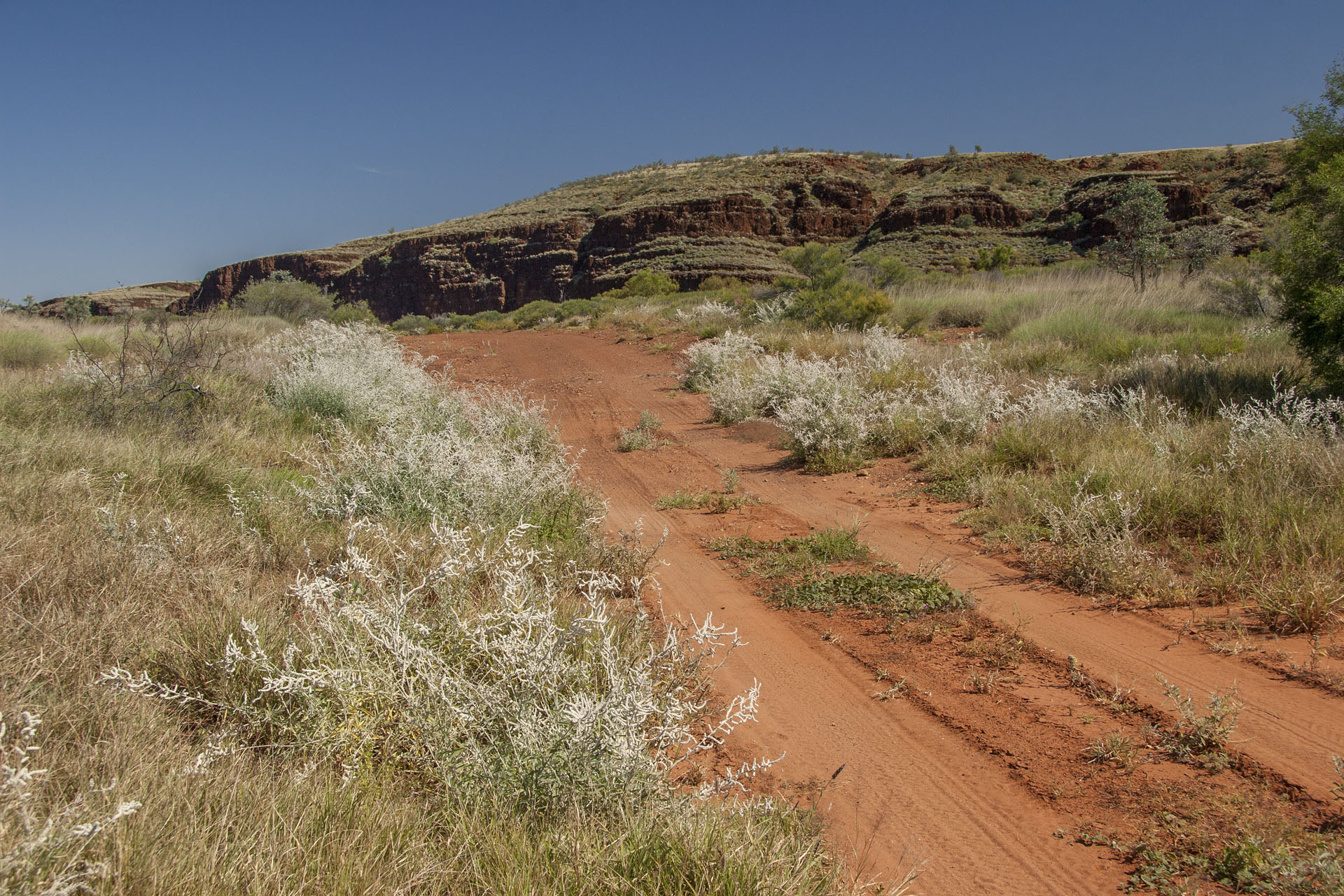 This is one of the "good" stretches.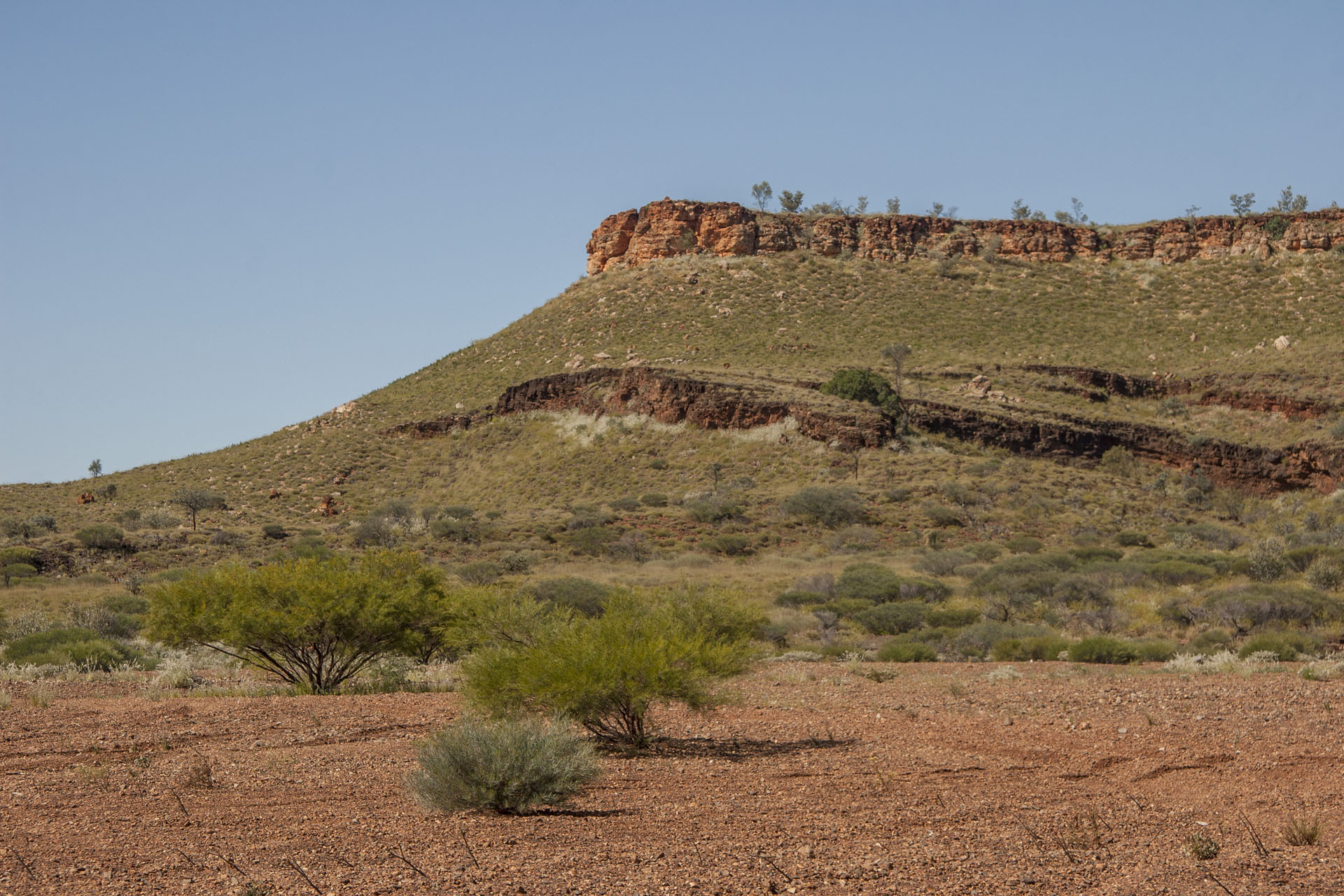 Scenic, though.
And now at last I'm at the Carawine. What can I say? Looks awesome indeed. The aforementioned Oakover River is a proper river here, and on its other side there is a huge wall of rock. I absorb the scenery slowly, eating my sandwich and savouring the quiet beauty drenched in the hot Pilbara sun. I spot a sizeable monitor lizard strolling around, but it doesn't care about me or even my sandwich.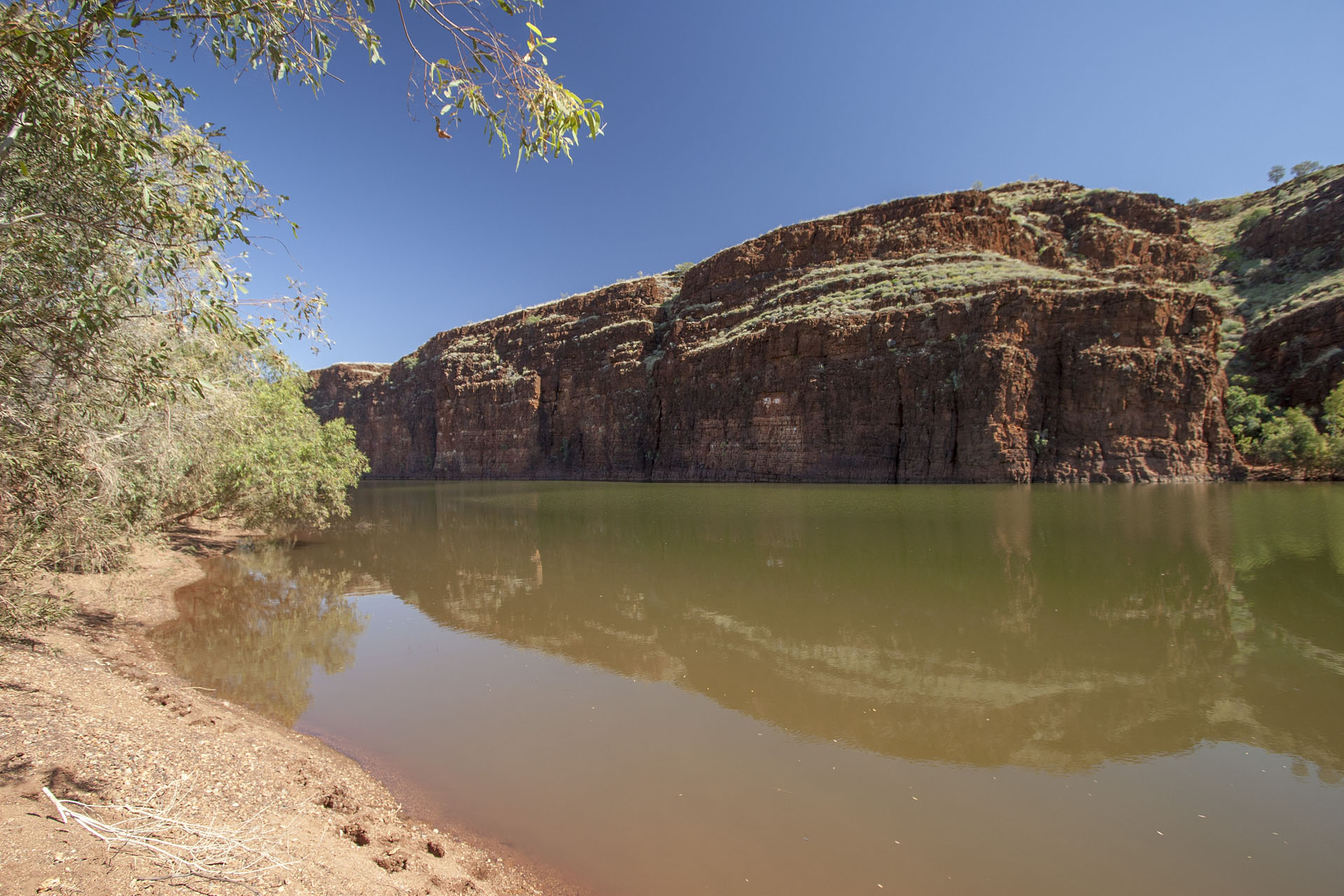 Carawine Gorge.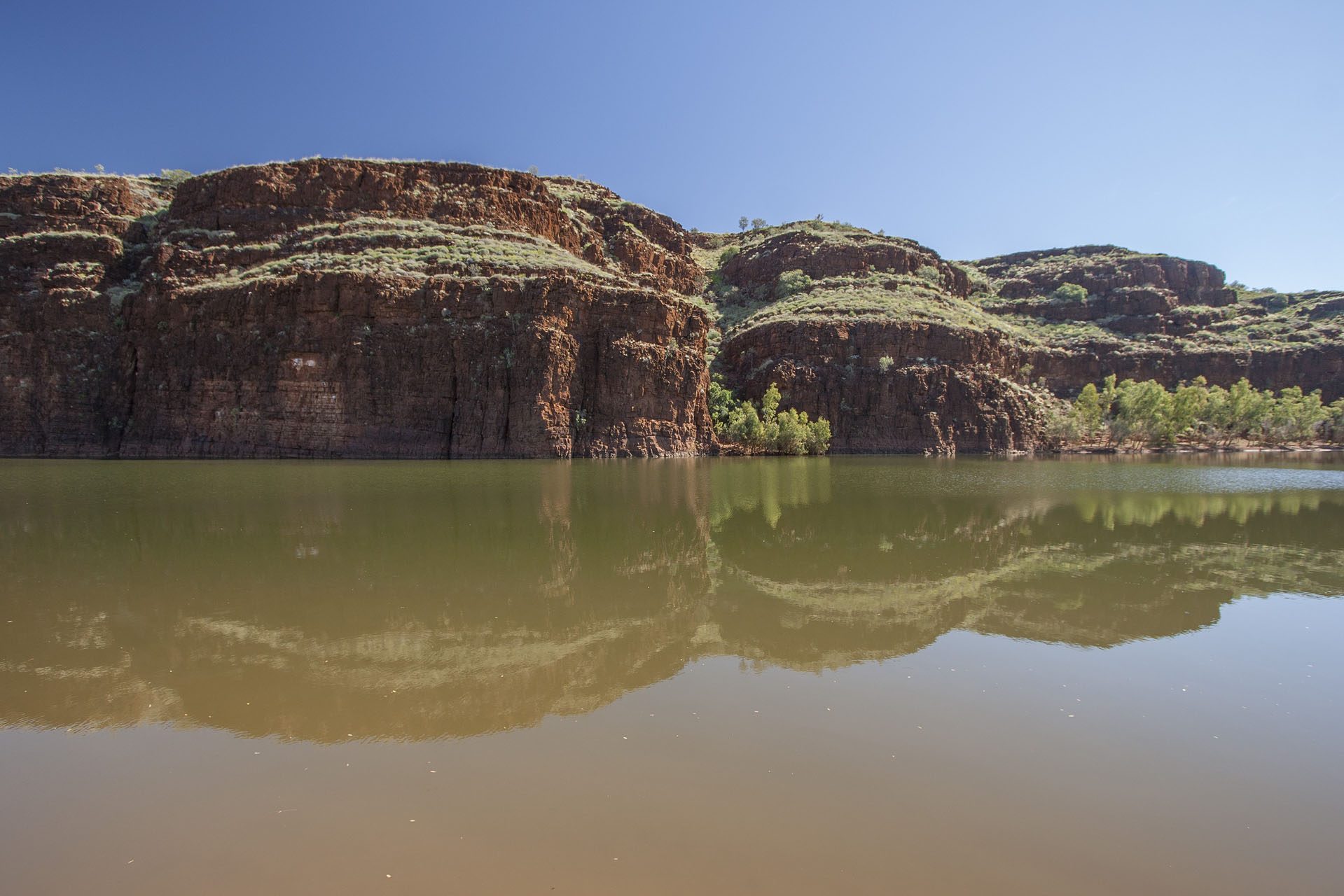 Same.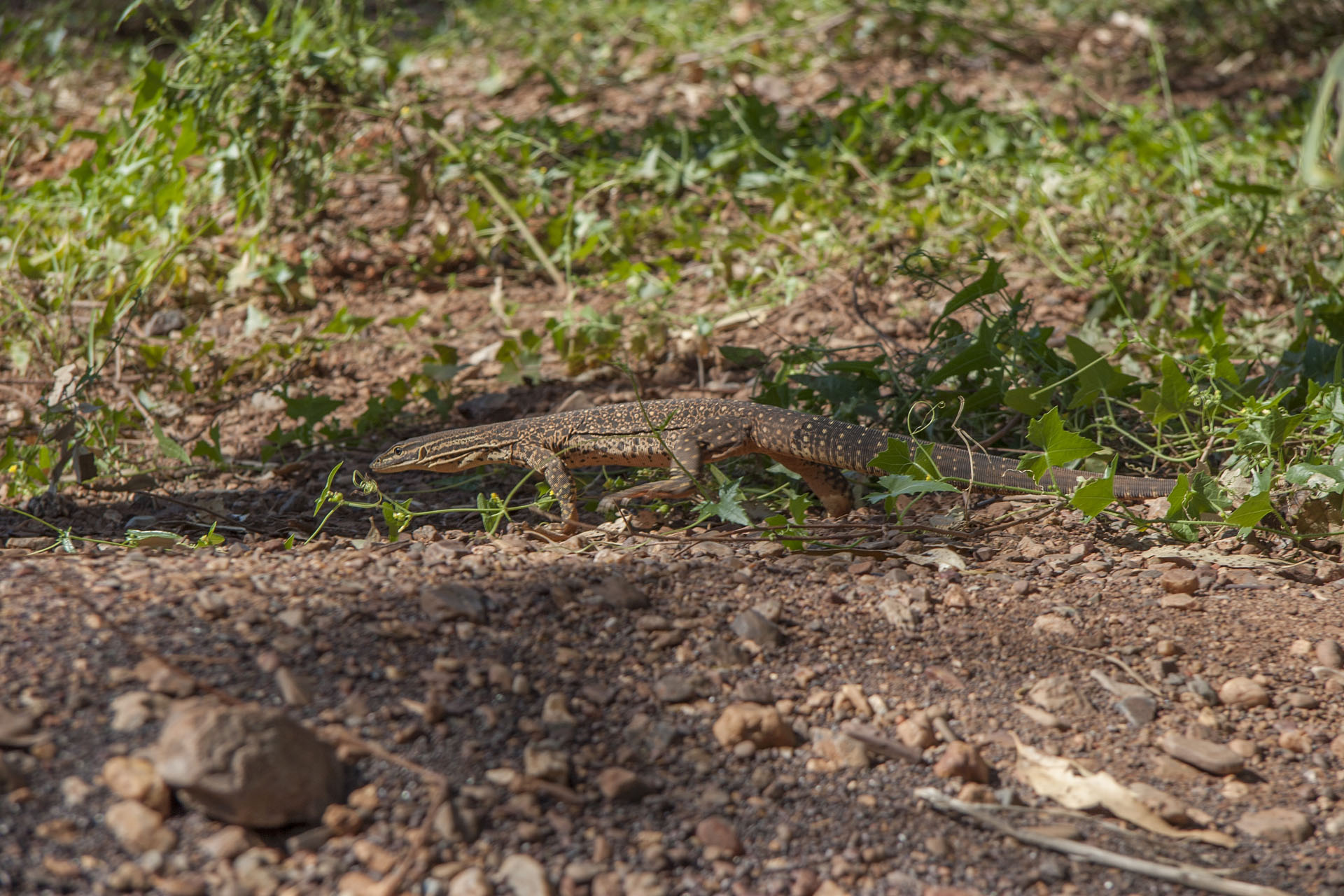 The local inhabitant.
Having had my rest and having soaked up enough of the wonderful gorge, I get back in the car and slowly return to the highway. My sightseeing program for today is over; time to drive away as far as I can and find a place to stay for the night.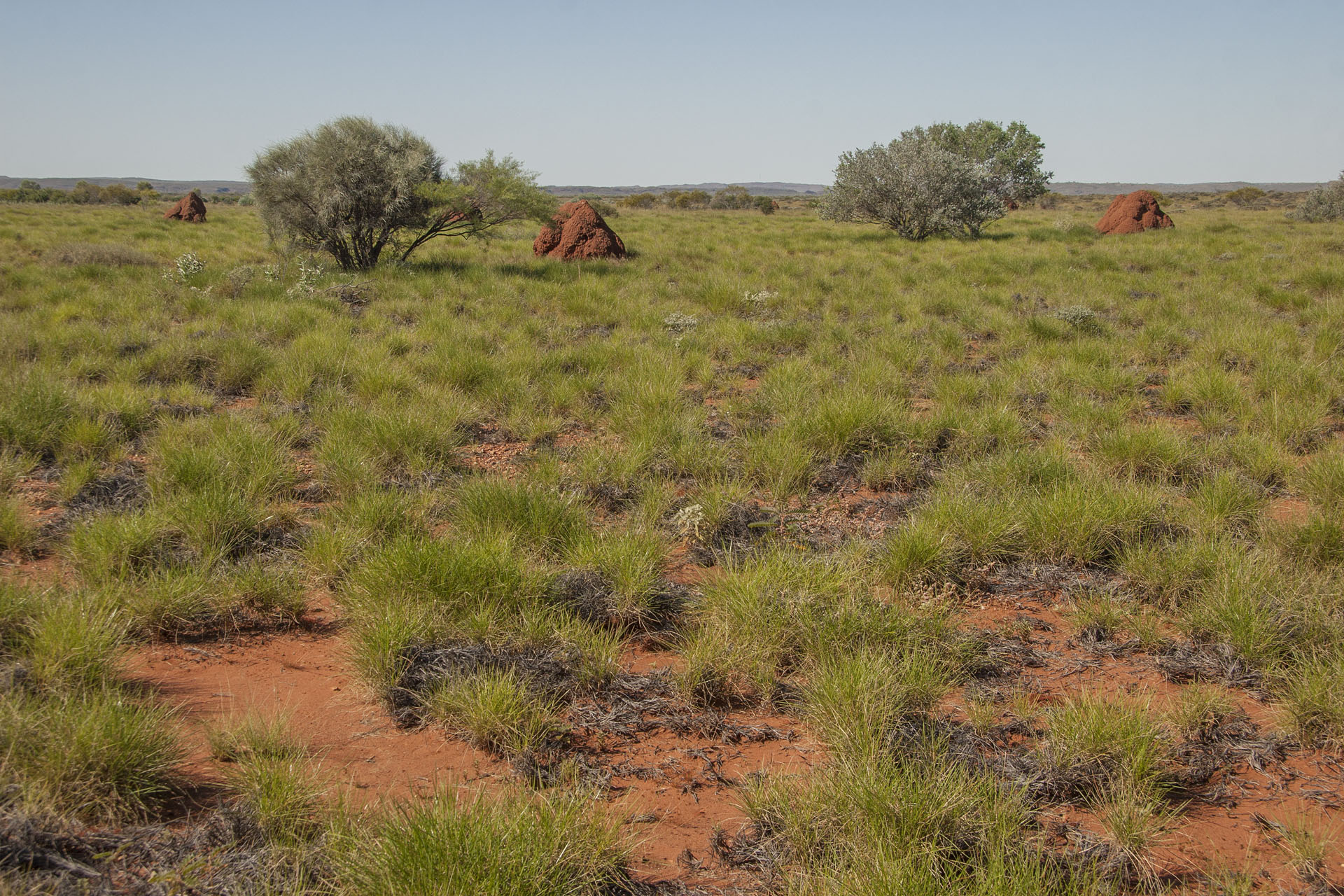 Love the termite mounds.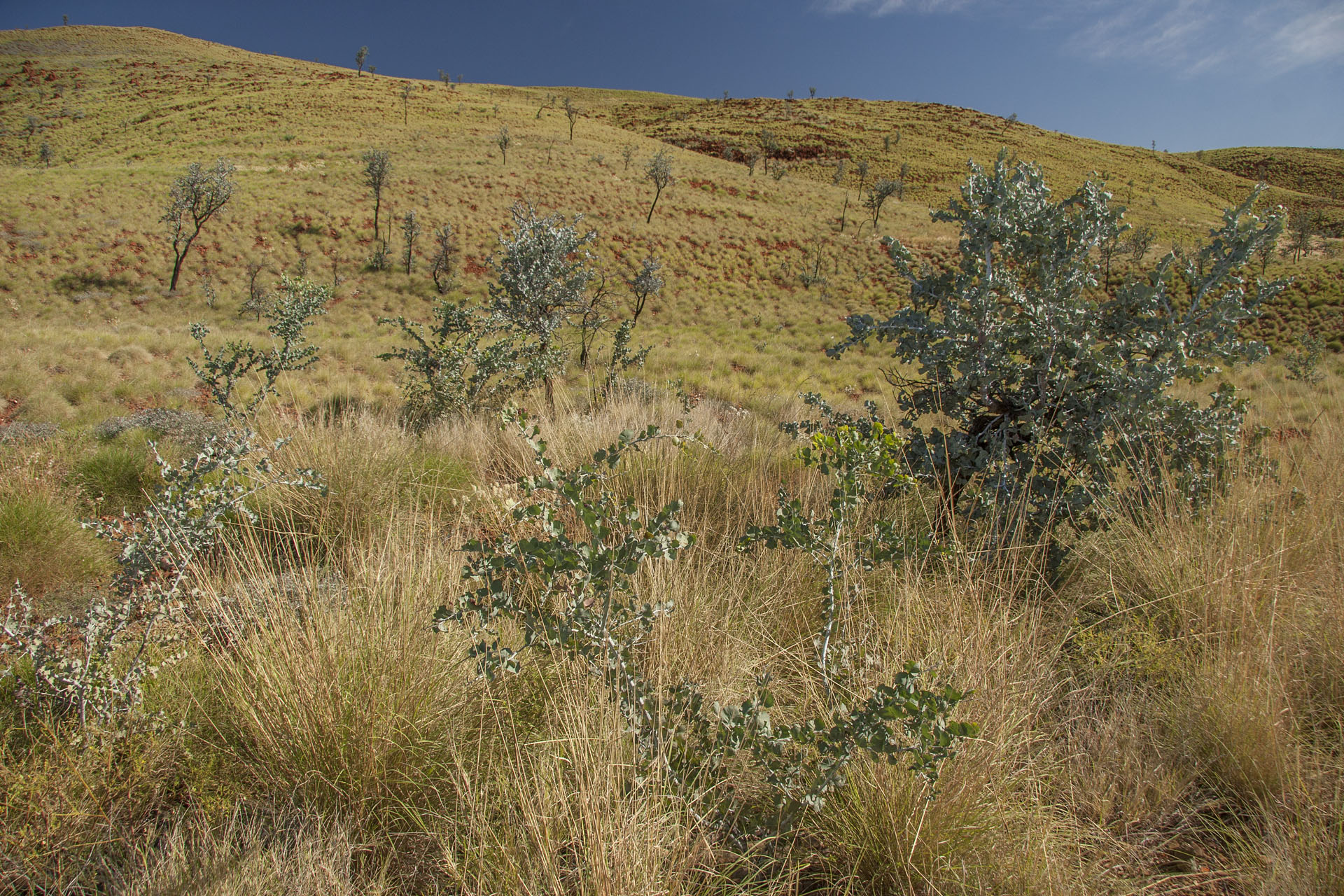 Approaching Marble Bar.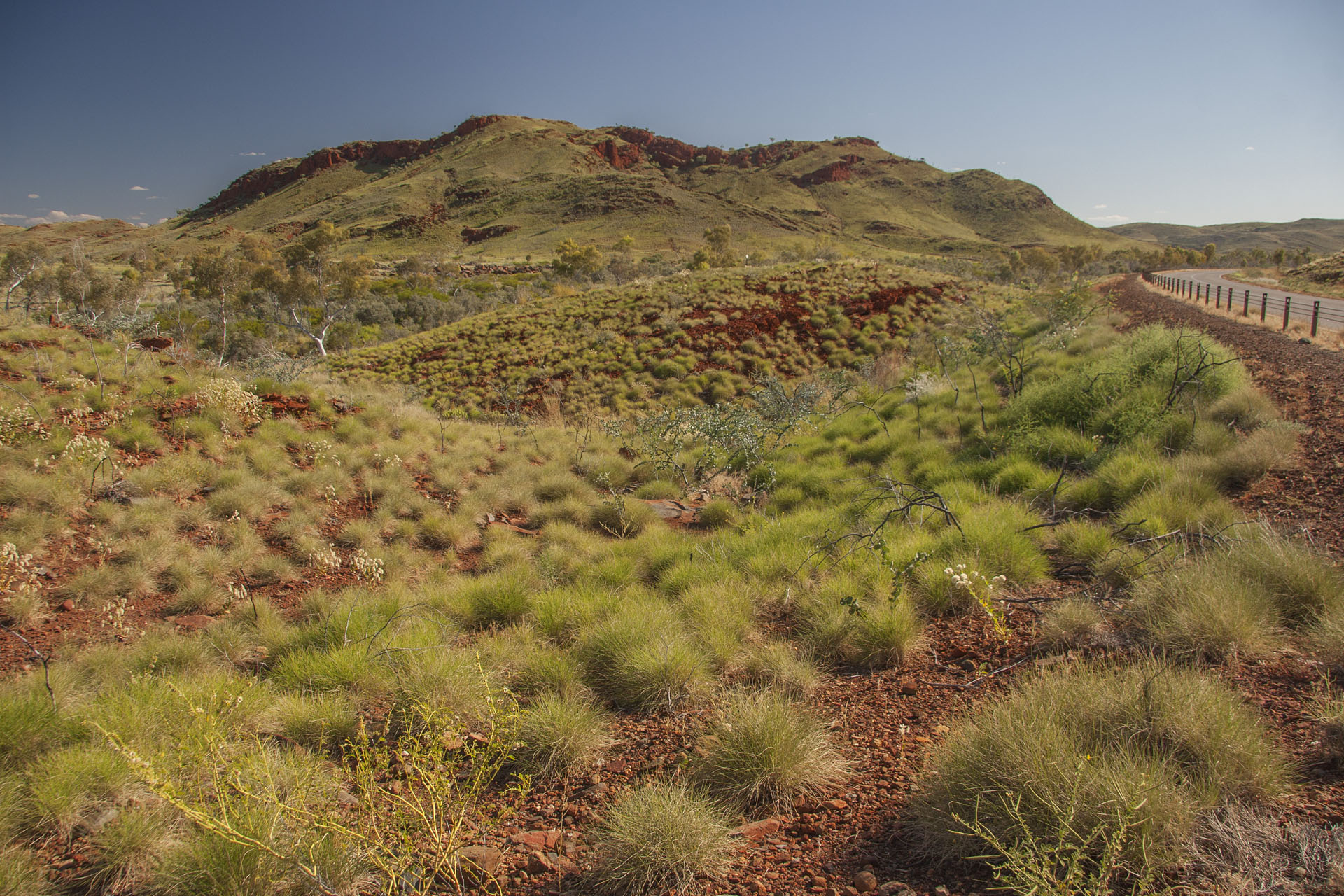 Looks awesome, isn't it?
The highway is twisting and turning amidst the weathered ranges of Pilbara, and it feels so good to drive past them on bitumen this time. I can't see a single caravan or camper: only road trains and mining 4WDs. These are scenic, but very career-oriented lands.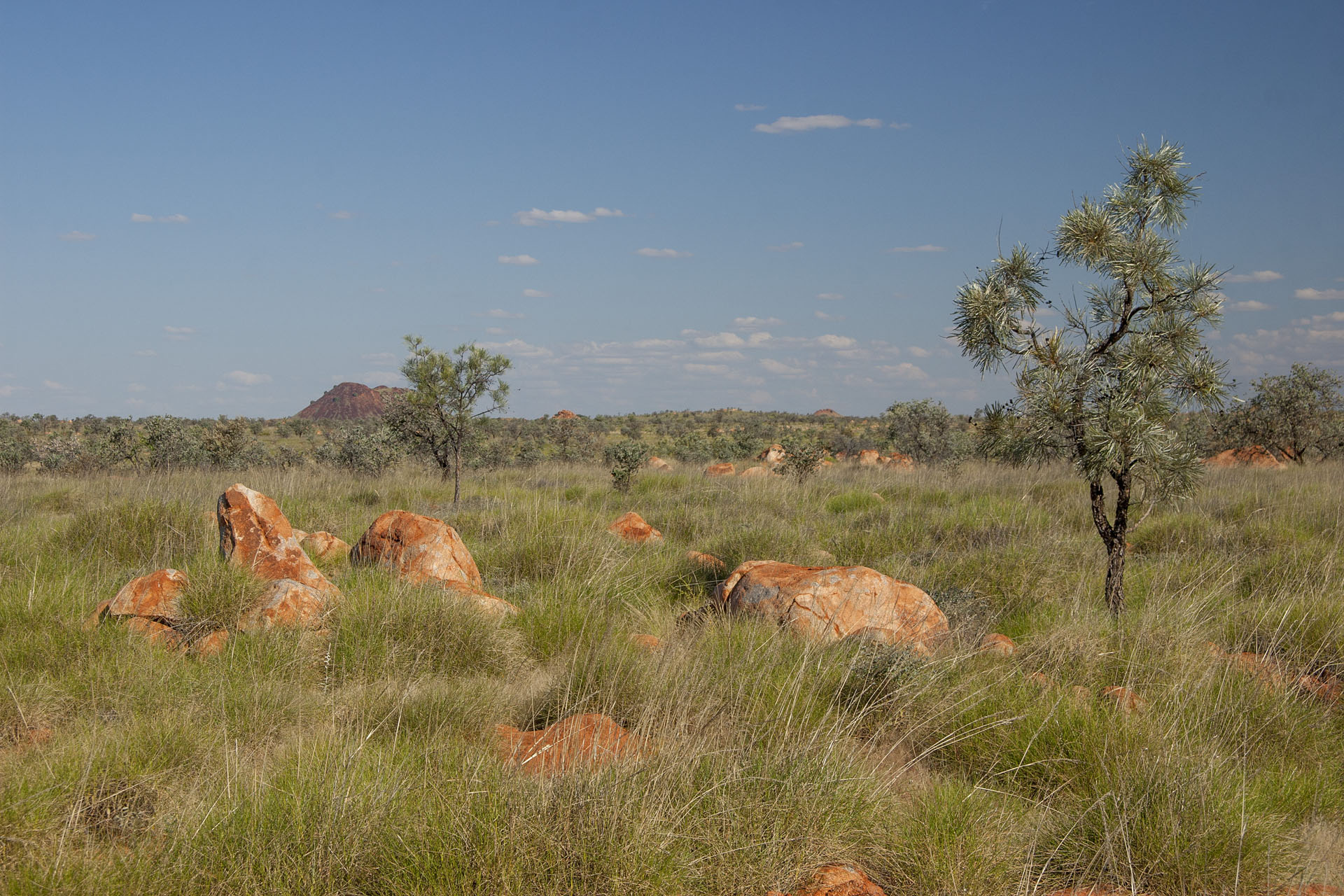 Some granite boulders, too.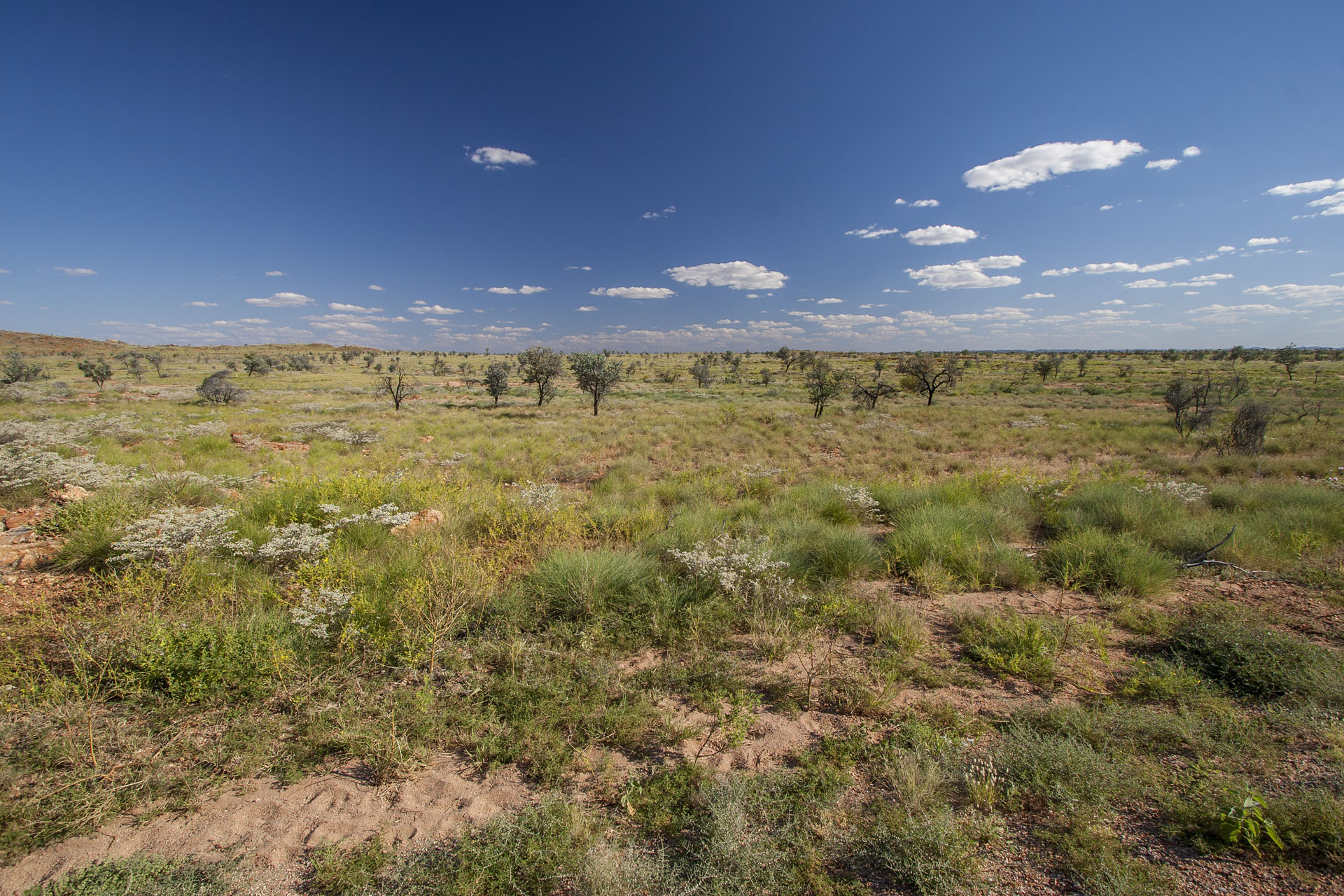 Or just plains.
At half past three I arrive at Marble Bar. Population is only 200 or 300, but the streets look neat and tidy. I don't know if they have a bar made out of marble somewhere around, but I do know that someone thought they found heaps of marble stone here. That proved to be false, though, but what this place lacks in marble it compensates in sunlight, claiming itself to be "the hottest town in Australia". They may be on to something here: in 1923–24 they once had full 160 days when the temperature not once dropped below 37°C. A world record, no less.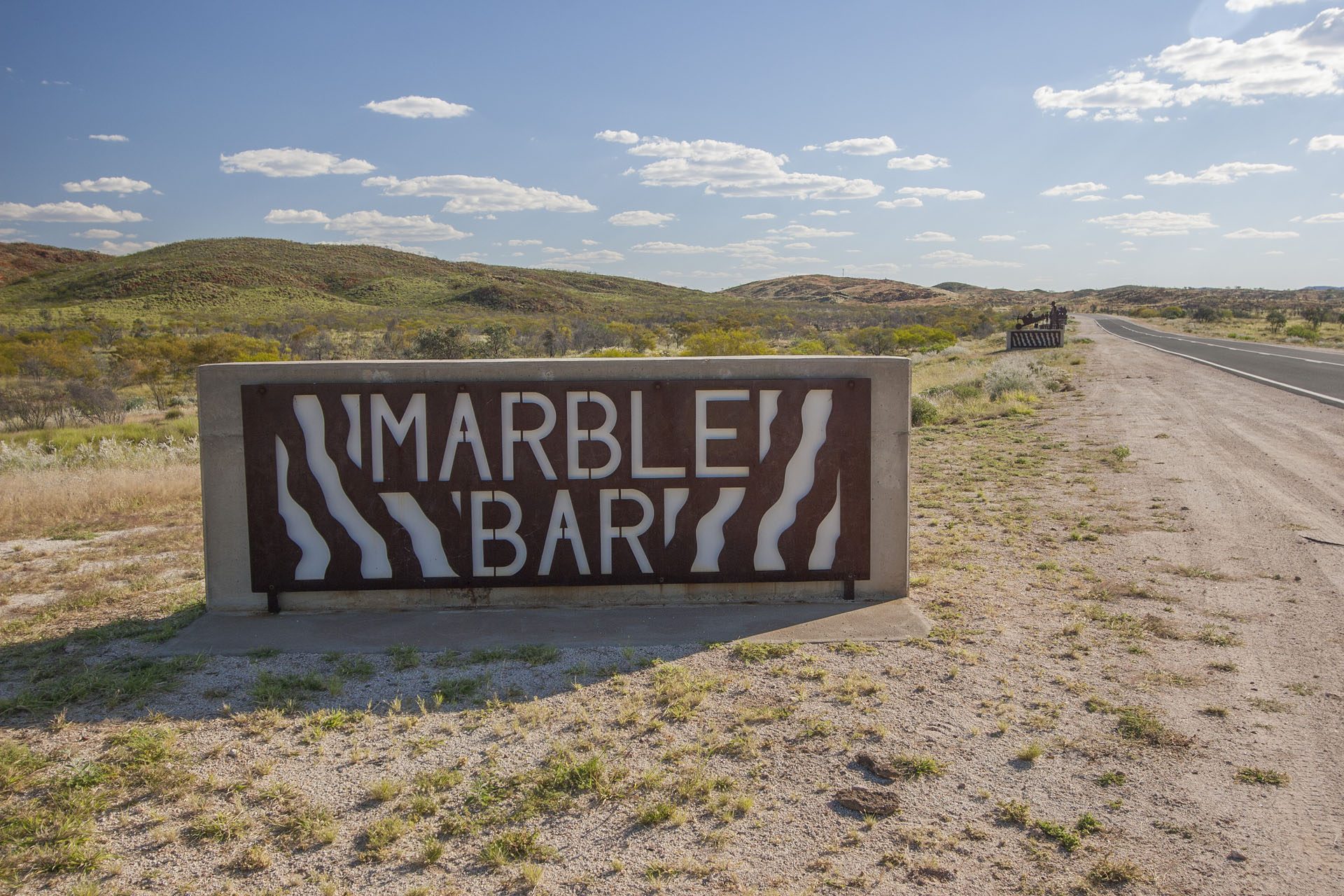 Marble Bar.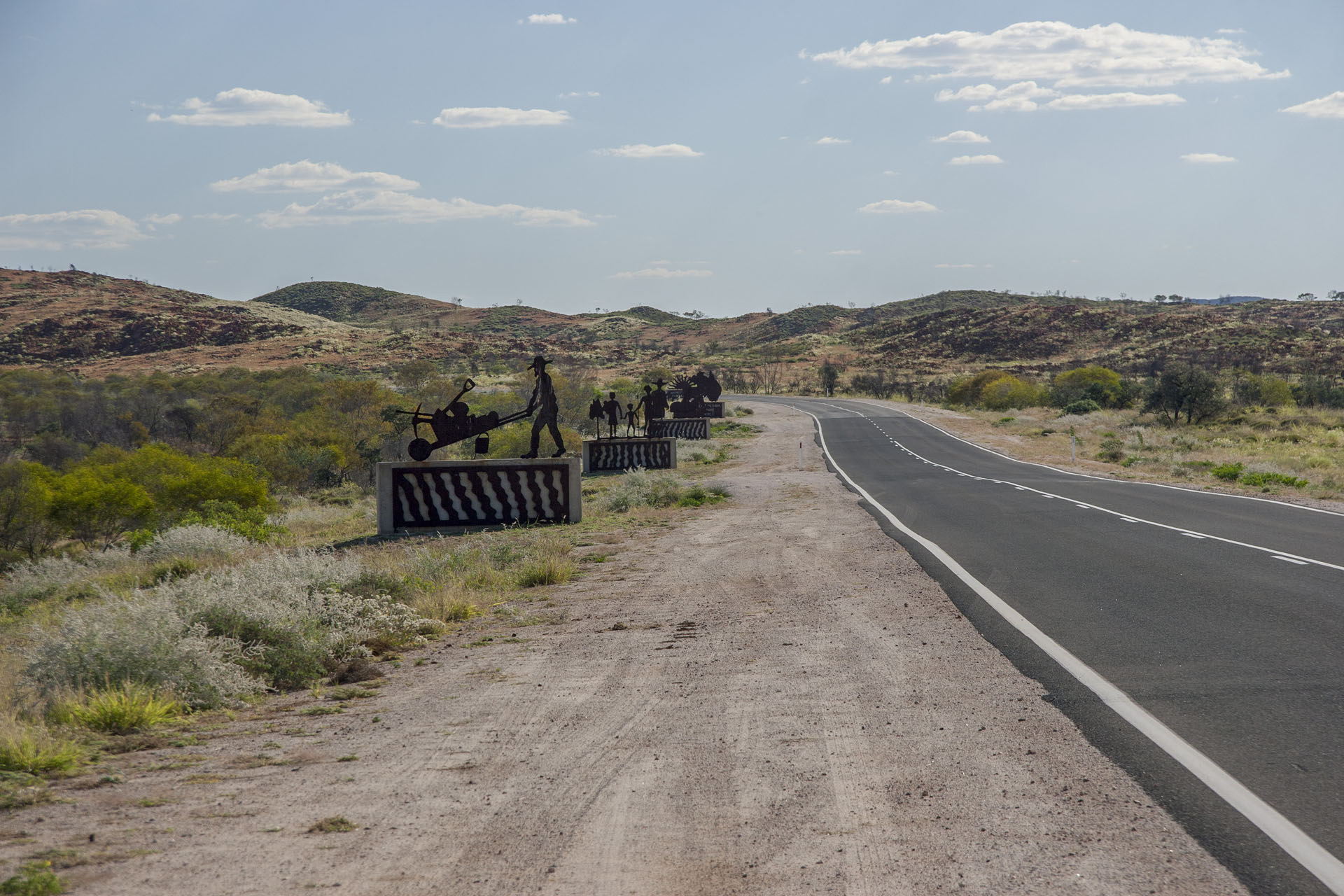 Cool sculptures alongside the highway.
At the local caravan park I take a shower and then head out towards my selected campsite. Today's choice is a secluded spot some 6 km away from the town, and it even has some mobile coverage. The place is quiet and picturesque, and a couple of campers that are already there is not a bother at all. I pitch the tent and make a quick walk around the block to take a few pictures.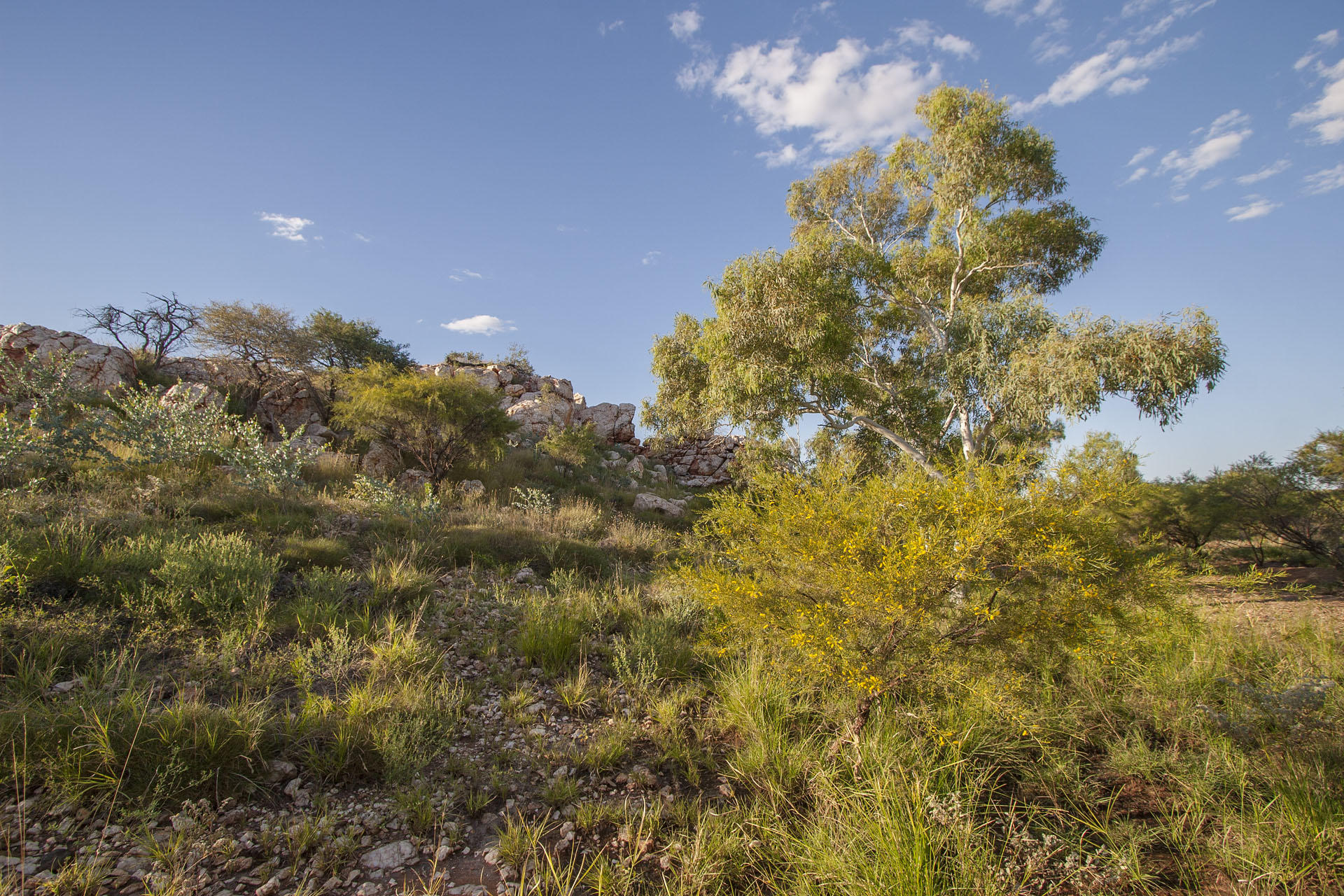 Gums next to a marble outcrop. Not marble, really.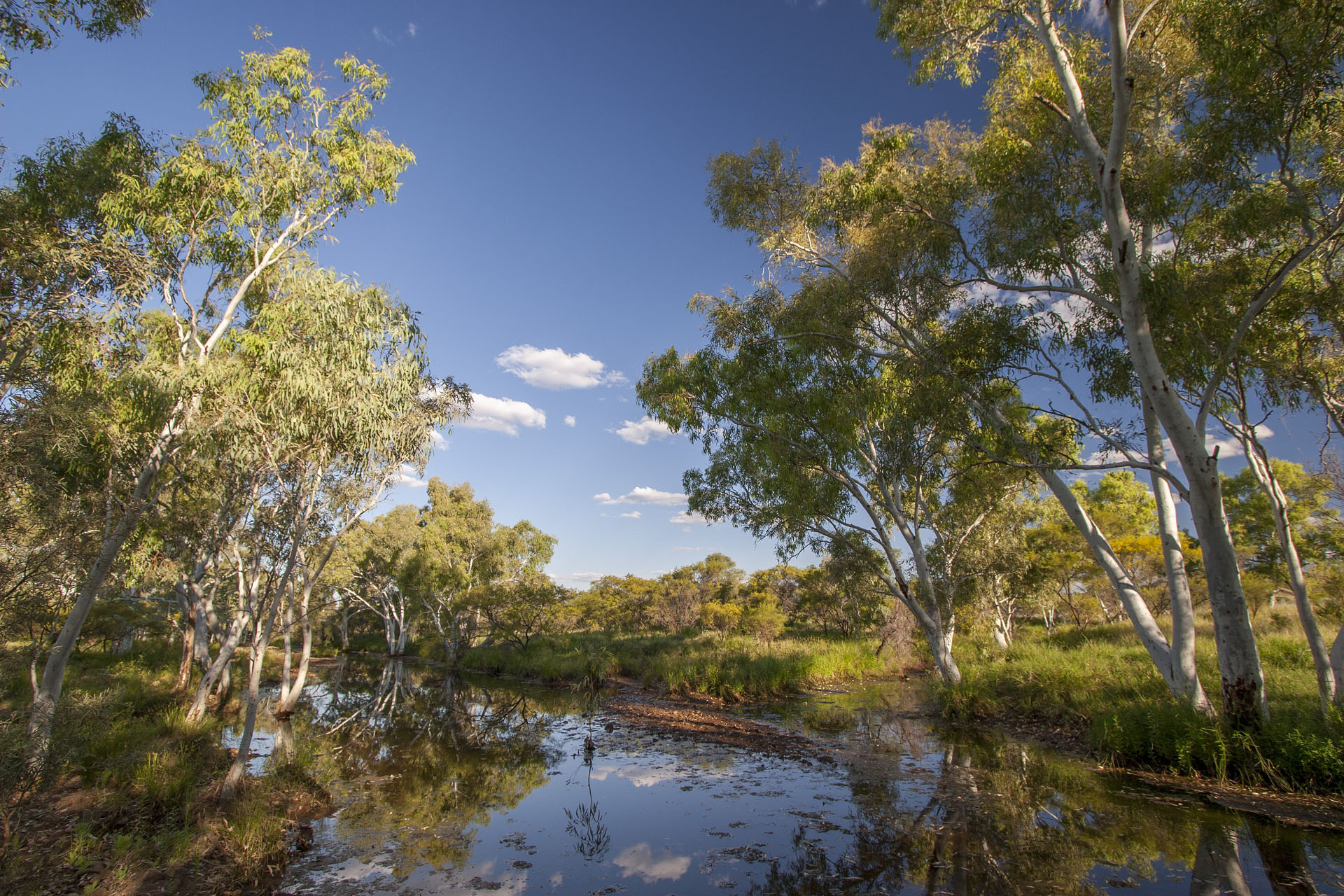 Gums at the creek.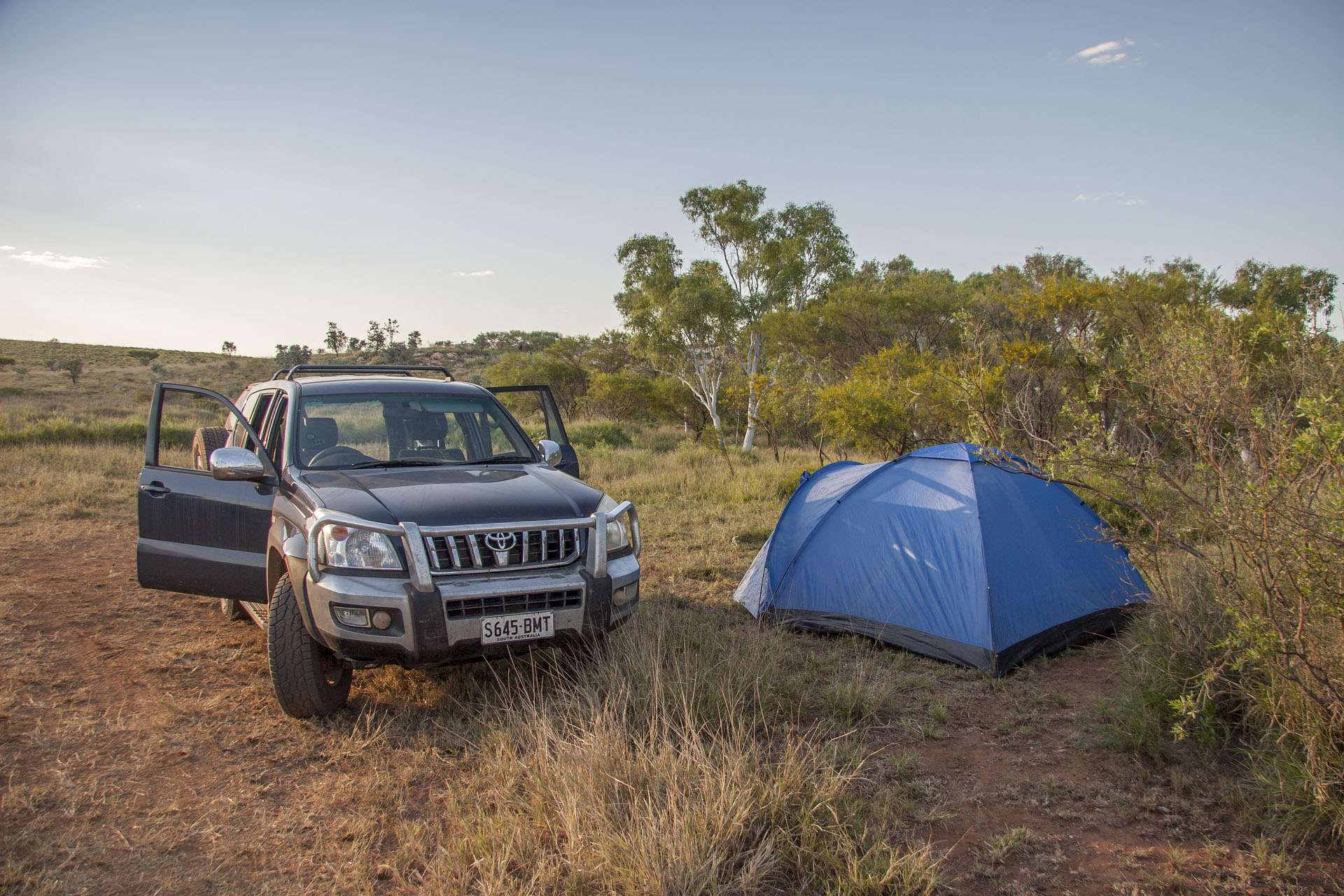 Today's camp.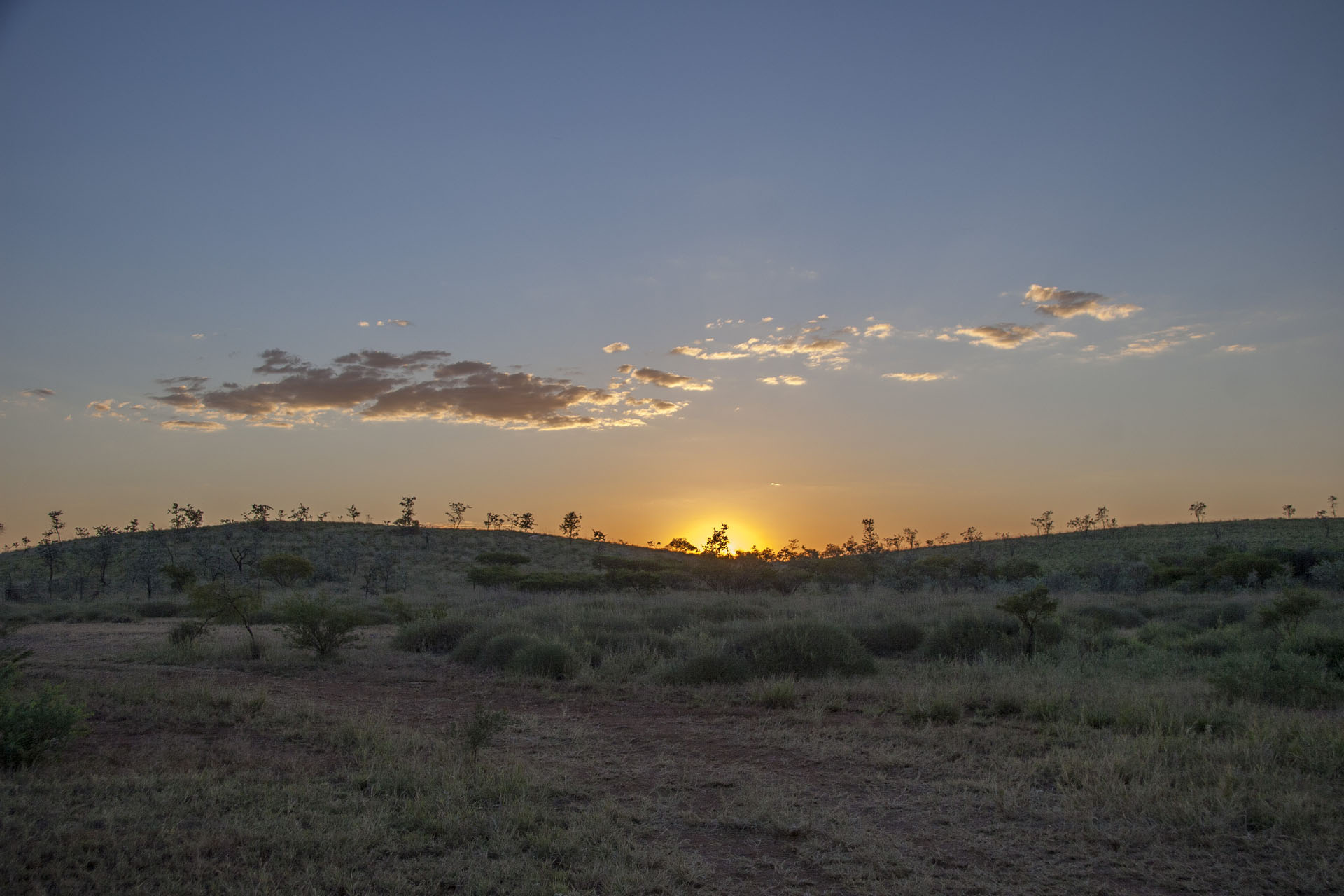 Another day is over.
Distance

447.2 km

Misc

$5 (shower)