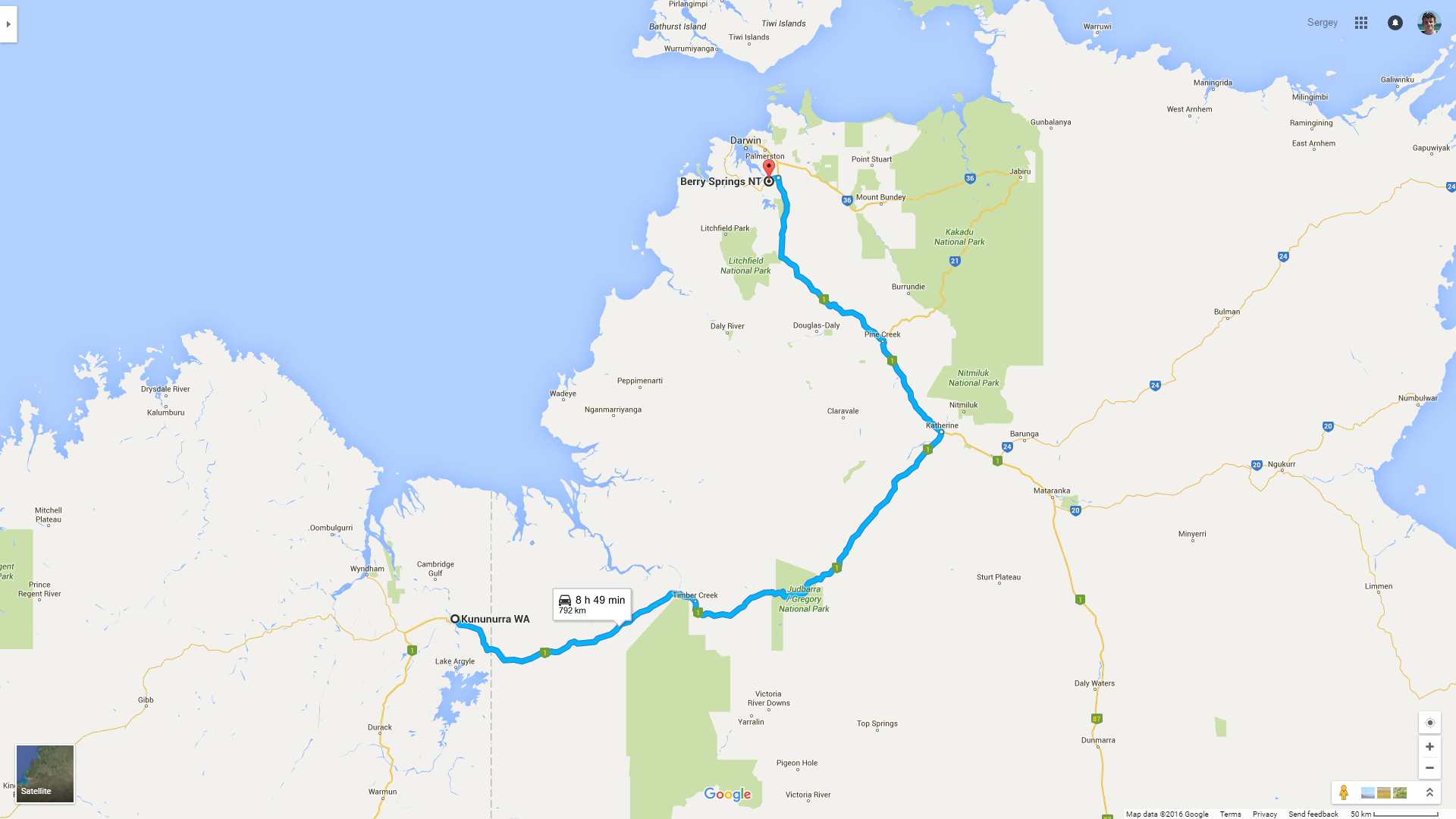 Road covered today.
After having an excellent sleep in Kununurra, we quickly pack up (it takes less and less time these days: we're getting used to the moves) and take off. Kununurra is the last town in Western Australia; ahead lies the Northern Territory, with its own towns, roads and other quirky little things.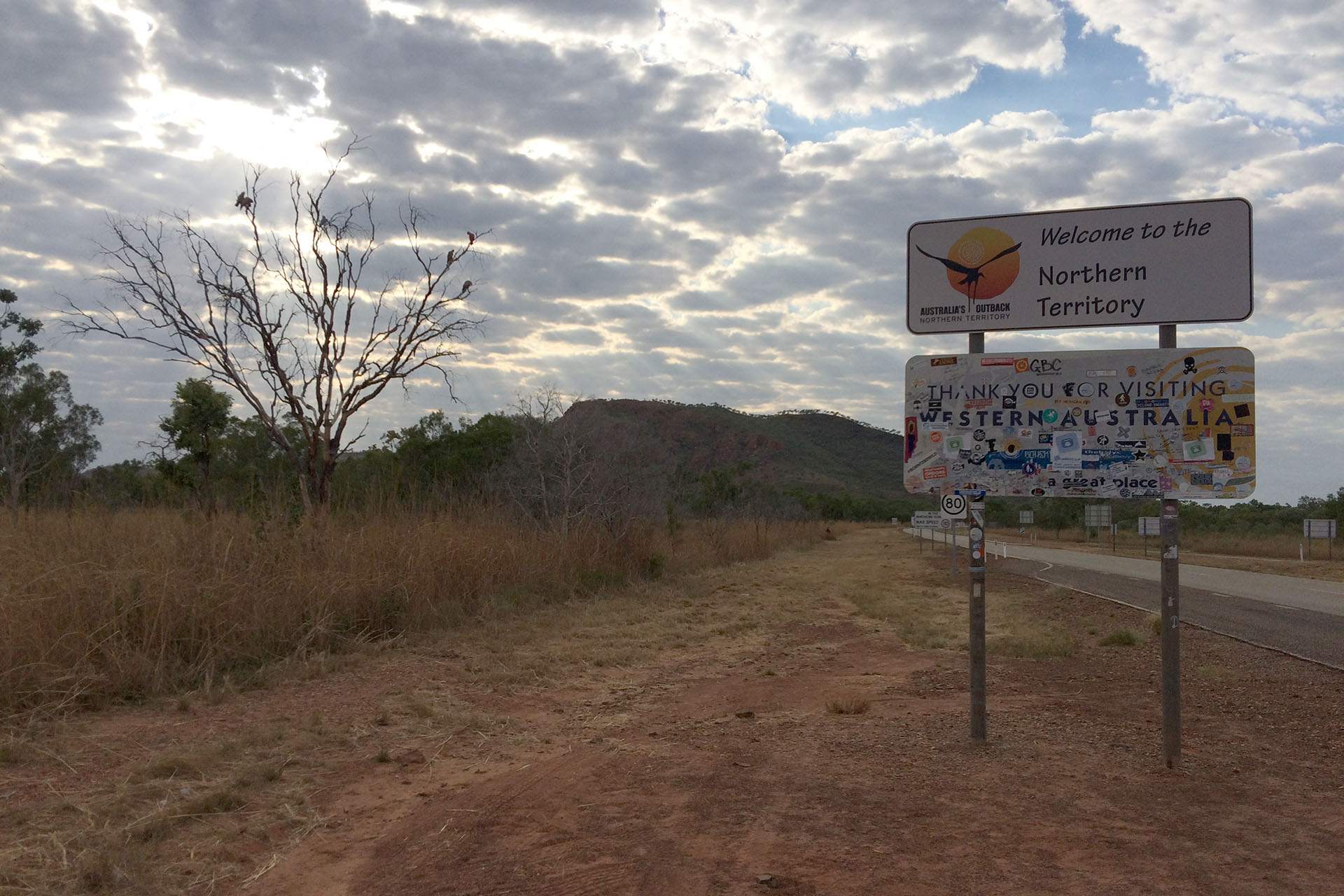 Hello, Northern Territory.
As we approach the state border, I anxiously expect to see another quarantine check point and mentally prepare to throw away the apples I bought this morning. However, I'm lucky today: the check point only works for vehicles heading
from
NT, but not
to
it. Yay! And another pleasant surprise: the local speed limit is 130 km/h instead of 110.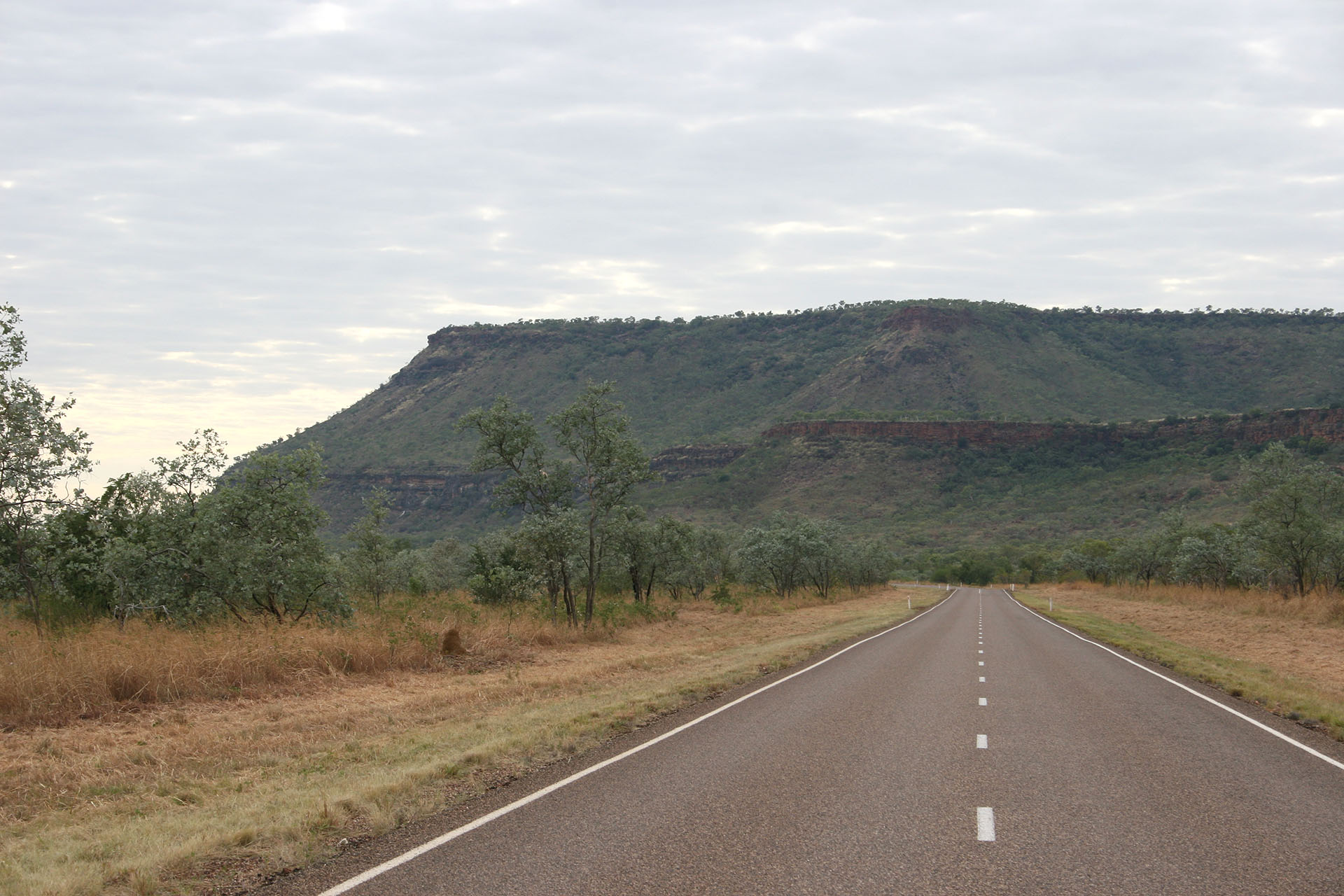 Layered ranges.
At first, it's still the same savannah with the same layered mountain ranges around. However, it's not Kimberley anymore: we're in the Top End now, and the region, alas, is not as picturesque. Savannah quickly gets replaced with dense green vegetation that block most of the view. More and more often we meet one-lane bridges across the rivers and creeks. Rivers are full-sized now, and it's very clear that this region never has any problems with water.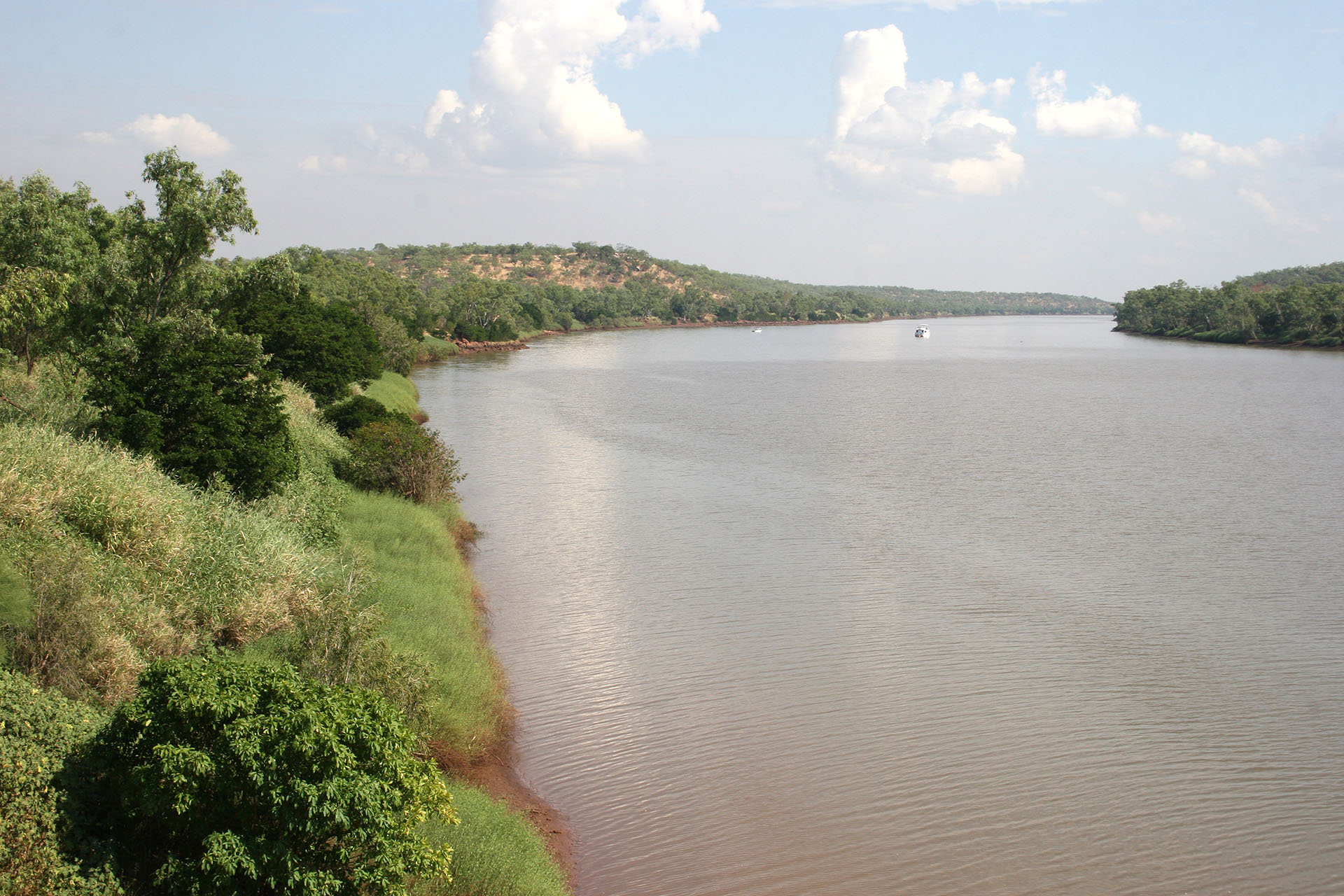 Victoria River.
We enter the low mountain ranges soon, and the road winds back and forth amongst the weathered sandstone. Negotiating these sharp turns at 130 km/h gives me an occasional shudder every now and then.
Next to the highway there is another national park: Judbarra-Gregory. We try entering it, and a few kilometres of dirt track later we stumble upon a half-flooded ditch. We carefully pass it, splattering red mud all over the Tucson… only to find another ditch, much wider this time. We shrug and turn back. No point drowning in mud in the middle of nowhere.
From there, our journey takes us to Katherine – named after one of the daughters of John Stuart, the famous local explorer. After a quick lunch in McDonald's, we find a tyre shop; however, they don't have the right size (235/60), and neither does anyone else in the town. Hmm. Looks like the tyre change will have to wait until Darwin.
I make another correction of the itinerary – and, instead of the Judbarra-Gregory, decide to visit the Litchfield National Park, which is not too far from Darwin. We leave Katherine and turn north, in a few hours arriving to Berry Springs and its caravan park: Litchfield is quite close from here. We put up our camp and quickly explore the area.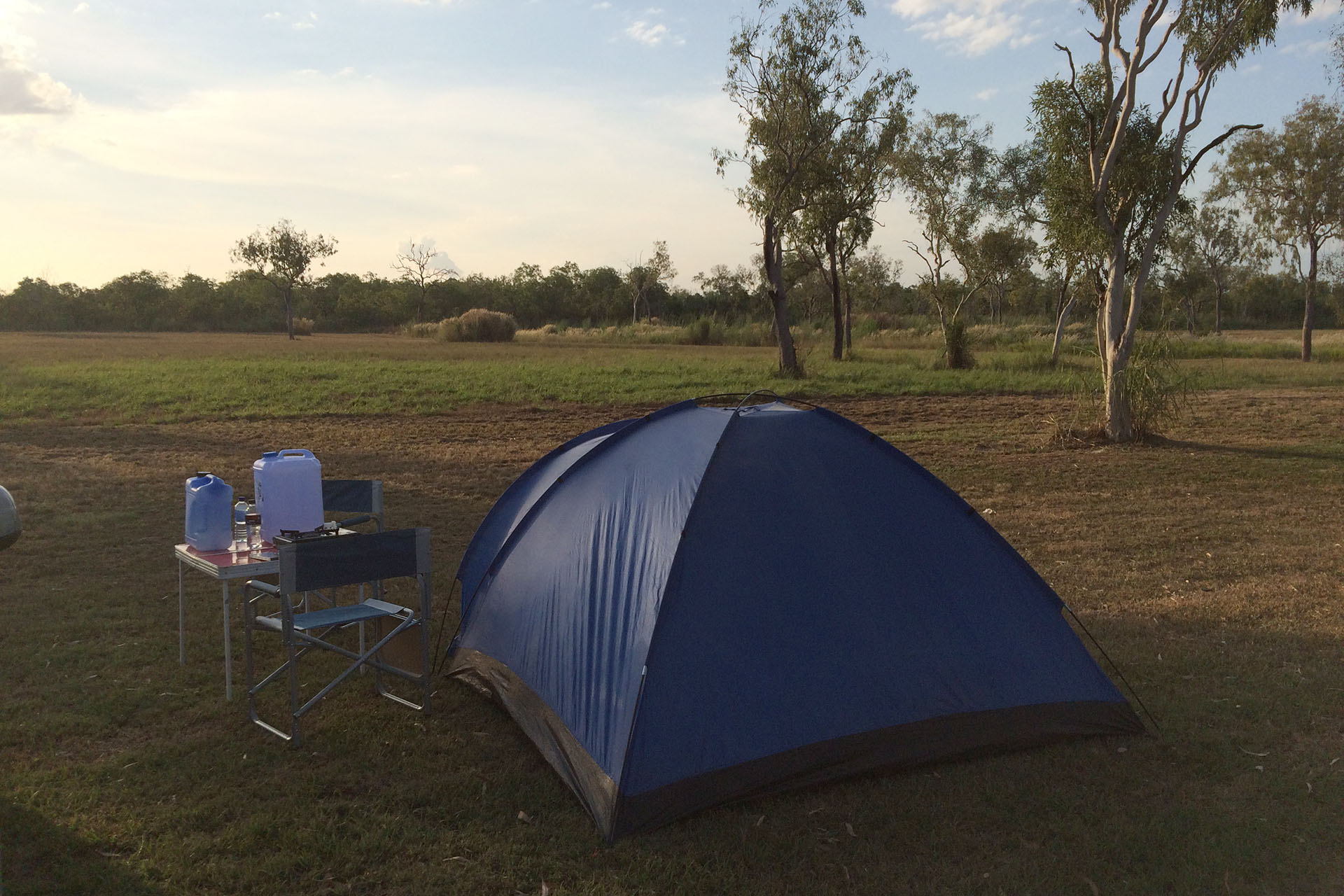 Today's camp.
Once again, we've got tropical humidity… and swarms of mosquitoes: the river and its swampy banks are very close. I buy a small bag of detergent and finally do my laundry, feeding $4 in coins to the washing machine. Once again, I regret that I didn't take enough T-shirts with me: in this hot, muggy weather they get sweaty the instant I put them on.
Here they also have a bar, and we decide to visit it, too. As we sip our beer and talk about things, we are greeted by a plump frog who is crawling slowly along the balcony railing. The frog's sides are swelling from all the mosquitoes it ate.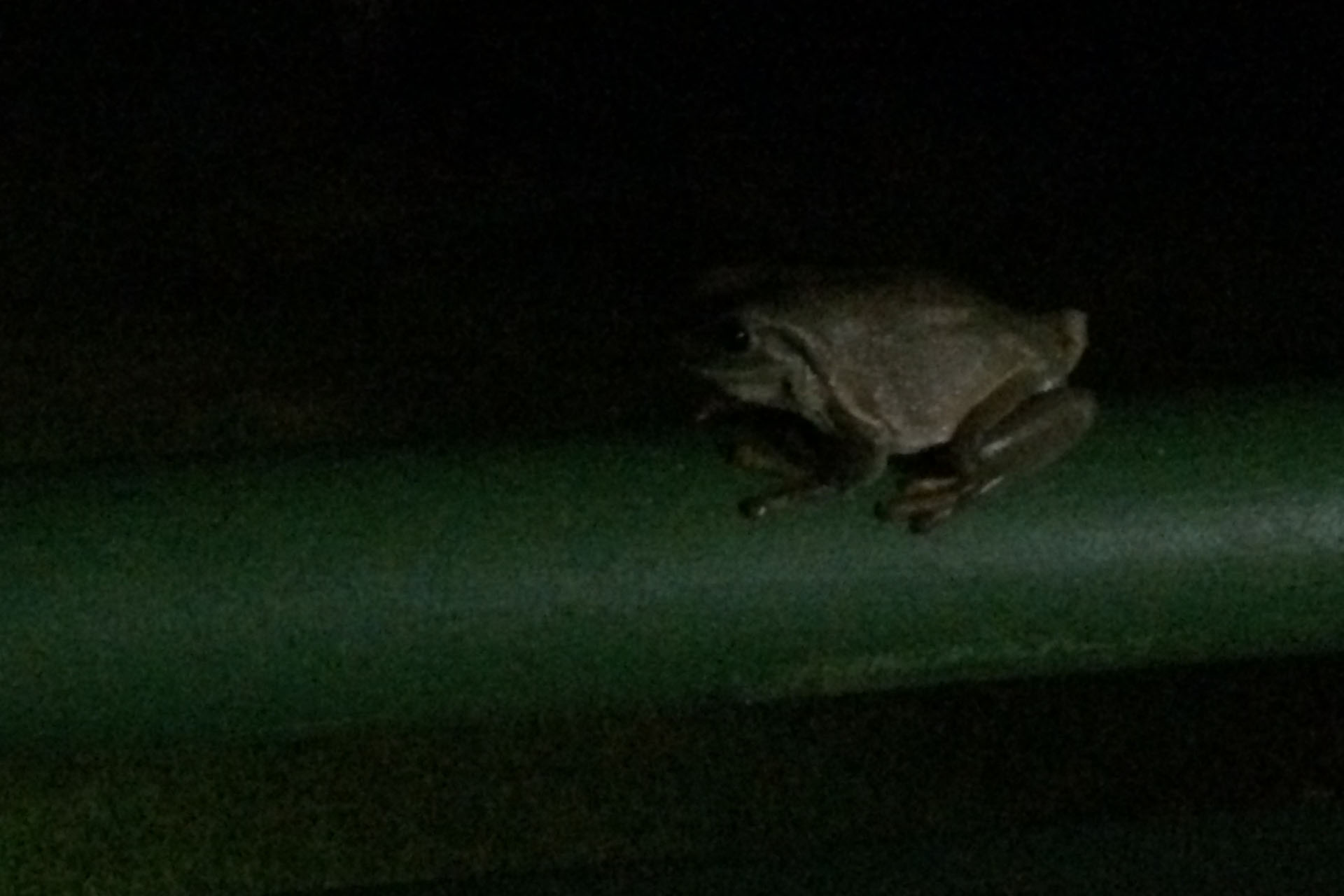 A bar frog.
Trying to avoid the mozzies that the frog hasn't eaten yet, we finish our beer, make it back to the camp and hide in the tent. The humidity is crazy, but there's nothing we can do.
Distance

833.3 km

Fuel

$55.00

(Kununurra)

$72.30

(Victoria River Roadhouse)

$58.64

(Hayes Creek)

Food

$14.62

(Kununurra)

$11.00

(Katherine)

Fees

$25.00

(caravan park)