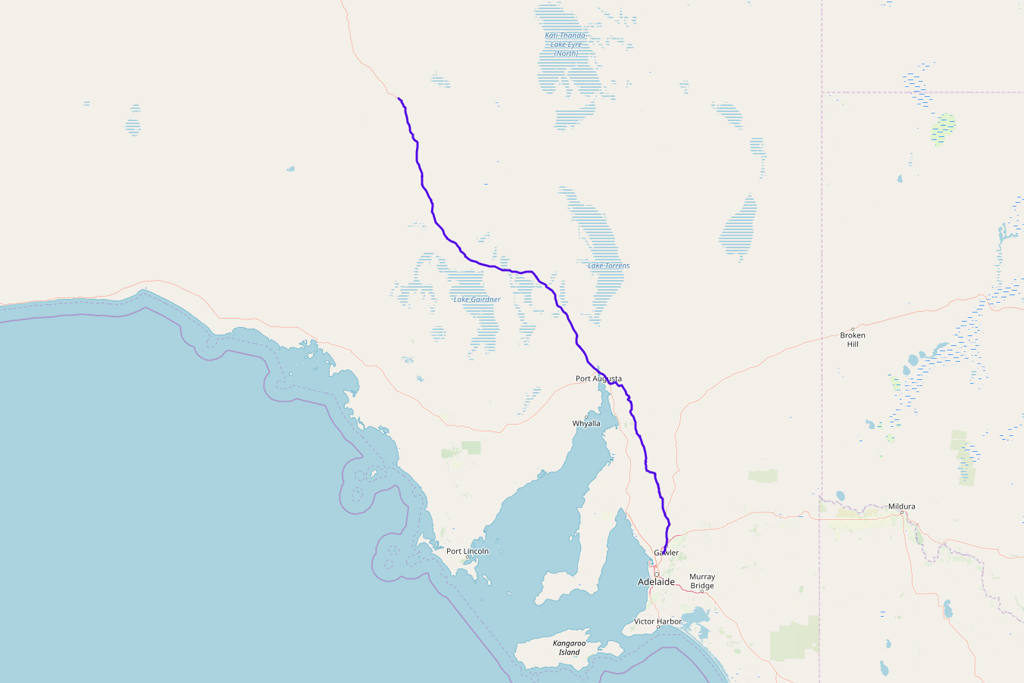 Distance covered... can't remember how many km!
The sunrise that follows has some spectacular cloud formations, and I make sure to capture them all while I can. The blessing and the curse of landscape photography: you can have the most beautiful scene in front of you, but you have no control over it whatsoever, and if the clouds or the light change, they change for good. If a sunrise is bad, you can't do anything about it; but if it's good, you're the luckiest person on Earth. Like right now, for instance.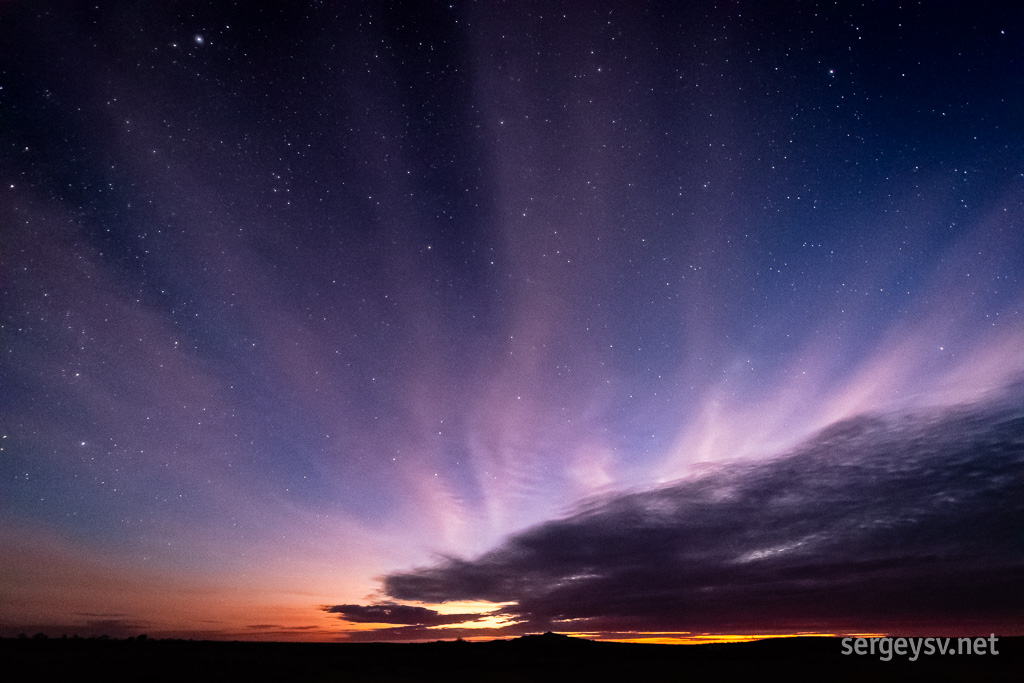 The rosy-fingered dawn.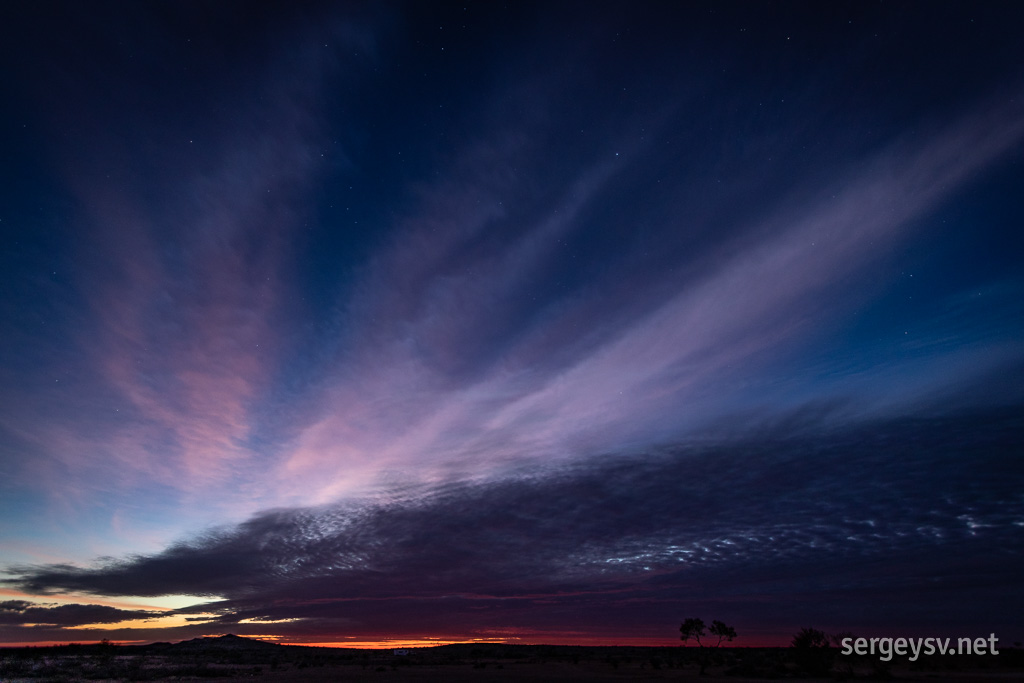 The day is breaking ever so gently.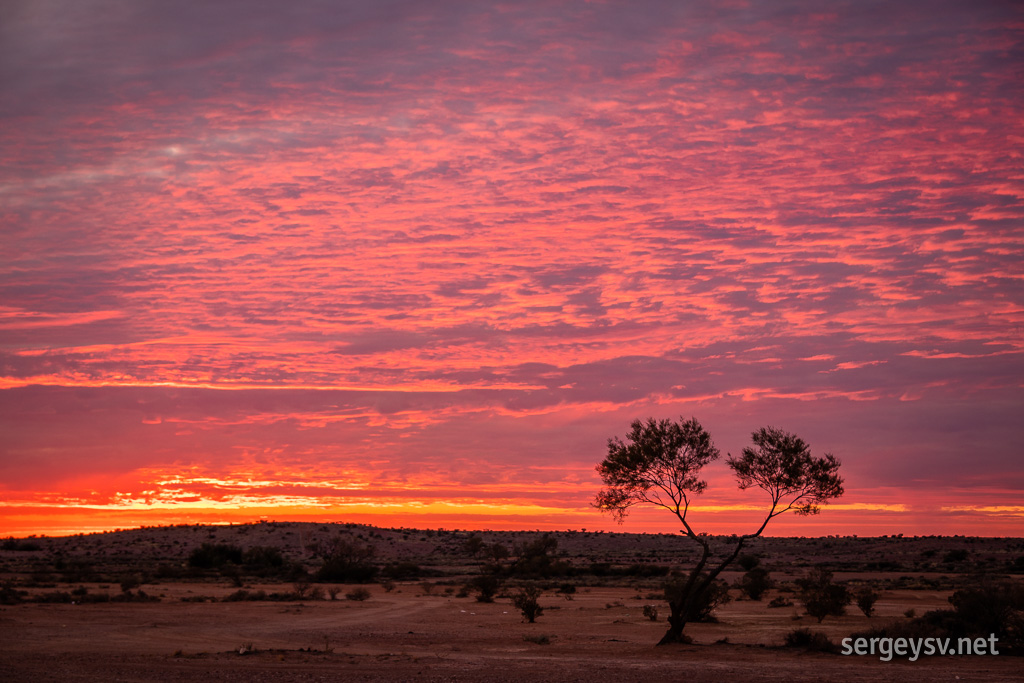 Almost there!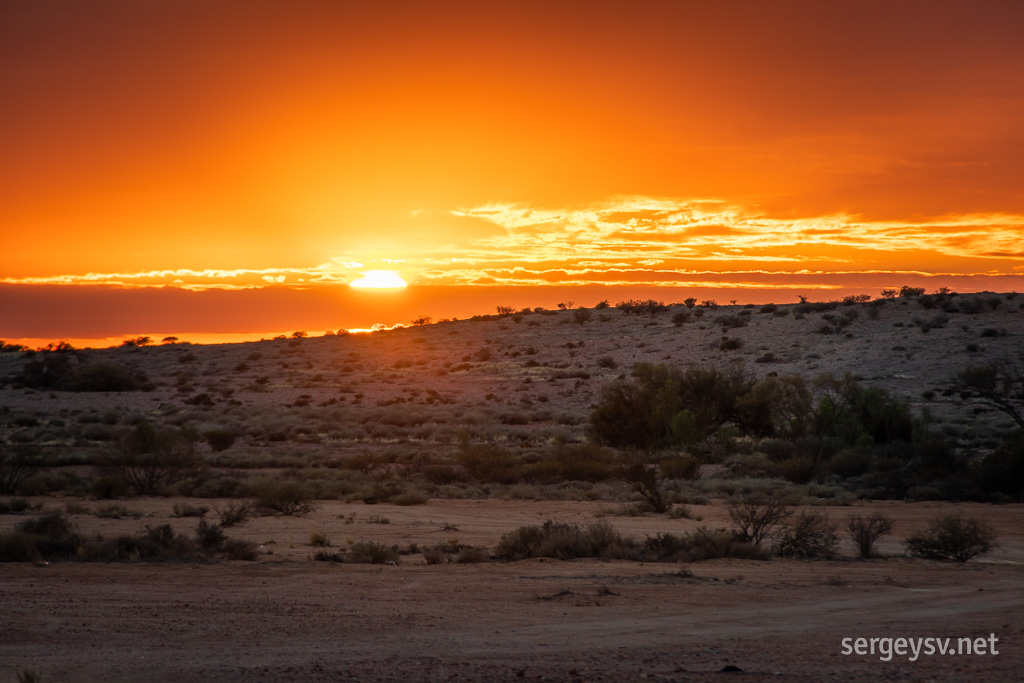 And here we are.
At 7 a.m. I take off again, aiming to be back in Adelaide by sundown. There's not much in terms of sightseeing now, but at least I'm driving on a sealed road again. And again, I can take as many "pic stops" as I like, even though there are no lookouts or national parks or anything like that. Sometimes, a cool-looking tree or a patch of red dirt is all you really need!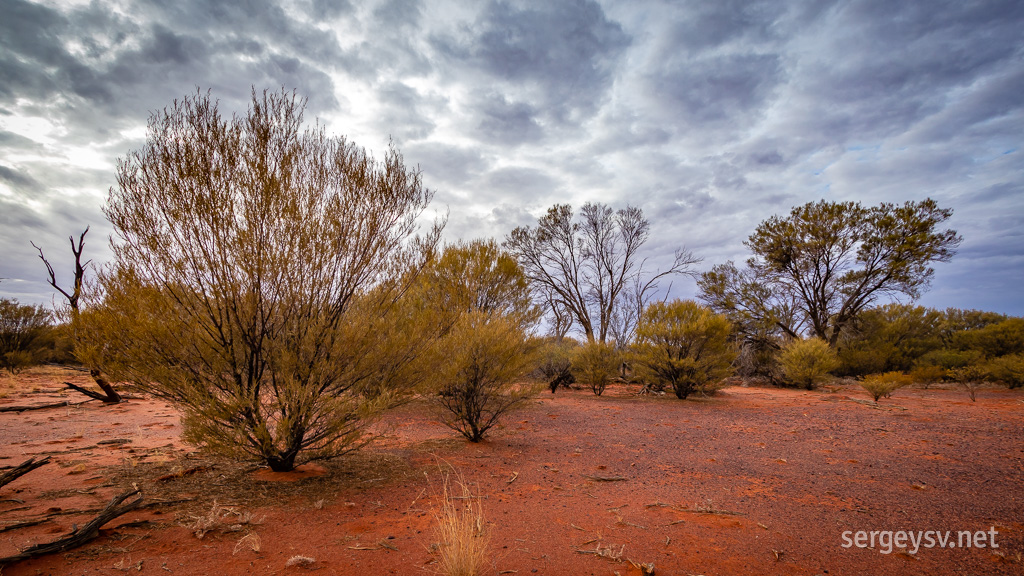 Like here, for example.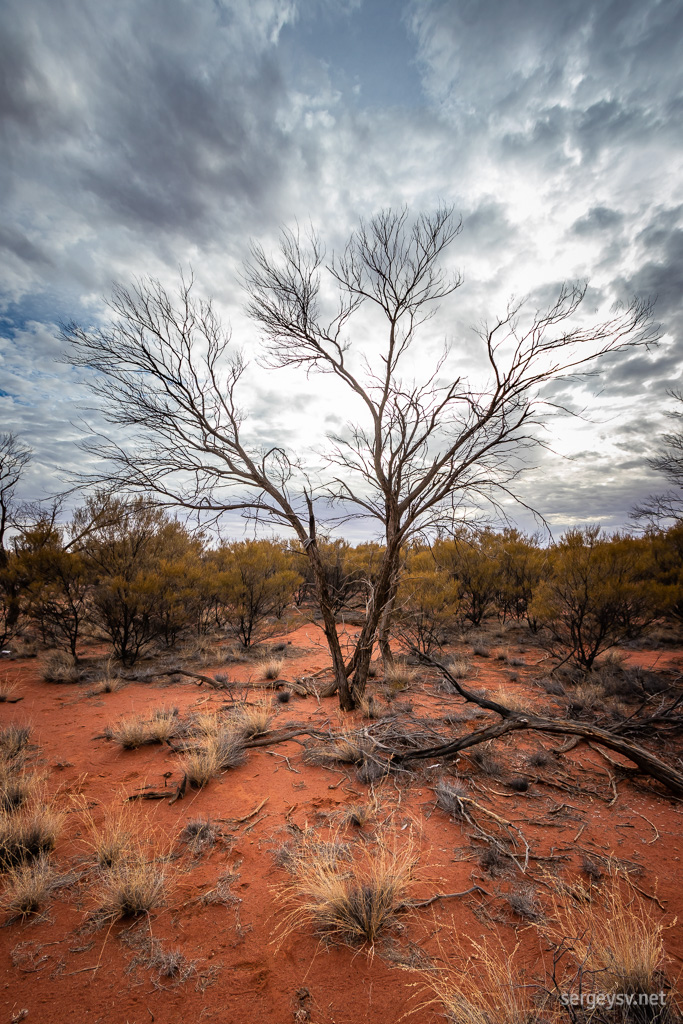 Can't get enough of the outback trees.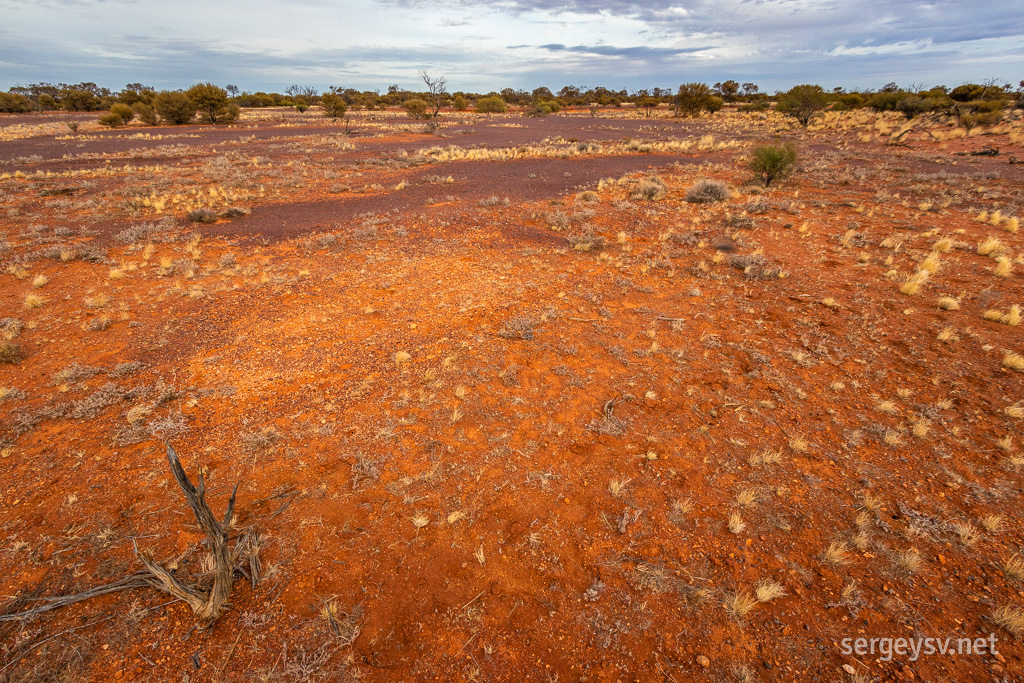 Or the red dirt.
At the Ingomar rest stop, chewing a sandwich, I entertain myself by reading an obligatory information board. It tells me something about John Stuart, who was exploring the area in the 19th century; and where the narrative says "Stuart was attacked by aborigines", "was" and "by" are carefully scratched out, with the words "as all white man
(sic)
did" added on top. The drama rages on!
At the rest stop.
The surrounding country is a bit unassuming and dull; some even call this stretch of the highway "the most boring road in Australia." Not sure if I share the sentiment; some bits and pieces of the scenery are quite lovely, and even remind me of the Nullarbor sometimes.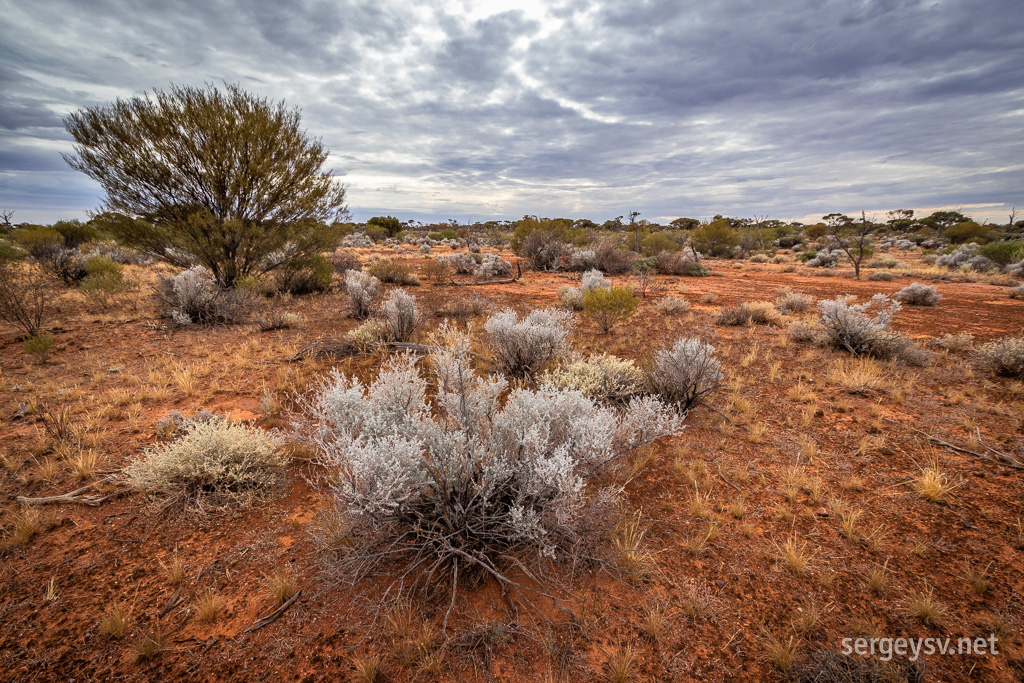 Seriously, it does!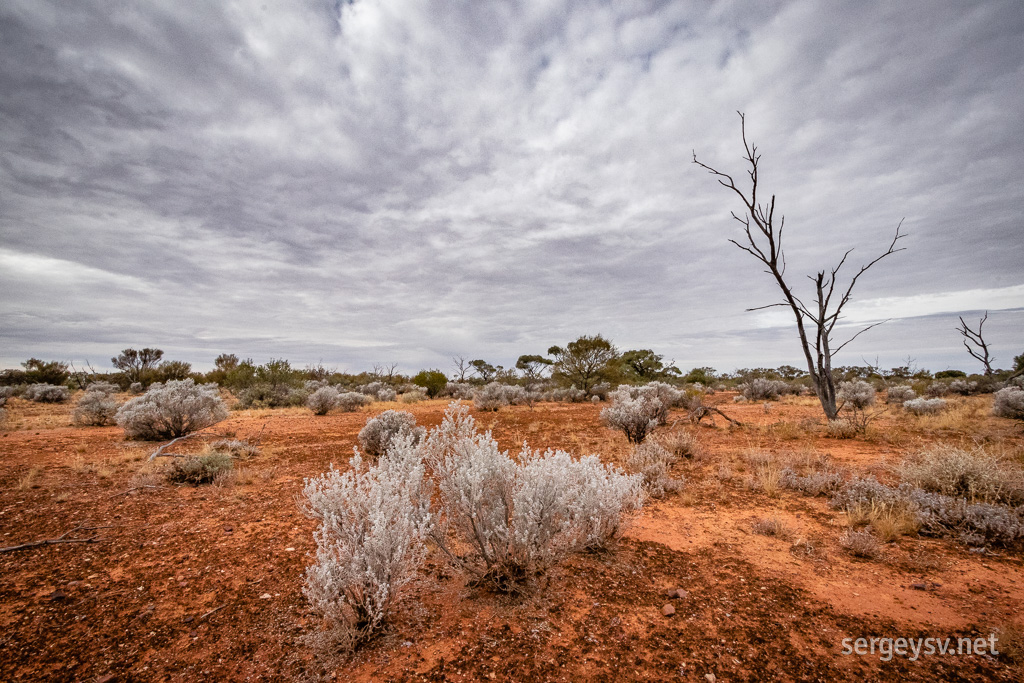 Saltbush is so white here.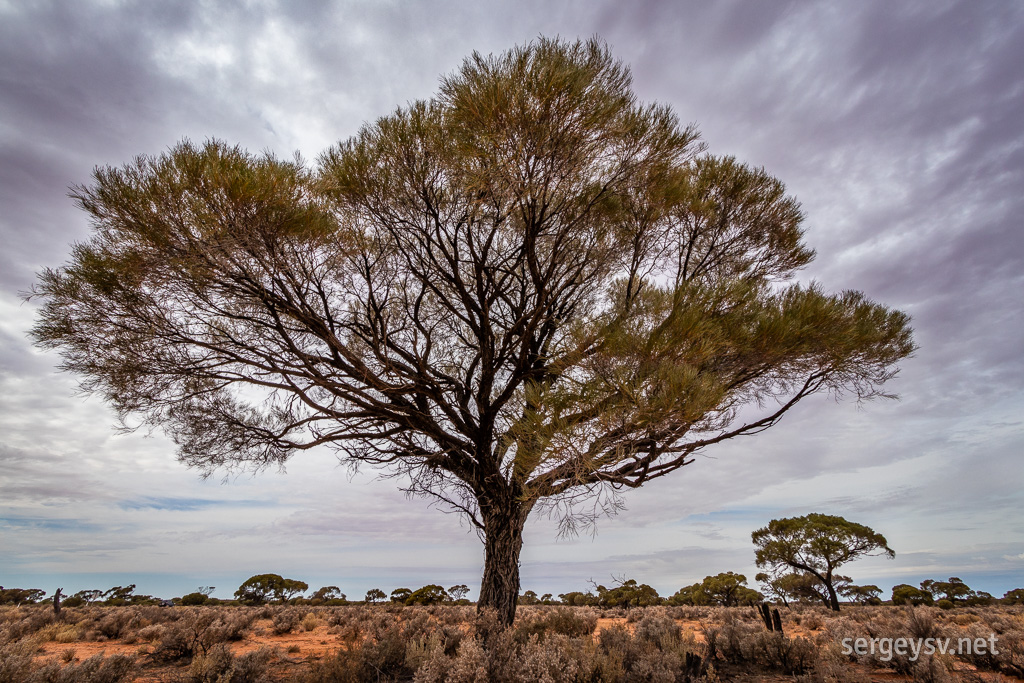 Trees are becoming a bit bigger.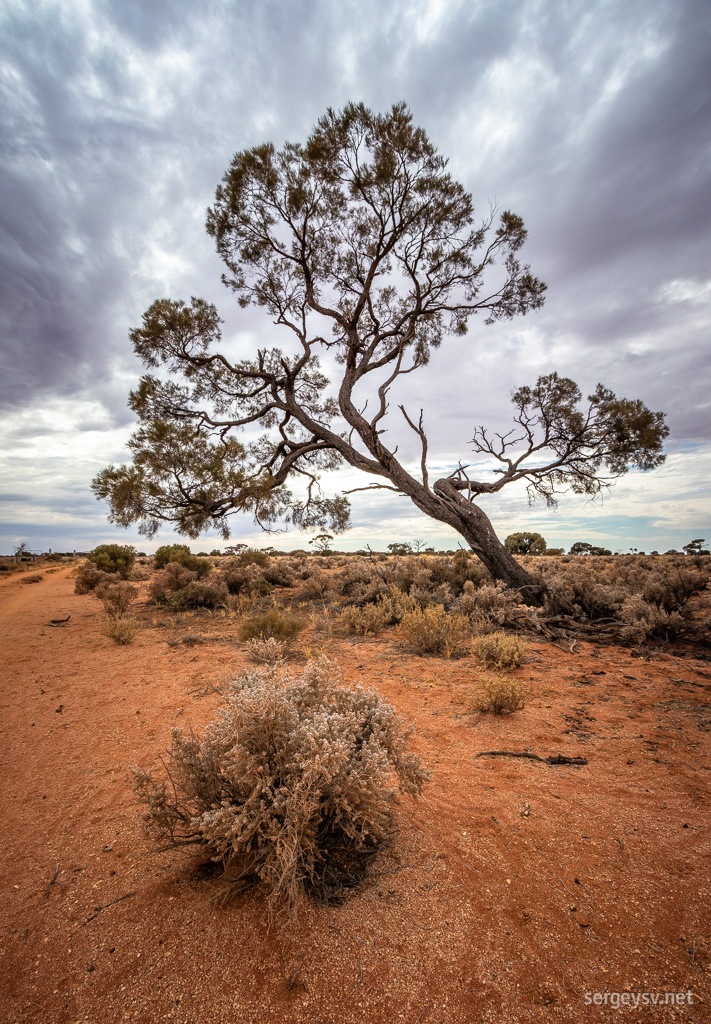 The bush resilience.
I can't help but stop at the beautiful (but extremely windy) Island Lagoon lookout. One of the few attractions of the "dull" road! Little else breaks these brown, undulating plains between here and Port Augusta.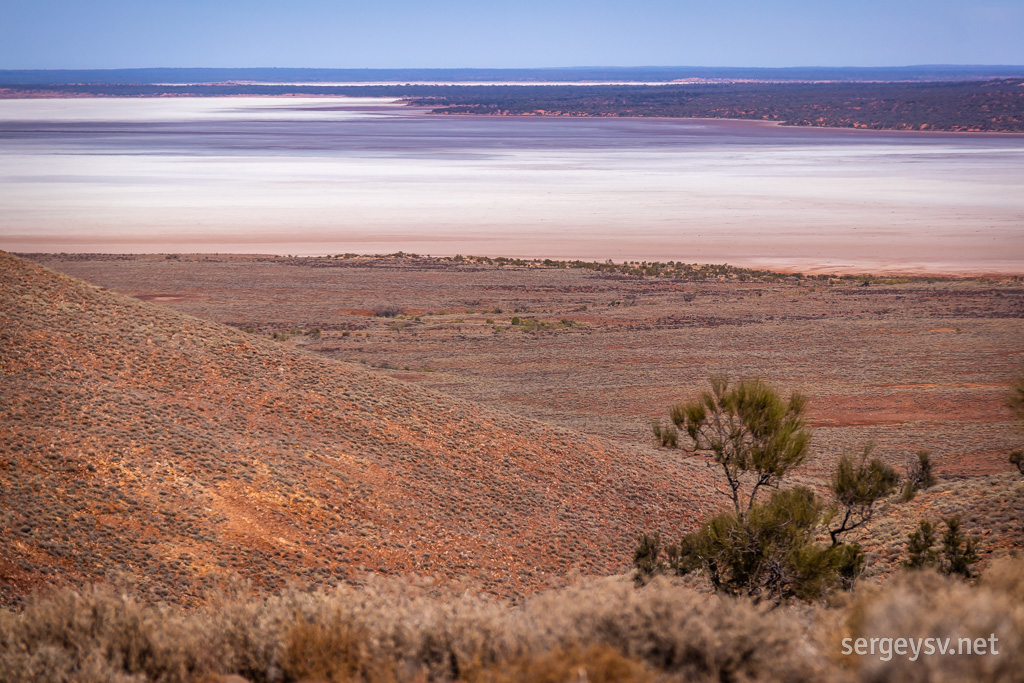 At the lookout.
The Island itself.
Approaching Port Augusta, I pause at the Ranges View rest stop for another quick bite and a few more pics. Sure enough, Flinders Ranges can be seen from here, and they look beautiful as always. The place also has a toilet, and the writing on the inside of the lid says: "If you haven't eaten it, please don't drop it down the tube." Gotta love the outback humour.
As you can see alredy, entertainment is in short supply in these parts, and I soak up as much of it as I can. Another good one is the billboards that can be seen every now and then:
"Port Augusta could save your life. Rest every 2 hours."
(Or "Glendambo", or "Gladstone", or some other town in the vicinity.) I do rest quite more often during this trip than I normally do, taking it all a bit slower and slowly finding my proper travelling rhythm.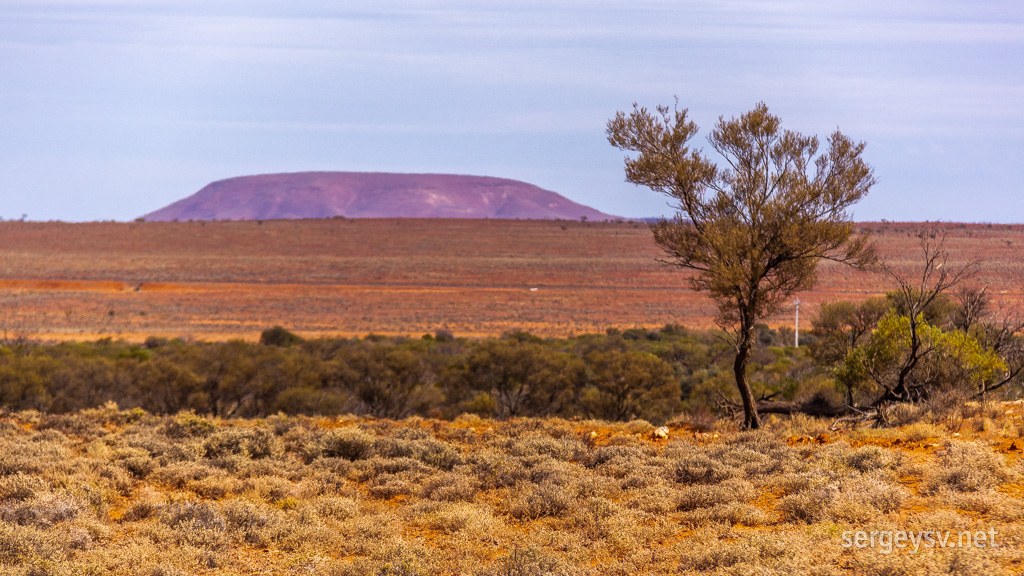 On the way to Port Augusta.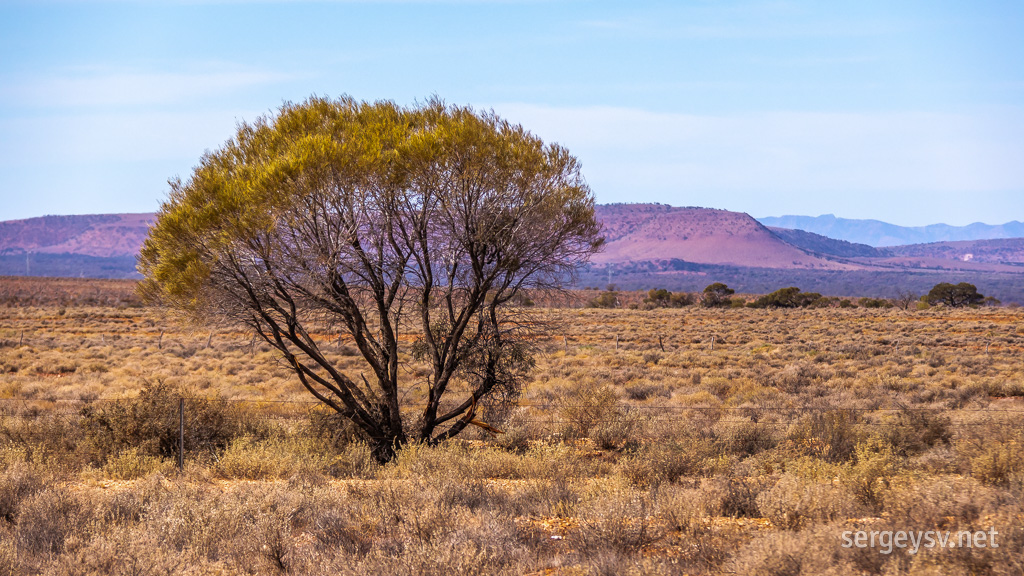 Hello again, Flinders Ranges!
Speaking of Gladstone: when I arrive there, I stop at the railroad crossing which is unexpectedly blocked by a train that stopped. I resort to the help of my iPhone, and the map quickly points me to another crossing, which is thankfully free. Probably would have waited a lot longer without the map, having no idea where else I can cross the rails in the town where I've never been before. Who would have thought that the online maps can be useful?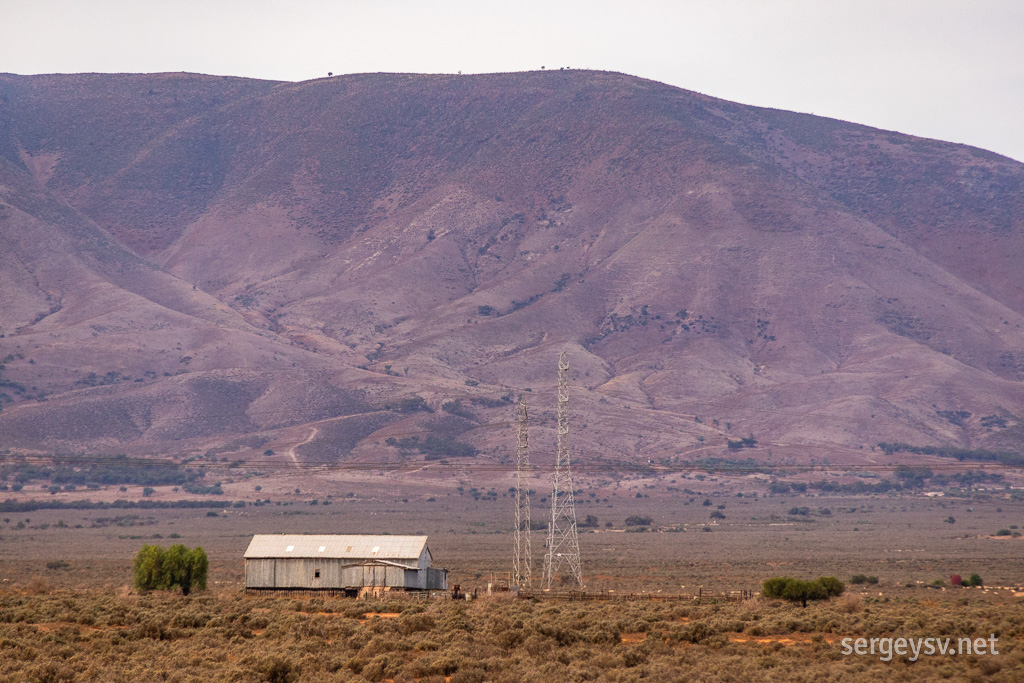 Flinders Ranges up close.
On the other side.
Before I arrive back home at 6, I make my last stop at Clare, where I take my last picture of the entire trip. Just a few autumn leaves of the nearby grapevines. It does feel very autumn-y in the air, which is quite cool and clear and has this faint smoky smell from all the chimneys in town. The summer is over, and so is this another short adventure in the Australian outback.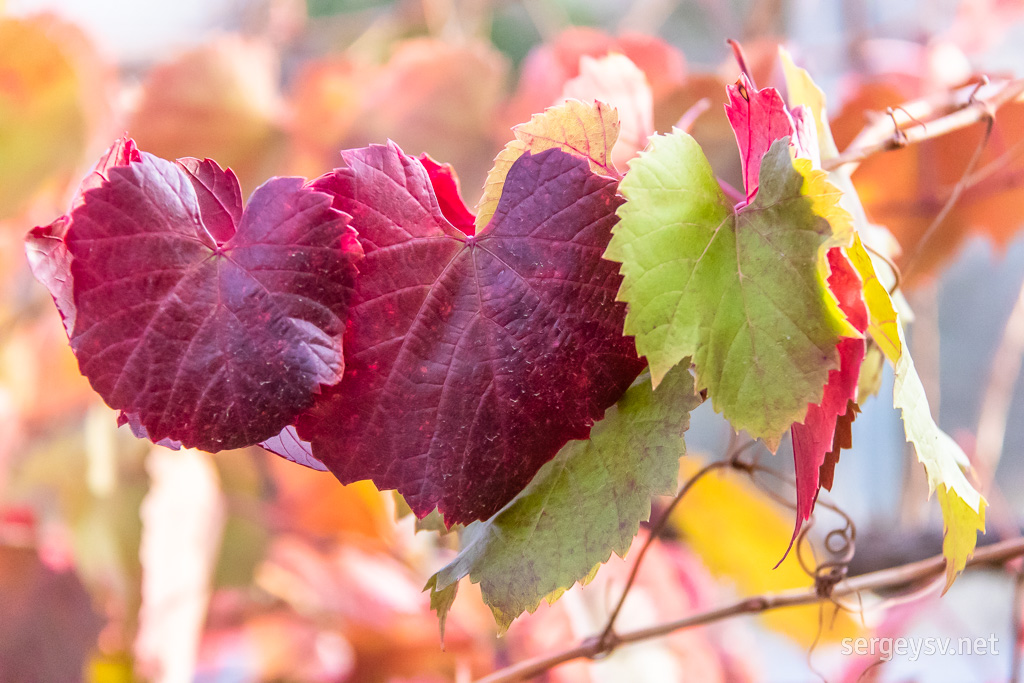 The breath of the autumn.
All in all, the trip was a lot of fun! Oodnadatta Track turned out to be as scenic as advertised: if you can appreciate that kind of scenery, that is. And it's very diverse, too. You've got your yellow gibber plains, you've got your red sand dunes, you've your painted pink bluffs in the distance – pretty much everything that this part of Australia can offer in terms of landscape. Some bits of new equipment have also been tested to great success in this trip, both for camping and for photography – because if I know one thing for sure is that I'm definitely going to hit the road once again some day. The outback always beckons!