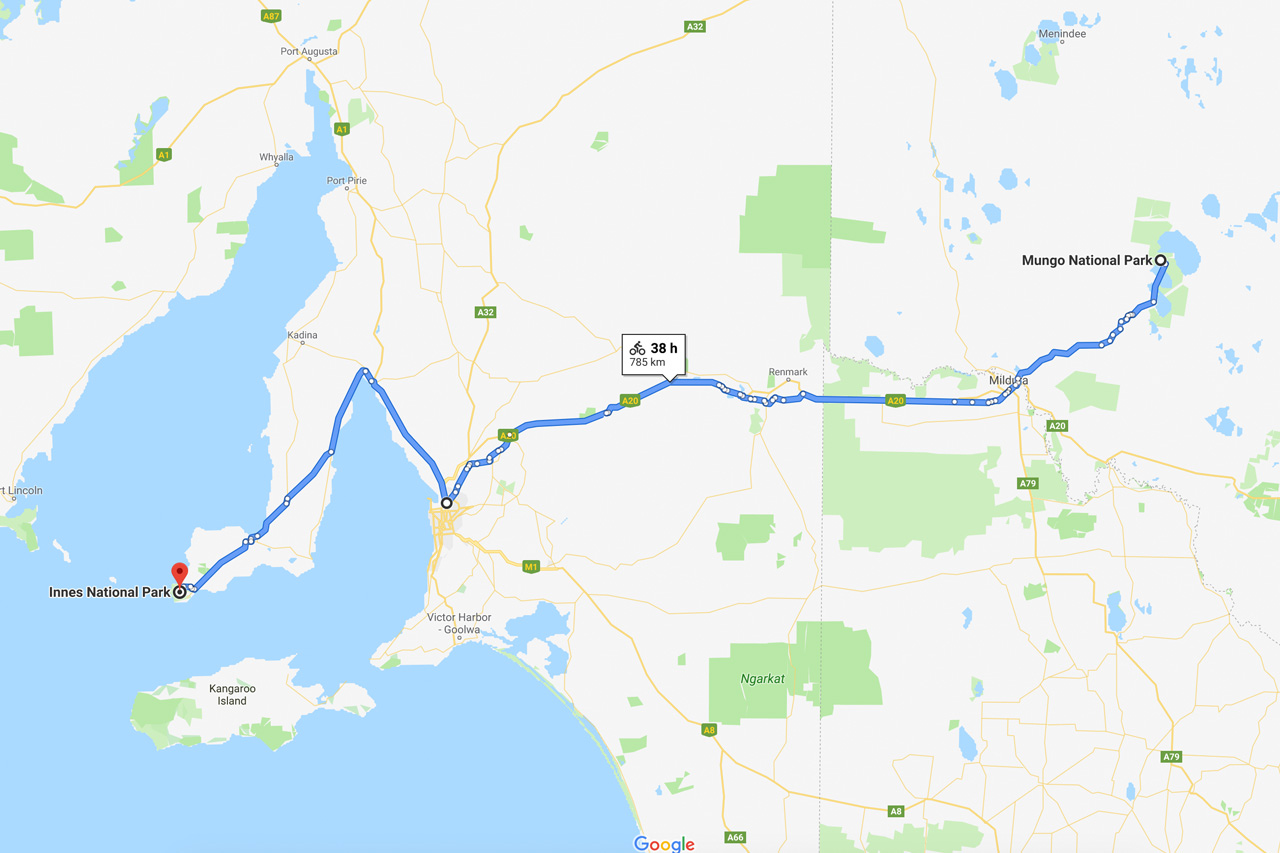 Today's journey.
The morning of the Christmas Eve finds me deep in the mallee that surrounds our camping spot, where I try to find interesting compositions with the outback vegetation and the rising sun. Nothing particularly interesting eventuates, but that's fine: you win some, you lose some.
The scrubland awakens.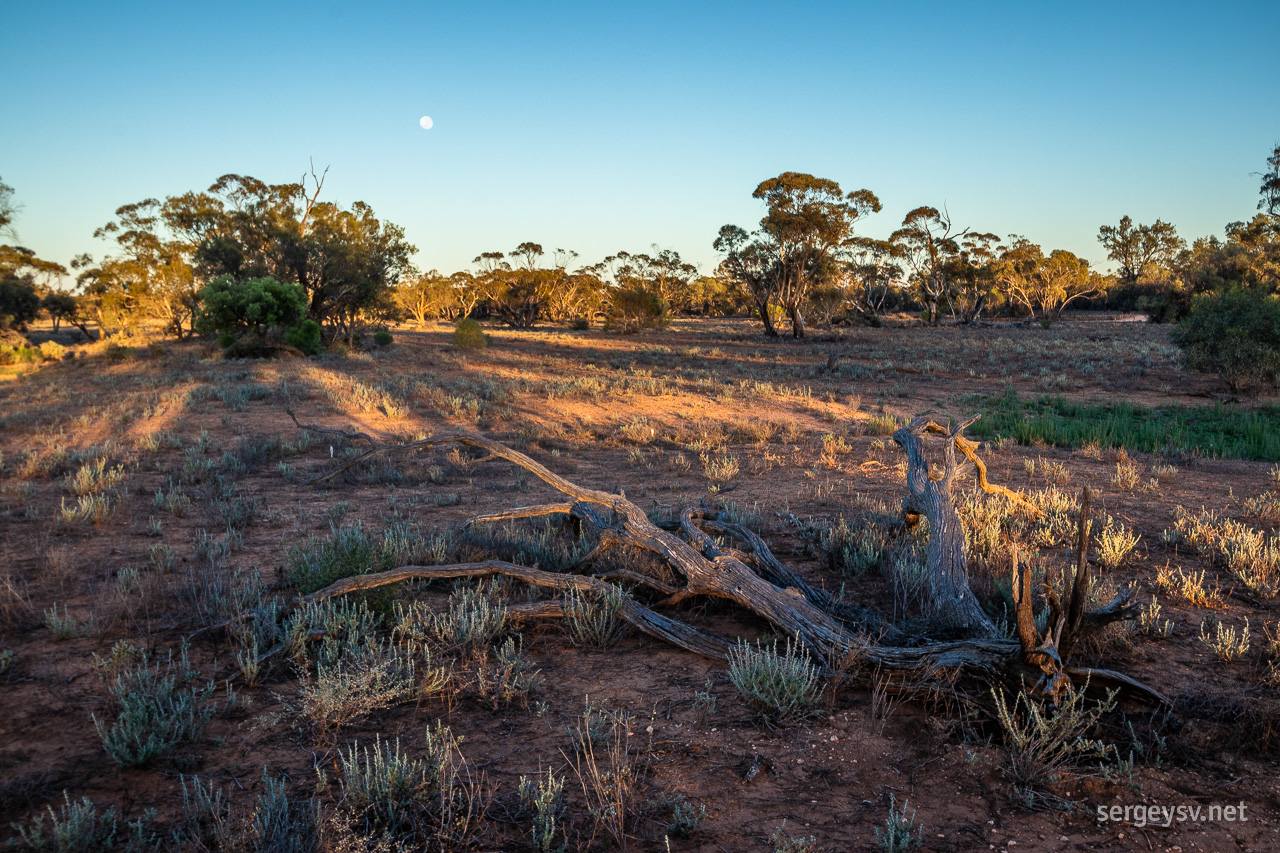 The moon says goodbye.
On my way back to the park entrance I stop near the Vigars Well to walk some more amongst the yellow sand dunes. It's getting hot very quickly, so I don't spend a lot of time there: just enough to take a few snaps of my tiny Christmas tree, which I brought with me for just the occasion. Gotta celebrate this thing in some way, am I right?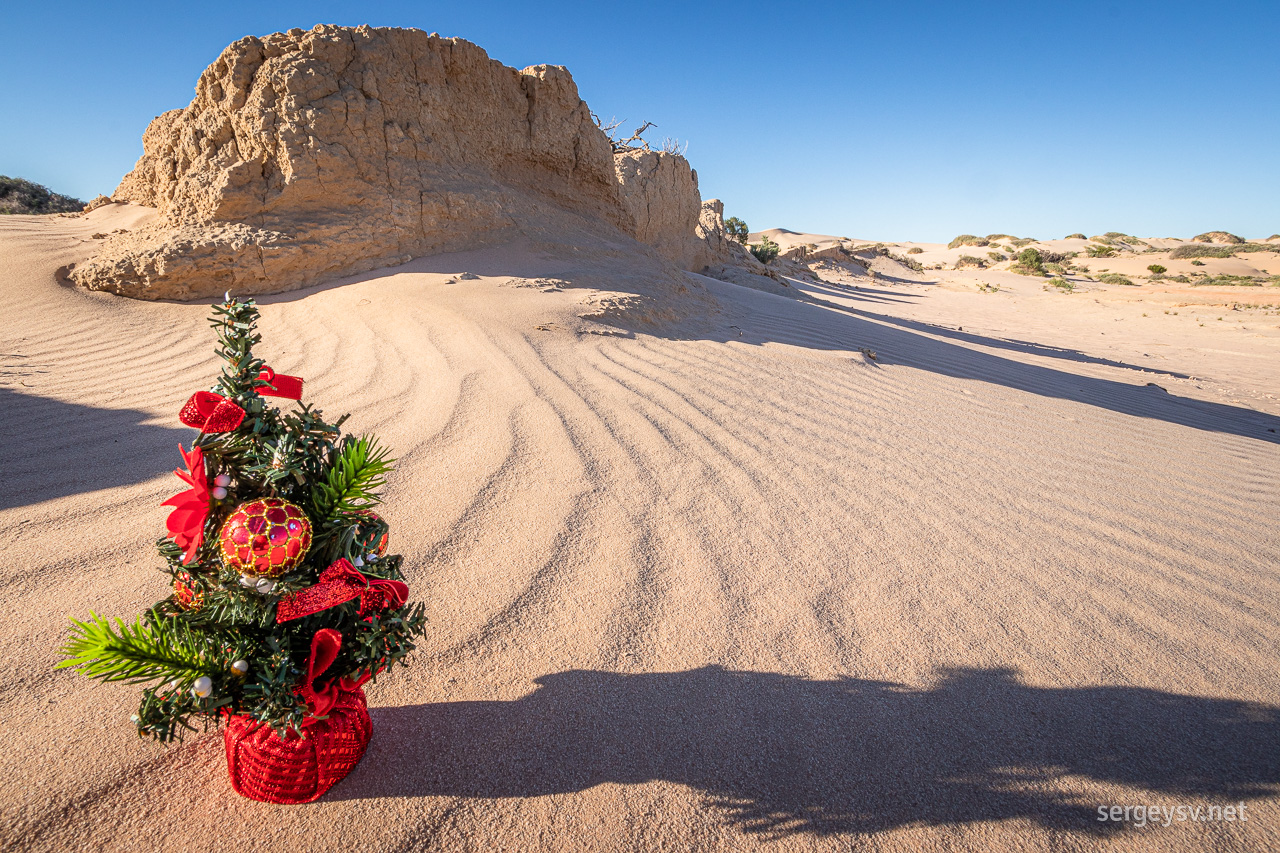 Ho, ho, ho!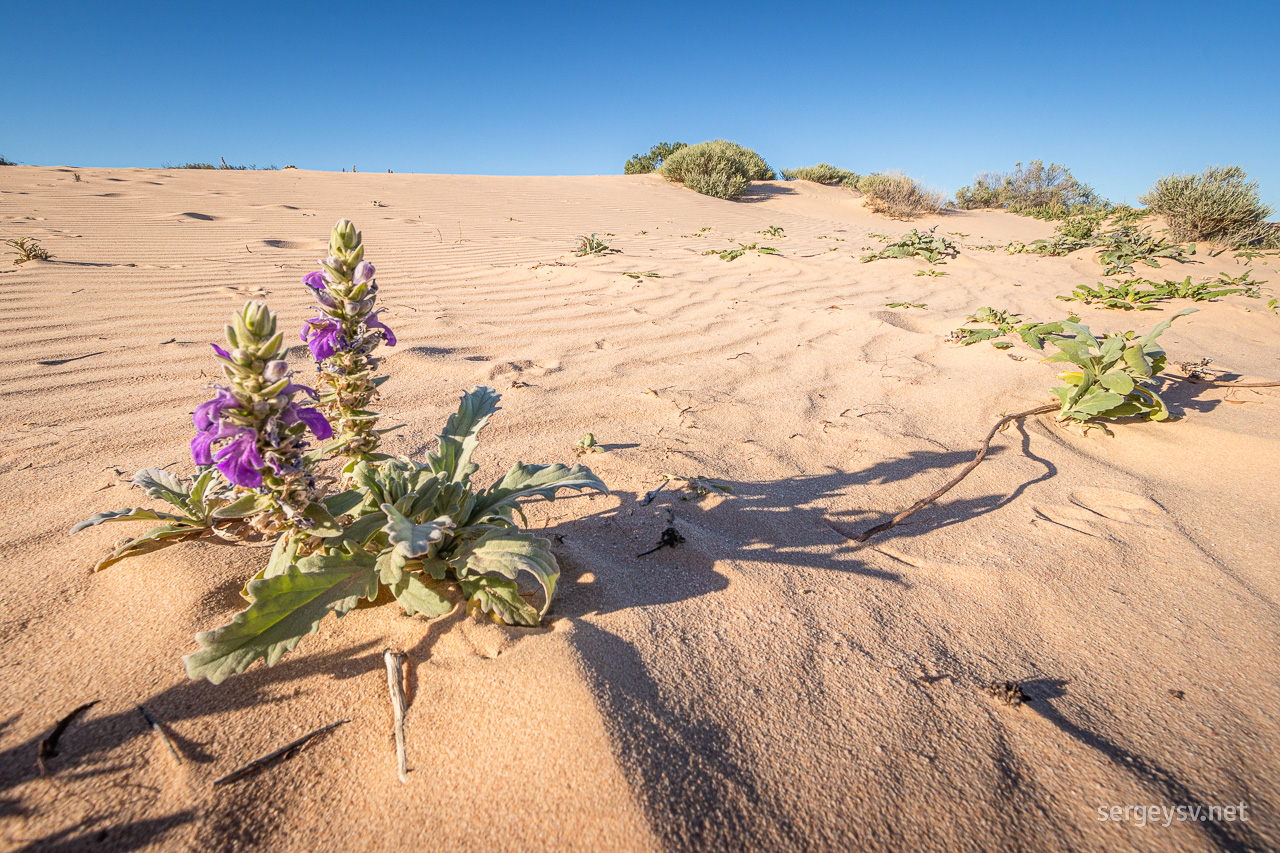 The native vegetation still looks better, I think.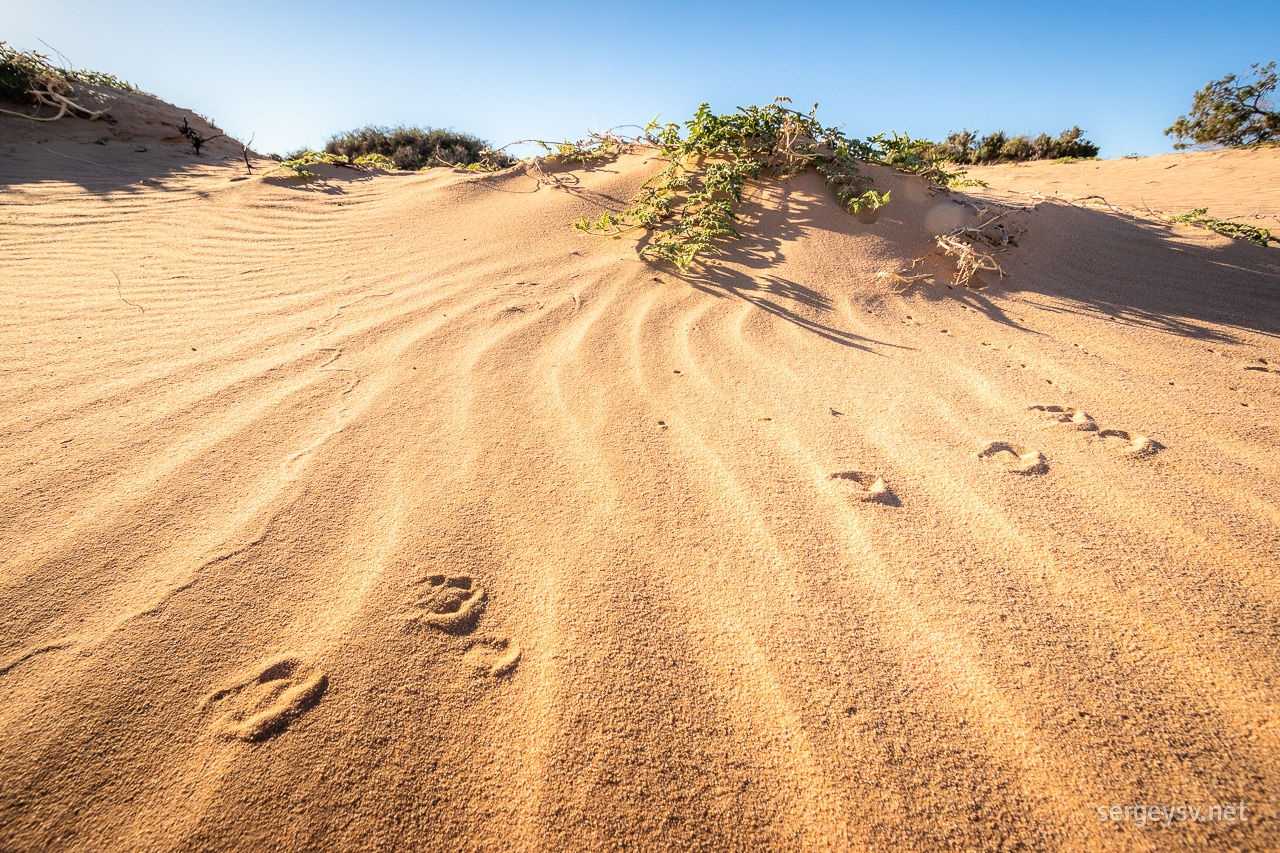 Evidence of wildlife.
I
already mentioned
the wild rabbits and goats that can be spotted around the area. This is because people used to live here before, as evident from the numerous ruined fences and wind pumps, not to mention the feral animals. Some of those artefacts are actually restored and maintained as some kind of an outback lifestyle museum, but I'm not really interested in that kind of entertainment, so I don't stop there.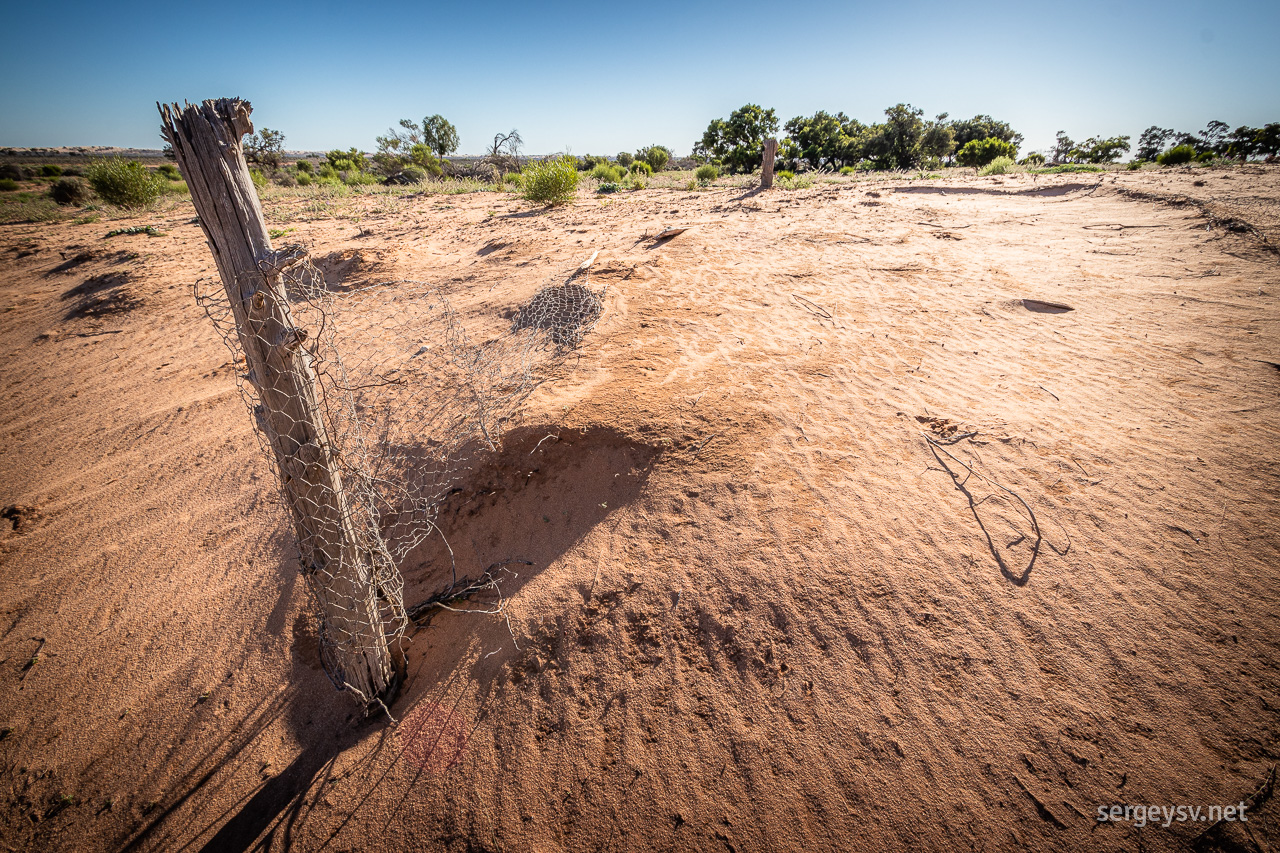 The remnants of civilisation.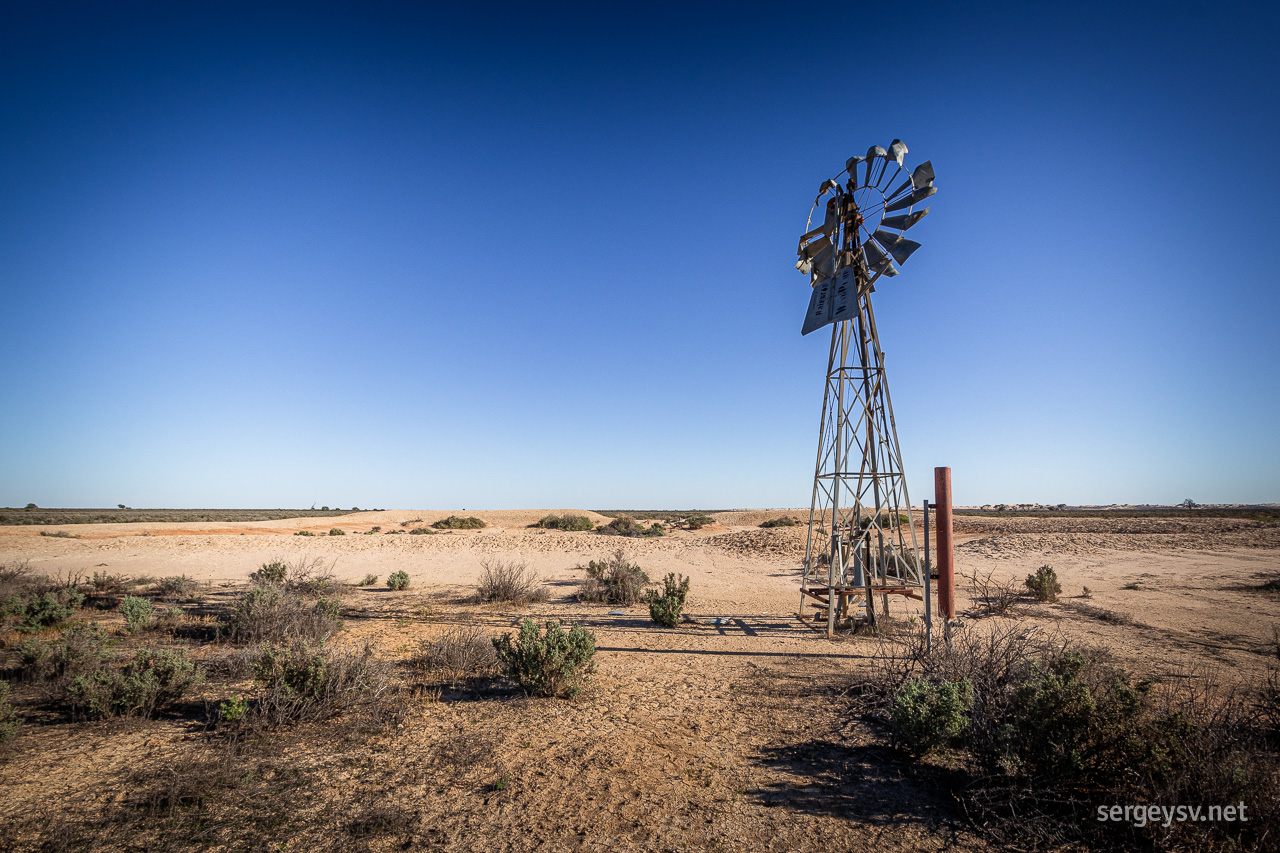 The landscape wouldn't be Australian without a rusty windmill here and there.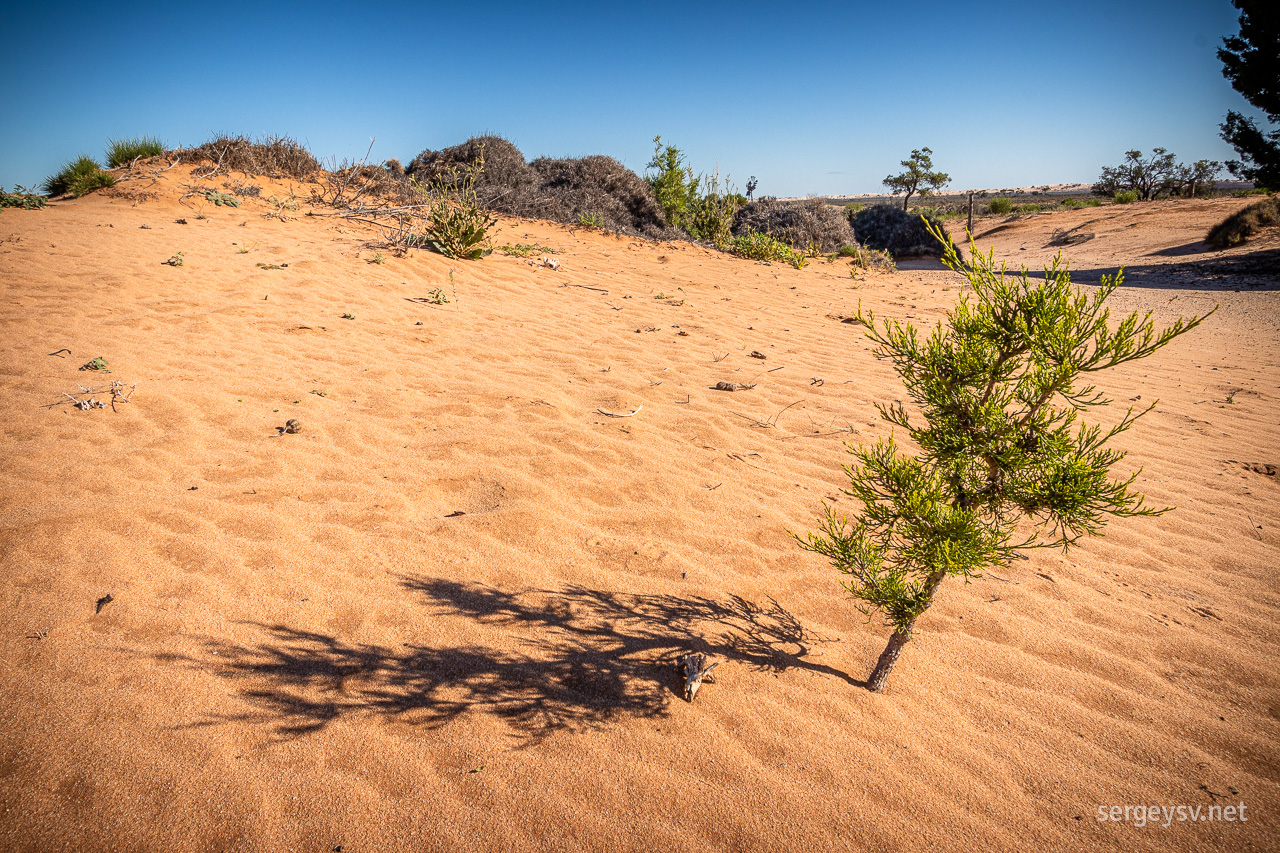 The local flora is so tenacious.
It's getting real hot on my way between the Mungo and Adelaide: it's mid-summer here in Australia, after all. Long days usually mean longer drives for me, so I'm pretty tired by the time I reach my old hometown to catch up with Kate. However, I don't stay there for as long as I thought I would, so it looks like I can drive some more. Where to?
Here I should mention that initially, when I set out from Sydney, I was going to visit the Red Centre of Australia, which had been my dream destination for a while. But after spending a couple of days in summer heat, I realise that this might not be the best of ideas at this time of year. I know how blisteringly hot can Adelaide summers get; it's going to be even hotter up there, close to the tropics, and the nights won't bring any respite, either. So, I decide to change my plans early in the run and head towards Western Australia instead. I quite liked it there the
last time I was around
; perhaps, it would be a bit more comfortable stay compared to the hot and dusty outback in the middle of summer.
And so I figure out that perhaps a night at the Yorke Peninsula could give me some comforts on the road and some decent sunset views to cap the day. It's another three hour drive, of course, but oh well. By the time I get there, I see that there's not a lot of clouds in the sky (which is kind of necessary for a good sunset shot), but quite a few boats scattered around the bay (which is not good for a sunset shot at all) – looks like some people want to spend their Christmas on water. What else is there for an aspiring photographer to do? Improvise! I turn my attention to the ground beneath my feet, and manage to take out a few very decent compositions in the end.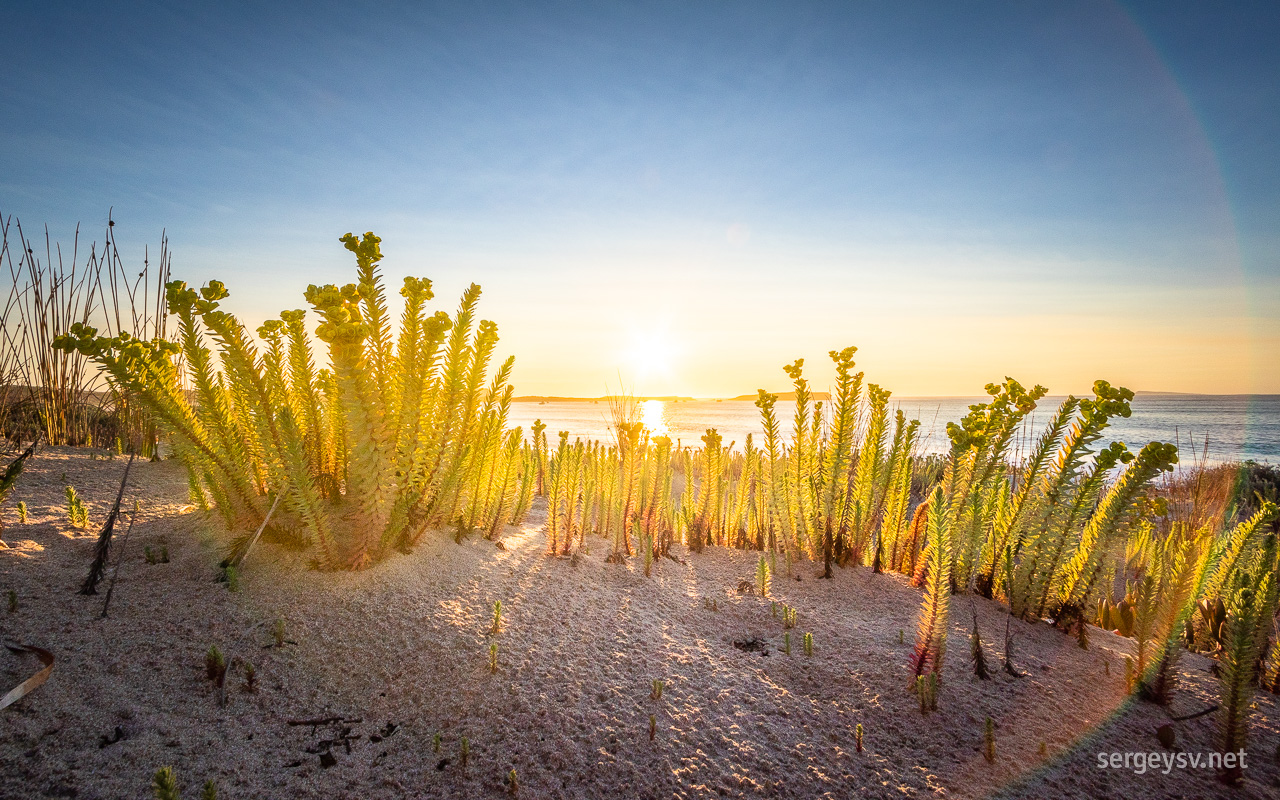 At the Yorke Peninsula.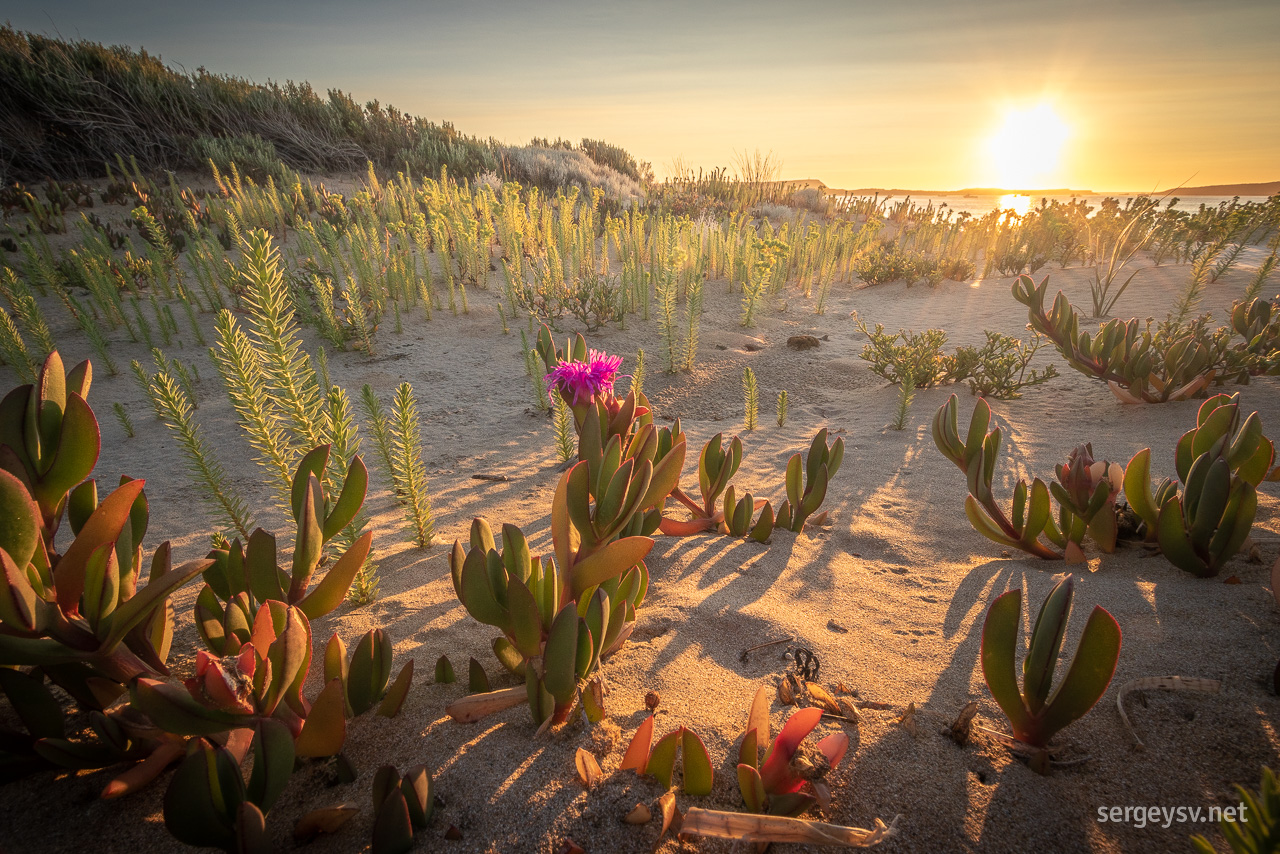 Close to the ground.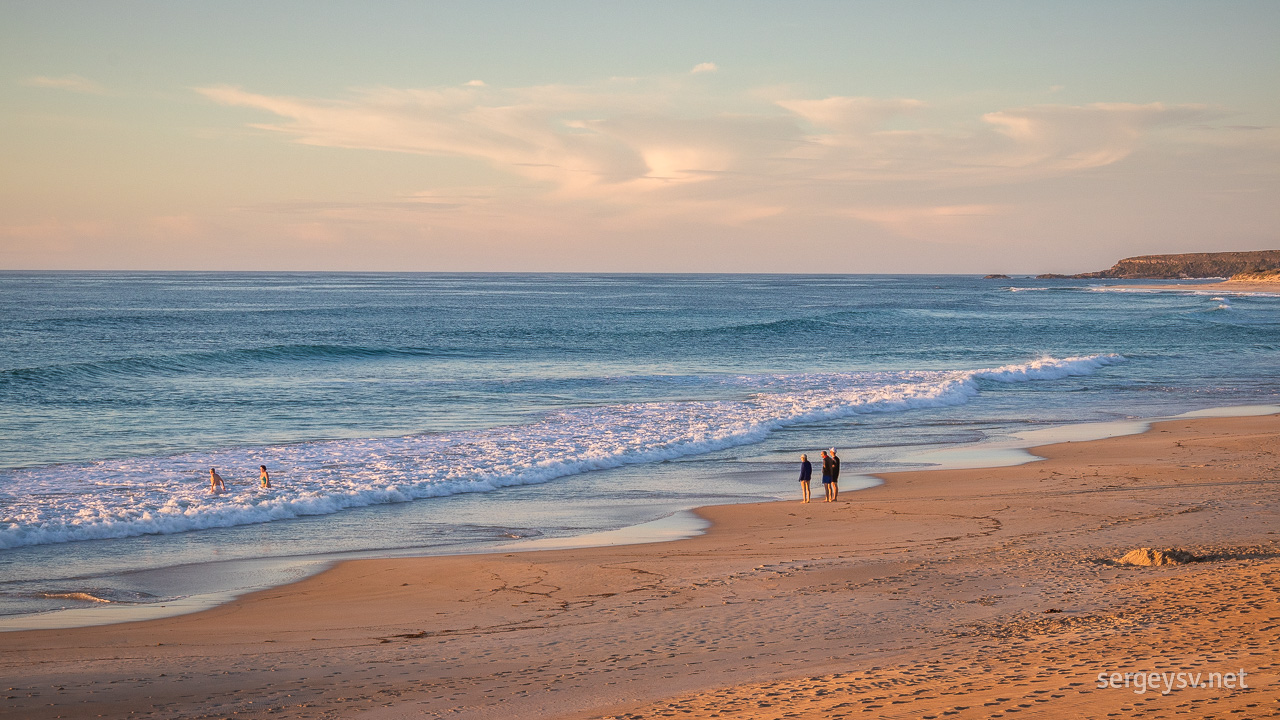 The tenacious swimmers.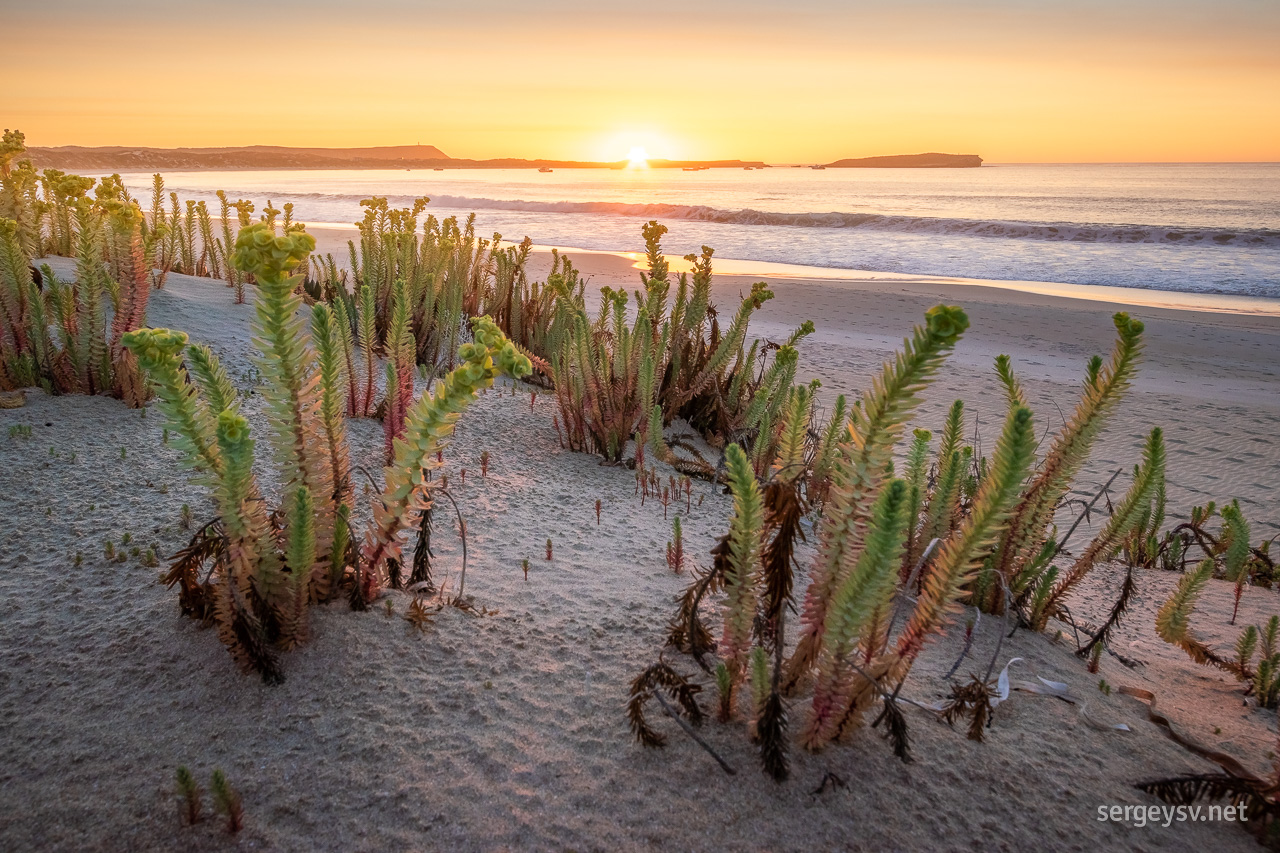 The day is almost over...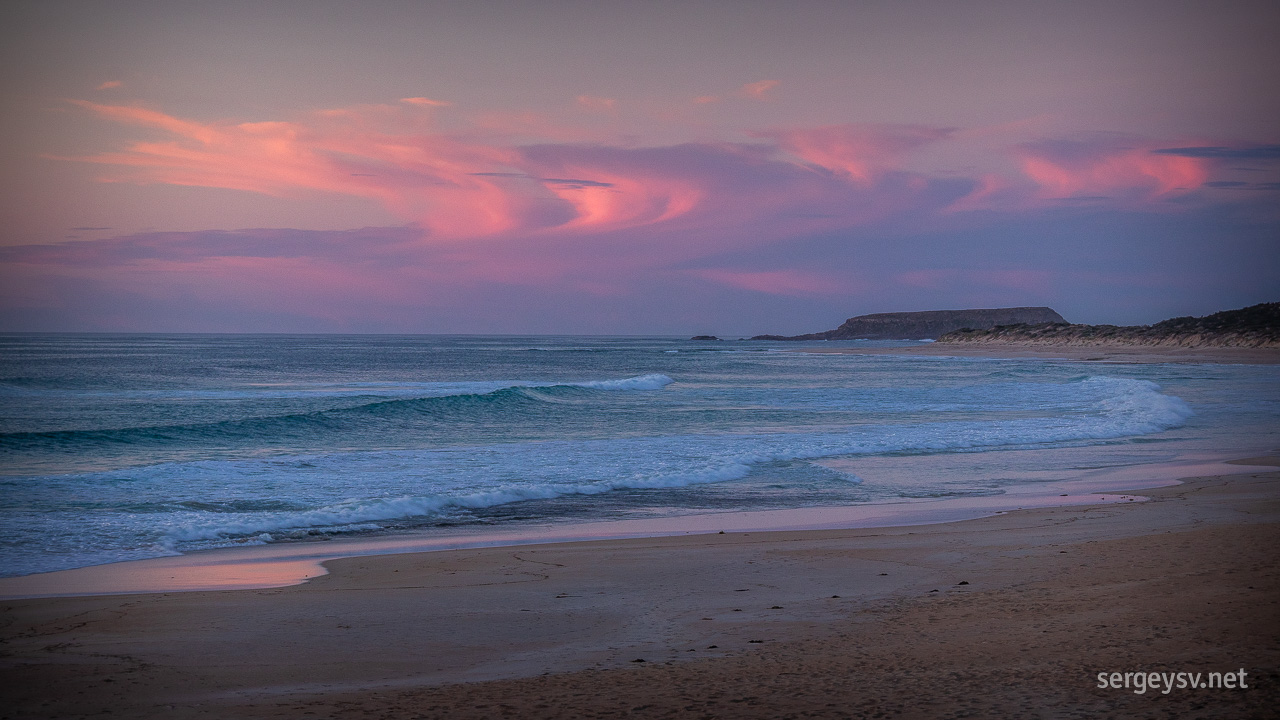 ...and the swimmers promptly disappear.
In the gathering dusk, I find my way to the campground and set up my awning tent for the second time (which I didn't do the day before). My actions attract the attention of two friendly campers nearby: father and son, both quite adult, on the very first camping trip of their own at the moment. The blokes are very friendly and nice, and they even offer me a drink, but I'm so exhausted that I politely decline. By then I already decided to drive to WA the longer way around, which means more driving time ahead, and which means that I'm visiting the Eyre Peninsula tomorrow.