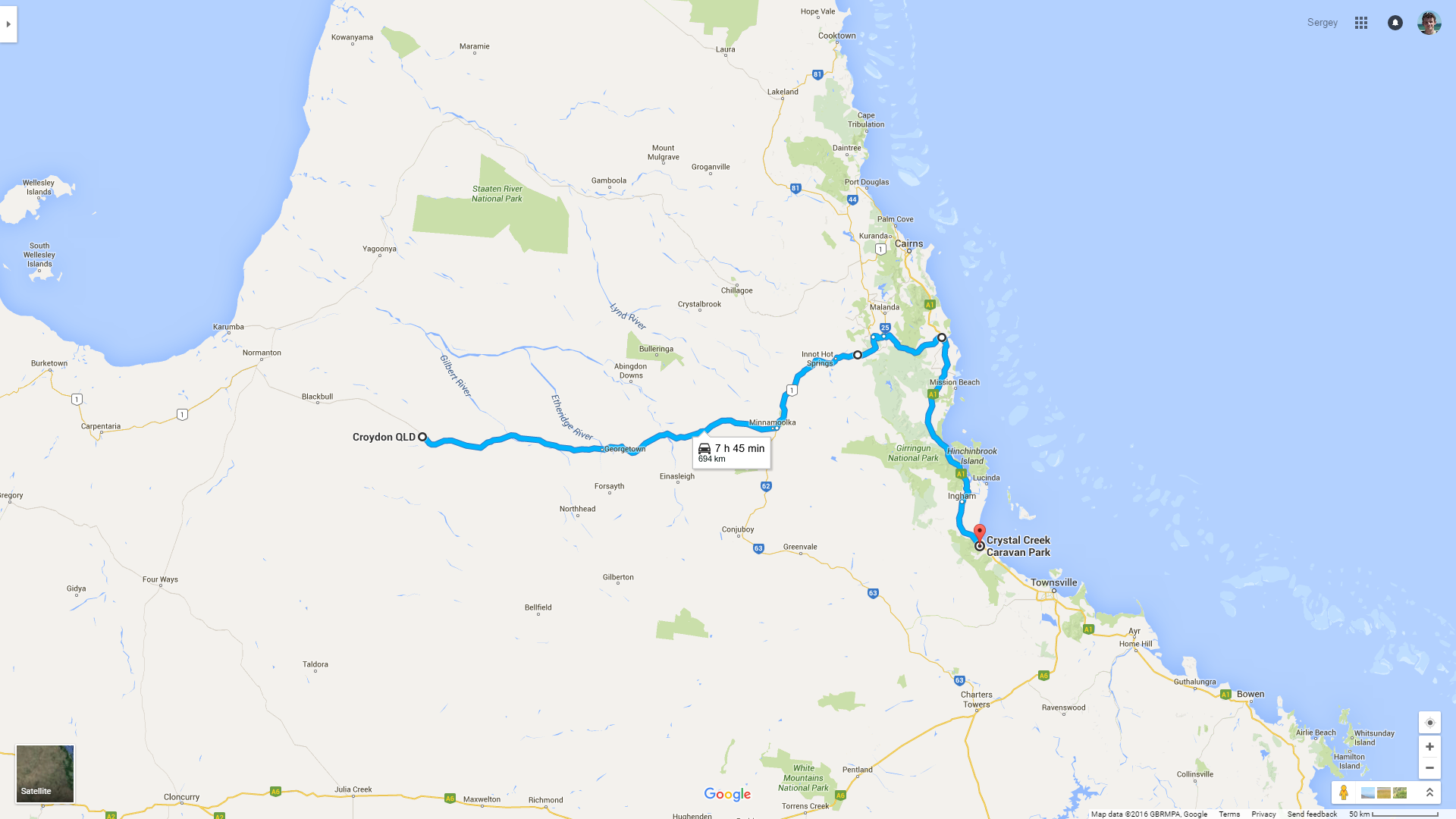 Road covered today.
In the morning, when I visit the toilet facilities, I suddenly see a white frog on the seat. I lift the seat to scare it off, but apparently the creature is all too familiar with human ways and simply crawls higher up, looking at me angrily. I shrug and enter another stall. Already sitting there, I glance to the right and see another frog, which is green and about twice as big. I keep glancing at it nervously until I'm done with my business.
Croydon: the frog capital of Queensland
.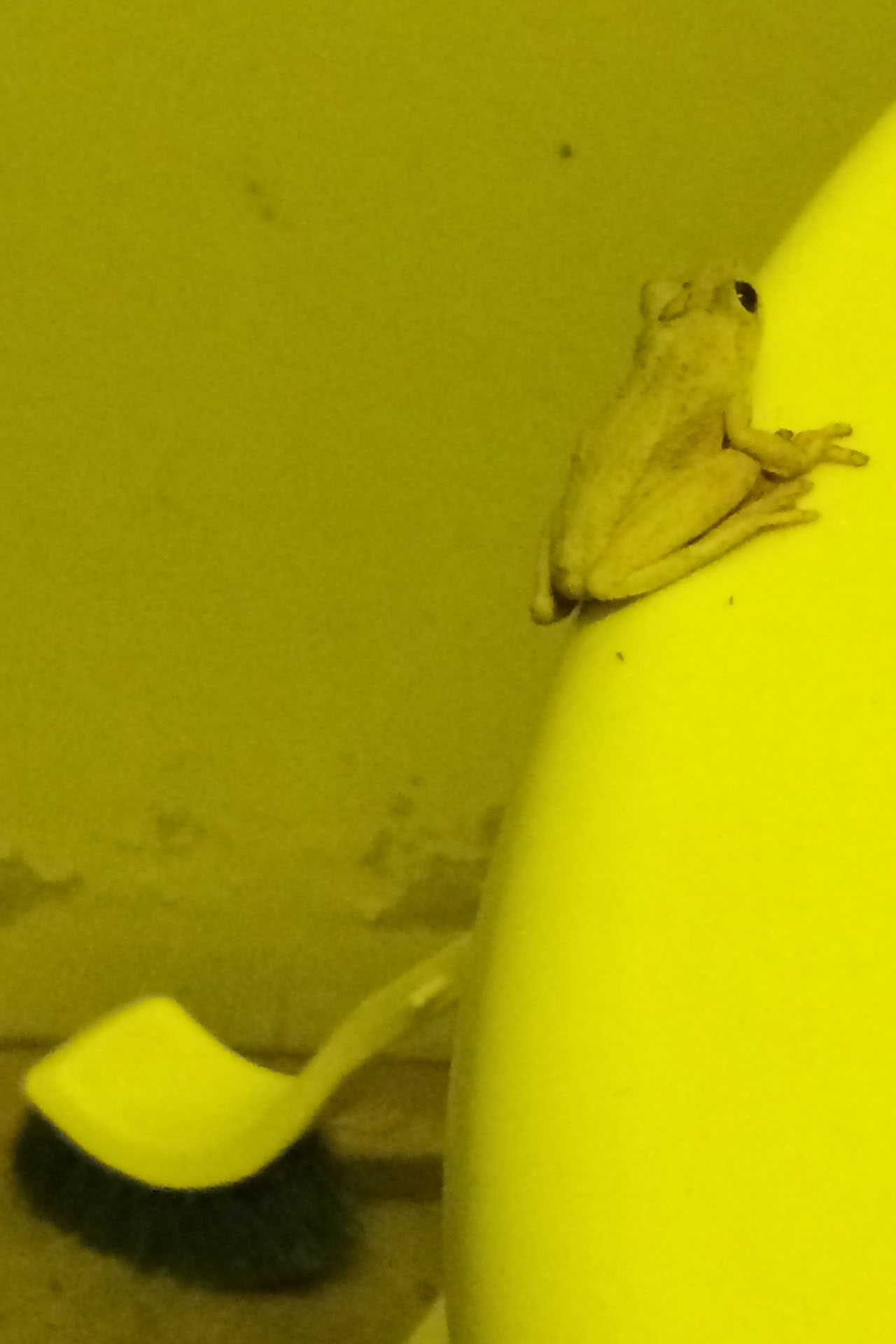 Toilet Frog One.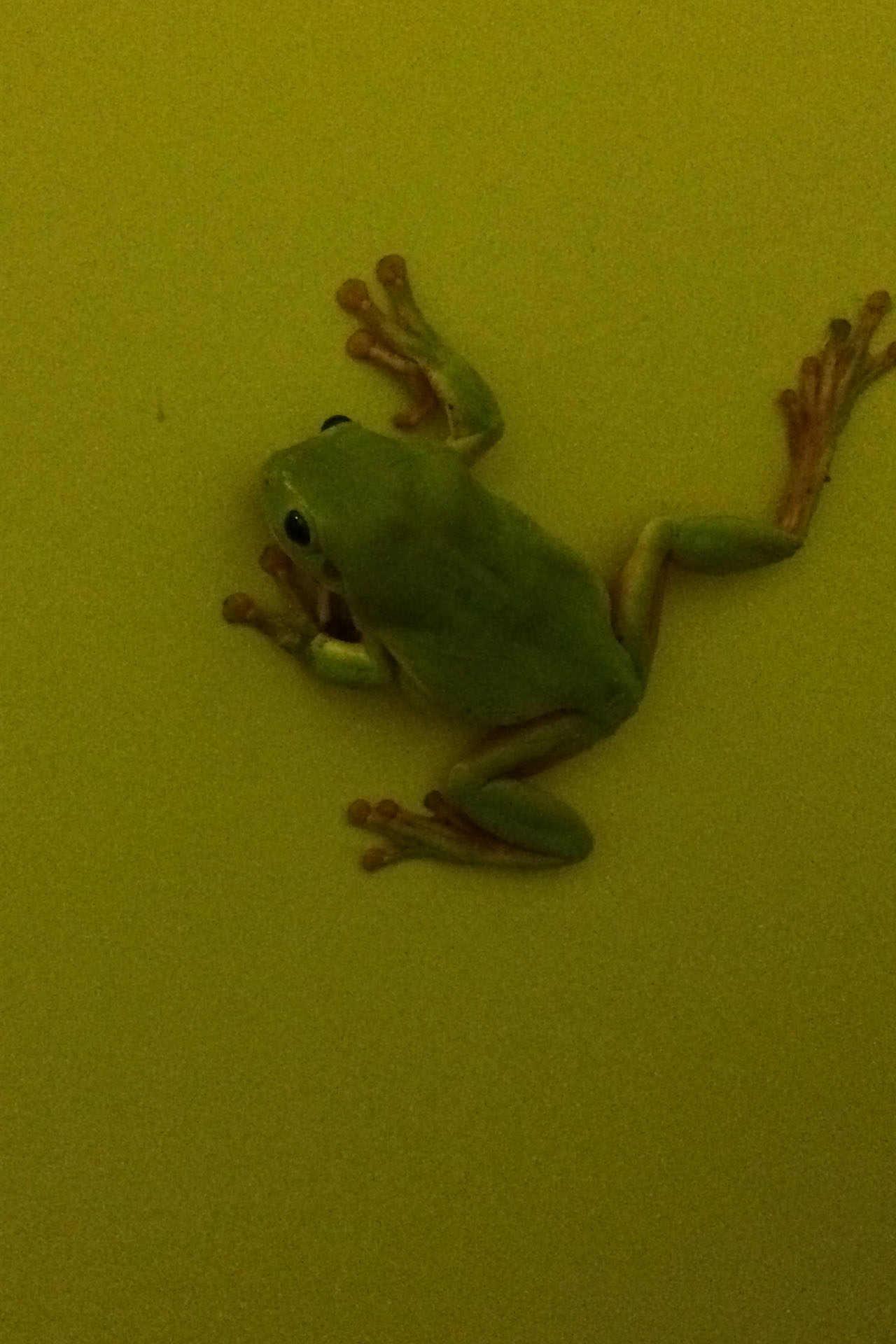 Toilet Frog Two.
The engine light is still on when I add more oil and head out of the caravan park to find a mechanic. I do find the shop, but the owner is nowhere to be seen. I return to the Tucson, start it… and suddenly see that the light is now gone. Seriously? I shrug again and drive out of Croydon to continue my travels.
The highway keeps
expanding and contracting
unpredictably. The terrain becomes undulated, with cows and sheep grazing on the slopes. I decide to take a picture, and as soon as I stop by the chosen group of cows, they freeze and look at me with suspicion. Good luck catching those beasts off guard.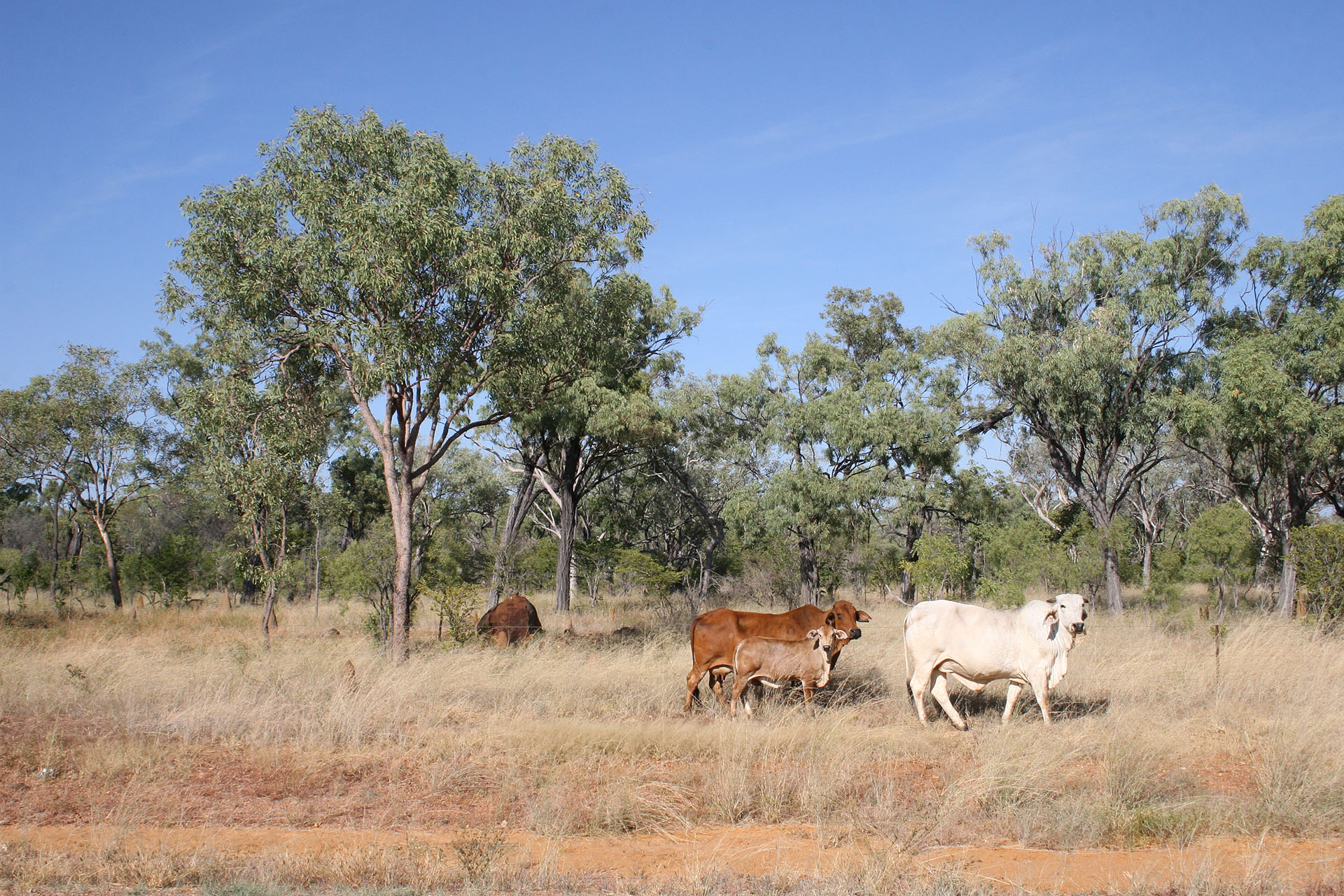 Vigilant cows and their youngsters.
After Mount Surprise the landscape changes again. The hills become higher, looking less and less like dry savannah I've been seeing so far. The Great Dividing Range is very close. Next to the highway there is a waterfall called Millstream Falls, and I take a quick hike to have a look. Worth it.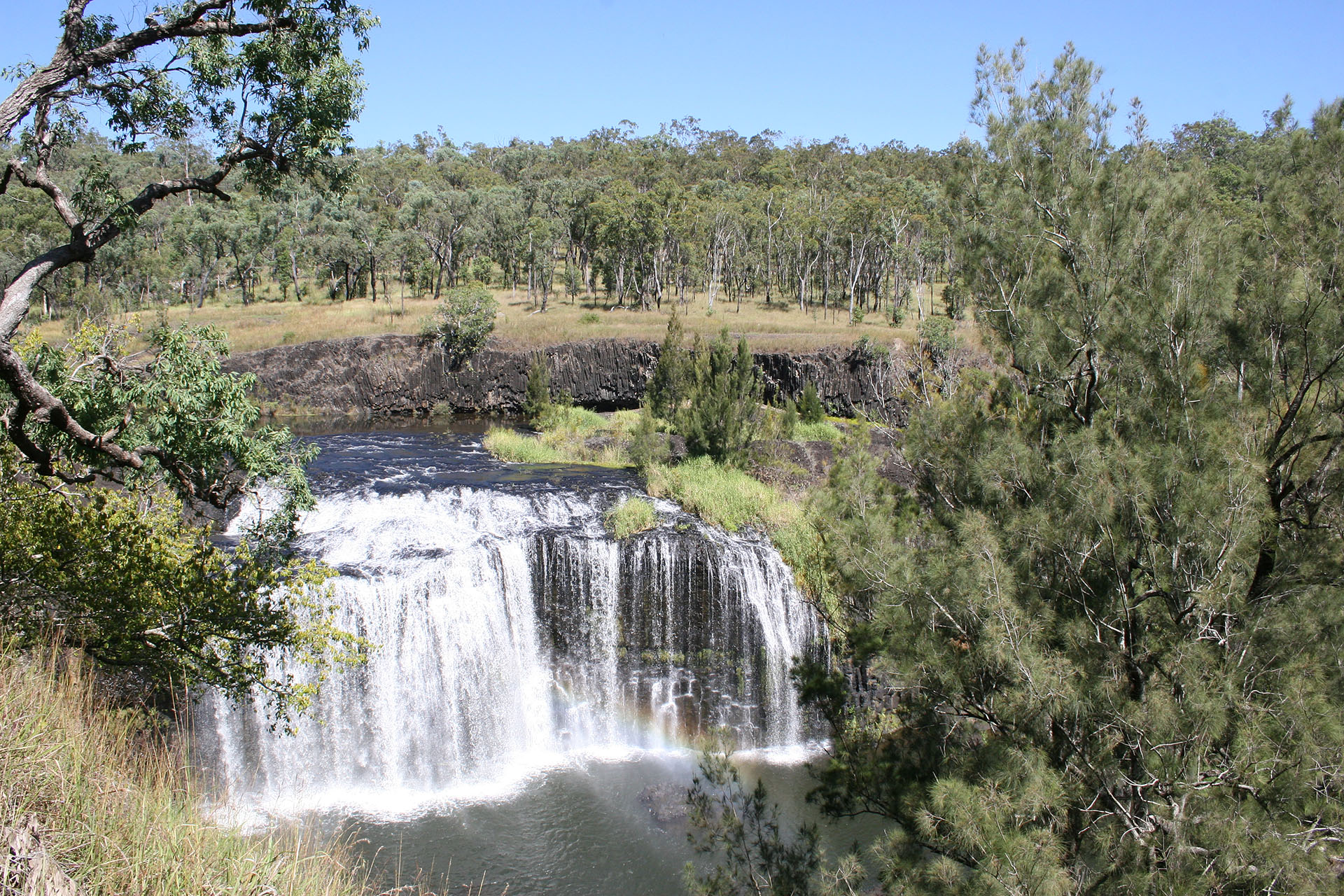 Millstream Falls.
I make another stop after that – at the mechanic's, to enquire about my engine's odd behaviour. After a quick examination, he tells me that there are no visible oil leaks, but I really should change oil and oil filter as soon as possible. Not to mention the front tyres, which are getting
really
bald by now. I thank him and take off. I see a couple of tyre shops on my way, but there are no 235/60 in them either. Still too far away from civilization.
Finally I enter the Range, and after Ravenshoe I suddenly see a wonderful, magic landscape. Bright-green hills and meadows with tidy little houses, along with the mountains behind, look almost like a Swiss chocolate ad. The only things that somewhat ruin the Alpine vibe are typically Australian gum trees, recognizable anywhere, and occasional tree ferns here and there, which feel themselves at home in this warm, humid climate. Almost every corner of this landscape begs to be photographed. Two days of uneventful, dusty road pay off instantly.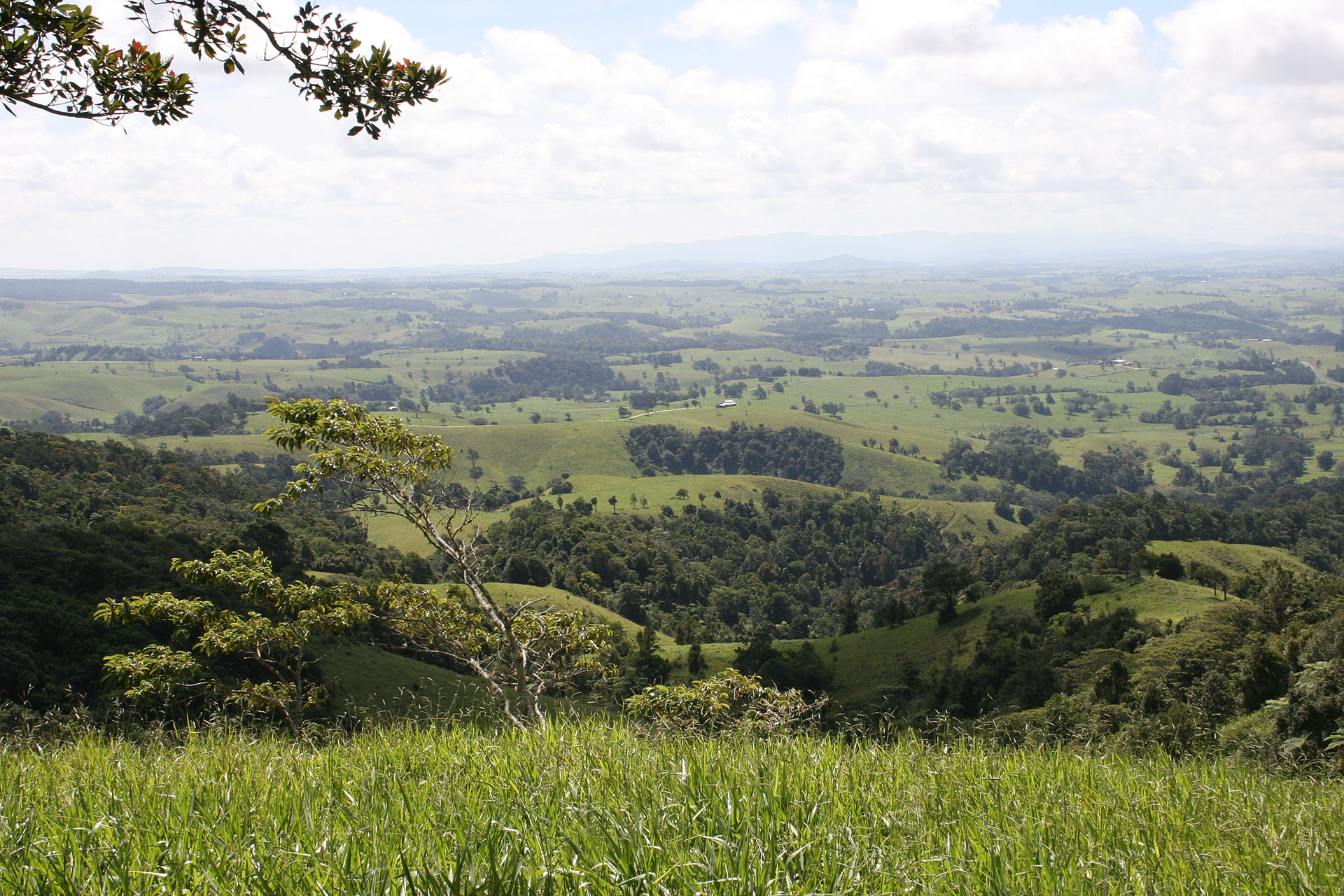 Behind the Great Dividing Range.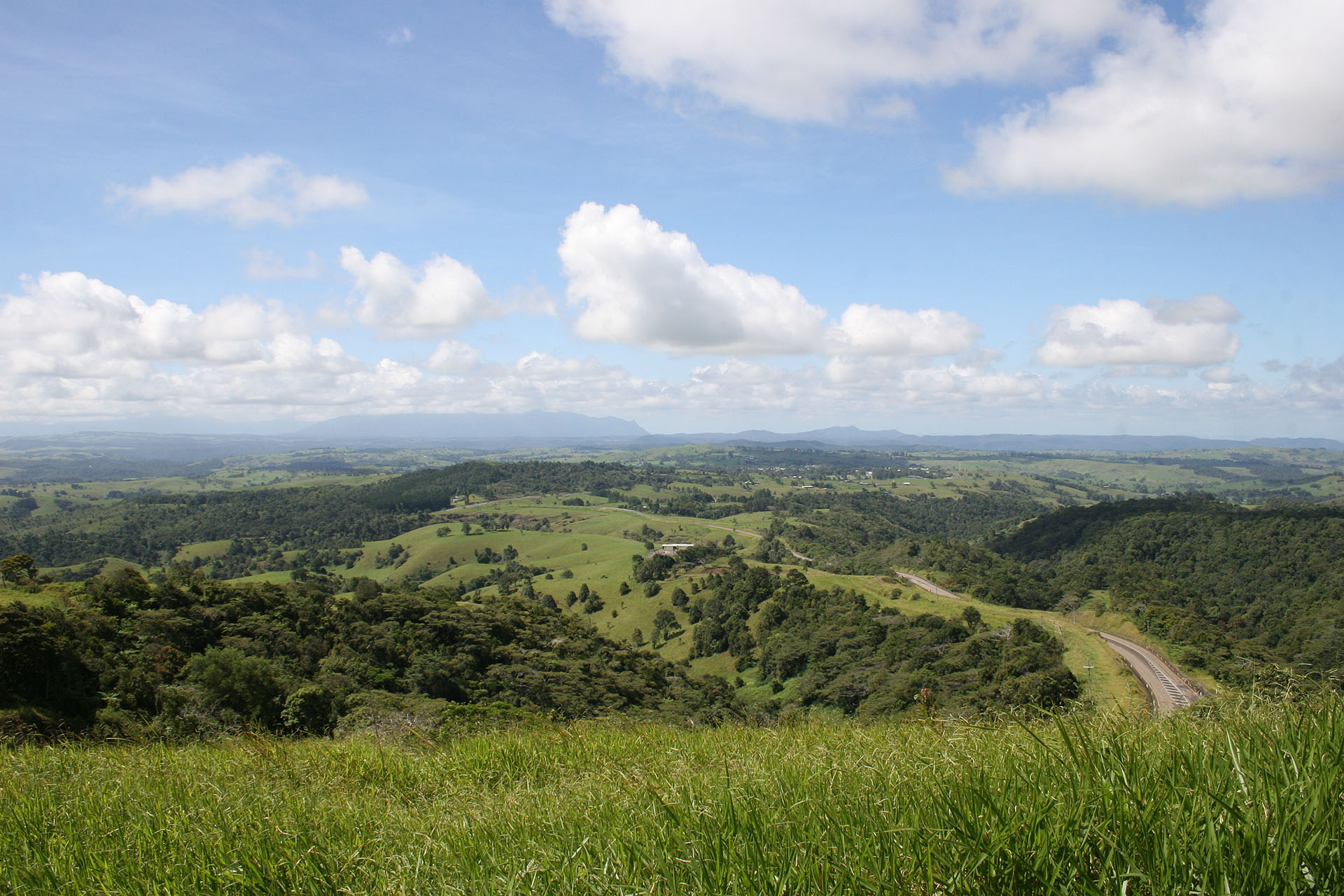 Alpine-Australian landscape.
As I observe the chocolate landscape, I think about whether I should visit Cairns or not. It's not too much of a detour, but is it actually worth it? And that engine light… I make a few calls and find out that it's twice as cheap to service the vehicle in Innisfail, which was my initial destination. That settles it. Some other time for Cairns, perhaps. I continue my way through the mountains and valleys, with an occasional stop or two to take a picture.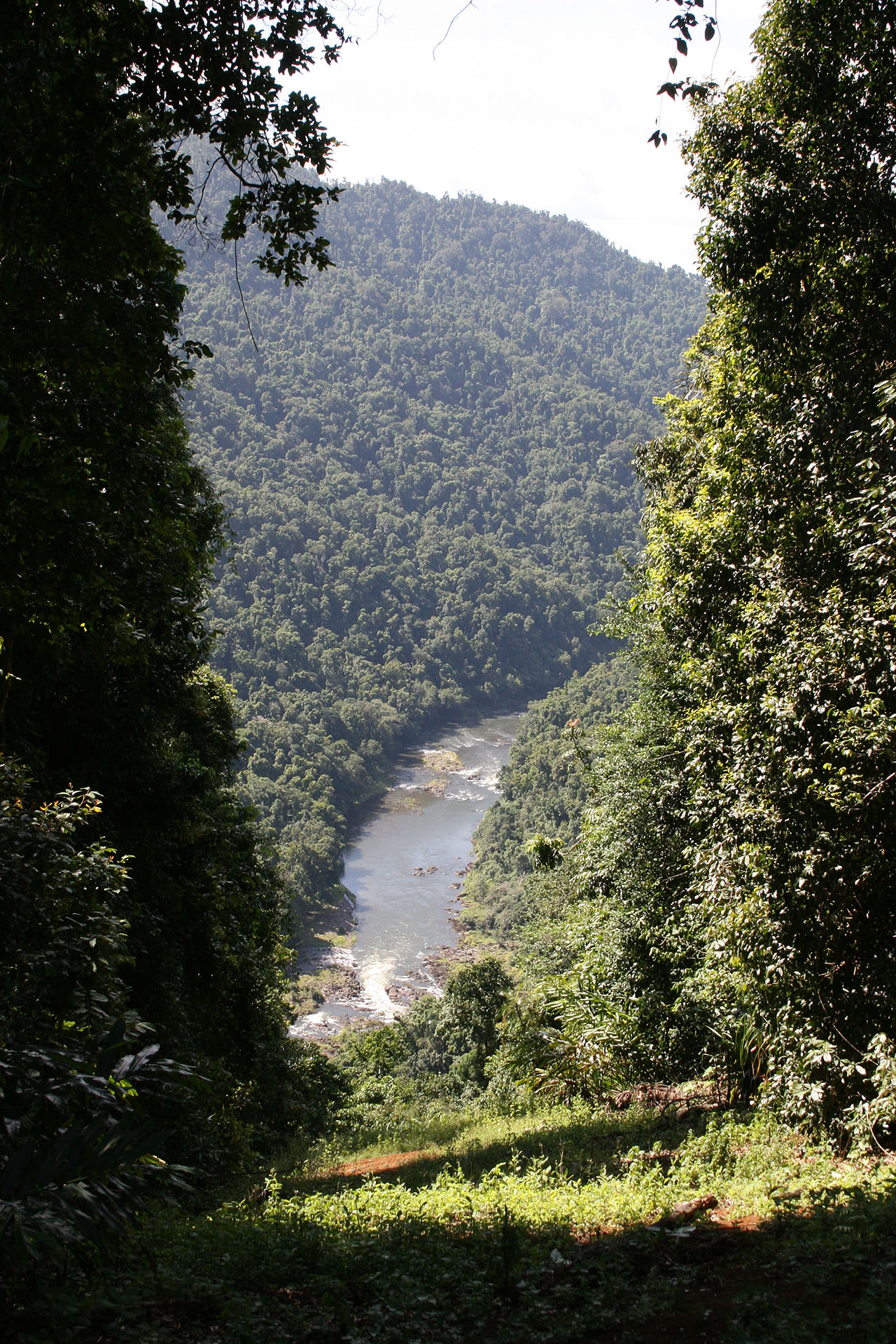 East coast scenery.
And here I am on the east coast at last, in Innisfail, QLD. I leave my car at the mechanic's and take a walk down the street. It's a very nice small town, and even though it's close to the ocean, somehow it doesn't have this "tropical resort" atmosphere that I saw in
Broome
or
Darwin
. Once my walk (and lunch) are over, I head back to retrieve my Tucson with the oil and filter finally replaced. Whew!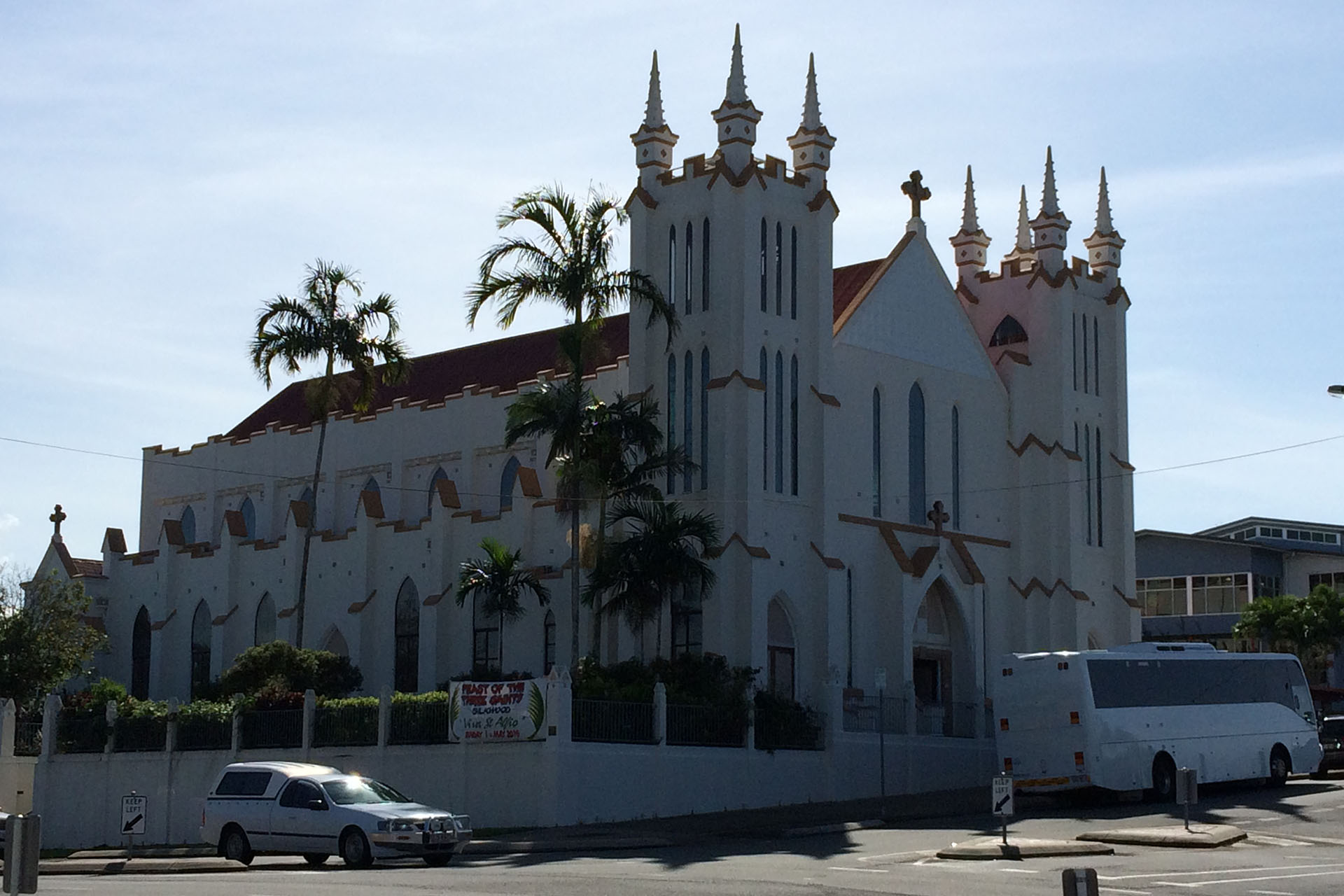 A tropical church in Innisfail.
The scenery around is a complete opposite of what I saw this morning. Lush green trees all around, fields and pastures, many little towns here and there. The fields are mostly covered with sugarcane, which is also a novelty for me. Somewhere along the road I take a quick turn to the left and finally see the Pacific Ocean. Its vast smooth horizon is only broken by a couple of islands.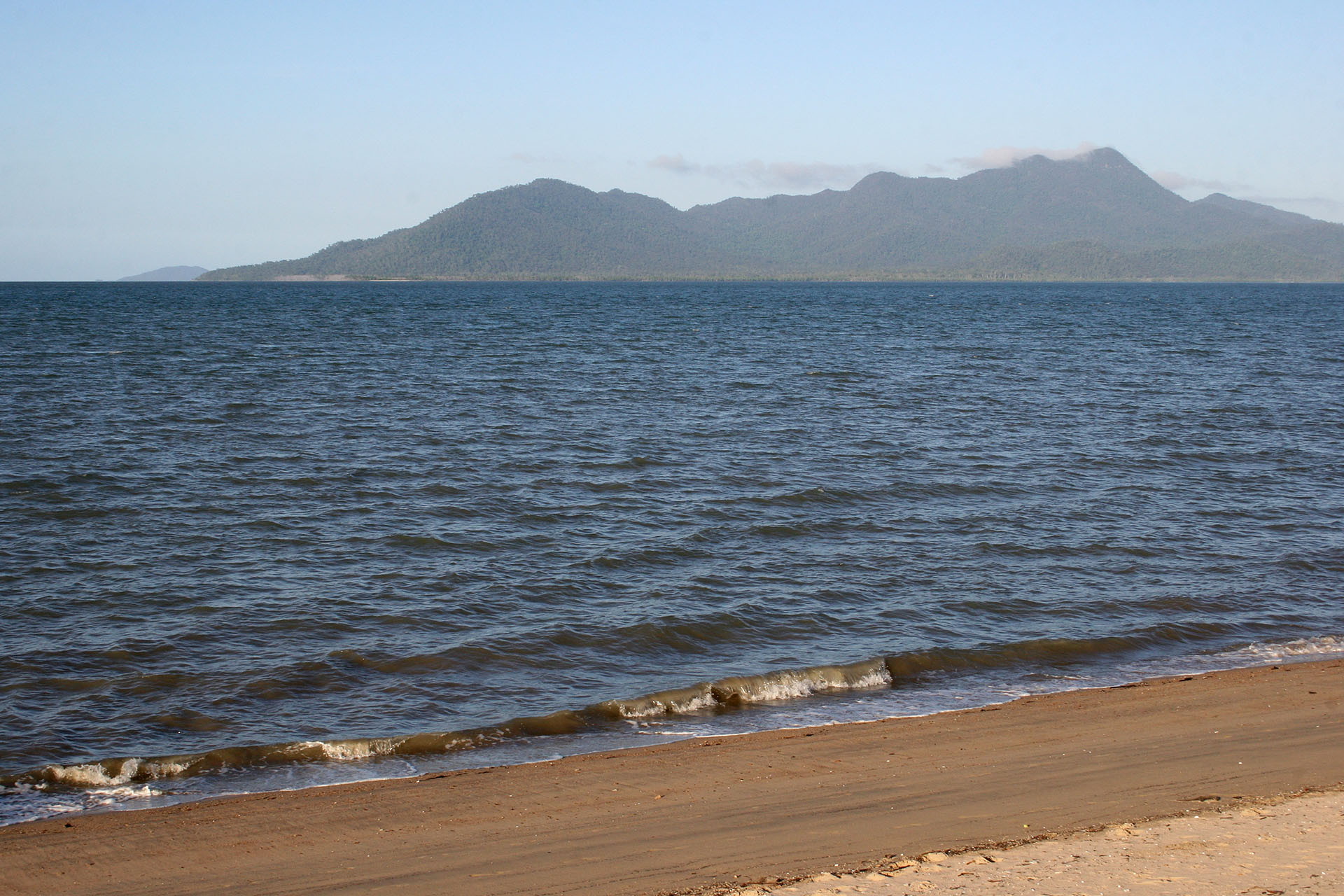 The Pacific Ocean.
Then I realise that I don't really want to take pictures anymore, or walk around to see the sights. All I really want is to cover as much distance per day as possible and finally get back home. Two and a half weeks of non-stop driving start to really wear me down now. And also there are those engine troubles, and also there's a fact that I've already seen most of the nature on my way north along the west coast – because now from the tropics I'm coming back into the already familiar temperate climate.
I try to camp at Jourama Falls, but the attempt is unsuccessful. The place is humid and full of mozzies, plus I can't even pay for it online, because there's no coverage in the area. I head back to the highway. It's getting dark surprisingly quickly: I'm pretty far to the East now, and the sun sets "earlier", and the mountains on the western side also diminish the length of day. At dusk I finally stop at the first caravan park available. Still humid and mosquito-infested, but there's no other choice now.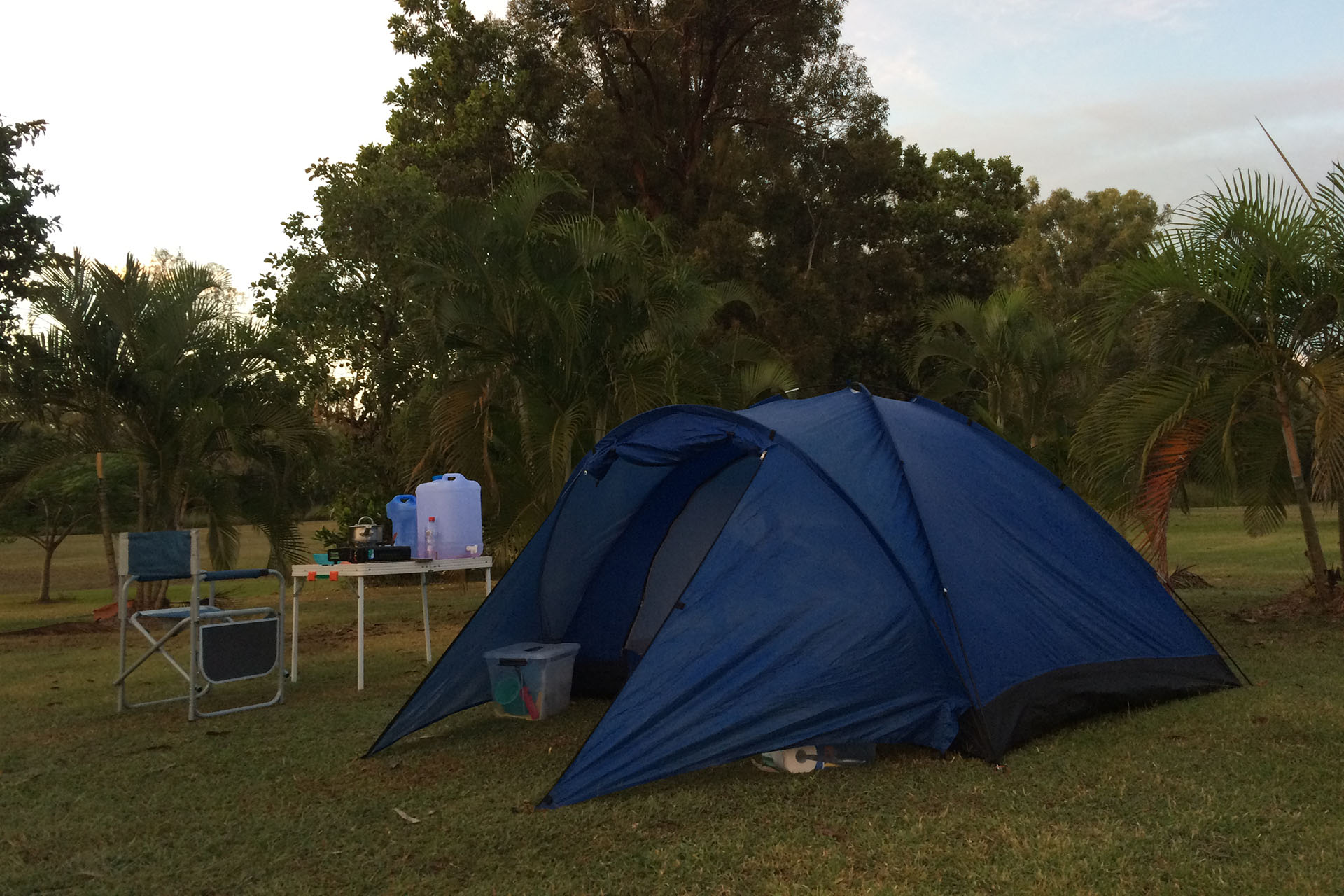 Today's camp (pictured the morning after).
I go to the shower. On the ceiling there are dozens of geckos: apparently, they help the local frogs to control the mosquito population. Frogs themselves are not too far away, either: they sit patiently under the lights, and there's much less of them around than in Croydon. Sure sign that I'm slowly leaving the tropics behind.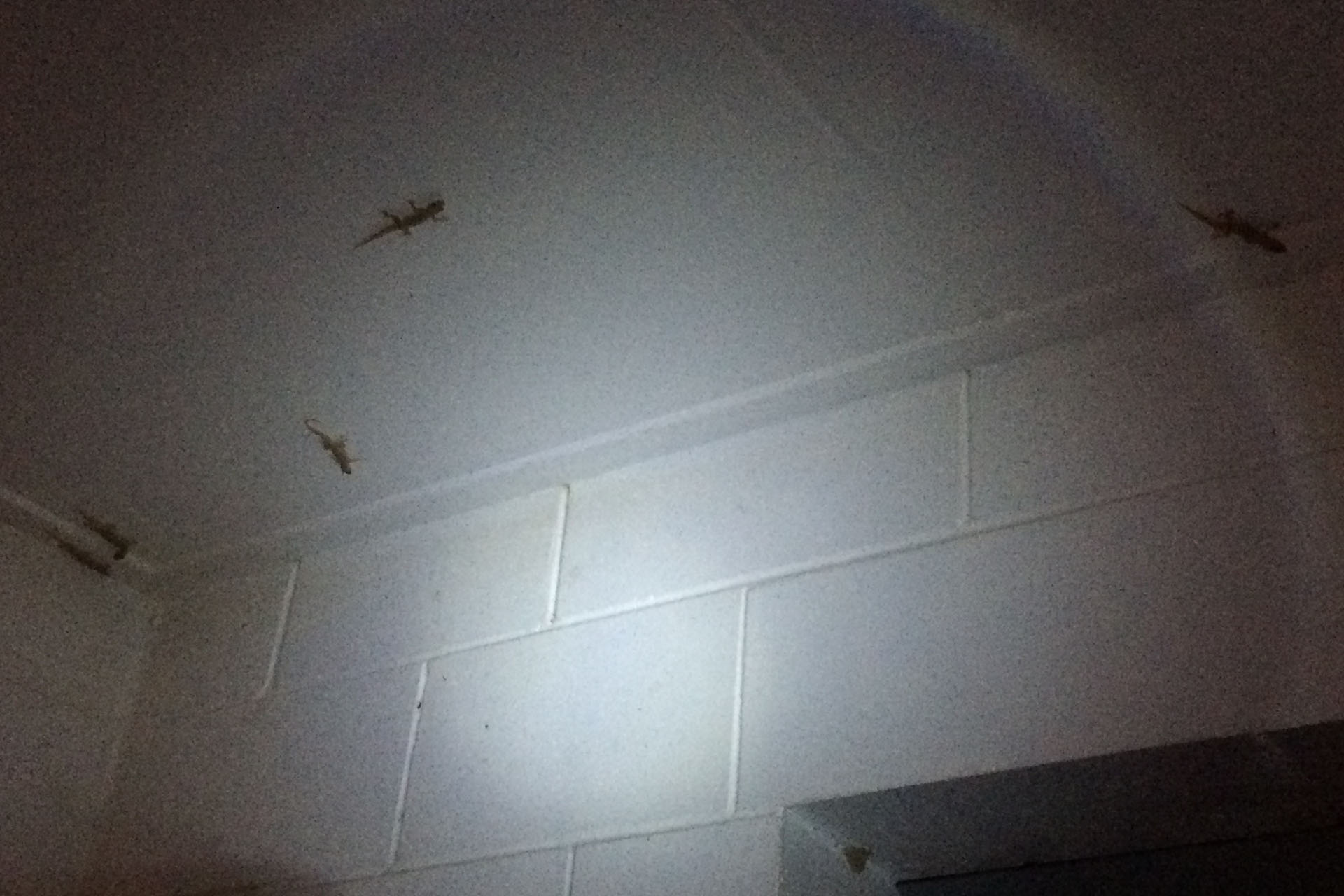 Ceiling geckos.
Distance

708.2 km

Fuel

$70.30

(Croydon)

$43.06

(Mount Garnet)

Food

$14.15

(Innisfail)

$9.08

(Innisfail)

Fees

$22.00

(caravan park)

Miscellaneous

$135.00

(car service)