After a quick visit to
Lake Eyre
, and an equally wonderful drive through
Flinders Ranges
, I return to the
same camping spot
that I left yesterday. Still intact and still completely isolated. Exactly what you need for yet another week of good work and good photography. The place almost feels like home now.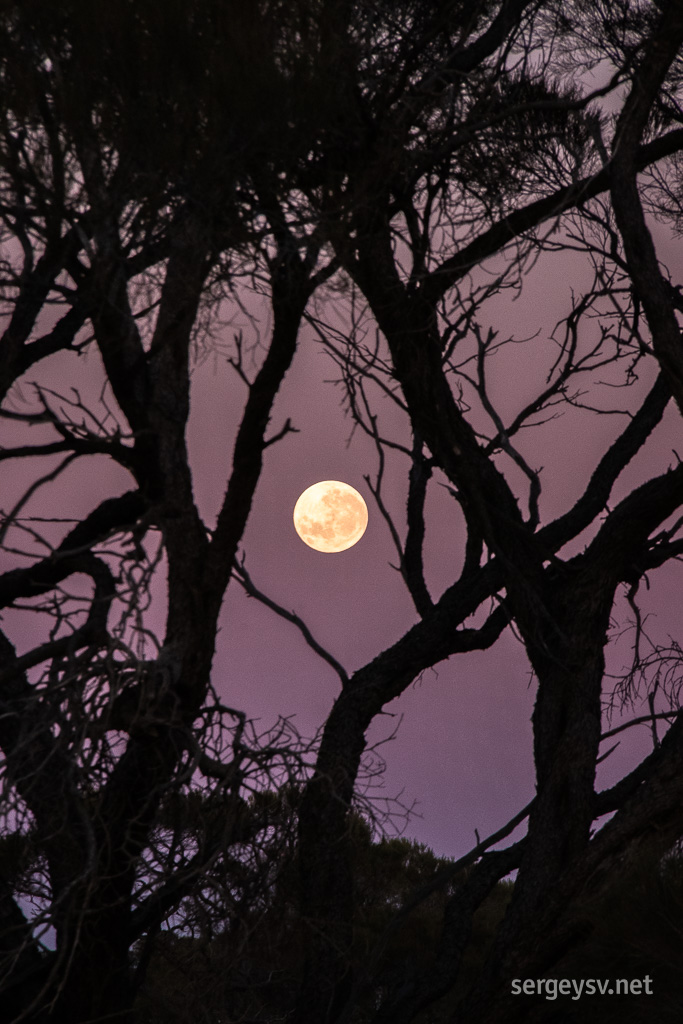 The moon caught in the trees.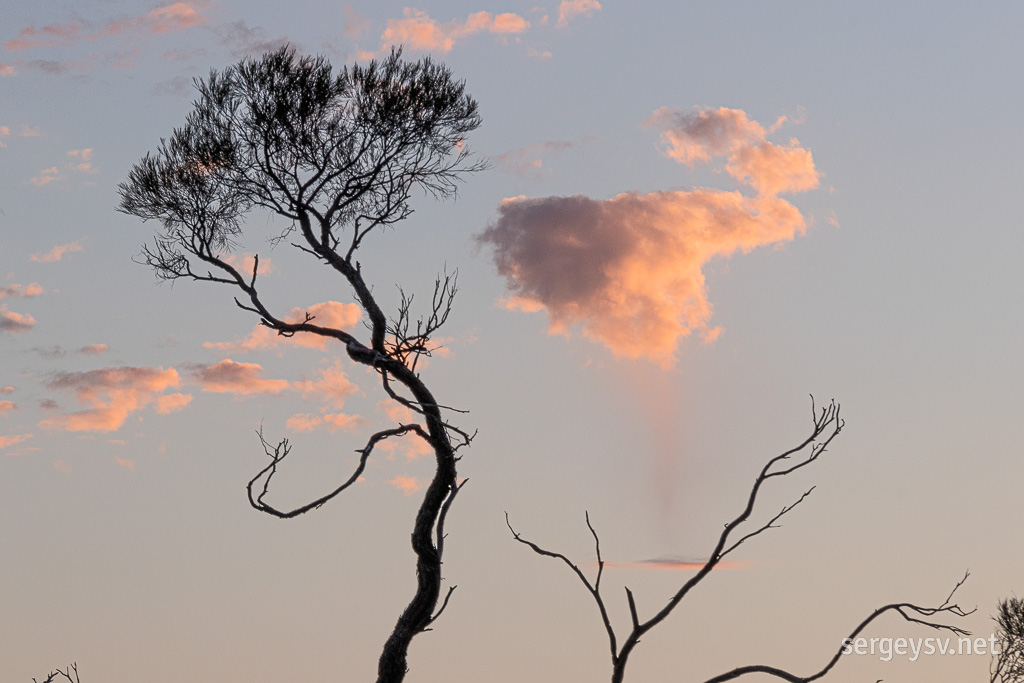 A crying cloud.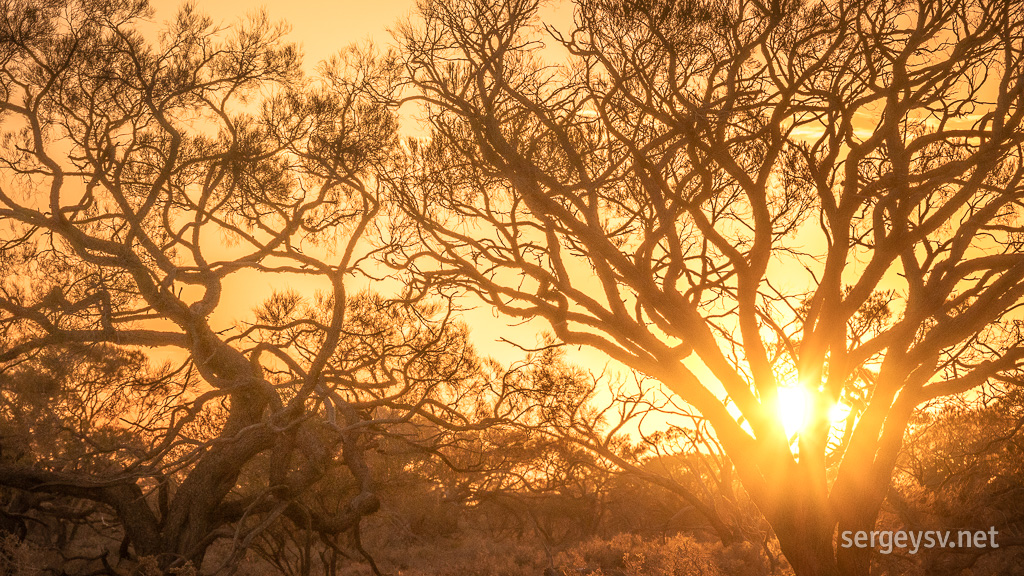 The sun can get tangled in the trees, too.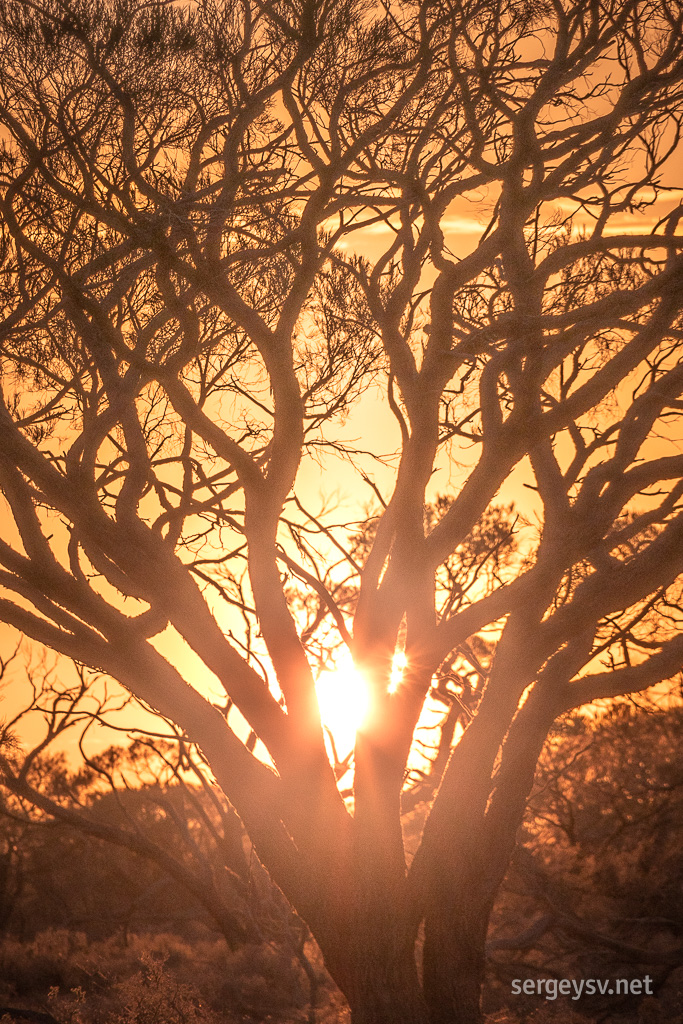 Can't take my eyes off it.
Unfortunately, the start of the week is marked by the death of my good old Sony e-Reader. Something's wrong with the screen, and there are some squeaky noises inside, too, when I try to navigate it. That's sad. We've been through a lot with this little fella; I bought it back in Saint-Petersburg in 2007 (I think), and it has been travelling with me ever since.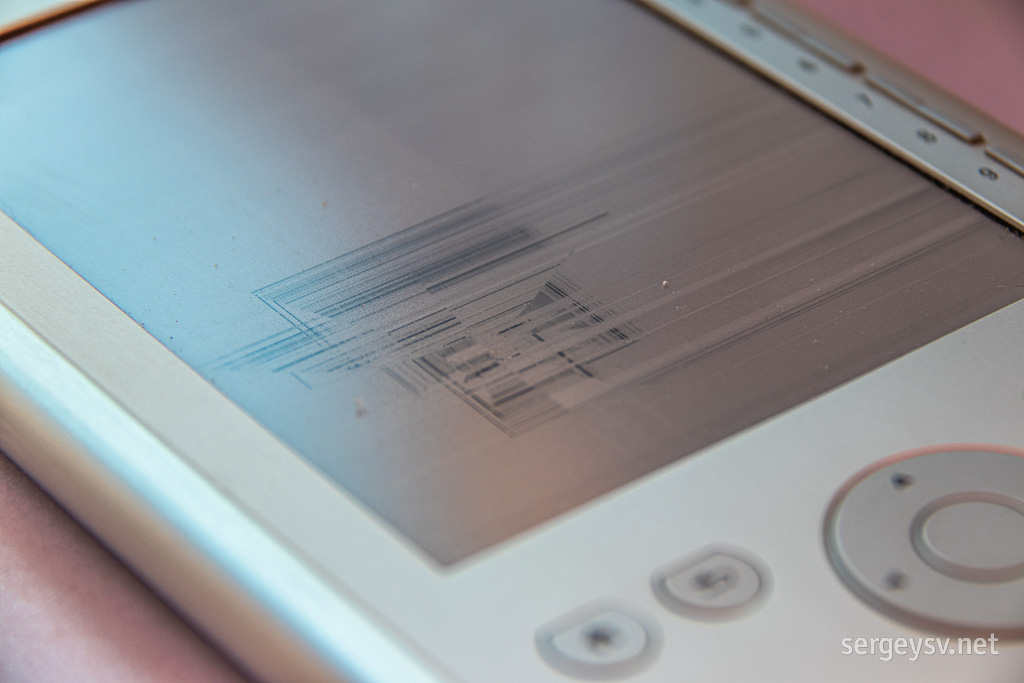 R.I.P.
After a few attempts to revive it, and then after a quick mourning ritual, I order myself a brand new Kindle from eBay: time to embrace the new tech. Of course,
I don't have a postal address now
, so I use the Parcel Collect service that AusPost provides for people like me: you can simply order the item to be delivered to any post office across the country, where it will wait for you for 10 business days. Not a perfect solution, but not too bad either.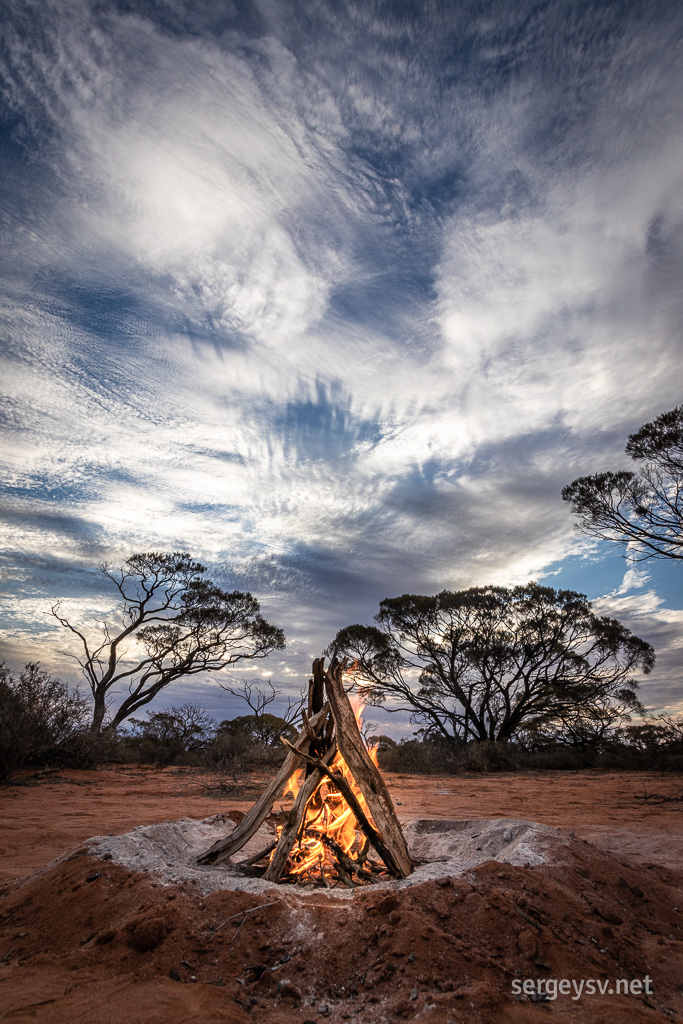 A wonderful mess in the sky.
The days go by quietly, unmarked by anything in particular. However, Tuesday night gets a little bit too windy, and in the morning I discover that one of the tent poles is bent, and it has finally ripped the hole in the canopy bar which it sticks through. Luckily, I have all the tools, so I simply drill a new hole (like I did
a few weeks ago
),and straighten the pole by simply pulling it out and bending it back with the assistance from my Prado's bullbar.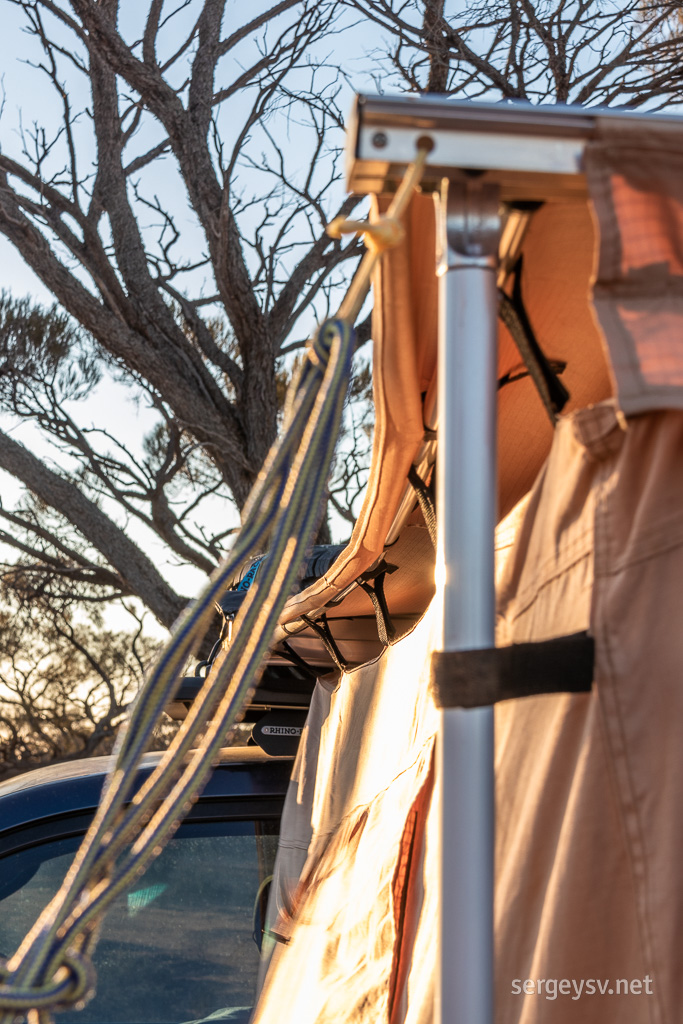 The wind was brutal.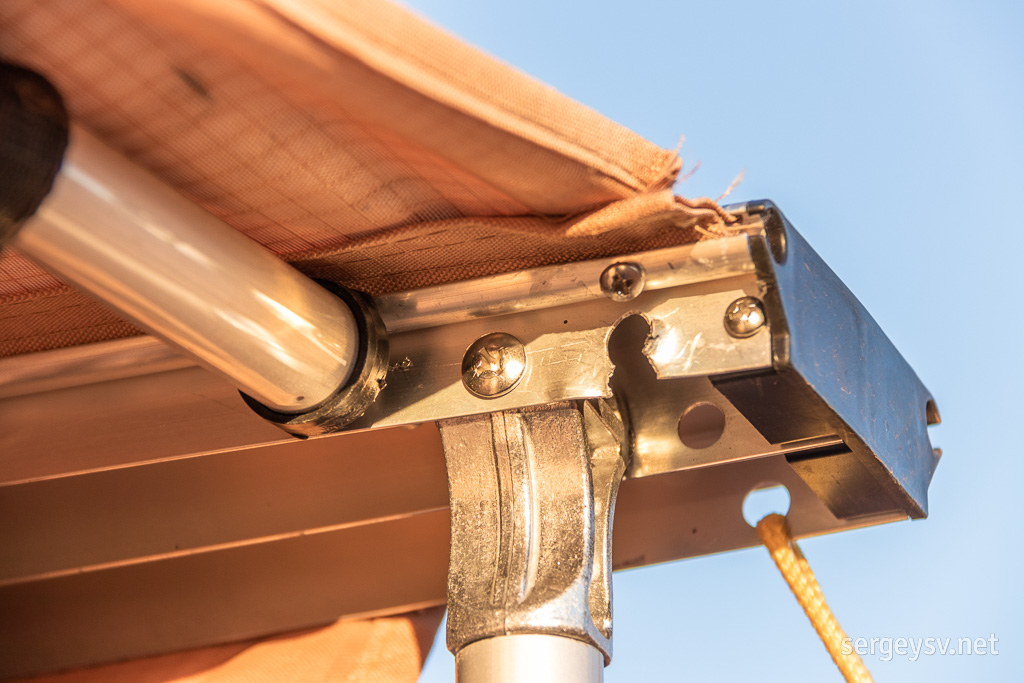 More bush repairs.
Also, my 3.7 kg gas bottle finally runs out after a month of use. Not bad at all! I grew to like these LPG bottles quite a lot: I have two of them at the roof of the car, and I simply grab the other one to replace the one that is empty. I'll refill or swap it later; either way it will cost me $20 or so. Pretty good value for a full month of gas supply, if you ask me!
On Thursday morning, I get visited by sheep again: there's a lot of cattle stations in the region. The beasts are extremely cautious as they follow their path some 100 metres away, and the leader doesn't take his eyes off me the entire time I take my photos of them.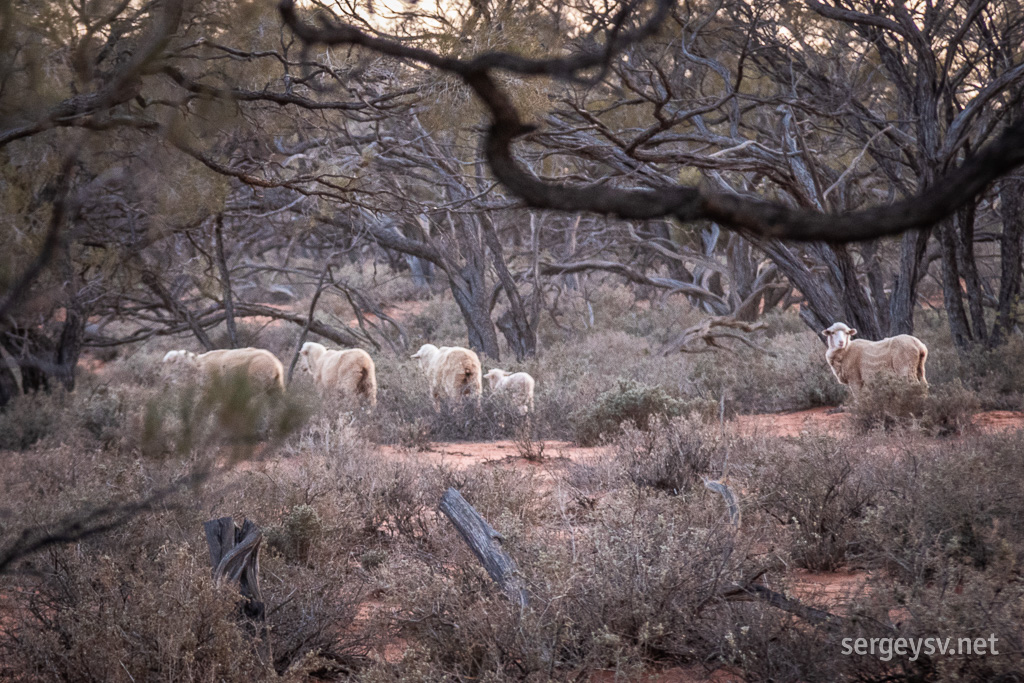 Visitors.
And in the evening, which is perfectly still and windless for a change, I finally get a chance to do some good astrophotography for the first time in months. When you do long exposures, even the slightest wind makes the tree branches go blurred; this time, however, I'm in luck, and I manage to take quite a few decent photos with all kinds of subjects as a foreground. My campfire does a nice job of lighting the scene on a few occasions, even though it casts a rather infernal glow on the nearby trees.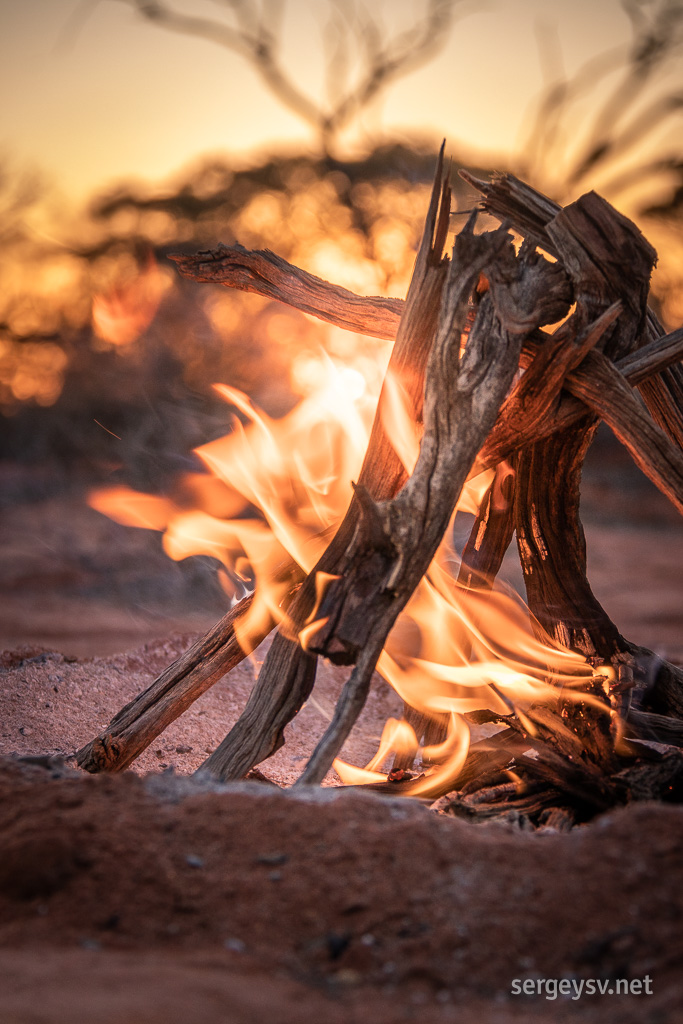 Saying goodbye to the sun.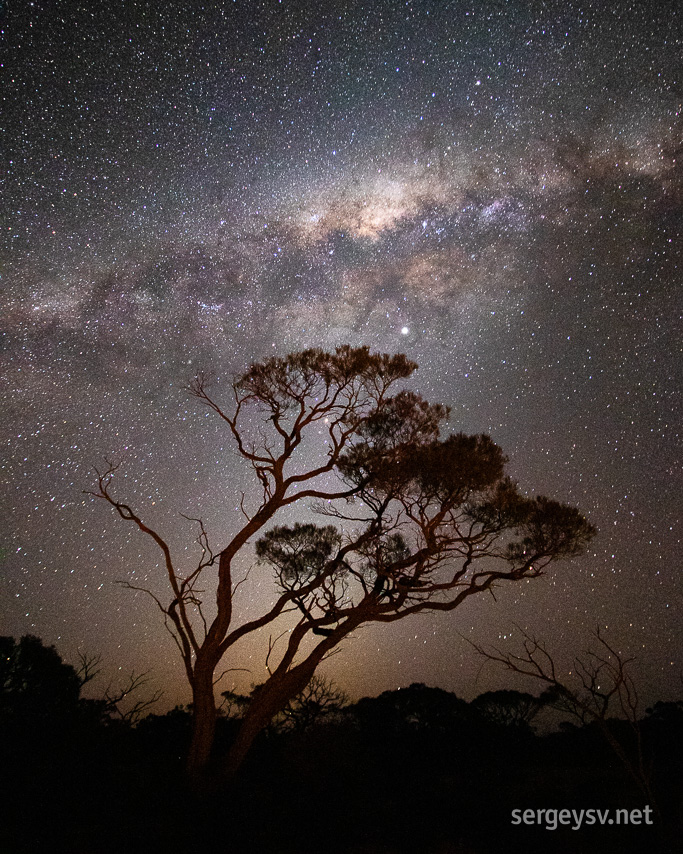 Saying hello to the stars.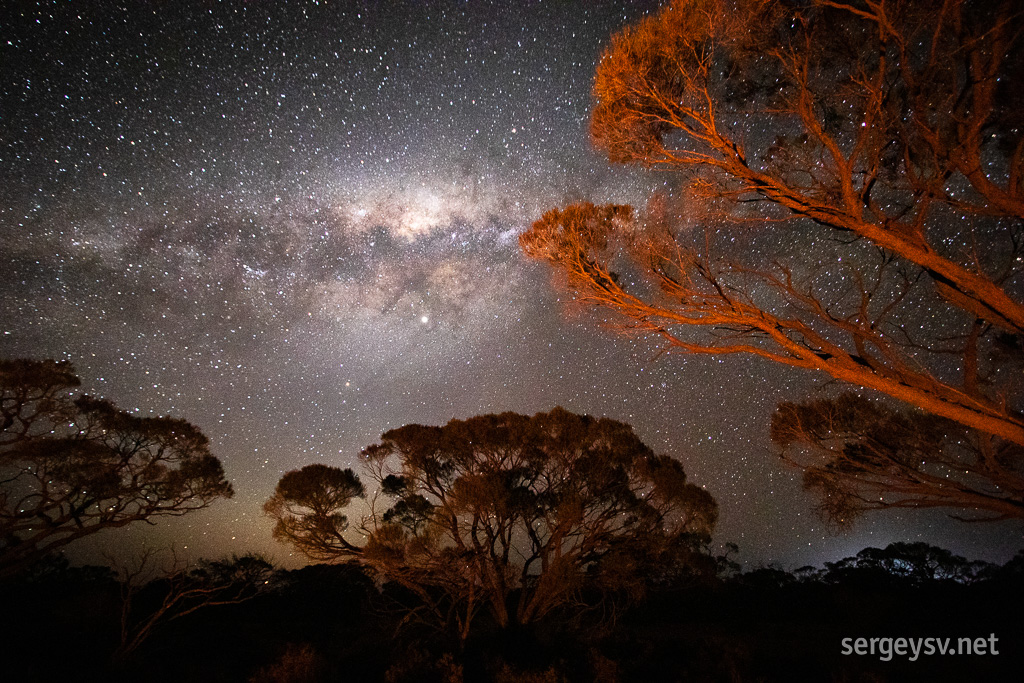 Infernal lighting from the campfire.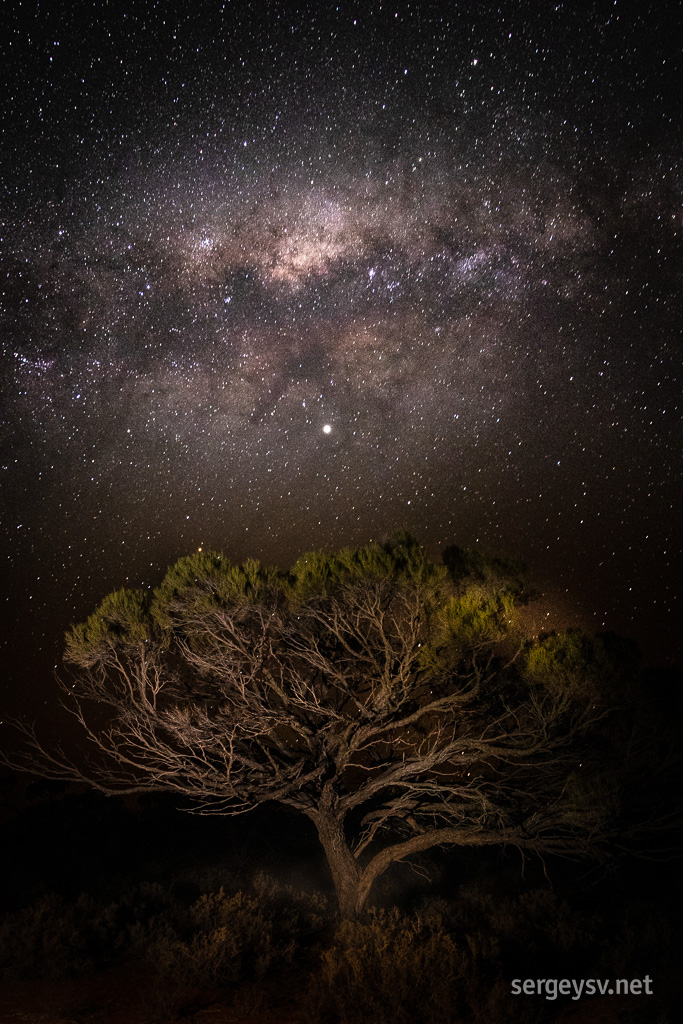 Using my torch to light this one.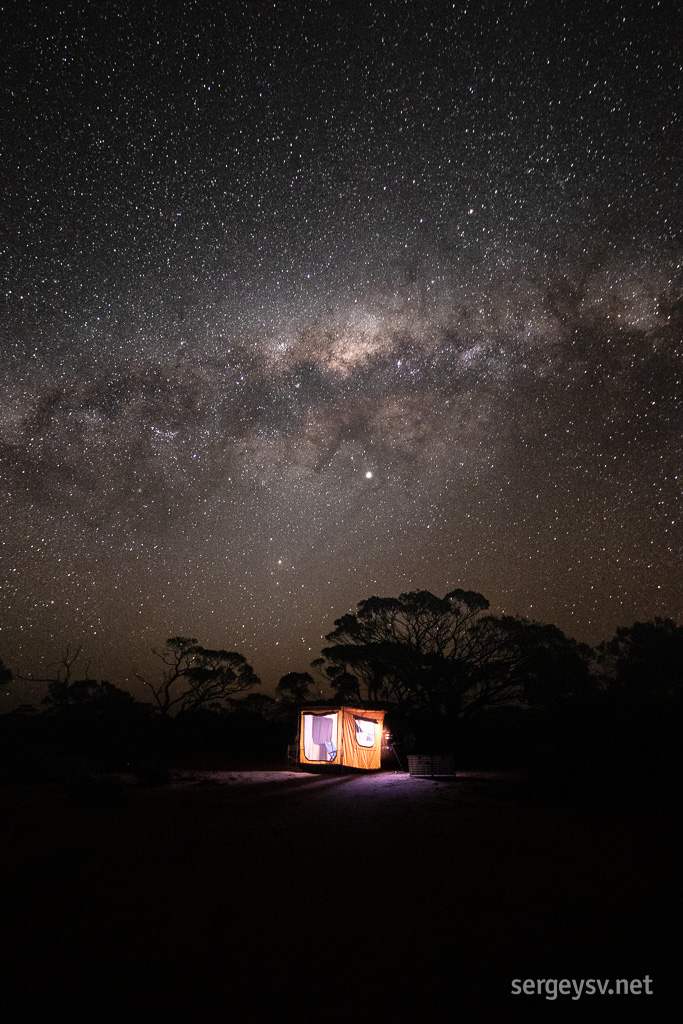 Home.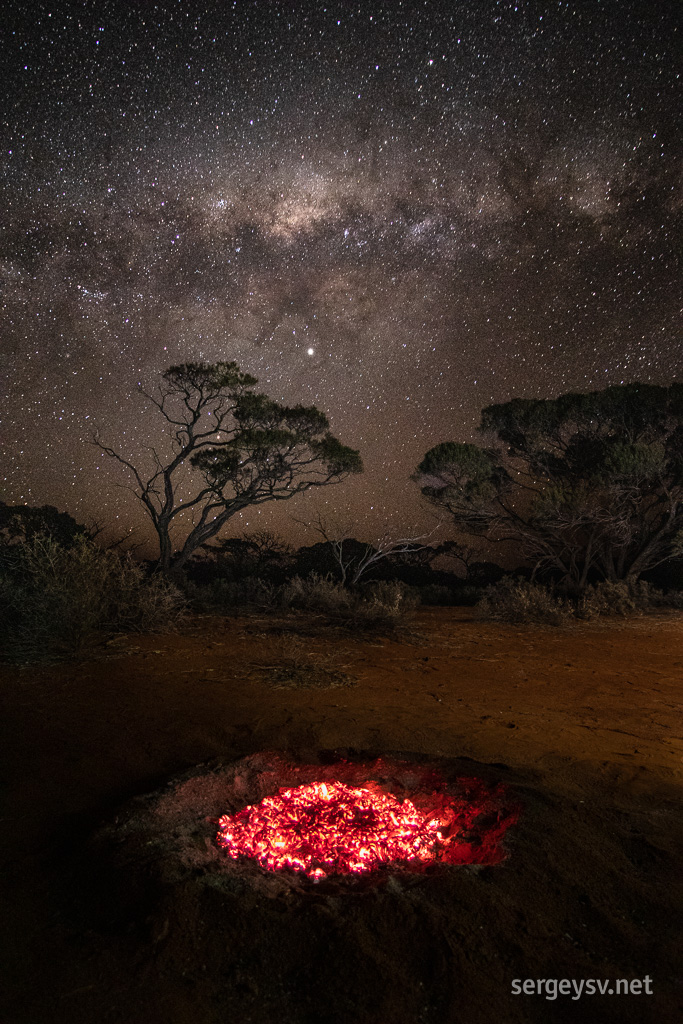 My own little volcano.
It's a wonderful spot with lots of benefits; however, after a couple of weeks here, I decide that it's time to move on to some other beautiful views. Perhaps, I should trade red dirt for blue sea? It's not that far away anyway, so on Sunday morning I pack up my stuff and take off. Goodbye, twisty trees! Who knows when we'll see each other again.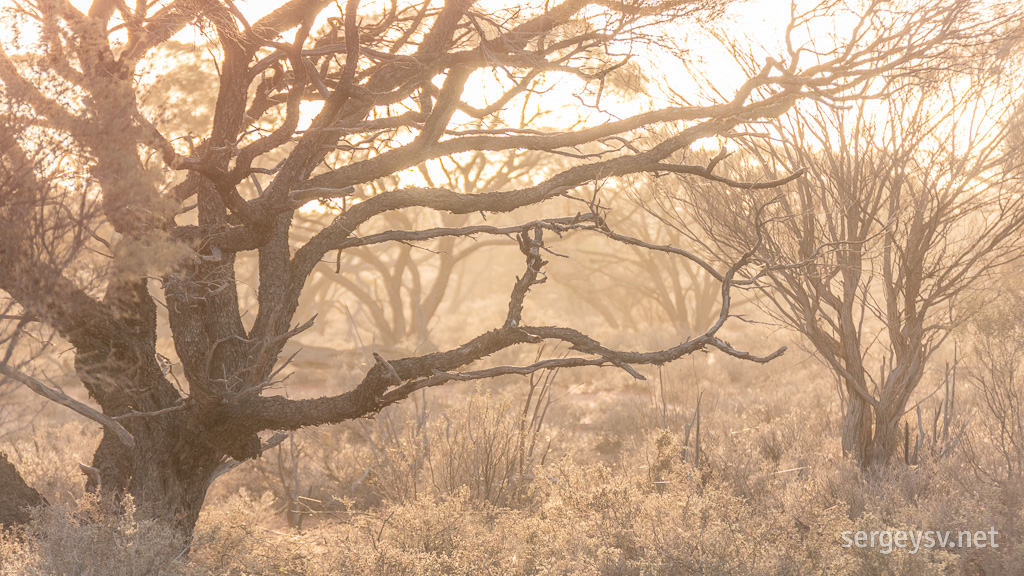 Another dreamy morning.
Before settling down on a new spot, however, I need to clean myself and the car, and also do some shopping. For all that, I choose Whyalla, which I drove through
last year
, and it's about time I should take a closer look at this little town.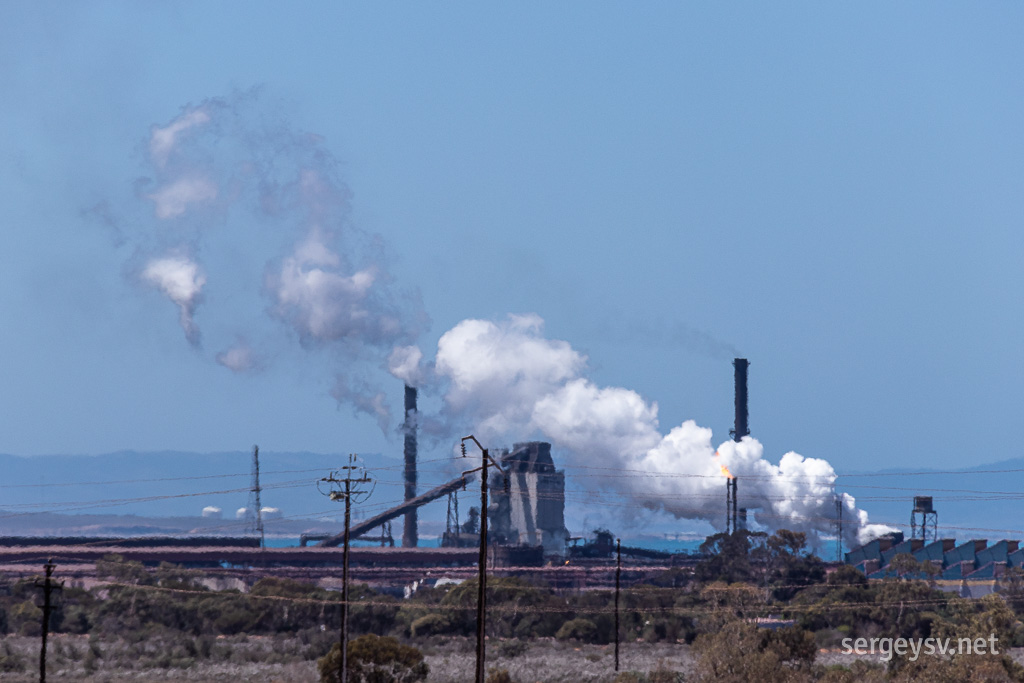 Steelworks at Whyalla.
It turns out that it's not so little, after all: twice as big as Port Augusta, in fact, with it's 25,000 inhabitants. It also looks a lot tidier and livelier, and it even has a proper shopping centre, with food courts and everything. It also has a very basic, but free shower facility at the local yacht club; and it also has a great car wash, because my Prado needs it badly at this point. Once all that is out of the way, I refill my gas bottle and refill my stomach at the local KFC, and then head off to the new camping spot near Port Bonython.
The town offers a $10 per night camping area with toilets and even (cold) showers; but there's also a lot of "self-contained" areas further north along the coast, which are completely free of charge and not nearly as crowded. Unsurprisingly, this is exactly where I head towards after I fill up my drinking water bladder.
The place that I've chosen looks rather lovely. The sea is blue and calm; the area is secluded and private; and there's even a small group of the mangrove trees nearby, which will undoubtedly serve me in my photographic exploits. I even manage to get a few more night sky shots after the sunset, with the mangroves and a little pool of sea water as a foreground.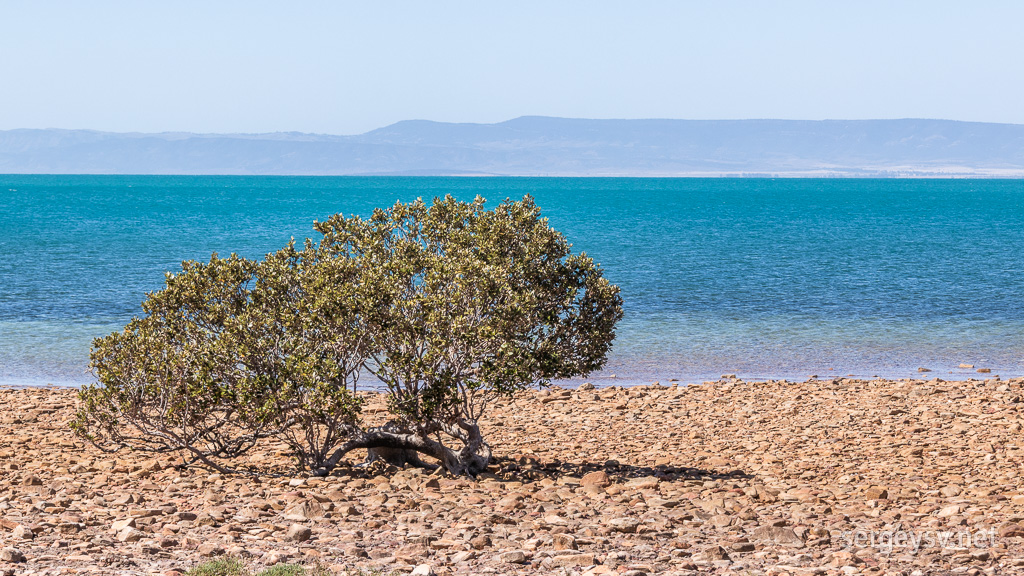 A new camping spot!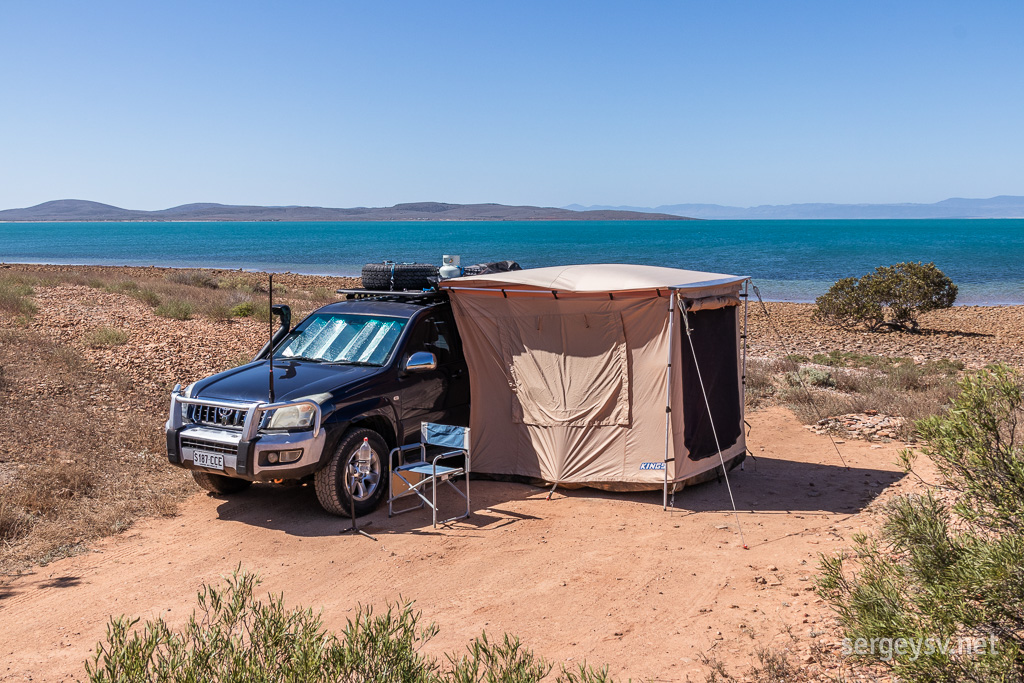 I think I like it here already.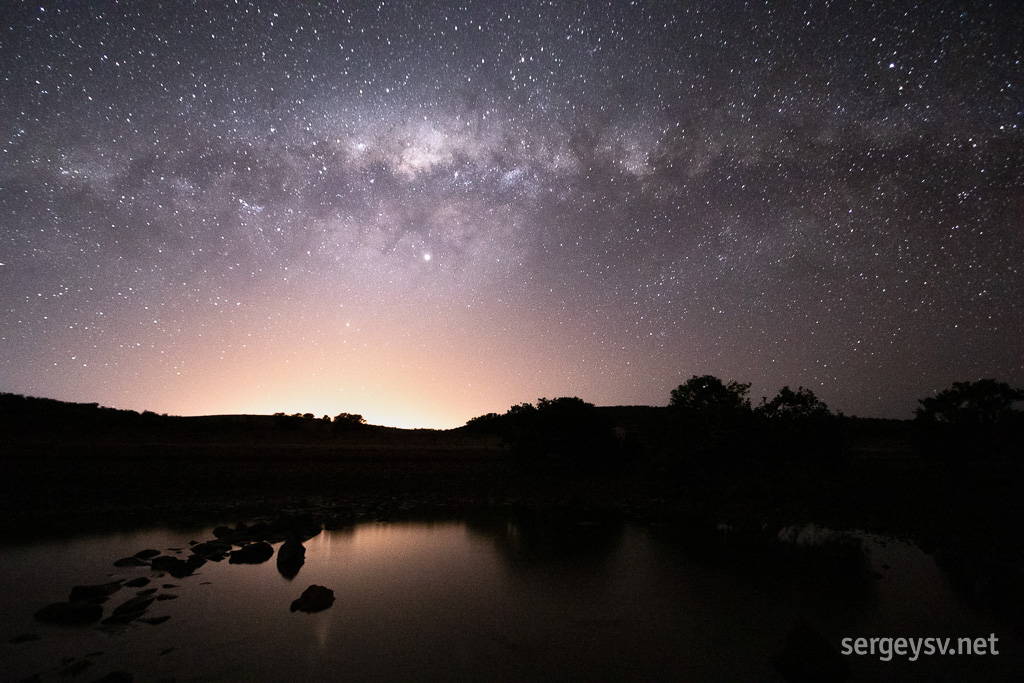 Some nice night sky here, too.
So here I am, off for another week of work and photography... and maybe even more, depending on how much I like this place in the days to come. And if you're interested to find out how that goes, stick around, and I'll make sure that more photos and stories will be heading your way eventually.